Ace Cafe Italian Night – April 2015
Once the clocks go forward, for British Summer Time, daylight evenings are upon us, and that means that a lot of the car hibernation that takes place every winter is over for the following few months, with weekday outings now possible in the daylight again. So, whilst the popular Ace Cafe them evenings do run year around, it is always the case that you get far more cars attending between April to October than in the dark months. Couple this with a forecast of a sunny end to what really did seem like the long awaited arrival of Spring, and my expectations were high for a good turnout at the April instance of Italian Night. The only possible challenge I could see was that these events do tend not to be quite so busy during peak holiday weeks, and I had been reminded earlier in the day that this was most definitely a holiday week, with far fewer cars on the westbound M4 early in the morning than you usually get. That was not quite so evident by early evening, and I had a very slow journey around just a few miles of the M25, taking well over an hour to get from our Bedfont office to the Ace. Even so, that made me among the earlier of the attendees, with a handful cars on the forecourt when I got there and a lot more which arrived during the course of the evening. In the end, it was not the busiest Italian Night that I've ever attended, but it was a great opportunity to catch up with a number of friends whom I've not seen throughout the winter months and to admire some lovely cars. Here are the highlights:
ABARTH
Once again, Abarth dominated this event. I think I counted a total of 20 cars during the evening, with a row parked up in front of the Cafe when I arrived, and more appearing steadily all night long. After seeing diminished attendances over the last couple of years compared to the heady days of 2011/2012, it is nice to see that the recently launched Abarth Owners Club has reignited the enthusiasm for coming to this event. As usual (not not quite what always happens), the 500 based models were the more numerous, with plenty of examples of the different versions that have been offered in the 6 years since the car went on sale. Among them were some of the earlier cars, and I guess I have to count my own, which is close to its fifth birthday in that category, along with Paul Feldman's much higher mileage Essesse version, as well some very recently acquired 595 models.
There were a number of Punto based cars, too. Lloyd Hartley's much loved, and still immaculate Grande Punto was parked up but for a long time there was no sign of him, though sure enough, he did stage an appearance long before dark. Other Punto models, well known among the ranks of Abarth owners were Kai Kan's Punto Evo and Will Webb's Supersport. as well as Olaf Svendsen's recent acquisition of at least his third Abarth.
ALFA ROMEO
This was our first chance to see Dan Deyong's newly acquired Giulietta Quadrifoglio. Following in the footsteps (or should that read "tyre tracks") of a couple of Abarth's his new car sounds like it is going to win just as warm a place in his affections as its predecessors did. It certainly looks very smart, and it is not often you see one of these top of the range versions.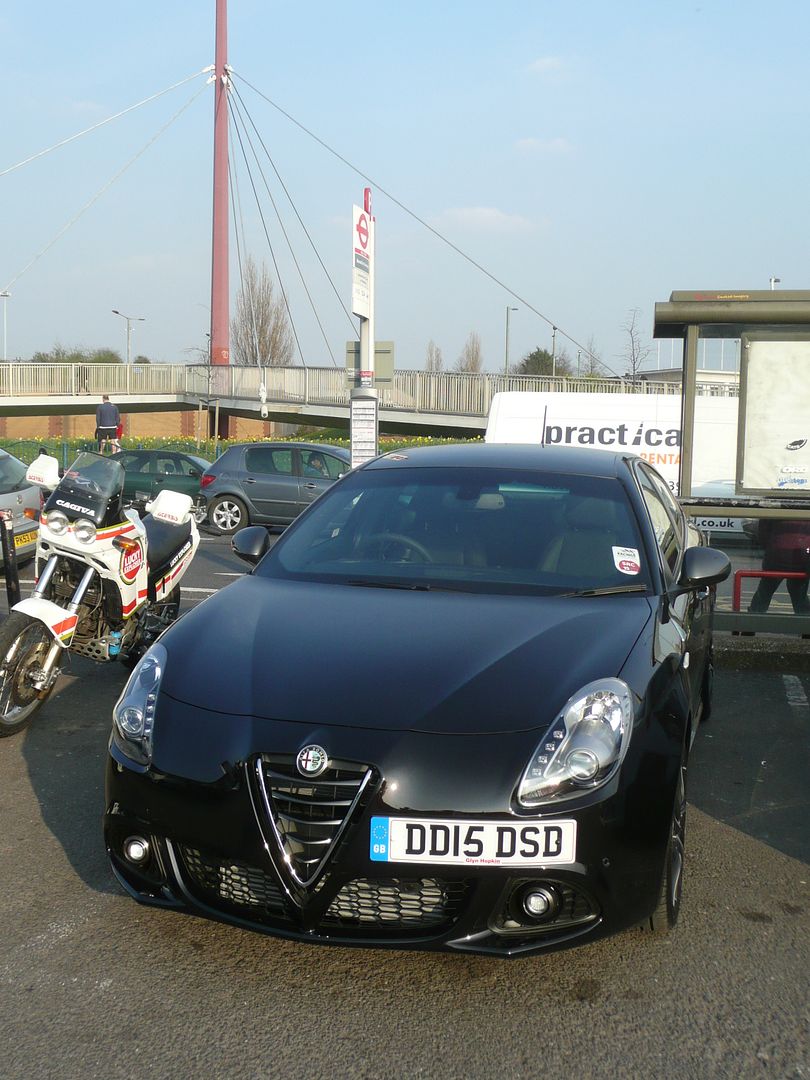 There were a couple of the 155 models from the 1990s here, one of which was the limited edition Silverstone car. These came with a rear boot spoiler, produced to homologate the addition for BTCC racing, which was usually supplied in the boot. This car actually had it attached.
There were a couple of 147GTA cars here as well, both of them red, only of which seems to have been captured by my camera.
The 105 Series Alfas were represented by a rather nice white 2000 Spider and a particularly lovely 2000 GTV.
More recent Alfa models included the 916 Series GTV, and a couple of examples of its replacement, the 939 Series Spider as well as a rather nice 166.
FERRARI
You don't tend to get many Ferraris at this event, and this occasion was no exception. This 458 Italia made quite a noisy entrance (impossible not to do so, given its exhaust note!). There was a 430 parked on the side of the forecourt which seems to have eluded my camera.
FIAT
No surprise that the most numerous Fiat here was the Coupe, with half a dozen examples present. The bright blue one would have been my choice, as this colour really suits it, as does the broom yellow.
Probably the Fiat that everyone present would have liked to take away with them was this cute 500L from 1973. An original UK car, this was in good condition, but clearly has not been restored, as the inside showed plenty of sign that it has been used. And doubtless enjoyed. Bella macchina!
A facelifted Uno arrived mid evening. You don't see these very often now, even in Italy, so it was good to see this example.
A car that is still very evident in its native land is the first generation Panda. This was a much used example, far from pristine, but still good to see.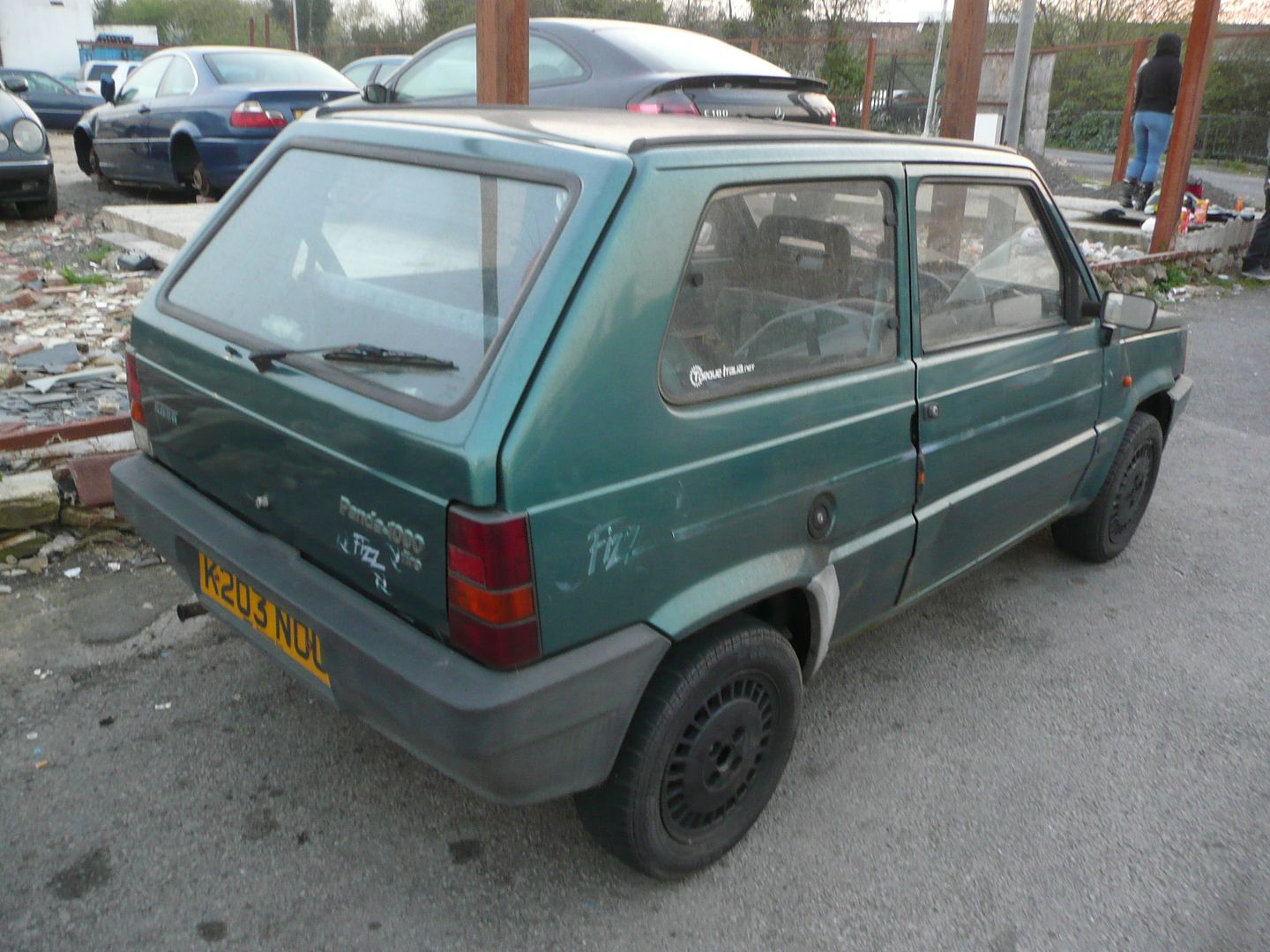 LAMBORGHINI
Probably the most dramatic car of the evening was this Diablo SV, which made a noisy entrance around 6pm. The driver's luck was in, as at this time the forecourt was not that busy, so he did not have to undergo the real challenge of manoeuvering it a confined area. He did manage to back it up, though, without undue difficulty, even though a combination of a heavy clutch and negligible rear visibility cannot have made the task easy.
LANCIA
When new, the Spider version of the Beta was the one of which the fewest were sold, but these days you are more likely to see an example of this rather stylish open-topped machine than you are the Berlina on which it was based. Sure enough, there were a couple of Spiders here, a very original blue one and a somewhat modified red one.
Later on, a Delta Integrale arrived, and this car met with general approbation and lots of people saying that it is on their bucket list of cars to own. I had to say that I am among them, as I have always liked these from the day they were new.
MASERATI
There tend to be more than a dozen Maserati cars are next to none at all at this event. This event turned out to be the latter, with just two cars attending. One was a nice 4200 Spider and the other a brand new Quattroporte, on Belgian plates.
NON-ITALIAN CARS
There were a handful of non-Italian cars that turned up as well. Perhaps because the forecourt was not that busy when he arrived, the owner of this Lotus Elan Plus 2 was allowed to park his car in among the themed machinery. This one was in John Player Special colours. 85 such cars were produced to commemorate the firm's 50th Grand prix win.
This 1963 Buick Skylark Convertible was attracting lots of interest. This particular one looks like it needs quite a lot of work to turn it into a show car standard, but it was still good to see what to Americans in the early 1960s was considered a "compact" car, but which to us in Europe still looks pretty sizeable.
Also open topped was this very nicely turned out E30 model 3 Series Convertible, which was parked up on the road outside. There is an elegance to this car which just eludes the latest open-topped 4 Series (and most of its rivals, it has to be said).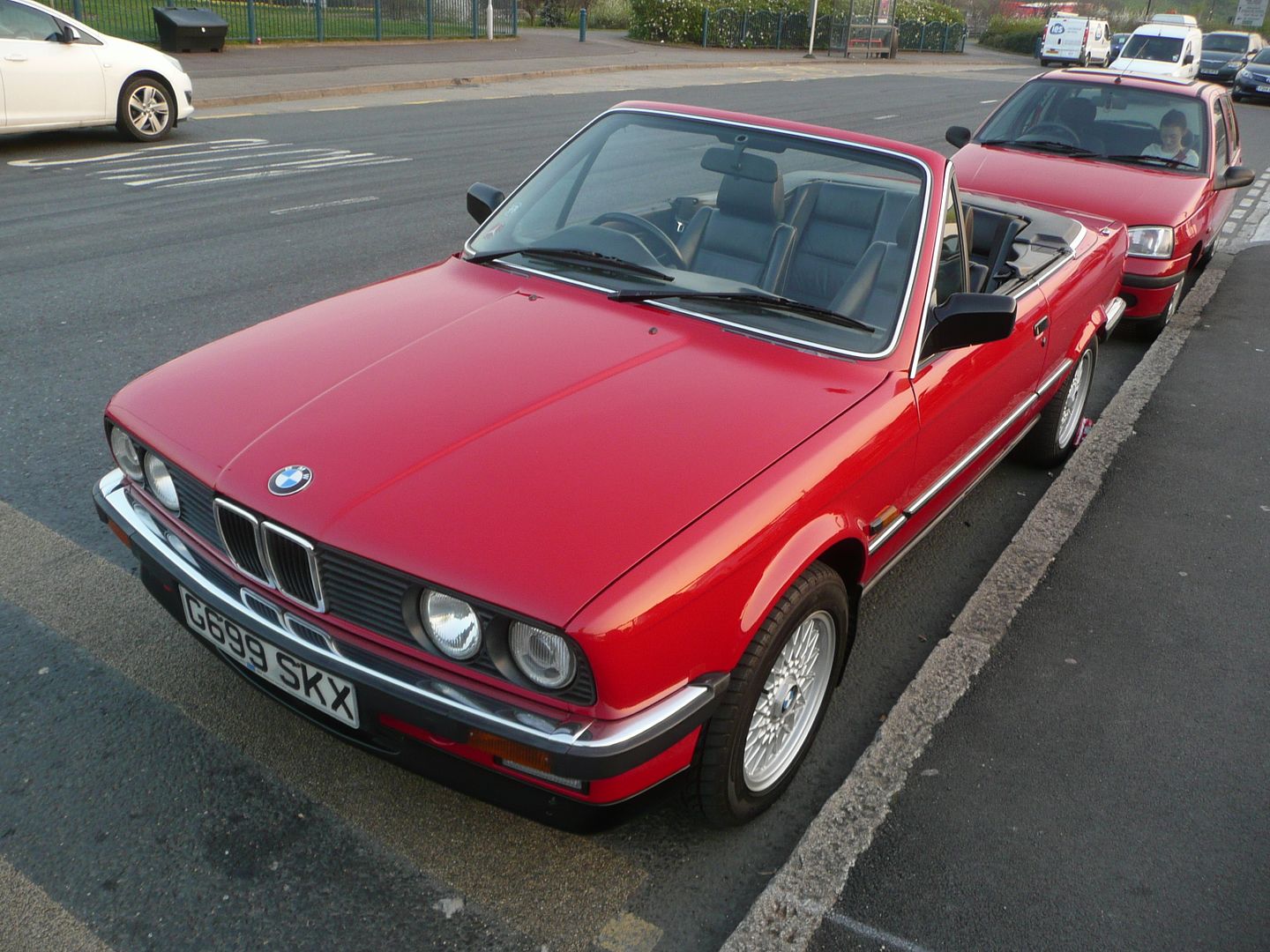 Not perhaps a vintage meet in terms of rarity of cars present, but a very enjoyable evening. That was evidenced by the fact that I stayed til gone 9:30, and then I realised I had a 2 hour journey back home to face. If the weather can be as kind in May as it was for this one, I am sure there will be an even better turn out and I look forward to that very much.
Share and Enjoy