Queen Square Bristol Breakfast Club – April 2015
The monthly Queen Square Breakfast Club, held in the delightful surroundings of the eponymous Georgian Square in the old part of the city is clearly becoming ever more popular. In March 2015, I arrived at 8:15am, a time which in the past would have ensured I was among the first to get there, but instead I found a venue already packed out, and after doing a complete lap, looking for somewhere to park up, thanked my lucky stars that the Abarth is small, and managed to squeeze into a space around the outer perimeter. Things only got busier after that.  And that was on a day when the temperature was not exactly high and the sun stayed the other side of the duvet of clouds that covered the sky. Wind the clock forward to April, and the prospect of a nice sunny morning at the end of a week of weather that was more like late Spring than early, and it was always likely that this event would be even busier. So, I did what I suspected everyone else would do, and planned to get there a bit earlier than ever before. It was about 7:50am when I reached journey's end, and although there was lots parked up, there was still a place for my car on the inner side of the Square this time. A few minutes later, though, and that would not have been the case, as by the time my friend and fellow Abarth owner, Bertie Bryant, arrived, having trekked down from the Home Counties, just 30 minutes later, people were starting the double parking which became a feature of the meeting all morning. And still the cars poured in for the next hour and a half, with a few arriving even after that. Sadly, I suspect that some did a lap or two, and either parked up in a distant side street or just gave up and went away again, so there were quite a few nice and interesting cars that I saw turn on to the Square, but then never saw again, and that means that they do not feature in this report. Among these were an immaculate looking mid 1980s Audi 100 Avant, which I made strenuous efforts to find, and simply did not, a pristine white Peugeot 205 GTi, and a gorgeous Jaguar E Type Coupe. With so many cars in attendance, and more than a few people to talk to, I have to admit that there are plenty of cars which also eluded the camera, as despite my best endeavours, they had gone before I could get to them. Included among these were a lovely Aston Martin DB6, a Delorean, a Mark 1 Lotus Cortina, a Jaguar C Type and countless others. You will find some of the cars that I missed in the photo gallery on the associated Facebook page (see: https://www.facebook.com/BristolBreakfastClub ). Panic not, though, as there are 300 photos here of all manner of things, some event regulars and plenty that I've not seen attending before.
ABARTH
Despite lots of enthusiasm from the Abarth Owners Club members earlier in the year for this event, it has yet to be manifest by much of a presence here. Hats off to Bertie Bryant, though, for making the journey all the way down from Ascot so that my Abarth was not the sole representative of the Scorpion brand. Despite his journey of nearly 100 miles and mine of less than 10, I have to confess that his car was rather cleaner and better presented than mine, too! Perhaps next month I will get a few more of these characterful cars to attend, as despite the fact that they have been on sale for 6 years, they still attract lots of interest, as I found out when I had parked up, and three gents asked what was under the bonnet, and then looked incredulous when I told them that there was only a 1400cc engine. They could not believe that such a small car could sound so interesting!
AC
There are some model types that are always evident at this event, and the "Cobra" is one of them, although my camera only seems to have recorded one of them this time, and I don't think I recall seeing any that did not get photographed.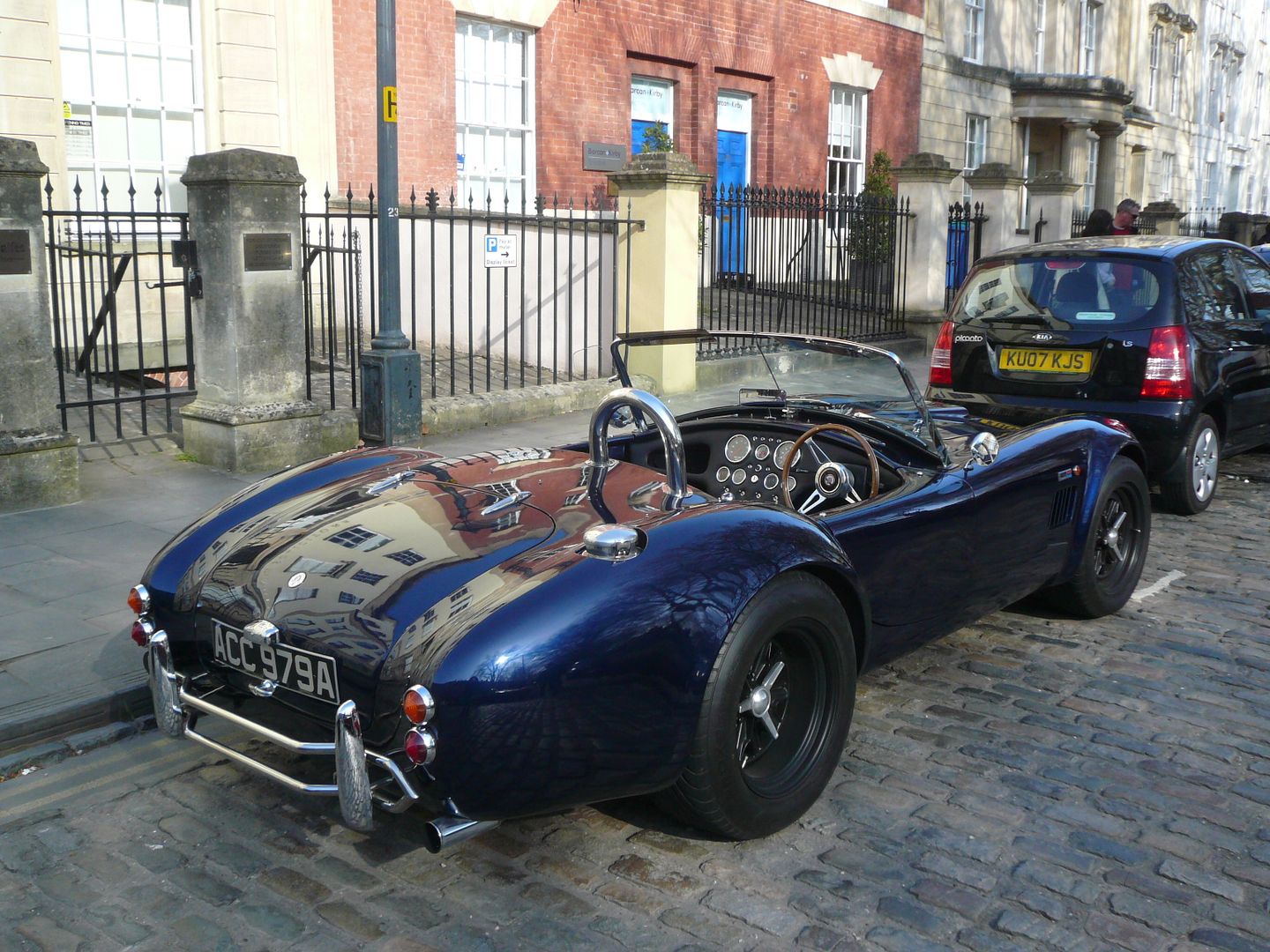 ALFA ROMEO
First Alfa that I saw at the event was David Roots' well known Alfa Special. He had clearly had an early start, as he lives a lot further away from this event than I do, and yet he was already there, and defrosted from the journey to Queen Square even before I was on-site.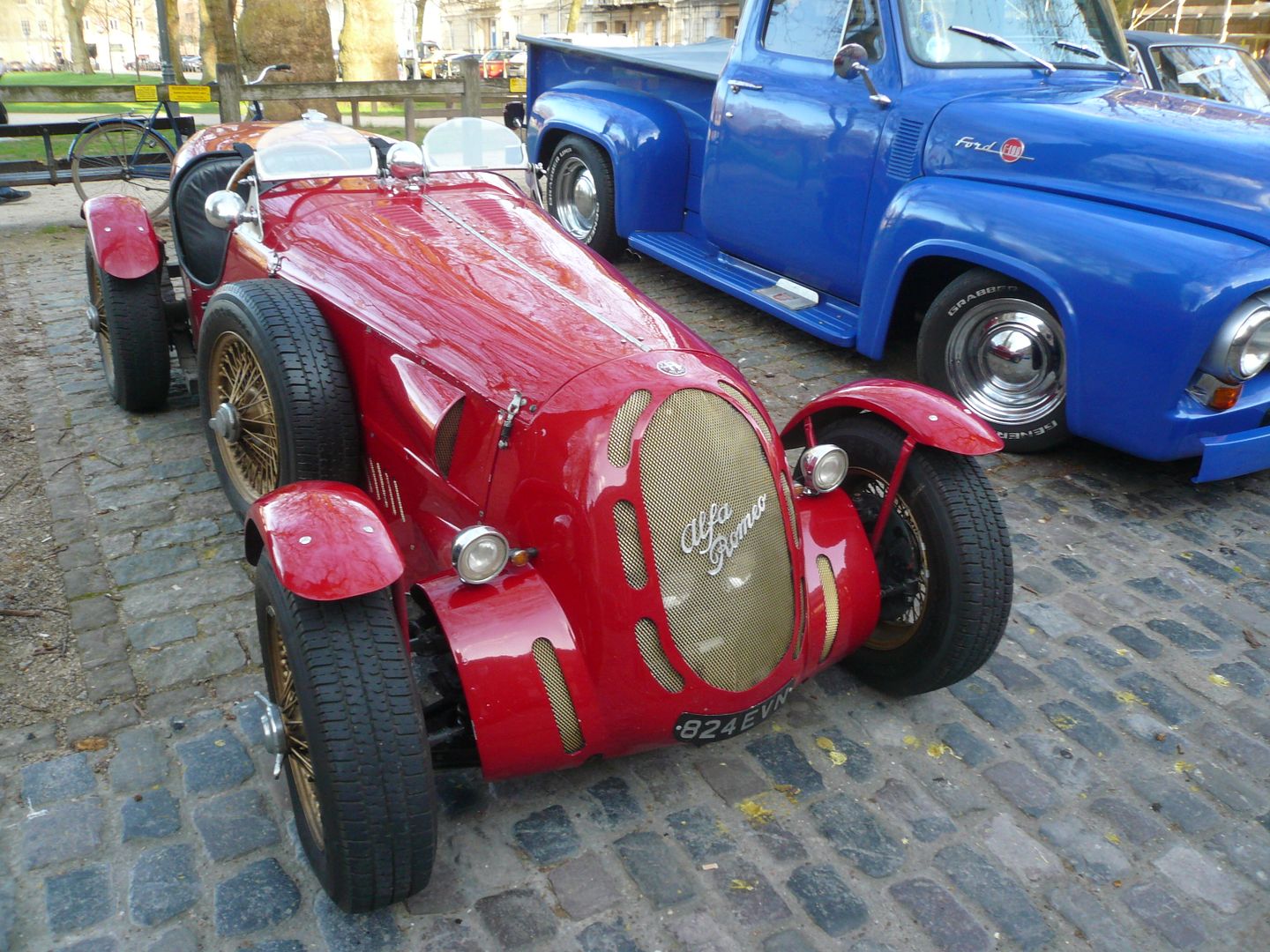 There were a number of other Alfas present, though for some reason I seem to have missed most of them, such as a nice 147GTA, when the camera was in action. Ones that I did capture included this S3 version of the long running 105 Series  Spider and a rather nice 916 Series GTV in 3.0 V6 guise.
I also snapped this 156 V6, in the relatively rare colour of white. This one belongs to a gentleman called Nick who also has a 33 on his fleet, which I featured as my cover car for the December 2014 report, which took him somewhat by surprise. So today I made the effort to track him down and introduce myself, discovering another true enthusiast. He usually posts his excellent photos from the event on the SportAlfa/SportMaserati forums, as well as his own Facebook page. The 33 is currently being shown some TLC (and new sills), but he hopes to have it back in time for the forthcoming BIAMF event in a couple of weeks.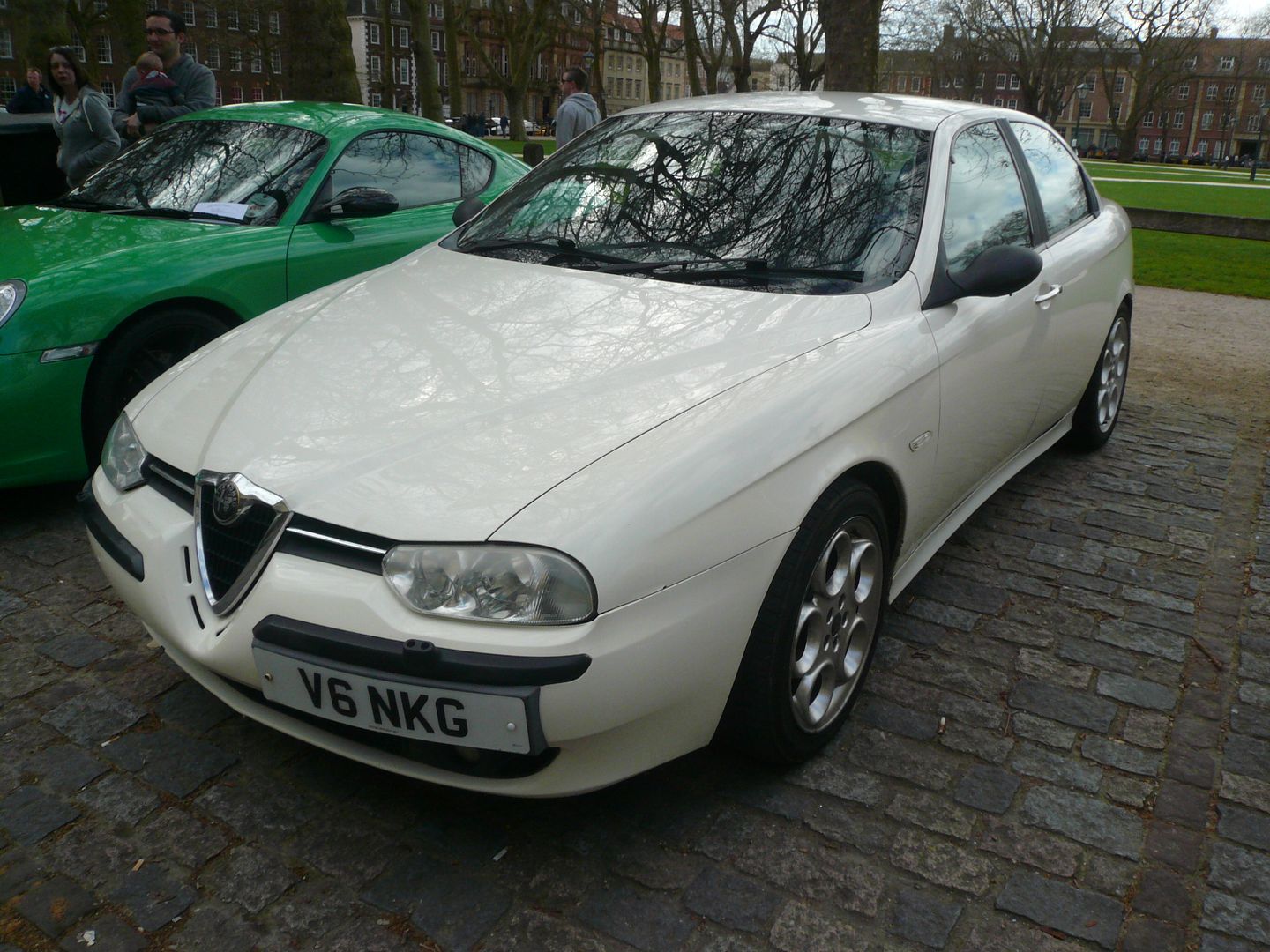 ARIEL
There were a number of other cars that follow the same formula as the Atom, so it was good to see the "real deal", with this Ariel parked up.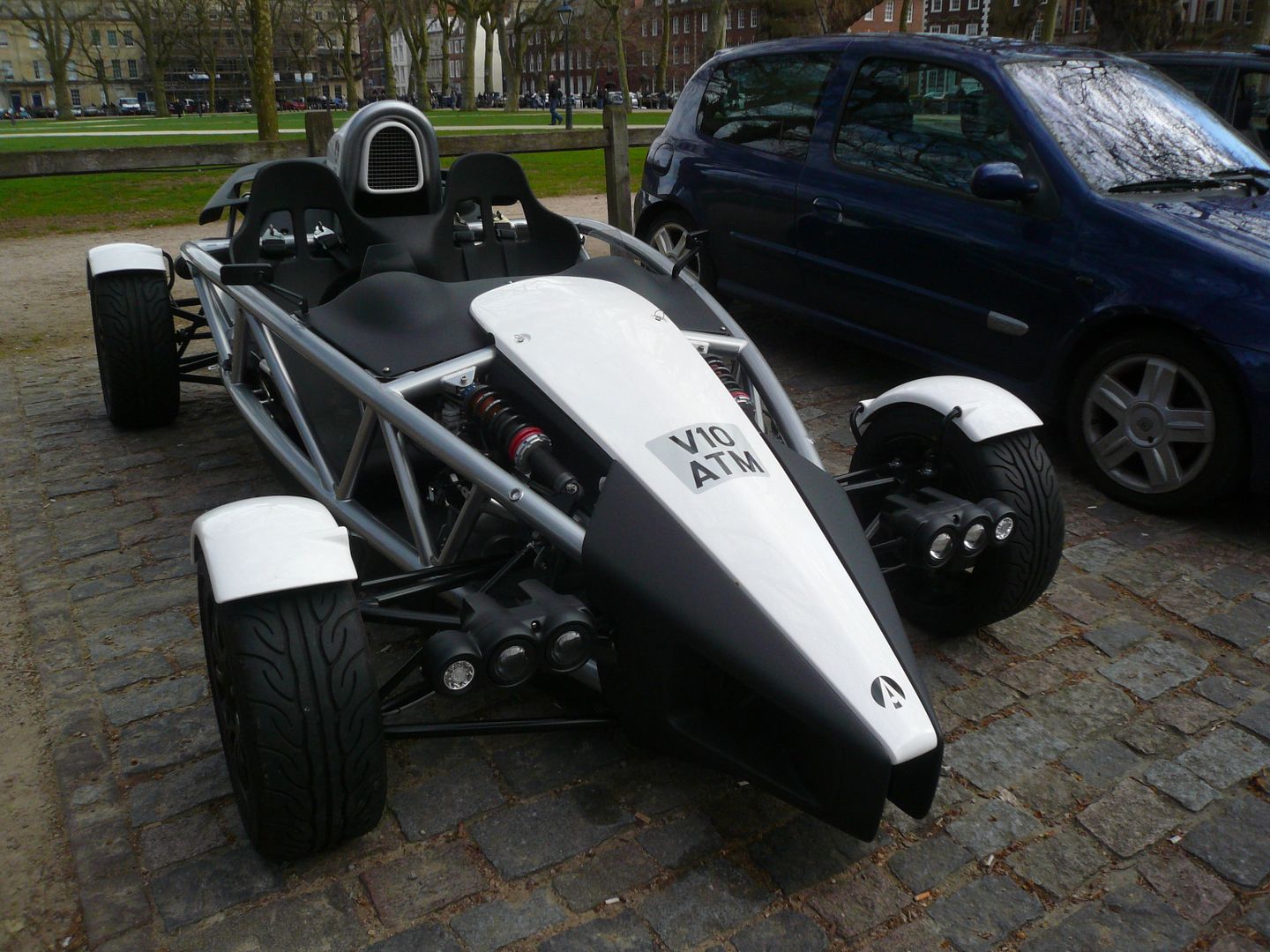 ASBO
Not quite a one-off, as my researches suggest that there are 2 of these cars in existence, called ASBO1 and ASBO2. They were built around 3 years ago, by someone in the area, and are clearly a lot of fun.  They were both designed and made by the same person. Although if you Google them, as I did, to try to find out more, there are a number of references to these cars, there's very little in the way of real information about them, though.
ASTON MARTIN
Although I did miss the lovely DB6, at least this V8 Vantage did not evade my camera.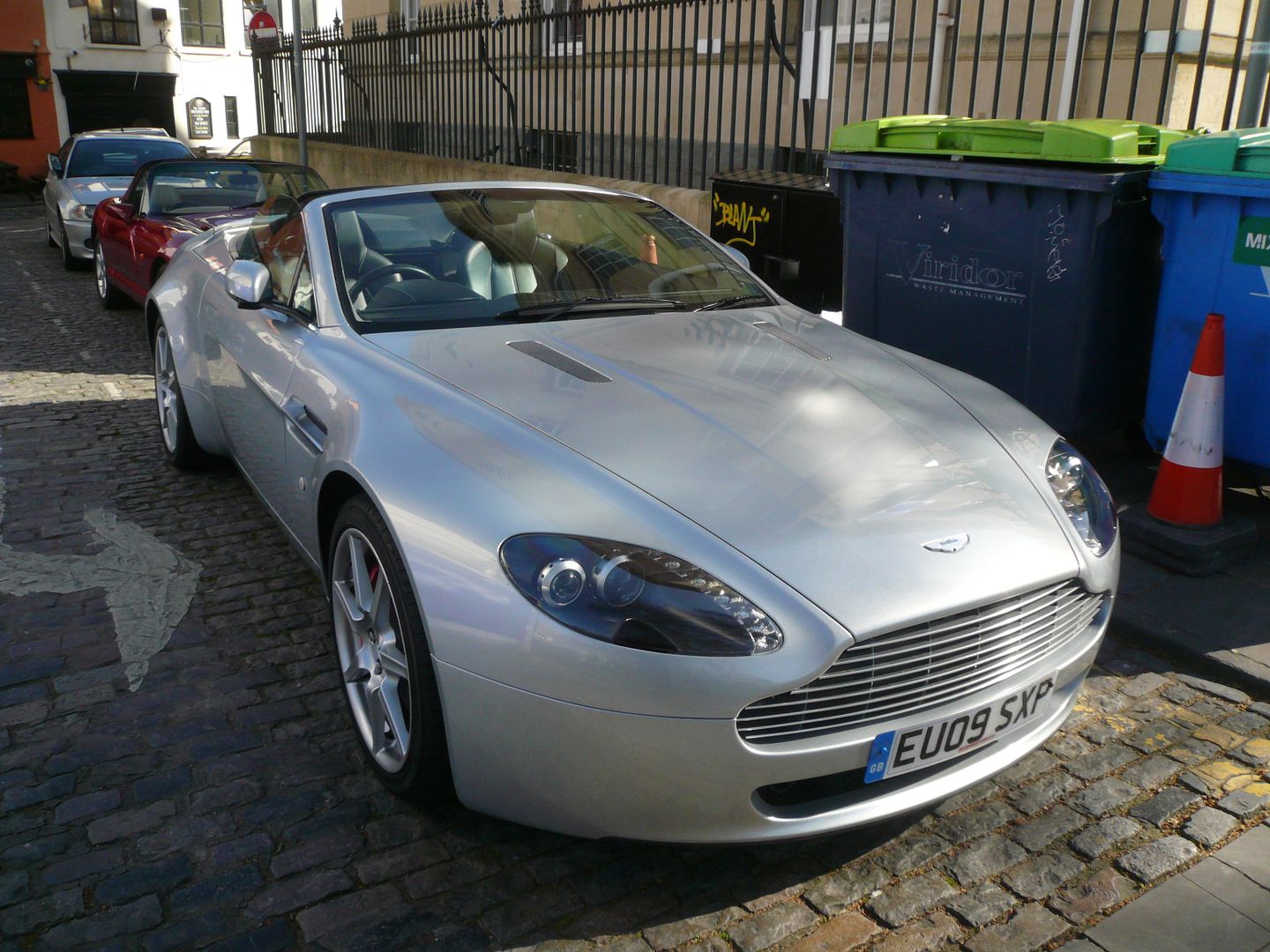 AUDI
It says something for the enduring appeal of the Audi R8, a supercar which lacks the "wow" badge of a Ferrari or a Lamborghini, that this car, like all other R8s, was quite a crowd puller. When I was standing near to it, to take a photo of something which was far less commonly seen, but more prosaic, I heard a group of three say something along the lines of "well, yeah, never mind that. it is the R8 that I really want to see and get a photo of……" and that says it all, really. I am far from averse to it myself, of course, though I think I would prefer mine as a Spider, and in red, please!
First generation TT models now look really quite different to the latest model to bear the model name, as I was reminded when looking at this one. For sure, this is a design classic and as the model's numbers start to diminish, as they surely will, the remaining ones are set to become modern classics.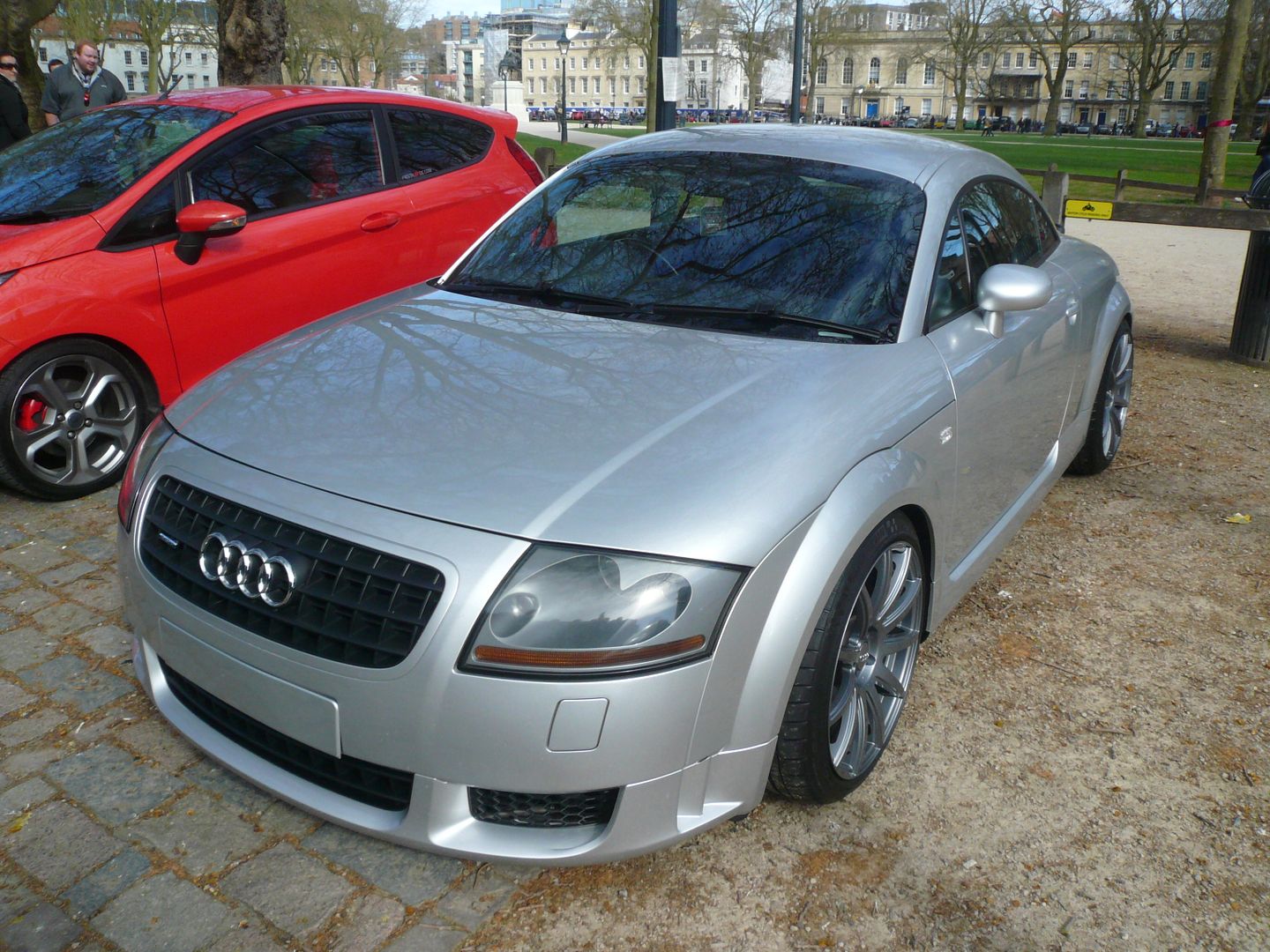 AUSTIN HEALEY
Early on, there was a lovely two-tone "Big Healey" parked on one of the inside corners of the Square. Later a duo of models arrived and claimed a place in the diagonally opposite corner.
An example of the smaller "Frog Eyed" Sprite was then parked up near them, showing how much smaller this car was than its older brother.
BENTLEY
A couple of examples of the popular Continental GT Coupe graced the event.
BMW
Among the cars that were already parked up when I arrived were a pair of brand new BMWs, the innovative i3 and the striking i8. These were kindly supplied by local dealer Dick Lovett, who was very happy to support the event when approached, and I gather they were so overwhelmed by what they found out happens, and the level of interest that their cars generated that they are already talking about what they might bring next month. Watch this space! Meanwhile, enjoy the cars they supplied. It is fair to say that the i8 was the bigger crowd puller, and who can be surprised at that, as this is an amazing looking machine. Over 1500 have been sold in the past few months, putting to bed any doubts that anyone might have had about a supercar having just a 1.5 litre engine (oh and a rather useful battery system!).
The i3 is becoming an increasingly common sight on our roads, too. In an era where more and more manufacturers are producing deliberately controversial designs, the looks of this one won't appeal to everyone, but there is no doubting the practicality and that by all accounts it is one of the very best electric cars currently available.
I am including this under BMW and not Alpina, as despite appearances, my research suggests that there were no E23 7 Series based Alpina models. The firm did produce a small number of the related E24 6 Series cars and they did work their magic on the second generation 7 Series, the E32.
Parked up behind it, in the same bright Zinnober red finish was an E24 model 6 Series, a very elegant machine indeed.  Although in concept and execution this was effectively what we would think of as an M6, its day was before the real momentum behind the M badging got into full swing and BMW only ever badged the fastest version of the E24 range  as M635CSi.
On the far side of the Square, I came across this lovely duo of E30 model M3 cars. Both looked stunning, and made an interesting contrast between the grey, original model car and the red one which was the later and even rarer M3 Evo.
Also from the E30 generation were a number of other cars, including a 2 door, which was the bodystyle with which BMW started the "family", launched in late 1982 as well as a Convertible, the car which once launched effectively killed off the demand for the Baur Cabrios which had been in small quantities for the first four years of the E30's life.
More recent M cars are usually in evidence at this event, and this month was no exception, with an E39 M5 and a number of E46 M3s.
This M4 Coupe was parked up only a few spaces away from my own car, and I was a little worried when I saw it bore a parking ticket on the windscreen, as technically, there are restrictions in force on the inner perimeter of the Square on a Sunday morning, to which everyone at this event turns a blind eye. My guess is that the car had been there since the previous day and that is why it had been singled out.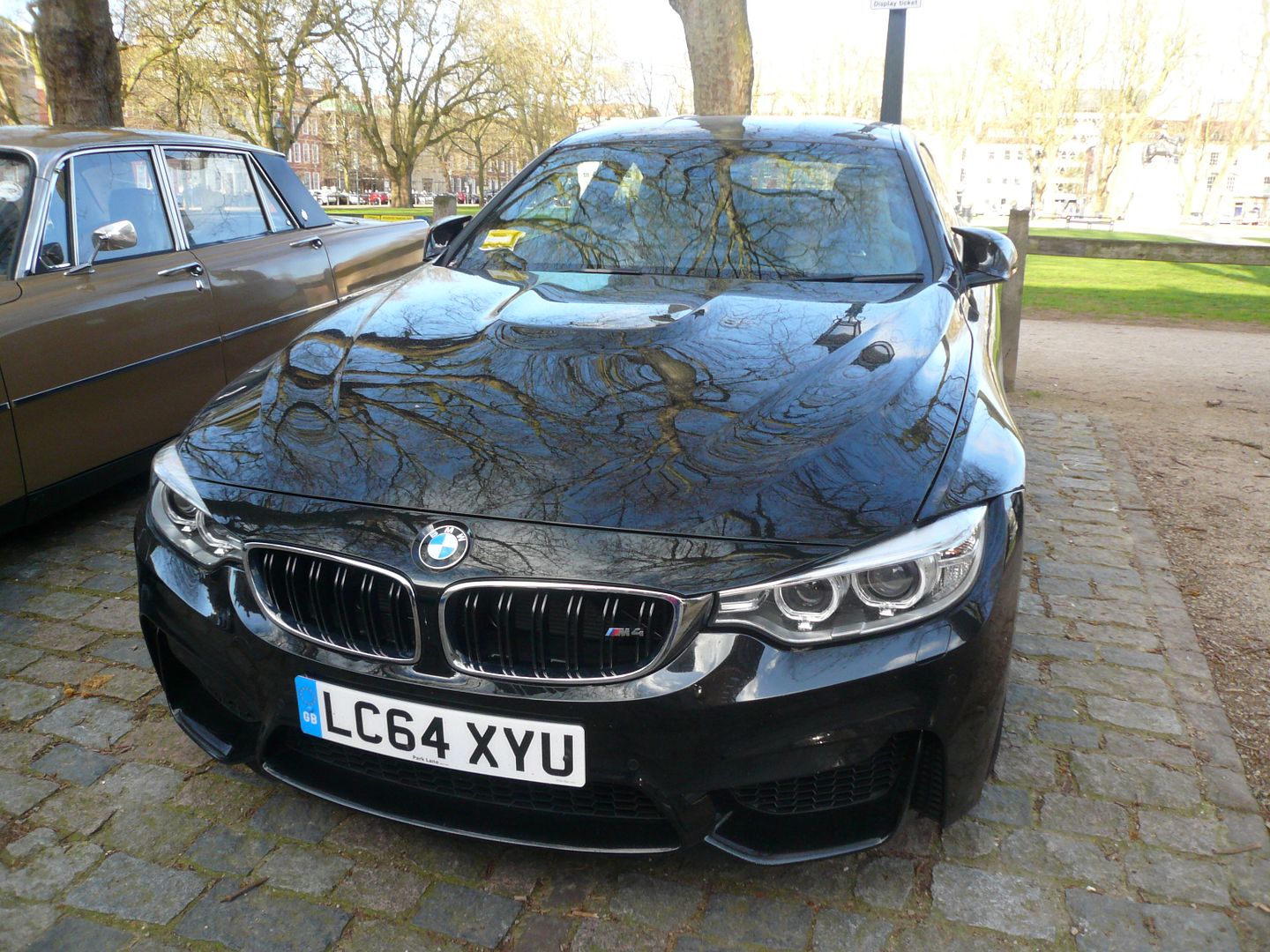 There were a number of other BMW cars present, of which the stand out car for me (because of its rarity) was an E28 model 520i.
BRISTOL
Three Bristols graced the event. Two of them were the 403, the evolution of a model which started out as the 401, only the second design produced by the Filton company. You do see this from time to time, so although rare, they are not so rare that you do a treble take at what is before you. But you do when you see the other car, a 404, an elegant Coupe model with a short wheelbase and very distinctive rear fins, which did then spawn the 1955 405 Saloon and Drophead models.
BUICK
There's always a strong American model presence at this event, and the Car Club whose members bring most of them along always seem to have something new. This was the first time I had seen this particular model at the event. It is a "boat tail" Buick Riviera. Dating from 1972, this model was made for just three years from 1971, and although perhaps not quite creating the same levels of desirability as the first car to bear the name, the ever so elegant 1963 model, it is nowadays highly collectible. This car was brought to the UK last year from Pennsylvania and appeared to be in very good condition. Styled by the legendary Bill Mitchell, it has a distinctive pointed theme not just at the front and back of the car but on the interior as well. For such a large car, there is remarkably little space in it, but that was generally true of most American cars from the "land yacht" era. Motive power came from a 7 litre V8 which gives the Buick a decent turn of speed and a voracious thirst. It is perhaps no surprise that the Riviera was down-sized somewhat for subsequent generations.
CADILLAC
Even larger than the Buick, and pre-dating it by a few years, was this Cadillac Coupe de Ville. Sitting at the top of the GM tree, Cadillac only produced cars of this size throughout the 1960s and the first half of the 1970s, with a mix of 4 door Sedans, 2 door Coupes and Convertibles, all powered by V8 engines which got steadily larger as the cars got bigger and heavier.
CATERHAM & WESTFIELD
A nice sunny day is just the sort of weather to persuade the owners of Caterham and Westfield sports cars to get them out for a blast along country roads, en route to an event like this, and sure enough, there were a number of these cars parked up on display.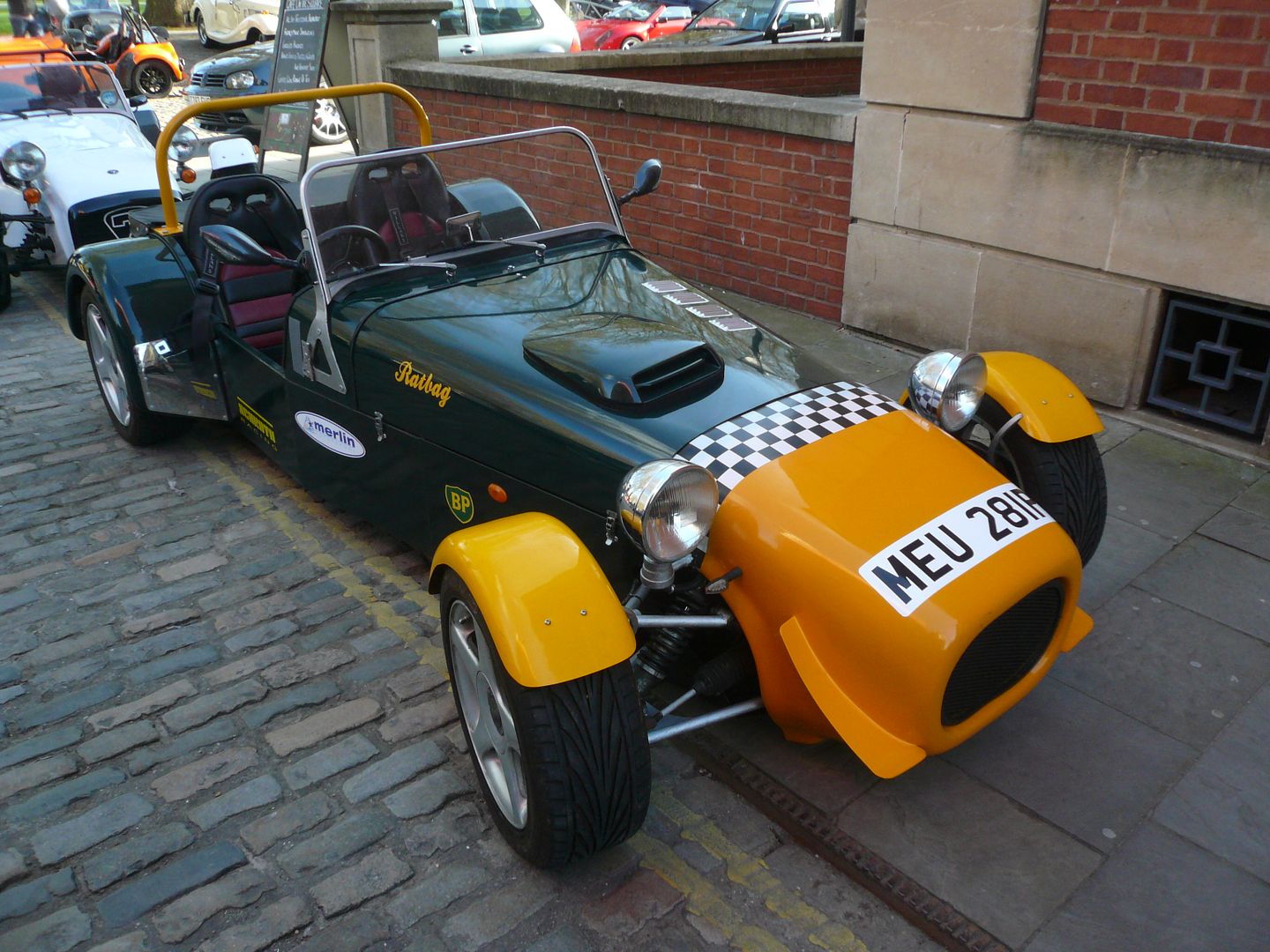 CHEVROLET
The Chevrolet that I had not seen at this event (or elsewhere) before, was this 1966 Nova. Sitting at the bottom of the Chevrolet range, and officially classified as a "compact", this is still quite a large car compared to European offerings of the day. I doubt that the two tone paintwork is original, but otherwise this car was in decent condition, and was certainly something different.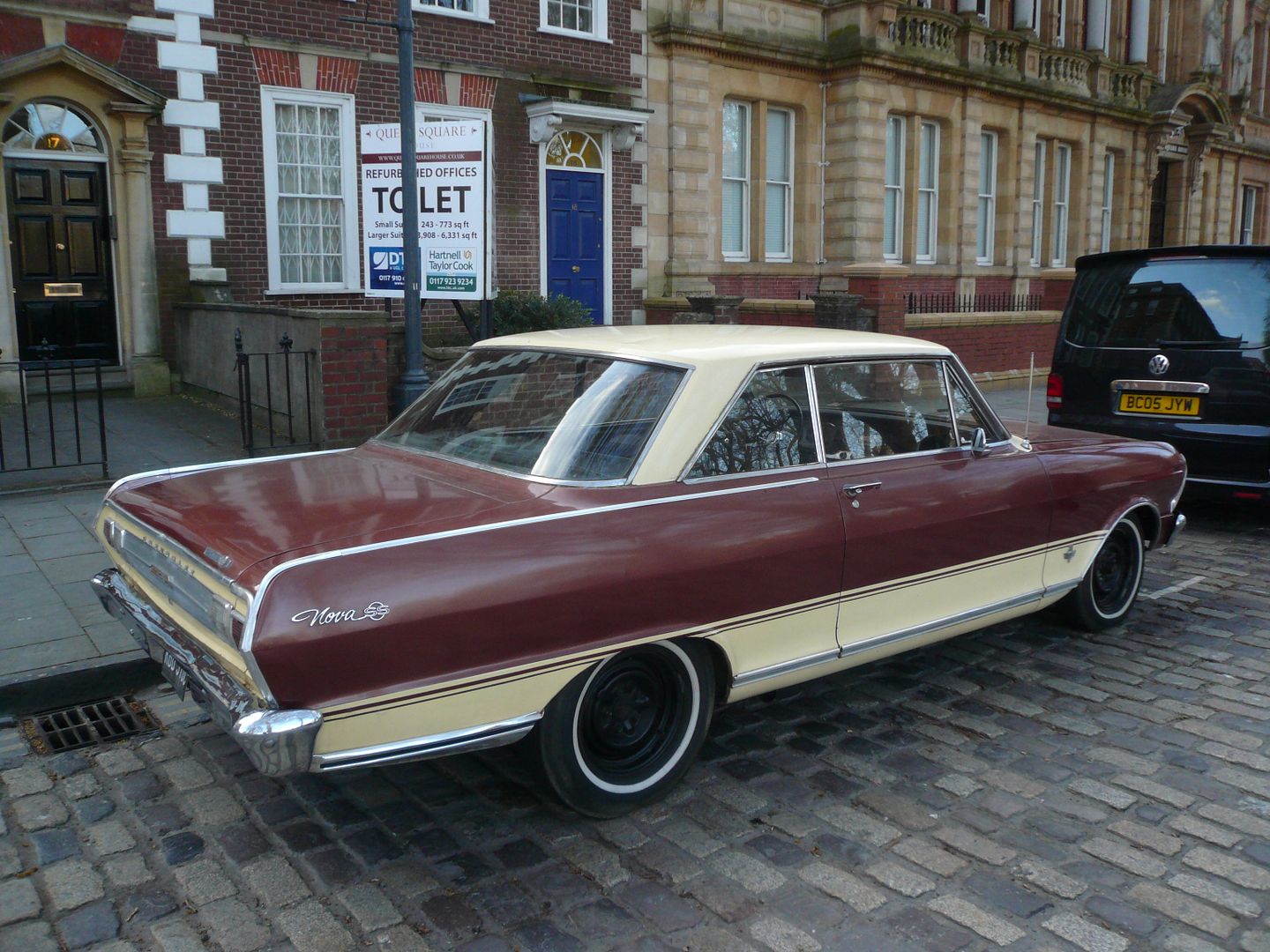 Better known in Europe, even though it has only rarely officially been sold here, is the Corvette, Chevrolet's evergreen sports car which is now on its 7th generation and which celebrated its 60th anniversary back in 2013. Although there are far fewer 'Vettes here than Mustangs, there are still quite a few, so it is no surprise when you get several present at an event like this, and sure enough, there were. The camera recorded a couple and they were both lovely: a first generation car, from around the middle of production, 1957/8, I would guess, judging by the revised bodywork from the first cars, but still with single headlights, and a split-screen C2 Stingray car which was just fabulous.
Chevrolet's production cars from 1955 to 1957 are highly prized, especially in America, these days., with 57 Bel Airs being the most sought after. This is neither, as it is a 56 and it is the lesser 210 rather than the top spec Bel Air, but still very nice indeed.
CITROEN
I know it's not the most exotic car present, by a long way, but for me, THE car of the day, I think, was this fabulous Citroen Ami 8 Estate. Admit it, this is just so cool that it is beyond frozen in "Cool Wall" terms. I saw it arriving, and the owner obligingly stopped so I could take a picture, and he lowered his window, so I could express my thanks and my appreciation of his car. He just smiled, and thanked me for liking it. But come on, who could fail to love this? Effectively a big 2CV, and it has the same characteristic sound from the flat twin engine, on those rare occasions when you do see an Ami, you are more likely to see the early cars with the reverse angle rear window, so a late model Estate is a real treat. the headmaster at my Prep School bought one, so i got used to hearing the distinctive sound as he motored around the site in it, but these cars have been more or less extinct for a very long time, sadly.
Saying that the Ami was my favourite almost feels disloyal to the other Citroen present, a late model DS21. These are also utterly magnificent, and this one, on French plates, was in fine fettle. This is one of those cars which has more or less universal approbation. Who could  fail to fall for the charms of the elegant styling, and the fabulous suspension which gives a billiard table smooth ride over almost any surface . Yes, even the cobbles of Queens Square! Although the car was parked, reversed in up a slight slope, it was no problem to keep the car level, thanks to the independent ride height settings front and back. The occupants were wafted away at the end of the event. Just magnificent.
DAX
With a potent Hayabusa engine under the bonnet of this light sports car, I can only begin to imagine just what explosive performance it has. Style very much like a Caterham or a Westfield, it bore Dax badging on the back.
DODGE
This 1970 Dart Swinger, smallest car in the Dodge range at the time, appeared at the event last month as well.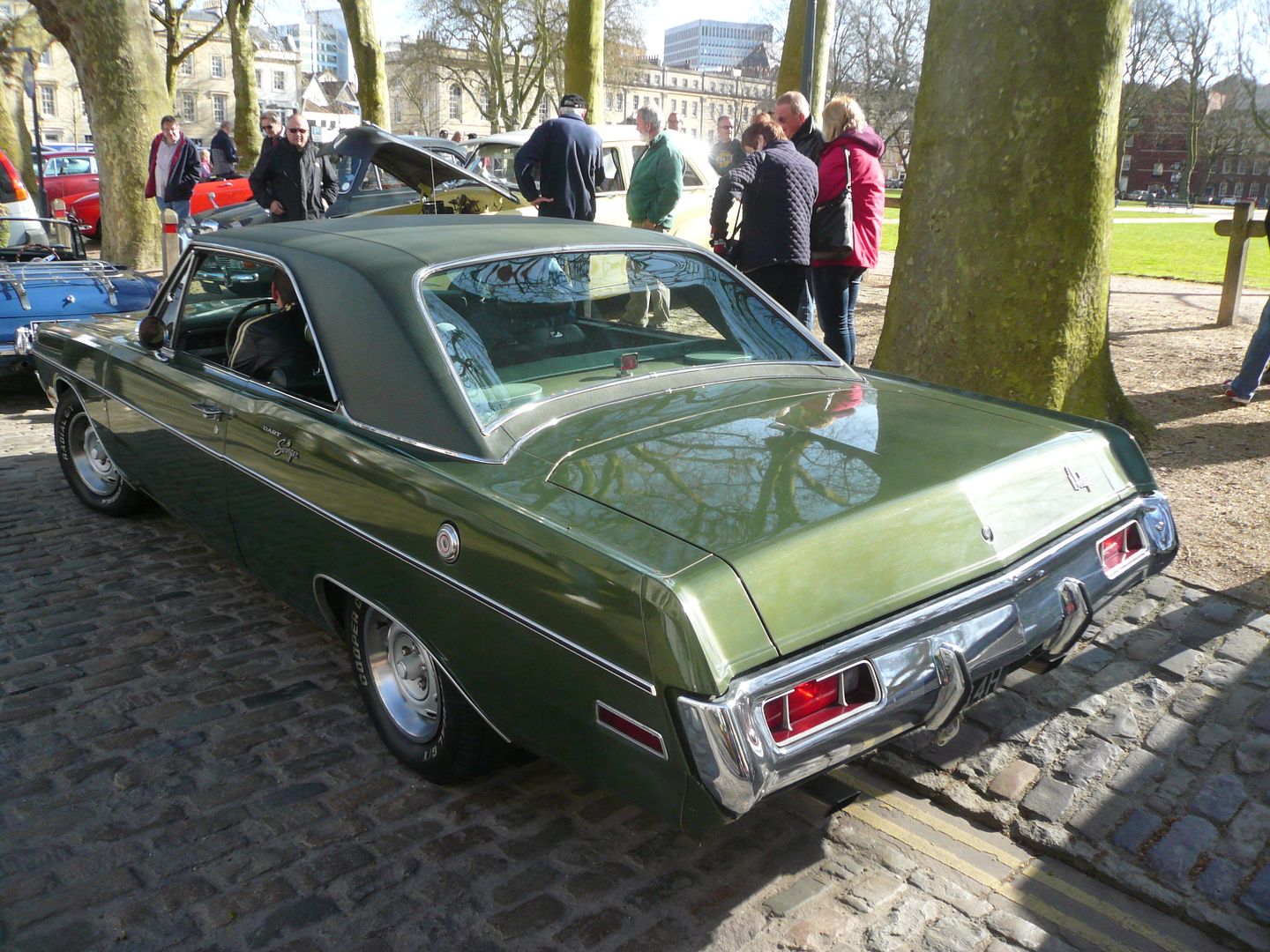 Contemporary with the Dart was the larger Challenger, a sporty 2 door Coupe which was the basis for the hottest Dodge Muscle Car offerings of the late 1960s and early 1970s.
FERRARI
About the only Ferrari present at the event this month was this 360 Spider.
FIAT
Nice to see an X1/9, Fiat's elegant mid-engined sports car which many thought of as the car that MG should have built in the 1970s to replace the Midget and B. It took until 1977 before the car arrived in the UK in right hand drive (some came in earlier than that as left hand drive cars). Am upgrade in 1979 saw more power from the engine, which was enlarged to 1500cc and a new appearance thanks to the larger bumpers. Sales were never very numerous, despite the constant updates made to the car. A number of limited edition models were offered throughout the model's life, and this VS is one such.
FORD
There is always a strong showing of Ford models at this event, which is hardly surprising given the sheer number of cars bearing the Blue Oval badge that have been sold here over the years, and the fact that the back catalogue contains many a much-loved model. Sporting models tend to dominate, and there were plenty of those present. For a start, there were no fewer than 6 Escort Cosworths parked up in various places around the Square. That's a lot to see collected together at any time, but over 20 years since the model was last produced (in relatively small numbers) is impressive indeed.
There were a number of other Cosworth badged models here as well. These were the Sierra and Sapphire cars from the late 1980s and early 1990s. Included among them was one of the special RS500 models as well as the regular model.
There are very few other surviving sporty Fords from the 1990s, and it's no surprise, as not only did the cars tend to get abused somewhat when new, if truth be told, this was not really Ford's finest hour, until Parry-Jones had worked his magic on the chassis, suspension and steering set ups, with some rather disappointing Fiesta and Escort models offered, but even so, it was nice to see this Fiesta RS Turbo model.
Illustrating the special sporty Ford of the 1970s were a couple of Mark 2 Escorts. One was an RS1800, a more hardcore model than the shovel-nosed RS2000 that you do see more frequently, the RS1800 was really a homologation special, with its BDA-tuned engine. Also with it was a 1600 Sport. There was also a Mark 1 car here which looked a little "modified" compared to the standard Mexico which constituted the sporting Escort offering of the early 1970s.
Bringing things up-to-date were a number of recent and current sporting Fiesta and Focus ST and RS models.
It was good to see some less-sporting Ford models here as well. Once a common sight on our roads, the vast majority of these have long since been recycled, so a reminder of what used to serve as daily transport and which barely registered a second glance is always the chance for a good wallow in nostalgia. Most dominant model in this category were Cortinas. Produced over 20 years in four (five if you count the September 1979 facelift as a new version, which it was not really), the Cortina was Britain's best seller for most of its life, claiming over 10% market share, something no car achieves today. Although similar numbers of each generation were sold, it would seem to be the case that the older the generation, there more likely it is to have survived, with Mark 3s and Mark 4s being the rarer of the model types. So, it was nice to see that these are what were here, with a post 1973 facelift XL, a Mark 4 2.0 Ghia and one of the Cortina 80 models, also in 2.0 Ghia guise.
Representing the largest Fords of the 1970s was this 2 litre Granada. Launched in 1972 under the names Consul and Granada, the range was rationalised and tidied up in 1975, and all models gained the Granada name. These were big tough cars and most of them either rusted away or met their end of the banger circuits, so it is always good to see one. even if, like this one, it is not quite 100% original in appearance.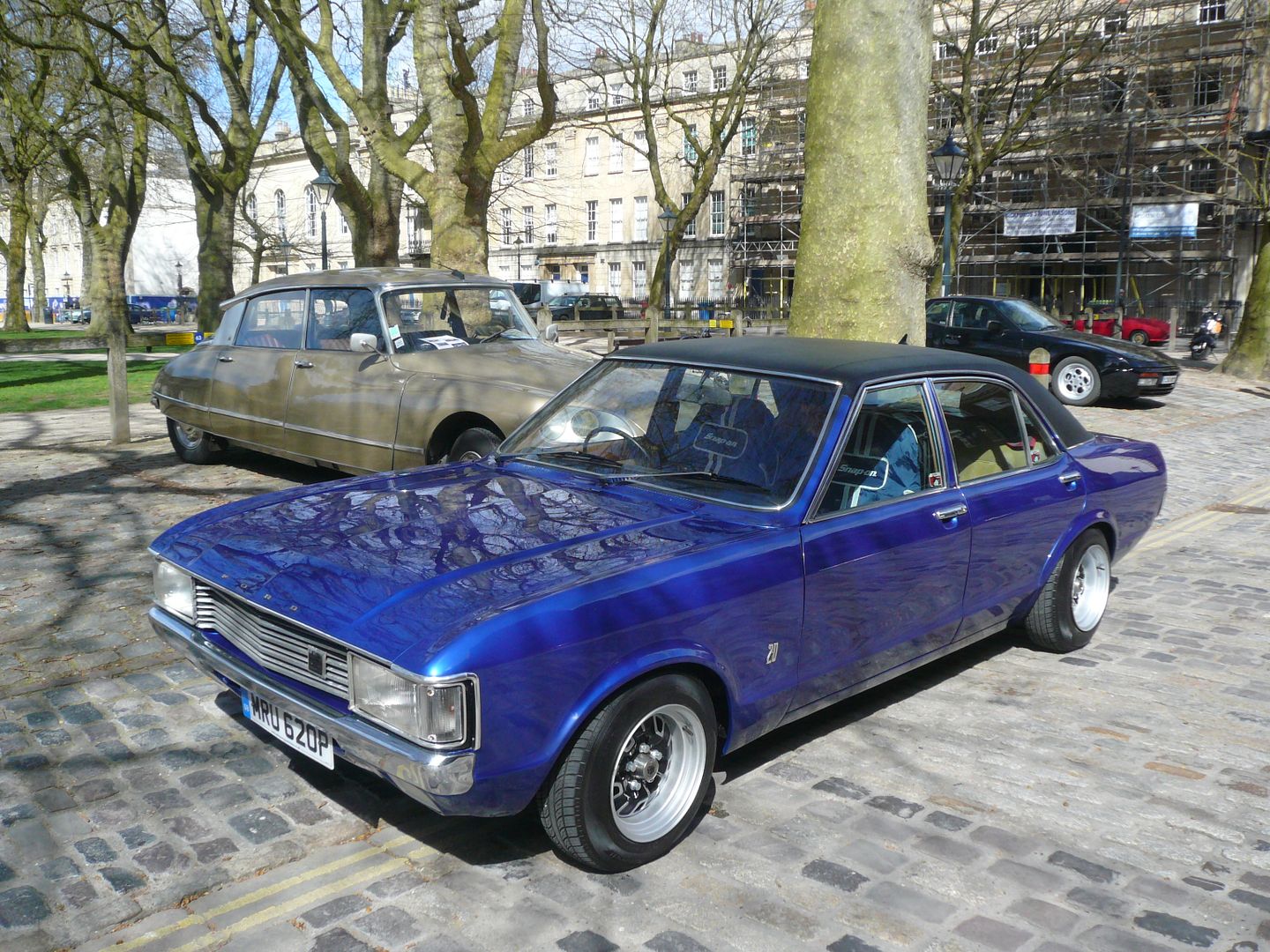 The smaller Escort was represented by this rather nicely presented example of a Mark 2 1.6 Ghia. These were plush top of the range models (if you don't count the more sporting RS cars), and sold in relatively small quantities, so were not that common even when new compared to the big selling L and XL or GL models. This is a late model car produced not long before Ford switched to the front wheel drive Mark 3 car.
Three years after the launch of "Erica", the front wheel drive Escort, Ford added a Cabrio model to the range, which proved to be an inspired move, as it was not long before all the major European manufacturers had gone to one of the specialists and asked them to build a rival. There never were RS Turbo versions of the Cabrio, so this one has certainly been modified from the days when it emerged from Karmann's works.
The XR3i and later and more potent RS1600i and RS Turbo versions of this generation of the Escort were very popular, and really helped to encourage a lot of other manufacturers to develop rivals, giving a far broader choice than just Golf GTi and Escort. Although a lot were sold, there are not that many left and decent ones are rare. There were a couple of RS Turbo models here, with one of the first cars, all of which were produced in white as well as an example of the facelifted model which first appeared in 1986, and produced until the body style's replacement in the autumn of 1990.
Joining it was this XR3i model.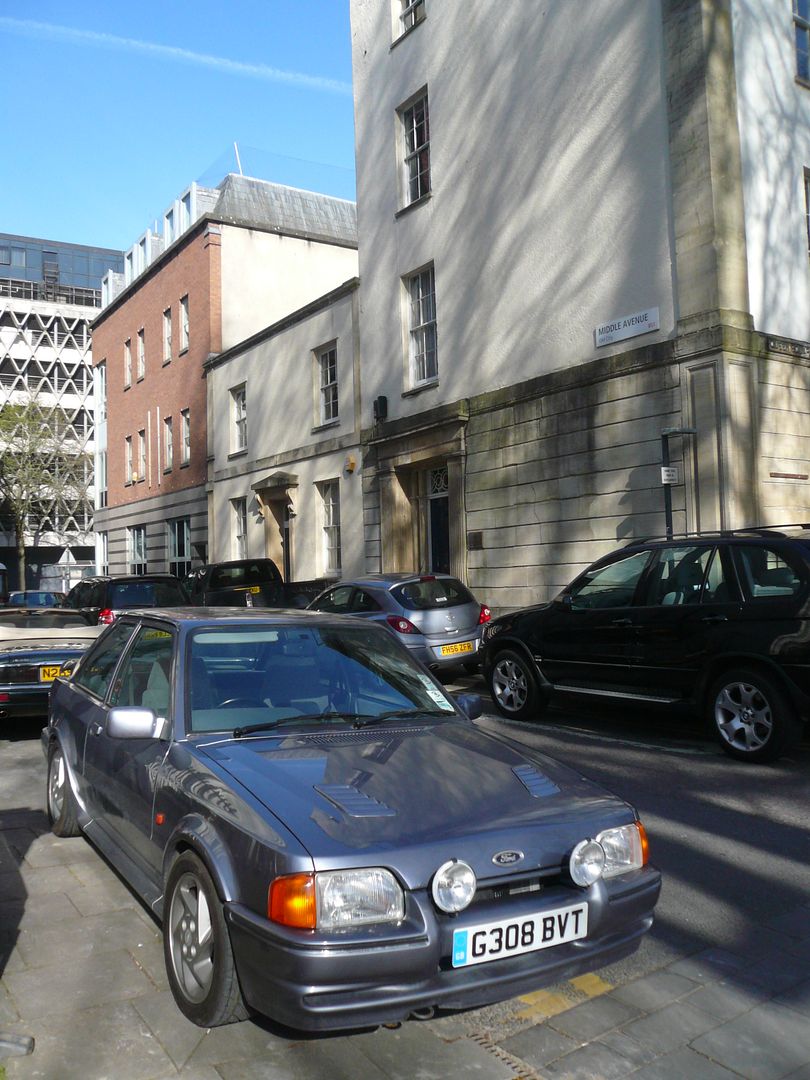 There were a couple of Series 3 Capri models here. One was one of the early 3.0S cars, in very period bright orange, and the other was the later 2.8 Injection, when the long running Essex engine had been replaced with the more modern Cologne unit, which also offered more power (and eventually a five speed gearbox).
There was also an example of the first Fiesta. First revealed in the summer of 1976 and going on sale in early 1977, customers were just as cautious about a small front wheel drive Fiesta as Ford's product planners had been about building it, but the car quickly became a market success. It ran until 1983 before a comprehensive facelift was applied, but a number of rust traps in the early cars means that there are surprisingly few of those first cars left.
The Consul Classic had a short production run, offered from 1961 until 1963, by which time its reverse angle rear window was looking rather old fashioned. In fact, this car was designed before the 105E Anglia which had the same design feature, and was intended to plug the gap between the large Consul/Zephyr models and the smaller Anglia/Prefect cars. In the end, Ford prioritised the launch of an updated Anglia, and the Classic came to market already somewhat behind the times. It was replaced by the Corsair, another mid-sized Ford that did not quite hit the big time like the slightly smaller Cortina did. Classic owners are very keen on their cars, though, and you often seen them at this event.
Also rare, as only a few of each were produced with this pair of Crayford converted models, the Fiesta Fly and the earlier Capri. The Fly was first seen in 1981. Designed by David McMullan, it had a permanently welded-shut boot, with a plastic sill fitted to prevent the car from needing to be repainted. The production history of the Fiesta Fly is not clear, but the common claim that only 20 or so cars were built is probably untrue. It is believed that this figure refers to the number built by Crayford, rather than the number built in total. What is known is that Dorset-based firm F. English Coachwork Division bought the rights to produce the Fiesta Fly sometime in 1982, and Autocar reported in September 1983 that about 100 Fiesta Fly conversions had been produced. It is believed that F English built around 200 Fiesta Flys, with 83 known to survive. Crayford also reportedly built two Fiesta Flys based on the Mk2 Fiesta. It was possible to purchase any production Fiesta model in Fiesta Fly form, not just the 1300 and XR2 models as often reported.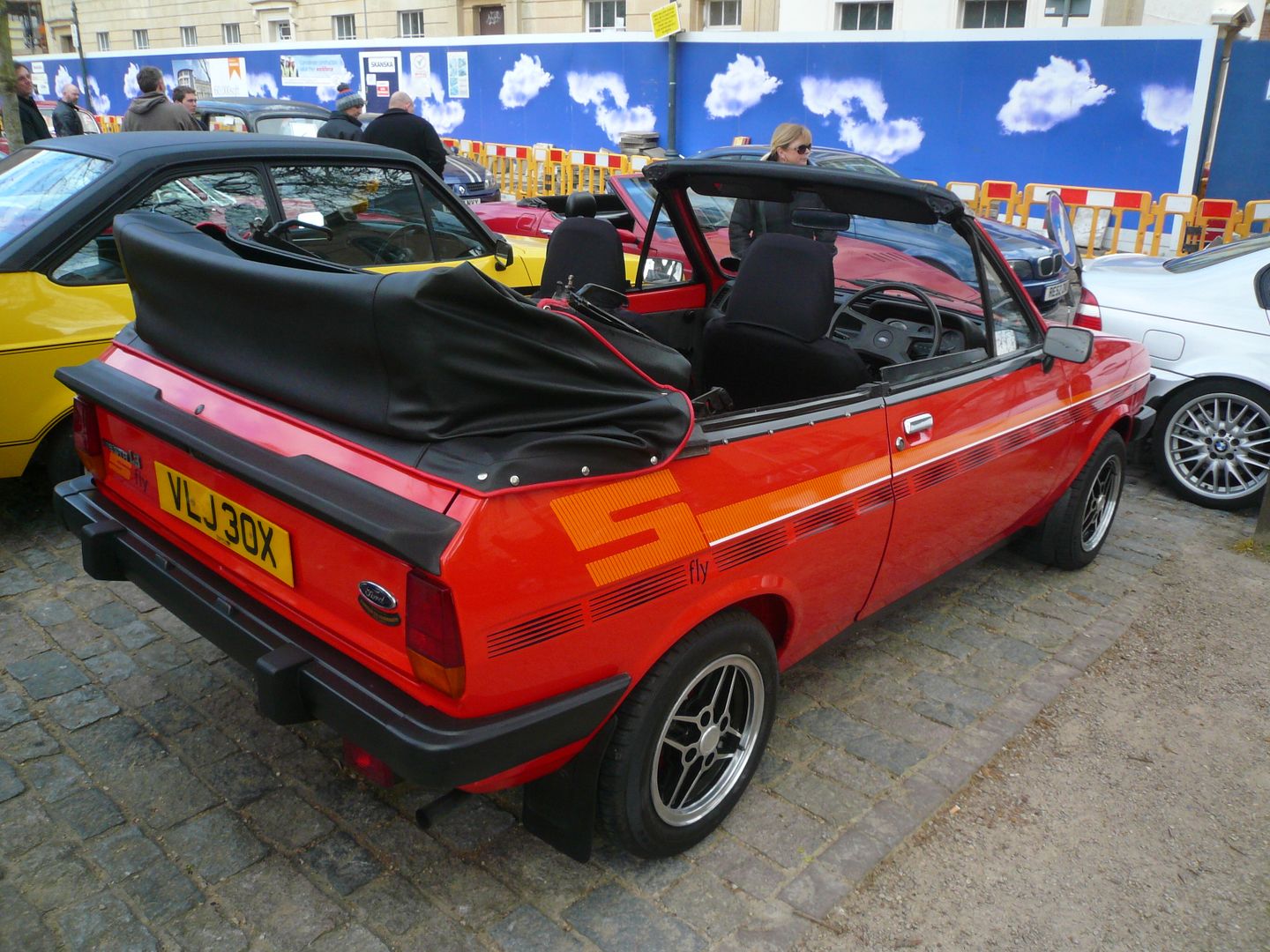 The Capri was launched in January 1969, so renowned coachbuilder Crayford had clearly moved fast to have their convertible version shown by October 16th in time for the Earls Court Motor Show. In Crayford terms, it was not a convertible but a Cabriolet, using a luxury hood that had a full internal wool headlining, and it was priced from £1,849 for the 1300cc up to £2,421 for a 3000E V6 convertible, at a time when an E type was just over £2000. But it sold well through its Bristol Street Motors franchise, BSM even produced a flower power hippy style brochure for its "Freedom Capri". It was not the only open topped Capri, though, as three different Capri convertibles where now being produced, all different and with their own plus and minus points. The Crayford Capri was easily the most successful, though, with 37 documented sales. All the cars where built under licence by Crayford's partner in Germany, Deutsch of Cologne. Cars went out, 2 each Friday, as saloons and back each Monday as Crayford's. Crayford did an extensive redesign to the rear deck to make it completely flat, but left the door window frames in place on cost grounds, for many it was the best looking of the three conversions. Abbotts of Farnham, well known for producing Estate versions of the Ford Corsair and the larger Consul/Zephyr/Zodiac models, also built a Capri convertible. Not so pretty as the Crayford, it had no redesign to the rear deck, you could still see the rear buttresses, but it did have wind up rear quarter-light glass making a lighter car with the hood up, Abbotts also took out the front window frame. Orders for 50 cars were received but Abbotts were in financial trouble and it is believed that they only made and sold 7 cars before the company collapsed and ceased trading. The third open Capri design was commissioned directly by Ford chairman, Sir Leonard Crossland. He wanted one for himself and had Carbodies of Coventry build a white car with a white power hood, operated electrically. It was road tested by Jackie Stewart and within a week Sir Leonard was on the phone from Ford asking for a second car to be built as the first car had been written off (rumoured to be his wife while out shopping). A second car was built and delivered, but Ford accountants declined to go forward with the project as it was deemed too costly to make any profits. Unfortunately, car No. 2 may have been ordered crushed for tax reasons.
Back in the 1950s, Ford worked with Carbodies to produce Convertible versions of their large cars, and a number of these have survived. Most of them are the more powerful Zephyr and Zodiac models, so it made a pleasant change to come across a 4 cylinder Consul model. This one, a car which I've not seen at this event before, was an absolute stunner.
There were a couple of much earlier Fords here, too. A "sit up and beg" E93A Popular was joined by an E94 Anglia.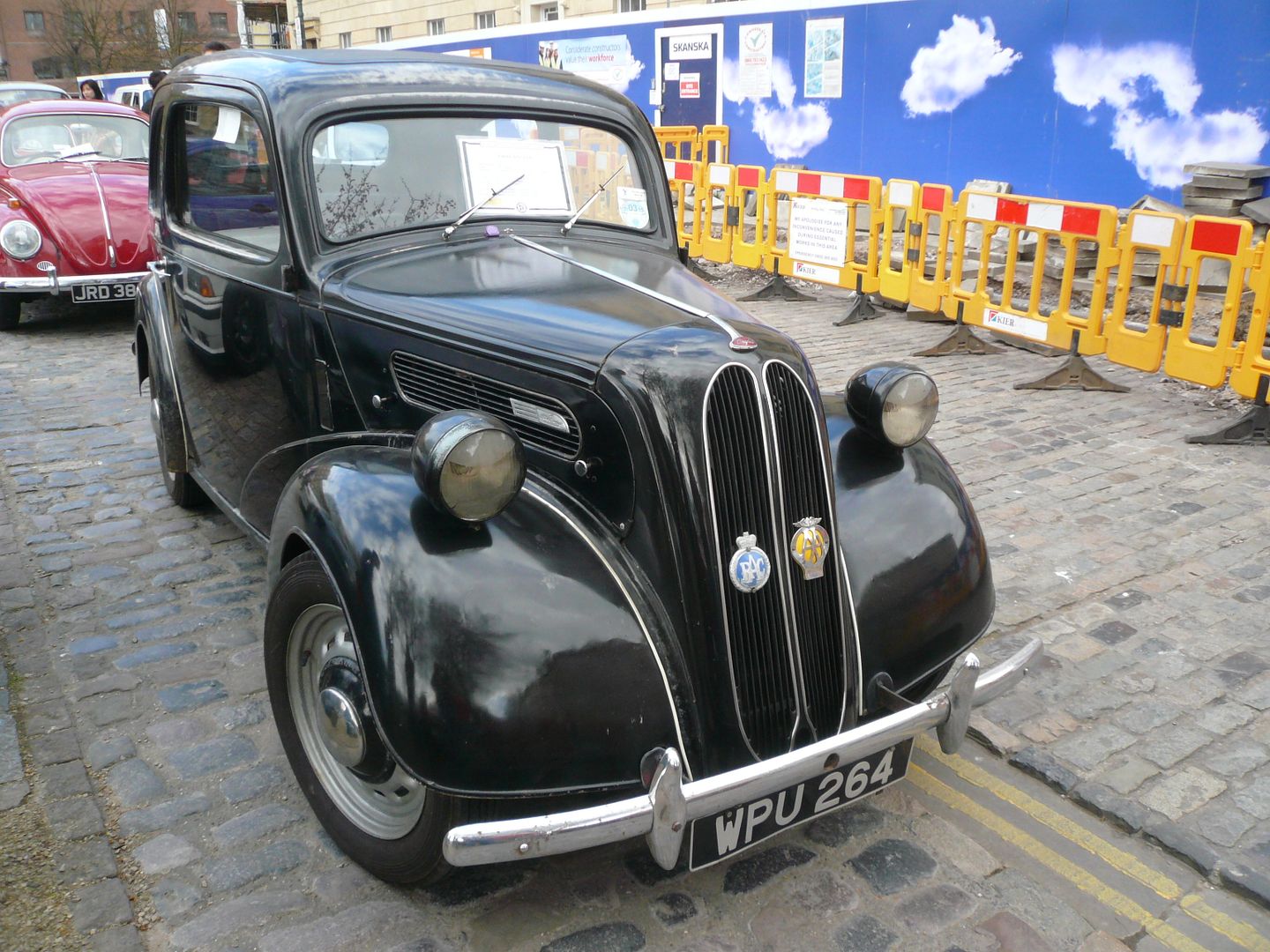 Ford's US products were not unrepresented, either. Most numerous were the Mustangs, with first, third and fourth generation cars present.
This F100 pickup dates from the very late 1950s, and is a manageable size compared to the vast things that are produced (and are popular, viz the fact they are the best selling vehicle in America) nowadays.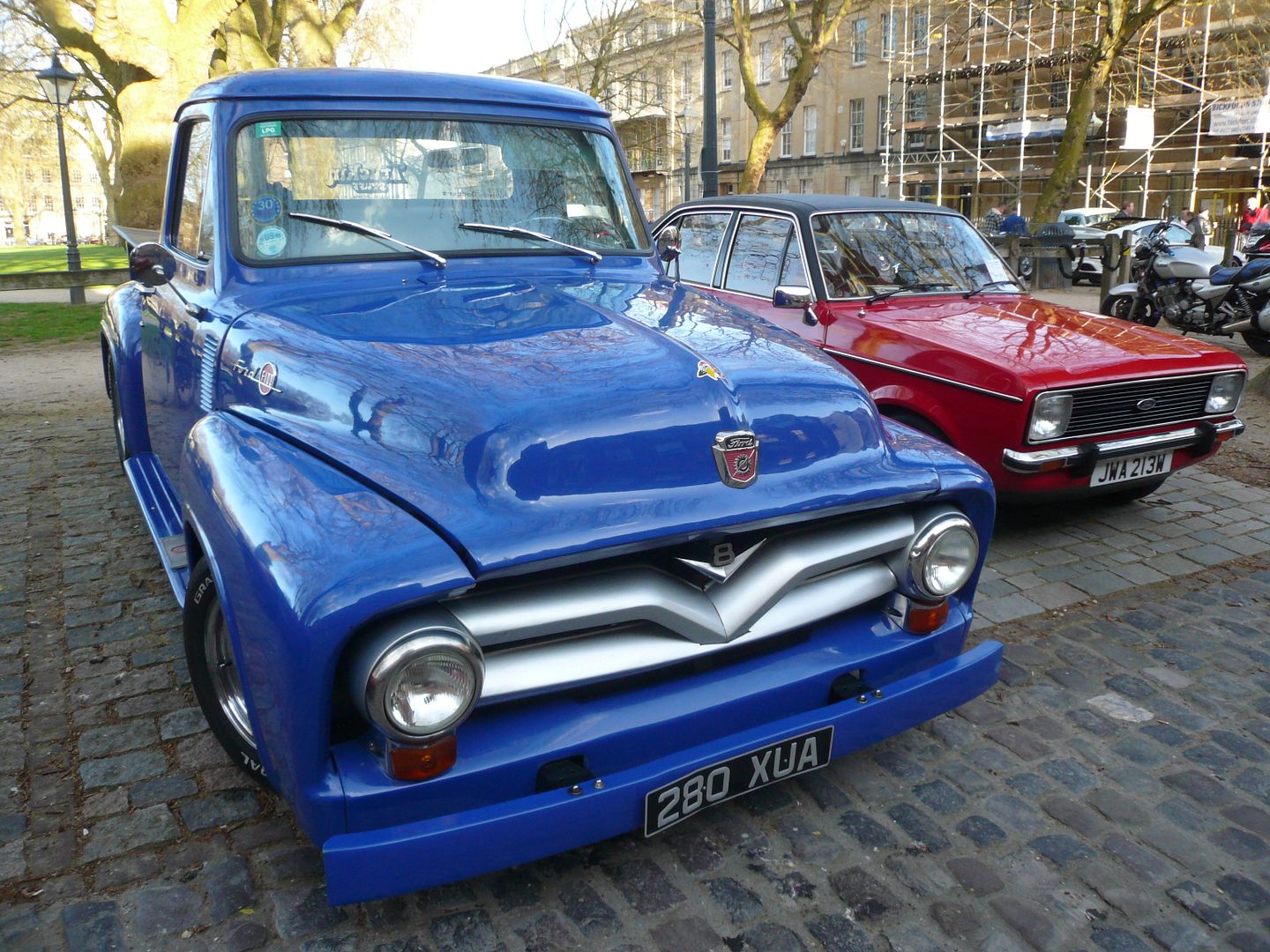 FSO
I first saw this FSO Polonez at the March meeting, and found out that it had been recently been imported from Poland, and is believed not just to be one of only a handful of such cars in the UK but probably to be the oldest example of the model on our shores. I featured it extensively in the report from that meeting and selected it as the cover star for the report, which clearly delighted its proud owner, Jerzy Korczak. So, when I saw it parked up again, I had go and talk to him a second time, to tell him that it was me who had featured his car. He is clearly quite an enthusiast, as he then told me about his own Facebook page, which entertained me for many an hour looking at all sorts of pictures he has taken in recent years, some from events that I have also attended, and plenty that I have not, as well as fascinating stuff from his home town back in Poland. If you've not found it already, then go to https://www.facebook.com/classicgarage2000
GTM
GTM have been creating small and relatively inexpensive kitcars since 1967, when they produced the Cox GTM, a mid-engined Mini-based machine with styling inspired by the Ferrari Dino (so it is said!). Production stopped after 5 years, and ownership of the company changed a few times over the next few years, with production of new cars, as opposed to spares, starting again in 1980, with an updated version of the GTM Coupe. The model continued to be developed and the company took advantage of the Austin-Rover K Series engine when it became available. In 1998 they launched a new car, the Libra. Three years in development,  it was a collaboration between GTM Cars directors Peter Beck & Paddy Fitch, designer Richard Oakes and suspension designer Bryn Davies. Conceived as a lightweight sports car, it uses no subframes for its suspension with all the mountings being bolted straight to the GRP monocoque tub. At the front it uses unequal length wishbones of GTM design locating uprights from the Rover Metro/100 range and a forward mounted steering rack for extra legroom. The rear suspension is an unusual double trailing arm design, bolted to the rear bulkhead and using the same uprights as the front. The engine/transmission unit is held in a frame hanging off the rear bulkhead, a frame which also locates the rear hinging engine cover which incorporates a sizeable boot which can accommodate a full size set of golf clubs. The front 'clamshell' conceals the radiator, battery, master cylinders etc. and also manages to stow a full size spare wheel (either 16″ or 17″). A removable roof panel can be stowed behind the seats for an open top experience. Initially launched with the 1.4 litre Rover 'K'-Series engine, the Libra has been fitted successfully with 1.6, 1.8, 1.8 VVC and KV6 2.5 litre Rover engines as well as some Honda units and the Audi 1.8 turbo engine. Production ceased in 2010, as supply of the necessary parts dried up.
HILLMAN
The Minx was the mainstay of the Hillman range from the 1930s until the nameplate finally disappeared in 1970. Although the model underwent almost annual updates throughout this period, there were not that completely different designs. This is the one that was produced post war until the Audax cars made their debut in 1956.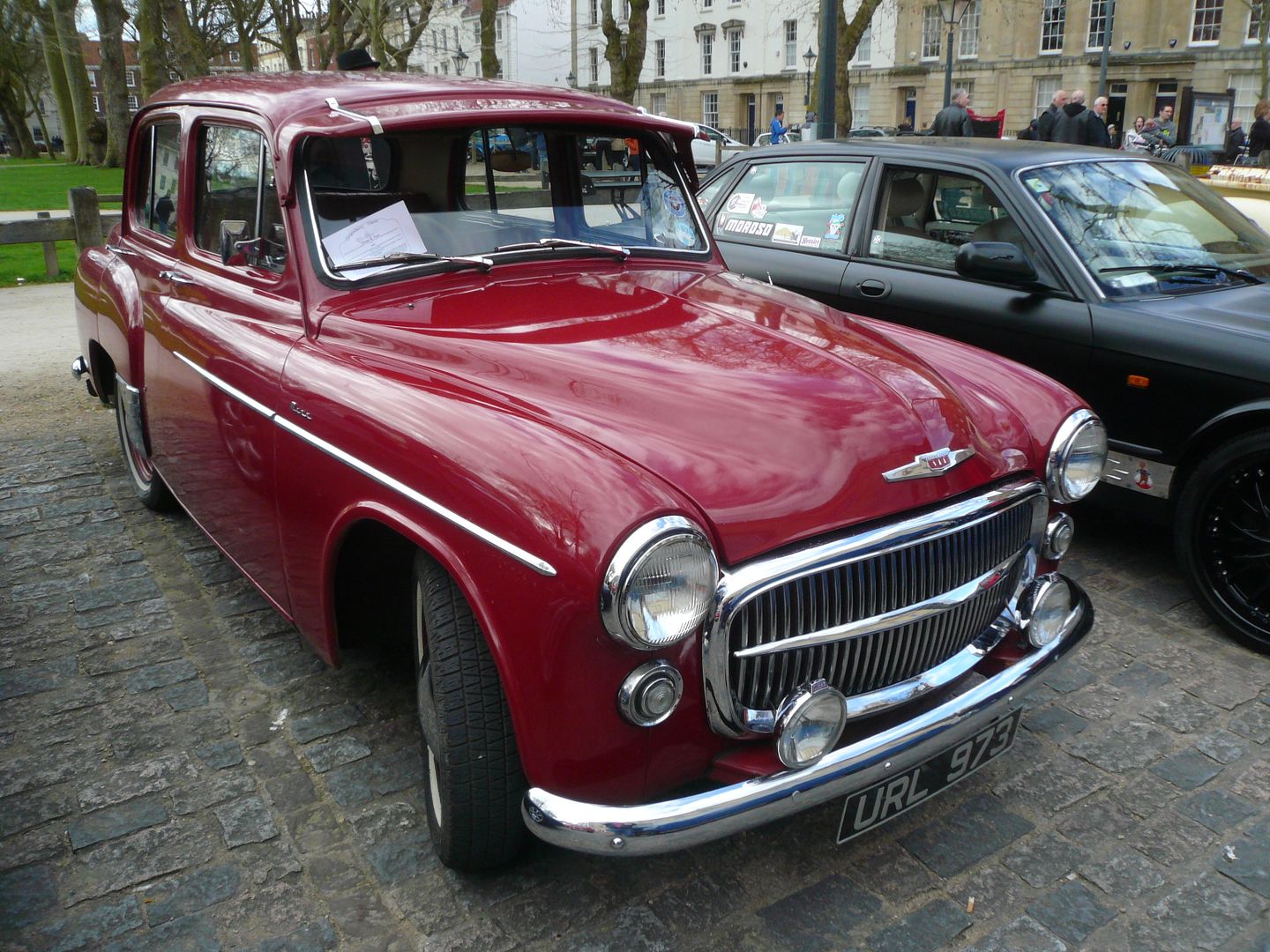 JAGUAR
The owner of this XF-R parked it up very carefully, literally a couple of minutes after I arrived, but within 10 minutes, he was gone. I'm not quite sure whether he intended to be part of the event, or whether that scared him off!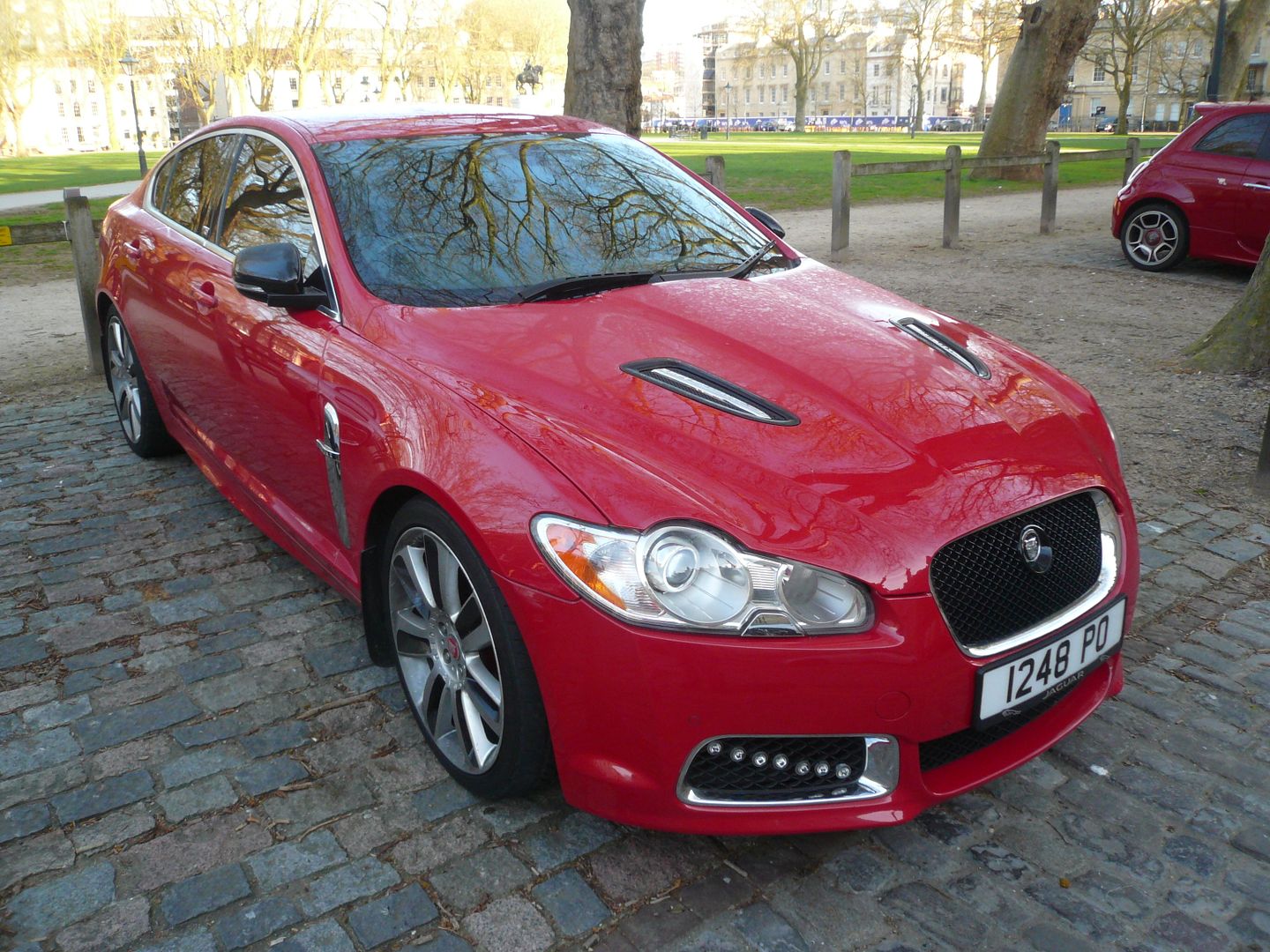 In many ways even more desirable than that was this, an F Type Convertible. Common consent has it that this is one of, if not the, best looking cars in production at present, and I am not going to disagree with that. It also sounds absolutely amazing when the engine is fired. A British car to be very proud of indeed.
Fifty years their junior was this Mark 2 Saloon. First shown in 1955, as the 2.4, this was a small Jaguar, to chase after more sales volume than the Coventry marque had been achieving with its large Saloons and XK Sports cars, which sounds like a familiar theme from Jaguar's 2015 strategy with the imminent launch of the XE!. The early 2,4 was soon upgraded to the more powerful 3.4 and disc brakes made the car so it stopped as well as it went. A 1959 restyle created the Mark 2 version, and with an even more potent 3.8 litre engine, this was the aspirational car of its era (which made it rather popular among the car thief community as well!).
Although it took a few months after its autumn 1968 launch,  Jaguar replaced all their saloon cars with the XJ6 and this was the staple model in the range for the next 30 years. The Series 2 cars premiered in the autumn of 1973, and to my eyes were at least as elegant as the first, with their higher bumpers and smaller front grille. This is still a great looking large car now, though I can't imagine anyone selecting this gold sort of colour for their new XF or XJ in 2015!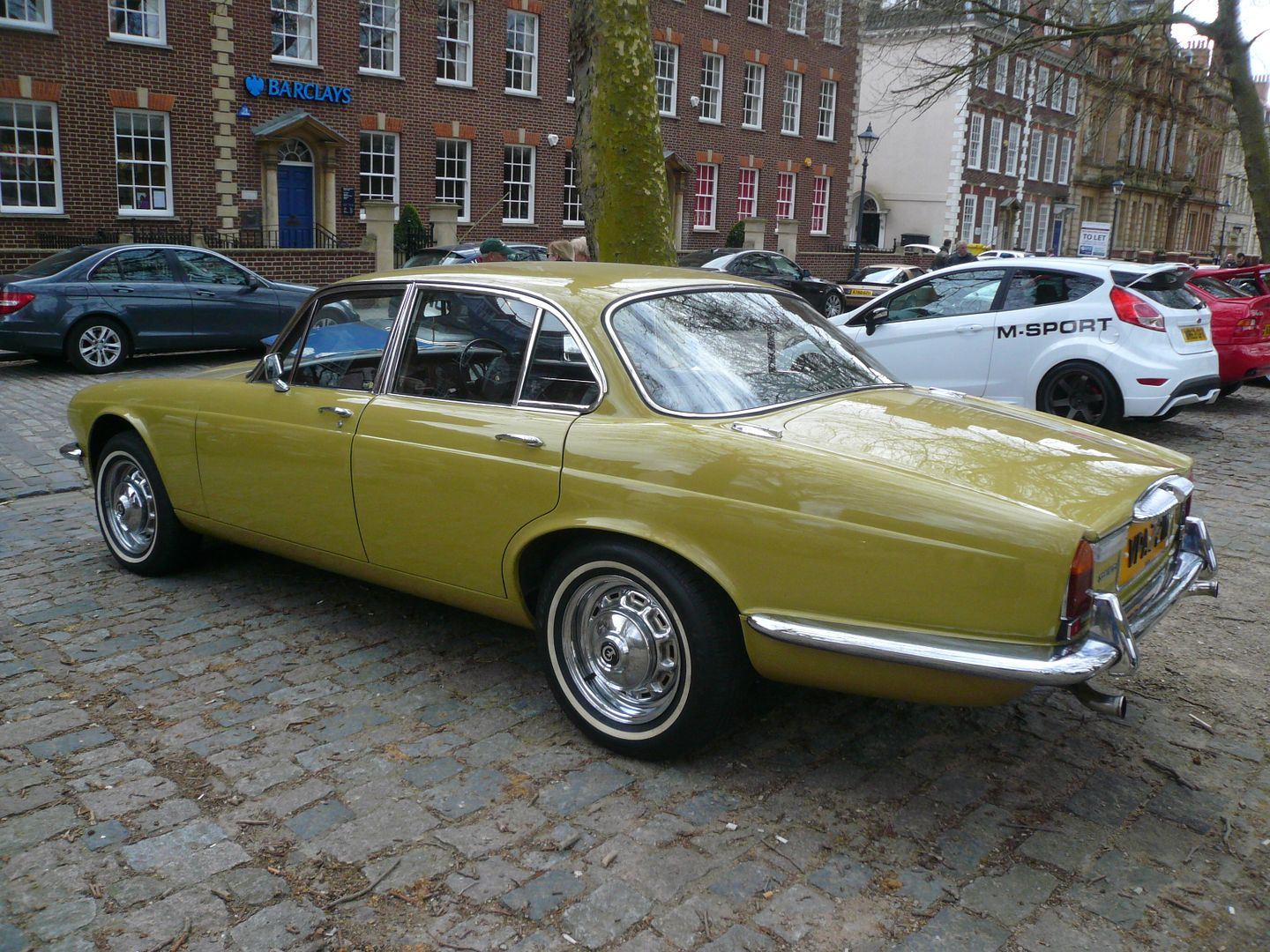 K1
I've seen this K1 Attack a number of times before, so I do know what it is. Clearly many attendees did not, and were puzzled, trying to discern what they could about this striking looking machine. A kit car (yes, really!), it is the product of a Slovakian firm called K-1 Styling & Tuning, headed by Dick Květňanský and a designer Juraj Mitro. It is a lightweight two-seat roadster, supplied as a kit. from which it is possible to assemble a full sports car using the power units of a donor car. The K-1 Attack then evolved into the K-1 Attack Roadster 3.0 V6, which was produced by the company K-1 Engineering as a complete sports car in a limited edition of 35 pieces.
LAMBORGHINI
Although not quite as conspicuous as the bright orange Huracan which visited the event last month, any Lamborghini is pretty much guaranteed to draw the crowds, whether it is stationary or with the engine running, and even when it is the model that is most often seen the Gallardo. So yes, a grey Gallardo Spider was still quite a draw (despite the lack of crowds in this photo, but those of you know me, will know that I can be quite patient sometimes!)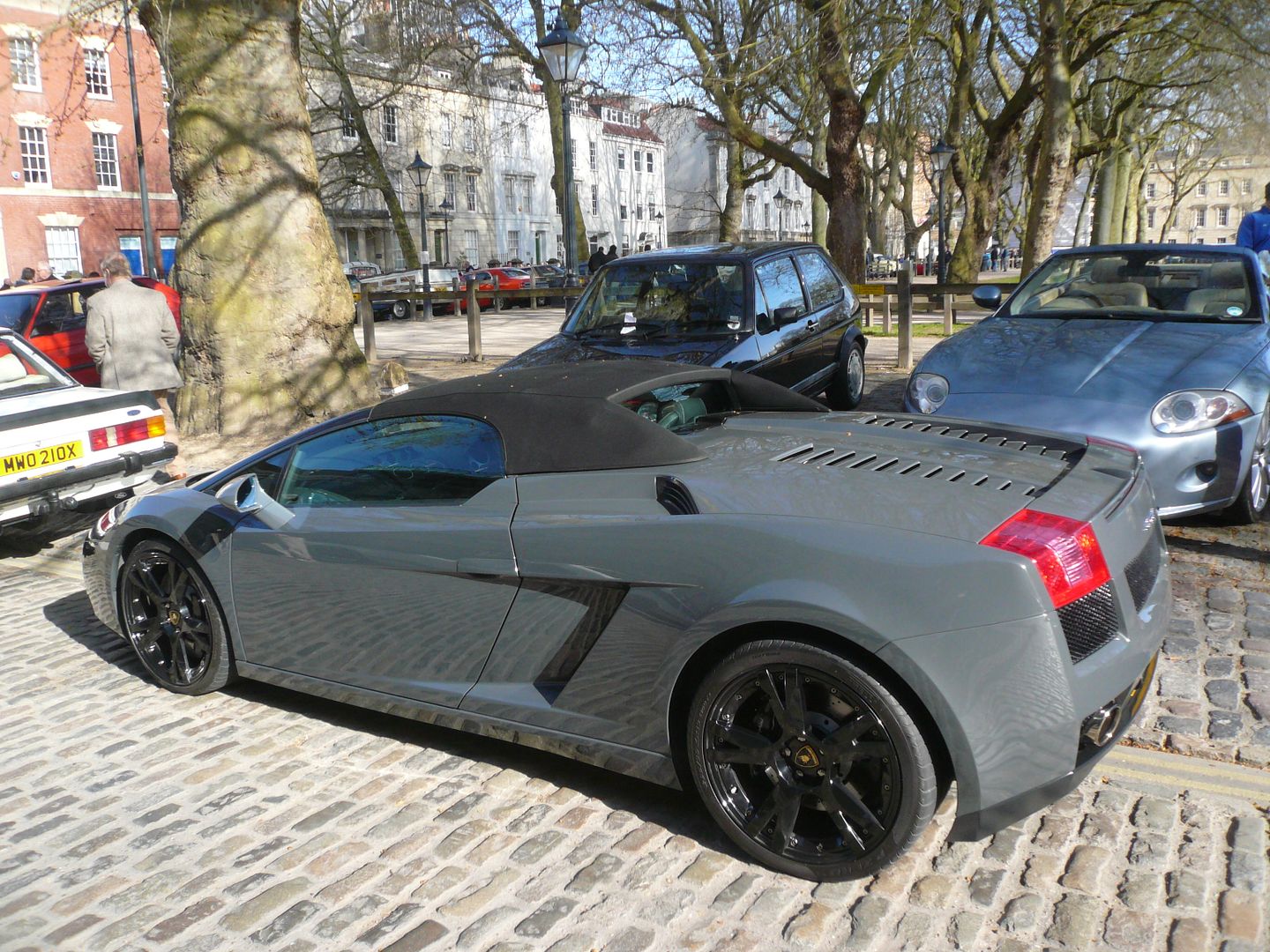 LANCIA
Nice to see a Monte Carlo. A mid-engined sports car that was first shown in 1975, this car was originally intended to be a Fiat, codenamed the X1/20, but a last minute change of heart saw it with Lancia Beta branding. The very first cars had filled in rear buttresses, but these were glazed after a little while, to try to improve rear visibility.  The car was made for a couple of years, but some rather disturbing characteristics under braking caused production to cease whilst Lancia re-engineered the model, removing the brake servo, among other things, with the revised car appearing in 1981. It was sold in the US, as the Scorpion, where it bore twin circular headlights as shown on this car.
This Thema Turbo, Lancia's version of the Type 4 cars, which also gave us the Fiat Croma, Saab 9000 and Alfa 164, is the proud possession of a local enthusiast and he brings to this event quite frequently.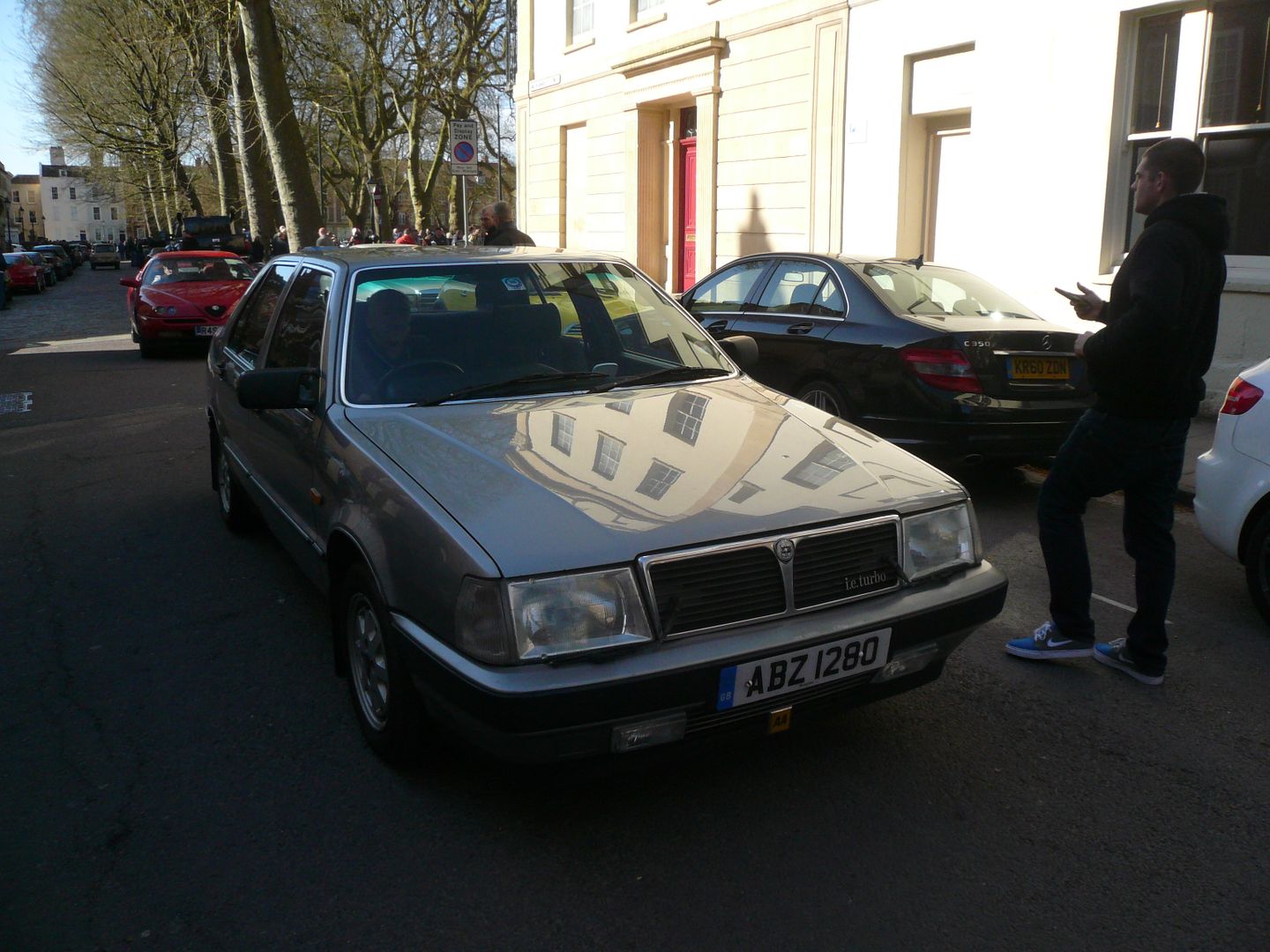 LAND ROVER
This intriguing version of a Series 2 Land Rover has been at the event a couple of times before, but for some reason I've never pointed the camera at it. I made amends this time. Clearly a giggle for driver, passengers and spectators alike.
LOTUS
It was a nice day, so the owner of this very cossetted Esprit clearly felt he could bring this car out for us to see. A very low mileage car, he has previously said that he does not take it out in the rain, or take it very far ever. That could explain its factory fresh appearance.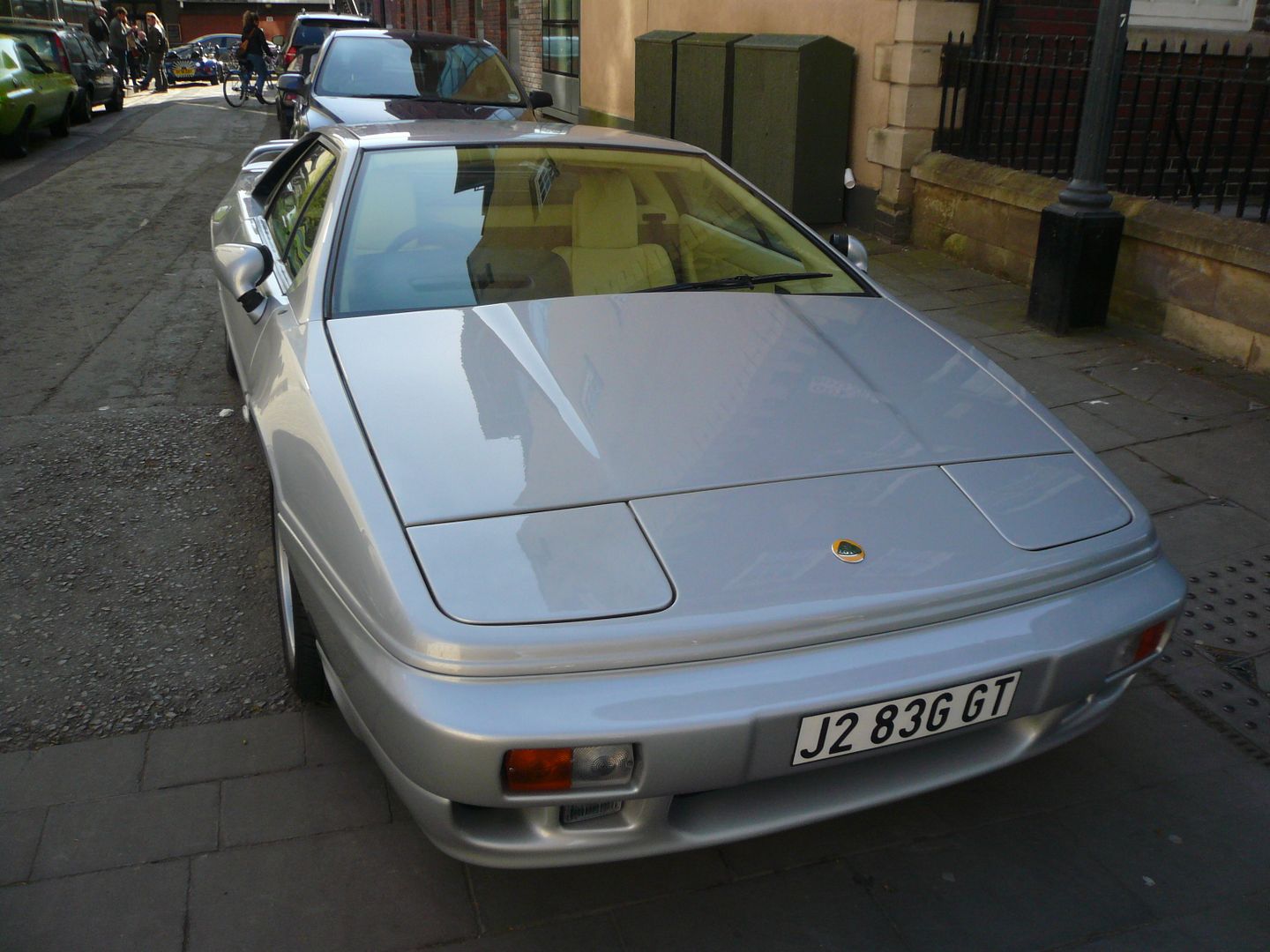 Dating from the same period was this, one of the earliest Elise models produced. This was a real return to Lotus' roots after seeing the Esprit try to climb further and further up market, and finding the going particularly tough as it did so.
It was good to see an original Elite here. This was the first Lotus produced by Colin Chapman that was really suitable for the road and all weather conditions. Its diminutive dimensions and low weight, combined with a potent Coventry Climax engine of just 1200cc meant that it had lively performance and excellent handling. It was expensive to build and the car had a reputation, largely deserved, for being less than reliable, things which the later Elan only partly addressed. The early Elan was also represented here.
MAZDA
The MX5 Owners Club also come en masse to this event, and they did not make an exception this month. A sizeable gathering of the ever popular small sports car were all gathered together in one area of the Square, with examples of all three generations of the car on show.
I've seen this facelifted first generation RX7 before, but it bears seeing again, and again, as this is a very good looking car, and with an intriguing mechanical specification, thanks to that rotary engine.
McLAREN
Arriving mid morning, this 12C was parked on the corner which usually attracts most attention, and sure enough, it drew the crowds within seconds of parking up.
MERCEDES-BENZ
One of the rarest cars present was this, a fabulous W116 model 450SEL 6.9. The owner appeared as I was taking photos, and he asked if I knew what it was. When I said that I had seen the 6.9 badge and knew that this meant that it was one of around 400 or so right hand drive models made in the late 1980s that had a 6.9 litre V8 engine under the bonnet as opposed to the regular 4.5 litre powerplant, he told me that I was only about the third person who actually knew the significance of the car. And on that basis, I was worth talking to! It turns out the car has spend most of its life in Jersey, though it has classic Irish plates on it, as the current owner has only had the car for 3 weeks. It is all original, with a slightly used looking interior, but everything still works, including the hydropneumatic suspension. He fired the engine for me, and it makes a deep and quite muted rumble, and still sounds very restrained even when he revved it quite hard. It is apparently all too easy to do a three figure speed without realising it. Among previous owners of 6.9 cars were James Hunt who loved it, (even if his did end up on bricks in front of his house!), and this owner decided this was the proverbial itch he just had to scratch.
Worth a lot more money, and a car that just about everyone will recognise as special without having to be told why, was this "pagoda" W113 model 230SL. This one had the rare (for its time) automatic transmission.
There was also an example of the replacement for this model, the long lived R107 model SL, seen here in 300SL guise from towards the end of the 18 year production run.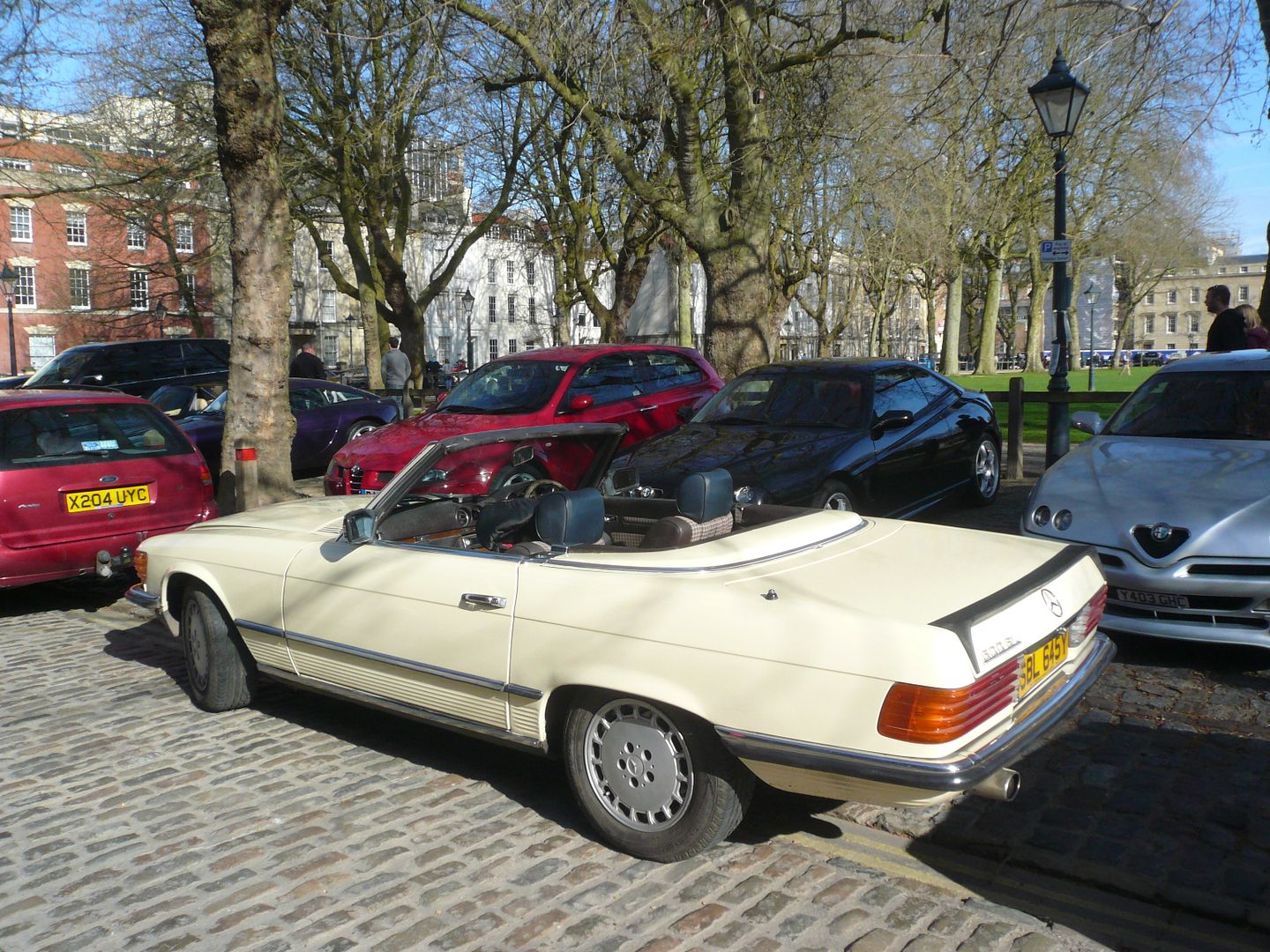 MERCURY
Based on a 1949 Mercury Custom, this beautifully presented car makes fairly regular appearance at this event, and it is definitely a stunner.
MG
There were surprisingly few MGs present, though this could be that a massive event for the marque was taking place elsewhere in the country where what turned out to be a successful record attempt was being made to get the greatest number of MGs on track at once. The cars that I noted here were one each of the MGR V8, and the earlier Midget as well as a couple of Roadster MGBs.
MINI
Early Minis are highly desirable, and none more so than the Cooper models. There were several of these popular classics here.
NASH
This 1947 Nash de Luxe is one of the American cars which appears regularly at this event.
NISSAN
The GT-R has been on sale for 6 years now, but it is another one of those cars, like the Audi R8, which never fails to draw the crowds. Not quite the bargain that it was at launch, this is still a technological tour de force even in 2015.
OPEL
Originally conceived as GM Europe's answer to the Ford Capri, the Opel Manta was produced in two distinct series. The A model cars, from 1970 to 1975 were stylish Coupe cars with a smaller range of engines than Ford could offer, and with prices that were somewhat higher in the UK, model for model, the car only sold in relatively small numbers, and then the B model appeared in 1975, and ran for nearly three times as long. Weeks after its debut, GM launched the Vauxhall Cavalier which was little more than the new Opel Ascona and Manta with a different front end and variations in the trim level. The combined Manta and Vauxhall models sold quite well, with the range getting a boost in late 1978 when a three door hatch model was added to the range.  A combination of the launch of the new front wheel drive J-car Cavalier and Ascona in 1981, with no replacement for the Manta, and GM Europe's unclear marketing and branding strategy for the UK saw a facelifted Manta arrive in 1983, with integrated bumpers, and new engines, which gave the car a new lease of life and prolonged its production throughout the 1980s. Popular and successful as a rally car, road-going Manta 400 models were produced and tuning-house Irmscher offered more potent versions of the car as well, meaning that there are quite a few different variants. A trio of them were here, with an early B Coupe and an Irmscher modified version i200 of the later car and a 3 door GT/E.
PORSCHE
There are always lots of 911 models here, and this month was absolutely no exception to that. Assembling all the pictures in a block, as I can do in this report, presents a nice illustration of the evolution of Porsche's long running "Neun Elf", showing how the name may have remained a constant and the overall styling theme, but that everything else has changed, and how the car has in its more recent generations got noticeably larger in every dimension.
The 4 cylinder front engined cars were well represented,, too, with a nice variety of 924 and 944 models present.
Also front engined, of course, was the 928, the luxury grand tourer that Porsche launched in 1977, to a slightly sceptical audience, who took some time to warm to it, even though it was accoladed with the "Car of the Year" award at the end of the year. Upgrades which systematically added more power to the car, as well as other modifications made it better and better over the following 15 years. It's still not that highly valued, though, and you can find decent examples of this car for surprisingly little money. Surely, as classic car prices continue their inexorable rise, its time will come, and soon?
There are a couple of Boxster Spyder models which are often seen here, usually both together, but neither of them were evident on this occasion. Instead there was a regular model, as well as a couple of Cayman models, all of them in particularly bright  hues.
RELIANT
I know it's hard not to laugh when you see a three-wheeled Reliant, but I am sure that the owners are used to that, as these cars have been the butt of jokes from the time that they were new, long before the Top Gear episode which reminded everyone about the Tamworth-built machine. This is a very late model Robin, with the rather awkwardly modified front end that Reliant applied to the final years of production.
RILEY
The majority of RM Series Rileys, a model produced from 1948 to 1953, were saloon models, with 1.5 and 2.5 litre versions offered in two distinct generations (though they are quite hard to tell apart). A small number of open models were also made, the Tourer (RMC) and the Drophead Coupe (RMD). Around 500 of each were made.  Most of the former were exported to the US. This is one of the latter, as identified by the straight waistline.
The OnePointFive was a medium sized saloon, far smaller than the Pathfinder which was sole model in the range after the end of production of the RM Series. Designed as a potential replacement for the Morris Minor, the design was only used by Riley and Wolseley, and with production ending in 1965, it was outlasted by the model which it was intended to replace.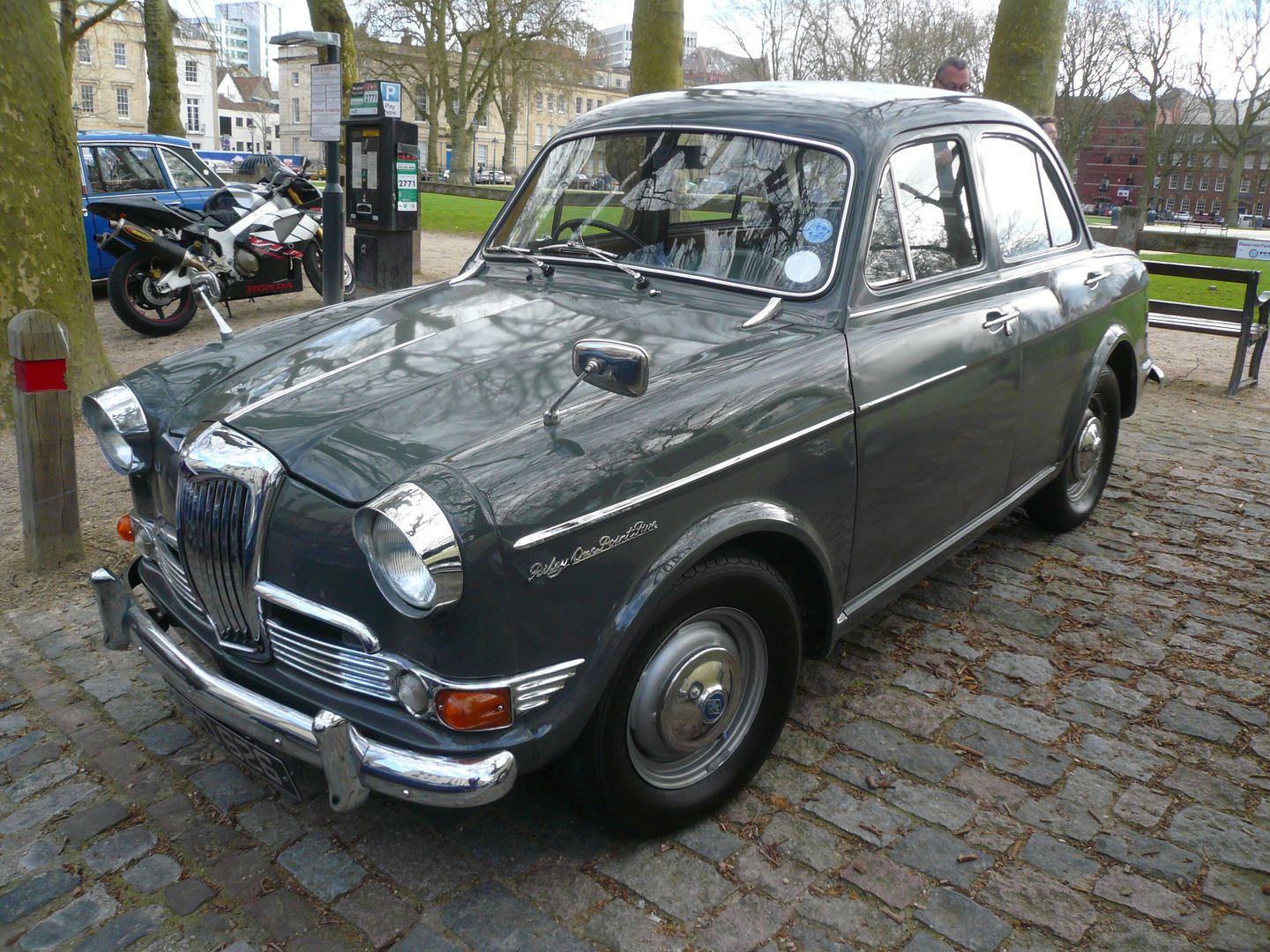 ROLLS ROYCE
When it was new, the Silver Shadow was thought of as one of the largest cars on the road. Look at an example now, such as this well presented Series 1 car, and it really does not seem that big after all. Evidence of how cars have expanded in all directions.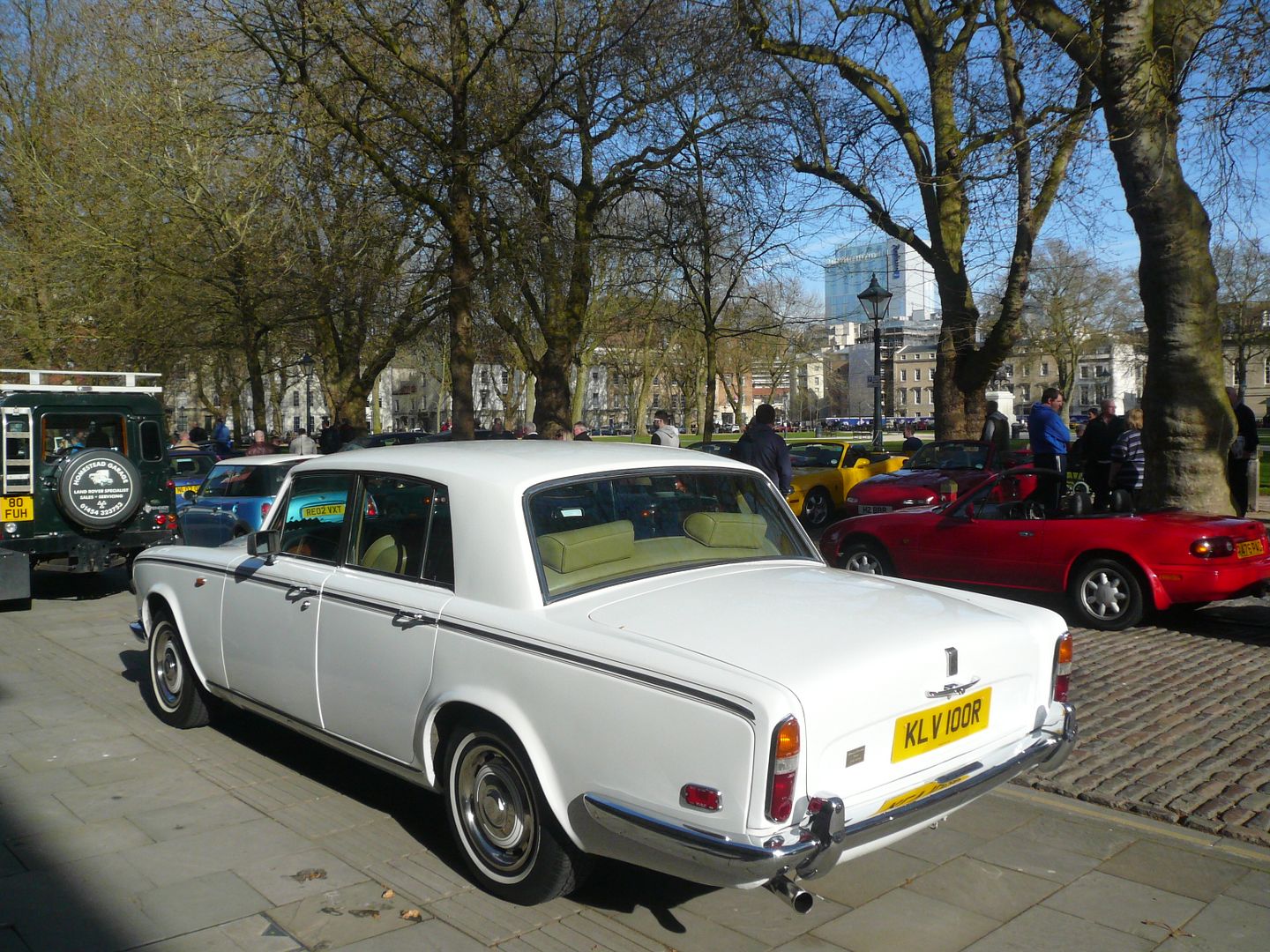 ROVER
Putting the 3500cc Buick-derived V8 engine that had initially been used in the large P5 model Rovers under the bonnet of the smaller P6 car was an inspired move. The resulting 3500 (officially pronounced three thousand five hundred) was a real executive express giving the small Rover the firepower that the four cylinder engines just did not provide. The firs few years of production saw the engine coupled only to an automatic gearbox, but Rover eventually did the sensible thing and made a manual available as well, in the 3500S, creating a very desirable car indeed. The 5 Series of its day, really!
SDR
At a quick glance, the SDR WR3 V-Storm looks a bit like an Ariel Atom, but look again, again. and you will see one very obvious difference. It has three seats and the driver occupies the middle one, McLaren F1 style. Launched at the 2010 AutoSport Show, the car was the result of the objective of SDR's Managing Director, Simon Dickens,  of creating  "something new and exciting that gets the pulse racing and offers the thrills of a [Lotus] Seven, but with dramatic modern styling and the capability of carrying three people." It is a kit car, but a fairly up-market one, and certainly one with explosive performance, thanks to its use of a four cylinder boxer engine from the Japanese automaker Subaru which pumps out over 300 bhp, and a sub 1500 lb curb weight which allows the tube frame track day special to rocket from 0 to 60 under 4 seconds.
SUBARU
A reminder of the glory days for Subaru in Europe, when, enthusiasm fuelled by success in the forests in the hands of the late Richard Burns and Colin McRae and others, the Impreza Turbos were cars that lots of people longed to own and drive, in complete contrast to this decade where despite strong sales in the US, Europeans have almost completely lost interest in a small range of rather undistinguished and bland looking models. Along with a Turbo version of the first generation model was an example of the second model type, in WRX STi guise, produced at the peak of the marque's perceived desirability, and liveried up in tribute to those rally victories.
You might have thought that the BRZ, a car which although more often thought of in its Toyota GT86 guise was largely conceived and developed by Subaru on behalf of both marques, would have been the car to inject some interest back into the brand, but sales of this capable and fun to drive car have been disappointingly low, and it is looking increasingly unlikely that the business case to create a replacement will be at all viable. This particular car is an inveterate attendee at this event.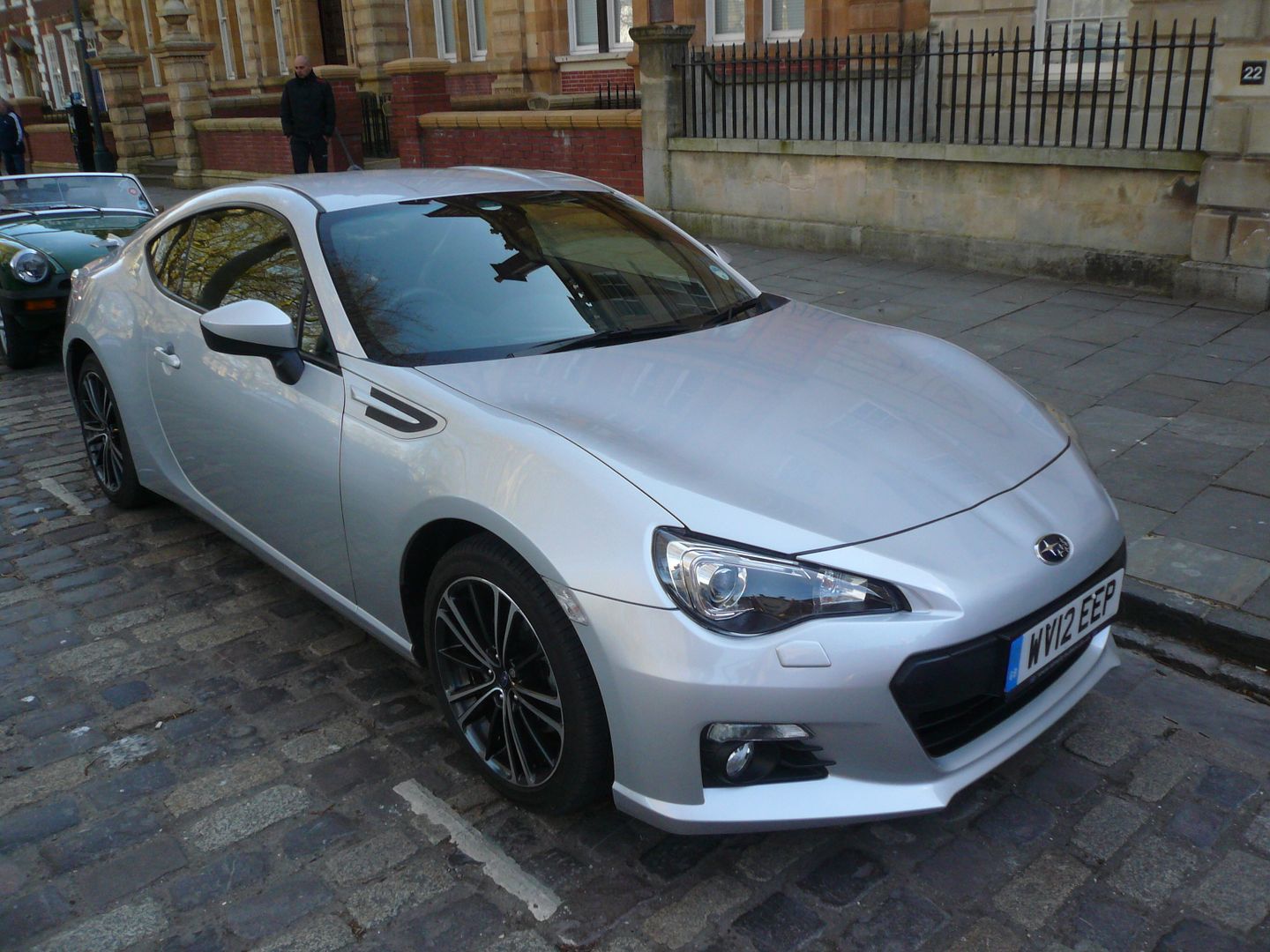 TOYOTA
Although it has its fans, and deservedly so too, in my opinion, the third generation MR2, like this car, did not quite capture the imagination of the buying public in the same way as it predecessors. It certainly scores fewer marks for practicality, having space for little more than a toothbrush, unlike the previous 2 models which did have enough room for weekend bags for two, and the handling was renowned for catching out the unwary, but otherwise, this was affordable fun from the turn of the century with precious few rivals, apart from the Mazda MX5 and costlier Honda S2000.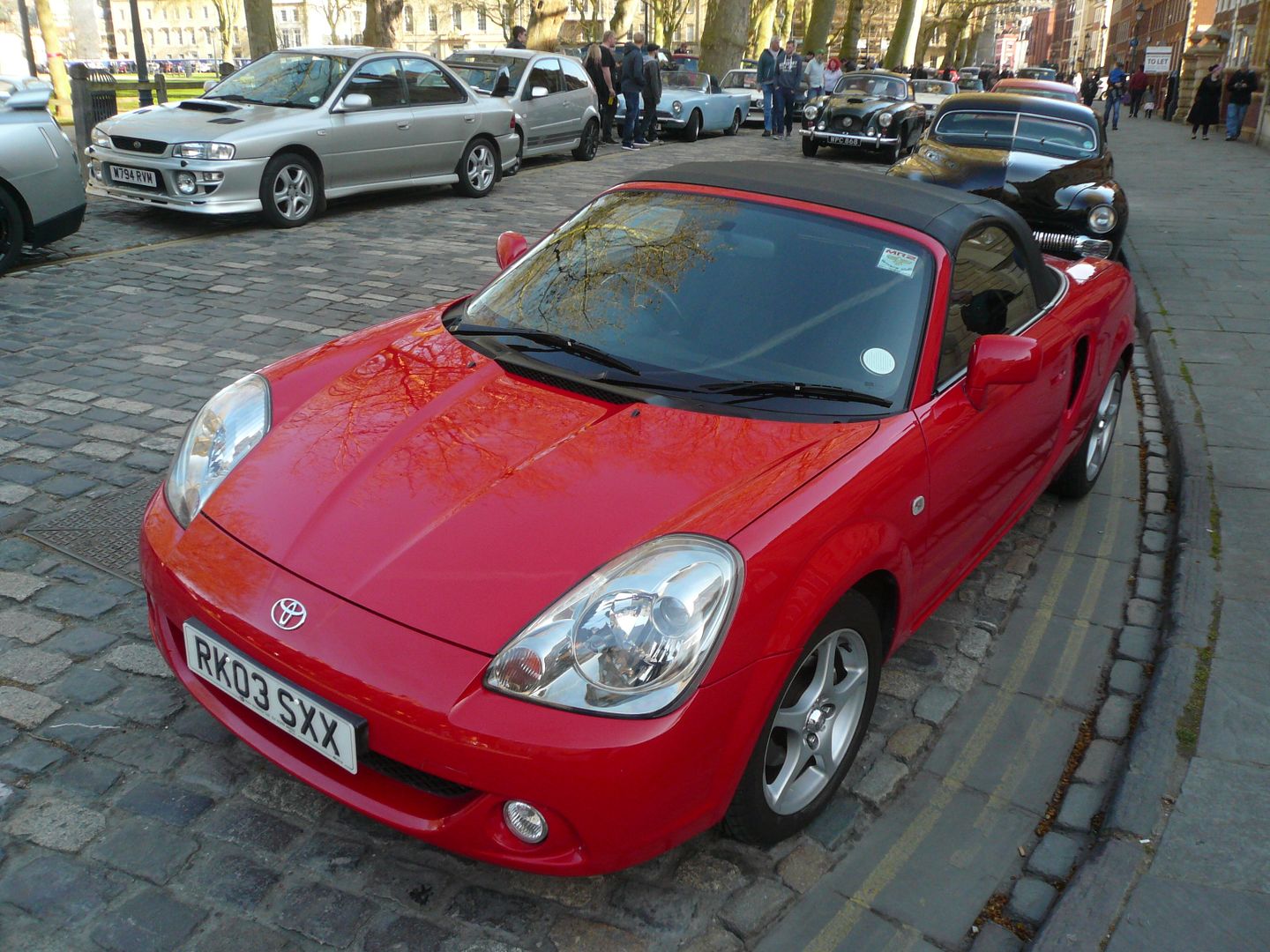 I nearly missed this Corolla "AE86" Coupe, catching it just as it was leaving. This is the car which is said to have inspired the latest GT86, and from which the current car takes it name.
TRIUMPH
The ever popular Stag was well represented here, with 3 examples of this elegant grand tourer present.
Also open topped was this Vitesse Convertible, the fresh air version of the 6 cylinder small Triumph based on the popular and long-lived Herald.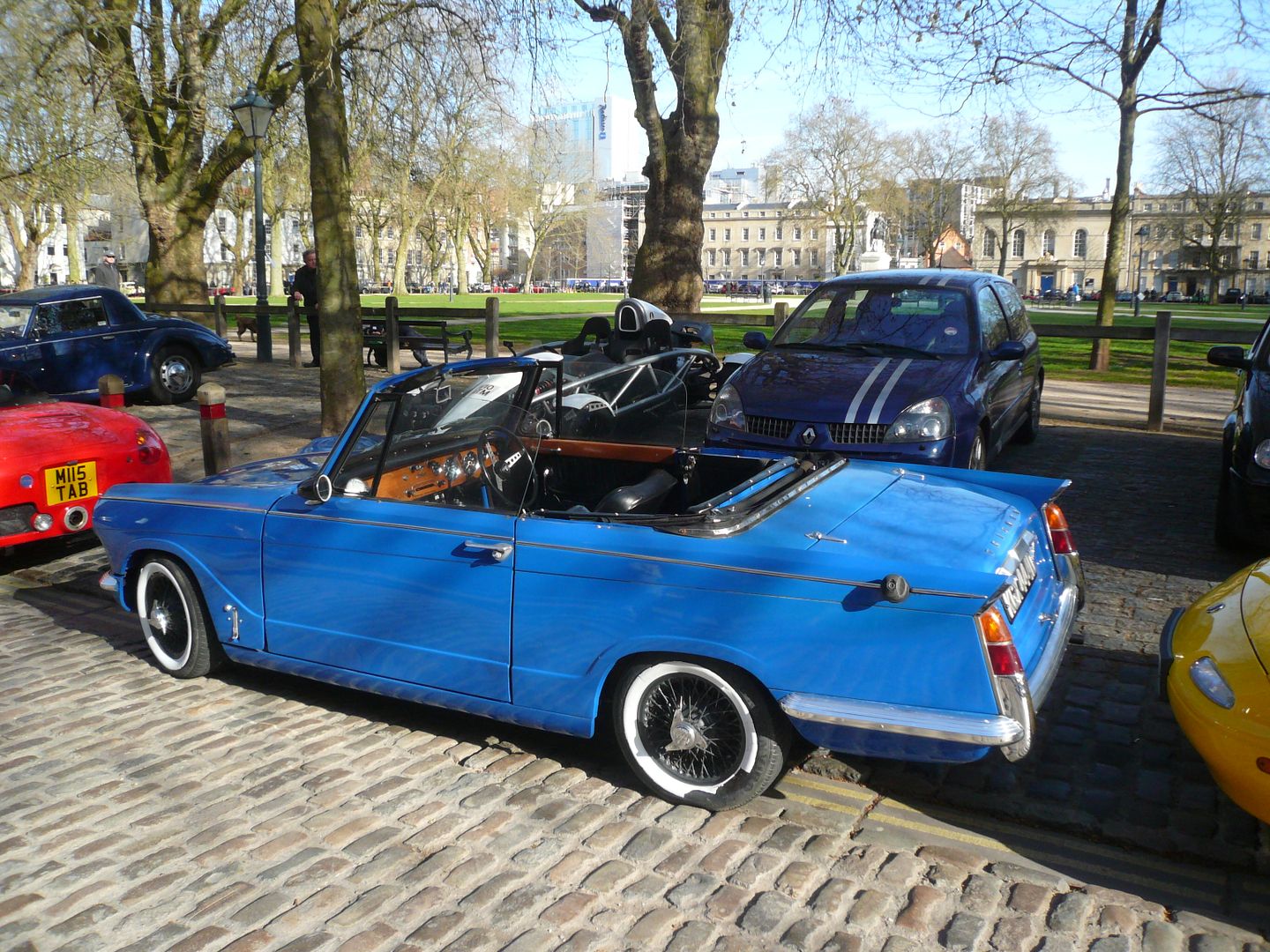 TR models present were all from the latter end of this much loved model's long life. A number of TR6 models, my favourite, included a couple of Mimosa, my preferred colour for the car, and there were three TR7 Convertibles, a couple of them having V8 conversions
Rather less commonly seen is the GT6, a closed version of the Spitfire, which, unlike the MGB GT with which it competed, also had a 6 cylinder engine under the bonnet, making it quite a refined machine. Sales did not match the potential, though, and the car was deleted in 1973, 8 years before the Spitfire ran out of steam. This is a Mark 3 model.
There were a couple of the large Triumph saloon here, including a rather nice late model 2500S in the very period Pageant Blue. There was an earlier Mark 2 car here as well, also in a rather bright blue.
TVR
TVR replaced their long-running range, the M Series, Tamar and 3000S, all of which had clear linkage to the very earliest of cars from the 1960s, in 1980 with the wedge-shaped Tasmin in 1980. TVR quickly expanded the initial range to offer a short-lived 2+2 and open topped body style, and a less powerful 2 litre engine, before finding more success with the Rover-engined 350i. The Ford V6 engined models were soon rebranded 280i and here is one such.
However, even this and the move upmarket pen-topped body style were not enough to increase sales to more than a handful per year, but when TVR presented their next car, the S, in 1987, they hit the mark dead on. This open topped sports car was definitely the right car for the time, with its appearance which looked like an update version of the pre-wedge era TVRs, but with modern mechanicals and a far better quality of build. Annual modifications continued to improve the car and the insertion of the Rover V8 unit to create the V8S made it a rather desirable car and created the confidence for TVR then to design the new models that were launched in the 1990s.
After the S, TVR produced a number of new models in the ensuing years until production was wound up in 2005, and these cars are still very popular among enthusiasts, which means that you tend to see quite a few at events such as this. Sure enough, there were a Chimaera, a Tuscan and a Tamora
VAUXHALL
Sporting Opel badges was this car which we think of as a Vauxhall VX220, but on the continent was known as the Opel Speedster.
Another car with a slightly confused identity was this one, a Nova GTE, but with the GSi badging that was applied to the equivalent left hand drive Opel Corsa models. Produced late in the model's lifetime as a competitor to the Fiesta XR2 and Peugeot 205 GTi, not many of these cars were sold and few have survived, so this was another rare car to see.
No confusion about this one, even though this model style did have two different names during its lifetime. Effectively a Coupe version of the HC Viva, this car was launched in 1971 as the Firenza. Two years later, it was rebranded Magnum, along with the 1800 and 2300cc versions of the Viva Saloon and Estate, a move which did little to increase sales. This is a Magnum 1800.
Far from sporting, in any sense of the word, was this PC model Cresta. First shown in 1965, this large saloon was produced for more years than either of its predecessors, but it never found the popularity of the rival Ford products, even though it was worthy enough and very roomy indeed. There are far fewer surviving PC models than the earlier PA and PB models, so this was a rare sighting.
VENTURI
One of the less well known marques of the day was this Venturi. A French brand, these elegant sports car were first produced in the mid 1980s, and combined BMW M1-esque styling with the mechanicals of the "Douvrin" PRV 2.7 litre V6 engine 9with an added turbo charger) and gearbox. Despite this being the boom era of Yuppie-dom, keeping the cash flow such that the marque could prosper and grow proved to be quite hard, and it is likely that the money spent on racing, with the cars entered at le Mans among other places, did not really bring the hoped for pay-back.  Around 750 cars were made, in a bewildering array of slightly different models, over a 16 year period, but the firm finally went under in 2000. A year later, the Monegasque millionaire Gildo Pallanca Pastor bought Venturi and decided to focus on electric-powered engines, leading to the Fétish model. More recent models are the Eclectic, the world's first energy-autonomous vehicle, a low speed vehicle that has solar panels and a built-in wind charger and can be plugged in and the Astrolab, the world's first solar-electric hybrid car. The cars are to be seen at a number of Motor Shows, which gives them some publicity and there are said to have been about 60-65 orders for the Fétish, but only about 30 have believed to have been delivered. Far better to think of Venturi in its original guise as the maker of cars like this 260.
VOLKSWAGEN
I am including this one under Volkswagen, as that is what lied underneath the glassfibre bodywork. A lot of Beetle models found a new life and a new style from the late 1960s onwards when the Beach Buggy craze was at its most popular, and this is one such example. I could not help noticing the innovative recycling of drinks cans, one of which was used to house the ignition coil and the other was, well, I am not sure what it was actually doing, but it was neatly bracketed in place.
VOLVO
By the time that this Volvo 1800S was built, Volvo had taken the production of the bodies and subsequent assembly in-house, which was a much easier process than from launch days in 1960 when there was much movement of bodies and components between the Pressed Steel works in Scotland who started the process, before shipping to the Jensen works in West Bromwich for assembly and then onwards to Gothenburg for the cars to be finished.  I had always assumed that the S stood for more powerl but in fact it meant Sverige, ie Sweden, and meant that the car was made in that country.
No doubt about it, this was an amazing gathering, with something for everyone, from the lover of the super car to the fans of the once common but now rare everyday machines of yesteryear, as well as those who are into the "modified" scene. There was almost certainly more here than one could actually see in the course of a morning, even though I stayed til noon, so gave it my best shot! What will May bring?
Share and Enjoy