Prescott Breakfast Club – April 2015
Although Prescott Hill Climb, home of the Bugatti Owners Club is best known for the half dozen or so weekend meetings which take place between April and October, when a wide variety of different classes of car, and sometimes motorbike, compete for honours on the hill, the venue is not completely unused for the rest of the season. As well as being let out to a wide variety of Car Clubs for their meetings and events, it is also now host to a Breakfast Club. These started a couple of years ago, and having read reports about them in the quarterly magazine which I receive as a consequence of my membership of the Club, and it was very evident that they attract exactly the same diverse, and unpredictable collection of cars as you get at these morning gatherings anywhere else. They are not as frequent as the ones at Shelsley Walsh, or Queen Square Bristol, with just 3 scheduled for 2015, as well as 3 "away fixtures", but when I spotted that the first one of the year did not clash with anything else that I was planning to do, I put it on the calendar, eager to sample the event. The day before was blessed with almost cloudless sunshine and very warm temperatures, but the forecasters got it right when they said that this would not last to the Sunday. It did not, and indeed it was a little chilly as I headed out from my mother's house, in Gotherington, for the couple of mile journey up to Prescott. Having seen a few interesting cars go past as I was saying my farewells to her, i guessed that it was going to be an interesting morning, and so it proved to be, with plenty of cars already assembled by 9:30 and a steady parade more arriving until gone 11am. A few of those gathered were regulars from the Bristol event, but most were not, and there were a couple of large groups of cars from the TIPEC (Porsche) and Caterham Clubs which were assembled in lines to show off the variety of member cars. Here is what attracted my camera:
ALFA ROMEO
There were three Alfa Romeos here, and all of them were 105 Series Spiders. Two were the second generation model, which introduced the Kamm tail, and the third was a third generation car, with the larger plastic bumpers and a tail spoiler.
ALPINA
Interestingly, there were no BMW models, but 2 Alpinas. An E39-based B10 is probably slightly more common a sight than the Roadster S, a 3,4 litre version of the last Z4, but neither are the sort of car that you see every day, not even at a Breakfast Club!
ALVIS
Perhaps the most splendid car of the day was this, a massive 1936 Alvis Crested Eagle Charlesworth Saloon. Thought to be one of four surviving examples, one of which is in the USA and another in Sweden., it came up for sale at the end of 2014, and appears to have fetched £26,880, which is a lot less than you would pay for some other 1930s Alvis models. This car was delivered new to its first owner in Newmarket during September/October 1936. It was then acquired by a Mr L Camidge in 1965, Mr Tim Dale in 1980, Mr Mike Cummins in 1998, and Mr Brian Garratt in 2003. `DGY 755′ was treated to a thorough `chassis up' restoration by an enthusiast during the 1980s, which included a complete refurbishment of the interior. The Alvis has driven less than 1,500 miles since the work was completed. This was a most imposing vehicle, with a splendid aura about it, and an astonishing amount of space in the rear seats.
ASTON MARTIN
A late arrival was this V8 Vantage Volante
AUSTIN
Another late arrival was this rather splendid Austin 10 Van. Whilst you quite often see Austin 7 vans at events, and the variety of Austin 10 Saloons, the combination of the 10 and a Van body is quite rare, even though I suspect that these were popular workhorses for small businesses in the 1930s. This one was liveried for a long since closed down garage in the nearby village of Alderton, located just the other side of Dixton Hill.
AUSTIN-HEALEY
There were a number of "Big Healey" models present, with the earlier 100 and later 3000 types both represented.
BRISTOL
Third of the late arrivals was this splendid Bristol. I think it is an early  411 model, but there were no badges on it to confirm my hypothesis. Even marque afficianados struggle to tell some Bristol models apart, as one consequence of the models being hand-built and built-to-order is that there was more of a process of evolution rather than distinct model changes.
BSA
This three-wheeled BSA arrived amongst a collection of vintage motor bikes. That seemed appropriate, as cars like this were often bought as a stepping stone from 2 wheels to something with a bit more space. Given the difficulty in getting the car to move up a very gentle incline, with just a driver on board (it needed a helping push), I suspect that laden with more people, it would have been very sluggish indeed. It came with a canvas body.  These days, BSA is better remembered for producing bikes and motor-bikes, but in fact the company produced its first car in 1907, two years before making their first bike. The first BSA cars were produced in various forms with capacities ranging from 2.5 to 4.2 litre. The larger cars were based on the 1907 Peking-Paris Itala. Following the purchase of the Daimler Company by BSA in September 1910 responsibility for Motor Car manufacture was transferred to the latter company. BSA cars continued to be produced for two years following the amalgamation of the two companies but after this point they became badge engineered Daimlers. Production stopped for the War, and it was not until 1921 that it resumed, with a genuine attempt to move into the light car market with the RWD V twin. This car used an engine based on the Hotchkiss designed 900 V twin introduced in early 1921. The car was certainly designed at Small Heath and may well have been produced in one of BSA's Birmingham factories, but this is by no means certain. The car was eventually produced with V twin, 4 cylinder one 6 cylinder engine with the latter being a Knight sleeve valve engine. The cars were produced between 1922 and 1926. BSA constructed a large new factory on the Coventry Road, Birmingham which was known as the light car works to handle production of these vehicles. Production of the RWD cars never really came to anything with estimates of the numbers produced for all models quoted at around 1000 over the 4 years. The light car was entered by BSA in many rallies during the twenties, doing quite well in the hands of Captain Brittain and Mr Danby. Strong competition from the cheaper Austin 7 helped to force an early end to this interesting light car in which are to be found the basis for BSA ventures into FWD three and four wheel cars from 1929. Front wheel drive was not new, though it had generally been limited to relatively few small production runs, with the FWD Alvis being one of the first series U1( FWD cars with only a few hundred produced. BSA investigated a number of options and concluded that for their entry into the light car/three wheeler market, then dominated by the Morgan, that this was the right answer. Two wheels at the front was the popular configuration at that time, but driving through a single rear wheel did mean a "motorcycle" type assembly and a heavy driving load on the single tyre. FWD offered an easily detachable rear wheel with no oily chains – a sales "plus". So in November 1929 the BSA three wheeler appeared. BSA designers had not restricted themselves to a FWD Morgan or Coventry Victor, and introduced innovations such as a reverse gear, electric start and full weather protection. Independent front suspension was another benefit resulting from the FWD layout and 'Motor Cycle' of the day said 'The details of this vehicle are of such interest that it may be said to mark a milestone in the history of the light runabout'.  Months later, the 1930 BSA three wheeler was introduced with two models, a sports and a tourer, supplemented by a four seater family model for 1931. For 1932 there were four models. The four seater squeezed two children's seats in behind the main passenger seats. They were decidedly child-sized and there was a footwell on one side only for the larger child to have extra legroom. The seats were deck-chair style canvas seats rigged between the rear body and bars fixed to the rear wheel cover. BSA also introduced a Van version, none of which survive (though someone has built a recreation), but few of these were sold, as it seems that no-one was brave enough to try the concept. Four wheeled versions arrived in 1931, leading to the BSA Scout model of the mid 1930s. The three wheelers continued in production up to 1936, though, undergoing a program of updates, including a water cooled 900cc engine in 1932. The one here dates from 1930.
CATERHAM
There were over 20 Caterham cars present, all parked up in a long line. No two were the same, representing the array of different models that have been offered in the 42 years since Caterham took over the manufacturing rights from Lotus.
CHEVROLET
This 57 Bel Air is a splendid example of the most sought after of the Tri-Star Chevy models produced from 1955 to 1957.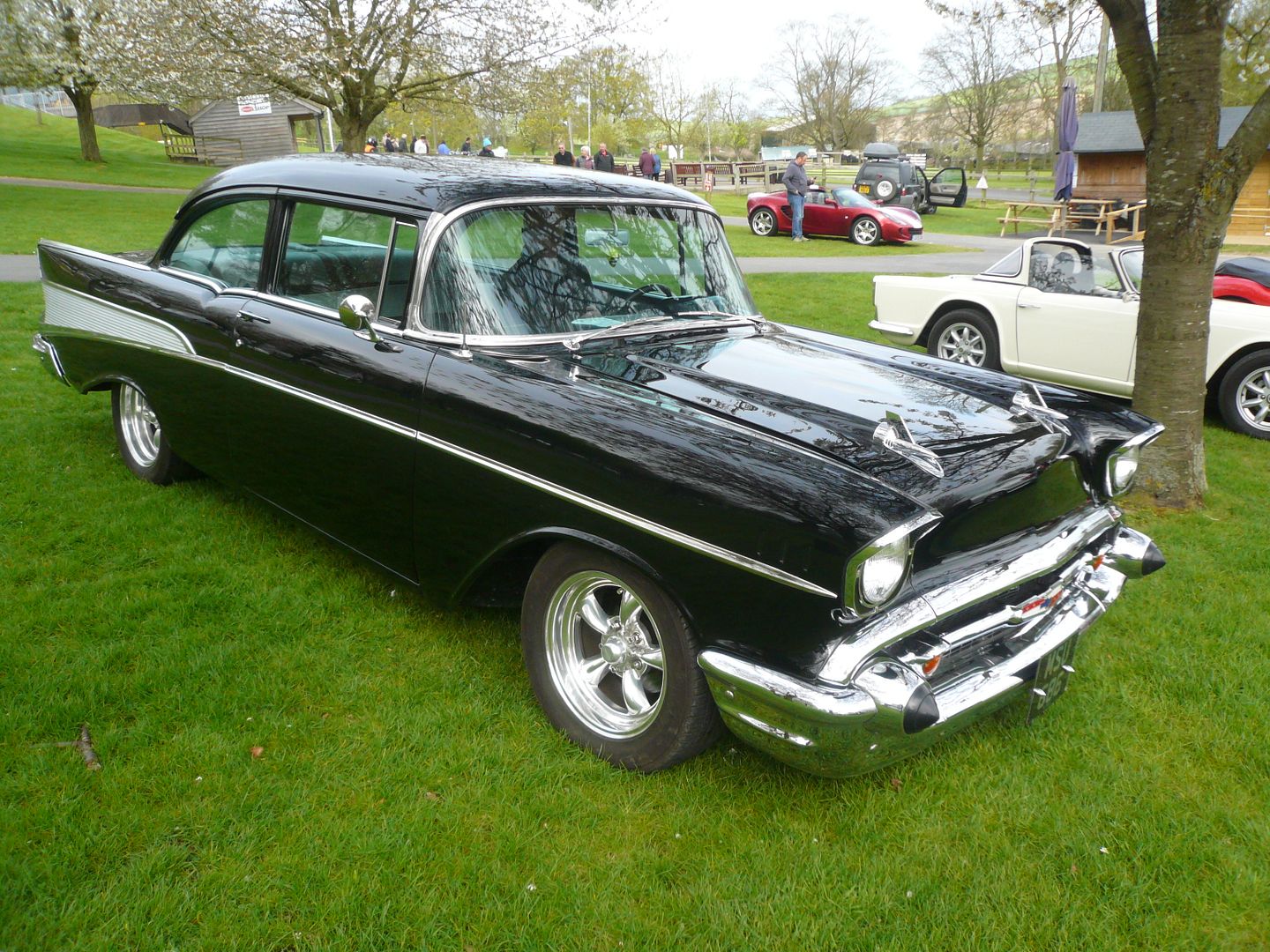 By 1959, the styling of all Chevrolet models had changed twice, the 1958 models having a life of just one year, before an all new design appeared in 1959. This was the year of the tail fin, which was at its most dramatic. This is massive car, wide as well as long, though there is less space inside it than you might imagine. There are shapeless looking bench seats front, and with no seat belts, I suspect that they are more comfortable if there are three people on the seat to stop you from sliding from side to side on every corner.
COX GTM
I last saw this car at Race Retro, at Stoneleigh Park back in February, when it was one of a number of historic rally cars in action on the special stage. At the time, unsure precisely what it was, I did some research after the event, which revealed that it is a Cox GTM. It was rallied by Richard Hudson-Evans in the early 1970s, sponsored by the long defunct "Cars and Cars Conversions" magazine.  The first of these kitcars was made in 1967. It is a mid-engined Mini-based machine with styling inspired by the Ferrari Dino (so it is said!). Production stopped after 5 years, and ownership of the company changed a few times over the next few years, with the Cox bit being dropped, and becoming known just as GTM. When production resumed in 1980, an updated version of the GTM Coupe appeared, using the latest available Austin-Rover engines. These cars, the GTM Libra, do appear at events from time to time, but the earlier Cox ones are very rare indeed.
DELLOW
Started by Ken Delingpole and Ron Lowe to produce road-going sports cars for the enthusiast to use in trials, rallies and hill-climbs, Dellow cars were made in a factory at Alvechurch, near Birmingham, England between 1949 and 1956. A small number of very early cars used Austin 7 chassis as per Ron Lowe's special, FUY 374.The other prototypes included OP 3835 owned by Earl "Mick" Heighway, HAB 245 (Eric Penn) CAB 282 (Lewis Tracey) and EDE 384 (Merrick)From 1950, with scrap Austin 7's in short supply, Dellow used an 1172cc Ford 10 engine in an A-frame chassis with a very light tubular steel framework welded to the chassis and panelled in aluminium, early cars having no doors. The chassis frames were made partly from government surplus chrome-molybdenum rocket tubes, the rockets being RP3 types as used by Hawker Typhoon and Bristol Beaufighter aircraft. The design emphasis was on light weight and a rearward weight bias for trials. Many sporting awards were won by drivers of Dellow cars in the early 1950s, not only in trials but also in other events such as driving tests and hillclimbs. Dellows also took overall honours in the MCC organised Daily Express National Rally and the Circuit of Ireland Rally. Dellow drivers often shone in other forms of motor sport, Tony Marsh from Kinver went on to become RAC Hill Climb Champion on no less than 6 occasions. Peter Collins from Kidderminster, later drove for HWM, BRM and Vanwall, then for Ferrari. Dellow styling was created by Lionel Evans at his Radpanels coachbuilding business in Kidderminster. The car evolved through several variants known as Mk I to Mk V. Early cars had the Ford beam front axle with transverse spring and short Panhard rod, quarter elliptics at the rear and Andre Hartford friction dampers all round. The Ford torque-tube was suitably shortened and the vast majority of cars used the 3-speed Ford gearbox but a very small number of cars (KOX 300 being one of them) were produced to customer order with a 4 speed gearbox, from the 10M series Morris. The Ford E93A engines were mildly tuned and many used twin SU's on a cast alloy 'Dellow' manifold. However, as an option the factory also offered the car with a Wade-Ventor (Roots type) supercharger installation. The MkII saw the introduction of a new and much more robust rear chassis section with coil springs, separate telescopic shock absorbers and a Panhard rod. This stiffer chassis allowed doors to become an optional fitting. The Mk V version was derived from the "Lightweight" Dellow (WRF 81) constructed by Tony Marsh for speed events in 1954. It saw coil springs introduced at the front (over telescopic dampers) although still with a one-piece Ford beam axle. About 300 Dellows in total are believed to have been constructed.
FERRARI
There were a couple of recent Ferrari models here, both based on the most popular design that Ferrari has produced to date, but showing different facets of the model. A 360 Modena contrasted with the later 430 model, which was present in open Spider guise.
Also displayed was the earlier 328GTS.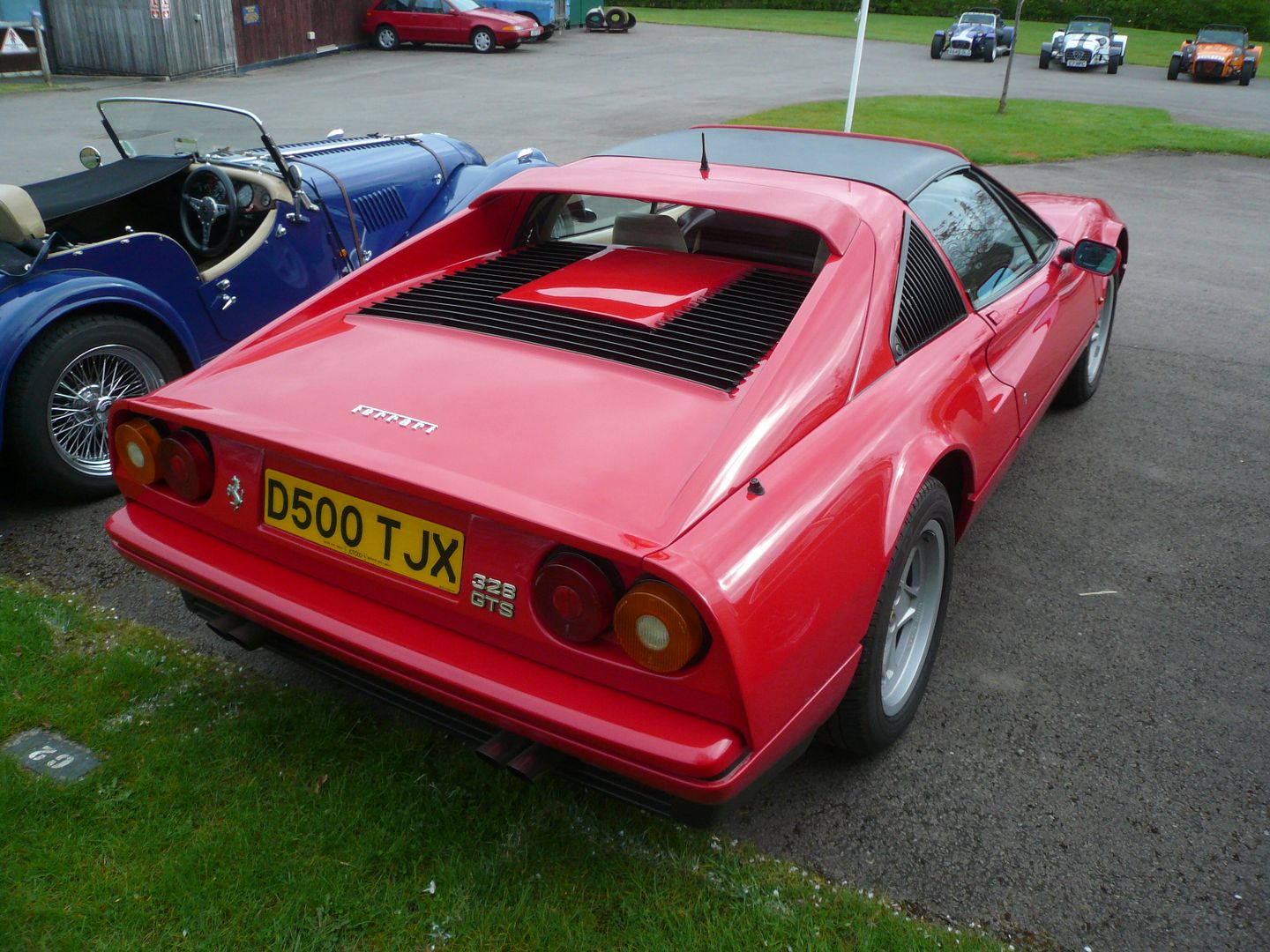 FORD
Three very different Fords here. A Mark 1 Mustang showed what America was producing in the 1960s, whereas the 1970s brought us cars like the Mark 2 Escort, popular when new on the road and track and rally stage, and still very much respected for its abilities in the last two of these today, whilst the more recent era was represented by a Mark 2 Focus ST
FURY
A kitcar, as you might imagine, this is known as a Fury or Fisher Fury, but some research suggests that the history of this model is more complex than that. The model present here looks like a Stylus RT. Launched in 1994, by Sylva Autokits, the first Styluses used a modified Fury chassis, but later a purpose built chassis was made to accommodate the lowered doors. The Fury had been launched by Sylva Autokits in 1991 and then sold on to Fisher Sportscars in 1994, and currently owned by Fury Sportscars who recently purchased the rights from BGH Geartech., based in Kent UK. The Fury has been very successful in competition with cars currently racing in many championships, including the 750 Motor Club's RGB (Road-Going Bike-Engined Kitcar) and Kitcar series. Many different engines can be fitted to the Fury, including all manner of car engines from the Ford Crossflow to Rover V8 and Cosworth Turbo. Motorbike engines have also been fitted and are popular for track cars due to the low weight, high power and built-in sequential gearbox for relatively little money. There are two versions of the Fury rear suspension: the Live Axle version uses the Ford Escort rear axle located using two trailing links in conjunction with a Panhard rod. Coil over shock absorbers are used to give good ride comfort combined with excellent handling and grip; the Independent Rear Suspension version uses the Ford Sierra rear hub assembly in conjunction with purpose built hub carriers forming the uprights between upper and lower wishbones. Once again, coil over shock absorbers ensure a refined ride quality and excellent traction. For the new Stylus, the front rocker arms were upgraded with needle bearings and the front lower arms got redesigned to prevent the lower ball joints being damaged. As with most Sylva models, various engines could be fitted. The design was updated in 2003, with the Stylus RT which made a more modern looking sportscar. The Stylus RT (Road & Track) used the SSC standard chassis, but with wider front suspension, and uses wheel spacers at the rear. The rear wing was developed at Swansea University in their motorsport department. The RT also has a full front splitter and a rear diffuser. These 3 aerodynamic aids are optional extras. SSC fitted quad style lights. A standard Stylus can be modified to RT specification. The design rights of the Stylus were sold to Specialist Sports Cars in 1996, who sold them on to Stylus Sports Cars in 2004 but this company went bust in 2008.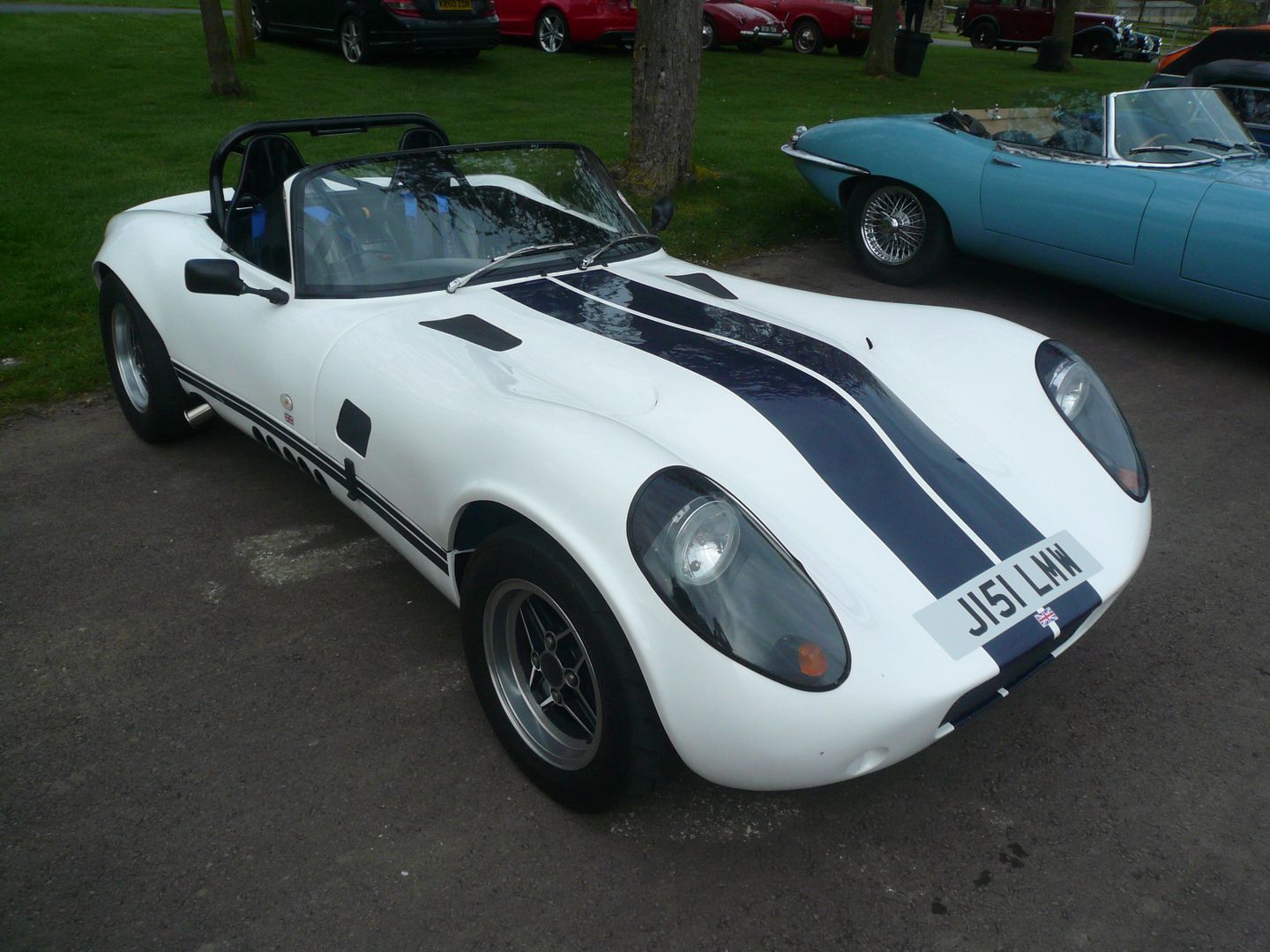 HONDA
There was a nice example of the S2000, the last real sports car that Honda built, and that many are hoping will one be properly replaced in a range which has latterly concentrated on the bland (and sales have gone down in Europe, noticeably as a result).
JAGUAR
This splendid E Type is an example of the Mark 1.5, identifiable by the exposed headlights. There were a number of changes that had been made in the first few years of production, before the Series 2 car arrived in 1967.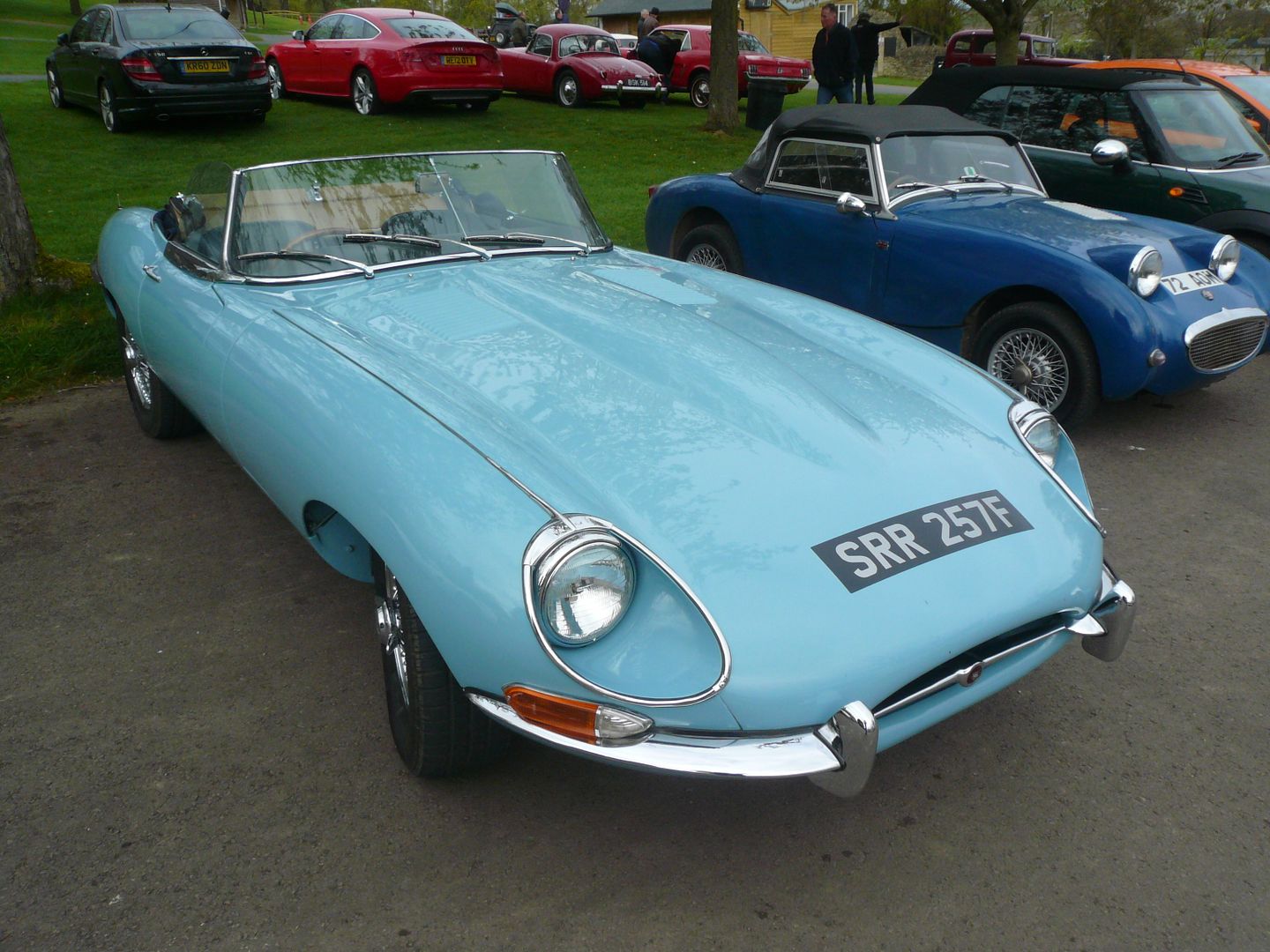 Also here was a Mark 2 3.4 Saloon. These cars were among the most desirable of their day, and people would aspire to them just like they long for one of the Premium brand models like a 3 Series, an Audi or, of course a new Jaguar XE. Difference is that, even though the price of the Mark 2 was surprisingly modest considering the performance and equipment, far fewer people were ever going to afford their dream in the early 1960s compared to now.
LANCIA
Not an original, I am afraid, but very faithful to the first car that was purpose-designed for rallying, the legendary Lancia Stratos. The Alitalia livery is one of the most iconic from the period, too.
LEXUS
A matter of a few weeks old is this dramatically styled RC-F. Lexus have now stated that they will pursue the "polarising" look with all their future models. Chasing after the established German premium models looks like an impossible mountain to climb, so the new strategy of trying to appeal to some, even if it alienates plenty of others is the course that they have chosen. I have to say it is a bold move, and it will probably only work at the price of alienating many traditional Lexus buyers – not that the RC-F was ever really going to appeal to the sort of person who buys a CT or IS Saloon. Whether it will appeal to someone who previously would have bought an M3 or AMG C63 is going to be interesting to find out. The UK press were not convinced, and have given it only moderate praise and found plenty that did not quite hit the mark. One for the person who wants something individual, then.
LOTUS
The original Elite was the first Lotus that you could really use everyday. Well, until it broke down, which, sadly, it was rather prone to doing. Built according to Chapman's basic beliefs of light weight and advanced engineering, the little 1200cc Coventry Climax engine gave this fibre-glass bodied car a lively performance and excellent handling. It was expensive to build and hence to buy, so sales were limited, and you don't see these anything like as often as the Elan which succeeded it.
More recent Lotus models present were an Esprit Turbo and an Elise S2
MASERATI
4200 Spider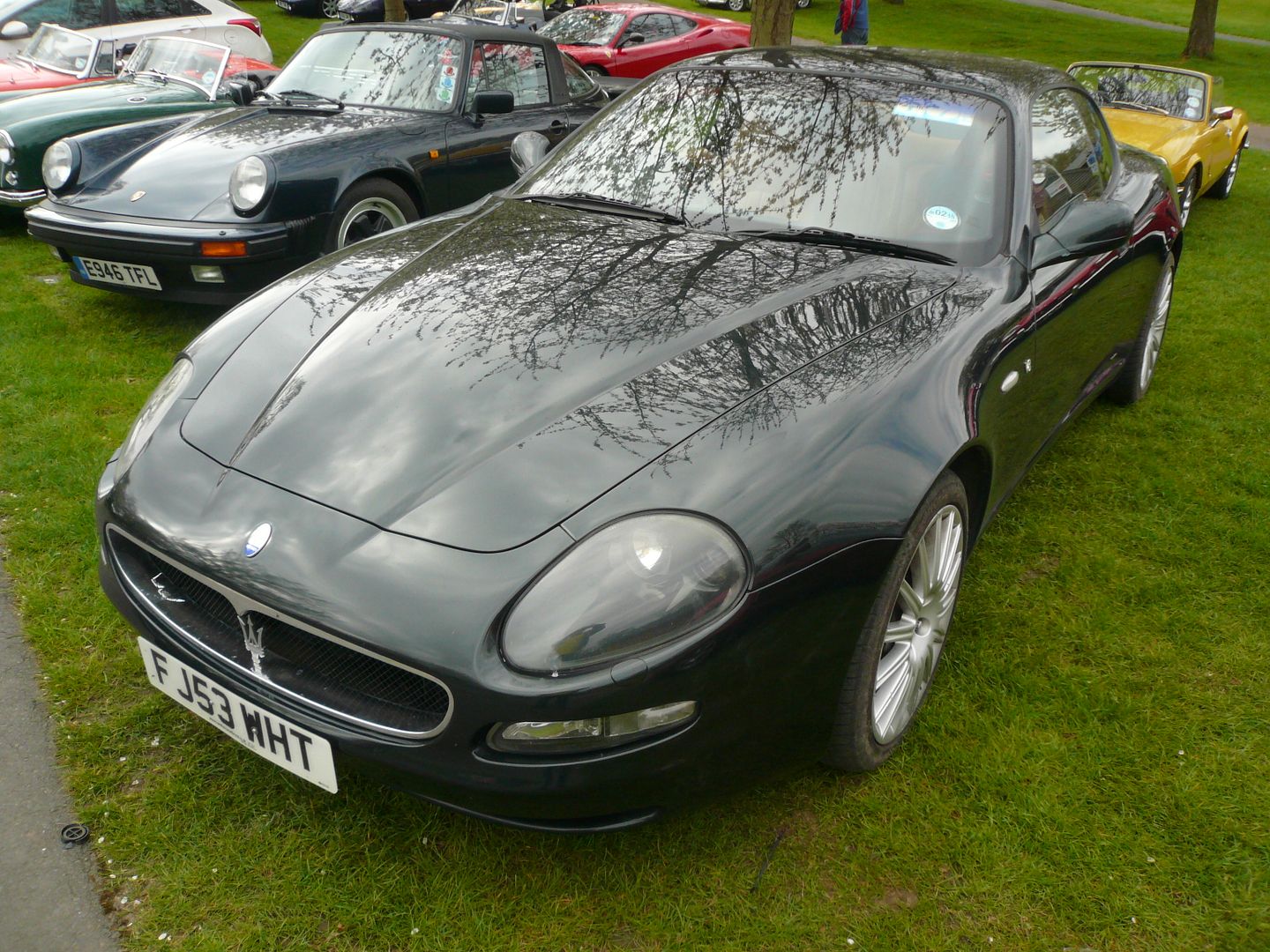 MERCEDES-BENZ
The long running R107 SL Mercedes is a particularly elegant design, now being appreciated by many, and surely destined to follow in the footsteps of its W113 predecessor in appreciating in value. Buy a car like this 300SL now while you can still afford one. The W113 models have long entered the realms of the very pricey, and whilst there are a lot more of these R107s about, they are just as nicely engineered and well put together as you might imagine.
MG
As well as the MGA Roadster, there was an example of the rarer Coupe model here.
There were several examples of what must be Britain's most popular classic car, the MGB. As well as a duo of  open-topped Roadsters, there were a couple of GT models and the short-lived GT V8
Much earlier was this, a pre-war TA model, which was produced in small quantities before hostilities interrupted production. After the war, MG made a slightly revised version, the TC, which found a lot of favour, especially with GIs who wanted one of these British sports cars for their civilian life back in de-mobbed America.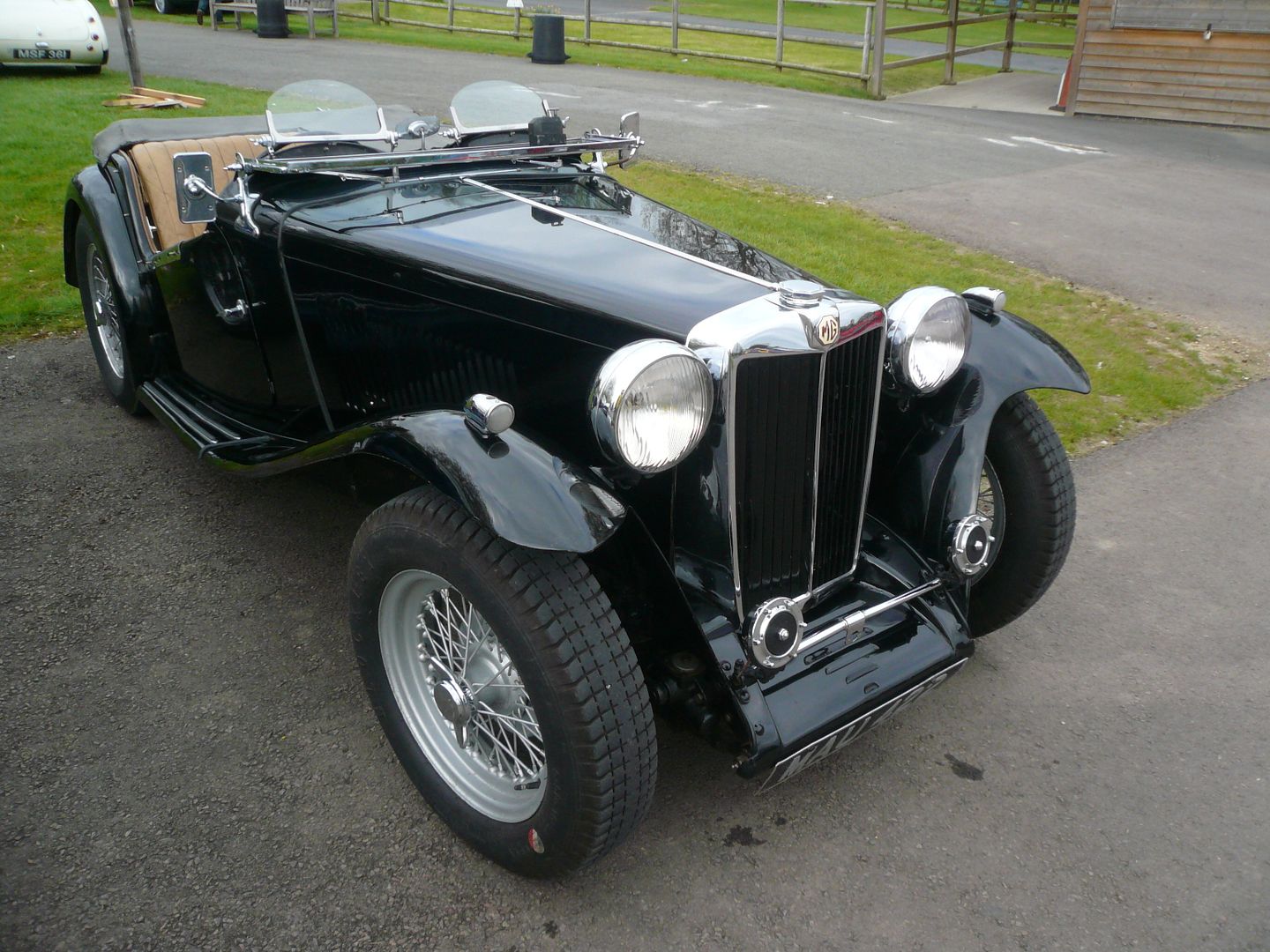 MORGAN
3 examples of what we tend to think of as "the" Morgan, the long running design that has been offered in Plus 4, Plus 8, and Roadster guises with a variety of engines for the past 50 years (and still going strong) were here.
This was also a much earlier model, the so-called "flat radiator" of the type made by Morgan in the late 1930s and again in the post war period. This one was made in 1937.
PEERLESS
Peerless was a British company, based in Slough, that operated from 1957 to 1960. The prototype of this sports saloon was alloy bodied and initially named Warwick. It, was designed by Bernie Rodger for company founders John Gordon and James Byrnes. By the time it entered into production, it had been renamed the Peerless GT. It featured Triumph TR3 running gear in a tubular space frame with de Dion tube rear suspension clothed in attractive fibreglass 4-seater bodywork. While the car had good performance it was expensive to produce and the overall fit and finish was not as good as that of similarly priced models from mainstream manufacturers, though a Phase II version was better, with an improved body largely moulded in one piece. A works car was entered in the 1958 24 Hours of Le Mans finishing 16th, but this was enough to bolster sales, and production ceased in 1960 after about 325 examples had been produced. That was not the end of the story, though, as Bernie Rodger restarted production of the car, and called it the Warwick. There were minor changes to the appearance, a one-piece forward hingeing front end, a stiffer space-frame chassis and a revised dashboard. A contemporary Road Test recorded a top speed of 105.3 mph and acceleration of 0-60 mph in 12.6 seconds, with a fuel consumption of 32 mpg. The test car cost £16666 including taxes. Although listed from 1960–62, only about 40 are thought to have been produced.  Two prototypes of a successor car, the 3.5 Litre or 305GT, were made in 1961 and featured the light alloy Buick V8 engine that was later taken up by Rover. John Gordon, together with Jim Keeble (who had previously inserted a Buick V-8 engine into a Peerless), subsequently used the Peerless space-frame as the basis for a Chevrolet-powered car with Giugiaro-designed, Bertone-built bodywork, initially shown in 1960 as the Gordon GT, and which eventually reached production in 1964 as the Gordon-Keeble. The car seen here is one of those Peerless GT models.
PORSCHE
TIPEC, an organisation for Porsche Owners, were one of the featured clubs, so there were lots of different Porsche cars present. Most numerous, unsurprisingly, were the 911 models, with lots of different versions on show.
This pair of Boxster Spyder models were parked next to each other, and were surprisingly different in spec. A third one was a few cars away.
Also open topped was this 944 Cabrio.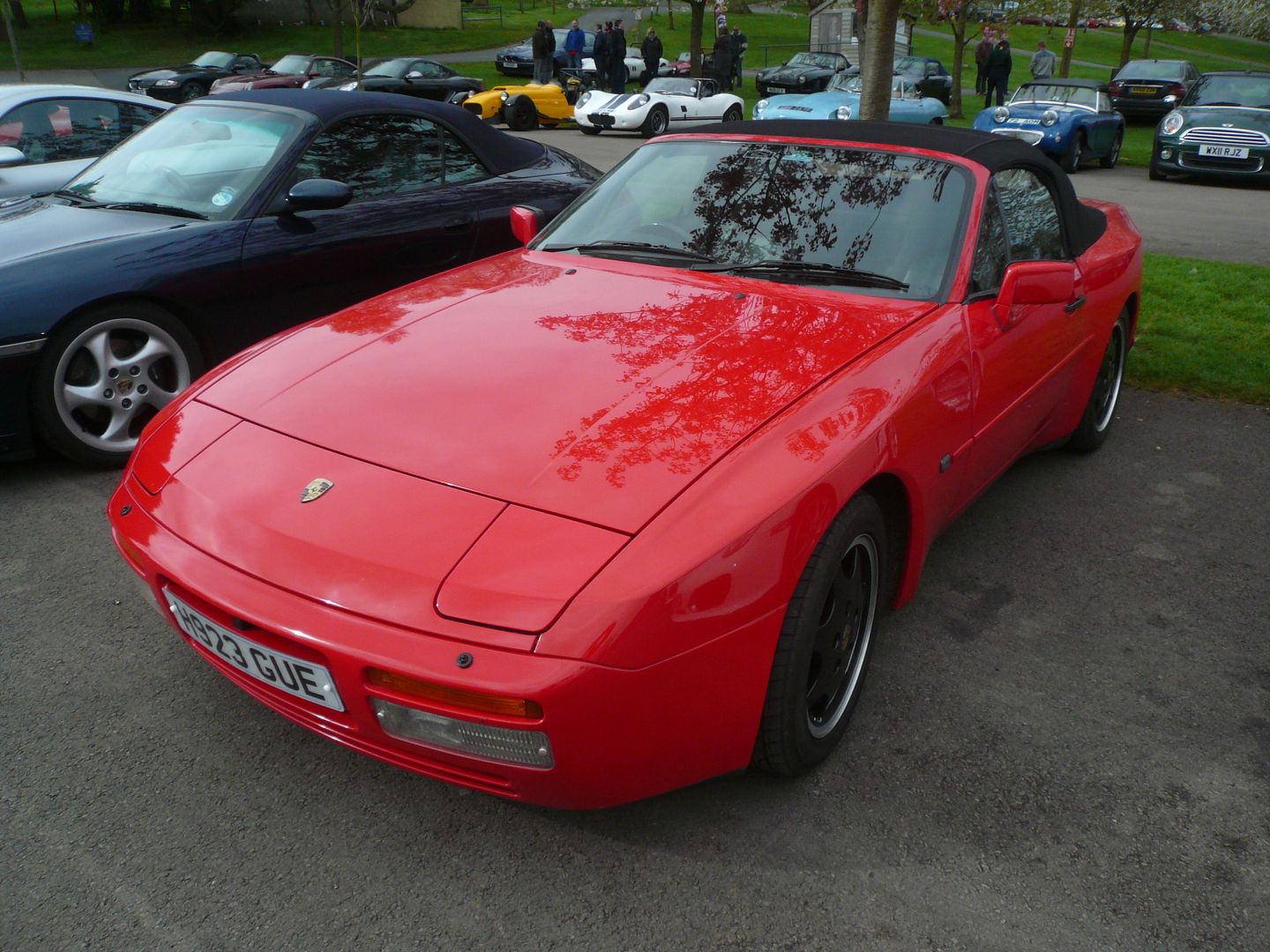 Other Porsche models present included Boxster and Cayman cars.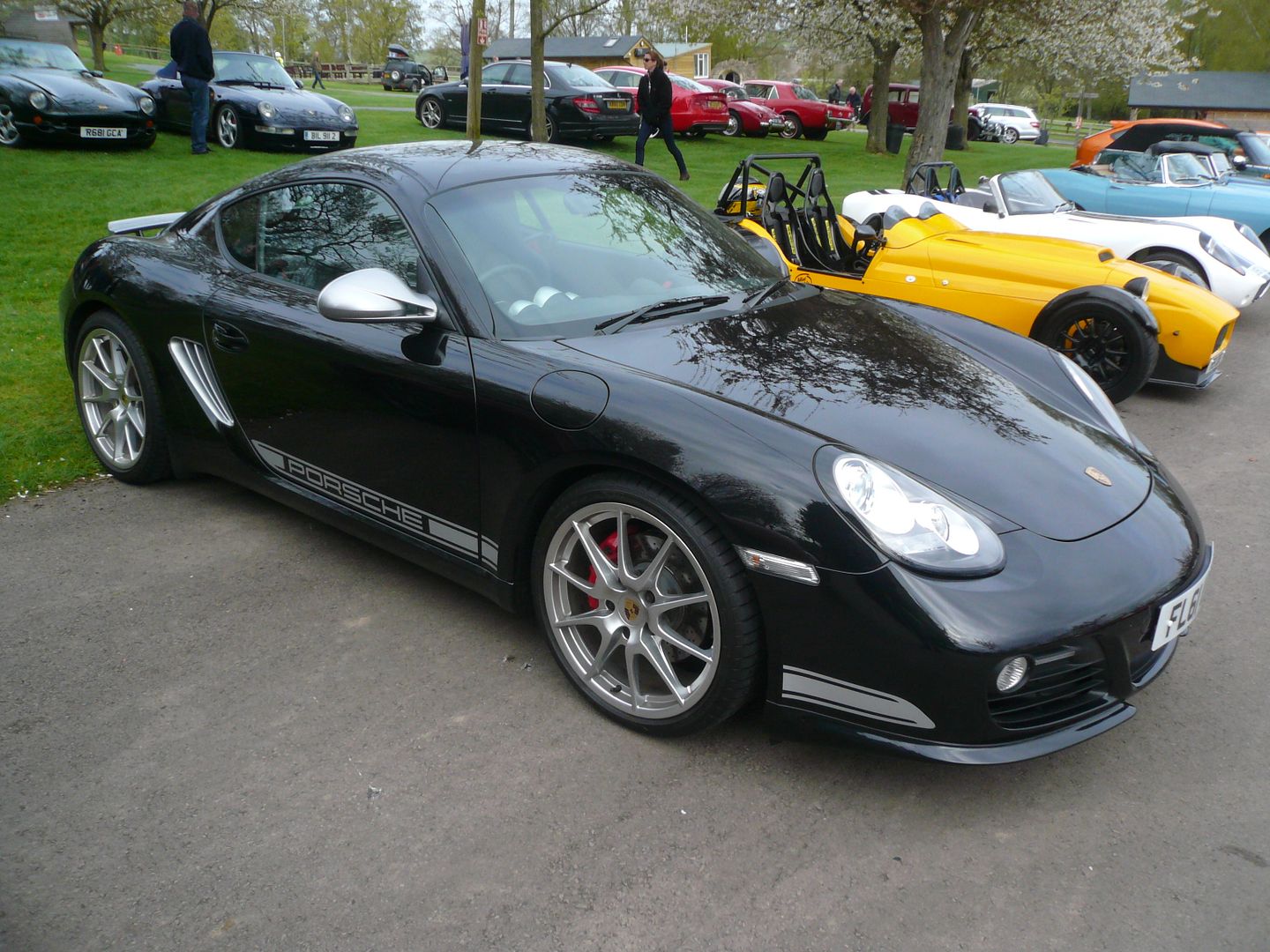 RELIANT
The owner of this SE5 Scimitar is clearly as inveterate an attendee at this sort of event as I am, as I have seen this car at almost every Queen Square Breakfast Club that I've attended, as well as the Haynes ones.
ROVER
I had quite a chat with the owner of this Rover 100 Cabrio. He bought it last year, for £1400, at which price, he thought it something of a bargain. Apart from an after-market stereo, the car looks more or less like it did when it left the factory, with an immaculate interior. He said that he thought only 100 of these cars were made, which seemed surprisingly few to me, so I did some research to learn more about this model. The open-topped version of the Metro was launched in MPi GTi from at the Berlin Motor Show in the Autumn of 1992, as part of Rover Group's early 90s plan to fill as many market niches as possible and one was one of a trio of Cabriolets, the others being the better known MG RV8 and the Mini Cabrio both of which followed soon after the Metro, at the Birmingham Motor Show that October. The open topped Metro was initially slated for availability in 'early 1993', but that dropped back to 1994 (now said to be in SLi form) because of delays. Part of the reason for this was that a key supplier, LAMM, which had done so much work on the open Mini and the Metro went bust, which made it necessary to find another supplier. Tickford was commissioned to refine the original work undertaken, and ready the cars for production. The Metro Cabriolet was initially a Rover Special Products (RSP) car, built at Longbridge, on the same basis as the Mini Cabriolet – slotted in and out of the regular model production process wherever possible, so that it benefited from proper priming and paint processes. Engineering-wise, the Cabriolet version was rather interesting. It was based upon the platform of the five-door model, and that would explain why the petrol cap was under a flap and not the simpler disc-style exposed item as used in the three-door hatchback. To strengthen the bodyshell, the lateral box sections under the front seats were widened, and that compromised rear seat legroom, as the footwells were smaller in the back. Despite the fashionable notion that the Metro/100 bodyshell lacks stiffness, this is clearly not the case as no additional metal was added to the bulk-head when in the process of becoming a cabriolet. Also, the A-pillars are standard, with a modified section forming the top windscreen edge to create the lip for the leading edge of the roof to sit against. However, there were plenty of structural modifications to the rear of the car. A double-skinned 'parcel shelf', specially shaped inside to bend the rear window when retracted, and three box sections to create lateral strength were added. These are not dissimilar to the roll-bar/head-restraint device on the MINI convertibles – except they're upside down and hidden from view. This left a half-width luggage passage into the rear passenger space. The bespoke one-piece back seat jack-knifed just as in the standard car. The boot lid opened upwards on special parallelogram hinges and was a chopped-down version of the original. The fully-lined roof was designed specially and caused many problems and delays, with the original supplier having to be replaced. Consequently Rover Metro/100s have black roofs whereas facelift (post-1995) 100s have Grey hoods. All grey tops were electrically operated through one hydraulic motor feeding two raising arms. The Vynide rear window zipped open as on the MGF and TF and 200 Cabriolet, and the rear quarter light windows retract asymmetrically into the body leaving a crescent of glass visible. Strangely, though, electric front window operation was even not an option. By the time the car came to market, it was expensive. Too expensive, and the cars struggled to find buyers. To get round it, Rover found an interesting solution. Boatloads of them were shipped to Jersey, where the cars were used as rental machines, accruing very small mileages, and then when they were returned to the mainland, they could be sold as demonstrators, but without the need for VAT, as they had already been registered and hence were technically second hand. Initially, the car was supposed to be available in 1.4 Cabriolet and 1.4 16v Cabriolet form in the UK market, and 1.4 8v only in mainland Europe. A 1.1 for Europe was mooted, and a few were sold in the Netherlands. Electric operation of the roof was supposed to be an option initially, possibly standard on the 16v, and only became standard with on the later grey-roof cars. The Cabriolet 8v was built to 'S' specification with a Renaissance fabric interior, and the 16v was a Metro GTi Cabriolet in all but name. No-one really knows how many were officially built, but it certainly was not a lot. It is thought that there could well have been only a couple of hundred of the pre-1995 Metro/100 built, with anything between 500 and 2000 of the later cars finding new homes. They were available only on back-order from Rover, and the company kept pretty quiet about the car  There certainly are not many left.
SUBARU
This first generation Impreza STi was sporting badges on the back commemorating 20 years of production of the Impreza Turbo. As this car was produced early in the model's life, the badges must have been added at a later date.
TRIUMPH
Both TR models here were TR4s, though one was the later TR4A model, which came with independent rear suspension.
Smaller Triumphs present were a couple of Spitfire models, the last of the line 1500 and a much earlier Mark 1 model, as well as the 6 cylinder closed coupe car, the GT6, seen here in Mark 1 guise.
TVR
A couple of Griffiths were parked up next to each other.
VOLVO
The 480ES was an attempt by Volvo to change their image from maker of worthy but boxy saloon and estate models, such as the 240, 740 and 760 series, into one with more varied appeal, and with a look back at the stylish P1800 of the previous 2 decades. With styling cues from the later 1800ES model, the ingredients were partly there, but even when a turbo was put under the bonnet to pep up the performance, the 480ES did not really achieve market success, which was a pity. Volvo would try again, of course with the more recent C30, and once again struggle to wow the market.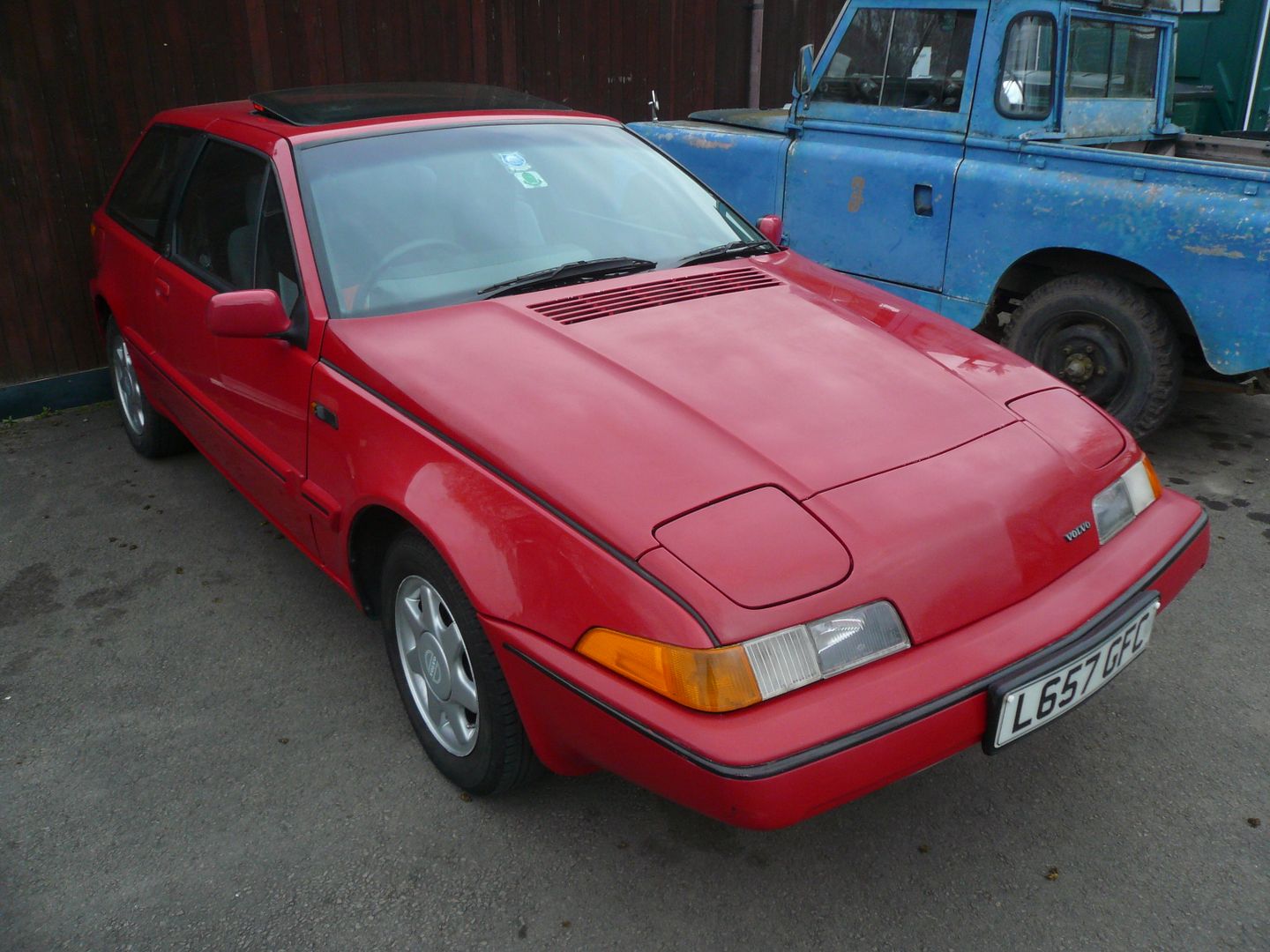 WOLSELEY
The Wolseley Hornet was a 12hp lightweight saloon car also available as a coupé and open two-seater as well as the usual rolling chassis for bespoke coachwork. Produced by Wolseley Motors Limited from 1930 to 1936 the Hornet was unveiled to the public at the end of April 1930. The Hornet had a tiny 1270cc six-cylinder engine, reflecting the brief vogue for less vibratory small capacity 6, 8, 12 and 16 cylinder engines, a fashion which was soon superseded by greatly improved flexible engine mountings. In the case of the Hornet, their overhead camshaft engines were so good that cars built on their Hornet Special chassis developed an outstanding reputation on the road and in club competition. The initial offering was something of a quart in a pint pot, tiny but powerful for its size. Although four people could be fitted into the very lightly constructed car, it was a tight fit, and as the market evolved to require more room and more comfort, so the car's nature changed. This was countered by making and selling the Special with a more highly tuned engine. The new Special chassis was announced on 18th April 1932. It had twin carburettors, higher compression (domed pistons) and numerous smaller modifications including a revised exhaust system (triple-piped manifold —2″ pipe to the straight-through silencer), duplex valve springs, metal universal joints in the propeller shaft,  3″ wider front track and specially large 12″ brake drums. The long flexible gear-lever was replaced by a remote control and a small short-travel lever. Special front (with a  3″ wider track at 3′ 9″) and rear axles were supplied with the saloon's large-hub stud-fixed Magna wire-wheels. Small knock-on hubs in Rudge-Whitworth wheels were optional and usually preferred. A particularly large speedometer (a quick-reading 5″ dial), matching engine rev counter, and 10″ headlights were supplied as part of the complete kit for the coachbuilder. In the autumn of 1933 to improve its breathing the engine was given a cross-flow head with inlet and exhaust manifolds on opposing sides. The block casting was redesigned to increase its stiffness and the Special received the long wheelbase underslung chassis and other modifications of the saloon including freewheel.The Special chassis was supplied to various specialist coachbuilders particularly Swallow, Whittingham & Mitchell, Jensen and, now also part of the Morris group, Cunard. 2307 were made. The car seen here dates from 1932 and has the smallest available engine, the 1272cc unit.
This was a very enjoyable and well attended Breakfast Club, well worth attending. Had I not already had both coffee and food at my mother's just before arriving, I would have happily consumed one of the good looking breakfasts that seemed to be proving very popular with just about everyone present. A lesson for next time, perhaps. And there certainly will be a next time. Remaining dates for 2015 are July 5th, September 20th and October 25th.
Share and Enjoy