Bristol Italian Auto Moto Festival – April 2015
There's been a Bristol Italian Auto Moto Festival, known as BIAMF for short, every year since 2003, and I've attended every one since 2008. It's very popular not just among owners and enthusiasts of Italian cars and bikes, who generally need little encouragement to polish up their splendid machines and bring them out for the pleasure of a wider audience, but also plenty of the general public some of whom come across the event by accident. as well as those who know it is on and make the effort to stop by.
Held in the old commercial centre of the city, with cars and bikes parked up on 4 streets around Corn Street, even before the official opening at 11am, the crowds always build to the extent that getting decent photographs becomes a real challenge, and it stays like this til 3:30 – 4pm when the cars start to depart. Making all this happen requires a lot of hard  work, and months of careful planning, not just with the owners of the vehicles that will participate, but also liaising with the City Council, and local businesses, First Aiders and so on. Few can truly imagine just what is involved, as they only see the end result, of a brilliant event where everything falls into place.
Paul Hanmore, who runs the Italian Motor Club, has taken the full burden of pulling this event together ever since its inception, which is a remarkable achievement, and generosity of his time (and his long suffering partner, Angela!), so it was perhaps not a surprise that after 12 years he appealed for help and a successor. Enter another enthusiast, David Morris, who – thankfully – came forward to help, and that just meant that dealing with a City Council who have less money and less co-operation every year still imperilled the event. Thanks to Paul and David (and perhaps others?) efforts, though, all the obstacles were overcome, and in early Februrary, it was announced that the 2015 BIAMF would go ahead, on a Saturday in late as in previous years. As well as entering my own car, I immediately signed up for marshalling duties once more, as events like this need plenty of helpers on the day, and although the early morning start is a bit of a challenge (all the more so this year as I only returned from holiday a matter of hours beforehand!), it is really not that arduous a task, and you do get to talk to lots of people as they arrive and you help to position their cars, and also to grab some photos before the crowds throng the event.
The glorious spring weather which arrived over Easter seemed to decide to run away again for the event day, but the forecasters'  predictions of rain, that were made earlier in the week, were changed to one of cloud but dry, and this proved to be the case. So almost everyone who booked a place did turn up, giving in excess of 150 Italian cars and a vast array of bikes of scooters to look at, and countless people to talk to. I had a really great day, and managed to get plenty of photographic reminders of the event, which I present here for others to enjoy.
ABARTH
No classic Abarths at the event, this year, but a strong showing of the modern ones, with 12 cars present. Although it is now 7 years since the rebirth of the brand, and there are in excess of 5000 Scorpion badged cars on British roads, there are still plenty of people who do not know what it is, and I found myself explaining to quite a lot of attendees what Abarth is, and giving them a bit of a history lesson. It is true that you can still go several days, travelling long distances without seeing another one, which is, of course, part of the appeal. There are quite a few that are resident in the Bristol area, but of the 12 cars present here, several had travelled some way to participate in this event, which just goes to show how enthusiastic the owners are at driving their cars, and showing them off to other people as well as meeting up with fellow owners. Not surprisingly, given the sales ratio of about 10:1, 10 of the cars present were 500-based, with a nice mix of different variants from what is now known as the Custom, but also referred to as NP (Normale Produzione) such as my car, to the Esseesse models, as well as the later 595 versions, and with the open topped C versions joining the fixed roof cars.
Local dealer, Wessex Garages, brought along a couple of demonstrator cars. Sadly, they have not (yet) received a Biposto, so there was not one of those, and the 180bhp Competizione models are still a few weeks away, so they showed one of the 50th Anniversary Edition cars (still available,  if you want one) and a 160bhp Competizione model.
The two Punto models shown were from near the beginning and end of production, with an early Grande Punto contrasted with Will Webb's much loved Evo SuperSport car.
ALFA ROMEO
Although there is barely an Italian car that does not appeal to me (even the ones with some fairly significant failings don't put me off like perhaps they should), before the renaissance of Abarth, if I was forced to pick one brand above all others, it would probably have been Alfa Romeo that I put in the top spot. The fact that I owned three different models, consecutively, over an 8 year period, during which time I drove around a quarter of a million miles in them just strengthened my affection for the brand, as it was then based on personal experience rather than some looking from afar. There were lots of lovely Alfas at this event, and if someone were kind enough to let me take any of them home, I would willingly have done so. Of course, the one I covet more than any other is the car which is now worth probably as much as everything else on show put together.
Mike Hirst's 1929 Alfa 6C1750 GS Sport Zagato is just fabulous. These cars were produced in the glory days of Alfa, when it was all about racing, trying to beat the Bugatti and other competitors, and with a combination of the engineering brilliance of Vittorio Jano, the shrewd judgment of Enzo Ferrari who was running the racing team for Alfa, and the elegant body styles that a number of renowned Italian design houses, such as Zagato and Touring produced for the cars, these were among the most desirable cars of the period. For a while they were cheap. I recall Mike telling me that he acquired his car for a couple of hundred pounds, but that was around 55 years ago. A similar model – which was extensively profiled in a recent issue of Octane magazine – fetched £1.6 million at auction.
So, with pricing like that, most Alfa enthusiasts are going to have set their sights a lot lower. But even some of the more recent models are rocketing in value, and that is certainly the case for the 105 series Giulia GT and GTV cars. Really nice examples of these are now well north of £20,000, so it's too late to bag a bargain, though the 1300 Junior model was picked out in an article in the current issue of Classic and Sports Car, as a "still affordable, but for how much longer?"
Also a 105 Series car, but looking very different are the Spider models. Launched in 1966, the 1600 "Duetto" shot to fame thanks to a starring role in "The Graduate". The stylish car metamorphosed through 4 distinct generations, and was produced right up to the mid 1990s. Only sold officially in the UK for a brief period in the 1970s, a lot of cars have found their way to the UK over the years, some of which have been converted to right hand drive. All the models on show here were the second generation cars, with the Kamm tail, and either a 1750 or the later 2000cc engine, with the exception Jeremy Dutton's lovely early Series 1 model and a late Series 2 car.
Although bearing the Giulia name of the other 105-based models, this car is really a 101 Series Giulietta in essence. Regardless of that detail, it is really rather special. Indeed, it has "special" in its name. This is a Giulia SS, believed to be one of only 10 such in the UK. and recently emerged from a careful restoration, resulting in the splendid looking car here that we put at the top of St Stephen Street to ensure as many people as possible could see it and enjoy it. And they clearly did. When the owner asked me if he could leave early, my slightly flippant reply was that his car was too nice to be allowed to go at that moment, but sadly, he had commitments elsewhere and I had to let him out.  The Sprint Speciale was first shown at the 1957 Turin Show as a prototype. Production cars were launched at the Monza circuit in June1959. The SS boasted the lowest drag coefficient ever seen in a production car, of just 0.28, a figure which was not surpassed for 20 years. In 1963, it was updated, when a larger 1600cc engine was put under the bonnet, which gave it a top speed of 120 mph, an astonishing figure at the time. It did not come cheap, though, costing a lot more than the Giulia GT that was also first shown in 1963. 1,366 Giulietta Sprint Speciale and 1,400 Giulia Sprint Speciale were produced. 25 cars were converted to right hand drive by RuddSpeed.  Production ended in 1965.
A car which has not achieved anything like the following of these, and of which an alarmingly small number survive is the 164. So, I may be a little biased, as I owned one for 4 years, but I still think this is one of the most beautiful saloon cars ever made, and as well as looking good, even with the characterful 148 bhp 2.0 Twin Spark under the bonnet, the car went well and it sounded fantastic. It was comfortable, roomy and actually very reliable, mine needing little more than regular servicing tyres and frequent replacement of the rear suspension bushes over the 160,000 miles I drove it. There are not many left in the UK, and quite a few of the survivors are, frankly, rather tatty, but that is not an allegation you could make of either of the examples here. Daryl Staddon brought his fabulous and very rare Q4 Cloverleaf car along, and it was joined by a 3.0 V6 Super model.
Introduced slightly earlier than the 164 (it appeared in 1983, whereas the 164 launched in 1987) was the 33, a successor to the much loved AlfaSud. Objectively, a better car in many ways, the model never really captured the same level of affection as its predecessor, so whilst this was actually the most popular Alfa ever, the survival rate is very low. There was one example here. Nick Grange got his car back from having some body work attended to, and with a fresh MOT literally the day before the event, so he told me, so he was able to bring his 1989 Cloverleaf model, rather than his much loved white V6 156.
There weren't any 'Sud saloons or hatches present this year, but there was an example of the Coupe model, the Sprint. This was produced long after the end of regular AlfaSud production, running through to 1989, though the mid to late 1980s saw a number of facelifts each of added more plastic adornment to Bertone's crisp lines, none of which, in my opinion, made the car look better than the models produced in the 1970s. But this was not uncommon practice in the 1980s, especially for designs that had been around a while, and we have to remember that Alfa was in deep financial trouble in the mid 1980s, until Fiat came along with a rescue package and bought the marque.
Mid-Sized Alfa saloons were somewhat under-represented this year, with no sign of a 116 Series Giulietta, a 75 or a 155. There were a few of the lovely 156 models here, though. Shocking to realise that this model will soon mark its 20th anniversary, as I still remember seeing a taped-up prototype on the streets of Frankfurt, and getting a couple of pictures which I thought I might be able to sell on, only to get home and find that Alfa had just released their first official photographs. It struck me then as a beautiful looking car, and the early press reports effused praise, telling us how it was better than a 3 Series. Waiting lists grew accordingly. I took delivery of mine in 1999, an 18 month old V6 model, which at the time was the most powerful and fastest car I had ever owned, and I loved it to the extent that when the lease was up, I more or less had to be tied down to have the key forcibly removed from my pocket. Whoever bought it next clearly did something unspeakable to it, as it was never re-taxed or re-MOTed, according to DVLA records. The initial range of 4 and V6 cylinder petrol engined cars was expanded with a diesel, and then the SportWagon model joined the range for more practicality and the range was topped off by the GTA. Examples of all of these were on show here.
Last year, Wessex Garages brought along one of the first 4C Competizione models to reach the country, and the crowds mobbed it all day. Since then, a number of customer cars have been delivered, and whilst this is still a rare sight on Britain's roads, you do see one occasionally. One very proud owner, whose sign in the car said "well worth the wait" brought his car along, and not surprisingly, the crowds mobbed it again.
Although there are not currently any Coupe or Spider models in the Alfa range apart from the 4C, there are plenty in the back catalogue, with the 916 Series GTV and Spider, produced from 1995 to 2005, the GT and the Brera and related Spider being the most recent, and there were examples of all of these at the event.
Other recent Alfa models were represented by a couple of 166s, a GT, a few 159s and a lone 147, though most of these seem to have eluded my camera.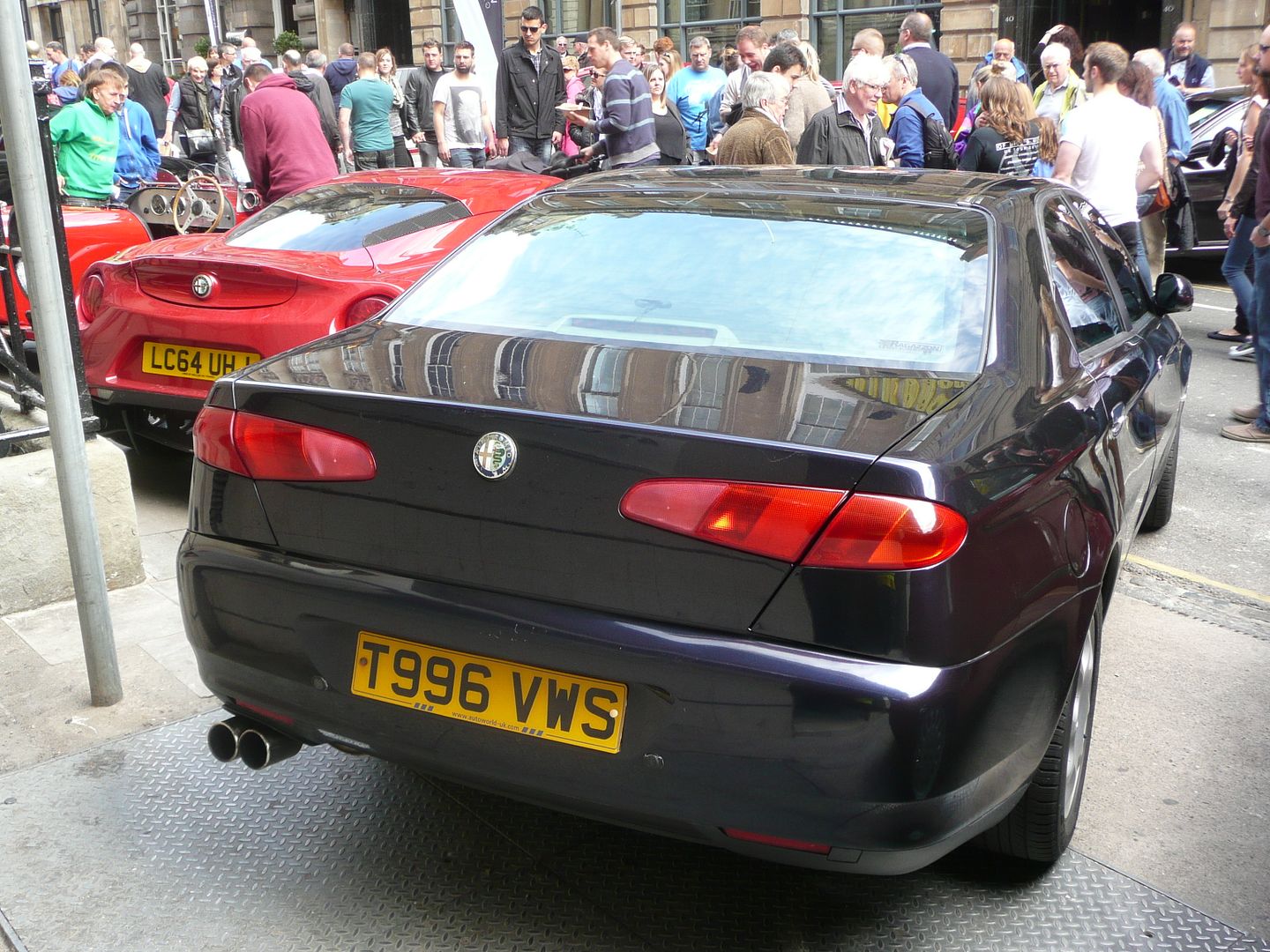 As well as the Abarths,  Wessex Garages brought along the latest MiTo and Giulietta for people to look at. This proved to be the only MiTo present this year, which was a bit of a surprise.
There was another Giulietta, in the very striking (and rather costly) 8C Red paint finish as well as one in a darker shade of wine red that also suits the car so much better than the grey colour that many seem to select when ordering this good looking hatch.
If none of these take your fancy, because you want something that recalls the Alfas of the late 1930s, but your budget does not stretch to the real deal, if you could even find one for sale, you could do what David Roots did, and make your own. His Alfa Special is a well known car in the South West, as he brings to all manner of events, and it never fails to attract lots of interest. And that's no surprise, as it really does look "Special" (in the nicest possible sense of the word". A combination of Alfa mechanicals, some Austin-Healey chassis and a bespoke body combine to produce one of the most photographed cars of any event where it is shown. I should also add that David is the perfect gent, and the flapjack which appeared that he handed out to (at least some of) the marshalls was most welcome!
AUTOBIANCHI
In my "top five" of the day was this. One of the smallest and least powerful cars present, it was also one of the rarest. This is an Autobianchi Bianchina. I suspect that only a small percentage of the attendees knew what it was, and I surprised more than a few when I pointed to the Nuova 500s parked near to it, and said that under the bodies, the 2 models shared a lot, as that was indeed the case. The Autobianchi brand was established by Fiat, and first used in 1957, offering distinctively styled cars based on standard Fiat mechanicals. During the 1960s, Fiat used it to test ideas out on the market before committing them to the much larger commercial proposition that was Fiat, with the 1964 Primula pre-dating the front wheel drive 128 saloon by 5 years, and the A112 small hatchback the 127 by a couple. There were only a small number of different models produced during the marque's lifetime, with the A112 the best known. The Bianchina was the first model, and it was produced not just in the guise shown here, but as a small estate (the Panoramica), a van (Fuorgoncino) and a convertible (the Trasformabile) between 1959 and 1970. There are only a handful of Autobianchi models in the UK, and most of those have been imported in recent years. This one came into the UK late last year, having been purchased in Naples. It needed remarkably little doing to it, even though it is now 55 years old. The owner lives in Bristol, and he has already shown it at the monthly Queen Square Breakfast Club, and when he does not bring one of his other Italian treasures (he owns a Fulvia Zagato as well), he said it will appear again.
FERRARI
There were plenty of Ferrari models present this year. Sadly, there was only one that would truly count as a "classic" one, a utterly gorgeous Dino 246GT. Still viewed by many as a contender for "most beautiful car of all time", this really is a lovely car, and it is no wonder that people are paying silly money for even barn find rotten ones (around £140k for one recently that will need at least as much again spending to make it whole!).
Brand new, the owner having taken delivery only a few weeks ago, was this 458 Speciale. I've only seen a few of these on the road or even at shows, and this was the first blue one that I've seen (most are, not surprisingly, finished in red). Although I helped the owner to extricate his car from the show when he needed to leave, the combination of lots of people around and the event speed limit meant that the full sound track was not something that I, or anyone else, could benefit from on this occasion, but everyone could admire the looks of this lovely machine.
The Ferrari that was really pulling the crowds, though, and perhaps not surprisingly, was an F12 Berlinetta. Although these have been available for a couple of years now, they are still a rare sight, so when one does appear, everyone closes in for a closer look. And listen. The owner obligingly gave us all a few performance from the sound track, and I don't think anyone was disappointed by what they heard. Were it not for something rather special which will be referenced later in this report, it could have won the "best noise of the day" contest quite easily. It is also a great looking car.
The 360 Modena and later 430 model proved to the biggest selling Ferrari to date, so you now expect to see lots of these relative to other models, and that proved to be the case here, with several models on show.
The F355 model was a skilful update of the less than well received 348 cars. Styling tweaks removed the rather awkward side strakes and tidied up the front and rear, a characterful 5 valve per cylinder gave the car the performance its looks suggested it should have, and the whole driving experience was sharpened up to make it a real driver's Ferrari. Jeremy Clarkson owned one for a while, and he raved about it at the time, and no wonder. This is definitely a Ferrari "great". Berlinetta and GTS examples were shown here.
There was an example of that less-well regarded 348 model, too, seen here in fully open Spider guise.
Other Ferrari models on display included a "regular" 458 Italia and a Mondial Qv.
FIAT
Favourite Fiat of the day, by some margin, I have to say, was this absolutely fabulous 1600S Cabriolet. The owner thinks it could be the only one in the UK, and I certainly cannot recall seeing another, although there were a couple of the rare 1500 Cabriolet models on which it is based as well as the earlier 1200TV at Brooklands last year. The 1600 sports an OSCA engined twin cam of 1,568 cc, which develops 90 PS. It was available at the same time as the 1500 Cabriolet, which was from 1961 to 1966, and can easily be distinguished from the 1500 model by its additional lamps at the outer corners of the grille. The owner of this car only got it late last year. The car was first sold to a buyer in Italy, but then was moved to the US where it lived until 1996, at which point it returned to Italy. It turned out to be a very solid car indeed, needing very little work done to it, though it has been treated to new leather seats, replacing the original vinyl items.  To my eyes, the simple Pininfarina styled lines of this car are just about perfect from every angle.
There were plenty of other very nice Fiats as well. Attracting lots of interest were the Nuova 500s, of which 4 were present. The bright orange one was a 500L, but still with the rectangular speedo unit, whereas the others were all earlier cars, including one with the suicide doors. Fast these cars may not be, but they just ooze charm from every square inch of their diminutive bodies. No wonder that even if a relatively plentiful supply of survivors, prices of nice ones are rising well into 5 figures.
Also appealing to almost everyone is the Fiat Coupe, a striking design from the "pen" of Chris Bangle before he went to BMW and transformed their cars into objects that people took time to get used to. No such issues with the Fiat which not only looks good now, 20 years after launch, but which drove well, especially with the later 5 cylinder engines under the bonnet. The 20v Turbo was a seriously rapid car in its day, so no wonder that these machines became almost instant classics as soon as their short production life was over. Three models were present here.
There were two more open topped Fiats. The X1/9 was first launched in 1972, but it took 5 years before Fiat decided to import it into the UK. A facelift in 1979, with larger bumpers and a raised engine cover to house the bigger 1500cc engine did perhaps not make it look better, but this characterful mid-engined sports car had massive appeal when new, and set the stage for the Toyota MR2 which finally presented itself as a rival 12 years after the Bertone/Fiat model appeared. Later cars came in a variety of special editions and lost the Fiat badging in favour of Bertone ones. This is a VS model, and I think the two tone paintwork on this really enhances the looks.
Second open topped model was a Barchetta. Fiat's answer to the MX5 and the MGF, these cars are, in my opinion, better looking than either of those two, and yet they are almost criminally ignored in this country. Only ever sold in left hand drive, which doubtless put some people off, this is a fun car, based on the Punto platform and mechanicals, so if anything is needed, it is actually quite cheap to fix.
Even cheaper, of course is the Panda. Mark 1 Pandas are all over Italy, still, having taken on the mantle of universal workhorse in rural areas. There are not so many of them here, which is a shame. A Giugiaro design, he is often quoted as saying that this is the one, from his extensive portfolio, of which he was the most proud. Quite an accolade from a man who designed all manner of sports and expensive cars in his time.
LAMBORGHINI
Every year, there is a "featured marque", and this year was the turn of Lamborghini. I had hoped that this might have meant a whole collection of mouth-watering and rare models, but sadly that was not really the case. Four cars with the Fighting Bull on their snouts were here. Oldest, by some measure was an Islero. Produced in the late 1960s, this was effectively the successor to the 350/400GT models which marked the start of Ferruccio Lamborghini's venture into car production. Featuring a V12 engine (of course), this 2+2 GT car was only produced for 2 years, during which time 225 units were made.
The Lamborghini that was pulling the crowds, not surprisingly, was an Aventador. The pinnacle of the current range, this V12 engined brute is everything you expect of a model from Sant'Agata da Bolognese. Bold styling that almost shouts at you, a bright coloured paint finish, and a less than quiet exhaust note to it.
By contrast, the newer Huracan that was parked next to it was almost ignored. The fact that it was black probably did not help. I suspect not that many people have seen one of these before, as it has not yet been on sale for a year, but in making it easier to live with on a daily basis, Lamborghini has almost made it a bit too civilised, and the look, whilst very clearly linked to other models, is perhaps a bit too restrained. I have no doubt that over the Huracan's life time, we will see more extreme versions, and that given time, this could become the biggest selling model ever.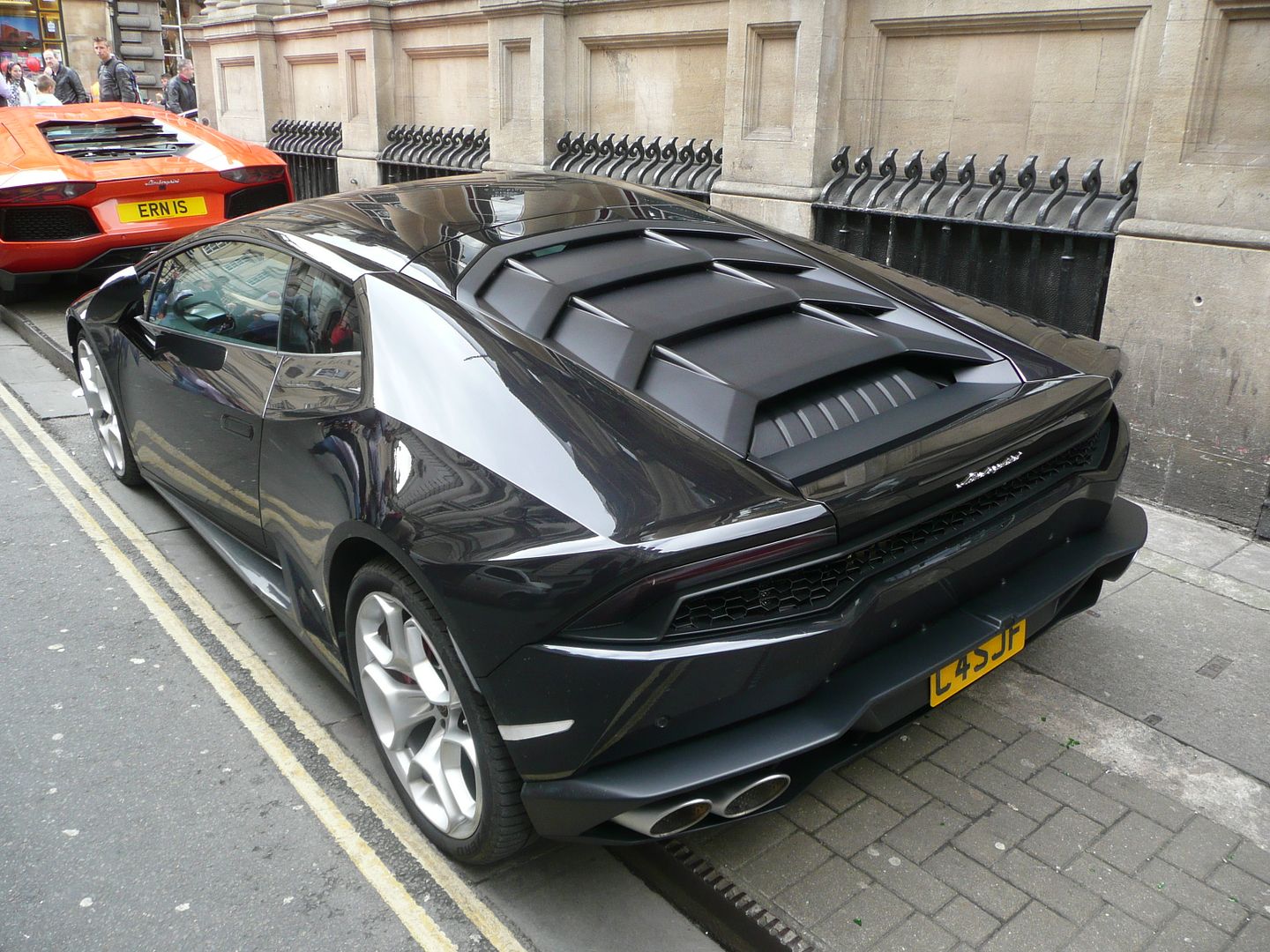 Until that happens, the honour for most numerous Lamborghini goes to the Gallardo. Produced for just over 10 years, over 10,000 models were made, in a bewildering array of subtly different versions. Telling the closed models from the open topped ones like this one is easy, but after that, you need much more detailed knowledge to tell the 4WD ones apart from the RWD cars and to detect the various different engine performance levels that gave the models their names.
LANCIA
Oldest Lancia present was an Aprilia. Made between 1937 and 1949, this was one of the first cars designed with the help of a wind tunnel. Lancia cars of the era were engineered to the highest standards and this V4 powered saloon was no exception, with lots of details which made it feel very special compared to rival products of the day.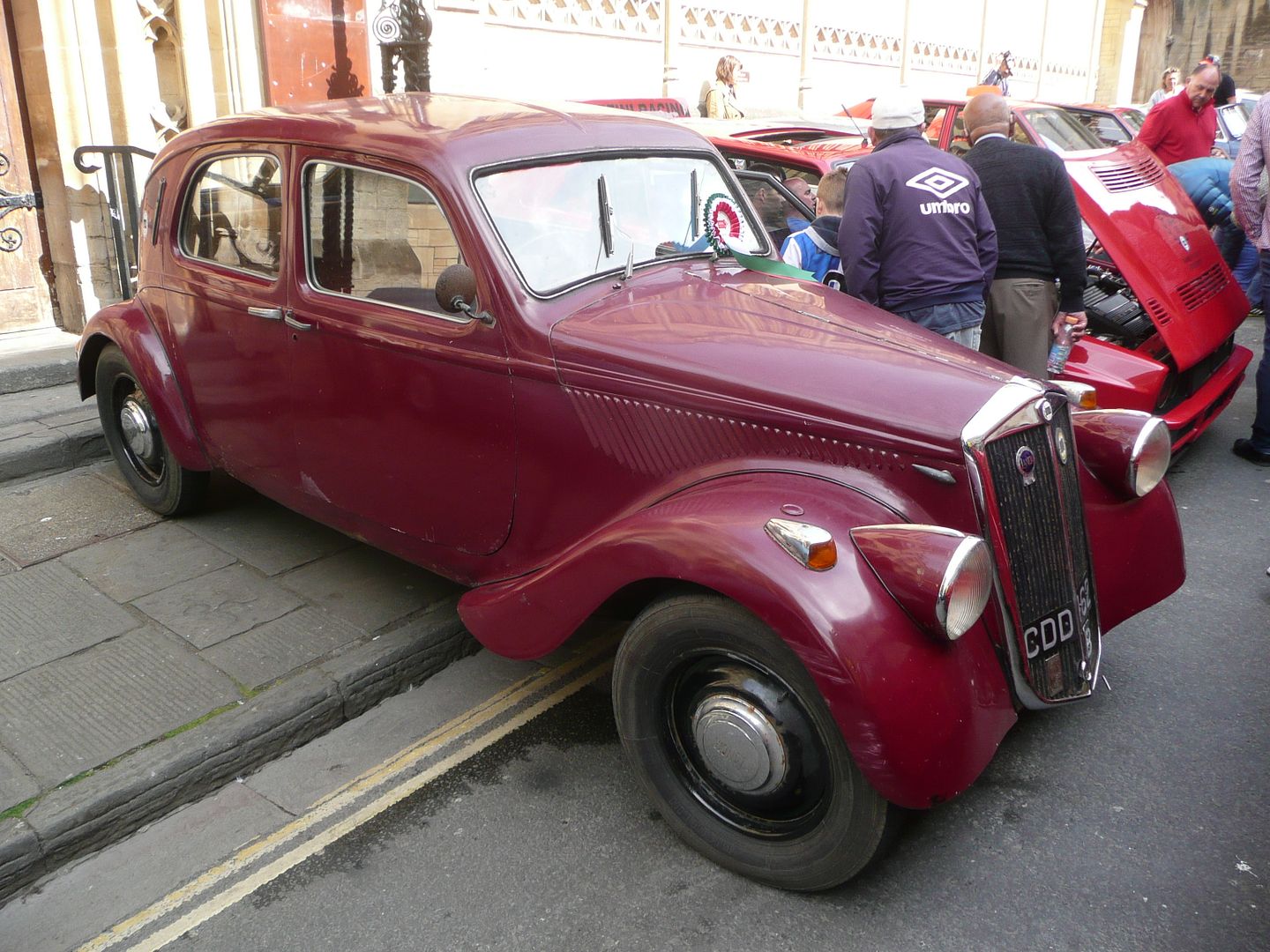 The Aurelia was Lancia's large car offering in the 1950s. The B20 GT Coupe and B24 Spider models are the best known and most often seen, along with occasional sightings of the B10 Berlina, but there was also an open topped model like this, the B50 Cabriolet. This splendid machine, which was rather hemmed into its display position, and so difficult to photograph properly has been seen at a number of events in the area in the past couple of years.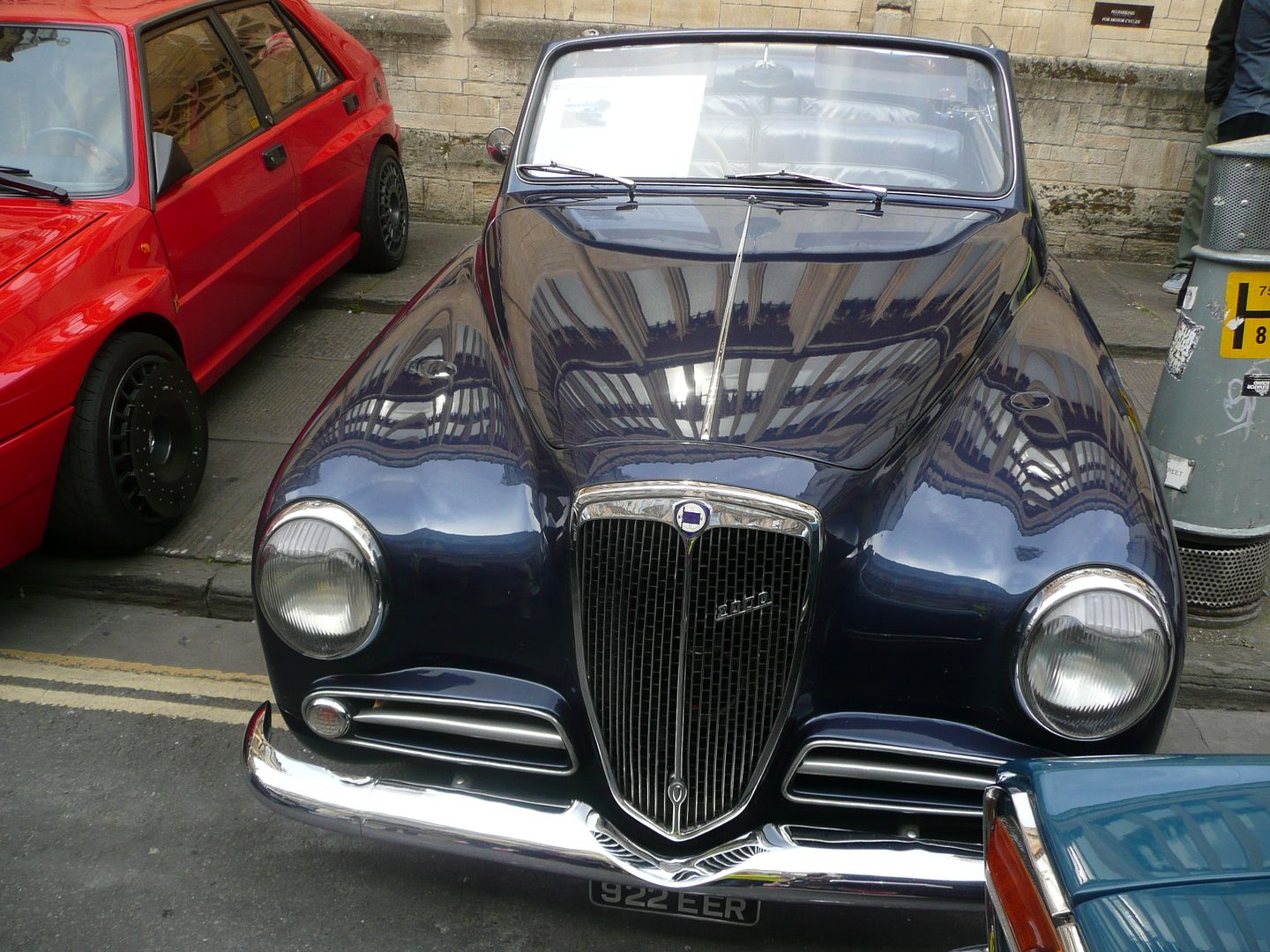 Two examples of the Flaminia were here. Launched in 1958 in Berlina saloon guise, as was common at the time, a number of the Italian styling houses also had the chance to present Coupe and Convertible versions of the car, and during the lifetime of the model, three did so: Pininfarina, Zagato and Touring. The Pininfarina cars came first, and there was one of these on show, along with the later, in my opinion even more elegant Touring models.
The same philosophy applied with the next cars in Lancia's range, the front wheel drive Flavia and Fulvia. Sadly there were none of the former present, but there were a number of Fulvia models. The "standard" Coupe model, which also enjoyed considerable success as a rally car in the late 1960s, was penned by Pininfarina, as is one of the prettiest designs of the 1960s. As ever, Zagato produced something rather more off-beat which would never beat to everyone's taste, though there are plenty of people who appreciate not just the lines of the Fulvia Zagato Sport but its relative rarity even compared to the standard Coupe model.
Mainstay of the Lancia range throughout the 1970s was the Beta. Launched in 1972 as a Berlina (saloon), with a choice of 1400, 1600 or 1800 engines, this car was quite popular in the UK, outselling contemporary BMW models, for instance, with lots of appeal for those who wanted something that was a cut above a Ford Cortina or Vauxhall Victor. A revised Series 2 car followed in 1976, with the engine range altered to 1300, 1600 and 2 litre, and later a 4 speed AP automatic gearbox was offered. But in 1980, disaster struck, when consumer affairs tv program "That's Life" revealed that Lancia had been quietly buying back Betas and scrapping them thanks to premature corrosion, especially  in the suspension mounting points. To be honest, all cars of this era rusted both badly and quickly, but Lancia got the real caning from this story, which more or less killed the brand's reputation over night. Although the problem had been fixed, by the time the Series 3 model was available, no-one wanted it, and it is thought that only 50 such cars arrived in the UK. Two are believed to survive, and one of them, the only one I have ever seen in the UK, was present here, along with a Series 2 1300 which was in splendid condition.
Lancia augmented the Beta range with a number of different body styles: the very pretty 1974 Coupe was joined by the HPE, then a Spider and finally, although it shared little more than the name and some mechanical parts, the mid-engined MonteCarlo version. Examples of all of these apart from the HPE were here.
Lancia launched  the Gamma in 1976. To say it was not a sales success would be rather understating the case. Initially the problem seemed to be that it came with a 4 cylinder engine and was positioned in a class where 6 cylinders were the norm. That was before the reputation for mechanical fragility took hold, so despite a number of updates, in the course of 8 years production, just 15,272 Berlina and 6,790 Coupe models were made. Not that many were sold in the UK, and the survival rate is quite low. When you do see a Gamma, more often than not, it is a Coupe, so it was quite a surprise that at this event, there were two Gamma models present, and both were Berlina cars. Both were early cars. The silver one, tucked away in a corner, sadly, seemed to be the victim of target practice from the passing local pigeons.
Replacement for the Gamma was the Thema, Lancia's version of the Type 4 car, which also created the Fiat Croma, Saab 9000 and Alf 164, this was a very conservatively style car, and deliberately so, too, as it did not pay to flaunt your wealth too visibility in mid 1980s Italy. V6 engined models were available, but the bulk of sales were of the 4 cylinder cars most of them with a turbo as well as fuel injection. A second generation model, with revised styling appeared in 1990, and the example present here is one of those cars.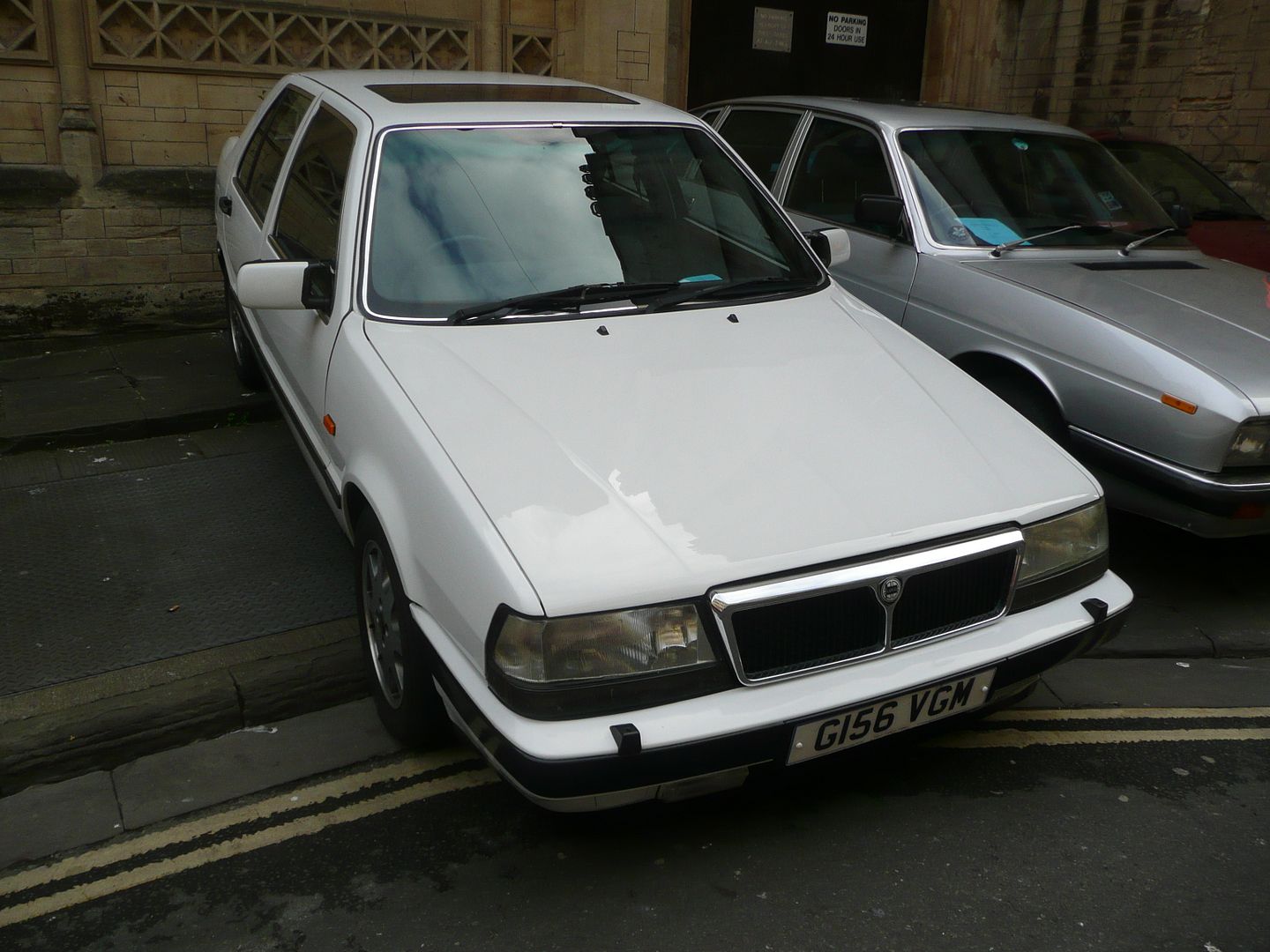 Ask anyone who is my age or younger to name the first Lancia model that comes into their head, and I would lay odds that most people would say Delta, or more likely Delta Integrale. It is over 20 years since this legend was last made, stunning people both with its explosive on-road performance as well as some amazing results in the forests and rally stages. Whilst the Integrale cars are relatively commonly seen at gatherings of Italian cars, the "cooking" versions are far rarer, so it was quite a surprise to find that at this event, there were as many of the regular models as the really hot ones. Delta was initially launched as a 1300 and 1500cc luxury hatch, which won the 1980 Car of the Tear award, but by 1983, a more potent 1600ie model was added to the range and a Turbo version followed soon after. It was only when the HF Turbo 4WD appeared in 1986 that the lesser cars were really overshadowed by the all wheel drive models.
A second generation Delta model was launched in 1993. The initial 5 door hatch was followed by a 3 door model which took on the iconic HPE badging, but these cars were never officially sold in the UK. A very small number have subsequently been imported and two of them, both well known in Italian Moto Club circles were present at this event.
MASERATI
Strong showing of Maseratis, but sadly, no sign of any of the earlier models that have so much appeal. Oldest car present was a Ghibli 2,  the evolution from the 1981 BiTurbo car which was completely transformed in just about every respect compared to those early cars.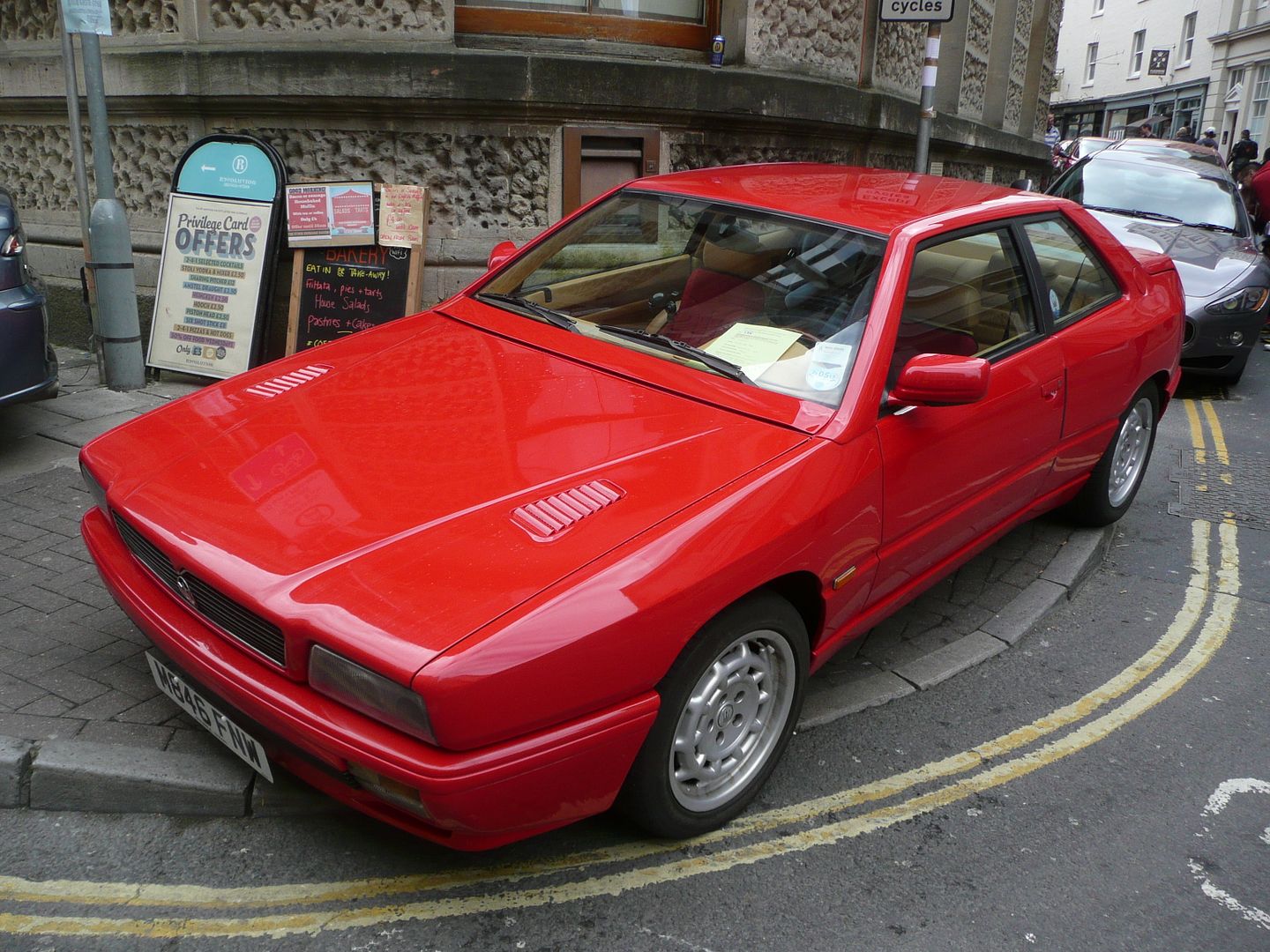 The launch in 1999 of the 3200GT marked a real turning point and revival of Maserati's fortunes, and these lovely looking cars are deservedly very popular. A number of 3200GT, with the boomerang rear lights that look so cool, as well as the later 4200 and Spider models were here. It was one of these, a silver car with blue leather trim that had the most incredible exhaust system on it, giving the car the most pleasing deep resonant sound that I heard all day. The car was nice in its own right, but the addition of that exhaust made it even more appealing.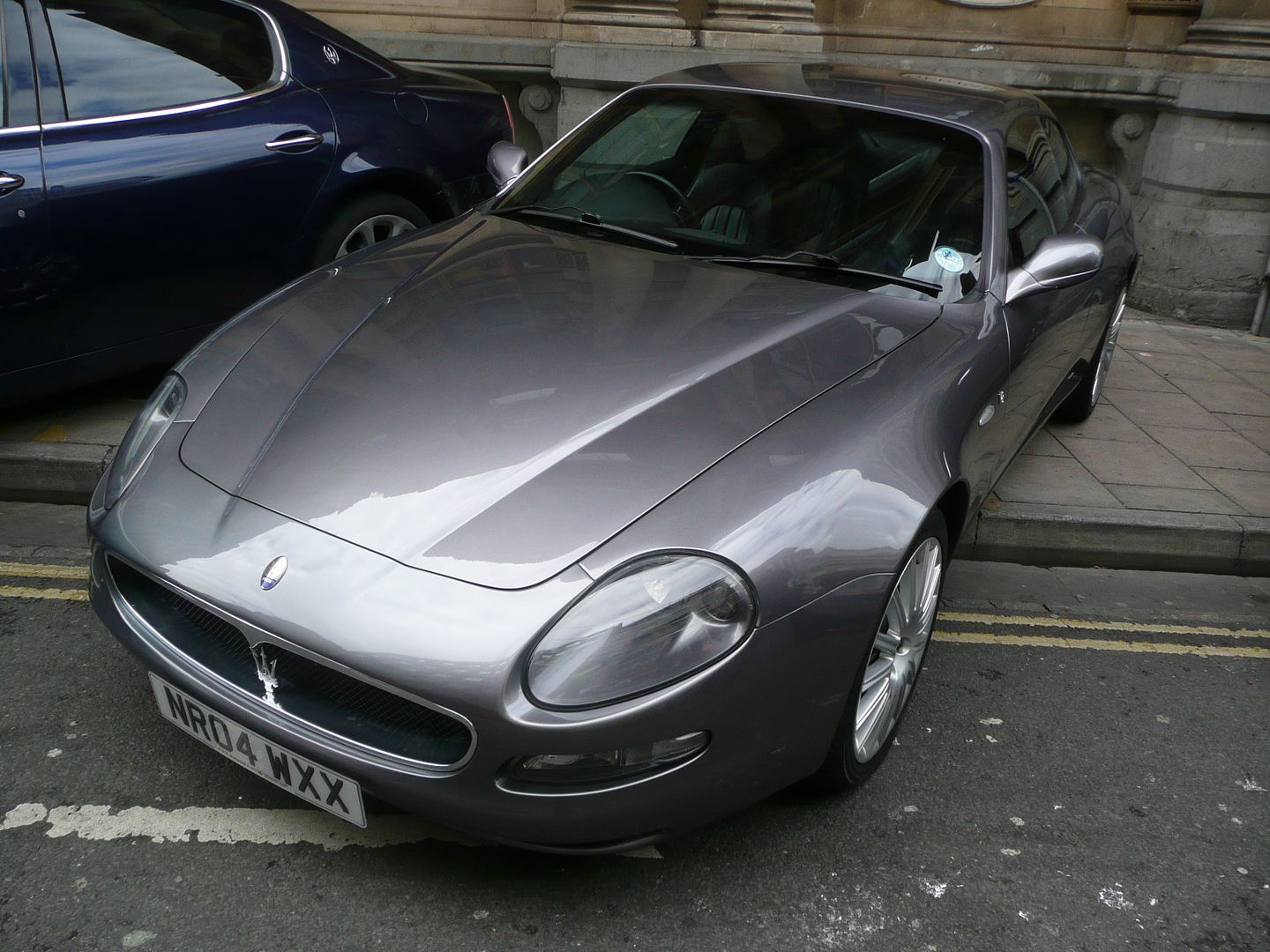 The GranTurismo and GranCabrio replaced the 4200 cars in 2007 and there were examples of these, still a current model, as well.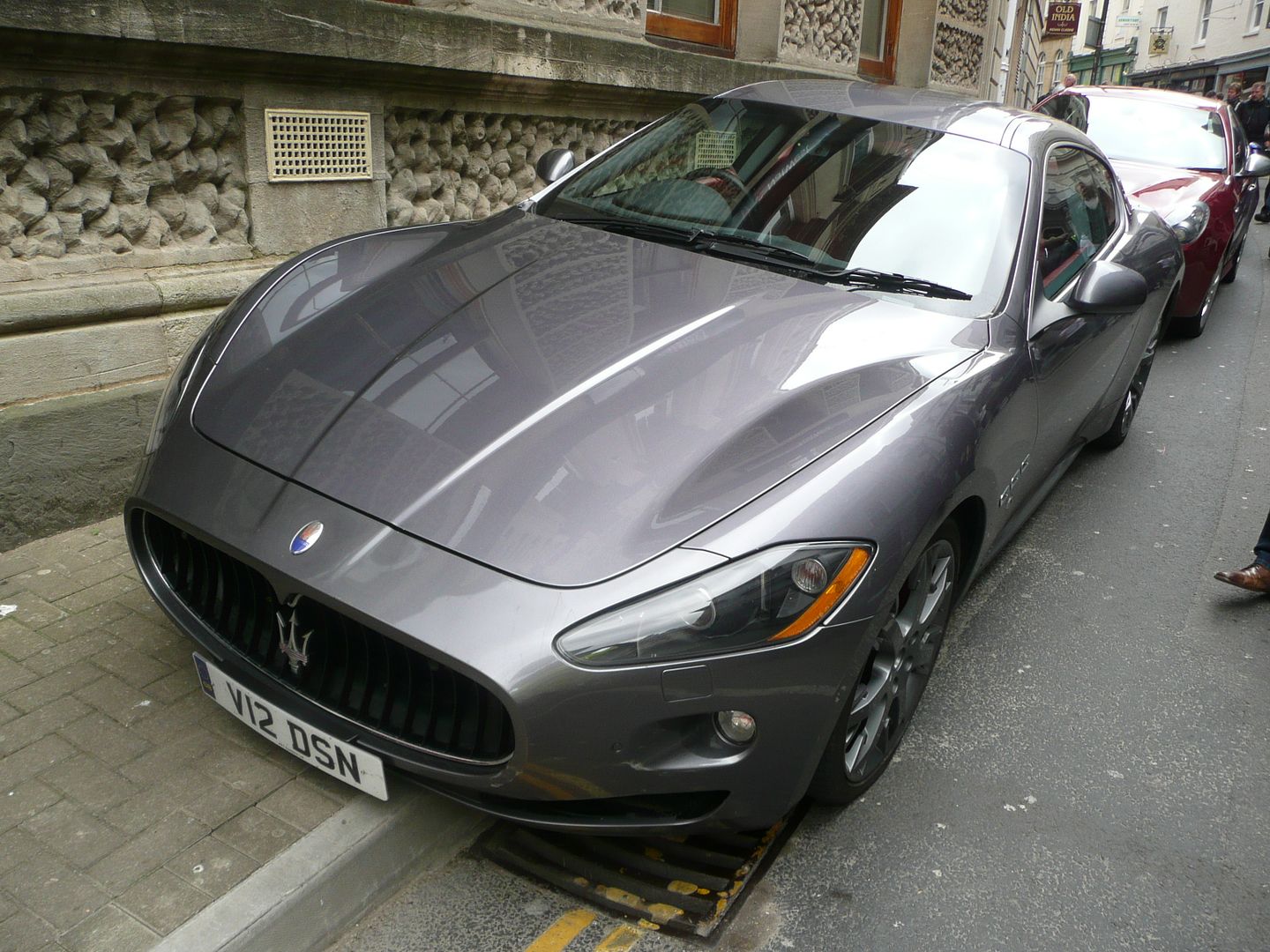 Slightly surprisingly, there was just one four door Maserati present, a Quattroporte from the previous generation. This is another contender for "most elegant saloon ever produced". It attracted the attention of the judging panel as well, winning one of the prizes that was handed out during the day.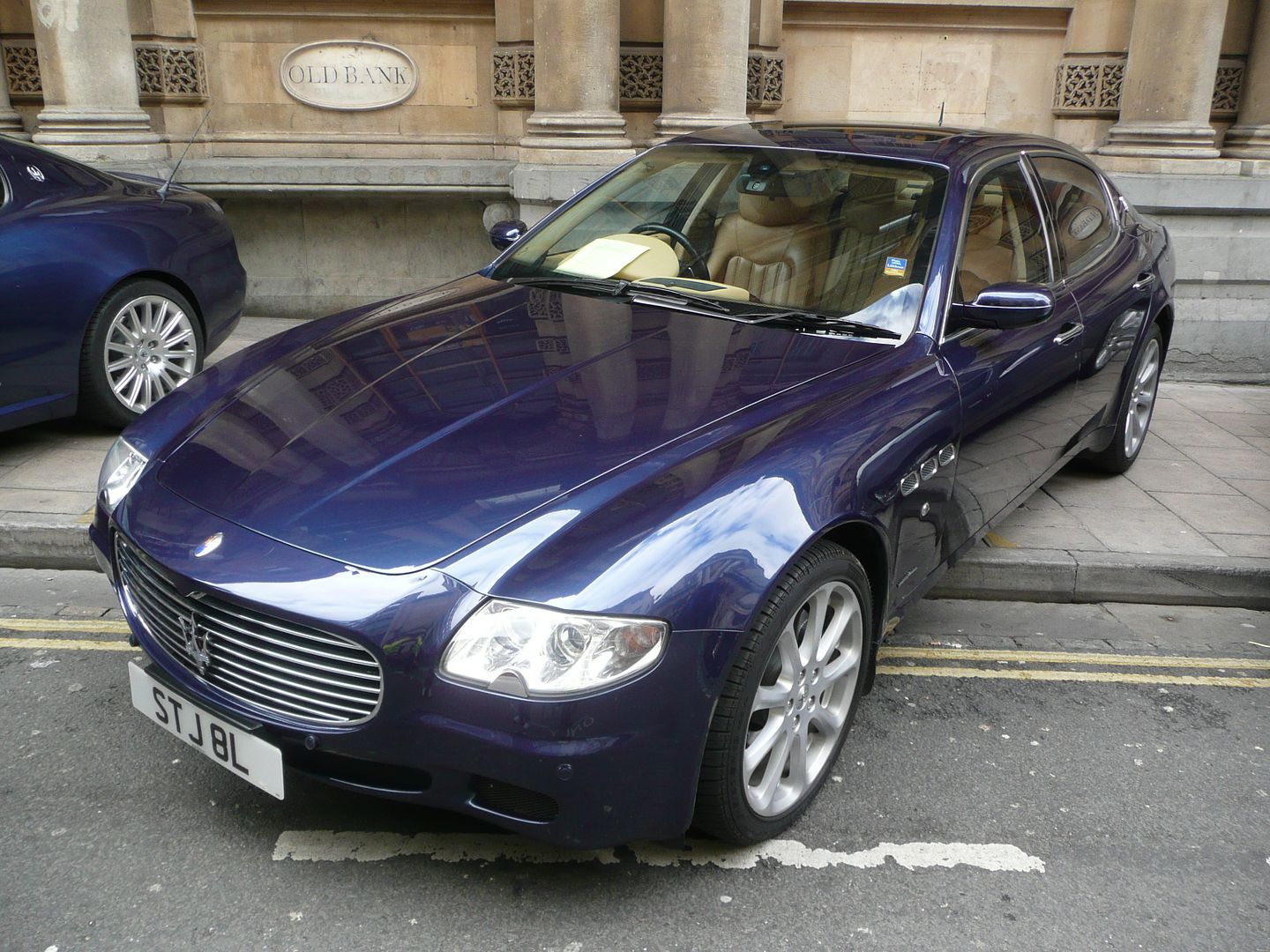 BIKES and SCOOTERS
As in previous years, there were plenty of Italian bikes and scooters present, too. I'm no expert in these, and despite my best intentions to take a few more pics., I seem to have failed, with just these to represent what was there.
This was an excellent ever, as ever. Special thanks to Paul Hanmore and David Morris for all their hard work in making it happen.  The BIAMF website already mentions a 2016 event. Let's hope that nothing (like an unco-operative City Council) gets in the way. I'll certainly be marking my diary with this event once the date is announced, and be offering my services as event marshall again.
Share and Enjoy