Ace Cafe Petrolhead Nirvana – May 2015
When attending the celebrated Ace Cafe, in North West London, of one thing you can be sure: that if it s a theme evening, then the staff at the entrance to the forecourt carpark will ensure that only cars that "comply" get an on-site parking space. Everything else, though, has more than an element of unpredictability to it. As the famous health warning that the Financial Services Industry slaps on every investment product and recommendation says, past performance is no guarantee of the future. So you can do your research to see what sorts of vehicles have showed up at previous events with the same title, for sure, but whether you will get anything like the same, worse or better a display is down to the vaguaries of the weather, what else is going, and just random chance. Of course, the likelihood of some events being more to one's taste than others remains a truism, and so, based on past evidence, both personal and reported, suggests that the monthly Petrolhead Nirvana should be a good one to go to. Held on the second Monday of the month, this one has historically been promoted through the ever popular Pistonheads forum, and reports of previous events show large numbers of super- and hypercars crowding the area in front of the Cafe. But not always. as I found out on a nice sunny and daylight evening in May, when I turned up around 8pm, hopeful that there would be an array of exotic and unusual cars. Whilst some did sort of fit this description there was plenty that was from the heavily modified school, not really to my taste at all. Once the cars started to leave, around 8:30pm, then so did I, so it is possible (but relatively unlikely) that more stuff arrived later on. Here is what was there to interest me and be deemed worthy of photographic record.
ARIEL
First seen in public at the British International Motor Show at the NEC in Birmingham in October 1996, the Atom began as a student project by Coventry University transport design student, Niki Smart. Known then as the LSC (Lightweight Sports Car), it was developed at the university in 1996 with input and funding from various automotive industry members, including British Steel and TWR.  Ariel Motor Company boss Simon Saunders was a senior lecturer whose responsibility for the project was primarily as financial manager and design critic for Smart, whom he described as "The best all-round design student I've ever seen."  Since then, an operation was created in Crewkerne, Somerset, and around 100 cars a year are produced there. Each one is made by a single person, who undertakes everything from assembly to final road test before putting his name on the finished product. There have been 7 distinct models, with a wide variety of different engines ranging from a 2 litre Honda VTEC unit in naturally aspirate and supercharged guise, to the ultimate, the 500, with a 3 litre V8 that generates 500 bhp. Visually, the cars look similar at a quick glance, and it takes a real marque expert (which I am not!), to tell them apart. Never intended as an every day car, as their real raison d'etre is as a track machine, owners do take them out on public roads, and in traffic, from time to time. so, given the pleasant evening sunshine,  perhaps not a complete surprise to find one parked up here.
BMW
Few could mount a convincing case that the latest range of BMW models are particularly good looking, let alone pretty, but wind the clock back a few years, and the story was very different, with some rather elegant designs coming from the styling studios of Munich. This E46 M3 Convertible is a case in point. A genuinely good looking car, with enough subtle modifications so that you realise it is an M3 and not one of the lesser models, but without the superfluity of bulges, vents, creases and other styling fripperies that designers seem to think are necessary these days. Although I've not driven an E46 generation M3, I believe the good news does not stop with the appearance, as it is also rather nice from behind the wheel, too.
CHEVROLET
Perhaps the most interesting car, for me, was this, a C3 Corvette Stingray. Launched in 1968, the C3 model was the longest lived model of Corvette in the name plate's 60 year history, though quite a lot of changes were made during the 15 year run of this version.
FERRARI
After the disappointment of the 348 range, which was heavily criticised by the press when it was new, Ferrari more than made amends with the F355 cars which introduced tidied up (and really rather nice) lines, an excellent 5 valve per cylinder 3.4 litre engine and changes to the other mechanical bits to make the car steer and handle like a proper Ferrari should. The car was an instant hit, and is deservedly still very popular now. Nothing like the quantity of F355s were made as compared to its successor, the 360 Modena, but even so, they are a reasonably common sight at events and meets. This is a GTS, with the lift out Targa roof.
Also representing the Ferrari brand was one of those successor models, seen in later F430 guise, as a fully open Spider.
FIAT
Very different in concept from all the performance machinery that dominated the event was this, a diminutive Fiat Seicento.
FORD
An array of modern fast Fords were to be found parked up on the kerb opposite the Cafe. Most of them were Focus RS cars, but they were joined by a Fiesta ST as well.
INFINITI
I had quite a chat with the owner of this FX50. No, it's not an original paint colour. This is a wrap of a white car with matching orange trim on the quilted seats and with orange ambient lighting to go with it, all of which was done by the previous owner. This is., he told me, his sensible car. With some trepidation, I asked him what else he had. The answer turned out to be a Corvette Z06. I did wonder if he had a private and low cost fuel supply, as neither of these brutes are known for their parsimony, though he did say that you can coax reasonable numbers out of the Infiniti if you try. Which he then said he rarely did! Whilst not exactly to my taste, hats off to someone for having the courage of his convictions and a stable of cars he enjoys.
JAGUAR
Perhaps the best looking car of the evening was this gorgeous F Type Convertible, seen in the  signature colour of Volcano Orange.
LAMBORGHINI
When I first arrived, this pair of bright yellow Gallardo models were parked up at the back of the parking area, and were pretty conspicuous thanks to their colour.
Less immediately obvious, perhaps, thanks to its silver hue, was the Aventador Spider which was parked up in the corner of the forecourt, but this was certainly one of the most photographed cars of the evening, and who can be surprised at that, as this is every bit a true Lamborghini, with arresting looks, and a rarity that does not apply in quite the same way to the rival V12 Ferrari models.
A third Gallardo arrived, rather noisily, and was able to claim a parking space next to the Aventador, conveniently vacated by someone who had departed minutes earlier.
LOTUS
The Esprit remains a striking looking car, more than 25 years after the launch of the revised version and 40 years since Lotus announced that the Giugiaro styled mid-engined car would go into production.
Hard to realise, but the Elise is about to celebrate its 20th birthday, as well. First generation cars were produced for the first 6 years or so, and then a revised version appeared, which has seen many detailed changes under the skin, but retaining the same looks ever since.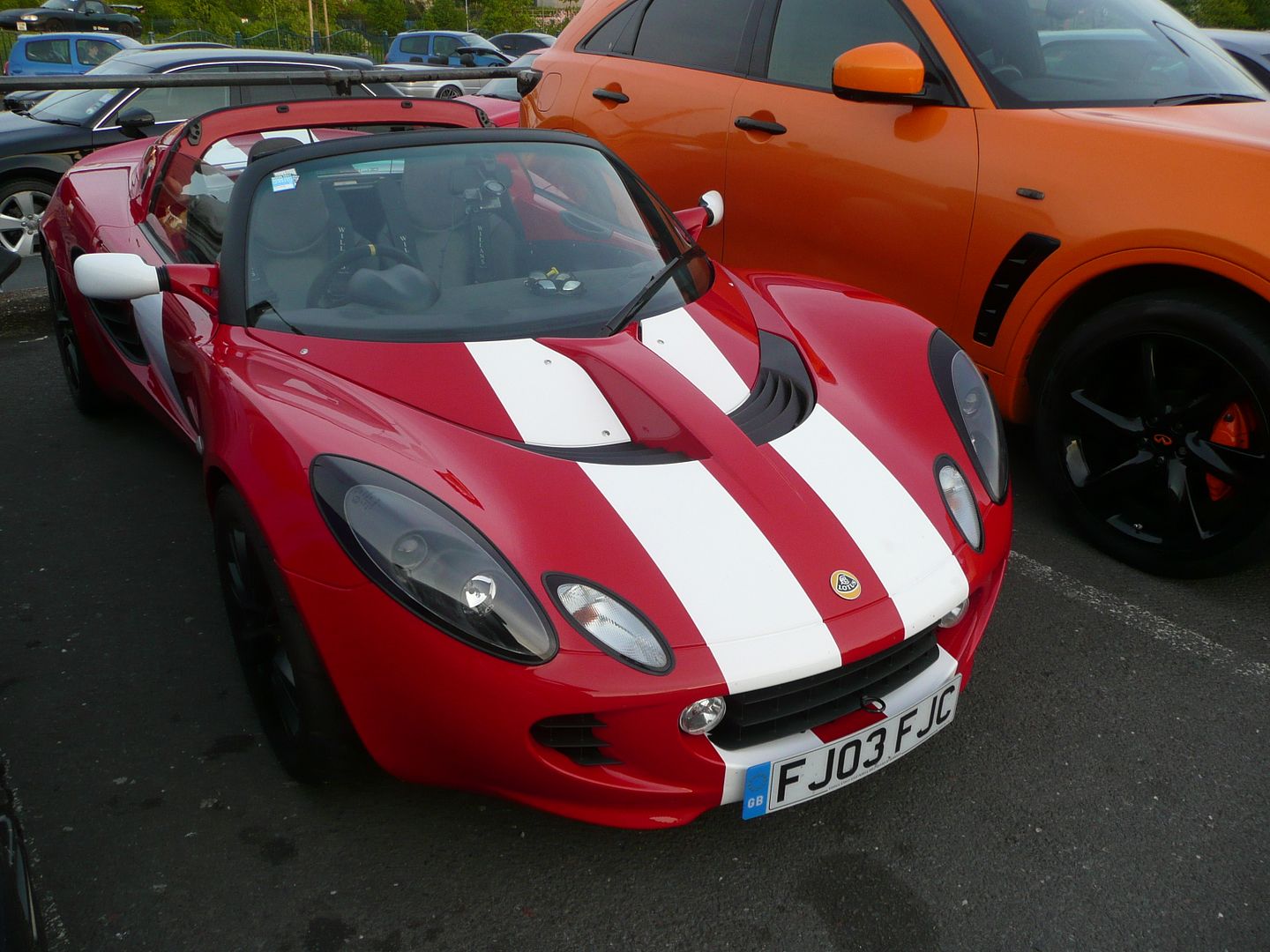 MINI
Following the success of the model in its first generation guise, MINI made a limited number (2000) of cars badged GP in 2013, shortly before replacing the second generation car with the latest third generation model. They all came in the rather drab grey colour, though the use of numerous GP badges does provide some visual stimulation, even if it seems a bit over the top to some people. But a car like this is never going to be the sort of thing that you hope no-one will notice. The GP came with a number of other changes compared to the regular John Cooper Works model on which it was based, with a 218 bhp turbo-charged 1.6  litre engine, giving it a 0–60 mph time of 6.3 seconds and a top speed of 150 mph. The GP also featured exclusive 17" MINI Challenge wheels, high-performance tyres designed in a special partnership with Kumho, adjustable coil over suspension and 6-piston Brembo® front calipers, a full valance tray, red mirror caps, brake ducts, that distinctive signature badging, a pair of special-edition RECARO sport seats (complete with side-impact airbags), and a rear strut reinforcement brace to minimise weight and body sway.  It was expesnive, but needless to say, all units were sold relatively quickly.
NISSAN
The various generations of Skyline remain popular among enthusiasts, and quite a number of these cars are to be found in the UK, many having been imported a  few years after they were made, from Japan. This would appear to be one such car, a v-Spec G33 model, which was produced between 1993 and 1998.
PORSCHE
There were a number of 911 models here, from several of the recent different generations of the model. Rarest would have to be the RUF modified one that turned up soon after I did.
TESLA
The Tesla Model S has been available in the UK for around a year now, and whilst it is nowhere near as commonplace as in California, where several thousand have been sold, it is starting to become the sort of car that you will see reasonably frequently. There were three of them parked up when I got here. One of the owners has clearly not quite adjusted to the fact that there are some attributes which are just different from this electric-only model, as when he wanted to leave, he simply got in the car, and started moving off, paying no attention to the fact that were lots of people directly in front of his car, with their back to the car. Hearing nothing, as the Tesla is completely silent, he just drove forward, hoping that they would get out of the way, which eventually they did when others shouted. He manoeuvred his way out of the car park in this way, causing the same alarm until he was clear of all the other attendees. The other two cars were still there when I left.
TVR
Whenever I've been to the themed evening in the past, there have always been plenty of TVRs present. This time there was just one, a rather nice Cerbera.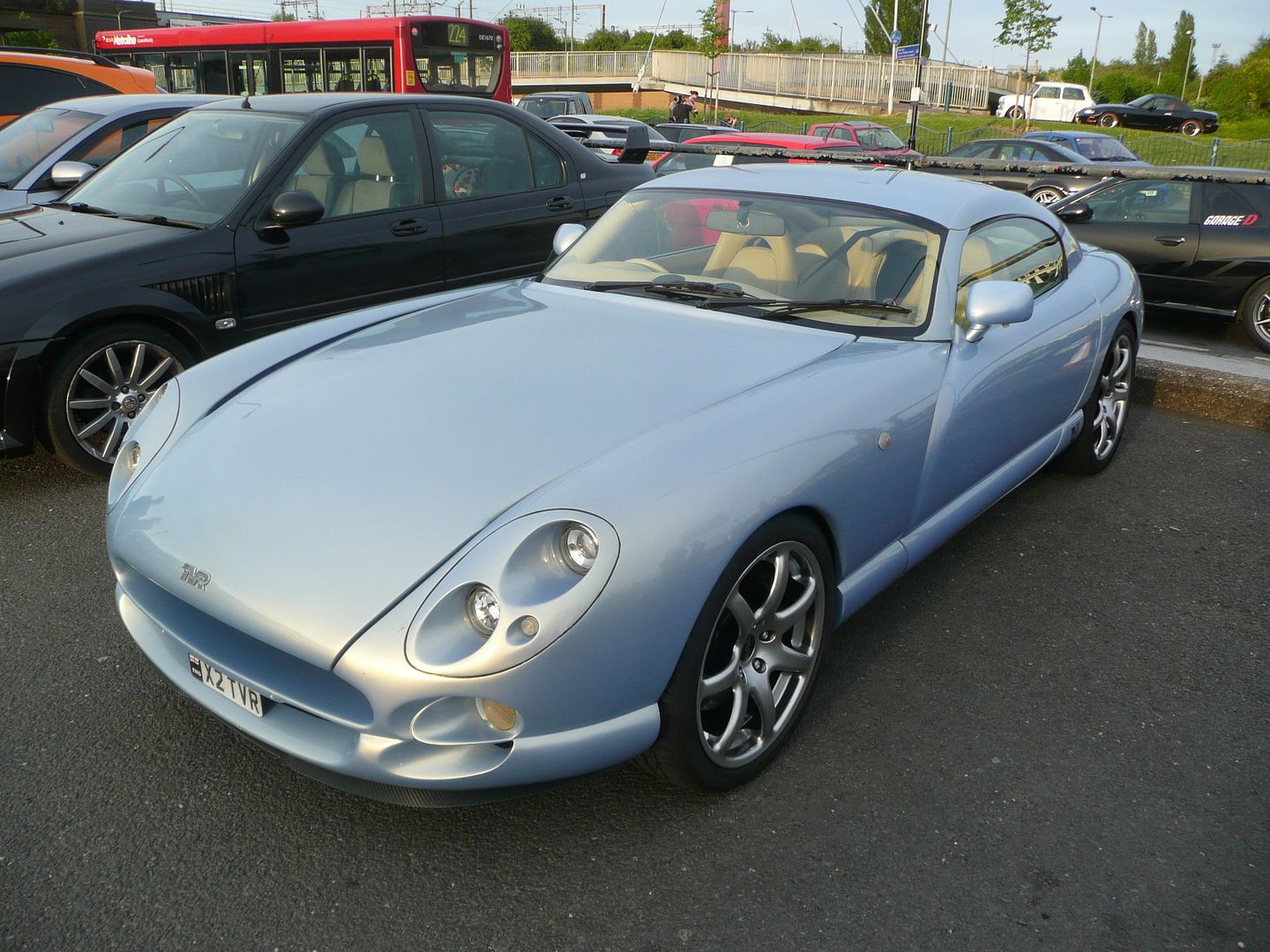 VOLKSWAGEN
This Beetle-based machine is quite a regular at the Ace.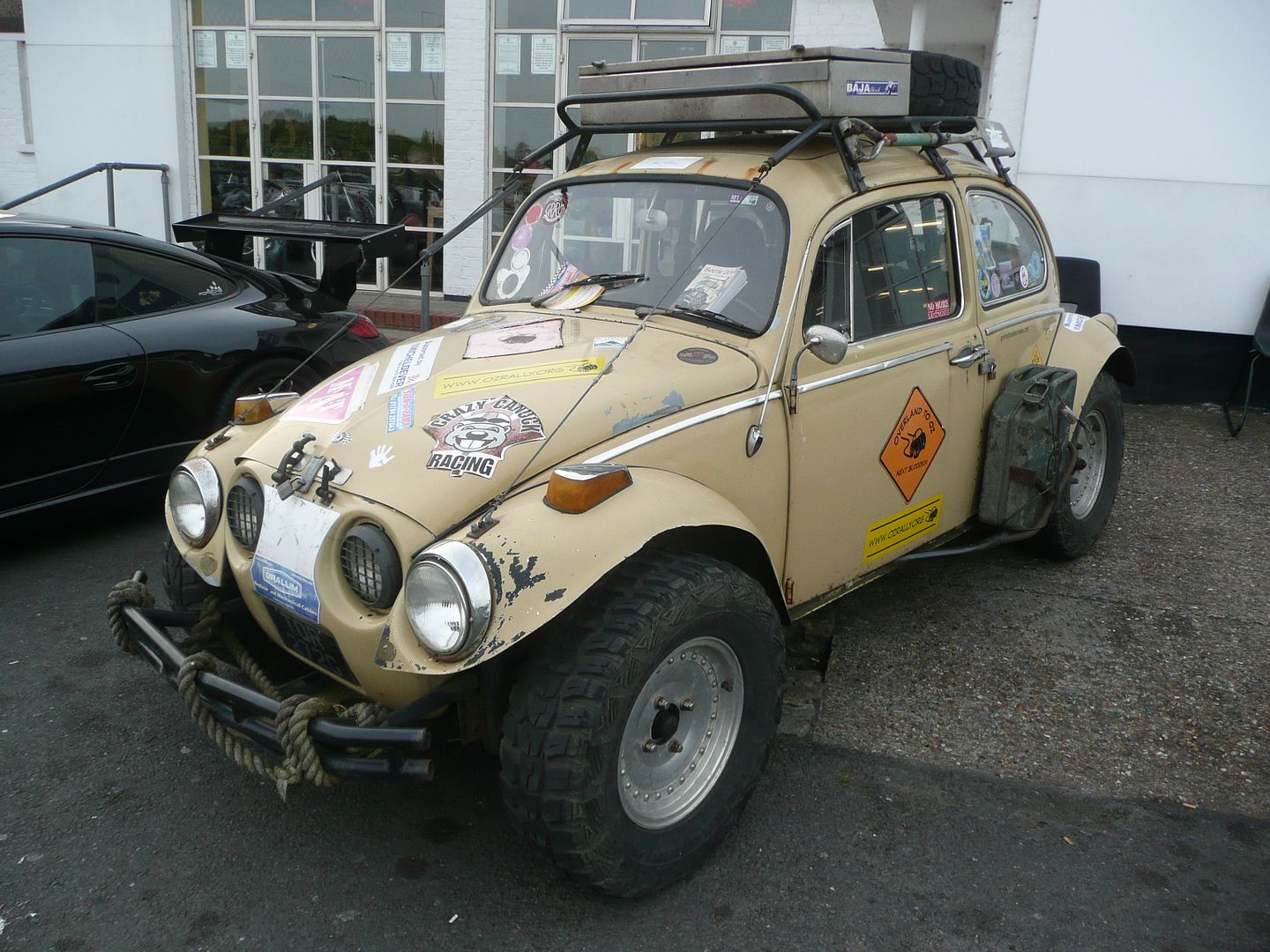 Although the turnout was a little disappointing, I still felt it well worth the diversion "the long way" out of Central London to stop by. Let's face it, keeping me away from the temptations of the hotel Club Lounge or bar is probably a Good Thing, and filling its place with the sight of interesting cars is a Better Thing!
Share and Enjoy