Shelsley Walsh Breakfast Club – May 2015
With all the car-related events taking place throughout the UK (and beyond), it is clearly impossible to attend everything, as diary congestion can mean that there are several taking place at the same time, causing some tough decisions to be made when planning the schedule. That applies not just to the big national events, but also some of the regional ones and even the increasingly popular breakfast-style meetings which have sprung up all over the country. Whilst it is good to visit something local, and then have the opportunity to return home and catch up with domestic essentials, which in my case would mean that on the second Sunday of every month, the Queen Square Breakfast Club, held a mere 10 – 15 minutes away from my home, would seem to be an obvious candidate for my diary space, there is also plenty to be said for casting the proverbial net that bit wider in quest of more variety, and that is why having attended the Bristol meetings for the last two months, I decided in May to give priority to the Shelsley Walsh Breakfast Club instead. Taking place at the world-famous Shelsley Walsh hill climb, a charming location in the Teme Valley about 10 miles to the west of Worcester, there was no danger of this event clashing with a Food Festival, as threatened to be the case (which became something a reality, as I later found out), with the Bristol meeting. There are probably fewer cars to be seen at Shelsley on a typical meet, which incidentally also takes place throughout the year, also on the second Sunday of the month, but I knew from a couple of previous visits that there would likely be more than enough not just to hold my interest for a couple of hours, but to make it worth taking 1 hour and 15  minutes as opposed to 15 minutes each way. Sure enough, I heard one of the organisers pronounce at 9am, the time when the event officially starts, that the venue was already full, and that cars were now being parked in overflow locations, which means the area used for the main car park at larger events, and the Orchard to the west of the location. Cars continued to arrive, with strong showings from a couple of Owners Clubs, as will be obvious when you scroll down to see the pictures. There was plenty of variety, though, with a different mix of cars from the typical attendees of that Bristol event that I had to foresake to come to this one. Here is what grabbed my attention.
AC
During the 1950s, AC produced a classic British open sports car called the Ace and a closed version called Aceca. Early cars used AC's venerable 100 bhp 2 litre engine, but from 1956 there was the option of the 120 bhp 2 litre Bristol unit and later, from 1961,  the 2.6 litre Ford Zodiac unit was made available, with some tuned to give up to 170 bhp. It was this that attracted the attention of one Carrol Shelby who thought he could do a whole lot better by installing a much larger engine. He did, and the result was the Cobra, a car which then kept the same basic lines of the Ace but which was quite heavily modified to cope with the extra power.
ALFA ROMEO
First Alfa to arrive was this rather nice 1750 Spider.
I had quite a chat with the owner of this SZ, as this is a car that I used to see at events quite often, but have not noticed for quite a while. It turns out that the car belongs to someone who lives in Hereford, so getting almost anywhere takes quite a long time, and he has simply been too busy to get the car out to show that much. Nicknamed "Il Mostro" ("the Monster") the styling will not appeal to everyone, and indeed when the car was new, it was quite hard to sell, but now there are plenty of fans for the model. The SZ was parked up near another controversially styled large 2 door Coupe, and everyone I spoke to or heard talking expressed approval for the Alfa, and a dislike of the Lexus.
There were just two Aston models here, and both of them recent cars, namely a DB9 and a V8 Vantage.
AUDI
I decided to take my Audi to this event, and was asked to park it in the area allocated to "modern performance cars" which seemed appropriate, though I was a little surprised to find that the car in front of me was a humble BMW 120d!
The other two Audi models that caught my eye were among those that by universal consensus are among the most desirable in the Ingolstadt maker's back catalogue: an urQuattro and a B7 generation RS4. Both these cars were widely praised when new and still have massive appeal today, even though standards and expectations have moved on.
AUSTIN
Sole Austin model here was a sporting version of the popular Seven, the  "Nippy".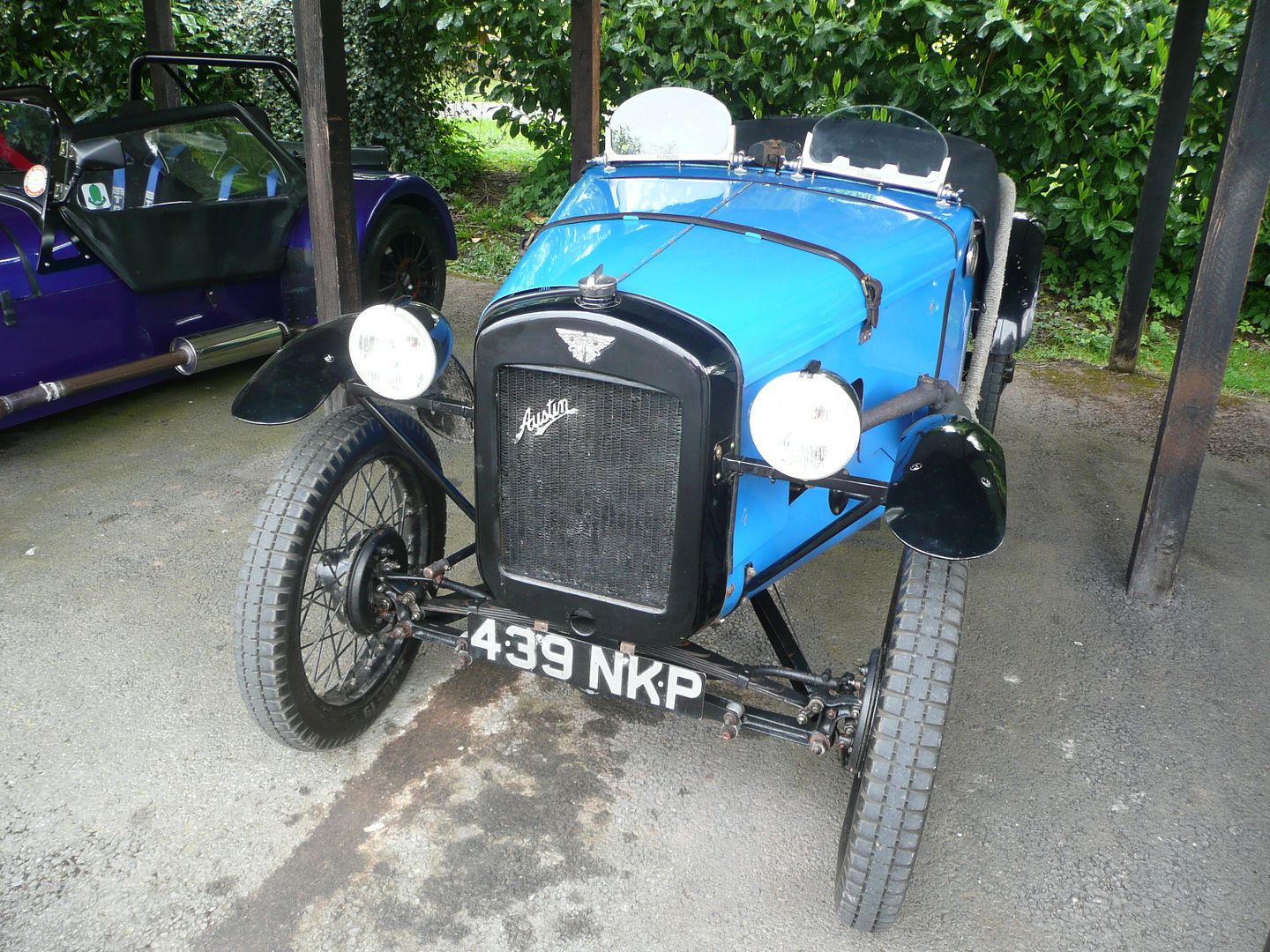 AUSTIN HEALEY
There was just one Austin Healey, too, and it was one of the small models, the "Frog-eye" Sprite, rather than the larger cars that so often appear at classic car gatherings.
BENTLEY
Just a single Bentley, too. This was a Mulsanne, the Bentley version of the Rolls-Royce Silver Spirit, the car which was first shown at the 1980 British Motor Show, and which once a turbo was slotted under the bonnet was responsible for Bentley sales overtaking those of Rolls-Royce for the first time.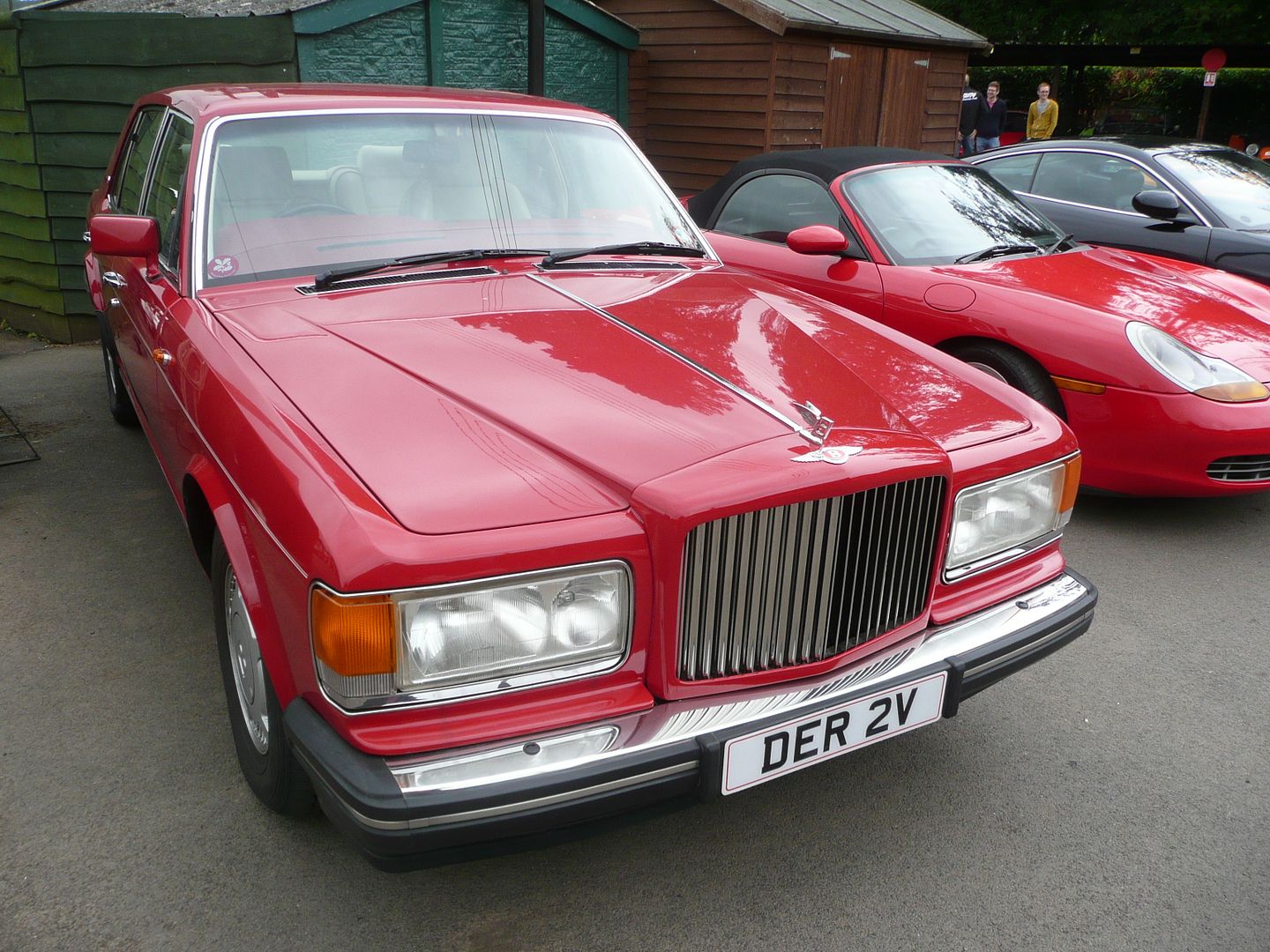 BMW
The i8 is a particularly striking new supercar which combines futuristic looks with an advanced hybrid technology, which means that the petrol engine is just a 1.5 litre 3 cylinder unit, and yet the car has true supercar performance. Not cheap at around £100 grand, but demand has been greater than BMW anticipated, and there is now a very long waiting list. Needless to say, the car pulls quite a crowd wherever it appears, and this one, parked up away from the main part of the event was no exception.
Not attracting quite the same level of interest, even though it is now a far rarer car than the i8 was this pristine E23 model 733i. An example of the first 7 Series generation, this car belongs to the Chairman of the local region of the BMW Car Club, and I last saw it the previous weekend up at the Donington Historic Festival. Only a handful of E23s remain in the UK, which is a pity, as this is an elegant sports luxury car.
M cars are far more numerous these days, with BMW selling large numbers of every such model that they make, so it was no surprise to come across a couple of M3s at this event, in E46 and E92 guise.
There were examples of the first Z4 and the M version of that car, in Coupe guise, which is called M Coupe, without mention of the Z4 bit.
Final BMW present was a nice 850CSi Coupe which I found parked up in the overflow parking area.
CATERHAM
CITROEN
The Charleston was a limited edition of the long-running 2CV. It is most often seen the two tone finish of maroon and black, but was also available in yellow and black or grey and black as seen here. Based on the Club model, it was shown in the Autumn of 1980 and was intended to run for a single season, but it proved so popular that it stayed in the range for several years after that.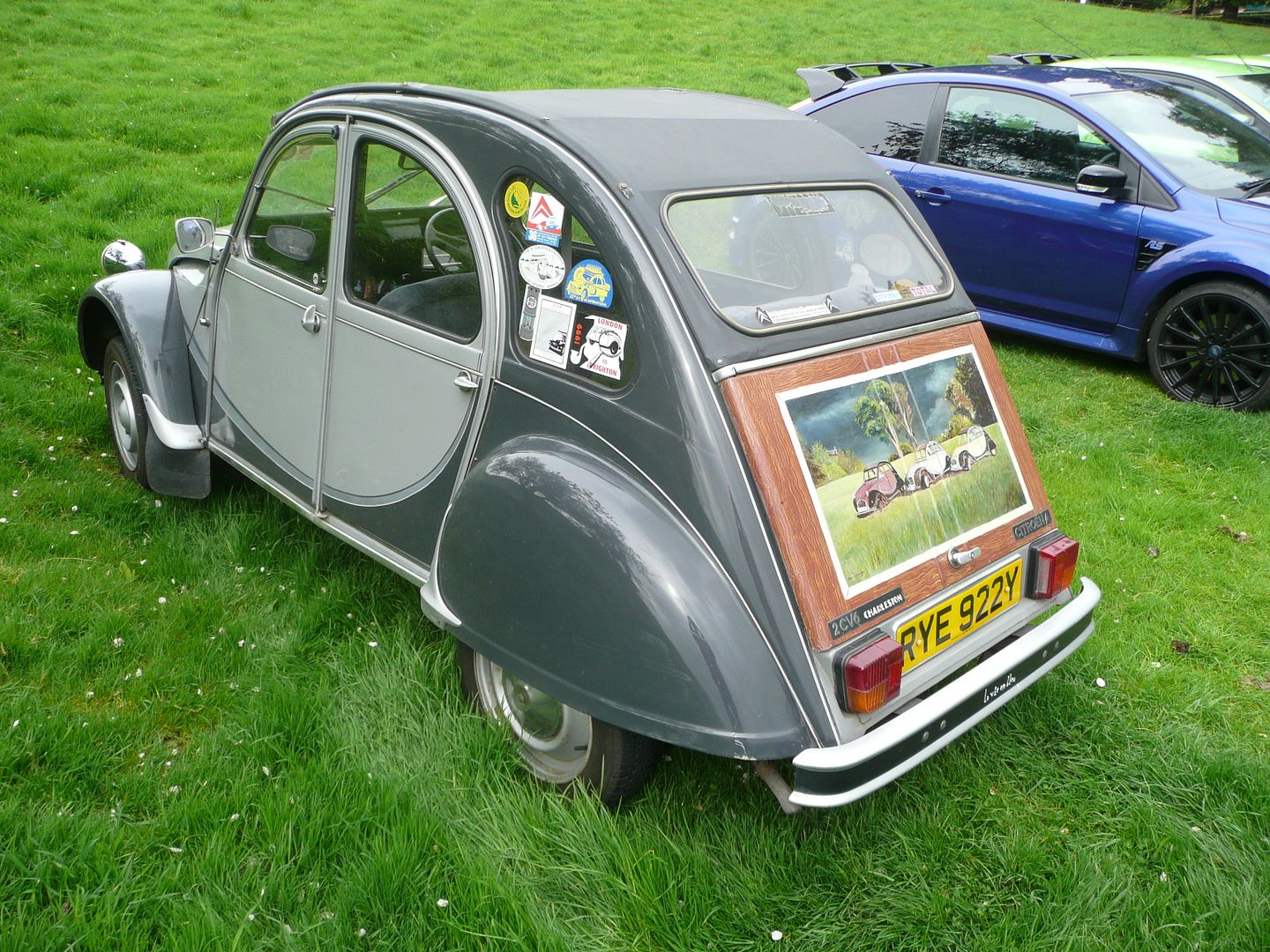 DAIMLER
The SP250 "Dart", launched in 1959, was the last new model from the Daimler Company before its acquisition by Jaguar in 1960. It was conceived as one of a pair of models that would use a new small V8 engine of 2.5 litres that Daimler were developing in the late 1950s. Initial plans called for a saloon model, but the profit projections for the sports car were such that it was the one that was pushed forward into production. One way that it could be made ready so quickly was that it used a fibreglass body, which also had the advantage of lower tooling costs and the possibility of changing the styling more readily than if steel were used. Early cars were disappointing, with a number of teething troubles, including an engine with a propensity to overheat and doors that did not fit well, with a tendency for them to fly open thanks to undue flexing in the chassis. The final straw came when an in-house rival, the Jaguar E Type was introduced some 18 months later, offering far more attractive styling and much better performance. Although the early problems with the Dart had been solved, it was enough and the car faded from production in 1964 with just 2654 having been made, a long way short of the 3000 a year which were going to generate all those elusive profits.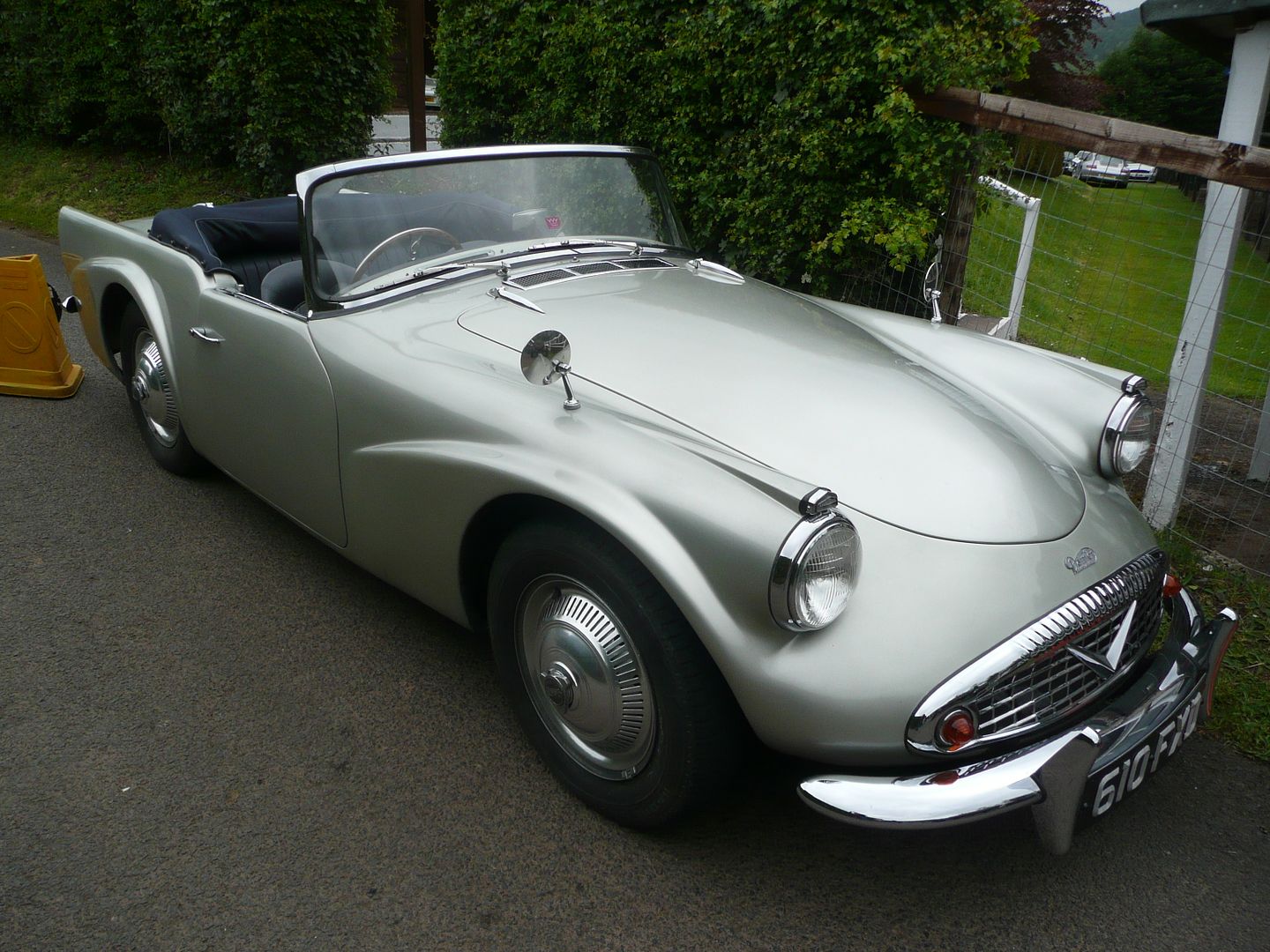 FERRARI
Although the cars were not all parked next together, there was a nice progression of Ferrari models, showing the evolution of the V8 cars from the mid 1970s to the present day, with the 308 GTB and 328GTS cars that were produced between 1975 and 1989, an F355 Spider showing the evolution of the mid-engine car that replaced the 328s, and then representing the big selling models of the early twentyfirst century was a both a road-going 360 Modena and a racing 360 Challenge as well as the later 430 Spider, with the current range illustrated by a 458 Italia and Spider.
Parked up on a grassy area just beyond the start line of the hill climb was this rather nice 599GTB.
FORD
A convoy of Focus RS models arrived fairly early on, and presented the organisers with something of a problem as there was nowhere left to park them all up as a single group, and so, despite their best endevaours, the cars were scattered in three different parts of the venue.
The ST version of the second generation Focus was also in evidence. A more subtle looking car, this is an impressive machine to drive, even in standard guise, Apply the Mountune upgrade, as a number of owners have done, and it is very competent car indeed.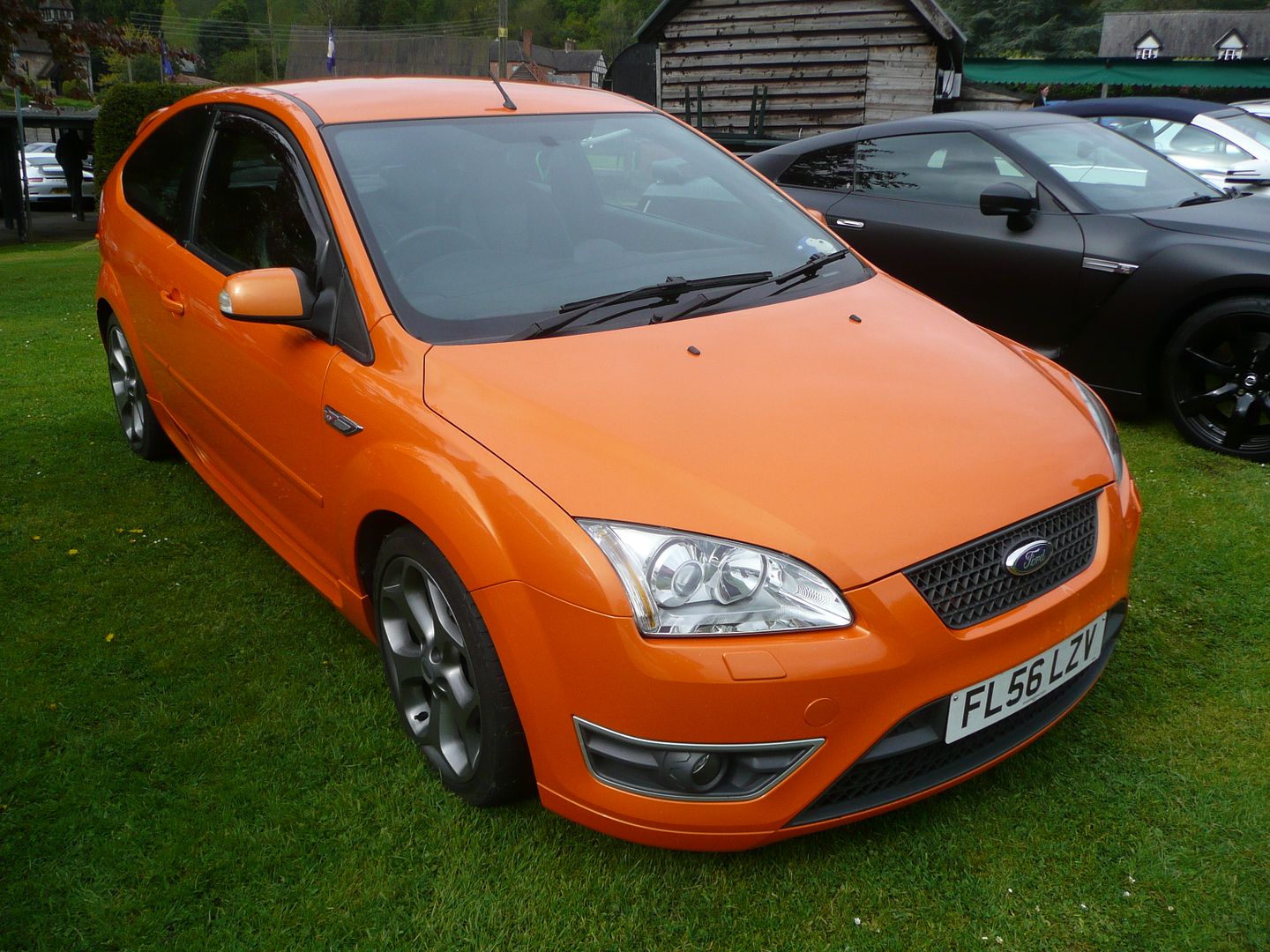 The ST version of the third, current, Focus has not been quite so warmly received. Although it would appear to be a well-engineered machine, with plenty of attributes to earn it a "recommended" status, it would seem to have been eclipsed by its smaller brother, which was launched at roughly the same time, and which blew the motoring press away with its competence and sense of fun.
Antecedent to the Focus, of course, was the Escort, a car which was offered in four distinct generations between 1968 and 1998. The first two were traditional rear wheel drive saloon and estate cars, the second came with front wheel drive and hatchback designs. It is the rear wheel drive cars that find particular favour among enthusiasts and  collectors, and none more so than the sporting versions. These were only ever produced in very small quantities compared to the regular 1100 and 1300cc models, but the survival rate of them seems to be better (some are unquestionably recreations based on the shell of a more humble model), so it was no surprise to come across the top model, the RS2000 from both the first and second generation parked up here.
The most sporting version of the fourth generation Escort was the RS Cosworth, a car far removed from those RS2000 of previous generations, with explosive performance, and unfortunately a reputation for being crashed or stolen (and frequently both!), which meant that insurance premiums for a while exceeded the cost of the car, as one Jeremy Clarkson found out in the early 1990s. Things are more stable now, and those who have one of these tucked away in their garage can enjoy a true Fast Ford.
Proving that there are still some of the lesser Escorts left as well was this immaculate 1,3 GL Mark 2 Saloon. Although it is on British plates, it is a left hand drive car, and there was a sheaf of paperwork on display in the car to indicate that it has spent most of its clearly rather sheltered life in France, having only recently arrived in the UK. It looked almost unused, and to prove the point, a mirror had been placed under the rear of the car so we could all see that  the cleanliness extends to the bits you cannot usually see.
The Fiesta was also well represented, with a couple of the much praised Fiesta ST model present.
An earlier generation of sporting Ford was represented by this Mark 1 Lotus Cortina. This was the first overtly sporting car that Ford had ever made, a result of a view that "winning on Sunday means Sales on Monday" could help the Blue Oval to sell more of the regular cars. It worked. The car was successful on the track and those who could afford it loved the road going version as well.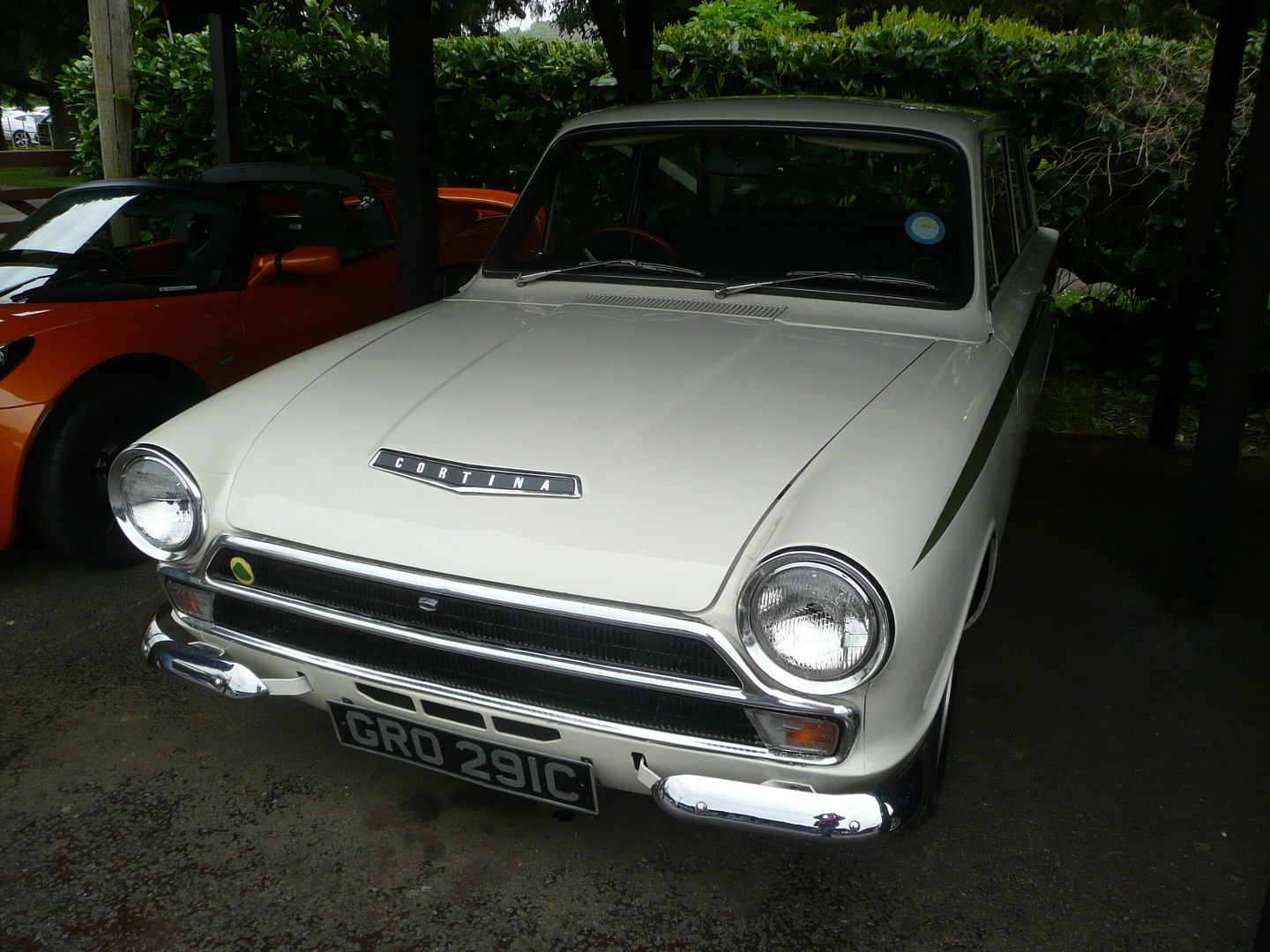 Representing America were a couple of Mustang models: an early Convertible and a slightly later Fastback
A late arrival was this gargantuan F150 Laramie pickup.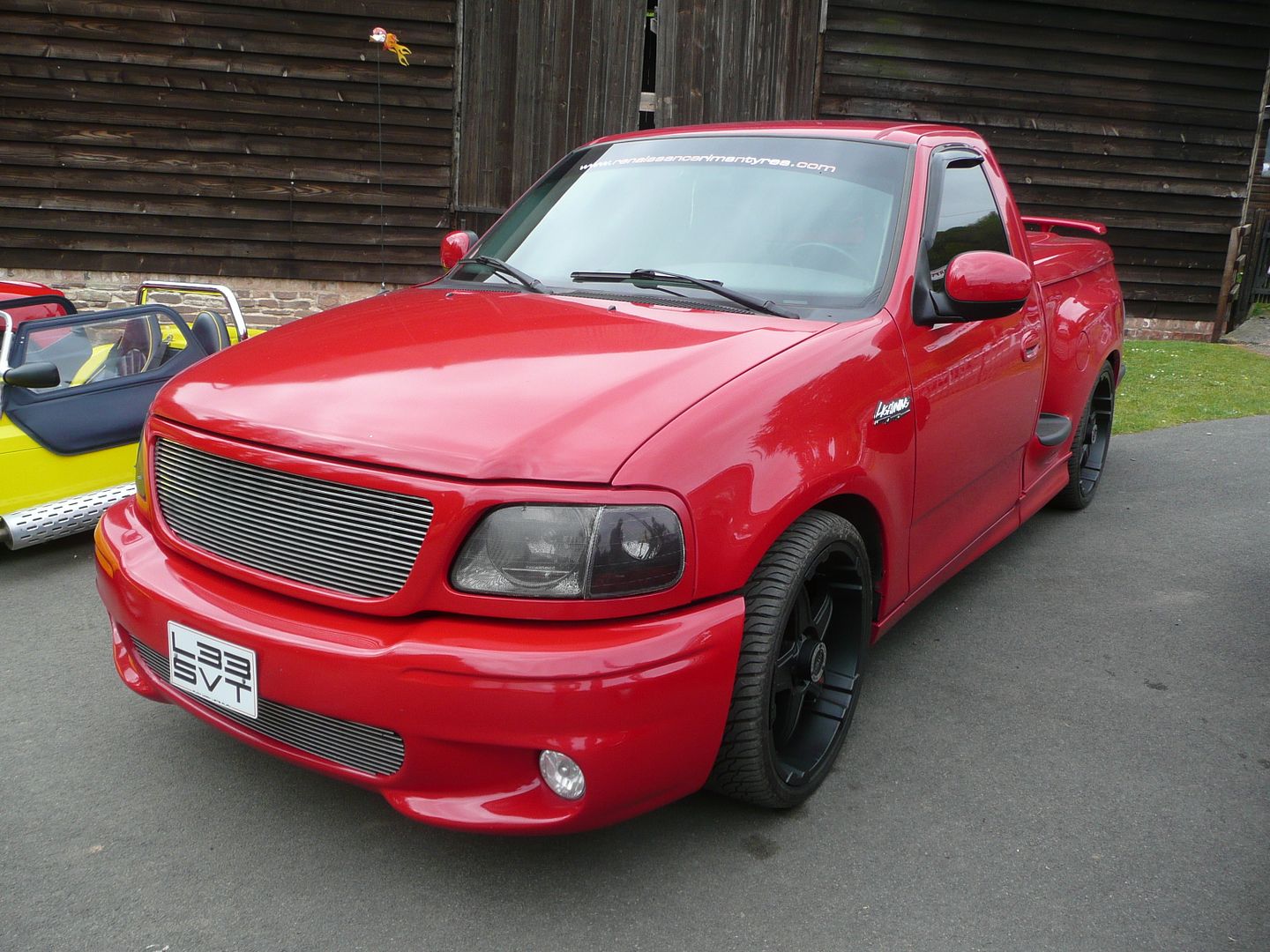 HONDA
Honda will soon make their latest Civic Type R available, and there are plenty who are eagerly awaiting its arrival. Reminding us of former models to bear the name was this car.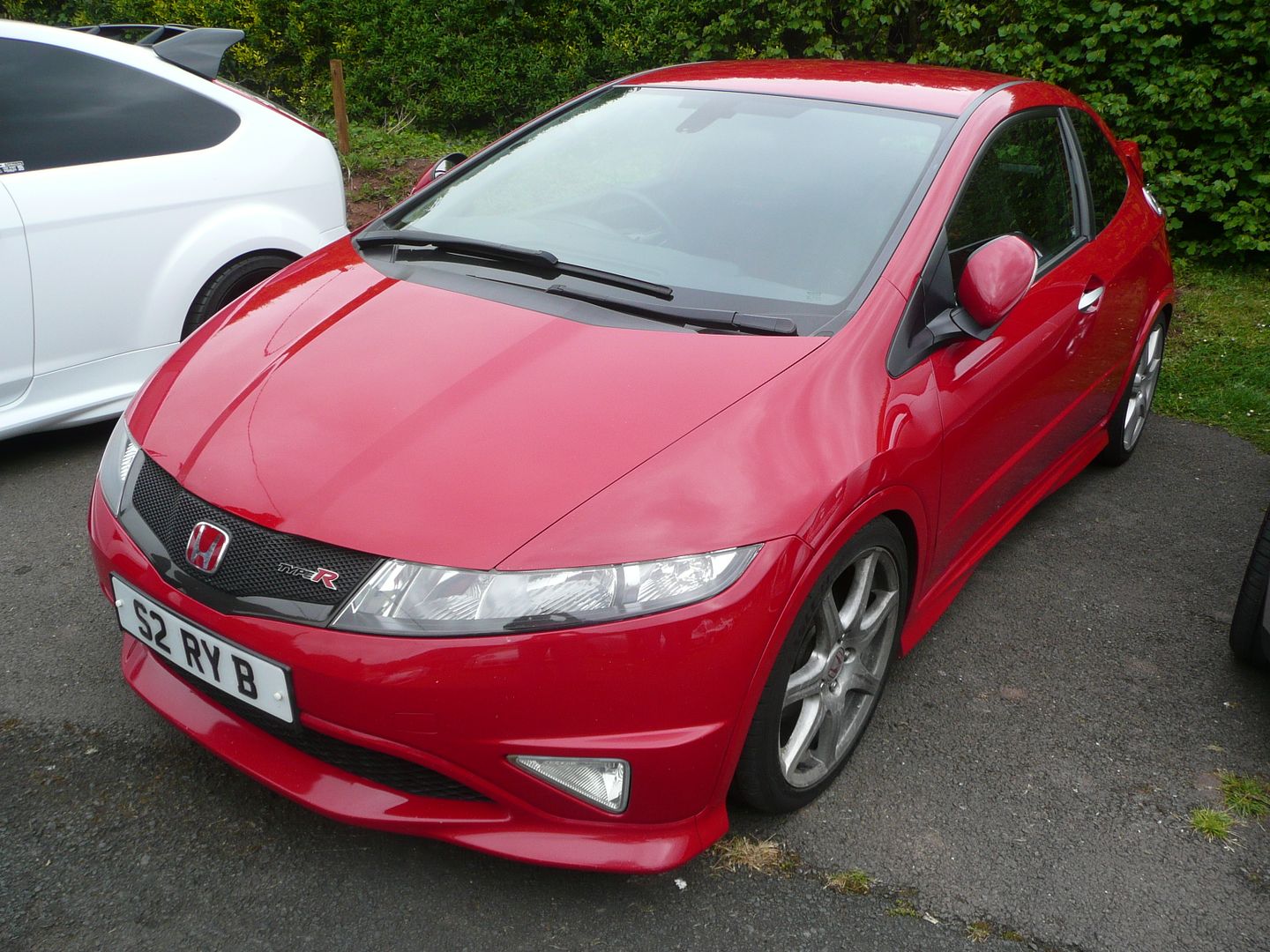 After an even longer wait, Honda finally presented the production version of the second generation NS-X model earlier this year. It's very different from the first, a car which stunned everyone when it was first launched in 1989. This was a crushingly competent supercar that you really could drive long distances every day, without any of the real challenges associated with owning a Ferrari or Lamborghini. It certainly acted as something of a wake-up call to the former, whose rather disappointing 348 range was comprehensively revised into the hugely desirable F355, as a riposte. Honda went on to produce the NS-X for 11 years, offering a mix of fixed head and Targa T-Top cars like this one.
The third generation CRX was quite different from the first two. They had been small hatchback Coupe models, but the third one, known as the del Sol in some markets came with a complex and heavy opening roof – which was demonstrated on this display car – which meant that it lost quite a lot of the athleticism of its predecessors.
JAGUAR
One of the newest cars at the event was also one of the most elegant, an F Type Coupe. As well as being the top spec R model, which means the sonorous V8 engine under the bonnet, this one had badging to indicate that it was fitted with the recently available AWD.
There were a number of examples of the  X350 version of the XJ parked up. I seem only to have taken the one photo, though.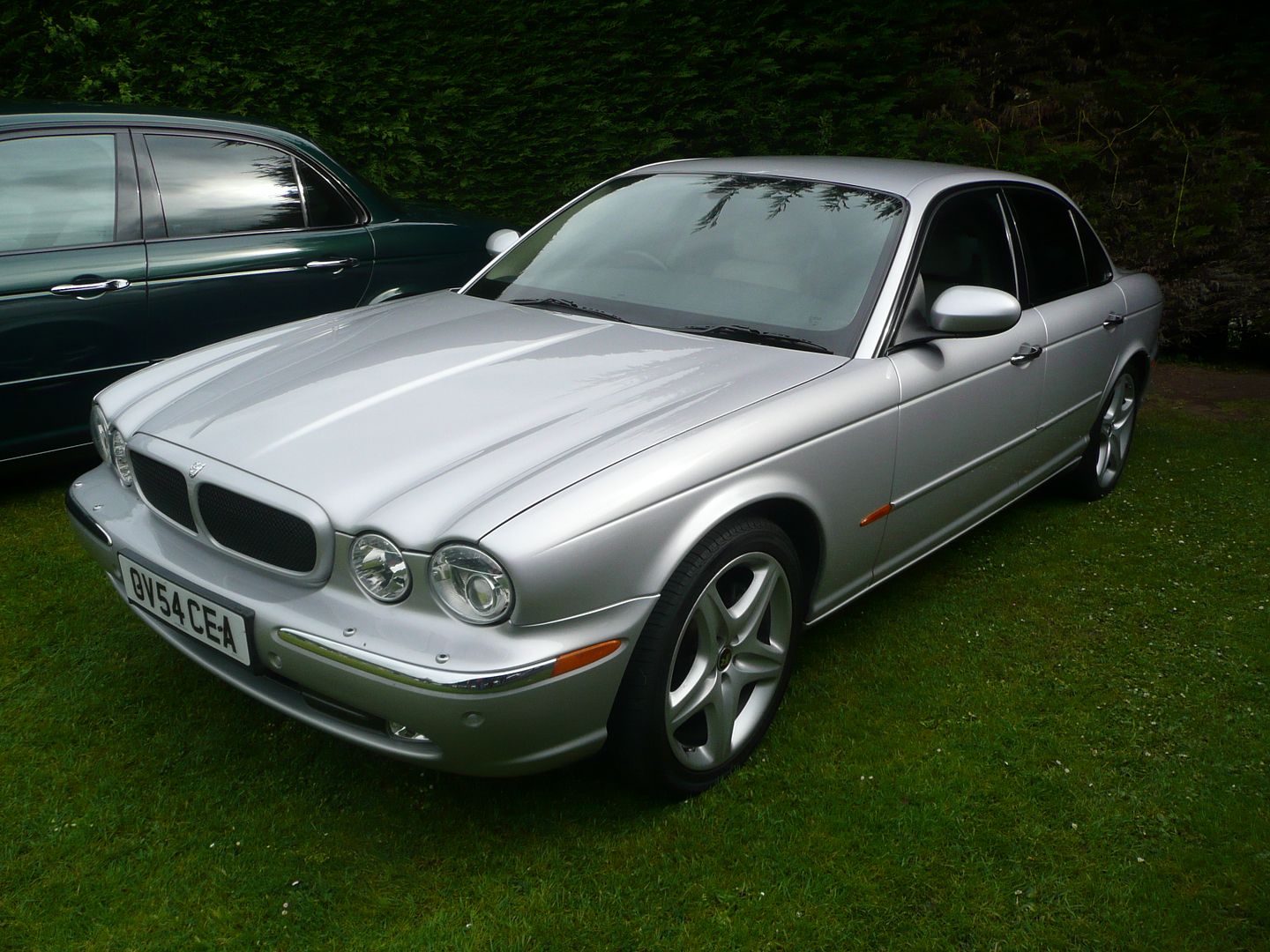 There were a couple of Jaguar's much loved E Type here. A US spec Mark 3 V12 E Type 2 + 2 was joined by a UK Spec Convertible
Successor to the E Type was the XJS, and it took a long time for this car to earn its stripes among enthusiasts. Although very different from its predecessor, it is now viewed with some affection, and the cars have started to appreciate in value. There was a nice example here.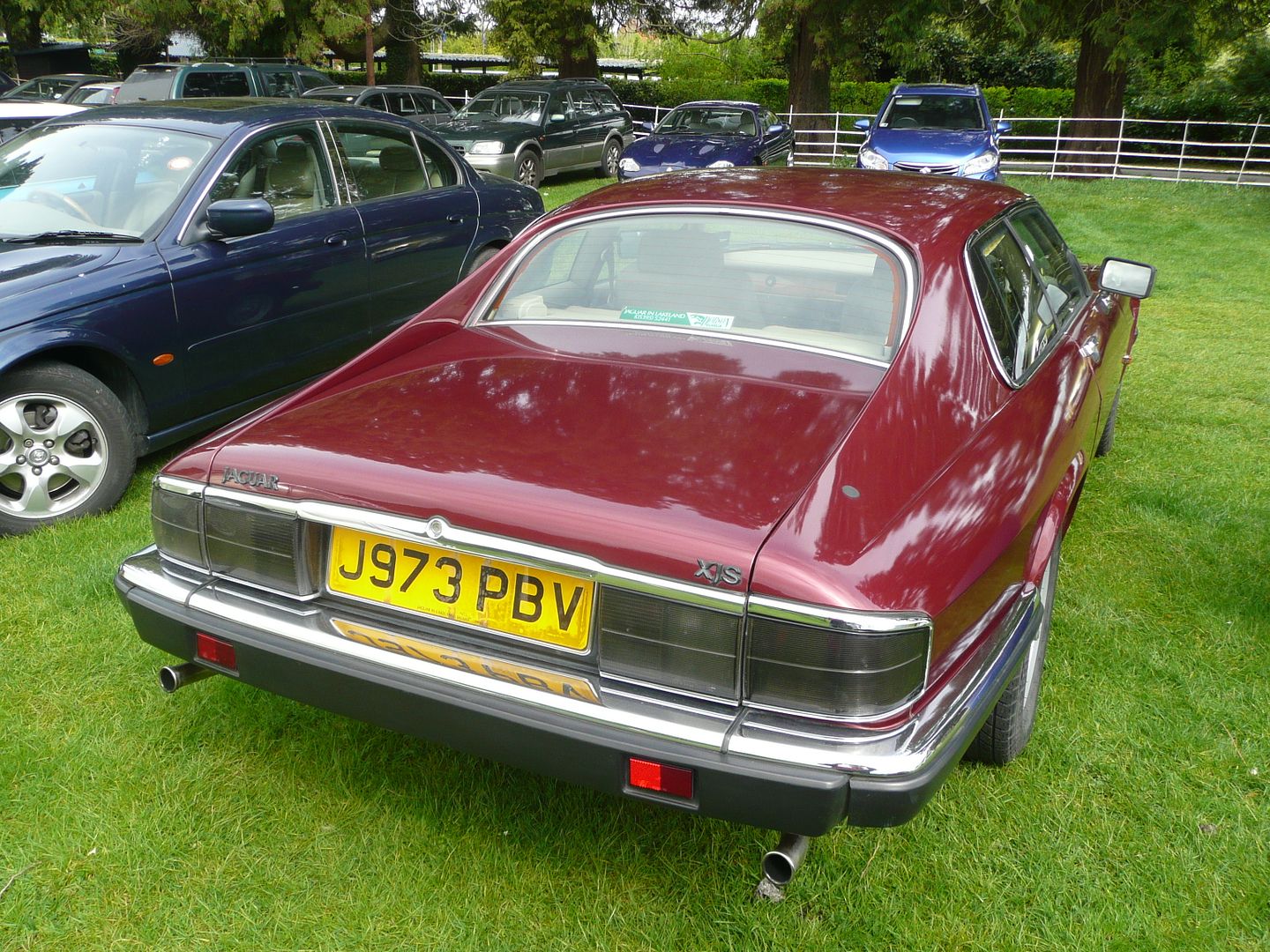 Also present was a late model XK Coupe, the successor to the successor to the E Type. A very elegant design.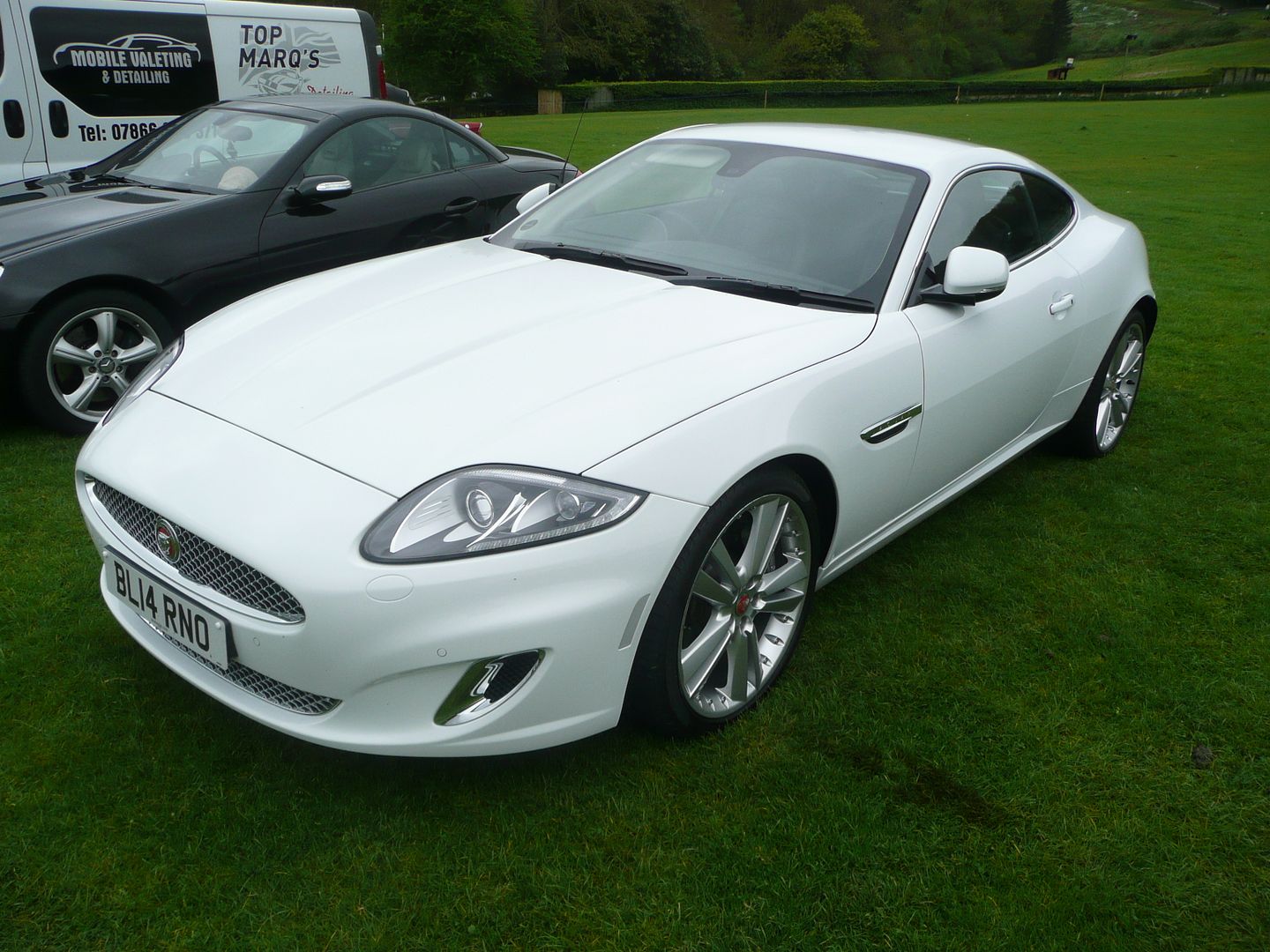 Final Jaguar present was a nice example of a Mark 2, this one with the 3.4 engine.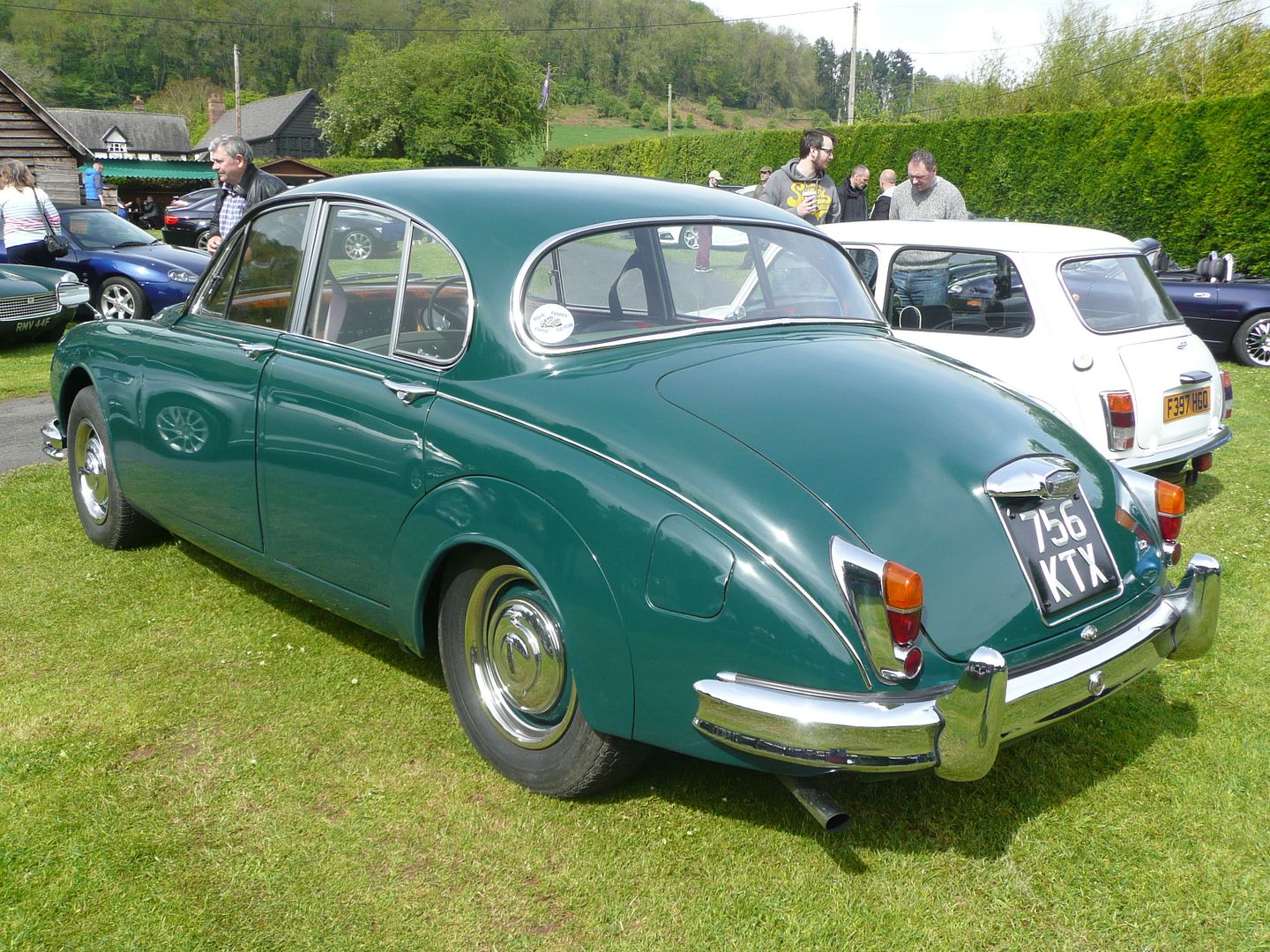 KTM
X-Bow
LAMBORGHINI
Lamborghini's latest model, the Huracan, is gradually appearing on Britain's roads, having been available for nearly a year now. Even allowing for the slightly less dramatic styling than you sometimes get on a Lamborghini, I am not sure that black is the best colour for it. This car, like all Lambos, needs bright colours to make it stand out.
LAND ROVER
A nice example of a Series 2 Landie.
LEXUS
Another appearance for the new RC-F that I saw at the Prescott Breakfast Club a couple of weeks earlier. It turns out that the owner lives in Hereford. Not surprisingly, he is delighted with his car, which he said is a real delight to drive. He did then go on to say that he was well aware of the fact that a certain Mr Clarkson had been very damning of it, but he felt that this was most unfair as Jezza compared it with a BMW M4. I resisted the urge to ask him why he thought this was not a realistic comparison, as both are large 2 door Coupes, offering similar performance and costing around the same amount of money. I would have thought that they are very clear rivals, though I can see that the very edgy styling of the Lexus is not for everyone. Indeed, it is not for me. I think the lines, with all the creases and gills and vents and edges are truly awful., but Lexus have declared that they are now going to court controversy with the styling of their cars and recognise that this will alienate at least as many people as it attracts. A bold move, for sure, but it may just pay off.
LOTUS
The Europa was Lotus' first mid-engined road car. First launched in 1966, it had been conceived to replace the long running Seven, but in the end, it became an addition to the range. The first cars featured mechanicals from a Renault R16, a strong but light steel backbone chassis as used in the Elan and a fibre glass body. The first cars were very basic, and had rather too many compromises, so just 296 of them were made before Lotus introduced a heavily revised car, the S2, in April 1968. This had a larger and more powerful Renault engine, and a lot of refinements, including a new interior with seats that could adjust (they were fixed in the S1 cars). 3615 of these were produced. Lotus added a Twin Cam version to the range in 1971, and this boasted 105 bhp from a Lotus-Ford 1558cc twin cam engine, giving the car far better performance. 1580 of these were built before, in late 1972, Lotus shifted to producing a 126 bhp version of the car with a "big valve" version of the engine, creating the Special, and over 3000 of these were made, some with John Player Special badging and livery to commemorate the Lotus JPS success in Formula 1. Europa production ended in 1975 with just over 9000 units having been made. The car seen here is an S2.
The Elan Plus 2 was intended for those Lotus customers who needed space to carry (small) people in the back, and it took the same basic principles of the Elan, but with a new body and a longer wheelbase making space for seats to accommodate the diminutive. The car was popular as later examples had up to 130 bhp and a five speed gearbox, giving it very lively performance indeed. Production ceased in 1975, two years after the end had come for the Elan.
This was a nice example of the long-running Esprit Turbo
Mainstay of the Lotus range since 1996 has been the Elise. The second generation model, with revised styling, appeared in 2002 and there have been countless variants of the model since then. Shown here were a couple of "regular" models as well as one of the very latest, a Club Sport
The Exige appeared a couple of years after the Elise and was a fixed head model, with more performance. This was a nice example of an early car.
MAZDA
The MX5 has a huge following, and an enthusiastic Owners Club, so when you come across one of the three different model types offered by the Japanese marque over the last 25 years, it is a pretty sure-fire bet that a whole load more will either be next to it, or round the corner, and so it proved here, with quite an assembly of the model, all three generations well represented.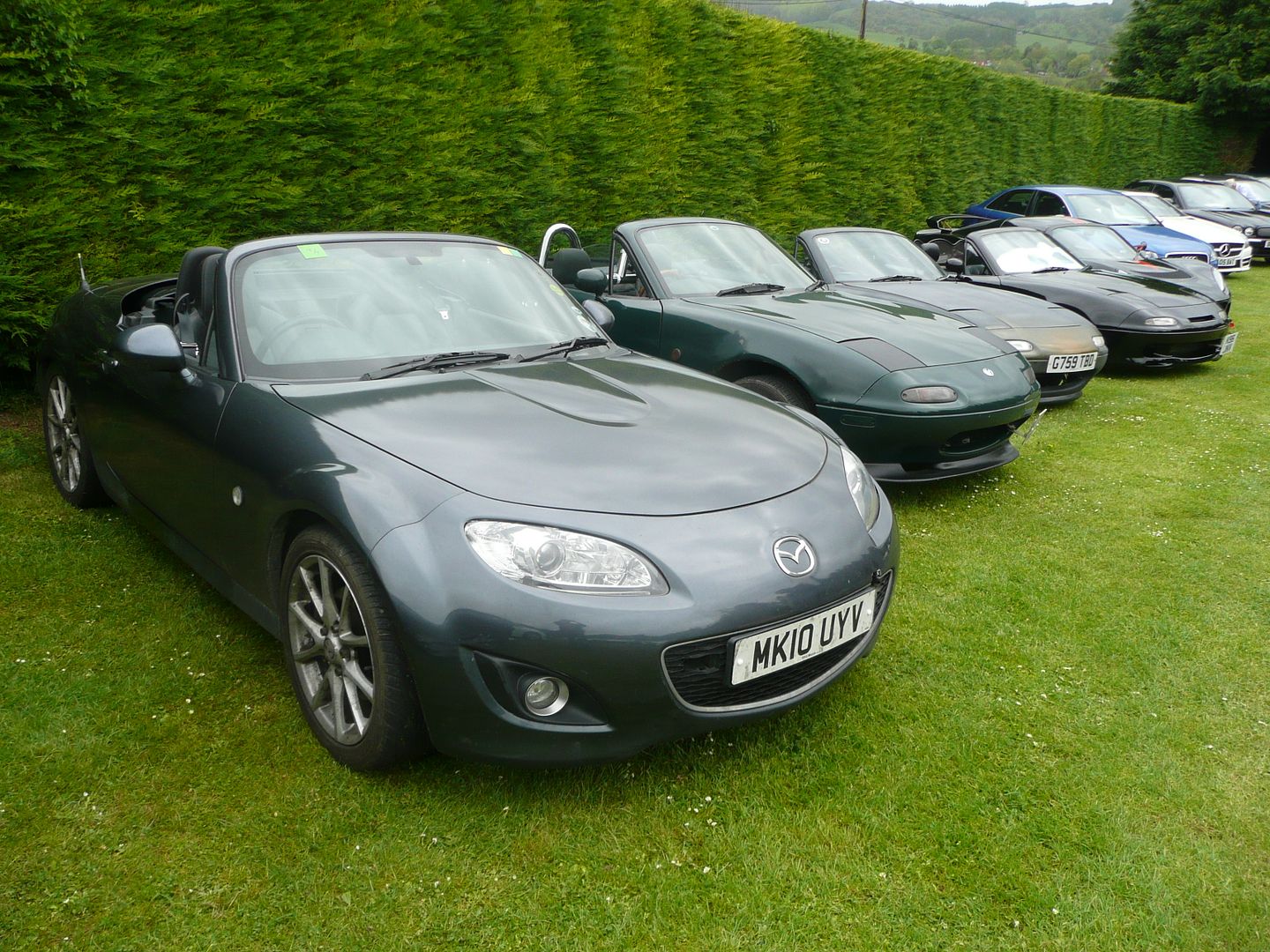 MERCEDES-BENZ
SL55 AMG
MG
Of all the cars present, this one was perhaps my absolute favourite. It is an SA Saloon and dates from 1939.  Launched as the 2 litre, it only later became known as the SA. The car had been originally planned as an advanced performance saloon to rival the likes of SS Cars (later to be known as Jaguar) and even Bentley with all independent suspension and was given the factory code of EX150 and designated the S-type. A prototype was made but with the amalgamation of MG with Morris Motors in 1935 development stopped. The Cowley drawing office picked up the project again but a much more conservative car appeared with conventional live rear and beam front axles. The SA used a tuned version of the six cylinder 2062cc Morris QPHG engine which it shared with the Wolseley Super Six but enlarged to 2288cc. The capacity was increased again to 2322cc in 1937 bringing it into line with the Wolseley 18. This was a tall engine and to allow the bonnet line to be as low as possible the twin SU carburettors had their dashpots mounted horizontally. Drive was to the live rear axle via a four speed manual gearbox with synchromesh on the top two ratios (on all but a few early models). Wire wheels were fitted and the drum brakes were hydraulically operated using a Lockheed system. A built in Jackall jacking system was fitted to the chassis. The saloon body, the only option available at the time of the car's launch, was made in-house by Morris and was a spacious four door with traditional MG grille flanked by two large chrome plated headlights. The spare wheel was carried on the boot lid. Inside there were individual seats in front and a bench seat at the rear, all with leather covering. Much use was made of walnut for the dashboard and other trim items. A Philco radio was offered as an optional extra for 18 Guineas (£18.90). From April 1936 a Tickford drophead coupé by Salmons joined the range priced at £398, the saloon was £375, and in July coachbuilders Charlesworth offered a four door tourer at £375. The tourer originally had straight topped doors but these were replaced with front ones with cutaway tops from 1938 and at the same time the spare wheel moved to the front wing. Of the 2739 cars made, 350 were exported with Germany proving the best market. At the 1938 London Motor show, alongside an SA there was a new 2.6-litre car, the WA. This was probably designed to be a replacement but both cars ran in parallel until the outbreak of war in 1939 caused production of both to cease. Neither was re-introduced in 1945. This car was absolutely immaculate inside and out.
Slightly earlier than the SA was this, a 1933 model  J2 sports car.  The J-type was produced by the MG Car Company from 1932 to 1934. This 2-door sports car used an updated version of the overhead camshaft, crossflow engine, used in the 1928 Morris Minor and Wolseley 10 and previously fitted in the MG M-type Midget of 1929 to 1932, driving the rear wheels through a four-speed non-synchromesh gearbox. The chassis was from the D-Type with suspension by half-elliptic springs and Hartford friction shock absorbers all round with rigid front and rear axles. The car had a wheelbase of 86″ and a track of 42″. Most cars were open two-seaters, but a closed salonette version of the J1 was also made, and some chassis were supplied to external coachbuilders. The open cars can be distinguished from the M type by having cut-away tops to the doors.  Small numbers of J3 and J4 models, designed for racing, were made and te J1 was the four seater model in the range, but by far the most common were the J2 models, such as this one. The 847cc engine gave the car a top speed of 65 mph, although The Autocar maanged to get nearly 20 mph more than that from a specially prepared one that they tested in 1933. The most serious of the J2's technical failings is that has only a two-bearing crankshaft, which could break if over-revved. The overhead camshaft is driven by a vertical shaft through bevel gears, which also forms the armature of the dynamo. Thus any oil leak from the cambox seal goes into the dynamo brushgear, presenting a fire hazard. Rather than hydraulic brakes the car has Bowden cables to each drum. Although requiring no more pedal force than any other non-power-assisted drum brake if they are well maintained, the drums themselves are small, and even in period it was a common modification to replace them with larger drums from later models. Nonetheless, the car was quite popular, and at £199, was relatively affordable.
Post war MGs were represented by a nice MGA, a number of MGBs in both  Roadster and GT format an a Midget Mark 3
MINI
This Austin Mini Cooper looked like it had never been used. Amazingly, of course, it is nearly 50 years old, and it has not been restored, but has simply been pampered from new.
MITSUBISHI
As well as one of the "last of the genre" Evo X models, there were a couple of the earlier Evo V cars here.
MORGAN
Oldest Morgan present was this charming "flat radiator" Plus Four
There were several more recent models, with the appearance which has barely changed in the past 50 years. One of them was plated from the Hamburg suburbs – a long way to come, but don't forget that Malvern Link, where the cars are made, is but a few miles away from this venue. It turns out that the owners of this German plated car, Andreas and Dagmar Hensing, have been spending three weeks at the Morgan Car Company in Malvern, where they are documenting the build of a Morgan Plus 4 sports car to write a book on the process, which will be published in both English and German, and they received an invite to this event from a local Midlands Automobile Club member when he heard what they were doing.
NISSAN
It was with cars like this R33 Series Skyline GT-R (and its predecessors) that the GT-R name acquired the cult status that it enjoys today. Most of the Skyline GT-Rs in the UK these days are grey imports, as few were officially sold here when new, and most have been modified to put out even more power than Nissan intended.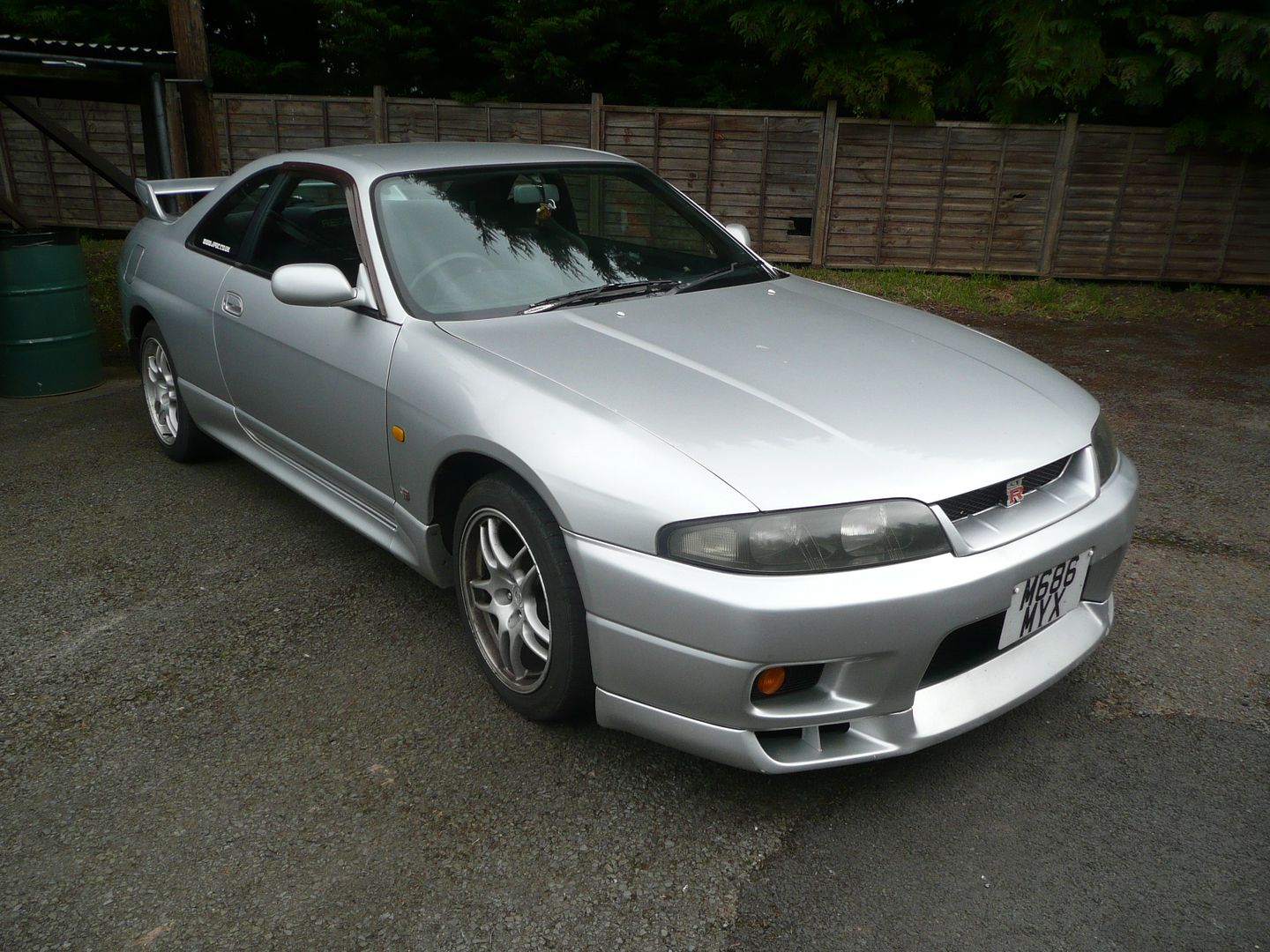 The latest car to bear the GT-R badge is no longer a Skyline, but it is very much the modern instantiation of those earlier cars.
NOBLE
M12 3GTO
PEUGEOT
This was a nice example of Peugeot's much loved 205 GTi, the legendary hot hatch that the Sochaux marque has struggled to recreate in the successive generations of "2" branded cars.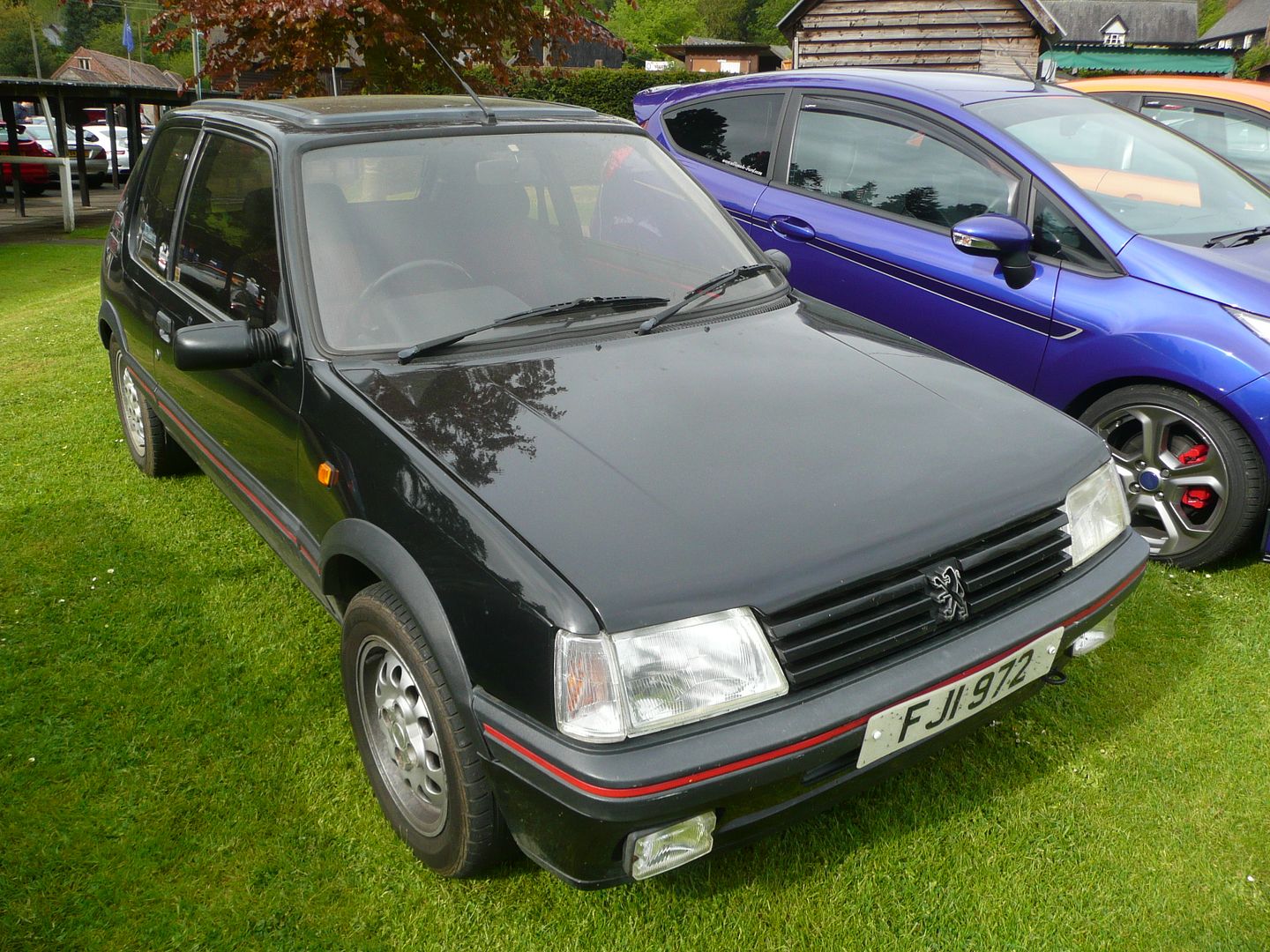 PORSCHE
Without doubt,, there were more 911 models than anything else here. And that's not particularly unusual for a Breakfast Club. Of course, there are 51 years of 911 production to yield a large number of cars on British roads. Even so, it was nice to get a history lesson in the evolution of Porsche's long running and ever popular model, with cars ranging from a 1970 911E through to the latest 991 based models, with every major type represented.
By contrast, there was just a single example of the first front engine Porsche series that ran from the 924 of 1975 through to the last 968 models some twenty years later. That representative was a 968 Coupe.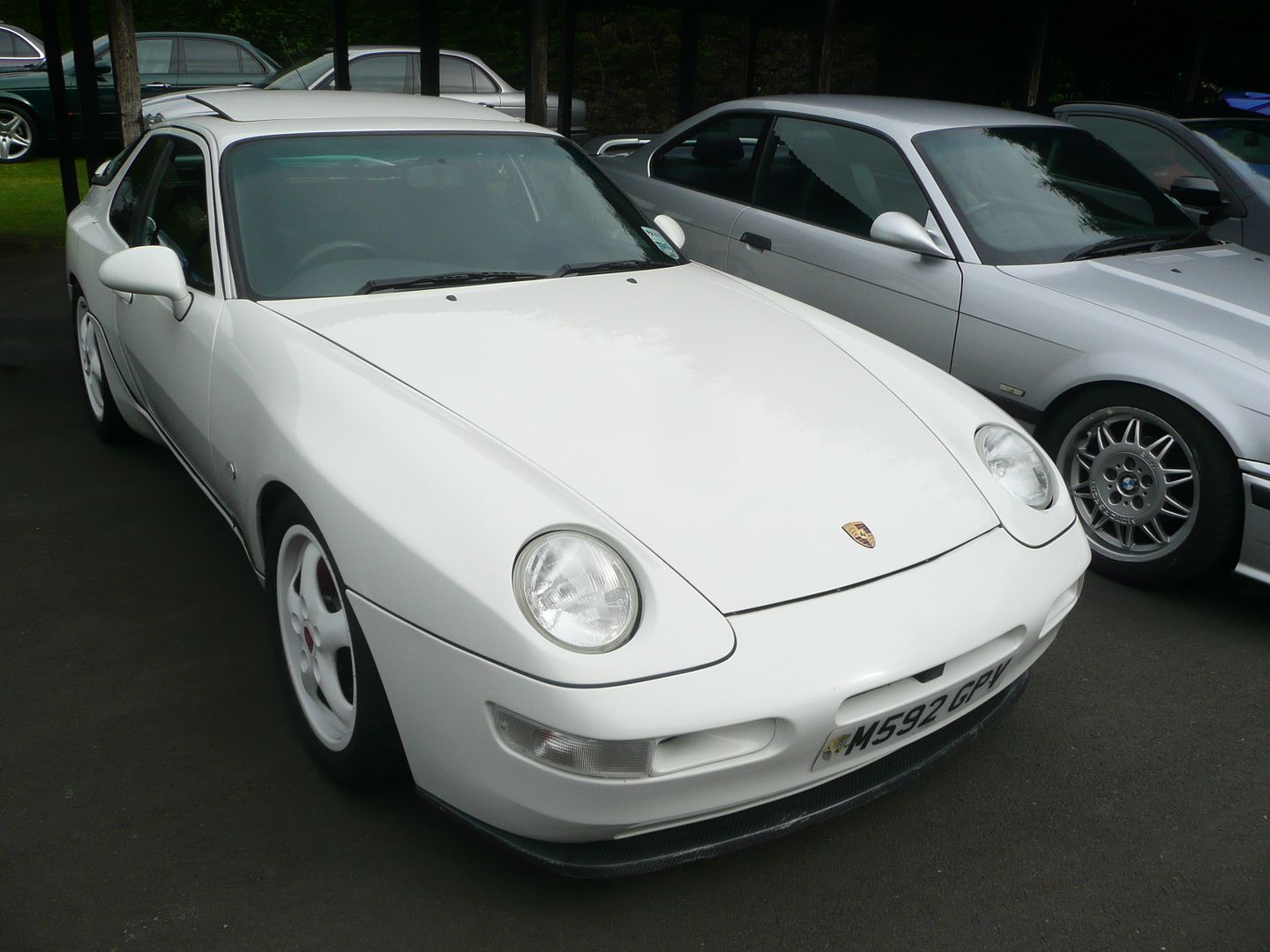 This Boxster Spyder was a bit of a surprise, as I had always believed that all of the Spyder models were finished in white with black side stripes, but this one definitely was not that colour.
There were also a couple of Cayman models here.
RELIANT
After concentrating its four wheeled efforts on the larger Scimitar GTE sports hatch and GTC cabrio, Reliant took a different direction with their first new model for a couple of decades, with the 1984 Scimitar SS1. A small sports car that was intended to appeal to those who had previously bought cars like the MGB, the model hit a couple of obstacles straight away. For many, the rather  distinctive looks of the Michelotti styling were a bit too much of a challenge, but the real problem was that automotive giant Toyota launched the MR2, with a far higher standard of build quality and with a jewel like 1600cc engine and rather better standards of road holding thanks to its well-sorted mid engine compared to the SS1's Ford 1300 and 1600cc CVH units and front engined layout. Despite an upgrade to the engine, with Nissan's 1800cc Turbo finding its way under the bonnet, and improvements to the build quality, and then in 1990 a name change and smoothed out styling created the Sabre, but there was now the Mazda MX5 to contend with as well, and sales remained few and far between. Reliant had initially projected sales of 2000 cars a year, but when production ceased in 1995, with the collapse of Reliant, just 1507 had been made over a 10 year period.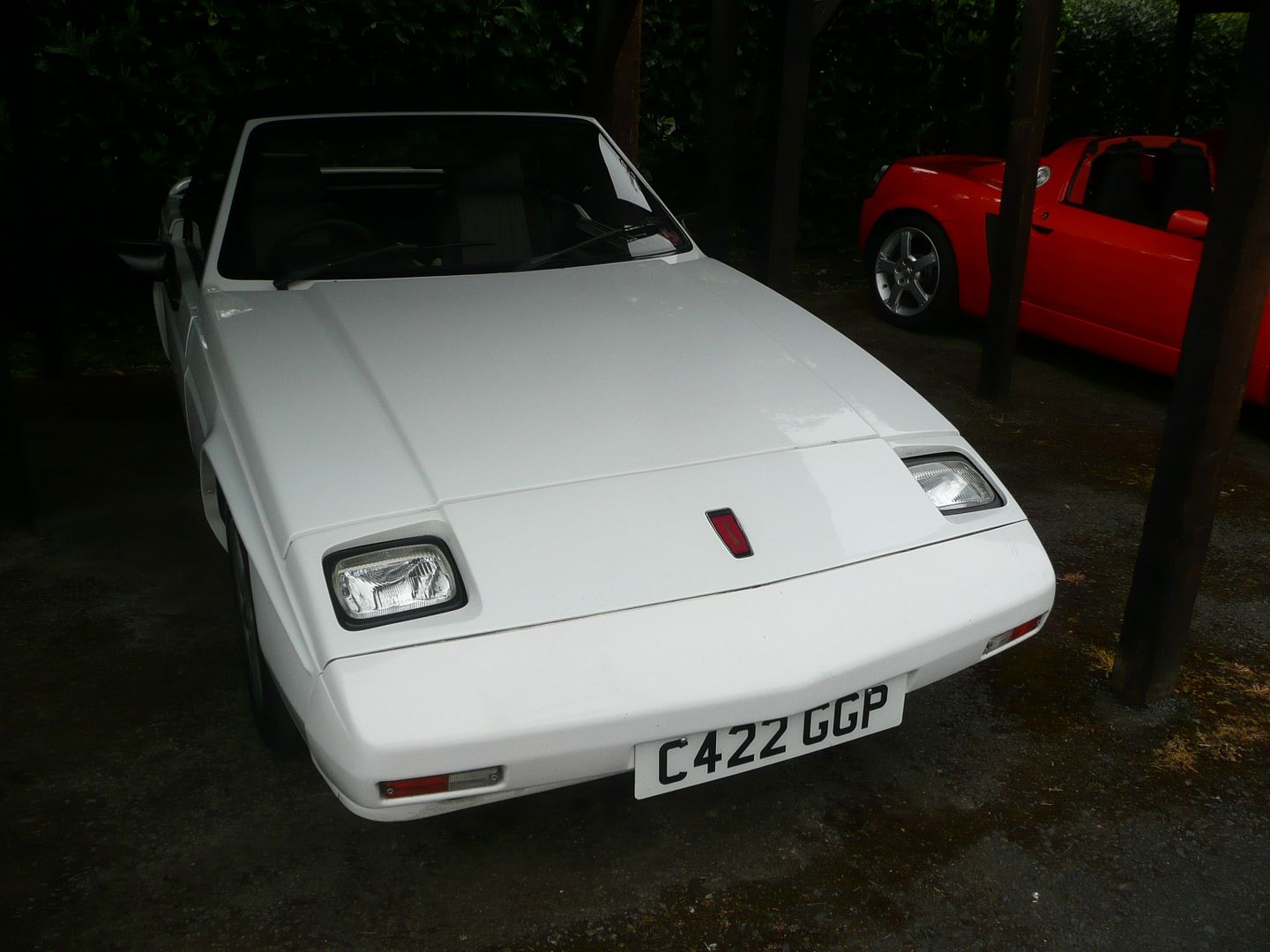 RENAULT
The third generation of Renault's Twingo was launched last autumn, and whilst this car might look like an update of the small city-car sized hatch that it replaces, it is far more innovative than that, with a rear-engined configuration designed to make the car more fun to drive and to offer other packaging advantages. With the exception of the French press, where xenophobia still rules the roost, other motoring journalists have not been entirely convinced with the results, finding that the car disappoints in too many ways to be worthy of a recommendation. I've not driven one yet, but I have sat in a few, and even though this is a cheap city, so you don't expect luxury, I am aghast at the sharp edged and nasty plastics that are used in the cabin, and noted that th boot is rather shallow as there is an engine under it. Sales to date in the UK have been slow in getting started, so it was interesting to see one that someone clearly bought a few weeks ago.
The other Renault on display also had an engine behind the driver,, but it is conceptually a very different sort of car from the Twingo. The Clio V6 looks like it is based on the regular second generation Clio hatchback, but in fact it shares very little with the more prosaic car. Intended as a spiritual successor to the equally bonkers R5 Turbo, the first Clio V6 cars, produced between 2001 and 2003, were made by Tom Walkinshaw for Renault. The revised Phase 2 models, with rather more benign handling characteristics were made by Renault Sport in Dieppe, with some input from Porsche. The bodies were made by Valmet in Finland. Phase 2 cars, with 255 bhp, were the most powerful hot hatch of the time, though thanks to a significantly greater weight than the regular Clio, they were not that much faster than the RenaultSport 172 models.
ROLLS ROYCE
Based on the Ghost, the Wraith has a style all of its own, and now that I've seen a few, the unusual lines have grown on me, though it is colour sensitive. Get it right, and the car looks stunning. Get it wrong, and it looks rather awkward and bulky.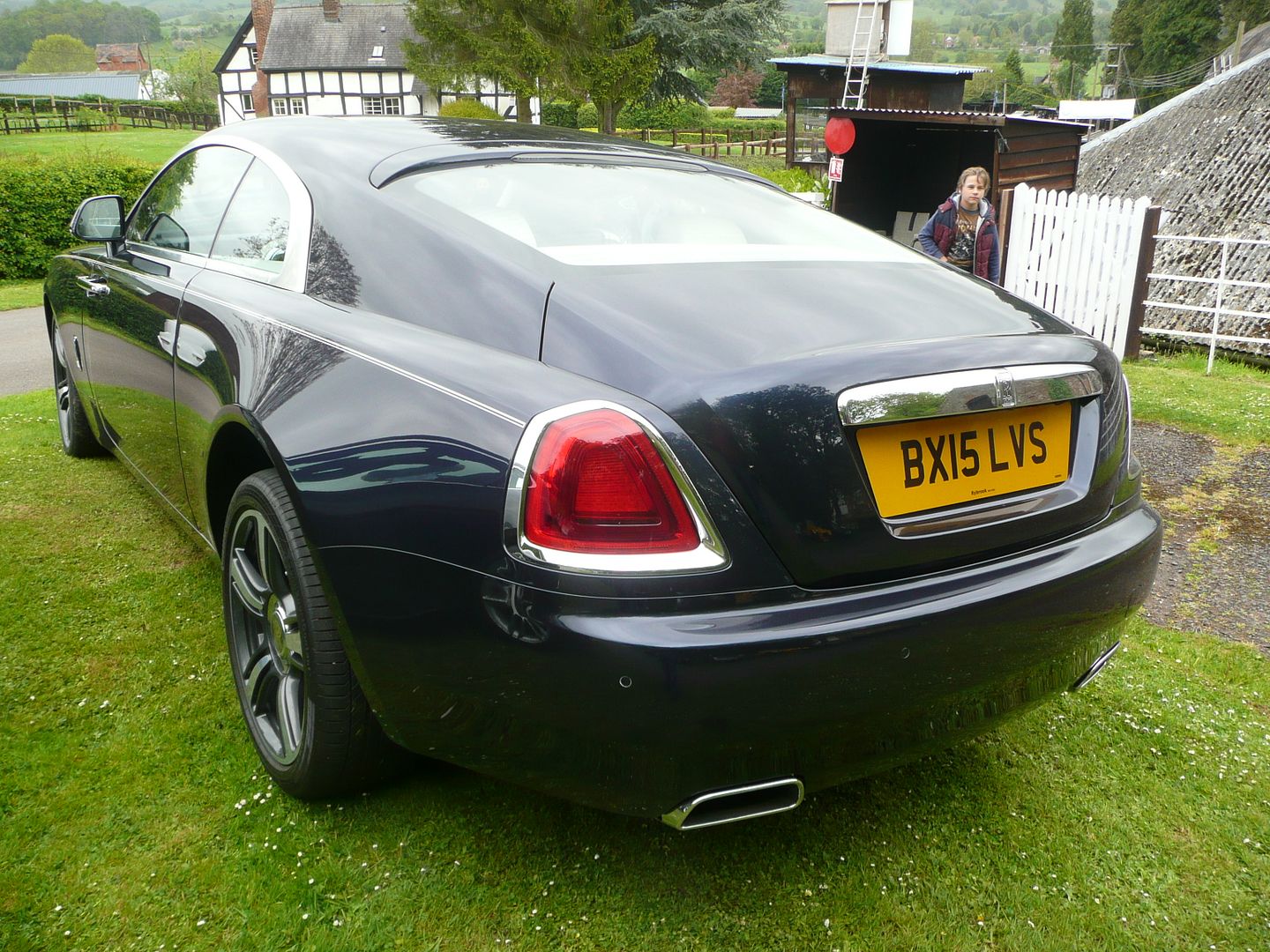 SAAB
The 96 was a long running model, made famous by the rallying exploits of Erik Carlsson who famously said that the trick to winning rallies in it was never to brake. The two stroke engines were finally replaced with a more conventional four stroke when Saab slotted the V4 engine from Ford's Taunus under the bonnet in 1967, and in this guise the car was produced for another 13 years. UK sales ceased in 1976, but the last models for European markets were made in 1980. This was a well presented example from 1973.
SUBARU
First and second generation Impreza models were represented here.
SUNBEAM
I've seen this amazing 1913 machine at Shelsley and Prescott many a time, where it is usually seen ready for action in an assault on the hill, Today it was just being given a little fresh air. What I did not realise is that it is in fact the oldest competition Sunbeam in existence. Belonging to local trials enthusiast Hicky Hickling, who comes from Tenbury Wells, the car is completely unrestored. It is a 4.3 litre 16/20 model and it took the Open, Closed and Outright Hill Record at Shelsley Walsh in 1912 and 1913 respectively. Hicky uses it pretty frequently, having recently taken it to a hill climb in Cornwall, where  they had never had an Edwardian vehicle taking part , so the organisers had to create a special class, which he duly won!
TOYOTA
There were a couple of sporting Toyotas to be seen: a MR2  Mark 1 and the current GT86
TRIUMPH
A couple of Spitfire models, a Mark 3 and a Mark 4 were parked up in the main part of the event.
Also present, and bearing Triumph badges was this rather nice Vitesse Convertible. Based on the Herald, the Vitesse was launched in 1962 and featured a 6 cylinder engine under the bonnet. Saloon and Convertible versions were offered. The extra power was welcome, but the swing axle suspension meant that the handling could get interesting. Triumph attended to this with a set of revisions in 1965, before upgrading the engine to a more powerful 2 litre unit. Mark 2 cars, with new front end styling were launched in 1967.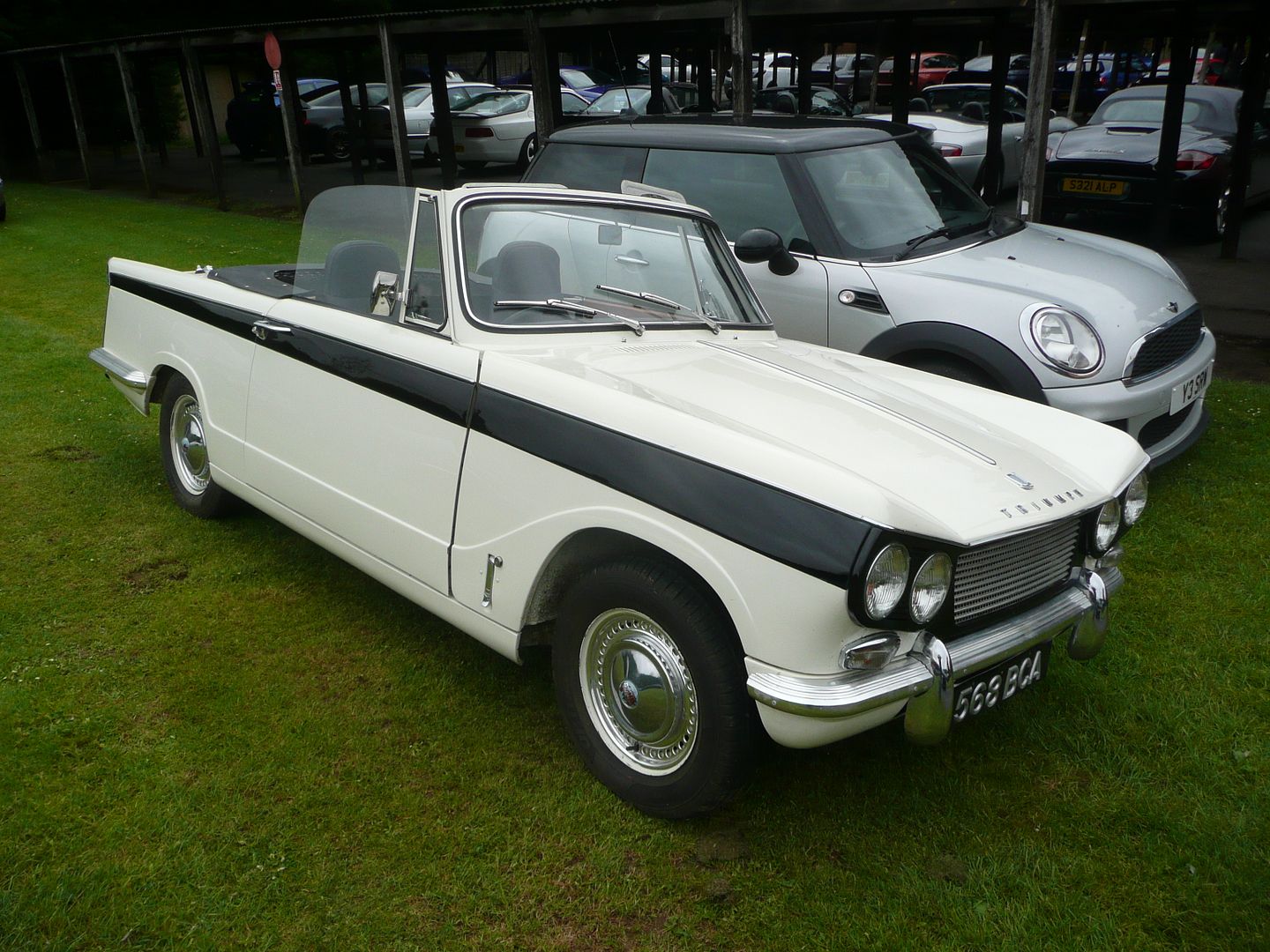 A disparate array of Triumph models arrived quite late in the morning, and these were all parked up in the area used for public parking at larger events. Among them were Herald and Vitesse Convertible, TR6, a Toledo, a Mark 3 GT6,  TR4a,  Spitfire and Dolomite 1300
TVR
The organisers managed to park all the TVR models together, and a colourful sight they made, with a Griffith, a couple of Tuscans and Tamoras as well as 3 of the Chimaera present.
ULTIMA
There were two of these Leicestershire built cars here, and with no badges on them, it is perhaps not a surprise that I heard quite a few people asking what they are. The Ultima GTR is a sports car manufactured by Ultima Sports Ltd of Hinckley, Leicestershire, England, and described by commentators as a supercar. It  is available both in kit form and as a "turnkey" (i.e. assembled by the factory) vehicle. The design is mid engined, rear wheel drive layout, with a tubular steel space frame chassis and GRP bodywork. A convertible version called the Ultima Can-Am is also produced. Kit builders are free to source and fit a variety of engines and transmissions but the Chevrolet small block V8 supplied by American Speed mated to either a Porsche or Getrag transaxle is the factory recommended standard, and this configuration is fitted to all turnkey cars. There was an example of both the GTR and the CanAm here.
VAUXHALL
Although Vauxhall and Ford sell similar numbers of new cars in the UK, and have done for some time, there are always far more classic and treasured Fords than Vauxhalls at almost any event you care to name, and this one was no exception. Indeed, there were just two models here, a VX220 and a Monaro
VOLKSWAGEN
With prices for the original Type 2 Vans up in the stratosphere, interest has grown in the later version of the mode, the so-called "Bay Window", which was made from 1968 until the replacement of the original design in 1979. This one looked like a US market vehicle, with its side reflectors.
WESTFIELD
Those of who follow the Queen Square Bristol event and who have reviewed this report will see that there is quite a contrast. There were probably a few less cars here, but despite the venue being officially "full" by 9am, there is plenty of parking space, and no threat of a visit from traffic wardens, as I gather afflicted the Queen Square event this month. Couple that with a nice drive on country lanes to get there, and this was a welcome change of venue for me, and one to which I would hope to return later in the year. The Shelsley Breakfast Club runs every month.
Share and Enjoy