Ace Cafe Italian Night – May 2015
The British weather has long been a topic of conversation, and owing to its frequently unpredictable and changeable nature, will no doubt continue to be so for years to come. The day before the May 2015 iteration of Ace Cafe's popular Italian Cars night, it was as if summer had arrived a little bit early. It was an almost cloudless day, all day, and I sat, with my colleagues, consuming a lunch time sandwich, hopeful that this welcome sunshine would last. But this time, the forecasters got it right, and Thursday started damp, and got steadily wetter and more unpleasant with every passing hour. By mid afternoon, with a prognosis that the rain would not clear until around midnight, person after person on the Abarth Owners Club forum was declaring that they were not going to come to Ace after all, and it was not hard really to see why, as in addition to the wet, the temperature had plummeted to something more like late February. I don't mind admitting that I would probably have joined the list of people opting out were it not for the fact that a good friend of mine was working in the area, and as he had never been, we agreed to go along. Mindful of the forecast, I had reassured him that even if there were not many cars to see, then at least the burgers and other food would be good. And indeed they were. There were even a few Italian cars to enjoy, too. More than I had expected, to be honest, but far from a forecourt full.
ABARTH
Logistics were such that my Abarth was safely at home, and I arrived in the Audi (complete with AOC flags which it had been planned to erect, had it been dry), but there were a number of little Scorpions parked up when I got there, and more came during the evening. All told, there were 7 cars here, several of which I had not seen before, including one which was a sort of tribute to the Tributo models, but the fact that it was a 500C meant that the owner was never going to disguise the fact that it was not the genuine article.
ALFA ROMEO
Nice to see a couple of older Alfa models that are not all that common-place. Rarer of the two is this 33, the successor to the much loved 'Sud. and still the biggest selling Alfa of all time. This is one of the facelifted cars with the looks updated to reflect more of a resemblance to the 164. Parked up alongside it was a 155. This one had a large rear spoiler on the boot, which did not look quite like the one that was supposed to be fitted to the limited edition Silverstone cars that were produced in 1994 to homologate the model (and the spoiler) for BTCC purposes. The spoilers came in the boot and few were ever attached to the car!
When launched, the 147GTA was the most powerful hot hatch on the market, at least until the Phase 2 Renault Clio V6 arrived and trumped it by 5 bhp. The two cars could not be more different in concept, though. Both had relatively short production lives, and sold in small quantities. In the Alfa's case, just over 300 found buyers in the UK, making this a rare car when new, and that was over 10 years ago, so they are never going to be a common sight. Most of them were red, pearlescent white or grey, so a blue one like this is particularly unusual.
The owners of this more recent Spider are Ace Cafe regulars, and were clearly not going to be deterred by the weather.
FERRARI
It is widely believed that Ferrari owners don't "do" rain, so it was quite a surprise to find an example of the marque here. This F430 was only the one, though!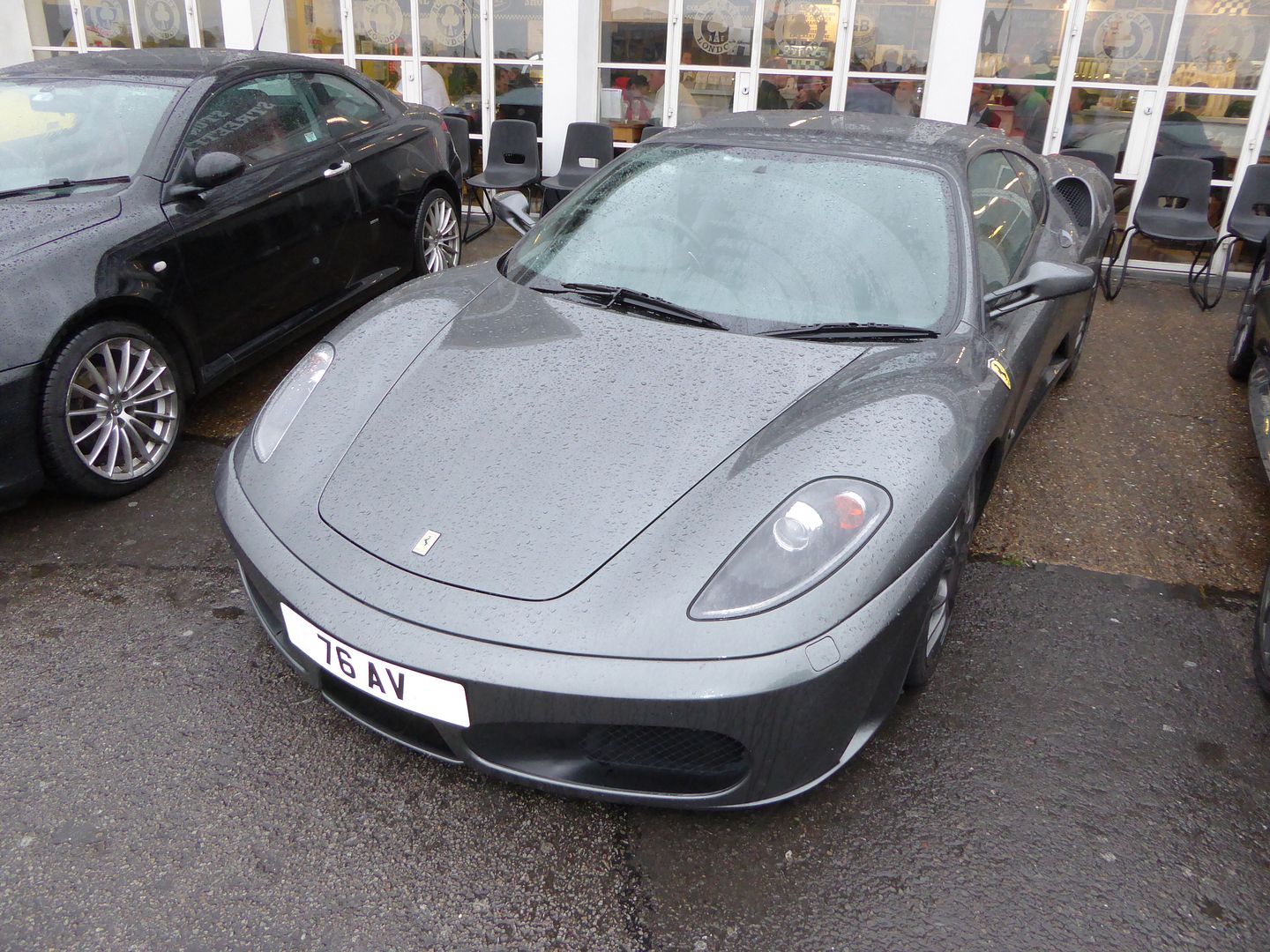 FIAT
Fiat Coupe owners are a hardier breed, though, and there were several of these distinctive Bangle-styled cars parked up.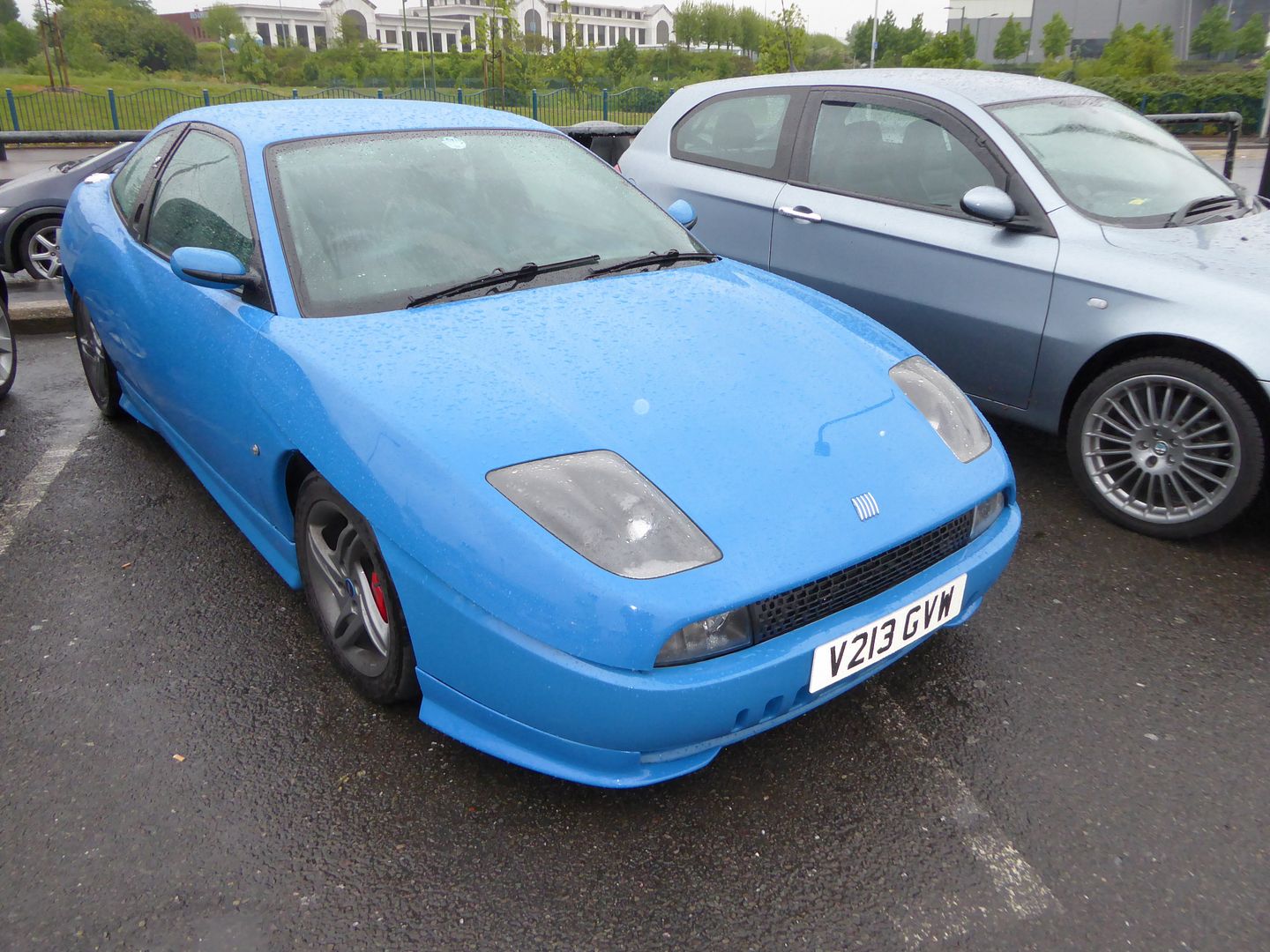 Also attending was a regular second generation Panda
LANCIA
One of the rarest cars of the evening was this, a second generation Delta. These were never sold in the UK, as they were launched in 1993, by which time Lancia had effectively out of Britain, scarred by the Rusty Beta saga of 13 years earlier, and with a line up of products which lacked much in the way of real charisma or the engineering excellence that had once tipified the brand.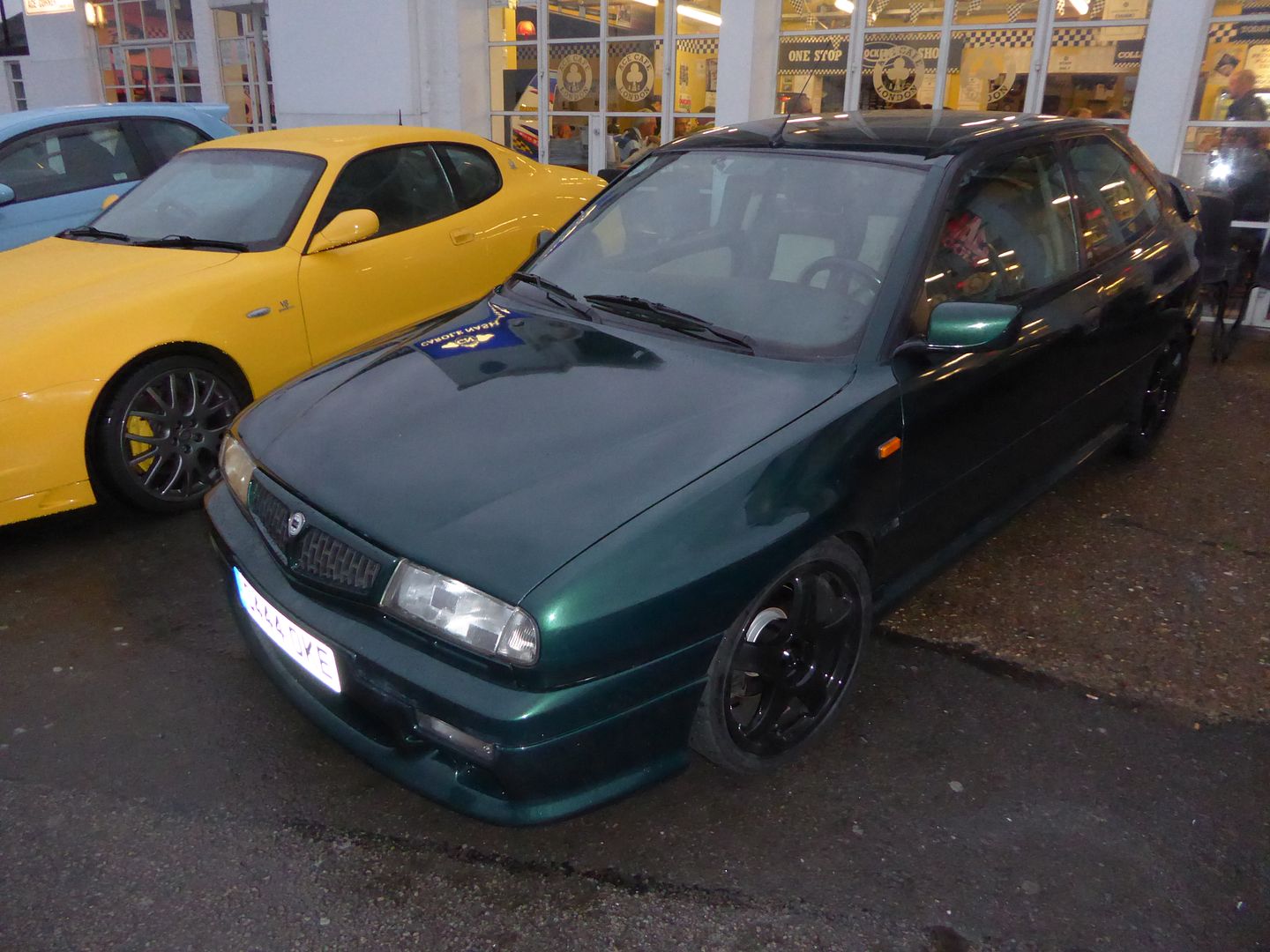 MASERATI
I understand that the SportMaserati forum had planned an afternoon event, culminating in a gathering at Ace in the evening. I felt really sorry for them, as what would have been so good 24 hours earlier would have amounted to a wash of the underside of their cars with every puddle they drive through. Even so, there were a number of recent(ish) models on show here, with 3200/4200 cars and GranTurismos.
PORSCHE
No, it is not an Italian car. And although it was initially parked on the main Cafe forecourt, it was later moved to the area adjacent, as non-theme. However, it's not every day you see one of these, and in such nice condition, so on an evening that was not notable for the quantity of cars on show, it definitely merits inclusion here.

It is such a shame when you get such a wet and soggy evening as this one, as it does deter all but the most hardened enthusiast from coming. Italian Nights in 2014 were largely characterised by rain, in contrast to previous years when the sun had shone almost every month, and attendance was significantly reduced as a consequence. Here's hoping that the Weather Gods are more favourable in June, and that the result is a forecourt packed with interesting Italian machinery once more.
Share and Enjoy