2011 Caterham 7 Roadsport 140 SV (GB)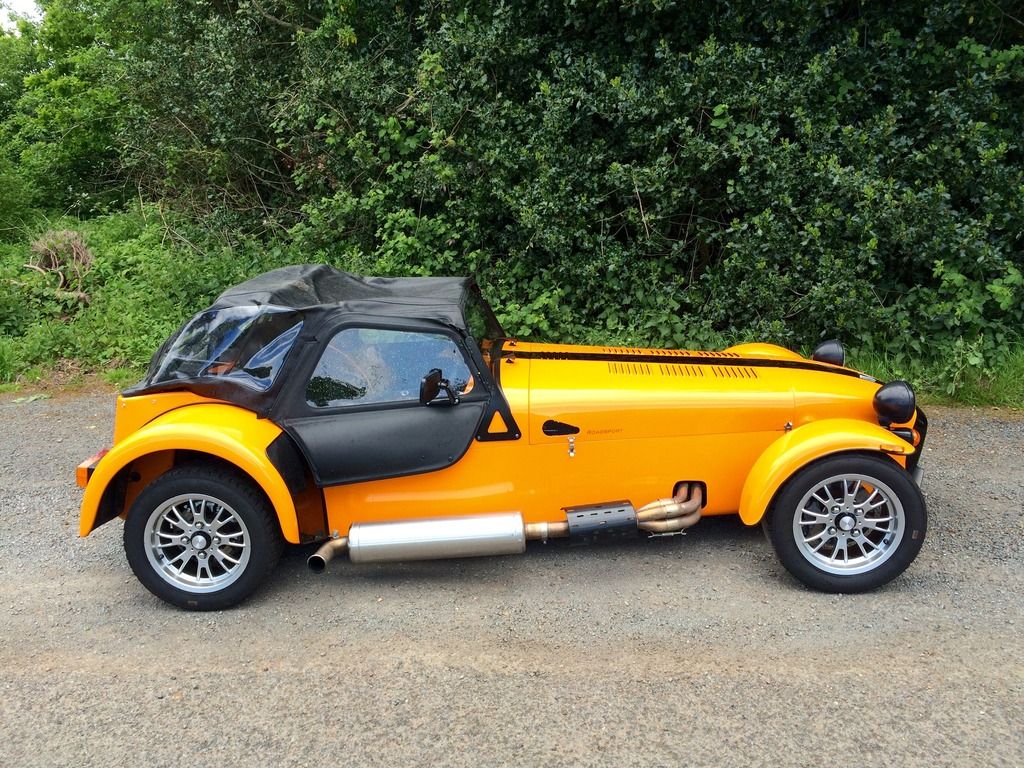 A birthday treat which nearly turned out to be a handful of laps in a Ferrari limited to 5k up-changes luckily turned into a full day hire of a Caterham Roadsport 140. Now, I've never driven, or even sat in anything like this before, so I didn't really know what to expect. I knew it was going to be good, I just didn't realise how good…
Starting out in 1973 and formed by Graham Nearne, Caterham cars started with the Caterham 7, which was based on the Lotus Seven. When the Seven ended production, Caterham bought the rights to the design, and 42 years later, here we are. Technological advancements have improved the engines, suspension and tyres over the years, but the same fundamental car remains: A simple, lightweight, rear wheel drive sports car which aims to offer maximum focus on driving pleasure. The end.
'My' car for the day was a 2011 Caterham 7 Roadsport 140 SV, in bright orange. After paying up and signing the forms, we wandered out to the car where we were shown around by one of the helpful employees. He explained how the roof worked, what all the buttons on the dashboard did and then it was time to 'get in' the car.  SV stands for Special Vehicle, meaning 110mm extra width and 25kg heavier over the standard car. I dread to think how tight a standard car must be, as Tara and I aren't the biggest of people, but once sat in and belted up with the 4 – point harness, it was 'cosy'  shall we say!
A quick safety briefing from the guy, which went something like: 'It has no ABS, take it easy at first, and by the end of the day, you'll find yourself really pushing the car', he told me to fire the engine up and waved us off. I'm still sitting there at this point, just amazed by how low you sit,  how close the pedals are to each other, how small the steering wheel is, and how loud the engine is at idle. The 1.6 'Sigma' Ford sourced engine has a very rough and gravelly idle, but the exhaust, which runs down by the side of the driver, is mega loud. The engine does settle down after a minute or so, but even still, the exhaust is still whirring away, constantly to the right of you. At this point, I looked over at Tara and she said with a worried laugh 'I'm not going to like this!'   'I FUCKING AM', I thought to myself!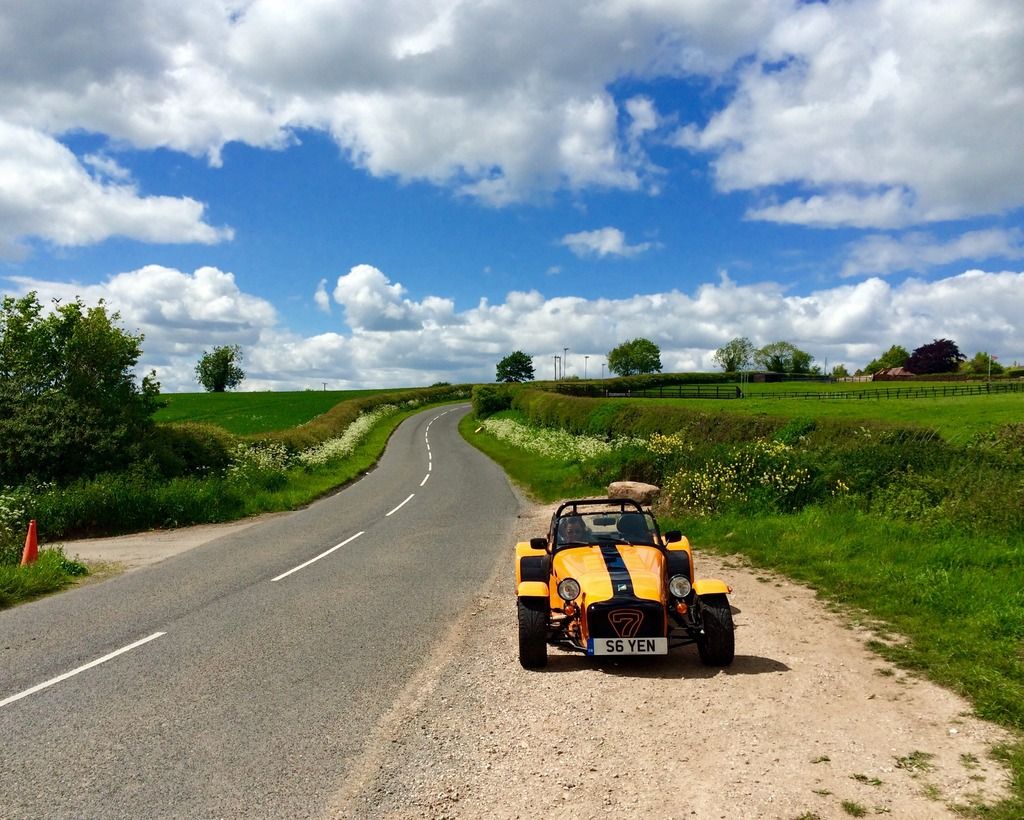 A bit of urban, stop-start driving first before we hit the country lanes and the attention it got was unreal! People waving, pointing and putting their thumbs up.  We didn't hang around too long in town, and made our way to some nice roads. The controls on this car are like nothing else I've ever experienced. The steering and throttle response is magical.  It's another level to anything I've driven, I just can't describe how instant and precise the steering and throttle response is; a tiny amount of steering lock and the car just points to where you want it to go. It's not car like, more Go-Kart like. And then just a tiny prod of the throttle, no matter what gear, or what revs, fires you up the road without a hint of hesitation. It's accurate, precise and totally instantaneous.
After a quick lunch, I started to get more of a feel for the car, pushing harder and really starting to see what it could do.  Rear wheel drive, 520kg and sticky Avon CR500 tyres really started to show why these cars are held in such high regard.  You can make hysterically quick progress down a country lane, without putting much effort in at all thanks to the lightening quick responses of the controls. I had 2 queef moments on a couple of roundabouts (all I was allowed!), where I deliberately tried to get the tail out on a couple of quiet roundabouts. I've driven RWD cars before, but never pushed that hard, so I thought I would probably spin. Nope. Nowhere near. It was progressive and so, so balanced. What a mega, stupendous, fantastically fun car to drive.
Caterham used to use the Rover K-series engines, but binned them off in the early 00s due to emissions and replaced them with Ford Sigma units. My car had 140bhp and 120lb/ft of torque and did 0-60 in 4.9secs, which was plentiful! If anything. It was the torque that impressed most. It pulled hard from 1000rpm, and felt unstoppable from about 2000-5000rpm. I wasn't quite sure where the redline was on the car, but when I did rev it out past 5000rpm, it didn't feel like it had much left to give. The exhaust, being so close to the driver sounded great, and you could really hear everything going on which added to the experience. The pops and bangs were also very amusing, even when just driving normally; take your foot off the throttle, and it would pop and bang like a bastard. I could mention how impractical, noisy, windy and hard riding it was, and that it seemed to hit an aerodynamic wall at 'motorway speeds' on the motorway, where it felt like it was about to shake itself to bits. Instead, when we did get a brief bit of rain and pulled over to have a go at putting the stupid roof up, we soon ditched that idea, looked up at where there was blue sky, got in the car and headed for there.
Getting back into my car after handing the keys back was strange. Not many cars make a Focus ST feel like a lazy, wallowy old bus in the bends. As a driver's car it's outstanding, and it's been a nigh on life-changing experience in terms of throttle response, steering feel and balance. It's a motoring memory that I'll never forget: the right weather, the right road, in a car that gives such an intimate sense of what's going on around you.
Share and Enjoy