2015 Abarth 695 Biposto (GB)
Students of the history of Abarth will need no reminder that this is a brand whose whole heritage and pedigree revolves around motorsport. When Carlo Abarth, who had been working at Cisitalia figured that the company was failing, he set up in business himself, producing a range of tuning parts, primarily for small Fiats, capitalising on a renaissance of interest in motor sport as Europe recovered from the ravages of 6 years of World War. Soon he was producing complete cars, with such gems as the stunning 750 Bialbero from the mid to late 1950s, based on a Fiat 600 chassis, but with an aerodynamic body aimed at making the car go faster. By the early 1960s, with a range of modified Fiat 500, 600 and 850 cars, Abarths were punching well above their weight on the racing circuits, and these little cars became well known for their antics and for many of them having their engine covers propped open to allow more cooling to get to the engine. Fiat bought the brand in 1971 and never seemed quite sure what to do with it, applying the badge to a random collection of their own models over the next 20 years or so, but with no clear strategy. Roll forward to the twenty first century, where brand had become king, and someone finally realised what a valuable asset the Group had. The first modern Abarth, based on the well received Grande Punto was launched at the IAA Frankfurt Show in September 2007, and enthusiasts were delighted, though with strong competition from similarly sized French cars such as the Clio, it was never going to have the market to itself. No sooner was the Abarth Punto out than rumours started that a 500-based car was next out of the stocks, and sure enough, this was shown six months later at the 2008 Geneva Show, with the first models reaching the UK in early 2009. The concept of a small car with double the power of the model on which it was based is nothing new – think Mini Cooper of 1961, for example – but this little pocket rocket proved that it had just as much appeal in 2009 as it did nearly 50 years earlier. A cute looking car, with subtle styling additions, a standard 135 bhp that would be upgraded to 160 bhp, and a fun factor that goes off the scale were just what a select band of enthusiasts wanted, and soon the waiting lists started to grow. I sampled one, from Hertz UK's Fun Car collection in April 2010 and was so bowled over by it that I went and bought one to keep. That was five years ago, and I've loved the car and everything that goes with it, taking on responsibilities on Owners Forums and running an events program every year, so it is true to say that the little car proved literally Life Changing. No-one can afford to stand still, though, and Abarth followed up the initial 135 bhp car with the optional Essesse kit that would take it to 160 bhp with an open topped 500C version in 2010, and then in 2011 came up with cars bearing the 595 badging as a reminder of the 50 year old predecessor, in both Turismo and Competizione guise. Limited edition 695 Ferrari and Maserati edition cars had the brand devotees salivating, but the rather lofty price tags meant that these stayed out of reach of most, as did the 50th Anniversary car that arrived in 2013. That was about the time that rumours started of something every more special. We did not have long to wait for the return of another iconic name from Abarth's back catalogue, the Biposto. First shown at the 2014 Geneva Show, the 2 seater (that's what Biposto means in Italian) is nothing other than a road legal version of the 695 Assetto Corse Racing car, a vehicle which has its own race series in Europe. Although the car is road legal, it is expected that the majority of people who buy one of these cars will use it on the track and quite frequently. So it has been conceived accordingly. That means upgrades to all the important bits – engine, brakes, suspension, gearbox – and some fairly drastic measures to save weight which result in a car which generates 190 bhp and 199 lb/ft or 250 Nm of torque with a kerb weight of just 997kg. That's enough to give a 0 – 60 time that is under 6 seconds, and a top speed of 143 mph. Those are supercar figures produced by a city car. Of course, all this technology does not come particularly cheap, so this is only ever going to be a low volume halo car model in the range. That means that getting behind the wheel of one is not going to be easy. My luck was in, though, as Abarth UK had a road-registered example at the Canary Wharf Motor Expo, and although it was pretty booked up, prospects were failing to turn up, so as I was admiring it, I was lucky enough to find that it was not booked for the next 30 minutes. I abandoned feelings of guilt at having sneaked out of the office to visit the Show and filled in the forms immediately, to take my chance in case another one were not to come along. As well as driving the Holy Grail of modern Abarths, I wanted to find out just how different it would turn out to be from the car which I have owned for the past 5 years.
The changes that go to make a Biposto are extensive, and they have been well thought through, so this is a long-way from being a hastily conceived or tuned up special. Only offered in Matt Performance Grey paint, the Biposto is visually distinctive, with a new front bumper, rear diffuser, wider arches, new skirts and bigger roof spoiler. Although the engine is still the same 1.4 T-jet that features in the lesser 500 and 595 cars, it has been reworked here, with a new Garrett turbocharger, larger intercooler, altered fuel rail and an Akrapovic exhaust system. Buyers can choose between the standard five speed gearbox or an optional race-bred dog-ring unit mated to a mechanical limited slip diff. The standard car's MacPherson strut and torsion beam suspension has been reworked, too, with altered springs, wider tracks adjustable ride height and dampers with more resilient bushings, using Extreme Shox technology shock absorbers. The brakes are upgraded in line with the extra power, featuring  305mm Brembo discs and four pot calipers up front and 240mm discs with single pot calipers at the rear. The wheels are lightened 18″ OZ and attached via a titanium hub, shod with bespoke 215/35 Goodyear tyres. In the interest of weight saving, a number of standard trim items are removed, including the regular door trims, air conditioning, the rear seats and some of the sound deadening material. Even the standard air vents have been changed so they are covered by a simple mesh. In their place is plenty of polished carbon fibre, a titanium strut brace, racing seats and harness, as well as special trim features such as new pedals, tread plates and a race inspired digital display on the dash where the radio usually sits. Enough of the spec, though, question is what it is like on the road.
Stand outside my car, and there is a rather fruity sound which emanates from the exhaust system, one which still surprises most people who don't expect such a noise from any small car. Sit inside, though, with the windows closed, and you can barely hear it. That does not not apply with the Biposto. This car has an Akrapovic system as standard, and when you fire the engine, by twisting the conventional ignition key in the slot on the right of the steering wheel just as you do in a regular Abarth, and there is ample indication from inside the car that the little beast is bursting into life. Although it is a fair bit louder than the set up on my car, it is not something which would quickly annoy once the novelty had worn off. This is just one of those systems which sounds great at idle and even better the more you plant your foot on the loud pedal. Needless to say, outside the car, the same applies. You will love this car just for the noise it makes. But what I really wanted to know is what it would be like in motion.  In an ideal world, you would not choose to test a car that is designed for the track on the streets of London at 4:30pm, but if it comes down to testing it then or not at all, it's not hard to decide that you will give it your best shot. With Dave, a representative working for Abarth UK alongside me to provide route guidance and also some first hand knowledge of where the cameras are around the Canary Wharf to Excel route which would constitute the test circuit, I prepared to set off.
First impression as we inched away from the parking bay where the Biposto is stabled between test outings is that this car is pretty docile and easy to drive in traffic. Indeed, for the first few hundred yards, inching forward, it felt little different to my car. The clutch is light, the gearlever slotted neatly into position, using the metal-topped knob that sprouts from a convenient location on the dashboard, there is a conventional handbrake fitted between the seats, and the steering had that nice weighty feel to it that you get especially when the Sport button is pressed. We will come to that button again in a minute. But, once the road opened up a little and the traffic cleared, albeit momentarily, and I could use a little more of the throttle travel, and there was no doubt that this car is a lot quicker than mine. And mine is far from slow, let's not forget. The engine in this car is just so eager, and I am not sure which was more frustrated, me or it, at driving it in traffic with speed limits. In any gear, from any speed that I was able to achieve, there is a feeling of instant and rocket-ship quick acceleration. Almost too much acceleration at times, I suspect, for the combination of the chassis and some very bumpy and rough edged roads to handle, as on a couple of occasions, I could feel the car was trying to find somewhere to put the power down with a slight feeling not so much of torque steer but that the car was just so eager to go somewhere that no amount of electronics could quite tame it. But in a straight line and on smoother surfaces, this little car was able to zoom past anything else so I could easily make rapid progress through the mid afternoon traffic without incurring anyone's wrath for relatively sudden lane changes, and once you got to around 3000 rpm, the Biposto really burst into life, suggesting that it would be very rapid indeed on a more open road. It was a lot of fun accelerating and slowing down, even if this did mean that I don't believe I ever made 5th (top) gear at all. I did use all the others though there was no way of getting even close to the red line, but can advise that the 250 Nm of torque is very evident, and regardless of gear you start off in, you will find gobs of acceleration here. Press the Sport button, as my co-pilot very helpfully did to show what happens, and it sharpens up everything, from steering and brakes to throttle response, and I could feel the car was immediately even more responsive. There is a really noticeable difference between the two settings. Unlike in my car, where Sports has been on permanently since I took delivery, in this car, I could imagine that you might not use it all the time, as the car is so eager even in Normal model. Public roads are not really the place to test out the handling, so I was limited to going on a couple of complete revolutions around a roundabout to get the most tantalising of sensations. The roller-skate wheel-in-a-corner feel of my is magnified in this one, and I made the comment that this would even more than with my car be one where the driver's ability (or bravery) would doubtless reach the limit long before the car does. There is a difference in the weighting of the steering when you have Sport set on or off, and in this car you may actually choose to turn it off on occasion, whereas it has been permanently enabled on mine, as in that case the steering is too light for my tastes. The weighting is well judged and there is a nice thick-rimmed steering wheel to hold to help you make the most of the car's potency. The big question concerns the ride. Not renowned for being particularly compliant in standard form, when you hear that it has been made stiffer in this car, you wonder if your body will be able to take it. The pot-holed and ridged surfaces of the various London streets and roads on which I took the car are probably as stern a test as any. And yes, it is firm. On smooth surfaces, it is absolutely fine. But find those ridges and holes, and yes, you will be able to feel even the ones you did not see.
The interior of the Biposto comprises a mix of the familiar and the different. A lot is shared with the regular 500 and 595 models, of course, and that means the basic dash layout, with a single dial cowling straight in front of the driver . Since the middle of 2014, Abarth, along with Fiat, have replaced the traditional analogue instrument dials with a TFT display in the same form factor, and this was the first time I had experienced it. It follows the same form, with a rev counter  which follows most of the arc of a circle, a digital speedo in the middle and bar chart displays around the lower perimeter for water temperature and fuel level, with the central area kept free for vehicle information and settings which you cycle through with three small buttons mounted to the lower right of the dial. The graphics are crisp and quite a contrast to the retro style of what went before. There is still a separate boost gauge mounted in a pod on the top of the dash. for right hand drive cars. Left hand drive models, get this mounted down low, visible through the spokes of the wheel. Mounted in the centre of the dash, positioned where the radio sits in regular cars, is the 'data logger' MXL by AIM SportL, a digital unit which allows you to record such things as lap times, and g-forces generated. The other controls are as with a 595 model. There are chunky twin column stalks, with lights and indicators operated by the left hand one and wipers from the right. You don't get air conditioning in this car, but you get a series of turn knobs in the same part of the lower centre of the dash to operate the heating and ventilation and above these are three buttons one of which is for Sport mode. It is all easy to use, even to someone unfamiliar with the car, and for a long time owner like me, then all that required familiarity was the TFT dial and that central race display unit.
The Biposto is a strict two seater. The rear seats – which are known to be heavy by anyone who has tried to remove them from a regular car – are jettisoned in the name of saving weight, leaving just the two race-inspired Sabelts up front and a roll cage. Those of a large frame may struggle to fit in their relative narrow confines, and the only adjustment is a fore/aft of the seat position and the seat rake, but you get height that you get. Fortunately, both were perfect for me. You sit a little lower than in a 500/595., which is no bad thing, as I have always wanted to lower the seat in my car more than is possible, so that gives you a bit more headroom. I was only in the car for 30 minutes, so cannot sensibly comment on comfort over a long distance, but they seemed fine for the time I was sitting in them, and the mix of leather and alcantara trim is both nice to look at and to touch. The seats have a choice of regular seat belts or a racing harness. Which you choose to use on the road will probably depend on personal preference. With no rear seats, there is of course ample space for luggage, though it will roll around the boot area. Inside the cabin, there are no door pockets, as the standard door trim is replaced by a sheet of carbon fibre, but you do get the other places for odds and ends, which means a parcel shelf, the hidden tiny glovebox on the upper surface above that open shelf that even many an owner do not realise is there, and a cubby area between the seats in front of the handbrake. For a car of this type, it is just about enough.
As standard, your £33k 695 Biposto includes the carbonfibre front apron, bigger rear diffuser and monstrous Akraprovic exhaust, plus the 18″ Oz wheels, Brembo brakes, bespoke Goodyear tyres and slightly wider arches. That's only the beginning, though, as there is quite a long list of options, and it would seem likely that many purchasers of what, let's be honest, is something of an indulgence, will be ticking several of the boxes here. If you want the carbon pack inside, you'll need to pay £3,700. The race pack, which gives a second telemetry readout in the the 'data logger' MXL plus four-point harnesses, is £3,700. On the plus side, you get a helmet thrown in. For £2,990, you can have a '124 pack' which adds aluminium goodies like a featherweight double hump bonnet and titanium fuel and oil filler caps. Want the polycarbonate windows? That will be £1,775, thank you. The headline act: is the much talked about exposed linkage dog-ring equipped gearbox, which replaces the regular five-speed manual. That's a rather steep £8,500. Add that little lot onto the £32,955 starting price and you push your mega-Abarth  out of Golf R territory, past Megane RS Trophy R money and into the £50,000 realm of the Porsche Cayman GTS. There's no getting away from the fact that this is a lot of money. Which is why Abarth are not expecting to sell large quantities of this halo car.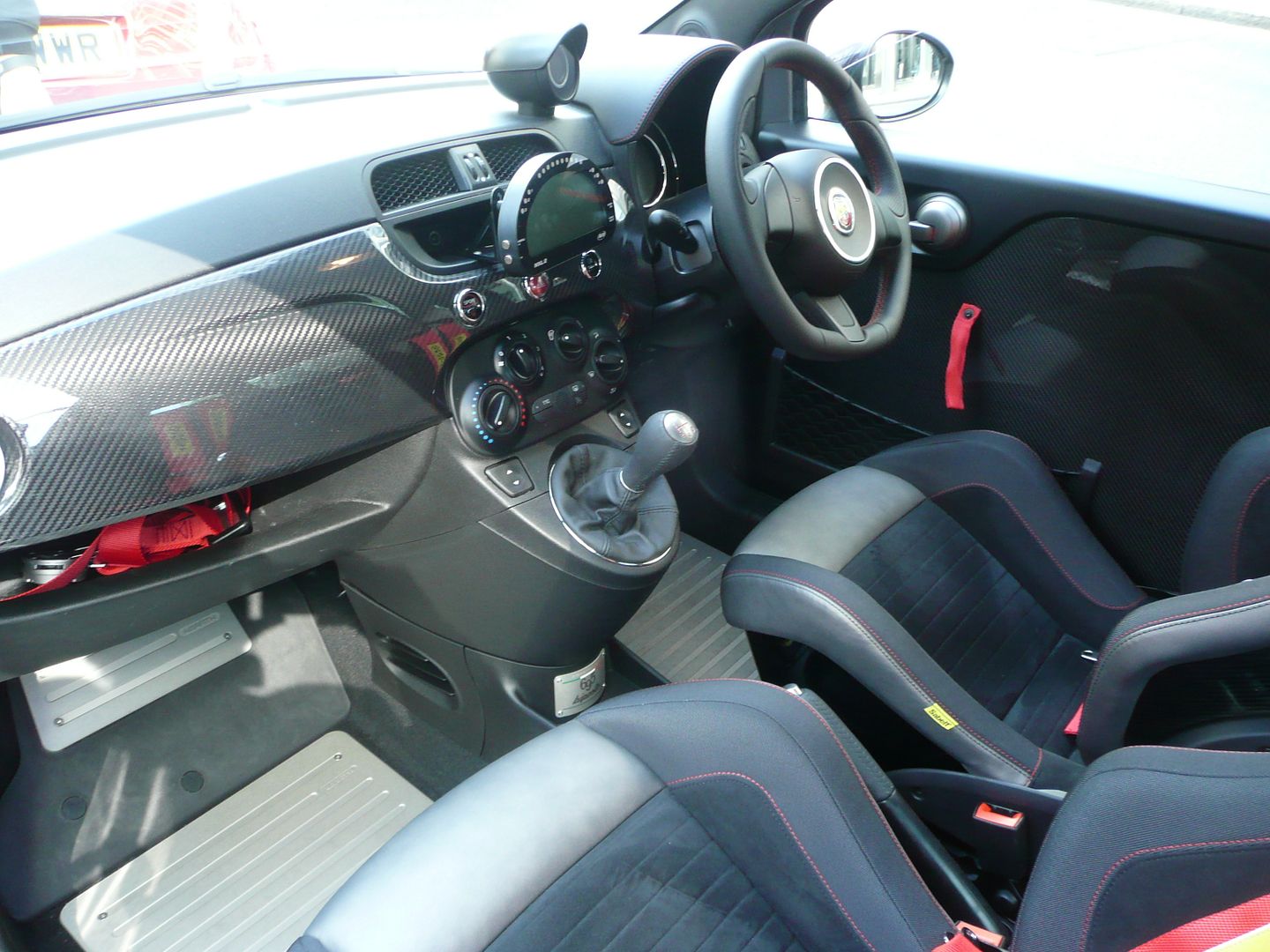 In purely objective terms, the Biposto makes little sense, even in entry level spec at £33k, let alone a fully-kitted out £50k one. But to assess it in those terms is completely missing the point. This is an indulgence, aimed at those for whom the price tag is almost irrelevant. So it is the other qualities that matter. And here, even the often critical motoring press seemed to find plenty to like, as – less surprisingly, given my enthusiasm for the brand – did I. It looks fantastic, with enough modifications to distinguish it over the standard car, without going so way over the top, and it sounds even better. And it just fizzles with Italian brio even in heavy traffic, so when you get to the open road or the track, it's going to be a real blast to drive. Yes, the ride is hard, it only seats two and the lack of a radio and air conditioning may prove a bit irritating over time, but for having the guts to produce it,  Abarth should be congratulated. For those who love the idea of the car, but who want a slightly less extreme version, there is the latest 180 bhp Competizione car, and that's the one that will capture lots of sales. That's the one that is burning a hole into my bank account now, and that I need to sample – knowing full well that once I drive it, it is likely to cost me a car just as happened back in 2010 when a weekend's rental of a regular Abarth 500 resulted in a purchase. A purchase that I have never once regretted, I have to add. That's how addictive these little Scorpions are.
Share and Enjoy