Ace Cafe Italian Night – August 2015
After two months of glorious sunshine on the second Thursday of the month, resulting in a bumper turnout at the Italian Car night at the Ace Cafe, I was hopeful for a repeat in August. Sadly, it was not to be, and the forecast for the day was for more or less non stop rain. Sure enough, by late morning, it became apparent that the people at the Met Office were correct, and it was absolutely hammering down, something which is an understandable deterrent to those who were contemplating taking their car out in the evening. The rain did stop during the afternoon, and whilst we were never going to risk sun burn or see much in the way of blue skies, it gave me some hope that there would be a reasonable turn out after all. I left the office in Bedfont around 5pm, – a little later than hoped – which should have seen me arrive some time before 6pm. Or so I thought. Once through the stop/start part of the journey that is the M25 between the A30 and the M40, I was making good progress until I go to within half a mile of the Hanger Lane giratory, at which point everything ground to a halt. With nowhere to go apart from continuing to the junction, I edged the car forward and paused, for nearly an hour before finally heading up the sliproad off the A40. Just ahead of me I could see (and hear!) Lee Birchall's distinctive matt yellow wrapped Abarth, so I knew that if we were ever to get there, there would be at least one car to see and someone to talk to! Progress did not get any better, though, and the traffic appeared to be jammed up in all directions, though from time to time another emergency services vehicle managed to force its way through, and head north up the North Circular, suggesting that something serious had happened. I was later to find out that there was a Mercedes on its roof (don't ask how!) across the road at Neasden, and this brought the whole of the area to complete grid lock for hours,  not being finally cleared til after 9pm. My thought of going up the side road alongside the North Circular was clearly one that others had too, so the initial progress was soon reduced to a crawl, so when I spotted a parking spot on the side of the road, I pulled in, and walked the last few hundred yards, keen to see if anyone had made it to the Cafe or not. A few had done so, having arrived before the traffic was paralysed, and during the evening, gradually, some more cars made it, but this was a thinly attended meeting.
ABARTH
Lee Birchall made it all the way to the Cafe in his car almost as quickly as me, so crawling the last few hundred yards clearly was no slower than walking! It made for a colourful addition to the ranks of Abarths, which, as ever, were the most numerous marque of the evening. Most of the others were Ace regulars, and had arrived earlier in the evening.
It was only as the light was fading that an Abarth Punto made it, owner James Page having endured a particularly frustrating and delayed journey from Kent. A number of Fiat Puntos had convoyed up with him, but the light was more or less gone by this time, so they are undepicted in this report.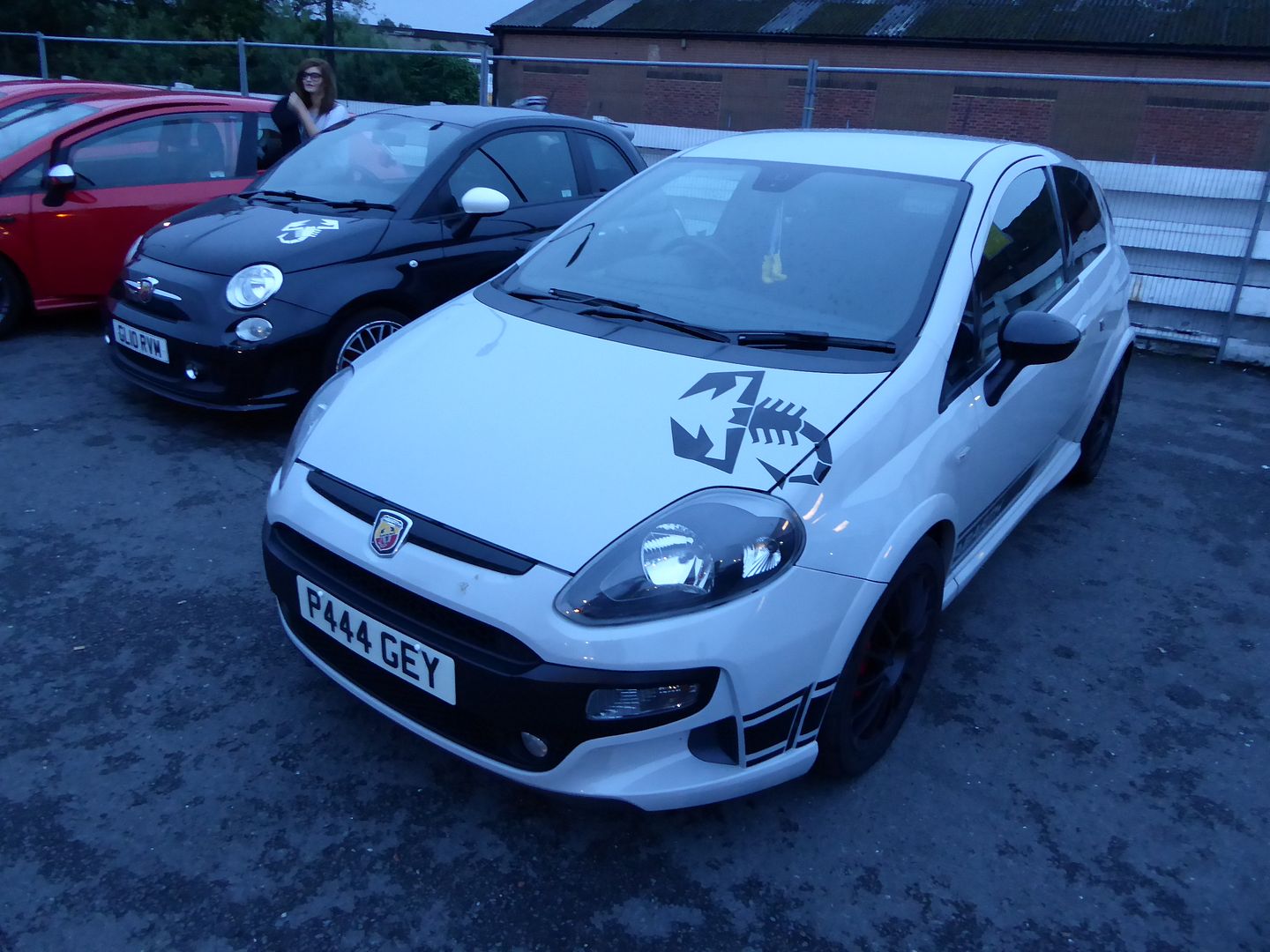 ALFA ROMEO
This rather nice 155 was one of the later arrivals.
FIAT
With a prominent position in front of the Cafe, I am guessing that this Broom Yellow Coupe had been one of the first cars to arrive. It was the only example of the model present, this month.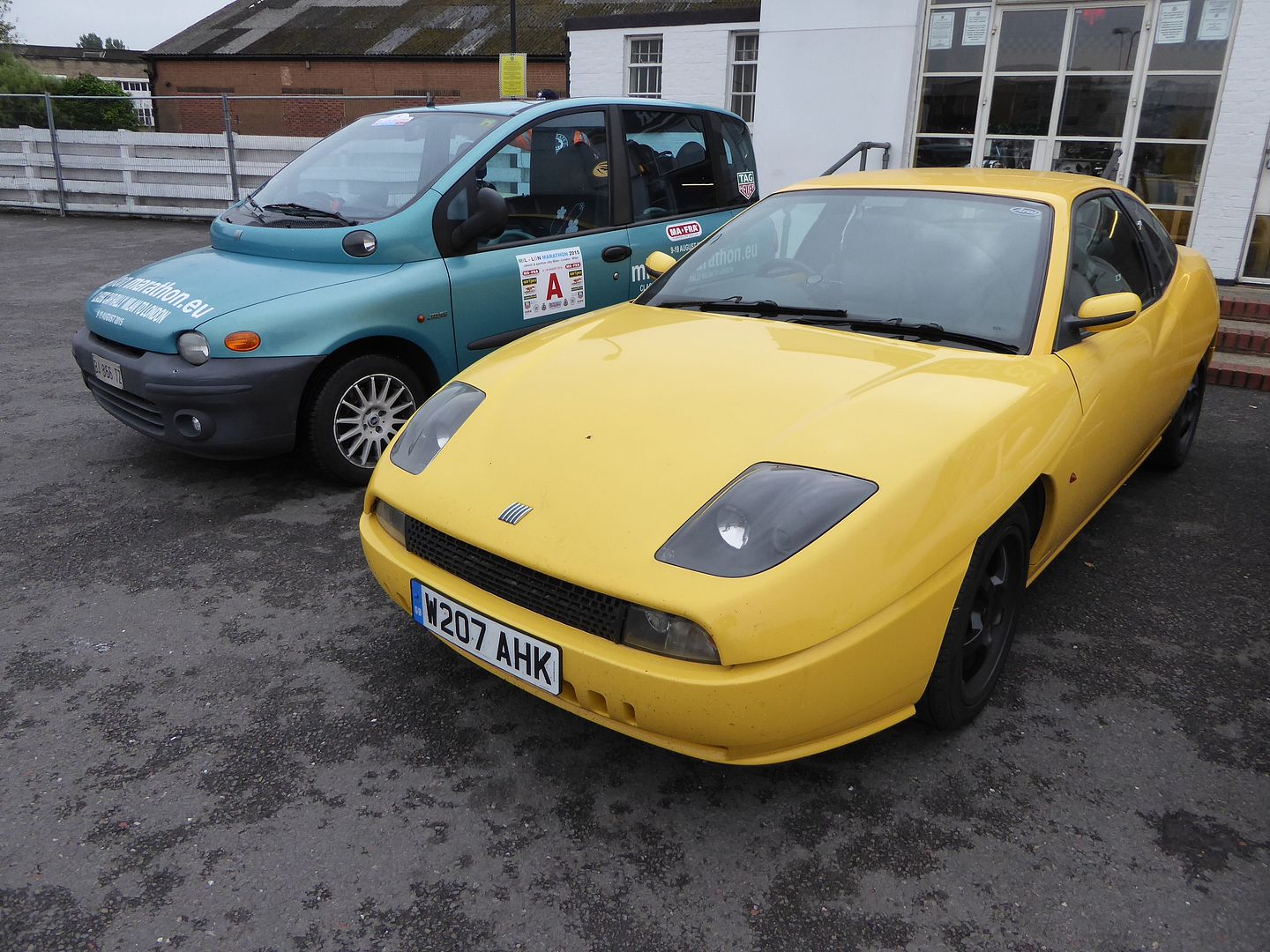 This X1/9 VS, one of the limited edition cars that was offered in the 1980s, is a regular. From a distance it looks good, but close up, it is clear that it is still rather "original".
MILAN to LONDON RALLY
I had seen a few cars bearing Italian licence plates and with stickers on them proclaiming that they were in a Milan to London rally while I was queuing up, and sure enough, they were all headed to the Ace Cafe as well, as a rendezvous point. The entry list for the rally was very varied with a mix of classic and more recent models, and not all of them Italian. The people I spoke to had no idea that they happened to have chosen Italian Car night, and they were quite excited to learn that this is something which happens every month. Judging by the numbering on the cars, I would guess that there were well over 100 cars in the rally, and I only saw a few, several of them leaving (or at least trying to!) just as I arrived. Sadly this included a particularly rare Innocenti Tre, the updated version of the Bertone Mini 90/120 that was made from 1974. Even so, there were some nice cars which I did manage to photograph, including
Among the Italian cars that were present were a Pininfarina Europa Spider 2000, a Fiat Ritmo Abarth 130TC, Lancia Thesis, a trio of Fiat Multipla, an Alfa 33 and Giulia Sprint GT, and an Abarth 595
German cars taking part included a Beetle and Golf Cabrios, a VW-Porsche 914, and a classic Porsche 911S
One of the last to arrive before the light faded was this fabulous Jaguar XK120. It may have been Italian night, but this was certainly a Star of the Evening for many people.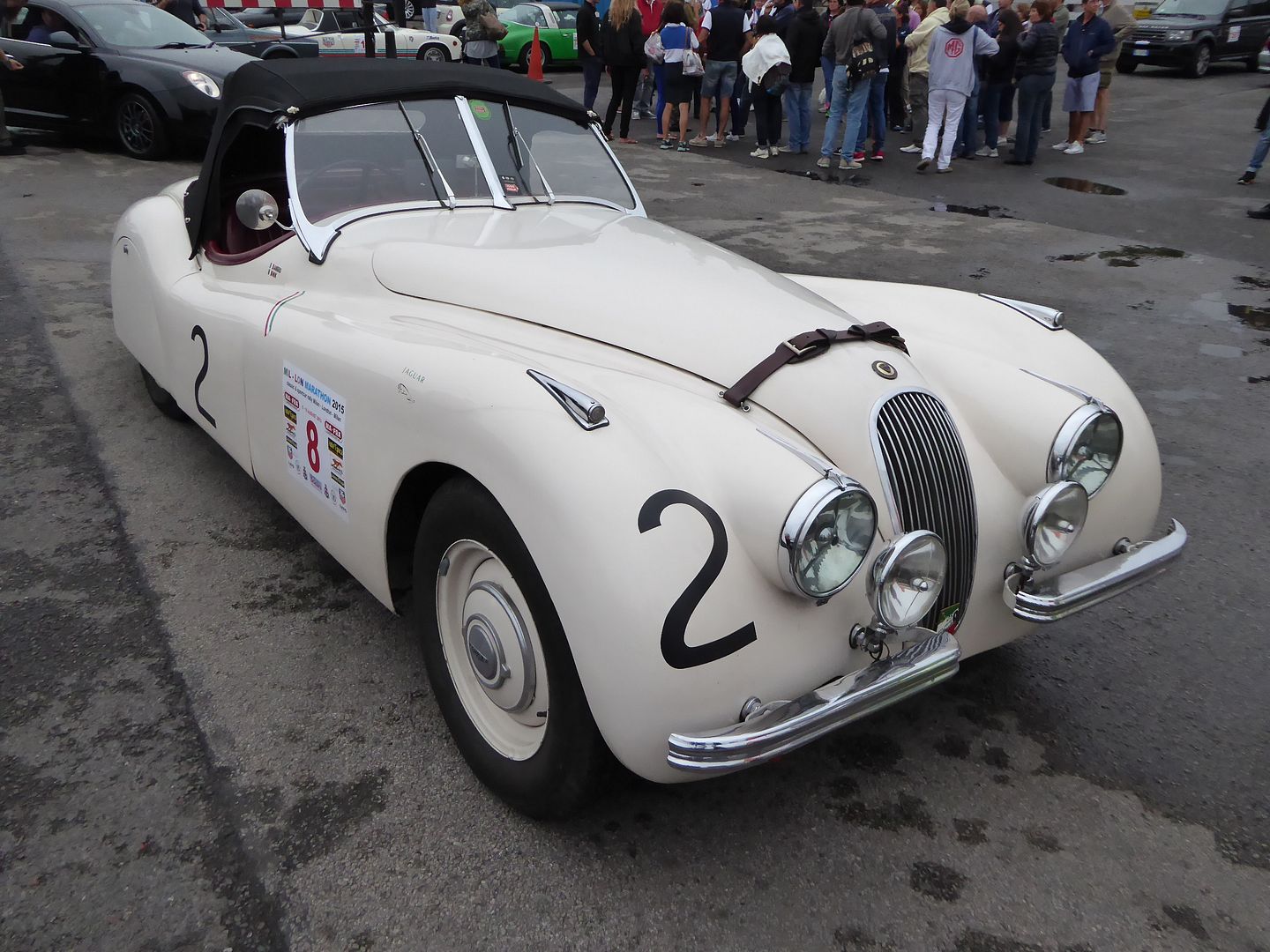 Sadly, this was not quite the evening I had hoped for, but it was still nice to see some different cars, and to catch up with the faithful few who had braced the weather and beaten the traffic. Let's hope for better in September!
Share and Enjoy