Ace Cafe Italian Night – September 2015
Although I have a fair amount of control over my diary, and so I can try to ensure that I am in the right place at the right time for those activities that I want to do once work is over, there are times when I have to admit defeat, and be the committed professional that my employer rather hopes I will be. So when talk of the September instance of the Ace Cafe Italian Car evening first started, it looked as if I was not going to be able to attend, as I was booked on a course in Winchester for the three days including the Thursday of this popular event. And with a need to head home to get ready to head off on holiday on the Saturday morning, deviating from the direct route home via London was not going to make much sense. But then things changed. Things at work got so busy that I had to cancel off the course, and a last minute switch of what had to be done before heading out on that much needed vacation saw me start the Thursday at home and collecting the rental car for the one way journey, as there was not going to be chance to do this on the following day. That meant that attending the Ace Cafe meeting was going to work after all, and it also explains why not only did I have my newly acquired Abarth 595 Competizione, which everyone was rather hoping to see, but nor did I have what the other Abarth Owners refer to as "zee German", my trusty Audi S5 Sportback, but rather Mr Hertz' finest (and brand new) Skoda. That had to stay parked up the road as I walked back towards to the Cafe to see if the September sunshine that had arrived during the afternoon had encouraged a bumper turn-out at what would one of the last monthly gatherings with significant daylight after working hours. As the evening wore on, the car park did fill up, though I have certainly seen busier evenings than this, and there was nothing really unusual. Well, with one exception.
ABARTH
So let's start with the unusual car. Star car of the evening for me was this fabulous Abarth 1000TC. Belonging to Mike Kason, an Ace Cafe regular, he has been telling me about this for a while now, and last time I saw him, he had said he hoped it would be ready for September. And it was. The car was found in Belgium, and has been subject of a complete restoration and rebuild. He's done a good job, as it looks fantastic, and he said that it is a real hoot to drive.
It was not the only "classic" Abarth present, as Carlo Caccaviello brought his complete bonkers looking Alfa-engined 500-based machine down as well, and managed to park it up next to the 1000TC.
There were plenty of modern Abarths present, too. More, as is often the case, than of any other brand. Most of the cars were "regulars", and it was good to see Chris Turpin make a reappearance of circumstances have kept him away for a very long time. His car was immaculate, as ever, and sporting a number of mods from when it had last been seen in public.
Needless to say, it was Mario Cee's Romeo-based Abarth, created by Daron Brown of TMC Motorsport nearly two years ago, that was attracting the most interest, as this car does wherever it gets taken. Built to show the art of the possible, with a lot of changes from a standard car, including a very expensive paint finish in Alfa 8C pearlescent red, it does look rather special.
ALFA ROMEO
Sometimes it is Alfa that gets close to, or even outnumbers the Abarths, but not tonight. A select few models only were present. Probably the nicest of the lot was this gorgeous 1750 GTV.
This 155 Silverstone is an event regular. The Silverstone was a limited edition model, produced to homologate the much larger rear wing that was required for the BTCC cars. It was supplied uninstalled, and quite a few cars never had what is quite a large and ostentatious spoiler attached to the boot, but this one did.
Among the new Alfas on show was Dan Deyong's Giulietta, but its days are numbered, as he announced that he has done a deal to get himself back in an Abarth for next Spring. It will be a shame to see his nice Cloverleaf model go, though, as it looks good inside and out.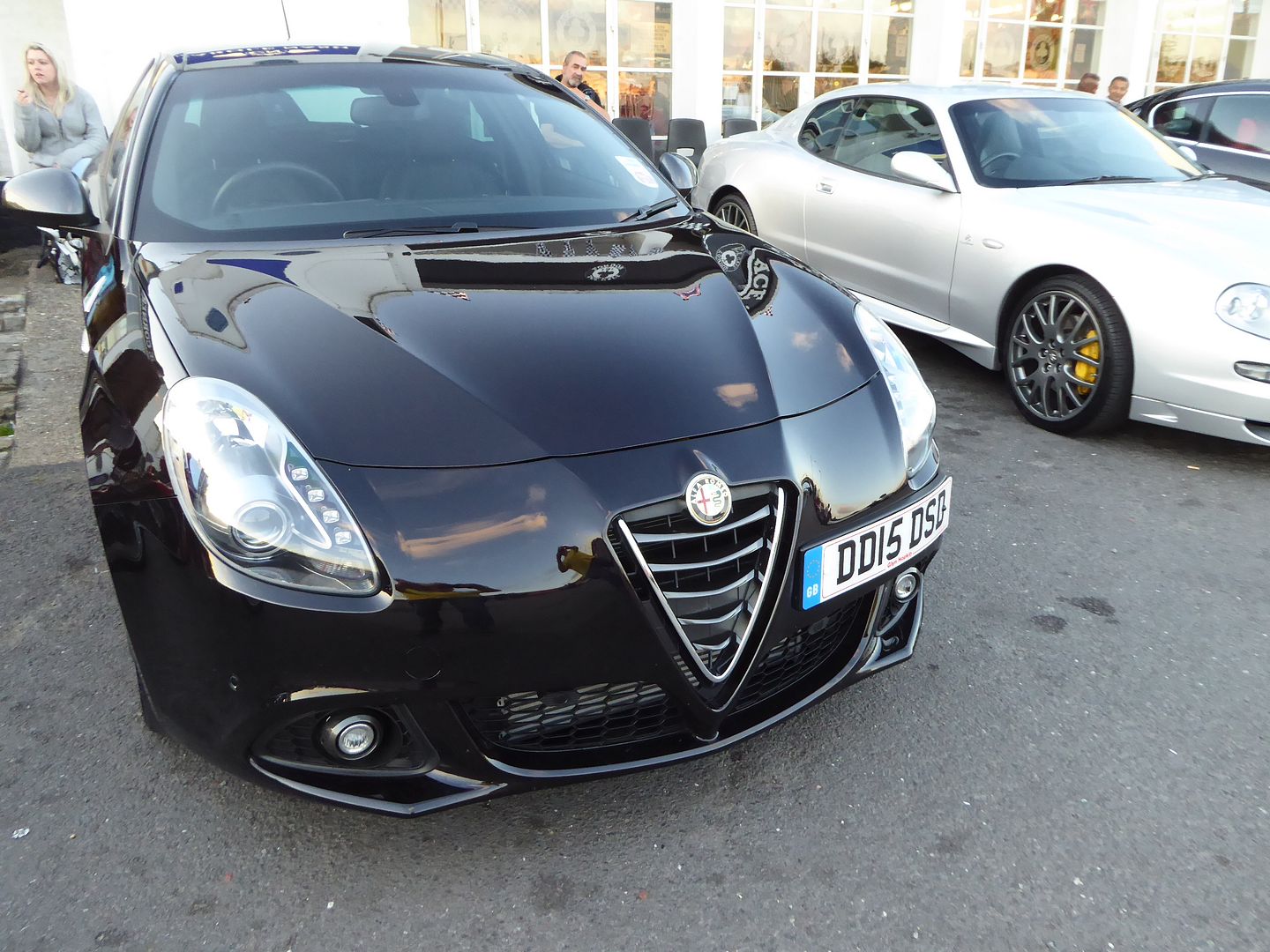 Final Alfa that my camera recorded was the "baby" of the current range, the MiTo
FERRARI
You don't tend to see that many Ferrari models at this event. and if it is wet, you can be pretty sure that there will be none at all. Pleasingly, and no doubt taking advantage of the fact that it was dry, there were a duo of cars with the Prancing Horse present during the evening, though none of them arrived particularly early. First on site was a Mondial Convertible, and this was later joined by a 328 GTS which arrived just as the light was fading.
FIAT
This 900T was making another appearance, following its debut at the Ace earlier in the year.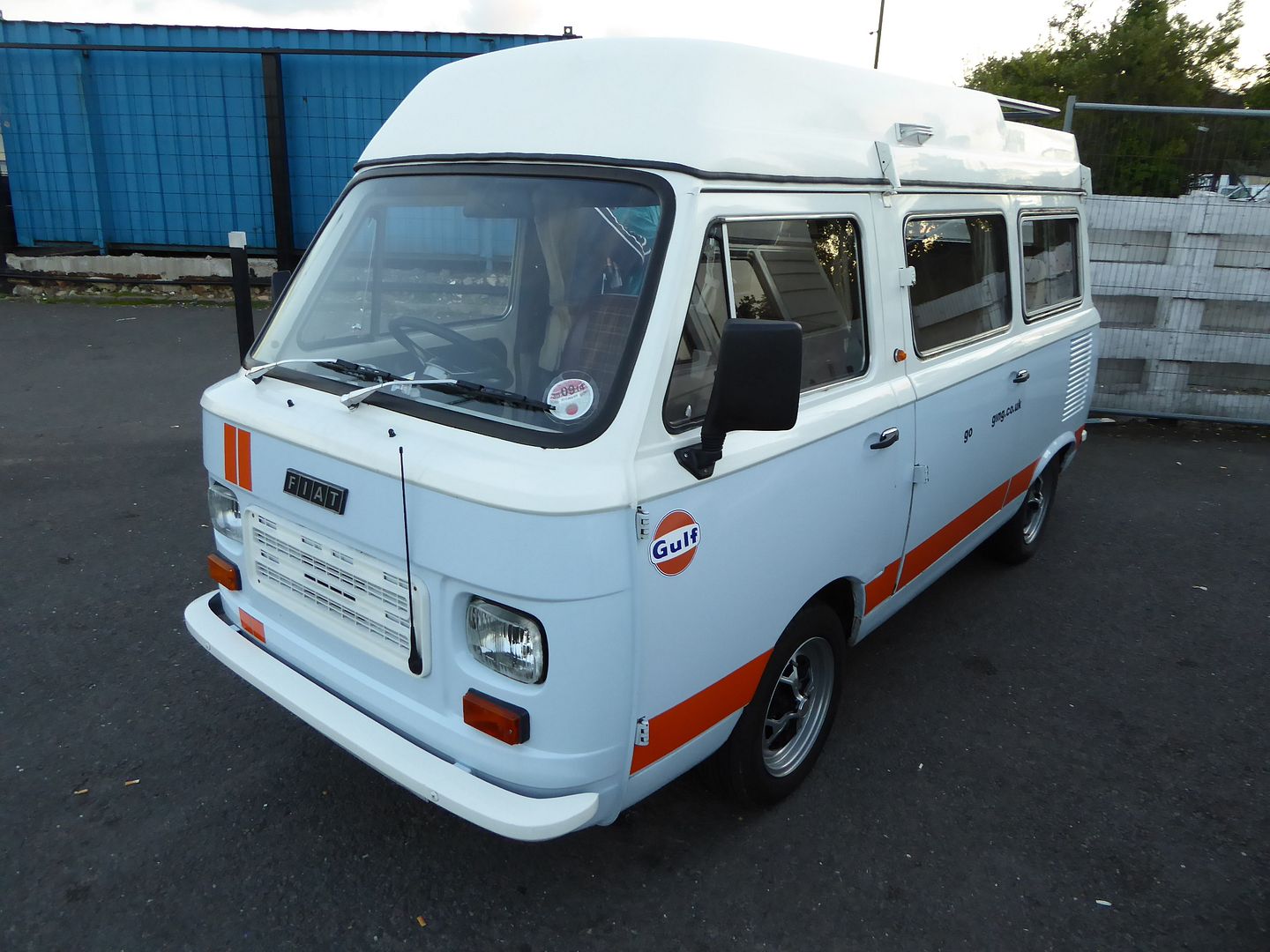 There were a number of Fiat Coupe models, as ever.
LANCIA
Sadly, there were no Lancia models at all.
MASERATI
The SportMaserati guys tend to put in a strong presence at this event, and this month was no exception with seven models bearing the legendary trident badge on show. All of them were recent models, with a mix of the 3200/4200 GT cars, their replacement the GranTurismo and the Quattroporte.
Although there have been Italian Nights with more cars and more unusual cars, I was still pleased that somehow I managed to fit in a few hours at this event in what turned out to be a crazy busy week. With dark evening now upon us, although the Ace Cafe themed evenings continue, attendance drops right off, so this may well end up being my last trip to the iconic venue until the Spring.
Share and Enjoy