La Vie en Bleu at Prescott Hill Climb – May 2015
It used to be the case that car events – of which there were not that many – were often little more than a gathering of a few like-minded enthusiasts at some mutually convenient place. Those days are long gone. A combination of greater levels of interest, fuelled by better publicity about what is going on, thanks to the internet, means that there are countless events almost every weekend of the year, scattered around the country. But, all manner of laws, by-laws, regulations and prohibitions, plus far higher costs mean that whilst the car enthusiast has never had it so good in terms of things to attend and/or join in, there is a constant pressure on event organisers and venues in finding new "customers" and sources of income so as to be able to keep these events going year after year. The team at the Prescott Hill Climb certainly recognise this. The site was first used in 1938, having been bought by the Bugatti owners Club the year before, as the result of their quest for a permanent home, and there have been Hill Climbs at the idyllic and picturesque spot in North Gloucestershire ever since, with just a short break during the hostilities of World War Two. But to attract more people, and especially younger people on a sustained basis relies on innovation and headline grabbing content. In 2007, one of the half dozen Hill Climb meets of the year was branded "La Vie en Bleu", a celebration of all things French, which was an obvious extrapolation from the fact that Prescott has been home to the Bugatti Owners Club since inception in 1938. And what better way to pull in all manner of people who might not otherwise have thought about coming than to entice them with the promise of a new Bugatti, the Veyron. I attended that inaugural La Vie en Bleu, and have been every year since. During the past 9 years, the weekend has been bathed in warm sunshine and drenched in rain so torrential that in 2007 a halt to the proceedings had to be called for reasons of safety and common sense. Every year, it seems that the event has grown in stature and significance, with more Veyrons (6 being the record), as well all manner of French cars, some better known than others, and a range of other attractions to appeal to the Francophone, from stilt walking "gendarmes" and mobile onion sellers, to some energetic dancing from the Can-Can girls. It is one of my favourite events of the year, so I looked forward to the 2015 edition with even more enthusiasm than ever before.
FORUM CARS
It is not just me who appreciates this event. It is a firm favourite among other TheMotor.net forummers. The very first official meeting of that Forum took place at Prescott in September 2006, on a small scale, and reports of the success of that were sufficient to persuade more people to take the plunge and meet "strangers off the internet" by coming to the 2007 La Vie en Bleu event. Just like the event itself, success seemed to breed success, with a growing number of people putting this event in their diary, such that this became established as "the" Forum meet of the year. Sadly, something happened to the diaries of lots of those people this year and it was a far smaller grouping of forummers who gathered together in 2015 at The Shutters Inn in Gotherington than we had seen in previous years. Even so, duly arrived at Prescott, we had our own parking area, and thanks to a change around at Prescott, this was in a different place, away from the shelter of the trees at the end of the Orchard, which threw both the event marshalls and us, and which also turned out not really to be big enough for all our cars. As ever, there were a couple of new vehicles which collectively had not been seen before, to add further interest to our gathering. Stu Clough's Volvo V50 T5 – erroneously referred to as a V70 by the commentators during the lunchtime cavalcade – is one of those cars which looks almost innocuous but which packs a real punch under the bonnet thanks to a potent 5 cylinder 2.5 litre engine, and a quick glance at Piers Roache's recently acquired second generation 1 Series might not elicit the reaction that this is the Top Dog model, an M135i. Listening to it even an idle, though, you would have to be insensitive or deaf not to realise that this one has a smooth and creamy 6 cylinder petrol to propel it rather than the 4 cylinder diesel motor that features in so many 1 Series cars.
The other Forum cars had all been seen before, but still made for a varied display of cars, all of them slightly non-mainstream, whether that  be the pair of Mercedes: Dan Grazier's C350 CDI and James Swan's E320 Estate, or Dan Duke's M3 Saloon, Ed Barnes' Porsche 993, Andy Convery's Mountune-d Focus ST  as well as my own cars, which, thanks to making a quick trip home changed from the S5 Sportback on the Saturday to the Abarth on the Sunday.
FRENCH MARQUES
With a decidedly French theme, as implied in the event's title, you would hope to see lots of French cars over the two days. France has a rich history of long-obsolete marques, and it was good to discover quite so – some better known than others – which were here along with large displays from the Clubs representing those marques which are still with us. The large Club displays were in the Orchard, as in previous years, and these were well worth spending considerable time inspecting, whilst the older and in many cases more obscure models were to be found parked up in the Paddock area. With reserved parking for Bugatti models  in the Upper Paddock, and more of the marque whose' UK home is here at Prescott, to be found both outside and in the Bugatti Trust museum building, and a scattering of French models in all the various public parking areas, there really were French cars very much in evidence.
AMILCAR
There are usually a handful of Amilcars present at this event, and 2015 was no exception. Amilcar was founded in July 1921 by Joseph Lamy and Emile Akar. The name "Amilcar" was an imperfect anagram of the partners' names. The original Amilcar was a small cyclecar. Designed by Jules Salomon and Edmond Moyet, it bore a striking resemblance to the pre-war Le Zèbre. The vehicle was first exhibited at the Paris Motor Show in October 1921. The business was a leading beneficiary of a cyclecar boom, prompted by a government initiative which held out the promise of a reduced rate of annual car tax, fixed at 100 francs per year, for powered vehicles weighing no more than 350 kg (dry weight, without fuel or water or such extras as a spare tyre/wheel), providing seating for no more than two people and powered by an engine of not more than 1100cc. Once a vehicle exceeded these limits it ceased to be a cyclecar and was instead officially designated a voiturette. The 4-cylinder 903cc Amilcar CC appeared in 1922, with a wheelbase of just 2,320 mm (91 in). The CC subsequently became available in two further versions; the Amilcar C4 was a slightly longer sports car, while the CS, introduced in 1924, was a brisker sports version with the engine size increased to 1004 cc. The side-valve engine had splash lubrication, and came with a three-speed gearbox. The most famous model of all was the CGS "Grand Sport" of 1924; this featured a 1074 cc engine and four-wheel brakes. This in turn evolved into the more sporty CGSS "Grand Sport Surbaissé". These models were built under license in Germany (as the Pluto) and in Austria (as the Grofri) and in Italy (as Amilcar Italiana). The marque entered automobile racing in the mid-1920s with a batch of supercharged dohc 1100cc six-cylinder cars that used a roller bearing crankshaft in the full racing version; these vehicles were also available with plain bearings, driven by famous race driver André Morel. From 1928 the company offered a light touring car; called the "M-Type", it featured a side-valve 1200 cc engine and was launched in 1928. It was followed by the M2, M3, and M4 versions. The M-type and its successors continued to be produced through the ensuing years of financial difficulty, offered for sale till 1935, though production probably ended in 1934. 1928 saw the introduction of a straight eight, which was built with an ohc 2.3-liter engine. This, the C8, proved unreliable, and soon disappeared with only a few hundred produced. At the end of August 1934, still faced with disappointing sales volumes, the factory at Saint-Denis closed for the last time, as management struggled to save the business. A new model was clearly needed and in October 1934 the company presented the new 2-litre (12CV) Amilcar Pégase powered by a 4-cylinder ohv 2150 cc engine supplied by Delahaye.] There was also a competition version of the Pégase with a 2490 cc (14CV) engine. By October 1935, the smaller Amilcar models having been discontinued, the Pégase, produced under much reduced circumstances at premises in Boulogne-Billancourt, was the only Amilcar model listed. These cars remain popular in historic motor sport events.
BEDELIA
One of the "cyclecars" which were popular in France in period, this rather curious automobile, where the driver sits behind the passenger, was manufactured by the Bourbeau et Devaux Co. of Paris between 1910 to 1925 to a design by Robert Bourbeau. Rather than scaling down existing motor-car designs, Bourbeau chose to adapt mainly motor-cycle practice for his design, giving rise to the cyclecar designation. The low and light car carried its two passengers in tandem with the passenger seated at the front, while in the rear was the person doing the steering. Single-cylinder or 10 hp V-twin engines were used. Drive was to the rear wheels through a belt which could be moved between pulleys to give a two speed transmission. The front axle was centre pivotted with suspension by a single mid mounted coil spring and the steering was by a cable and bobbin. Elliptic leaf springs were used at the rear. The method of changing gear was unusual. The rear driver had to operate a lever which slackened the belt by moving the rear axle forwards and then the passenger had to move the belt between pulleys by means of a separate lever. Quite how the car was driven without a passenger is not clear. On later cars the levers were moved so that the driver could steer the car for himself. The car's launch coincided with a "Petroleum/gasoline War" involving the competing commercial interests of the United States, Romania and other countries. France, having no indigenous oil supplies of its own, and the Algerian reserves not yet discovered, was particularly badly hit, and the government exacerbated the challenge for the infant auto-industry with new car taxes. The light-weight Bedélia cyclecar's introduction was therefore timely, and the marque gained a further impetus as a result of a Bédélia winning the 1913 Cyclecar Grand Prix held at Amiens. In fact, a Morgan came in first, Morgan enthusiasts have claimed it as a win to the present day and it was largely on publicity from this success that Morgan broke into the French market, resulting in the creation of the Darmont company and, tangentially, Sandford, an example of which was also to be seen here. Despite Morgan's claims, the second placed French car was subsequently awarded the victory. Before World War I, Bédélia cyclecars sold very well, even in Britain. Manufacturing rights were obtained by a dealer, a Monsieur Binet in 1920 and he had an updated version of the cars made for him by Mahieux of Levallois-Perret, Seine. The body design was modified to let the driver and passengers sit and a conventional three speed gearbox was fitted. Engines of up to 990 cc were offered. But by the mid 1920s, the cyclecar boom was over, with affordable "proper" cars, such as the Austin Seven and Citroen 5CV, seen as infinitely preferable to these small machines, and in 1925, the Bédélia Company collapsed.
BUGATTI
There was just one Veyron here this year. The same car was present on both days, and the registration plate gave away that is Lord Pembroke's car. He's owned it for a few years now, during which time he has covered more than 20,000 miles in the car. As in previous years, the Veyron was taken up the hill for demo runs several times during the day. Although I've seen Veyrons in action here many times now, there's still some rather special about seeing and hearing this distinctive car in action.
On the Sunday, it was joined by an EB110.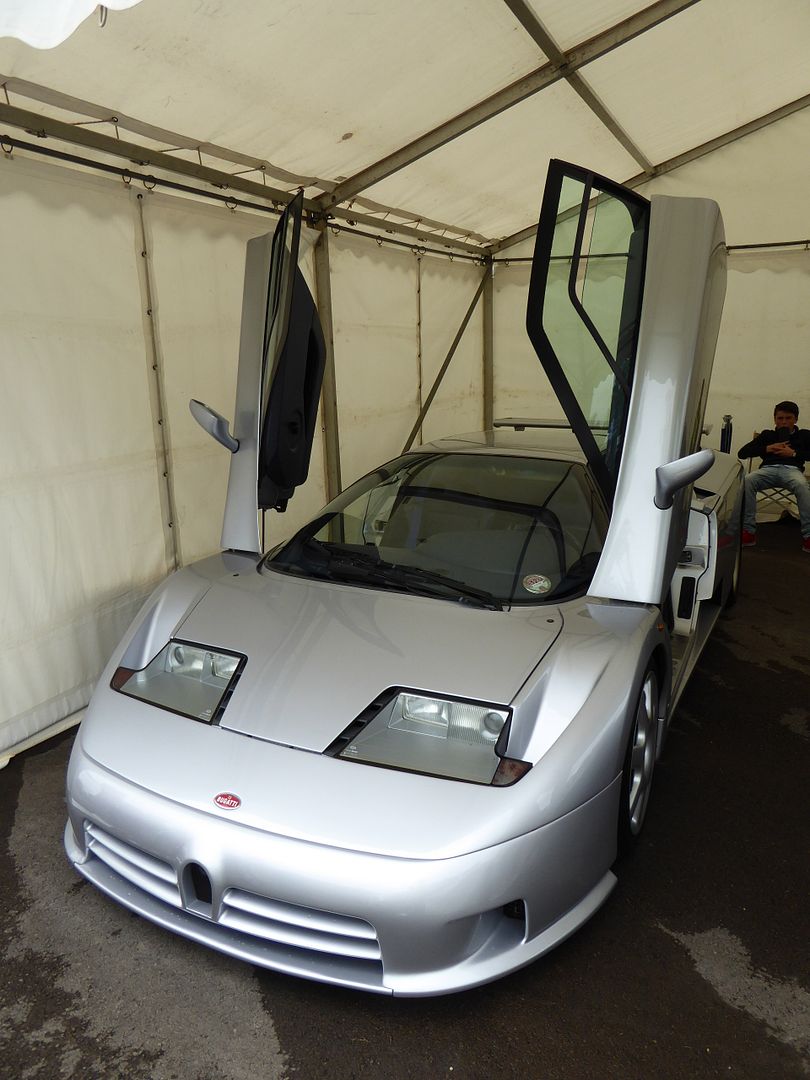 Across the roadway were a pair of Brescia models. The one with Czech plates on it, the red one, a Type 13, had apparently been driven all the way to Gloucestershire by its very keen owner. In the same marquee was a Type 23, with its bigger body.
Another marquee contained a Type 40, which was for sale, for those with deep enough pockets (Don't ask!)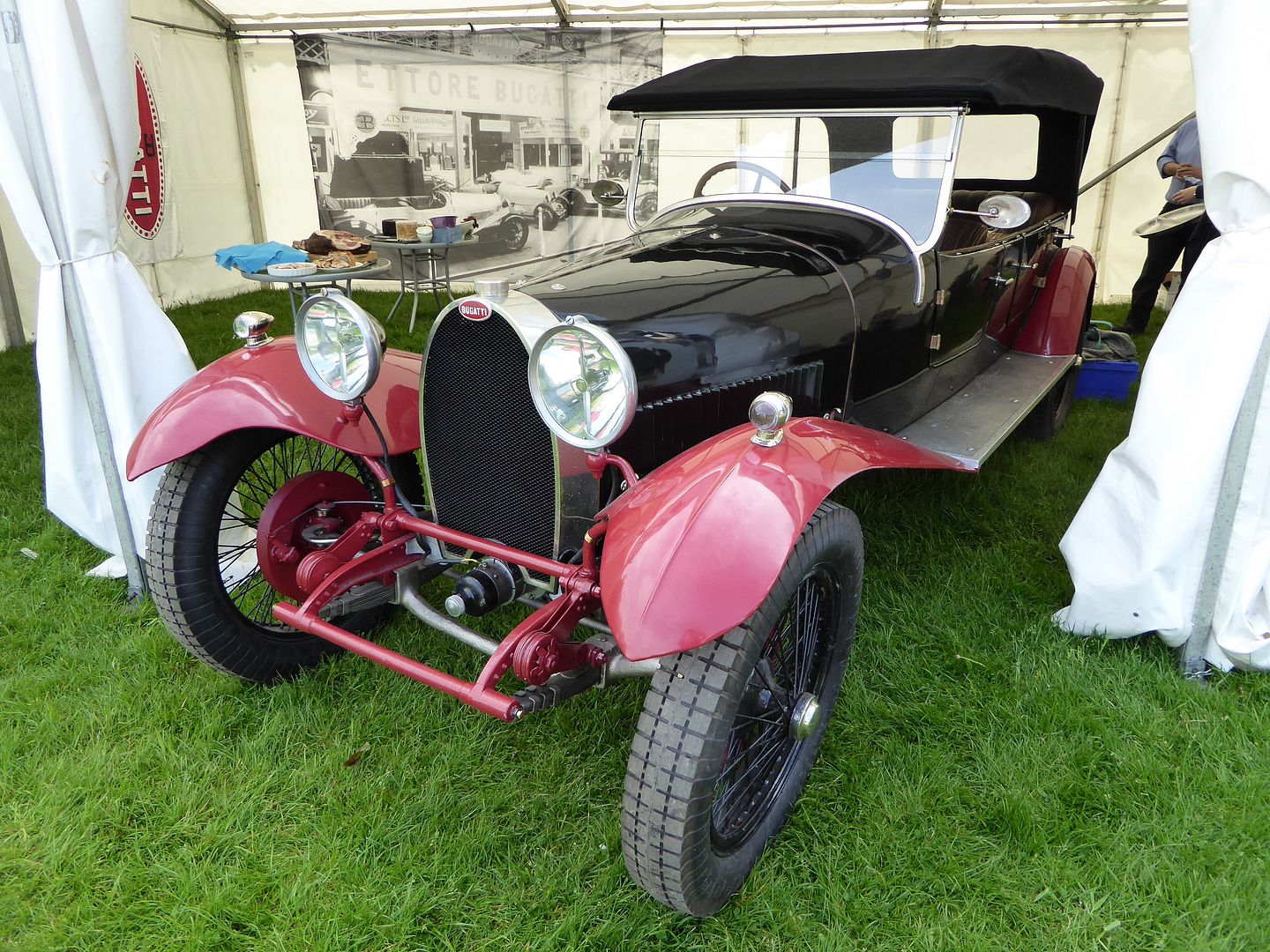 An area of the Upper Paddock was reserved for Bugattis and there were some splendid cars parked here, with a mix of Type 35 and 37, 43 and 46 models.
This Type 35 was parked up in among the trade stands.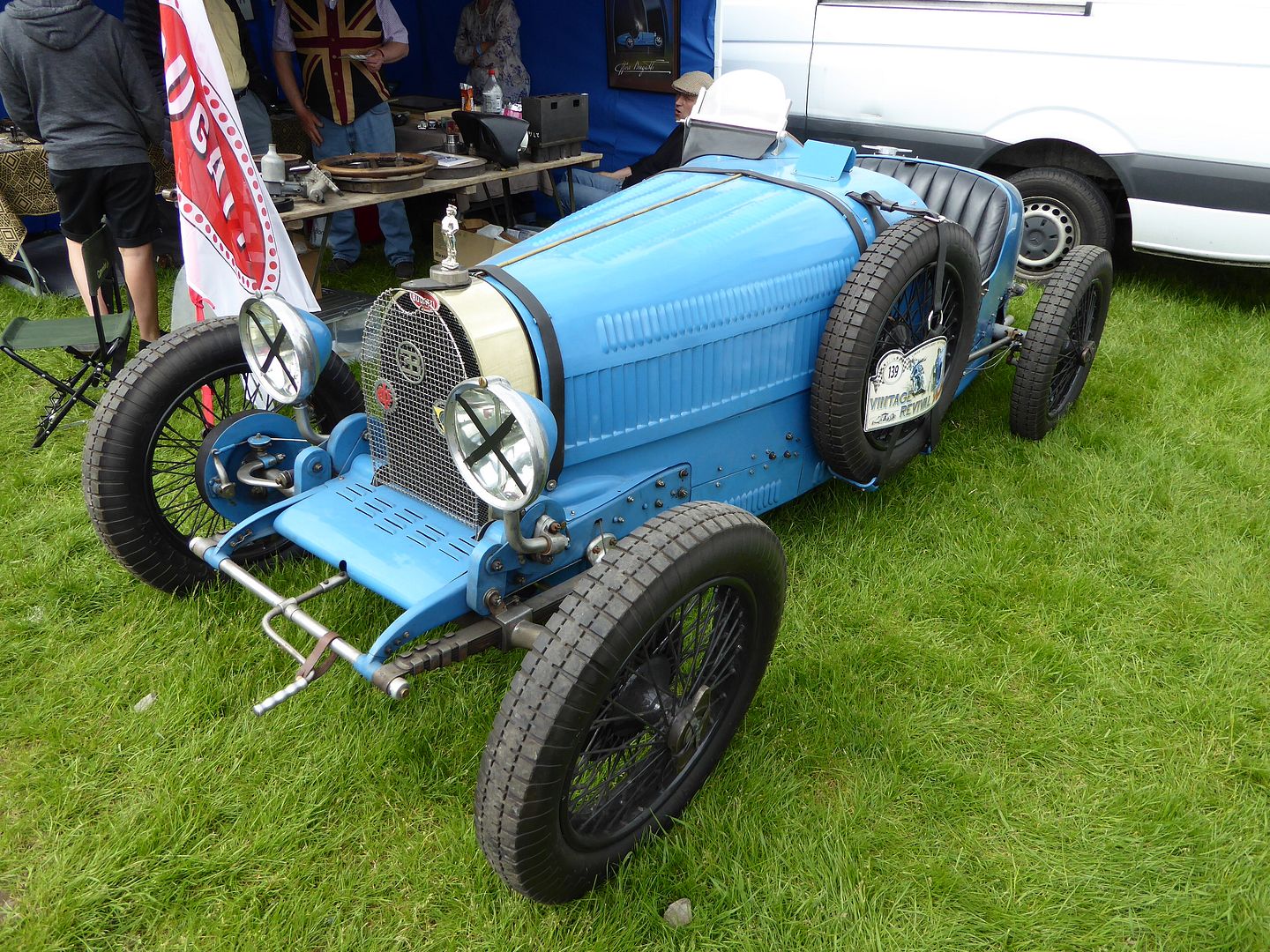 More models were to be found parked outside the Bugatti Trust building, with cars changing during both days. Among the models seen in this part of the site were Types 43 and 35
Also there on the Saturday, and moved to the inside of the building on the Sunday was this Type 15, the fifth oldest Bugatti ever made.
The Bugatti Trust building was open, so there was a chance to see the latest displays. There's a wealth of material in here pertaining to the history of the company and Ettore and his family, and you could spend hours studying it all in detail. There's not a huge amount of space for lots of cars, so three tend to be placed at one end of the building, and these do vary depending on what is available. This time, as well as that historically significant Type 15, there was a 35B and a 44 on display.
Also on show were a couple of the Type 52, these were small half scale Bugatti Type 35 electric racing cars, made for children. About 90 examples were produced at the Molsheim factory between 1927 and 1936, and the cars were frequently used both as playthings and for more serious racing among the children of the European elite. The number 52 was probably given by the late Hugh Conway and was never used by the factory. The factory always referred to the car as Baby. The first example of a Type 52 was built for Ettore's son, five-year-old Roland, and was first shown at an exhibition in Milan. The Type 52 was powered by a single 12 volt electric motor with front and reverse. Braking was done by way of expanding wooden shoes at the front and rear drums. The car was originally just 1200 mm (47.2 in) between the wheels, but this was expanded to 1350 mm (53.1 in) when it was found that even children had difficulty with leg room. The car was about 1800mm long overall with a 625 mm (24.6 in) track width. In previous years, a whole number of these have been assembled and there was even a race along part of the track, but this time, they were purely a static exhibit indoors.
On the Sunday, there were a couple of Bugatti classes on the race card, with many of these legends taking to the hill. Chris Warman won the up to 1500cc class in his 1920 Type 13 Brescia, whilst John Day claimed the honours in his Type 37, for the Bugatti GP Car Handicap. There were plenty of other strong performances, with Duncan Pittaway achieving impressive consistency of two timed runs just 0.03 seconds apart, in his Type 35.
This Type 50 was parked up with the other French cars in the Paddock area.
CITROEN
Seen in the Paddock was this beautifully presented 1925 5CV. Following a lengthy and fastidious restoration, this car made its first Prescott appearances in 2014, when I saw it a number of times at different events throughout the year. It was good to see it again. Citroën made around 81,000 of these light cars between 1922 and 1926. Originally called the Type C, it  was updated to the C2 in 1924 which was in turn superseded by the slightly longer C3 in 1925. The Type C was, and still is, also well known as the 5CV due to its French fiscal rating of its engine for taxation purposes. More colloquial sobriquets, referring to the tapered rear of the little car's body, were 'cul-de-poule' (hen's bottom) and 'boat deck Citroën'. Only open bodies were made with the original Type C, often nicknamed the "Petit Citron" (little lemon), due to it only being available in yellow at first, as one of the more popular variants. The C2 tourer was a two-seat version but the C3 was a three-seat "Trefle" (Cloverleaf) model with room for a single passenger in the rear. There were also C2 and C3 Cabriolets made. This particular car is a three seater model. Its original owner in 1925 was  Major Bertrand Stevenson whose uncle was Robert Louis Stevenson of  Treasure Island  fame. The car had been dismantled some 44 years prior to purchase by the current owner, largely forgotten about. Purchased as a pile of bits in April 2008, it was fully restored over the next 12 months. The ' bits ' were in very poor condition but they were complete so it was a matter of finding out where they all fitted , restoring them and putting them back in one piece.  This sounds easy but was a long job fraught with problems and costing quite a lot of money. However, the end result shows it to have been well worth it, and the final result is a Concours car restored to its original condition with a very low mileage of only 13,960 miles in its long lifetime. The car is known as 'Miss Buttercup' because of her bright Yellow and Black livery and is apparently a delight to drive and is a real head turner. Reliability has been proved in several VSCC Light  Car events.
The Citroen Car Club tend to have the largest display of all the  Clubs at this event, and 2015 was no exception, with a fascinating array of cars on show. Some were present for both days, but there were plenty that only appeared the once, so there was lots that was new to see on the Sunday that I had not seen the day before.
Oldest model in the Club display was this, an 8CV Rosalie. dating from 1932.  At introduction, the larger Rosalies replaced the Citroëns C4 and C6, themselves launched respectively in 1928 and 1929. They also represented a move upmarket for the entire business, since during the early 1930s Citroën appeared for a time to lose interest in the smaller cars which had filled their dealerships during the impoverished 1920s. The Rosalies, especially the larger 15CV versions, were offered with range of different body types, which  was normal practice at the time. Though not radical in terms of subsequent Citroën launches, the look of the Rosalies was significantly more modern than that of the earlier C4 and C6 models. However, the real revolution at Citroën during these years involved production technology. André Citroën had drawn practical inspiration from his 1912 visit to Henry Ford's then new Highland Park Ford Plant in Michigan, and in 1932 Citroën was still a European leader in the application of assembly line manufacturing. Rosalies were competitively but apparently profitably priced. In 1934 all the Rosalies received a facelift which involved applying a gently raked angle to the front grille. The post facelift versions that appeared were known as the NH versions, or also as the B-series. NH stood for "Nouvel Habillage" (literally "New Clothing").  The model seen here is the entry level version, the 8CV, which, like the Citroën Type B of the first half of the 1920s, featured a four-cylinder motor of 1,452 cc, driving the rear wheels. The three-speed gear box featured synchromesh on the two higher ranges, and braking was provided by drum brakes on all four wheels. The car was 4.27 metres (168.1 in) long and offered a maximum speed of 90 km/h. Four cylinder 10CV and six cylinder 15CV models were also offered, All told, 88,090 four-cylinder and 7,230 six-cylinder Rosalies were built (38,840 small 7/8's, and 49,250 bigger 10/11's). Of the total produced 8,400 were of the short-lived, facelifted B-series (NH) and around 15,000 were of the latter "MI" cars.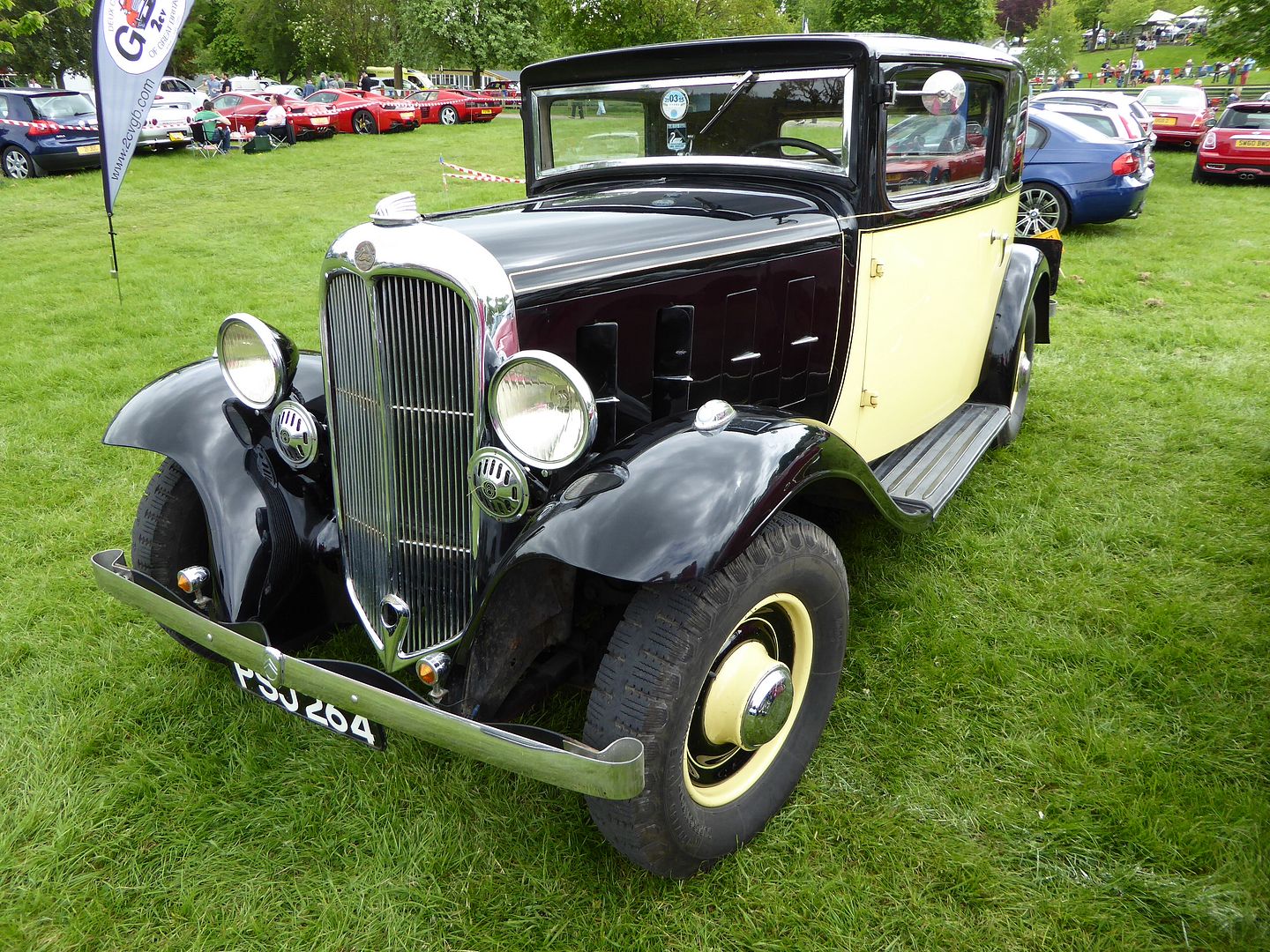 1934 was also the year that saw the introduction of the Rosalie's mould-shattering successor, the front-wheel-drive semi-monocoque Citroën Traction Avant. The Traction endured a troubled and prolonged birth process, however, and was part of an ambitious investment programme which involved, also in 1934, the bankruptcy of the business, and its acquisition by Citroën's principal creditor. The patron himself died in 1935. In this troubled situation, availability of the larger Rosalies (although re-engined with a turned-around version of the new Traction's OHV four-cylinder engines) continued till 1938: it is only through the distorting prism of subsequent events that its reputation has been diminished when set against the technical brilliance of its successor. There were three examples of the Traction Avant here. Produced for over 20 years, many different versions were made during that time, all with the same styling outline, but with power outputs ranging from 7 to 15CV, and different wheelbases, as well as some with Coupe and Convertible body styles. There was even one model with a large opening tailgate, the Commerciale. All three of the Tractions seen here were Saloon models.
Not surprisingly, the most numerous Citroen model on show was the long running 2CV. Most of those present were examples of some of the long list of limited edition models which were made in the last 10 years of production. So, a couple of Dollys were joined by a Beachcomber and a Charleston. This last proved so popular a limited edition that it became a permanent model in the range for several years.
Launched in 1967, the Dyane was intended to replace the 2CV, offering a little more luxury and creature comforts. It did not, production ending in 1980, several years before the 2CV reached the end of the road. During its 13 year life, though, it achieved a popularity all of its own.
The Acadiane Van combined the van elements of the 2CV Van with the front end and passenger cabin of the Dyane. It proved very popular in France not surprisingly, but only moderately successful in the UK., so it was something of a surprise to find two of them here.
There were also two of the Ami models. Styled by Bertoni, this model was first seen in 1961, intended to plug the gap in the range between the 2CV and the larger ID/DS. Styling of the early models was decidedly unconventional, as evidenced by one of those cars (clearly unrestored) but changes made in 1967, which also included a larger and more powerful engine, creating the Ami 8 made the model look a little more "normal". There was an Ami 8 Break here as well.
There was still quite a gap in the range between the Ami and the DS, and Citroen filled it with the GS which they launched in 1970. Eschewing convention again, this medium sized family car had a much smaller than average 1015cc flat four engine, and hydropneumatic suspension, which made the car comfortable, and thanks to the aerodynamic body styling, relatively quiet when cruising on the Routes Nationales. It was nice to see one here.
2015 marks the 60th anniversary of the launch of the legendary DS. Surprisingly, there was no particular mention of that here, the cars were left to the talking themselves, and what a splendid quintet they were. Present on both days were a DS21 and a late model D Super 5 which were then joined by a Decapotable. This car is a stalwart at Prescott. It's not an original model, having been converted to open top spec some time after leaving the plant, but the conversion has been done very well, and it looks absolutely superb. On the Sunday the models were joined by a black DS21 and another real favourite, an ID19 Safari. I have fond memories of this last one, as a family with whom we shared transport to school used to own one, and so I was a regular passenger in a model of similar vintage to this one. At the time, it was rather tatty, but it was still something almost exotic in comparison to the Fords and BL Cars that everyone else seemed to own. Safaris are quite rare now, but oh so splendid.
Also very splendid, of course is the SM, and there were five of those here during the weekend.
There was just one example of the CX here this time. It was a late model CX 22TRS, one of the last to be sold in the UK before the one time Car of the Year was replaced by Citroen's next generation luxury saloon.
There was one of those here, too, an XM. A true Citroen, with its distinctive styling, and electronically managed suspension, this was a fearsomely complex car. The car's initial reception on launch in early 1989 was positive. The XM won the prestigious European Car of the Year award for 1990 (gaining almost twice as many votes as the second, the Mercedes-Benz SL) and went on to win a further 14 awards that year. But early models soon gained something of a reputation for developing electronics gremlins which tested the patience and loyalty of many owners, and sales projections were never met. Despite this, 333,775 cars were sold during an 11 year production run, but as the cars aged, the cost of keeping them on the road exceeded their value and the vast majority of them have been recycled, which is a pity, as I think this is an interesting classic.
It was a while before Citroen offered a similarly sized car again. Patience was finally rewarded when the production version of the 1999 Lignage concept car was revealed in 2005 as the C6. A true Citroen, unlike most of the other products that have born the Double Chevron badges in the last quarter of a century, lots of people enthuse about this car (me included), but too few people bought them when new. Depreciation was the biggest fear, as a new Executive trim level car was listed at a whisker under £40,000 when new, and was worth barely half that within a year or so. That did make for some great secondhand bargains, of course. Your challenge now is to find one, but if you can, I tip this as a car that will attract great interest in future.
DARRACQ
Automobiles Darracq S.A. was a French motor vehicle manufacturing company founded in 1896 by Alexandre Darracq after selling his Gladiator Bicycle company. Using part of the substantial profit he had made from selling his Gladiator bicycle factory to Adolpe Clément, Darracq began operating from a plant in the Paris suburb of Suresnes. The company started with a Millet motorcycle, powered by a five-cylinder rotary engine, but shortly introduced an electric brougham, and in 1898 a Léon Bollée-designed voiturette tricar. This proved a débâcle: the steering was problematic, the five-speed belt drive "a masterpiece of bad design", and the hot tube ignition crude, proving the £10,000 Darracq had paid for the design a mistake. In 1900, the company produced its first vehicle with an internal combustion engine. Designed by Ribeyrolles, this was a 6.5 hp "voiture legére" powered by a 785 cc single, and featured shaft drive and three speed column gear change. While not as successful as hoped, one hundred were sold. In 1902, Darracq signed a contract with Adam Opel to jointly produce vehicles in the German Empire under licence, with the brand name "Opel Darracq". The Darracq automobile company prospered, such that, by 1903, four models were offered: a 1.1 litre single, a 1.3 and 1.9 litre twin, and a 3.8 litre four. The 1904 models abandoned flitch-plated wood chassis for pressed steel, and the new Flying Fifteen, powered by a 3 litre four, had its chassis made from a single sheet of steel. Its exceptional quality helped the company capture a ten percent share of the French auto market. By 1905, Darracq had established branches in the UK, Spain and Italy and then expanded into both cars and aviation engines. In 1920 the British arm became the majority shareholder in Sunbeam-Talbot-Darracq ('STD Motors') which was sold to the Rootes group in 1935 such that Darracq ceased to be a distinct marque, instead becoming a badge-engineered Sunbeam. These days, Darracq is remembered for the starring role that one of its 1904 cars had in the film "Genevieve". The star of that films was smaller than the 1904 model seen here, though.
DE DION
De Dion-Bouton was a French automobile and railcar manufacturer operating from 1883 to 1932. The company was founded in 1881 by the Marquis Jules-Albert de Dion, Georges Bouton, and Bouton's brother-in-law Charles Trépardoux after De Dion saw a toy locomotive in a store window and asked the toymakers to build another. Engineers Bouton and Trépardoux had been making a starvation living on scientific toys at a shop in the Passage de Léon, close to the "rue de la Chapelle" in Paris. Trépardoux had long dreamed of building a steam car, but neither could afford it. De Dion, already inspired by steam, though in the form of rail locomotives, and with plenty of money, agreed, and De Dion, Bouton et Trépardoux was formed in Paris in 1883. This became the De Dion-Bouton automobile company, the world's largest automobile manufacturer for a time, becoming well known for their quality, reliability, and durability. Before 1883 was over they had set up shop in larger premises in the Passage de Léon, Paris, tried and dropped steam engines for boats, and produced a steam car. With the boiler and engine mounted at the front, driving the front wheels by belts and steering with the rear, it burned to the ground on trials. They built a second, La Marquise, the next year, with a more conventional steering and rear-wheel drive, capable of seating four. The Marquis de Dion entered one of these in an 1887 trial, "Europe's first motoring competition", the brainchild of one M. Fossier of cycling magazine Le Vélocipède. Evidently, the promotion was insufficient, for the De Dion was the sole entrant, but it completed the course, with de Dion at the tiller, and was clocked at 60 km/h (37 mph). This must be taken with considerable care; the first official land speed record, set in 1898, was 63.15 km/h (39.24 mph). The vehicle survives, in road-worthy condition, and has been a regular entry in the London to Brighton Veteran Car Run. Following this singular success, the company offered steam tricycles with boilers between the front wheels and two-cylinder engines. They were built in small numbers, evidently a favourite of young playboys, before being joined by a larger tractor, able to pull trailers (what has been called a "steam drag"). This larger vehicle introduced the so-called De Dion or "dead" axle; an axle beam carried the weight of the vehicle with the non weight-bearing driveshafts or drive chains articulated separately alongside it.(footnote: The live axle carries the weight by a rigid tube around the driveshaft, both parts fastened together.) On July 22,1894, Paris–Rouen race, it averaged 18.7 km/h (11.6 mph) over the 126 km (78 mi) route, but was disqualified for needing both a driver and a stoker. Two more cars were made in 1885 followed by a series of lightweight two-cylinder tricars, which from 1892 had Michelin pneumatic tyres. In 1893, steam tractors were introduced which were designed to tow horse type carriages for passengers or freight[2] (sometimes called "steam drags") and these used an innovative axle design which would become known as the De Dion tube,where the location and drive function of the axle are separated. The company manufactured steam buses and trucks until 1904. Trepardoux, staunchly supporting steam, resigned in 1894 as the company turned to internal combustion vehicles.The steam car remained in production more or less unchanged for ten years more.Already by 1889, de Dion was becoming convinced the future lay in the internal combustion engine, and the company had even built a ten-cylinder two-row rotary. After Trépardoux resigned in 1894, the company became De Dion, Bouton et Compagnie. For 1895, Bouton created a new 137 cc one-cylinder engine with trembler coil ignition. Proving troublesome at its designed speed of 900 rpm (throwing bearings and running rough),when Bouton increased the revs, the problems vanished; in trials, it hit an unheard of 3500 rpm, and was usually run at 2,000 rpm, a limit imposed by its atmospheric valves and surface carburettor. Both inlet and exhaust valves were overhead and a flywheel was fitted to each end of the crankshaft. This engine was fitted behind the rear axle of a tricycle frame bought in from Decauville, fitted with the new Michelin pneumatic tyres. It showed superb performance, and went on the market in 1896 with the engine enlarged to 1¼ CV 185 cc, with 1¾ CV in 1897. By the time production of the petite voiture tricar stopped in 1901, it had 2¾ CV, while racers had as much as 8 CV, In 1898, Louis Renault had a De Dion-Bouton modified with fixed drive shaft and ring and pinion gear, making "perhaps the first hot rod in history". The same year, the tricar was joined by a four-wheeler and in 1900 by a vis a vis voiturette, the Model D, with its 3¾ CV 402 cc single-cylinder engine under the seat and drive to the rear wheels through a two-speed gearbox. This curious design had the passenger facing the driver, who sat in the rear seat. The voiturette had one inestimable advantage: the expanding clutches of the gearbox were operated by a lever on the steering column. The Model D was developed through Models E, G, I, and J, with 6 CV by 1902, when the 8 CV Model K rear-entry phaeton appeared, with front-end styling resembling the contemporary Renault. Until World War I, De Dion-Boutons had an unusual decelerator pedal which reduced engine speed and ultimately applied a transmission brake. In 1902, the Model O introduced three speeds, which was standard for all De Dion-Boutons in 1904. A small number of electric cars were also made in 1901. In 1900, De Dion-Bouton was the largest automobile manufacturer in the world, producing 400 cars and 3,200 engines. The company soon began producing engines and licences for other automobile companies with an estimate of 150 makes using them. Production was so great, it proved impossible to test every engine; if it failed on the bench, it was simply disassembled. Every engine was being made by hand; the assembly line had not yet been introduced. By 1904 some 40,000 engines had been supplied across Europe. That year, De Dion-Bouton's factory at Quai National (now Quai de Dion-Bouton), Puteaux, employed 1,300 and produced more than 2,000 cars, all also by hand. The engine moved to the front in 1903 in the Populaire with 700 or 942 cc engines, the latter being powerful enough to allow trucks to be added to cars, and by the end of the year reverse gear had also appeared. It was joined by the 6 CV 864 cc Types N and Q (the latter a low-priced K), the 8 CV R, and their first multi-cylinder model, the two-cylinder 1728 cc 12CV S, followed in 1904 by the four-cylinder 2,545 cc 15 CV Type AD and 24 CV AI. The cars were also getting more and more conventional in styling, with the radiator moving in front of the engine and the clutch changing from hand lever to pedal. A pair of works 10 CV De Dion-Boutons, in the hands of Cormier and Collignon, ran in the 1907 Peking to Paris rally, without success. Bouvier St. Chaffray did no better in the New York to Paris in 1908. That year, De Dion-Bouton peaked as a manufacturer. The company became the first to make a successful mass-produced V8 engine, a 35 CV 6,107 cc CJ in 1910, followed by a 7.8 litre and a 14.7 litre for the U.S., as well as by a 3,534 cc Type CN in 1912. (They trailed Ader in racing the 1906 Adams, which used an Antoinette aircraft engine.) This would be the company's last innovation. During World War I the company made gun parts, armoured vehicles, and aircraft engines, as well as cars and trucks. The company produced an anti-aircraft version of the French 75mm field gun, the Canon de 75 modèle 1897, mounted on a V8-powered De Dion-Bouton truck for the French Army between 1913 and 1918. In Dublin during the Easter Rising of 1916, which opened the Irish War of Independence, The O'Rahilly drove his De Dion Bouton up to the Irish HQ in O'Connell Street, and, discovering that the Rising he had planned and trained soldiers for and then tried to prevent, was actually going on, he drove it into a barricade, walked into the GPO and said: "I've helped to wind the clock, I've come to hear it strike." He was killed in a heroic charge against a machine gun nest in Moore Street days later. A famous photograph shows the skeleton of the car in its barricade. The company stagnated after World War I. The V8 continued to appear until 1923, and in spite of new models with front-wheel brakes, the factory closed for much of 1927. On reopening two models were listed, the Type LA with a 1,982 cc 4 cylinder overhead valve, aluminium-piston engine, and the Type LB with a 2,496 cc -8. The latter was very expensive and sales were few, despite growth to 3 litres in 1930. A rumoured takeover by Peugeot or Mercedes did not materialise, leading to the end of passenger car production in 1932. Small numbers of commercial vehicles were made until 1950; the last vehicles to carry the De Dion badge were licence-made Land Rovers in the early 1950s. The company name was bought by a motorcycle maker in 1955. Two very different De Dions were present here, showing how quickly cars evolved 100 – 100 years ago. The later car dates from 1911 and has a capacity of 950cc, and a single cylinder engine.
DELAGE
These days, Delage is best known for the very exclusive and expensive D6 and D8 models that they produced in the 1930s, but there's a lot  more to the story than that. The company was founded in 1905 by Louis Delage, who gave up a regular salary of Fr 600 a month and borrowed Fr 35,000, to do so. Its first location was on the Rue Cormeilles in Levallois-Perret. The company at first had just two lathes and three employees, one of them Peugeot's former chief designer. Delage initially produced parts for Helbé, with the De Dion-Bouton engine and chassis assembled by Helbé; Delage added only the body. The first model was the Type A, a voiturette which appeared in 1906. It was powered by a one-cylinder De Dion-Bouton of 4.5 or 9 hp Like other early carmakers, Delage participated in motor racing, entering the Coupe de Voiturettes held at Rambouillet in November 1906 with a 9 hp racer. Seven days of regularity trials decided the entrants, and one of the two 9 hp Delage specials[ was wrecked in the rain on the fifth; nevertheless, Ménard, the other works driver, came second in the event, behind a Sizaire-Naudin. In 1907 the factory moved to the Rue Baudin Levallois, where a 43,000 sq ft workshop allowed it to grow. The two-cylinder Delages were no match for the competition this year at the Coupe des Voiturettes. In 1908, the success enabled the development of the factory and entry into more Grand Prix races. That year, racing success returned: Delage won the Grand Prix des Voiturettes held 6 July.  This event, six laps of the 47.74 mi Dieppe Grand Prix circuit, saw 47 starters.Delage fielded three cars: a pair with 1,242 ccDe Dion-Bouton twins, driven by Thomas and Lucas-Bonnard, and a radical 28 hp 1,257 cc one-cylinder  (built by Nemorin Causan) in the hands of Delage dealer Albert Guyot. Guyot won at an average 49.8 mph, not needing to stop for fuel. All three Delages finished this time, Thomas the quickest of the two-cylinder cars, while the team also took home the regularity prize. These good results contributed to total sales exceeding 300 cars for the year.Delage converted to four-cylinder engines in 1909, at first provided by De Dion and Edouard Ballot; shortly, the company were producing their own sidevalve fours, too. After an increase in sales, the existing facilities were too small, so in 1910 the factory moved to a new facility at 138 Boulevard de Verdun,Courbevoie. The following year saw the creation of advanced bodywork. By 1912, 350 workers were producing over 1000 cars annually, and offered four- and six-cylinder sidevalve engines.During the First World War, Delage produced munitions.Production of passenger cars virtually stopped, with the exception of some fabrication for the Army. But the Delage factories were running full support for the war effort.
When the war concluded, Delage moved away from small cars and made its reputation with larger cars. First up was the CO, with a 4,524 cc fixed-head sidevalve six producing 20 hp.The CO plans had been drawn up during the conflict; this was the first passenger car with front brakes. It was joined by the DO with a 3-liter four. The 1920s were really the first "Golden Age" of Delage. The most famous were the DE and DI: 4 cylinders of about 2 litres and 11 hp. Delage also attempted to compete with Hispano-Suiza, with the GL of 30 hp and 5954 cc, with some success. After that came a new generation of six-cylinder cars, like the MD (3174 cc) and DR (2516 cc), the best-selling vehicle in the history of the brand, designed by engineer Gaultier. Both the CO and DO were replaced in 1922. The CO became the CO2, which changed to an overhead valve twin-plug head, producing 88 hp, while the DO was supplanted by the DE with a 2,117 cc sidevalve four and, unusual in a production car even in this era, four-wheel brakes. The CO2 completed the Paris-Nice run in 16 hours, an average of 42 mph. The next year, the new 14 hp DI also switched to OHV with a 2,121 cc four, fitted with magneto ignition and thermosyphon cooling; all had four-speed gearboxes and Zenith carburettors. At the other end of the scale, the GL (Grand Luxe), also known as the 40/50, replaced the CO2, being fitted with a magneto-fired 5,344 cc overhead cam six. In 1923, a hillclimb car with DI chassis, larger wheels and tyres, and 5,107 cc with three Zenith carburettors) was produced. Delage scored successes at La Turbie and Mont Ventoux. This car was joined by a 10,688 cc V12, which broke the course record at the Gaillon hillclimb, with Thomas at the wheel. Thomas would set the land speed record at Arpajon in this car, at a speed of 143.24 mph, in 1924. A 1925 car had a 5,954 cc six, again using the GL block, with four valves per cylinder and twin overhead cams. Driven by Divo, it broke the Mont Ventoux course record in its debut. It would be destroyed by fire at the Phoenix Park meet in 1934. The 1924 and 1925 DIS, with a 117 in wheelbase, switched from Rolls-Royce-type locking wheel hubs to Rudge knock-ons, better cam, and bigger valves, while the 1925 and 1926 DISS on the same wheelbase. Some of the DISes were bodied by Kelsch. The DIS became the Series 6 in 1927, switching to coil ignition and water pump. In 1926, Delage introduced the DM, with a 3,182 cc six, which made it emblematic of the era for the marque. The high-performance DMS had hotter cam, twin valve springs, and other improvements. A DR, with a choice of 2.2- and 2.5-litre sidevalve engines, also briefly appeared. This is a DI SS Tourer model.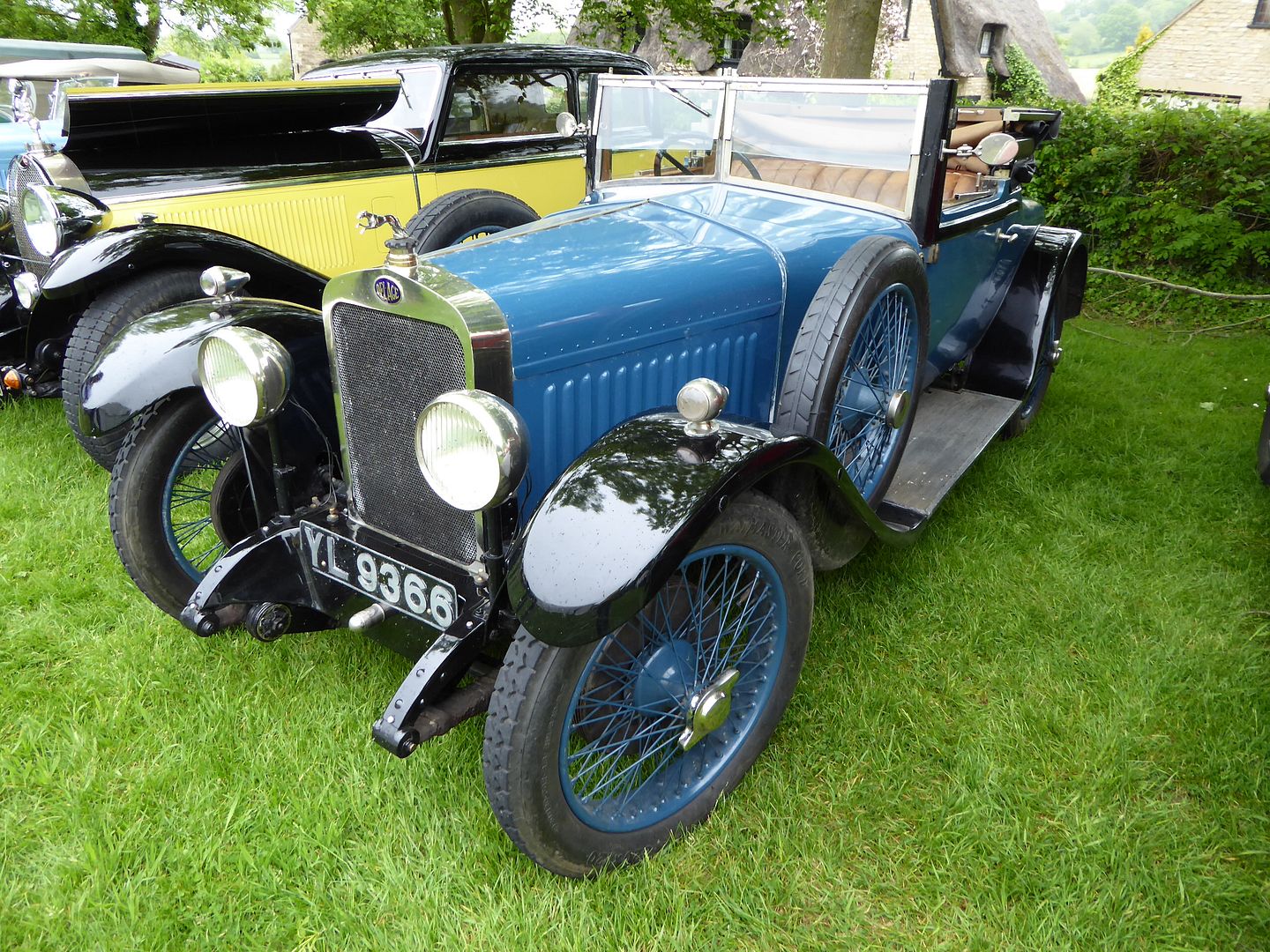 Racing had always been important to Louis Delage , so he had entered the 1911 Coupe de l'Auto at Boulogne with a 50 hp 2,996 cc four with two 60 mm diameter bellcrank-operated valves per cylinder controlled by camshafts in the crankcase.The five-speed gearbox gave a top speed of 60 mph (97 km/h), and the four voiturettes each carried 26 gallons, as the factory planned for a no-stop race. Works driver Paul Bablot won, at an average 55.2 mph with a 1m 11s over Boillot's Peugeot, followed home by Thomas in a second Delage; Delage also took the team prize. Delage would move up to Grand Prix racing in 1912, with a Léon Michelat-designed car powered by a four-valve 6,235 cc four-cylinder of 118 hp, coupled again to a five-speed gearbox and fitted this time with 43 gallon tank Three cars were built for the 569 mi Amiens Grand Prix, though only two, Bablot's and Guyot's, actually entered. On the day, Bablot's Delage proved the fastest car in the field, turning in a lap at 76.6 mph but it was Guyot who would fall out of the lead with a puncture, and the race went to Peugeot, while the Delages were fourth and fifth.At the French Grand Prix, Delage put Bablot first, Guyot second, ahead of Pilette's 1908 Mercedes GP car, Salzer in a Mercedes, with Duray coming in fifth in the third Delage. In 1913, the new type Y set the fasted lap time at the French Grand Prix at Le Mans, and in 1914, this same car won the 1914 Indianapolis 500 with René Thomas at the wheel. Thomas, Guyot, and Duray would return to the French Grand Prix with 4½-litre twin-cam desmodromic valved racers featuring twin carburettors, five-speed gearbox, and four-wheel brakes.While quick, they proved unreliable; only one finished, Duray's, in eighth. In 1914, Delage emphasised its focus on competition by creating the type O Lyon Grand Prix, while at the same time moving towards the luxury car market with 6 cylinders of a large class. However, racing was severely curtailed during World War One. In 1923 Louis Delage returned to competition with the innovative 12-cylinder 2-litre type 2 LCV. This car won the 1924 European Grand Prix in Lyon and the 1925 Grand Prix of ACF Montlhéry. The 12-cylinder DH (10,5 litres) of 1924 beat the world speed record on the highway, at 143 mph. A Delage 155 B won the first Grand Prix of Great-Britain in 1926, driven by Louis Wagner and Robert Senechal. The production of cars continued with the DI and the DI S SS. The DM evolved into the DMS and DML, equipped with a 6-cylinder 3-litre engine designed by Maurice Gaultier. Delage's Grand Prix effort saw a Plancton-designed 1,984 cc four overhead cam V12. The 110 hp car, driven by Thomas, fell out of the French Grand Prix in 1923, but went on to perform well for the bulk of the 1923 and 1924 season.With supercharger added in 1925, bringing output to 195 hp it won at Montlhéry and Lasarte proving as fast as the Alfa Romeo P2, but rarely racing it directly.This car was supplanted in 1926 by a Lory-designed supercharged 1.5-litre twincam straight eight of 170 hp capable of 130 mph, it was the company's last Grand Prix entrant. Always passionate about racing, Louis Delage designed an 8-cylinder 1500 cc, the type 15 S 8. This car won four European Grands Prix races in 1927, and won Delage the title "World Champion of Car Builders" that same year. A 2,988 cc powered D6 won the 1938 Tourist Trophy at Donington Park and came second at Le Mans.A single V12-powered car, intended for Le Mans, tragically caught fire at the 1938 International Trophy at Brooklands. Postwar, the best results Delage had were seconds at the 1949 Le Mans and 1950 Paris Grand Prix.
1930 saw the launch of the 6-cylinder Delage D6 which would form the mainstay of the manufacturer's passenger car range until 1954. For 1930 Maurice Gaultier designed an 8-cylinder in-line 4,061 cc, evolving the type D8 into the type D8 S (S for Sport). The D8 was the pinnacle of the marque. It was offered in three wheelbases, "S" or "C" at 130 in, "N" at 140 in, and "L" at 143 in, all powered by a 4,061 cc straight eight, making it capable of 85 mph. Delage followed in 1932 with the Grand Sport, on a 123 in  wheelbase, capable of 100 mph. But the backlash of the economic crisis of 1929 arrived and manufacturers of luxury cars all over the world suffered from poor sales. The commercial and financial situation of the firm was badly shaken. In 1932 Delage introduced the type D6-11, with a 6-cylinder 2101 cc) engine, and two years later the new eight-cylinder Delage, type D8-15 (2768 cc). These two models, equipped with independent front wheel suspension did not increase sale figures. The transverse leaf and wishbone independent front suspension was licensed by Studebaker for their cars. The junior D6s shared Delahaye front suspension design, but had hydraulic rather than Delahaye cable-actuated brakes, also shared the Cotal gearbox with the D8. The D6/70 of 1936 was powered by a 2,729 cc six, the 1938 D6/75 a 2.8-liter six, and the postwar D8/3L Olympic a 3-liter six.At the bottom of the range was a 1.5-litre four that lasted until 1936. Financial pressures never disappeared, however, and during the Spring of 1932 Louis Delage was obliged to take out a 25 Million franc loan in order to finance the tooling needed to put the D6 into production. It was at this time that he also entered into negotiations with Peugeot about using their dealership and service network.These negotiations went nowhere, and discussions with other possible partners/rescuers also came to nothing. There were also personal problems involving his marriage which necessitated a rearrangement of Delage's personal finances, although in the event it was the sale of his expensive home in the Champs-Élysées that reduced the pressure on his finances if only in the short term. The last models to emerge from the factory in Courbevoie were the types D6-65, D8-85 and D8-105, designed by engineer Michelat. On 20 April 1935 the factory in Courbevoie went into voluntary liquidation. But Louis Delage would not admit defeat, and with the help of a businessman called Walter Watney created the Société Nouvelle des Automobiles Delage (SAFAD), to market Delage cars, assembled from production Delahayes. This union created the 4-cylinder DI 12 and the D8 120, and also the 6-cylinder D6 70. Watney had taken control as president of SAFAD, but he was a British national and in June 1940 he was obliged to leave Paris as the German Army arrived. Watney stayed in France, at his villa in Beaulieu until the end of 1942 after the Germans had completed their occupation, but already in December 1940 the presidency of the SAFAD business had passed directly into the control of Delahaye. In any event, since the outbreak of the war Delage had been largely inactive, although they did undertake work on a project to replace the six-cylinder engine of the Hotchkiss H39 tank with the more powerful 8-cylinder unit from the Delage D8 120.
Seen here is a 1936 DI Drophead along with another model, the exact type of which I am unsure
DELAHAYE
This is a 1937 Delahaye 135MS, a car that enjoyed a formidable reputation in motor sport in the late 1930s. The Delahaye 135, also known as "Coupe des Alpes" after its success in the Alpine Rally, was first presented in 1935 and signified Delahaye's decision to build sportier cars than before. The list of independent body suppliers offering to clothe the 135 chassis is the list of France's top coachbuilders of the time, including Figoni & Falaschi, Letourneur et Marchand, Guilloré, Marcel Pourtout, Frères Dubois, J Saoutchik, Franay, Antem and Henri Chapron, and many of their efforts are among the most dramatic and beautiful cars not just of the 30s, but of all time. The 3.2-litre overhead valve straight-six with four-bearing crankshaft was derived from one of Delahaye's truck engines and was also used in the more sedate, longer wheelbase Delahaye 138. Power was 95 hp  in twin carburettor form, but 110 hp were available in a version with three downdraught Solex carbs, offering a 92 mph top speed. The 135 featured independent, leaf-sprung front suspension, a live rear axle, and cable operated Bendix brakes. 17-inch spoked wheels were also standard. Transmission was either a partially synchronized four-speed manual or four-speed Cotal pre-selector transmission. A larger-displacement 3,557 cc 135M was introduced in 1936. Largely the same as the regular 135, the new engine offered 90, 105, or 115 hp with either one, two, or three carburettors. As with the 135/138, a less sporty, longer wheelbase version was also built, called the "148". The 148 had a 3,150 mm wheelbase, or 3,350 mm in a seven-seater version. On the two shorter wheelbases, a 134N was also available, with a 2,150 cc four-cylinder version of the 3.2-litre six from the 135. Along with a brief return of the 134, production of 148, 135M, and 135MS models was resumed after the end of the war. The 135 and 148 were then joined by the larger engined 175, 178, and 180 derivatives. The 135M continued to be available alongside the newer 235 until the demise of Delahaye in 1954. An even sportier version, the 135MS, soon followed; 120–145 hp were available, with competition versions offering over 160 hp. The 135MS was the version most commonly seen in competition, and continued to be available until 1954, when new owners Hotchkiss finally called a halt. The MS had the 2.95 m wheelbase, but competition models sat on a shortened 2.70 m chassis. The 135 was successful as racing car during the late 1930s, winning the Monte Carlo rally 1937 and 24 Hours of Le Mans in 1938. The Le Mans victory, with Chaboud and Trémoulet at the wheel, was decisive, with two more Delahayes coming in second and fourth. A regular 135 came seventh at the 1935 Le Mans, and in 1937 135MS came in second and third. Appearing again in 1939, two 135MS made it to sixth and eighth place, and again after the war the now venerable 135MS finished in 5th, 9th, and 10th.
DONNET
I've seen this car, a Donnet G2 at Prescott before, but did not really know anything about it. Writing this article prompted me to do a little more research on this long extinct marque. In 1919, five years after founding the successful flying boat manufacturer Donnet-Denhaut at Neuilly-sur-Seine,  designer François Denhaut parted ways with co founder Jérôme Donnet who then switched from aircraft manufacturing to become an automobile manufacturer with the acquisition of Automobiles Zedel of Pontarlier in the Doubs area of France from whence he marketed the Donnet-Zedel CI-6 a Zedel design originating from 1912. In August 1924 the production of a chassis for the all new four cylinder 1098 cc Donnet Zedel Type G commenced in a new factory at Gennevilliers, Seine with final assembly of the new model taking place at the former and Donnet flying boat factory on the Ile de la Jatte. The 16 hp side valve engine featured magneto ignition and a two bearing crankshaft and it drove the rear wheels through a four speed gearbox. A foot brake operated on the drive shaft and the hand brake operated the drums on the rear axle. The Donnet G2; with a revised chassis, standard 2 blade engine cooling fan, four wheel drum brakes, relocated hand brake lever, and more substantial rear axle, was launched in May 1926 when Zedel was dropped from the brand name. The car seen here is believed to have originally been resident near Avignion. It came to the UK in 1981, and was rescued from a field in 1989 and then underwent a restoration which resulted in it being first registered in the UK in October 1992. A total of 13,400 Donnet G2s are believed to have been built between May 1926 and October 1928 and this example is one of only two G2s and three Donnets known to exist in the UK.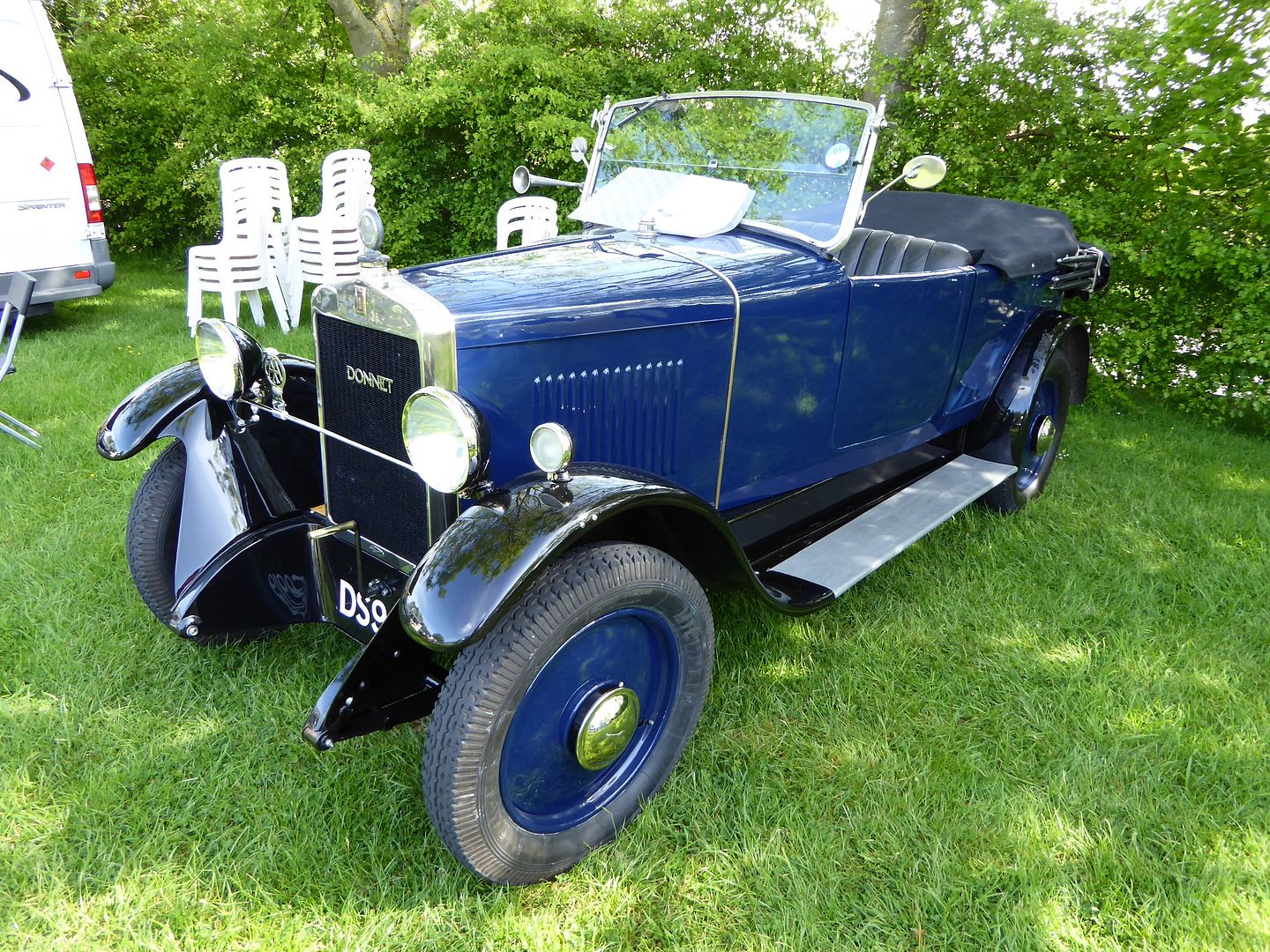 HOTCHKISS
Hotchkiss cars were made between 1903 and 1955 by the French company Hotchkiss et Cie in Saint-Denis, Paris. The badge for the marque showed a pair of crossed cannons, evoking the company's history as an arms manufacturer. The company's first entry into car making came from orders for engine components such as crankshafts which were supplied to Panhard et Levassor, De Dion-Bouton and other pioneering companies and in 1903 they went on to make complete engines. Encouraged by two major car distributors, Mann & Overton of London and Fournier of Paris, Hotchkiss decided to start making their own range of cars and purchased a Mercedes Simplex for inspiration and Georges Terasse, previously of Mors, was taken on as designer. The first Hotchkiss car, a 17 CV four-cylinder model, appeared in 1903. The engine of the 20 CV type C was heavily based on the Mercedes Simplex except that wherever possible it used ball bearings rather than plain ones (including the crankshaft) and except the Hotchkiss drive. Six-cylinder models, the types L and O followed in 1907. The ball bearing engines lasted until the 30CV type X of 1910. In that same year Hotchkiss moved into a smaller car market with the 2212cc type Z. With the outbreak of World War I, the factory turned to war production and a subsidiary plant was opened in Coventry, England. Car production resumed in France 1919 with the pre war types AD, AD6, AF and AG. During World War I, they produced machine guns and tested them from the factory roof. After an attempt to enter the luxury market with the AK, which did not get beyond the prototype stage, the company decided on a one model policy and introduced the Coventry designed AM in 1923. Later that year the Coventry plant was sold to Morris. Henry Mann Ainsworth (1884–1971) and Alfred Herbert Wilde (1889 – 1930) who had run it, moved to Paris to become general manager and chief engineer of the car division respectively. In 1926 construction of the new factory in the Boulevard Ornano was completed and in 1929 Hotchkiss got hold of a steel press allowing in-house manufacture of steel bodies. The one model policy lasted until 1929 when the six-cylinder AM73 and AM80 models were announced. "73" and "80" stood for the bore of the engines used, a naming theme picked up again later in 1936 after a brief hiatus. There were a couple of examples of the AM model here, the maroon one dating from 1930.
The AM models were replaced by a new range in 1933 with a new naming system. The 411 was an 11CV model with four-cylinder engine, the 413 a 13CV four and the 615, 617 and 620 were similar six-cylinder types. The 1936 686, which replaced the 620, was available as the high-performance Grand Sport and 1937 Paris-Nice with twin carburettors and these allowed Hotchkiss to win the Monte Carlo Rally in 1932, 1933, 1934, 1939, 1949 and 1950. The new naming scheme introduced in 1936 consisted of the number of cylinders, followed by the bore of the engine (in millimetres). After the war, car production resumed only slowly with fewer than 100 cars produced in each of 1946 and 1947, but by 1948 things were moving a little more rapidly with 460 Hotchkiss cars produced that year. This volume of output was wholly insufficient to carry the company, although truck production was a little more successful with more than 2,300 produced in 1948, and it was support from the truck volumes and from the Jeep based M201 that enabled the company to stagger on as a car producer slightly more convincingly than some of France's other luxury car makers, at least until the mid-1950s. The cars that represented the business in the second half of the 1940s were essentially the company's prewar designs. The 2,312 cc four-cylinder car was now branded as the Hotchkiss 864 while the six-cylinder car was badged as the Hotchkiss 680 with a 3,016 cc engine or as the Hotchkiss 686 with the 3,485 cc engine. The automobile range was modernised in 1950 and a new car, the four-door saloon Anjou, was available on the 1350 (renamed from the 486) and 2050 (686) chassis. The Anthéor cabriolet was added in 1952. In 1948 Hotchkiss had bought the rights to the Grégoire front-wheel-drive car and this car entered production in 1951 but was expensive. Sales in general were falling, and on reaching his 65th birthday in 1949 Ainsworth retired, to be succeeded in the top job by Maurice de Gary. The Peugeot family sold their interest in the company. Coupé and cabriolet versions of the Hotchkiss-Grégoire were announced in 1951, but sales did not improve, and production stopped in 1952 after only 247 were made. Hotchkiss merged with Delahaye in 1954 to become Société Hotchkiss-Delahaye, but car production stopped in 1955 to be replaced by licence built Jeeps. In 1956 the company was taken over by Brandt, a household appliance maker, to become Hotchkiss-Brandt, who were again taken over in 1966 by Thomson-Houston. Military vehicles were made until 1967 and trucks until 1971. Seen here are a couple of those pre-war models, both dating from 1938.
LAFITTE
This marque had a particularly short life, producing cars only in 1923 and 1924.
LION
MATRA
There were three examples of the very pretty Murena here.  Launched in late 1980, this three seater coupe, offered in 1.6 and 2.2 litre guises, had a short production life as Matra needed the space to built the Espace when that came on stream in 1984. Just over 22,000 Murena were made, and the car was never officially sold in the UK, though I do recall learning from one of the owners whom I spoke with at a previous event, that there are around 40 of them now living in the UK.
Nice though the Murena is my favourite Matra of all is the Rancho, and there was one of those here on the Sunday. This was an idea before its time, really, as it was an affordable SUV, launched in 1977, long before the genre became popular. Based on the chassis of the Simca 1100 van, the Rancho sported all new bodywork, most of it in glassfibre, over tried and test mechanicals. It had lots of space in it, and plenty of practical touches. However, it was perceived as too costly when new, and the Simca engines were less than state of the art, which limited sales somewhat. Less than 10 remain in the UK, as whilst the bodywork may not rust, the chassis does. Shame, as this is an entrant for the very Coolest end of my Cool Wall.
PEUGEOT
As in previous years, there were absolutely no Peugeots in the display area on the first day, so the only model that I came across was a 205 CTi which was parked up on the hill.
Things were very different for the Sunday, with an impressive and varied array of this long-lived marque to inspect. Most numerous, by far, were 205 models, with a long line of GTi and CTI cars, most of which were in excellent condition and looking pretty original. These were complemented by two representatives from lower down the range, a 3 door  XL and a five door GL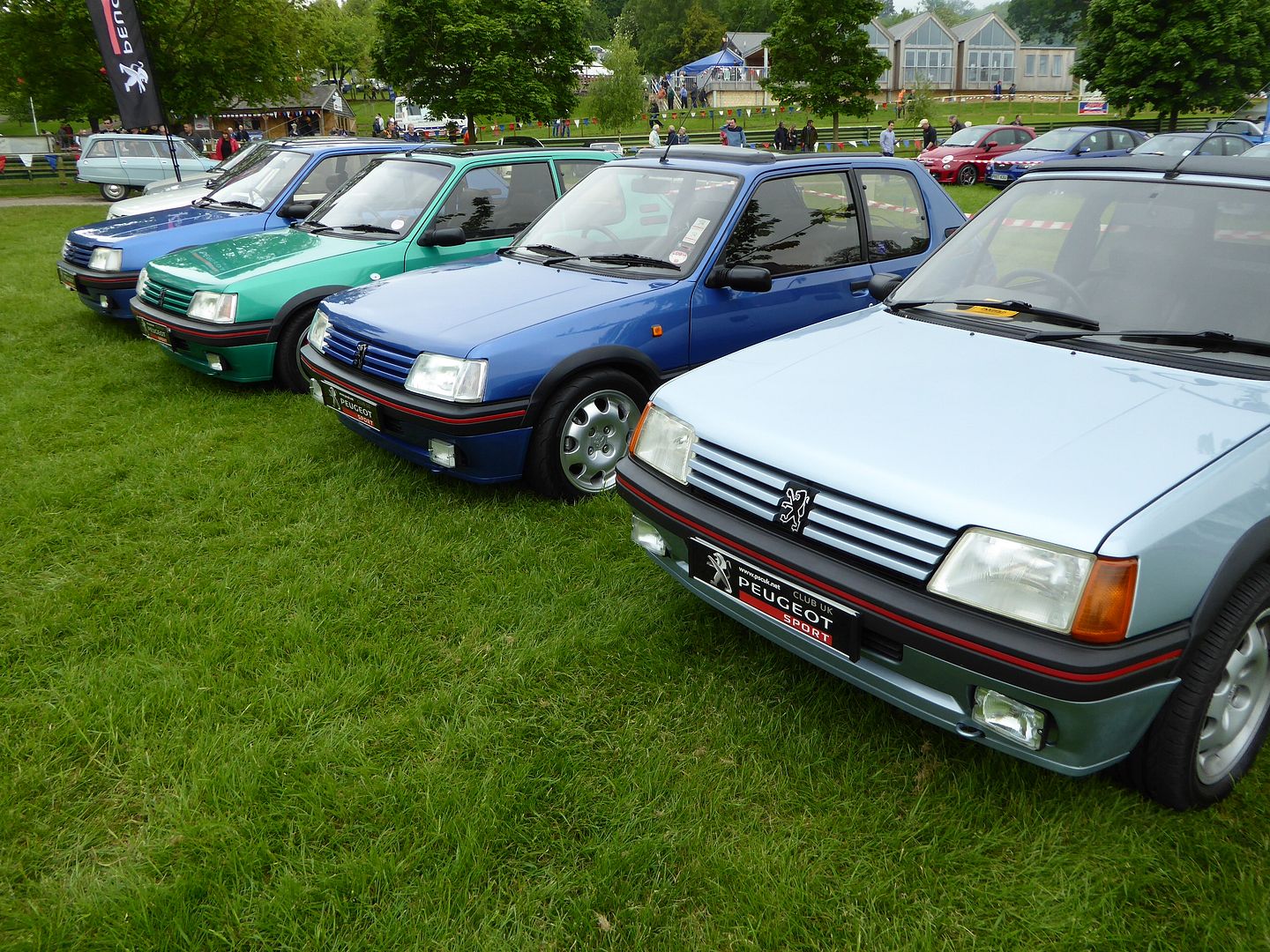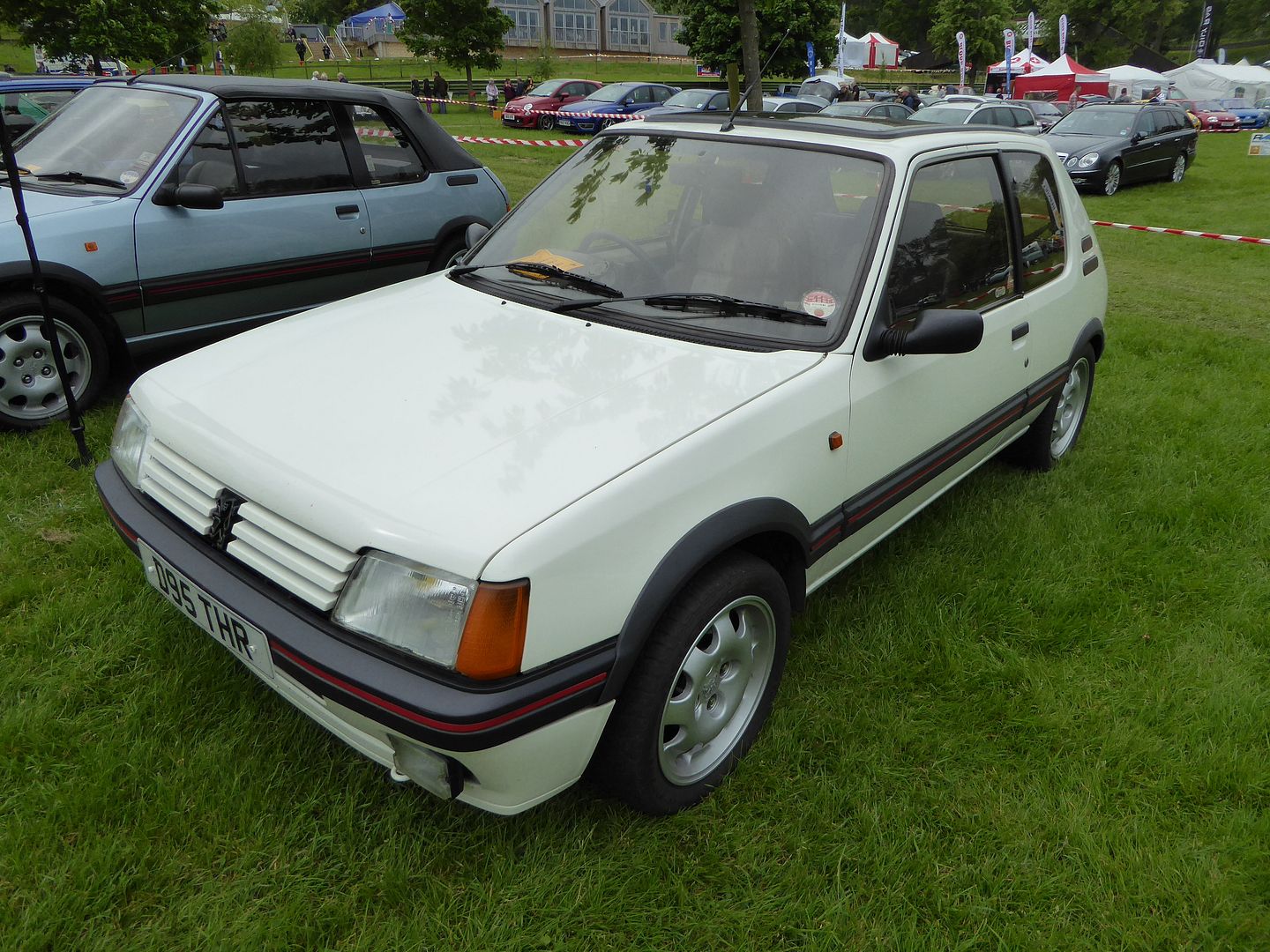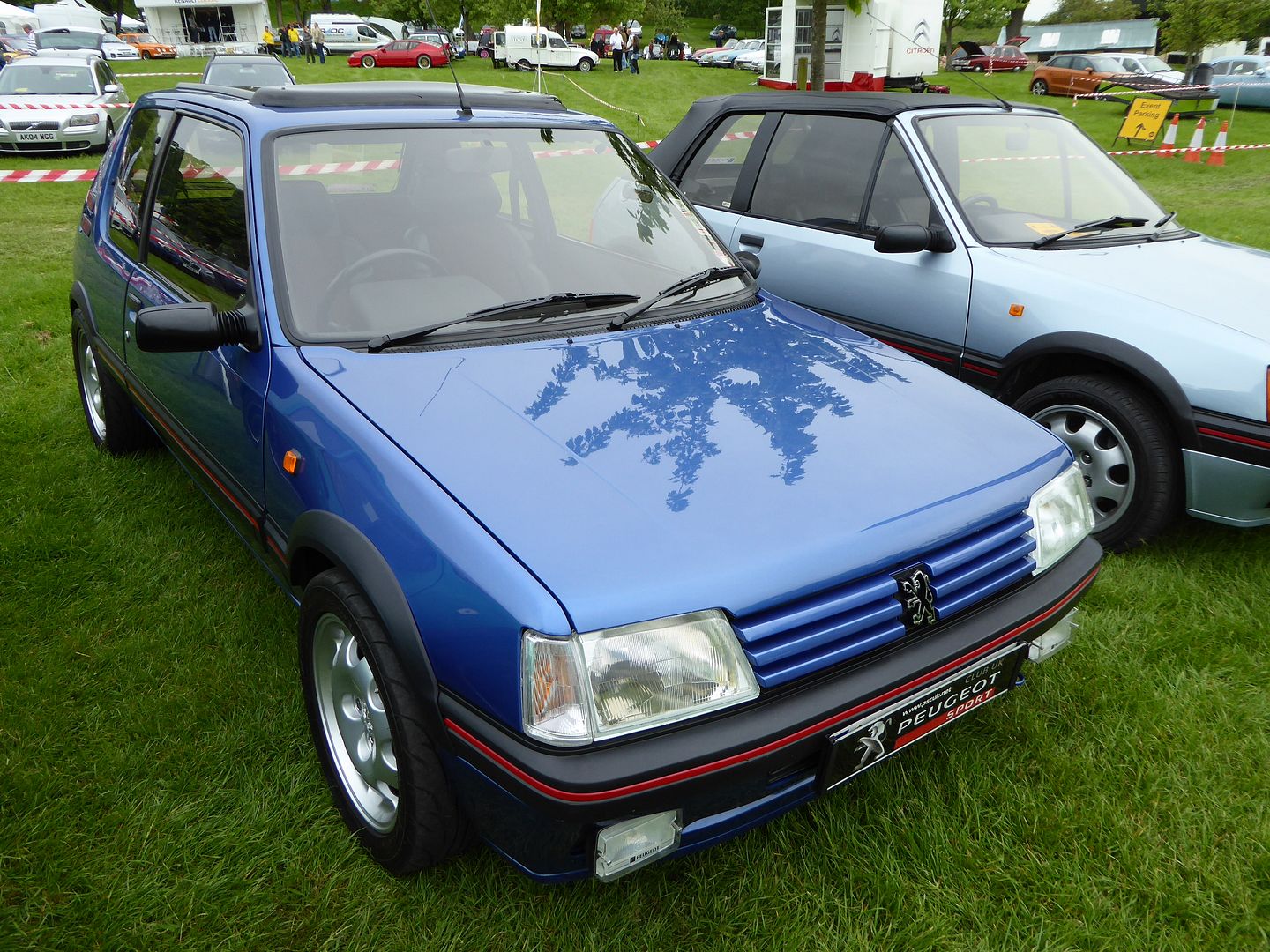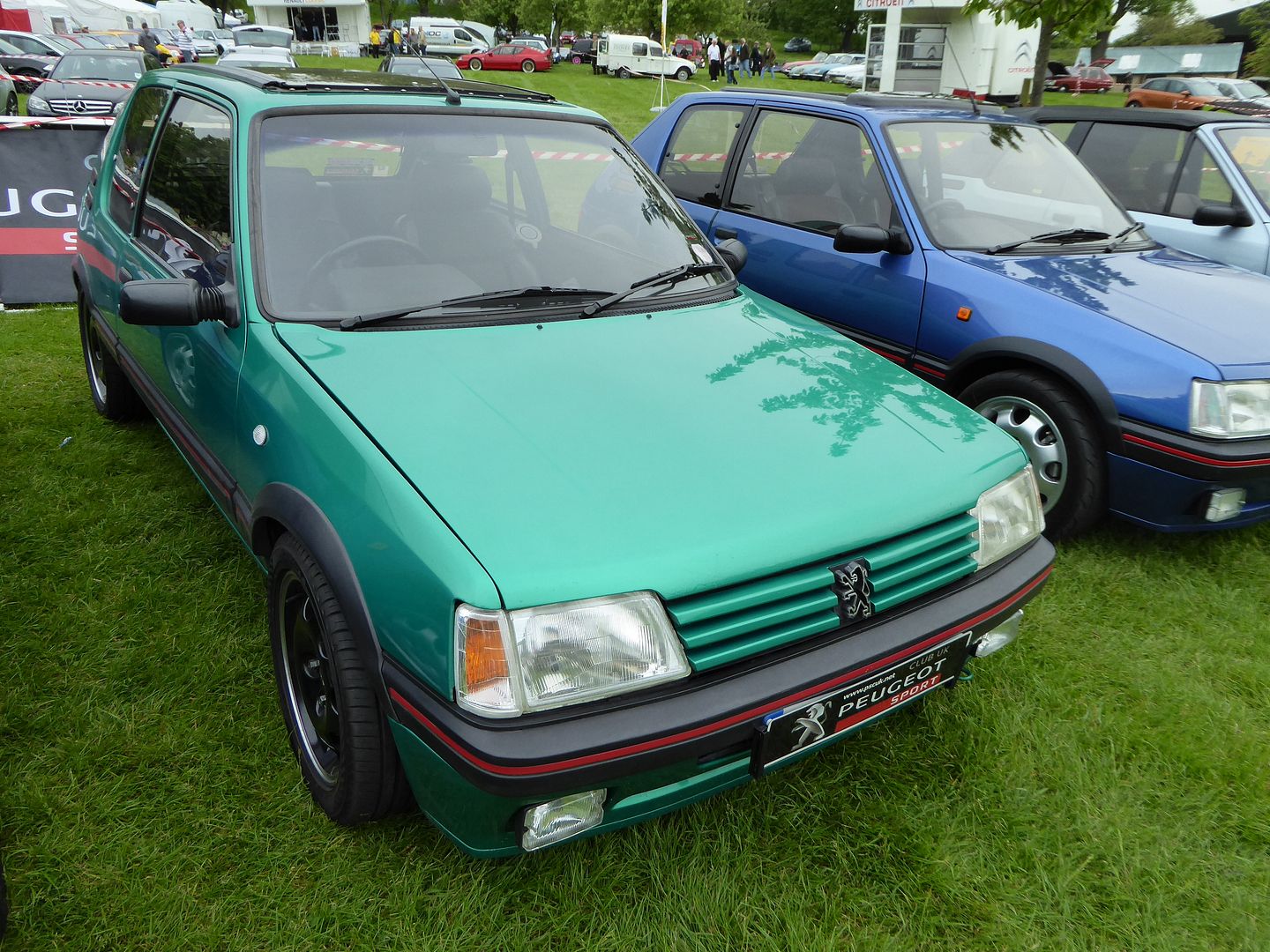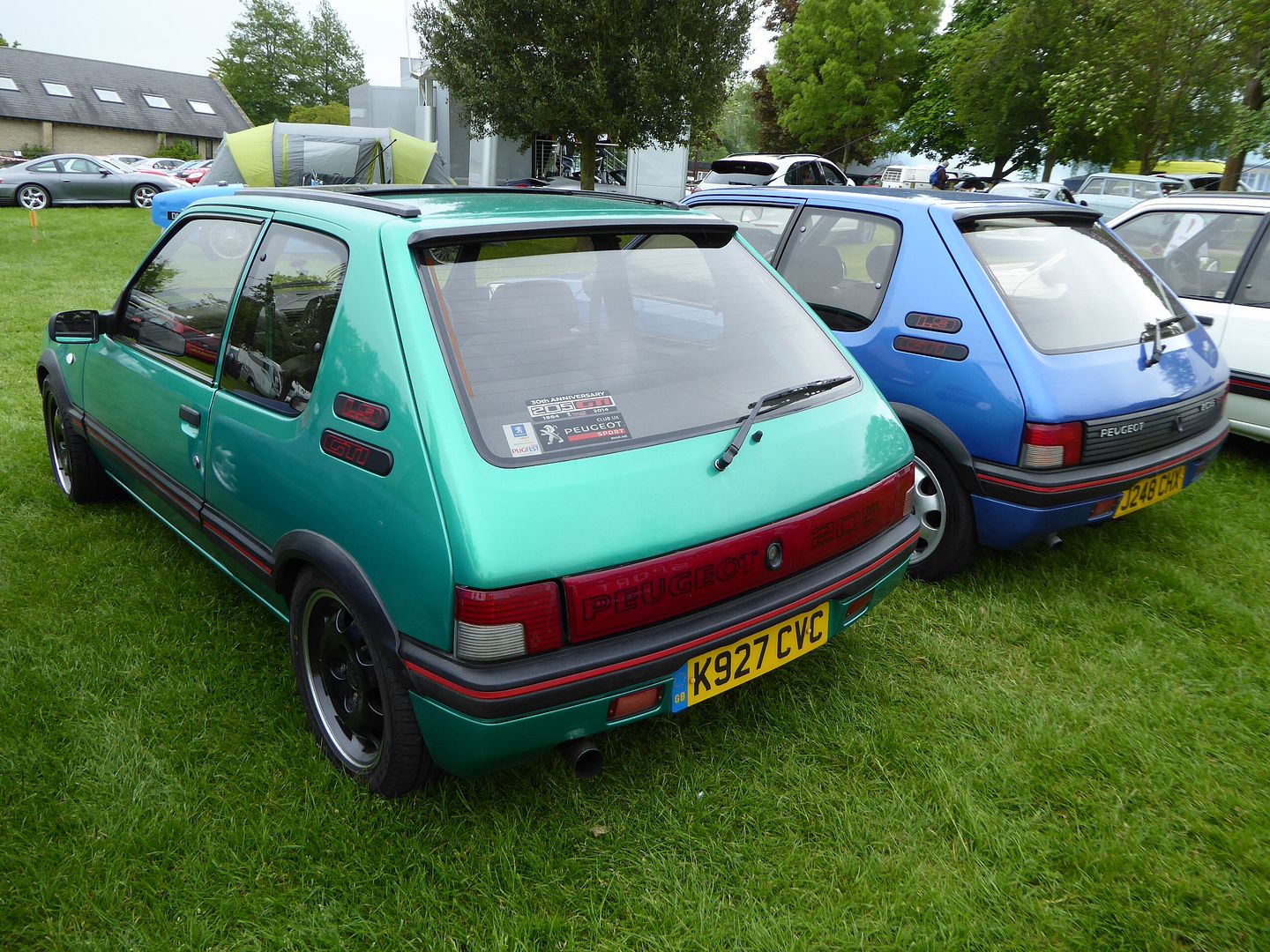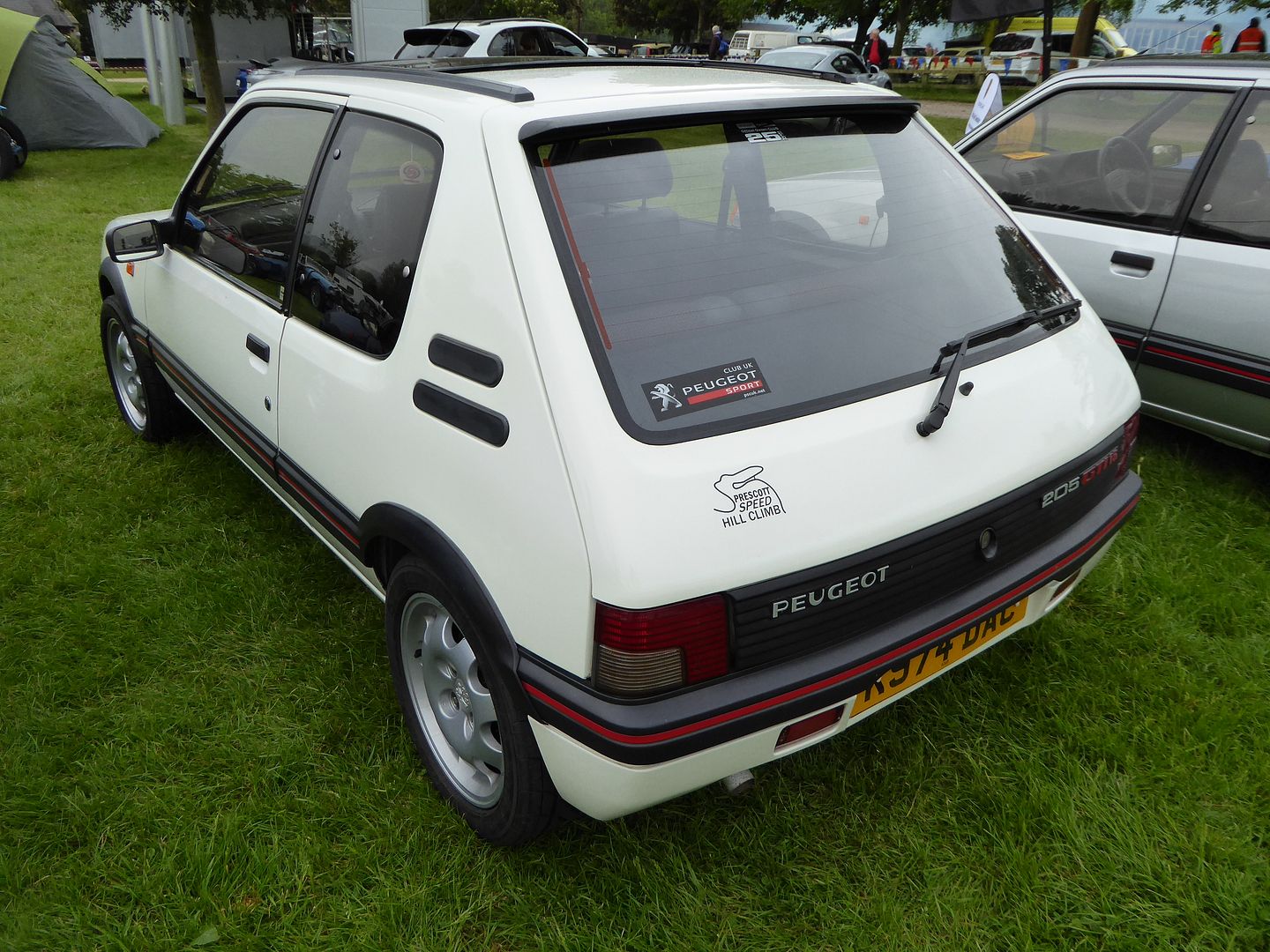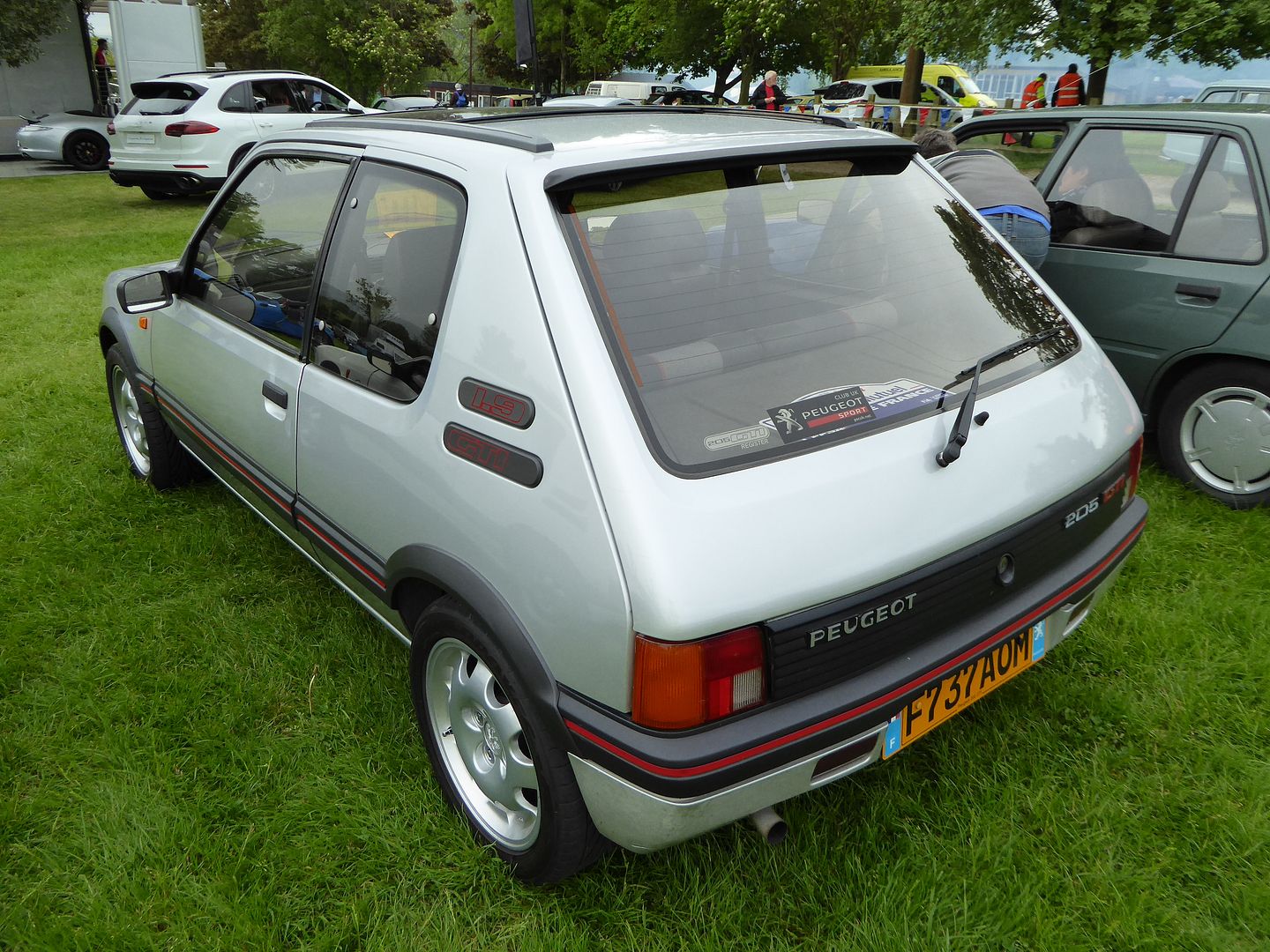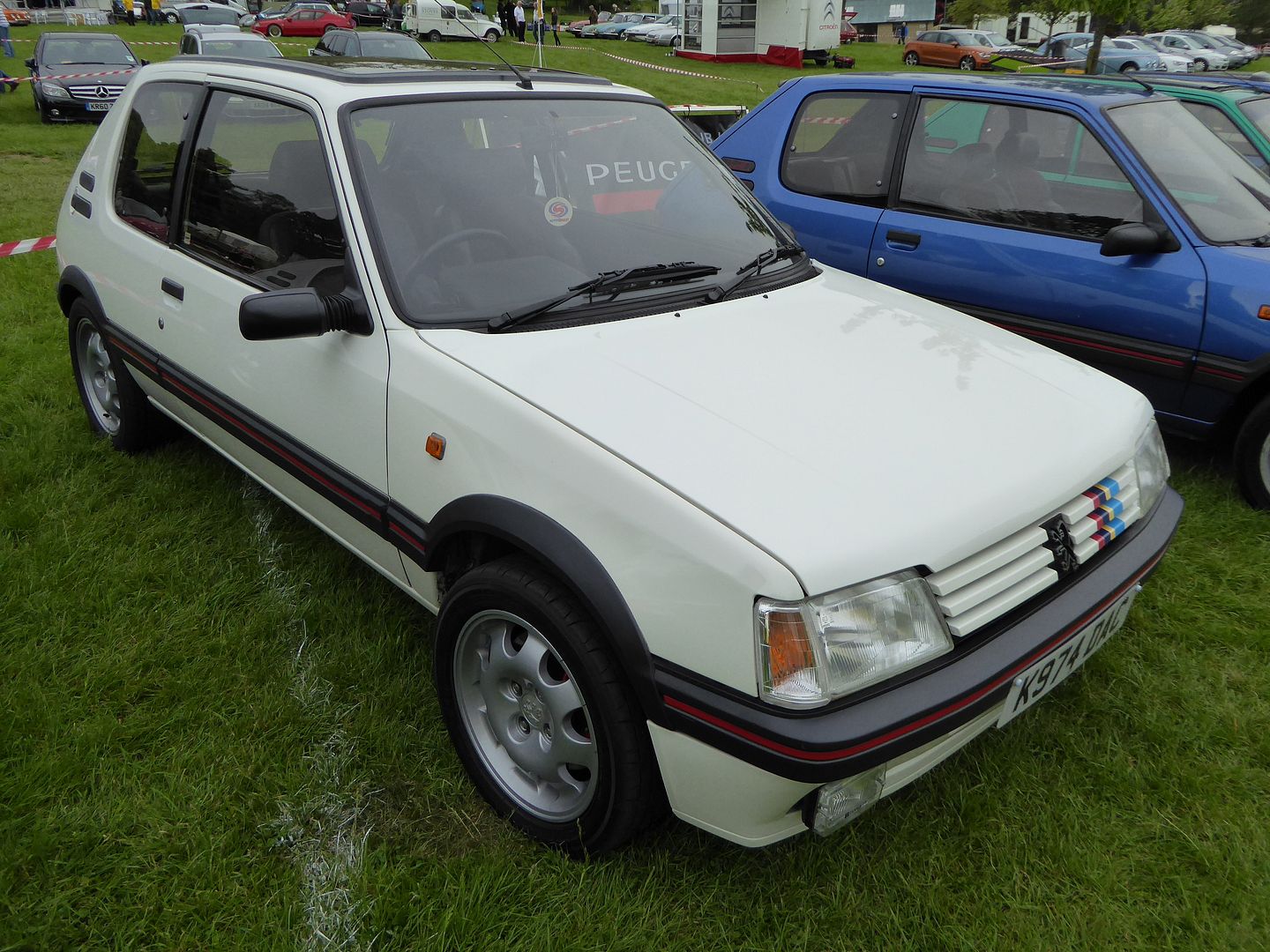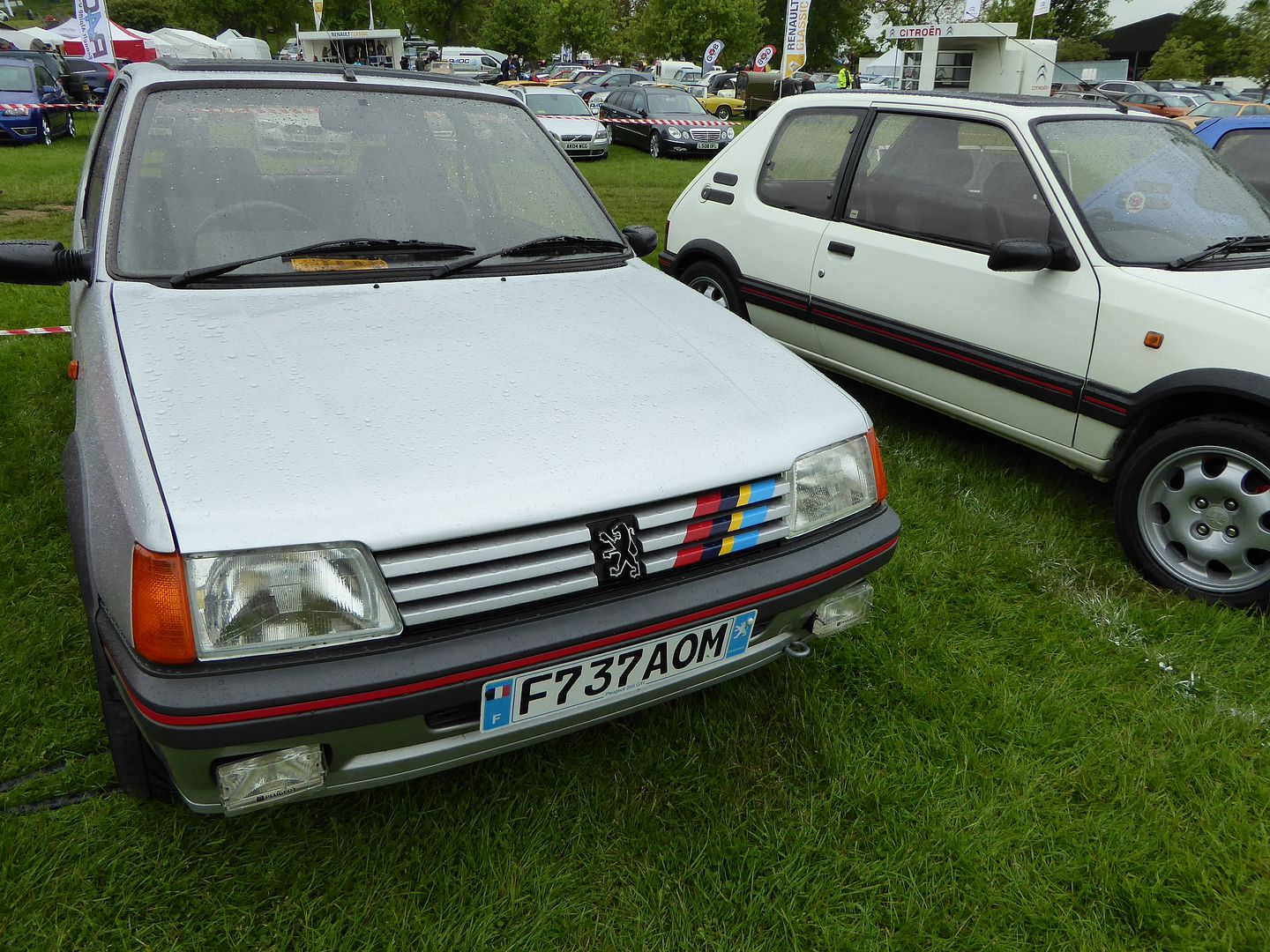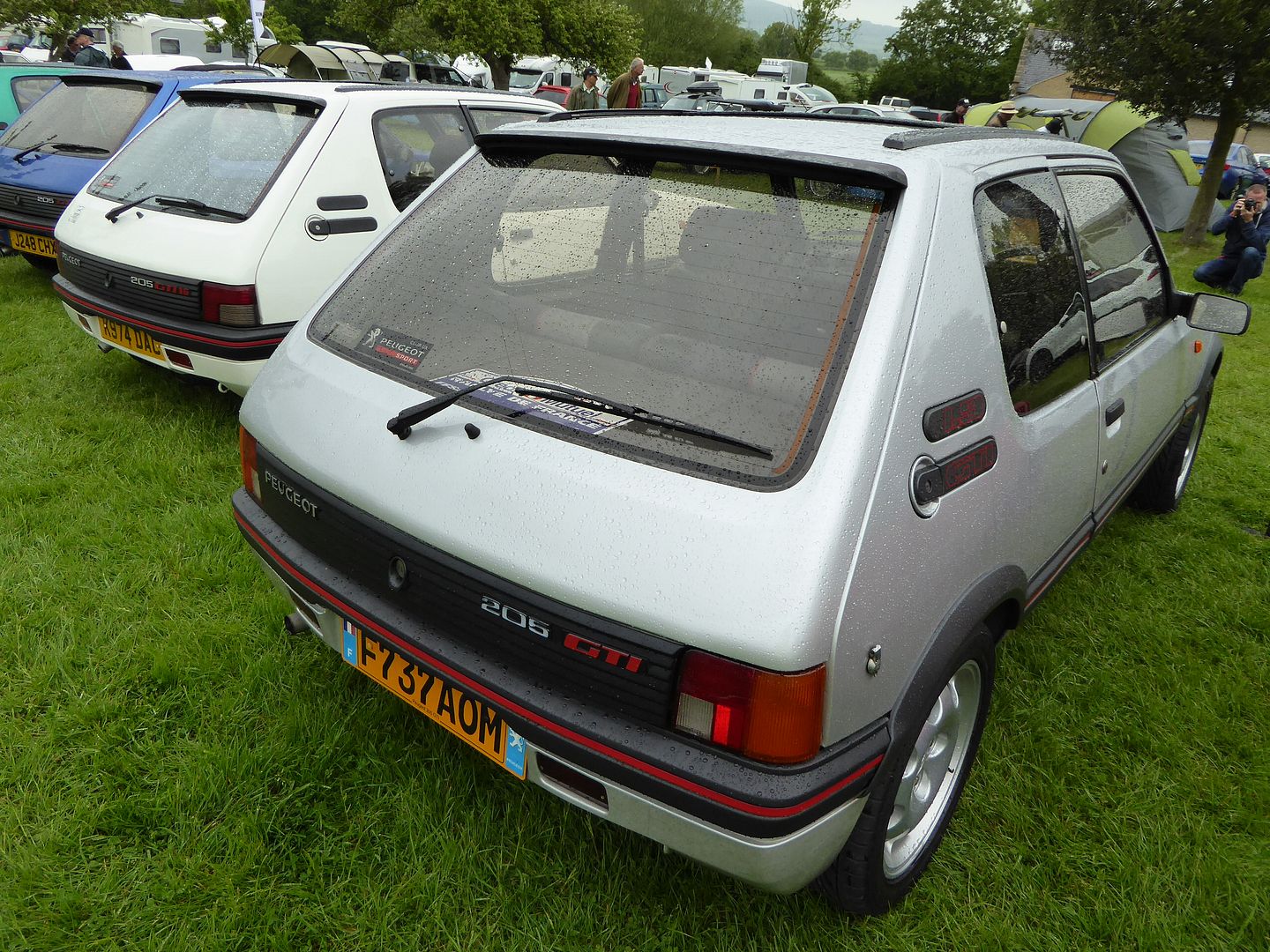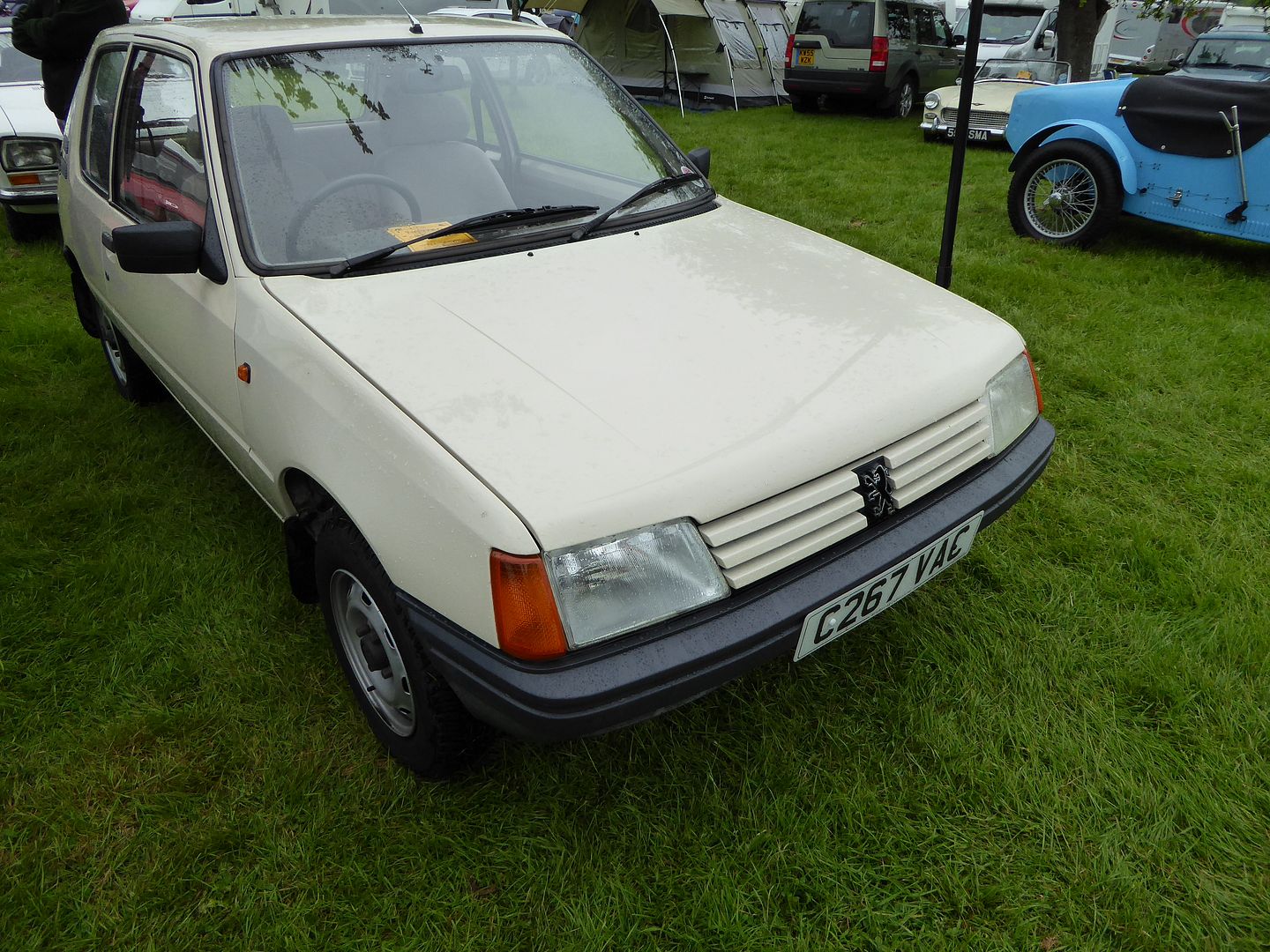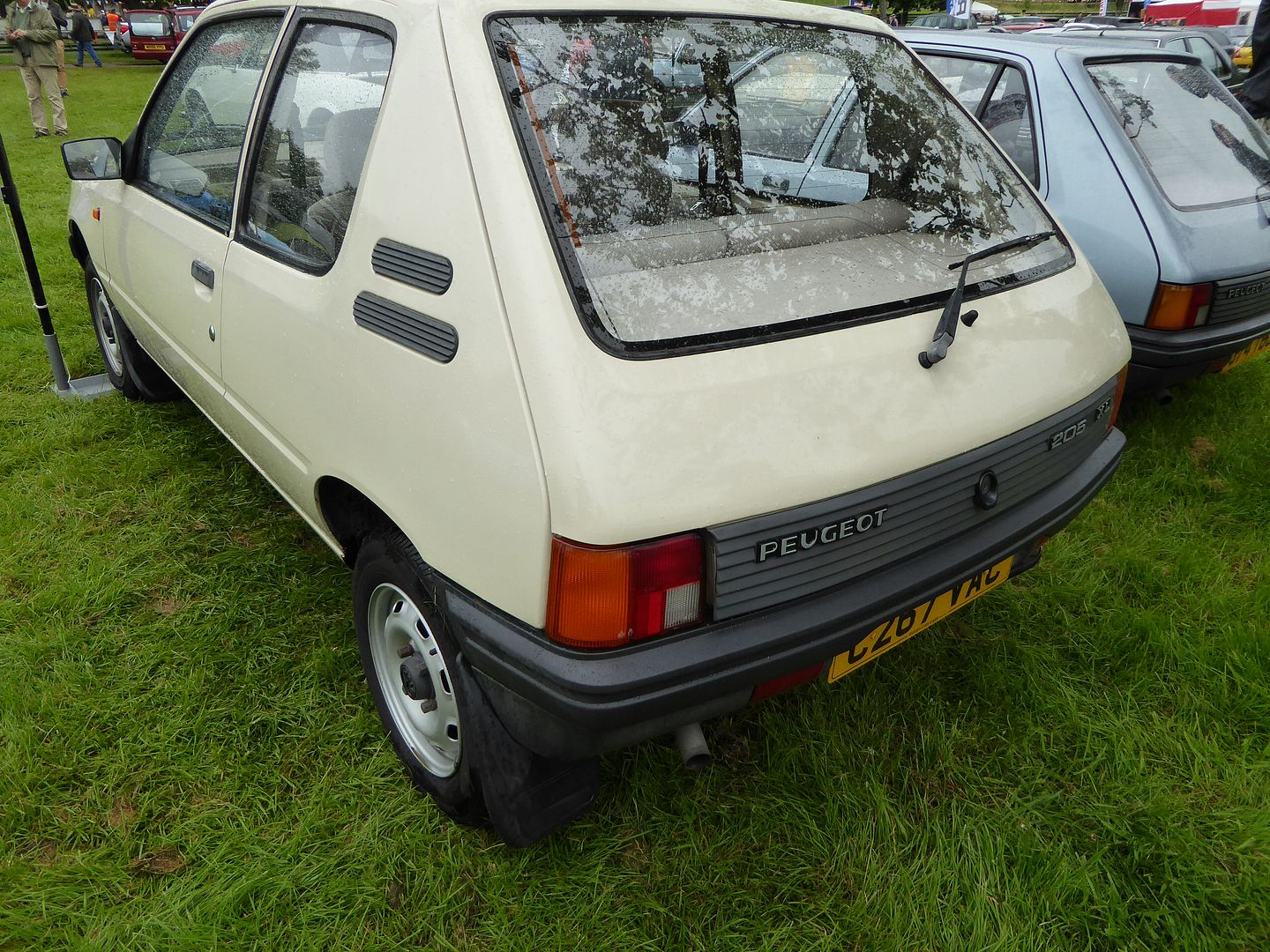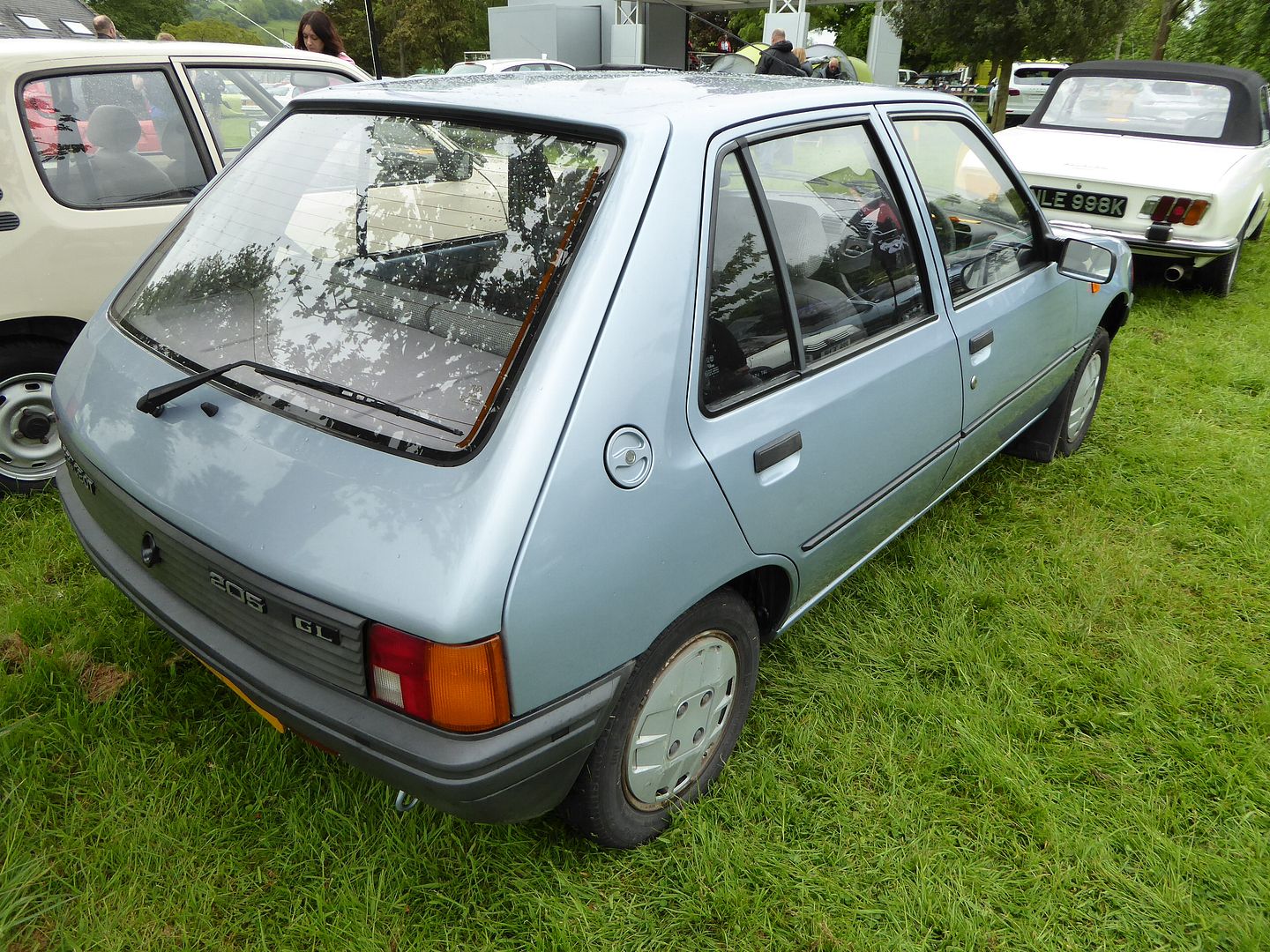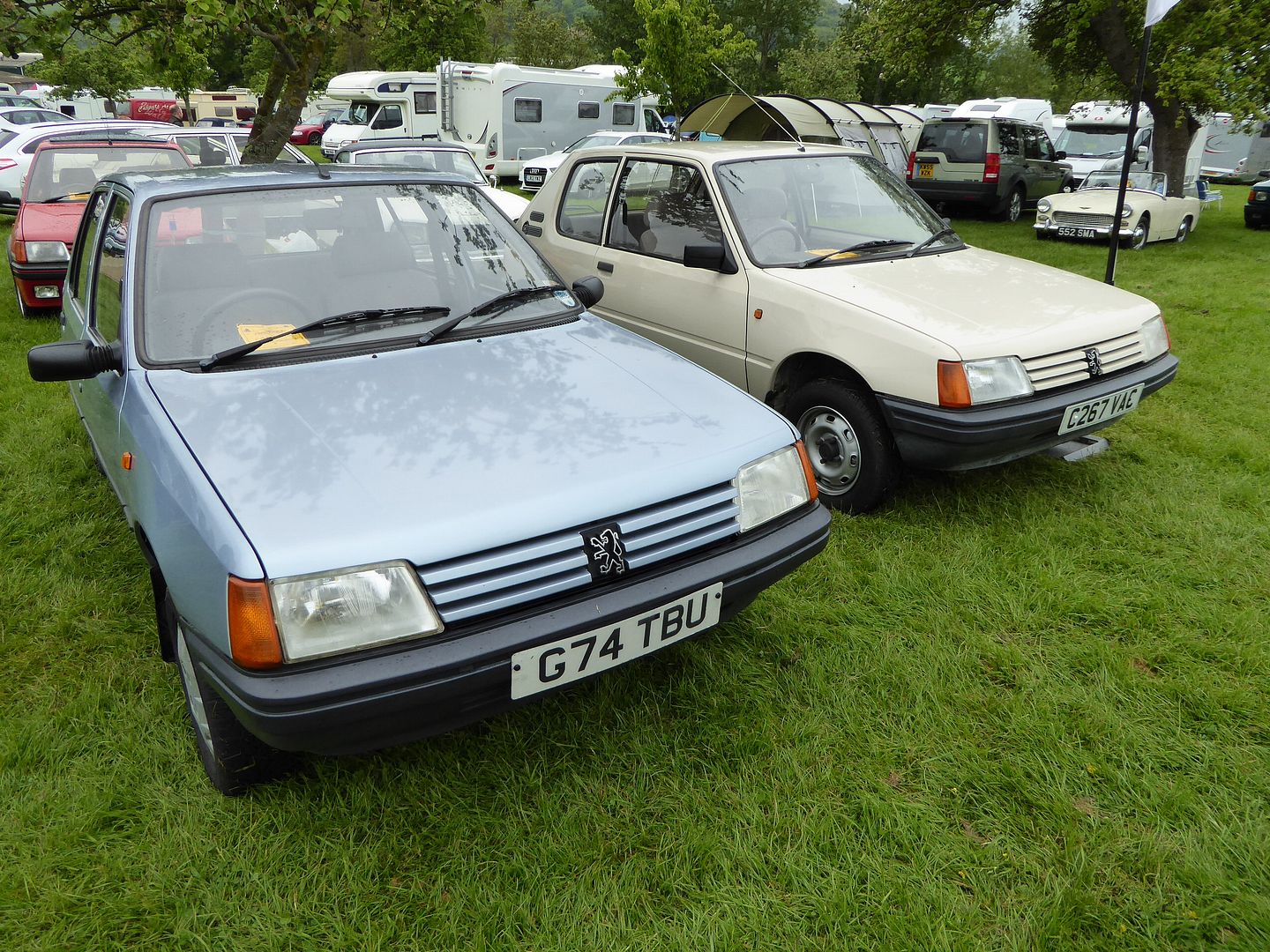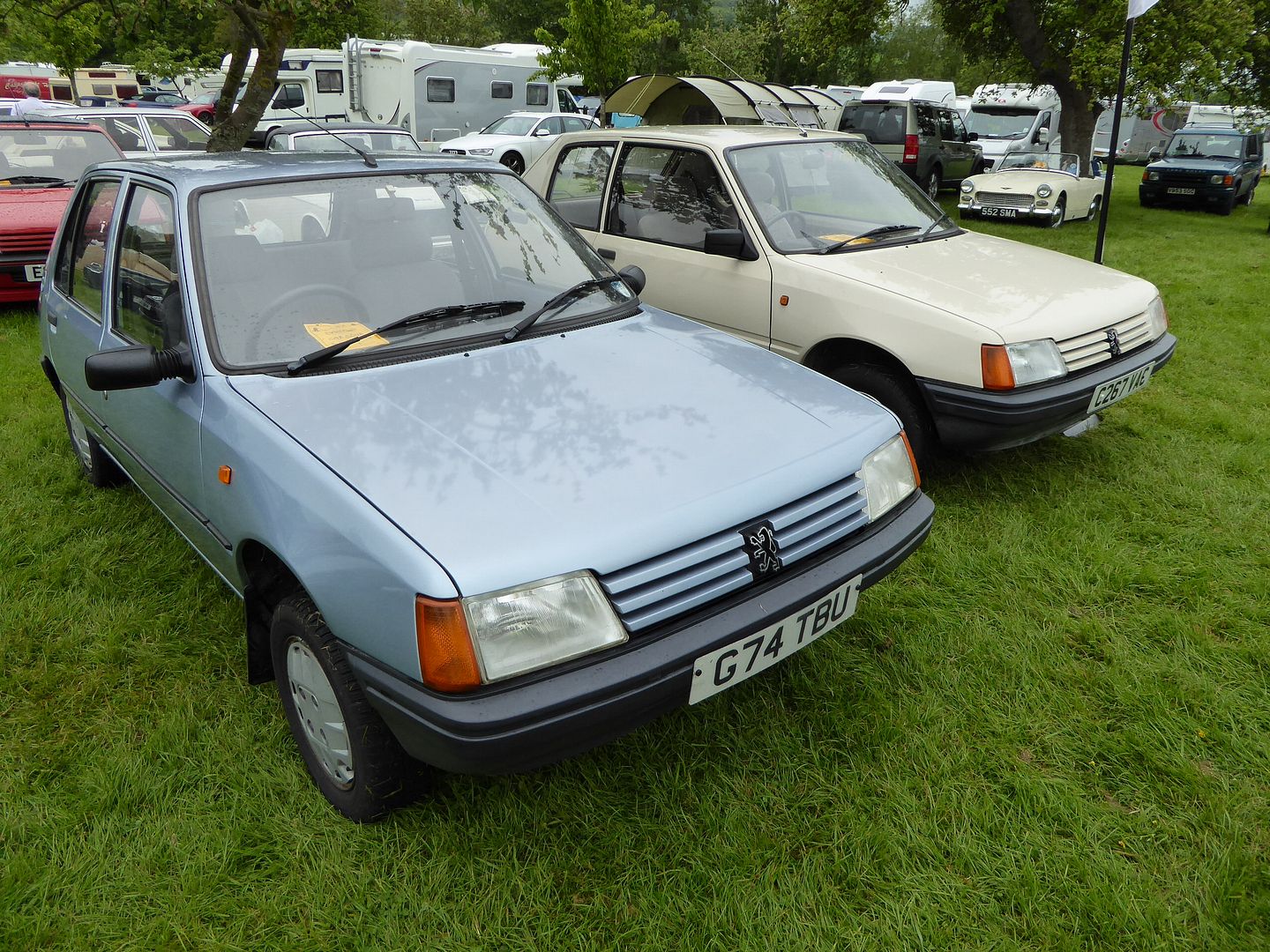 Peugeot tried to recreate the buzz of the 205 GTi with a larger car, the 309 GTi. In objective terms, this was generally seen as an excellent car, superior in a number of ways to its smaller brother, but it ever really captured the public's imagination even when new, and there are very few of them left now. There was one here. The front had been altered. I am tempted to say mutilated, as it looked so different and not, to my eyes, in a good way, from the original neat styling. Whether this was because parts to repair something were unavailable, or because an owner thought it would improve the looks, I do not know.
The Top Gear feature on Peugeots and how the marque changed its focus from pretty cars that handled well to producing a series of frankly unappealing models over a 15 year period starting in the late 90s, hit a chord with many of us. It has been hard to feel anything nicer than indifference to the Sochaux brand's products for a while, and some of them have probably engendered stronger feelings than that. The 207 comes in that category, a car that was in many ways worse than the 206 that it replaced. Peugeot tried to make it more appealing to the enthusiast with the limited production S16 version seen here, but that was more or less mission impossible. Clearly someone likes the car, though!
Reminder of a far better era for Peugeot came with three very elegant Cabrio models. All of them styled by Pininfarina, these cars started off with fabulous looks on their side. I've driven one of them, a 306 Cabrio, and it was also excellent from behind the wheel. Enjoy, then, a 304, a 504 and a 306 Cabrio.
The 604 is a particular favourite of mine. A classically elegant saloon, this model initially used the Douvrin-built V6 engine that was developed jointly with Renault and Volvo, though a 2.3 litre diesel unit was added later in the model's life. This car appealed to the more traditional buyer of a luxury French car, who was put off by the complexity of the CX and who thought that the Renault R30's hatchback made it less than executive. Sold for 9 years, it never made a huge dent in the UK market, sadly, so there are few of them that you will come across here, and indeed this car. on French plates, is a left hand drive example.
Parked up on the hillside on the Sunday was another Peugeot: a 504 Pickup. Dating from late in the model's long production life, this one was far from pristine, but it was a nice reminder of a workhorse that you would still see widely in Africa, but which has largely vanished from European roads.
RENAULT
The Renault display is second only in size to the Citroen one, with lots of cars on show, and a large unit to provide a base for those manning the collection. In previous years, Renault UK have shipped over a number of rare models from their own collection,. as well as something brand new, premiering cars that had yet to go on sale in the UK, but there was nothing like that this year. There was a sporting theme to much of what was on show, illustrating how a maker of family cars has actually been present and active in motor-sport for longer than we might sometimes think.
Oldest of the sports models present was an R8 Gordini. The R8 was first launched in the autumn of 1962, as a replacement for the Dauphine, still rear engined, but featuring a boxier and roomier body and an all new 956cc engine that developed 43 bhp. A more powerful model, the 8 Major , was released in 1964, featuring an 1108 cc engine developing 49 hp. A still more powerful version, the R8 Gordini, was also released that year, with a tuned engine of the same capacity but developing 89 hp. The extra power was obtained by a cross-flow head and twin dual-choke 40mm side-draft Solex carburettors. A four-speed close ratio manual transmission, dual rear shock absorbers and uprated springs were fitted. The Gordini was originally available only in blue, with two stick-on white stripes. It was also distinguishable from the 8 Major by the bigger 200mm headlamp units. In 1965, the Renault 10 Major, a more luxurious version of the 8 with different front and rear styling, was released, replacing the 8 Major. In 1967, the R8 Gordini received a facelift including two additional headlights (in effect Cibie Oscar driving lights), and its engine was upgraded to a 1255cc unit rated at 99 hp. The original Gordini cross-flow head design was retained, and twin dual-choke 40mm Weber side-draft carburettors. Both the R8 and the R10 were heavily revised for 1969, with some of the R10's features being incorporated in the R8, resulting in a new R8 Major which replaced the basic model. The changes also saw the addition of the R8S, a sportier model with a 1108cc engine rated at 59 hp. The R8 Gordini continued largely unchanged until production ceased in 1972, by which time over 11,000 units had been built. The vast majority of surviving R8s are now presented as Gordinis, though many of them are recreations that started out as a more humble model, much as has happened with Mark 1 Escorts and Lotus Cortinas.
The R12 Gordini was never officially sold in the UK. Launched in 1970, a year after the regular saloon model, the Gordini was equipped with the all-aluminium 1565 cc block from the R16 TS fitted with two double-barrel Weber carburettors producing 123 hp, a reinforced crankshaft, a five speed gearbox, ventilated disc brakes on the front wheels and normal disc brakes on the rear wheels, as well as a tuned suspension. The Gordini was able to reach 115 mph and was sold with paint schemes comprising a solid pastel colour (there were several to choose from) with double white stripes added on, the most famous combination being French Blue with stripes, as seen here. 2225 Renault 12 Gordinis were sold in 1971 but after that sales began a free fall. Renault stopped production of the Gordini in 1974 after 5188 had been sold.
The first "hot" Renault that achieved notable sales success in the UK was the one based on the first version of the R5. These cars were branded Alpine in their native France, but as that name was registered to Chrysler UK who had attached it to the family hatchback that was sold as the Simca 1307/1308 in Europe, Renault had to come up with an alternative. It was not hard. They chose Gordini and the model was launched in the UK in early 1979. As the market for hot hatches started to take off, and everyone seemed to be adding a Turbo to their cars, Renault followed suit and in 1982 created a more powerful pocket rocket with a R5 Gordini Turbo, or R5 Alpine Turbo for left hand drive markets, as is the case with the car seen here.
Eighteen months after the debut of the second generation R5, the "supercinq" as it is sometimes known, Renault produced their response to Peugeot's 205 GTi, the R5 GT Turbo. Many were convinced that this was a better car, though it did have a reputation for unreliability and hot starting was quite an issue with fuel vaporising in the carburettor as the engine cooled. There are not many nice original cars left, but this is one of them.
Far hotter than these cars, though, were the really wild sporting Renaults that have come from the firm over the last 30 years. There were several examples of the mid engined cars, the R5 Turbo 2 and the later Clio V6 Turbo, seen in both its original (and sometimes rather scary) Phases 1 as well as the somewhat tamed Phase 2
In previous years there have been long lines of sporting Meganes, but this year there were only a couple, both of them second generation cars: an  RS230 and an R26
There was only one Avantime present this year, and in recognition of the fact that it was built at Romorantin, the home of Matra, it was displayed with the other Matra cars rather than the Renaults. We had quite a long chat with the owner, though not when standing by his car, as it turned out he had recently bought a C6, which he told us all about as we were admiring Citroen's recent finest. As far as the Avantime goes, he believes that there are still around 350 of them in the UK, out of around 435 that were sold here in 2002/3, but predicts that they will become increasingly hard to keep on the road. The problem is not the mechanical bits, as much is shared with the Espace, but the body. Needless to say, nothing is still available from Renault themselves, and as the panels are glued on, and are extremely difficult to remove, if you damage one, it is not a case of getting one from a scrapped example. He still likes his, but he did admit that the car was a complete commercial catastrophe, with around 8500 sold in total, around half of which were bought by the French, and then around 1000  by the Germans and the Italians, and half those numbers by the UK and Spain.
There were far fewer Renault-Alpines this time, too. My camera seems only to have recorded one car in the static display, though there were more than that present. The one shown here is the A610 Le Mans, whilst I did also photograph a modified GTA as it cavalcaded up the hill on the Saturday and a nice yellow A610 on the Sunday.
On the Sunday, we were treated to the sight of two early R4 models. The brown coloured one is a very early R4L indeed, while the navy blue one dates from 1966 by which time a few refinements had been added to what was initially a very basic car indeed.
Not in main display, though it was parked up close to it, in the Orchard, on the Sunday was an example of the R16TL  This is an important year for the Seize, as it marks the model's half century. It is hard to imagine now how radical this car was, with its hatchback design, front wheel drive, soft suspension, razor-edged styling and unusual engineering which meant that the car had unequal length wheelbases, in a market that was used to the utterly conventional Ford Cortina and Corsair, Vauxhall Victor, Hillman Hunter and Morris Oxford. But the car found popularity in the UK as well as its native France, and throughout the 1970s, the R16 was a common sight on our roads. The model is all but extinct now, with only a handful remaining thanks to the fact that the cars were no better protected against rust than anything else of the period. The paintwork on this one was a little faded, but otherwise it looked to be in fine form.
Also worthy of inclusion in the main display was this Safrane that I came across in the main car park. The Safrane was the 1992 successor to the R25. Whereas that car had sold strongly, the Safrane struggled to gain market acceptance, as customer tastes shifted very quickly to the German prestige brands. Few were sold here, so you don't see them very often.
Also spotted in the car park was one of the latest Twingo models. These rear engined cars certainly look good, with cheeky styling on the outside, though the interior is a different matter with sharp edges and cheap plastics finding less appeal. The cautious UK market does not seem to have taken to the novelty of a car with the engine at the back yet in the way that perhaps Renault had hoped, but there's time yet.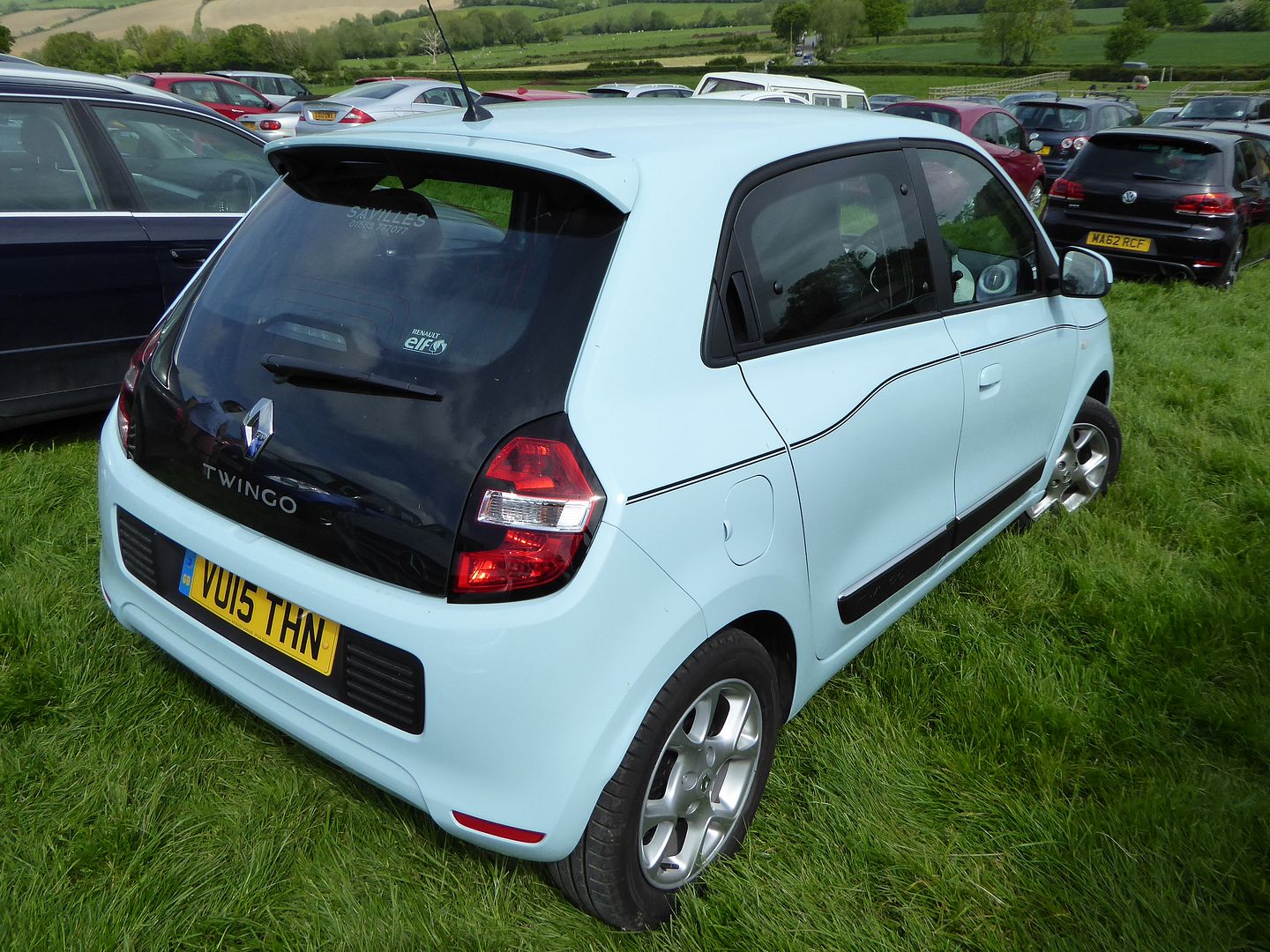 Final Renault on site was this one, a 1926 NN Tourer, which is to be seen quite frequently at this venue. The NN is sometimes referred to as the 6CV. Powered by a 4-cylinder 951cc engine, the NN was first presented at the 1924 Mondial de l'Automobile in Paris as the successor for Renault Type KJ and Type MT. It was in effect a lengthened version of the MT, with an extra 200 mm of wheelbase, and the addition of front-wheel brakes. The exterior design was very simple and family-oriented. Renault at this stage still positioned the radiator behind the engine, which meant that there was no grille at the front, but there were prominent "gills" on the sides of the bonnet for cooling purposes. The car reached 60 km/h (37 mph) and 150,000 cars were sold. The NN2 was introduced in 1929, a larger and heavier car. The car was replaced by the Renault Monasix, though this was a larger car and was powered by a (small) 6-cylinder engine. It was only in 1937 that the manufacturer launched a replacement model in the 6 CV class, the Juvaquatre.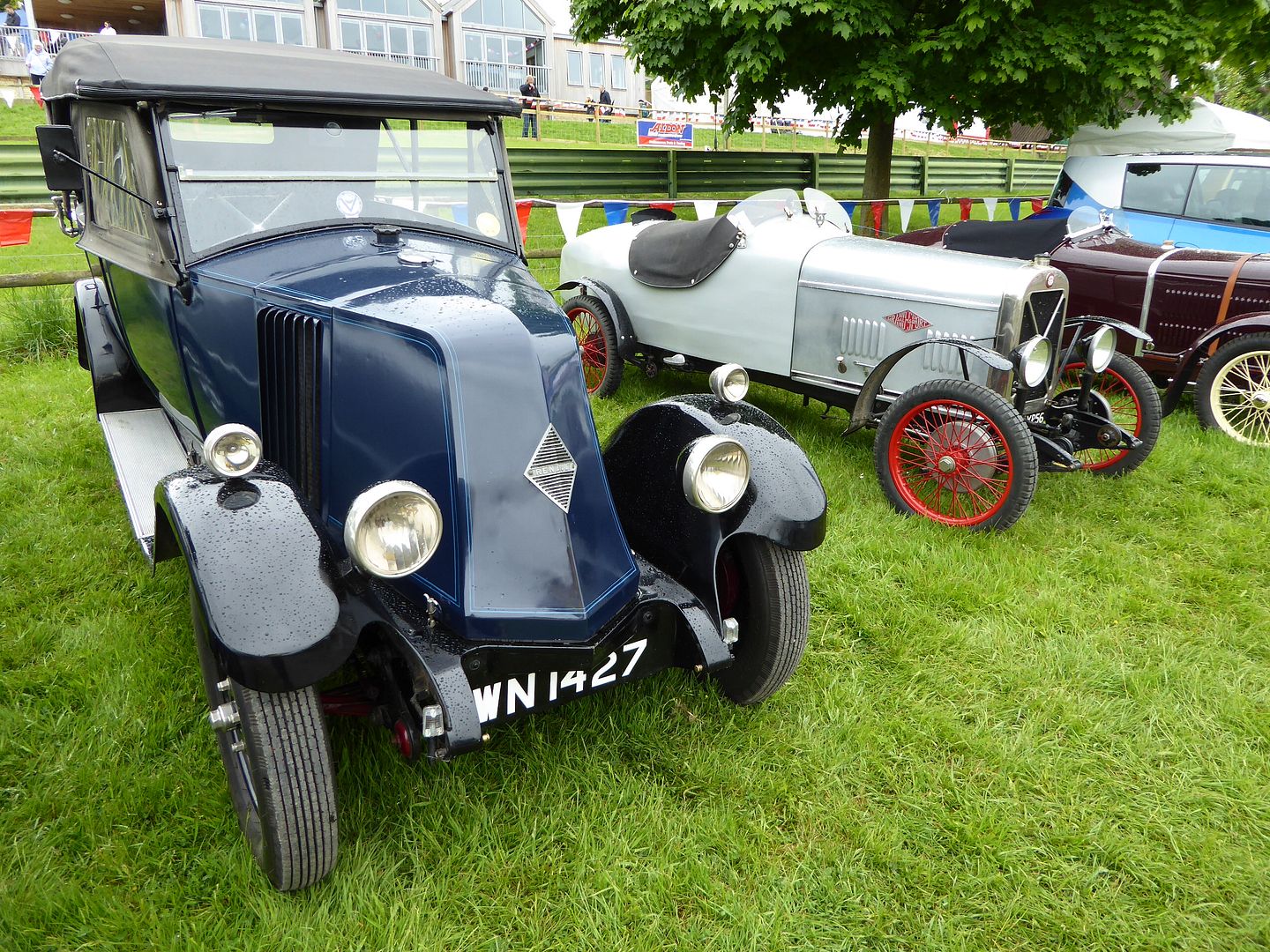 SALMSON
Salmson was a French engineering company, established by Émile Salmson as Emile Salmson, Ing. in a workshop in Paris in 1890, initially making steam-powered compressors and centrifugal pumps for railway and military purposes. Subsequently joined by engineers George Canton and Georg Unné, the company was renamed Emile Salmson & Cie, and they started building petrol-powered lifts and motors in 1896.  The company became one of the first to make purpose-built aircraft engines, starting before World War I and continuing into World War II. As part of expansion plans, the company decided to start car production, deciding to use their Billancourt factory for the purpose, as directed by Emile Petit. With no direct car design expertise, they started by building the British GN cyclecar under licence, displaying six cars at the 1919 Paris Salon. In 1922 the car part of the business became a separate company, named Société des Moteurs Salmson. The first Salmson car proper used a four-cylinder engine designed by Petit with unusual valve gear: a single pushrod actuated both inlet and exhaust valves pushing to open the exhaust and pulling to open the inlet. This was used in the AL models from 1921. Later the same year the company built its first twin-overhead-cam engine, which was fitted to the 1922 D-type, although most production at first used the pushrod engine. Salmson won 550 automobile races and set ten world records between 1921-28 before closing the racing department in 1929. The S-series cars took over from the D-type, starting in 1929 and this became a long lived series. A series of models followed in the 1930s. Production resumed after the Second World War with a car that was largely the same as the pre-war model. A new design was launched in 1950, but the company was bankrupt by 1953. Renault purchased what remained in 1957. A number of different pre-war Salmson models were on show at this event.
SANDFORD
Looking very like a three-wheeler Morgan, this is in fact a 1934 Sandford S Grand Sport. When Englishman Stewart Sandford moved to Paris, he found a job selling Morgan automobiles. As all Morgans at the time had three-wheels and a two-cylinder engine, this allowed them to fall in the motorcycle tax-code category giving them a price advantage over many other 'automobiles' of the time . When customers began requesting 'cycle-cars' with a more powerful engine, Sandford saw an opportunity to meet their demands. His four-cylinder, three-wheeled cycle car arrived on the market in 1922 and drew its design inspiration from the Morgans. There were differences, such as the Sandford's steel frame instead of the wood frame of Morgan. The four-cylinder engine, created by Ruby, was available in both naturally aspirated and supercharged form. In normally aspirated form,  the 1098cc water cooled Ruby engine put out 35bhp. The power produced by the engine was sent to the rear wheel via a two-chain system. Shifting is done with the left hand; a lever is located on the right side of the driver which operates a brake. A foot brake is also available to help keep the car in the drivers control. The interior has room for a driver and a passenger. In the pre-War era, the second seat was usually occupied by a driving mechanic who served double-duties as a counter weight, keeping the car from flipping over in the corners. Top speeds were reported to be over 100 mph and nearing the 115 to 120 mph range, which made this a very dangerous machine in corners. Sandford automobiles were produced in limited numbers, with around 50 examples being produced in a year. In 1936, the Ruby Engine Company was bought by a Sandford competitor which was devastating for Sandford. Within a short period of time, Sandford was out of business.
SIGMA
Whilst I had heard of all the marques listed to date, this one was new on me. The Société des Automobiles Sigma, based in Levallois-Perret began car production in 1913 and continued to produce small numbers of cars – less than 200 a year – until 1928. The first models, an 8 CV and a 20 CV model had chassis from Malicet & Blin and a four cylinder engine from Ballot. After World War 1, a two cylinder model was available for a short time, before the firm returned to four cylinder motors. In 1925 there was a model with a 1494cc engine from CIME as well as valveless engines from Ballot and S.C.A.P. with capacities between 894 and 1614cc.
SIMCA
On the Saturday, there was only one Simca present this year, and it was a model which few will be familiar with, as it is older than the rear-engined 1000, front wheel drive 1100/1204 or the larger 1301/1501 models which enjoyed some success in the UK in the 1960s and 1970s. The car here was an  Océane, a 2-seater cabriolet that was launched in 1957. Sporting a body built by Facel, this car was based on the popular Aronde saloon, a family sized car that had a 1300cc engine.
On the Sunday, it was joined by an Aronde saloon. This is the third and final generation model to bear the name, and is referred to as the P60 Aronde. Presented at the Paris Motor Show in October 1958, the P60 version came with a new modern-looking body. It was not an all new car, but rather a heavy facelift of the previous model. The 96.1 in wheelbase was unchanged and, apart from a slightly lowered roof-line, the central portion of the body was still broadly similar to that of the original 1951 Aronde, but the discrete tail-fins and rear lights were restyled as were the headlights, set on either side of a larger grille at the front. Mechanically little had changed: more innovative was the wide range of versions and permutations now offered, with customers able to choose from a range of engines offering four different levels of power output (40, 45, 47 or 57 hp) and an options list that even included leather upholstery and a "Simcamatic" clutch. In line with the manufacturer's determination to offer customers more choice, the P60 was offered with various names. The following cars all shared the same wheelbase and the same length/width footprint: Élysée was a 4-door berline with a 1290cc 48 hp engine; Grand Large was a 2-door "coach panoramique" pillarless saloon with the same engine; the Montlhéry was a 4-door berline  with a 1290cc higher compression  57 hp engine; Monaco, a 2-door "coach panoramique" pillarless saloon with the 1290cc higher compression  57 hp engine and the Châtelaine, a 5-door estate/station wagon with the less potent 1290cc engine, retaining the body of the earlier Aronde 90A Châtelaine, but by 1960 a more luxurious estate version, branded as the Simca Aronde P60 Ranch, combined the new front end from the P60 with the back end of the previous generation of Aronde estates. The car seen here is a Montlhéry.
VENTURI
There were a couple of  examples of the Venturi here this year. Venturi Automobiles was a French-founded Monegasque-based automotive manufacturer, founded in 1984 by two engineers from Heuliez,  Claude Poiraud and Gérard Godfroy as MVS (Manufacture de Voitures de Sport). The company's sole purpose was to compete in the "Grand Tourisme" market. However, this plan was immediately faced with many challenges, among them was Venturi's almost unknown existence outside of France, another was Venturi's under-capitalized and under-staffed state. The first Venturi came out in 1984, and it was presented as the only "Grand Tourisme" French car capable of competing with the English Aston Martin, the Italian Ferrari, and the German Porsche. From the mid-1980s to the mid-1990s, they built around 750 examples of these very elegant mid-engined coupés and roadsters with turbocharged PRV engines and Renault gearboxes. Engine power ranged from 213 to 264 PS for the Venturi Atlantique series. A limited-edition 400 GTR was built for racing homologation requirements and later used in the 24 Hours of Le Mans. Venturi was also briefly involved with the Larrousse Formula One team. The team's 1992 car, which bore the Venturi name, was designed and built by Venturi Larousse UK, a British company formerly known as Fomet 1, which had previously designed the 1991 Fondmetal Formula One cars. High-level competition has also brought fame to the brand. Stéphane Ratel, who would later found the FIA GT Championship, was at the origin of the Venturi Gentlemen Drivers Trophy, which gathered an impressive array of 75 drivers. Venturi has also won fame through its brilliant performances in the 24 Hours of Le Mans, particularly in 1993 with Christophe Dechavanne and Jacques Laffite on Venturi Jaccadi team, and in 1995 with Paul Belmondo racing on the 600 SLM. However, it is in the BPR Global GT Series races that Venturi established its pedigree defeating Porsche and Ferrari on several occasions. In 1994 in Dijon-Prenois, with Ferté and Neugarten on the 600 LM Jaccadi, at the 1000 km of Paris with Henri Pescarolo and Jean-Claude Basso on the 600 LM, and finally at the 4 Hours Spa race, once again with Michel Ferté and Michel Neugarten. The 400 GT remains one of the best performing French cars ever produced, and it is in fact the very first car in the world to have standard carbon brakes. True to that claim, the Atlantique 400 GT with a 408 hp V6 3.0 24v DOHC twin-turbo delivered excellent performance to put it on par with Ferraris of the early 90s. The 400 GT could hit 100 km/h in 4.7 seconds and a 291 km/h (181 mph) top speed, while the 300GT with a 314 PS V6 did 4.9 seconds to 100 km/h and went all the way to 171 mph (275 km/h). But the company always struggled for capital, and in 200, was declared bankrupt. That was not quite the end of the story, as in 2001, Monegasque Gildo Pallanca Pastor purchased Venturi, and decided to focus on electric-powered engines. This change of direction led to the limited-production Fétish. In December 2009, Venturi announced its acquisition of French motorcycle manufacturer Voxan. The acquisition would effectively allow Venturi to enter the motorcycle market. In August 2011, Venturi announced the creation of Venturi North America, based in Columbus, Ohio. Venturi North America was primarily created as a research and development centre, and as such, maintains a close working relationship with the Centre for Automotive Research.
VERNON DARBY
Another of those long obsolete marques that few will have heard of, this particular car is quite a regular at Prescott. Derby was founded in Courbevoise by Bertrand Montet in 1921 to build voiturettes (cyclecars). These were powered by American vee-twin motorcycle engines, which were quickly replaced with Chapuis-Dorniers units. In this form, the Derby became a close copy of Citroën's 5CV, and selling at £195 for the two-seat roadster, it was competitive with the contemporary Austin Seven (₤225). Shown at the 1923 Olympia Motor Show, Derby failed to gain many sales in Britain. It was there, however, where the company displayed a 9 hp British-bodied Sports model with wire wheels, priced at ₤275. This followed the 1923 racer, which had competed at the Brooklands 200 mile event. Production peaked at approximately 200 cars a year in 1925, falling to approximately 100 a year between 1928 and 1931. By 1927, the car was being sold as a Vernon-Derby, taking the name of the marque's sales agent, Vernon Balls. The company offered an 8 hp with four-speed manual transmission in place of the previous three-speed. The next year, the lineup had expanded to three models: the 8 hp sports car (typically with an 1100cc Chapuis-Dornier four) and two new sporty two-seater sixes, a 1.5 litre sidevalve and a 14 hp  The 1.5 litre was replaced the next year by a smaller-displacement 12 hp sidevalve six. Derby showed a two-seater sportsman's coupe at the 1930 London Motor Show, powered by a 16 hp 18,475 cc six, which resembled the Bugattis of the era. Like other marques of the period, Derby involved themselves in motor sport, with driver Douglas Hawkes's front wheel drive Miller with Derby parts (dubbed a Derby-Miller) acting as a testbed and promotional tool; that it was driven by Gwenda Stewart did not hurt publicity, either. Nor did Stewart's results: she took a land speed racing 1.5 litre class record at Montlhéry in 1930, with a mile at 118.13 mph In 1934, she took another class record in a 1.7 litre Derby, at 147.79 mph, which stood five years. Stewart would also enter the 1934 and 1935 Le Mans, with the recently-introduced V8, falling out both times. Derby ended production with unusual and sophisticated models: 12/50, introduced in 1931, with front wheel drive and fully independent suspension, and a 2 liter V8-powered front wheel drive model, which debuted 1933 (with a chassis price of ₤525).
VOISIN
Gabriel B. Voisin was an aviation pioneer and manufacturer who in 1919 started producing cars using Knight-type sleeve valve engines at Issy-les-Moulineaux, an industrial suburb to the southwest of Paris. Former student of the Fine Arts School of Lyon and enthusiast for all things mechanical since his childhood, Voisin's uncompromisingly individual designs made extensive use of light alloys, especially aluminium. One of the company's most striking early designs was the Laboratoire Grand Prix car of 1923; one of the first cars ever to use monocoque chassis construction, and utilising small radiator-mounted propeller to drive the cooling pump. The characteristic Voisin style of 'rational' coachwork he developed in conjunction with his collaborator André Noel. Noel prioritized lightness, central weight distribution, capacious luggage boxes and distinctively angular lines. The 1930s models with underslung chassis were strikingly low. In the early 1930s, Gabriel Voisin could not pay all of his draftsmen any more and a young creative engineer called André Lefèbvre quit, recommended by Gabriel to Louis Renault. Lefèbvre finally entered Citroën where he led three particularly significant car projects: the Traction Avant, the 2CV and the DS, using a lot of Gabriel's lessons. The final Voisin cars were made in 1939. Frighteningly expensive when new, only small numbers of cars were made, and now they are highly prized, with their exquisite detailing adding tot the charm.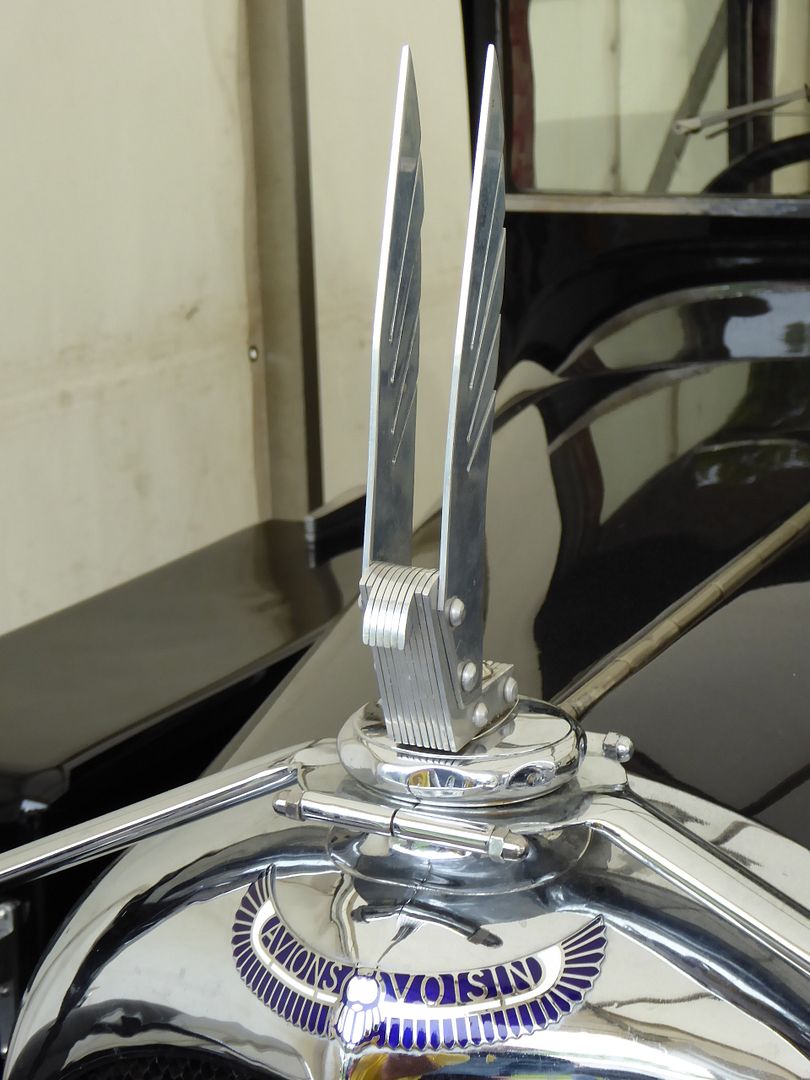 The largest collection of the cars are to be seen in Peter Mullin's collection in Oxnard, California where several of these cars are on display at any one time. You rarely see them elsewhere, so it was no surprise to find this one attracting lots of attention. It is a  1934 17CV Carene, and the design will be familiar to many, as it was the subject of an exquisite model produced by French die-cast maker Solido as part of their L'Age d'Or series in the 1960s, and the model has been produced more or less continuously ever since.
OTHER DISPLAYS
The Paddock area was a hive of activity throughout the day. As well as the cars, there was music, and several times a day we were treated to some particularly energetic dancing by the popular Can Can Girls. By the way, there is a real optical illusion here. Believe it or not, the stage is horizontal, but it certainly does not look it!
Ayrton Senna's Lotus 94T, in iconic JPS livery, has been a popular star at this event for many years now, and in 2015 it was making another appearance. Some times it has taken to the hill, making a noisy and spectacular display, but this time, it remained confined to its tent area.
BUSY BEE
This car is unique. An amazing device, it  was built from scratch in 1919 by a J A Mills of Mansfield. Having served an apprenticeship in the cycle industry he had progressed to working in the motorcycle business before running his own garage. He began constructing `The Busy Bee' single-seater immediately after WWI and completed it one year later for a total expenditure of £120.  A three-wheeler in the Morgan style, its tubular frame was originally powered by a 4.5hp Stag engine but this was replaced by the current 6hp AJS V-twin in 1928. Drive is transmitted by chain to a mid-mounted Sturmey-Archer clutch and three-speed gearbox, from where a further chain drives the single rear wheel. Just 10 bolts retain the three-piece plywood body. Mr Mills proceeded to use his unique machines as his daily transport for the rest of his driving life, covering over 100,000 miles. It was when petrol rationing arrived in 1947 that the car was laid up, and it is believed that Mills, by that time 74 years old, did not drive it again before he died. The car passed to a Mansfield motorcycle business called Frank Inger & Sons, who stored it  but did not use it. It stayed there until the early 1970s when on liquidation of the Frank Inger business, it was acquired by an ex-apprentice of the firm, a Reg Mander, who kept it another 15 years but never used it. In 1986, he decided to sell it, and ownership passed to an enthusiast, Chris Gordon of Moseley, Birmingham, who had heard on the grapevine that the car was for sale. Apart from slight discolouring of the plywood body, it was in remarkable condition. It was sold in 2013 to Kate and David Grounds, who paid just under £10,000 for something that is sure to put a smile on their faces and everyone else who sees it.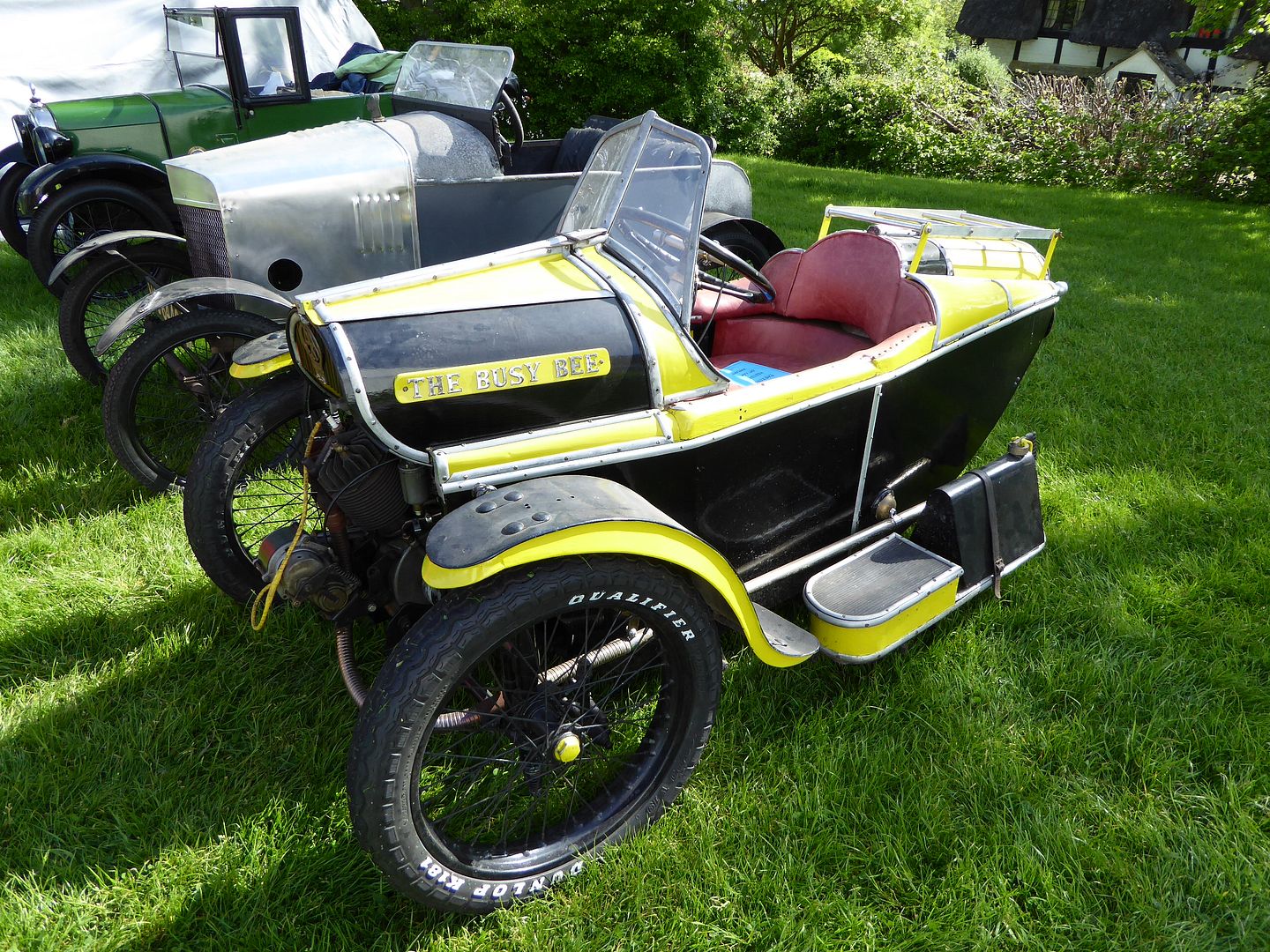 FERRARI
This 1953 Ferrari 166 V12 Oblin Barchetta Mille Miglia is a regular at Prescott, and I have seen it at plenty of other events as well. It always attracts a large crowd of people eager to get a closer look and to learn more about it. The lucky owner, Bernard Worth, has previously told me that he bought it for "not a lot of money" from a small ad in the back of a motoring magazine in about 1960 and he has had the car ever since. In his younger days he use to drive it competitively but nowadays it has a slightly easier time of things, and it has returned to having a 2 litre V12 under the bonnet where once a 3 litre engine sat.
This Morgan Aeromax was parked up among the vintage and veteran French cars. I assume that it belonged to an official, as it was later seen as one of the course cars in the lunchtime cavalcades.
Attracting a lot of attention was this incredible Turbine powered Superbike. And that was as a static exhibit. The bike was taken off for demo runs up the hill several times a day, and hearing the noise as this amazing machine set off was one of the most unforgettable things of the whole weekend. Needless to say, this intriguing device called for more research. It turns out it is not the first time that someone has had the idea of putting an airplane turbine motor into a motorbike. Back in 1998, Marine Turbine Technologies had done something similar, calling the result the Y2K. In its heyday this motorcycle created a lot of buzz due to its unique character and insane performance, ending up on every motorcycle magazine's cover and, of course, in Jay Leno's garage. MTT then set about building a handful more examples, with the last one was being made  in 2005, before turning their focus to designing turbine-powered fracking pumps for the new booming branch of the oil industry and losing actual interest for the motorcycle that generated so much publicity for its creators. It was around that time that Maxicorp founder, Zef Eisenberg, visited MTT's headquarters in Louisiana to discuss the continuation of the turbine motorcycle project. An agreement was made for Maxicorp's Autosport Division to take over the development of the next turbine bike generation. The last Y2K motorcycle was shipped to the UK, where it was taken apart to begin the development process. During the following years, the project evolved into building a completely new prototype as the original design was deemed too outdated. Starting with the power source, the discontinued Rolls Royce 250-C18 turbine from the original Y2K had to be replaced with the C18's successor, the 250-C20B. This meant a giant leap from 240 hp to more than 400 hp in standard form, which was a lot more than the Y2K's gear could handle. The frame had to be redesigned and strengthened. As the motorcycle is not thrust powered but wheel driven, the gearbox is apparently a vital part and the Toyota two-speed gearbox used in the Y2K had by now become totally obsolete. The development team designed and fabricated a brand new single speed gearbox with a multi plate carbon dry clutch. Most spindles and flywheels, originally made from aluminium alloy, were replaced with stronger and lighter one-off titanium parts, and the original Harley-Davidson wheels gave way to BST carbon fibre rims. For the front suspension system the weapon of choice was a racing superbike pair of inverted Marzocchi 50 mm forks, allowing for two 320 mm discs with six-pot ISR brake calipers. The engine management was assigned to a Motec ECU using custom software, developed in house with data logging capabilities and several built-in safety features. The list of changes and improvements made to the motorcycle became so long that in the end only some parts of the frame remain as proof that the starting point once was the Y2K turbine motorcycle – and even these are soon to be replaced. The cost of this project has been estimated at around £200,000 by 2014 and it has continued to rise as the project evolves. Although originally the motorcycle was designed with aerodynamic carbon fairings, the team ultimately decided to go for a naked, streetfighter look, allowing for the turbine and all the technology used to be on full display. As soon as it was completed, Eisenberg created the Madmax Race Team and decided to take his creation for a try at breaking some speed records. In May 2014 at the Elvington Airfield in Yorkshire, UK, the fully-faired race bike, sponsored by Tag Heuer, broke the British Land speed record with a one way speed of 214 mph. In August 2014 in streetfighter form it set a new world record of 224.9 mph over a mile from a standing start, which was ratified by the Auto-Cycle Union (ACU), the Speed Record Club and the Timing Association. The plan for 2015 was to return to Elvington for some more record breaking. This posed several problems that the team had to overcome. First of all they needed more power. The streetfighter bike has a drag coefficient of around 0.9 – as opposed to the much sleeker 0.35 of the fully-faired race bike. After some careful calculations, they realised that in order to increase the top speed from 224.9 mph to the target of 231.7 mph, they had to come up with an additional 100 hp. This was achieved with a lot of hard work and a special addition to the engine fuel system: a water/methanol injection system. Using a mix of 30 percent methanol and 70 percent water, a special order pump injects 1.4 litres into the turbine inlet every 10 seconds at a pressure exceeding 200 psi. Holding enough for just 20 seconds, the team estimated this additional boost should cut it. That means that in 2015 form, as seen here, the Madmax turbine streetfighter produces an estimated 542 peak horsepower with a torque of at least 450 lb-ft at maximum rpm. These performance figures are not 100 percent accurate because the motorcycle has proved to be too brutal for any dyno to handle. Just before its appearance at this event, the bike was taken back to Elvington. So, on May 13 2015, on a Dynojet 250 equipped with an Eddy Brake system, the bike was strapped down with 150 kg of force on each side in a bid to achieve maximum traction for the 240/40-18 rear wheel. Despite every measure taken, at around 80 percent throttle the rear wheel started to spin on the dyno's 750 kg grooved steel roller. That would be the inescapable result of too much torque. When the bike's ECU calculated a perceived acceleration from 190 to 240 mph in just one second at the rear wheel, it shut down the turbine as it was designed to do as a safety precaution. Mind you, this happened before using the water/methanol boost! And then, on May 17, Madmax's turbine streetfighter, at the hands of Zef Eisenberg, became the proud holder of three world records and one British national record: World's fastest Turbine Motorcycle – 1 mile (one way): 233.7 mph; World's fastest Streetfighter – 1 mile (one way): 231.6 mph; World's fastest flying quarter mile for Turbine Motorcycle: 3.91 sec; and Britain's fastest Naked Motorcycle (Official ACU two way average): 225.6 mph. All these were achieved in road legal trim, as the motorcycle is registered for road use. The bike competed at the Elvington event using normal diesel fuel and road legal DOT tyres. In fact, Eisenberg has ridden it to almost every event it has attended, reaching as far as the Helitech 2014 show in Amsterdam, Holland. That's 1,200 miles from the team's base in Guernsey, travelling and handling road bends smoothly while doing 7.2 mpg on pump diesel. The C20B turbine is equipped with a titanium retainer ring ensuring that the turbine blades will not become lethal projectiles in the case of a failure. There is also a system that prevents flames from coming out of the exhaust pipes – Jay Leno had admitted in an old interview that, while idling at a red light on his Y2K bike, he could smell the bumper of a car behind him melting from his exhaust's heat, before he took off in a hurry. There is no commercial future for this turbine motorcycle, as Maxicorp believes that it's simply too powerful for most riders. Yet, the company's website does leave a small window of opportunity declaring that, "we may be tempted to build one for those that can demonstrate they have sufficient money and expertise in handling such a bike for special occasions or ideally for those that want to add possibly the most extreme bike ever made to their current collection of automotive exotica".
IN THE PADDOCK
Prescott is really all about Hill Climbing, so whilst all the French themed content was interesting, the reality is that this was all a backdrop to a varied program of entrants pitting themselves against the clock to see who can post fastest times on the trick ascent up the slopes. All manner of different classes were entered over the two days, with most only present for one of the two days, so a look around the Paddock, as the cars rested or were being prepared, as well as watching them assemble near the start line, or indeed any of the vantage points from there all the way up the hill yielded lots of interesting challengers. The Saturday was given over to British marque championship rounds, competitors from the home Bugatti Owners Club competed on both days, sports and saloon cars entered on Saturday and racing cars on the Sunday. It all made for quite a mix.
ASTON MARTIN
The classic Aston Martin models competing were among the nicest, and doubtless the more valuable of all the entrants. There were a mix of pre- and post war cars, with the earlier ones represented by a number of the International models.
Post War cars were dominated by the DB2 based machines, though there were some later models taking part as well.
ALLARD
There was even a class for the Allard, a thunderous series of machines created in the late 1940s and early 1950s by Sydney Allard, very much in the style that would later characterise TVR, with large powerful engines in relatively light bodies. Victory in the Class went to Mark Brett's Ballamy Ford V8 Special.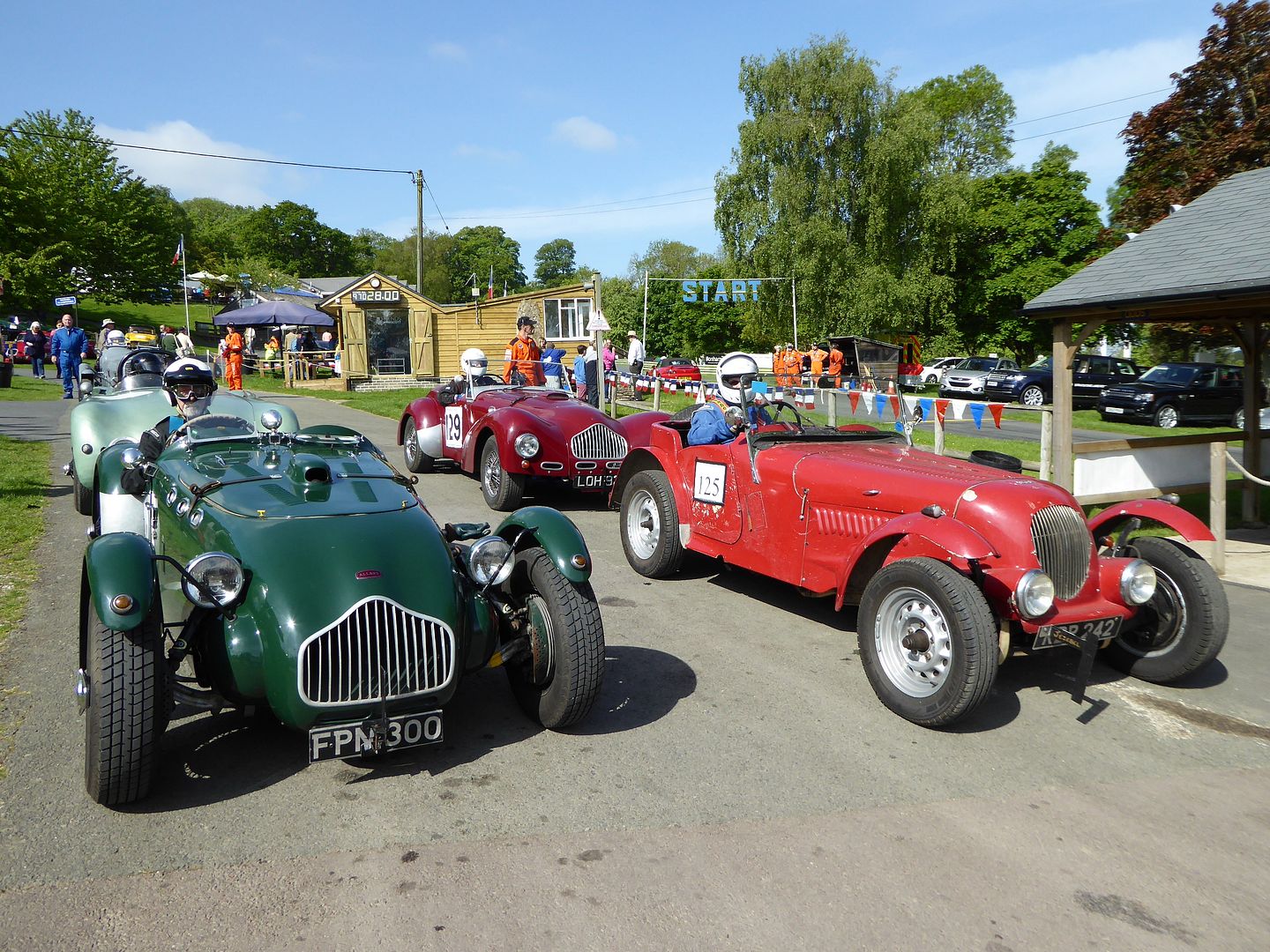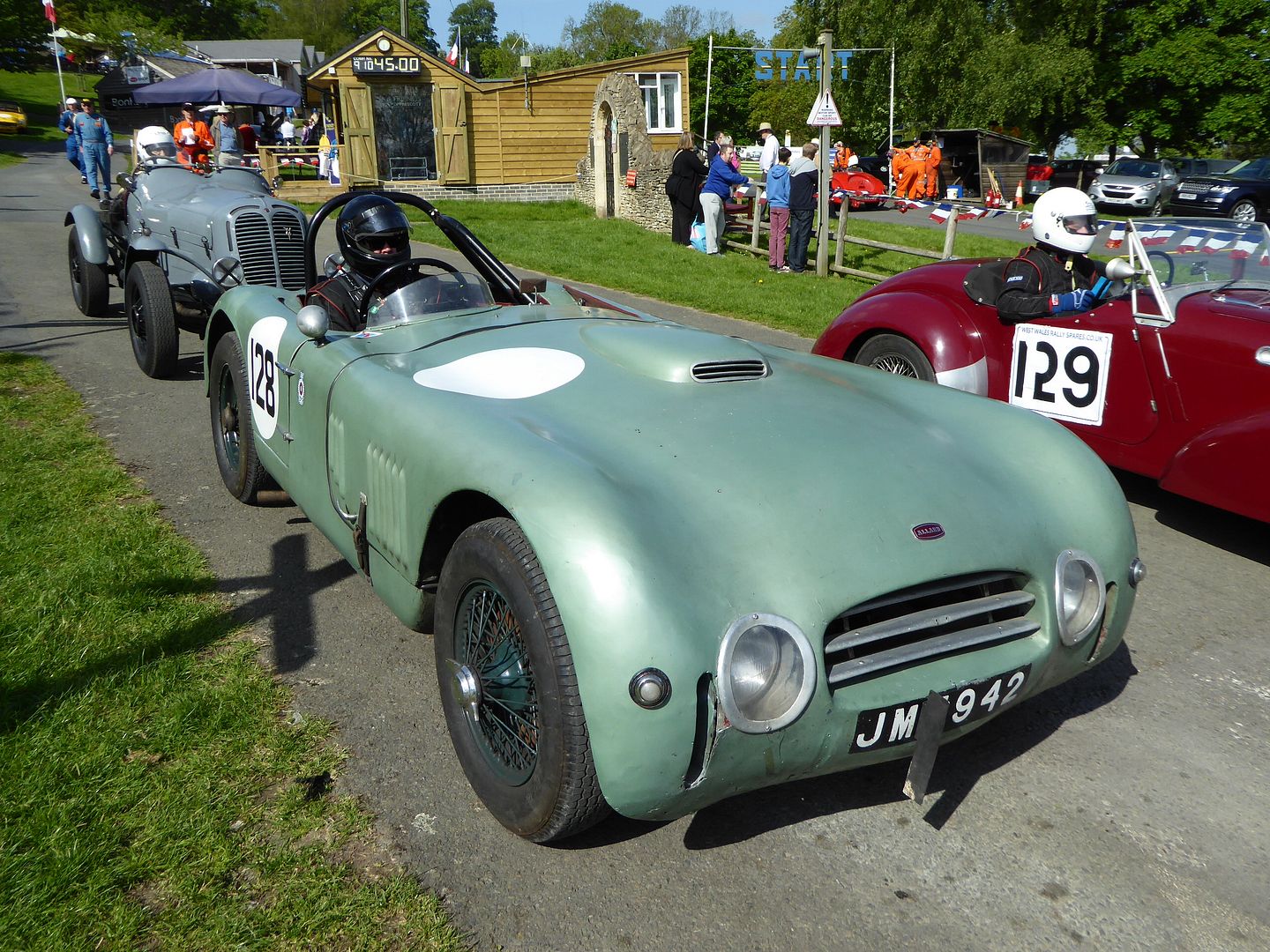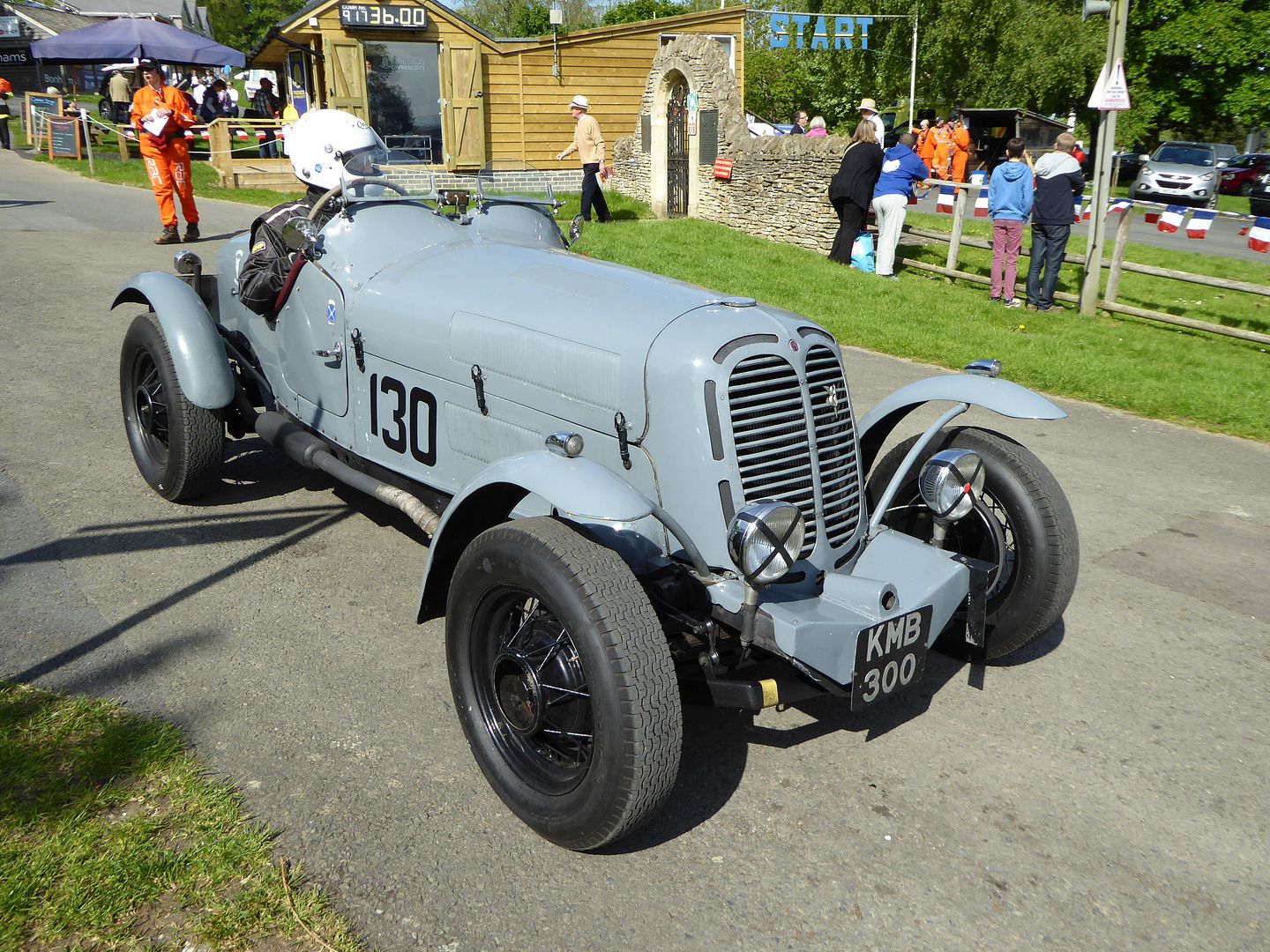 AUSTIN
A large number of Austin Sevens were to be seen competing in the Bert Hadley Championship. Some were the factory built sports models like the Nippy and plenty were what are known as Special, with bespoke bodywork created at some point in the car's life. Stuart Roper-Marshall won the Road Car class, and Terry Griffin won the Racing Class in his Single Seater Special.
FERRARI
This event was hosting a round of the popular Ferrari Challenge. Most entrants in this use the more wieldy V8 cars and that was the case here, where there was an interesting array, dominated by the 360 and F430 cars of recent times, with older models such as a  308 GT4 Dino and a 328 GTB also entered.
LOTUS
Entrants here were part of the Paul Matty Sports Car series, and there were a number of models we tend to think of as road cars competing, including the lithesome Elan, the Elise and more potent Exige as well as the famous Expose.
Also to be seen were a series of Colin Chapman's legendary racing cars, with Types  22, 23, 51, and 69 all in action.
PRE and POST 1972 CARS
Two separate classes, for cars on either side of the age divide, and lots of variety in what was entered. Renaults dominated the latter, but plenty of other cars put up a good fight.
Austin Healeys are popular competitors, and there were a number of the Big Healey, the 3000 and its smaller brother, the Sprite, taking part
This is a Costin Amigo, a very rare car, as just eight of these were made. Designed in the late 1960s by Frank Costin, of Marcos fame, and considered by many to be the finest design he produced, with styling elements of almost every car of the period incorporated in particularly aerodynamic shape, the model was announced in 1970, and was to be built in Little Staughton, Bedfordshire. Its 2-litre engine and running gear came from the Vauxhall VX 4/90, with a Getrag 5 speed gearbox, driving through a limited slip differential. which sat in a plywood monocoque frame. Light weight and an aerodynamic fibreglass body gave it a top speed of 137 mph, and a quoted 0-60 time of 7.2 sec. The car cost £3326, which made it just too expensive. This one has plenty of history behind it, and is probably the most famous of all Costins being effectively their Works Car. Number 6 of those produced, it was driven at Le Mans in 1971 in 3 hour race (not the legendary 24 Hours) by Brian Hart and Paul Pycroft de Ferranti and also by the legendary Gerry Marshal who won in the car at Thruxton in 1971 Several other top drivers of the period drive it. In the late 1980's the car was sent to Bill Blydenstein by Paul Pycroft for a total rebuild which was well documented in many motoring magazines.  The car is now fitted with a Blydenstein-tuned 2.3 litre Vauxhall Dry sump rally spec engine. It also has split-circuit braking system and sits on Carmona alloys.
The black Citroen 2CV seen on the left of this photo, belonging to Pete Sparrow, might have seemed like an unlikely competitor, but all was not quite as it would seem, as evidenced by his time of 56.03 seconds, ranking him third in a class for pre-72 saloons. Built as a stunt car for the film RED2, this 2CV packs a 100 bhp 1100cc BMW GS bike engine under the bonnet.
It was not the only 2CV entrant, though.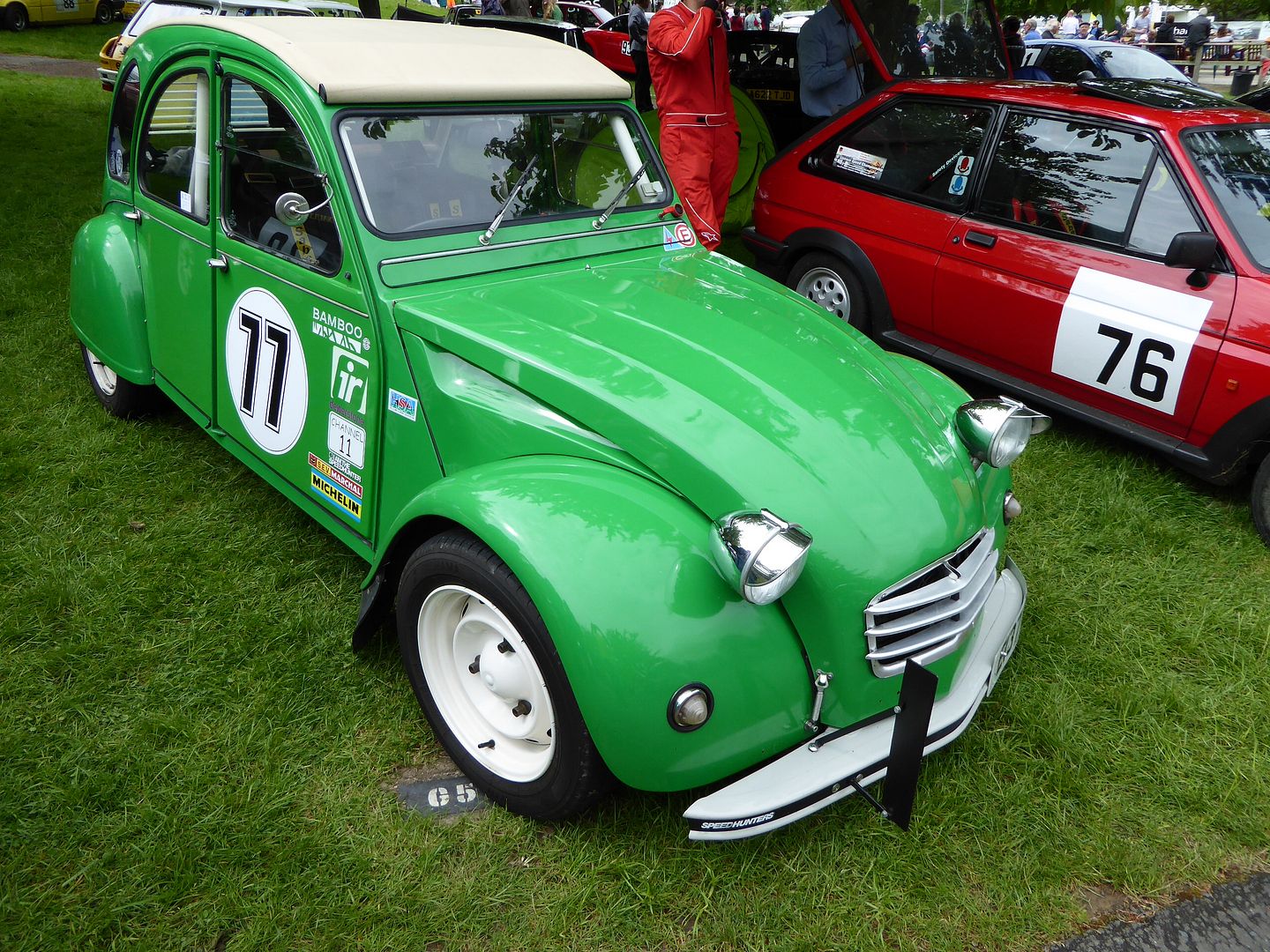 This was a nice Jaguar E Type.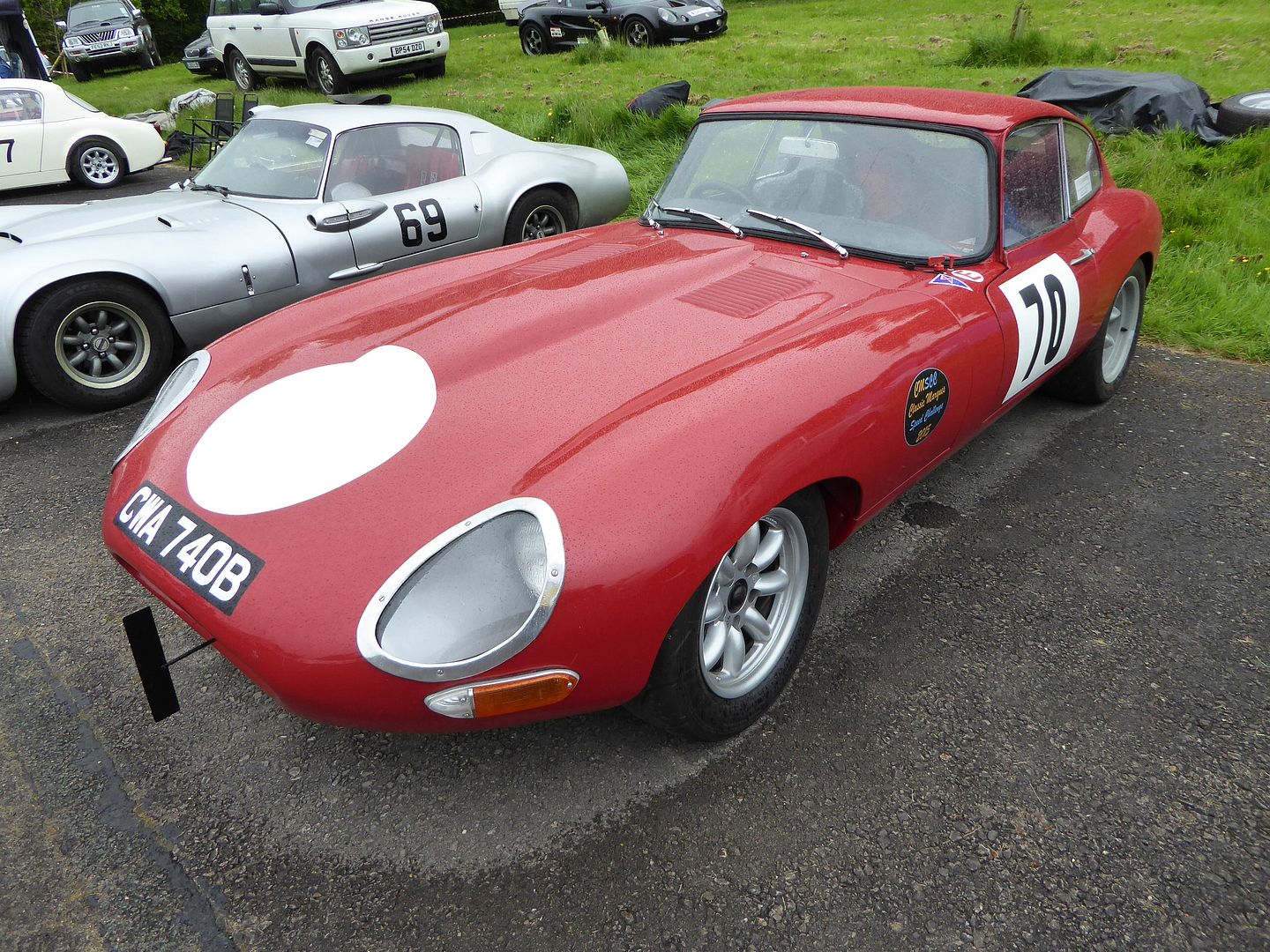 With a plentiful supply of cars and parts, and that are easy to fix, the MGB is a popular car for relatively low budget hill-climbing, so no surprise to see examples of this evergreen British sports car entered.
A number of Morgans were entered, too.
At the extreme end of the scale was this Porsche 911 GT3.
We had quite a long chat with the owner of this VW/Porsche 914. He explained how the car – which had started out life in America, as most of these models did – is that bit different, and is also perfectly civilised for him to drive it and from the event. He's owned it a couple of seasons and is still working on tweaking it a bit to try to improve its performance on the hill.
Another rarity was this Turner, a small British sports car based on BMC mechanicals
TVR
This event constituted a round of the TVR Car Club's Speed Championship, and vying for honours were a mix of the Blackpool built cars, including the well known Cerbera,  Griffith and Chimaera of the 1990s as well as a much earlier Vixen
VSCC CARS
As a fore-taste of the VSCC's own event at Prescott, which takes place in early August, they brought along a number of cars which competed up the hill on the Sunday. Whilst the 1911 950cc De Dion Bouton of John Harrison may have interested the crowds, it was Mark Walker's thundering 200 bhp 1905 Darracq that really made an impression. With a best ascent time of 57.65 seconds, though, he had to be content with second in class.
WHIZZO v CROPLEY
There was another battle to be fought out, and this one had been previewed in Steve Cropley's weekly column in Autocar magazine, where he had revealed that both he and Barry "Whizzo" Williams would be using the all-electric Renault Zoe to try to set a new record for a battery powered ascent of Prescott. Needless to say, there was plenty of rivalry between them as to who would be the faster. I had a chance to talk to them both before their first run, when Steve told me he thought he had a weight penalty as well as a skill deficit. Whether those were the reasons or not, it was Whizzo who posted the faster time of the pair of them, beating his previous record also in a Zoe, with a best of 60.29 seconds, against Cropley's 61.88.
OTHER CLUB DISPLAYS
As well as the various French Car Clubs, and TheMotor.net. Prescott welcomes over Clubs at all its events, and there were a number of others present at this event, some just for day, others attending both. Everything had been moved around, which created some confusion on arrival, as many of the Clubs assumed that they would be in a similar place to previous years, and the parking marshalls seemed not to have been given much in the way of information to be able to direct people to their new locations. Once a few cars were parked up, of course, it all became easier, as you could see fellow club members. Clubs with display cars had the opportunity to register for a place in the lunchtime cavalcades, and many took advantage of this opportunity, meaning that not only could everyone enjoy seeing the cars in action, but that they inevitably ended up parked up in a different way in the afternoon compared to the morning.
FERRARI
A small collection of Ferrari models on the Saturday comprised a 512TR and a pair of  458 Spiders
GLOS CLASSIC CAR CLUB
Catering for a wide range of classics, this local Club had some interesting cars on show, which ranged from a Bentley Continental T, through a nicely presented E30 series BMW 318i  a couple of Triumph Stags and a 1962 Austin Se7en.
Although I do not recall seeing it in the display, there was a Teal that took part in the cavalcade with these cars, so I am guessing it was likely part of the same display. The story of the Teal is quite involved story, and it probably takes longer to tell than it does to list the number of products that got made. The first Teal, then called a Worsley, was designed by Ian Foster on the back of several fag packets in the bar of The Pack Horse Inn at Affetside, Bury in 1983. Ian had been a chassis designer for Daimler (including the Daimler Dart) before setting up his own business, Trafford Brake Services, in Patricroft, Eccles, near Manchester. The story goes that at the Pack Horse one night in 1983,  Alan Hunter  told his friends Ian Foster  and Tony Rogers, a part time motor-sport driver, that he had just flown back from America, where he was on business for Mitchell Shackleton Ltd, a large engineering company making marine crankshafts, and that at Los Angeles airport, he  had seen what he thought was a Bugatti Type 35, but in fact the brochure which Alan had picked up revealed this to be a rear-engined VW-based fibreglass kit car replica. The glorious Bugatti-style bonnet was,of course, empty. Ian then described on the 'fag packets' how an effective, strong chassis for a front-engined Bugatti replica could be designed to make use of the good GRP bodywork available. Alan listened in silence, then asked quietly: 'would that work?' When Ian and Tony both chorused 'yes!', Alan told them he would collect £330 off each of them the following week, and he would bring a body kit back from America! Within six weeks the kit of excellent GRP bodywork had arrived from the USA. Ian took accurate dimensions, the trio persuaded a Heywood fibreglass boat-builder to produce a mould and commence production, and Alan Hunter had the first 12 chassis welded up at Mitchell Shackleton Ltd to Ian Foster's measurements. They were delighted with the result. Publicity was required to sell the new car, and Tony Rogers felt that the original Tudor courthouse in Worsley, Manchester, would make a suitable backdrop for photos. Brochures giving the Worsley's spec were produced. In mid 1983, Granada TV's Look North ran a piece, and the Worsley was launched. From mid-1983 Worsley cars were built at Trafford Brake, Patricroft, Eccles on a very strong twin-ladder box steel chassis with extensive triangulation to enhance rigidity. The GRP bodywork was well moulded in five sections, Morris 1.3 or 1.8 litre engines were fitted, and Morris Marina running gear/brakes were used with the smaller 8-spoke wheels. The first 8 cars were called Worsleys; but Ian remembered from his days with Daimler that in Brummie slang a 'worsley' meant a Friday car – a duff one, so a search started for a new name. At this time Ian was running his main business Trafford Brake, and he had also linked up after the February 1984 Target Motor Trade Show in Birmingham with Mike Alderson from Hampshire, who with Bob Buckley of Thistledown Engineering became his southern sales agents. After a bit of midnight oil burning, and some long distance phone calls, it was decided that the new car would be called TEAL, which has been variously described as standing for Trafford Engineering Automotive Limited; Trafford Engineering Automobiles Limited; Thistledown Engineering Automotive Limited; Trafford Engineering Associates Limited. Whichever it really is, the cars became TEALS; Mike Alderson had the new Teal badge rapidly designed and manufactured in Andover. He fitted the badge to the Teal which he had picked up from Ian in Birmingham, and had driven in leathers, flying helmet and goggles with Bob Buckley through a frozen March 1984 day first to Cirencester to thaw out in front of a hotel log fire, then on to Hampshire to appear on Southern TV at Southampton with the Teal in the studio , the first recorded long-distance drive of a Teal. The summer of 1984 was hectic at Teal. The car had appeared in  Autocar magazine of March 1984, formed the front cover of Kit Car magazine July 1984, with a comprehensive report by Ian Hyne, had been on television twice, displayed at the Birmingham NEC (July 1984) and queries were coming in from all over the world. By July 84 eight Teals had been built, some at Eccles and some as kits, and Mike Alderson in Hampshire put in orders for eight more completed cars for clients in the South. The question now was could Teal cars cope with the rapid throughput of orders? The Teal kit price in the summer of 1984 for chassis and body was £3000 with 3 weeks delivery; the completed, drive-away car was £5700 and 12 weeks delivery quoted. Meanwhile Ian Foster was trying to run his own business at Trafford Brake, and was being pressed in 1984/85 to carry out a range of modifications to increase the sophistication and the appeal of the original Teal. He was also trying to arrange a move of Trafford Brake to Burscough. Something had to give, and in 1985 after about 30 GRP Teals had been manufactured in all, several going to the Continent, Ian Foster decided to sell Teal Cars – he discussed it with Mike Alderson in Hampshire, but in the end Teal Cars was purchased by Bob Jones in March 1986. Bob,  redesigned the chassis, replacing the GRP body with an all- aluminium skin, developing the design through the late 1980s and 1990s using a steel box chassis of great strength and rigidity, hand-wheeled aluminium boat-tail and louvred aluminium bodywork, refining the styling of the Teal to look very much like an original Bugatti T35A, but larger. A real Type 35 is quite small, with only a 2.40 metre wheelbase and 1.20 metre track; in the Teal T35 the wheelbase has been increased by 40cm, and the track by 20 cm, providing a footprint nearly 40% bigger on the ground – a much more comfortable size to drive on contemporary roads. The large 18 inch wire wheels from MWS (Motor Wheels Services) were now used, and Bob lowered the centre section of the chassis to provide improved handling, and a much more purposeful stance which is particularly evident in the Type 35B. The cars were built at Harrowby Mill near Bolton and near Altrincham in Cheshire, and could be purchased complete and ready to drive from the 'works', or in the kit form of chassis, suspension, wheels, bodywork and trim for assembly at home, thereby avoiding tax. Nearly all 2-seater Teals have no hood, but most owners do have a tonneau and a wind-blown complexion. The standard engine options were BMC 1700 or 1800cc/MGB 4-cylinder motors, but later there cars also came with 2.0 or 2.5 litre Triumph straight six options. Fiat-Lancia 2.0 twin cam engines have been used in the Teal T35, as well as Rover 2.6 litre straight sixes, Nissan motors and, in the strengthened Teal T35B, even the Jaguar 3.4 or 4.2 litre straight 6 engines. The Teal is also seen in a four-seater Tourer version, with 'proper' windscreen and hood, ideal for the sporting family motorist – or those who need to carry lots of baggage. In 1996 Bob Jones sold the Teal Type 35 designs to Norman Durban of Bisley, Surrey, but they agreed that Bob should complete all existing orders, which resulted in Bob building Teals and Teal kits until early 1998. Norman Durban, with his son, has competed in his interesting Teal T35 'April' (from the registration number RPA1L) in the Liege-Roma-Liege Rally on the Continent. It is hoped by many Teal enthusiasts that production of the further-developed Teal Type 35 might restart, but that does not appear likely. In December 2010 The Teal Owners' Club purchased the rights to the name Teal, and the right to manufacture all Teal cars except the Type 59 (Ted Riley). It also purchased the bucks for the Teal Type 35 mudguards, radiator, bonnet and boat tail. These days you can buy one for a few thousand £, though the very best cars have sold for around £35,000, an astonishing figure, though of course this is a fraction of the price of a genuine Bugatti Type 35.
MG
There are lots and lots of clubs catering for MG enthusiasts, and I am not entirely sure which one this was. Anyway, they had some nice cars on show including an MGA and an MGC Roadster
MORGAN
The Morgan Car Club came on the Sunday, and they occupied the space where there had been TVRs the day before. Sadly, this was the day when it rained steadily for a while in the morning, so most of the cars had to be protected by all manner of tarpaulins (this being easier than erecting the hood on a Morgan!), making it hard to see the cars. Once the rain stopped, though, the covers were lifted, and it was possible to see an array of models, most of them what we think of as the "traditional" shape of Plus 4 and Plus 8. but there was also an Aero 8 on show.
RILEY
On the Sunday, the Riley Car Club had a display of cars in the space where TVR were to be found the previous day. Although the marque of these cars is quite easy to identify from the lozenge shaped badge on the top of the grille, the fact that there were so many different models makes knowing precisely what you are looking at, a task for the marque expert (or some work with Google!). Among the cars on show, the red car, I think is a Lynx, the cream one a Two Seat Tourer, whilst the Green and black one is a Kestrel, the all black one a Merlin and there were a couple of other open topped tourers with them.
SUBARU
A small collection of Subaru models comprised various Impreza cars, from the first and second generation of the model.
TVR
There seemed to be two separate areas with TVRs parked in them. One was on the left just as you came through the paying gate from the main public car park, and there were also a line of Blackpool's finest parked up backing onto the track area. between them, there were an impressive assembly of these popular British sports cars.
Oldest TVR here was a 3000M. This is the model produced during the 1970s, when the marque was something of a specialist taste, known only by a few, for producing sports cars that used underpinnings from Ford and Triumph. In 3000M guise, it was Ford's long running 3 litre V6 engine which provided the power. Late in the model's life, a version with an opening rear end, the Taimar was produced, then the top was removed to create the 3000S and a Turbo was added to the engine to produce more power.
The first of the "wedges", the Tasmin were seen in early 1980. Dramatic new styling sat over a largely unchanged mechanical set up, with the car still using Ford units, though in this case the slightly more modern 2.8 Litre Cologne engine as the earlier Essex was out of production. The range extended downwards, first, with a 2 litre model, the 200 produced, but it was when the Rover V8 engine went under the bonnet, creating the 350i that people started to take notice. Over the next few years, larger capacity and more potent versions of this unit were installed, creating a number of different models, three of which were to be seen here: a 350i, a 390SE and a 400SE
Needing no introduction were the other TVRs on show: lots of Chimaera models were joined by some Griffiths, a Cerbera and the later T350T
DEALER DISPLAYS
STRATSONE
For as many years as I can recall, there has been a dealer display of Land Rover cars, provided by local dealer Stratsones, parked up at improbably angles on the inside of the track, not far from the bar area and near an ice-cream van. They were here again, with one example of each model in the Land Rover range available for inspection. The one that most people would not have seen previously, and certainly not had the chance to have a good look inside, was the new Discovery Sport, which went on sale earlier in the year. It is an impressive looking machine, and clearly quite an advance on the Freelander which it replaces in the lineup.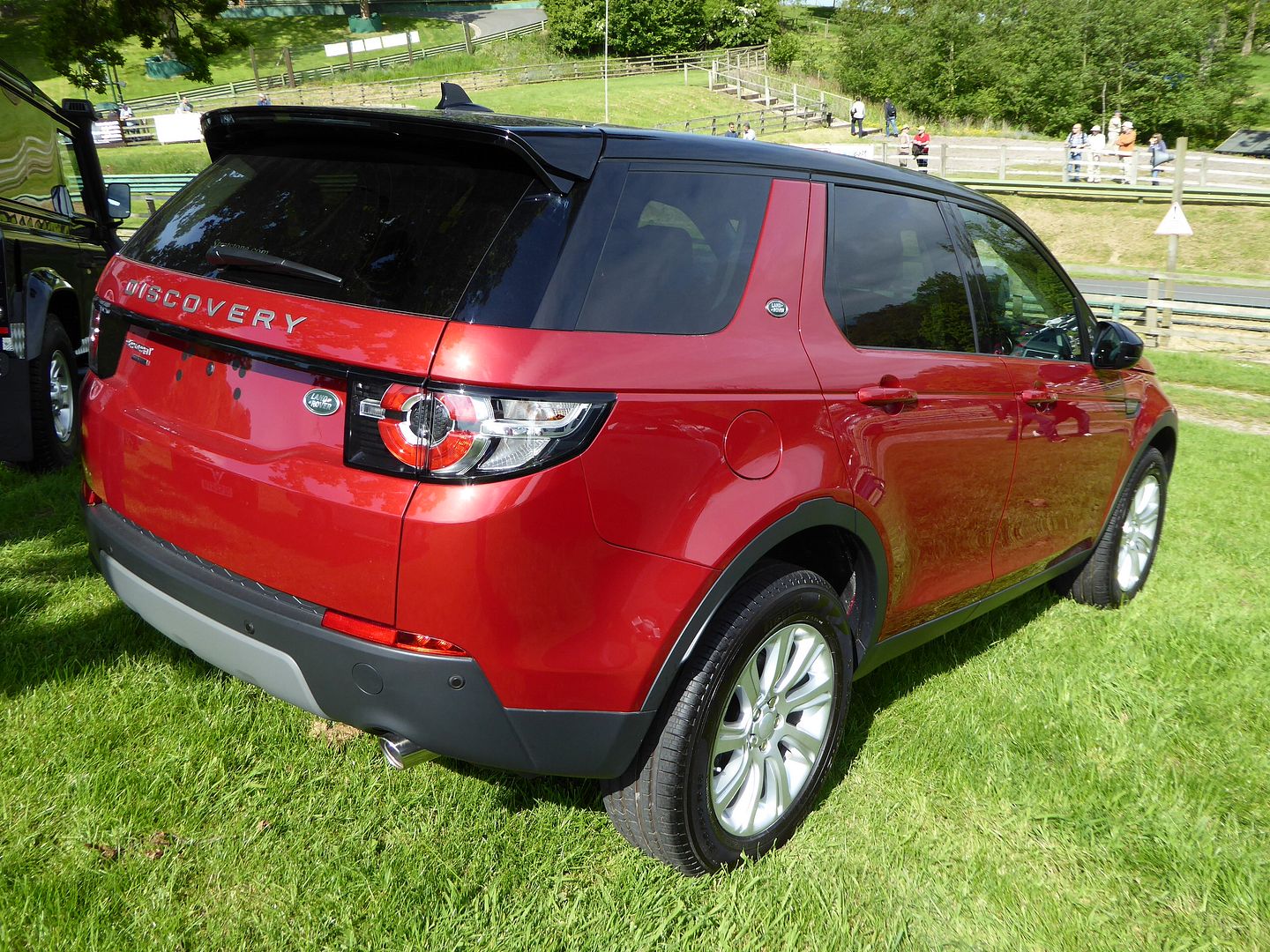 It was joined by more familiar cars, all now sporting something of a "family look". from Range Rover and Range Rover Sport, to Evoque and Discovery, with just the traditional Defender looking so completely different.
PORSCHE TEWKESBURY
Newcomers to the event were Porsche of Tewkesbury. This dealer, located right by Junction 9 of the M5, only opened a few months prior, and they have clearly now taken out some form of sponsorship of the venue. They had a large display unit located on the right of the road in towards the Orchard, and a further unit up on the plateau alongside the track where sometimes in previous years that has been an auction house with some rare classics. That meant that they had plenty of space to display a number of cars from Porsche's now extensive range. In the upper area were a Macan S and the latest 911
The area that was near the entrance contained more cars, with a Cayenne S Hybrid, Cayman GTS, 911 Carrera GTS, Boxster S, 911 Carrera 4 and a Panamera Diesel all available for inspection.
Parked up behind them were a few older Porsche models, and during the event I noted a classic 911 Targa,  a 944 and the more recent  997 GT3
IN THE CAR PARKS
Although the main attractions at an event like this are to be found in the Paddock and the Orchard, there are always plenty of interesting cars just left in the car parks as well, so it was well worth wandering around all the public parking areas a couple of times., on both days, to see what additional interesting stuff was to be found. With cars belonging to the organisers and marshalls parked at one end of the Orchard, and those belonging to the paying public up on the hill, in the bottom of the Orchard and in a vast field to the east of the Orchards, it does take quite a long time to meander among several hundred cars. In among lots of what are currently commonplace modern vehicles, there was plenty that was worth pointing the camera at, and a few really rare vehicles indeed, as this section of the report will illustrate.
ABARTH
No surprise to find this one parked up on the hill. A 595 Turismo, it belongs to Alec Macfie, and he is a regular attendee at Prescott. I did not ever actually see Alec himself during the day, though.
AC
Quite a contrast in cars bearing the AC badge, with a 2 litre from the 1920s and examples of the Ace and Cobra
ALFA ROMEO
Three very different Alfas, from three different decades caught my attention. First up was a GT, the recently discontinued model which looked better, and had more space in it than its larger brother, the Brera. Based on a combination of 147 and 156 components, this was, in my opinion, one of the best looking Coupe models of recent times.
Earlier Alfas that I saw were a 145, the rather unconventionally styled mid-sized hatch that took over from the 33, and a GT 1600 Junior, one of a number of versions of the popular 105 Series cars that are now fetching ever increasing sums of money when they come up for sale.
ALVIS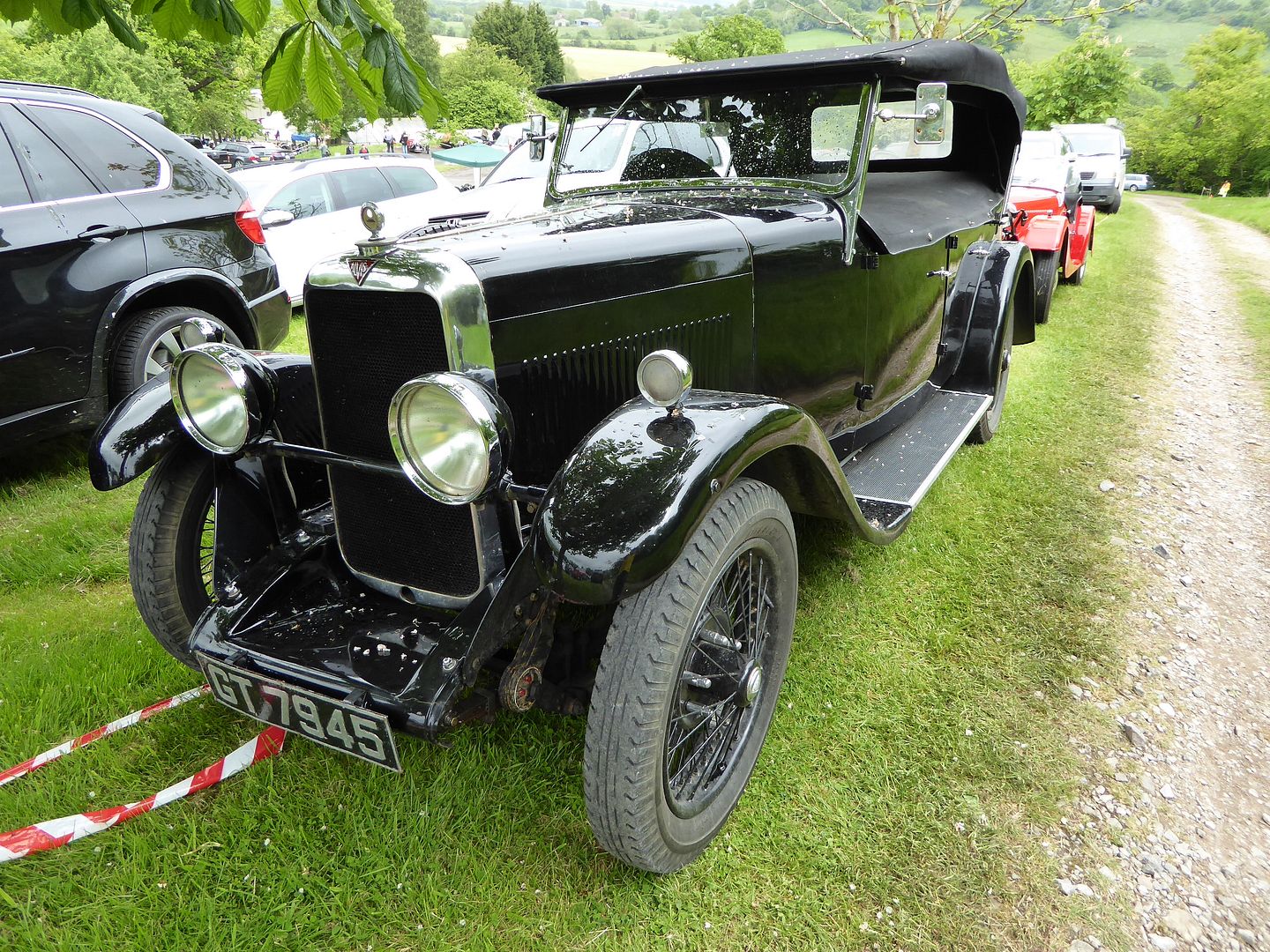 ASTON MARTIN
Among the Astons to be seen were a DB5, a DB7 and a V8 Vantage
AUDI
There was an urQuattro here on the Sunday. This remains one of my favourite cars. not just of the 1980s, but of all time, and this one was in excellent condition.
Audi's super car, the attention-grabbing R8 also made an appearance on the Sunday afternoon.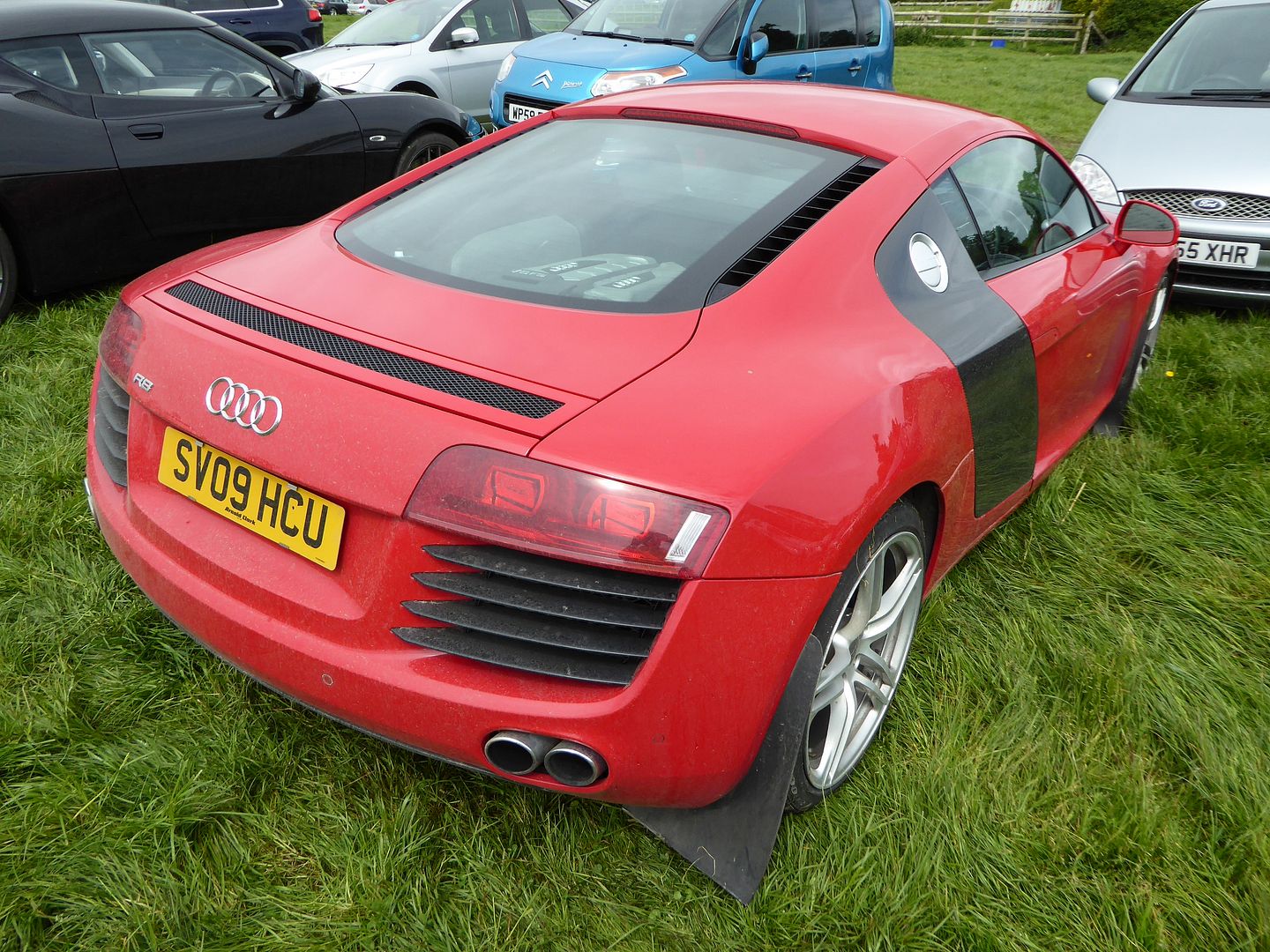 AUSTIN
There were a couple of Herbert Austin's baby, the Seven parked up here.
Seen in the Orchard on the Sunday was an A40 Farina, the first of the BMC cars to benefit from the styling touches of Italian master Pininfarina.
AUSTIN-HEALEY
Healeys included a couple of the 3000 model as well as the smaller "Frog Eye" and its replacement, the Sprite Mark 2
BENTLEY
This very splendid 4.5 litre Supercharged Bentley arrived during the day on Sunday. What a machine!
BMW
This Frazer-Nash 319 is an inveterate attendee.
There were loads of BMWs in the car park, of course, but none of them counted as rare enough to be worthy of a photo (yet) apart from this one, a Z4M Coupe.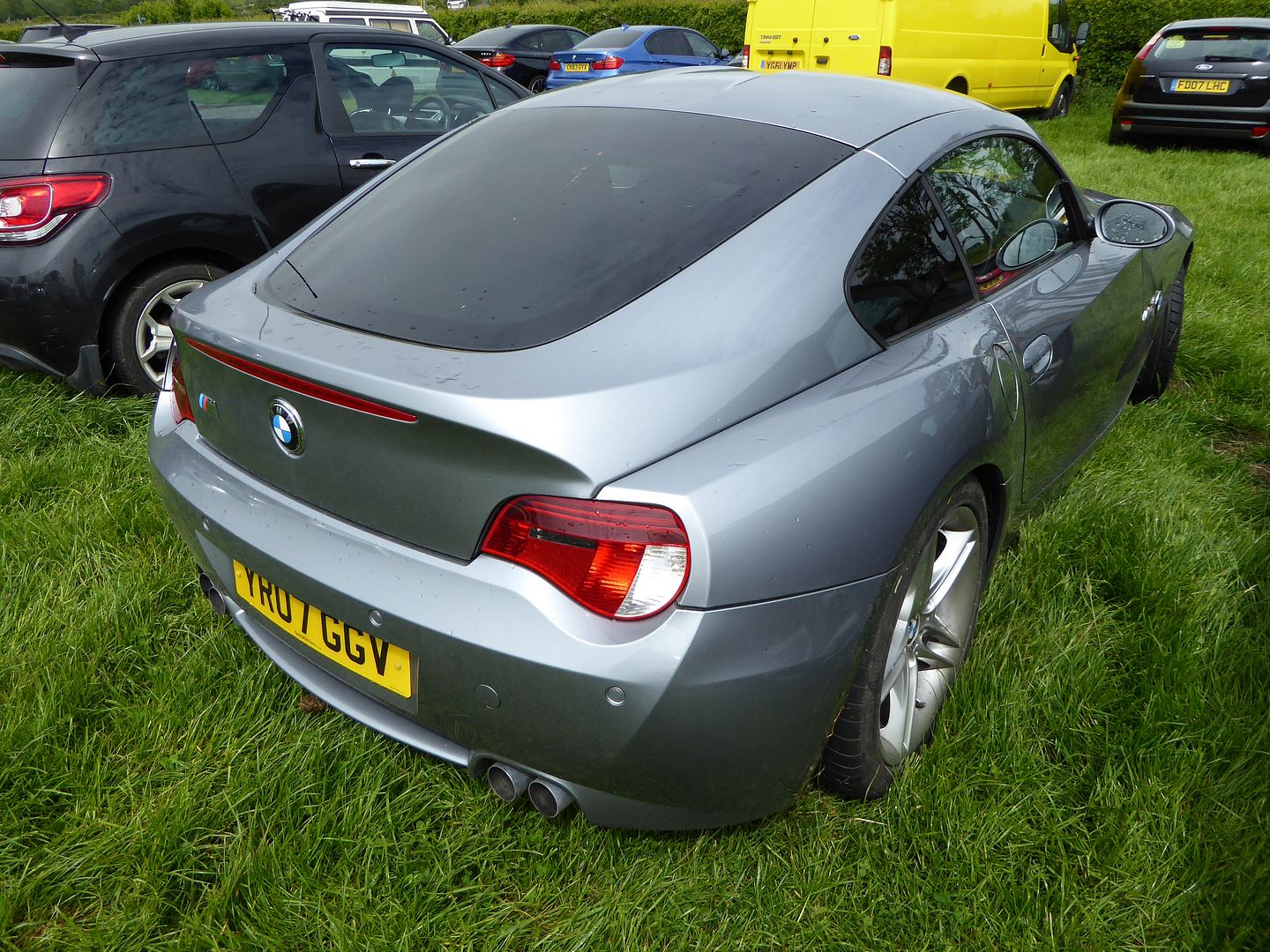 BRISTOL
There was a nice example of the 403 parked up on the Sunday. Unlike other Bristol models, this one actually had the model number on the car, so you can identify it as the later 403, and not the earlier 401, of which it was an evolution of the 401 model. Produced between 1953 and 1955, the third of the five Bristols powered by the BMW-derived pushrod straight-six engine, this model replaced the Bristol 401 and 402. The 403  retained much the same styling as the 401, but featured many mechanical improvements compared to that model. The 1971 cc six-cylinder engine was modified through the use of bigger valves and larger main bearings with a diameter of 54 mm as against 51 mm on the 400 and 401, which increased the power output to 100 horsepower as against 85 hp in the 401. The acceleration was markedly improved: the 403 could reach 60 miles per hour in 13.4 seconds as against 16.4 seconds for the 401. The 403 had a top speed of 104 miles per hour. To cope with this increased power, an anti-roll bar was fitted on the front suspension and improved drum brakes known as "Alfins" (Aluminium finned) were fitted. Early models had them on all wheels, but Bristol thought the car was over-braked and they were thus restricted to the front wheels on later 403s. The 403 was the last Bristol to feature a BMW-style radiator grille. It is also noteworthy for having two extra headlamps at the side, almost pre-dating the adoption of the four-headlamp layout in larger cars (Bristol themselves adopted it with the 411 in the late 1960s).
DAIMLER
One example of the SP250 "Dart" sports car was parked up on the Sunday. The Dart was quite unlike anything that Daimler had built before, and maybe that was its biggest problem. Certainly it was not a sales success, with only 2252 sold in a five year period, whereas projections were that 3000 a year would find buyers. After the failings of the early cars were fixed, it was not a bad car, but its problem was that eighteen months after launch, and following Daimler's acquisition by Jaguar in 1960, there was an in-house rival, called E Type, which was better in just about every respect, and cheaper to boot. Darts are now well regarded among the classic car fraternity, and Quentin Willson. who has had one for many years, has done much to promote their merit.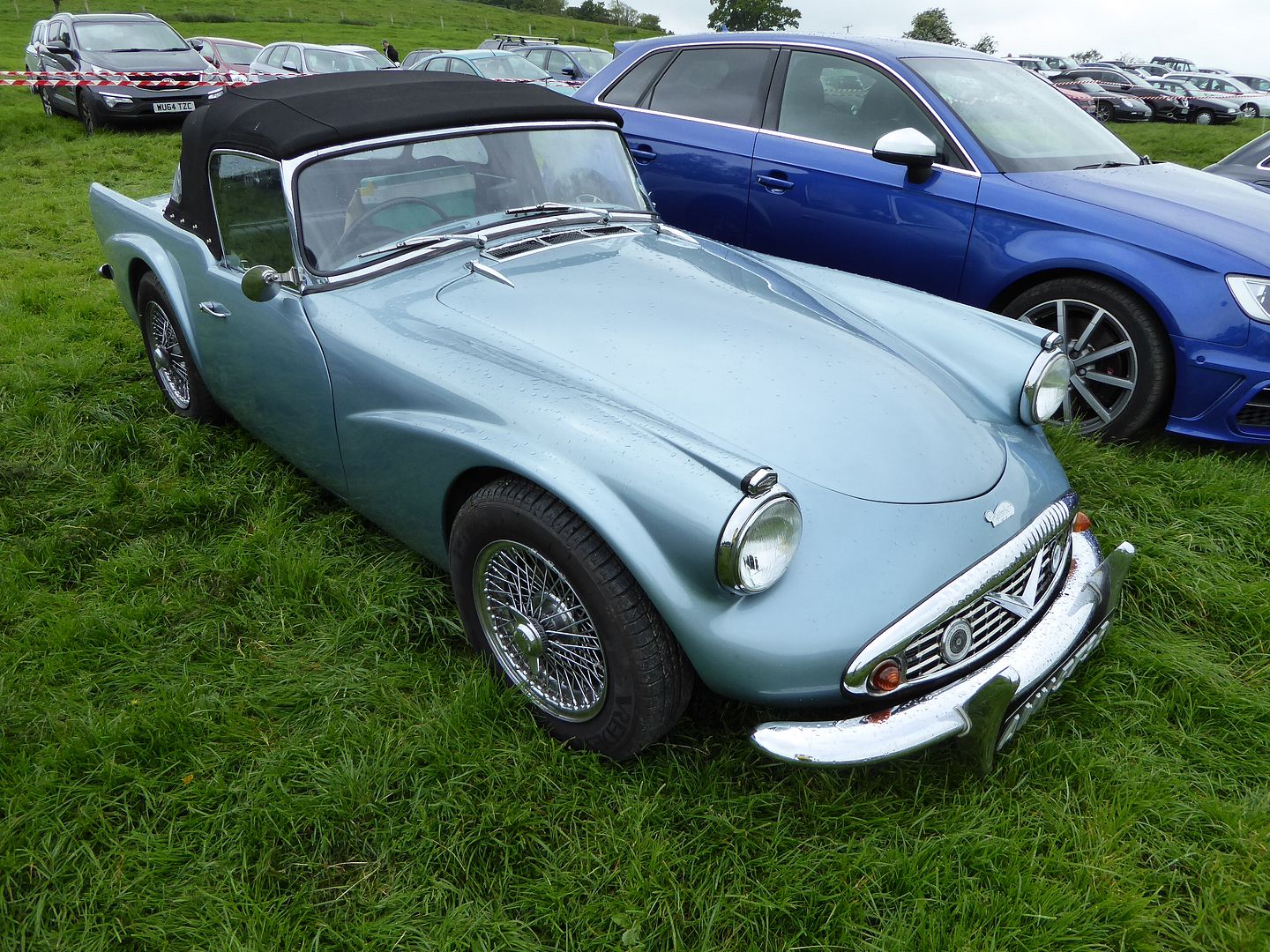 FERRARI
A couple of different 360 Modena were to be seen, one on each day, and this less than pristine 365 GTC/4 was there on both days
FIAT
This beautifully presented 600 was parked up in the Orchard, sporting "for sale" signs in the window. It was nice, for sure, but it really was not £18,000 nice, though that was the asking price!
The only other Fiat of note was one of the very striking Coupe models, seen in the distinctive bright blue paint finish which so suits the car.
FORD
The Model A was the replacement for the long running Model T. Launched in late 1927, it ran for just 5 years before being replaced by the V8 cars. Like the T, a vast number of different body styles were available.
This would have been quite a rare car when new. Mark 2 Escorts, of course, were not rare, as they were among the very best selling cars in the country, but it was the 1100 and 1300 models in L and GL trim that captured almost all of the sales. The 1.6 Ghia was a luxury top of the range car, if you ignore the sporting versions, and in the 1970s, people did not really equate luxury with cars this size. It was nice to see this one, presented in a colour which was also far from common when the car was new.
JAGUAR
Two particularly lovely XK sports cars were present here. On the Saturday, it was a glorious wine red coloured  XK120 Fixed Head Coupe that caught my eye and on the Sunday it was the follow on model, the XK140, also in Fixed Head Coupe guise that was equally attention grabbing.
There were a couple of the very popular Mark 2 models, both of them in highly desirable 3.8 guise.
The F Type is, by common consent, one of the best looking cars on sale at present. It is also – regardless of whether it is V6 or V8 powered, one of the best sounding. A true masterpiece. Sir William would be very proud!
LAGONDA
This imposing M45 from the late 1930s was parked up in the Upper Paddock, but although a similar car to this (a red one) is sometimes to be seen vying for honours on the hill, this one seemed simply to have been parked there rather than having any competitive intent.
LANCIA
I see this Fulvia Coupe S2 at the venue quite frequently. This has to be one of the prettiest of all Coupe models, and the engineering was still at Lancia's most excellent (and costly). A really nice car.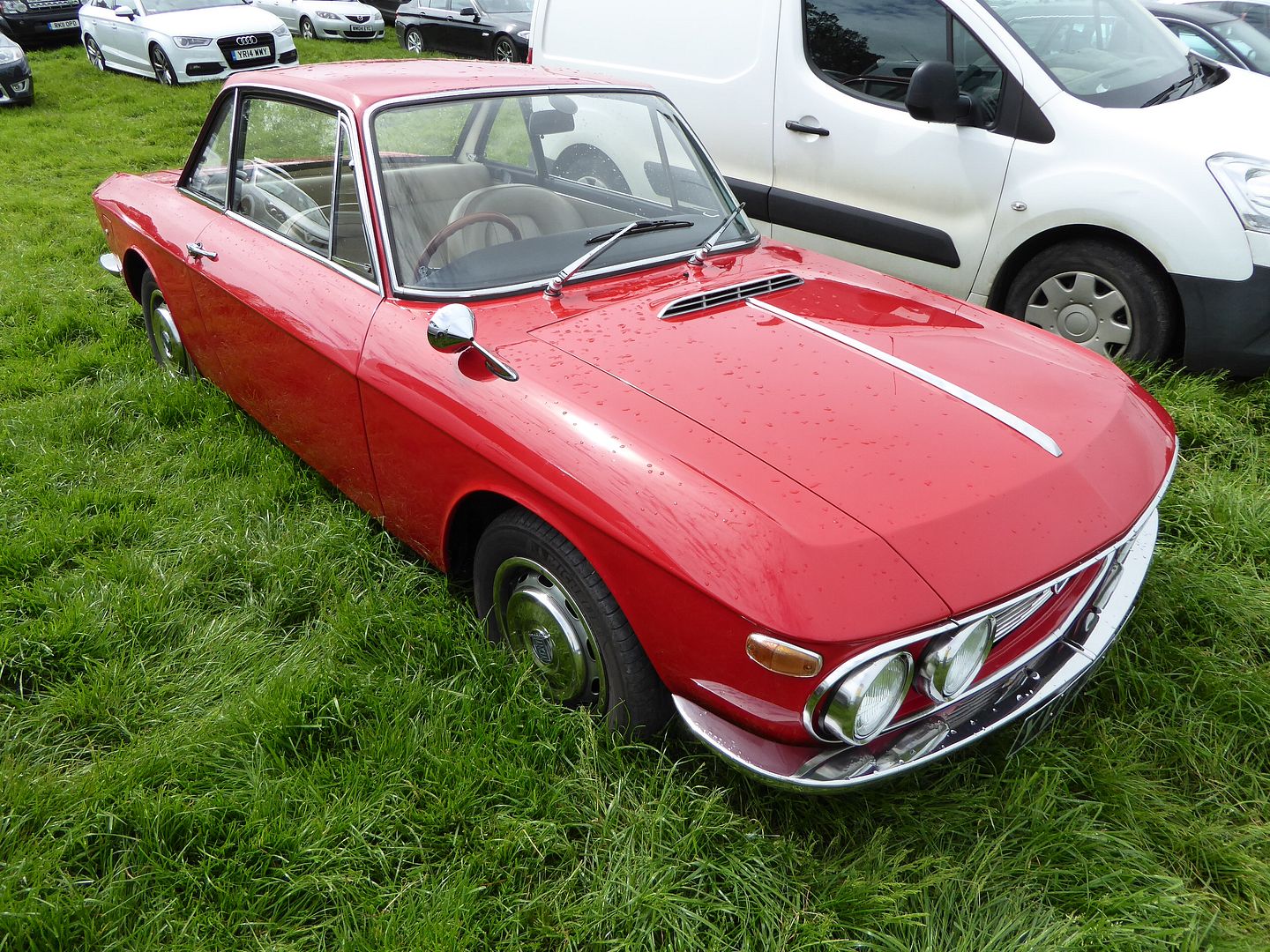 LEXUS
A matter of a few weeks old, this RC-F has been seen at Prescott and Shelsley Breakfast Club meetings earlier in the year. It belongs to a local enthusiast, who loves it. It certainly is not a car for everyone, as, nice though the interior may be, and great though the engine sounds, I find the styling just too brash to be something I could countenance looking at on my drive.
LOTUS
There were two of the diminutive Elan models, both of them Drophead cars.
There were a couple of first generation Elise models as well, including a very early one. The Elise hits its 20th birthday, later this year, and is still going strong.
Nearby was an Evora S, the larger and more costly Lotus which competes against the Porsche Cayman.
MASERATI
The rich wine red colour of this GranTurismo is not one you see very often. I think it rather suits the lines of this elegant Italian grand tourer.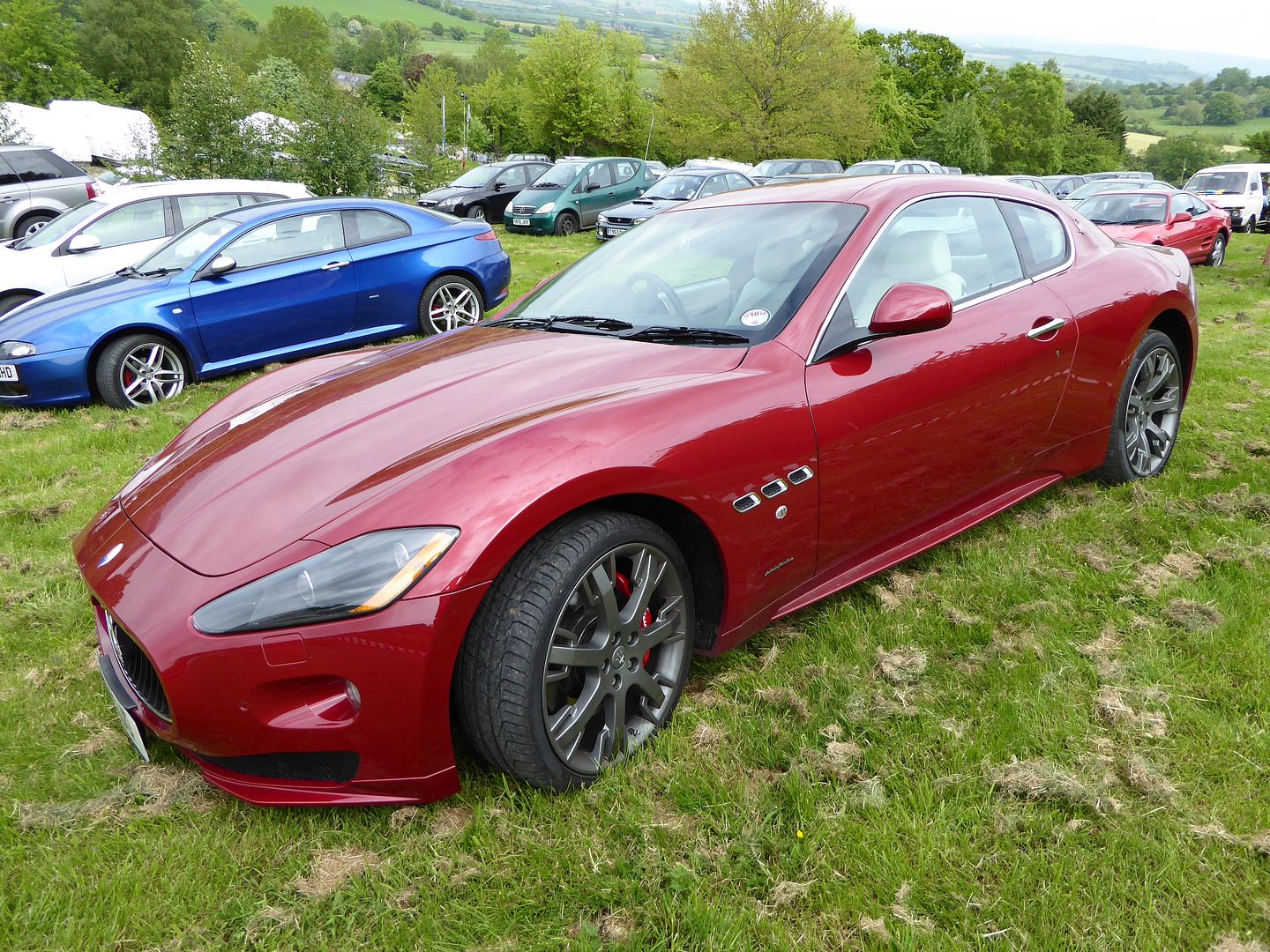 MERCEDES-BENZ
The two Mercedes models that attracted my camera were both very elegant – a quality that seems completely to elude the current range. More recent of the two was a 420 SL version of the R107 range that ran from 1971 to 1989, and the older car was a 20SE Coupe from the early 1960s, when a Mercedes would have been not just a very expensive purchase indeed, but a very rare car indeed in the UK.
MG
One of the absolute stars of the day for me was this, a 1939 MG SA Saloon.  Originally planned as an advanced performance saloon to rival the likes of SS Cars (later to be known as Jaguar) and even Bentley, work had started under the factory code of EX150 and designated the S-type. There were ambitious plans for a luxury saloon with all independent suspension, and a prototype was made, but with the amalgamation of MG with Morris Motors in 1935 development stopped. The Cowley drawing office picked up the project again but by the time it reached production in 1936, a much more conservative car appeared with conventional live rear and beam front axles. The SA used a tuned version of the six cylinder 2062cc Morris QPHG engine which it shared with the Wolseley Super Six but enlarged to 2288cc. The capacity was increased again to 2322cc in 1937 bringing it into line with the Wolseley 18. This was a tall engine and to allow the bonnet line to be as low as possible the twin SU carburettors had their dashpots mounted horizontally. Drive was to the live rear axle via a four speed manual gearbox with synchromesh on the top two ratios (on all but a few early models). Wire wheels were fitted and the drum brakes were hydraulically operated using a Lockheed system. A built in Jackall jacking system was fitted to the chassis. The saloon body, the only option available at the time of the car's launch, was made in-house by Morris and was a spacious four door with traditional MG grille flanked by two large chrome plated headlights. The spare wheel was carried on the boot lid. Inside there were individual seats in front and a bench seat at the rear, all with leather covering. Much use was made of walnut for the dashboard and other trim items. A Philco radio was offered as an optional extra for 18 Guineas (£18.90). From April 1936 a Tickford drophead coupé by Salmons joined the range priced at £398, the saloon was £375, and in July coachbuilders Charlesworth offered a four door tourer at £375. The tourer originally had straight topped doors but these were replaced with front ones with cutaway tops from 1938 and at the same time the spare wheel moved to the front wing. Of the 2739 cars made, 350 were exported with Germany proving the best market. At the 1938 London Motor show, alongside an SA there was a new 2.6-litre car, the WA. This was probably designed to be a replacement but both cars ran in parallel until the outbreak of war in 1939 caused production of both to cease. Neither was re-introduced in 1945. This car is absolutely immaculate inside and out and yet it clearly gets plenty of use, as I have seen at a number of events, scattered over quite a wide geographic area this year.
Slightly older than the SA was this model which was present on the Sunday. A bit of Google-work suggests that it was made in 1934 and it has a 968cc engine. That means that it may not be the PA that I first thought of, as those had smaller 847cc engines in them. Later PB models had these enlarged to 939cc. I suspect that the engine has been bored out a bit, as visually, it looks like a PA when I compare it with other pictures of MGs of that year.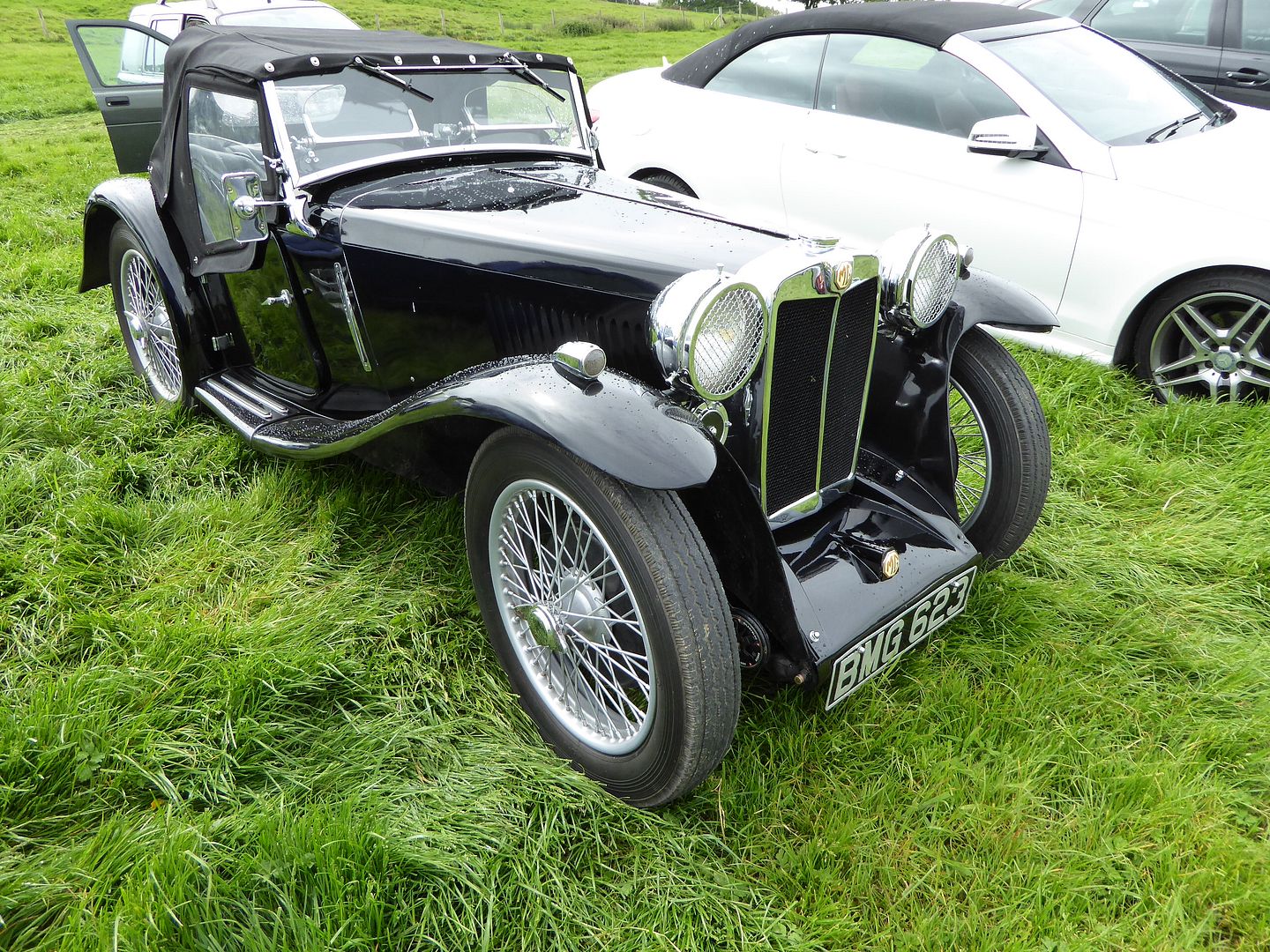 Post war, MG carried on producing designs similar to those that they had been making in the late 1930s, with the T Series sports cars proving particularly popular with former US Servicemen, who had come across the cars while on duty in Europe and who wanted one now they were home. The majority of production, accordingly, went for export. MG did update the TC into the two cars seen here, over the following years, into the TD and the TF
The MGA that appeared in 1955 was all new, with a monocoque design for the first time in an MG sports car. This is a great looking car, with the lines particularly well judged.
There were loads of MGBs parked up, as you might expect, as this is one of Britain's most popular classic cars. Slightly surprisingly, at least as far as my camera goes, they were all MGB GTs.
Completing the array of MGs was one of the smaller Midget sports cars.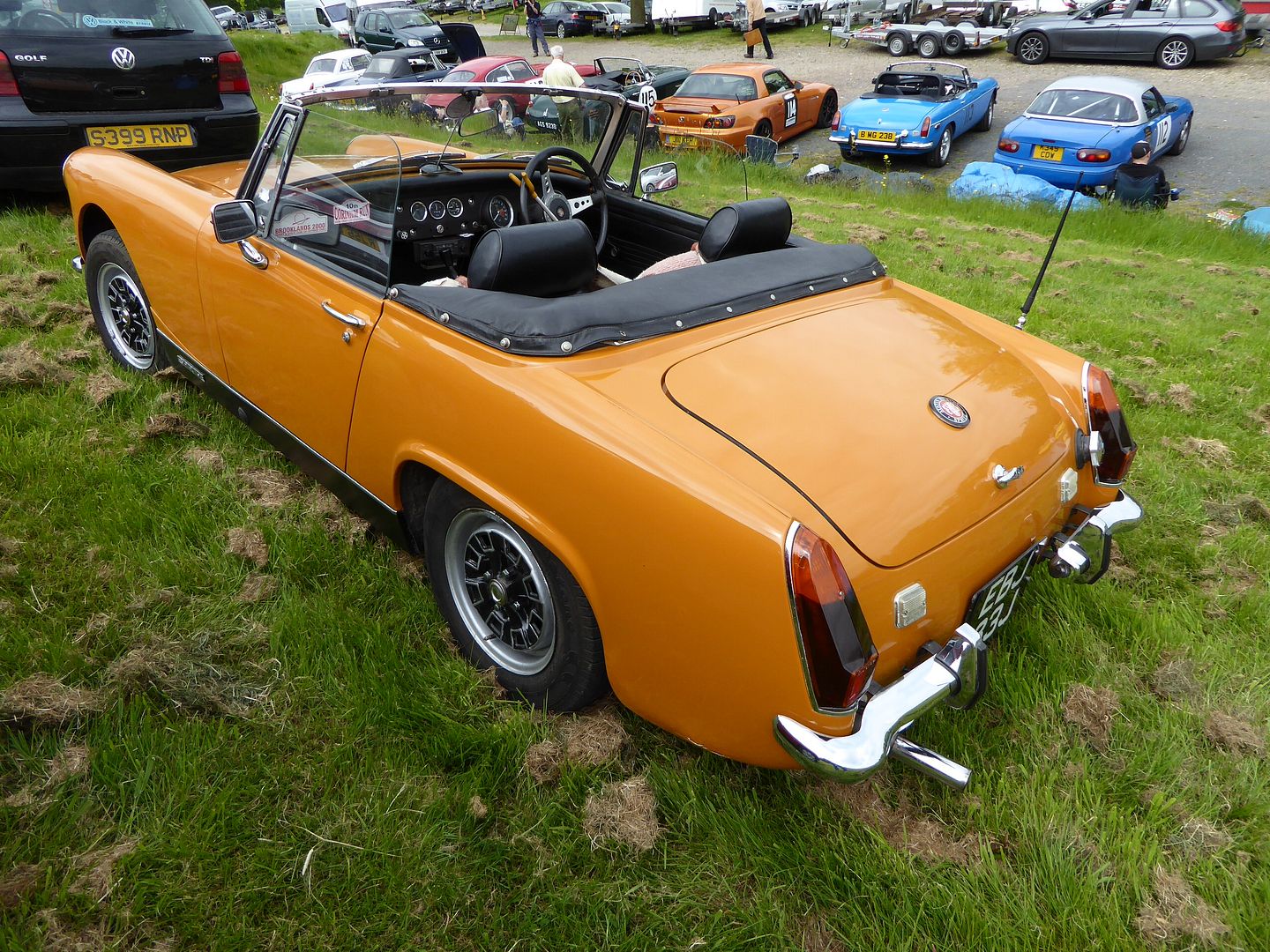 MINI
With an H plate on it, this Cooper S comes from the final months of production of the hottest version of Issigonis' much loved baby.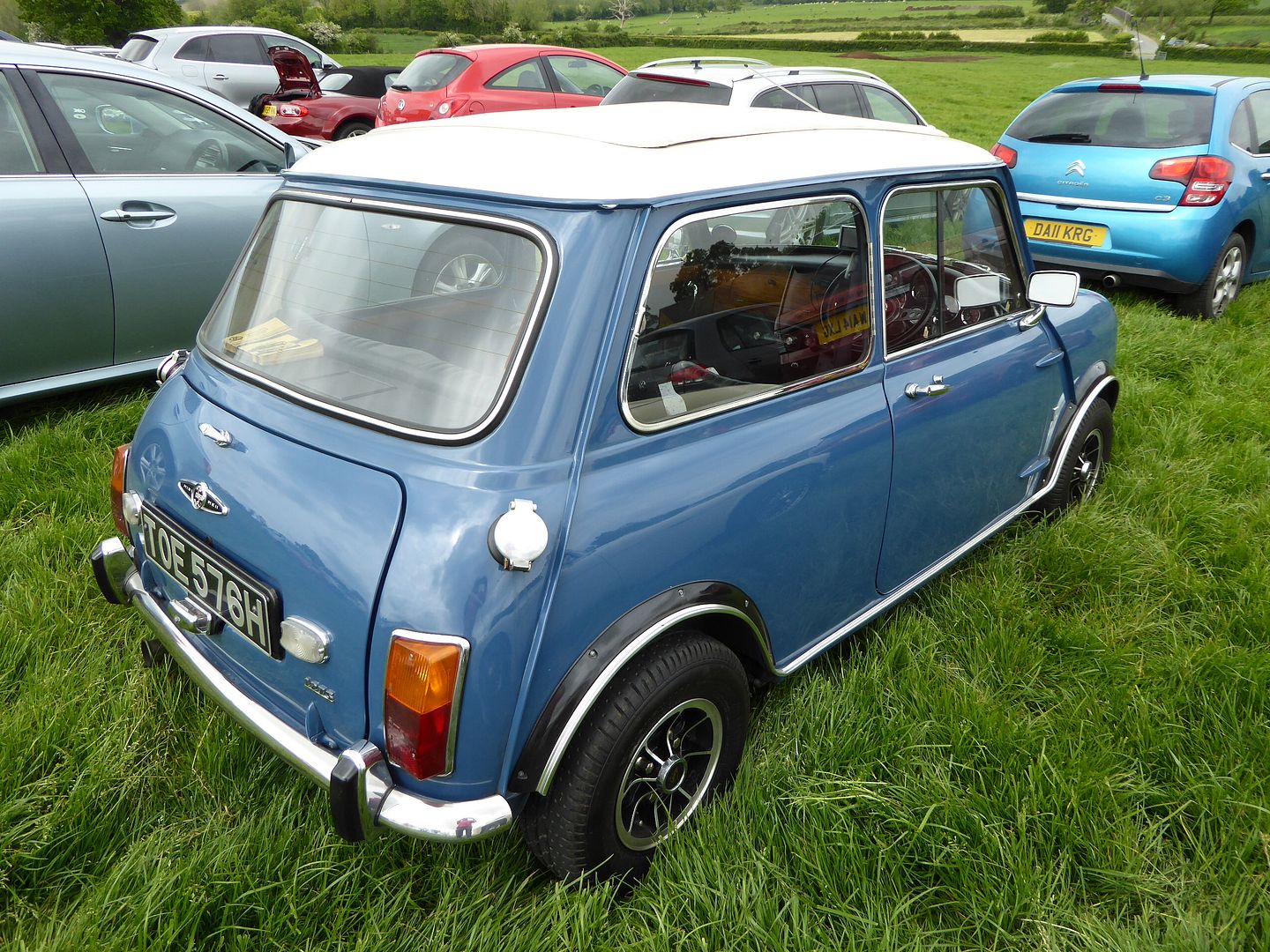 MORGAN
Among the Morgans parked up were some recent cars: a Roadster, a 4/4 and a couple of the initially somewhat gawky looking Aero 8 as well as the very popular new Three-Wheeler.
Joining them was an older "Flat radiator" model.
NISSAN/DATSUN
When new, in 1983, this Bluebird 180B Estate would have passed unnoticed, as just another volume-selling Japanese car, but that is over 30 years ago, and now it is interesting as it is so rare, as are any surviving Japanese cars of the period. I've seen this particular one at Prescott before, and this time it was parked in the area reserved for marshalls and officials, which is why it was there both days.
PORSCHE
This early 356 was absolutely fabulous. It looked like it was a brand new car, not one that is over 60 years old.
Unsurprisingly, there were a number of 911s to be seen in the car parks, ranging from an early model with what some will still say is the purest of lines, through one of the G Series Carrera modesl to a 964 and a 993 Carrera 4S
There were also some of the front engined machines that were made in the 1980s and 1990s, a 944  and later S2 as well as a 928 S
RILEY
Riley had a bewildering array of different models on offer in the mid 1930s, which is one reason why costs ran out of control, and the firm went bust having to be rescued by the Nuffield Group. All of them had a sporting flavour to them, so they are popular now, and at the later VSCC event held at Prescott, there will be literally dozens of the marque present. There were a trio of models in various parts of the car parks at this event as well as the ones that have already been presented earlier in this report. The pale blue car, a four seat tourer is a Lynx, sold between 1933 and 1936, the royal blue two seater a Nine Special
Sole post war Riley here was an example of the RM Series, the sporting saloon that was the sole model offered by the firm from 1948 until its replacement in 1954.
ROLLS ROYCE
Fabric bodies were reasonably popular in the 1930s, as they were cheaper to produce than all-steel cars. It always seems a little incongruous, therefore, that someone would resort to this level of cost saving on a Rolls Royce, even if it is the "entry level"  20/25, as seen here, but clearly they did!
ROVER
Rover launched their first all new design post war, the P4, in 1949. Over the next fourteen years, the car went through a program of almost continuous update and improvement. The unusual "cyclops eye" front end was replaced by something more conventional looking, and a raised boot line replaced the more drooping line of the early cars. The engines were changed several times, with each power update resulting in a new model name. This is a Rover 100, meaning it came with a 4 cylinder engine, and was made towards the end of the car's long life.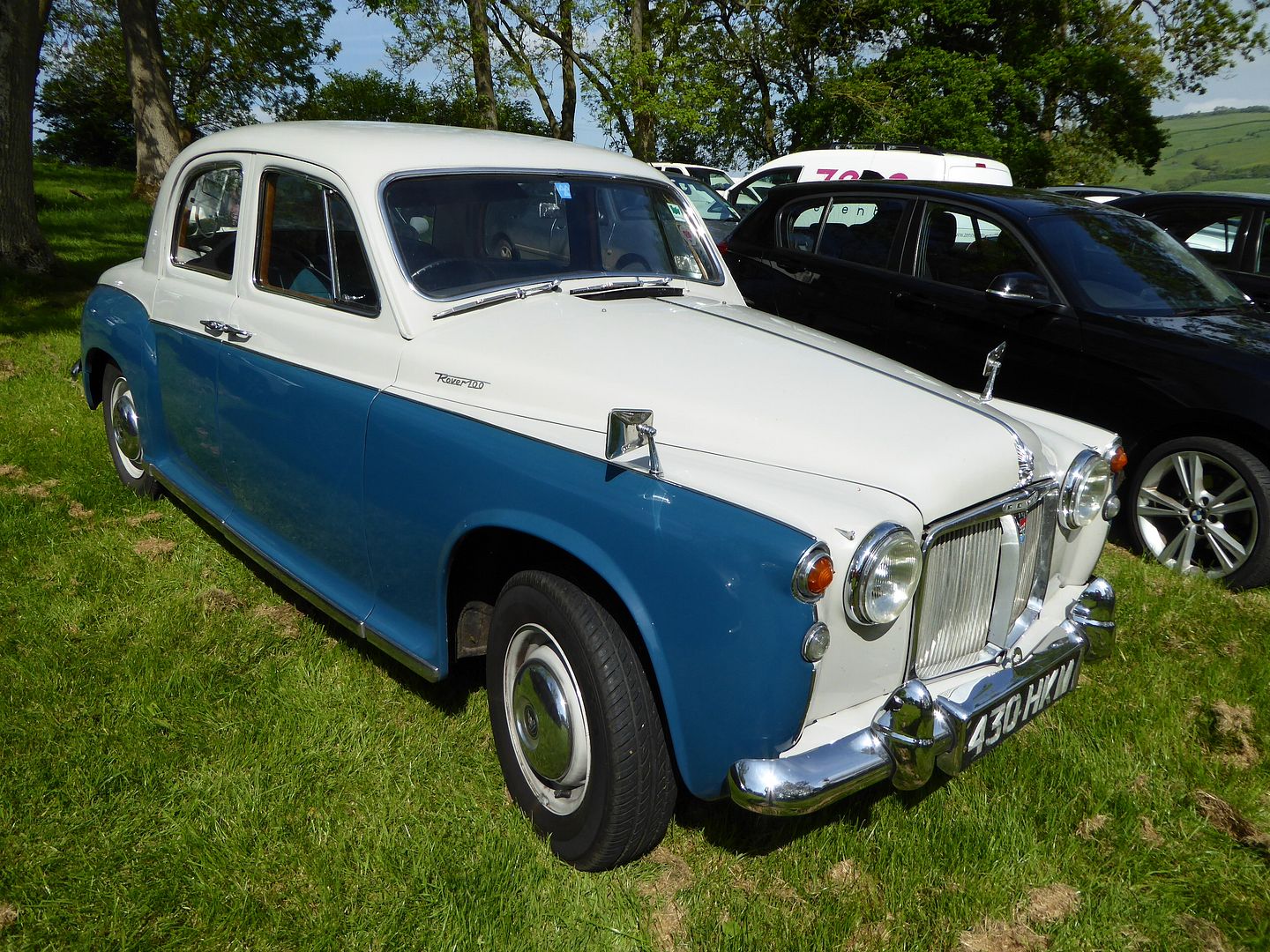 SAAB
This bright green 96 V4 would be one of the last such cars sold in the UK. Although global production continued until 1980, the model was deleted from the UK range well before this, as SAAB concentrated on a further move upmarket with the 900. The (6 had served them well, as it was a close relative of the first ever SAAB model dating from 1947. Progressively updated, the last significant mechanical changes came when the Ford V4 engine from the Taunus was used to replace the two-stroke in-house units in 1967, though there were trim changes after this and from 1975, rubber coated bumpers were fitted.
SEAT
Definitely one of the rarer items in the car park, this bore badges on the side panels proclaiming it to be a SEAT Panda Terra. The SEAT Panda was a badge-engineered Fiat Panda, produced by SEAT from 1980 to 1986, in Spain. After the break in the partnership between SEAT and Fiat, the SEAT Panda model was restyled and renamed the Marbella. It received a slight restyling in 1983, with a new grille and other slight differences. A van version of the Marbella, called the SEAT Terra  was produced in Spain from 1987 until 1996 when this model was meant to be replaced from its successor, the SEAT Inca. The SEAT Terra shared the underpinnings and front of the Marbella, but its back was replaced by a large, high metal box; there was also a load rack above the cab roof. It was very popular in Spain, and was also available in export markets. Before this, there had been a van based on the Marbella's predecessor, the SEAT Panda, which had been available until 1986. In much the same configuration as the Terra, it was called the SEAT Trans and was extremely similar to the Fiat Panda's commercial version. None of that quite lines up with what I saw here. The front end was more like the Panda rather than the later Marbella, but the Terra name was not applied in conjunction with Panda. And this version is not really like the Van, but more like the base hatchback with the rear part of the bodywork removed. Intriguing.
SUNBEAM
Nice to see an Alpine, Sunbeam's riposte to the MGA. Launched in 1959, the early cars, like this one, had quite sizeable tail fins, which were all the rage that year, but these were toned down for later production. The Alpine was more refined than the MG, and although it was a nice car, it never sold in anything like the same quantities, and these days it is far rarer than the Abingdon product.
TOYOTA
The MR2 has achieved a level of minor classic status, it would seem, and quite rightly so, too. This was a GT version of the second generation car, widely believed by many to be the best of all the MR2s made.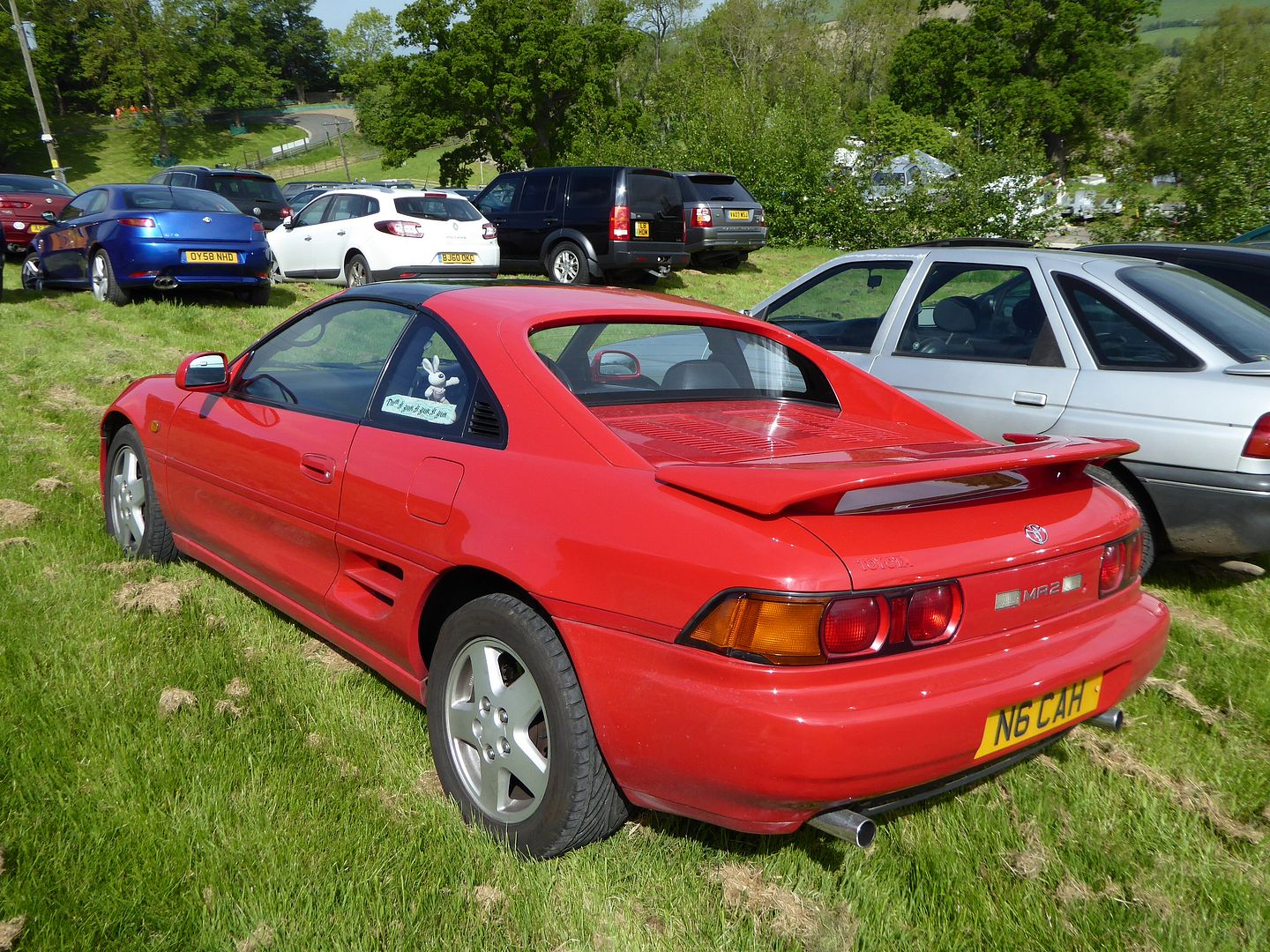 TRIUMPH
It was Triumph's sports cars which were scattered throughout the car parks, with a TR3b and at least three examples of the later TR4a joined by a Mark 3 version of the smaller Spitfire.
TVR
There were a number of TVRs in the main car parks as well as those in the event itself. These ranged from a 350i to an S and a couple of Griffiths.
VOLKSWAGEN
A future classic, for sure, as it has impressed everyone who has driven it, and quite a few of us who just wish we had driven it, is this current generation Golf R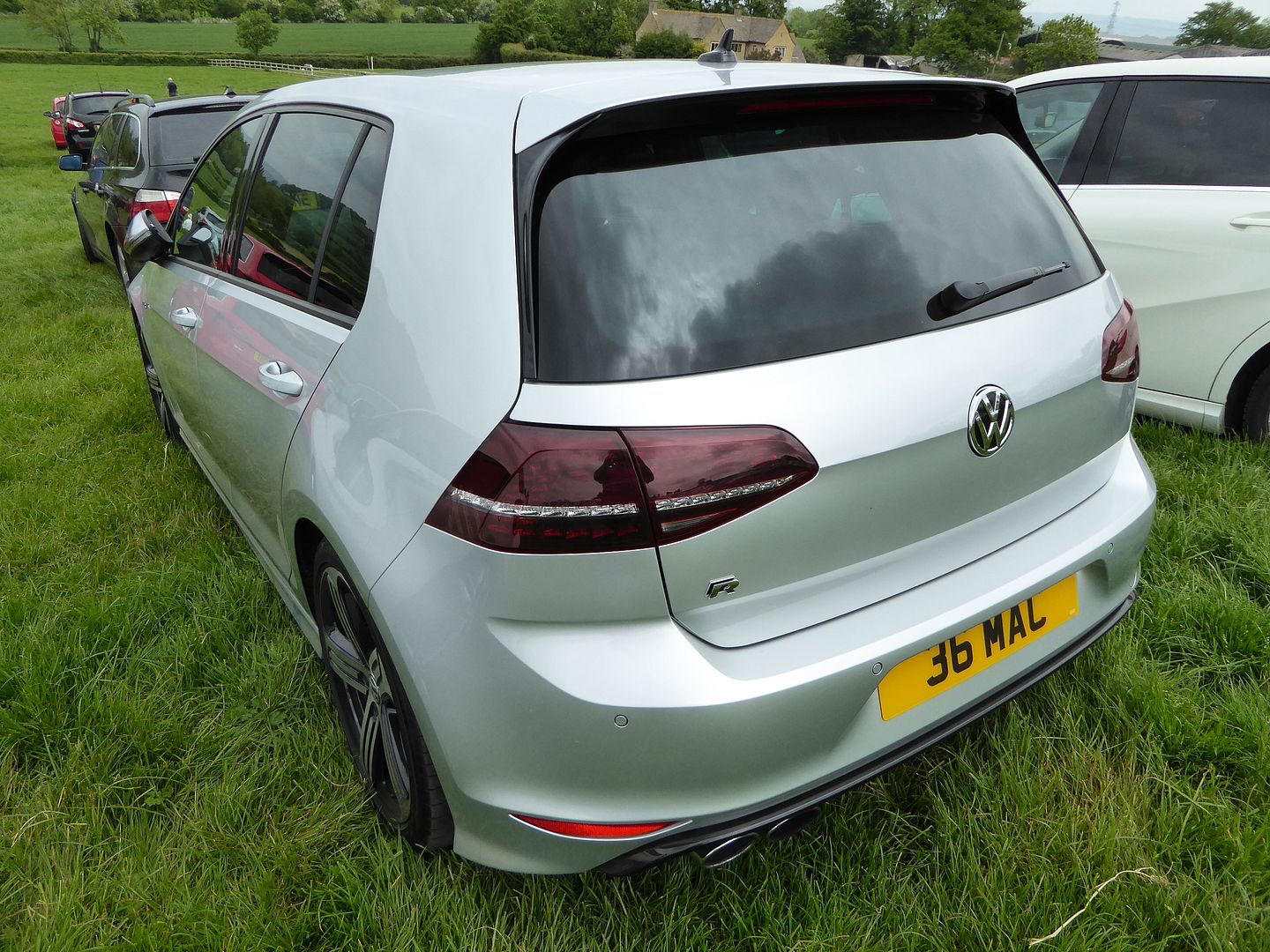 This was, as ever, a most enjoyable weekend. As evidenced in this report, there was lots to see, even if some of the French Car Club displays were not quite as expansive as in previous years. Although some of the cars have been at this event in the past, there was plenty that was fresh, and the hill-climbing is always entertaining no matter how many times you watch it. The weather was mostly kind, though the cloudless skies of Saturday did not stay that way all that long. Whilst the photographer is sometimes grateful for that, it can meet that after a day outside, everyone looks surprisingly pink or red, without realising that the sun was burning them all day long. That was not the case this time, fortunately. Sunday saw a period rain, which was sufficient to lubricate the track, which always adds to the interest, but not sufficient either to spoil the enjoyment or to make it hard to get around the site or to reduce the car park to a mud bath. As in previous years, there was a Forum evening meal at the Teddington Hands, which provided ample opportunity to catch up with each other's news and to see if we could all manage an indulgent desert as well as the large main courses which a hungry bunch of enthusiasts had devoured with some gusto. We all did, perhaps against our better judgment! Dates for the 2016 event have already been announced, They are the 28 and 29th May. An added interest comes from the fact that the event is now entitled "La Vie en Bleu incorporating La Vita Rosso", with the scope widened to include Italian cars. Needless to say I will be there, and, with my Abarth Owners Club Events Manager hat on, am currently under discussion about having an Abarth display. It's going to be a great event.
Share and Enjoy