Queen Square Bristol Breakfast Club – November 2015
It seems almost churlish to say so, given the excellence of the event, but I tend to include the local- to-me monthly Queen Square Breakfast Club in the schedule only when there is nothing else going on to take me elsewhere. In the summer months, when the automotive enthusiast's diary is pretty congested, due to the vast number of events that take place around the country, that means that it is hard for this free to attend gathering to get much air time. But by the time the clocks have gone back, there is far less scheduled, so I get more of an opportunity to see some of the cars that generally live within a few miles of where it is alleged that I do. One advantage of missing a few of these Breakfast Clubs out, is that with a loyal attendee base who do come every month, you are less likely to get that slightly "same-y" feel that can sometimes come from the frequent events. So, in November when the most notable event was a trip to Dubai scheduled to kick off the day after the Queen Square event, I found no diary conflicts and made an early start on a rather grey, but thankfully dry morning to see what was new since I had last attended in August. The crowds and the volume of cars have threatened to engulf or even imperil this event during 2015 as its popularity continues to increase, but at no point this time did the Square run out of parking space. That said, there was more than enough to keep me interested all morning, and it was well after 11am when I got back in my car and returned home. Here are the highlights:
ABARTH
This was the first time I have had the chance to show off my new Abarth 595 Competizione at the event, in the two months since collecting it. Although I did see another local Abarth owner, Rich Eason, wandering around the event, I did not spot his car, or indeed another machine with the Scorpion badge on it for that matter.
AC
There are nearly always some Cobra type cars at this event, and this month was no exception with a couple of well-presented replica models on show.
ALFA ROMEO
No sign of Nick Grange, David Roots or Daryl Staddon in their lovely Alfa's this month, which meant that the only product from this marque that I photographed was this rather nice 916 series GTV
ALPINA
One of the rarer cars of the morning was this E12 based B7S Turbo. Whilst Alpina is now relatively well known, at least among the enthusiast community, back when this car was new, it would have been something that very few people would have heard of. Just 60 of these B7S Turbo cars were built between November 1981 and May 1982. Even before it was launched, the Alpina B7 Turbo, which had debuted in the autumn of 1978,  had been the fastest 4 door saloon in the world, and this one took performance to new levels. Unlike the B7 Turbo which had a 3.0 litre six cylinder engine, the B7S had a 3.5 litre unit, with a KKK Turbocharger with boost up to 0.9 bar, which gave the car an output of 330 bhp and 500 Nm of torque, resulting in a top speed of 261 mp/h, and a 0- 100 km/h time of 5.8 seconds. The gearbox was a Getrag 5 speed manual unit that had been developed for the 745i. Uprated Bilstein suspension was fitted, with height adjustable rear dampers and the car had what for the time were huge wheels, 205/55 16″ at the front and 225/55 at the rear.  Inside the car was much like the B7 Turbo but with a black roof lining. All 60 cars were finished in the same shade of Sapphire Blue Metallic as this one.
AUDI
The Saloon version of the A3 was aimed at those markets who prefer the classical three-box shape to hatchbacks, specifically America, but Audi decided to offer the model in hatch-loving countries as well, and I've seen a few of them on our roads, vindicating that decision. Unlike some such models where the boot looks like an after-thought, the styling of this one is well balanced. This particular car was an S3, so fitted with the potent 2 litre turbo engine. Nice.
This brand new S5 Coupe model followed me from the bottom of the M32 to the Square, and it was later joined by its half-brother, an S4 Avant. When I head this car going round the Square, my ears pricked up, as it sounded particularly good. As it shares an engine with my own S5 Sportback, I have to assume that – unless this one had a non-standard exhaust – that this is what mine sounds like from the outside as well.
Final Audi present was an example of the everyday supercar, the R8.
AUSTIN HEALEY
No sign of any of the Big Healeys, this month, but there was one of the rather cheeky looking "Frog-eye" Sprites here.
BMW
The 1M Coupe is one of those cars which became an almost instant classic. Limited production volumes over quite a short time mean that demand remains high and values have simply not fallen in a way that lots of people who could not afford a new had hoped.
A late arrival was this i8. As if the car itself is not striking enough, this one was plastered with advertising/sponsorship stickers to draw even more attention to it.
CADILLAC
There always seem to be a few American cars at this event which have not visited before, and this month the first of these was a Cadillac Eldorado. Cadillac have used the Eldorado name since 1953, and this is an example from the eight generation to bear the name. After years where the model got bigger and bigger, ending up with an 8..2 litre engine, the eight generation marked a dramatic down-sizing, Launched for 1979, this Eldorado, for the first time shared its chassis with both the Buick Riviera and Oldsmobile Toronado. Smaller and  more fuel efficient 5.7 and 6.0 litre V8 engines replaced the 8.2 and 7.0 litre units, and a (not very good) diesel unit was available as an option. Cadillac made a lot of changes to the available power units during the six year life of this body design, including in 1981, the infamous V8-6-4 variable displacement variant, which was designed to deactivate some cylinders when full power was not needed, helping meet GM's government fuel economy ("CAFE") averages, but the complex electronics were the source of many customer complaints. The most notable styling touch was an extreme notchback roofline. The Eldorado Biarritz model resurrected the stainless-steel roof concept from the first Brougham. The Eldorado featured frameless door glass, and the rear quarter windows re-appeared as they did before 1971, without a thick "B" pillar. The cars were not true hardtops, as the rear quarter windows were fixed. Sales in the first year of availability set a new record at 67,436. Cadillac continued to evolve the car, in 1981 electronic "digital" instrumentation became available as an  option. In addition to the digital electronic climate control that was standard on all Eldorados, the standard analog speedometer and fuel gauges could be replaced with digital displays with features displaying gallons of remaining fuel and approximate range. From 1982 through 1985, Cadillac offered an 'Eldorado Touring Coupe', with heavier duty suspension, alloy wheels, blackwall tyres, minimal exterior ornamentation and limited paint colours. These were marketed as 'driver's cars' and included bucket seats and a centre console. In 1984, Cadillac also introduced a convertible version of Eldorado Biarritz. It was 200 pounds (91 kg) heavier featuring the same interior as other Biarritz versions. The model year of 1985 was the last year for the ASC, Inc., aftermarket conversion Eldorado convertible. Total sales set an all-time record of 77,806, accounting for about 26% of all Cadillacs sold. Late in the 1985 model year, an optional 'Commemorative Edition' package was announced, in honour of the last year of production for this version of the Eldorado. Exclusive features included gold-tone script and tail-lamp emblems, specific sail panel badges, gold-background wheel centre caps, and a "Commemorative Edition" badge on the steering wheel horn pad. Leather upholstery (available in Dark Blue or White, or a two-tone with Dark Blue and White) was included in the package, along with a Dark Blue dashboard and carpeting. Exterior colours were Cotillion White or Commodore Blue.

CHRYSLER
This is a 1968 Town & Country, the name that Chrysler used for their Wagons (Estate Cars). 1968 was the final year for all the full-sized models that had been launched for the 1965 model year. They looked quite different from their predecessors, thanks to the then new Chief of Design, Elwood Engel, who had been hired away from Ford Motor Company a few years earlier. Engel's new Chrysler designs resembled some of his work at Ford in the early 60s, angular and conservative with long unbroken character lines and tall greenhouses. Chrysler's unitised body and chassis, with longitudinal front torsion bars and rear leaf springs carried over from the prior generation. All of the Chrysler Corporation's Torqueflite equipped cars dropped pushbutton shift control, and converted to the new industry standard PRNDL sequence shift lever, either column or floor mounted. Dodge and Chrysler models shared passenger compartment structures, thus interior dimensions were essentially identical. However, to maintain their upscale market position, Chrysler models featured a longer 124" wheelbase, except for the Town and Country wagons which shared the Dodge's 121" wheelbase and corporate station wagon greenhouse, as did the Plymouth Fury wagons. Despite the shorter wheelbase, an additional 3 inches of rear overhang made the T&C wagons virtually the same overall length as sedans, at just under 220 inches. All Chrysler brand models and body styles wore rear wheel opening skirts, including the Town & Country. Engel's design theme was well suited to wagons. Thin pillars and tall glass shared with 4 door sedans made for generous space and great outward visibility that beats most current day SUVs. Arrow straight roof rails supported an exceptionally long and robust roof rack with built in adjustable cross bars. In 1966, Town & Country had become a model designation for the one and only wagon in the Chrysler lineup. Torqueflite  automatic transmission, power steering and power brakes were standard, as were exterior trim and vinyl bench seat interior shared with the Newport series. Individual buckets with centre armrest and passenger recliner from the New Yorker option list remained available for one more model year.  for 1967, some styling changes were made, with a unique concave side cove as a key design element. Interiors were also updated with a new instrument panel, perfectly symmetrical in shape and featuring an inverted fan style speedometer. Chassis dimensions and the greenhouses for 4-door sedans and wagons carried over unchanged. Once again, a single Town & Country model in two or three seat versions was offered. The exterior and interior trim matched the Newport series, and featured a standard all vinyl notchback bench seat with folding centre armrest, or a new seating option of Chrysler's 50/50 3-in-1 split bench seat, shared with the Newport Custom sedan. Standard and optional powertrains remained the same. Sales literature for '67 showed front disc brakes as standard equipment on Town & Country, along with the requisite 15" wheels, 8.45×15 extra load tyres, and restyled "disc brake" wheel covers. However, many '67 wagons wearing 14" Newport wheel covers were seen, obviously built with drum brakes. These wagons wore size 8.85×14 tyres. For 1968, all new US cars were equipped with front and rear side marker lights. Chrysler bumpers, grille, hood, deck lid, rear fascia and lamps all changed significantly, although side sheet metal, wagon tailgate and rear lamps remained the same. Functionally, there were few changes. Better breathing cylinder heads boosted output of the standard 383 cu. in. 2BBL V8 to 290 HP. Front disc brakes returned to the options list, while front drum brakes and size 8.85×14 tires were standard. Inside, standard notchback and optional 50/50 front seats continued, sharing seat and door trim patterns with the Newport Custom series. The big change in Town & Country appearance came in the form of simulated walnut grain paneling, filling the coved portion of the body sides and surrounded by a stainless steel molding. Unlike some of its competitors, Chrysler chose to make the wood panelling standard on all Town & Country wagons. Although a delete option was offered, very few were ever seen without the wood panels. Chrysler took the wood panel look a step further than the competition: Recalling that the original Town & Country genuine wood look was available on coupes and convertibles as well as wagons, the simulated wood panels were offered as an option on Newport 2-door hardtop and convertible for 1968, and continuing into the 1969 model year. There weren't many takers.
CITROEN
The legendary DS celebrates its 60th anniversary this year, and yet the car still looks far more modern than that. Enthusiasm for the model has never been higher, and there are some astronomical prices being asked (and realised) for the very best of these cars when they come up for sale. Parked up from early on at this event was a  DSpécial, a model which was added to the range in 1970, along with the DSuper, which replaced the ID, and offering simpler trim and fewer features than the DS itself.
DELOREAN
It seems that people never tire of seeing the DMC12 Delorean, a car which found fame thanks to a starring role in the film "Back to the Future". Even now, you still hear people say that they've never seen one before.
FERRARI
There were a couple of Ferrari models this month, both of the F430, with Coupe and Spider bodystyles on show.
FORD
There were more Fords here than anything else, all the European ones of them with a sporting bias, and showing just how popular products of the Blue Oval remain even as the years pass by.
Oldest of the models were a trio of Mark 2 Cortina models. The Crayford converted Convertible model has been at this event many times before, but I don't think I've ever seen it the roof up. I have to say that it looks far better roof down, as the lines of the erect roof are rather more upright than the roofline of the regular car. Also displayed were the two models that topped the range, the sporting Lotus-Cortina and the luxurious 1600E that proved particularly desirable to many a family man who lusted after one when they were behind the wheel of a 1300 de Luxe version.
The sporting small Ford was represented by an early Fiesta XR2 and the latest ST model.
There were several sporting Escorts, with the limited production RS1600i joined by two examples of the RS Turbo, one of the 1985 cars and the later post facelift model and from the subsequent (and largely best forgotten) generation, a trio of Escort RS Cosworths
There were several sporting Focus models, too, with a couple of both the first and second generation RS models. as well as one of the very latest post-facelift Focus ST cars.
There were a number of American Ford models here, too. Two of them were Mustangs, from the fist series and the recently superceded fifth generation. The latter was a fire-breathing monster of a GT500 Shelby
Very different was this E-Series Econoline Van. An example of the first series to bear the name, the first Ford Econoline was introduced for the 1961 model year. Based on the compact Ford Falcon, it was sized roughly to compete with the Chevrolet Corvair 95 (Greenbrier Sportswagon) and Volkswagen Type 2, which was 172.3 in (4,376 mm) long. It was originally offered as a cargo van, an eight-passenger van with three rows of seats (which carried the Ford Falcon name) and as a pickup truck. A 165 lb (75 kg) counterweight was fitted over the rear wheels to balance the front-heavy vehicle, which  was sometimes removed by later owners. The implementation of situating the driver on top of the front axle with the engine near the front wheels is called, in the US, a "cab over" short for cab over engine configuration. In Europe it is called a "forward control" vehicle. The body styling borrowed heavily from the, smaller, UK produced, Thames 400E which had been in production since 1957 and the 1956-64 Jeep Forward Control. Instead of the rear-mounted engine used by Volkswagen and Chevrolet, the first E-Series had a flat nose with the engine between and behind the front seats. Early models had a 144 CID inline 6-cylinder engine with a three-speed manual transmission. Later models had 170 CID or 240 CID engines with a three-speed manual or automatic transmission. It was an immediate success with utilities like the Bell Telephone System. In its first year, 29,932 standard vans, 6,571 custom Econoline buses, 11,893 standard pickups and 3,000 custom pickups were made. The success of the Econoline led to its layout being adopted in 1964 by the Chevrolet Van/GMC Handi-Van and Dodge A100; it would also be utilised internationally and sold by Mitsubishi, Nissan, and Toyota, with microvans called the Subaru Sambar and the Daihatsu Hijet.
Final Ford dwarfed all the others, a massive F350 Pickup truck.
FSO
Jerzy Korczak was here with his Polonez. He told me that he's recently started a new job, which means that he is now sometimes working on Sundays, so this distinctive and very rare (there are only 3 examples of the model left in the UK) car will not be seen at this event as regularly in the future as it has been in 2015 since he brought it over from his native Poland.
GN
I am guessing that this is a GN, but am happy to be corrected should I be wrong. There were no badges on it, and no sign of a number plate in my photos for me to be able to do any research. It looked like it had just been in action on a hill climb somewhere but the driver and passenger were rather cleaner than the car, so I assume that they simply had not had time to clean it since the last event in which it had competed.
HOLDEN
In its native Australia, the Maloo, a "ute" in local parlance, is very popular, featuring a large and powerful engine, and an open-backed body that allows the owner to carry long loads should the occasion demand it. Over the years, GM have imported a few of them to the UK, figuring that there would be a small market for these cars, as the thirsty and CO2-emitting V8 engines are not the most fiscally attractive propositions in this day and age. Get past this, and like the HSV tuned Commodore saloons and the Vauxhall-badged VXR models that have also been imported are a lot of fun for not a lot of (purchase price) money.
HONDA
Once noted for producing cars that appealed to the enthusiast, Honda really seems to have lost its way in recent years, as the range has degenerated into a series of tedious appliances that are trying to ape fellow countryman, Toyota. and in Europe at least, sales have tanked. All that is set to change, we are promised, and first evidence of this is a car which we were promised a long time ago, and which finally arrived in the middle of 2015,. the latest Civic Type R. An example of this very potent, and rather brash looking hot hatch was to be seen here with one of the last enthusiast's Hondas made, the S2000 sports car.
HUMMER
The Hummer H2 was the second of three massive SUVs that was marketed by Hummer and built by AM General during the short life of the brand. The H2 was sold from 2002 until 2009 when GM wound the brand up. By any standards, it is a large truck, though slimmer than the truly gargantuan Hummer H1, but it is actually longer, lighter, and taller, with room for six or seven passengers (including driver), than that earlier H1. The H2's final frame assembly was made up of 3 sections: The front used a modified GM 2500-Series utility frame, the midsection was all new and completely boxed, and the rear section used a modified GM 1500-Series frame upgraded for the 8,600 pounds (3,900 kg) gross vehicle weight. The first models had a 316 bhp 6 litre engine, and this was later uprated to 325 bhp before being enlarged in 2008 to 6.2 litre and 363 bhp. Needless to say, thirst was prodigious. But that;s not why people bought them. Some wanted a versatile product, which led Hummer to produce a modified version, with a pickup truck bed for the 2005 H2 SUT ("sport utility truck"). The Hummer H2 was the only one of the trucks to have the letters HUMMER between the grille. The H2 SUT is considered a pick-up truck for its abilities to haul cargo with an extendable box to reach 6 feet in length. This makes the SUT able to haul the same cargo most trucks can haul.
JAGUAR
Four very different Jaguars present here. Viying for elegance were a Series E Type Coupe 4.2 and an XJ6 4.2 Coupe
Elegance and subtlety are not on the radar of this XJ-based machine, clearly.
This was a replica of the famous D Type. I am not sure who produced it, but it certainly did not look to be one of those very costly ones which could pass for the real thing. No doubt it brings it owners lots of pleasure, though, and that is the most important thing.
JENSEN
A late arrival was this striking Interceptor model. To replace the slightly awkward looking CV8, the West Bromwich concern went to Italy, to Touring,  for some styling assistance, and the result is generally agreed to be highly successful. This large car with a massive wrap around glass rear window was quite practical compared to many of its rivals and the thumping great Chrysler V8 under the bonnet gave it the go to match the looks. The car underwent a number of upgrades through the years, reaching the Series 3 by 1971, with the latest 7.2 litre engine, standard air conditioning, and a number of other detailed changes. Around 6500 Interceptors, including the potent SP and the all wheel drive FF models were made. A convertible with powered soft top was introduced in 1974. Mainly intended for the American market, it was  also sold in Europe. 267 convertibles were made. Rarer still is the Coupé version introduced in 1975, just 60 of which were made before the company's demise. The Coupé was derived from the convertible and therefore lacked the distinctive rear window of the regular car. Seen here is a Series 3 car.
LANCIA
One of the nicest cars of the morning, for me at least, was this Delta Integrale. The road going version of Lancia's highly successful rally weapon has an enthusiastic following these days, and many people have one of these on their "bucket list" of cars they would like to own. Me included.
LAND ROVER
Land-Rovers from both ends of the long production run were here, with a Series 1 model contrasted with a recent Defender 90, which had been modified by Twisted
LOTUS
Lotus built the Excel from 1982 to 1992. Based on the now largely forgotten Eclat, which was a 2+2 Coupe version of the Elite, the Excel was a more refined machine, which underwent a program of more or less continuous improvements during its production life, with more robust components being introduced in an effort to make the car more reliable, with many Toyota parts being used thanks to the tie up between the 2 companies. More power was added, as well, with the initila 160 bhp being boosted to 180 bhp with the launch of the SE model. Over 400 of them are still registered with the DVLA, though more than half of this total are currently in SORN status.
MASERATI
Final Italian cars to see here a brace of Maserati models, a previous generation Quattroporte – surely one of the best looking saloons of all time – and the current GranCabrio
MAZDA
The MX5 Owners Club usually amass a collection of cars second in number only to Ford, and that was the case here, with all four generations of the model represented. Amusingly, as we made a tour around the Square, the proud owners of both of the new ND Series cars were to be seen with their fingers under the leading edge of the bonnet, desperately trying to work out where the safety catch was so that they could reveal their engines.
MERCEDES-BENZ
As well as Dan Grazier's C350 CDI, there were several Mercedes models here, all of them bearing AMG badges, showing how this once very exclusive brand has become more popular and numerous. Oldest of the trio was an R230 model SL55, and this was joined by a W204 C63 and then a very new W212 model E63 AMG appeared. The owner did a lap, parked up on the corner where he had entered the Square, wandered away for a few minutes then departed, so this thunderous saloon was not present for very long. Even when being driven gently around the cobbles, there is a very pleasing burble to the engine, and you can tell that it is eager for some open road so it can really show off.
MINI
This was a nicely presented late model Cooper version of the classic Issigonis Mini.
MISC
I assume that this is a Kit Car of some sort, but quite what, I am not sure.
MITSUBISHI
I've seen this Colt Sigma here a few times before. A rare survivor, it looks pretty good, though it is a shame that it is not on original wheels any more. Member of the long-running Galant family, tart The third generation of the car was introduced in 1976, and was known as Galant Σ (Sigma). It had many different names around the world. In many countries it was still known as the Galant.  In Australia, where the car was made locally at Chrysler's Clovelly Park plant, it was known as the Chrysler Sigma and, after the buyout of Chrysler Australia by Mitsubishi, as the Mitsubishi Sigma. In the UK it was called Colt Sigma, as the switch to Mitsubishi branding did not come until into the 1980s. An estate version was introduced in 1977, a little while after the sedans. A two door  coupé was introduced in 1976 to replace the Galant GTO. It was known in Japan as the Galant Λ (Lambda), which was sold as the Colt Sapporo in the UK and in the United States between 1978 and 1980 as the Dodge Challenger and Plymouth Sapporo. Although much of the Sigma's design was conventional, it did feature some innovative engineering, especially under the bonnet where Mitsubishi introduced the MCA-Jet engine for Japan and other emissions-controlled markets. This incorporated the "Jet Valve", a secondary intake valve which improved emissions without necessitating the need for a completely redesigned cylinder head. In 1978, Mitsubishi in Japan established a dedicated dealership sales channel called (Japanese: Galant Restaurant) to sell the Galant and other selected vehicles. After late 1977 the 1850 variant was discontinued, as Mitsubishi focussed their efforts on making the 1600 and the 2000 engines pass the new, stricter emissions standards. The Galant range received a facelift with single rectangular headlights in March 1978. Only seven months later this front design was replaced with one featuring twin square headlights. Models with engines which passed the new 1978 standards changed from the A120 to the A130 range. Mitsubishi had limited resources, and the large choice of engines for the Galant lineup was reduced to one 1.6 and one 2.0, with 86 and 105 PS at the beginning of the 1979 model year. UK market cars only ever had the 1.6 or 2.0 litre 4 cylinder units, with a choice of 4 speed manual or 3 speed automatic gearboxes. The Sigma was replaced in 1980 with a car called the Galant Σ/Eterna Σ in Japan, and simply the Sigma in the UK.
A more recent Mitsubishi on display was an Evo X, one of the last of the line cars, as the maker has said that there will be no replacement for this legendary series of cars.
NASH
This 1947 de Luxe is a regular at this event.
NISSAN
These lethal looking wheel trims were fitted to a Micra, which had also received a number of personalisation touches inside it, such as a massive and semi-translucent gearlever.
There were two performance Nissan models here as well, a Skyline GT-R and a more recent 370Z Nismo. This latter, whilst objectively still a good car, by all accounts, does not seem to have captured the market's imagination like the previous 350Z did, which is doubtless why the rumours are that it be replaced with something very SUV-like in concept.
PORSCHE
There are usually lots of 911s of different generations at this event, but this month, they all seemed to be hiding, and it was a quartet of front-engined Porsche models that were here to represent the Stuttgart marque. Two of them were the 928, both S4 models. These were thought of as "Large" when new, especially in their width, but look at one now, and it does not seem that big at all. Also present were a couple of the smaller 968 models.
RENAULT
There was a sporting Clio here, but its enthusiastic owner spent the entire morning cleaning it, so although I planned to come back when he had finished, that opportunity never arose, as soon as it was done, he got in the car and drove off! That left just the larger Megane, in RenaultSport  RS230 guise, and the "best" colour, Liquid Yellow, to represent la Regie for this report.
SUBARU
The silver BRZ is a regular at this event, but this time there were a pair of the Subaru version of the Japanese rear wheel drive Coupe models that are marketed by both Subaru (who did most of the design and development work) and Toyota. Considering that the Toyota outsells the Subaru by as much as 10 to 1, getting 2 Subarus and no Toyotas is pretty unusual.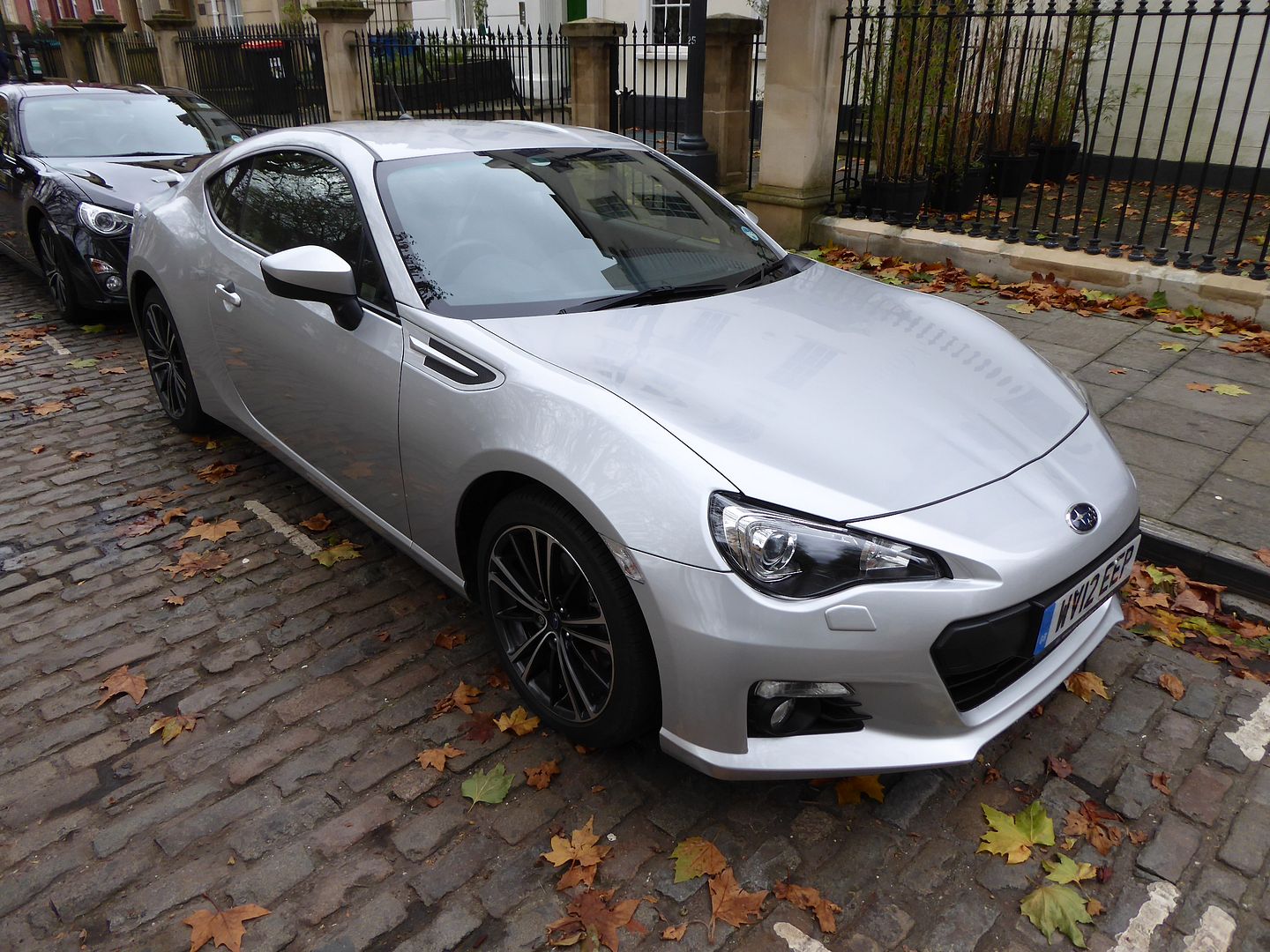 There was also an Impreza here, one of the legendary Mark 2 WRX  models, from the time when these cars were enjoying huge popularity among enthusiasts, fuelled partly by the success in the forests by the late Colin McRae and Richard Burns, and also because these were good cars, an attribute that seems to have eluded more recent Impreza models.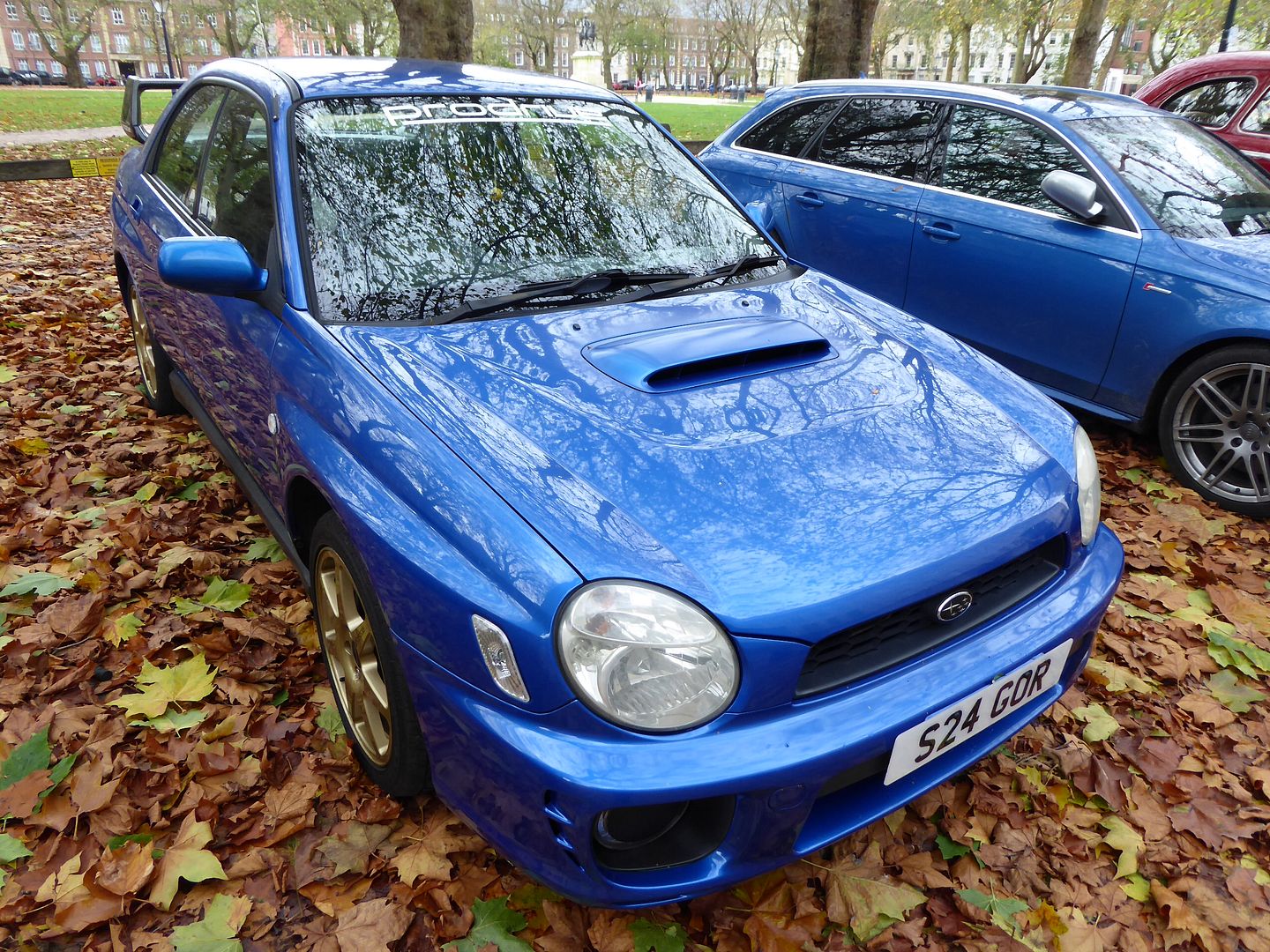 TALBOT
Also with rallying heritage is the Talbot Sunbeam. The Lotus engined version of this car was a very effective machine in the forests at the end of the 1970s and early 1980s (until the Audi Quattro came along and instantly obsoleted every thing else!), with notable victories scored by, among others the late Henri Toivonen and Guy Frequelin. This looked like a regular car made up to looks like a rally car rather than the real deal, but was still nice to see.
TVR
TVR finally introduced a completely new design in 1980, with the radical "wedge" shape of the Tasmin. The early cars did not really capture much in the way of enthusiasm, but when the 3.5 litre Rover V8 engine was put under the bonnet in 1983, to create the 350i, that all changed, and the foundations were laid for a couple of decades worth of increasingly fast and slightly bonkers Blackpool sports cars.
TVR did pay homage to their heritage with the S model, which made its debut in 1987. Looking like a slightly modernised version of the 3000S that had been replaced by the wedge cars, the S proved very popular, even with the 2.8 and later 2.9 litre V6 Ford engine under the bonnet. When the Rover V8 was added, in 1992, creating the V8S, this became a very desirable car indeed.
It was the early 1990s when TVR sales really took off. After showing a new concept at just about every British Motor Show in the late 1980s, almost none of which made production, TVR hit the bulls-eye with the Griffith in 1990. That car went into production in 1992 and it was quickly followed by a slightly cheaper and more civilised car, the Chimaera, as seen here, which went on to sell in far greater quantities than any TVR before it.
ULTIMA
This is an Ultima Spyder, and it was one of the loudest cars present. As always seems to be the case, quite a few people were unsure as to what it was. Ultima models are manufactured by Ultima Sports Ltd of Hinckley, Leicestershire, a company founded in 1992 by Ted Marlow and Richard Marlow and it makes cars which are described by commentators as a "supercar", The cars have always been available both in kit form and as a "turnkey" (i.e. assembled by the factory) vehicle. Three different generations of Ultima have been offered since 1992. The current Evolution cars are available in two body styles: coupe and convertible, both of which are preceding Ultima GTR and Ultima Can-Am models. Prior to the GTR and Can-Am models, the two models produced were the Ultima Sport and the Ultima Spyder, which is the car seen here. In all cases, the design is mid engined, has a rear wheel drive layout, with a tubular steel space frame chassis and GRP bodywork. Kit builders are free to source and fit a variety of engines and transmissions but the Chevrolet small block V8 supplied by American Speed mated to either a Porsche or Getrag transaxle is the factory recommended standard, and this configuration is fitted to all turnkey cars.
VAUXHALL
I had quite a chat with the owner of this car, as he appeared just as I was taking a photo of it. It is, of course, a Mark 3 Cavalier SRi, once the object of desire of many a company car driver, who was probably piloting a 1.6L version up and down the motorways of Britain. SRi models were popular, but there are fewer than 100 left now. The owner found this one a few months ago, and it had the typical sort of limited use for most of the last 20 years, so it has only done 58,000 miles. There were a few rust issues to sort out, but it sailed through the MOT test. The owner – a local guy – is clearly quite a Cavalier enthusiast, as it emerged that he has had at least 10 different ones over the years.
VOLKSWAGEN
The convertible more or less vanished from every manufacturer's range in the 1970s, but the Karmann produced Beetle Cabrios remained on offer, and despite the fairly hefty price premium over the regular tin-top versions, they were quite popular. This is a top of the range 1303S model from towards the end of production.
VOLVO
The Volvo P1800 is a sports car that was manufactured by Volvo Cars between 1961 and 1973. The car was a one-time venture by the usually sober Swedish Volvo, who already had a reputation for building sensible sedans. The project was originally started in 1957 because Volvo wanted a sports car to compete in the US & European markets, despite the fact that their previous attempt, the P1900, had failed to take off with only 68 cars sold. The man behind the project was an engineering consultant to Volvo, Helmer Petterson, who in the 1940s was responsible for the Volvo PV444. The design work was done by Helmer's son Pelle Petterson, who worked at Pietro Frua at that time. Volvo insisted it was an Italian design by Frua and only officially recognised that it was by Pelle Petterson many years later. The Italian Carrozzeria Pietro Frua design firm (then a recently acquired subsidiary of Ghia) built the first three prototypes between September 1957 and early 1958, later designated by Volvo in September 1958: P958-X1, P958-X2 and P958-X3. In December 1957 Helmer Petterson drove X1, the first hand-built P1800 prototype to Osnabrück, West Germany, headquarters of Karmann. Petterson hoped that Karmann would be able to take on the tooling and building of the P1800. Karmann's engineers had already been preparing working drawings from the wooden styling buck at Frua. Petterson and Volvo chief engineer Thor Berthelius met there, tested the car and discussed the construction with Karmann. They were ready to build it and this meant that the first cars could hit the market as early as December 1958. But in February, Karmann's most important customer, Volkswagen forbade Karmann to take on the job, as they feared that the P1800 would compete with the sales of their own cars, and threatened to cancel all their contracts with Karmann if they took on this car. This setback almost caused the project to be abandoned. Other German firms, NSU, Drautz and Hanomag, were contacted but none was chosen because Volvo did not believe they met Volvo's manufacturing quality-control standards. It began to appear that Volvo might never produce the P1800. This motivated Helmer Petterson to obtain financial backing from two financial firms with the intention of buying the components directly from Volvo and marketing the car himself. At this point Volvo had made no mention of the P1800 and the factory would not comment. Then a press release surfaced with a photo of the car, putting Volvo in a position where they had to acknowledge its existence. These events influenced the company to renew its efforts: the car was presented to the public for the first time at the Brussels Motor Show in January 1960 and Volvo turned to Jensen Motors, whose production lines were under-utilised, and they agreed a contract for 10,000 cars. The Linwood, Scotland, body plant of manufacturer Pressed Steel was in turn sub-contracted by Jensen to create the unibody shells, which were then taken by rail to be assembled at Jensen in West Bromwich, England. In September 1960, the first production P1800 left Jensen for an eager public. The engine was the B18, an 1800cc petrol engine, with dual SU carburettors, producing 100 hp. This variant (named B18B) had a higher compression ratio than the slightly less powerful twin-carb B18D used in the contemporary Amazon 122S, as well as a different camshaft. The 'new' B18 was actually developed from the existing B36 V8 engine used in Volvo trucks at the time. This cut production costs, as well as furnishing the P1800 with a strong engine boasting five main crankshaft bearings. The B18 was matched with the new and more robust M40 manual gearbox through 1963. From 1963 to 1972 the M41 gearbox with electrically actuated overdrive was a popular option. Two overdrive types were used, the D-Type through 1969, and the J-type through 1973. The J-type had a slightly shorter ratio of 0.797:1 as opposed to 0.756:1 for the D-type. The overdrive effectively gave the 1800 series a fifth gear, for improved fuel efficiency and decreased drivetrain wear. Cars without overdrive had a numerically lower-ratio differential, which had the interesting effect of giving them a somewhat higher top speed of just under 120 mph, than the more popular overdrive models. This was because the non-overdrive cars could reach the engine's redline in top gear, while the overdrive-equipped cars could not, giving them a top speed of roughly 110 mph. As time progressed, Jensen had problems with quality control, so the contract was ended early after 6,000 cars had been built. In 1963 production was moved to Volvo's Lundby Plant in Gothenburg and the car's name was changed to 1800S (S standing for Sverige, or in English : Sweden). The engine was improved with an additional 8 hp. In 1966 the four-cylinder engine was updated to 115 PS, which meant the top speed increased to 109 mph. In 1969 the B18 engine was replaced with the 2-litre B20B variant of the B20 giving 118 bhp, though it kept the designation 1800S. For 1970 numerous changes came with the fuel-injected 1800E, which had the B20E engine with Bosch D-Jetronic fuel injection and a revised camshaft, and produced 130 bhp without sacrificing fuel economy. Top speed was around 118 mph and acceleration from 0–62 took 9.5 seconds. In addition, the 1970 model was the first 1800 with four-wheel disc brakes; till then the 1800 series had front discs and rear drums. Volvo introduced its final P1800 variant, the 1800ES, in 1972 as a two-door station wagon with a frameless, all-glass tailgate. The final design was chosen after two prototypes had been built by Sergio Coggiola and Pietro Frua. Frua's prototype, Raketen ("the Rocket"), is located in the Volvo Museum. Both Italian prototypes were considered too futuristic, and instead in-house designer Jan Wilsgaard's proposal was accepted. The ES engine was downgraded to 125 bhp by reducing the compression ratio with a thicker head gasket (engine variant B20F); although maximum power was slightly down the engine was less "peaky" and the car's on-the-road performance was actually improved. The ES's rear backrest folded down to create a long flat loading area. As an alternative to the usual four-speed plus overdrive manual transmission, a Borg-Warner three-speed automatic was available in the 1800ES. With stricter American safety and emissions standards looming for 1974, Volvo did not see fit to spend the considerable amount that would be necessary to redesign the small-volume 1800 ES. Only 8,077 examples of the ES were built in its two model years.  Seen here is one of the P1800s cars.
Whilst not the busiest of breakfast Clubs, there was still more than enough to entertain me all morning. The diary looks clear for the December Breakfast Club as well, which takes place on 13th December.
Share and Enjoy