2015 Ford Mustang 3.7 V6 Convertible (USA)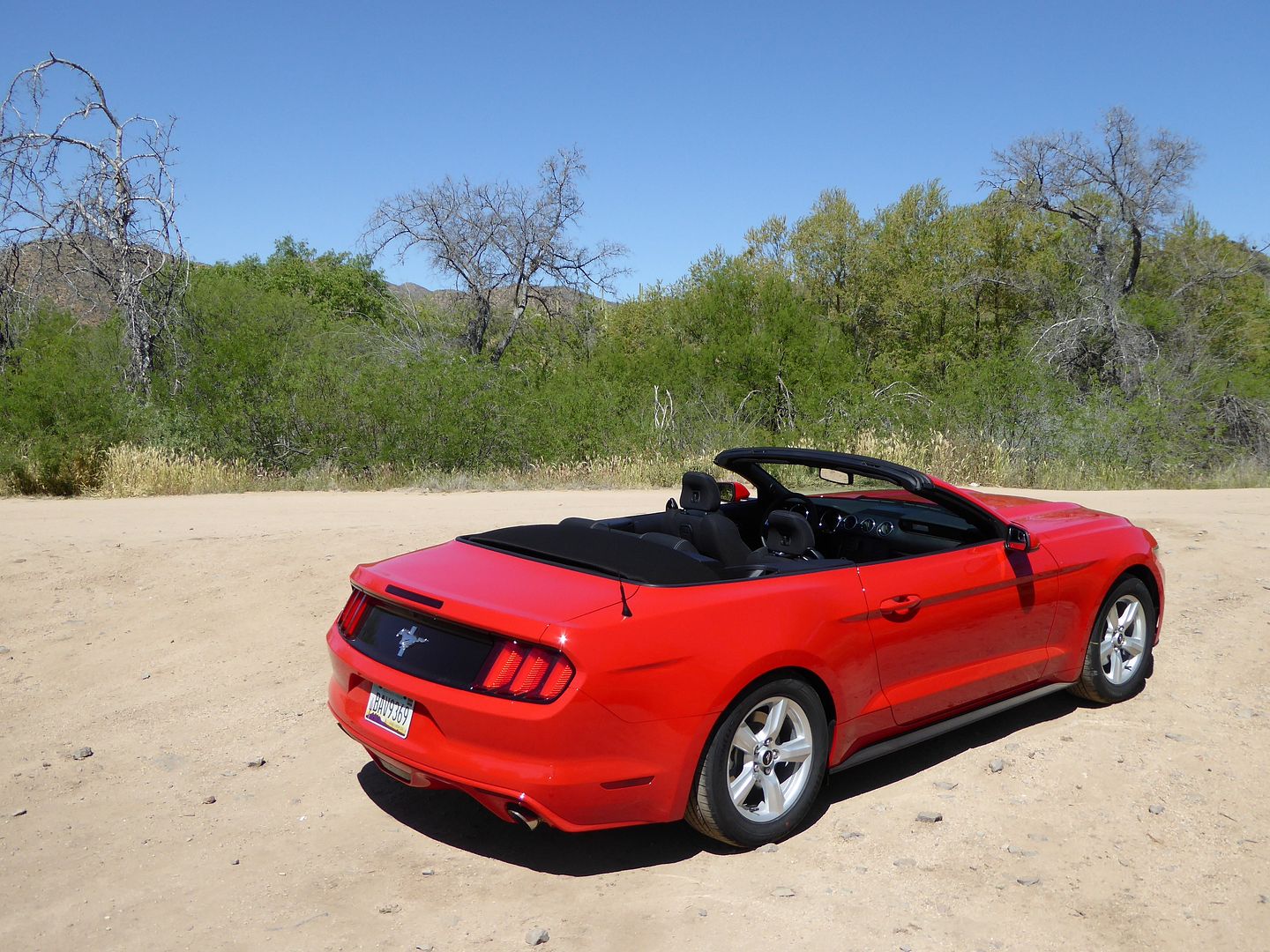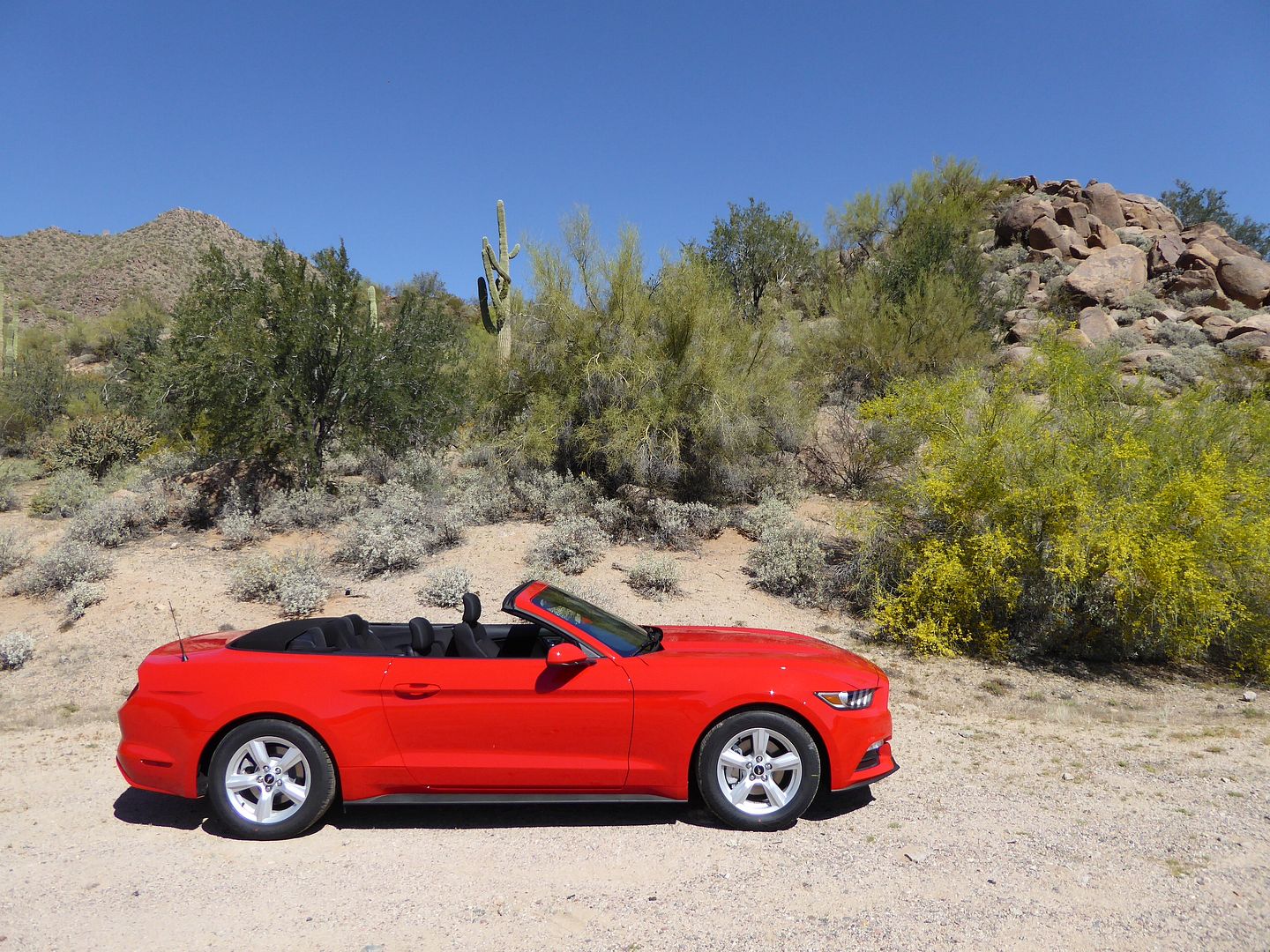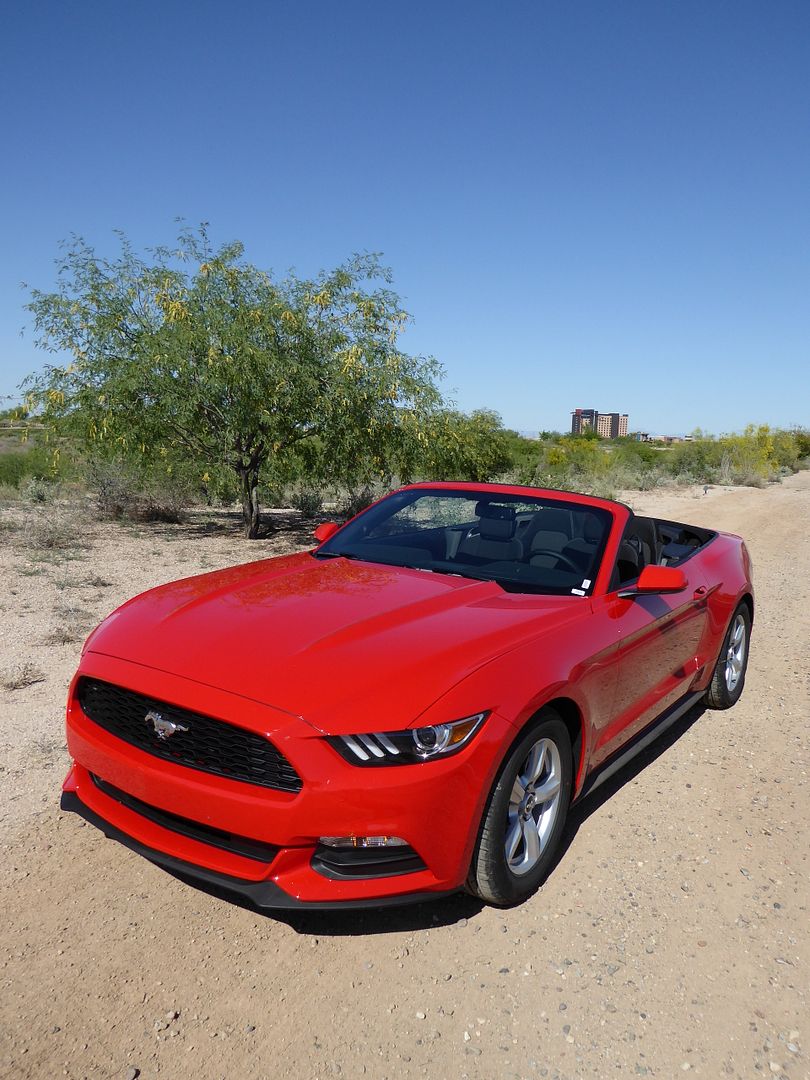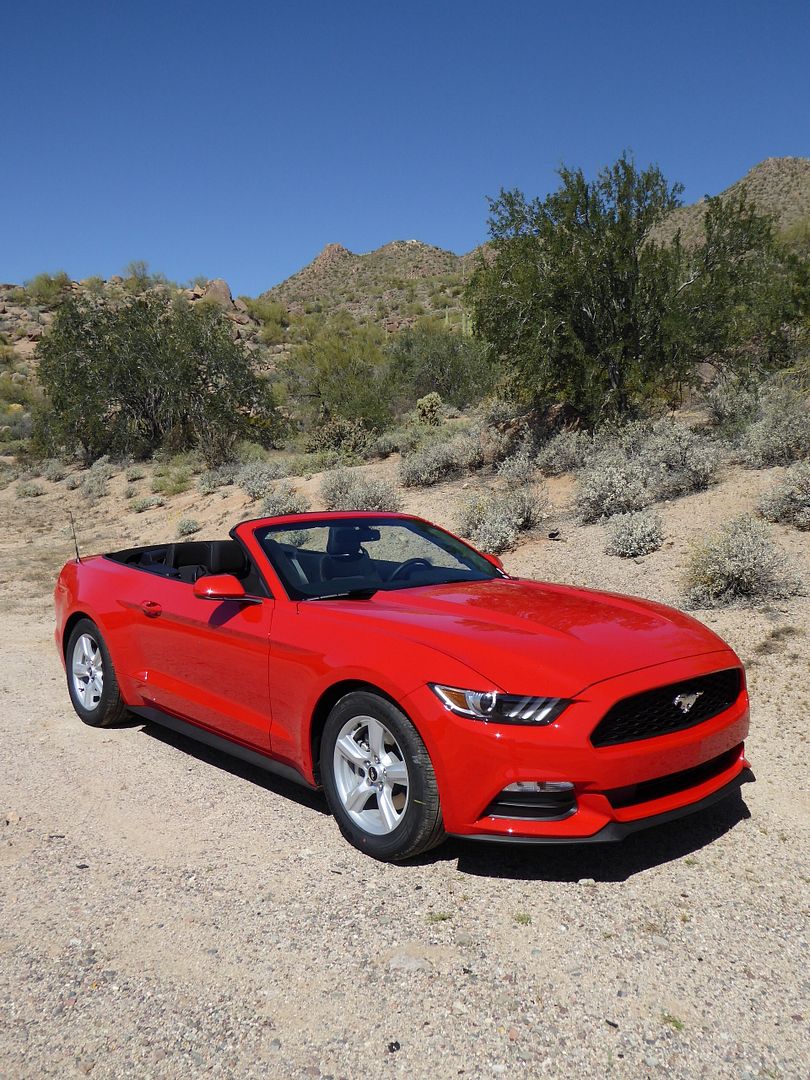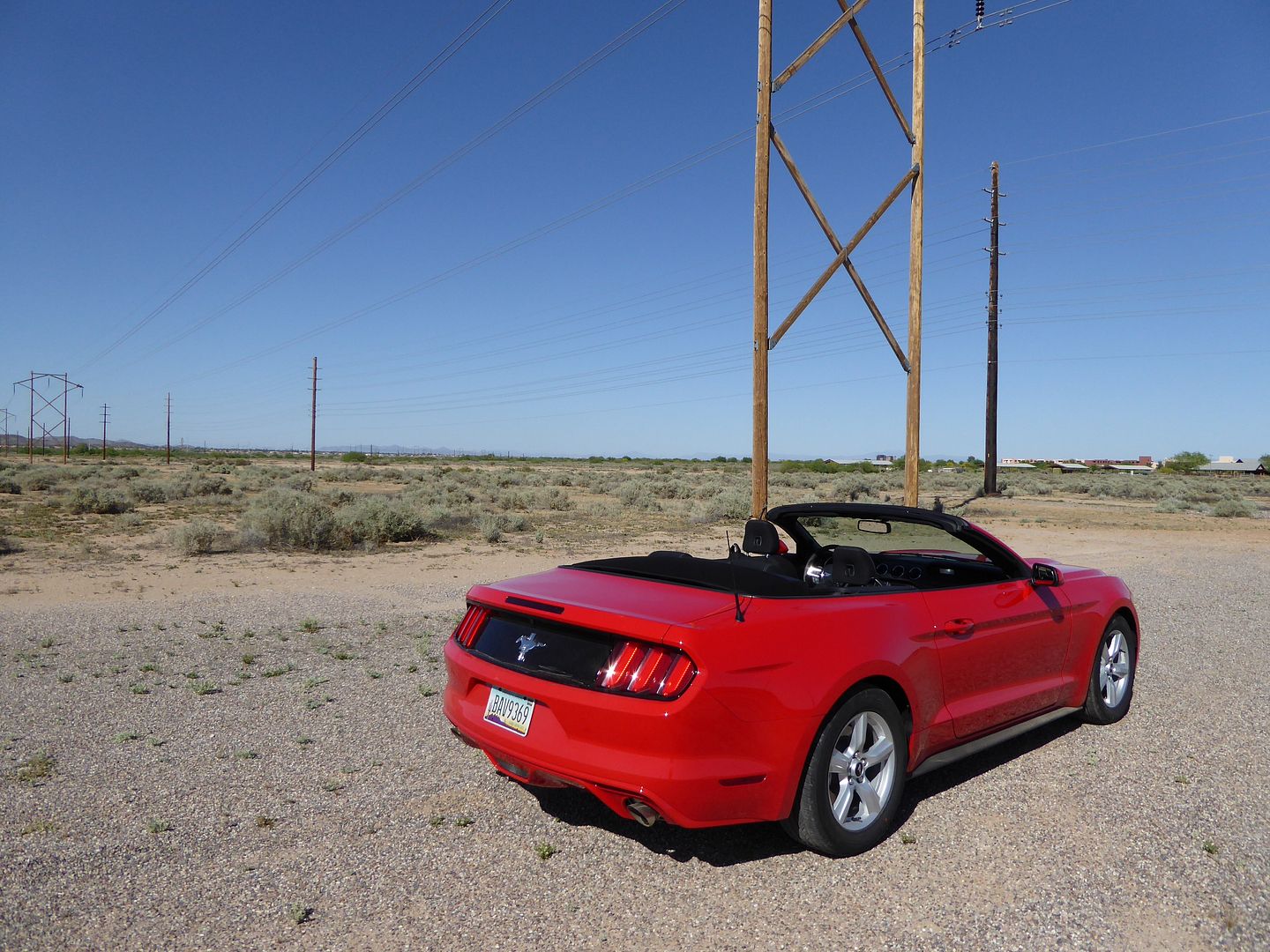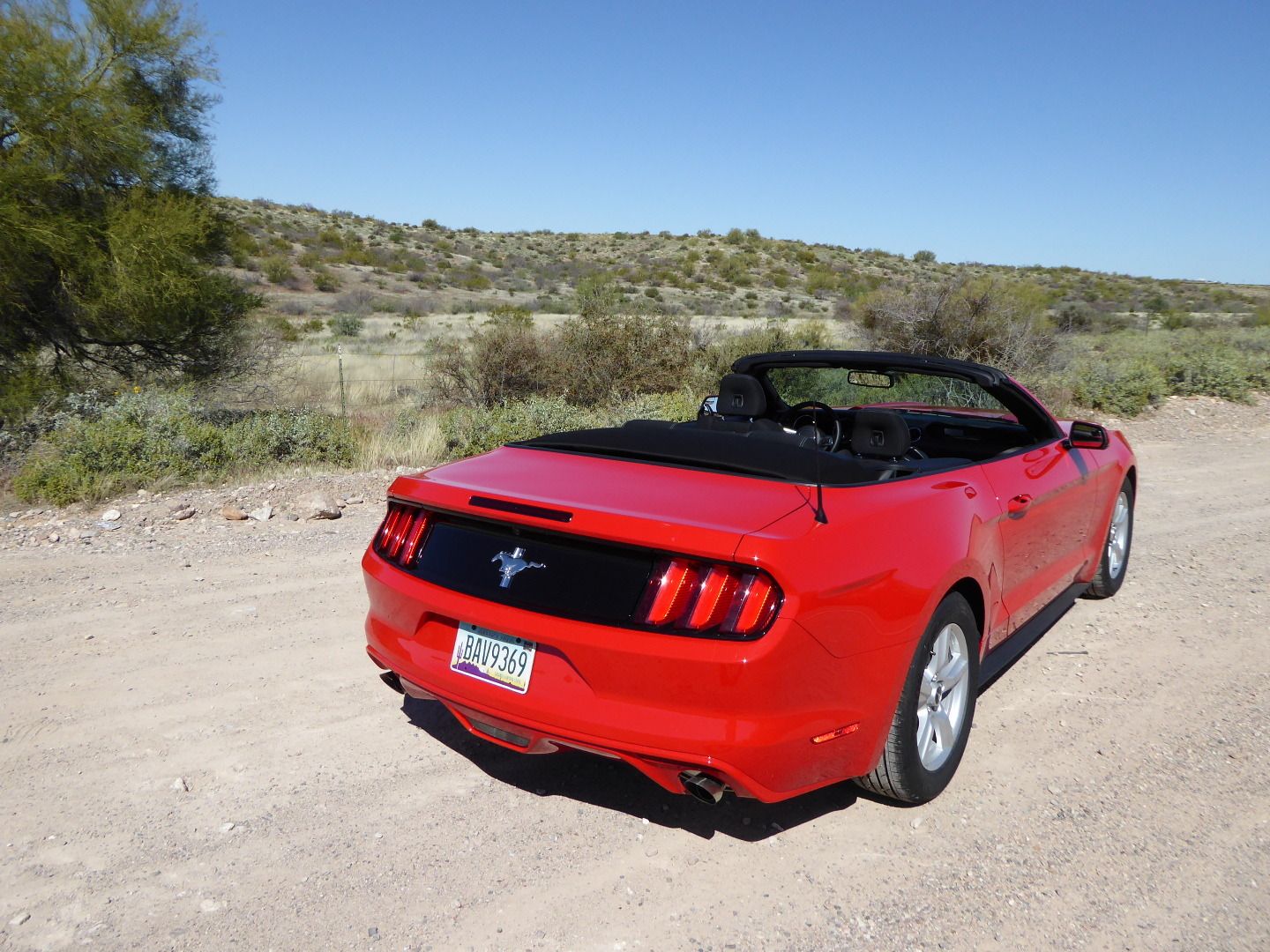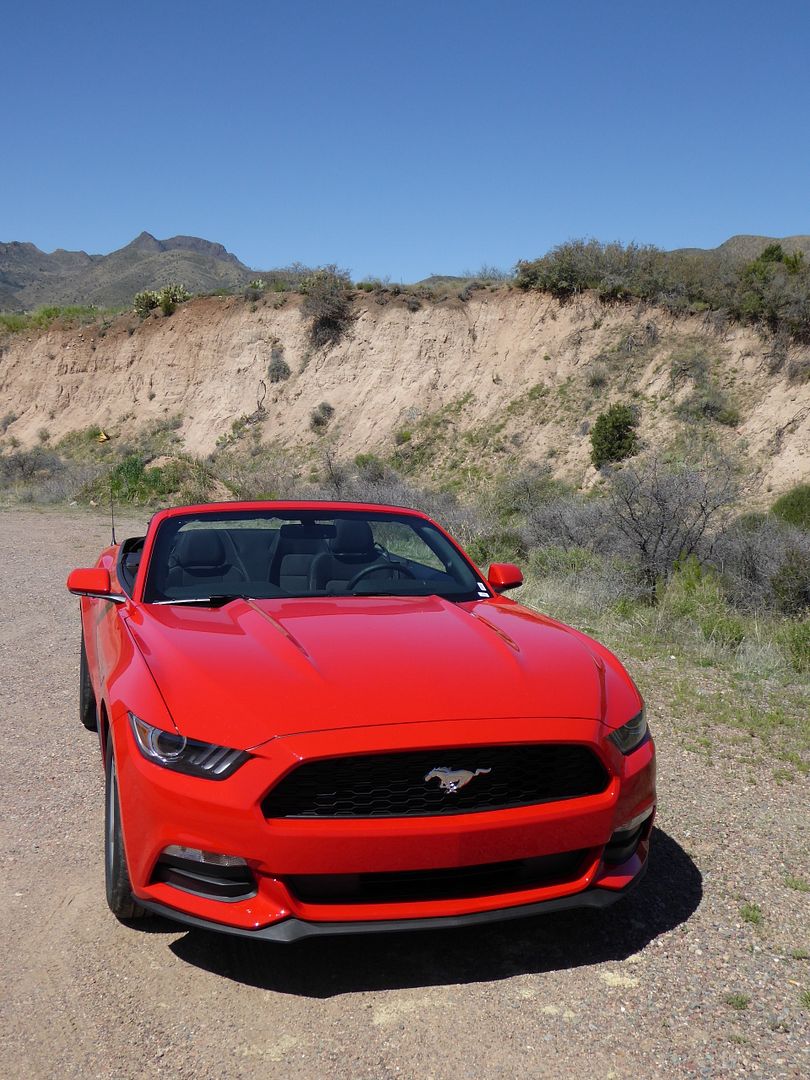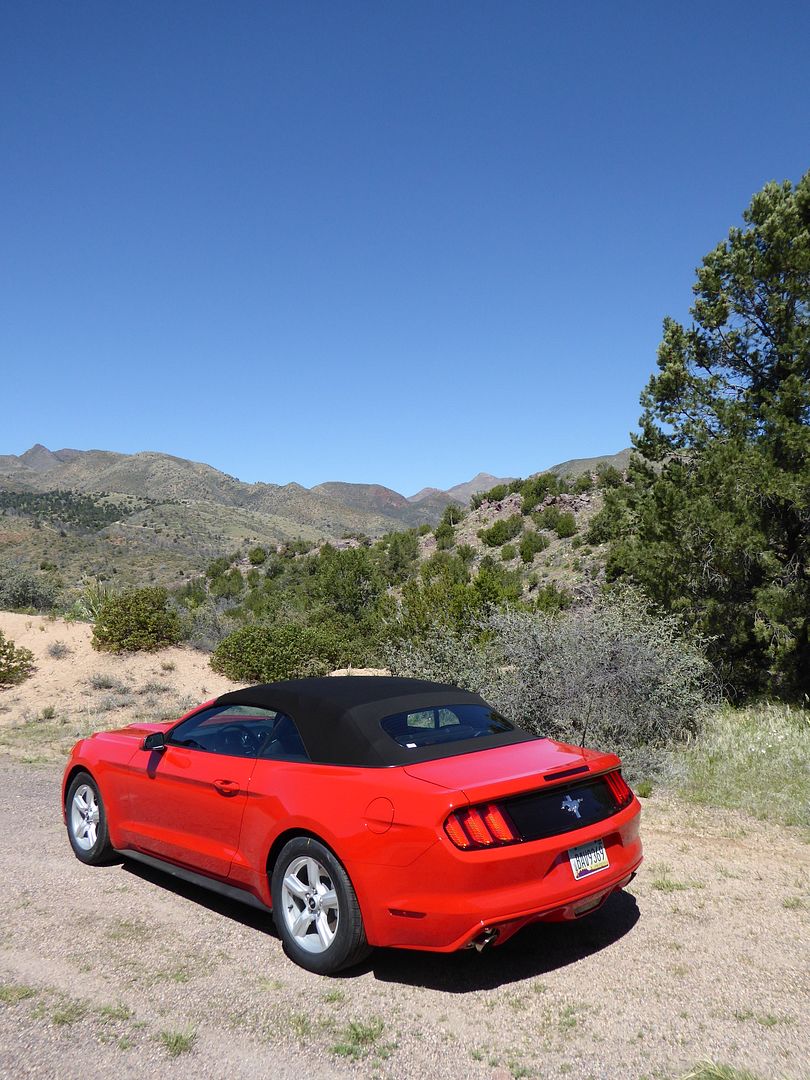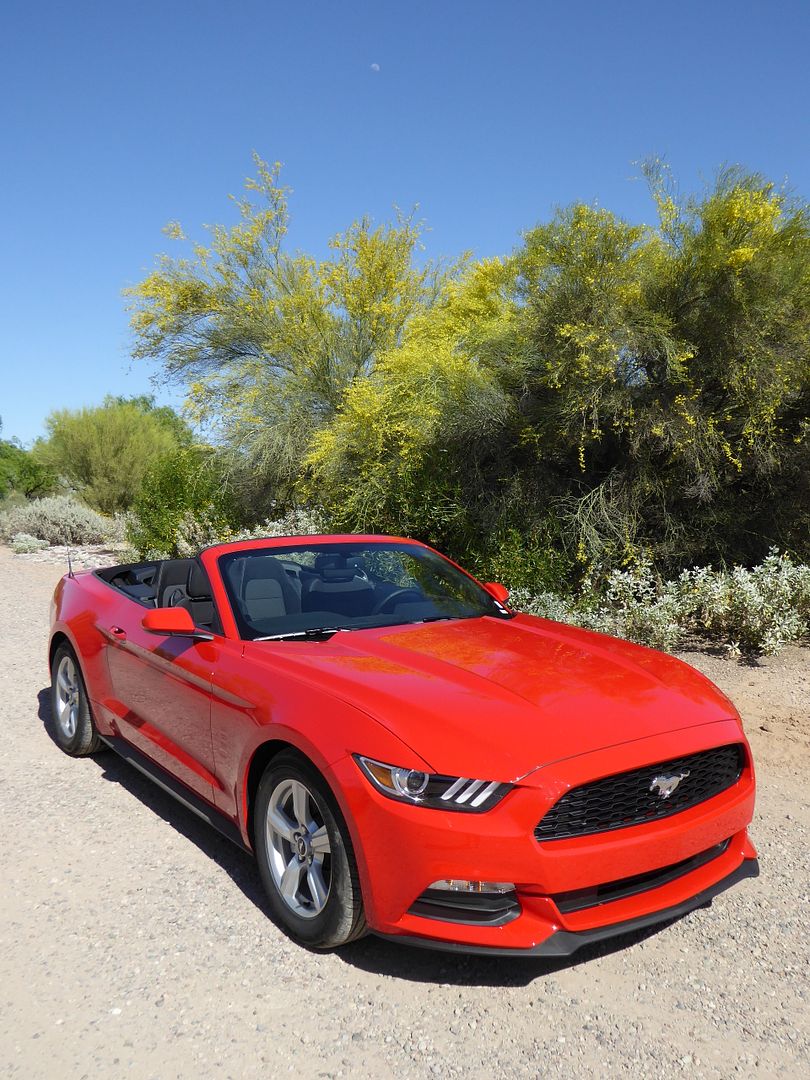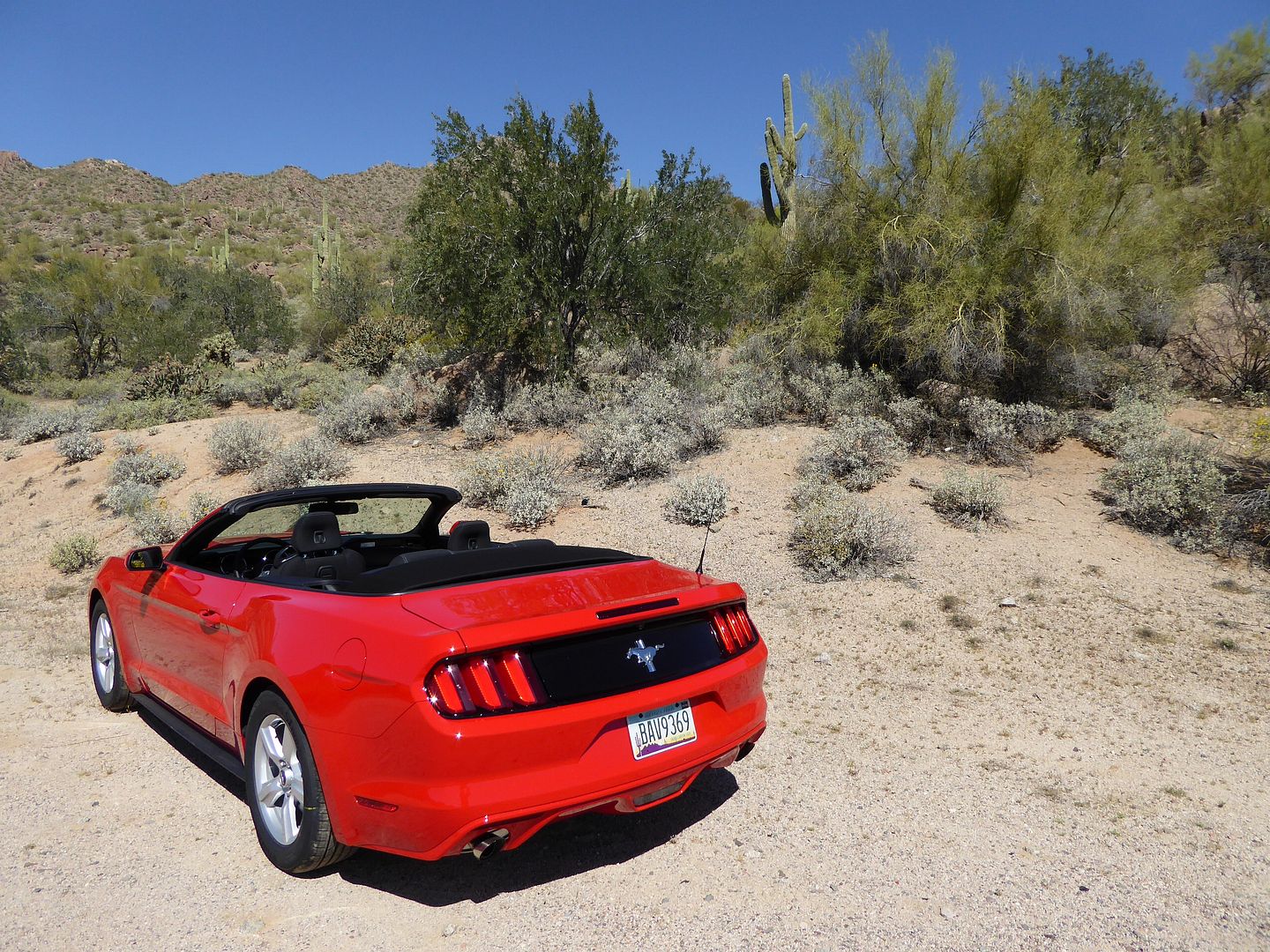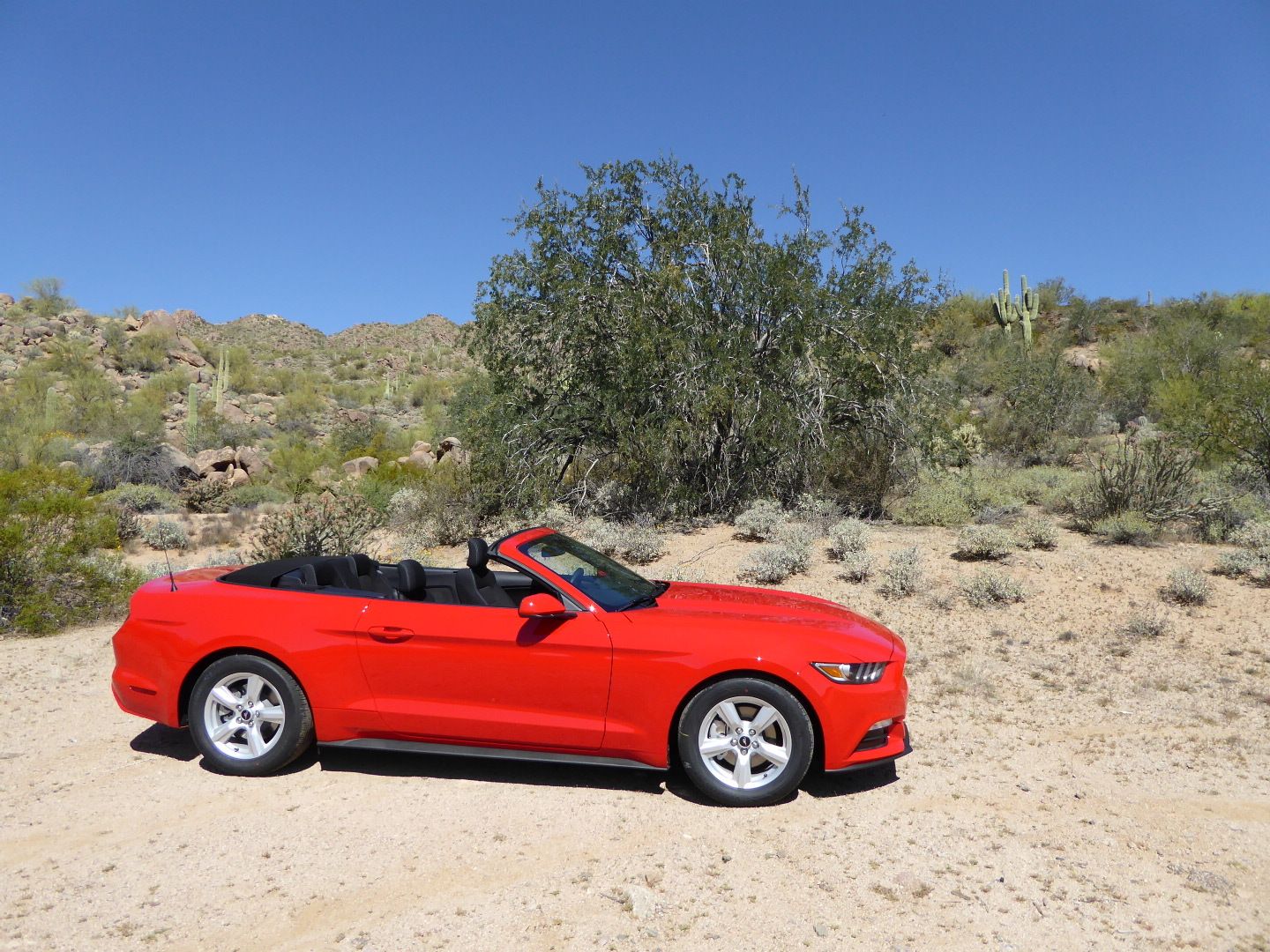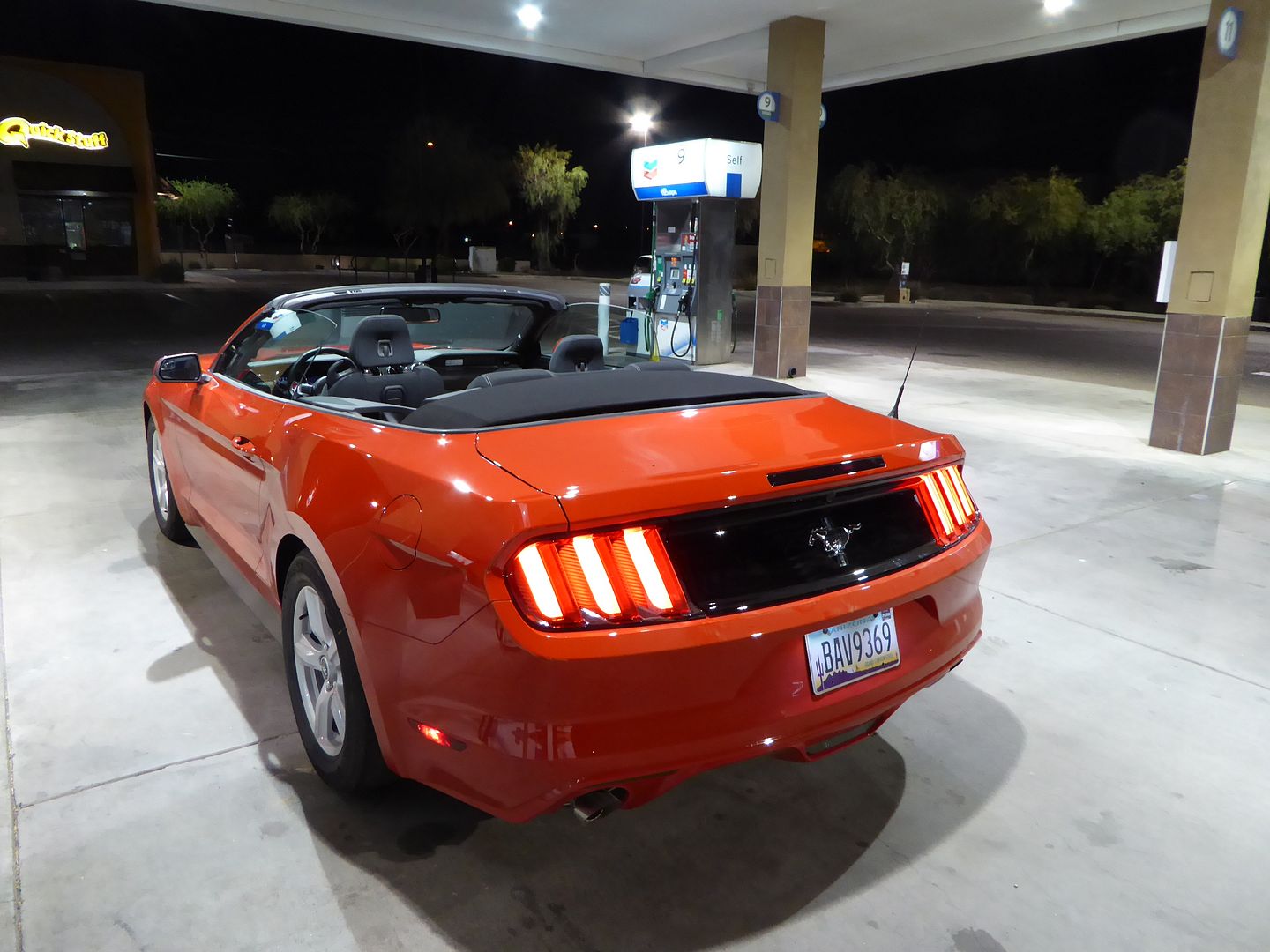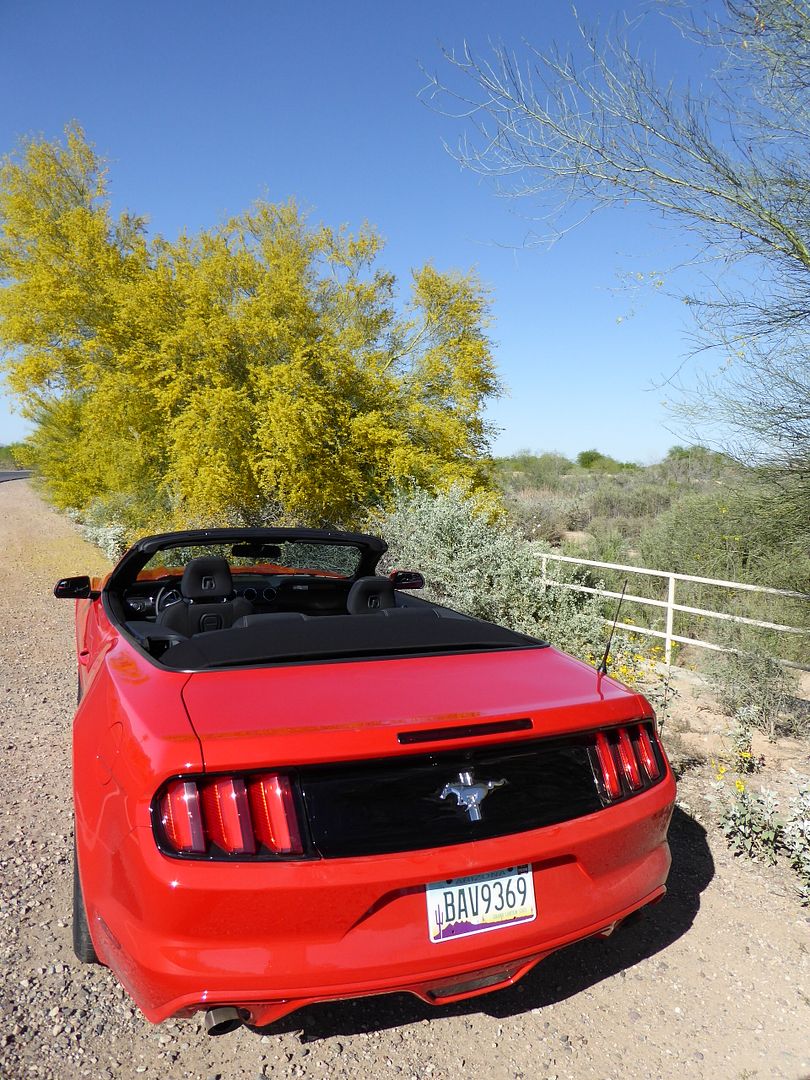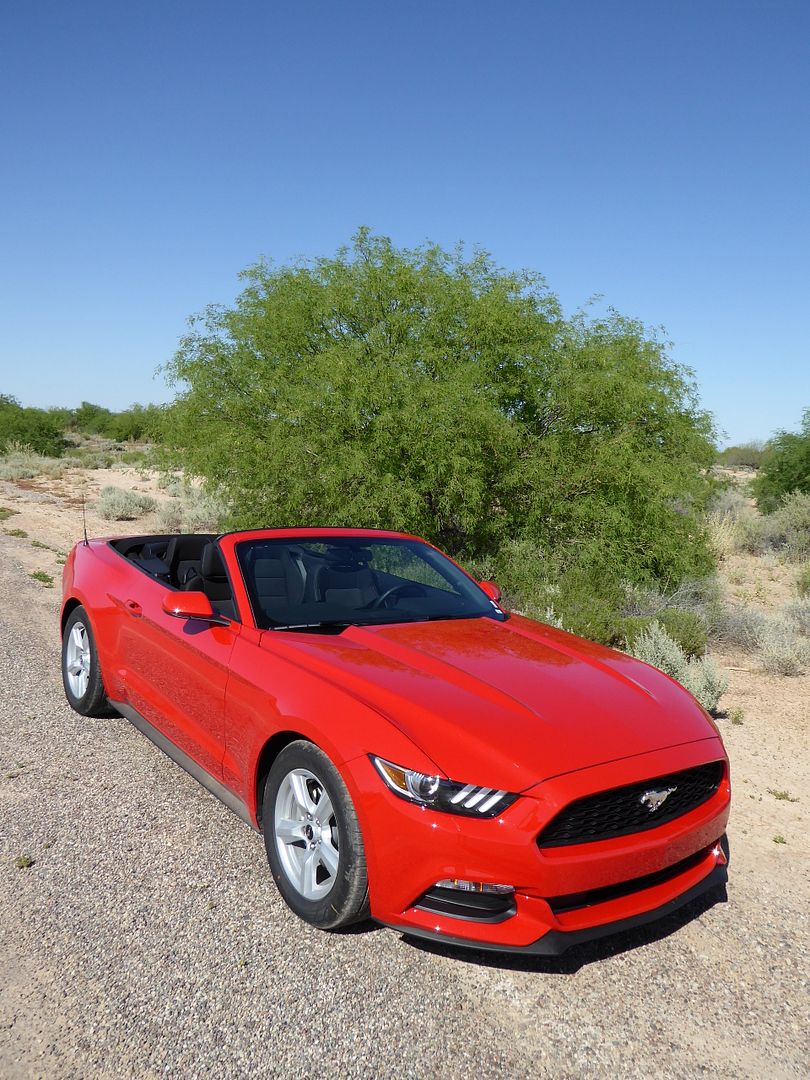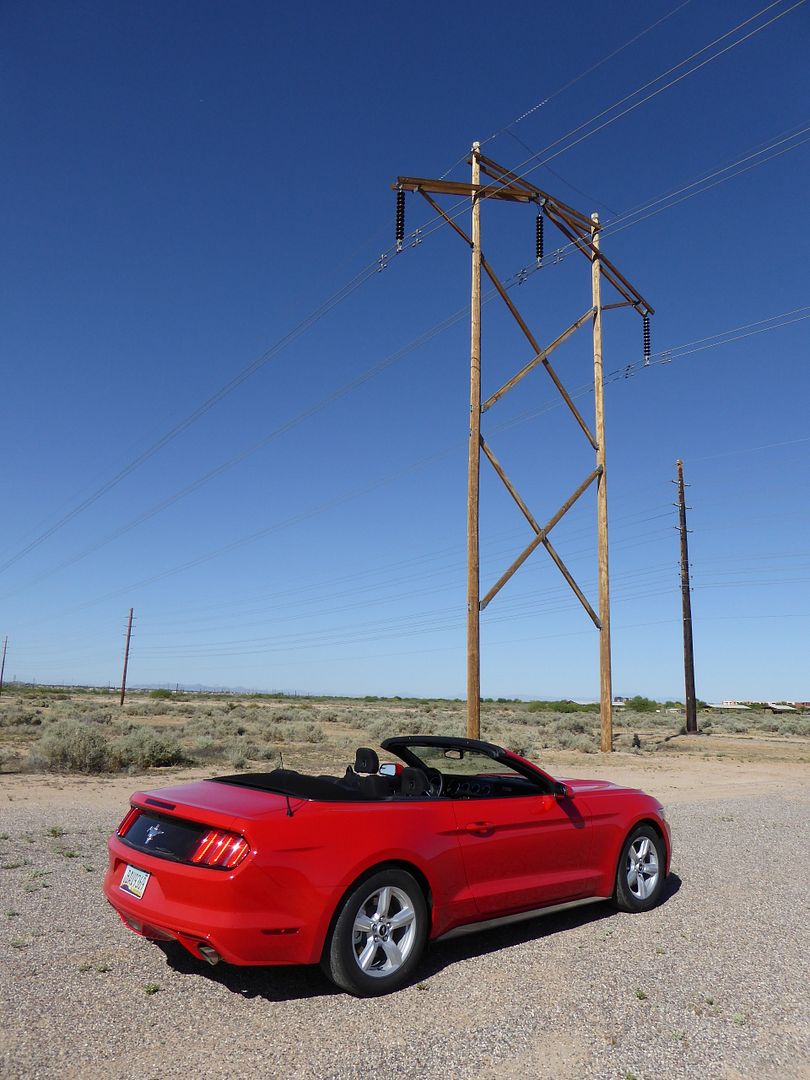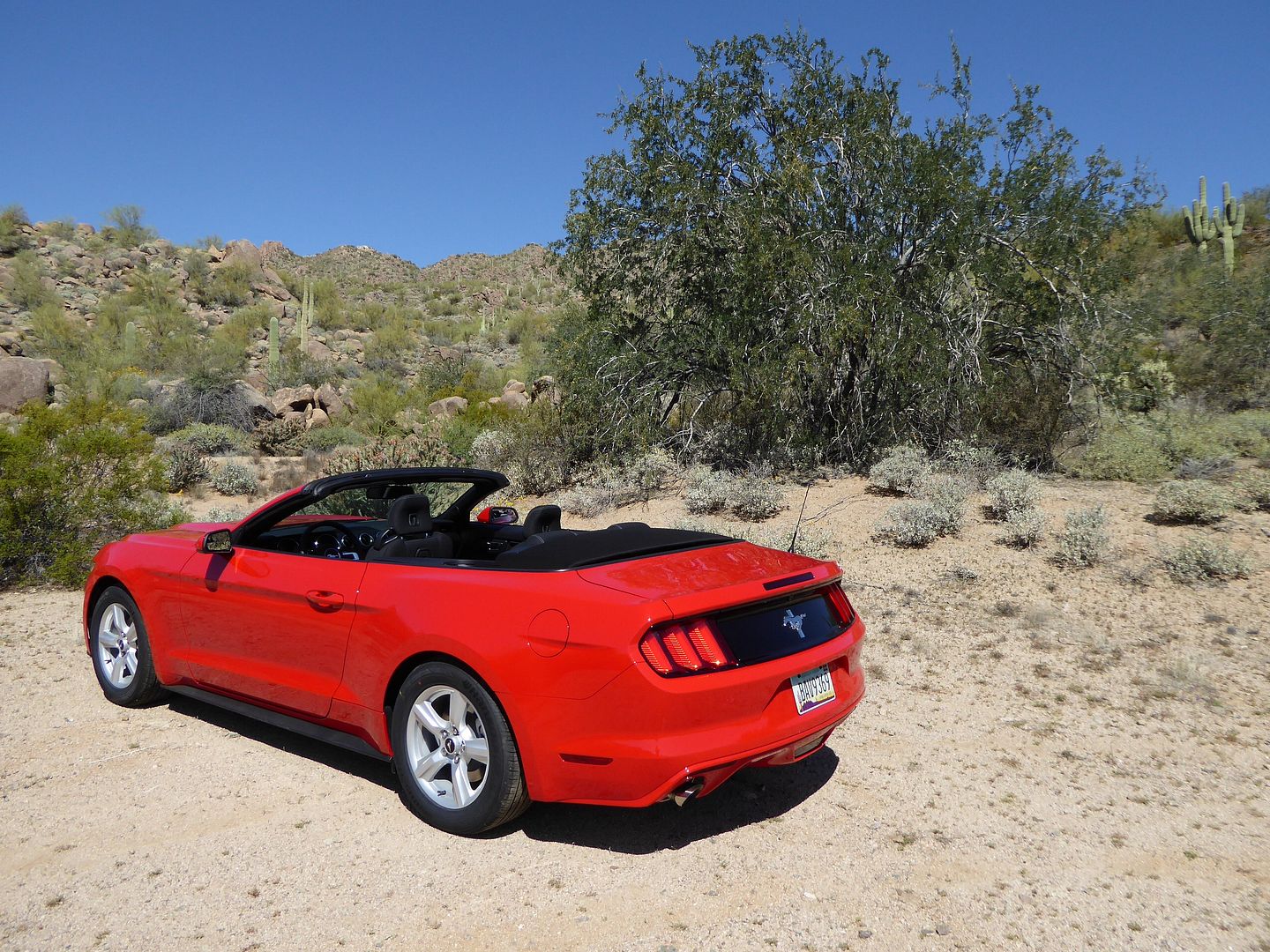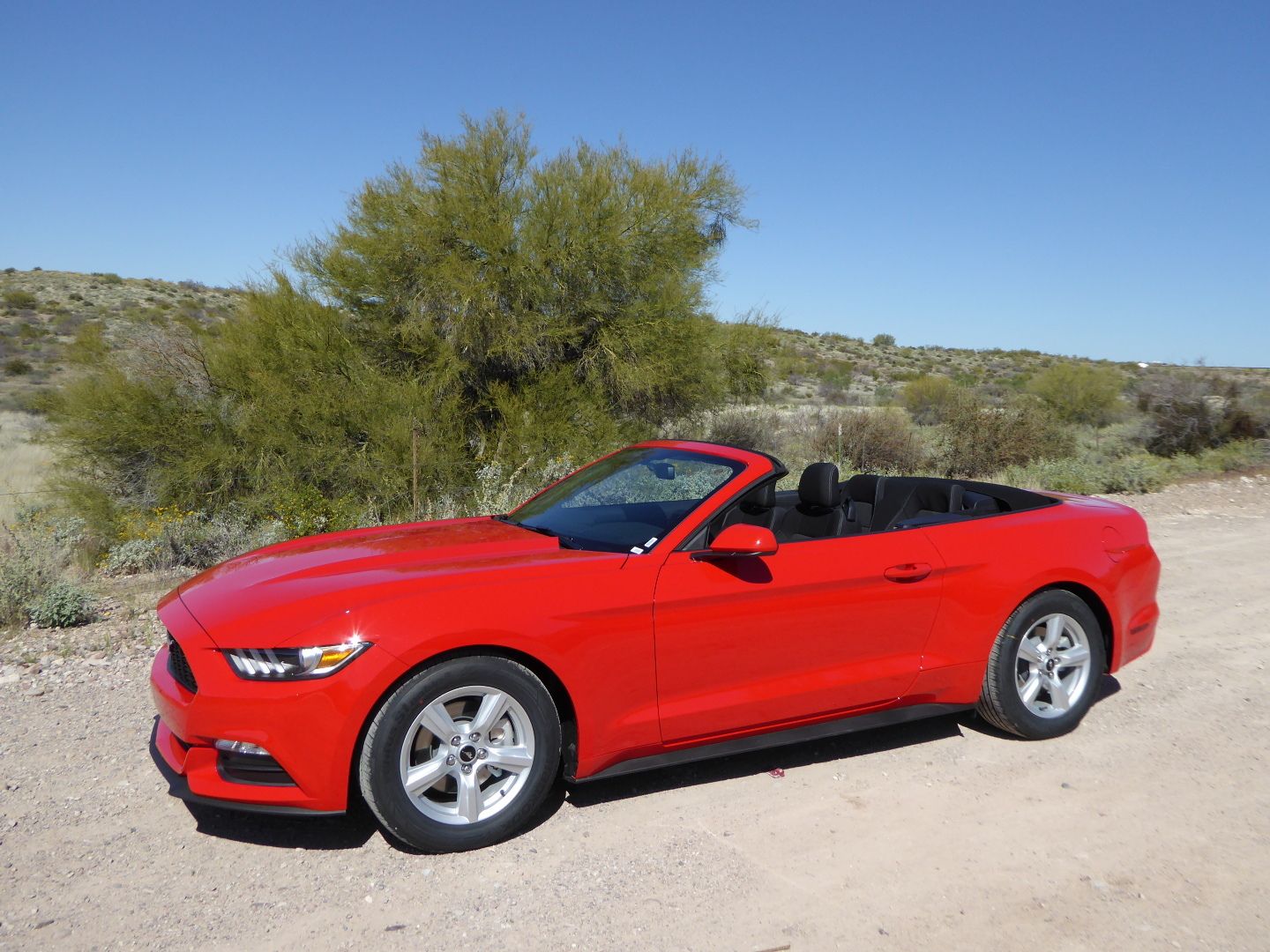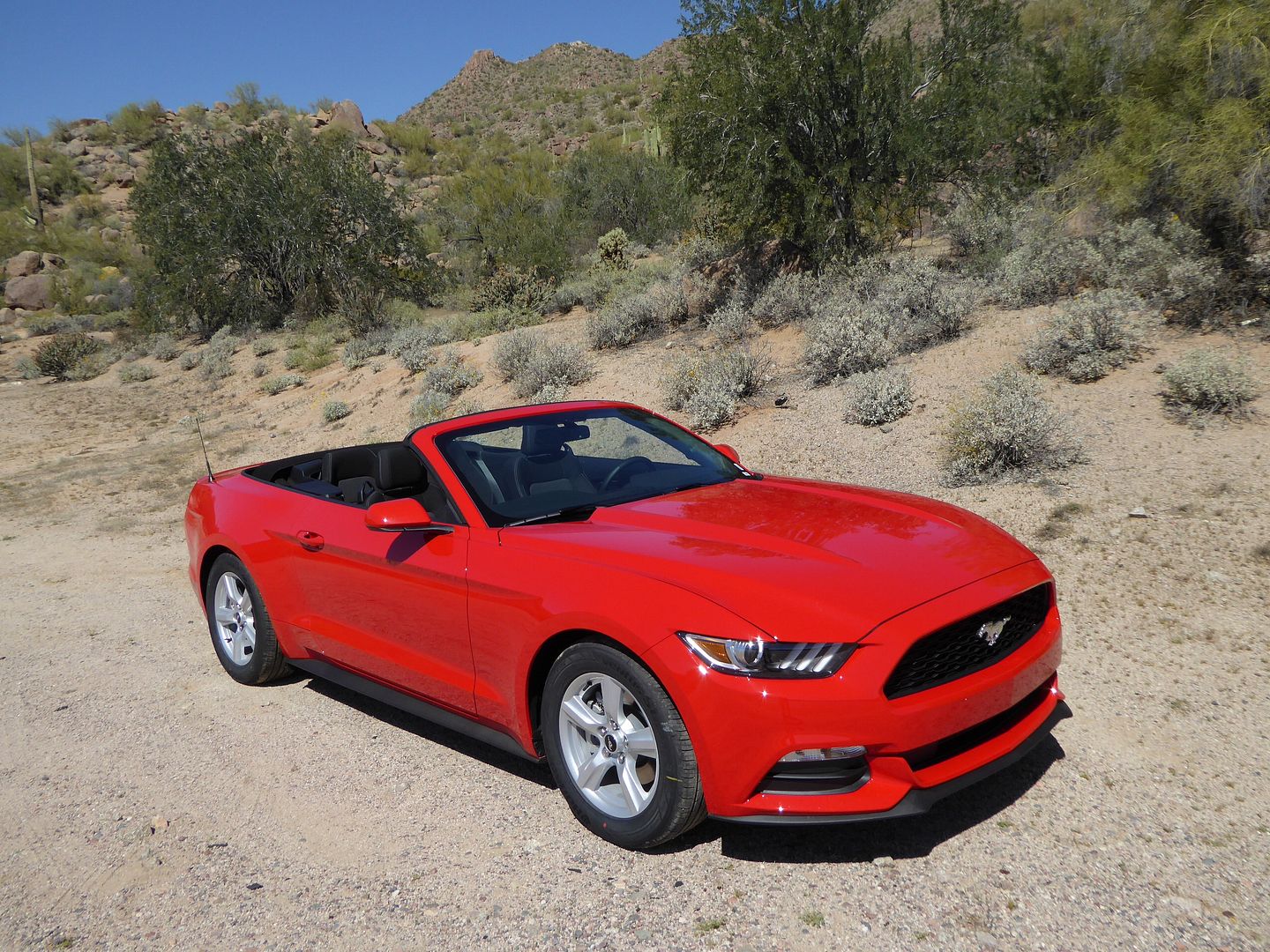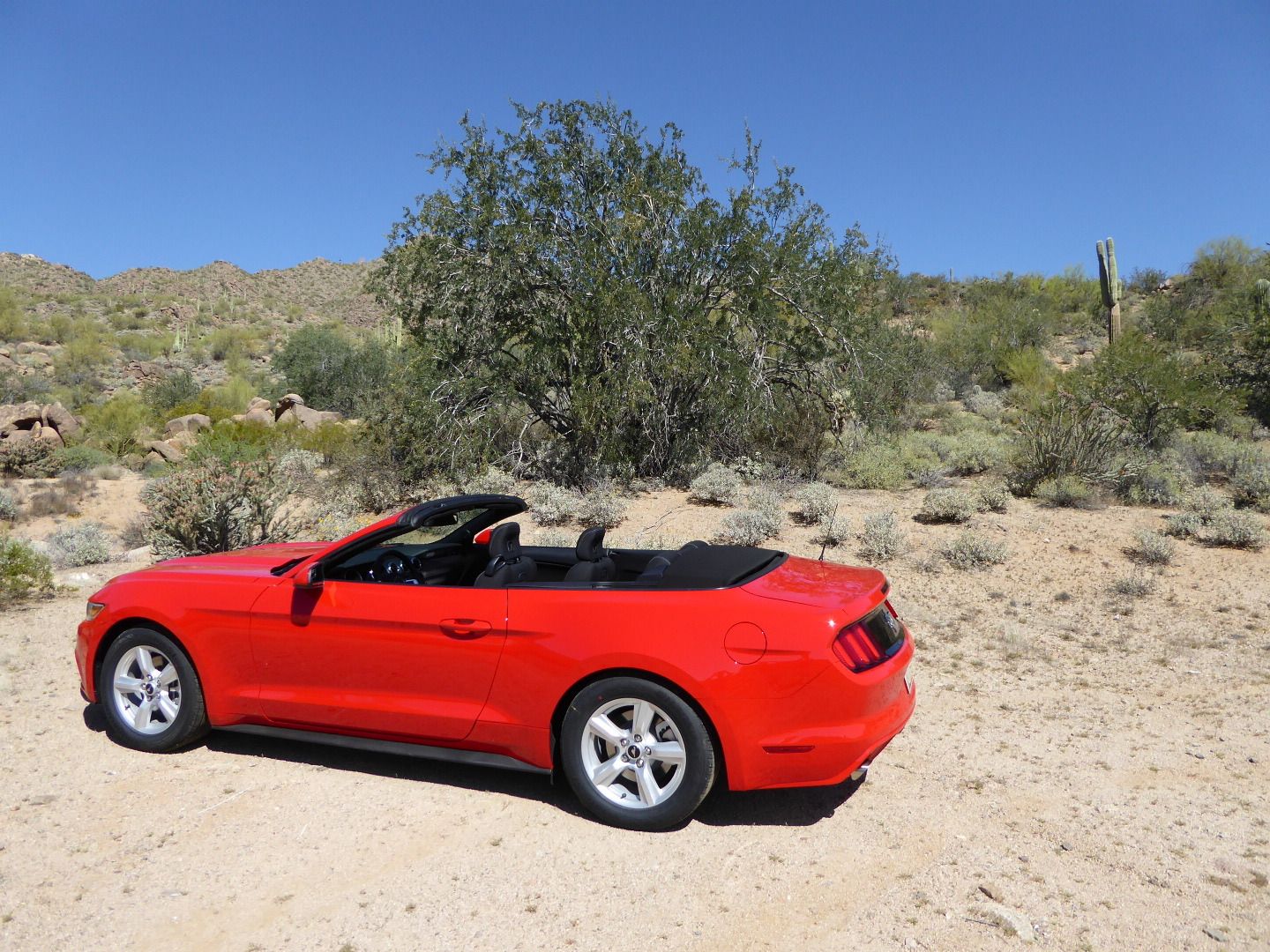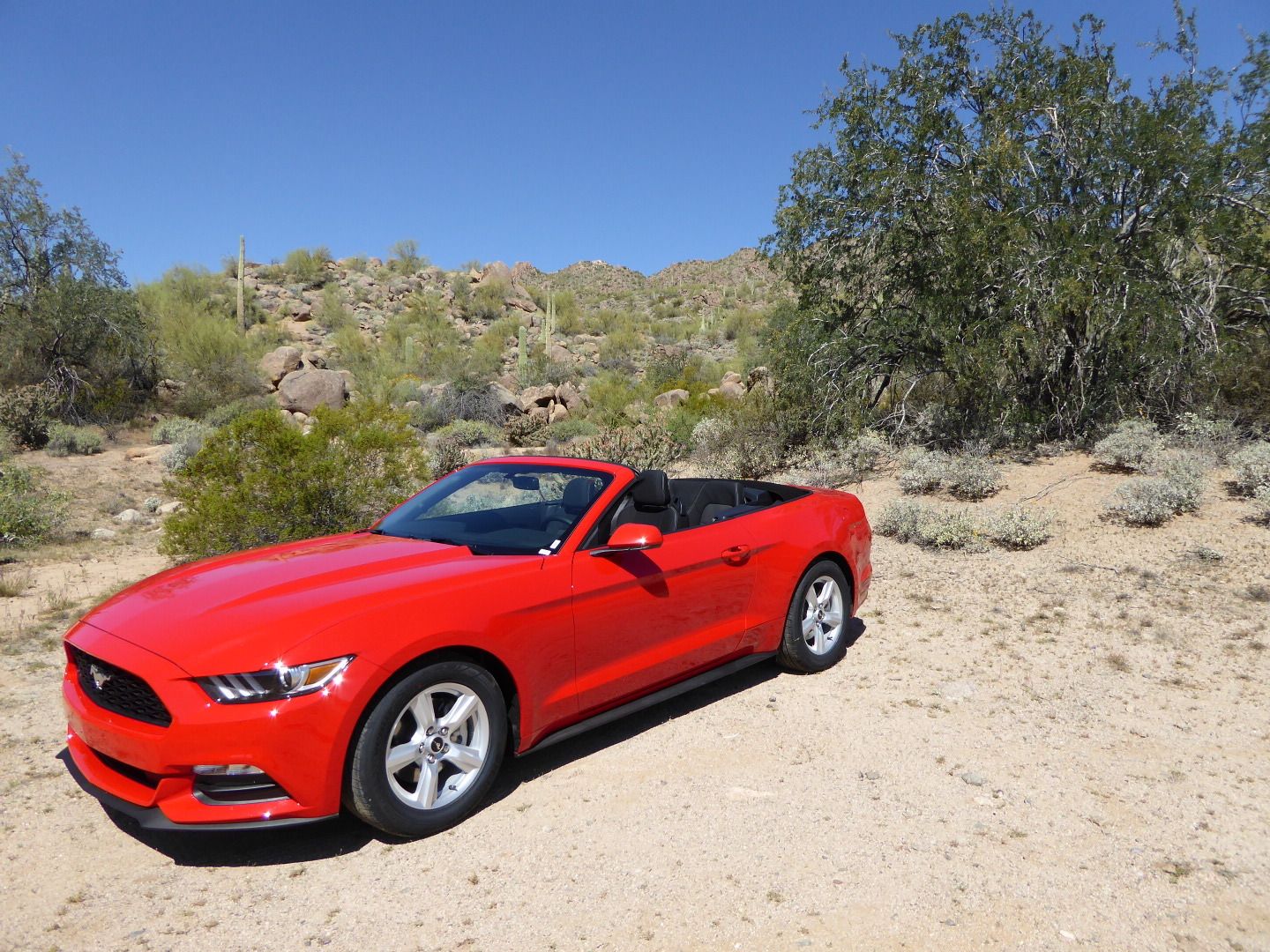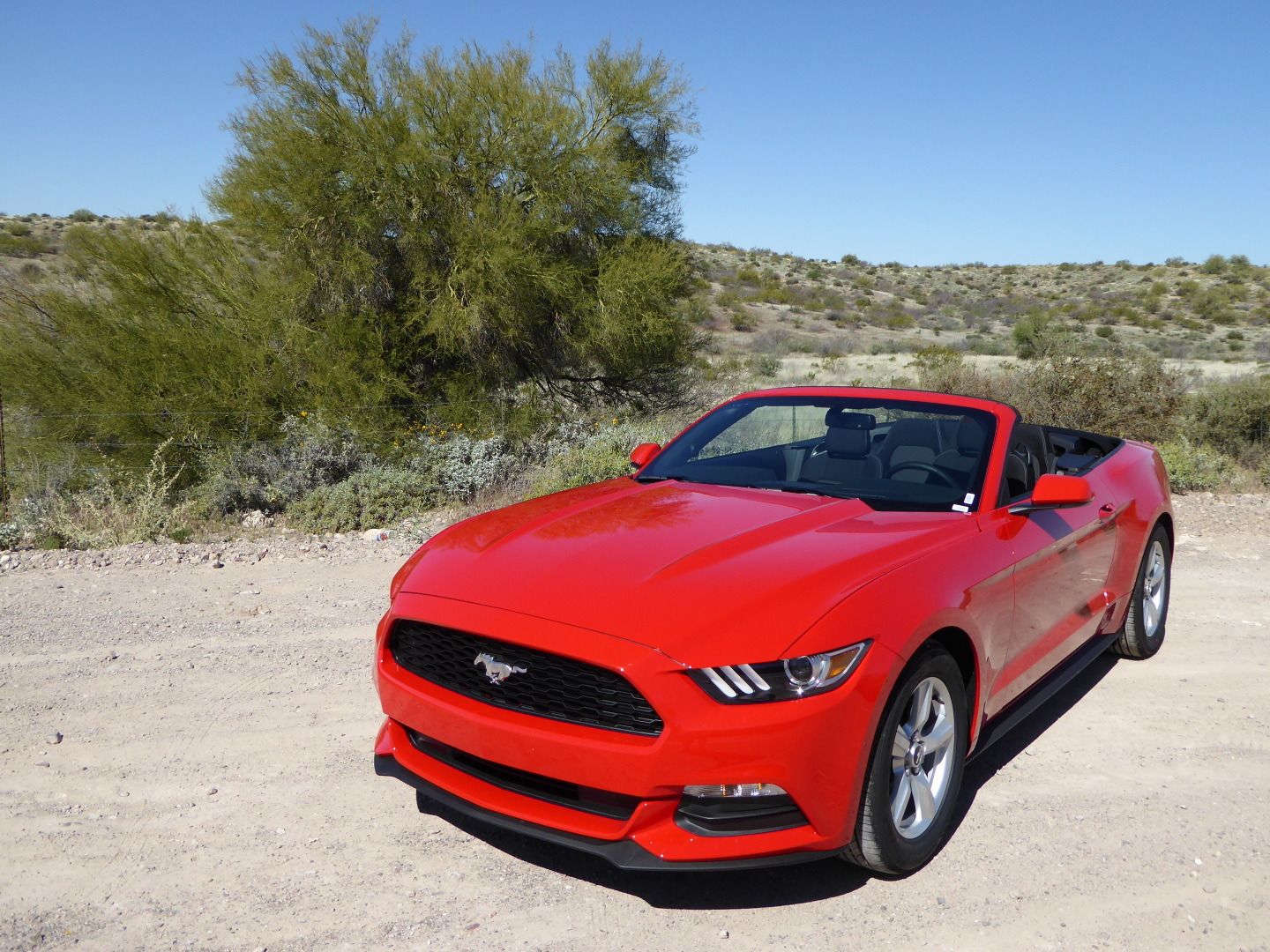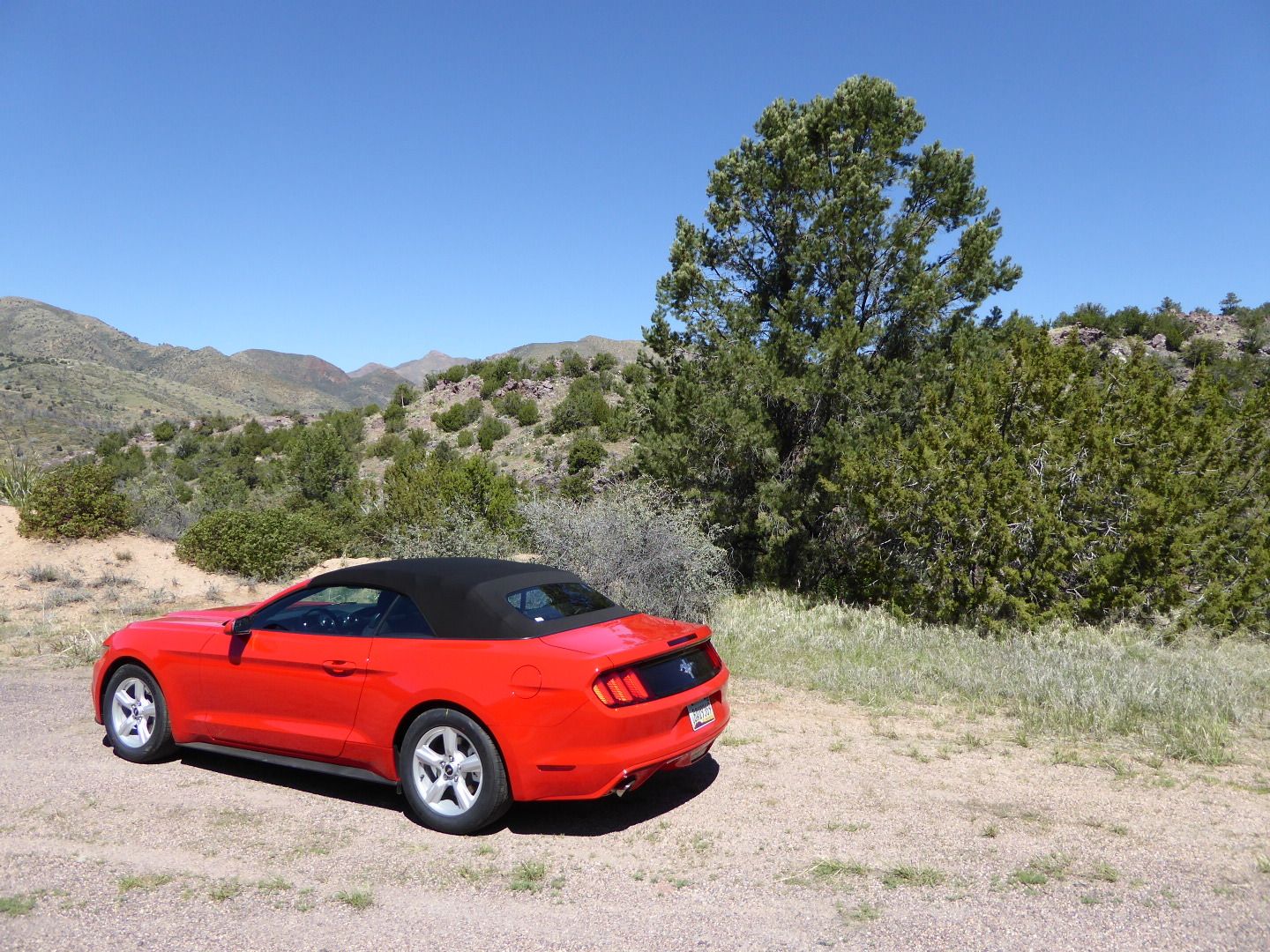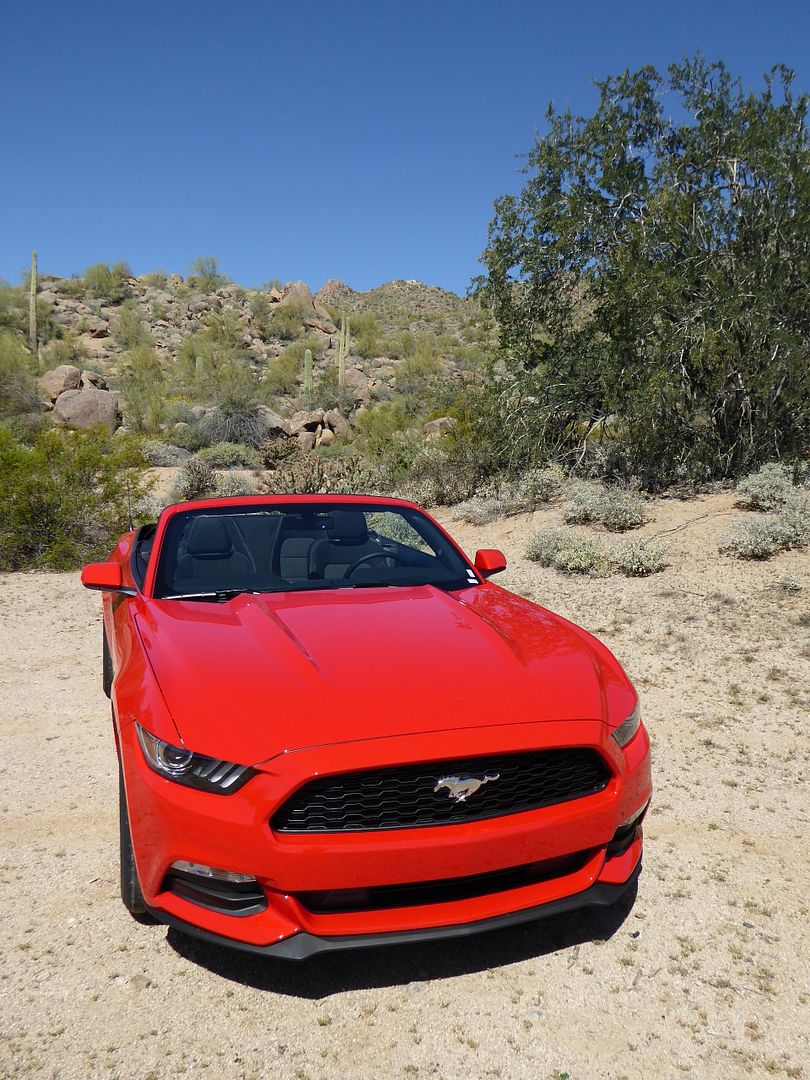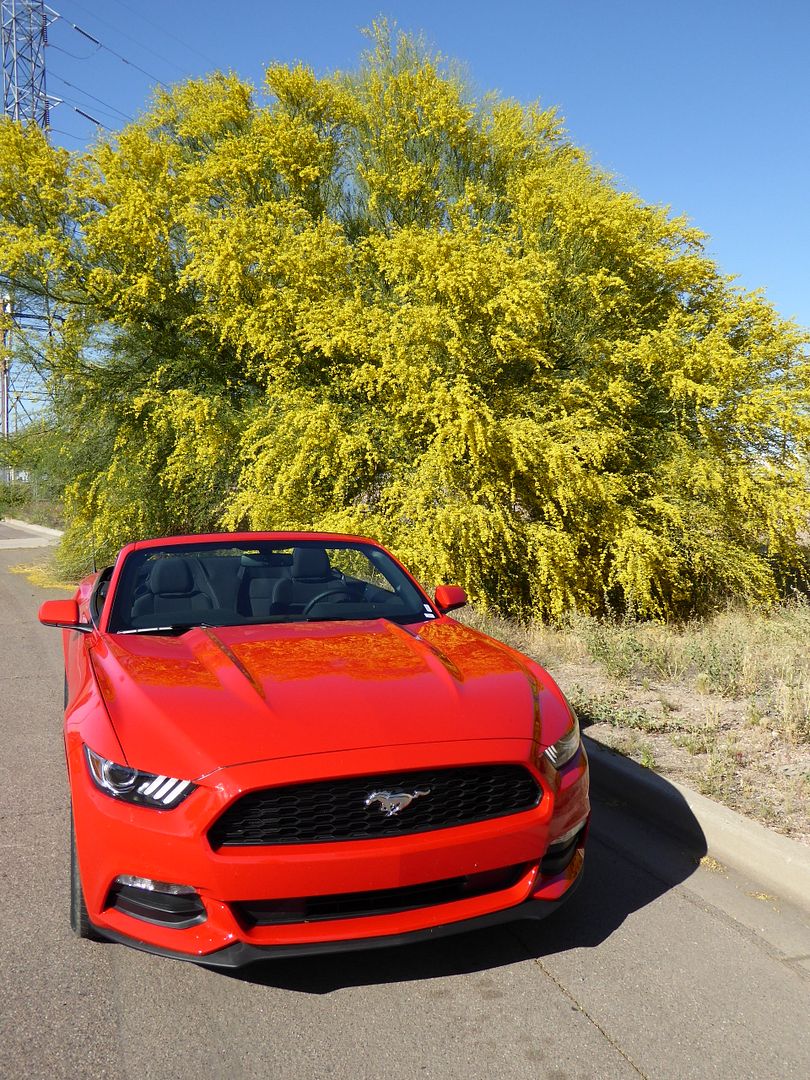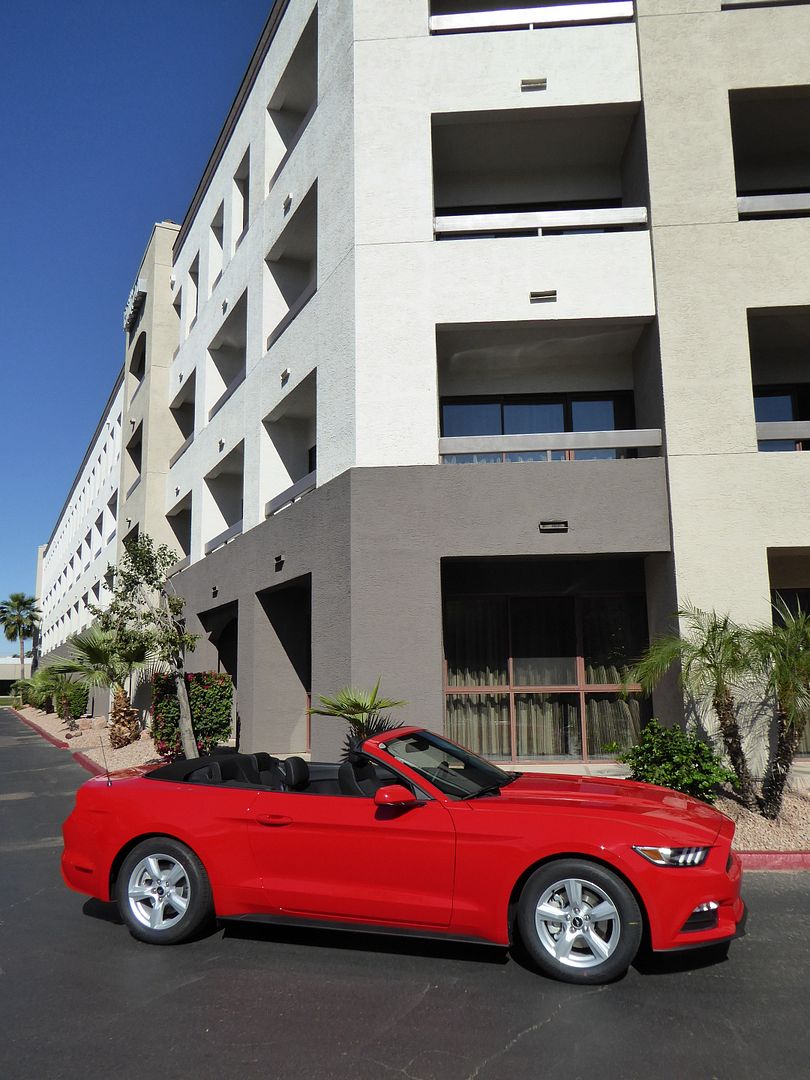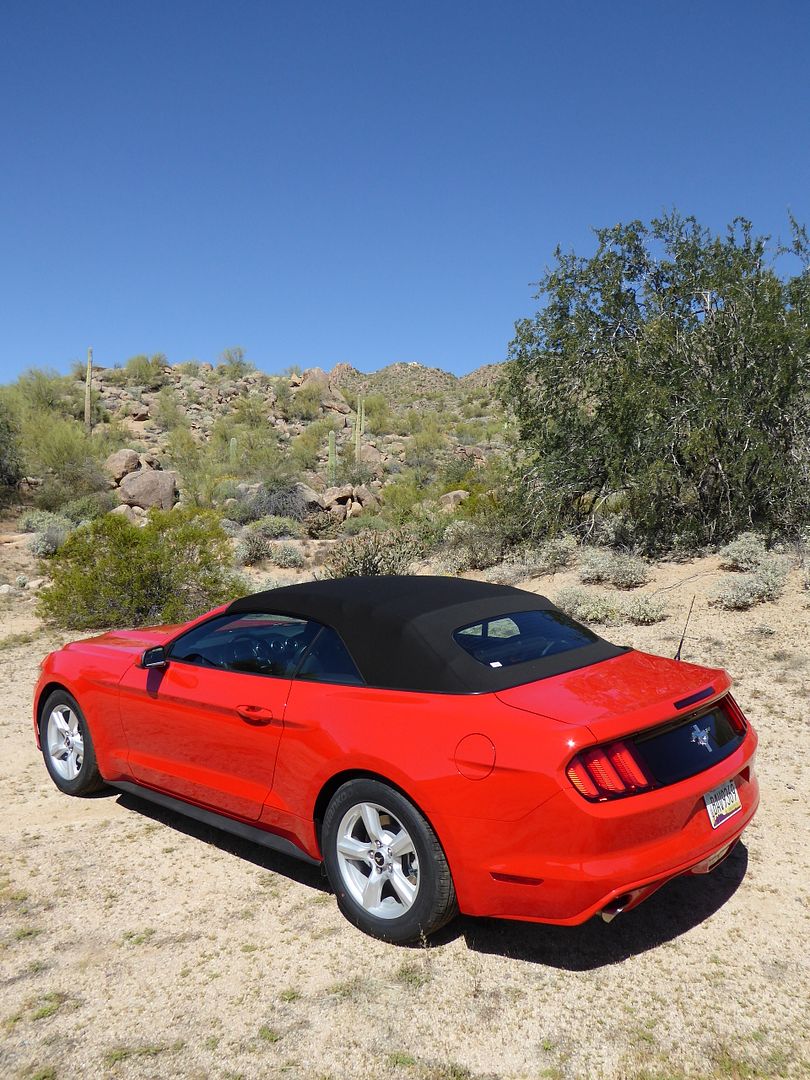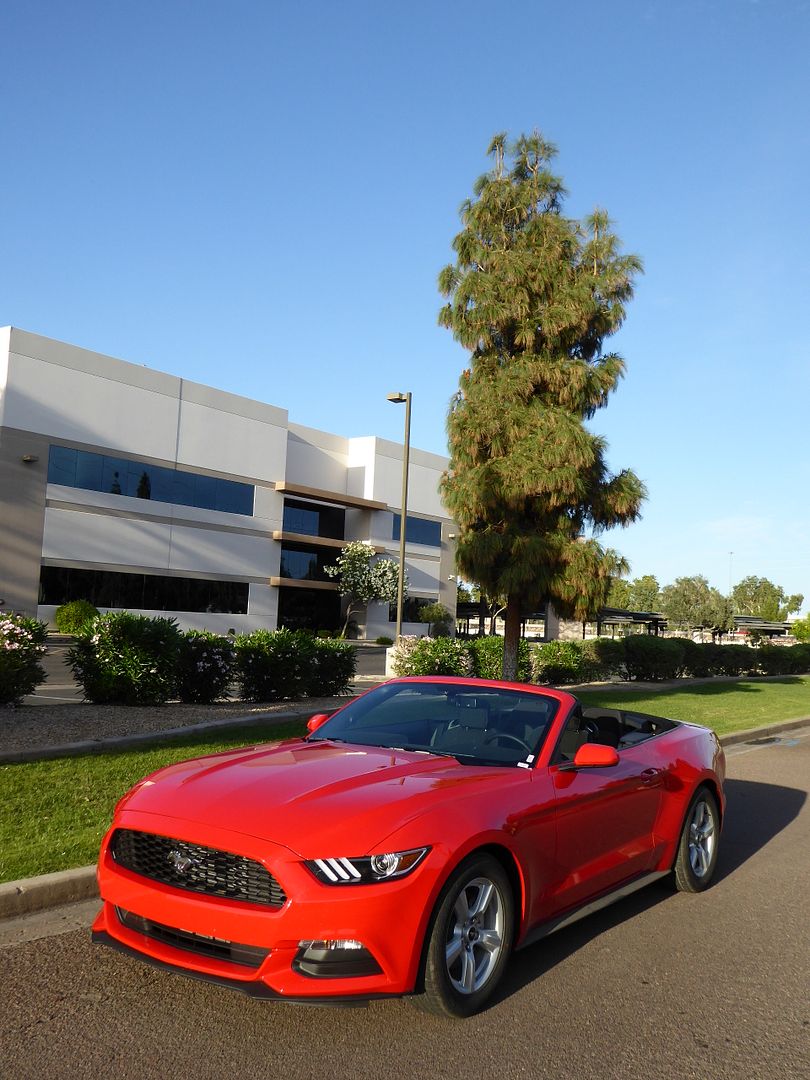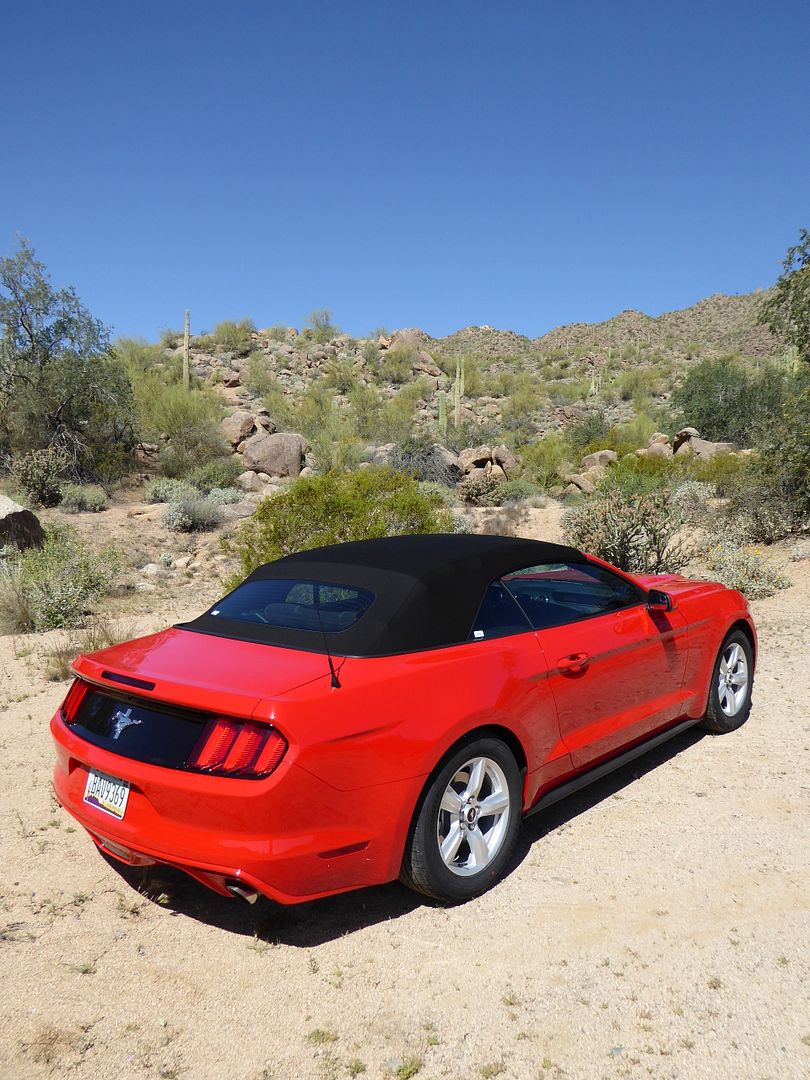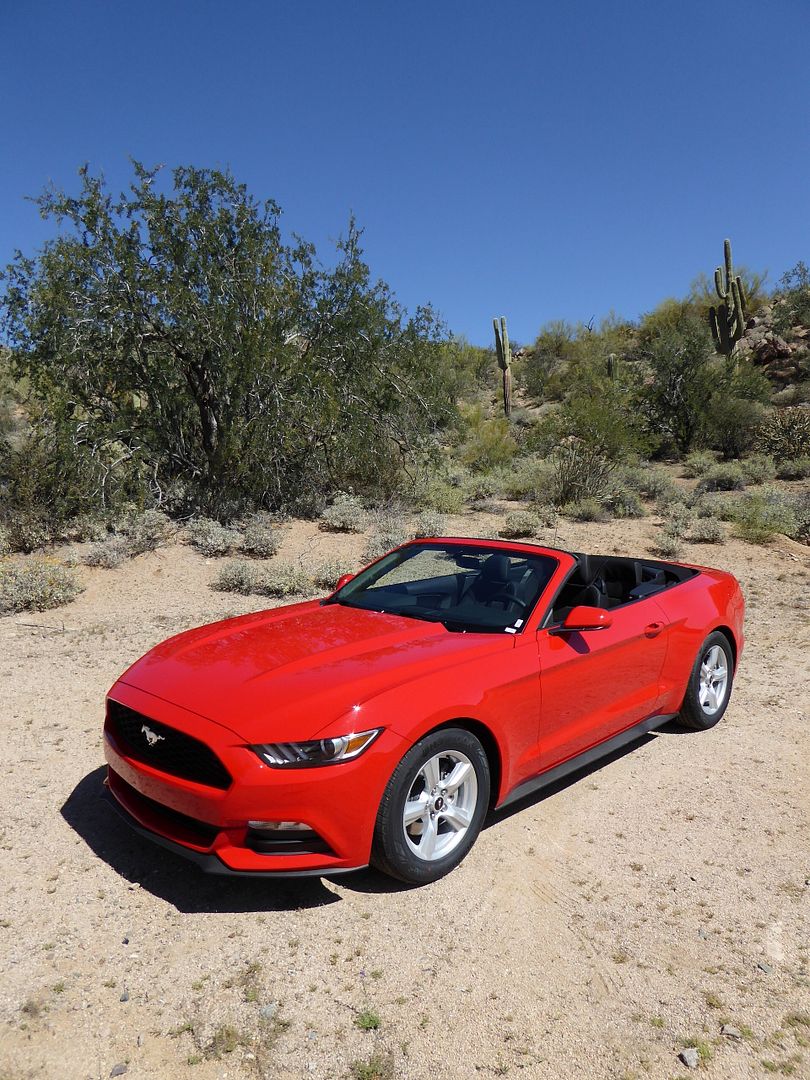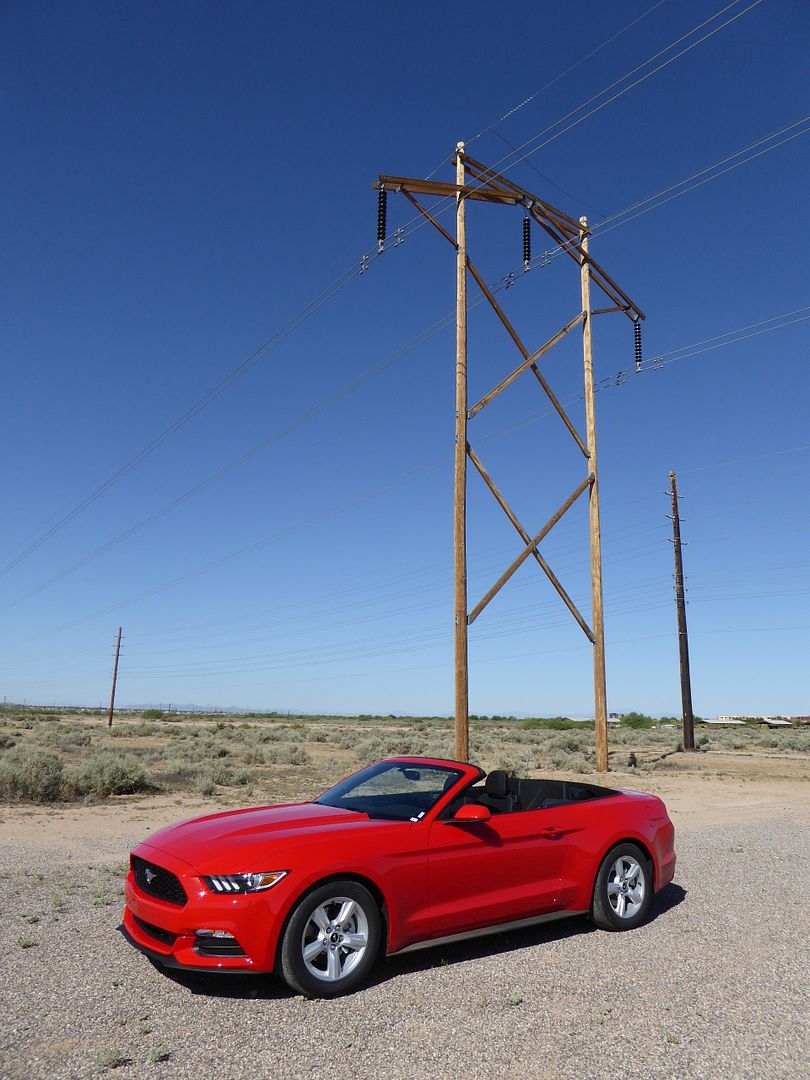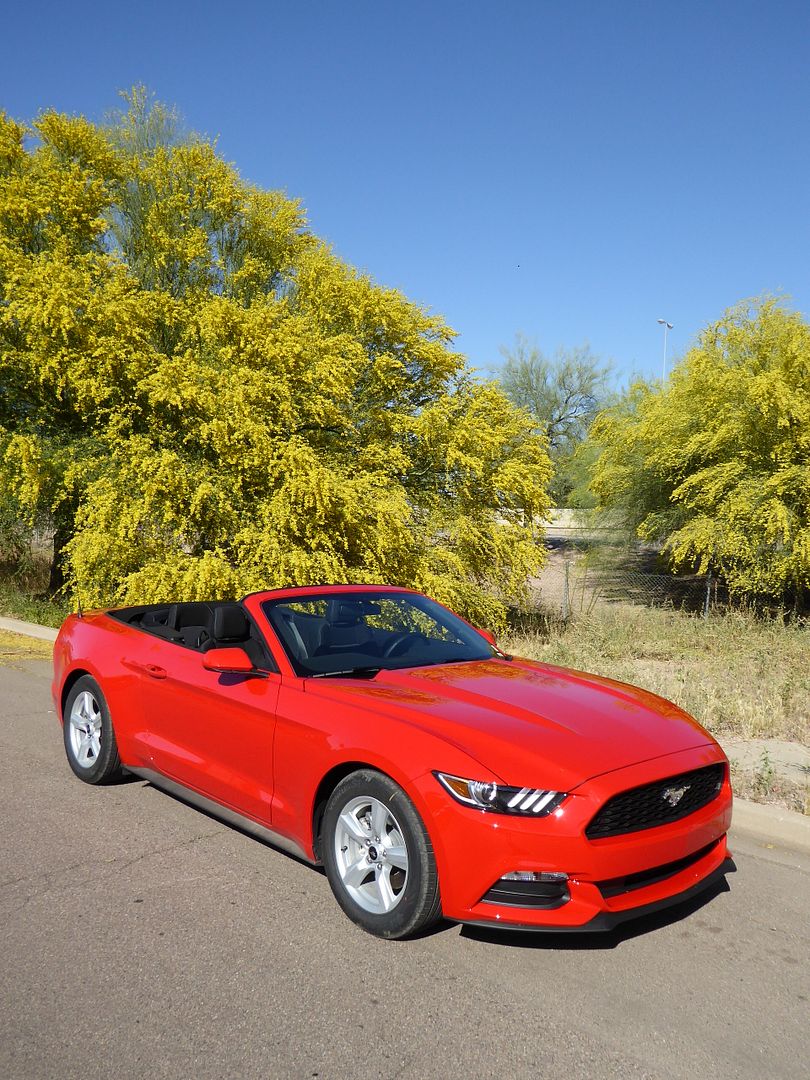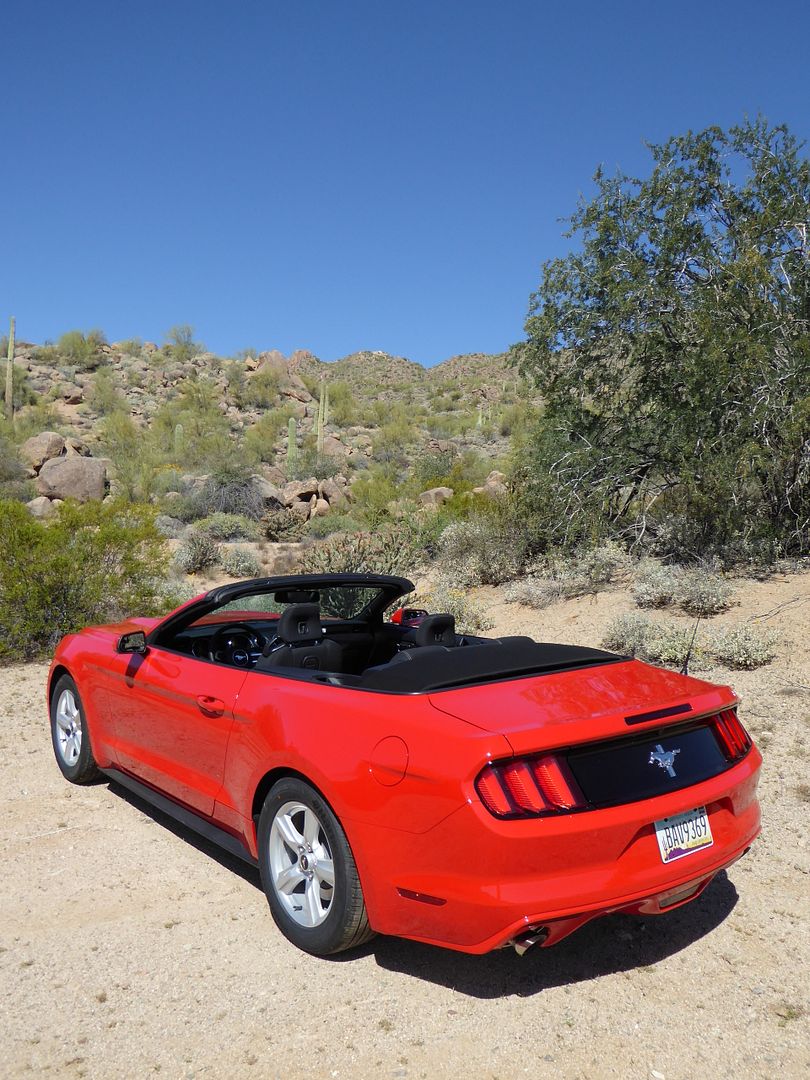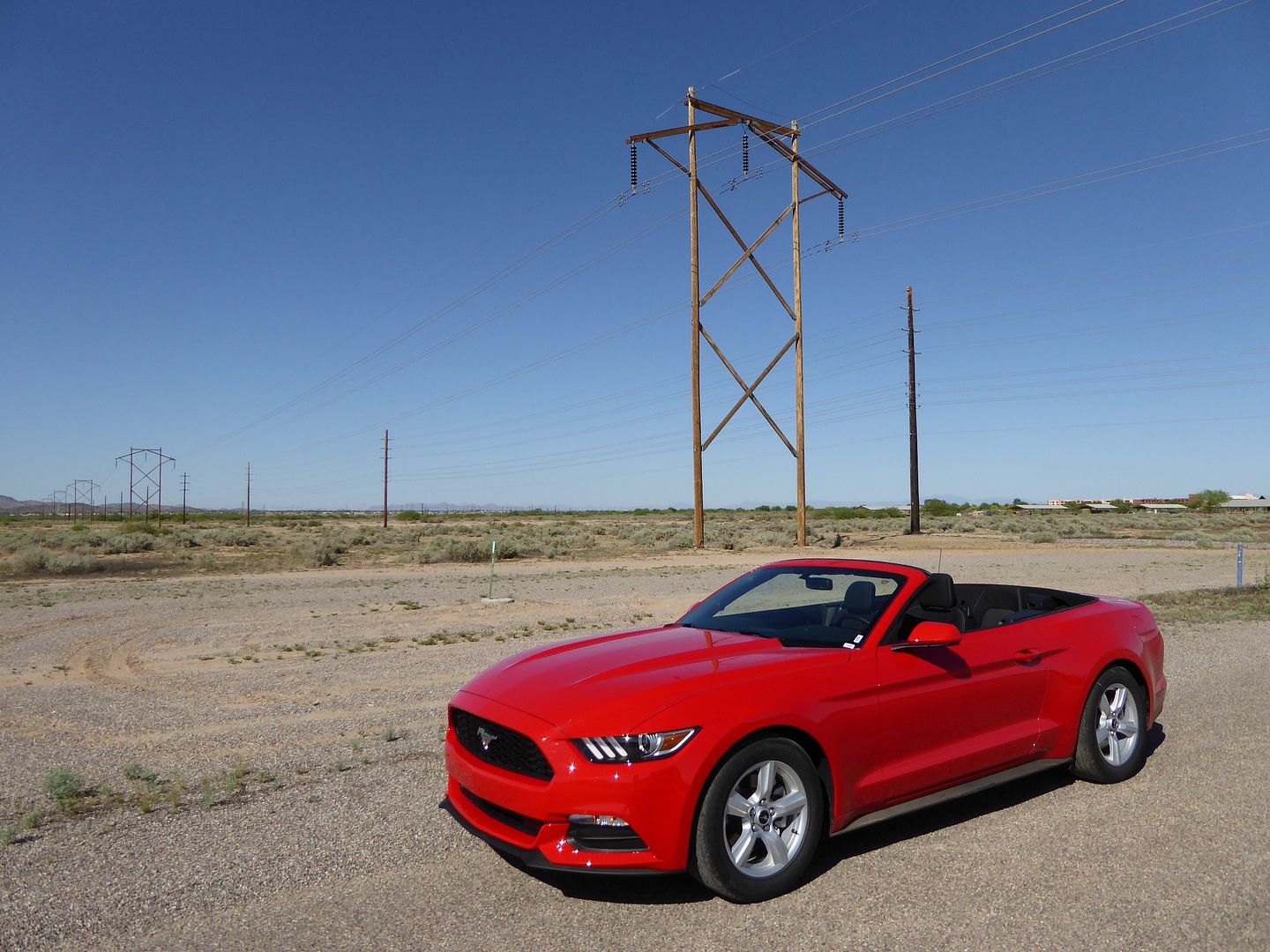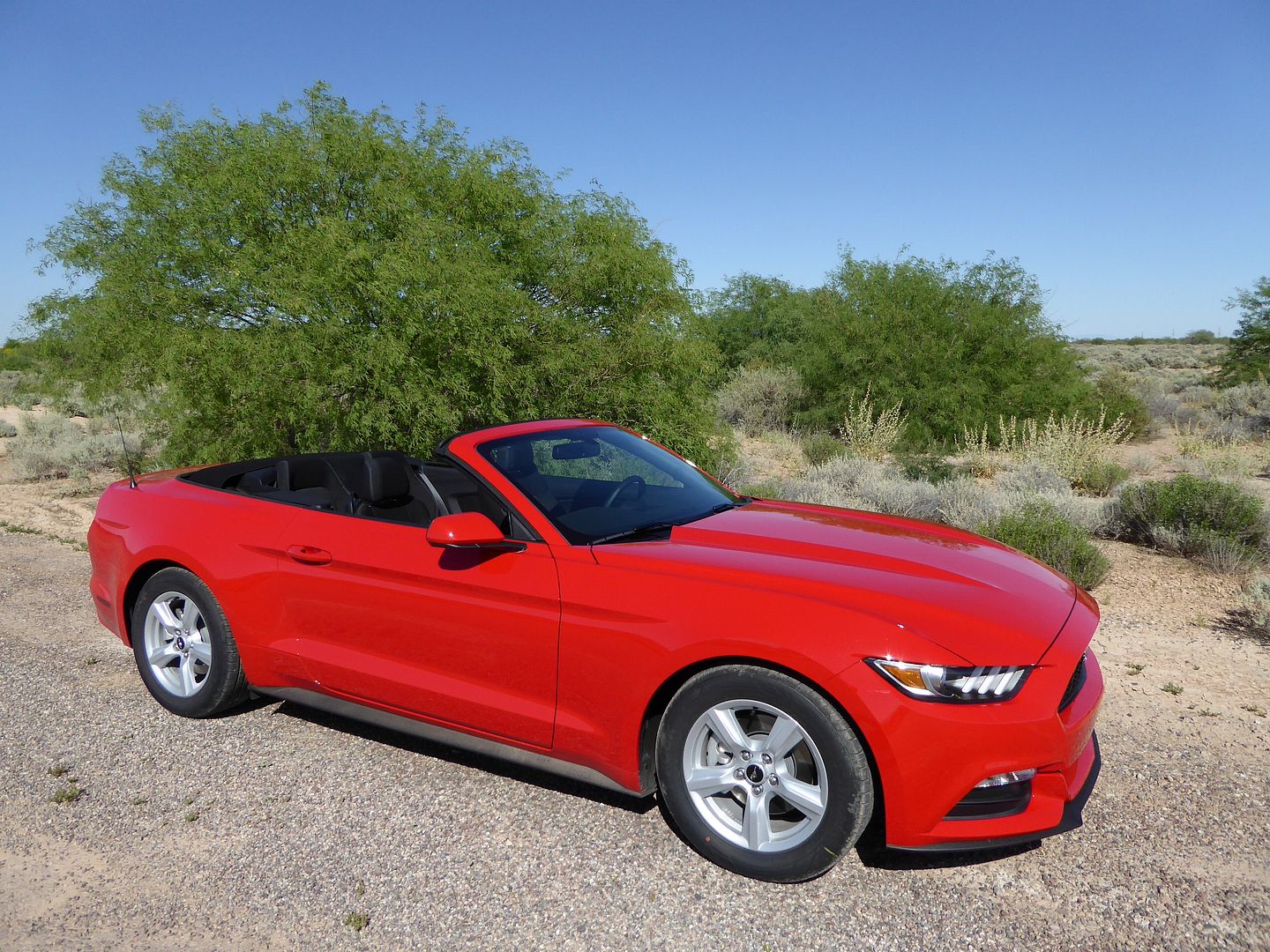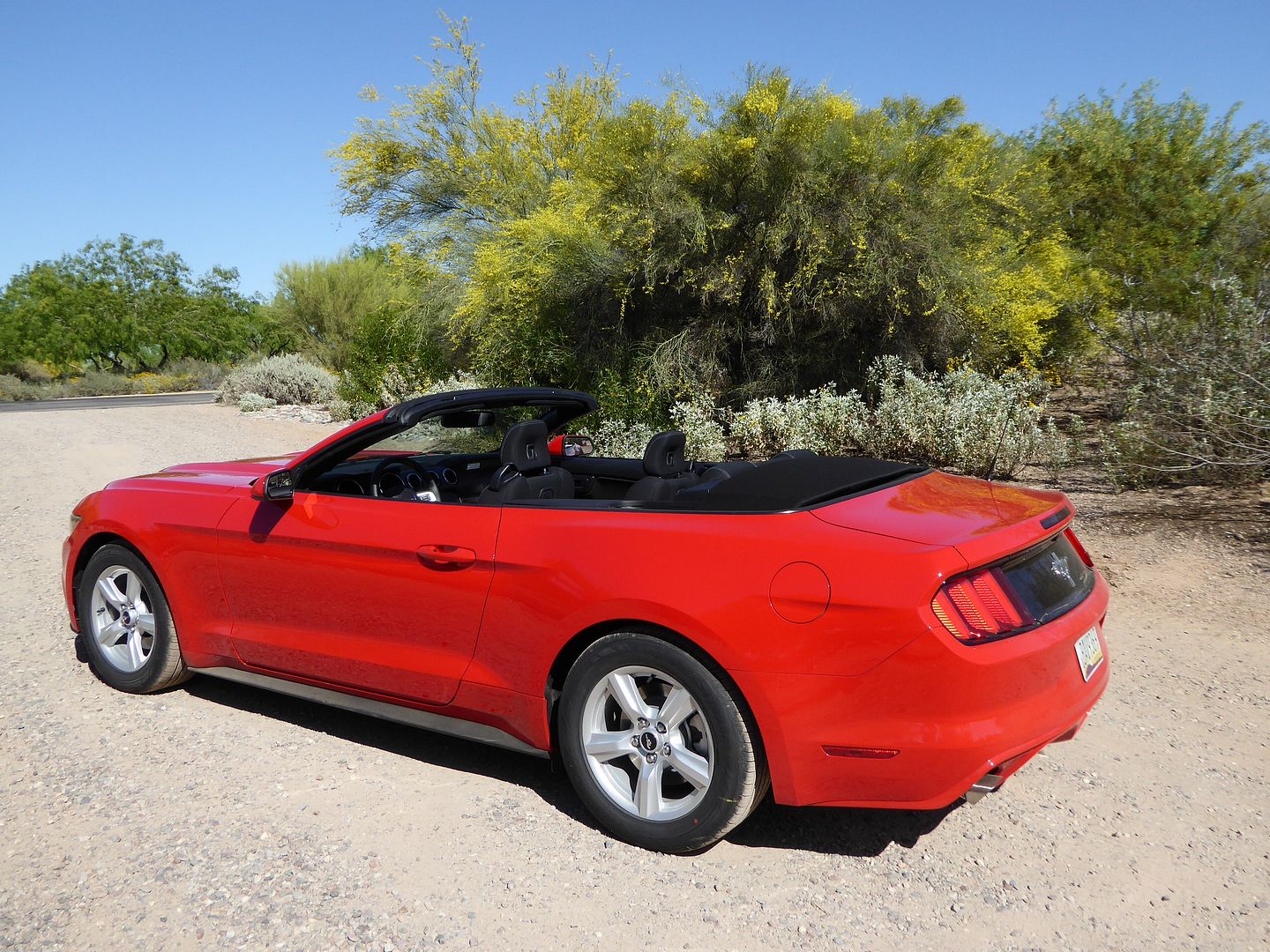 2014 marked the 50th anniversary of the Ford Mustang, and this landmark was celebrated by gatherings of the ever popular all-American "Pony Car" at just about every major car event you could think of. Although never officially sold in the UK, there are a surprising number of them on British shores, as I found out, especially at the Silverstone Classic when a vast assembly of the model were grouped together, presenting a superb and comprehensive visual history of the evolution of the model. 2014 gave us the chance to look back and reflect on the history of a car which had the most successful launch of all time back on 17th April 1964. Tales of what happened when people just wanted a Mustang are legendary, as right from Day One, demand massively exceeded Ford's initial projections of maybe 100,000 sales in a year, as this total was reached in less than 3 months, and 418,000 examples were bought in the first year. A program of continuous evolution kept the car fresh in people's minds, and a new level of desirability was created when former racing drive Carrol Shelby applied his considerable talent in creating the Shelby versions which offered upgraded performance and looks. Despite the low points of Mustang II in the 1970s and the not much more desirable third and fourth generation cars, Mustang has remained high in public consciousness and esteem, and sales have stayed strong even as overall market tastes moved to things with premium branding and SUV-like looks. Rather than focusing too much on the past, though, Ford marked the 50th anniversary by looking forwards, launching a brand new model, the sixth generation of the car. First shown at a global reveal in December 2013, where it was premiered in several different continents at all once, the car was presented as a 2015 year model, and would go on sale, at least in its home market before the end of 2014.
Technically only the sixth model of the sequence, though there have been almost annual updates throughout the 50 year history that you could be forgiven for thinking that there have been more than 5 predecessors, this one is significant because it has true global ambition. As part of the One Ford concept, the Mustang will finally be sold to Europeans whose only previous experience of the model was probably when they rented most likely a convertible in some sunny part of America whilst they were on vacation. To Ford's credit, they have made few concessions to the tastes of other markets, keeping the option of a potent 5 litre V8 engine, and a relatively low price, so that this will, as has always been the case throughout Mustang's history, be a car that many can afford.  There are some notable innovations, though. Finally, for instance, the live rear axle has been junked, replaced with independent rear suspension, and although the entry level model in America is still a V6, Ford's much praised Ecoboost turbocharged 2.3 litre 4 cylinder is an option for the car, and this will serve as the entry model in Europe. The styling is all new, but it has very clear linkage to the outgoing model, which is no bad thing, as I, like many other people, think that Ford not only got things right with the fifth generation car when they launched it in 2004, but they updated it very skilfully to keep it looking fresh during what turned out to be a 10 year production run. The new cars finally went on sale in November 2014, so I was rather hoping to find them in the rental fleets for this March 2015 trip. Imagine my disappointment to find that Hertz in Los Angeles have not received any yet (they will get them, I am assured), but head east by one State, and they are stocked in Phoenix. With a convertible reservation with my name on it, I arrived to find a bright red 2015 model had been allocated to me. It turned out to be brand new, with just 2.8 miles showing on the odometer, the lowest total I think I have ever seen. I had two days to do not just that ever so touristy thing of driving a Mustang Convertible with the roof down, but also to assess the new car.
This being a convertible, even though Arizona was enjoying record levels of heat for the time of year (around 95 degrees F in Phoenix slightly less in the mountains to the north), I wanted to drive with the roof down as much as possible. Lowering the roof is easy. With the ignition on, you press the button up by the central courtesy lights in one direction to lower all the side windows. Then you grab the central latch, and twist it through 90 degrees, which releases the roof catches, so as soon as you press the roof switch in the other direction, the roof motors back, and into its own stowage well. The whole operation only takes a few seconds. Closing the roof is the reverse process. You just need  to lower the side windows first. Driving the Mustang around with the roof down and the side windows erect is perfectly pleasant even on the freeway. The side windows remove all trace of buffeting at speed. In town, you could probably even keep them down as well. There's something very special about driving a car with the roof down, especially in the warmth of Arizona. However, the Mustang was going to have score in more ways than just being open-topped if it was truly going to impress me.
When I got in and powered the Mustang up. taking advantage of the fact that all models now have keyless starting, with a Start/Stop button buried away at the bottom of the centre console, I confess to being a little surprised and disappointed. As the engine is carried over from the previous generation car, I was rather expecting it to sound the same. And it does not. The noise that emanated from under the bonnet of the old car when you woke the 300 horses up was one of the (many) good points about the car, giving you your first clue that this was going to be a fun ride. It sounded purposeful and had quite a nice throaty roar to it which only got better as you put your foot down. The new car has been tamed in the sound department more than somewhat. That's true not just on start up, but while out on the road, too. There is still some aural pleasure to be had, but it is on a far more muted scale than before, which is a pity. However, be in doubt, the performance available will not disappoint you. When Ford updated the V6 engine from the old  cast-iron block 4 litre Cologne unit to this 3.7 Duratec Twin independent Variable Cam Timing (Ti-VCT) unit in 2011, the V6 suddenly became almost as powerful as the old V8 had been, and it still has the same 300 bhp and 280 lb/ft of torque to offer in this car, which is more than enough to make this a nicely rapid car.
A six speed manual is standard, but like all rental cars, my test machine was an automatic, which meant a six speed gearbox that would do the work for you. It works well with the engine, and no matter what speed you are doing, as you flex your right foot a little, the Mustang will lunge forward, finding new levels of speed very quickly. You can pootle along, very sedately, and the Mustang is happy doing that but show it some open road., and this is a car that will attract the attention of the State Troopers if you are not careful (and observant!).  The price for exploiting the potency of the engine comes when you need to refuel it, though with petrol at around $2.50 a gallon in Arizona at present, who cares? I drove the Mustang 269 miles over a weekend, and put 11. 57 gallons of regular in it at the end of the test, which works out at 23.25 mpg US or 27.77 mpg Imperial, a decent figure, but not one that will go down so well in Europe where fuel is rather more costly. I was very interested to see how the Mustang behaves on the road, as the old model did its best to tame the crudity of the live rear axle, but the ride was a bit skittish and you could catch the rear end out if you were only a little ham-fisted or exuberant. The American press have eulogised about the new on-road dynamics, finding everything pretty much faultless, whereas the UK press said that the ride is still not good enough. So who is right? Well, I have to say that even on the smoothly surfaced roads of Arizona, I don't think this car rides well. It is very jiggly even on smooth surfaces, and that's with the smallest available 17″ wheels and standard suspension. There's certainly nothing wrong with the steering, but then there never was, even though it is now electrically assisted as opposed to the previous mechanical set up. It is perfectly weighted, with just enough feel without being too heavy and you have every clue as to exactly what the steered wheels are going to do based on the response from the system. I could not really fault the handling, either. Granted my test was on public roads, with traffic (not much traffic in places!), but the Mustang went where you pointed in, and cornered neatly and tidily, with plenty of grip and no body roll. Although this was the convertible body, it felt nice and stiff, with none of the flex that was so alarming in the fourth generation car I drove a number of years ago. So, better than it was, probably, but the ride needs (and we are told, will get) work for Europe. No work is required for the brakes which did their job well. There is a conventional pull-up handbrake between the seats. With the roof down, visibility is excellent, with nothing around you apart from the windscreen and perhaps the glass of the side windows. Roof up, there is quite a blond spot over your shoulder as there is quite a lot of hood and not a lot of window, but the excellent Blind-Spot mirror system, that Ford fit to many of their cars certainly helps, and there was a rear-view camera to assist when parking up.
The other area that incurred sustained criticism was the quality of the interior of the old car. It has been completely reworked, though retaining much of the overall style and appearance of what went before. Again, the US press have gone into hyperbole about it, calling it "upscale". It is not. It is a lot better than what was presented before, which was plain cheap, but it I would describe it as no better than acceptable. It is certainly not "upscale" as that phrase would denote quality levels in something like an Audi, and this is a long way off that. There is a large carbon fibre effect inlay on most of the unused surfaces of the dash, which you may or may not like, and the rest of it is black plastic, of a reasonable quality. The overall design has been softened a bit, so the hard and square edges that contributed to the illusion of low quality has been alleviated to some extent. The instrument cowl is still straight sided. There are two large dials, for speedo and revs, with smaller dials for water temperature and fuel level inset in their bases, and then between them there is a space for a digital display area, the selection of the contents for which is made by cycling through options presented by buttons on the left hand spoke of the steering wheel. Amusingly, the words "Ground Speed" feature in the centre of the speedometer and "Revolutions per Minute", written out in full, in the rev counter.
The centre of the dash is topped by three circular air vents and then below this is the touch sensitive colour display screen for the infotainment system. This is yet another generation of the MyFord system, and the MySync Microsoft partnership, but it proved one of the better ones, being relatively easy to use. That's probably because it does not try to do as much as you get in some other Ford models, as the air conditioning system is separate, operated by lots of individual buttons. And here's the problem Ford have got. MyFord was deigned to get rid of the excess of buttons, switches and clutter, but what they produced was too complex, so when they simplify it by putting functions back onto switches, they end up as here where there are 18 functions on the steering wheel! Those don't include the lights, which are on a rotary dial on the left of the dash, or the indicators and wipers which are on a pair of column stalks, or the paddles for the transmission which are mounted behind the wheel. It would not take a lot to make it all better, but at present, it is a bit cluttered and although everything operates with a nice precision, it just does not look very premium. Or "upscale". Whether the inclusion of the Ford Mustang "Running Horse" insignia plaque on the dash infront of the passenger helps matters or not is probably down to personal taste.
You get cloth seats in this version of the Mustang, and the seat design has quite a significant wrap around bolster to it so the larger bodied may find that they are a little too figure hugging. I found them very comfortable, and although you can sit nice and low in the car, for that true sports car feel, you can still see out of it. Seat adjustment is all manual, with a bar under the seat for fore/aft and levers on the side for height and backrest angle. I did find the seat belt was rather too low, though, a difficult problem in any convertible car. Ford mount it well back, and then have a loop on the top of the seat backrest through which it can be threaded (it's not permanent, too ease entry and exit from the back), so it is not so far behind you that you cannot reach it.
Those in the back don't get such a good deal. There are two rear seats, but they're really not good for adults unless the front seat occupants sit well forward. If they don't, legroom is next to non-existent. There are definitely only two seats, as they are shaped this way, with a clear divider between them. There are no separate headrests, which whilst they would spoil the lines of the car when the roof is lowered, would probably be appreciated by anyone sitting there. I did try the seats with the roof up. Getting in and out requires a modicum of athleticism, though the front seats do pull forward an amount to give a greater area to get through. Once installed, it is leg room that is the issue, as even with the roof erect headroom is generous enough.
As with the previous model, the issue with the boot is not so much the capacity as the size of the opening. There is quite a narrow slot to get items through, so some suitcases might be a challenge for the stereotypical rental-car holiday maker, but the floor area is decent, so there is certainly space for two people's luggage and perhaps more. It does not make any difference whether the roof is up or not, as it retracts into a well of its own, behind the back seats. There is still no external release for the boot. You either need to press a button on the key fob or one on the dash. Inside the cabin there is a modest glove box, and rather pokey door bins, but a decently sized cubby under the central armrest.
There are two body styles available: Coupe and Convertible. Except, for this generation, the Coupe has been renamed the Fastback to pay tribute to the previous-generation Mustang models. Currently there are three engine choices: V6, Turbo 4 and V8. For now. Given past history, you can be sure that further model variants will follow, with the Shelby GT350 version shown at the 2014 Los Angeles Show confirmed for 2016 and an even more potent Shelby GT350R that was shown a few weeks later at Detroit likely to follow. The V6 model, as tested here, and available with both body styles, comes with cloth front bucket seats, an AM/FM radio with six speakers, Ford SYNC, USB, iPod, and auxiliary input jacks, 17″ alloy wheels, keyless access with push-button start and either a six-speed manual transmission or automatic transmission. The EcoBoost model offers the same features as the V6 model, but replaces the carryover 3.7 litre V6 engine with a new 310 bhp 2.3 litre Turbocharged Inline 4 cylinder engine and adds power front driver's and passenger's seats. This model is only available in Fastback style. The EcoBoost Premium model adds leather seating surfaces, MyFord Touch with Ford SYNC, and HD Radio, the SHAKER Premium Sound System, and more. This model is available in Fastback or Convertible styles. The GT model replaces the 2.3 litre engine with the carryover 5.0 litre V8 engine. This model is only available in Fastback style. The GT Premium model adds 19″ alloy wheels and is available in Fastback or Convertible styles. Among many options is a Performance Package, which includes Brembo brakes, stiffer suspension and stickier tyres.  As ever, the killer blow is the low prices. A V6 Fastback lists at just $23,800. You do pay quite a lot of extra for the Convertible, but at $29,300, it is still good value for money. The Ecoboost Premium, in Convertible spec is $34,800 and the GT Premium Convertible just $41,800.
Having got through my findings, you might be expecting my conclusion to be that as the ride is not really good enough and the interior quality is still only so-so, it does not meet with my seal of approval. Whilst those two demerits do stand, I frankly don't care. This is a Mustang after all. No-one really expects it to have an interior that rivals an Audi. Let's face it, it costs an awful lot less than any of the premium badged German cars, and the cost savings have to come from somewhere. And who cares if the ride is not billiard-table smooth. It is good enough. In both respects, it is better than what went before. And with the possible exception of the more muted sound to the engine, everything that was good about the old model is at least as good in this one. It goes well, it is fun to drive, and it looks fantastic. What, let's be honest, is there not to like? This is the entry model, too. Let's hope that at least one of the rental car companies gets some of the V8 models before too long. and who knows, perhaps there will be a Hertz special or two, just like the Shelby GT-H and the Penske versions of the old car. Then I really will be able to justify trying more and more of these cars. For now, though: Happy 50th, Ford Mustang. Your sixth iteration is an excellent start to the next half century of affordable fun!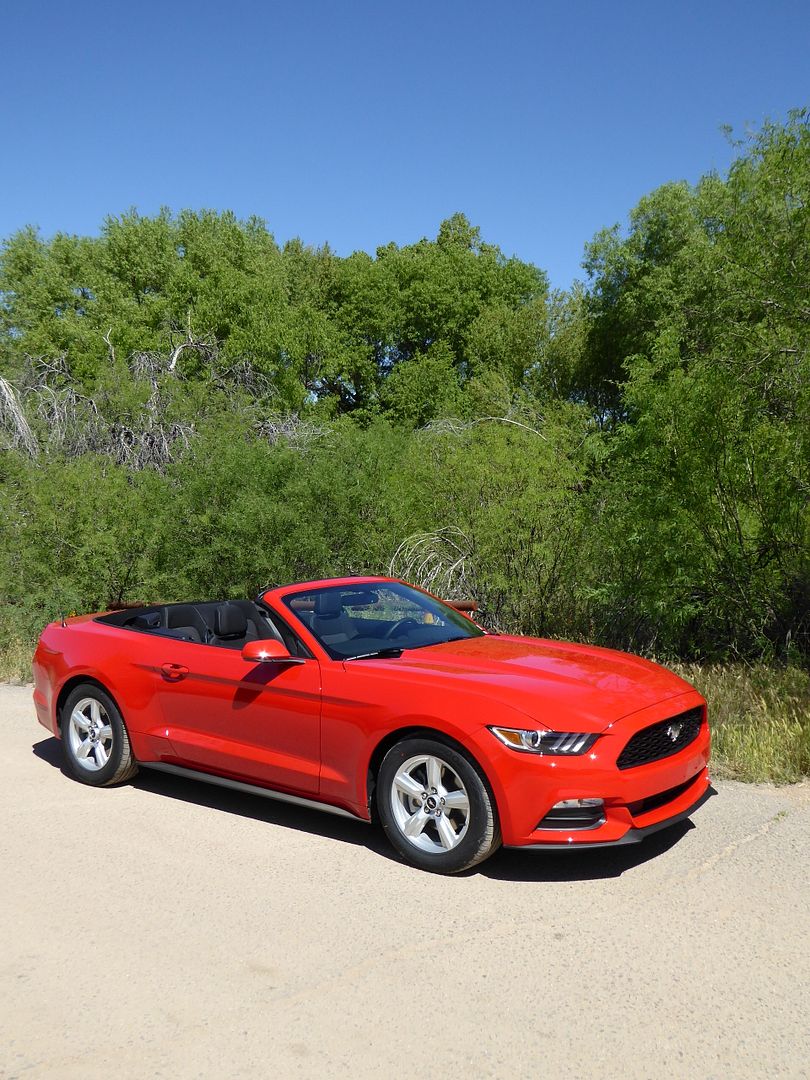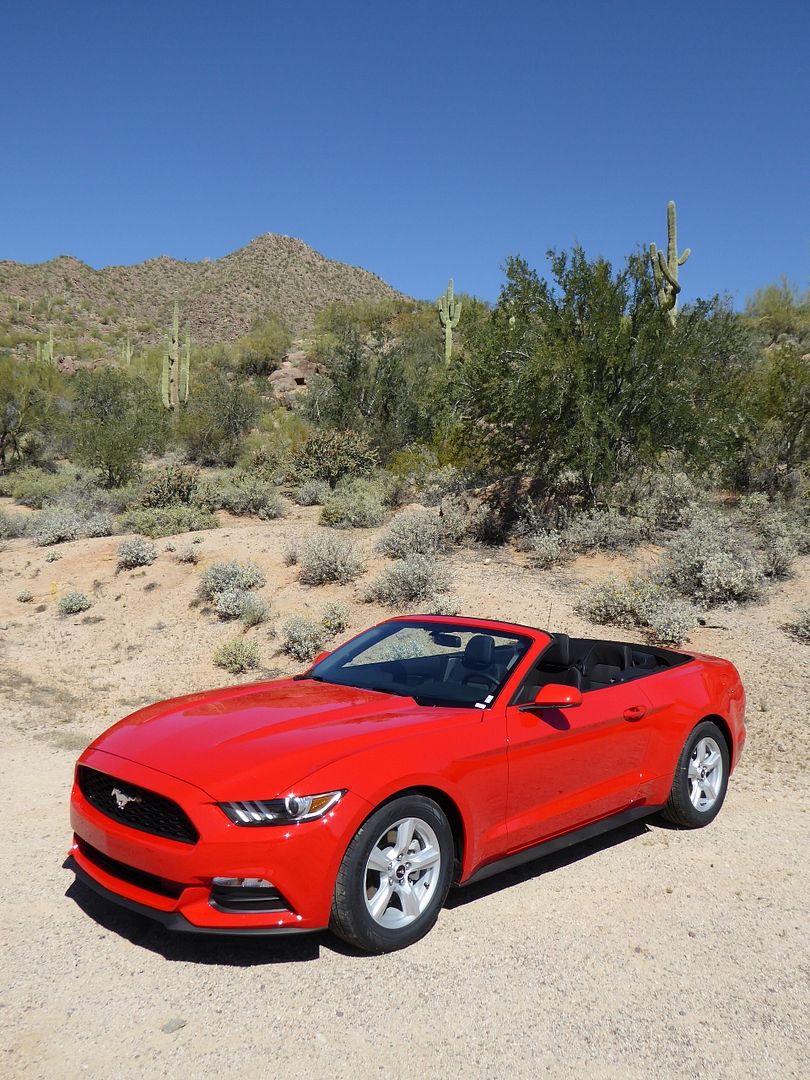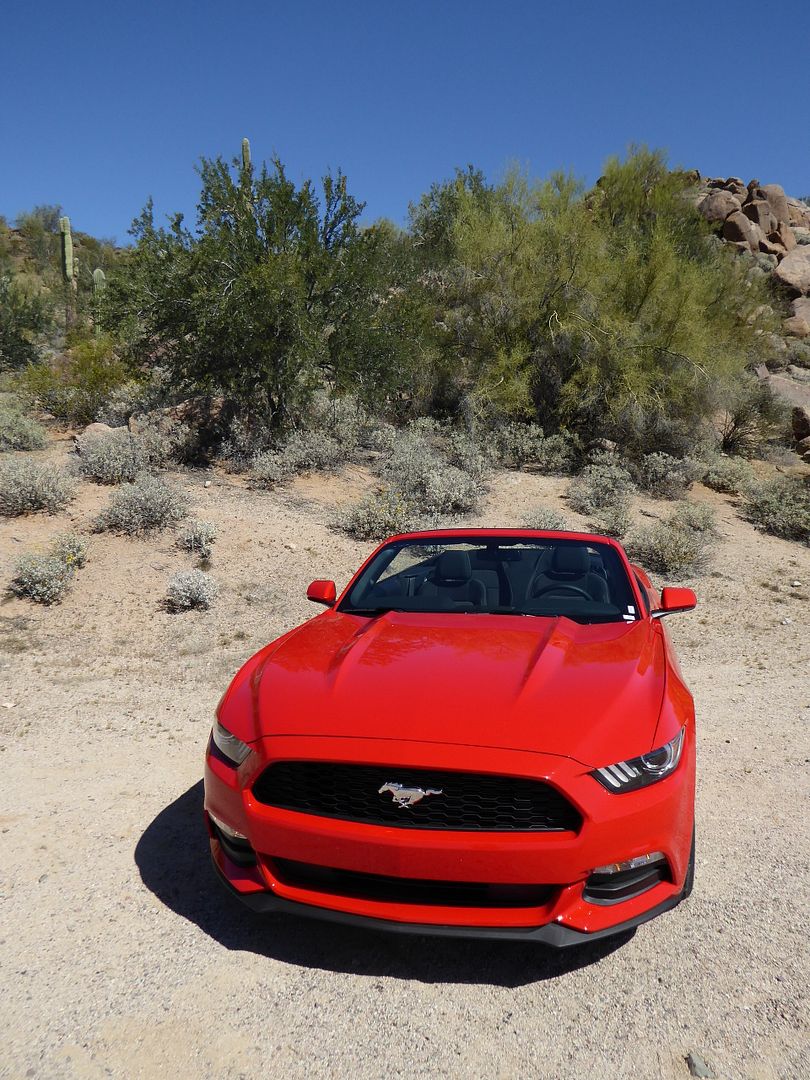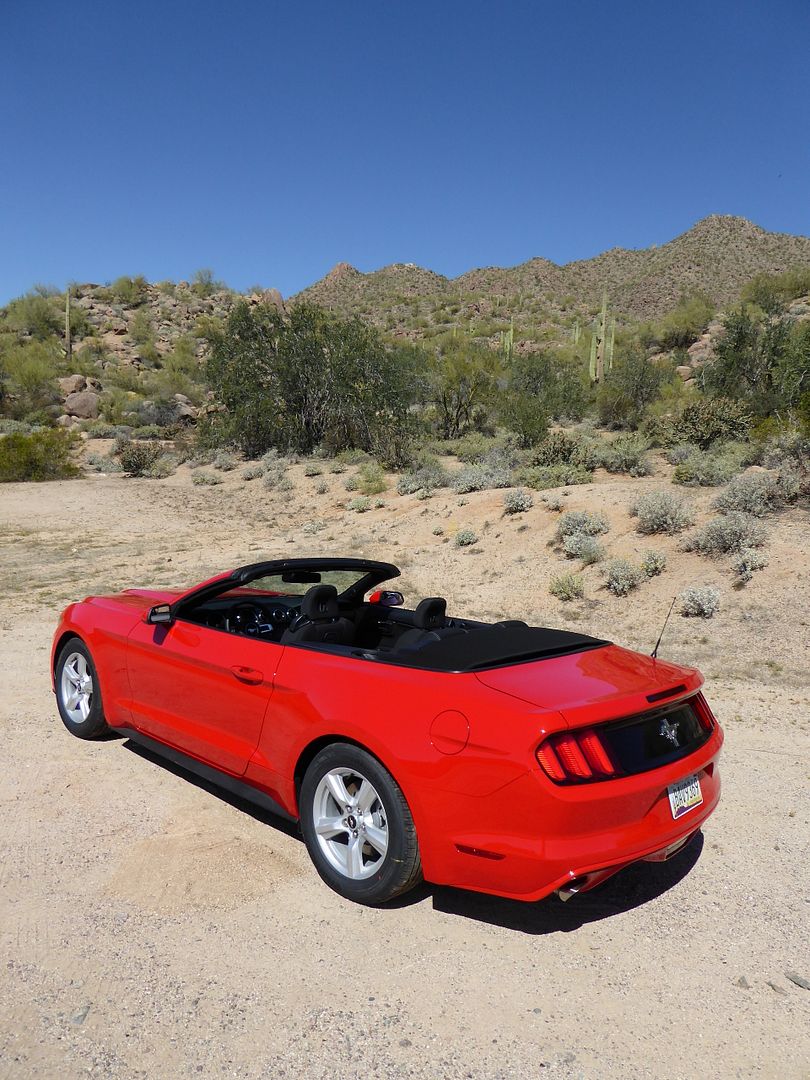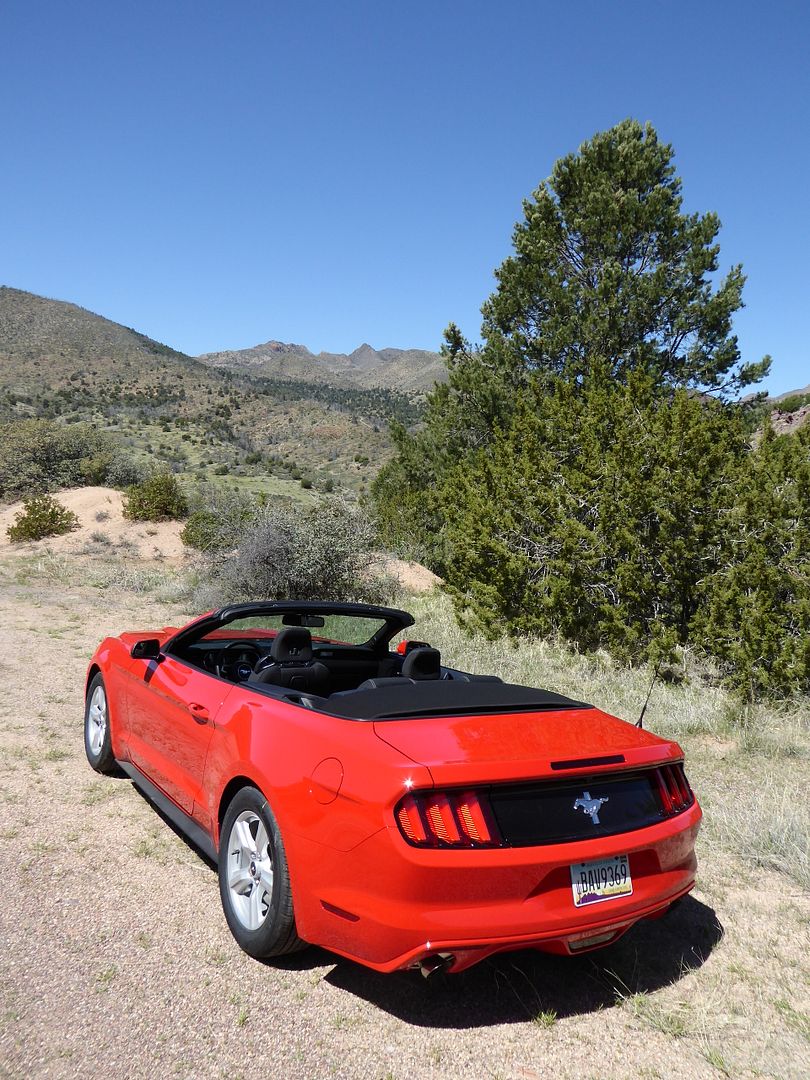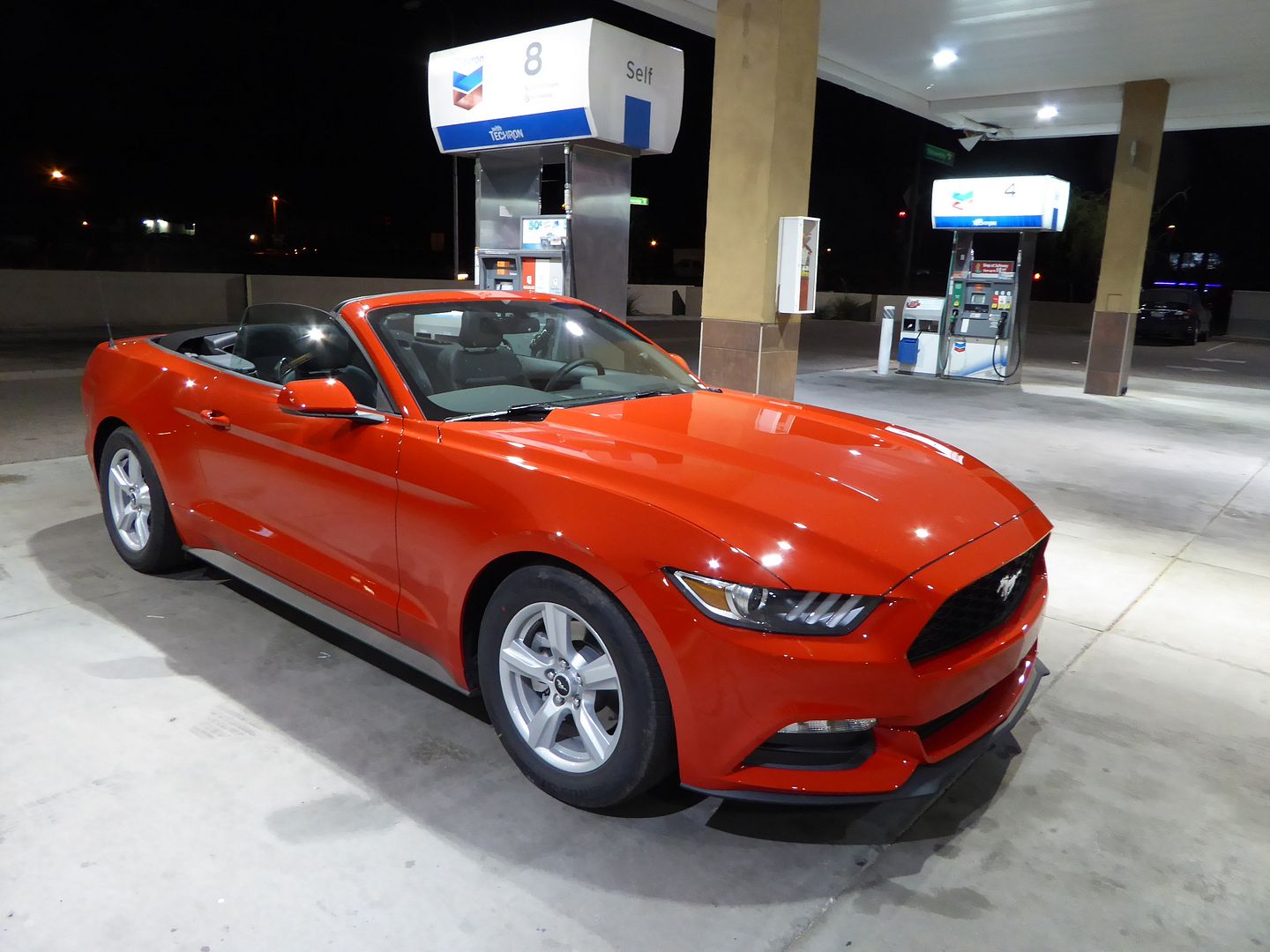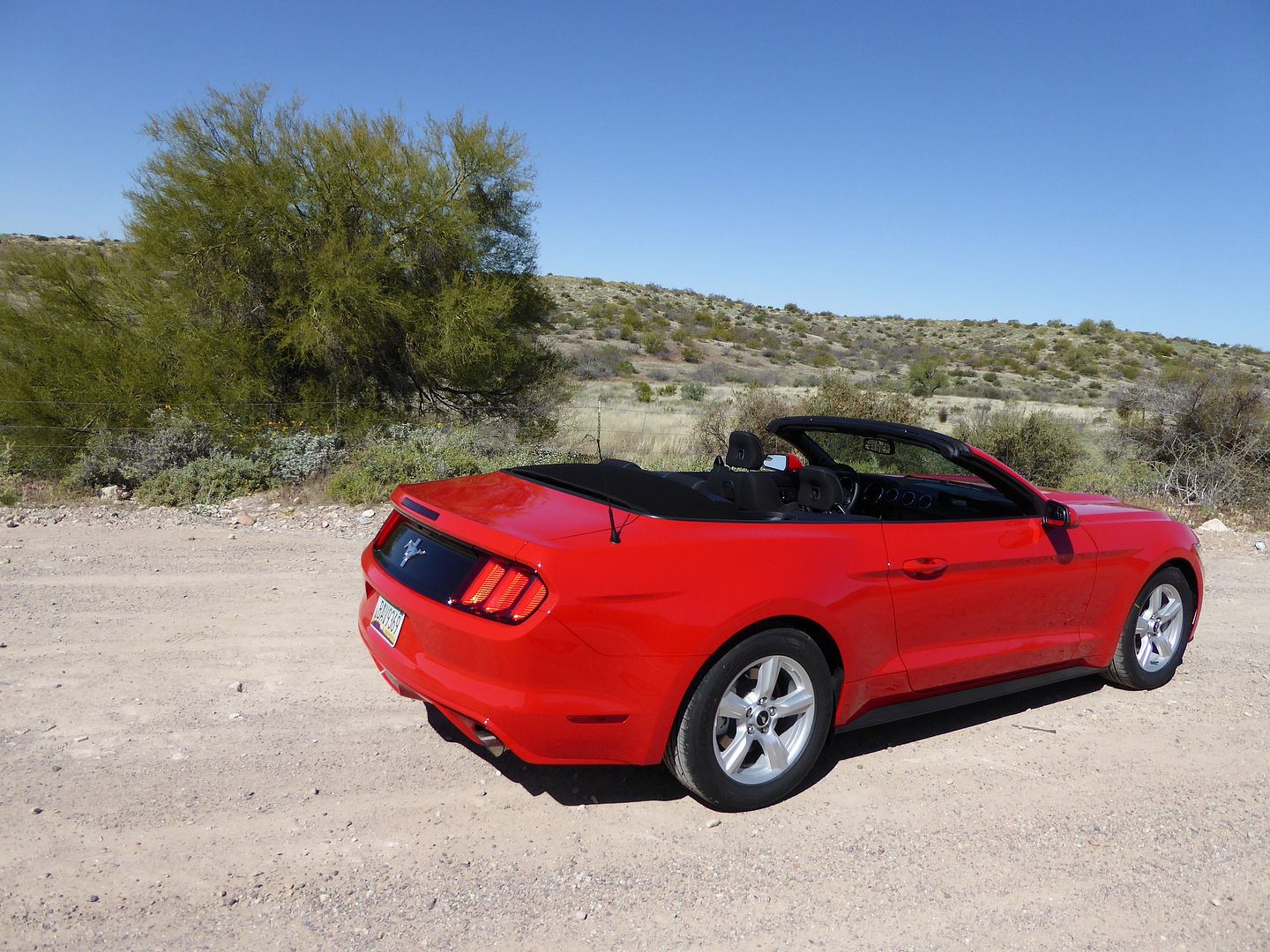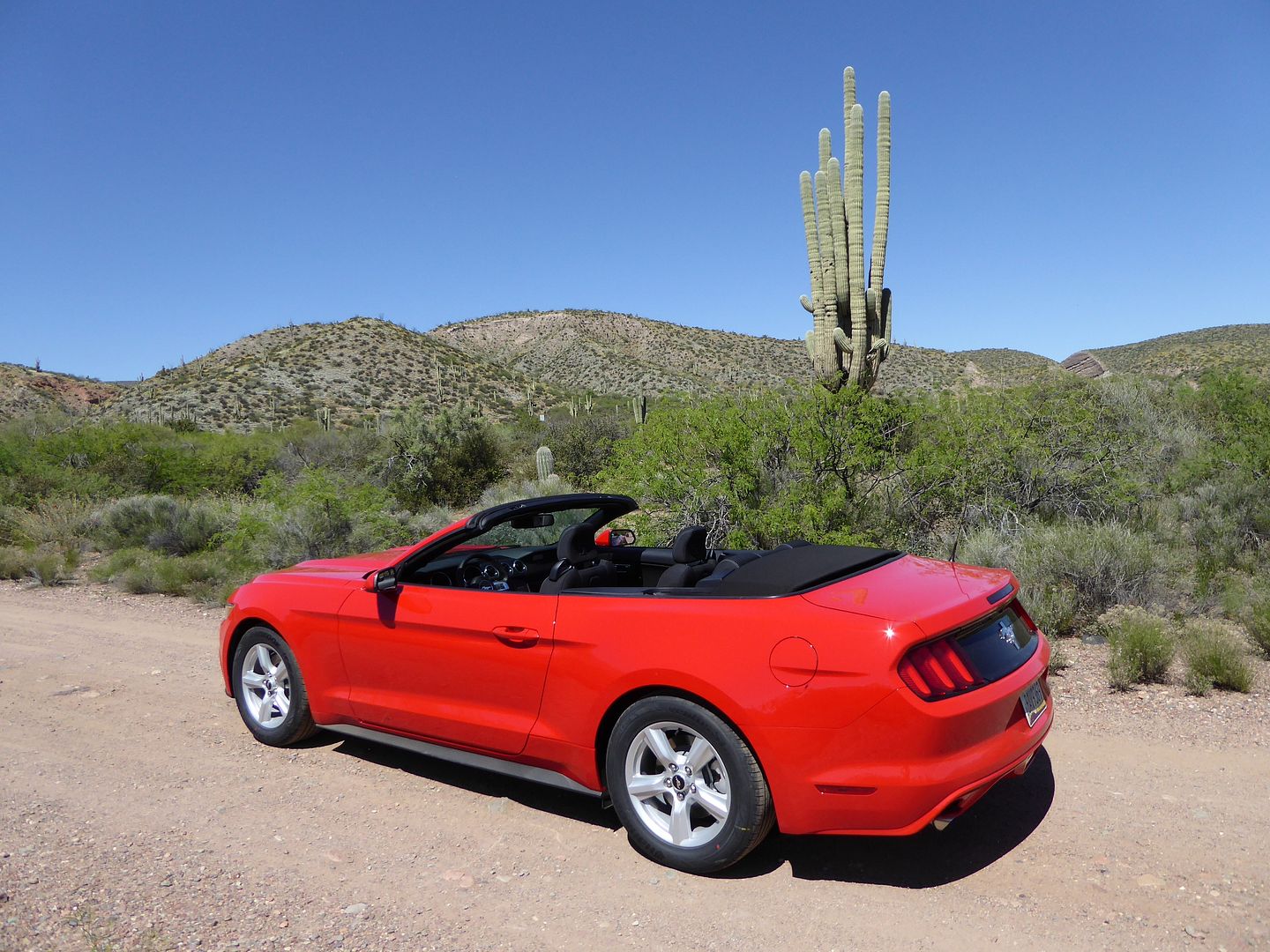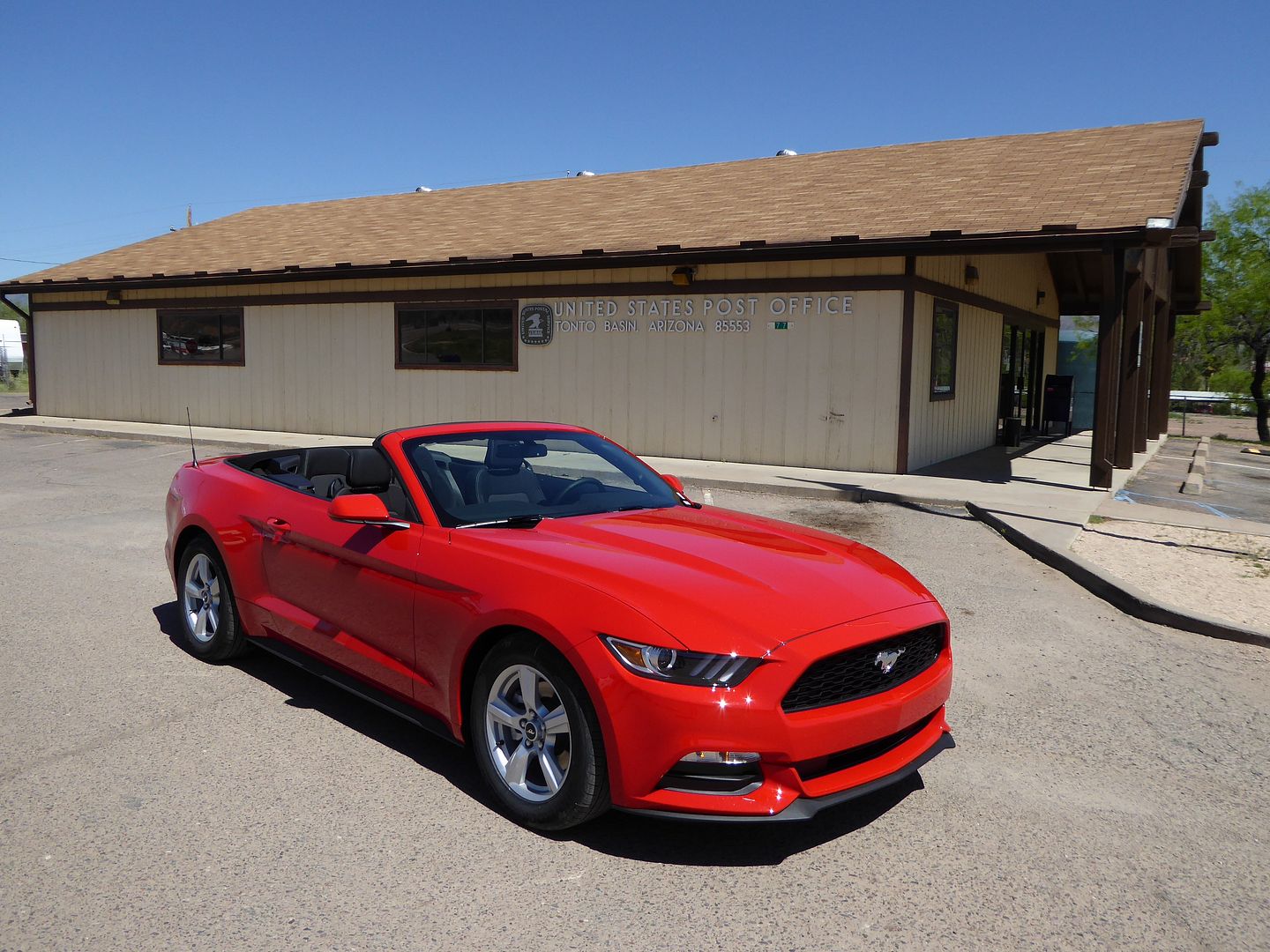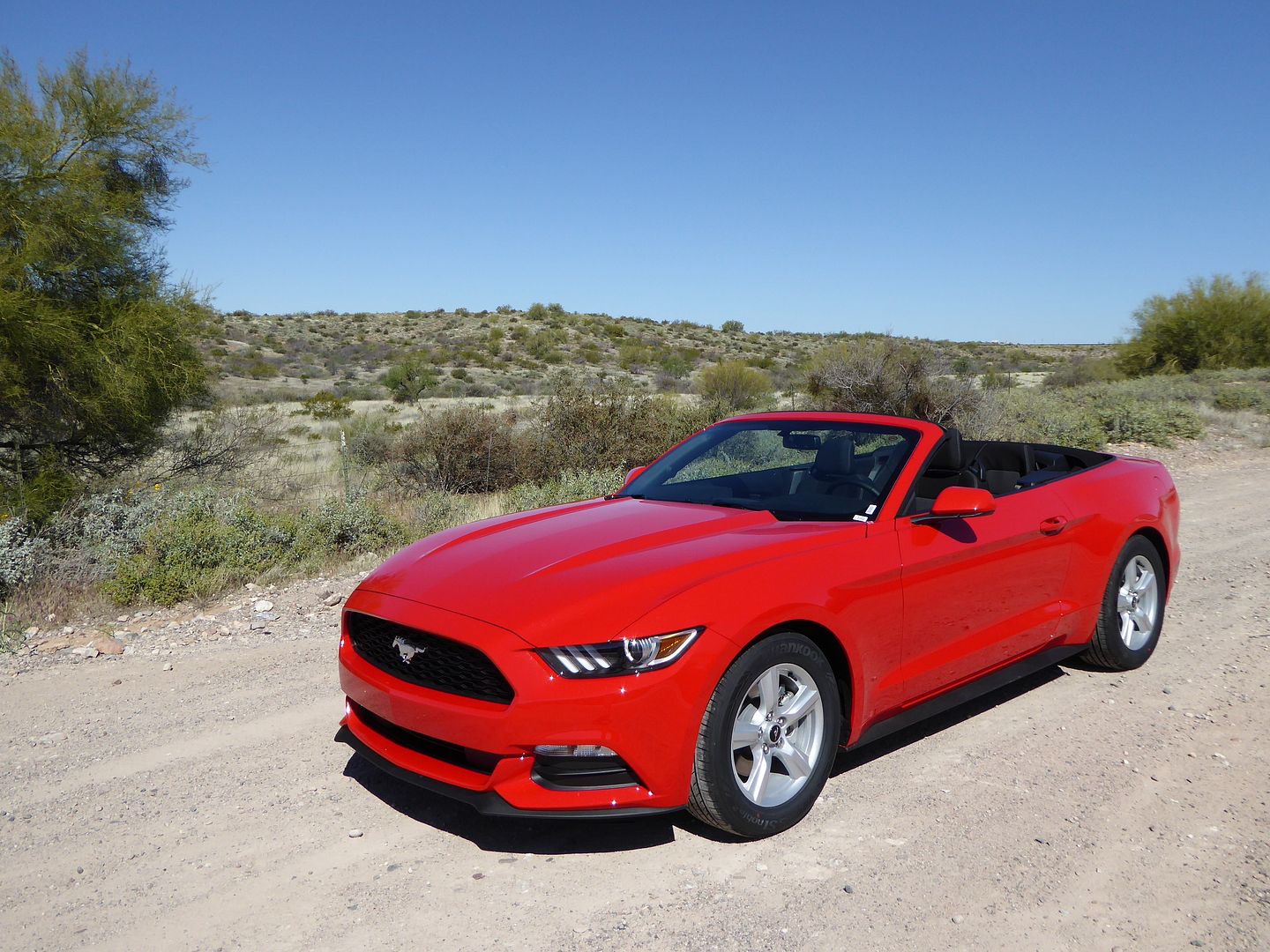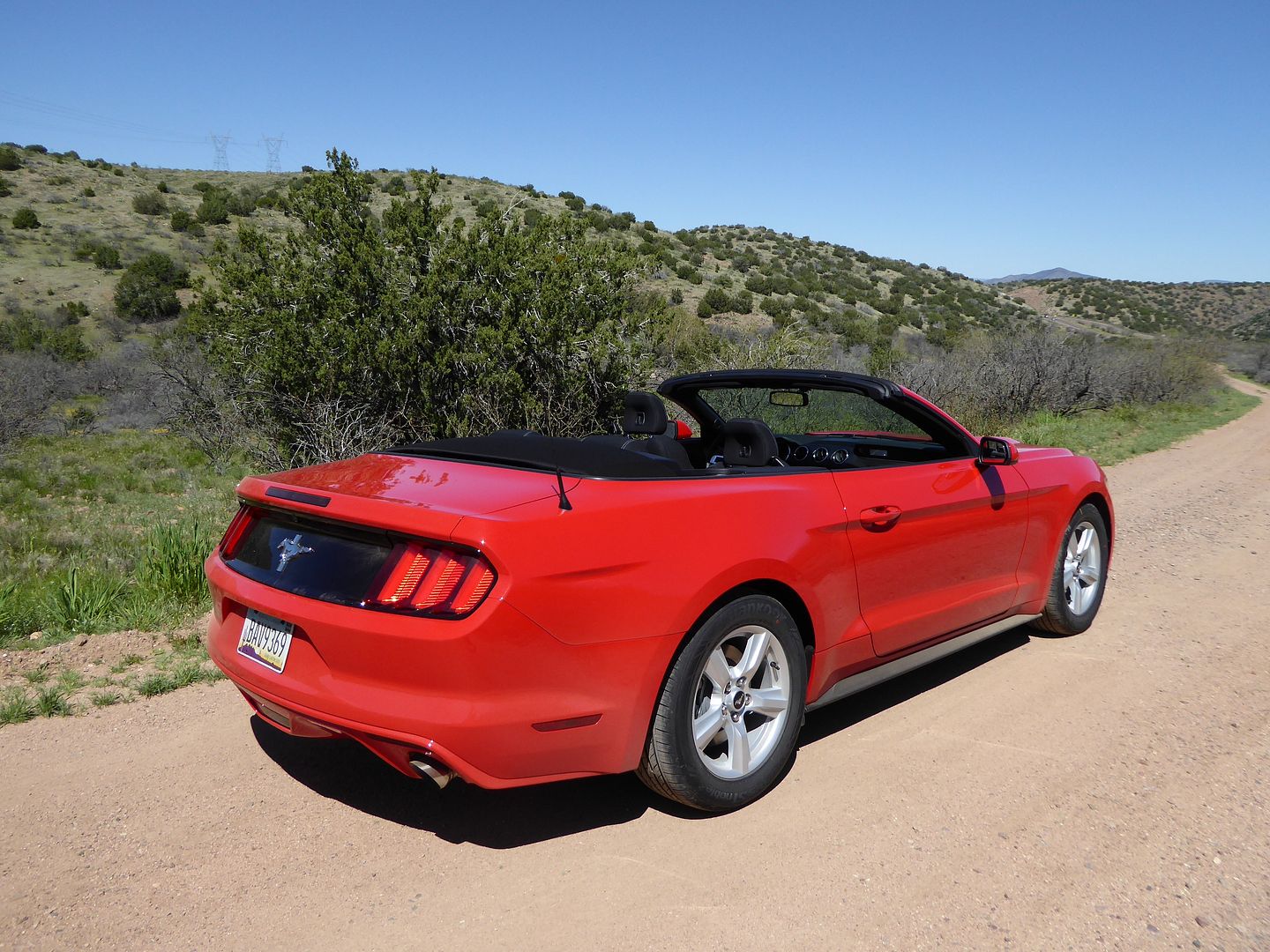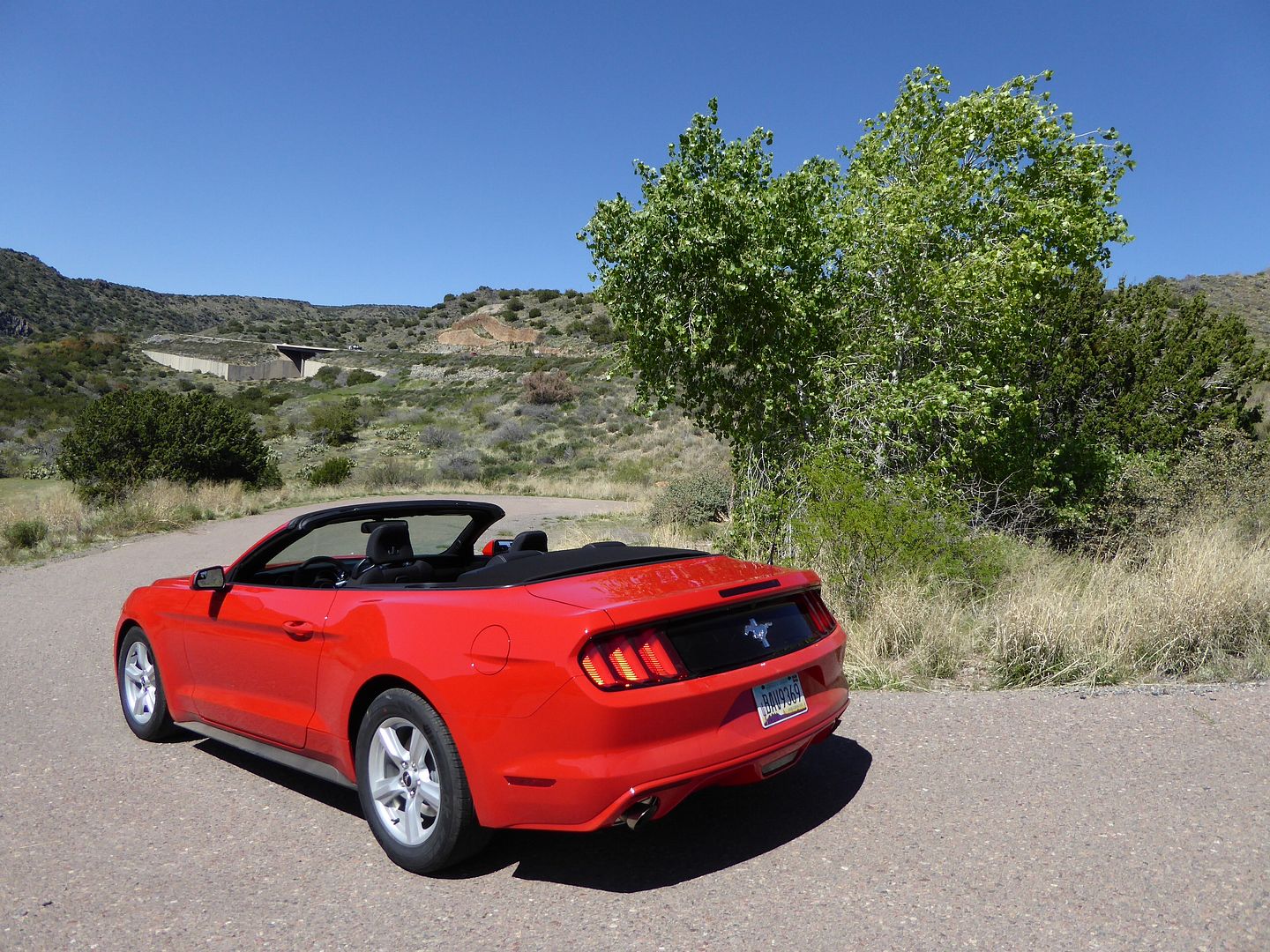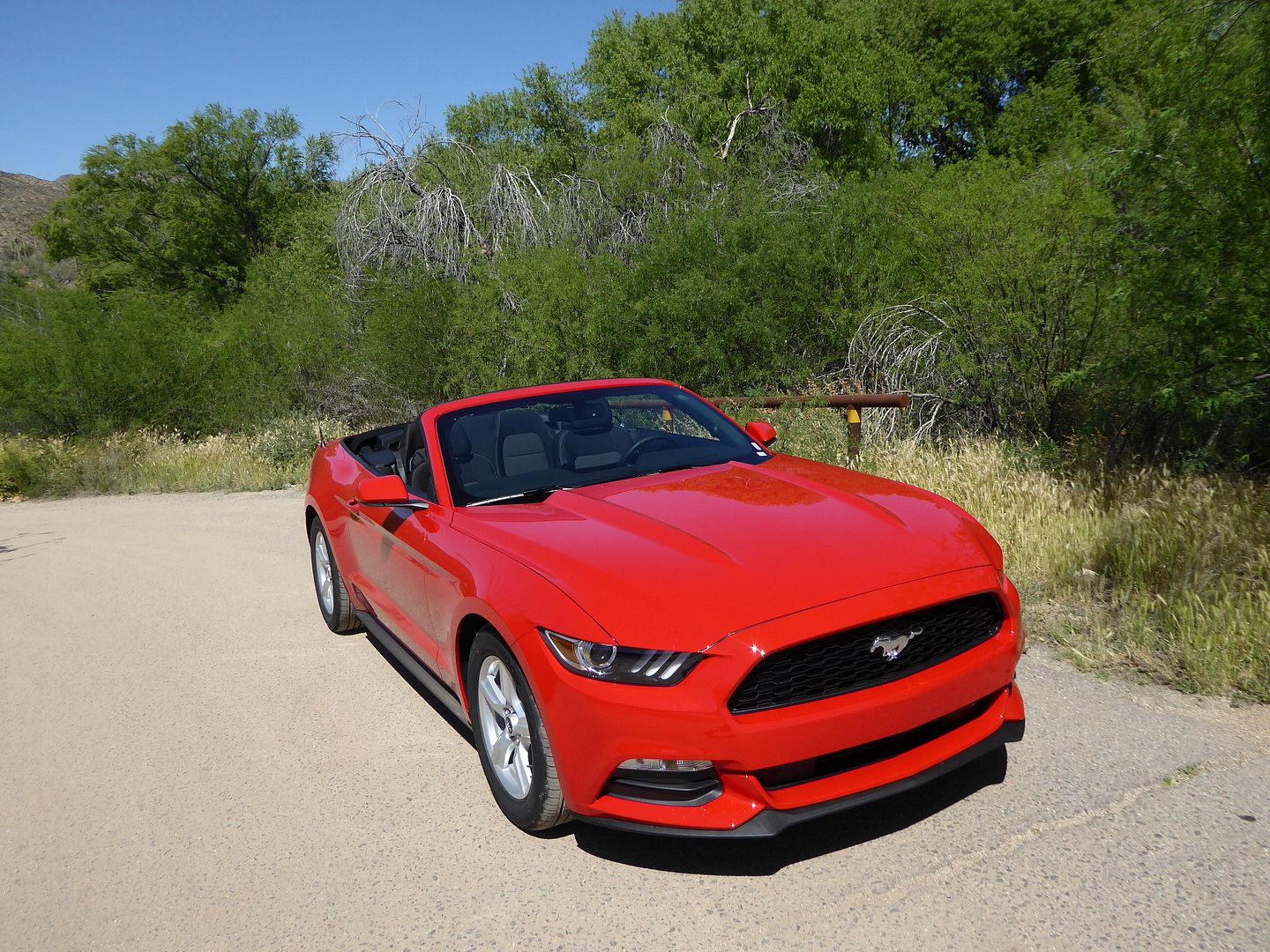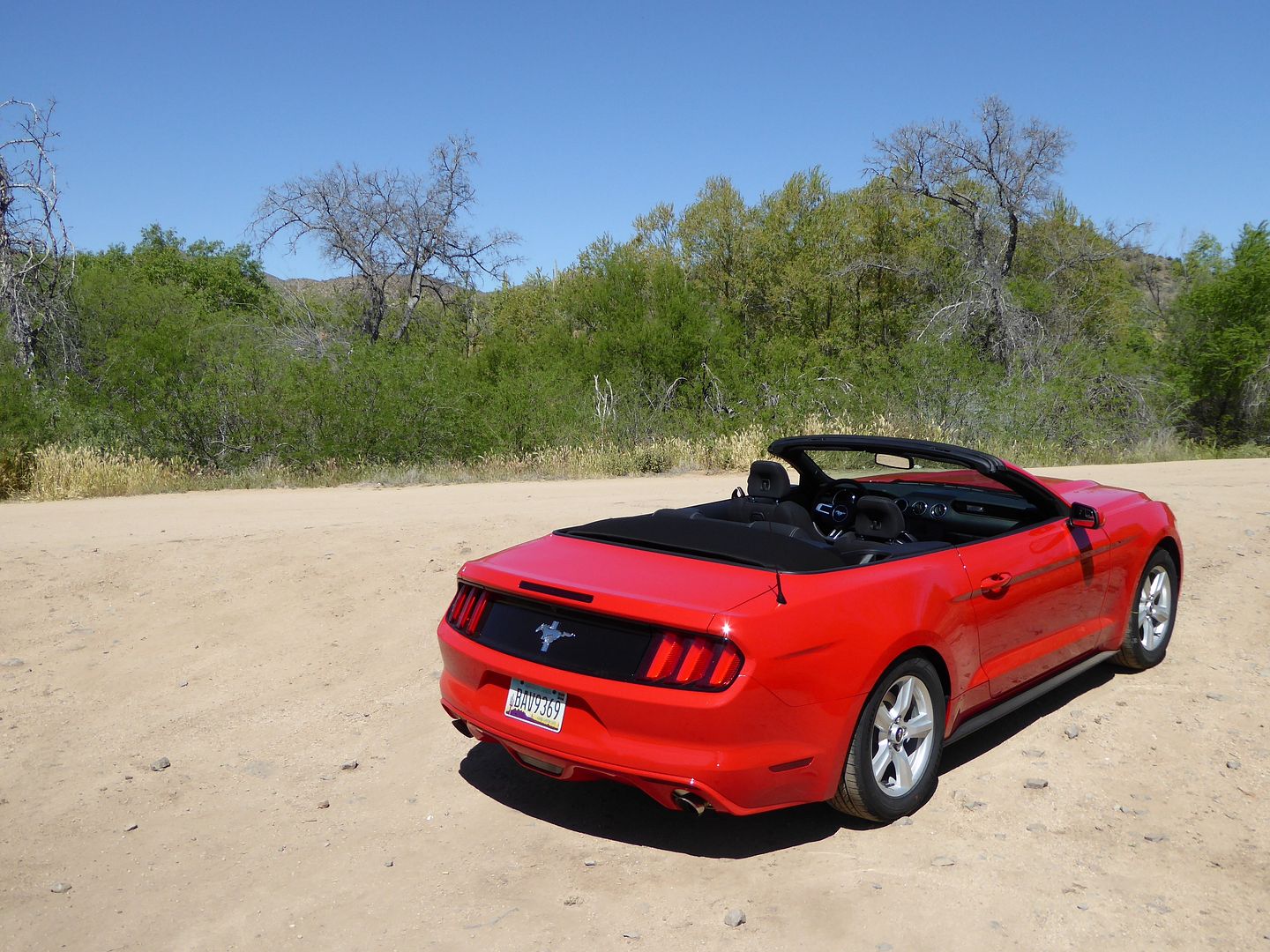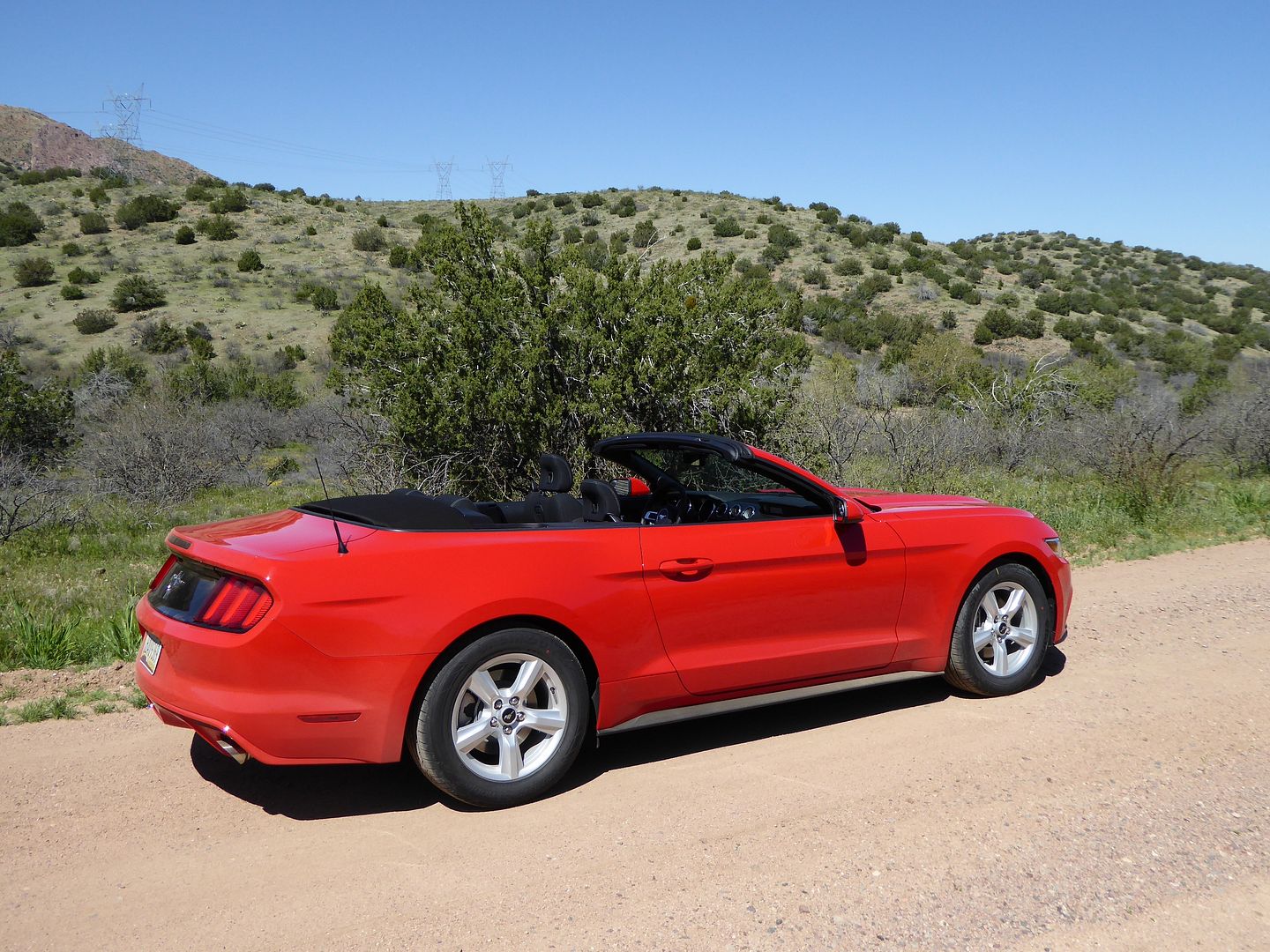 Share and Enjoy