2013 Lincoln Navigator 5.4 AWD (USA)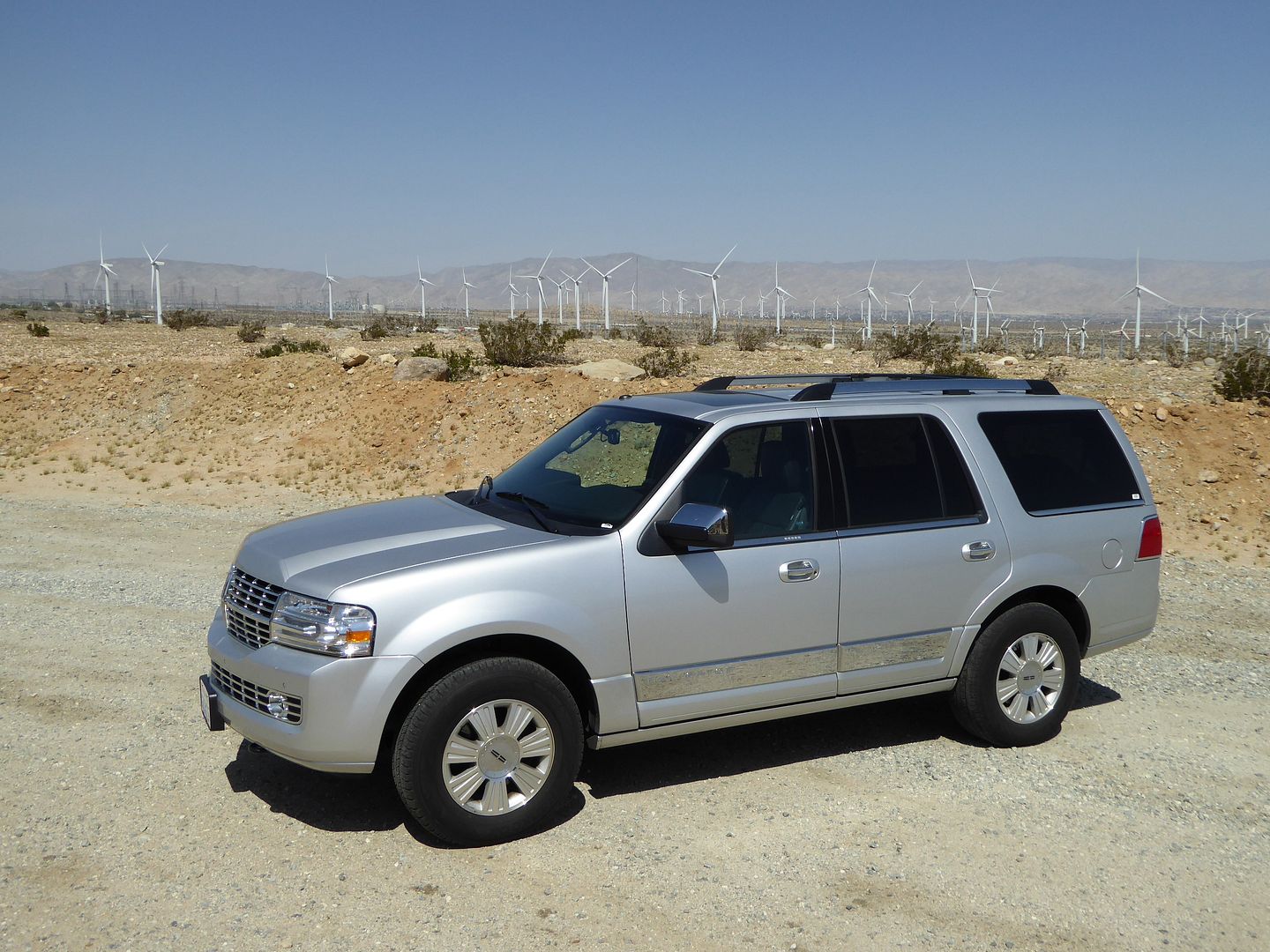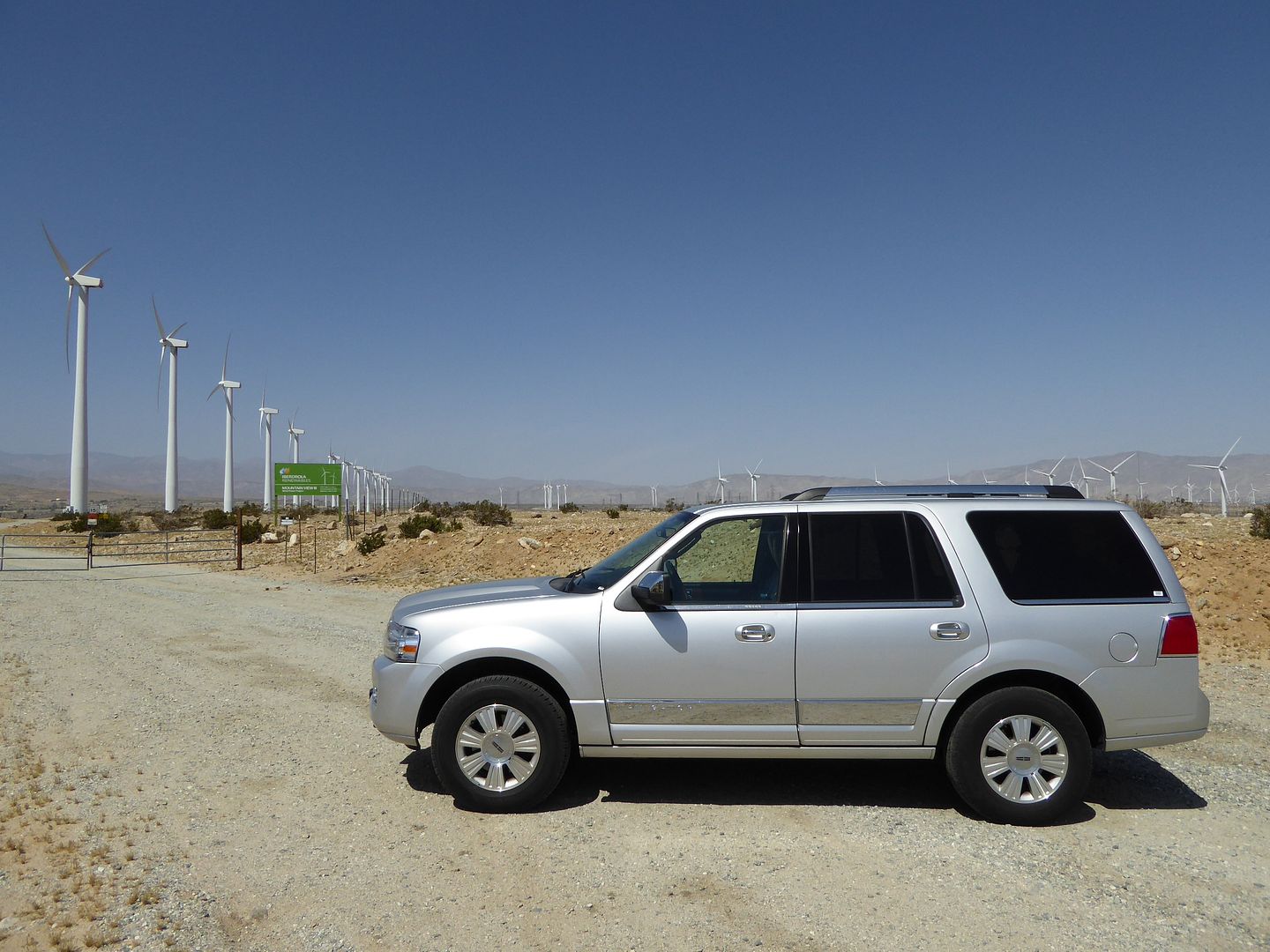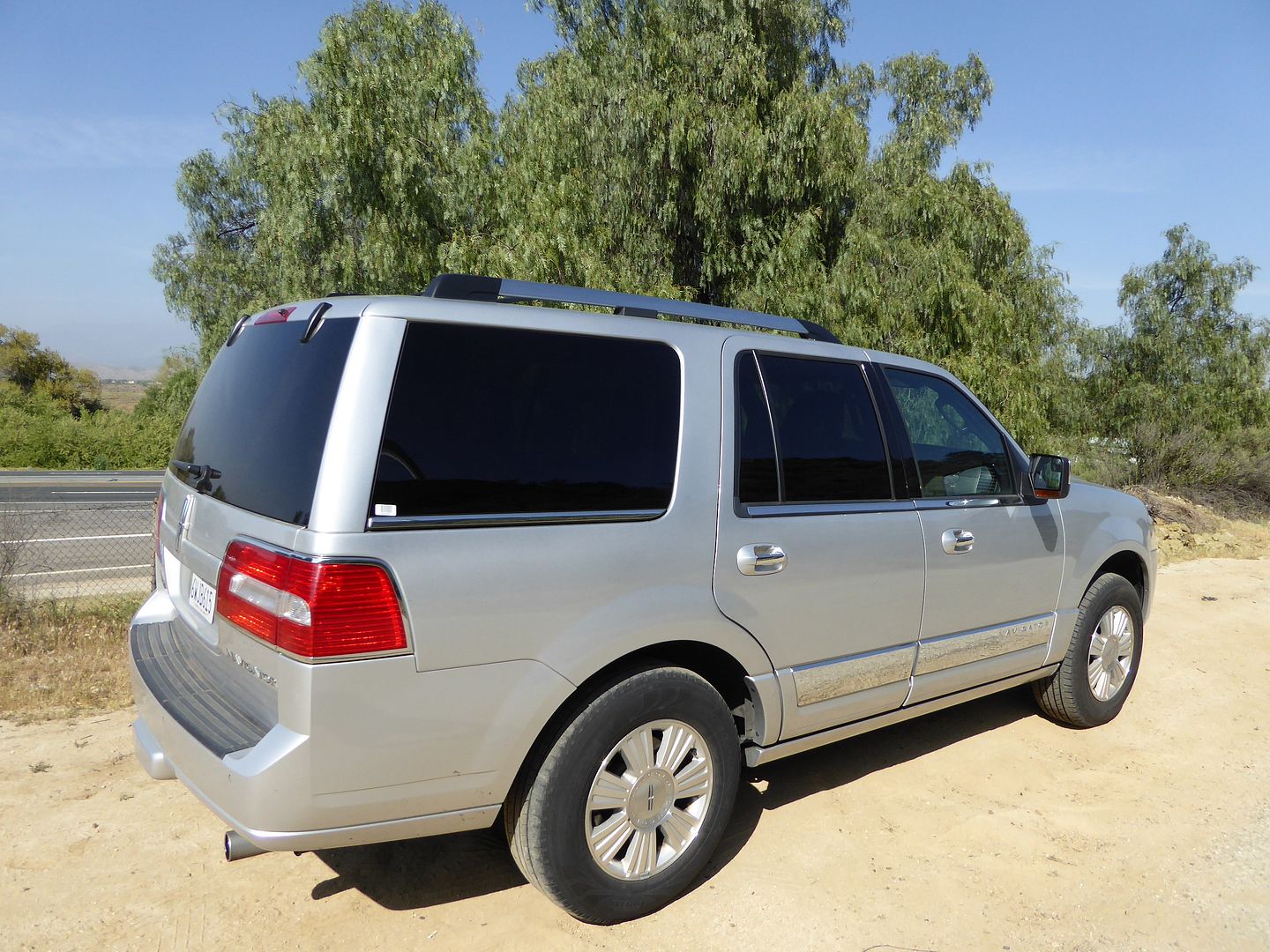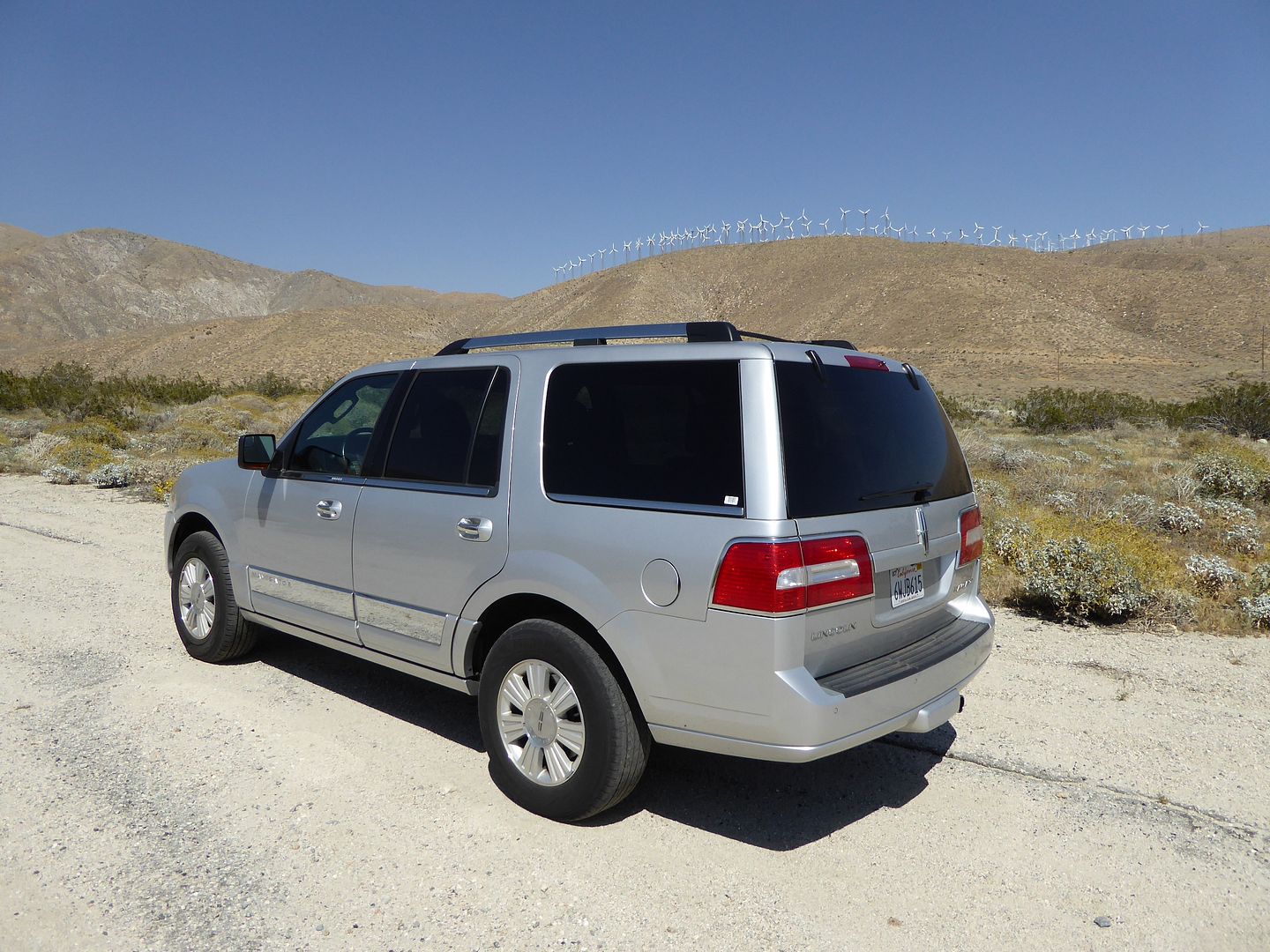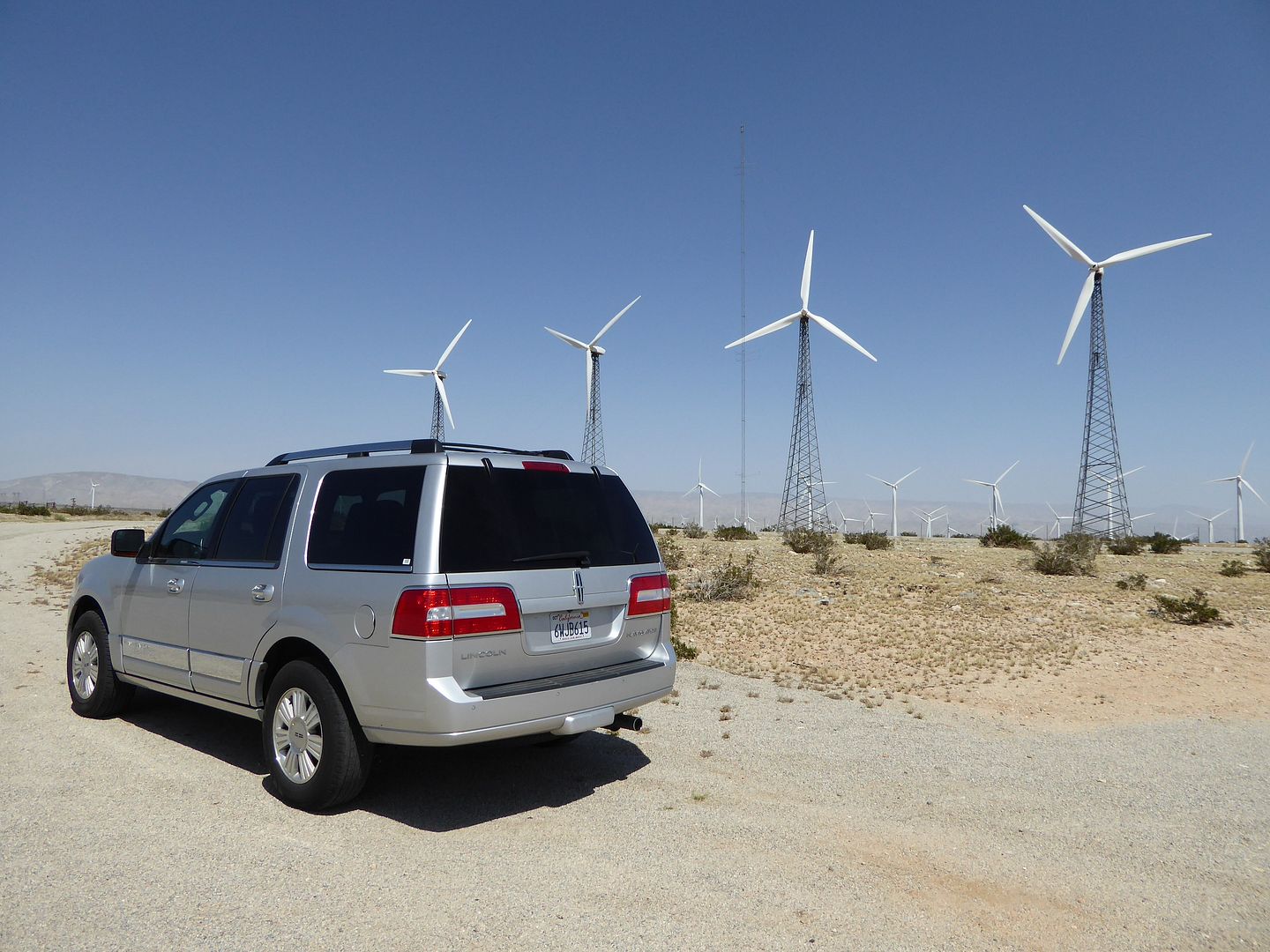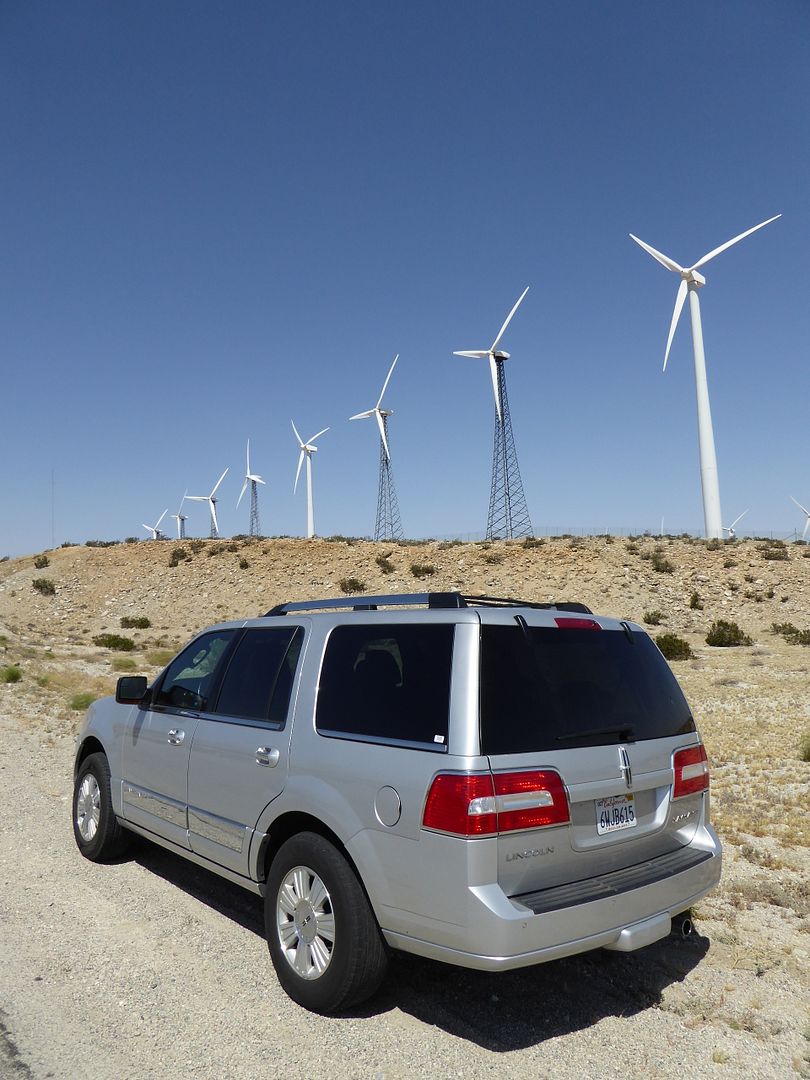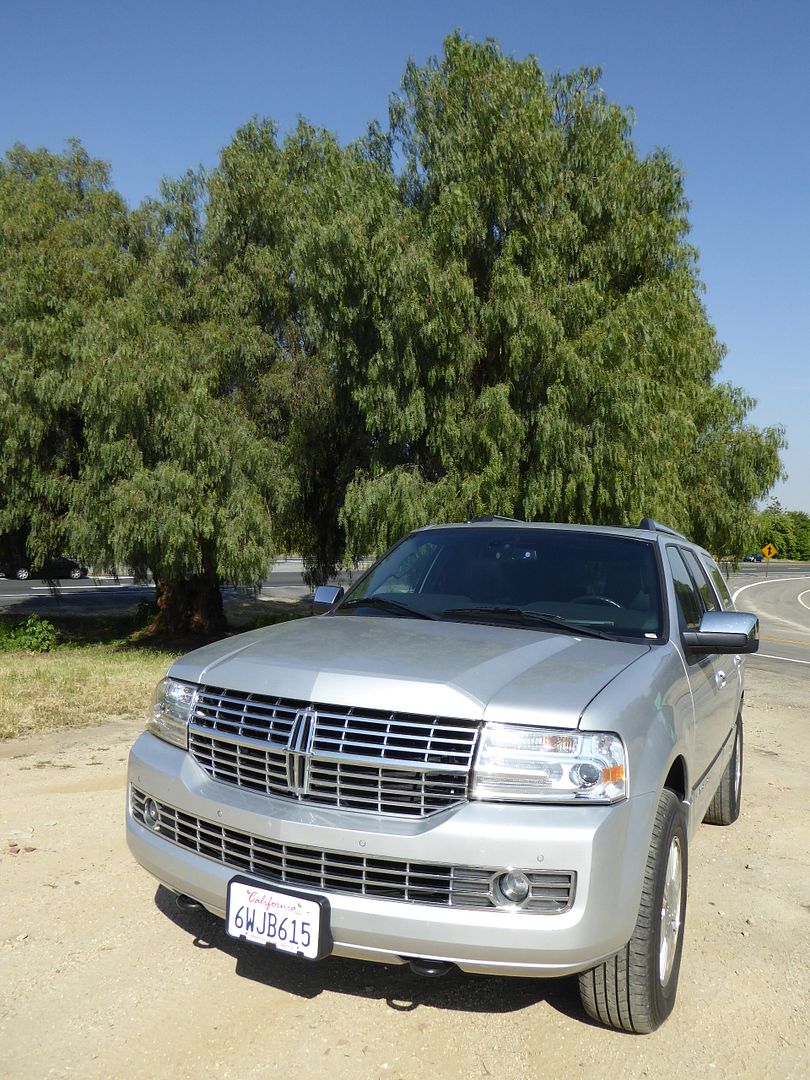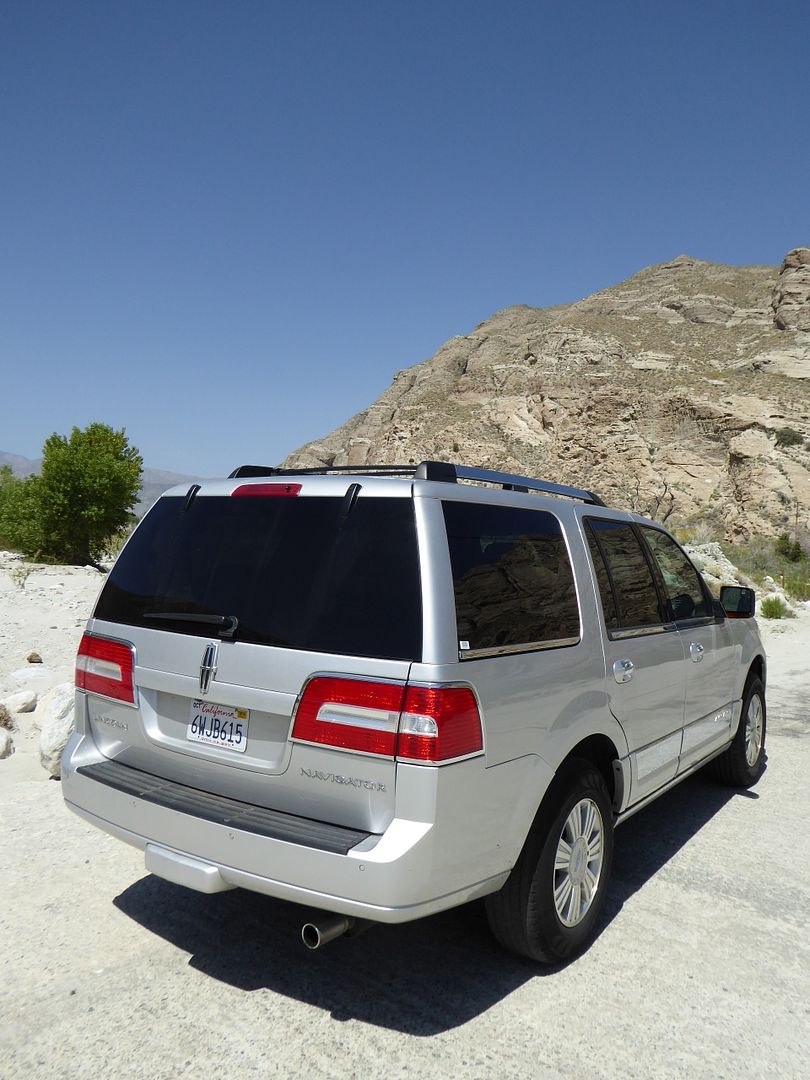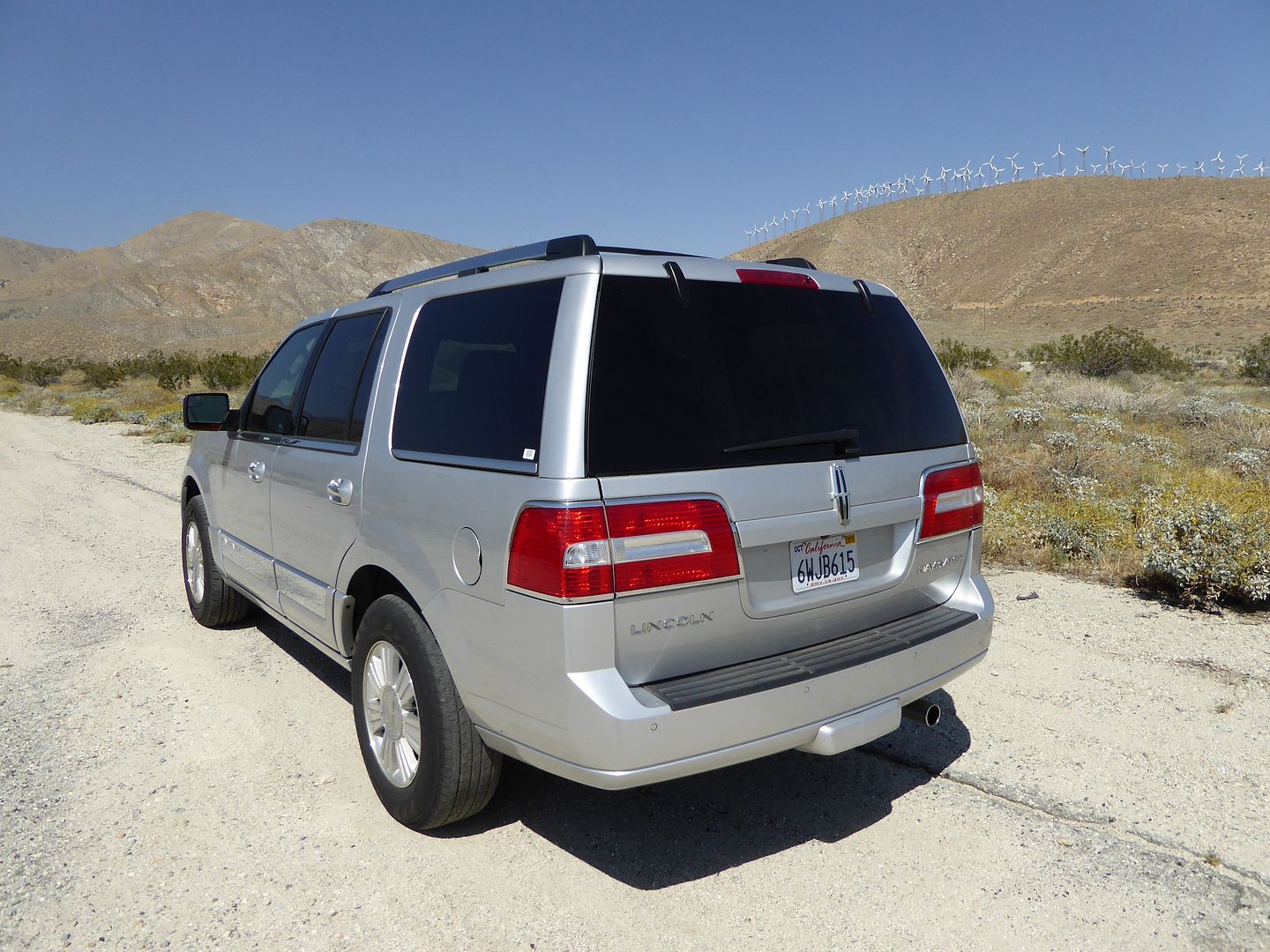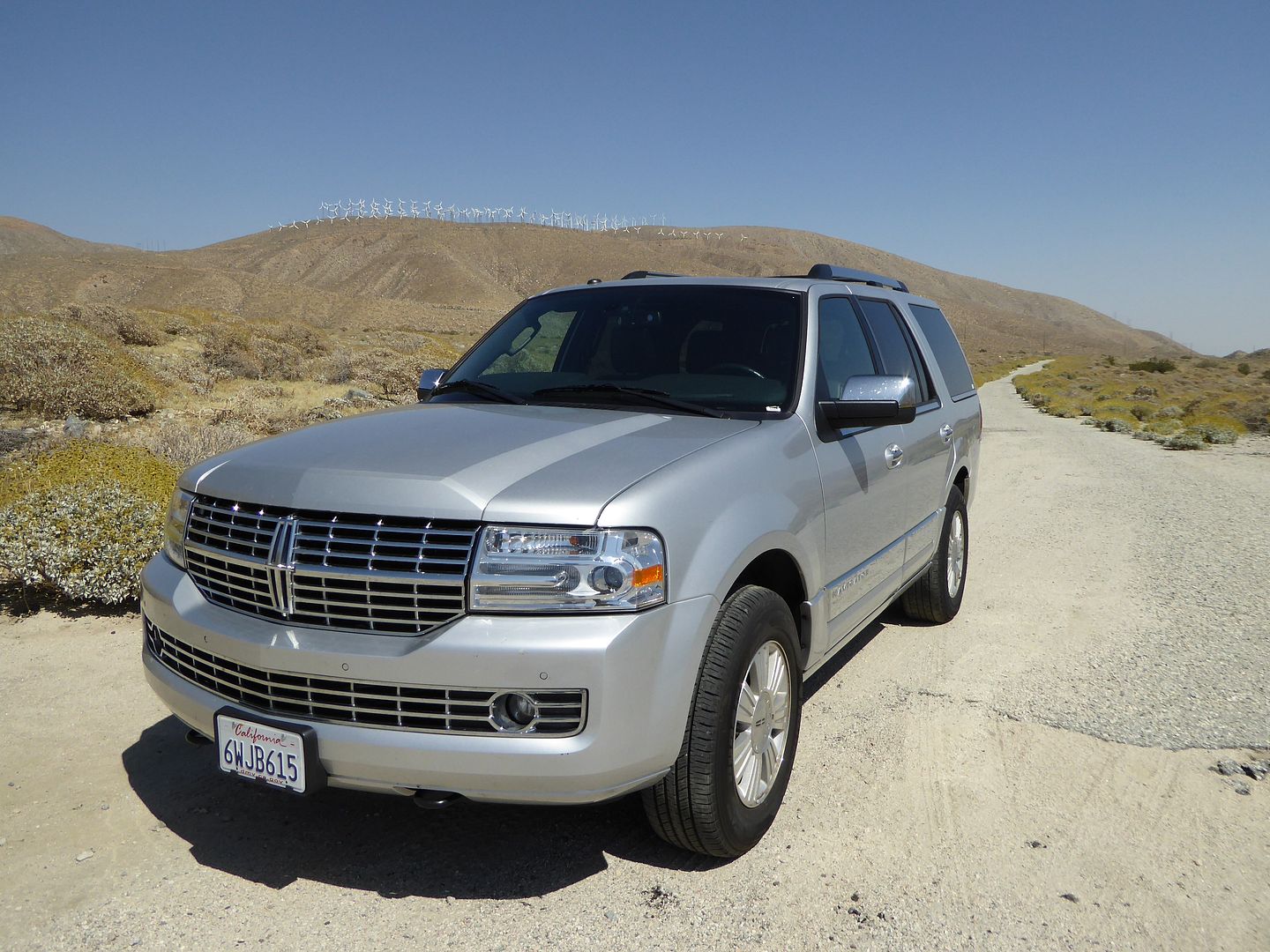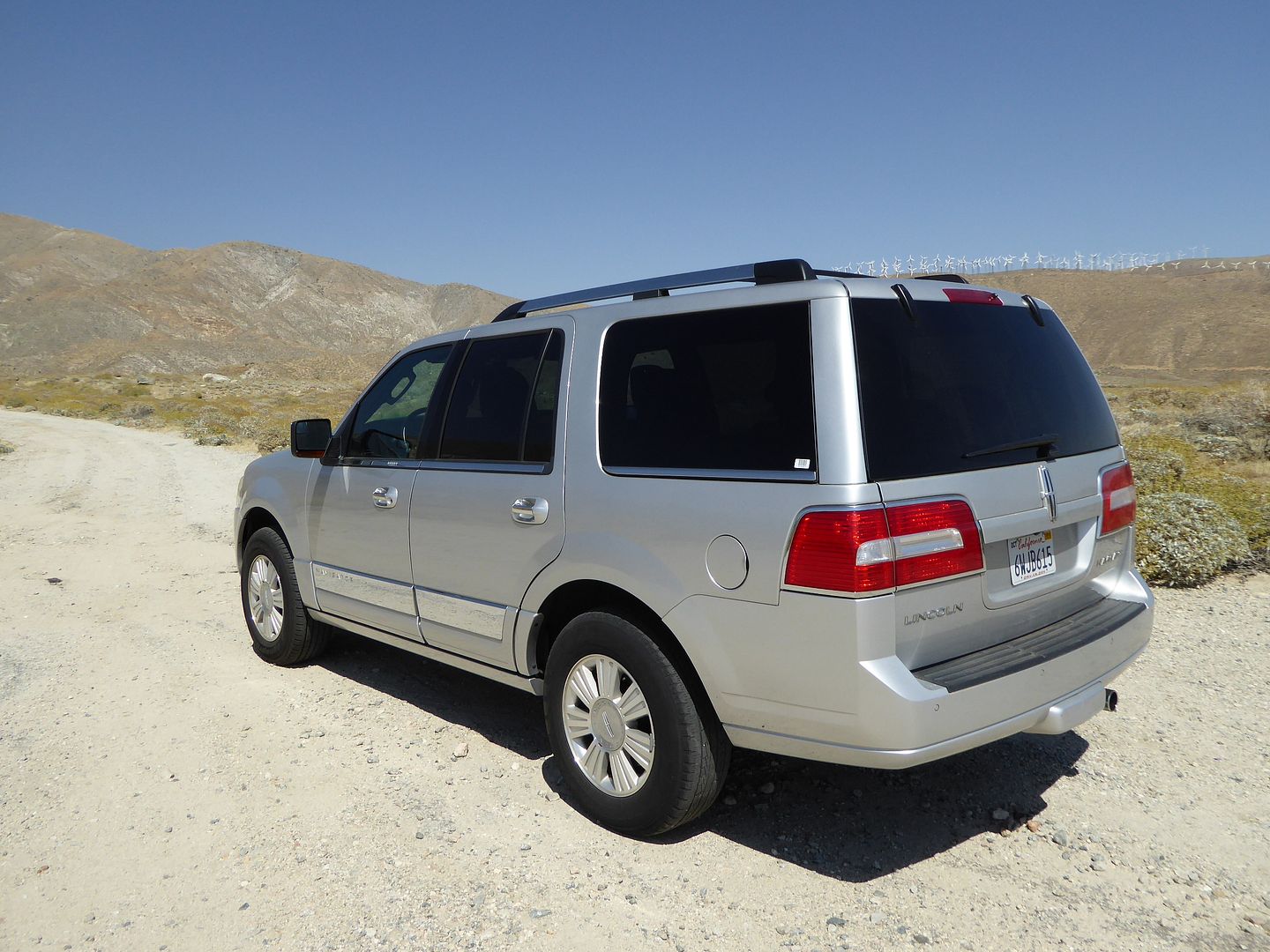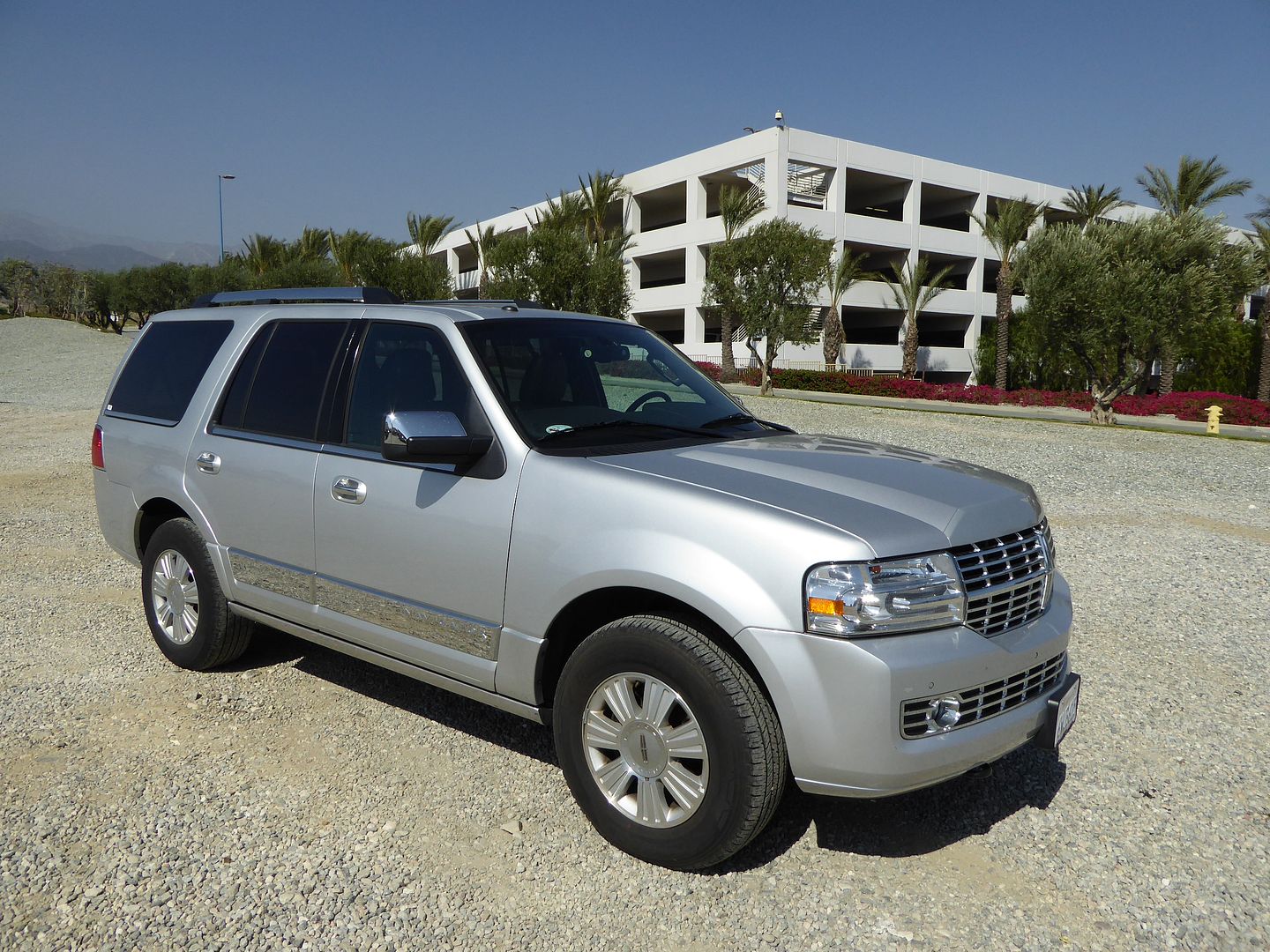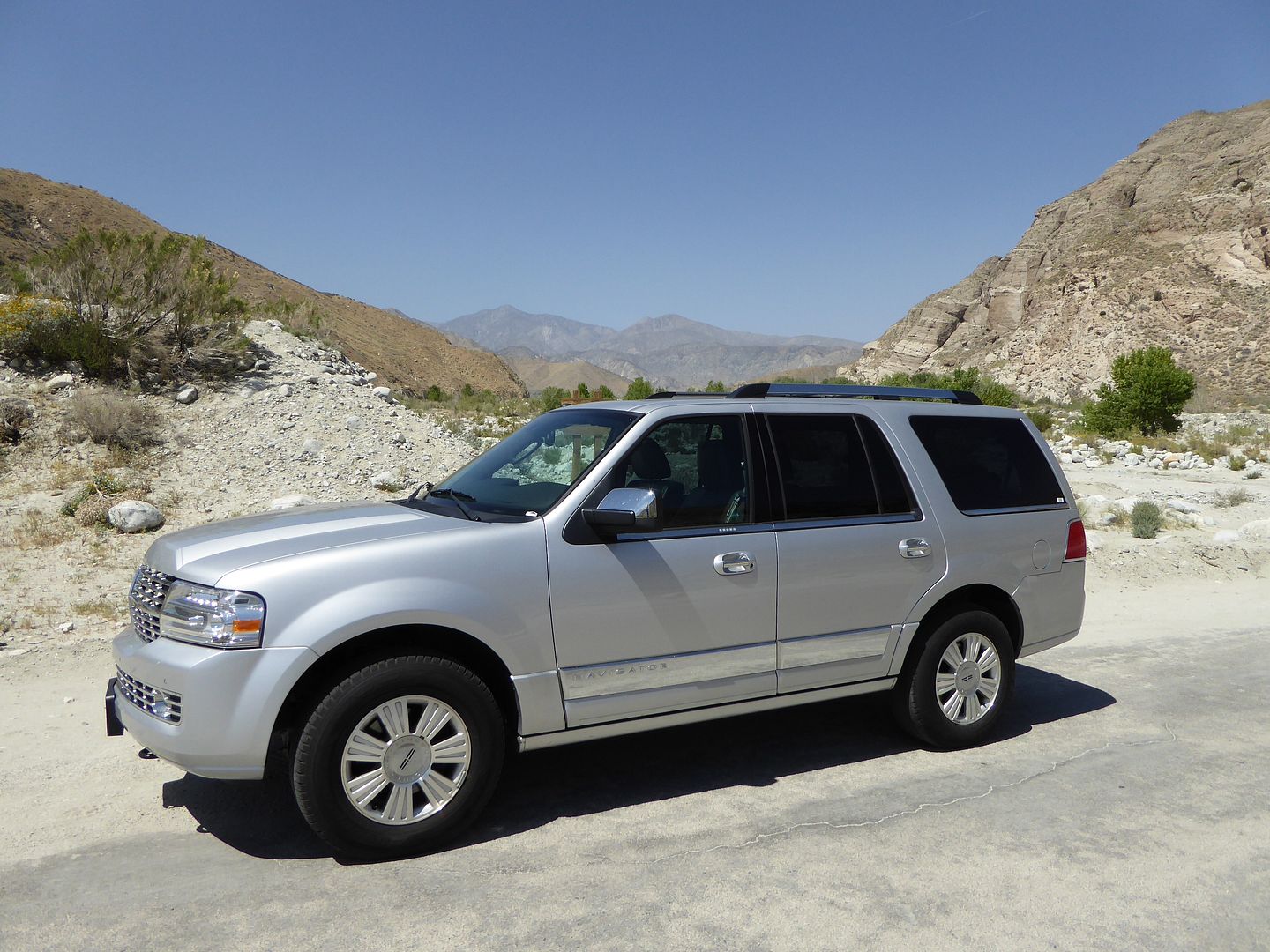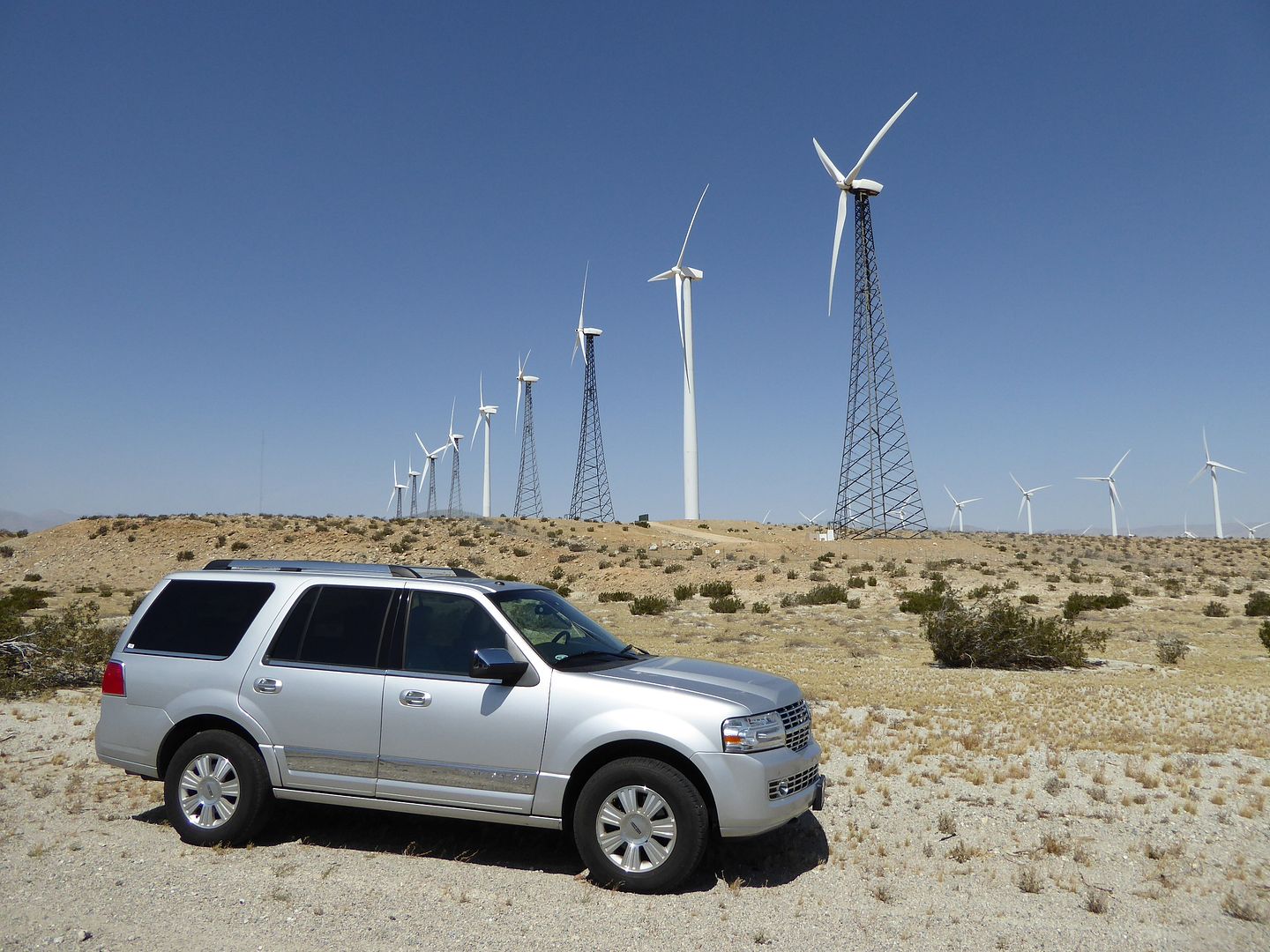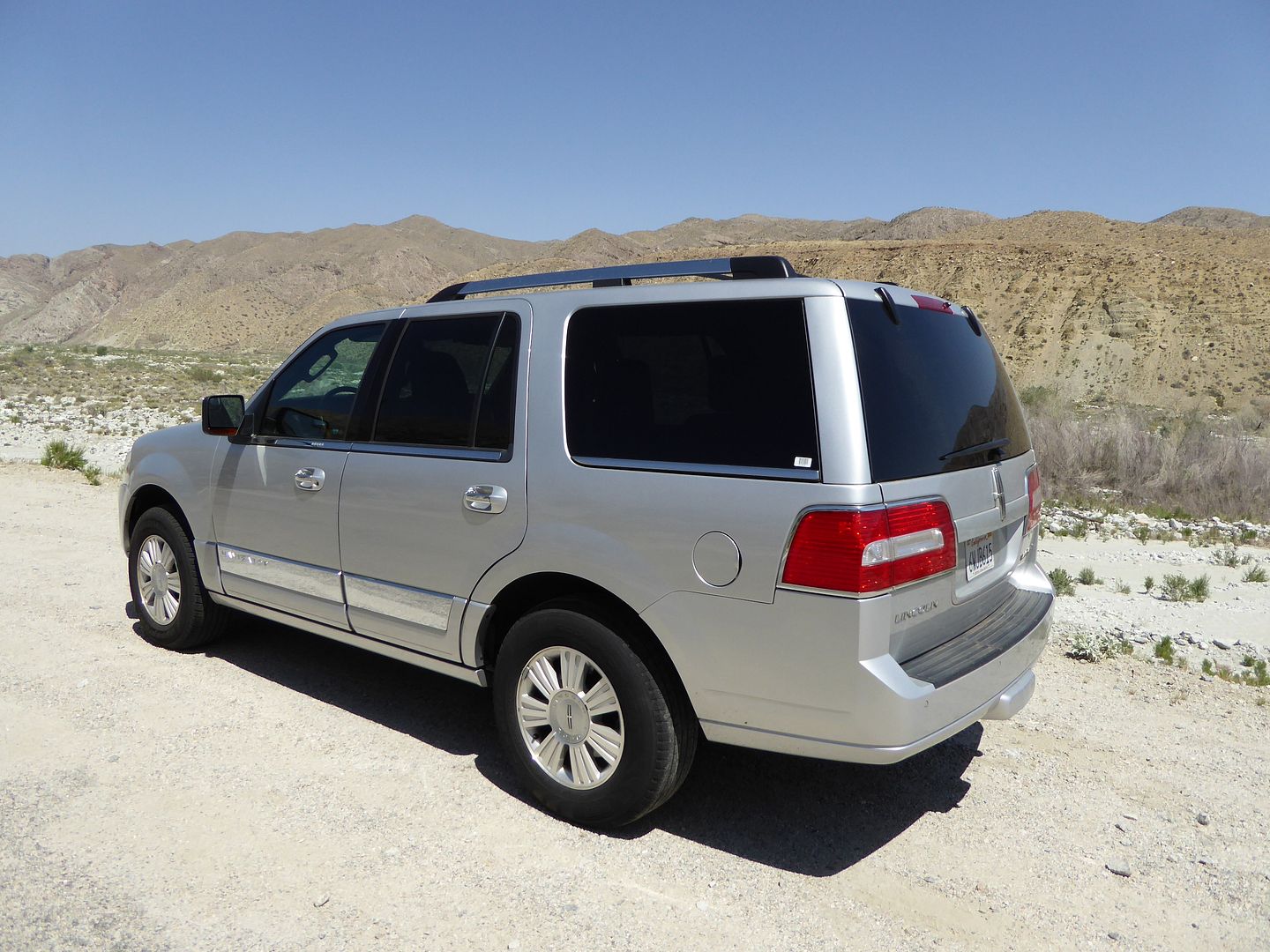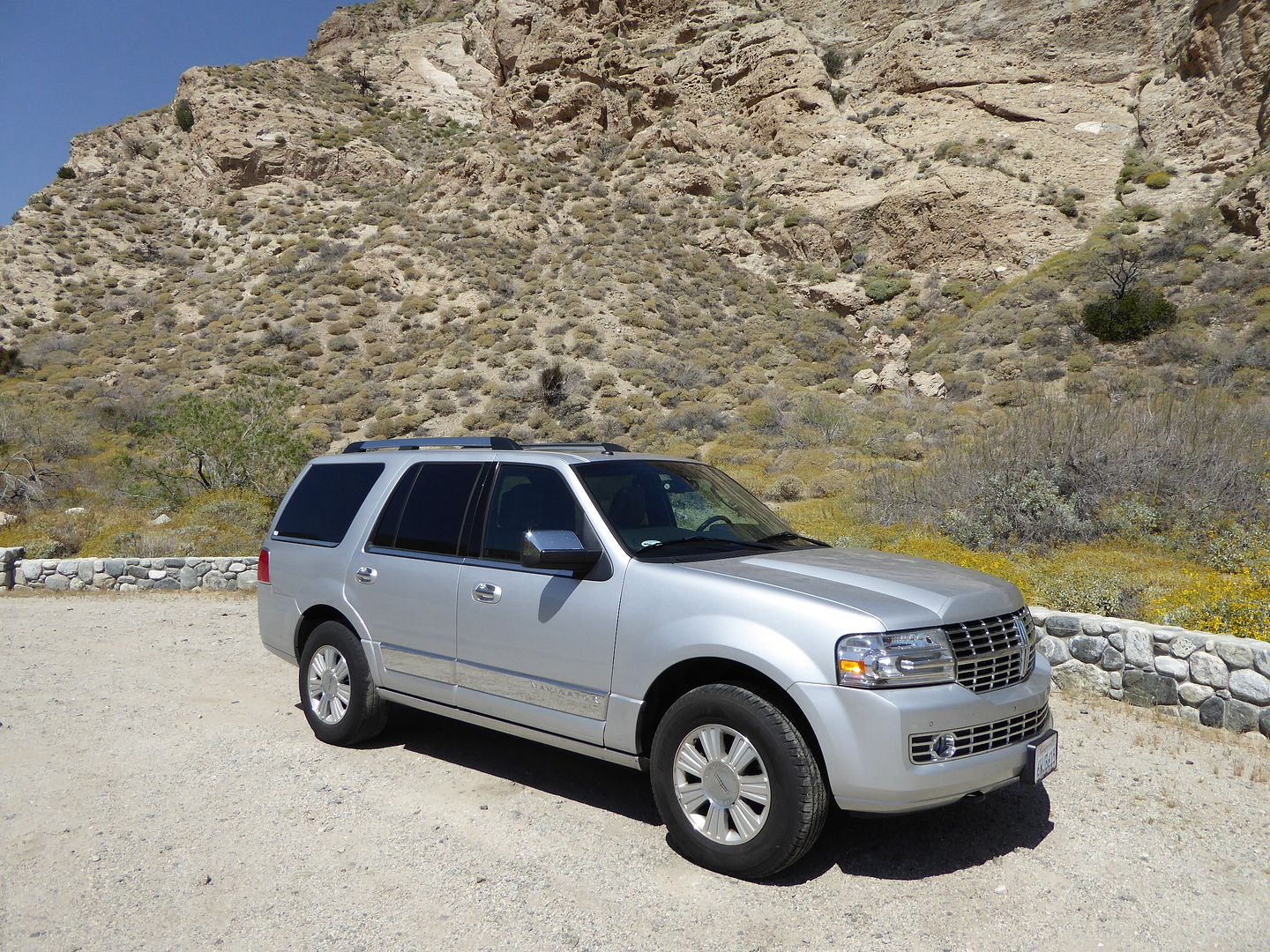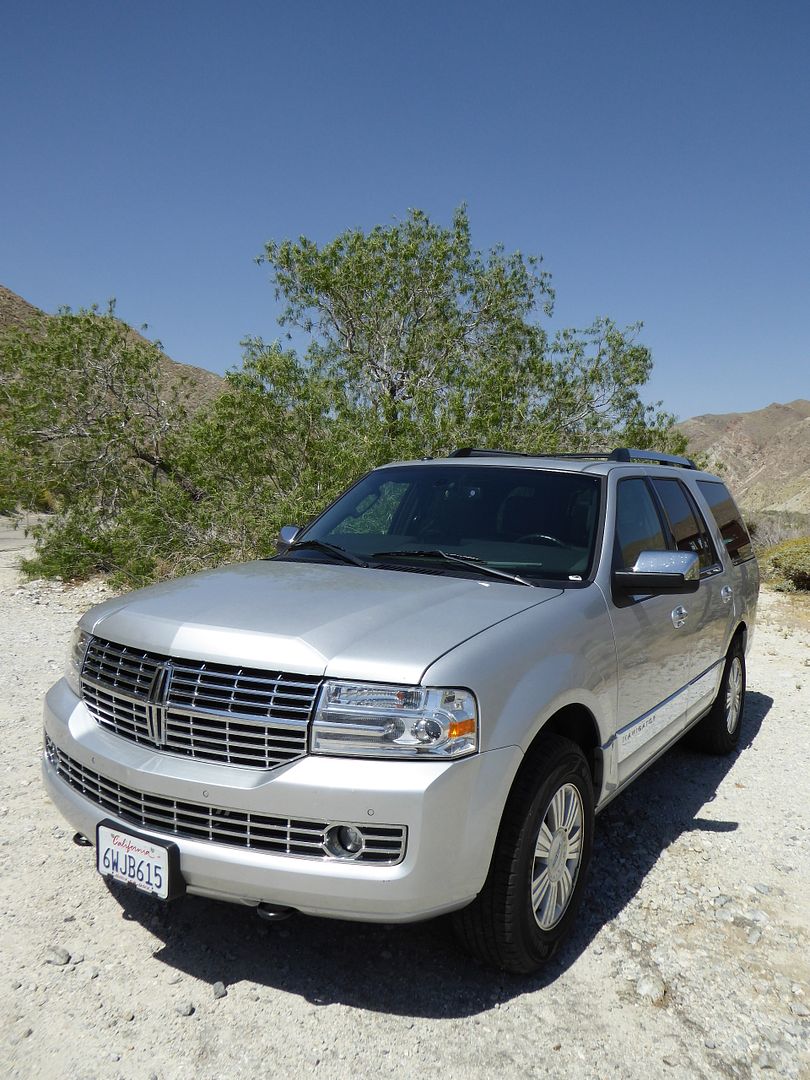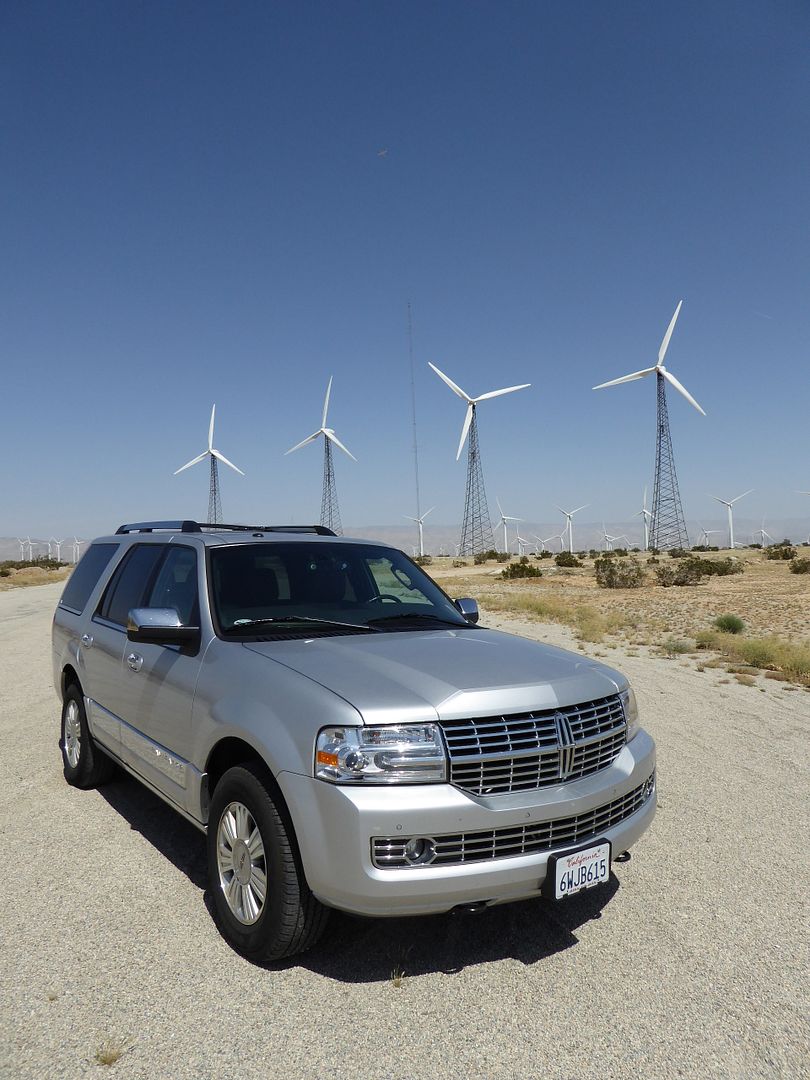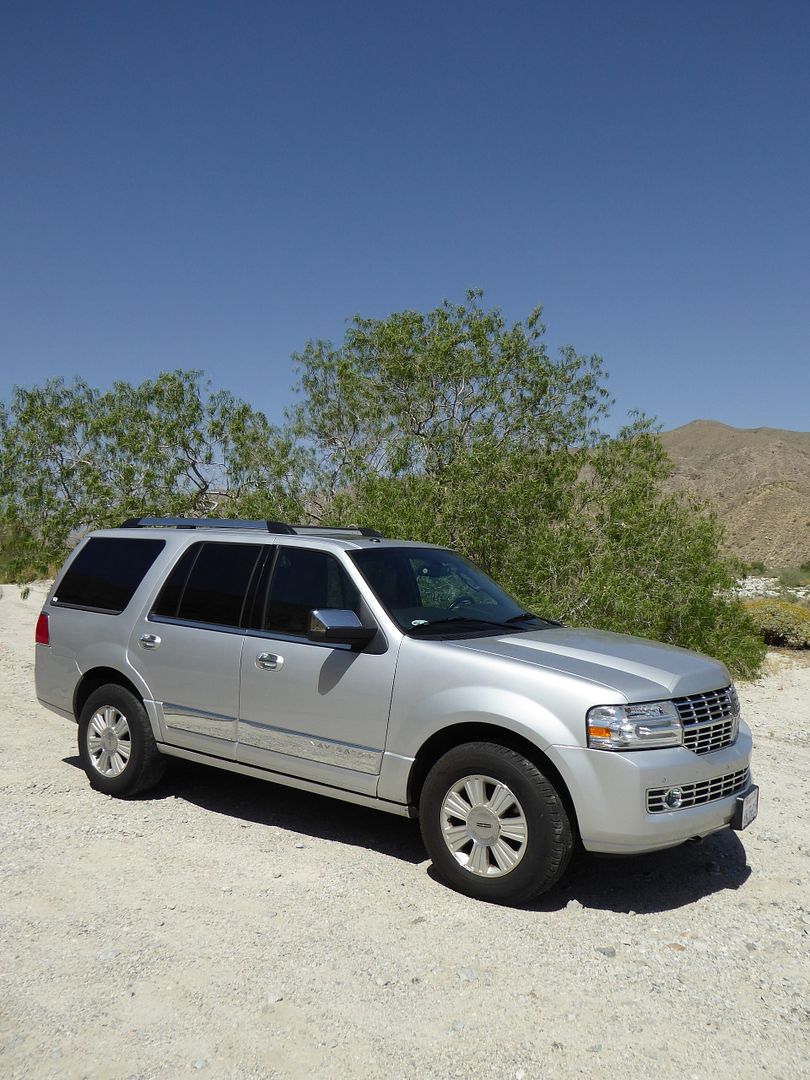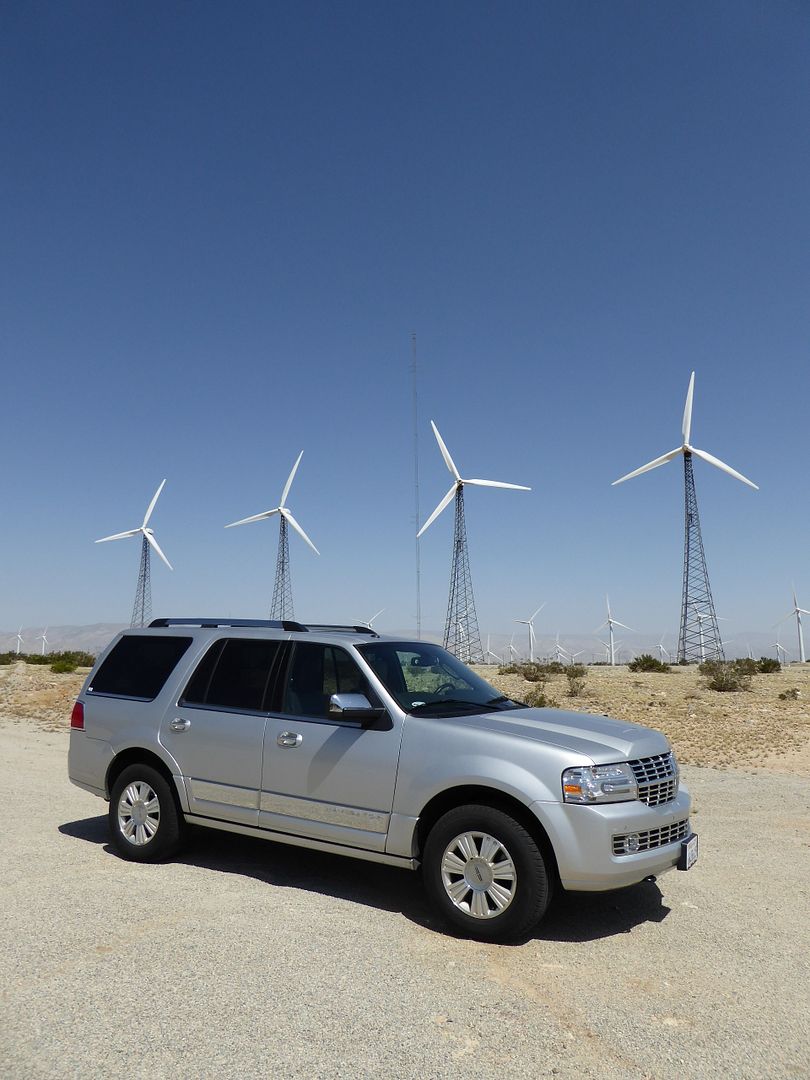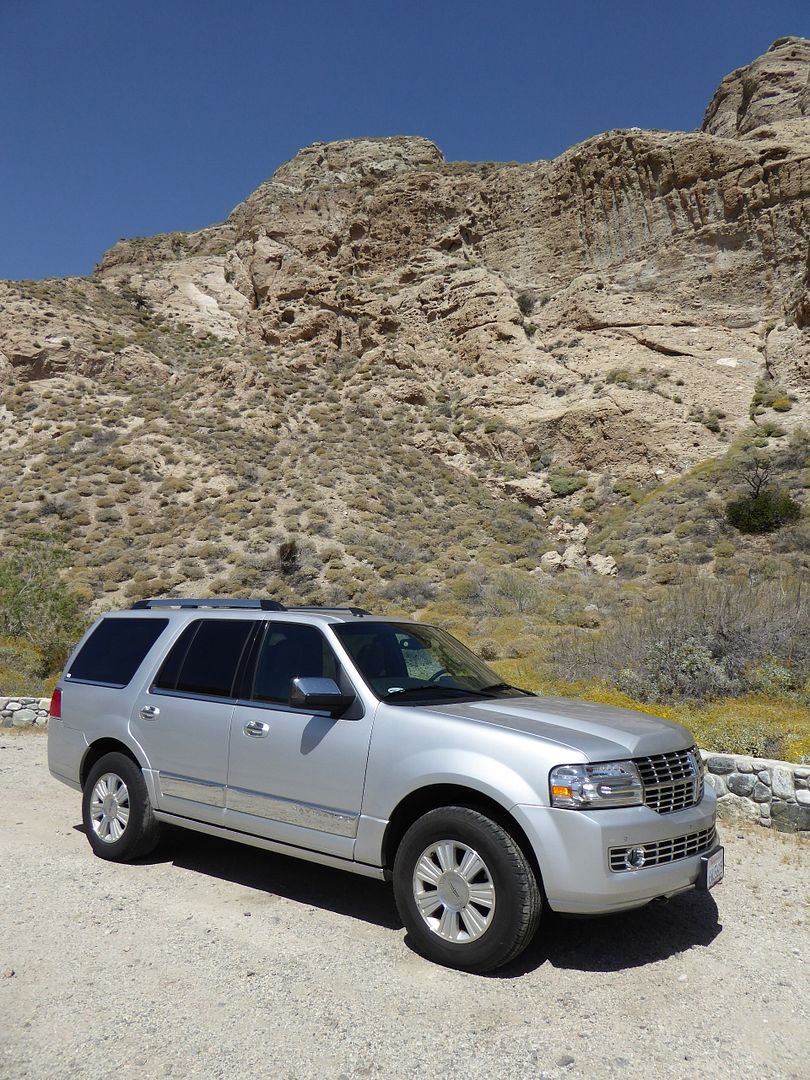 Fans of the Cadillac Escalade, and there are many beyond the usual stereotypes, should be grateful for the existence of this rival product, as it was the success of the Lincoln Navigator which convinced Cadillac to introduce their own luxury SUV back in 2000. Introduced in August 1997, as a 1998 year model, the Navigator was Lincoln's largest offering ever, and its first with four wheel drive.  Sharing its platform, mechanical features, and other equipment with the Ford Expedition, which had been introduced a year earlier, it differed with unique and so called  "upscale" styling, far higher quality interior materials (yes, really!), and other features, to create the first truly high end American SUV, with a massive cargo capacity and seating for seven to eight people Even though its retail price started at  over $42,000 in 1998, the Navigator proved to be popular with nearly 44,000 sold in its first year, and a similar number thereafter. With their own large SUV, the Chevrolet Tahoe, available in the Group, GM quickly worked to produce not one, but two rivals, rushing through a design that emerged as the Cadillac Escalade as well as the upmarket Denali version of the GMC Yukon in 1999, hoping to cash in on a market which Lincoln had clearly found and successfully exploited with the Navigator. Much like the Cadillac Escalade would do, the Navigator found a niche with celebrities and the customized SUV scene. If you look at pictures of an early Navigator and compare them with the one featured here, not much apart from details at the front and back appears to have changed in the ensuing 18 years, but in fact the one that I sampled was a third generation car.  The first generation "UN173" ran through to 2002 and then when Ford updated the Expedition, a new Navigator was launched for 2003. A thorough redesign, rather than an all new model, all the body panels apart from the doors and roof were changed, a host of new features were added and the Navigator (and Expedition) benefitted from a reworked chassis, rack and pinion steering and independent rear suspension which improved the ride and handling. The third Navigator, codenamed U326, was unveiled at the Chicago Auto Show in February 2006, along once more with a new generation Ford Expedition. Featuring its most distinctive styling update since introduction, with a new look to the front and rear, and prominent side cladding, this remained unmistakeably a Navigator. In the front was a large, upper chrome grille resembling those of classic Lincolns like the 1963 Continental, an all-new, more complex headlight design, a lower chrome grille with integrated foglights, and a more prominent "power dome" bonnet. Elsewhere, an updated rear end design featured taillights inspired by the Lincoln MKZ and chrome trim was more prominently used along the Navigator's sides, including chrome lower body moulding on the doors. Inside was an all-new dashboard and instrument panel, making extensive use of rectangular shapes, such as in the gauges, as well as greater use of real wood and satin nickel accents. As ever, only one engine was offered, Ford's long running 5.4 litre V8, still offering 300 bhp, but in this model it was coupled to Ford's own 6 speed automatic transmission in place of the ZF unit that had been used previously. Rear wheel drive was standard, with All Wheel Drive an option. In case the standard Navigator was not big enough for you, a Navigator L was added to the range, to compete against the Escalade ESV, with 19″ added to the tail end of the model. Until the announcement of a facelift for the 2015 model year, there have been very few changes to the third generation Navigator since that 2006 launch, during which time two new Escalade models have appeared, as well as strong competition from Infiniti with their QX80 as it is now called, and the Lexus LX570. Seven years is a long time in the motoring world these days, so when I spotted this Navigator, which turned out to be a 2013 model year vehicle, but still in surprisingly good shape despite its 45,000 miles on the clock, I decided to find out for myself how this behemoth stacks up.
First impressions are that the Lincoln is just massive. There are roof rails, but you would need a ladder to be able to get up high enough to anchor anything up there. Lifting the bonnet, you can barely see the engine, and to be able to touch anything, such as top up fluid levels, again, unless you were basketball player height, you'd probably need something to raise you up. Fortunately, when you want to get in it, help is at hand. Open the door and the standard powered running boards drop down from underneath, giving a nice platform to make cabin entry easy.
Once installed, it was time to survey what was before me. The answer is a curious mix. Some elements of the interior are indeed as you would expect from a luxury vehicle, but some really are not. Take the dashboard. The upper surface is made from a very soft and squishy-to- the- touch plastic, but it is plastic, and not perhaps the leather that you might expect. There are two very large rectangular mouldings on either side, which suggest that someone thought of how to convert the design from left to right hand drive very easily. The one in front of the passenger is blank, and simply contains the air bag, whereas the one in front of the driver contains the instruments. The area for these is split, with an upper line containing, four rectangular dials, respectively for ammeter, fuel level, water temperature and oil pressure, which occupy the middle area of the line, there being space at the ends. Beneath these are two larger dials, which are also shaped to fit more of a square shape, for revs and speedometer. The dials do describe more of a circle within the square outer shape. Between them is a digital display for the odometer and trip mileometer, using graphics which look like they have not changed since 1997. You cycle between the displays for the latter by pressing a large button marked "info" on the bottom of the centre console. The instruments trade style (such as it is) over function, as they are not that easy to read and they suffered somewhat from stray reflections across the nacelle and bright sunlight also made them harder to read. In the centre of the dash, a small square analogue clock, branded Lincoln, sits between two air vents. Beneath it is the audio come Infotainment unit. This has a rather small colour screen, which turned out to be touch sensitive, and a series of buttons down either side which were easier to use than the screen itself. It offers AM/FM/XM Satellite radio and Navigation, and is part of the Ford Sync Microsoft partnership, though this one seemed less functionally rich than the set ups I have come across in other Ford products. Under that are a whole load of buttons for the climate control, they are all ones you touch as opposed to press or turn, and then below this are the switches to move from RWD to AWD. There is a single column stalk, on the left of the wheel, for indicators and wipers, whilst lights are operated from a dial on the dash to the left of the wheel. Buttons on either side of the central hub of the steering wheel are used for cruise and as audio repeaters. The central part of the dash is inlaid with a large piece of very shiny looking wood, which is allegedly from a real tree, though it certainly does not look it. The wheel itself is a mix of leather and wood around its circumference. I would not describe it as the nicest one to hold that I have come across. The whole ensemble is easy to use, but it does not strike me as either particularly modern (let's be honest, it is not!), or as befitting a luxury vehicle (which it should be!).
To make myself comfortable, I needed to adjust things. Everything in this regard is electric. Separate switches on the side of the seat adjust the seat fore and aft, up and down and the backrest angle, as well as a lumbar support. There are two memory settings, and the buttons for these are down on the side of the seat as well, where they would not be easy to find. The column adjusts in/out as well as up/down, using a switch on the side. The pedals also adjust, with a switch for for this on the lower left of the dash. The seat itself is leather trimmed, with a sort of perforated design used in the central section. It was a rather large and shapeless seat, and whilst I was not uncomfortable in it, I can see why the very prominent grab handle that is attached to the A pillars might be something that they front passenger would want, as there is too little side support to stop you sliding around unless you are holding a steering wheel. I was slightly surprised to find that there is no footrest, although there is plenty of space for your left foot, of course.
With seat and mirrors set, it was time to see what the Navigator was like on the road. With a large V8 installed under the bonnet, you might be hoping for an aural treat when you fire it up. Prepare to be disappointed. There is no real noise to speak of and certainly not anything to tell you that this is going to be rather special. That is a clear omen, as it turned out that the engine is not. A further 10 bhp were found from 2009, so this 5.4 litre SOHC unit puts out 310 bhp, which is a long way short of any of its competitors. Fully laden, I have discerned, it really shows. One up, it was none too evident, as there was no apparent deficiency of power, the Lincoln well able to keep up with the flow of traffic. There's not much noise when it goes about its business, which is good from a luxury point of view, I would guess, but slightly disappointing if you were hoping to hear the burble of all 8 cylinders at work. Of course a large engine like this is not going to be economical, and I did fear for my wallet with this test car. The engine is FlexFuel capable, though I've never found anywhere in the Pacific South West that sells it. Taking advantage of cheaper fuel prices well east of Los Angeles, and because the needle was showing half empty suggesting a nervy last few miles back to base were I not to replenish what had been consumed, I made an interim fuel stop, after which I was able to conclude that the range is actually quite good, with around 450 miles possible on a tank. Be warned, though, the tank holds 28 gallons. In total, I drove the Navigator 363 miles and it consumed exactly 20 gallons, making a consumption of 18.15 mpg US or 21.69 mpg Imperial. That's about what I would have expected, and noting that most of the test mileage was done at a steady speed freeway cruise, probably about as good as you will ever see.
Sadly, the driving dynamics were also about what I expected. The steering is light, but not unduly so, with some feel to it. But I found that almost constant correction was needed to keep the Navigator on course, but that was not its worst crime. That comes from the soft suspension which made the Lincoln feel floaty and wallowy. I can imagine passengers feeling sea-sick at times. Despite the softness, the Navigator still seemed to pick up ridges and bumps in the road, delivering pretty much the worst of all worlds. This is definitely a vehicle made for straight roads. Approach a bend, and I found myself actually slowing down, as I simply was not confident that this large vehicle with a relatively high centre of gravity would make it at the speed I would normally use. I am sure it would, but it just felt as if you were in danger of toppling the thing. It certainly rolls lots, and understeers plenty. Is it any wonder that I chose a test route that did not involve the canyons? I also worried about the brakes. This thing weighs nearly 3 tonnes which is a lot of metal to stop, and the impression given when pressing the pedal was that you would need a lot more space than you would expect. I recall an Explorer of similar design vintage proving that to me, and of being deeply scary in the wet, so thank goodness it was dry throughout my test, and there were no emergency stops called for. There is a foot operated parking brake. At least visibility is good. You sit up very high, of course, which gives you the as expected commanding driving position. There is plenty of glass, and although the back of the Lincoln is half a county away, you can judge quite easily where it is. To help you, there is a rear-view camera which projects onto the audio unit display screen. The Lincoln features blind spot assistance in the massive door mirrors by using a second mirror inset in the top outer corner which gives a different field of view, eliminating the blind spot completely. Although this is a huge vehicle, it was not hard to manoeuvre and even turning it round was not as difficult as you might imagine.
The consequence of it being huge, of course, is that it is spacious. Three rows of seats come as standard. Whilst you can have a bench middle row, the test vehicle did not, sporting two "captain's chairs" style seats. Massive in their own right, these are positioned on either side of a huge centre console, which lifts up to reveal a gigantic and very deep stowage cubby. It has cup holders in the upper surface and doubles as an armrest and a table for the occupants here. The seats are generously sized, and you can vary the angle of the backrest. They tip forward to allow access to the rearmost row. Truly this is a vehicle in which you could easily put 7 adults, as there is plenty of space in the back row. There are three separate seats, and there is plenty of legroom, headroom and even shoulder room. Getting in and out is not that hard, either.
With all seats erect, there is a modest amount of luggage space, which is very deep but not that long from back to front. More space can be created by folding down the seats. There are electric switches for the rearmost row, located on the right hand side of the boot, and if you press these, the asymmetrically split seats drop down to create a load platform flush with what had been the boot area that is plenty big enough for four people. Folding the middle row of seats down is a manual task. Flip the headrest down, pull the backrest down onto the cushion, then cantilever the whole thing forward a little, and it will now be completely flat and flush with the rest of the load area. There is an electric close for the large and heavy tailgate, but the button for this is inside the boot, so you need to press and then quickly stand well back. There are plenty of places for odds and ends on the cabin. Although the glovebox is disappointingly small and the door bins are next to useless, there is a massive cubby under the central armrest between the front seats which should be plenty big enough. There are a number of moulded recesses and cup holders alongside the rear most row of seats for the occupants there.
There are no different trim versions of the Navigator any more. Your only significant choices are Rear Wheel Drive or All Wheel Drive and whether to have the L extra long model, with its 12″ longer wheelbase or not. Premium for the former is $900 and for the latter $2165. Standard spec on all models includes: Retractable running boards; Privacy glass; Power adjustable heated and cooled leather seats with driver and passenger lumbar support and seat memory, the third row seating; Dual Zone Automated Climate Control; a 14 Speaker Premium Sound System with AM/FM Stereo with XM Satellite HD Radio, Auxiliary Audio Input, CD Player with MP3 player and rear seat audio controls; an Alarm; Auxiliary Power Outlet; Back-Up Camera; Cruise Control; Vehicle Anti-Theft System; Fog Lamps; Auto-Off Headlights; HID headlights; Luggage Rack; Front and Rear Parking Sensors; Power Tailgate; Front Reading Lamps; Power Adjustable Leather Wrapped Steering Wheel with Wheel Controls; the Sync system including Navigation from Telematics; Remote Boot Release; Universal Garage Door Opener; Intermittent and Rain Sensing Variable Speed Intermittent Wipers; Front Floor Mats; Keyless Entry and Power Door Locks; Electrochromic rearview mirror; Power operated, folding Heated Mirrors with memory function; Driver and Passenger illuminated Vanity Mirror. Among the notable options are Air Suspension, a Sunroof, and an upgraded Audio DVD Entertainment System with screens in the back of the front seats. The model tested would have retailed for $57,875 when new.
Although sales of the Navigator were initially very strong, they fell to below 10,000 units a year in 2009 and have stayed there ever since, reflecting no doubt a combination of the credit crunch and increased competition. With Expedition sales also far lower than they used to be, it was perhaps not a surprise that the model update that we were promised for 2015 turned out to be a revamp rather than something completely new, Ford citing lack of budget/business case to do anything better. As well as freshening the looks with new front and rear styling, they have replaced the long running 5.4 litre V8 with the more modern and efficient 3.5 litre V6, and updated the specification somewhat, but I suspect that, welcome though these changes are, this will be far from sufficient to bring the Navigator to a position where it can beat the competition. Although testing the Navigator was an interesting experience, it really was not a very good vehicle in so many respects that I suspect that nothing short of a fundamental rethink is going to fix it. That, we are now promised, will happen towards the end of 2016. If Lincoln wants to re-engage and fight Cadillac on equal terms, nothing less is needed.
Share and Enjoy