2009 Pontiac G5 (USA)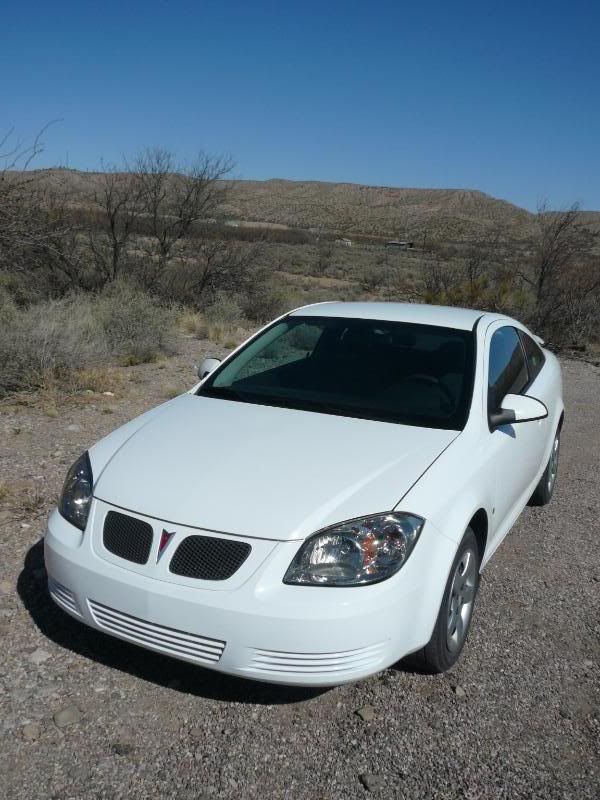 2009 Pontiac G5 (USA)

Back in 1981, General Motors launched the "J" car, their first effort at a front wheel drive car in the 1600 – 2000 litre class, a model designed to be marketed around the world, customised to meet local needs. In Europe, we knew this as the Vauxhall Cavalier and Opel Ascona. The cars were extremely well received and sold strongly, but by 1988 a replacement model arrived. In America, there was a larger family of  "J" car models, comprising the Chevrolet Cavalier, Pontiac J2000/Sunbird, Buick Skylark, Opel Firenza and even the pretentiously named and utter disaster in the showroom, the Cimarron by Cadillac. What has this got to do with the test car in question here? Well, the point is that these initial "J" cars soldiered on in the American market until 1994, by which time only the Chevrolet and Pontiac models remained, only a matter of months before GM Europe replaced the follow-on model Cavalier with the unforgettable first generation Vectra. The cars that replaced them, another Cavalier and the Pontiac Sunfire might have looked brand new, but under the skin they were still very close to the 1981 cars.

Unbelievably, these models, which were hardly leading edge competitive stayed on sale for a further 10 years. I drove a Cavalier in 2005, and although it was not as grim as I was expecting, its only redeeming feature was that it was now pretty cheap. GM fans rejoiced when they learned that finally the "J" car was to be replaced by a new model, based on GM's Delta platform, and to celebrate this fact, it would have a new name. Welcome to the Chevrolet Cobalt. Available as a four door saloon and a two door coupe, it was widely held to be not just a massive improvement on what went before (that was not exactly difficult, let's be honest!), but even something that was class competitive. When the hotter SS model appeared, the Cobalt even won several Group Tests in the major motoring magazines. I drove a rental spec Cobalt LS in 2006 and found it pleasant enough. At this time, there was no equivalent Pontiac model in the USA, though there was a model badged Pursuit in Canada and also as the G4 in Mexico. Proving that the art of badge engineering is not dead, Pontiac finally launched what was now called the G5 model for the US market for the 2007 model year.

Changes from the Chevrolet version were minor, amounting to the incorporation of a Pontiac style grille, and different rear lights, along with some trim and specification modifications. In deference to Pontiac's supposedly sportier image, the G5 was only ever offered as a coupe. 2009 was the last year of production for the G5, as GM announced that they would phase out the Pontiac brand completely. In any case, having finally learned that 10 years is too long a life for a product these days, the Cobalt/G5 range are to be replaced by the GM-Daewoo designed Cruze, which will finally go on sale in the US later this year. I have always though that the G5 looks neat enough, in an inoffensive way, and it is certainly quite a cheap car (last quoted list prices started from just under US$ 17,000), but this test was the way I was going to find out whether the car has any merit or not, or whether it is simply too old a design to be competitive.

Getting into a car like this having luxuriated in the space of a Taurus, and enjoyed the sophistication of an Infiniti M35, was clearly going to require something of a reset of one's expectations. It was dark when I collected my G5, although the white paintwork did give it some presence under the flood lights of the Albuquerque rental car centre compound. Immediately I noticed the large spoiler on the rear boot lid – something I would always see in the rear view mirror while driving it – but then illusions of hope that I might have the GT model were shattered when I saw the plastic wheel trims on the 15″ wheels, which meant that this was a rental spec base model. Getting in it, and clutching the hard plastic steering wheel made me vow never to be so critical of mediocre quality leather wrapped wheels again! The rest of the interior did not look so much like a budget car.

The design is quite cohesive, with well fitting elements to the dashboard, which flow to the door trims, something that no American cars would have done only a few years ago. Poke a bit harder and the plastics are actually rather hard but they do not look bad. I was less impressed by the fake carbon fibre strip across the dash, but as it is quite dark in hue, it does not appear as brash as these so called "features" can do. I did note that whilst the G5 had air conditioning, it definitely did not have climate control, but to be honest, this was not an issue. Far more of an issue was that I discovered the following day that it lacked cruise control. I rarely use this feature, but the day I had the Pontiac was the day I drove a long way on a lightly traffic-ed I25 freeway, and it would have been an absolute god-send. Among the other things you do not get, is a temperature gauge. There is however a trip computer display., and by pressing one of the buttons on the steering wheel, you can cycle through information which includes not just the trip miles, but average fuel consumption, oil life, average speed, tyre pressures and indeed water temperature. You do also get wheel mounted controls for the stereo system.

If you upgrade to the GT model, some of these lacunae are addressed: leather wrapped wheel, climate control, upgraded stereo, cruise control, front fog lights, 17″ alloys and sports suspension are all part of the deal.

For 2009, all G5 models come with a 2.2 litre 4 cylinder engine, which develops a healthy 155 bhp. This represents a 7 bhp increase on what was available in prior model year cars. When I first started the engine up, I was somewhat alarmed at the noise, for this did not immediately strike me as a refined engine. Indeed, it sounded more like a sewing machine on its last legs. However, get underway, and things get markedly better. In fact, the engine proved to be quite a good point of the G5, as not only did it make the car nippy, but once underway, it is pleasantly smooth and refined. Thankfully, given the huge distance I drove it in one day (574 miles!), it is very quiet on the freeway, thanks in no small part, I am sure, to the gearing. At 80 mph, the engine was spinning at only 2600 rpm. And yet, it did not struggle unduly when faced with a long and moderately steep incline. Around town, it was certainly well able to keep up with the traffic, too.

Better still, the engine proved to be impressively economical. The trip computer gave me an average of 32,9 mpg (US), which amounts to 39.3 mpg. Granted this was achieved at a steady speed, but that speed was 80 mph (yes, I know the limit in New Mexico is, err, less, but this is not Arizona with all its speed cameras!). The G5 comes as standard with a five speed manual gearbox, but like all rental cars, the test vehicle was an automatic. You get a simple four speed transmission, with no alternative modes, no flappy paddles, just the one lever which you pull back and forth, though you can select intermediate and low as an alternative to the "drive" position. The transmission shifted readily between the gears and was smooth in so doing. The steering is perfectly weighted and has reasonable feel, which coupled with predictable front wheel drive handling meant that although this was a significant step down in driving experience (and budget) from what I had been motoring around in, it was perfectly acceptable to drive. The ride is decent enough, too, and I found no issues with the brakes.
The cloth covered bucket seats proved extremely comfortable, meaning that I got out of the car, at the end of a long day and having driven it for 574 miles, feeling that it had not been the hardship you might have expected from a car in this market segment.

The G5 did nearly fail at the very first hurdle, as when I opened the boot, the slot through which to thread your luggage is so small, that I thought my suitcase would not fit, even though I could see that the floor area of the boot is pretty generous. It did fit. Just. A combination of a short rear end and quite a high sill, though, does introduce this rather practical challenge. The boot can be extended in size by folding the rear seat backs forward if necessary. As for space for people, well, I did try the rear seats, purely so I could report on them. Getting into the back requires a certain athleticism, as only the seat backrest tips forward. Once installed, there is reasonable room for two people. Three would find it rather tight, and they will have limited legroom if the front seat passenger has long legs. Although there was ample headroom for me, I did note that my head was almost on the rear window rather than the roof, thanks to the steeply raked coupe styling. There are limited places for odds and ends in the cabin, with door pockets, an average sized glove box and a few smaller stowage areas in the centre console.

I took the G5 back after a day, and swapped it for something more expensive. Why? Well, as I pointed out to Mr Avis from whom I had sourced it, not because there was anything mechanically wrong with it. The lack of cruise control irked, and, if I am honest, it was "because I could". I felt that I had got the measure of the G5, and I now had an opportunity to try something else. Reading this assessment, you could reasonably conclude that the G5 is actually a pretty decent, if unexceptional car. I think that would be a fair conclusion. It sold well in Canada. So well, that it became Pontiac's best selling model. However, standards continually evolve and improve, and it is probably fair to suggest that the G5 has just about had its time, and the world is ready for its replacement – even if, rather sadly, it will not bear the Pontiac badge.
2010-04-08 20:32:14
Share and Enjoy