2010 Land Rover Discovery 4 TDV6 HSE (GB)
| | |
| --- | --- |
| | The Motor Forum's most recent outing was to the Land Rover Experience at Coniston Hall, North Yorkshire. Read the account and see the pictures here. |
| | |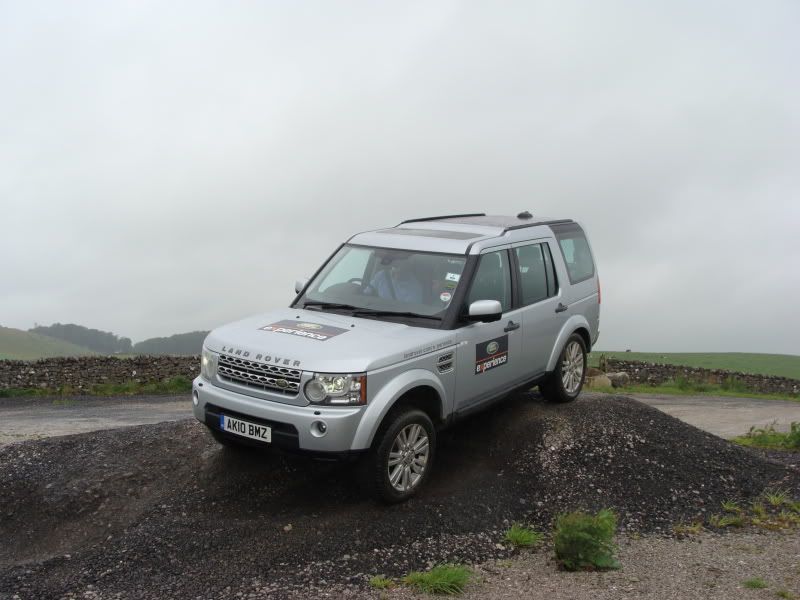 Michael's Report:
I was glad of rain on the day of the Land Rover Experience forum outing to North Yorkshire. Having met up with Spec B at my house we then had a spirited dash across the Dales to Skipton to meet Piers.
The Land Rover Experience is based at Coniston Hall just outside Settle. A very nice location but it's the metal I was interested in.
I'd won this experience on the strength of an online form on the LR used cars website and a few weeks later got a call telling me I'd won. This event was very clearly a marketing device for Land Rover and the sales pitch was uncomfortable at times but I enjoyed being shown around a car I thought I was familiar with to discover new things. New functions like the surround CCTV iare a welcome and useful addition but the general upgrade of the interior lifts the quality and design into Range Rover territory which will no doubt appeal to many customers.
First part of the experience was using the car on road. Here the Disco4 plays its first ace with the impressive new 3.0 TDV6. The performance improvement over the old 2.7 is stark as is refinement. I'm sure the engine would make a very pleasant long haul companion and by all accounts it's impressively economical too. Handling feels much the same as the Disco 3 but the revised interior makes the whole affair far more luxurious. Some 0-50-0 experiments demonstrated the quite frankly astonishing braking power while braking hard from 30 with two wheels on the grass saw the car stop straight and true.
But the main event was getting the car off road and here is where a Land Rover ought to excel and it did. The Disco climbed and descended inclines which would have stuffed many a hardcore 4×4 on offroad tyres let alone a Chelsea tractor on road tyres. The Discovery just demolished every obstacle we could throw at it and for me that was a bit of a problem. Until we'd taken the car offroad I was hooked on the Disco4. I'd managed to overlook the dated looks and started working out how I could afford one in my head but when it went offroad it kind of lost its soul. It did everything for you and made it all far too easy. If you wanted to offroad your car I suspect you'd want a bit more involvement so you have to wonder why the Discovery really needs all this ability. With every Discovery I've seen since the Experience I've wondered if it will ever approach its capability. The Discovery is a fantastically able car and would be well within its comfort zone for my utility needs but here again the D4 hits problems. It feel so little like the utility vehicle the D3 was that I'd be very reluctant to use it as intended. The 3 had more of an honesty to it even if the interior quality was distinctly ropey in places.
Overall I felt the Discovery 4 was a very confused thing. It wants to be a Range Rover while keeping the Discovery utility and it just doesn't work for me but I suspect the interior and refinement will win over a lot of new customers – shame the capability will not be used by so many.
Piers' Report
Skipton neslted under leaden Sunday morning skies when I met up with Michael and Mark following an early dash up the M6 and a sprint across the rain-lashed Lancashire moors via the M65.
Our destination was Land Rover's Experience Centre based a few miles outside Skipton; our vehicle for the afternoon was a Discovery4 3.0 TDV6 HSE. I'd been keen to try one of these after Martin and I were impressed by the blend of on-road comfort and refinement and crushing off-road capability of a third generation 2.7 TDV6 HSE at Eastnor Castle some three and a half years ago.
Following the rather awkward briefing Michael has already described, we ventured outside with our tour guide to be escorted to our vehicle. First impressions on climbing inside was that the cabin exuded a slightly uneasy mix of high luxury – soft leather with heated seats all round, touch screen infotainment, leather-lined dashboard top – and hose-down practicality – rubber floor covering, some decidedly iffy plastics. It falls between two stools, offering neither the out and out ruggedness of a utilitarian 4×4 nor the opulence of a Range Rover. For a car with a list price north of £50k, it felt a little below par.
After being talked through some of the car's features we set out on the road. Mark and I were ensconced in the middle row of seats, which it must be said is not a comfortable place to spend time. The accommodation on offer was a perfect demonstration of the curious paradox of large SUVs – that despite their imposing external dimensions, they offer cabin space and comfort that is almost certainly bettered by a VW Golf.
This impression was not helped by a sensation that my memory of travelling in several Discovery3s did not recognise – a rather knobbly, unsettled ride over the lumpy back lanes heading over the Dales towards Settle. My recollection of the Discovery3 – on identically sized 19-inch wheels – was a car that would simply bludgen the road surface beneath into submission, leaving the occupants conveyed serenely above. This was not the case here. The topography of the road surface was more than evident and I found the back of the car a rather unpleasant place to be. Indeed, it would cause the onset of a feeling of carsickness that lasted for some time afterwards.
Nevertheless, I was keen to have my turn behind the wheel. Again, reality disappointed my memory of a supremely effortless drive. There is no doubt that the 3.0 turbo diesel gives the Discovery far more urge than the old 2.7 managed – where the 2.7 was just about quick enough, the 3.0 is quick in its own right. As unlikely as it may sound, the car will launch from a standing start with some energy. On the move it's not quite so zesty, with a mushy throttle and slow witted gearbox (when left to its own devices) encouraging stately rather than spirited progress.
There's no doubt that the way the Discovery controls its immense mass on the road is impressive. The car never lurches or heaves around in the way the ghastly original model did, but by the same token you are never unaware of its bulk. The steering is remarkably precise, but the wheel is huge and the rack fairly slow geared which, along with a glutinous feel, means that you feel like you're simply inputting commands that are translated far away at the road wheels, rather than actually driving. This isn't a car with handling, as such. You don't lift off, feel the tail go light and give it a dab of oppo. You just turn the wheel and the car's line adjusts to suit. No more; no less.
The impression of steering something more like a ship than a car wasn't helped by my inability to find a satisfactory driving position in a hurry. The seats and steering column were all fully electrically adjustable so it wasn't a case of having to fiddle about with levers, but I couldn't escape the feeling of sitting far too upright, dwarfed by the enormous tiller in front of me. Given more time I'm sure I could have been more comfortable, but I didn't manage it this time.
However, it pays to bear in mind that the Discovery is an accomplished off-road vehicle made good for the road and not a road car that can tackle the odd muddy farm track. And it was when we headed for the hills that its talents truly shone. On the demonstration course our instructor edged the car down a steep, rutted track which, at its end, tipped over into a near-vertical eminence covered in wet (for it was raining) concrete. The car – that's to say two and a half tonnes of Land Rover Discovery shod with standard road tyres – simply clung to a surface you wouldn't have been able to crawl up on hands and knees, let alone stand on… then put it in reverse and calmly backed off it, without a squeak of protest from the machinery. It was mind-boggling stuff.
He also demonstrated its gravity defying roll angles, making sure to tackle to obstacle both ways so that all of us had the chance to look out and see mud and puddles six inches away the other side of the glass. Then it was our turn to tackle the rough stuff. At one point when Mark was behind the wheel, the instructor issued the somewhat unlikely command to put the car in neutral and simply let it start to roll down what must have been at least a 45 degree, mud-covered hill with an unforgiving wall of trees at the bottom. The car started to gather momentum as it rolled down, at which point our guide simply flicked the Hill Descent Control button, which instantaneously and authoritatively reined the car in, enabling us to continue our descent in perfect safety.
The gadgets don't just help the car to negotiate difficult terrain, though; they also help the driver to guide it through. One feature I was keen to explore were the cameras mounted around the extremities – on the front, sides and rear. The front and side views are best ignored when off-roading for, as the instructor demonstrated, they have a habit of making oven the most precipitous slopes look perfectly flat. However the side cameras proved their worth for climbing over one of Land Rover's 'terrapods' – the hump-backed bridges made out of shiny metal. There is probably three of four inches or clearance to either side between the tyre and the edging rail as you cross, so not much margin for error. This is compounded by the fact that there are rollers on one side deliberately designed to cause a loss of traction and resultant slip in one direction. Even so, with the cameras you can keep an eye on exactly where each front wheel in without needing to ctcik your head out of the window, which could be extremely handy.
The Discovery4 3.0 TDV6 HSE was a remarkable and remarkably interesting vehicle to drive, but in my case the experience had the opposite result to that which Land Rover would like in that I emerged with less inclination to own one of its products. For my taste and for the sort of driving I do, the dynamic compromise would simply be too great. Getting down into my car again and setting off, feeling information about the state of the road surface streaming to the seat of my pants and the palms of my hands through a gently moving wheel, enjoying the solid weight and precision of the steering and, most of all, having a razor sharp throttle under my right foot, was a huge pleasure rediscovered.
2010-07-26 21:55:14
Share and Enjoy