2010 Hyundai Elantra 2.0 GLS (USA)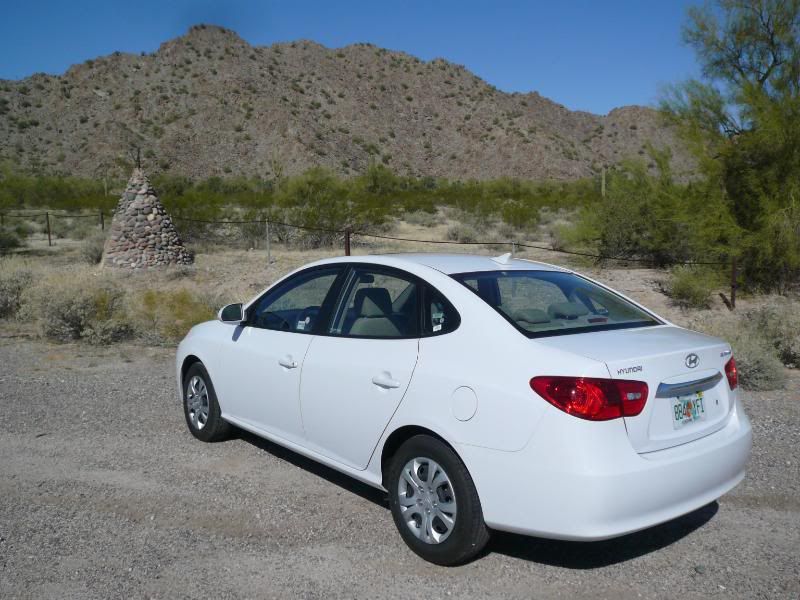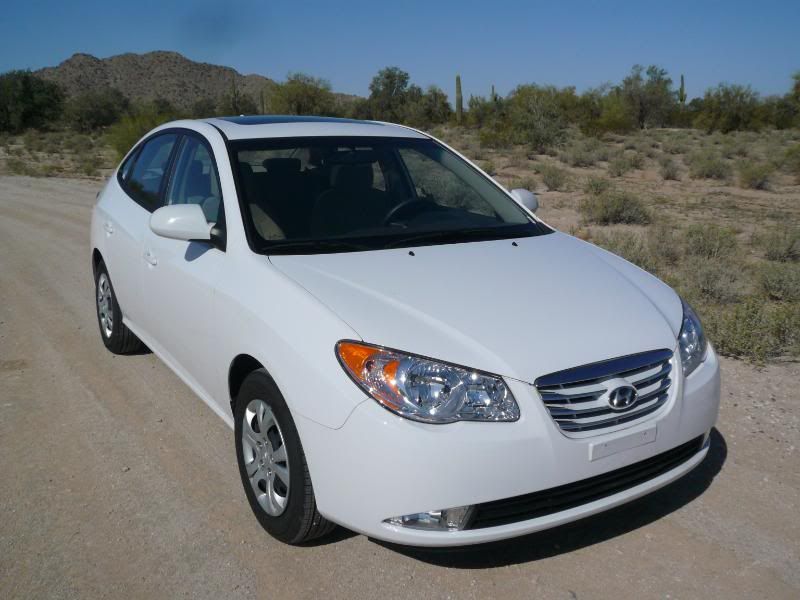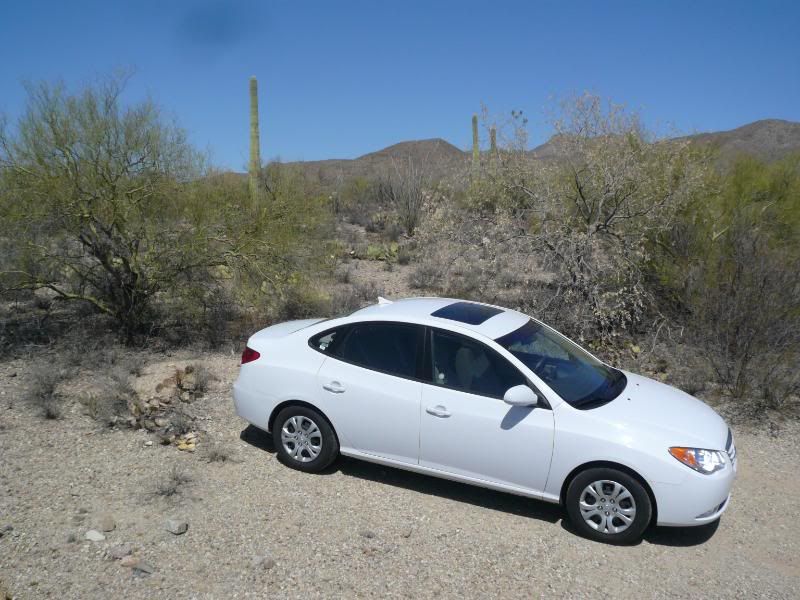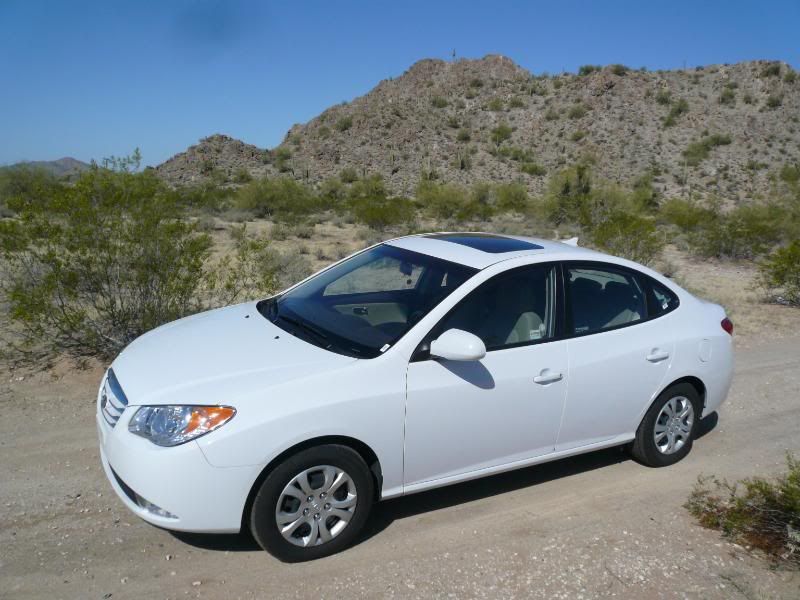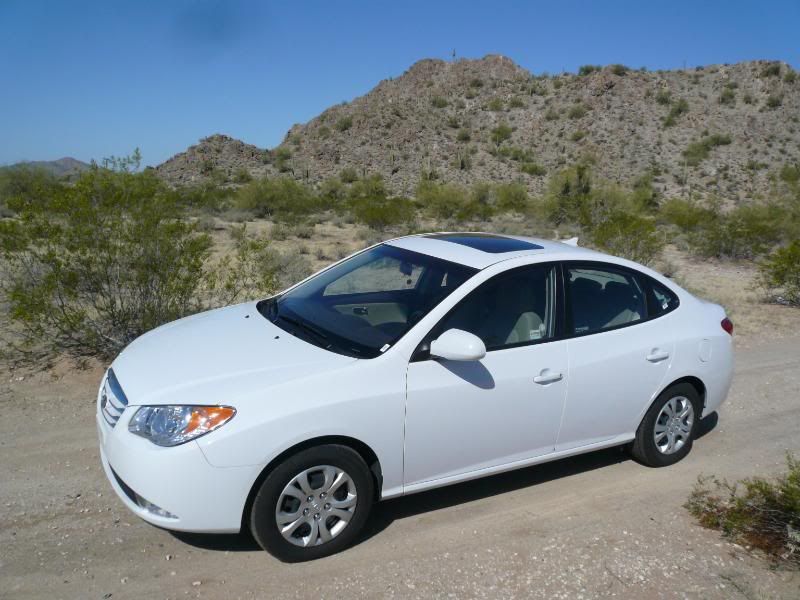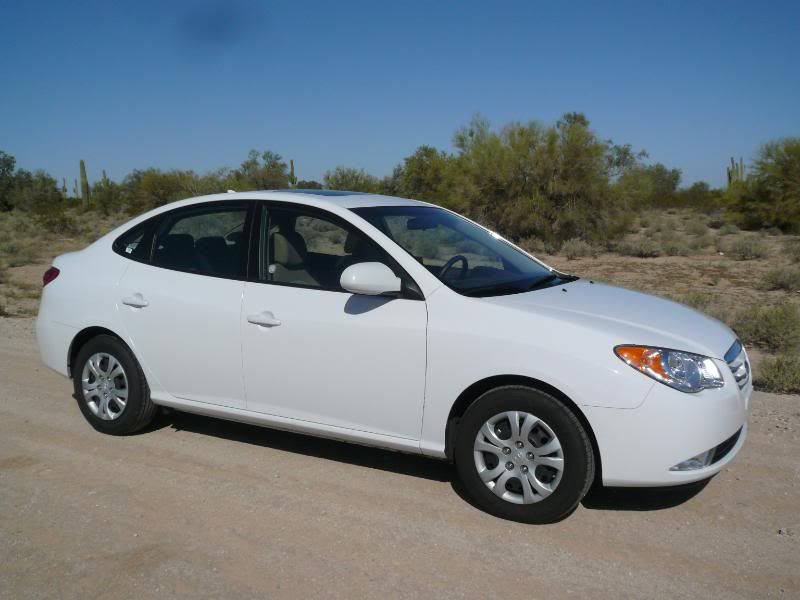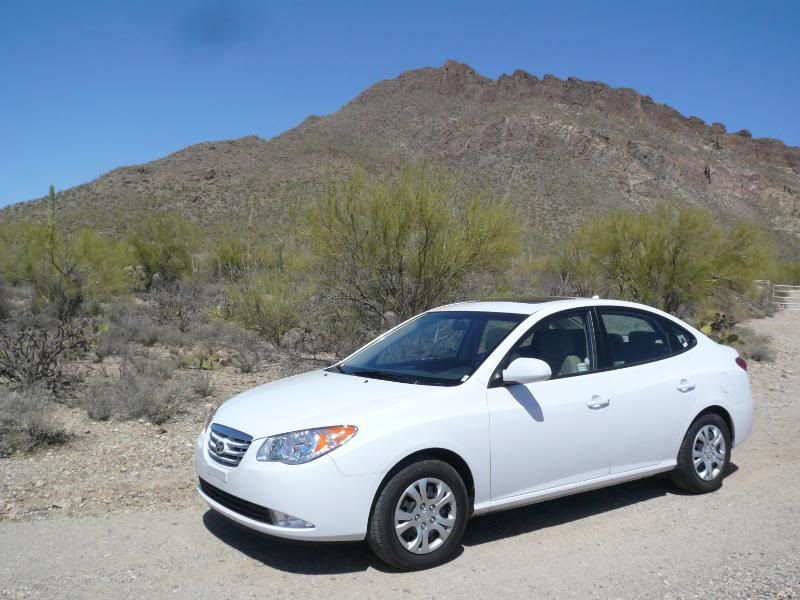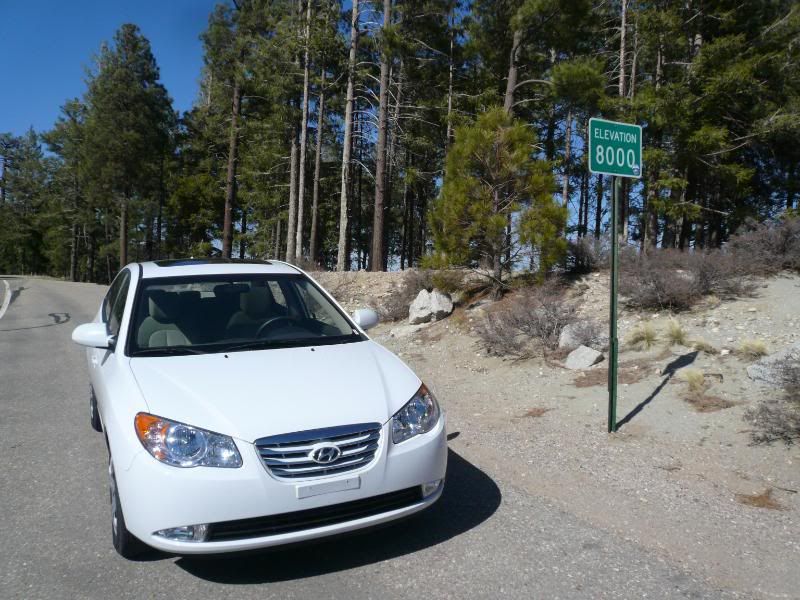 For those who can recall the early Korean automotive exports to western markets, 1991 was the year of the big surprise. This was when Hyundai replaced the now completely forgotten and unlamented Stellar with a new front wheel drive car, which they wanted to call Elantra. Lotus objected that this sounded too similar to their Elan, and so in Europe the car appeared with the moniker of Lantra. It received such a positive press in the UK, that when at least one well known magazine compared it against the Vauxhall Cavalier and Ford Sierra (by then an old design, admittedly), the Hyundai was declared to be the winner. If this was not a wake call up to the established manufacturers, then it should have been. Whilst the Lantra was perhaps not quite as good as the magazines claimed, it was a big improvement on what had gone before, and this is something which every successive new offering from Hyundai and later from Kia  has achieved such that their cars now deserve to be taken very seriously. Not having much luck with names, the next model was called Avante in Korea, and this time Audi objected, so in Europe the two following generations were still called Lantra.
When Lotus relented, the third generation car did become Elantra, and whilst these cars sold steadily in Europe, they never made a huge impression. By the early 21st century, Hyundai decided to do what others had started also to do, namely to design different cars for the major markets of the world, meaning that the fourth generation Elantra, launched at the New York Show in April 2006 was confined to Asia and America, with the i30 hatchback serving European markets. Just to confuse matters, the i30 Touring is sold in America, badged as Elantra Touring, even though it shares very little with the sedan model. The last Elantra I had experienced was a third generation
car, which I drove around Tasmania, and which I found to be surprisingly capable. Until now, the fourth generation (HD) car had eluded me, and with a new model starting to filter onto the US markets, I had assumed I was not going to experience the car which many had reckoned was among the best in its class for the past few years. When the rental car famine, caused by a combination of spring break and spring training (baseball) at Phoenix airport abated, Hertz suddenly seemed to have several Elantra on fleet, though I noted all of them were Florida plated. I decided to try one for a couple of days.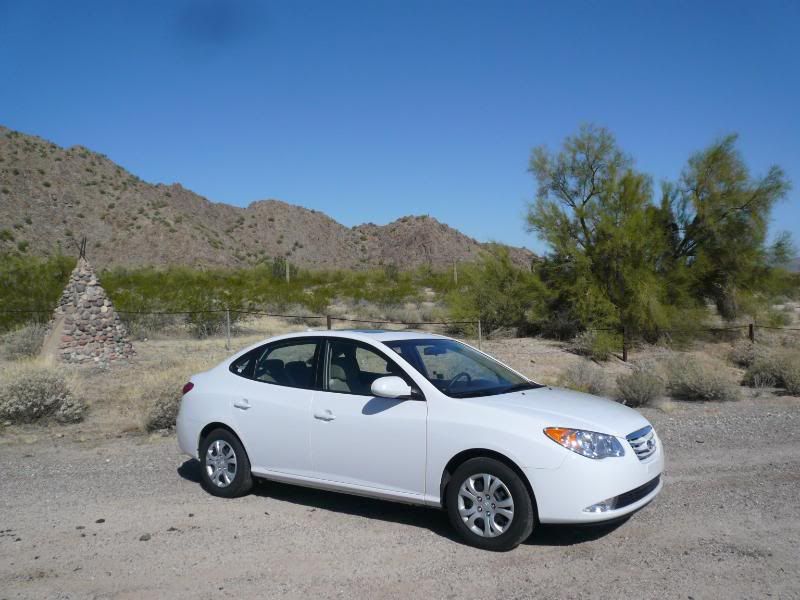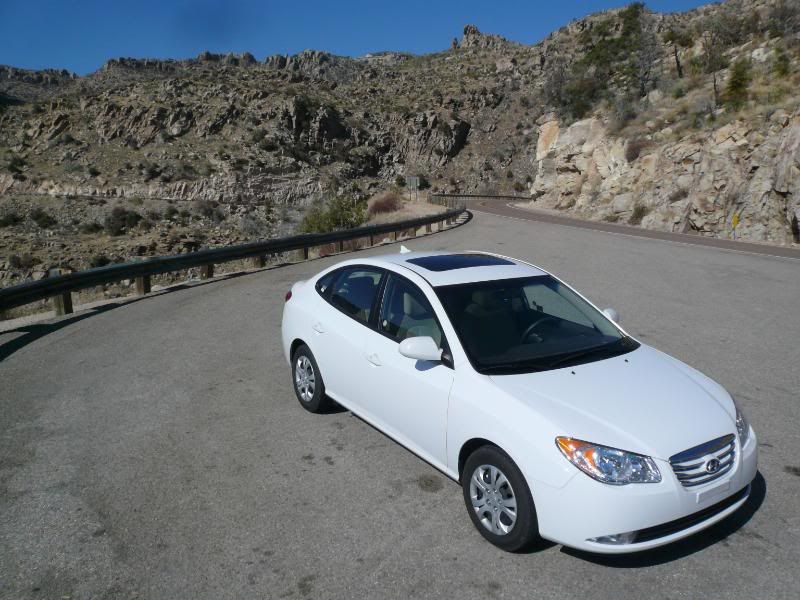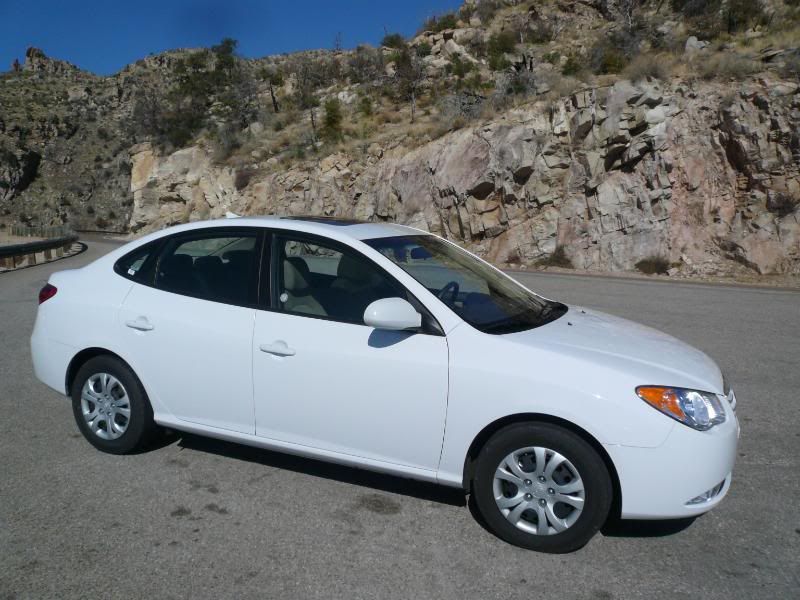 In America, the 2007 – 2010 model Elantra was only offered with one engine, a 4 cylinder 2.0 litre petrol unit, developing 138bhp. As the Hyundai is quite a small and light car, this is plenty to endow the car with a reasonably lively performance. It is noisy when accelerating, though. However, once cruising, the engine note is very subdued, and the engine itself is smooth and refined, so it is a modicum of wind noise that you hear rather than anything else. The test car came with an automatic gearbox, and this is an old style offering, with just 4 gears, and a gearlever with the classic PRND32L markings, and nothing else. No choice of modes in this car, not that you would really expect it in this sort of vehicle. Fuel economy seemed good, as I averaged 34 mpg (US) during the test period. Although there was a green "ECO" warning light, or rather an encouragement light in the bottom off the speedo, which seem to go out if you exceeded about 2,800 rpm, I don't think this visual tool had much to do with the economy levels I obtained.  After driving three larger cars on this US trip, the Elantra felt pleasingly nimble, and almost fleet of foot on the bends. In absolute terms, it is nothing special, but a combination of steering that is not unduly light, and a decently sorted chassis with the sort of safe predictable front wheel drive handling characteristics that are so unfashionable to the world's motoring journalists meant that I actually took the swooping bends of freeway intersections and the twisties I found up on Mt Lemmon, outside Tucson with some gusto. It is not a sports saloon, and does not pretend to be, but it is far from purgatorial to drive. It is not bad to ride in, either, as the suspension does a decent job at smoothing over the bumps on the highway.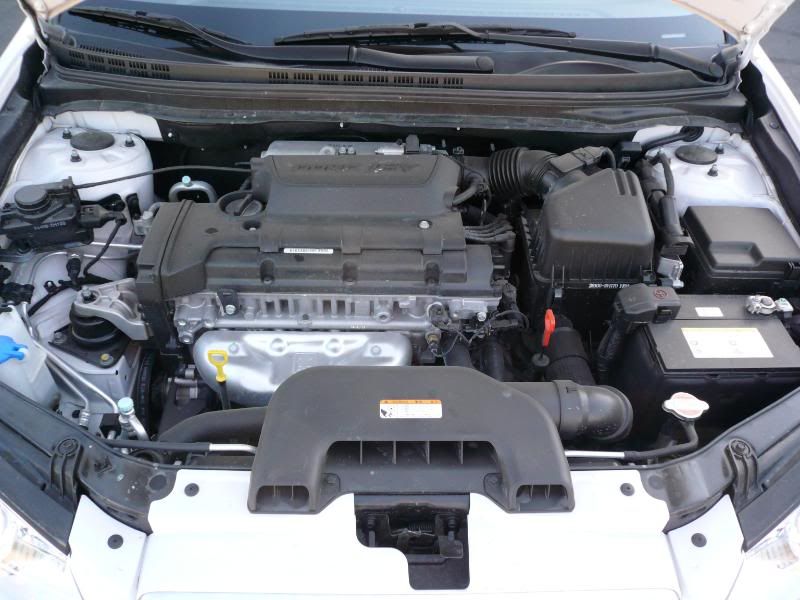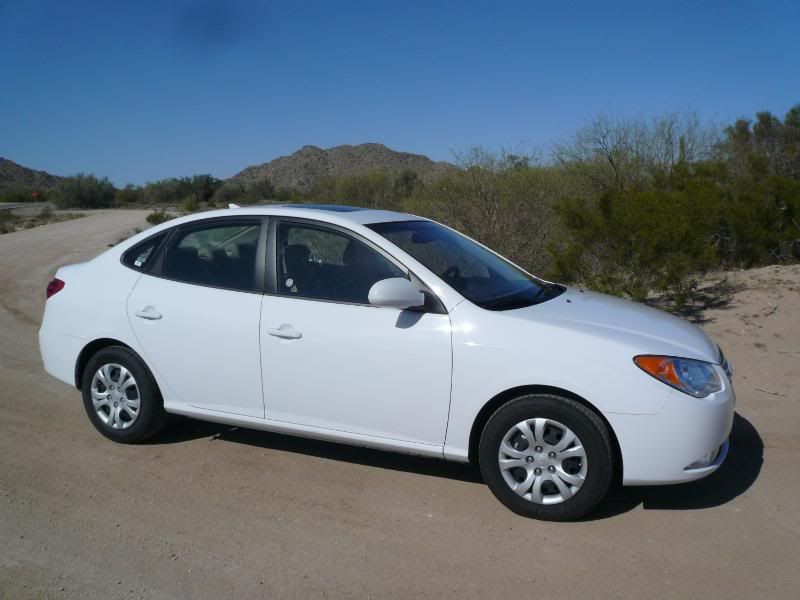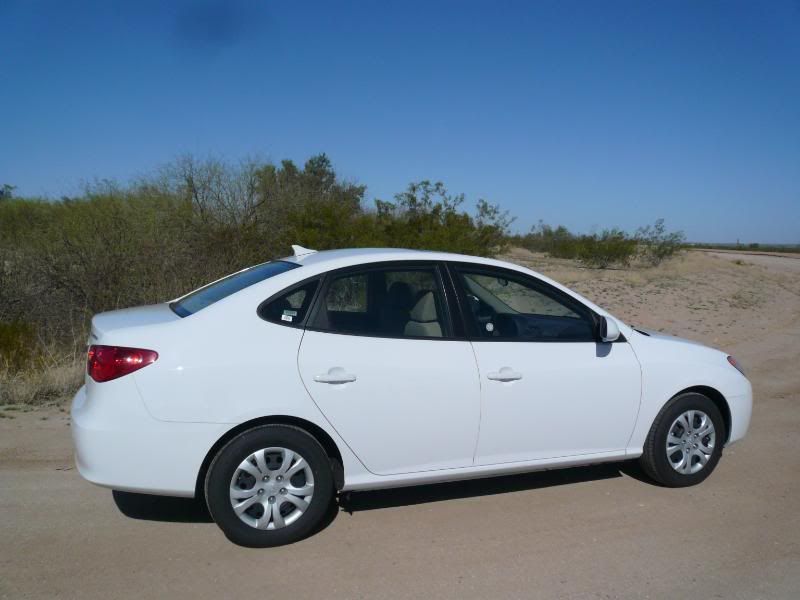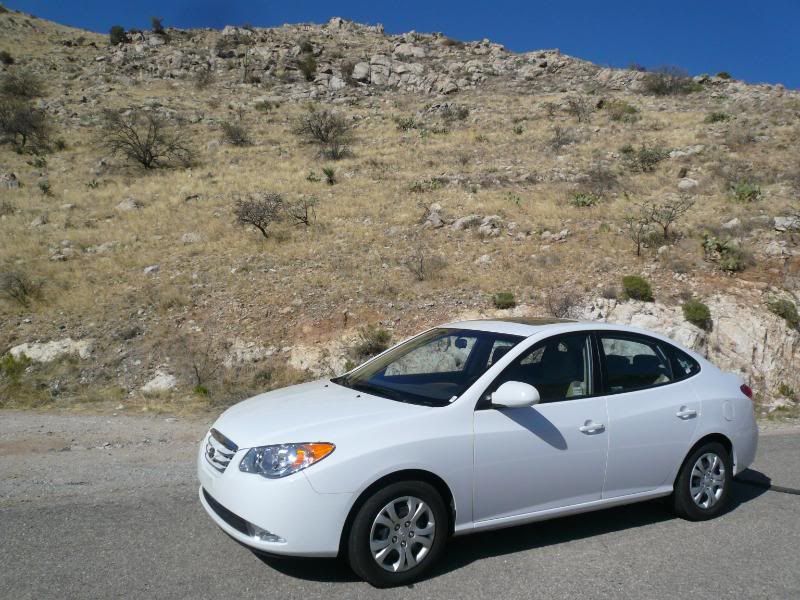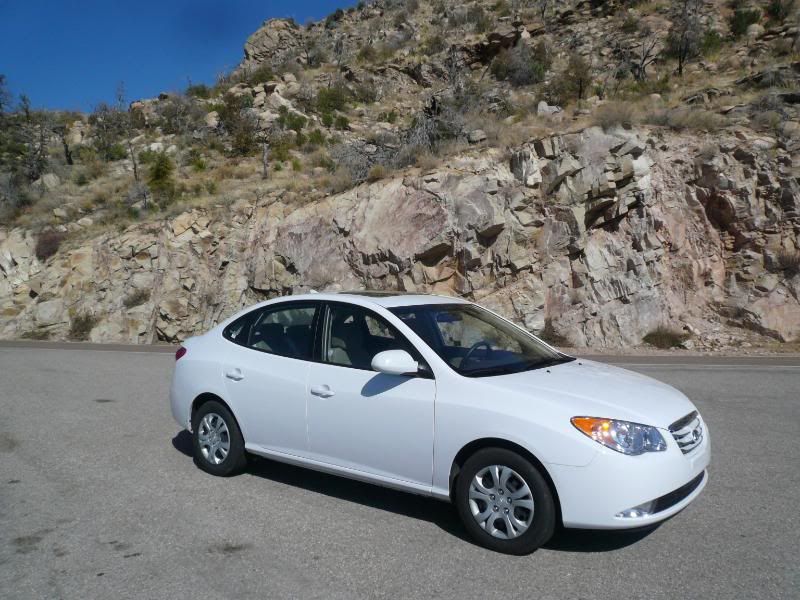 The inside of the test Elantra was finished in what one might call Chocolate and Tan. This looked better than it might sound, as it avoids the unremitting grey that can be a feature of so many cheaper cars these days. Some of the plastics are still rather hard, especially on the door casings, so the tactile impressions are not as good as the visual ones, but even so, the interior looks perfectly acceptable for a car of this class. The dashboard also sports a modicum of aluminium look plastic, on the centre console and the wheel, which is tastefully done. The dash itself is simple and restrained. There are only three dials – speedo, rev counter and fuel gauge. Everything else that you might need to be aware of is communicated via a warning light. The centre of the dash contains the decent quality audio unit and the dials for the air conditioning system. Two column stalks handle the rest, with the cruise control functions set into the right hand steering wheel spoke.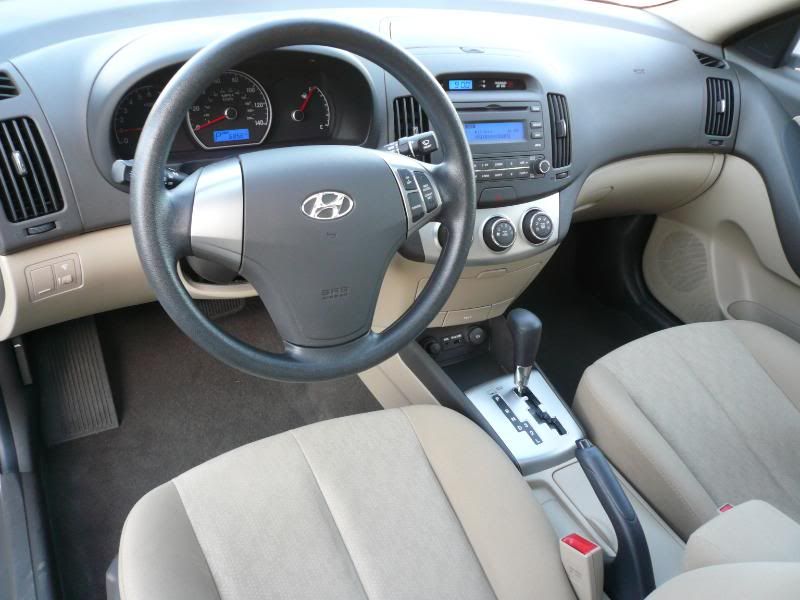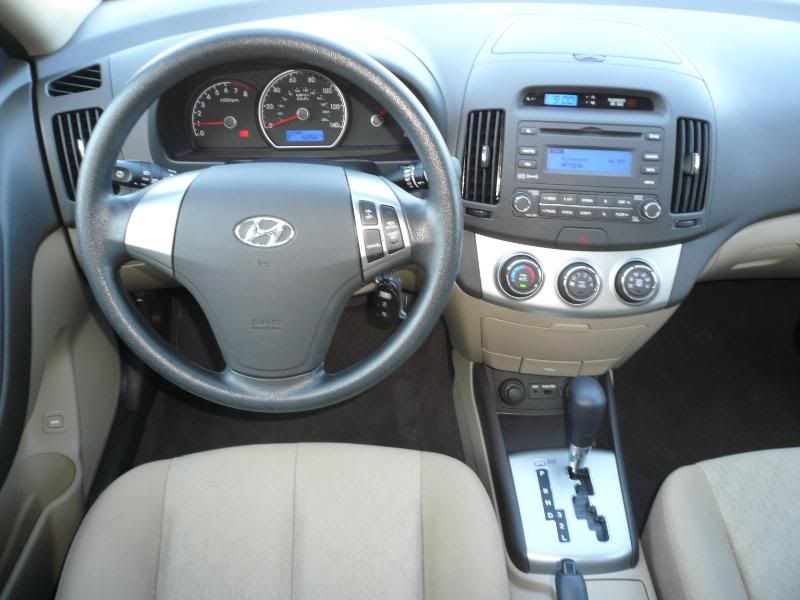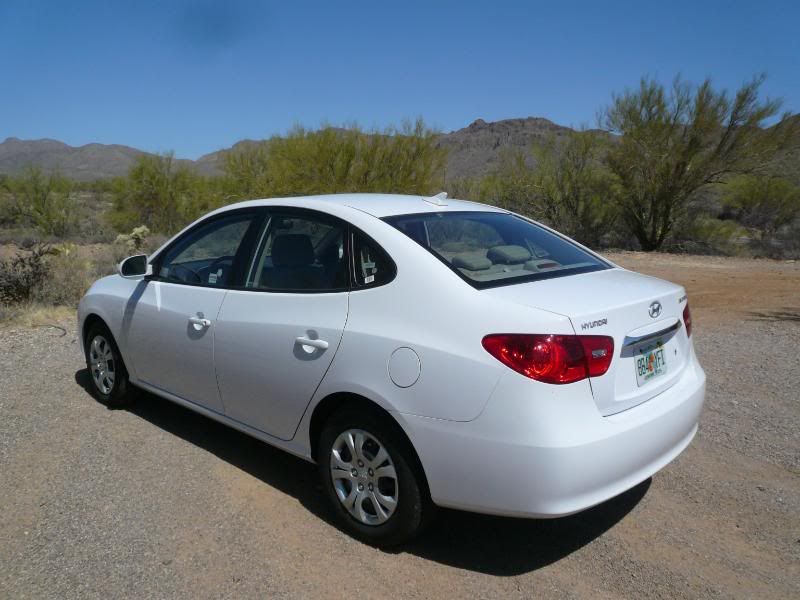 As a driver, you sit high in the Elantra. There is a telescopic height adjustment available, but even on its lowest setting, I found that I was perched a little higher than I would have liked, certainly given that the steering wheel, also telescopically adjustable, would not go as high I then wanted. Initially it felt a little awkward, but within an hour or so, I did not really notice the lofty driving position. The seat itself proved very comfortable, and is covered with a material that is not quite velour, but of that ilk, and is rather nicer than some of the truly horrid stuff used when leather is not.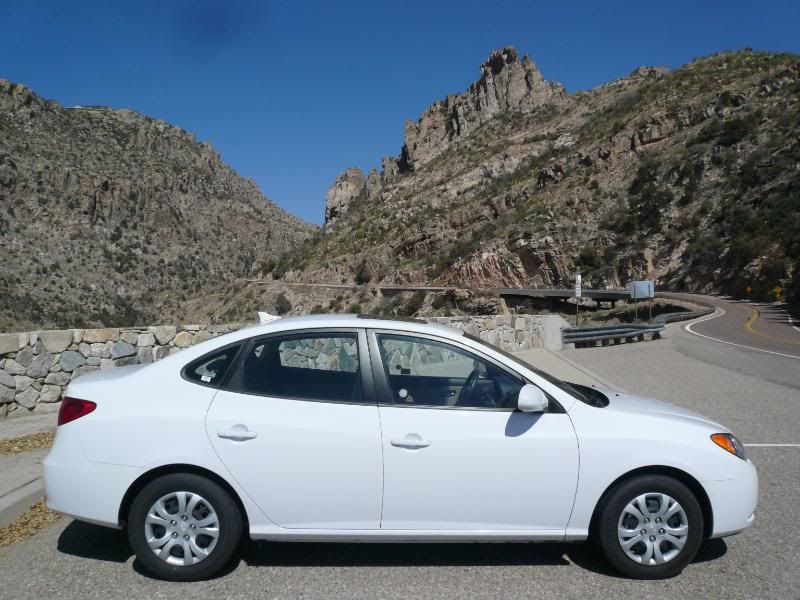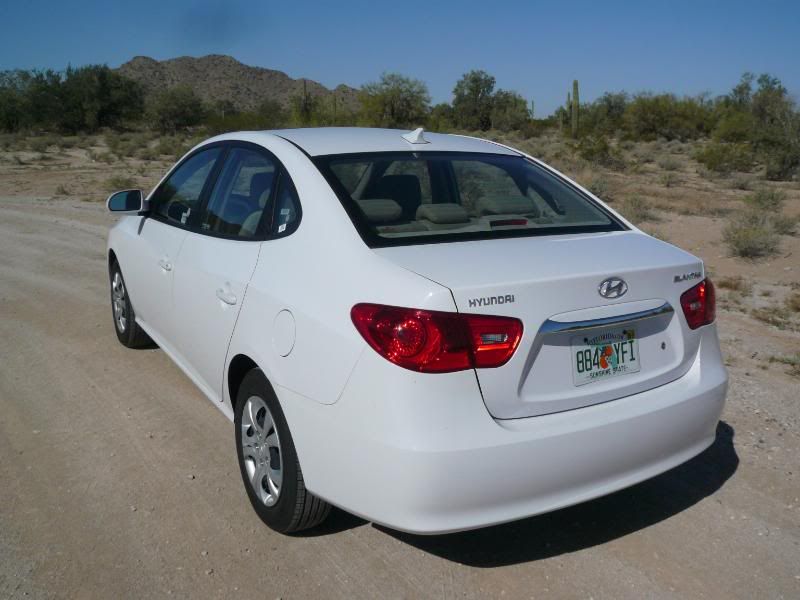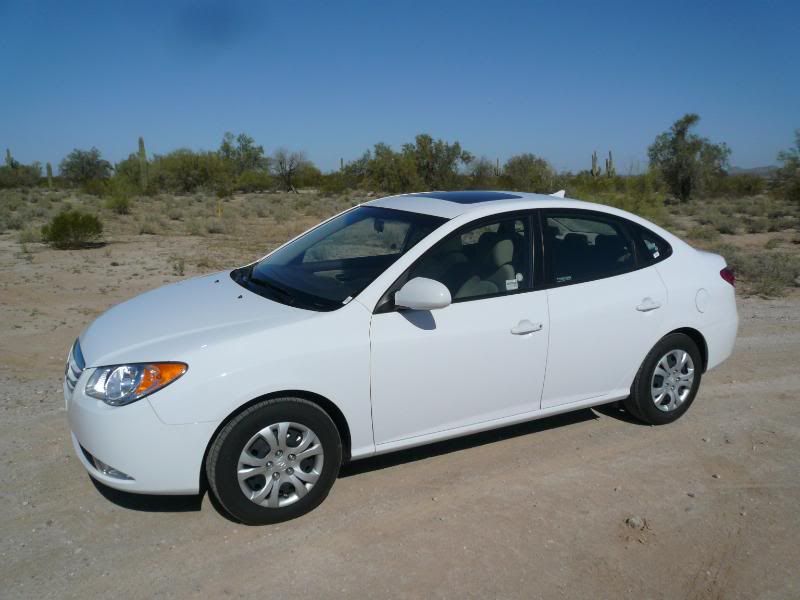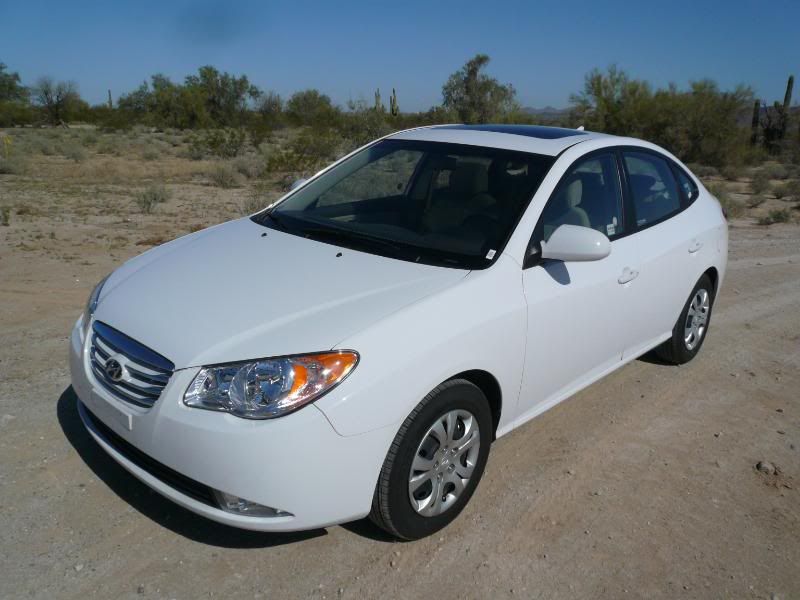 Rear legroom in the Elantra is surprisingly good, considering that this is not a big car, but headroom is quite tight, with my head almost touching the roof lining. There is a decent sized boot, which can be extended by dropping the asymmetrically split rear seat backs down. There is a space saver spare wheel in a well under the boot floor, and you could hide a few odds and ends around it, to save them from rolling around the main luggage area. Inside the cabin, you get the usual sorts of amenities for stowing bits and pieces: glovebox, door bins, a cubby under the central armrest, a deep cubby on the top of the dashboard and a deep area under a flap below the air conditioning controls. Rear seat passengers have to make do with small door pockets and nets in the back of the front seats, which carried one of those priceless "health and safety" style warnings advising on the maximum weight of any items to be stowed in there.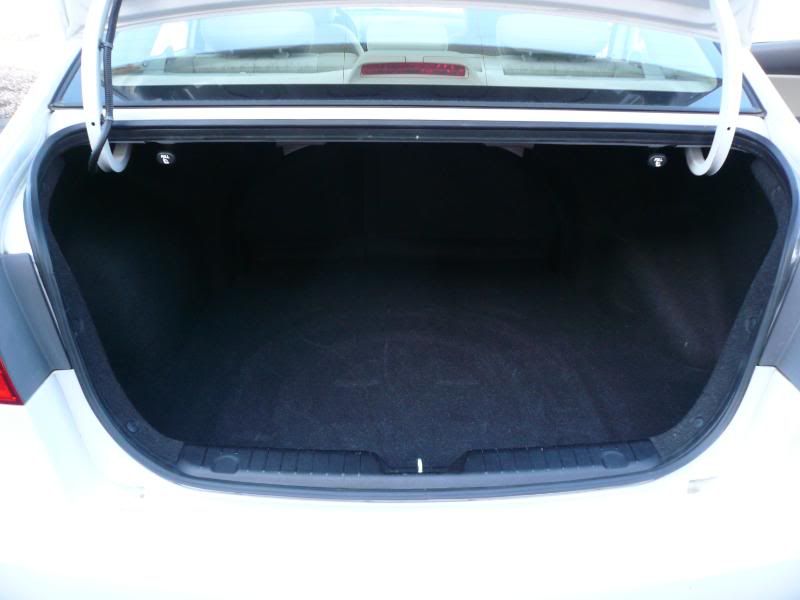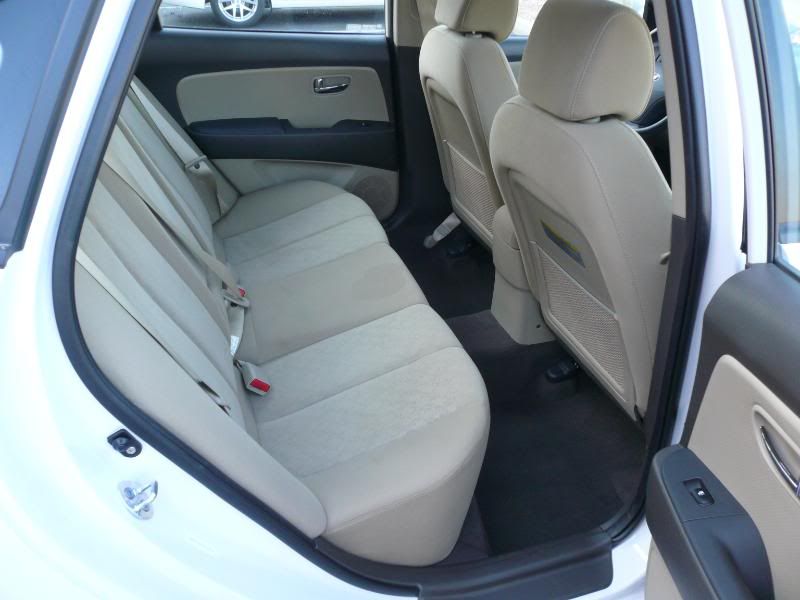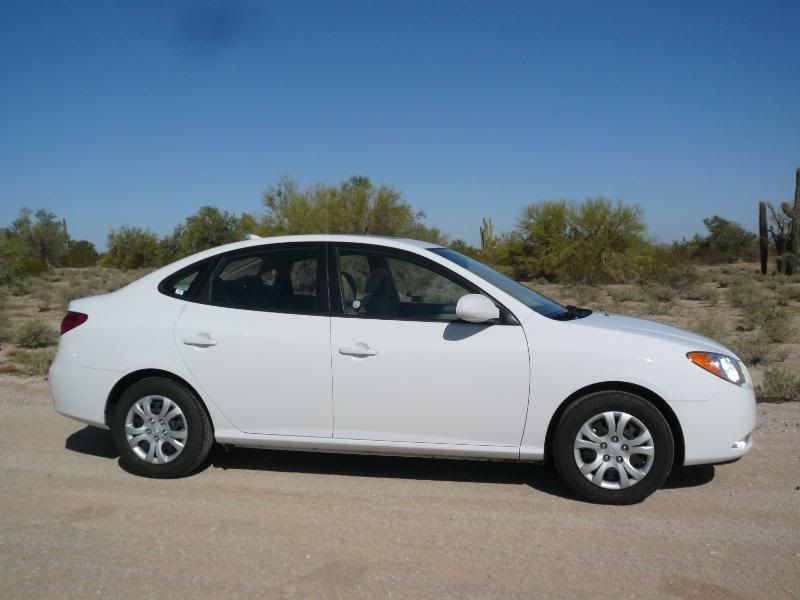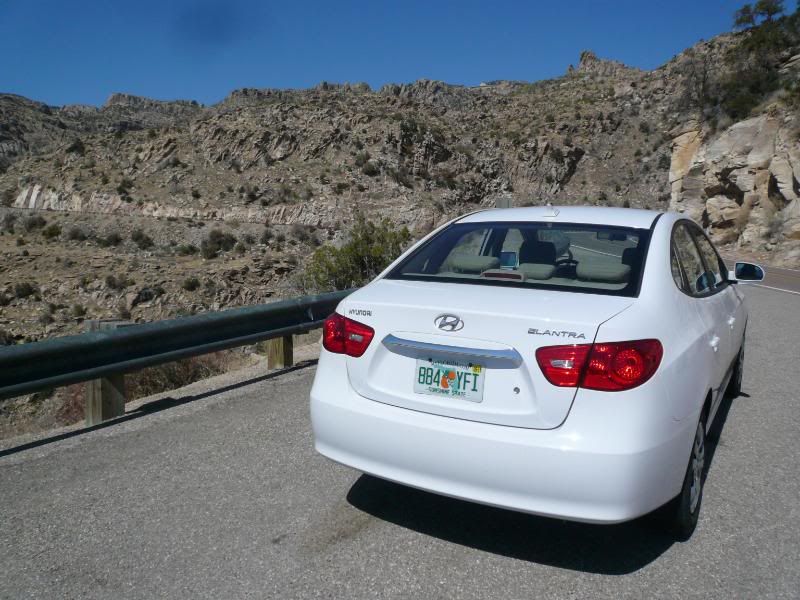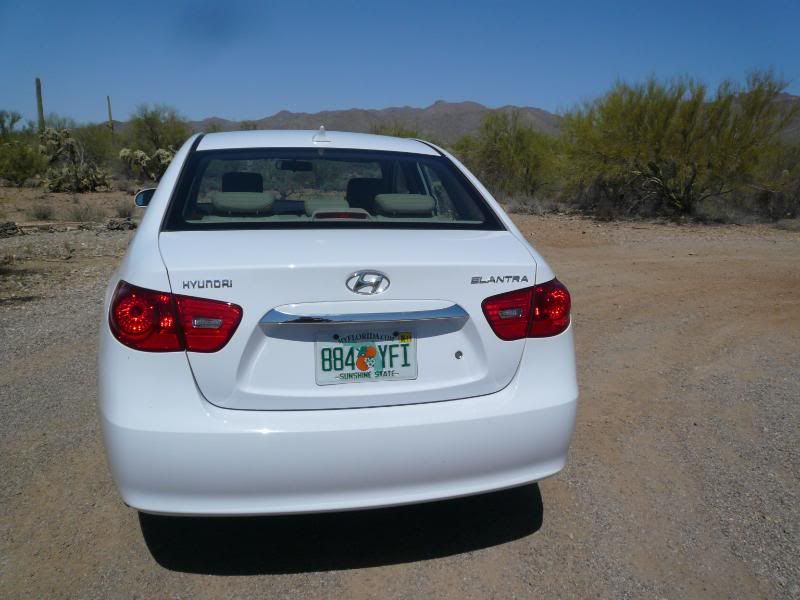 The test car was a GLS model, which is one above the entry level "Blue", but below the range topping SE model. For $1750 above the base, GLS trim brings you the 4 speed automatic transmission, air conditioning, cruise control, a satellite radio with MP3 connectivity, and fog lights, all of which are well worth having. Paying a further $1000, and upgrading to SE and you get a leather clad wheel, traction control and anti-skid system, and alloy wheels. Even the SE model at a dealer price of under $18,000 is not costly, compared to many of its competitors. Partly this is due to value pricing from Korea, but there are also some areas where there are examples of cost-saving. Most flagrant is the single skinned boot lid, which has several cut outs in it, with plenty of wires exposed, which looks particularly cheap. Another surprise was the sunvisors, which are particularly hard and unpleasant to the touch. Even so, compared to Korean offerings of only a generation back, this car feels and looks no worse than class average.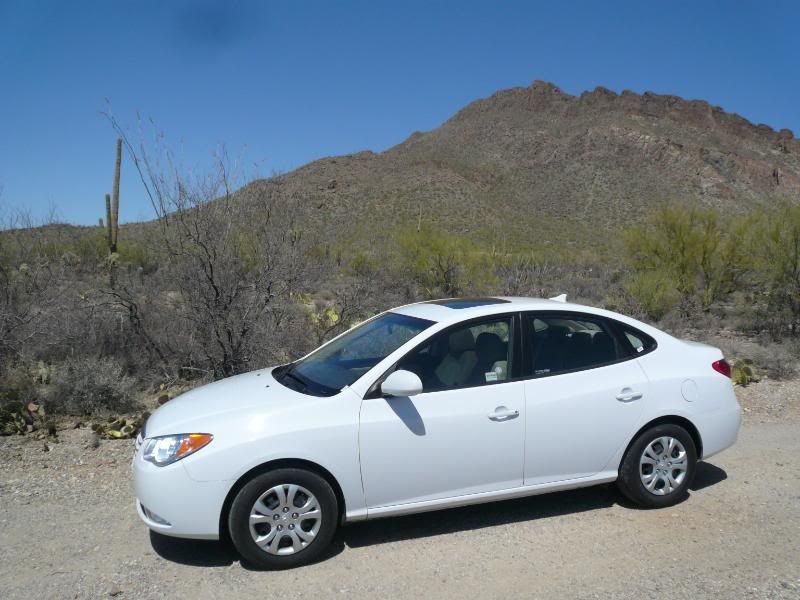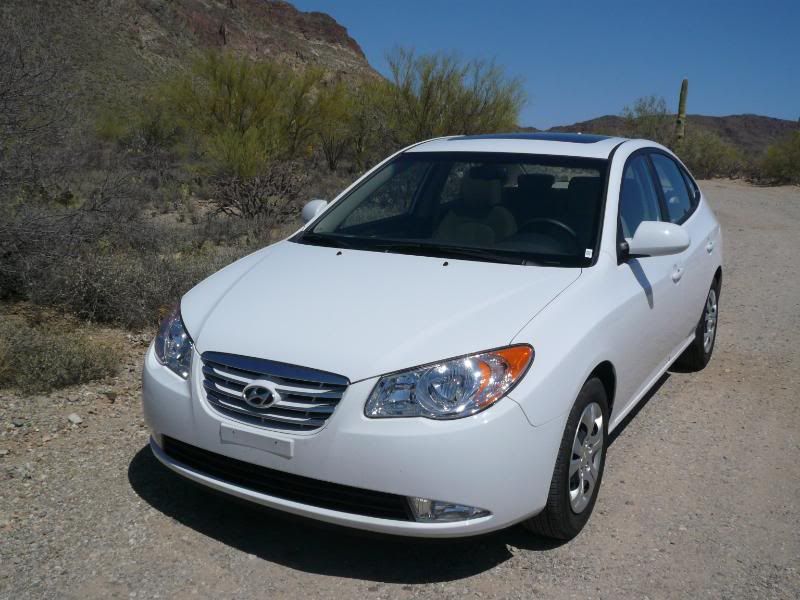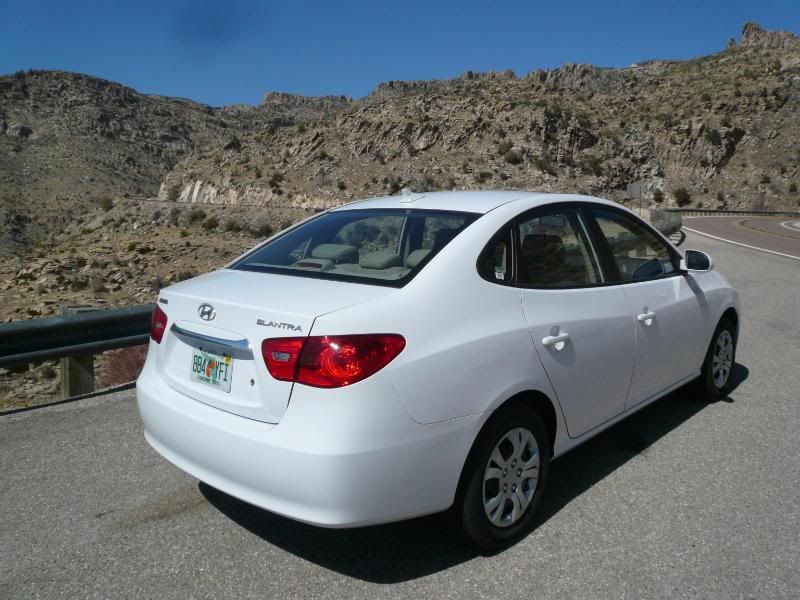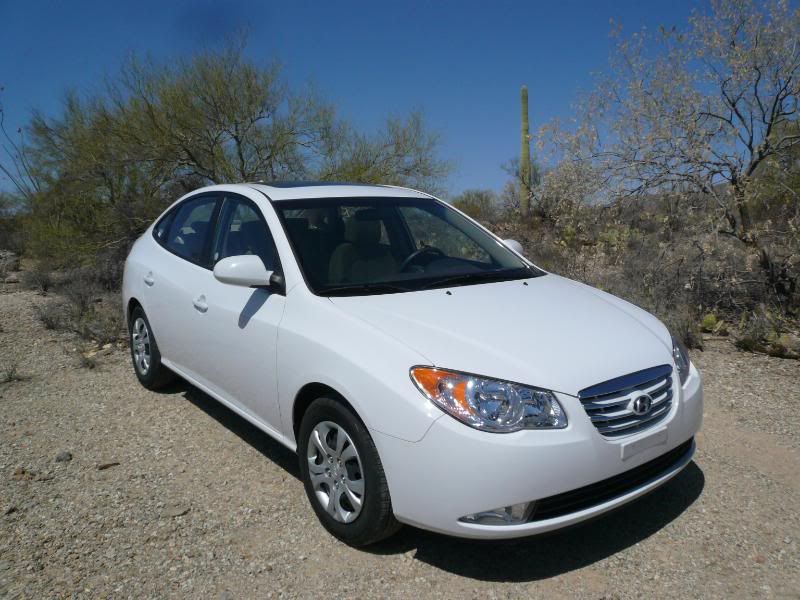 For the price, the Elantra struck me as quite an impressive car. I have not driven many of its direct competitors, but of those which I have sampled, I would venture that the Mazda 3 (a car I enjoyed in its previous guise) is probably the most fun to drive. The outgoing Civic was competent, but rather dull, and I suspect that the Corolla could be characterised in the same way. Of course, an all new fifth generation Elantra debuted last year, and I've now seen a few of these on the roads. The bold styling could well sell this model to many people, especially as the prices have not changed much from the outgoing car. Press reports suggest that the rest of it is well up to par, too, so I look forward to sampling one, hopefully nearer the start of its production life than the end.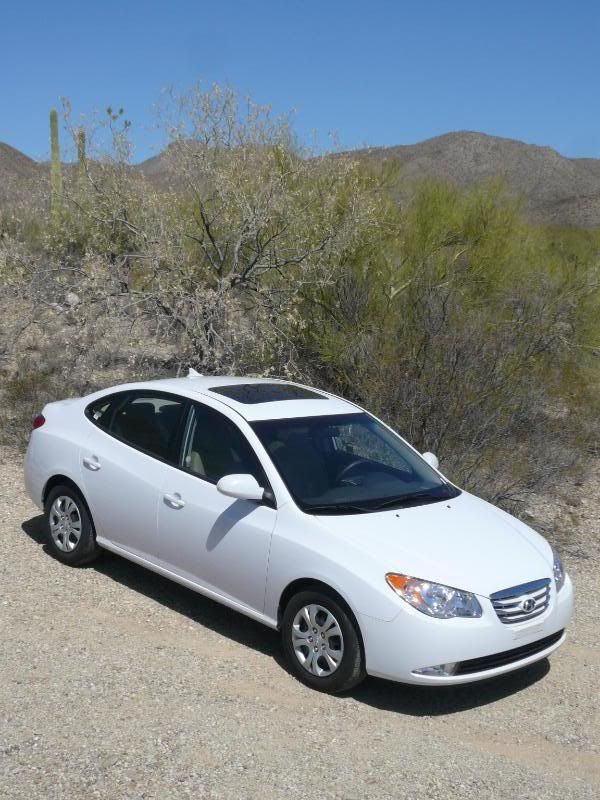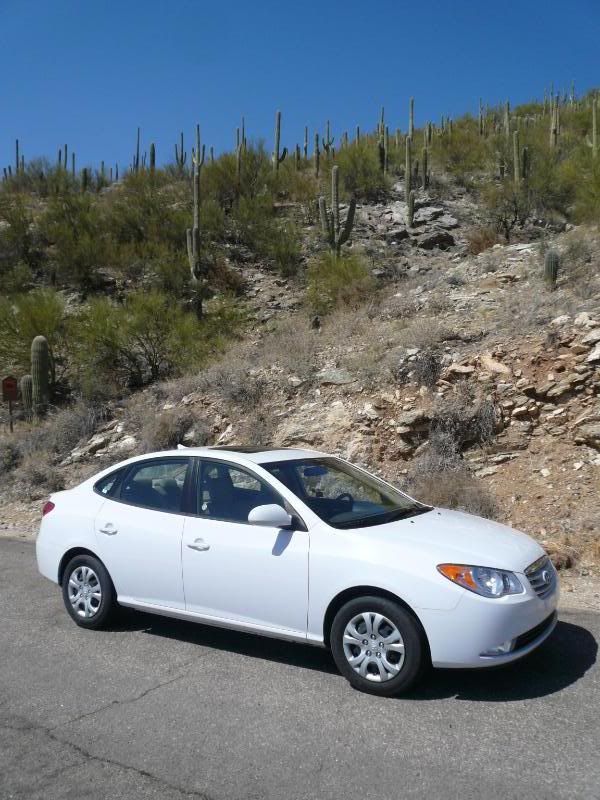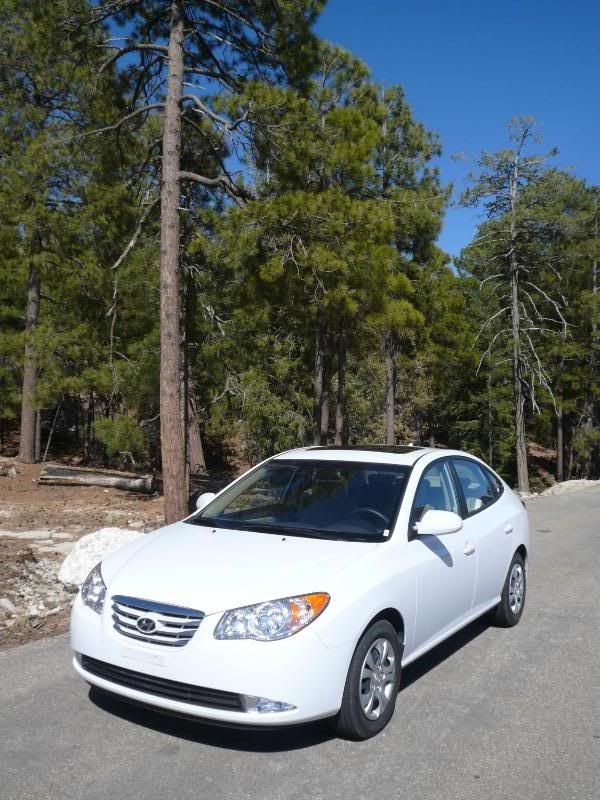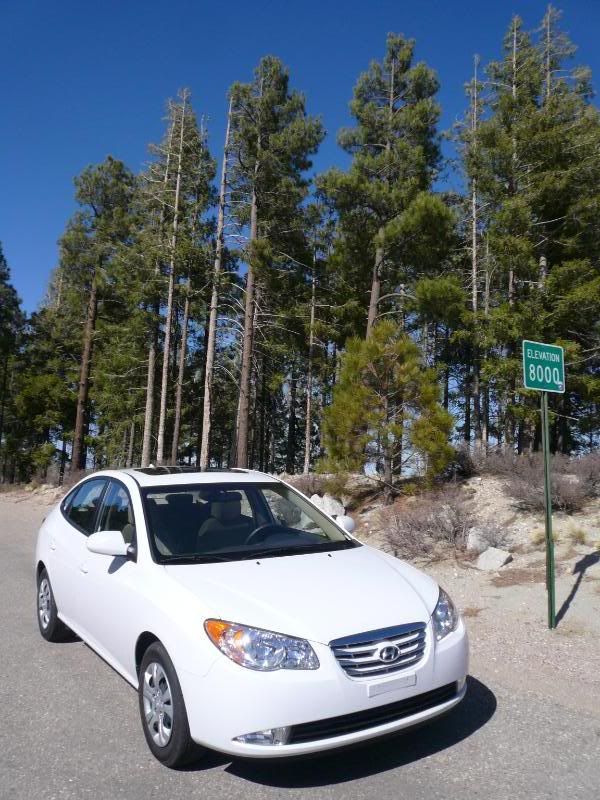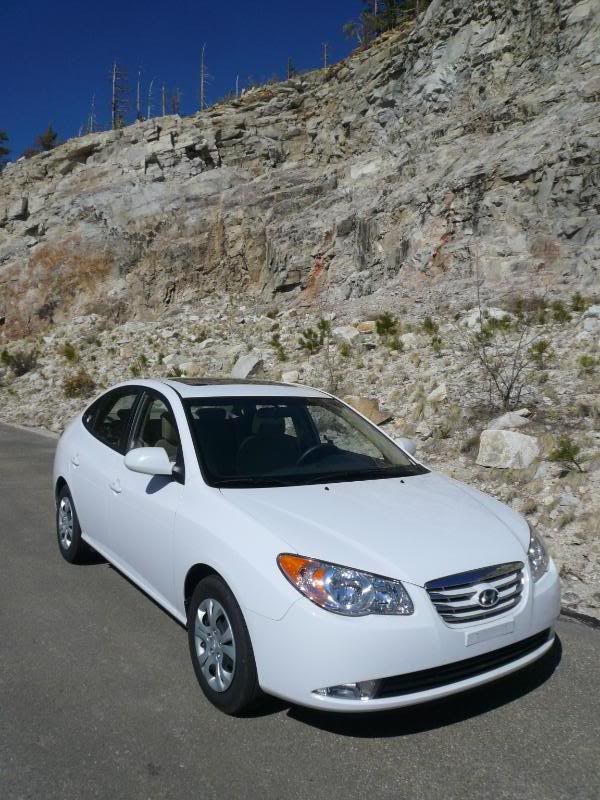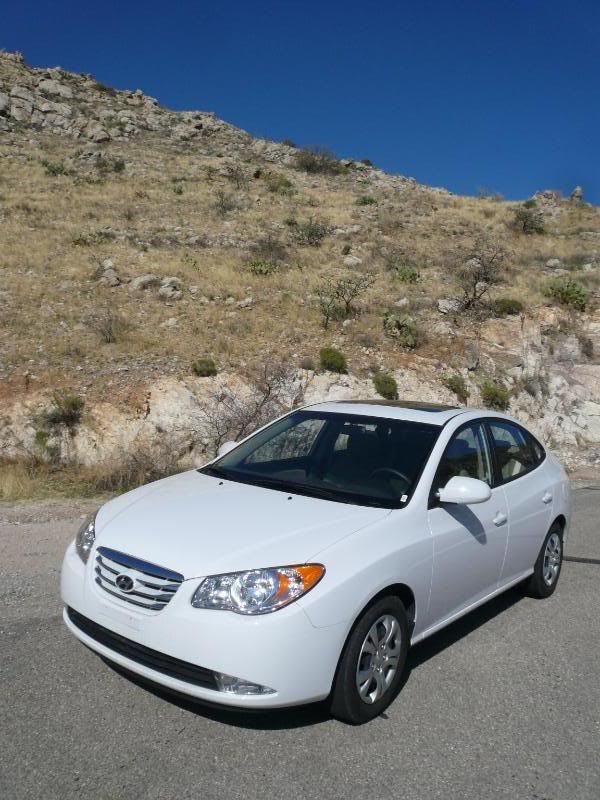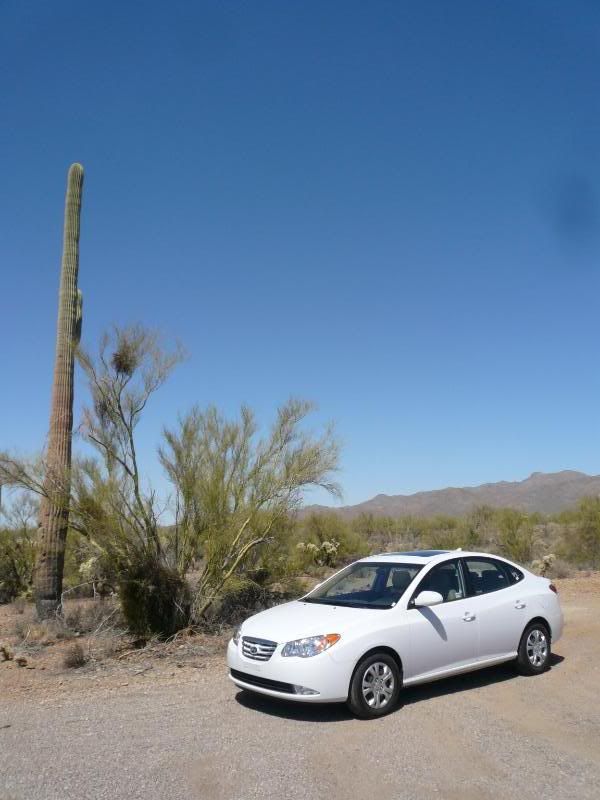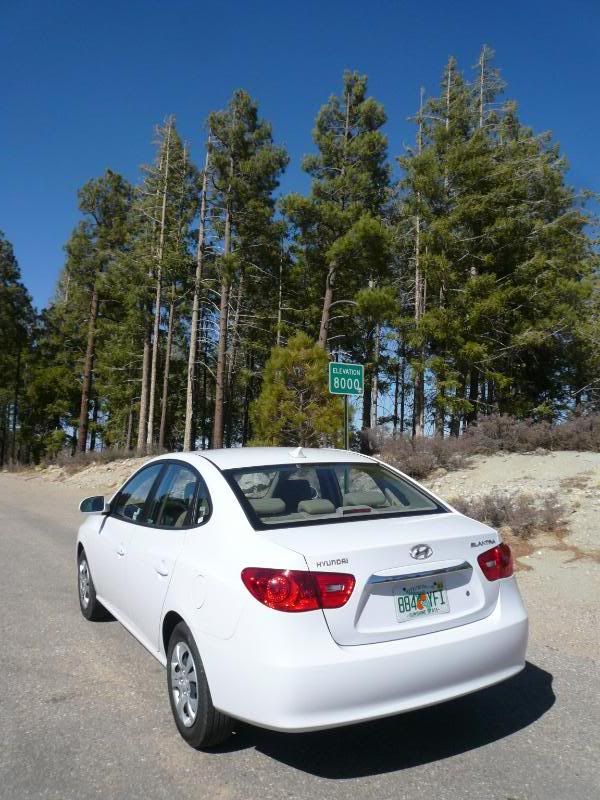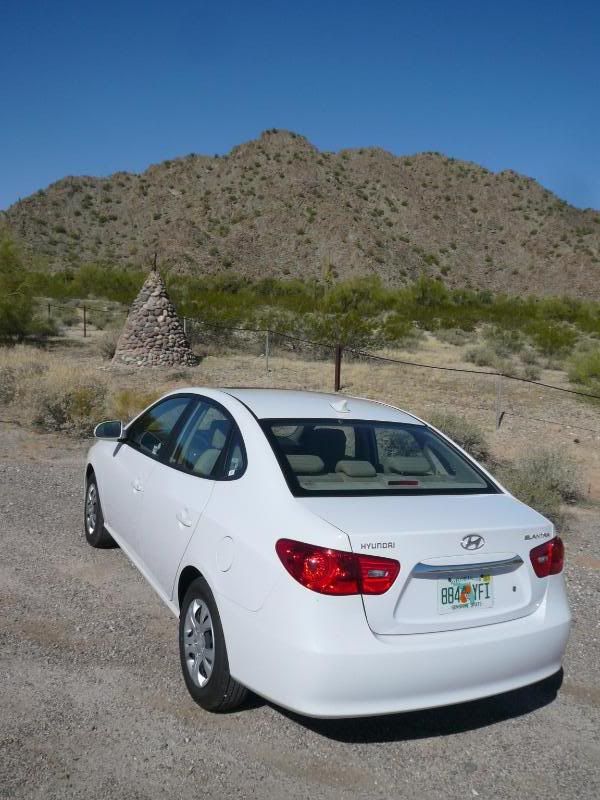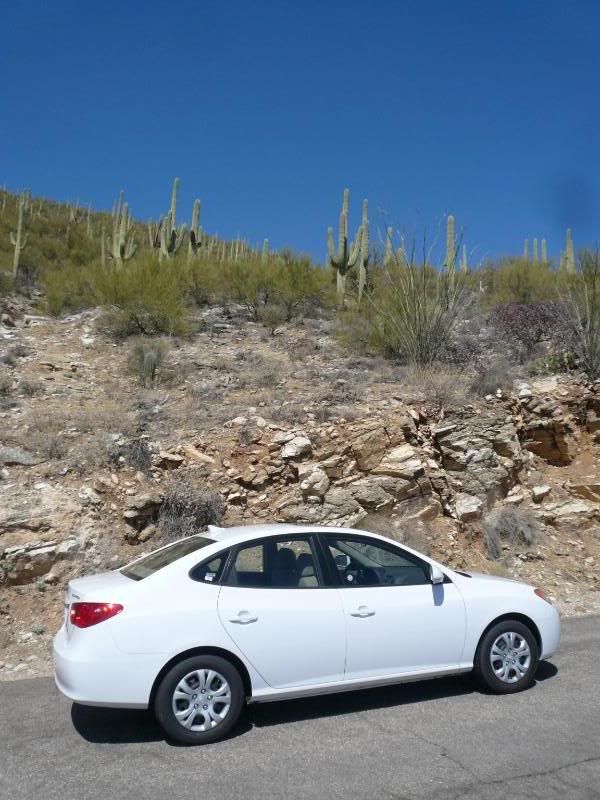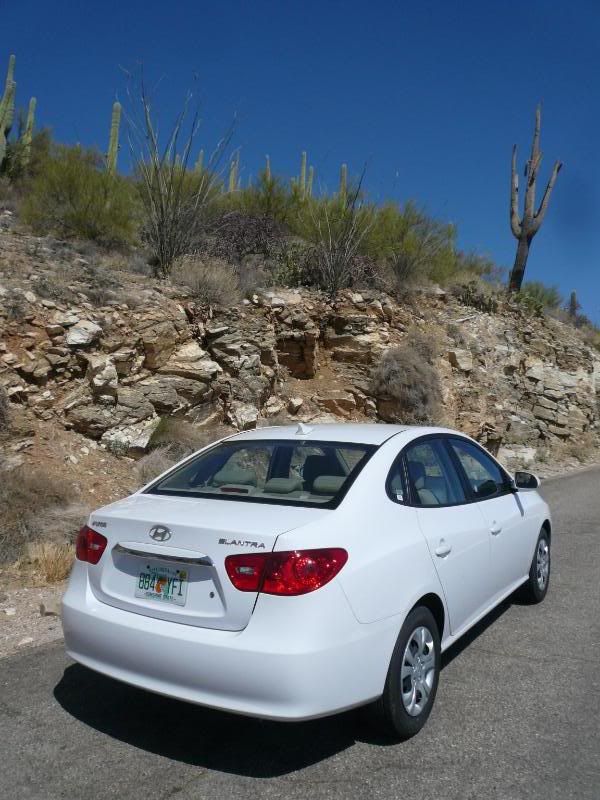 2011-04-16 06:12:06
Share and Enjoy