2011 Toyota Camry 2.5LE (USA)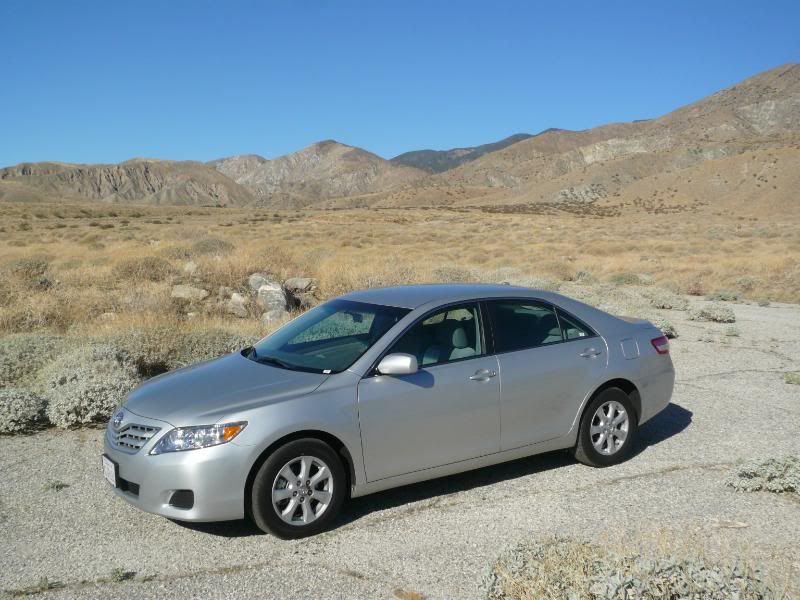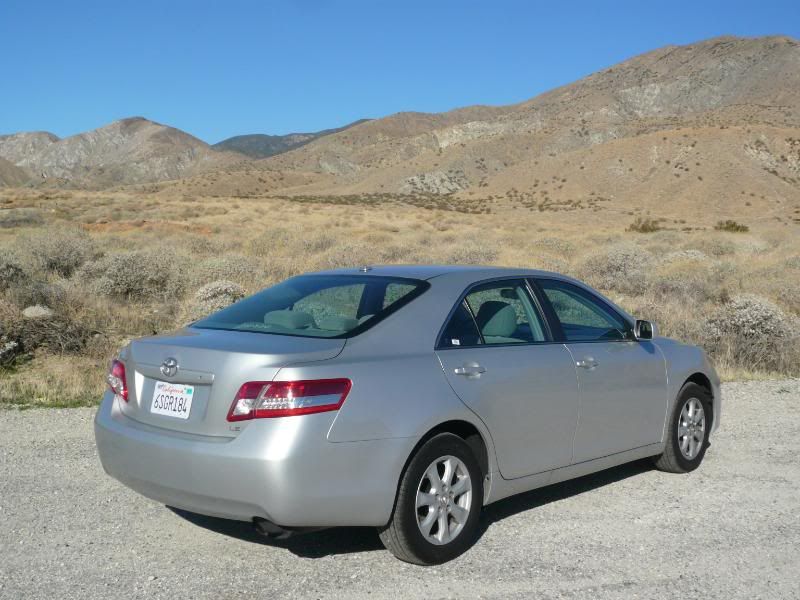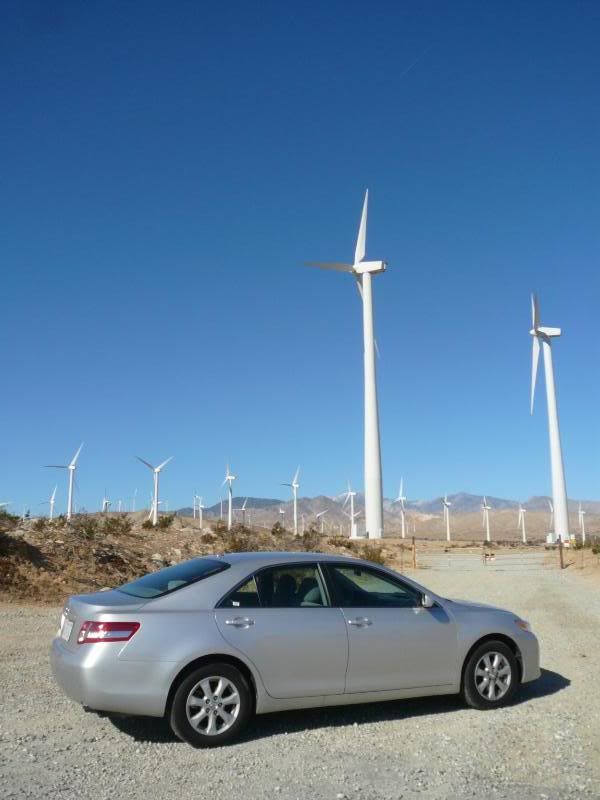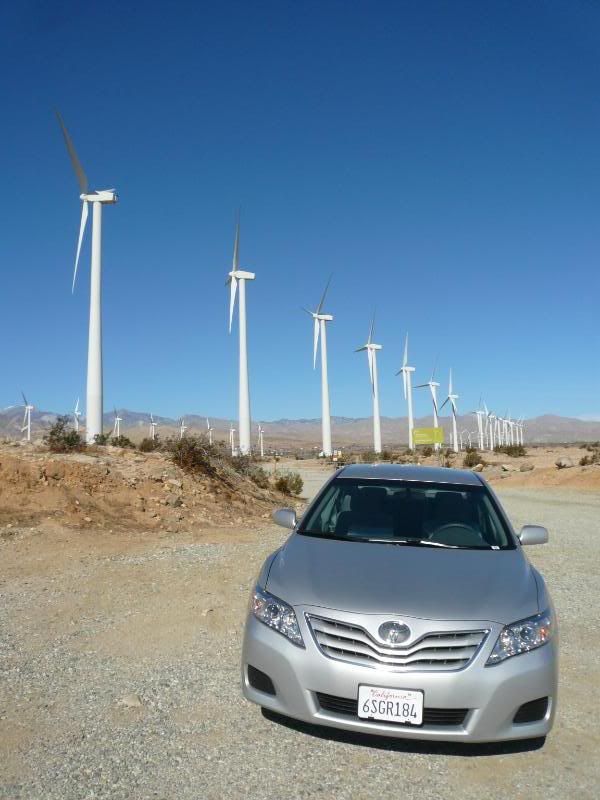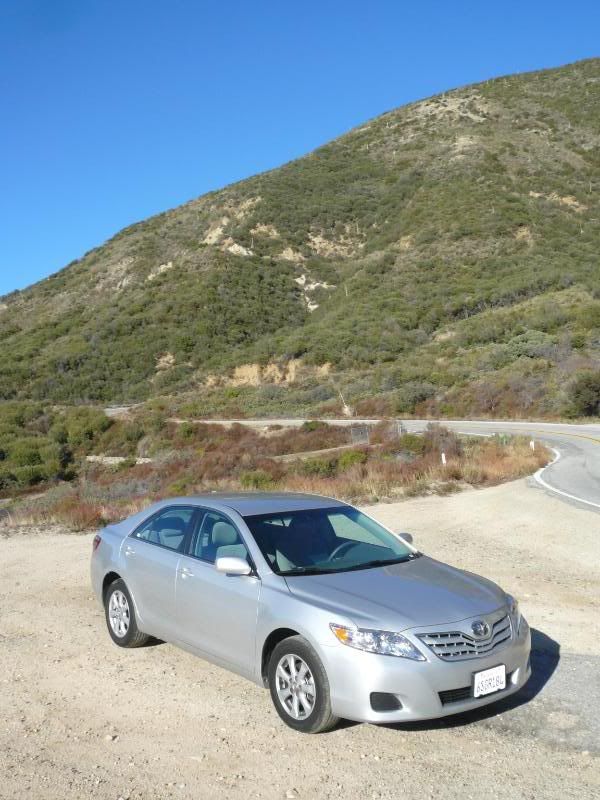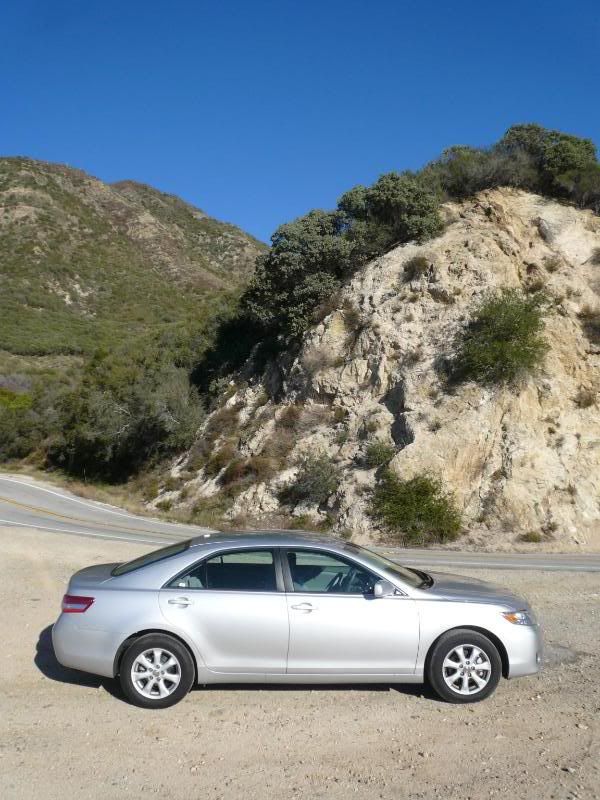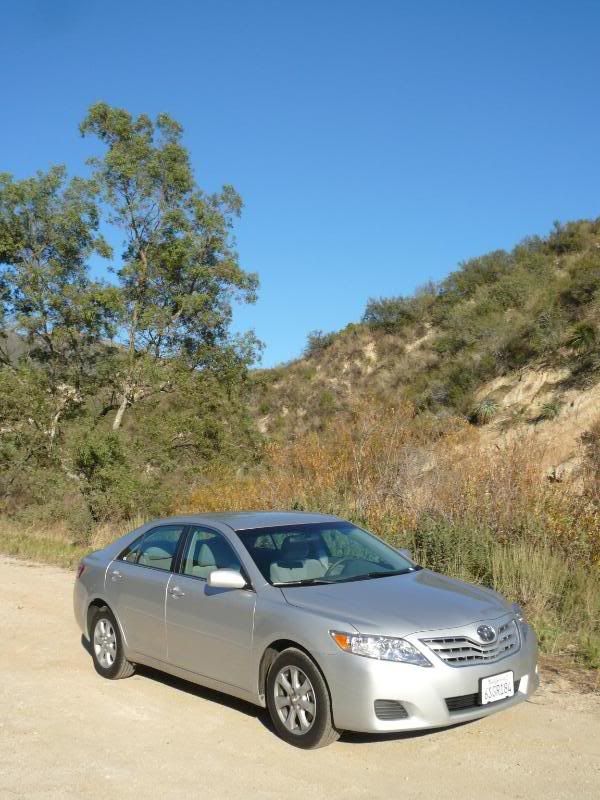 Like many Japanese cars, just because a nameplate is used around the world, it does not necessarily follow that all the cars sold in different markets are identical or even similar. Taking its name from an anglicised version of the Japanese word for "Crown", Toyota's Camry is a case in point. Ignoring the fact that the first time the word Camry was used was actually on a Japanese market variant of the 1980 Celica, the first models just called Camry appeared in 1983, as a medium sized front wheel drive saloon positioned to fit above the Carina/Corona models and below the Crown in the Japanese maker's vast range. Some markets also saw a five door hatchback. A second generation car appeared  right on cue for the 4 year model cycle that was common for Japanese makers at the time, in 1987,and this time the 4 door saloon was augmented by an estate car. It was with the launch of the third generation cars when things got complicated as a separate "narrow" body car was produced for the Japanese market in 1990, in accordance with Japanese market tax regulations. Fearing that this would limit sales opportunities elsewhere, Toyota developed a related model, that was wider, but also called Camry, known internally as XV10. This model was sold outside Asia, and although it shared some of the key elements of the Japanese cars, looked very different. A Coupe model was produced to compete directly with the Honda Accord, though it was none too successful. The saloon and estate cars were, though, challenging Ford's Taurus for sales volume, reinforcing the view that bespoke cars for different markets were a good idea  Toyota did sell these cars in Japan, using the name Scepter to continue the link to the "crown" based naming.  As has become common with just about every new model generation, this XV10 car was larger than its predecessor, a trend continued with the fourth and fifth generation cars which appeared in 1996 and 2001.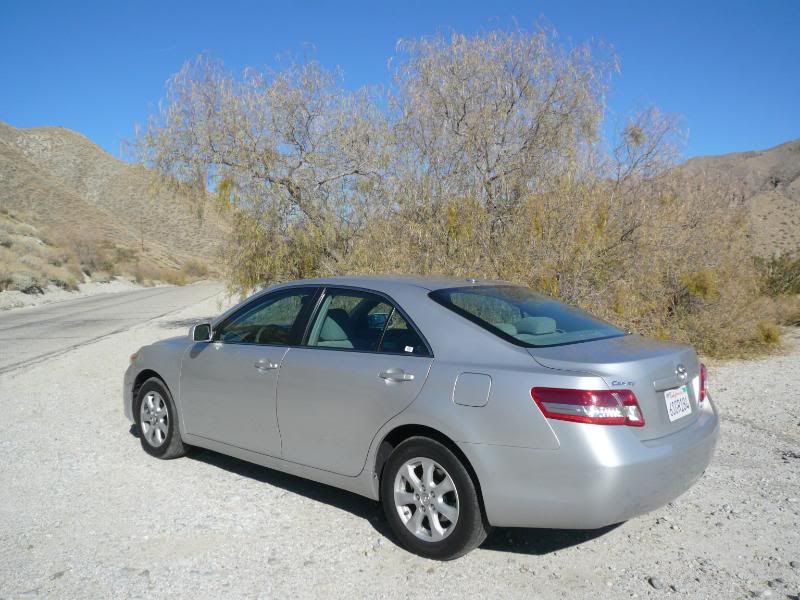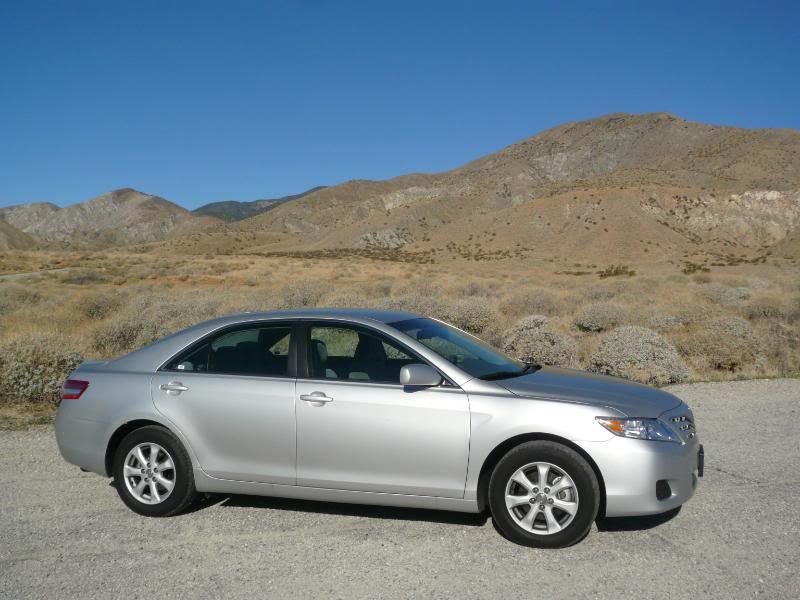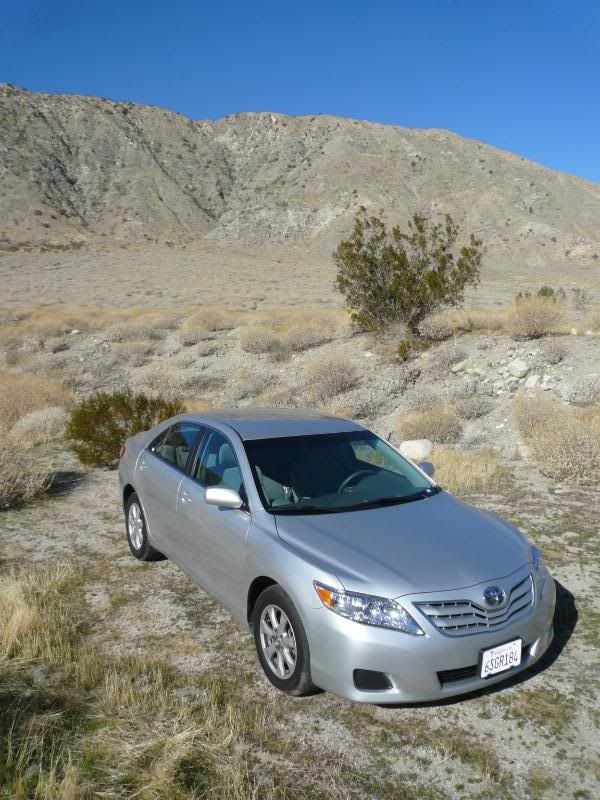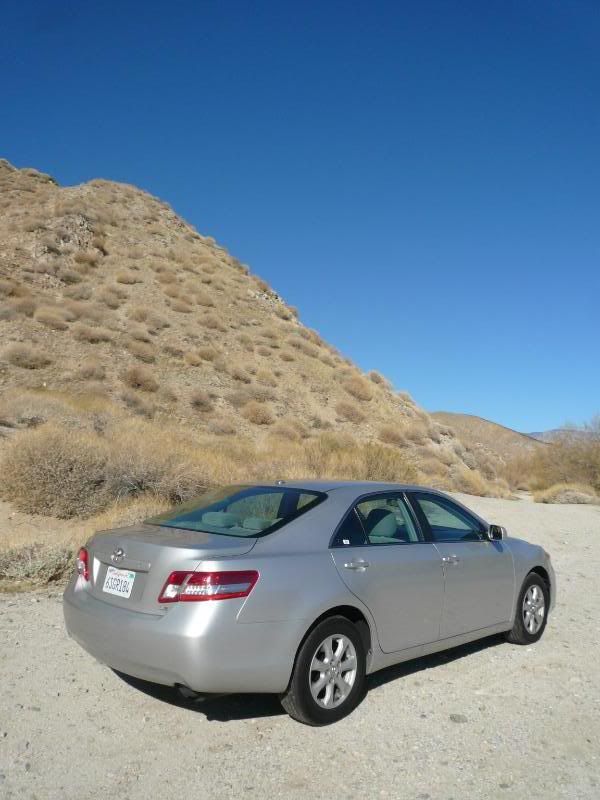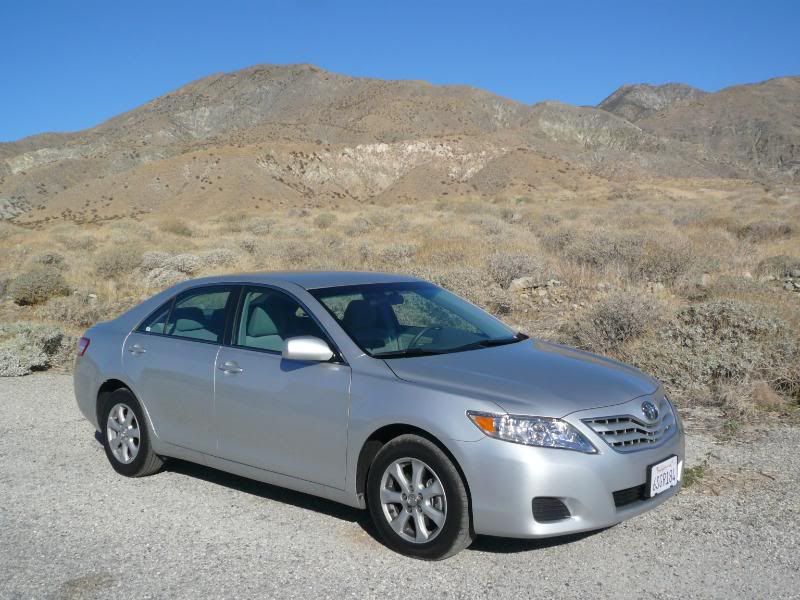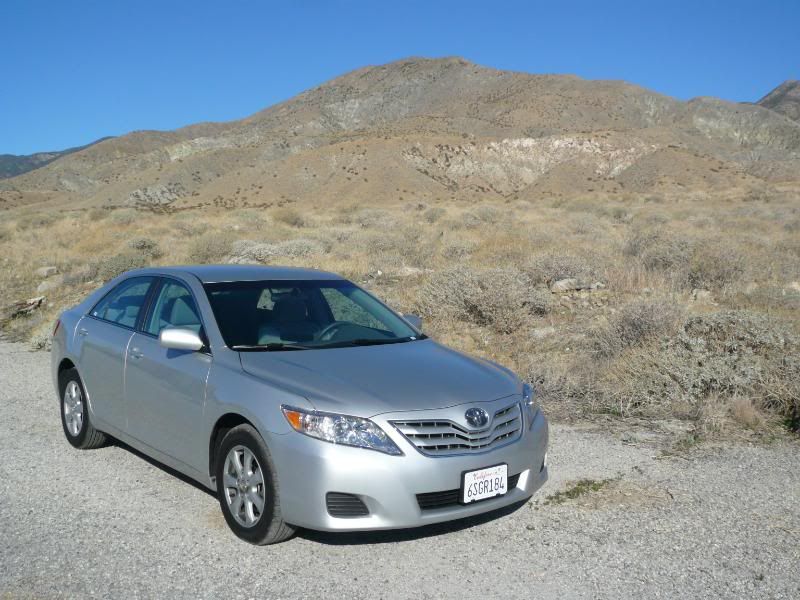 The Australians produced their own estate model of the fourth generation XV20 car, and for the American market, Toyota produced the Camry Solara, a coupe which evolved to become a model in its own right. By the early twentyfirst century, Ford's long running Taurus was struggling in the sales charts and the Camry took over pole position, challenged only by Honda's Accord. Success came from building the sort of car that middle America wanted – affordable, reliable, spacious and nicely trimmed. The car also appealed to many in Australia for much the same list of reasons. Elsewhere, things were not quite so impressive and after years of paltry sales, Toyota gave up trying to sell the Camry to Western European markets in late 2004, so with the exception of the odd Eastern European plated car that you might occasionally encounter, a recent Camry will not be familiar to many. However, venture elsewhere and it is clear that the Camry does sell in huge quantities. With annual sales averaging around 450,000 units, it has been the best selling car in America for many years now, with just a small and quickly recovered sales hiccough after the Toyota throttle pedal issue of early 2010, so the car clearly must have some merit.  Perhaps surprisingly, given that this car is a doyen of the rental fleet, this was my first encounter with the XV40 generation of Camry, even though it has been on sale since early 2007. If I am honest, I always see cars that feature so strongly at the rental depot as something to turn to when all other options of something that I have not sampled before are exhausted, and given the vast number of different cars in Hertz' fleet, there has always been something else. With the recent launch of the XV50 model for American model year 2012, though, it is likely that these cars will start to be phased out, so it was time to get behind the wheel and find out just why this is America's biggest selling car.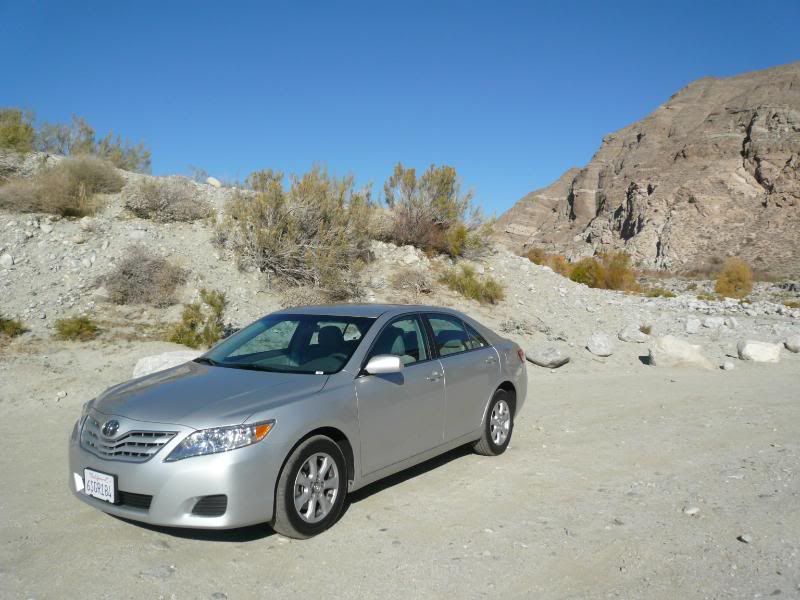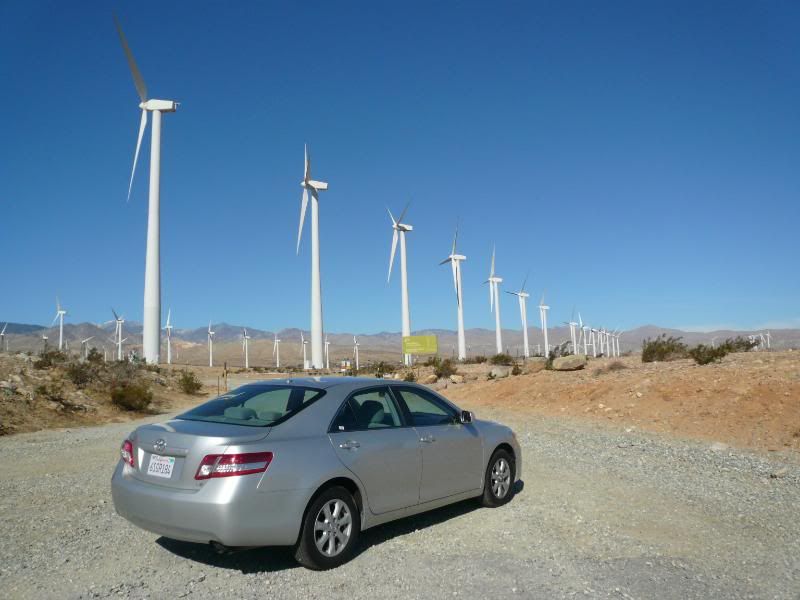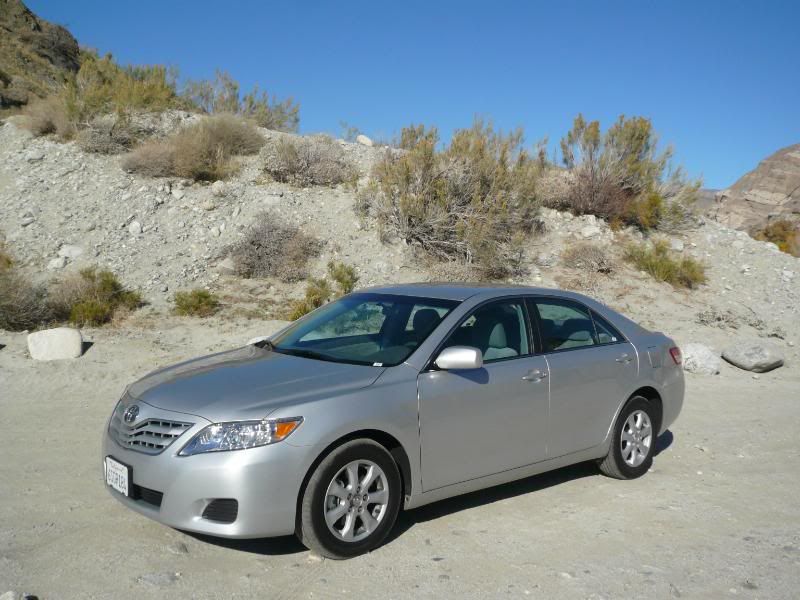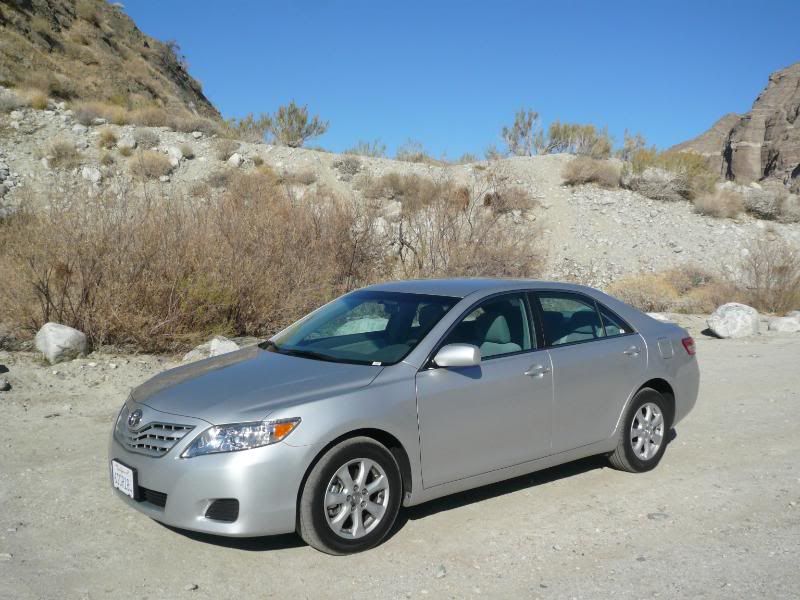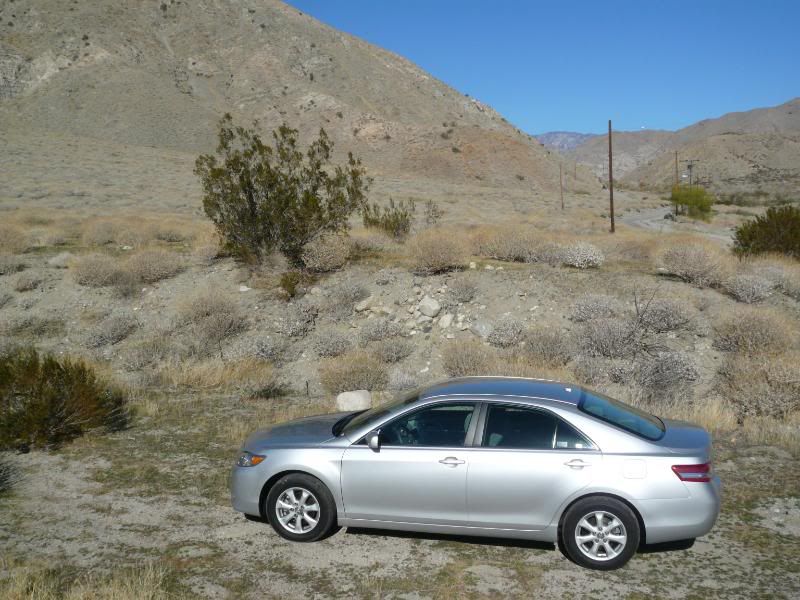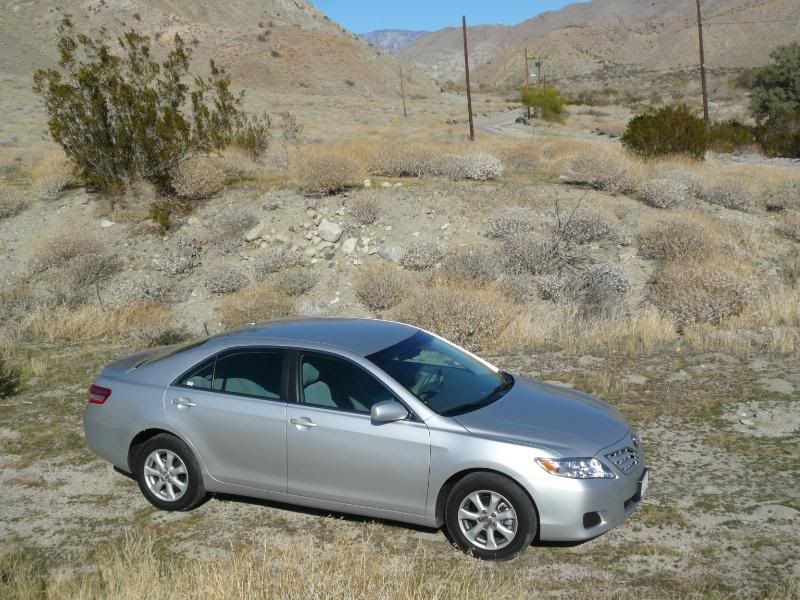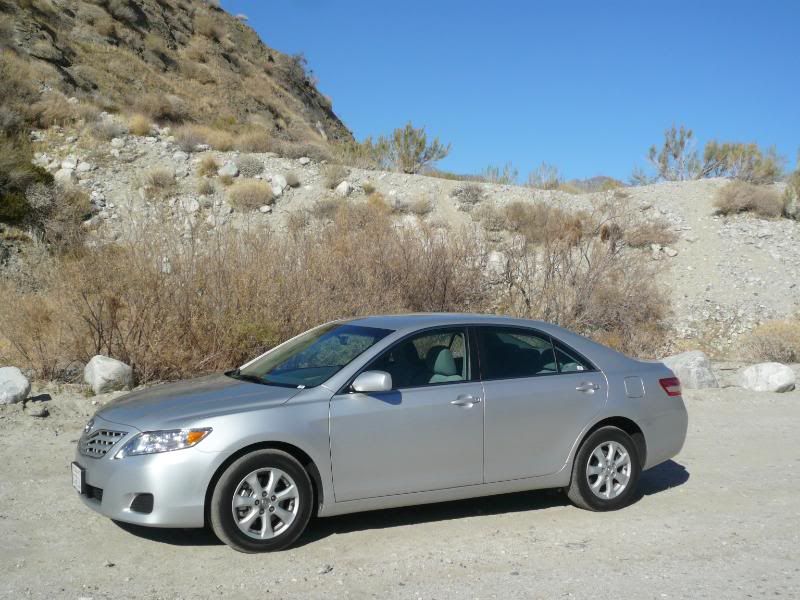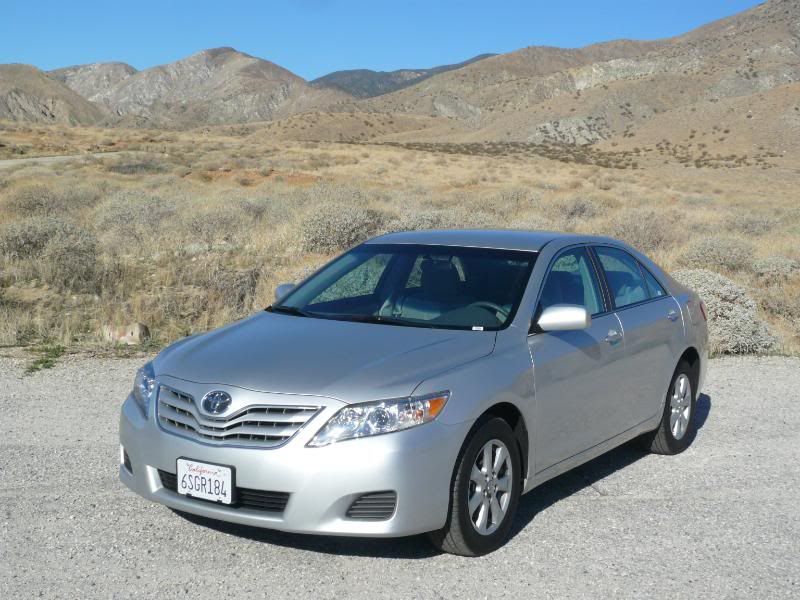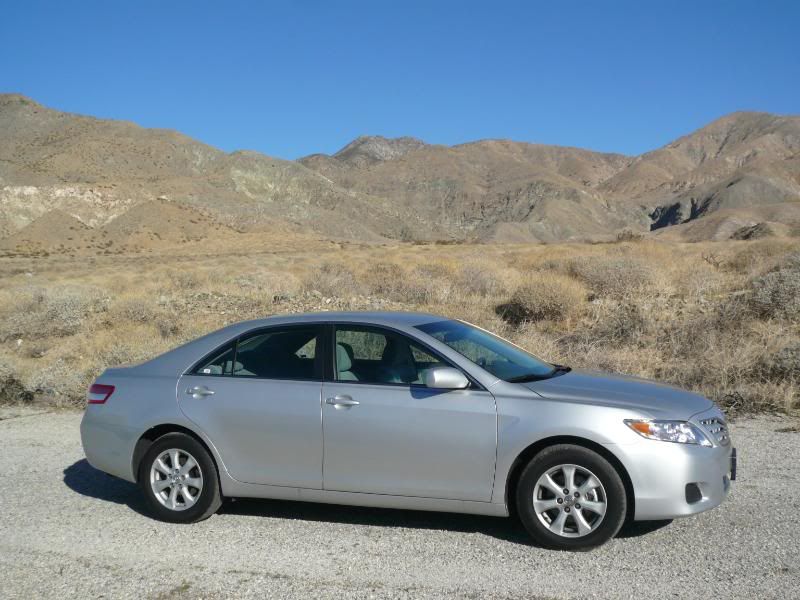 In true rental car tradition, the test Camry was supplied in standard spec, without significant options, so that means that it came with the 4 cylinder 2.5 litre petrol engine, which develops 169 bhp. It was coupled to the optional 6 speed automatic transmission. Drive this car in a moderate manner, in town and on the freeway, and you will be quite impressed. The engine is smooth and refined, with little that is audible safe for a bit of road noise from some surfaces. Whilst not exactly fast, the Toyota appears to be brisk enough for a family saloon, well able to find a burst of acceleration when called upon. It is also parsimonious, returning over a test distance of 555 miles an average of 30.66 mpg US, which amounts to a particularly impressive 36.6 mpg Imperial. It is easy to drive, too, with light steering, although it does have just a little bit of feel, avoiding the dreadful set up that I encountered in Camry's close relative, the last model Sienna. Handling would appear to be fairly neutral with no unpleasant surprises. The car rides well, doing a sound job at absorbing the bumps of California's every deteriorating road surfaces. It easy to see out of, and not difficult to manoeuvre in and out of parking spots. The brakes are good, although the foot operated parking brake would be a nuisance were you to have a manual transmission car. Only one thing appeared to be less than positive and that was something a little unexpected. Given the dynamic aspirations of this car, it was something of a surprise to find that on the sealed concrete surface of the hotel's underground car park, this car generated far more tyre squeal than just about any other that I can remember, with lots of noise being produced even when barely moving. Although surprising and a little disconcerting, this is not exactly a significant issue. However, once I took the Camry up on the canyon roads, I discovered that this car really is not intended for them. As soon as the roads got even moderately twisty, limitations started to appear. For a start, the engine now had to work harder, and it did not seem to like it. The quiet and refined unit on the freeway lost no time in reminding you that it is a 4 cylinder and got quite noisy without much difficulty. However, it is the steering and handling that were more of a concern, as things started to feel rather loose and sloppy. That comfortable cruising gait is clearly achieved by adopting an approach to the suspension that tries to ignore challenging roads, as each corner took more effort to keep the car on the line and it never felt quite as tidy as I would like, and as I know can be achieved by all manner of other test cars which have all been taken on the same roads. This is definitely not a sports car and "gusto" is not a word in the Camry vocabulary.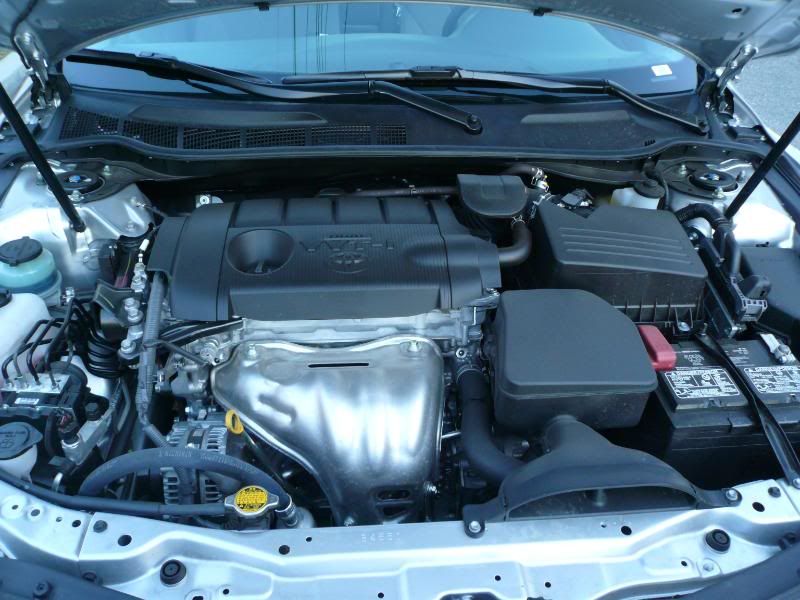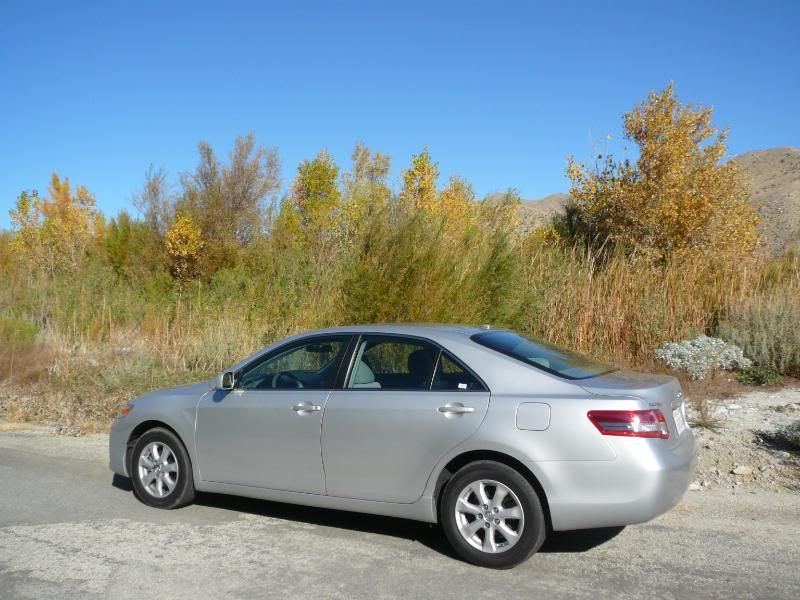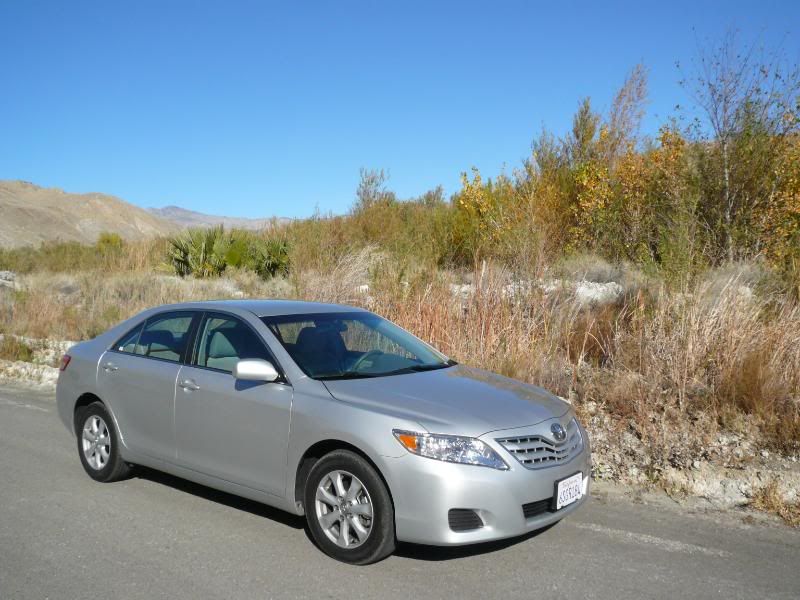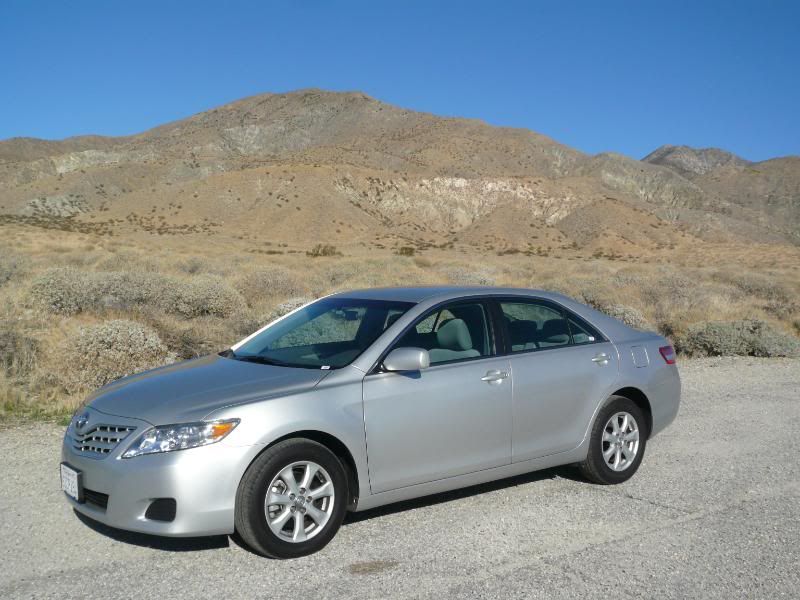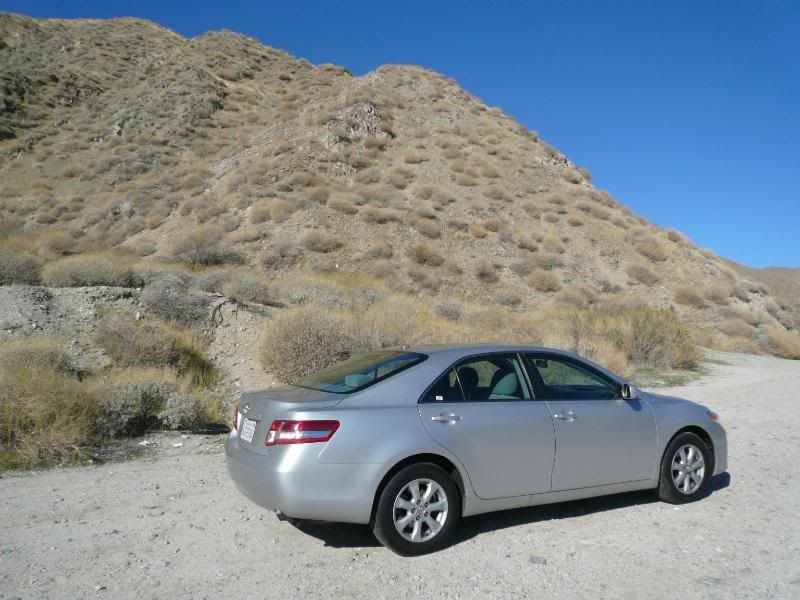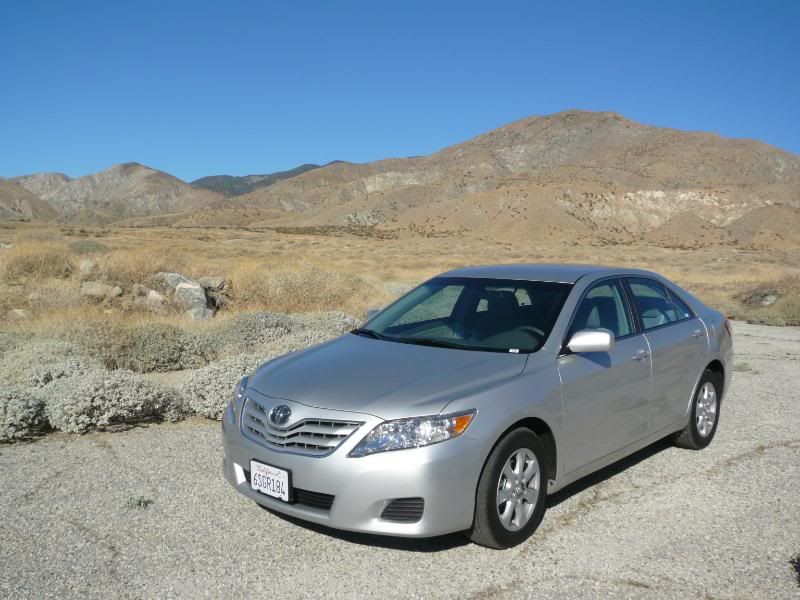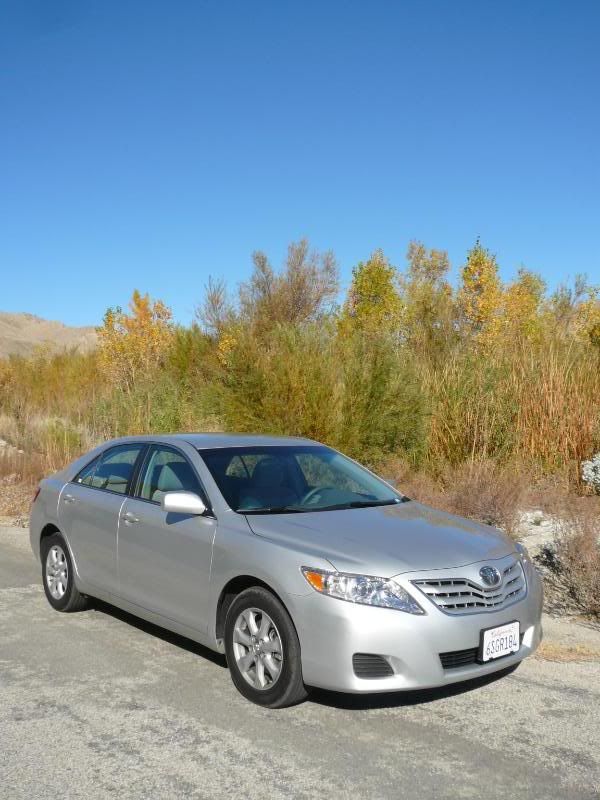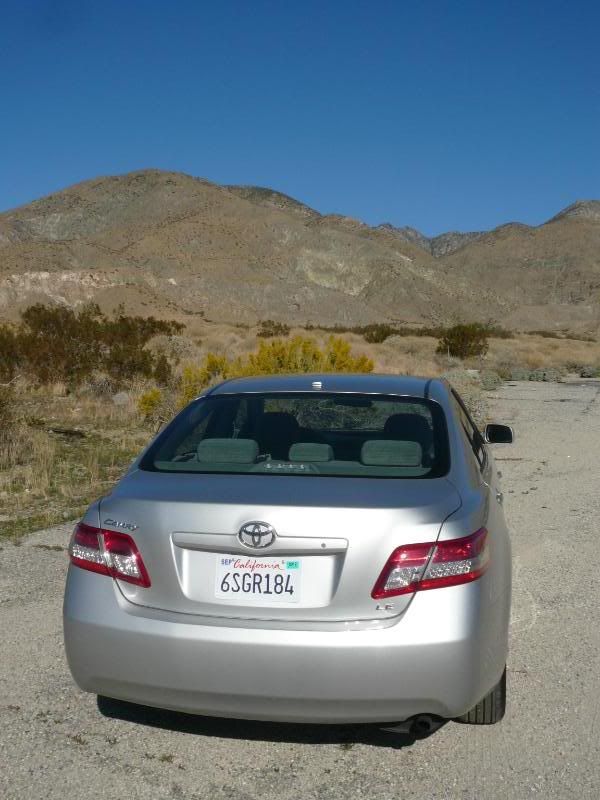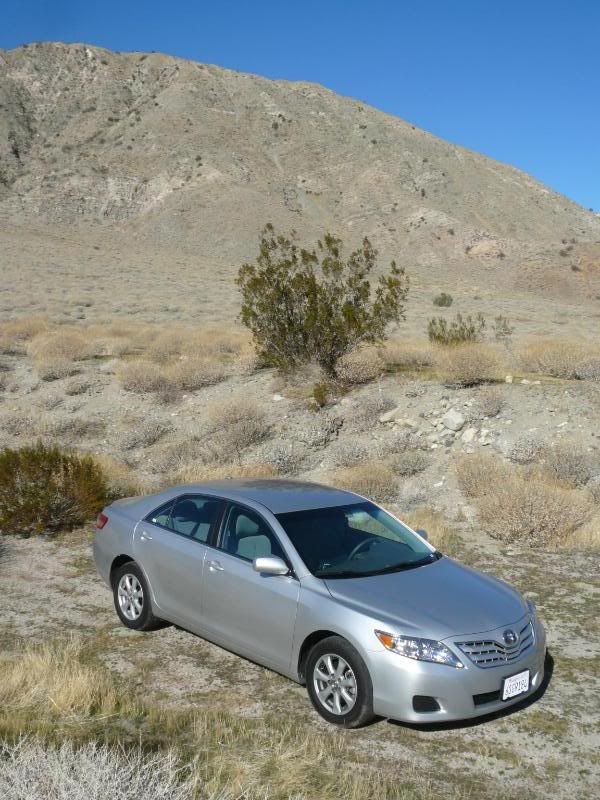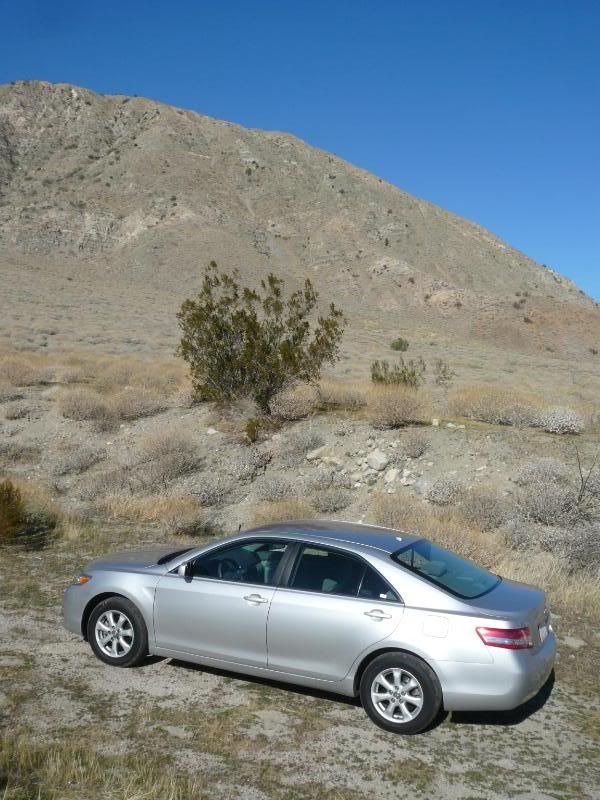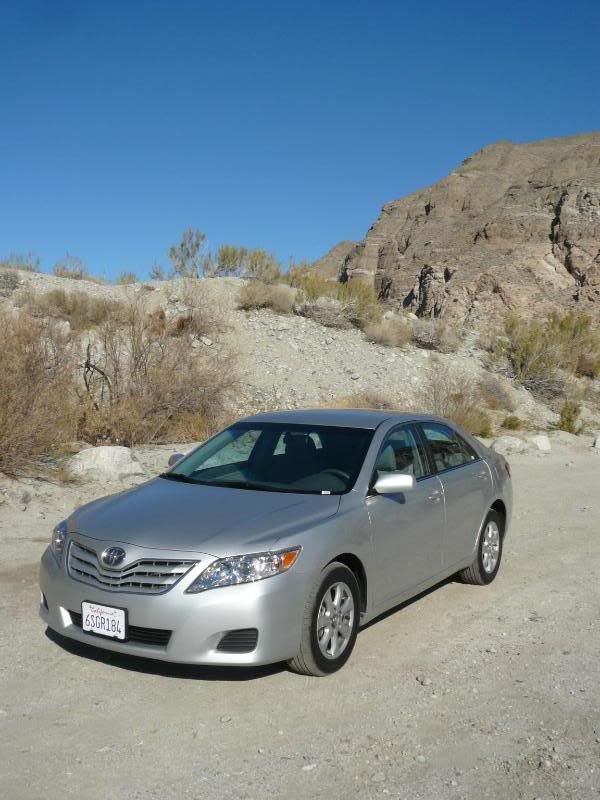 If the dynamic attributes of the Camry failed to generate any emotion or desire then the interior is not going to help matters. My silver painted test car was grey inside. All grey. Granted that Toyota have made some effort with a gunmetal plastic coloured inset to the centre console, and there are metallised edges to this part of the dash, as well as the use of contrasting shades of grey on the door trims, but this is not an interior that will make you long to spend any more time in it than necessary. For sure the materials are all of a reasonable quality, though nothing to worry the likes of Audi, and the fit and finish appeared good, but this is still Dullsville with a capital Yawn. There is a plastic steering wheel, which adjusts up and down, but which I would have liked to have gone up a bit further for a better driving position. A number of the audio unit controls are repeated with buttons in the spokes. This fronts a very conventional dash which comprises an instrument cluster of 4 dials. The speedometer is offset to the right of the cluster and forms an arc of about 300 degrees. To its left is the rev counter, which comprises an arc of about 150 degrees. Semi circular water temperature and fuel level dials are at either end of the instrument pack. All are easy to read. There is no pretence at a trip computer function in this model, just an odometer with 2 trip meters and an outside temperature reading which is presented in the bottom of the speedo dial.  Atop the centre of the dash in what appears to be a sort of flat ovoid slit, you will find the digital clock display. Chunky column stalks in either side of the dash do indicators and lights on he left and wipers on the right, with a stubby stalk lower on the right operating the cruise control, The centre of the dash contains a relatively simple audio unit, which includes satellite radio function (although this was not working on the test car, presumably as the subscription had run out) Three rotary dials operate the air conditioning, and were intuitive to use, though all three of them were largely translucent, which just looked cheap. Top marks for ease of use, then, but zero marks for flair.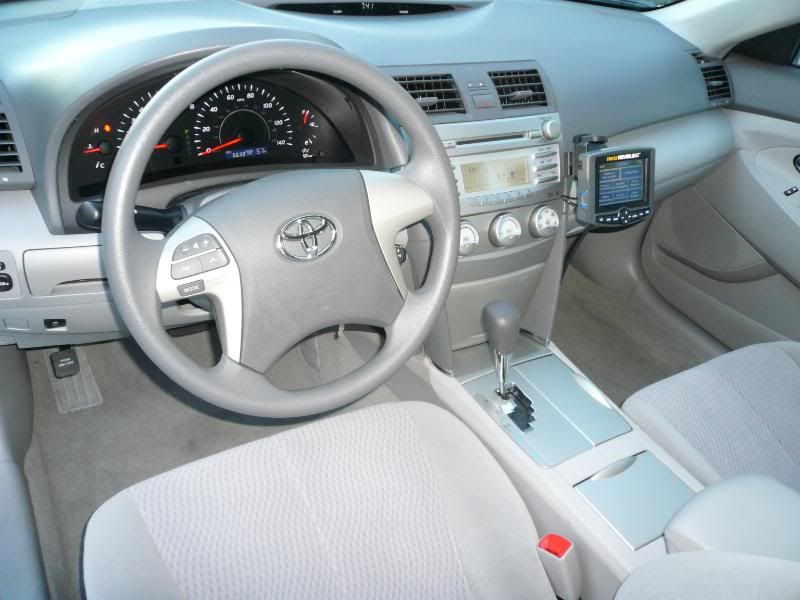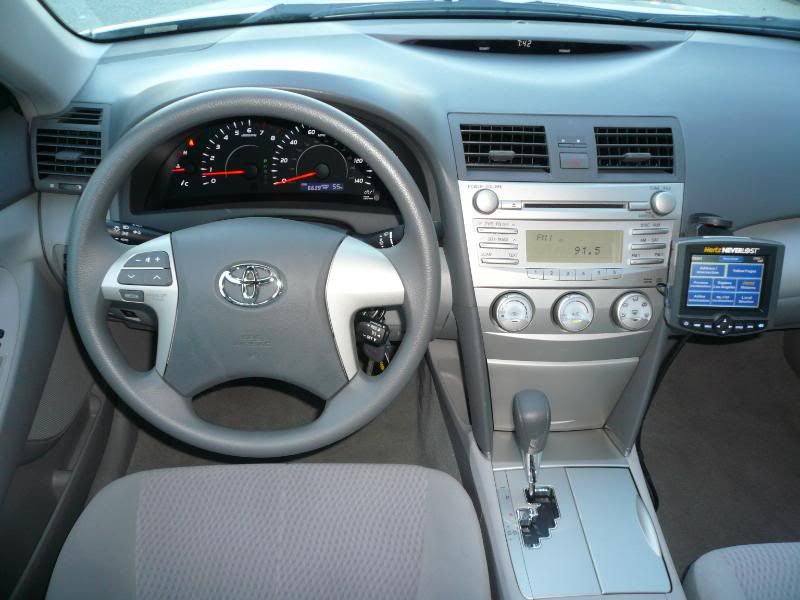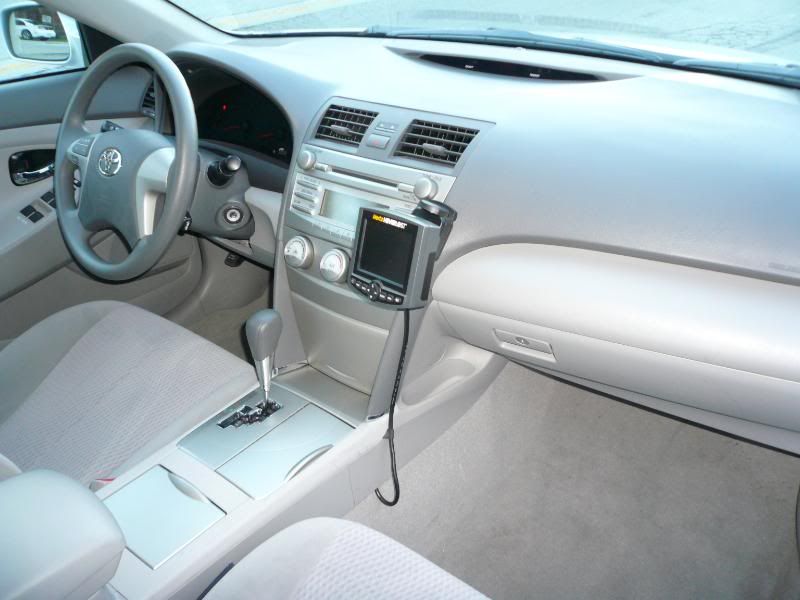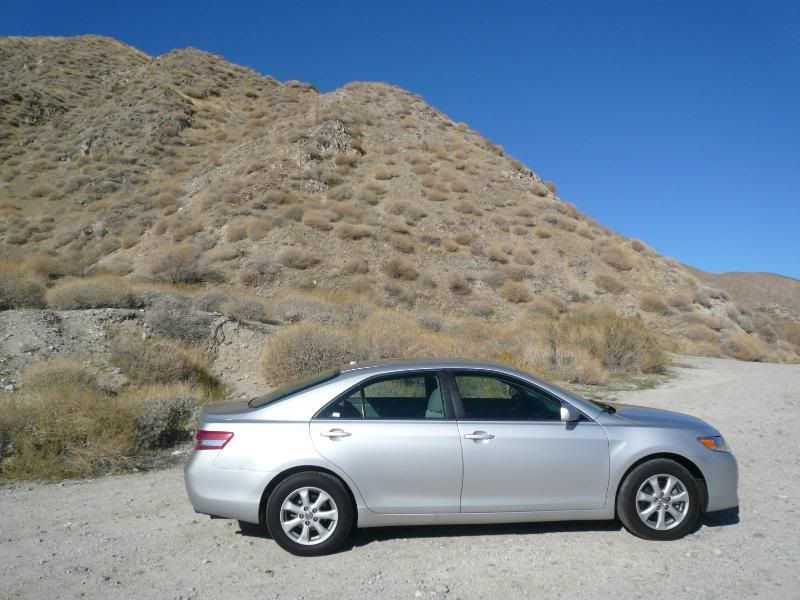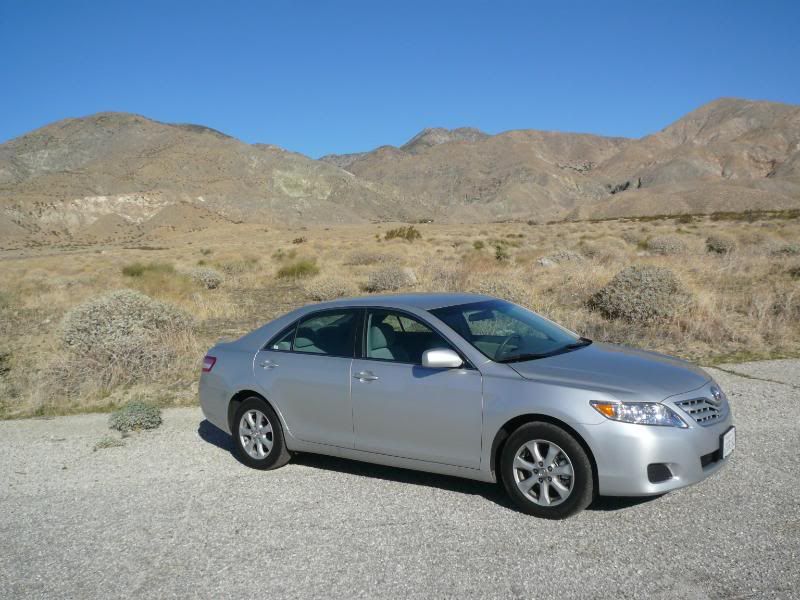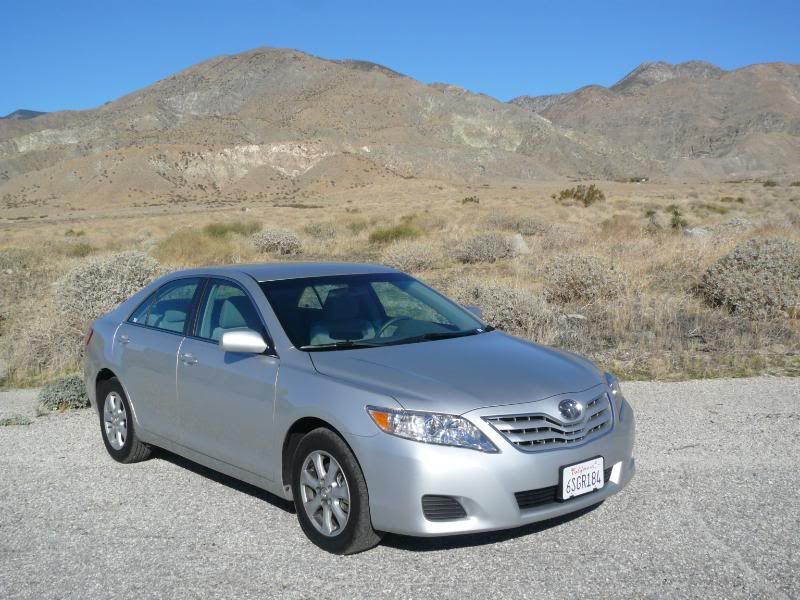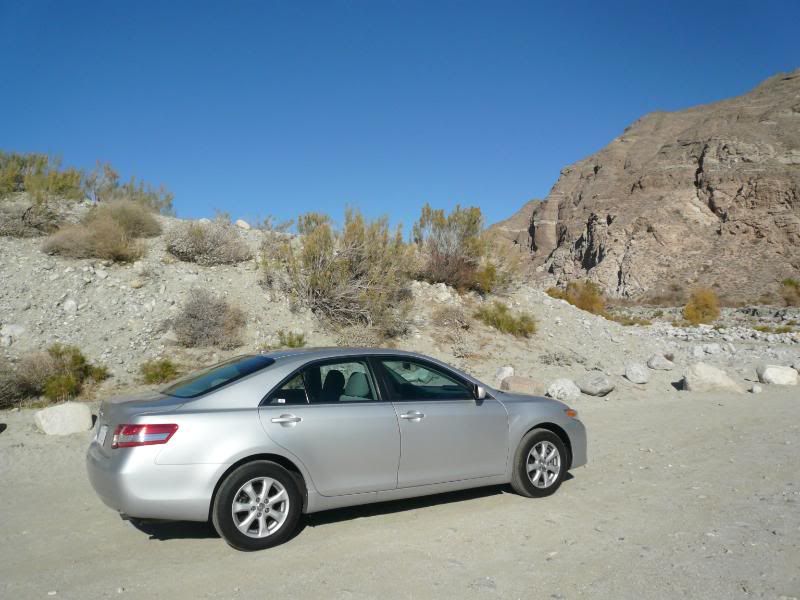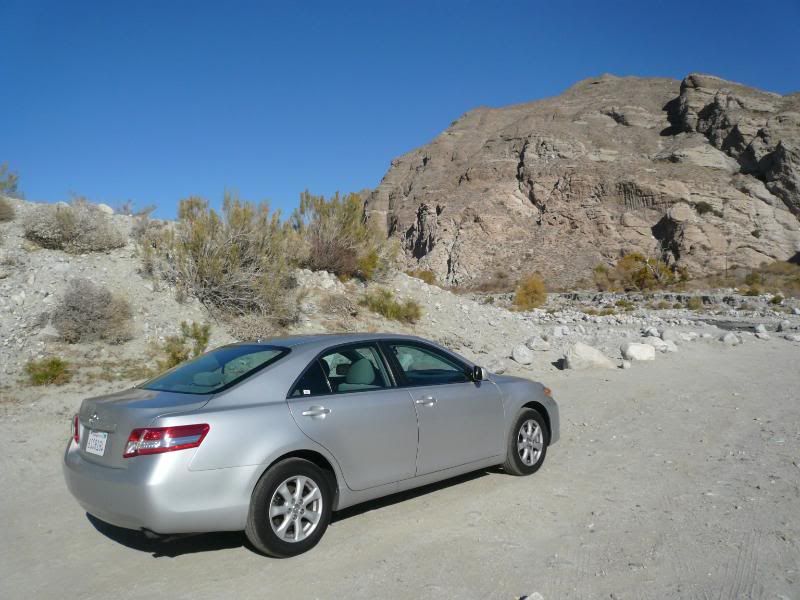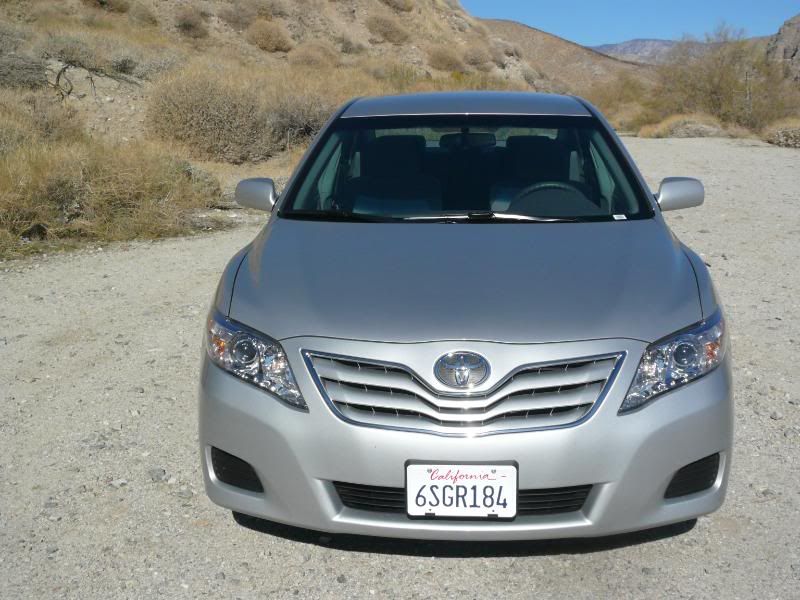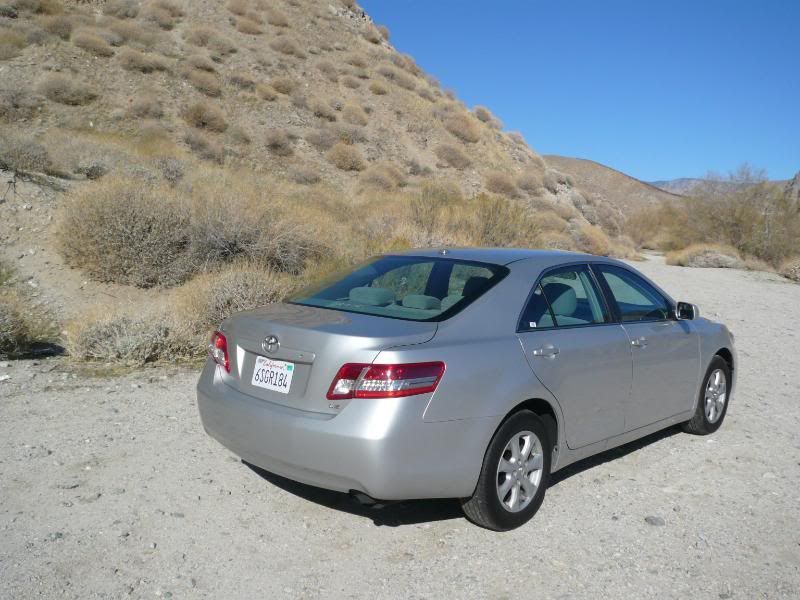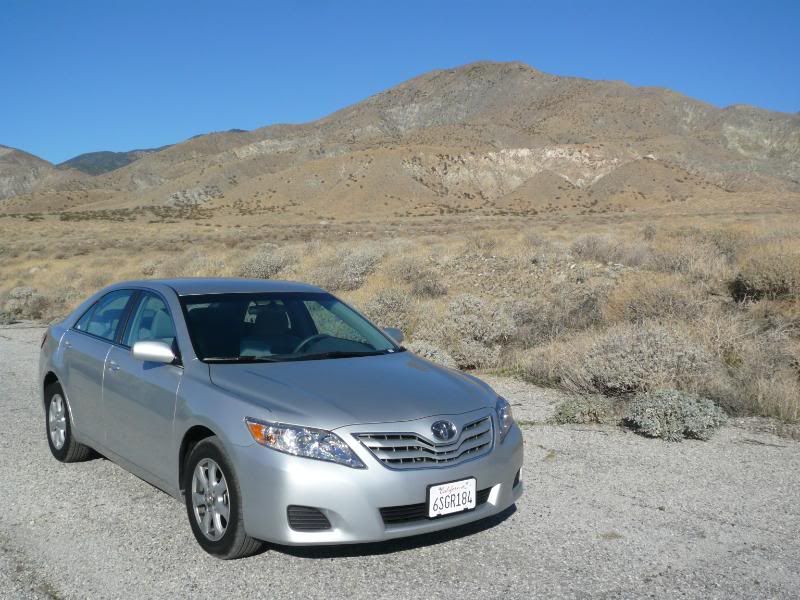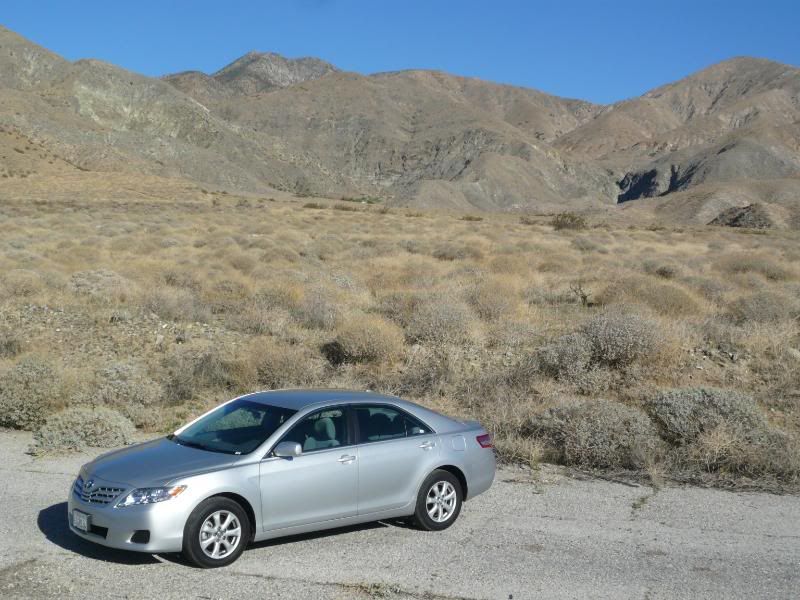 The seats were finished in a sort of faux velour, naturally in a grey pattern, and proved comfortable. The drivers seat had electric adjustment both for fore/aft and also the backrest, and a further small button allowed you to adjust the lumbar support. There is plenty of space in the rear seats, with good amounts of leg and  head room. Three adults could doubtless get reasonably comfortable in the rear cabin, or if only are occupying these seats, they could avail themselves of the large central armrest, with two cup holders in it. There are pockets in the back of the rear seats a bit like those you get in an airplane, which can be pulled forward on holding straps meaning that you could certainly stuff quite a lot of items in there if needed. There is generally good provision for the stowage of odds and ends in the car, as in addition to a decently sized glove box and modest door pockets, there are lots of cubby holes. A small one on the lower left of the dash is augmented by a particularly deep one at the bottom of the centre of the dash, and there is a smaller one behind the gearlever, in addition to plenty of space under the central armrest, and there is also a small lipped area moulded in the side of the centre console alongside the driver's leg. Boot space is decent, with a nice rectangular shape, and more capacity can be achieved by folding forward the split rear seats.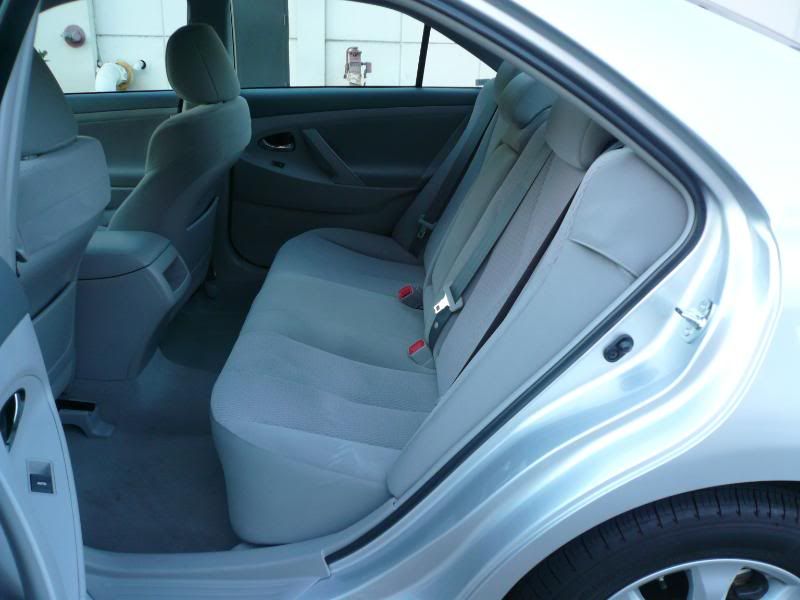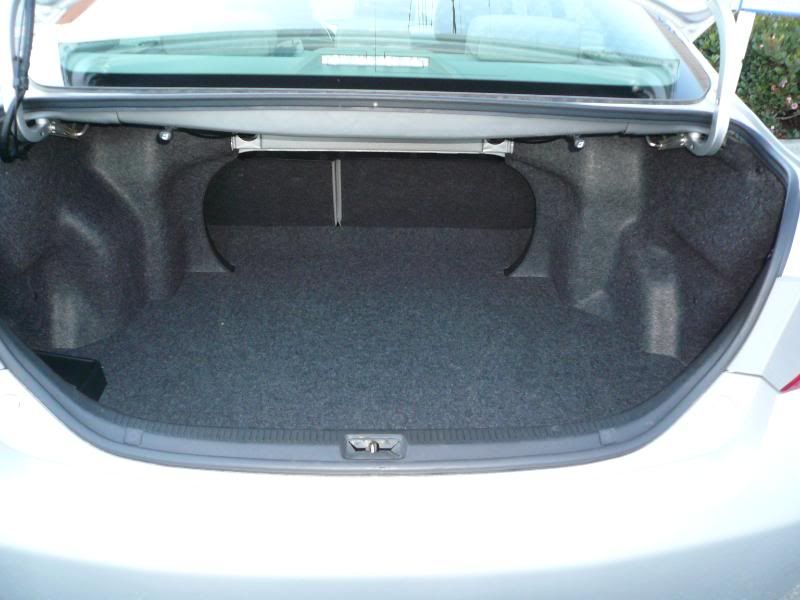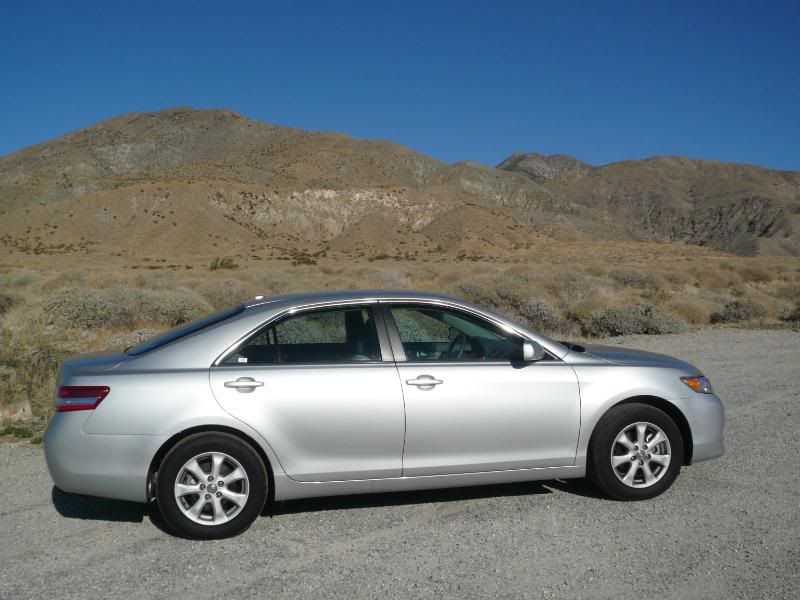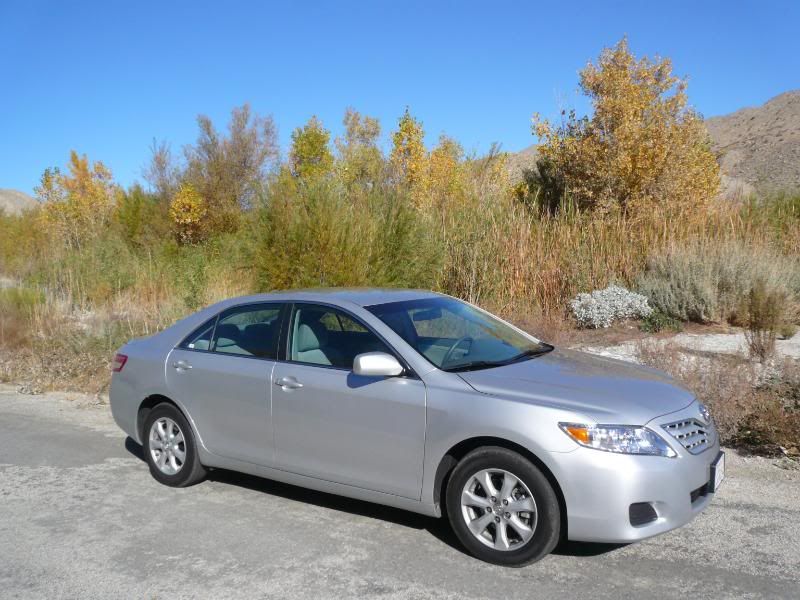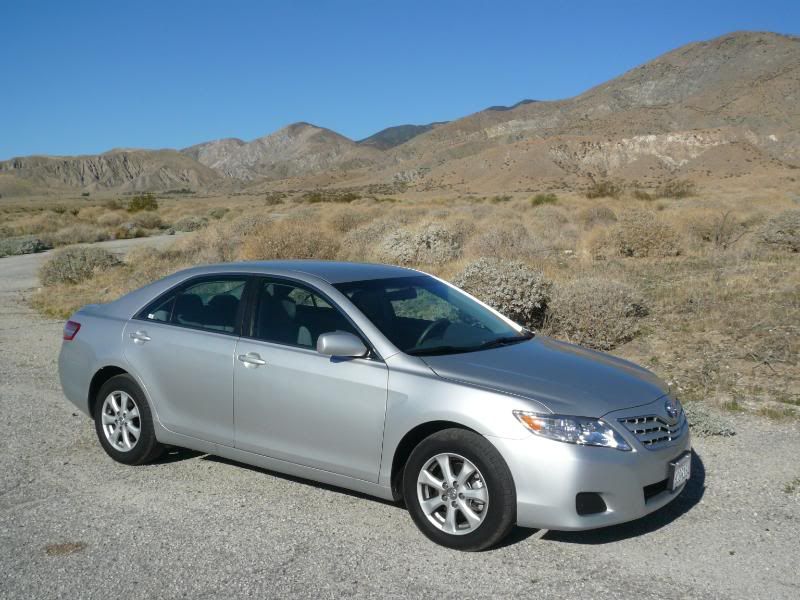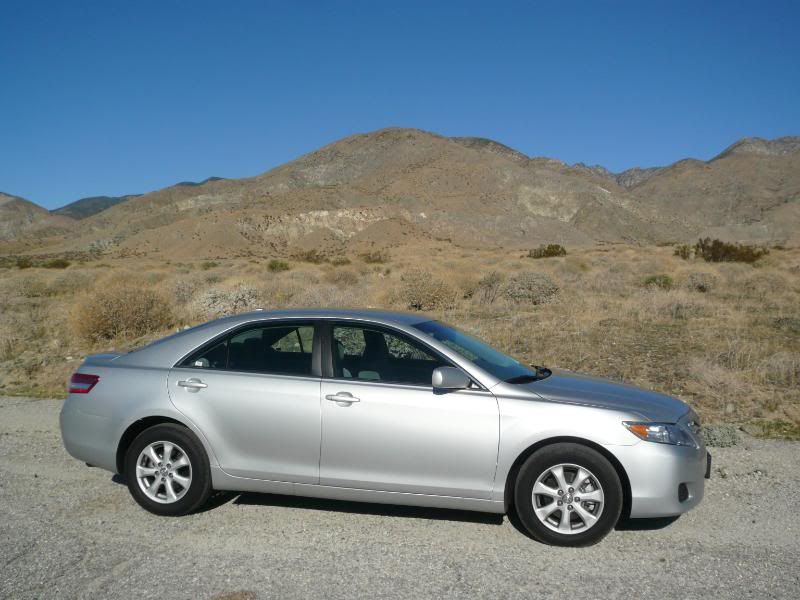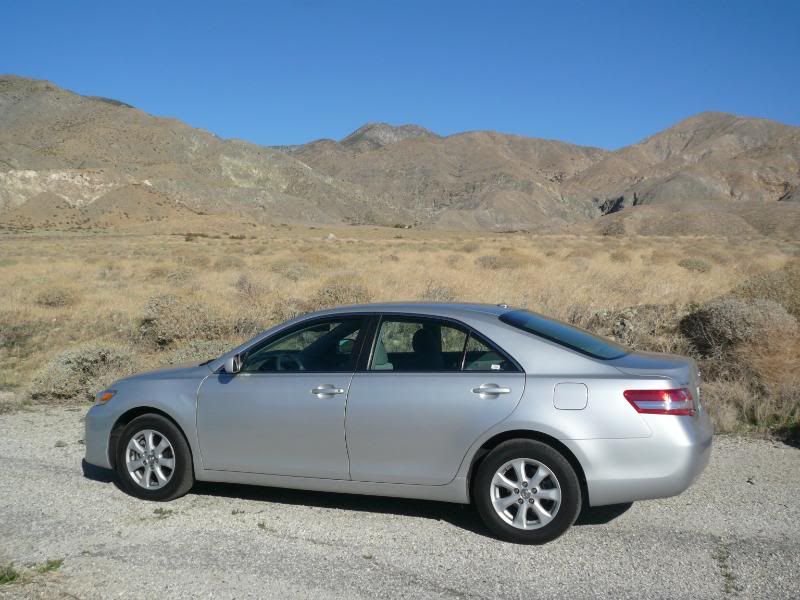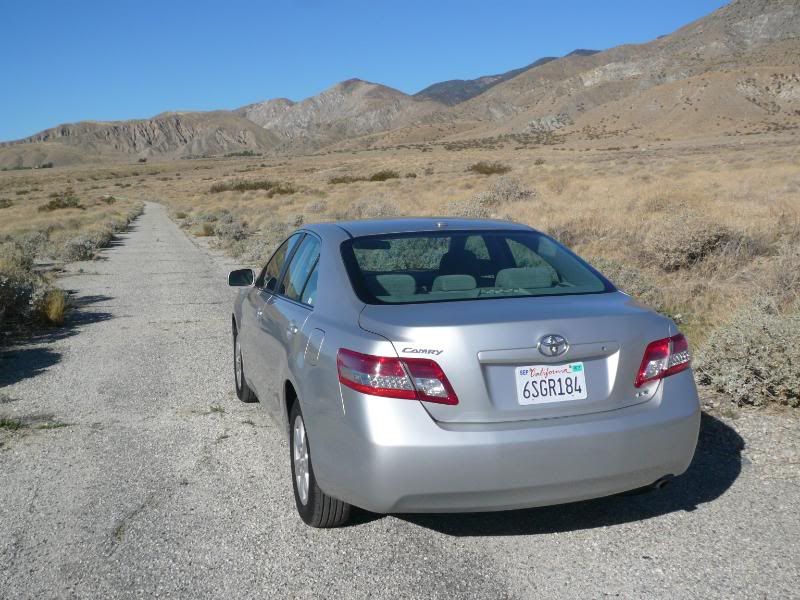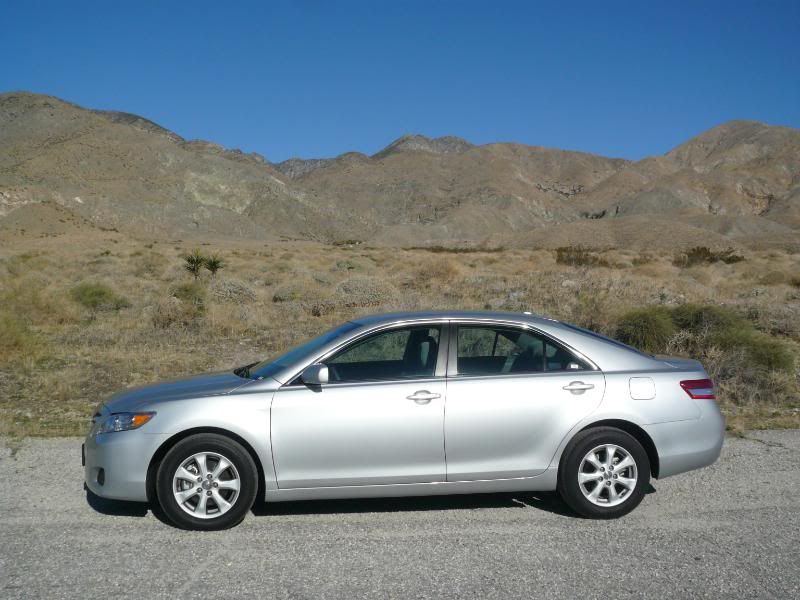 .
Camry is available in 4 different trim variants: Base, LE, SE and XLE, with a 3.5 litre V6 engine optional on all bar the Base model car. The Hybrid model is separate and equipped roughly on a par with the volume selling LE. It is easily distinguished from the others as the grille and lights are different. You can also tell an SE as it sports a faintly ridiculous body kit which is completely at odds with the overall demeanour of any Camry, even if the SE does come with an extra 10 bhp and slightly stiffened suspension. Priced at $21245 for an automatic, Entry level cars are not particularly generously specified, though they do include air conditioning, an AM/FM/CD/MP3 playing audio unit with iPod connection, split folding rear seats, automatic headlights and cloth seats with lumbar adjustment. Toyota charge an extra $1455 to upgrade, though there is not much difference between the Base model cars and the LE, just the addition of power adjustment for the driver's seat and remote keyless entry, as well as the option of the 3.5 litre V6 engine. For further $1265, you can go to the SE. As well as the dubious bodykit, SE models also boast fog lights, a leather wrapped steering wheel and 17″ alloys. The $2769 price jump to an XLE brings rather more features, as this trim adds dual zone automated climate control, power adjustment for the passenger seat, heated mirrors, a sun roof, alloy wheels, an upgraded audio unit with satellite capability, a trip computer, a compass and rear sunshade, along with leather seats on the V6 model. The Hybrid model substitutes the rev counter for an energy usage monitor, and has automated climate control and keyless starting, as well as fog lights.  .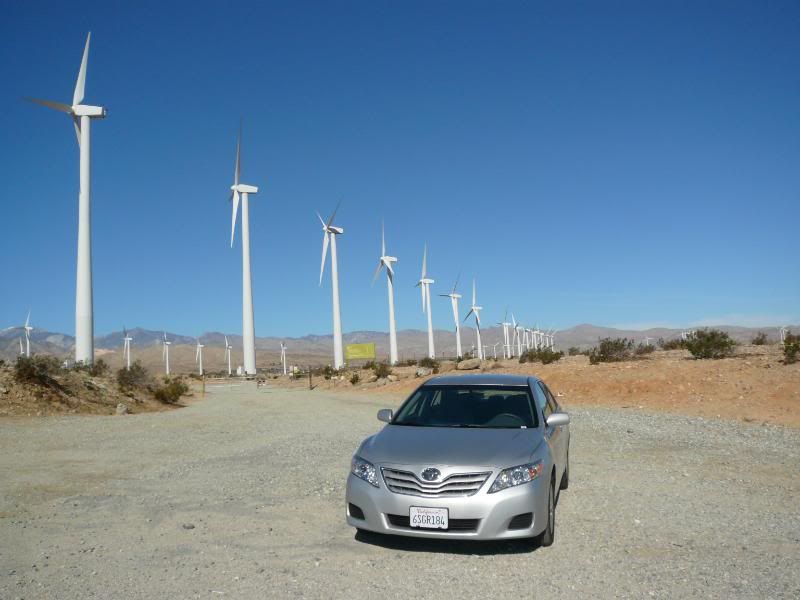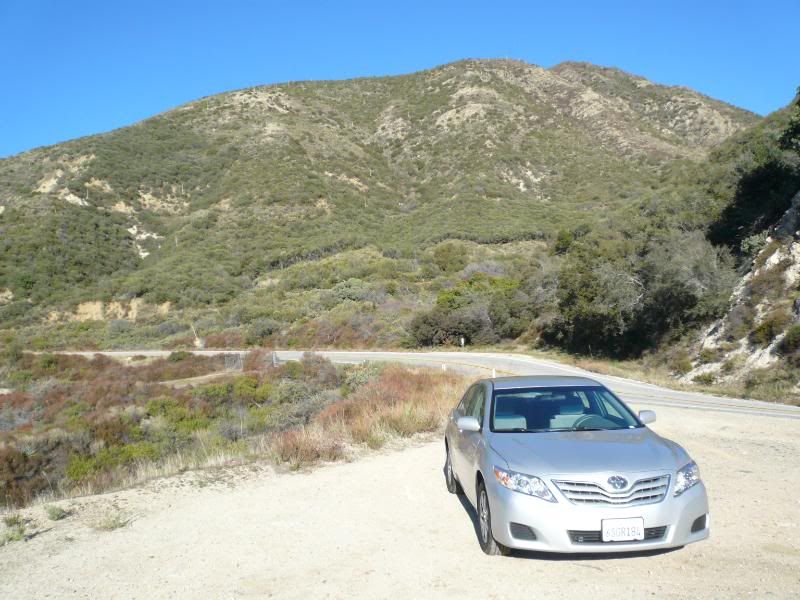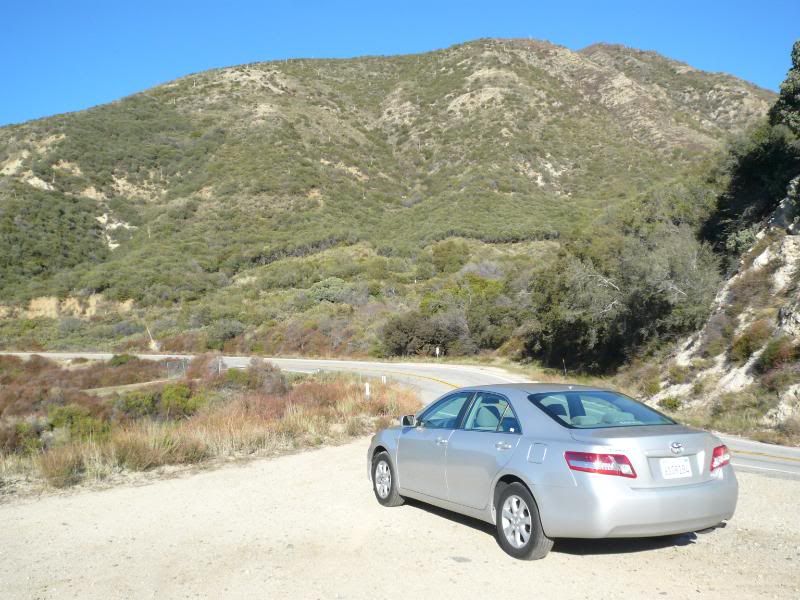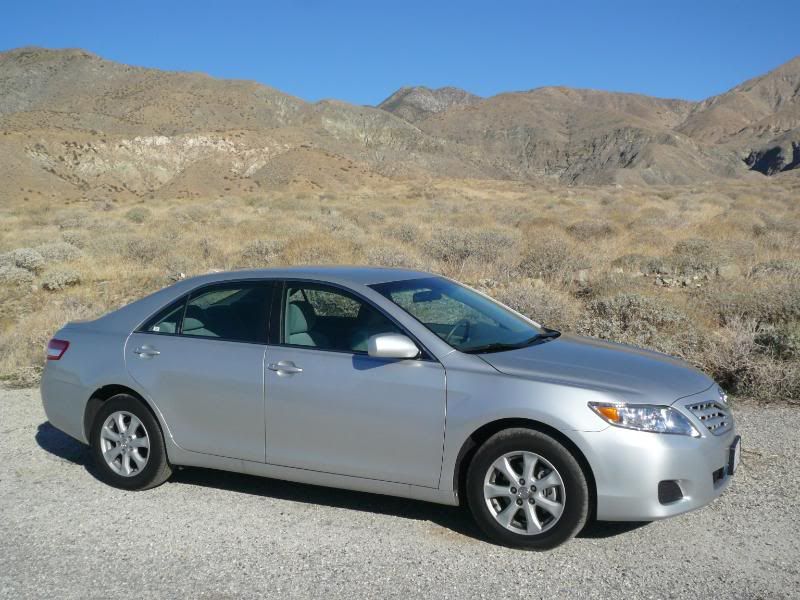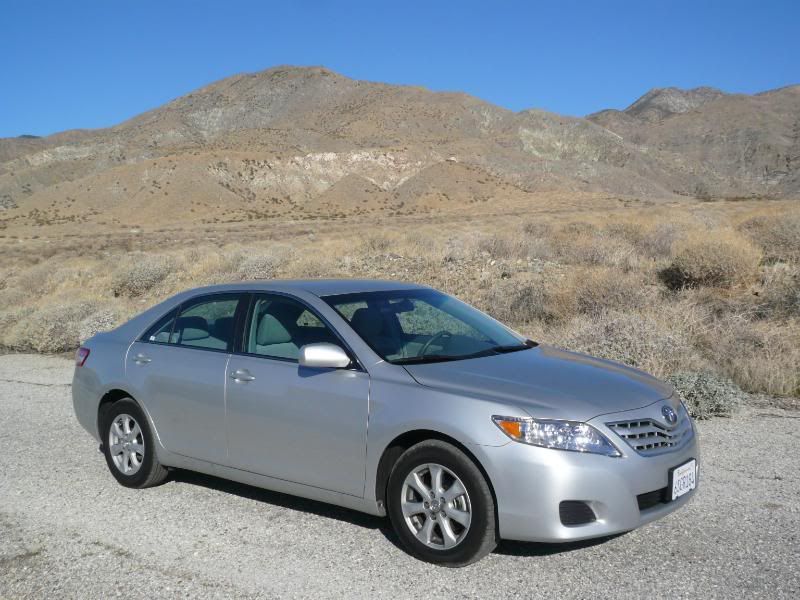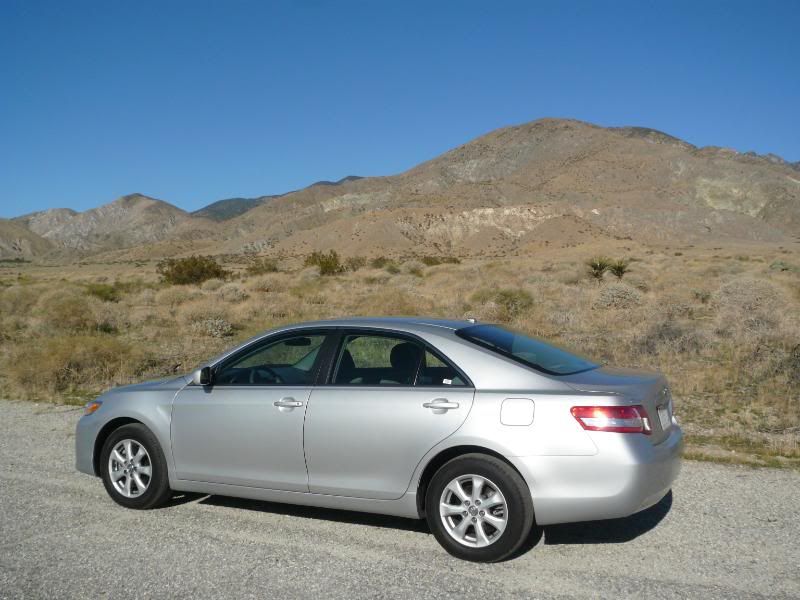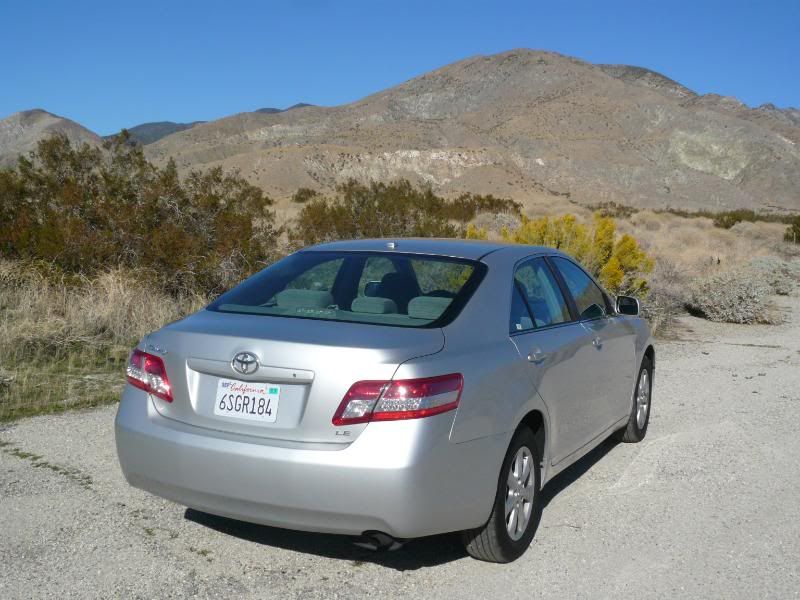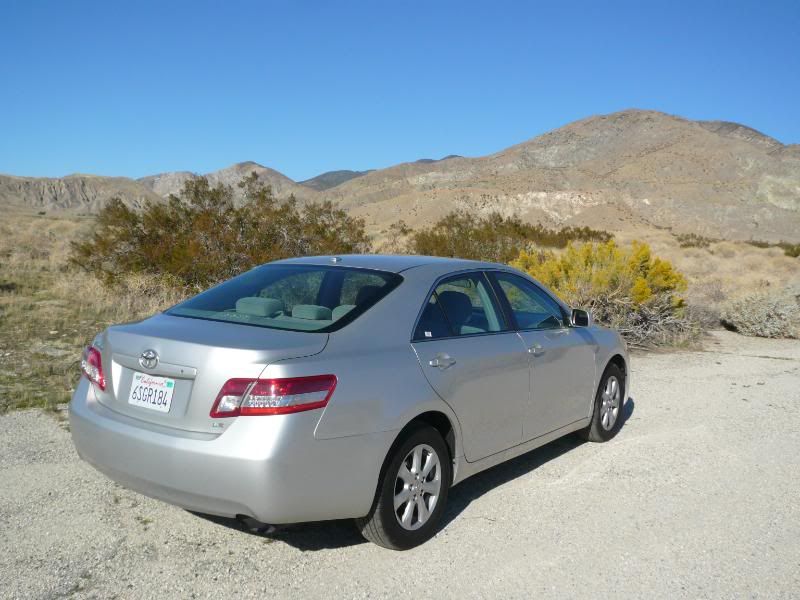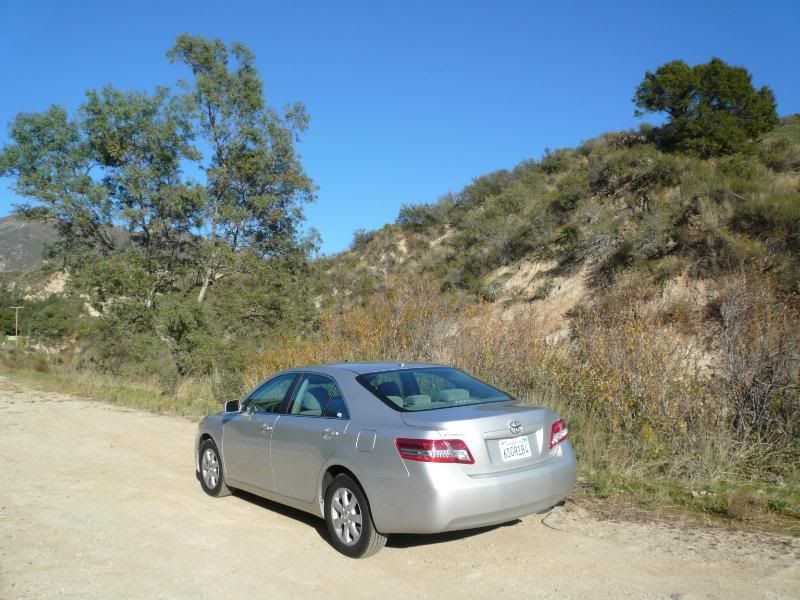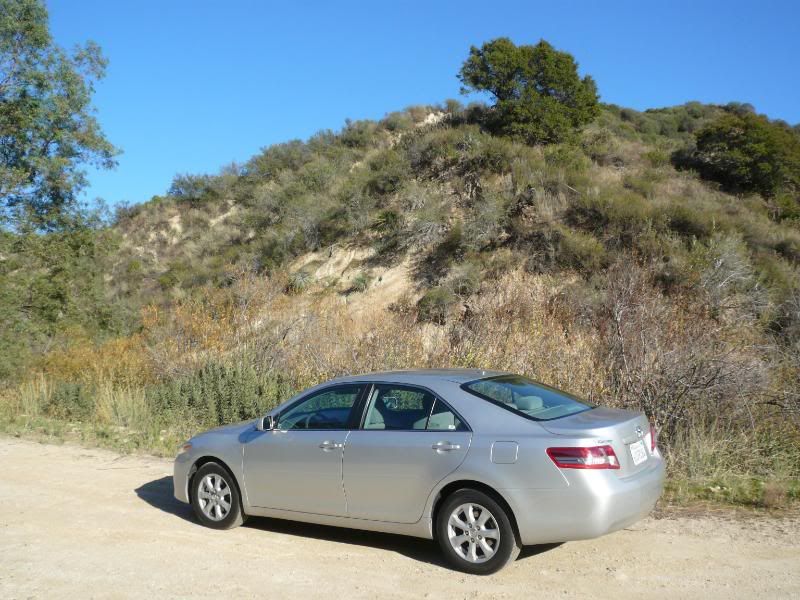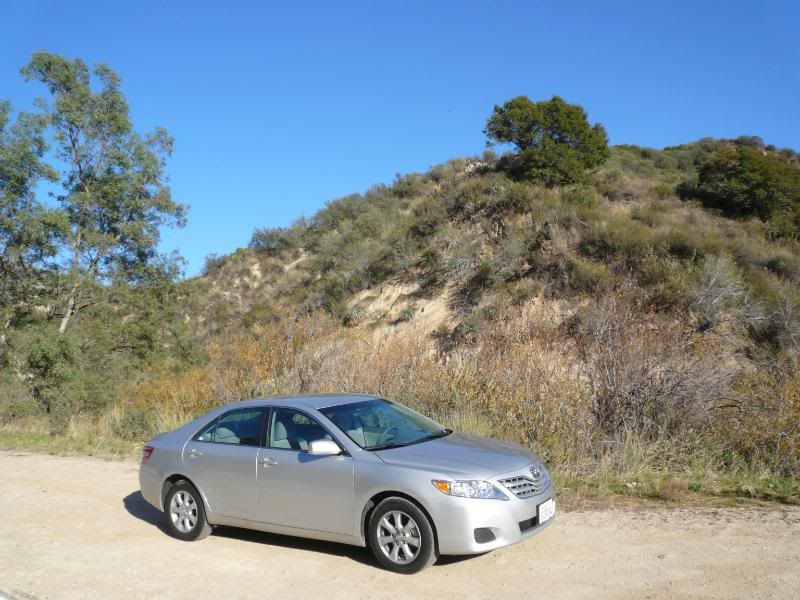 Whilst the Camry was in my tenure, I popped into a Barnes & Noble to grab a cup of coffee and to catch up on the latest US motoring mags. In one of them I found a summary of the new 2012 Camry model which has just gone on sale, and the car was likened to Polenta. Perfectly inoffensive, and does a good job at filling you up, but utterly bland and therefore not something about which you could ever get remotely excited, the analogy seemed to me to be a good one for this volume selling Toyota. Objectively there really is little to criticise about this Camry, but it is definitely the sort of car that would only ever appeal to people who need a car of this size and shape and not be something that you would actively want. Enthusiasts sometimes forget that these sort of people actually constitute the vast majority of the car-buying public, so perhaps it should not be a surprise that the Camry sells so strongly. For these purchasers, it ticks every box pretty well, but for anyone with even a few milligrammes of petrol in their arteries, they will need to look elsewhere for any vestige of automotive enjoyment.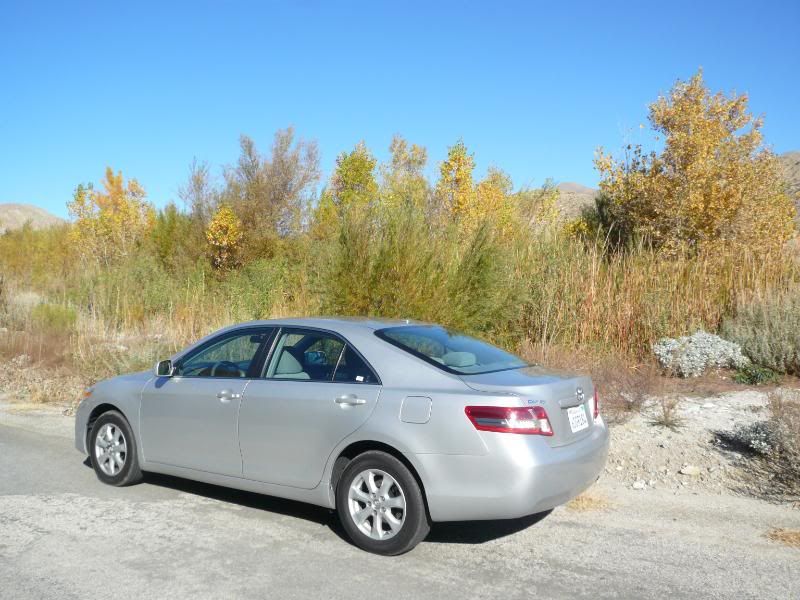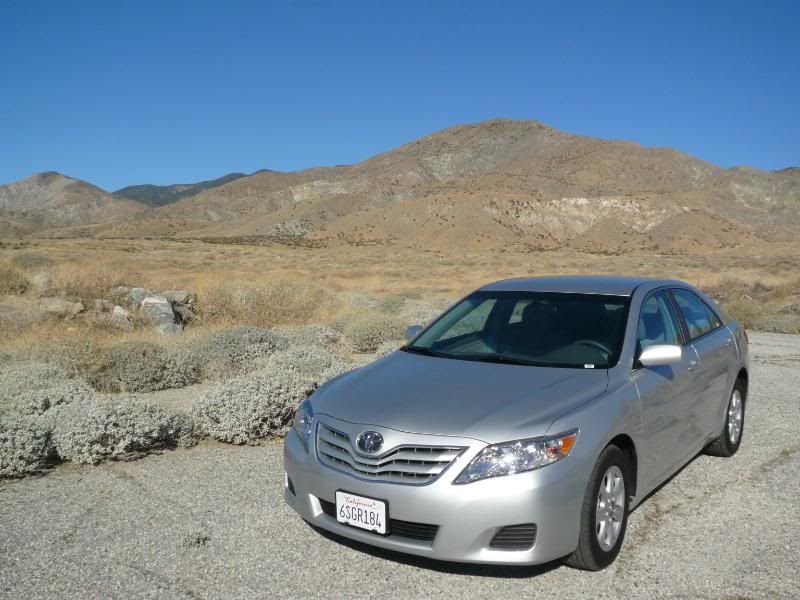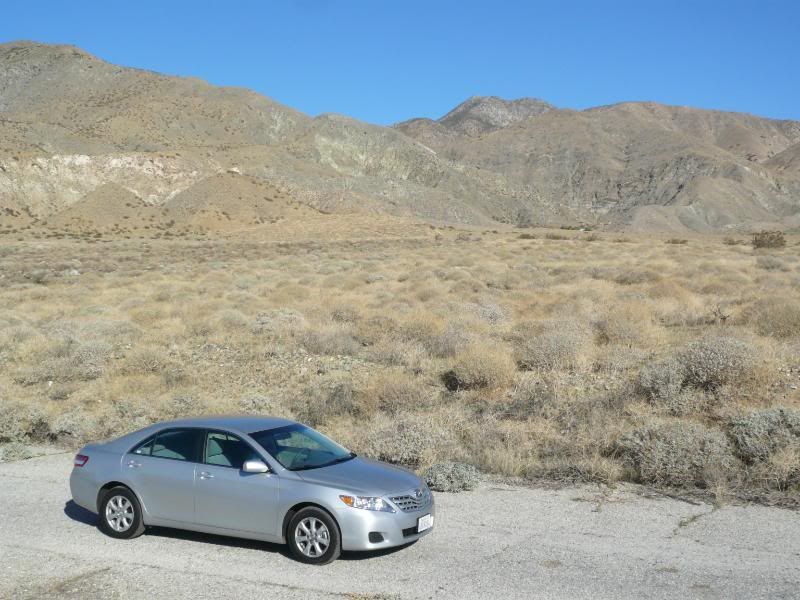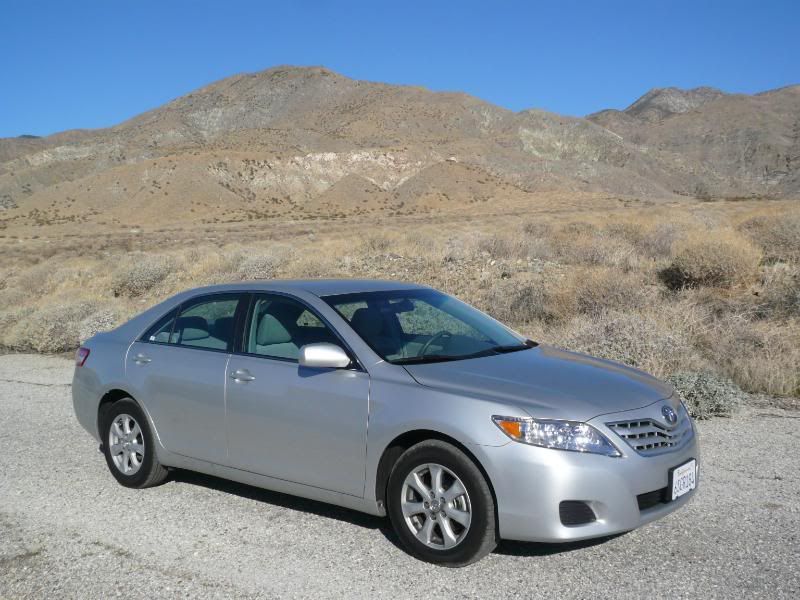 2012-01-21 18:58:20
Share and Enjoy