2011 Audi A7 3.0 TDi 245 quattro S-Line (GB)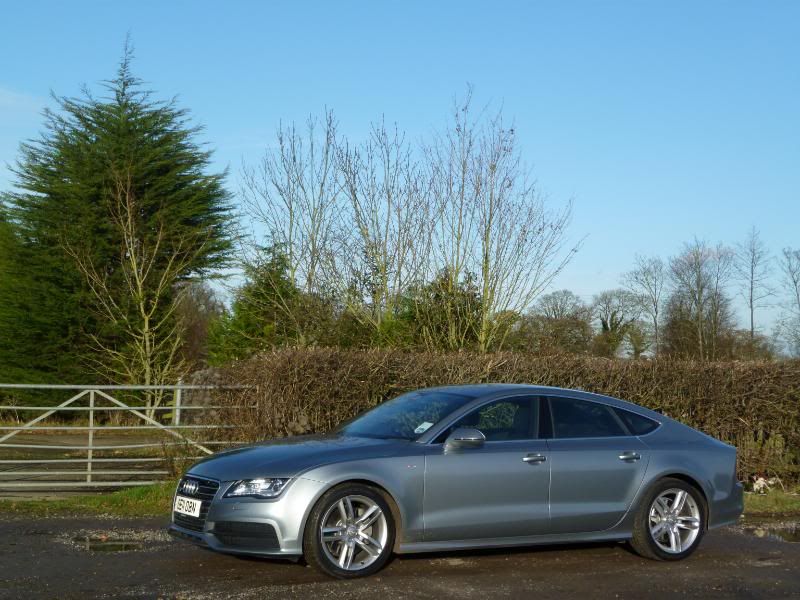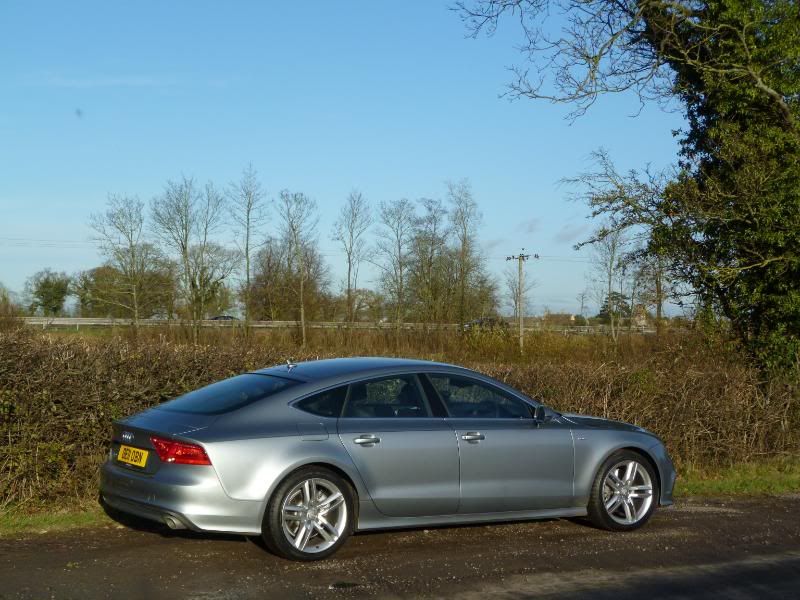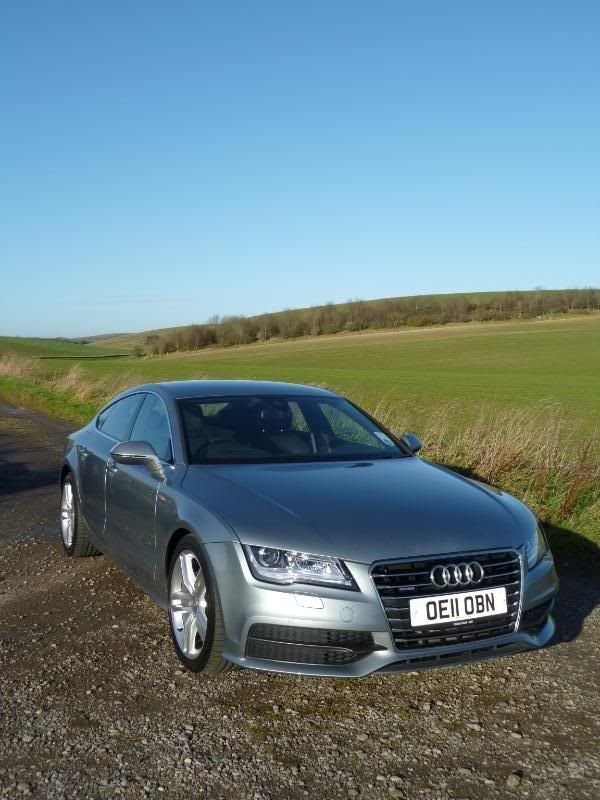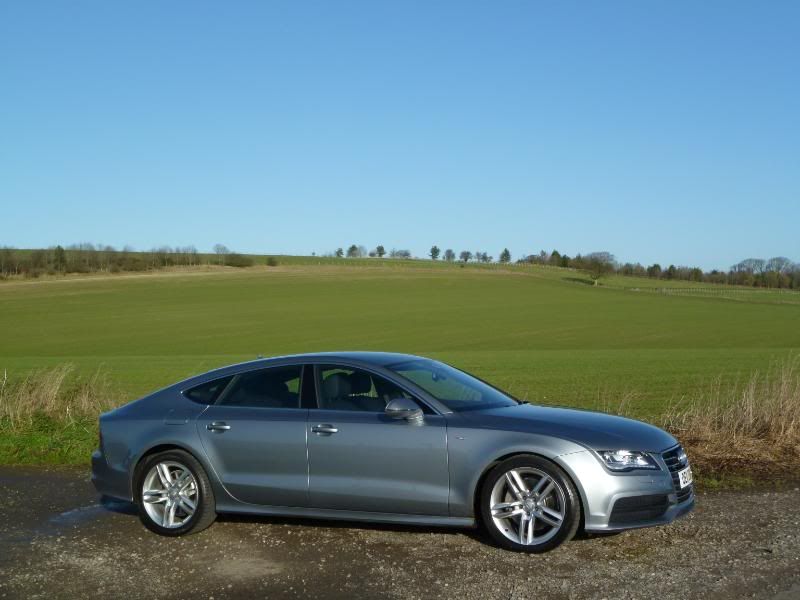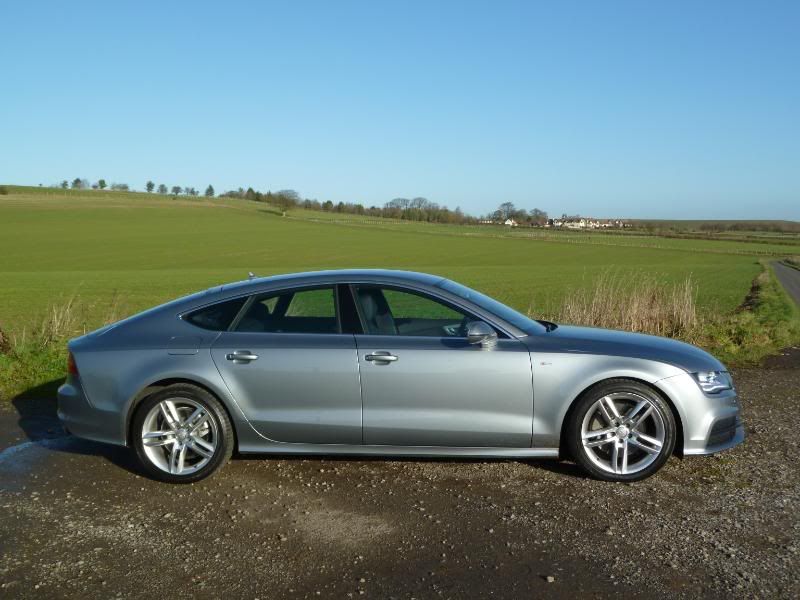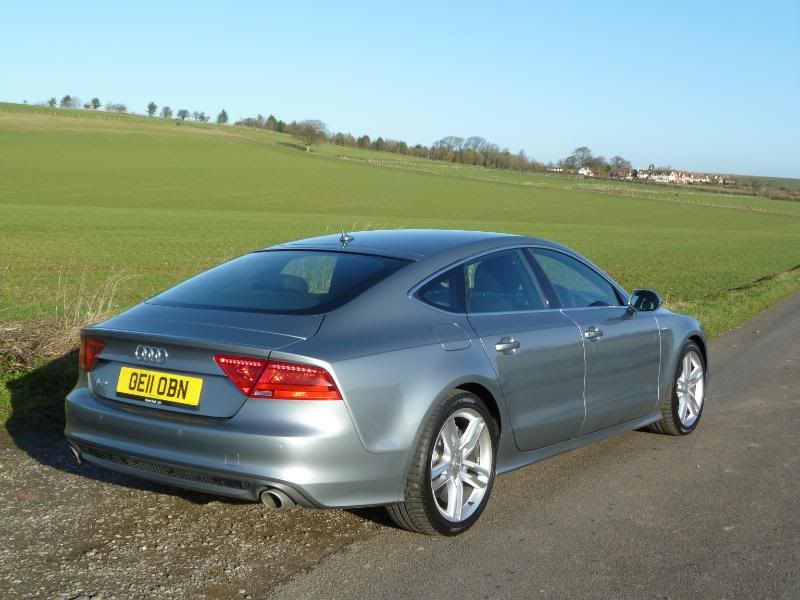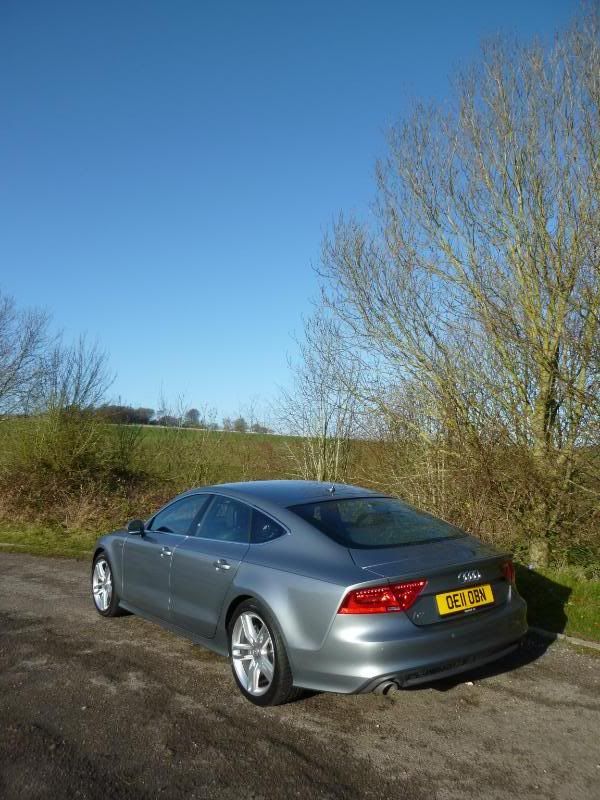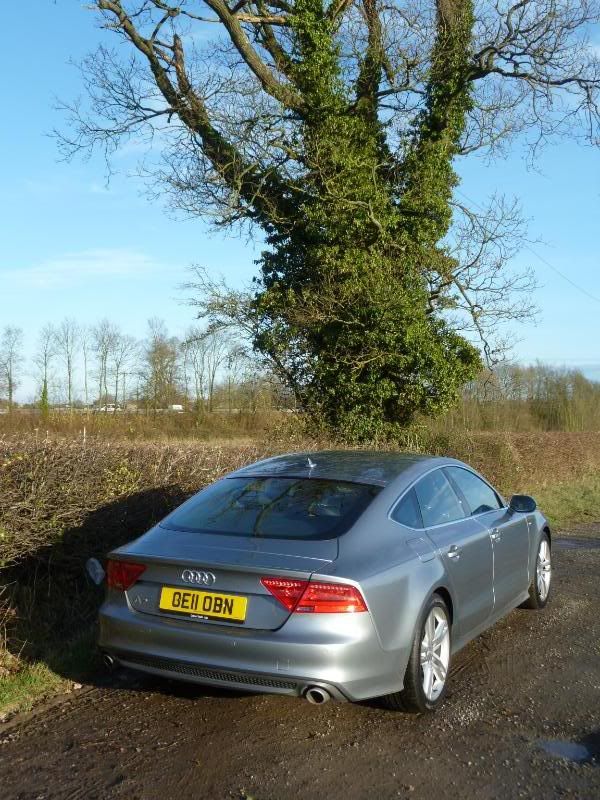 With the launch in 2010 of both a premium supermini (the A1) and a large and style-oriented  5 door hatchback, Audi filled in the two as yet unused numbers in the sequence of "A" badged cars between 1 and 8, expanding their product range still further. The A7, based on the platform that underpins the new A6 that followed in early 2011, was intended to rival the successful CLS Class Mercedes and BMW's less loved 5 Series GT, by providing a large and roomy car that focuses more on style than the A6. and is slightly less formal and massive than the A8. Its lines had been presaged by a Concept Car which had been shown a year earlier, and was said to be intended to recall some of the style of the 100 Coupe model of 40 years earlier. A7 went on sale in the UK early in 2011, priced significantly higher than the A6 models. As predicted, it has not sold in large quantities, so it is quite a rare car especially compared to all other current Audis which have a prominent position on our roads these days. Although it is the S7 model that was launched at Frankfurt 2011 which would really appeal to me, the really premium pricing for that car will ensure it remains tantalisingly out of reach, and it is in any case not yet on sale, so I set my sights a little lower into the A7 and arranged to borrow one, to see what I thought of the car. Newbury Audi very helpfully obliged, with a loan car available from Friday to Monday, though the initial plan to sample an SE model had to change when that car was sold. Pleasingly, they managed to source an S-Line car from their Oxford dealership for me as an alternative.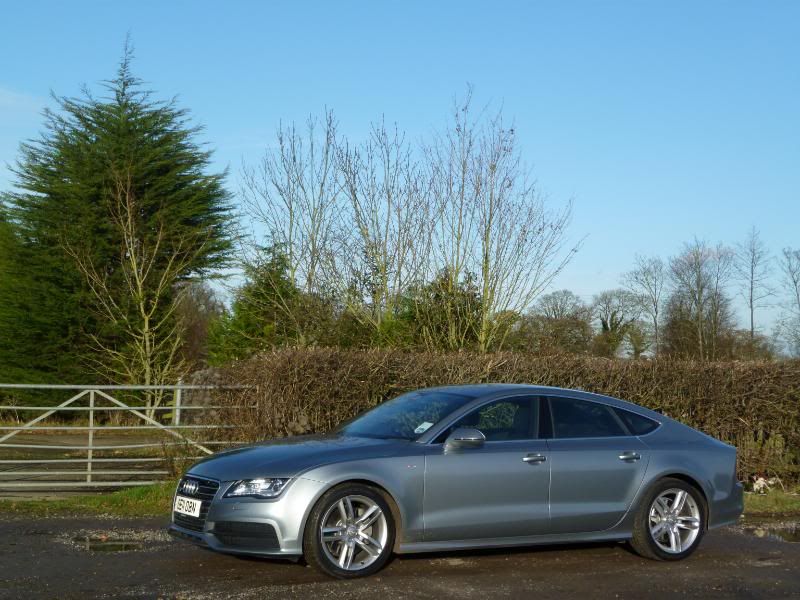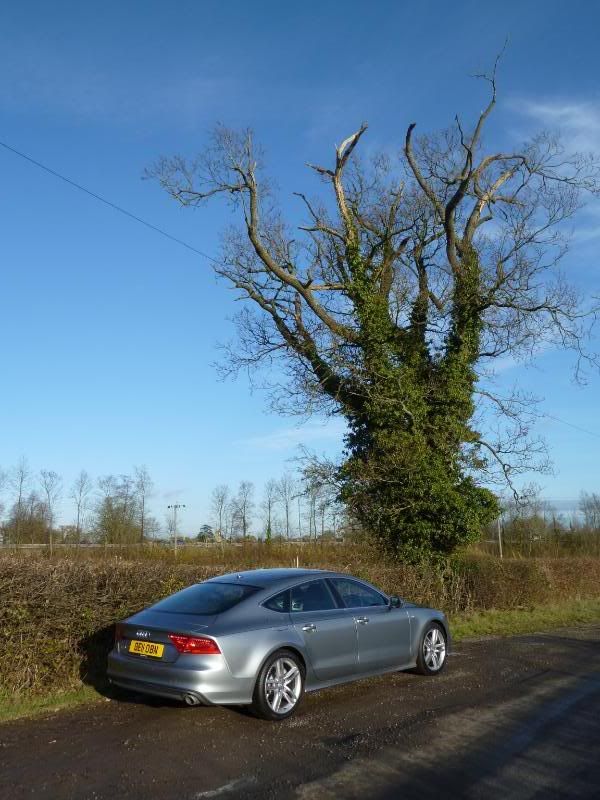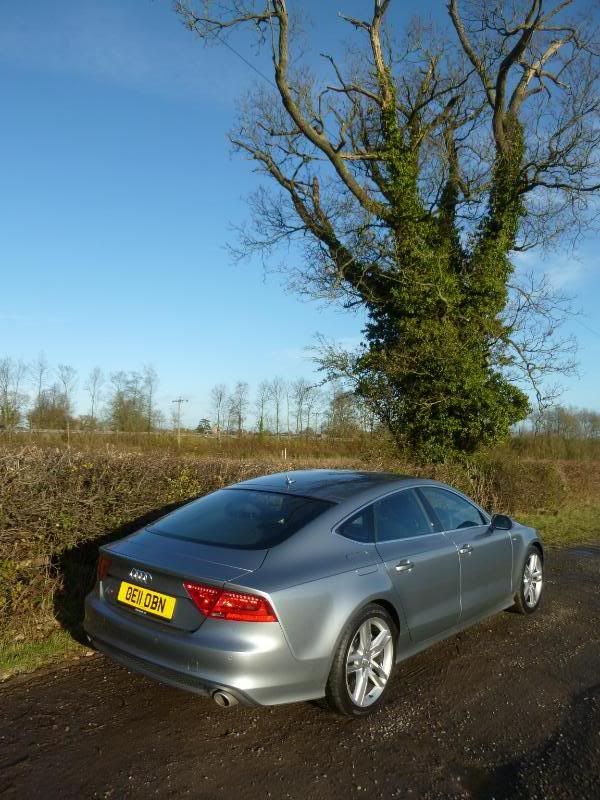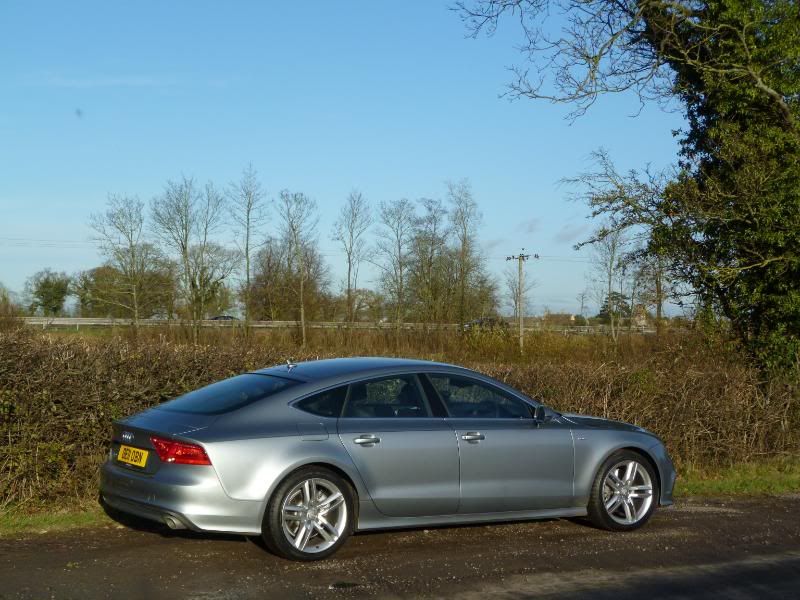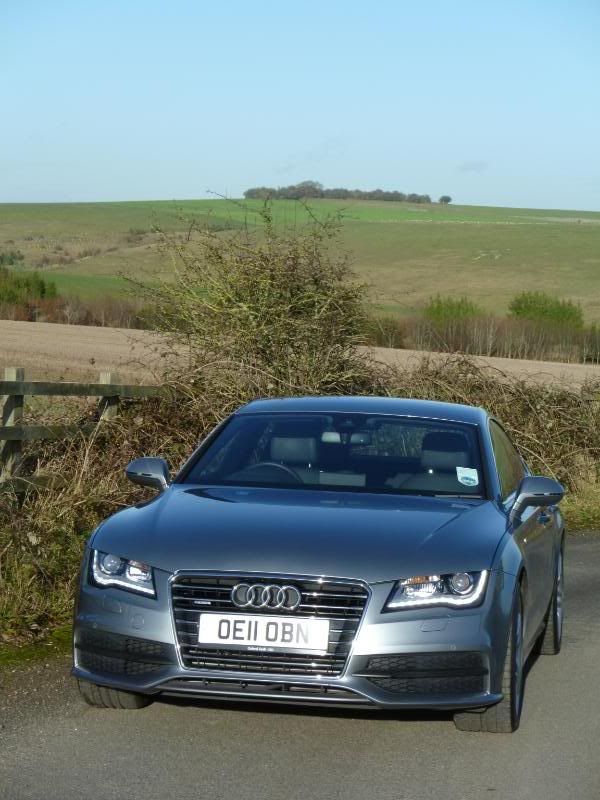 Although Audi do offer a couple of petrol engines in the A7, in 2.8 and 3.0 capacities. it is the diesels that sell far more strongly in Europe, with 2 versions of the latest 3.0 TDi unit currently offered. These come in 205 and 245 bhp guises Petrol cars all come with quattro four wheel drive and the 7 speed S-tronic gearbox, whilst the less powerful diesel is available in both front and four wheel drive formats. The former has an 8 speed multitronic transmission, whereas the Quattros use the same gearbox as the petrol cars.  With CO2 ratings of just 135 g/km and 152 for the 205 bhp cars and 156 g/km for the 245 bhp quattro, it is clear that Audi put lots of focus on achieving a class-leading emissions performance, as these are deeply impressive numbers. My test car was the top spec 3.0TDi 245 bhp quattro, and it came in S-Line trim. With nearly 200 bhp less than my beloved V10 engined S6, you might think that performance would be something of a disappointment, but this proved not really to be the case. At 6.3 seconds, the quoted 0 – 60 acceleration time for the 245 bhp quattro is only 1 second slower, this car having a 1 second advantage over the 205 bhp models. More telling is the vast amount of torque generated – 500 Nm (369 lb/ft) between 1400 and 3250 rpm, so the reality on the road is that this car feels very brisk indeed. Like the S6, you can drive it in lazy mode, making the engine do very little work indeed, and it will still gain speed quite quickly, or you can press the accelerator that bit harder and then the car rockets away with surprising alacrity. True the noise will not delight in the same way as the V10 petrol, but not will it upset you in the way that diesels sometimes do even now. Be in no doubt that this is a very refined and civilised engine. Start the car and you get none of the dreadful rattle that used to bedevil the derv drinkers, just a gentle rumble, and as you accelerate away, you just get a bit more of the same, but this is a quiet engine indeed. There is some road noise, very dependent on the road surface as I found on the patchwork quilt of motorways and country roads on which I tested the car, which varies between negligible to noticeable, but otherwise this is a very civilised cruiser indeed, with the ability to rocket forwards if the need or desire arises.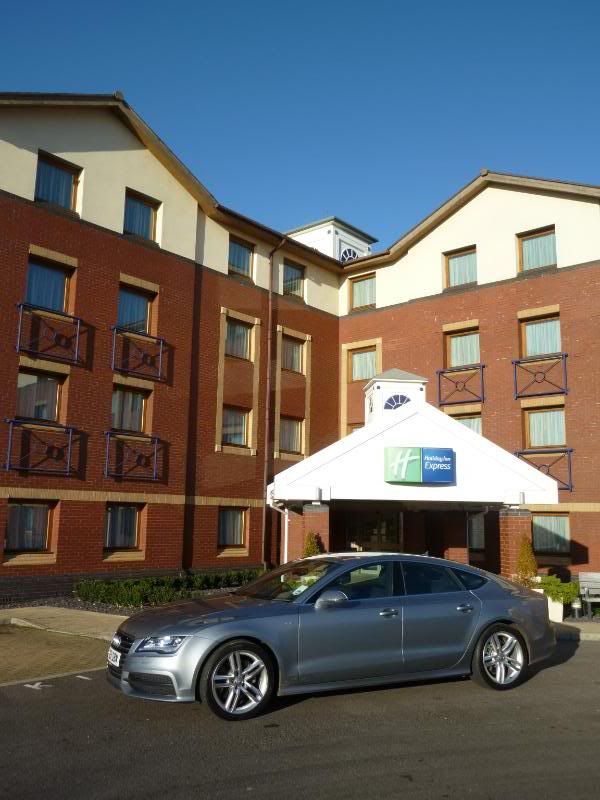 Where this car does score over the S6, though, and unsurprisingly, is in its parsimony. I averaged just a smidgeon over 40 mpg on a route where I would be pleased to see 25 mpg in the V10 car. For such a large car, that is a commendable figure indeed. One trick that helps to wards this achievement is the Stop/Start system. This is the first time I have encountered such a set up on an automatic, and in many ways, it works better here than on a manual car. Come to a standstill and put your foot on the brake and the engine cuts out. Move your foot to the accelerator and the engine fires again, all that bit faster than when you need to get your foot on the clutch and the car in gear in a manual. Just as well, perhaps, as the system cuts in at every opportunity, which is slightly un-nevering when you are edging forward at a road junction for instance. None of this would be any good if the A7 was not nice to drive, though. It did not disappoint me. The steering is not too light, and although it lacks the last few percent of feel that BMW and Ford would probably have insisted was essential, for those who are happy with the way an Audi drives, they will love this one. A7 is a big car, and when you are turning it around, you do notice this, although it is not a heavy car to manoeuvre, but on the road, it belies its size. It feels safe and secure on the road, no doubt with the quattro system helping to tame any consequences of quite so much power and torque being transmitted through the front wheels. This is not a sports car to fling around the bends in the way that you would with a hot hatch, but as a luxury tourer that you could take off the motorway just as happily as on one, it is fine. There are those who would question the wisdom of this in any Audi with S-Line badging on it, having read many reports, mostly from UK journalists it has to be noted, castigating the ride complaining that it is rough and plain unacceptable. Just as they are so wrong about this facet of my S6, so they would be wrong to moan about ride comfort in this car, too. The test car had the standard 19″ alloys, and it maybe that cars with the larger 20″ wheels are harsher. It is true that some of the more extreme ridges in the road were just noticeable, but otherwise, this car was comfortable and compliant, and certainly a gait with which I could easily live. There are settings available on the MMI/Driver Assist system to select dynamic, comfort or automatic mode, which do sharpen a number of the driving characteristics, but from limited research, they seemed not to make that much difference. The A7 is a large car, and you are reminded of this when manoeuvering it. With a very steeply sloped rear end to the car, judging the back of it is not that easy, though there is a parking camera to help out.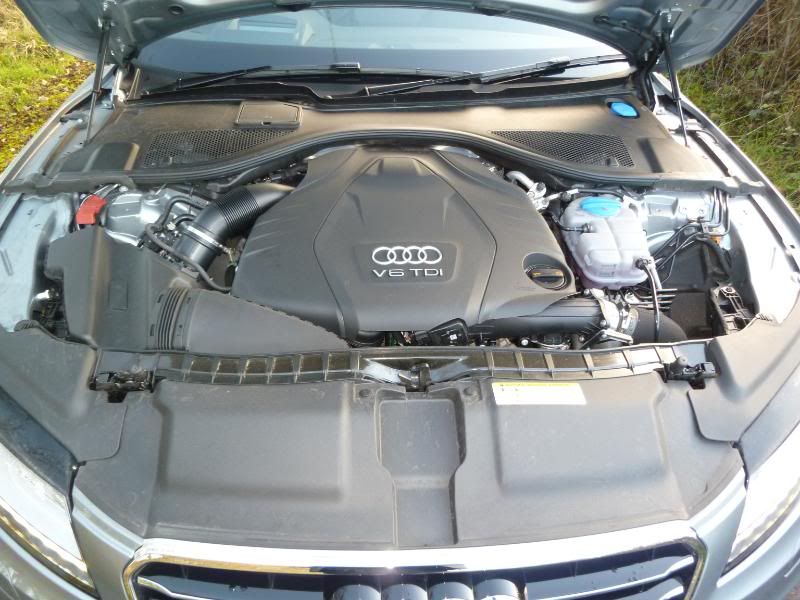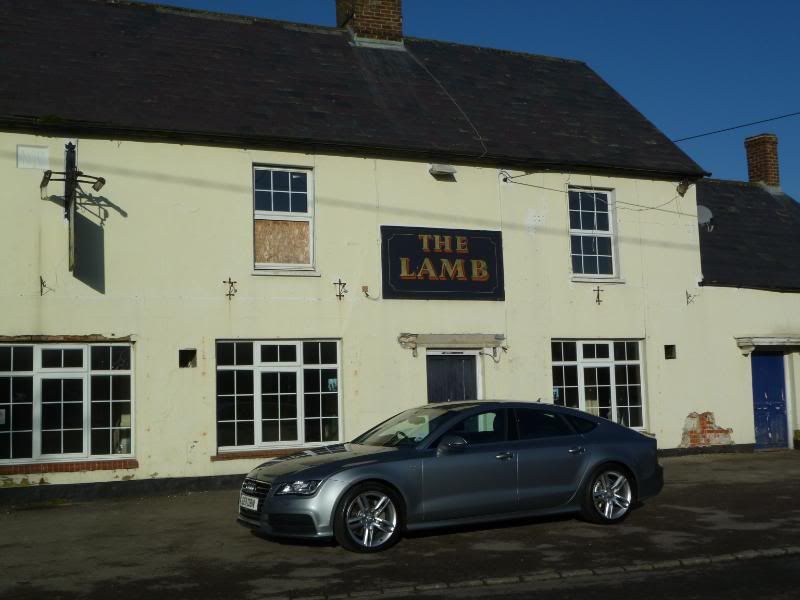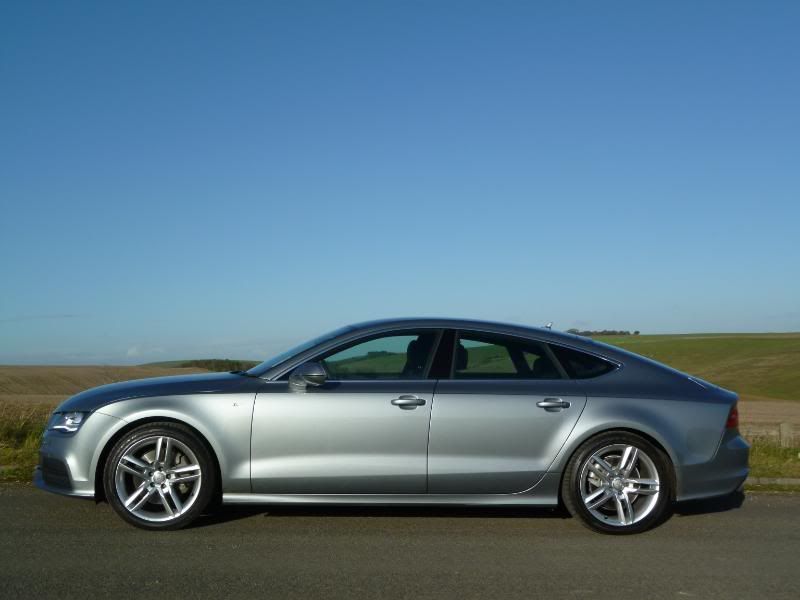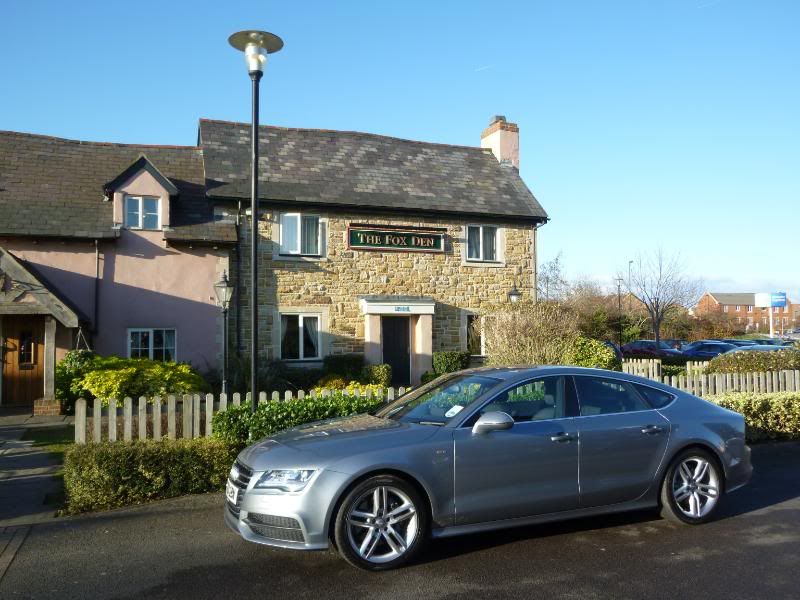 There is no doubting that this is an Audi when you look inside it, though, all the details are different from the cars with which I am more familiar. It is beautifully presented and finished, and looks absolutely top dollar. Look a bit harder and there are an awful lot of buttons, but it avoids the look of being too fussy and complicated that I perceive in some BMWs and Mercedes (and the latest Ford Focus).  The main dials are very clearly presented, with 2 large ones, of speedo and rev counter in the centre of the display, and smaller units for fuel level and water temperature on the outer edges. The latter pair do not have a pointer but have a series of illuminating bars around their edge to indicate the reading. A large panel in between the dials displays vehicle information, from the "short term memory", such as average fuel consumption, journey time, as well as, at the bottom, the odometer and trip meter, the digital clock and outside temperature. A rotary dial to the right of the wheel operates the lights, with separate buttons for the fog lights and an instrument rheostat. Turning the light switch to "auto" was required to activate the heads up speed display. Column stalks from the VAG parts bin operate indicators and wipers, and there is a smaller one, mounted lower to the left for the cruise control. It is the middle of the dash and the centre console where you will find the rest of the action. There is a large colour display screen which powers horizontally out of the dashboard and then swivels up to a vertical position when the car is started. There is also a button to the right hand side of it for a manual over-ride of this. The display screen shows either the choice of audio channel, the satellite navigation system, various settings for the car or telephone connections. Most of the ways that you switch between these and make selections are in a series of buttons around the MMI toggle on the centre console, and although there are a lot of buttons it all proved pretty intuitive. There is a numeric touch pad to the right of the MMI controller, for radio pre-selects. You will also find the button for the electronic handbrake and the hill-holder. Below the display screen is a single slot to load and eject CDs and a button operated cover which allows you to plug in an SD card for the satellite navigation maps for other countries. The Audio connection port for iPods and the like is in the cubby under the central armrest. A row of rotary dials and switches below this operate the dual zone automated climate control, and the seat heaters. What struck me was how much more sophistication comes in this car compared to what was state of the art 4 years ago when my S6 was a current product. Not only that, but the graphics on the display screen are much better, as well as including a lot more information. A small speed limit sign, for instance picks up the limit from sat nav data, and if you do not go for the heads up display speed limit projection option, this has to be a useful second best option. A few more buttons cover other functions such as manually raising the rear spoiler turning on and off the traction control and hazard warning lights. All the switches feel nice to use, and there is a neat trim of brushed aluminium around the centre console, as well as in front of the passenger and on the door casings. In keeping with the modern trend, there is a large "Start/Stop" button on the centre console. There is no slot for the key, so as long as it is in proximity (your pocket will do fine), you just put your foot on he brake, and press the button and the engine fires. This makes more sense than those cars where there is a similar button but the key still has to be inserted. For sure there are a lot of buttons and a lot of complexity,but it is worth saying again that is not that daunting even the first time, and it really all is beautifully presented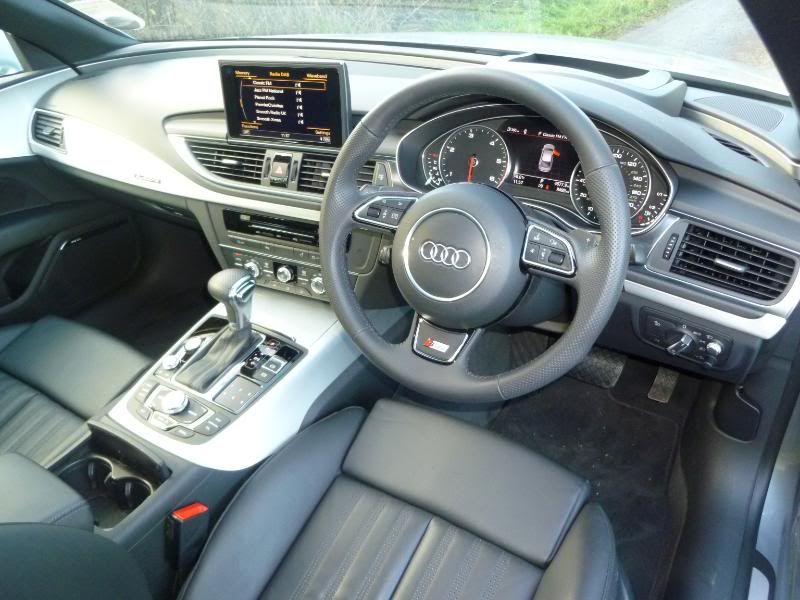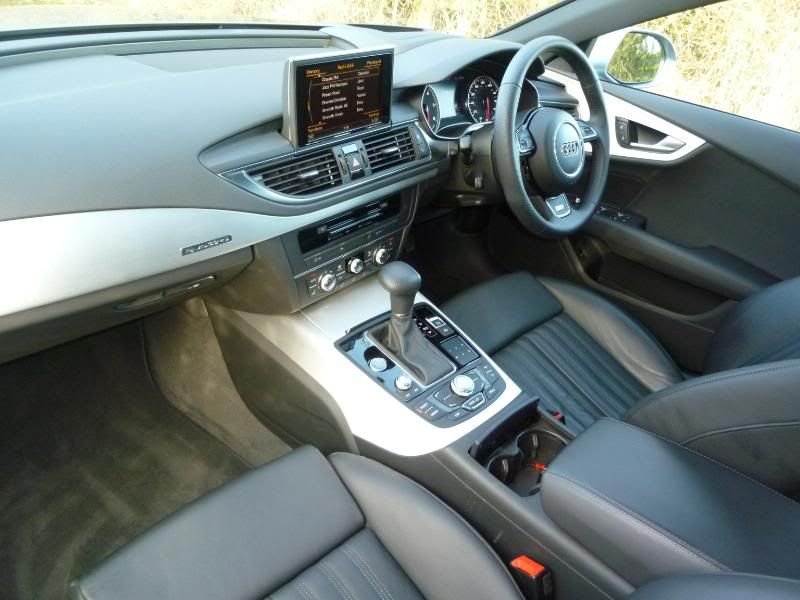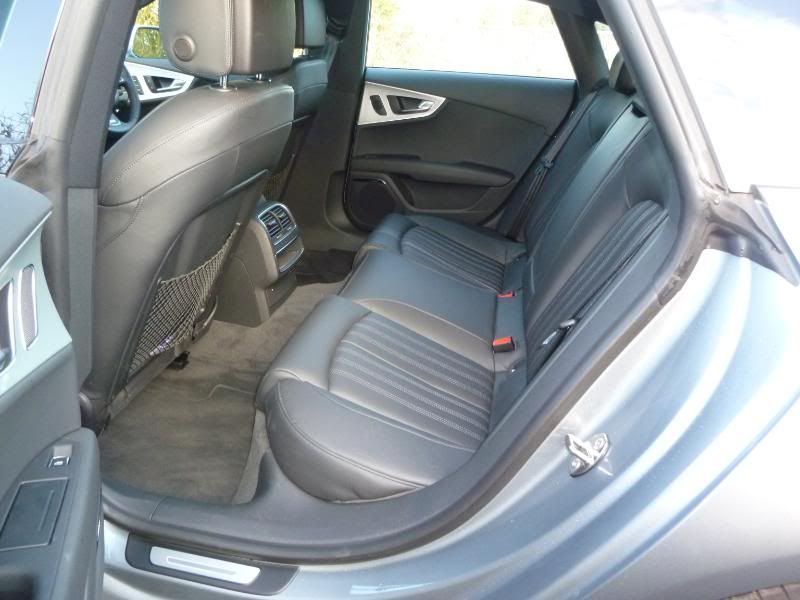 Although there is now a 5 seat option, the A7 is really intended to be a 4 seater, and to that end, the car is offered with just 2 seat belts for those in the back. Open the door and have a look and you can see why. The height of the transmission tunnel and the intrusion from the back of the central armrest means that a middle passenger – for whom there is plenty of space on the seat itself – would need to sit with their legs straddling this large obstacle, which would not be especially comfortable. With the driver's seat set to suit me, there was a vast amount of legroom, but even with the seat set well back, there is plenty. Despite the low roof and coupe styling, it is easy to get into the car and headroom is adequate too, with my head clear of the roof and also far enough forward not to be touching the tailgate. This would indeed be an excellent grand touring car for four people and lots of luggage, as open the boot and you find a gigantic cavern. It is just huge. The tailgate is large, but it is electrically assisted, both when you open and close it. Most of the parcel shelf is attached to the tailgate, but there is a small removable piece that sits over the forward part of the luggage as well. There is a ski flap in the centre of the rear seats, and of course the seats can be folded forward if yet more space is needed. In the passenger cabin, there is a good glove box, modest door pockets, a bi-level cubby under the centre armrest and a deep slot in front of the gear lever.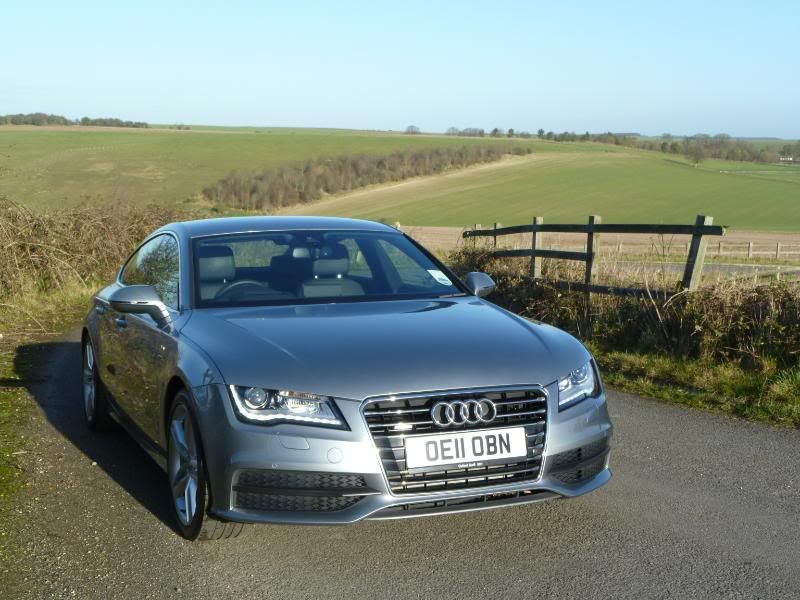 Although the standard spec is far from ungenerous, Audi offer a bewildering array of options for the A7. Tick the box on all of them, and you can literally double the cost of the car. Yes, double it. Let me repeat again, add a further £48,000 cost to the initial purchase price. Whether anyone would indulge to such an extent is perhaps debatable, but look at what is on offer and it is almost inevitable that some will be selected. For a start, if you want your A7 finished in anything other than ibis white or brilliant black, then it is £750 for metallic paint, or £1850 for Audi exclusive paint (which included the brown that featured in many of the launch car publicity photos), or £2950 for a Customised finish. And that's just the start. I reckon that my test car had about £8500 of options, several of which were really quite desirable. Configuring an A7 gets quite complicated as some of the options are pre-req and co-req for others, so plenty of soul searching would be required by the prospective purchaser. Start with the seats: perforated black alcantara/leather comes as standard on the S-Line, but if you want them heated, that will be £360, please. Choose the "Comfort Seats", which give you 18 way electric adjustment, with memory functions that also include the mirrors, and in an SE you will pay £1640, and £2940 for a Standard spec car, but in an S-Line you get a simpler set of electric adjustments, but there is no explicit charge at all. Confused? It gets far more complex yet. But before  moving on from the upholstery, you need to look at the the colour and the finish, and here is where you can add all sorts of things from an Audi exclusive wooden gear knob at £325 all the way to Audi Exclusive Leather package 2 which costs a heady £8670 and gives you leather coverings to all sorts of things, more than in the Package 1 (a snip at just £5000 by comparison!). Now choose your trim inlays, and the standard brushed aluminium would be my choice, but for those who prefer piano black, that will be £880 or a particularly odd looking oakwood that looks like corrugated card is only slightly cheaper at £735. Exclusive inlays cost more at £1365.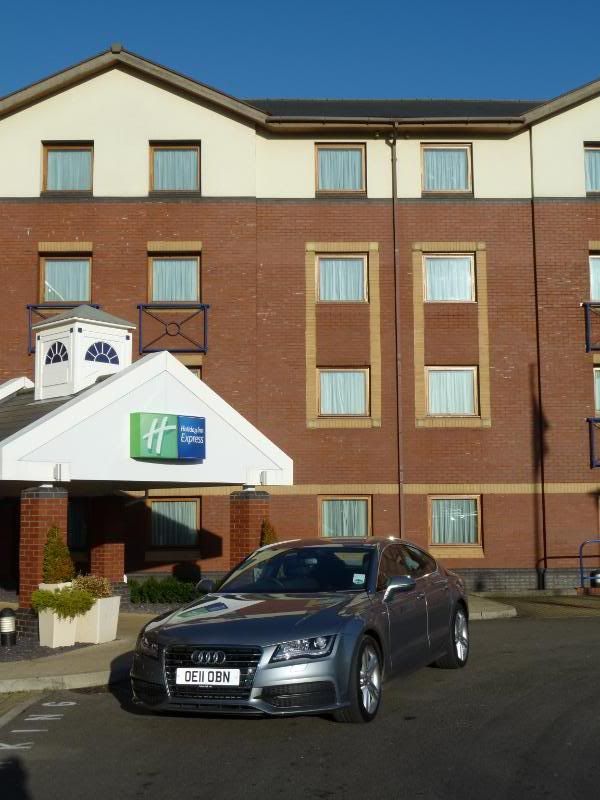 A wide variety of wheel trims are offered, with 18″ alloys standard on the base and SE cars and 19″s on the S-Line. Select the most costly option, 20″ high gloss ones that I think look bling and that is £3000, and then if you want run flat tyres, and adaptive suspension, that's more again. The sports suspension that comes on the S-Line is available on the other cars for £410. Not finished, yet. Not by a long way. Now we get to the really pricey stuff! the "Packages". The Technology Package brings you MMI Plus, MMI Touch and a Head Up display, along with mobile phone preparation. £2050. This was on the test car, and I really did like the head up display, which I found just brilliant for showing your current speed just in your line of vision. You need this package if you want to add further functions, including more data to the Head Up Display including speed limits. The Comfort package, at £1750, is only offered on the SE, and brings a rear view camera and electric seats.  Audio options can get pricey, as the Bang and Olufsen Advanced Sound System is a heady £6300! A DAB radio is included as standard, and I found that whilst the reception was very strong in some places, there were areas where it cut out completely. Needless to say, there are all sorts of upgrades including DVD and CD changers, digital tv reception and phone preparation features. Not done yet, as there are now a whole list of items – 4 pages in the brochure covering everything from ambient lighting to a storage net for the boot, a ski bag, cloth headlining, the ambitiously priced £2100 for Exclusive carpets with leather piping, a sun roof, privacy glass, electric door closing and a tow bar. Nearly done now. Adaptive cruise control with pre-sense distance regulation is £1800, but you can add to this with active lane assist, and pre-sense rear and pre-sense plus. Basic cruise control is just £285, everything else starts to add four figure sums to the cost. Nearly done now, but there are various lighting options around high beam assist and adaptive lighting, and then there are choices around steering wheel design which can range from £40 for a 4 spoke item, to £610 for a wooden one. Wow!
So what do you actually get without paying any extra? All models get a 6 speaker Audi sound system, MMI Radio Plus and an SD card based Navigation system with bluetooth preparation and driver's information system, auto sensors for lights and wipers, keyless go, a split folding rear seat, milano leather seats, climate control, a power operated boot lid, xenon lights and aluminium inlay trim. For an extra £3765, SE cars get the basic DAB radio and a more sophisticated Music Interface, basic cruise control, electric front seats with lumbar support and heating for the front passengers as well as Parking Assist.  The S-Line costs a further £1790 and brings 19″ alloys, sports suspension, sports front seats with valcona leather, S-Line badging and trim differences.  Only one thing surprised me as missing; no rear wiper. Whilst the rear window does clear once on the move, I started the day with melted frost and condensation on the glass and it would have been useful to have been able to sweep it away.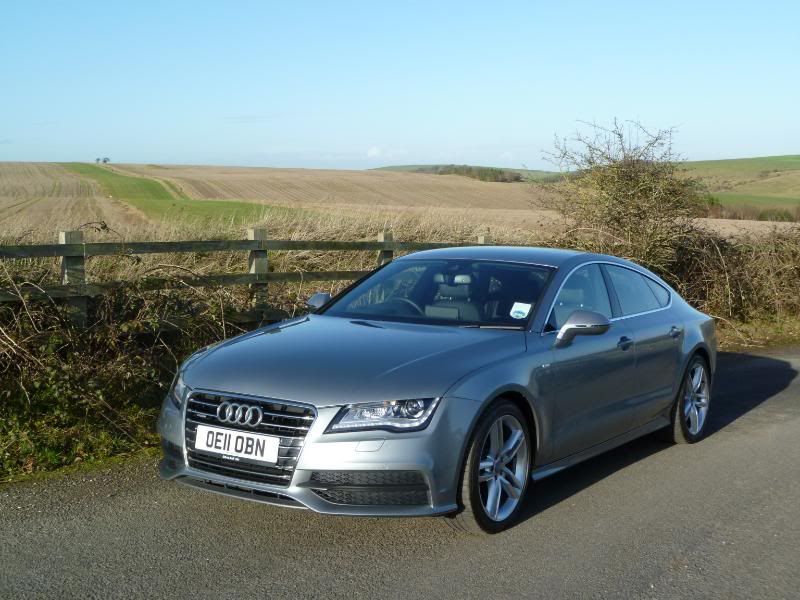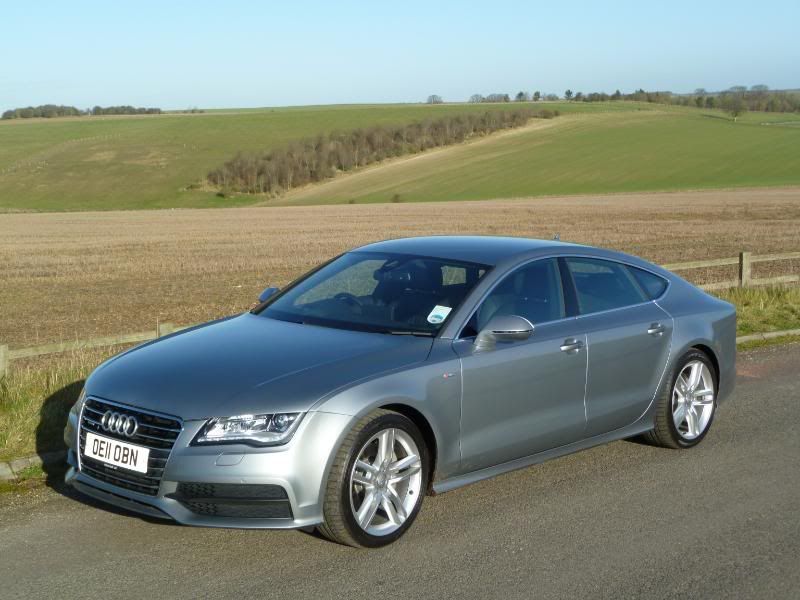 Be in no doubt, the A7 is a very impressive car. I like the looks, the engine was far better than I was expecting with very little evidence that it was a diesel except that it was pleasingly economical for such a large vehicle, the car was good to drive, was very comfortable, spacious for passengers and luggage, and it is beautifully finished. It would be a lovely car in which to waft home after a long tiring day as much as one to push rather harder on a road where you have to drive rather than just steer. I cannot imagine how anyone who bought one would feel disappointed. But be in no doubt that the base car is not cheap, and once you raid the options list, the cost will mount up a lot more. So, although I liked this car, there's still going to be a lot of soul searching to do if I decide that my next car goes from a 6 to a 7.
2011-12-23 14:24:47
Share and Enjoy