2011 Lexus IS250 Prestige (AUS)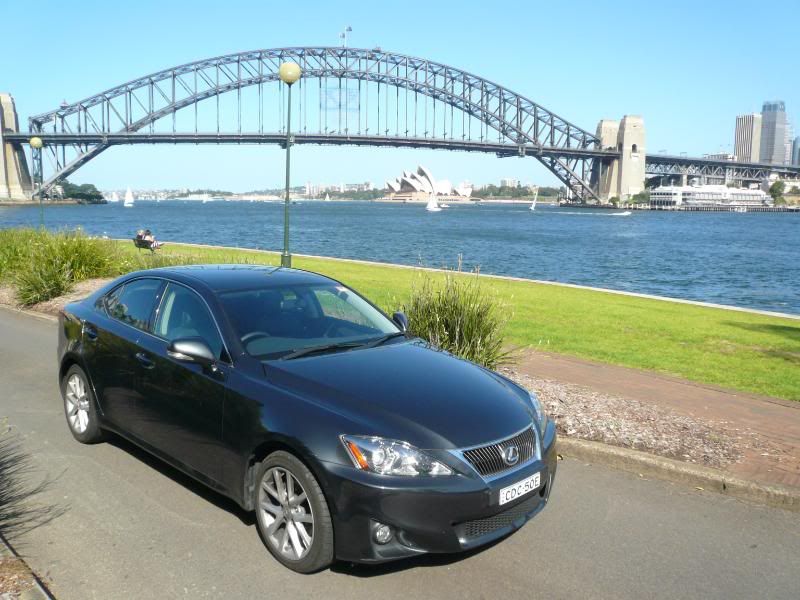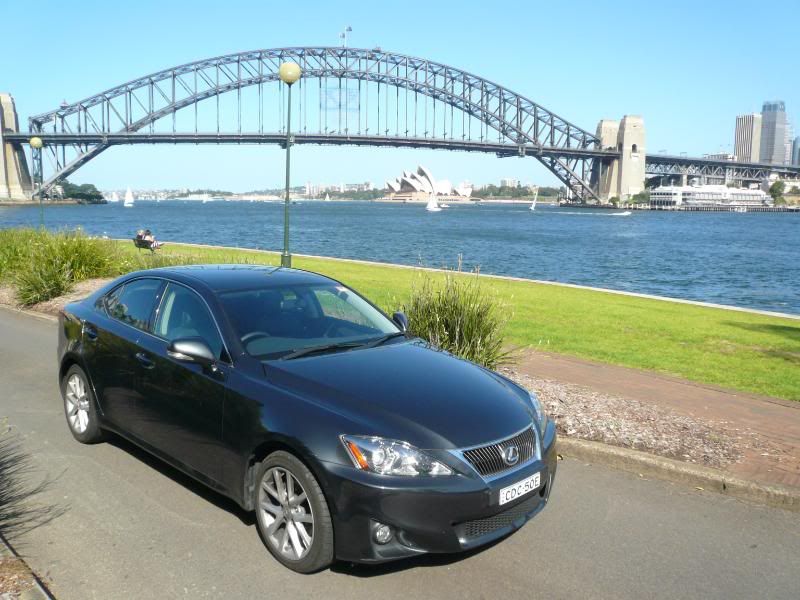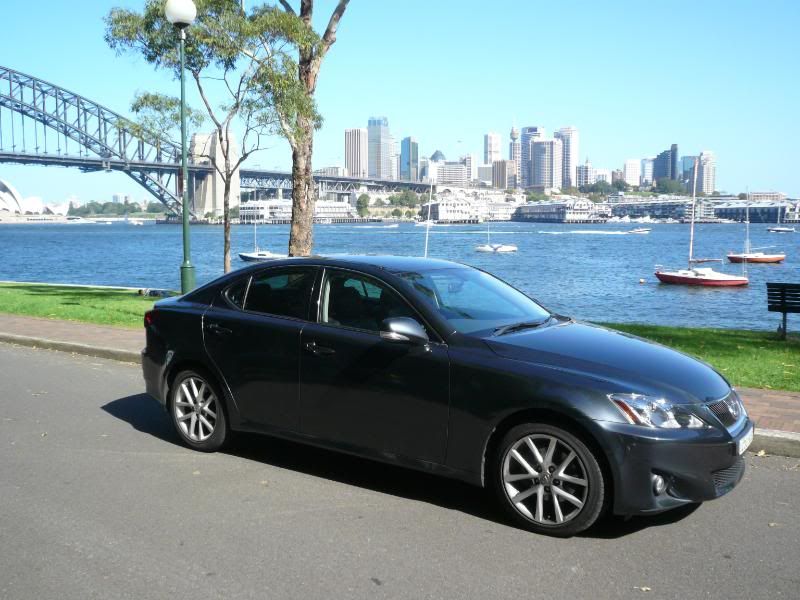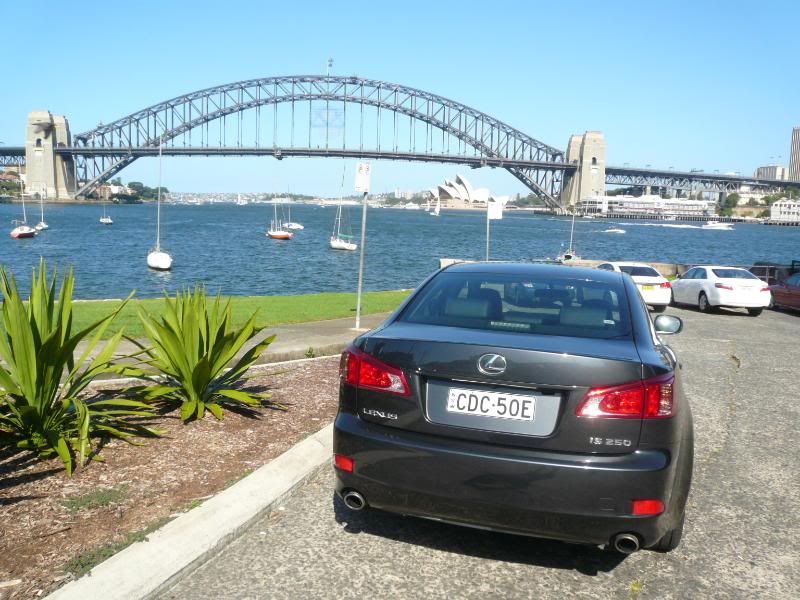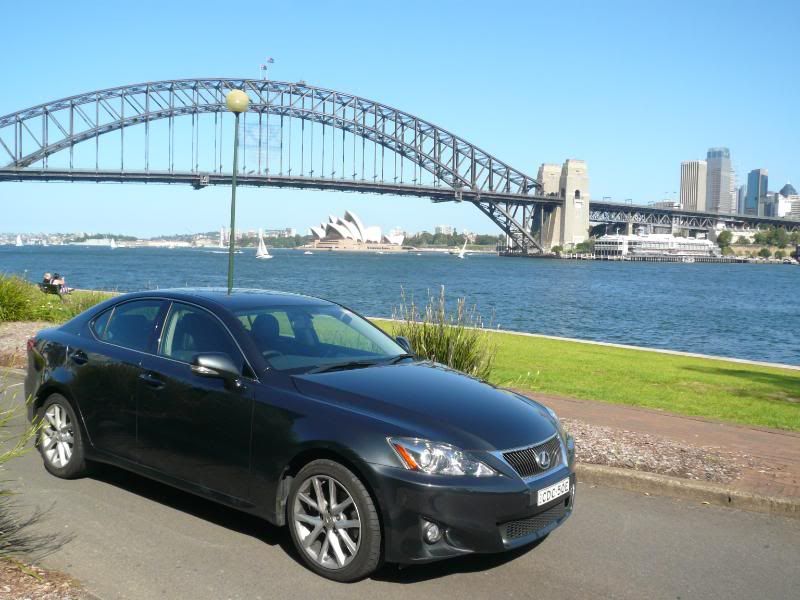 The established world of automotive wisdom received something of a shock when the Japanese giant, Toyota, unleashed the first models badged Lexus, back in 1989. With the LS400, here at the first attempt was a highly credible alternative to such class leaders as the S Class Mercedes, 7 Series BMW and Jaguar XJ. It was clearly just the start and Lexus made it very plain that the initial range of just two cars would quickly grow, in the parent company's quest to dominate the world's car markets. Successive models were generally well received, though none quite had the same dramatic effect as that first LS car, and then rumours abounded that Lexus was going to take a direct shot at the ever more popular 3 Series, and that it would do so with a rear wheel drive compact saloon. Enter the 1999 IS200, a car which attracted a lot of attention and interest even before the range expanded with the option of a larger 3.0 litre engine and a fast estate style body called the SportCross. Japanese model cycles remain shorter than those of European cars, so it was not too long before a brand new design arrived, hoping to continue where the first IS left off. Rival manufacturers of premium-priced compact sedans don't take the threat of competition less than seriously these days and the second generation Lexus IS arrived in late 2005 to find a recently refreshed Audi A4, a brand new 3 Series and a still competitive C Class Mercedes with which to do battle. The second generation car offered a far more restricted model range, with simply a  larger 2.5 V6 petrol engine and a 4 cylinder 2.2 diesel in its quest for sales. Press reviews were moderately encouraging at best, finding much that was good, but the lack of any real spark of brilliance that is needed to defeat the German trio. Not even the launch of the lairy V8 powered IS-F has had any real impact on success in Europe, and whilst the BMW, Audi and Mercedes notch up the sales in vast quantities, the Lexus remains an odd-ball choice. And yet, most of those who have owned one are delighted with their purchase and the high levels of owner satisfaction that they report in surveys suggest that this car is worthy of consideration. Why, then, is it largely ignored? There has to be a good reason why Lexus only managed to sell 1871 IS models in the UK in 2011 when BMW shifted 42,461 3 Series and Audi sold 34.880 of their A4/A5 cars. Having recent experience of both of these German offerings, I intended to find out with this test why the Lexus is eschewed by so many buyers.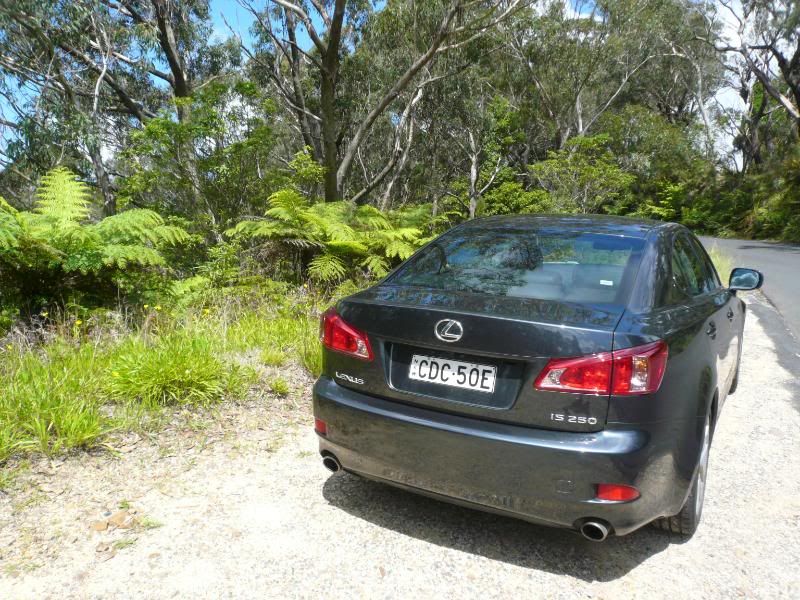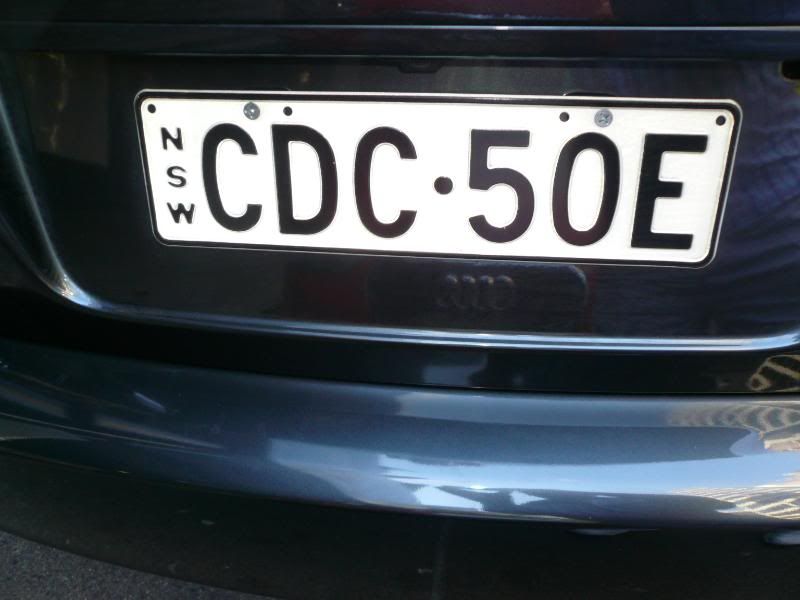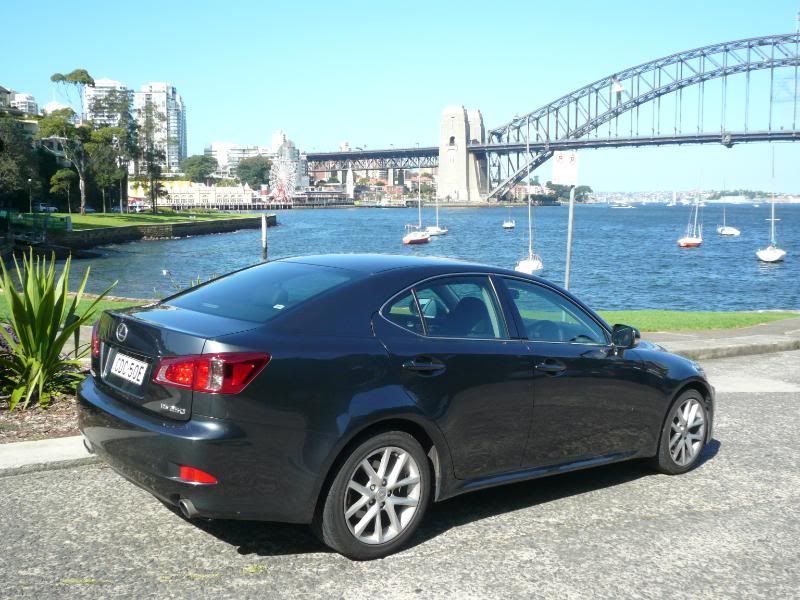 Ignoring the rather special IS-F, Lexus in the UK offer the IS as a slow selling convertible and a conventional four door saloon with a 2.5 litre petrol engine and a 2.2 diesel, with sales of the latter far exceeding those of the petrol powered car. In markets that have yet to switch so wholeheartedly to the black pump, or where fuel costs are less of an issue,  a more potent petrol engined IS350 is also offered. That includes Australia, but it was a regular IS250 that had my name on it when I collected my first rental car of my 2012 Australian odyssey. Initial hopes that the silver car in the small Hertz parking area at the international terminal of Sydney airport were turned to photographer's disappointment when I realised that the "key" in my hand would unlock the other IS250 parked up, finished in what Lexus call Lapis Lazuli, which means pearlescent dark grey to you and me.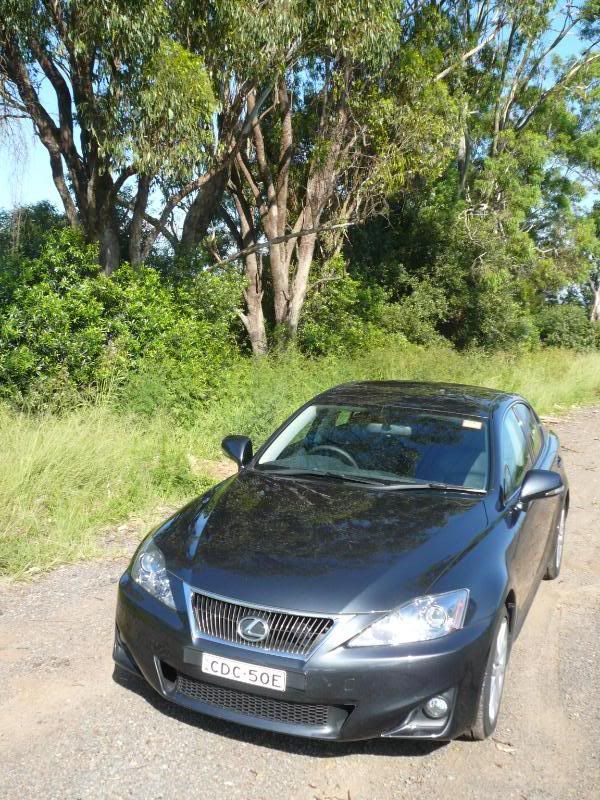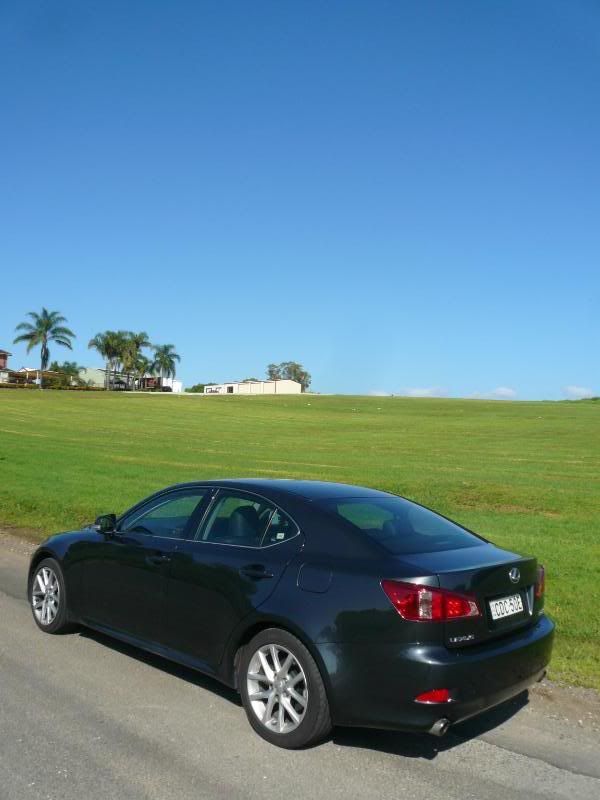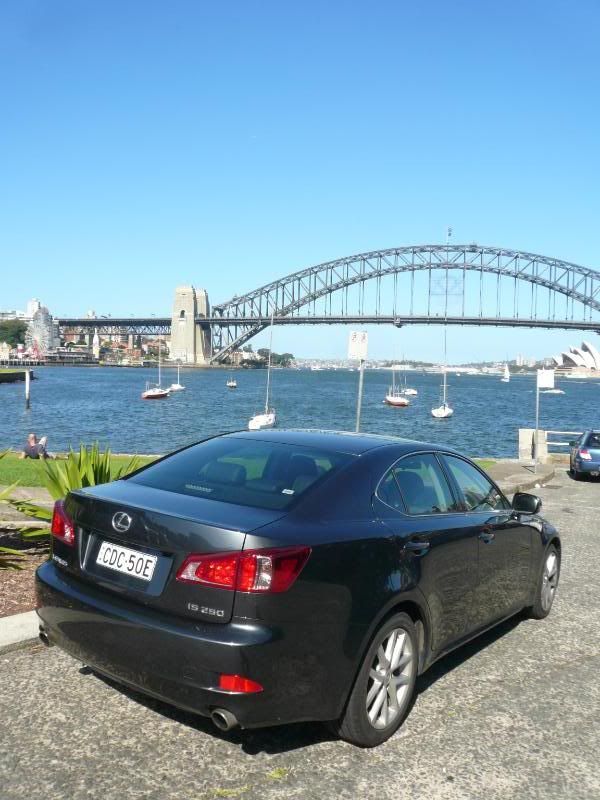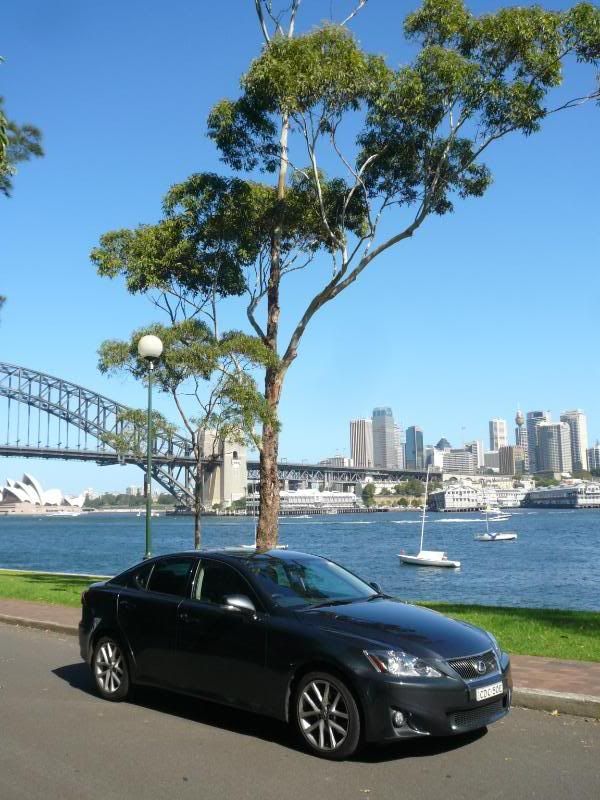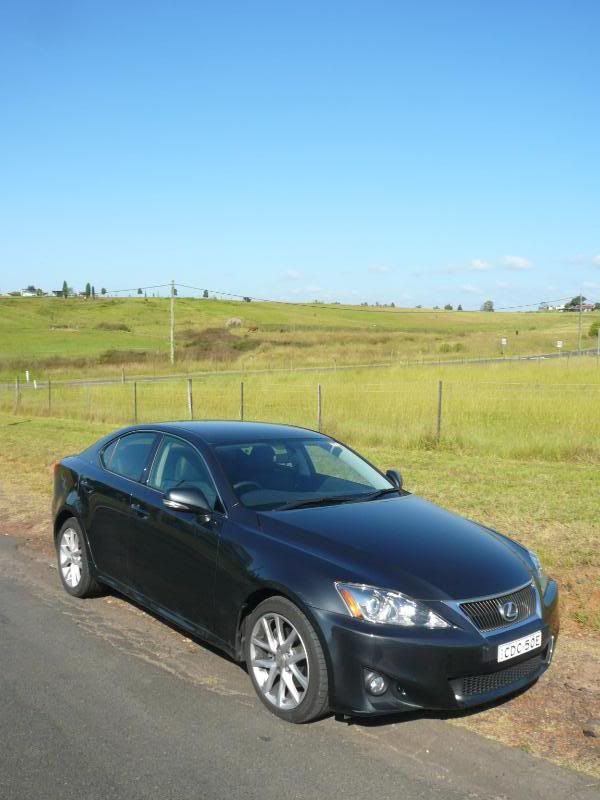 The V6 engine in the IS250 develops 204bhp, and it comes coupled to a 6 speed automatic transmission. There's certainly not much to look at, even by modern standards, as when you lift the bonnet you are simply greeted by an enormous plastic cover which hides just about everything. However, there's certainly nothing wrong with the sound of the IS250's engine. The characteristic noise that you only get from a  6 cylinder engine is definitely there, though it is muted enough that if you would rather it were not there, you don't really have to hear it. It revs willingly enough, and it certainly endows the car with decent performance. I never got the impression that it would make the IS250 blisteringly fast, though, and despite Lexus wanting you tho think of this car as a sports sedan, it comes across far more as boulevard crusier. Nice and refined for a long journey, with enough poke to allow you to sneak past slower moving traffic, but not really a "driving machine", and certainly not "Joy". The six speed automatic gearbox, complete with manual over-ride via column mounted flappy paddles is very smooth in operation, though the top three gears seemed quite close together and I was aware that it was switching between the ratios a fair amount . Fuel economy was good, averaging 31.2mpg over the test distance, though it has to be admitted that the car was not subjected to much in the way of urban crawl of particularly high speed travel, Indeed, Australia's low speed limits and over zealous use of the speed camera meant that I was not able to let rip with the test car, so can only describe the driving experience from levels that came nowhere close to any limits. The steering is light and has not got much feel. For all the fuss made about superior handling of rear wheel drive cars, there was no evidence in this one, but I will readily admit that I was unable to push it hard enough to find out. The ride is decent enough, coping well with all the rather smooth surfaces, which were all I could find in the area around Sydney. The were no concerns with the brakes. There is a foot operated parking brake, with the pedal to the left of the footbrake.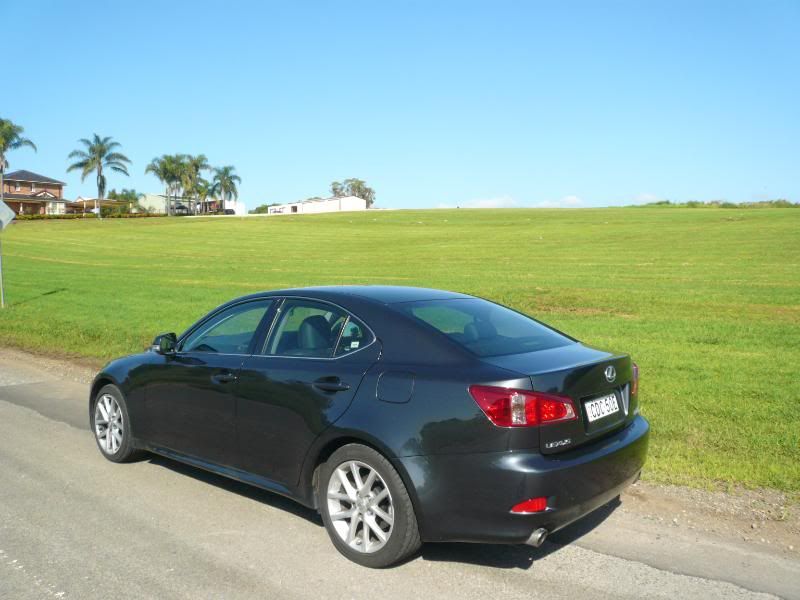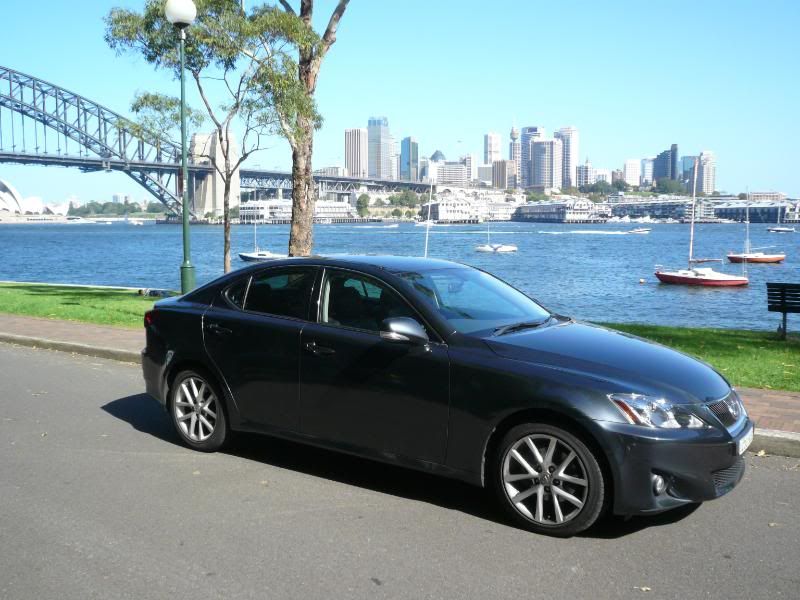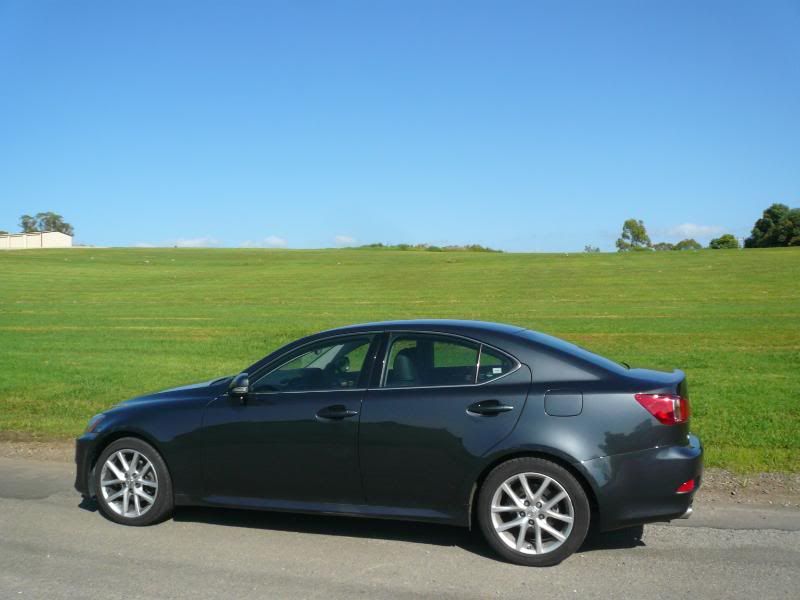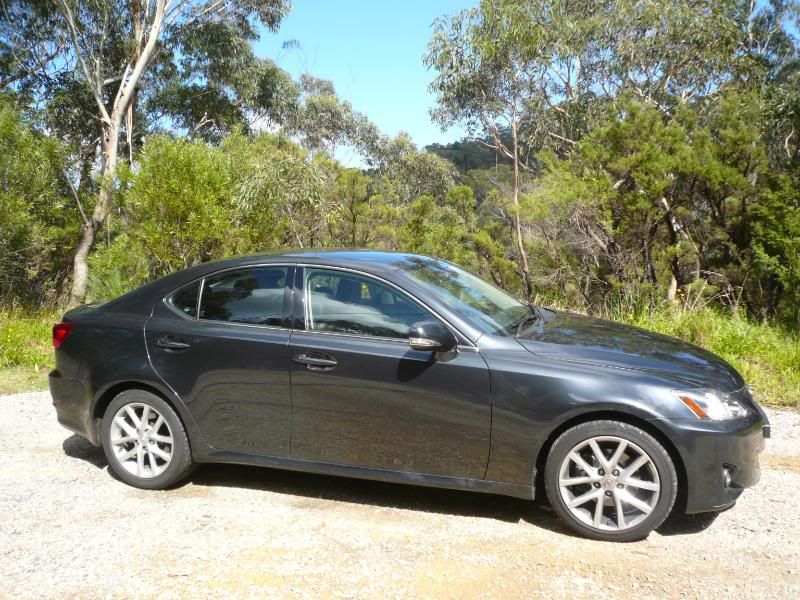 If the driving characteristics of the IS250 differ from the German route to a premium car, then so does the interior ambience. It is all nicely finished, with well fitting mouldings and the whole design looks cohesive., but it also lacks any flair. There are just two large instruments – speedo and rev counter – with smaller gauges for fuel level and water temperature inset into the bottom of them. All are electronic, so you get a blank display until you power up. There's keyless starting for that, with a large Start/Stop button to the left of the column. One huge irritation for me was that although the wipers, lights and indicators are operated by column stalks, they are the other way round from the norm, with the indicators on the right. Several times during the test, I managed to scrape the screen when I wanted to signal. The centre of the dash contains a large touch operated display screen for the satellite navigation system, with a number of buttons on either side, which proved very easy to use and invaluable for finding my hotel in the centre of Sydney. Below it are yet more buttons for the climate control and audio unit, leading to quite a busy looking centre of the car. There are a few other smaller buttons on the dashboard, as well as wheel mounted repeaters for some audio unit controls. It all proved quite easy to use, but did not have the visual appeal of an Audi, or a Volvo or a BMW.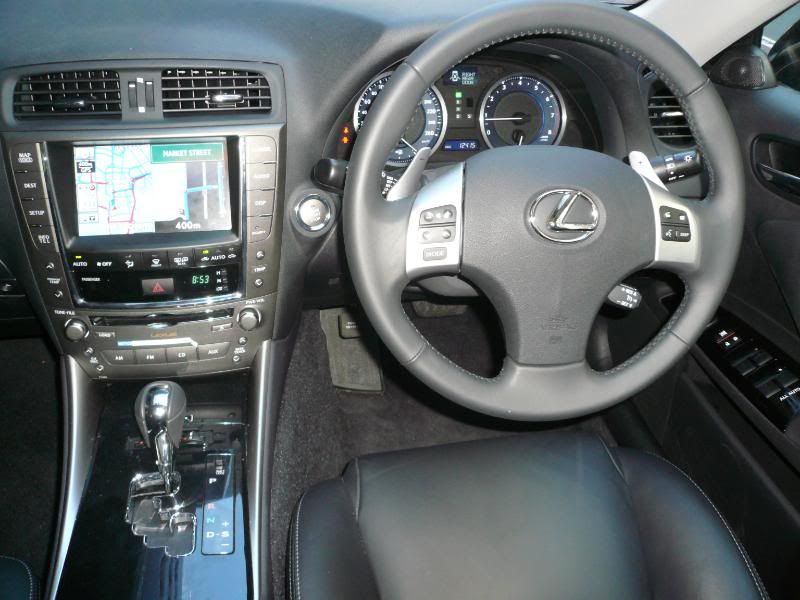 Space seems at a premium in the IS250. Rear seat passengers will be quite snug, although in reality there was adequate leg and head room when I tried it. It is the boot where there is definitely an issue. I was surprised when I lifted the lid to find out just how small it is, being relatively shallow from top to bottom, and very short from back to front. It did accommodate my suitcase and lap top bag. but if there were two people with that quantity of luggage that would definitely fill it all up. Inside the cabin, there is a rather pokey glove box, door pockets with a hinged side, a bit of stowage space under the central armrest and a small cupholder area in front of the armrest. Not overly generous, either.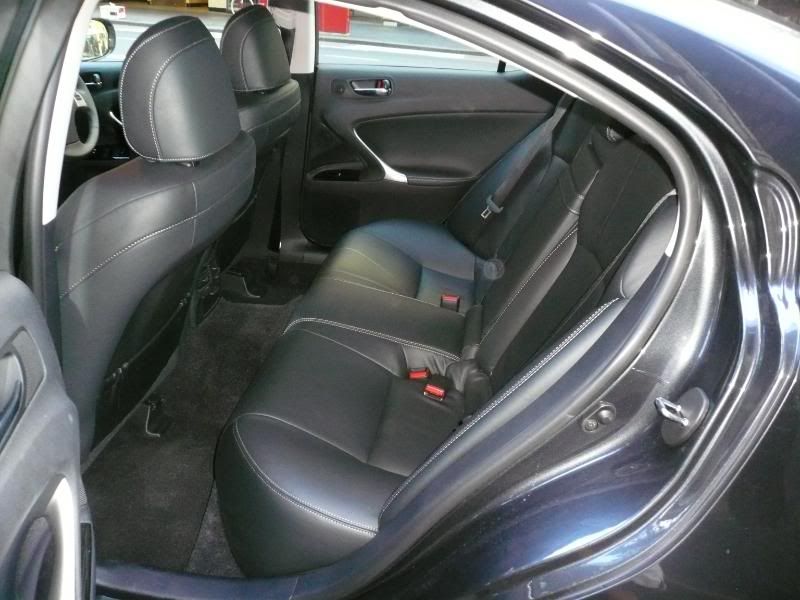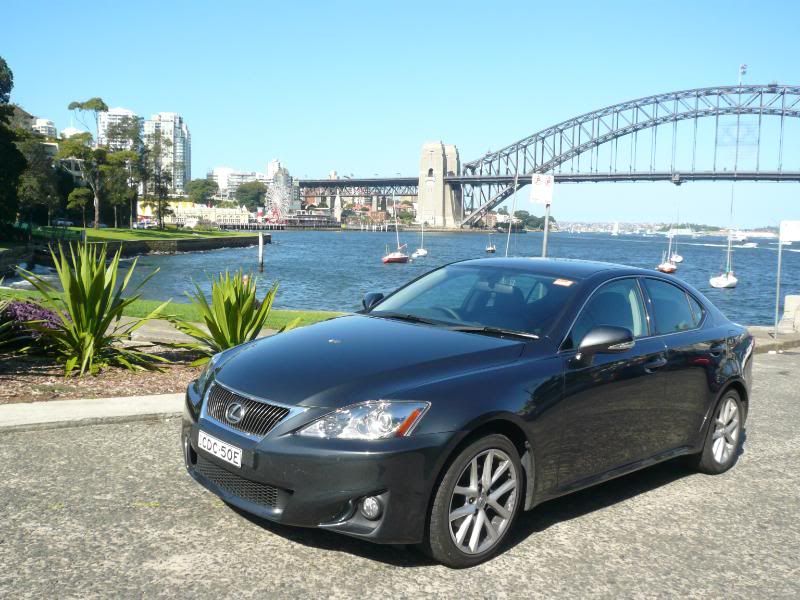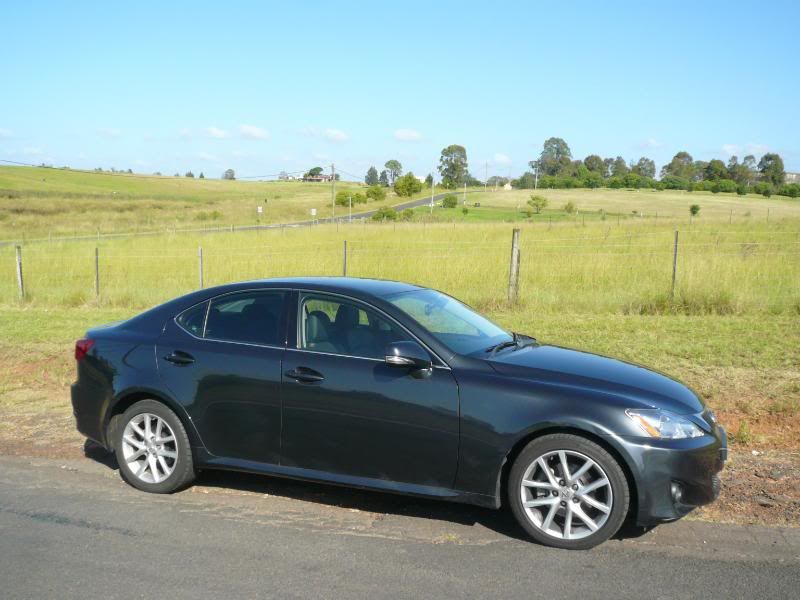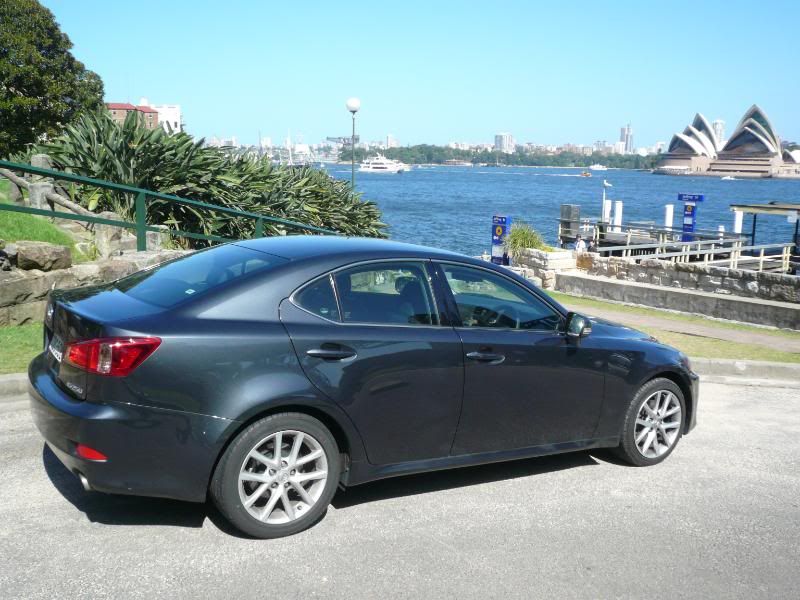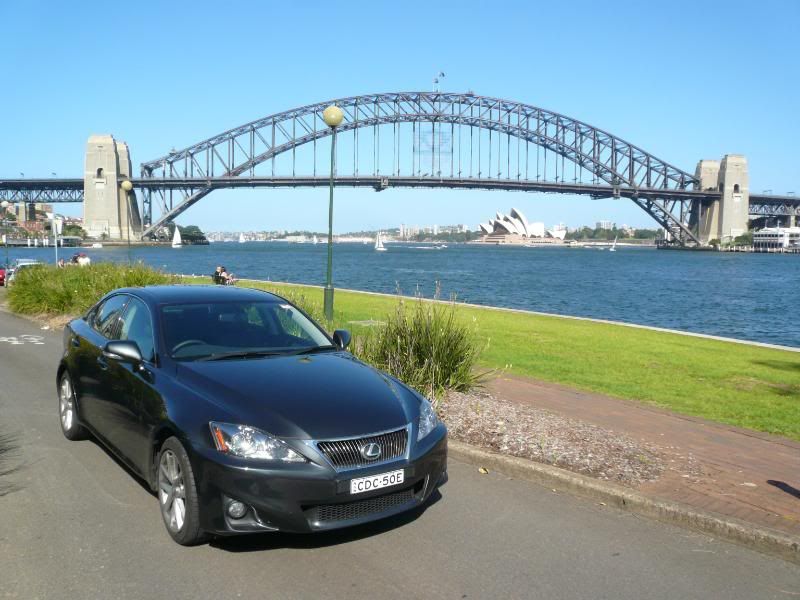 Unlike the German  route to a well equipped car, which typically requires an extensive and expensive visit to the options list. the IS is decently well equipped as standard. Australian buyers of an IS250 are offered the choice of Prestige, F-Sport or Sports Luxury models. Even the entry level car is not cheap listing at AUS$ 55,00, with the F-Sport retailing for $66,800 and the Sports Luxury at $76,300. The F-Sport offers front and rear spoilers, 18″ alloys, DRLs, sports suspension and pedal cover, a reversing camera and Satellite Navigation among the additional features, and the Sports Luxury model adds a reversing camera and parking sensors for the Park Assist system, touch sensitive screen to operate the Satellite Navigation, an electric moon roof  and Active Cruise Control as well as wood grain trim on the dash, centre console and doors, headlight washers and an auto dipping door mirrors. It does not seem a lot for the huge extra cost over the Prestige trim  Prestige models do not have the Satellite Navigation that was on the test car as standard, though.  All models do have dual zone climate control, what Lexus called Leather Accented seats,with both front seats electrically adjustable in all directions, including lumbar support along with a decent audio system with 6 CD stacker, MP3 and iPod connectivity, and they all have standard automatic transmission, You will have to pay extra for metallic paint on all versions.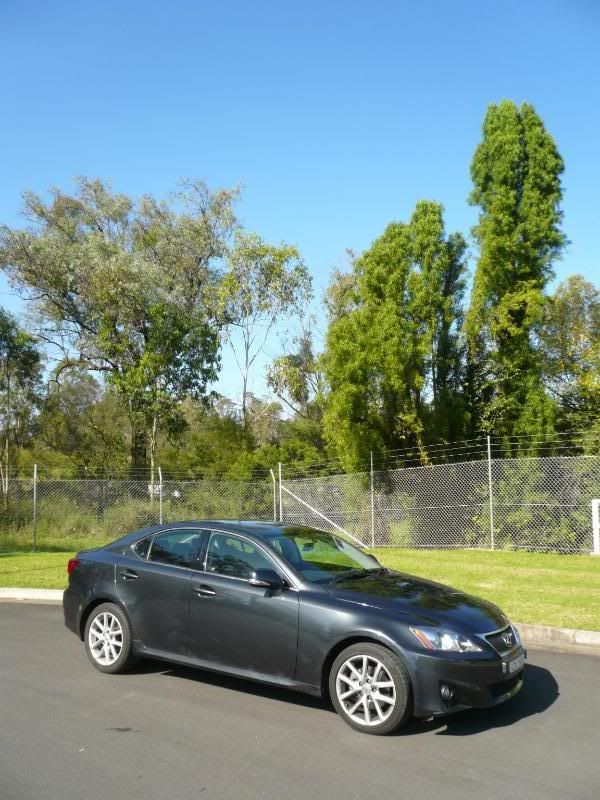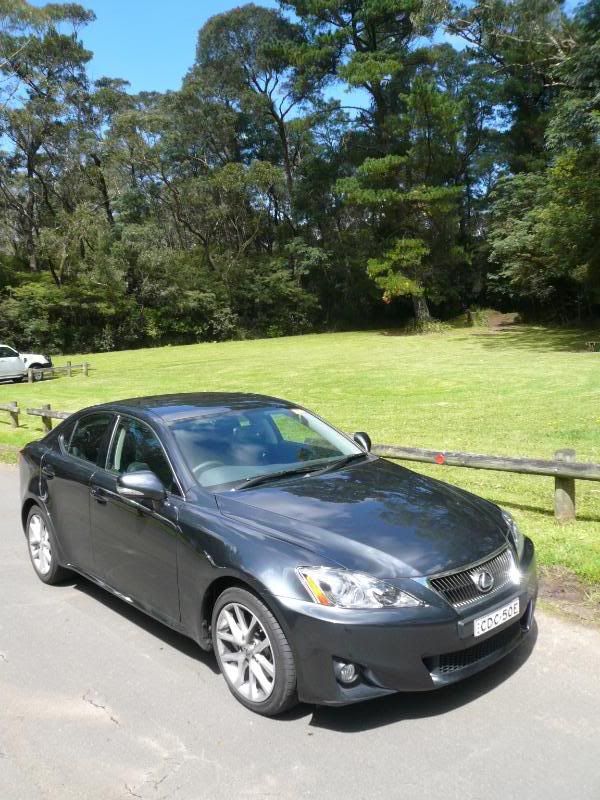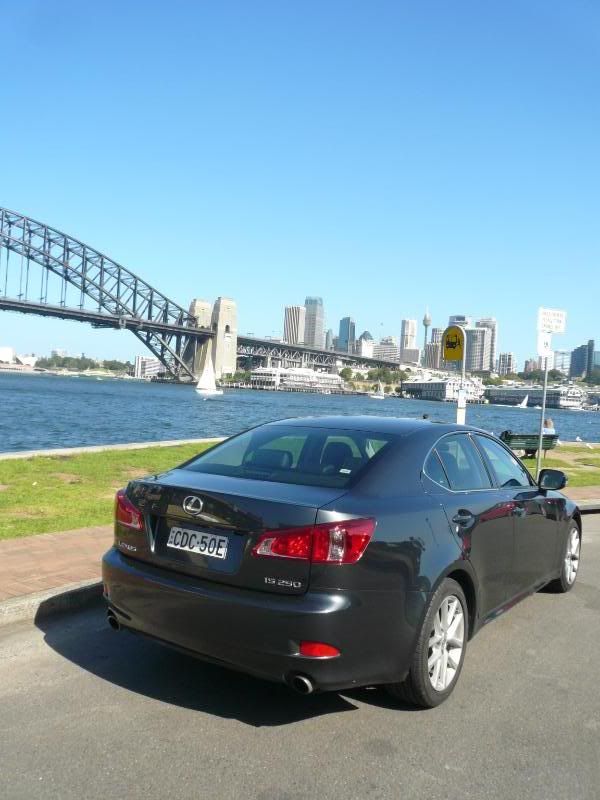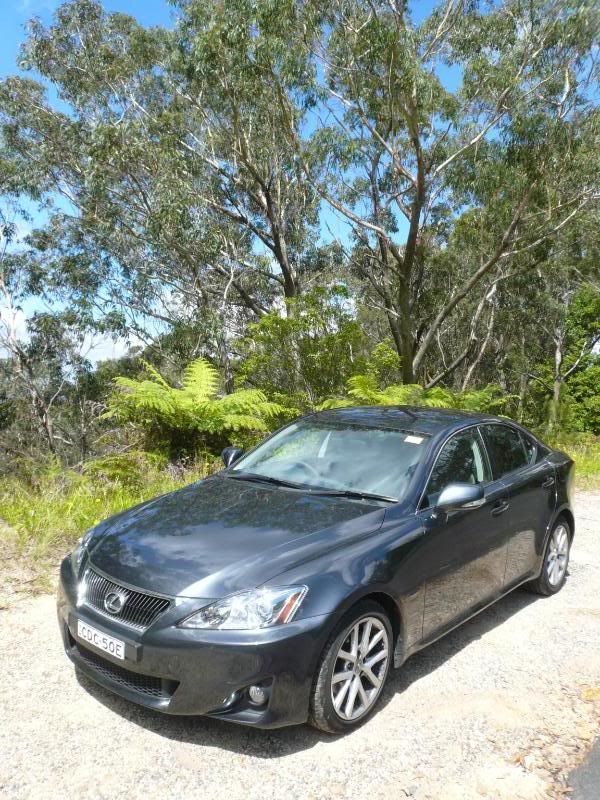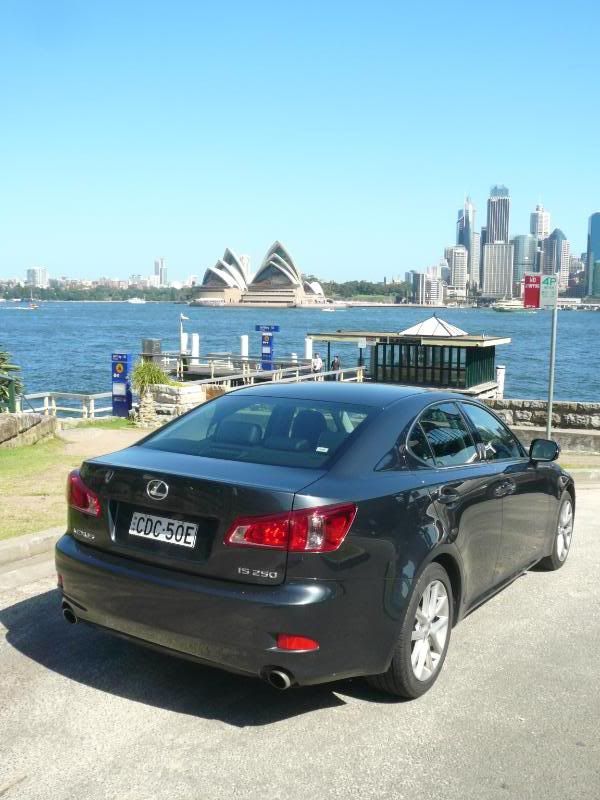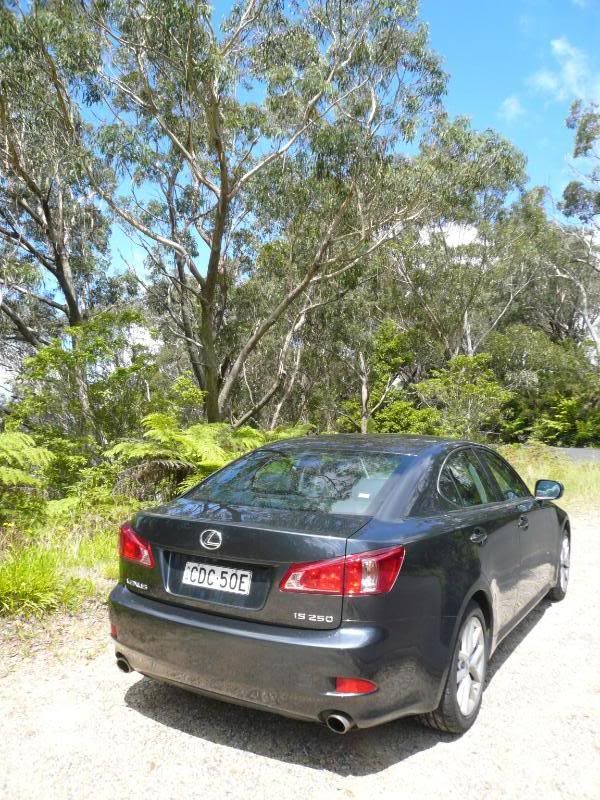 Having driven the IS250, it is fairly clear to me why the sales volumes of this car are so small compared to the 3 Series, A4 and C Class. Its appeal is quite different to the German triumvirate. As an ownership proposition, I am sure it would be as good or likely better than the German trio., but to drive, it takes a different route. Competent but not in the least bit exciting. I hate to say it, but it did occur to me that in some ways this is really no more than a "posh Toyota". It would seem that the market for cars of this price and that attribute in Western Europe is quite small. A third generation IS model is rumoured to be not too far away, and it will be interesting to see in what direction Lexus take this car next.
2012-04-01 05:39:56
Share and Enjoy