Prescott – Season Opener – April 2012
Having renewed my membership at Prescott for the 2012 season, I resolved that I should try to take full advantage and attend more events there than I managed in 2011. With nothing else in the diary for Easter Saturday, it seemed like attending what was billed as Season Opener would be a good start. Prescott's season does  usually kick off on the first weekend in April, but because this year that meant coinciding with the Easter weekend, so the meeting had to be confined to a single day, so any anxieties that attending on a Saturday, typically the quieter of the two days of an event, were instantly dispelled. Sadly, my anxieties about the weather were not easy to deal with, and although the forecast suggested it would simply be grey, the skies turned to quite heavy rain as I neared Cheltenham, and whilst this did ease off, there was intermittent drizzle all day. It was also far colder than has been the case in the past couple of weeks, so this combined with very wet grass underfoot which seemed to soak through my shoes quite quickly meant that the conditions were not ideal. However, there was plenty of interest in the paddock and on the hill, and I got to talk to several people, so it was definitely worth attending. Here are the highlights:
IN THE PADDOCK
There were around 100 cars entered, grouped together into 9 different classes. Few of these were as obvious as you might think, but in any event, there was lots of variety with everything from classic Bugattis, to a class of Healeys, some recent sports cars, some purpose designed single seaters and long time favourites such as the Hillman Imp and Alfa Romeo Giulia GTV.
ABARTH
I've seen this car in action here before. The driver managed a very creditable time of 57 seconds in his first timed ascent in the afternoon
ALFA ROMEO
A pair of Giulia GTVs were the only Alfas on the entry list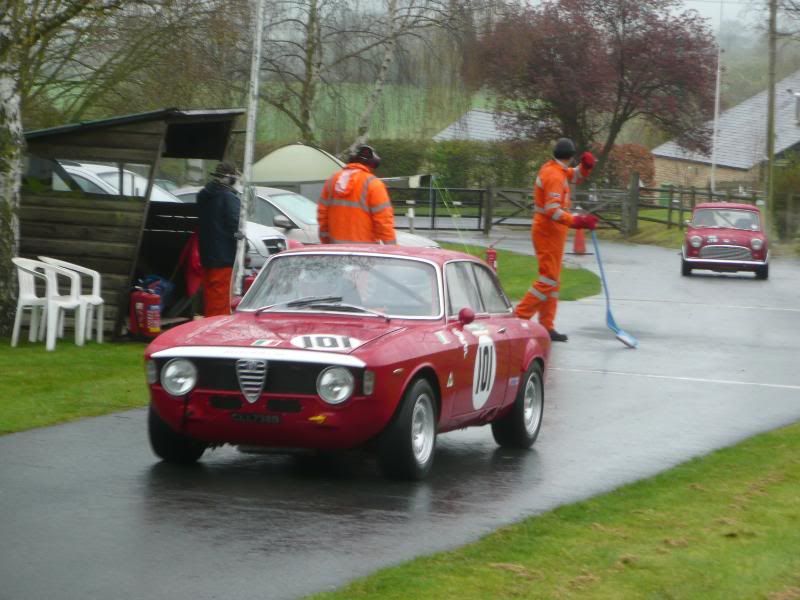 ASTON MARTIN
This Aston Martin International had a 1500cc engine, and was quite a heavy car, but it seemed brisk enough on the hill
AUSTIN HEALEY
There were lots of these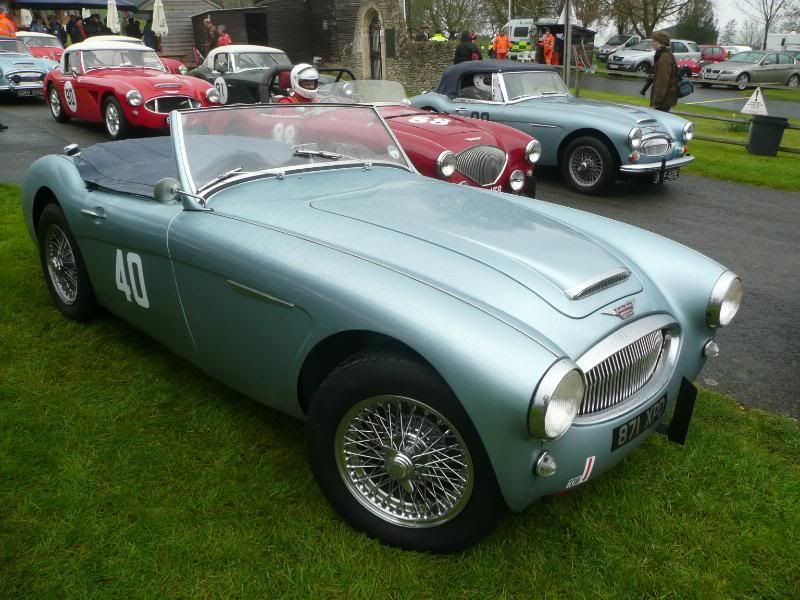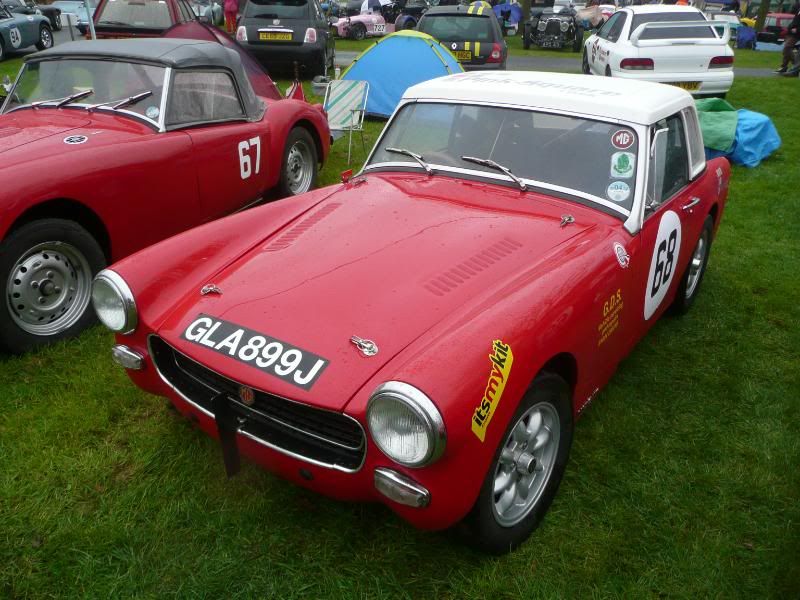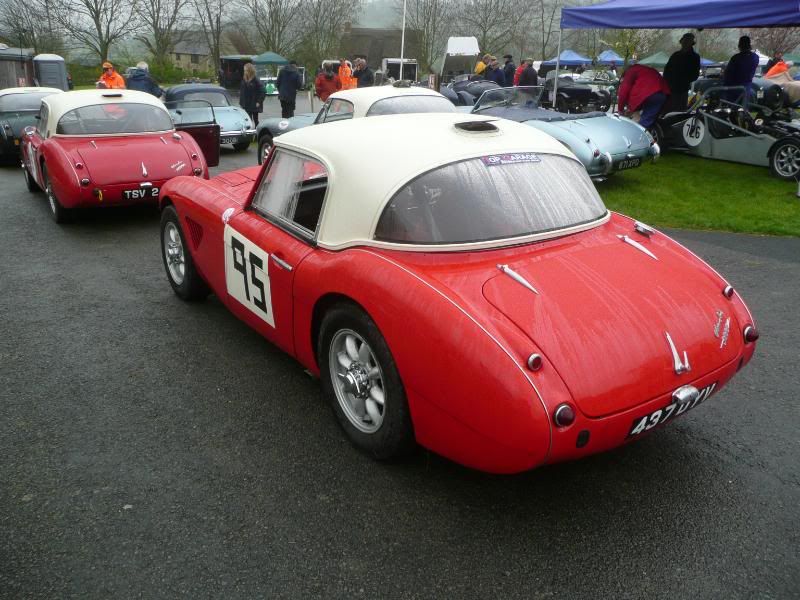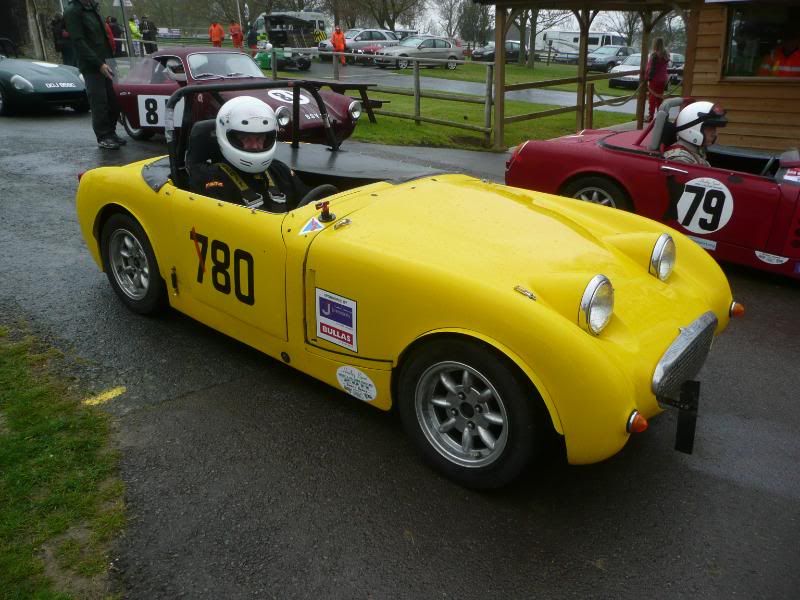 BUGATTI
A number of classic Bugattis, ranging from a Type 22 Brescia to a Type 35B, and several others which I could not identify with precision were in action on the hill.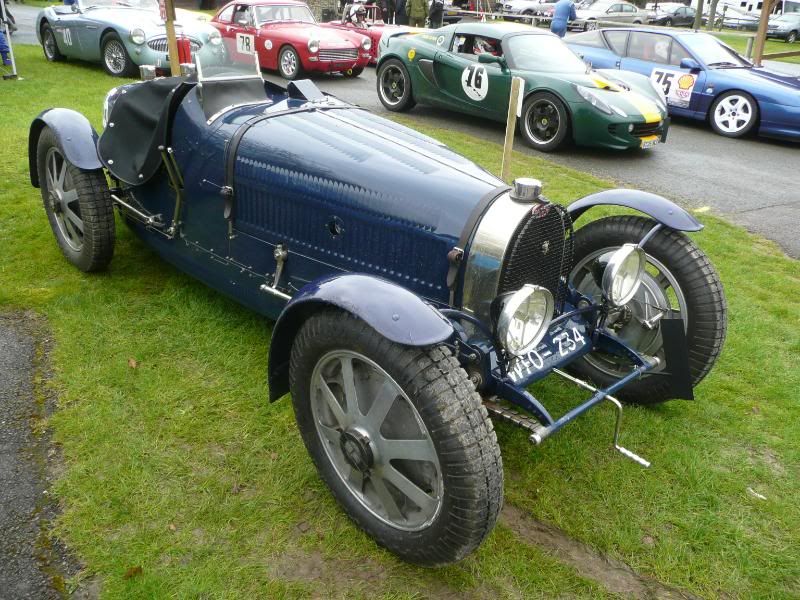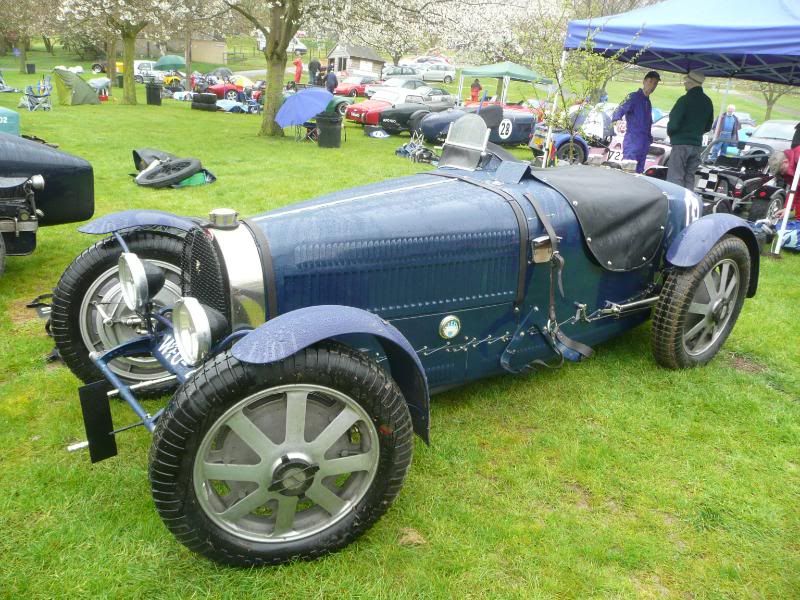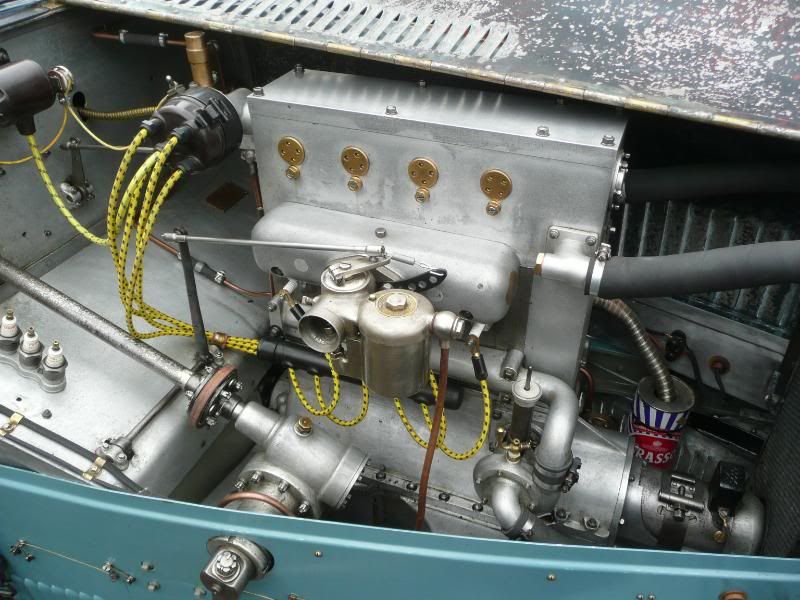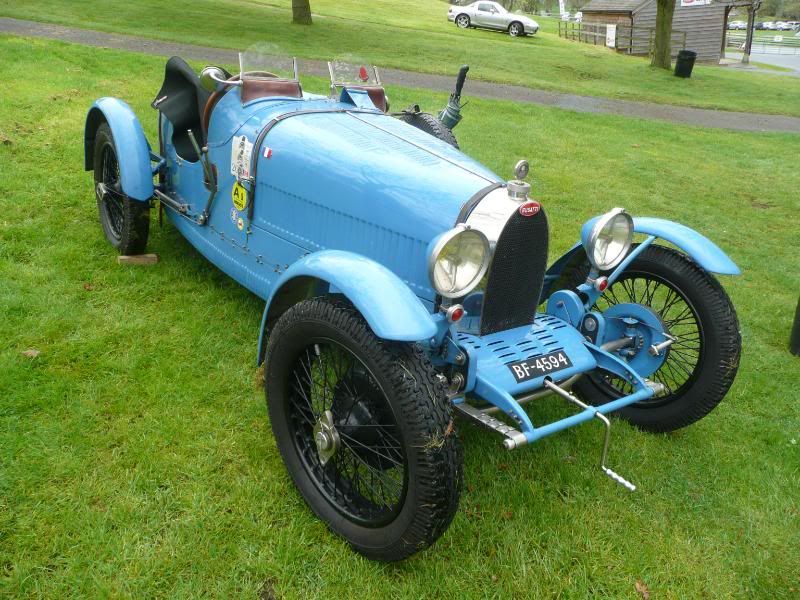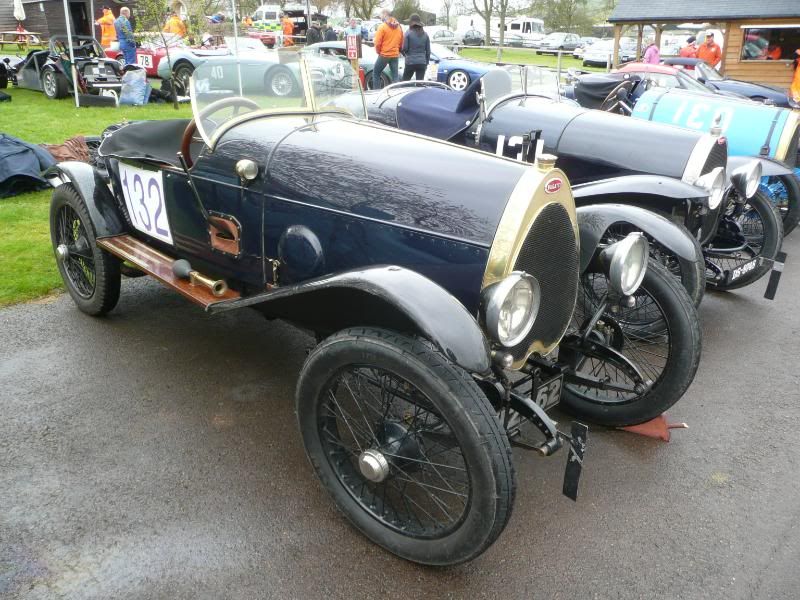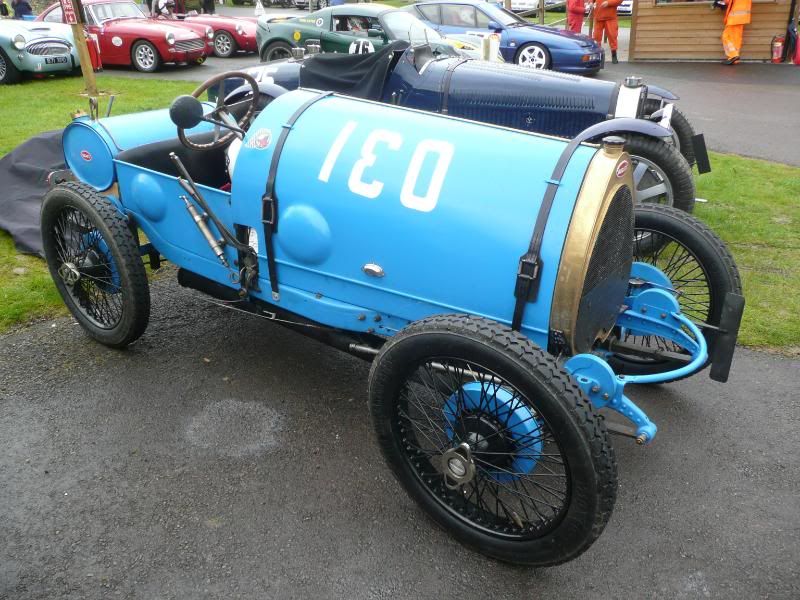 This duo were parked up near the restaurant area.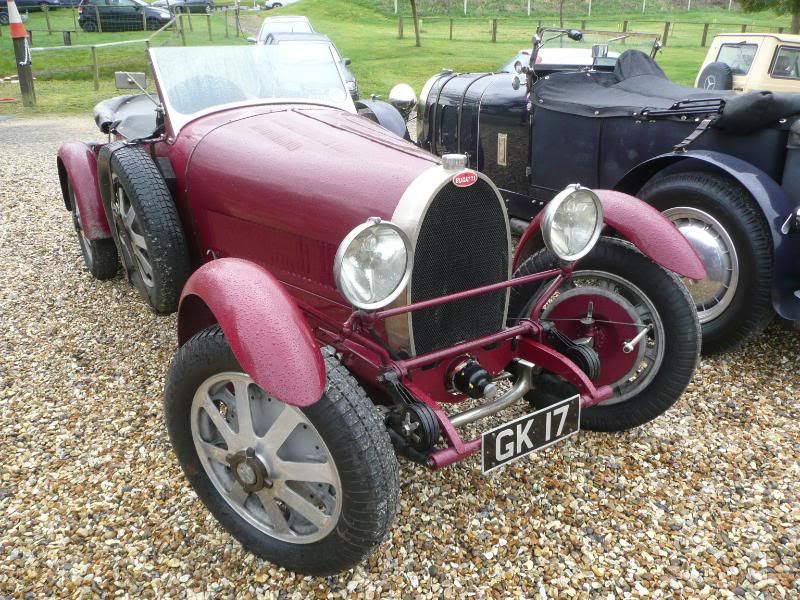 FERRARI
One lone Ferrari, a 308 GTB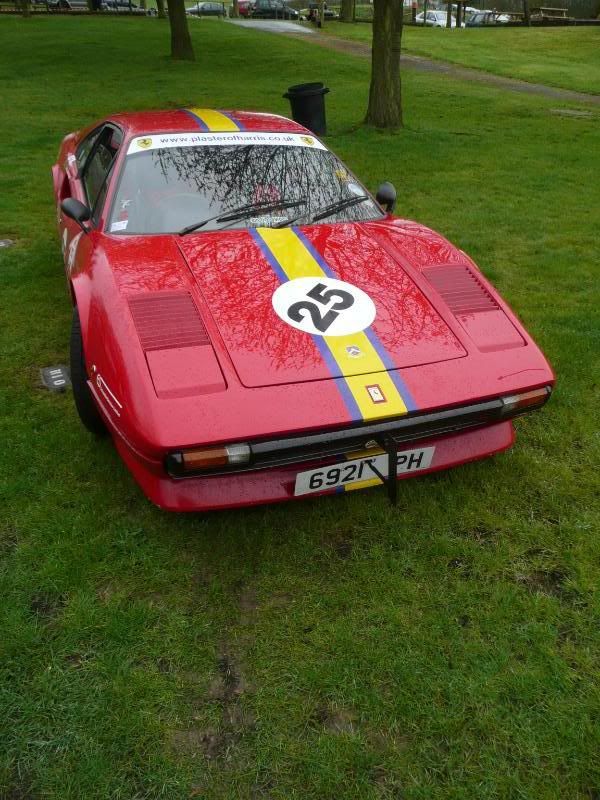 LOTUS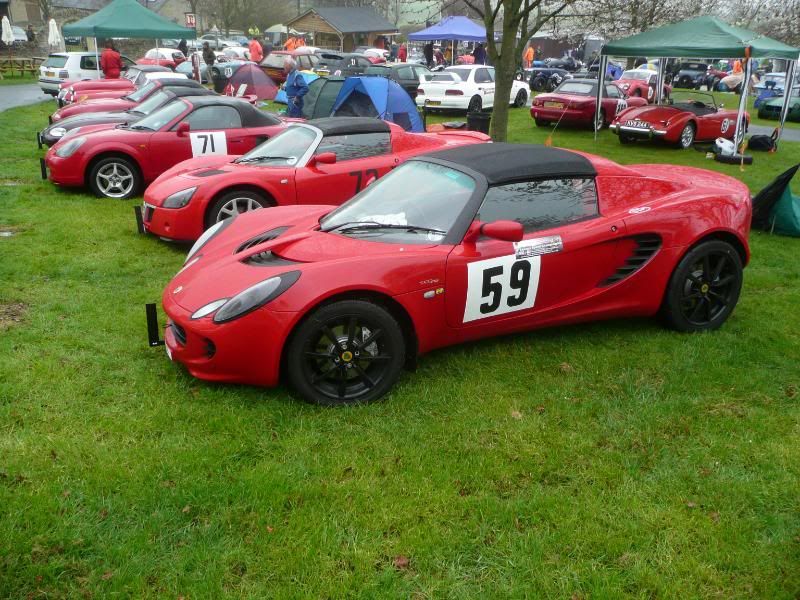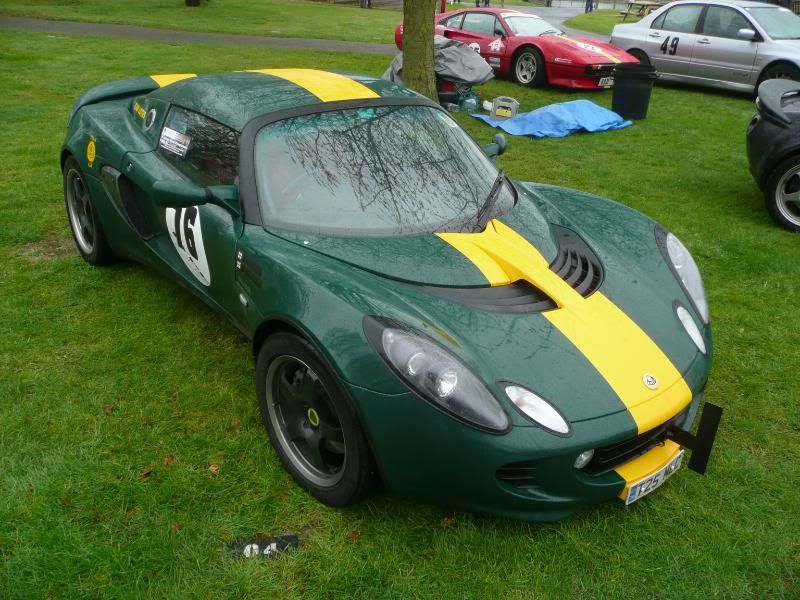 MG
This will definitely be the year of the MGB, with this ever popular sports car likely to be in evidence ubiquitously. There were a few lined up for action on the hill.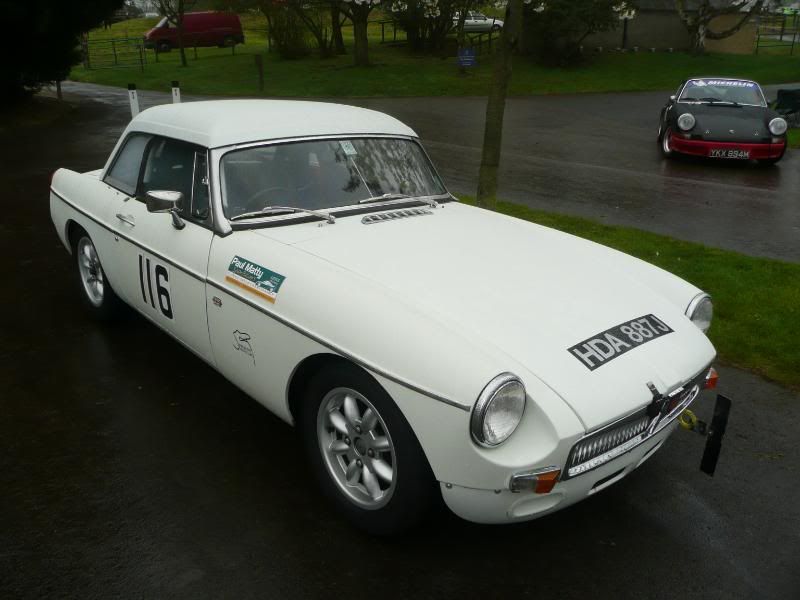 Several MGAs were also taking part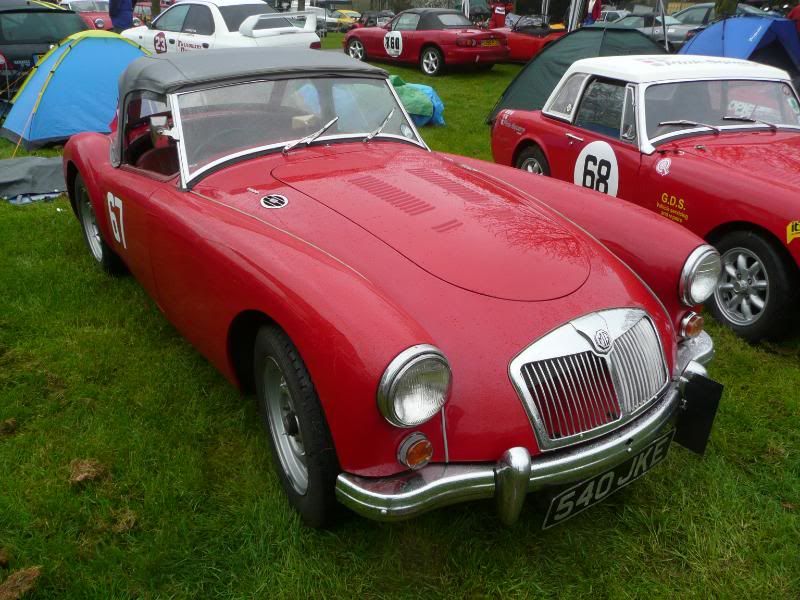 This is a pre-war TA, with a special body
This Maestro was faster than you might imagine, and one of the quietest competitors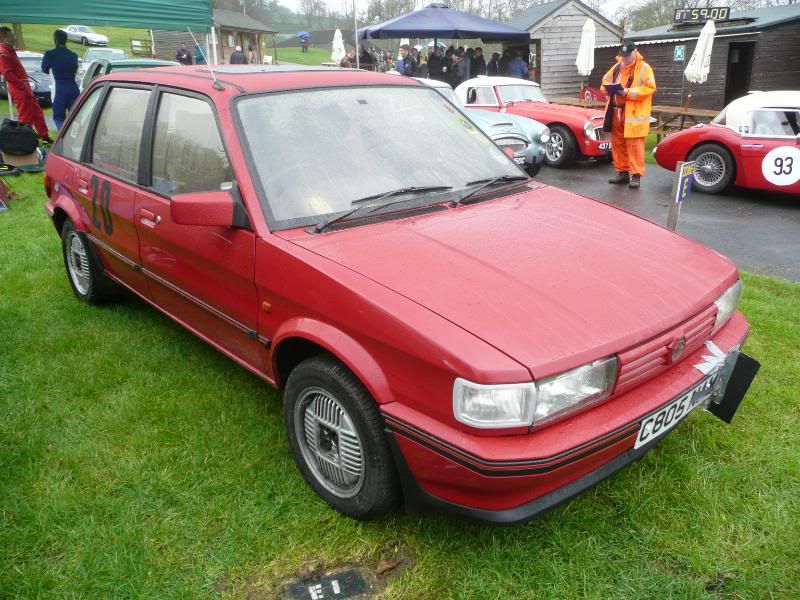 MINI
PORSCHE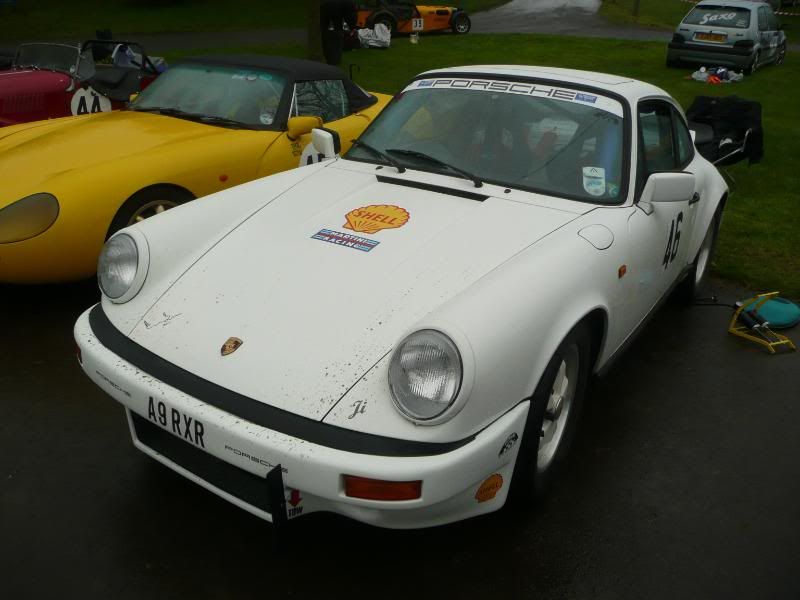 RENAULT-ALPINE
Just the one car, though we are promised a large number will be around at the La Vie en Bleu event, to celebrate 50 years of the Alpine and 20 years of the A610.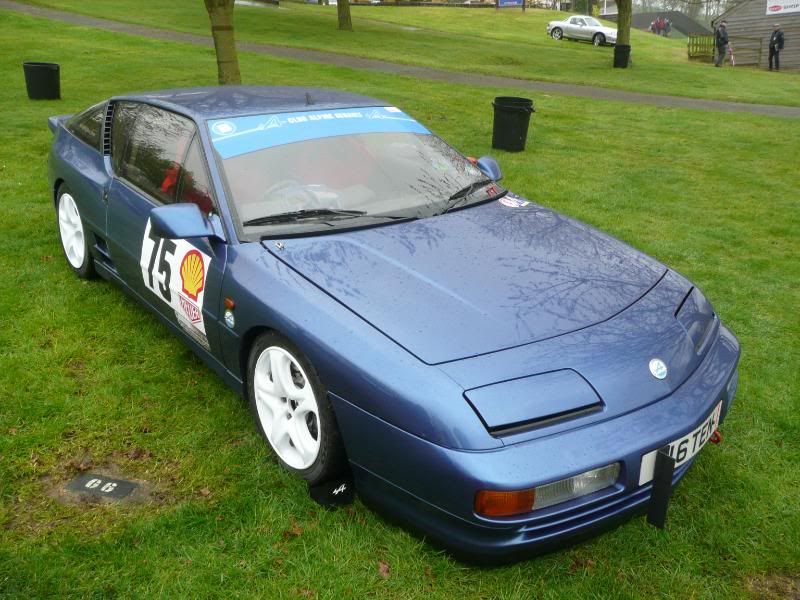 TOYOTA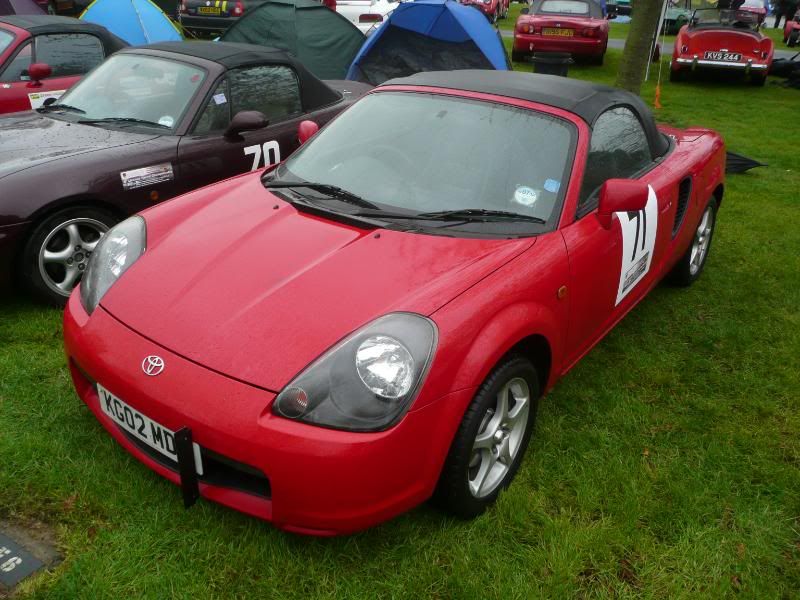 TRIUMPH
TVR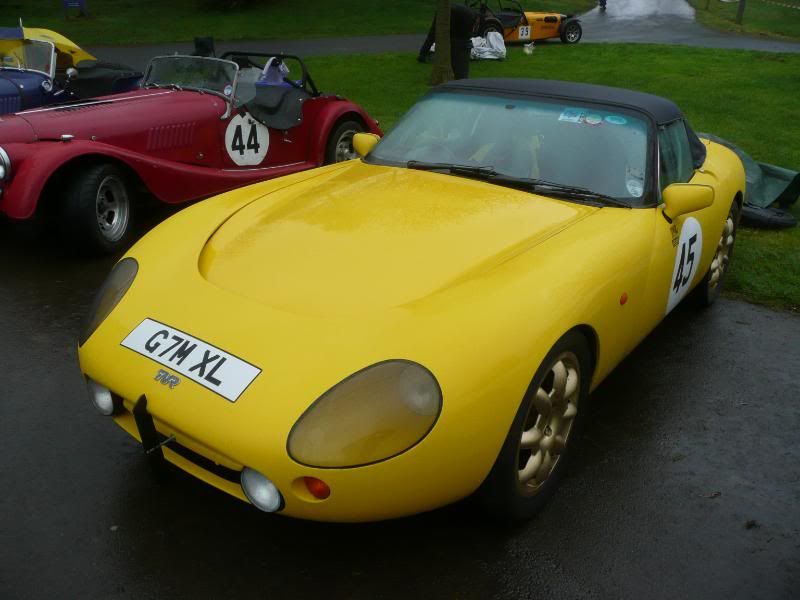 MORGAN
The factory had supplied 2 of their latest cars, the 3 wheeler and the brand new 4.9 litre Plus 8.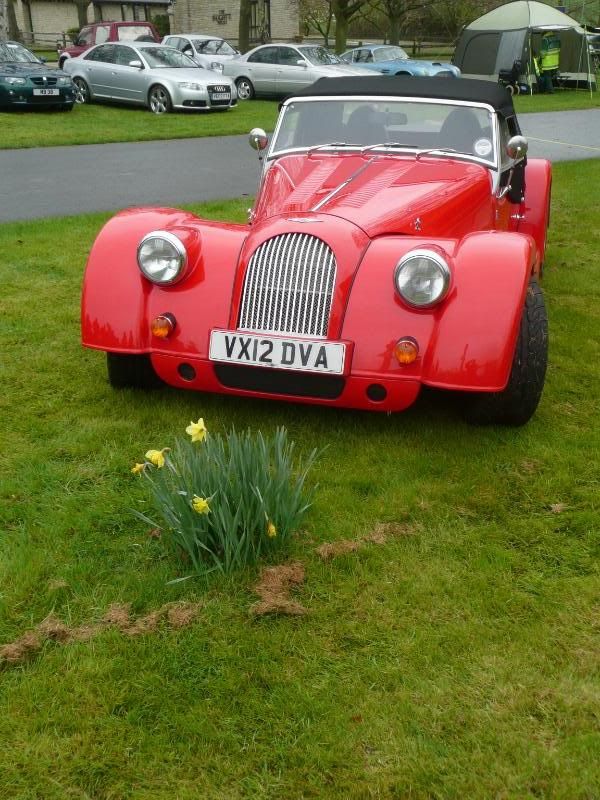 Prescott's General Manager,  Ian Patton was the lucky soul who took the 3 wheeler up the hill at lunchtime. Several times, with a queue of people who wanted a ride with him. Apparently 1000 of these cars have been sold and they are being built at the rate of 14 a week which is not enough to keep up with demand.
SOMETHING RATHER DIFFERENT
Also making a couple of sorties up the hill at lunchtime was this, a 1904 Curved Dash Oldsmobile. This car belongs to Joy Rainey, the diminutive lady who is an enthusiastic regular at Prescott (she lives near Evesham, she told me). As previously announced, Joy is going to drive this car from coast to coast in American next year, and I spent a good few minutes talking to her about it.. She's had the car since 2006, and said that after entering it in the London to Brighton a couple of times, as well as doing a couple of long distance events, one from London to India (in a Morris Minor) and one across South America, she had the idea of doing this trip, but then at the end of 2009, her husband unexpectedly died, which meant that the plan was shelved, but not for long. Now she has a co-driver, and finances sorted out, it is all back on. She went on to tell me that she has just had to get the Oldsmobile MOTed, and even though she found a local specialist who had a yard full of Austin Sevens, there were still some challenges. In the end, it turned out for pre 1905 cars, the brakes are subject simply to a visual inspection!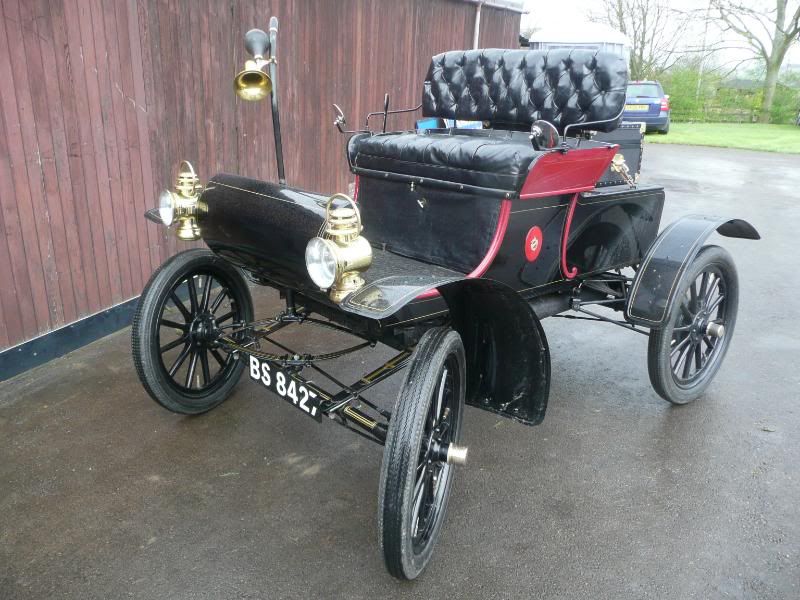 ON THE HILL
With plenty of overnight and early morning rain, and intermittent drizzle throughout the day, the hill remained wet. Accordingly, almost everyone was taking things quite carefully, and I can only recall one car going off, when one of the Big Healeys lost it at the Esses. Fastest time of the day, posted by one of the Caterham drivers was around 49 seconds, but no-one else got under 50, and the commentators declared that anything under 60 seconds was pretty good, and indeed not that many people were achieving this. There were plenty of good vantage points for me to see the cars in their two practice and two timed runs.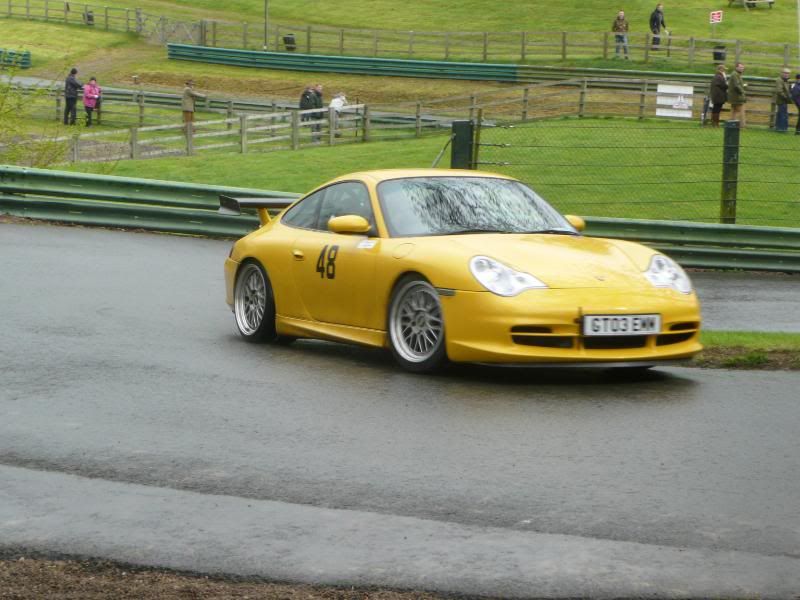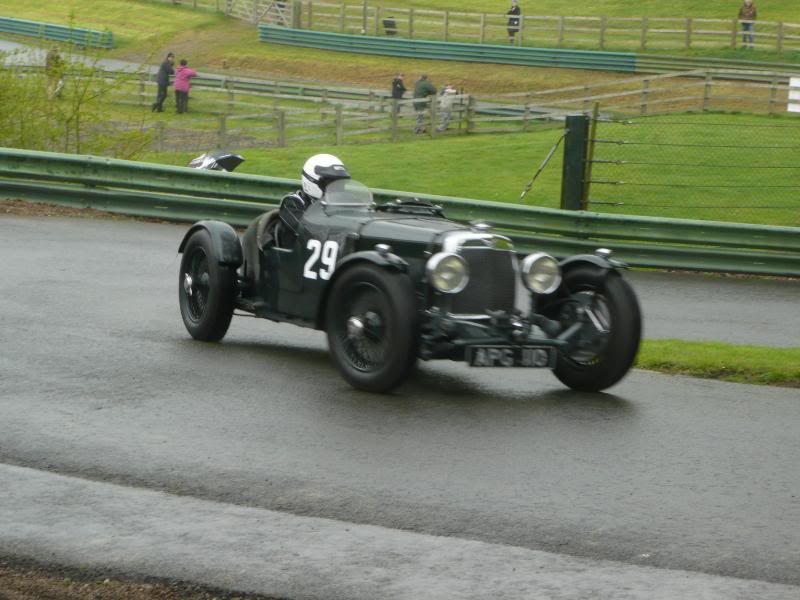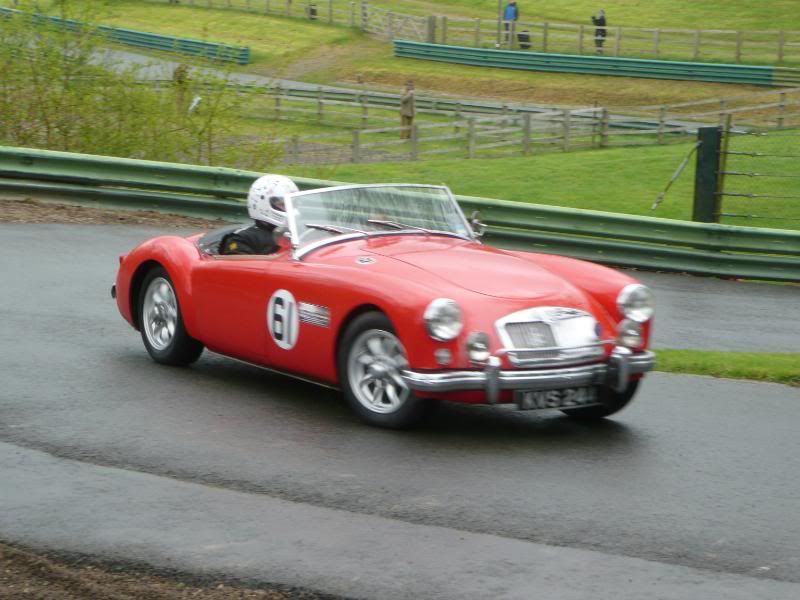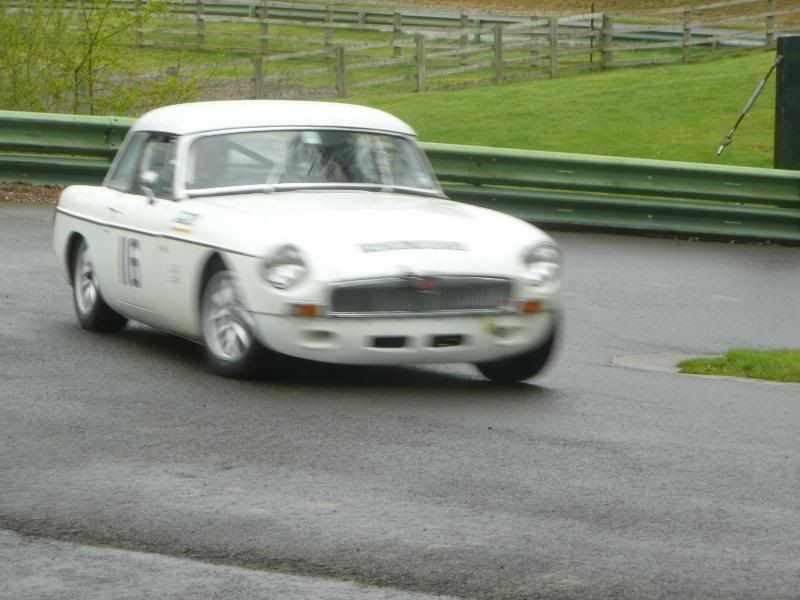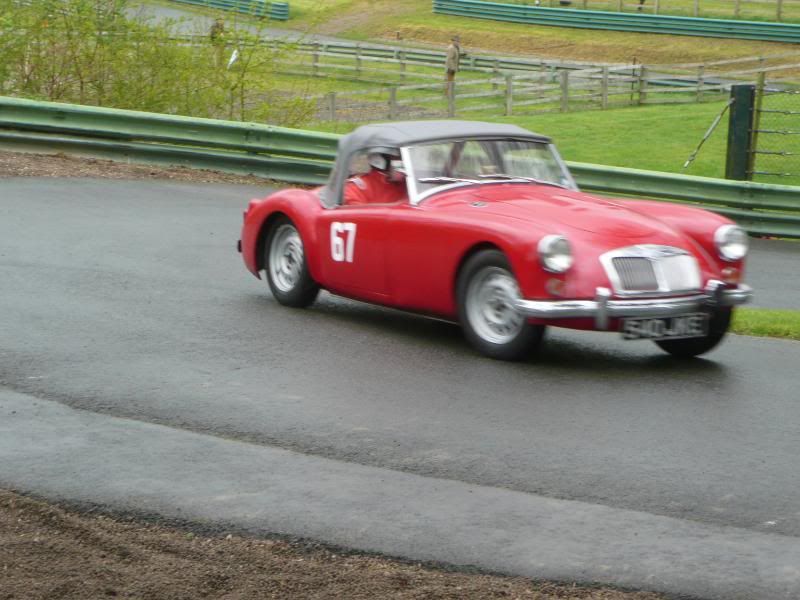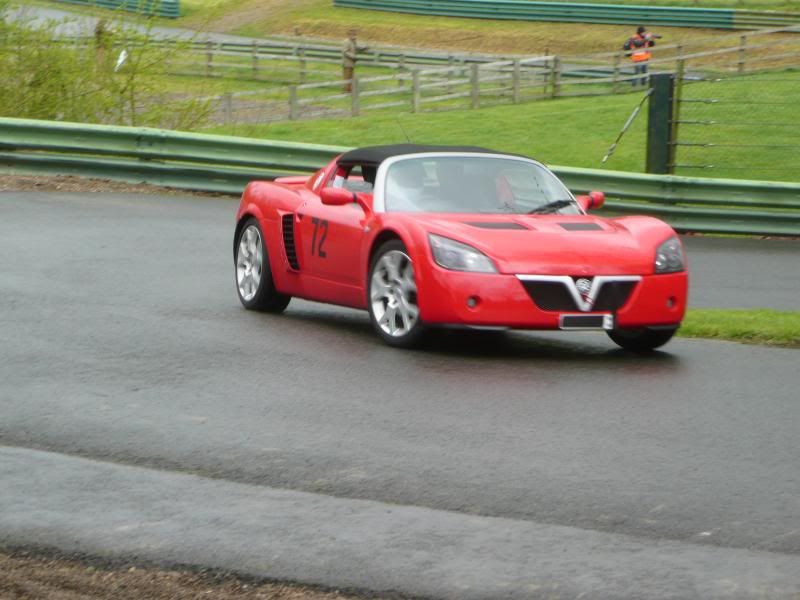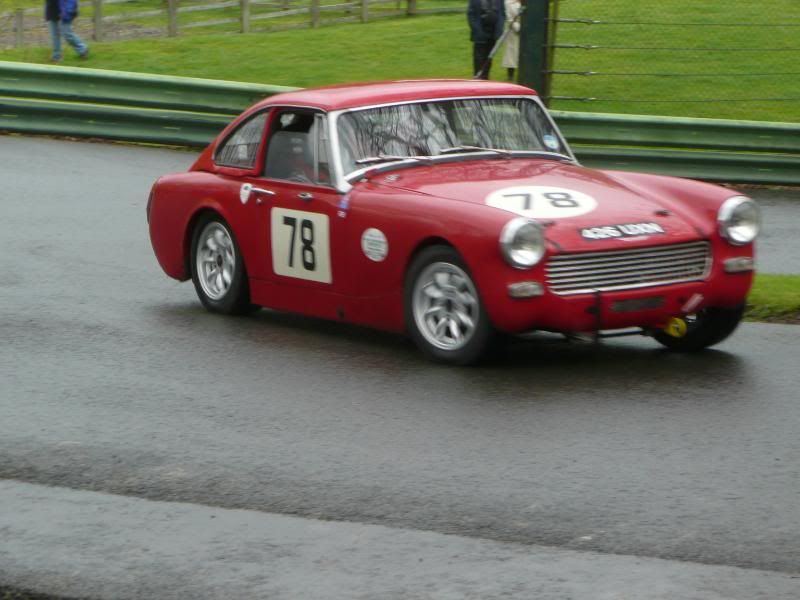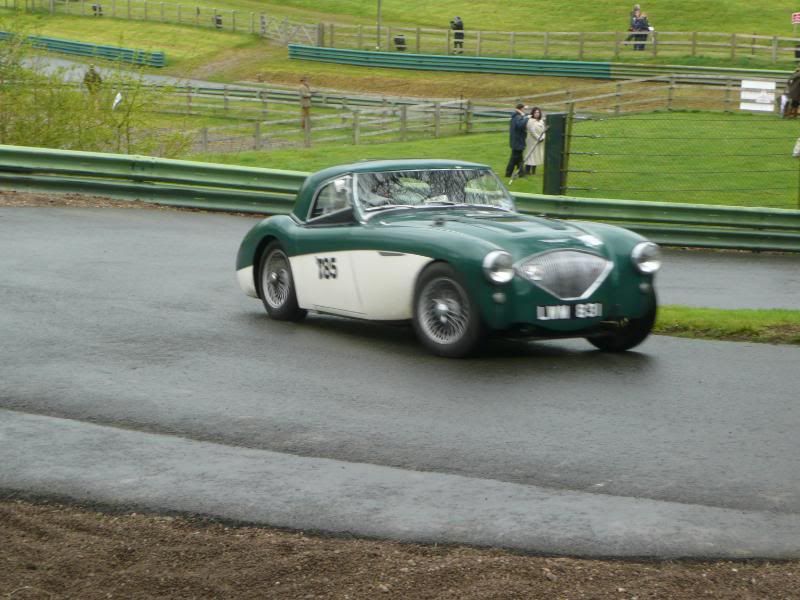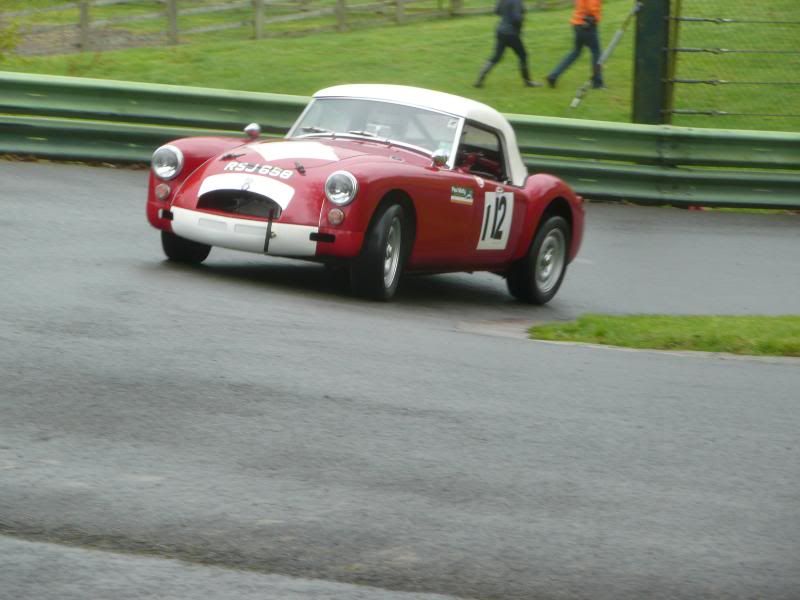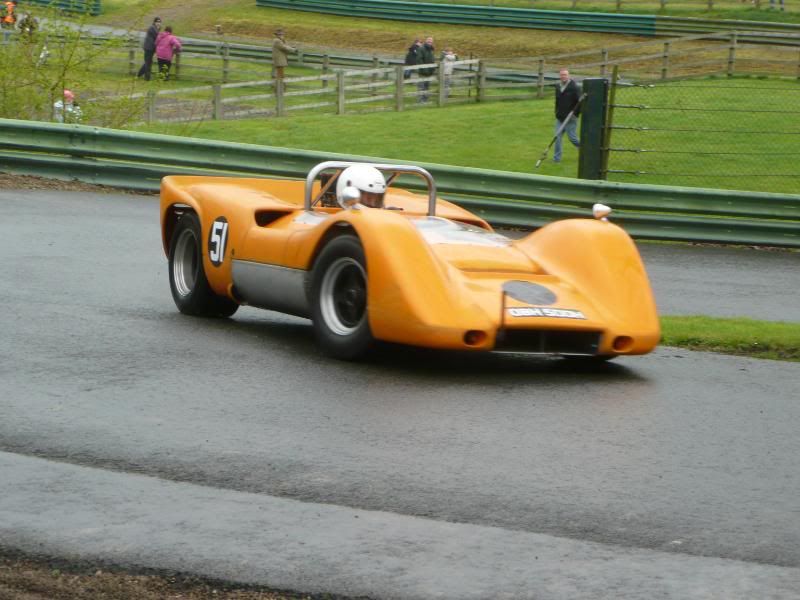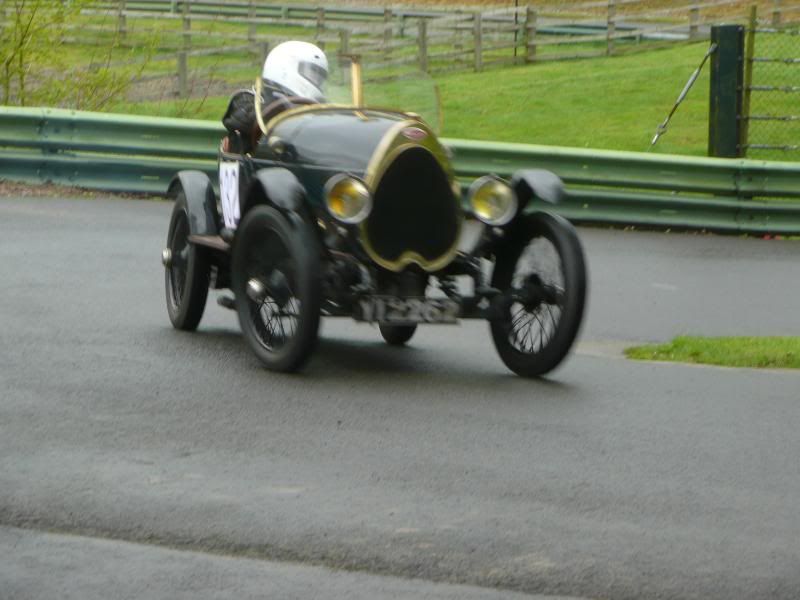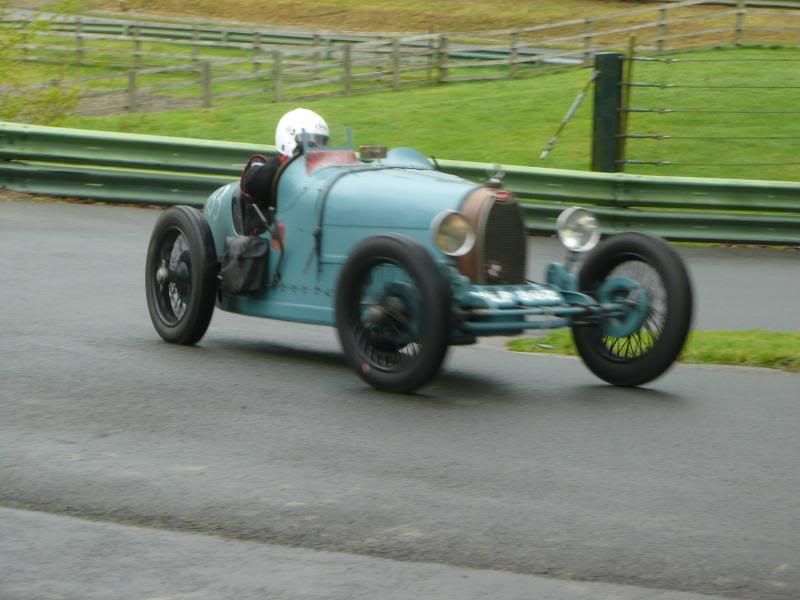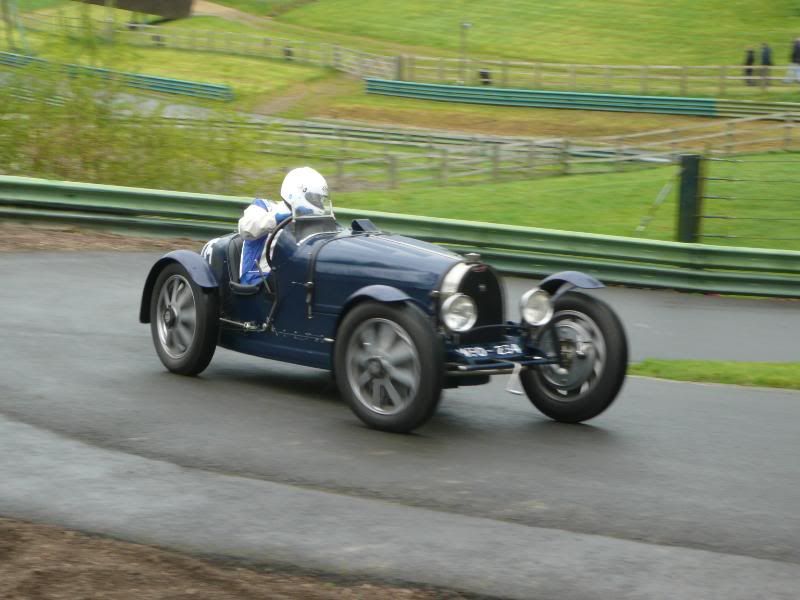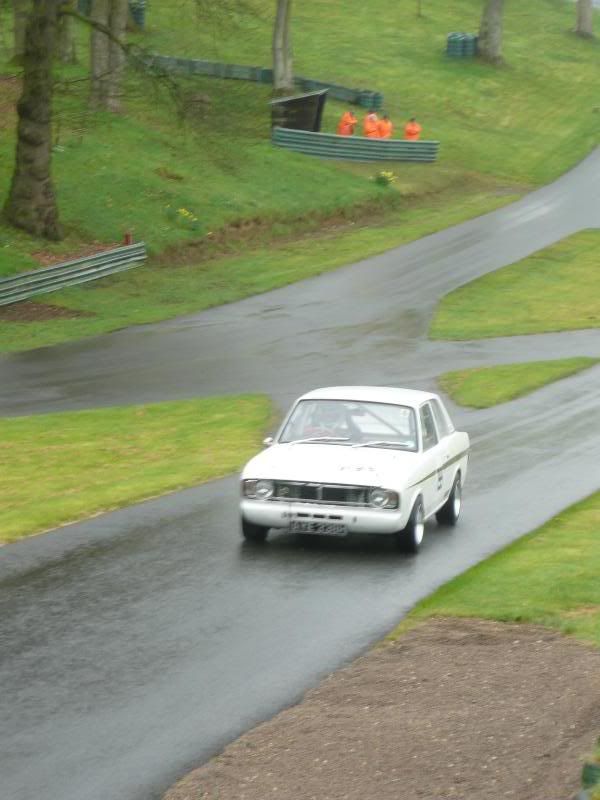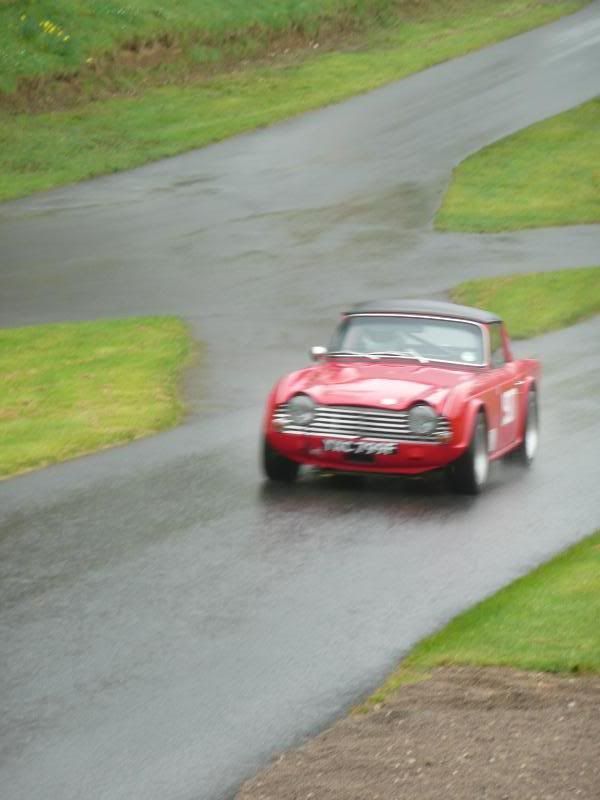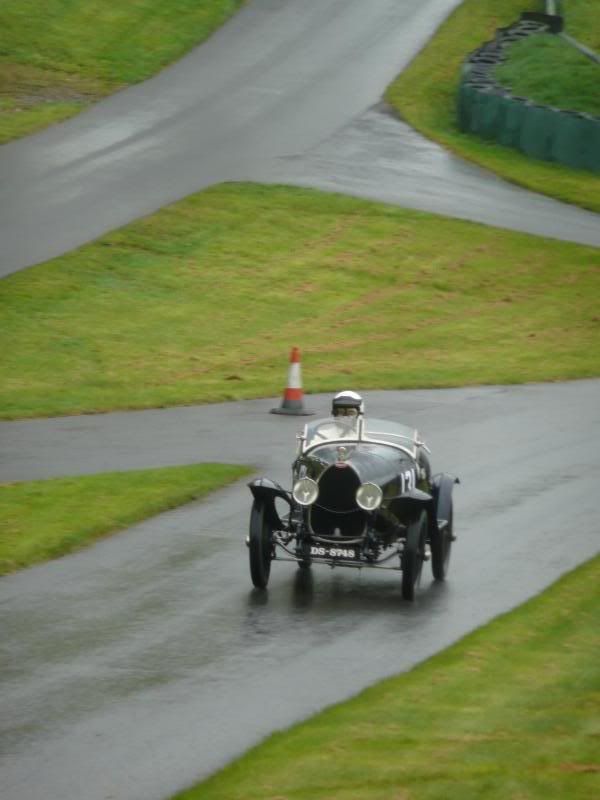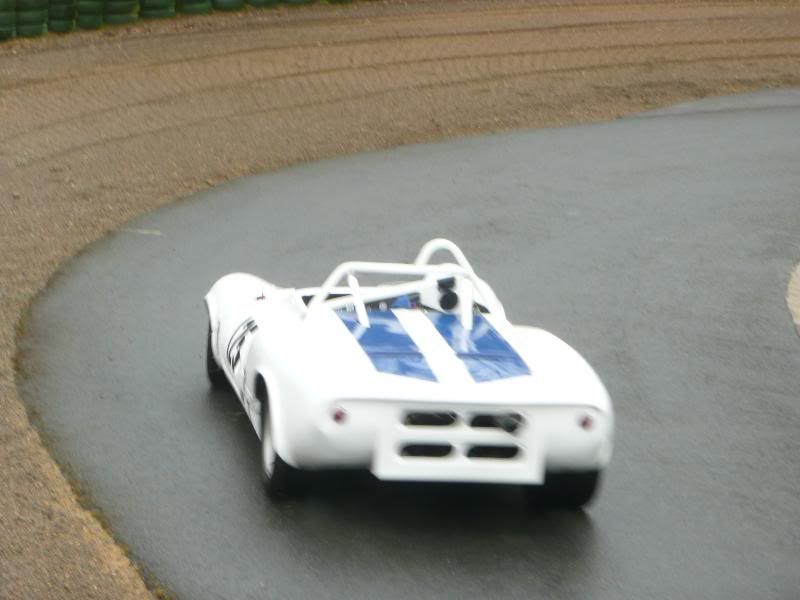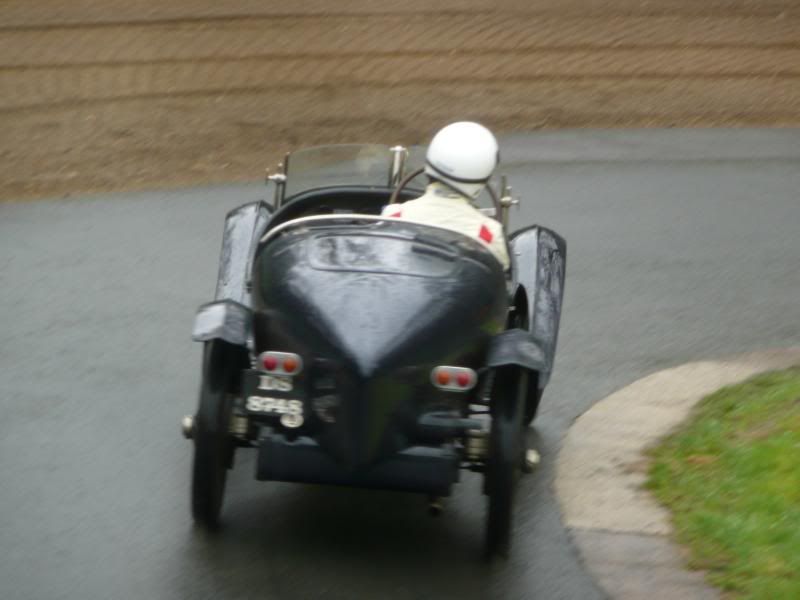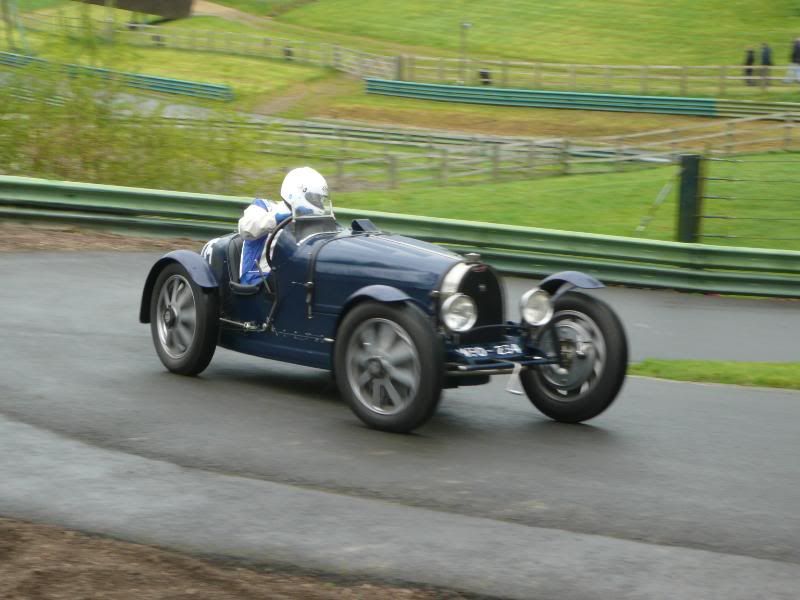 BRISTOL OWNERS
The Bristol Owners Drivers Association had decided to make this the venue for their Spring meet, and had a reserved area in the Orchard. They then had the opportunity to cavalcade up the hill at lunchtime. I went over to have a good look at these rare cars, and got talking to a couple of the owners, who proved that it is not just me who struggles to identify some of the models. One of them was proudly pointing out that the car parked next to a 406 was a 407, when the owner joined the conversation and had to correct him that it was indeed also a 406!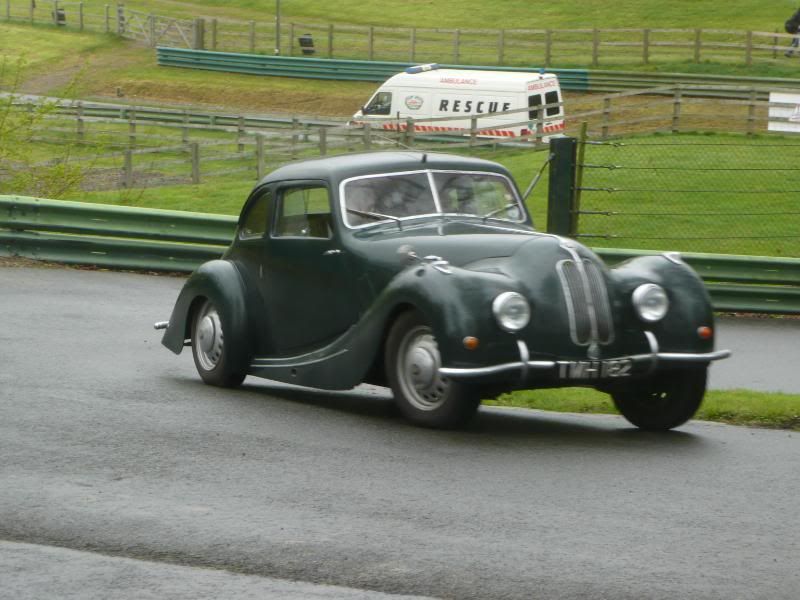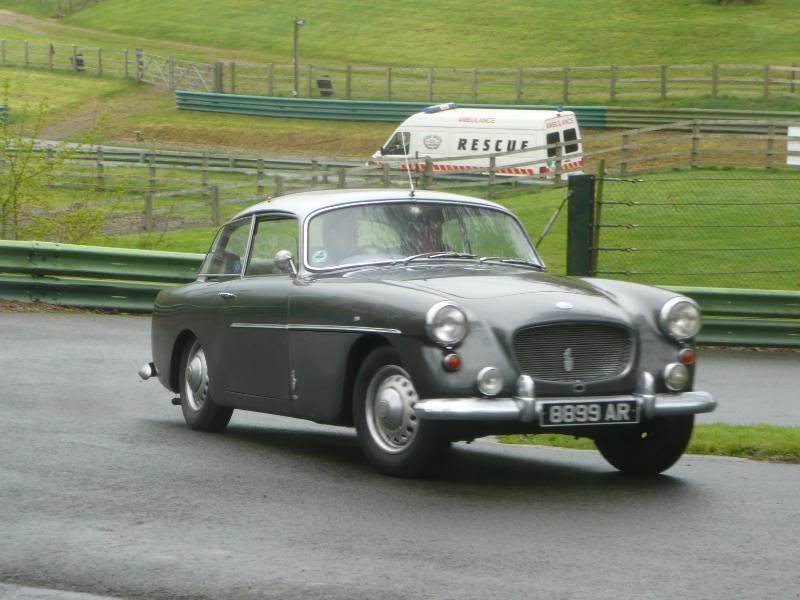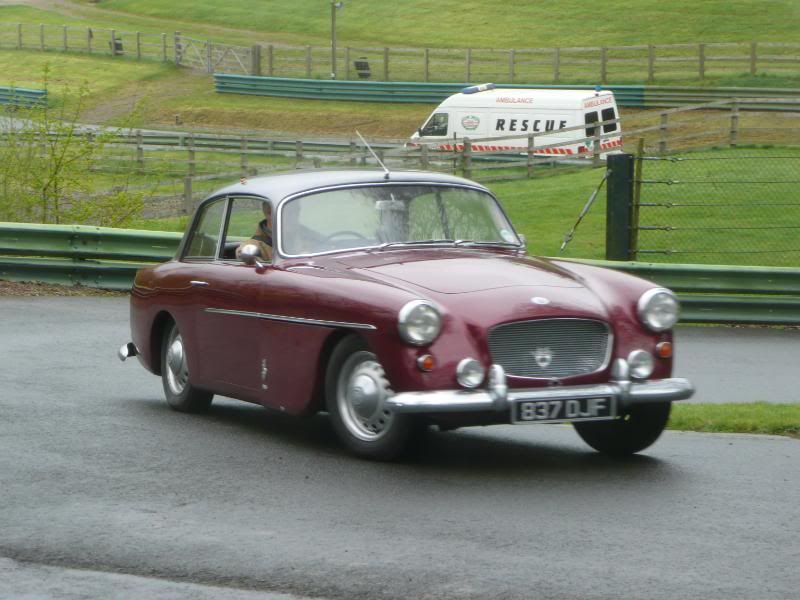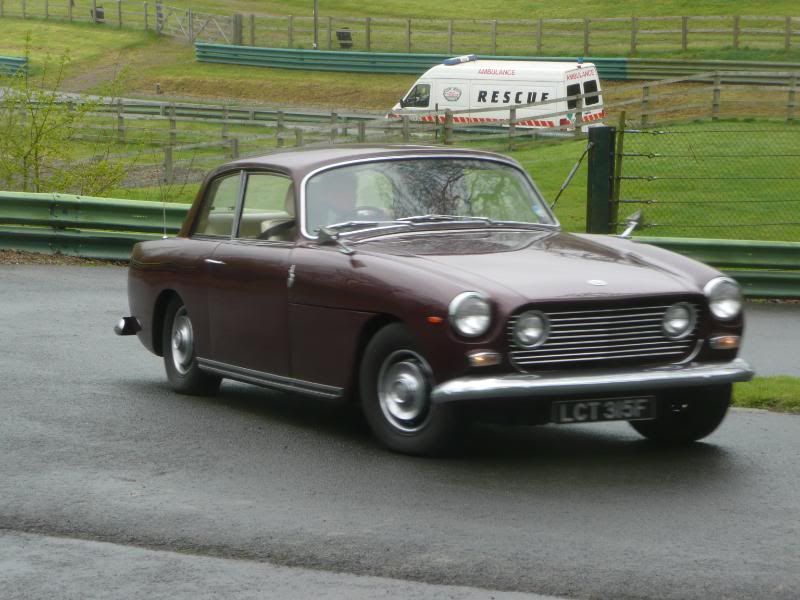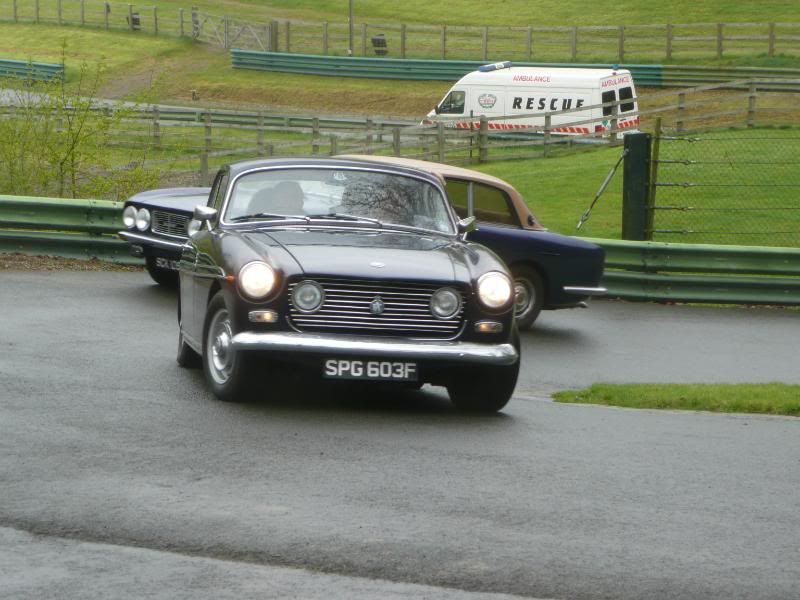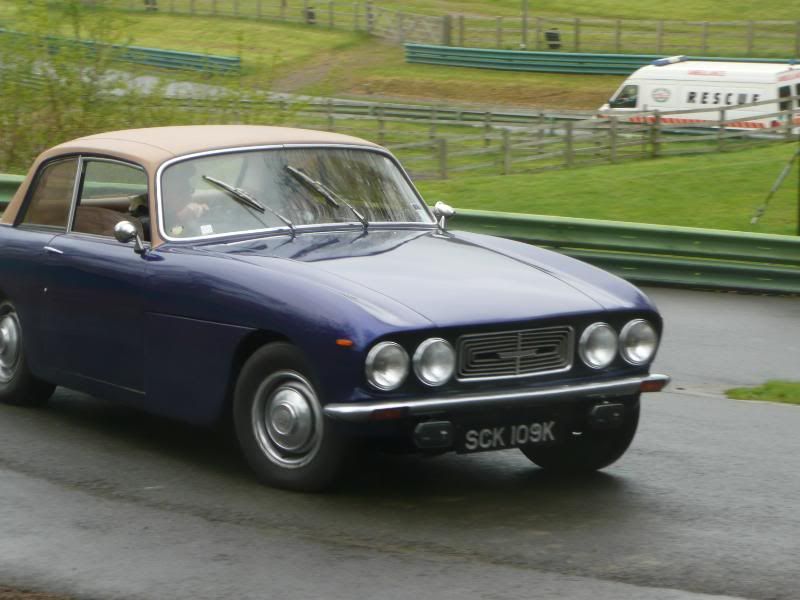 These are 400s, for sure.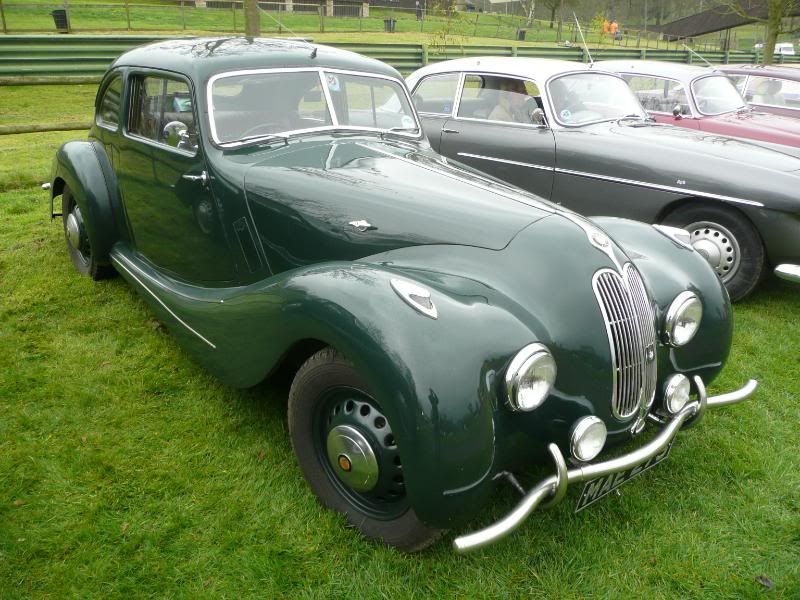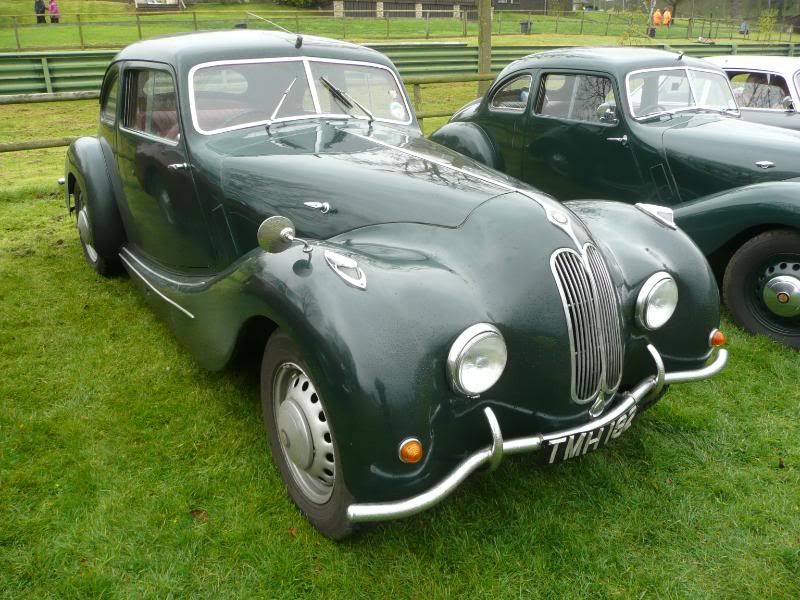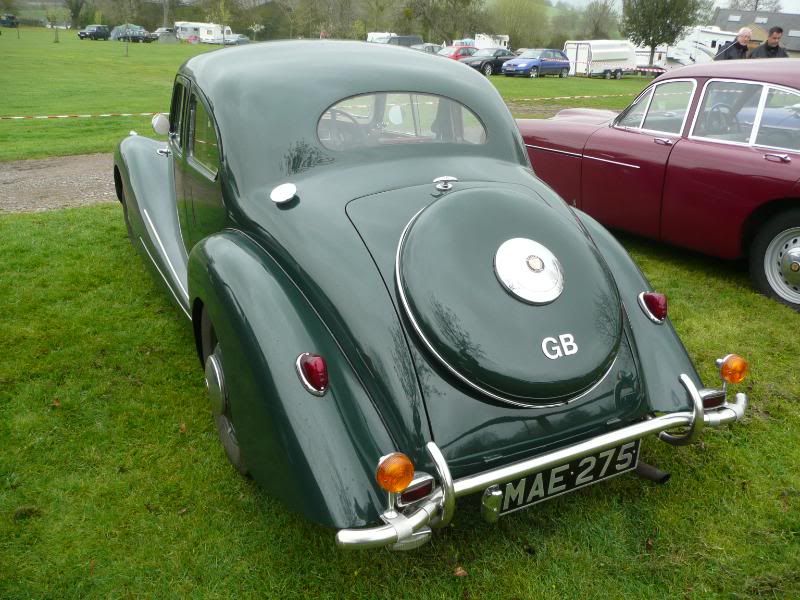 And this pair are 405s, the only four door saloon ever made by Bristol. The interior of the red one was particularly nicely presented.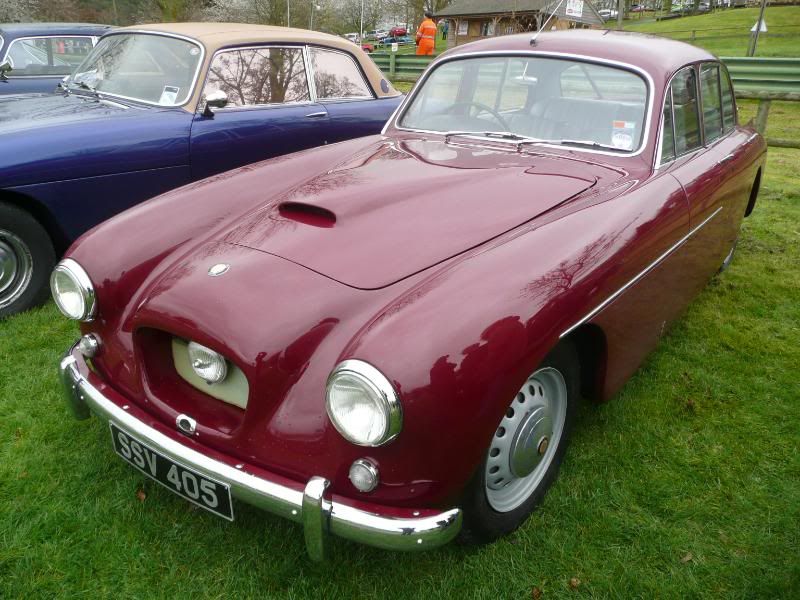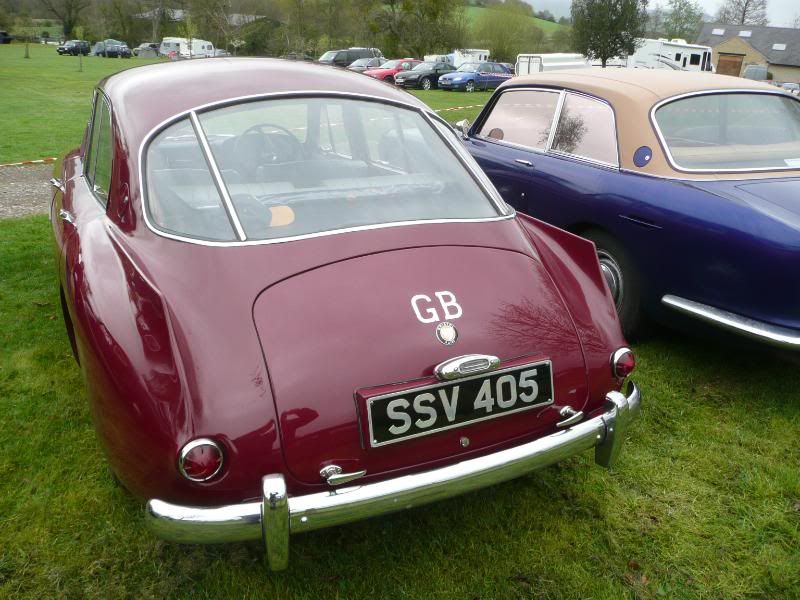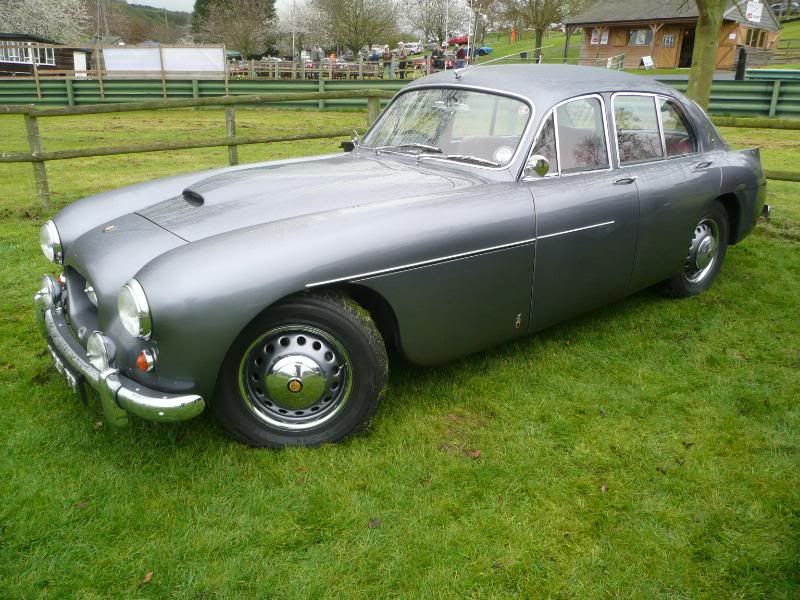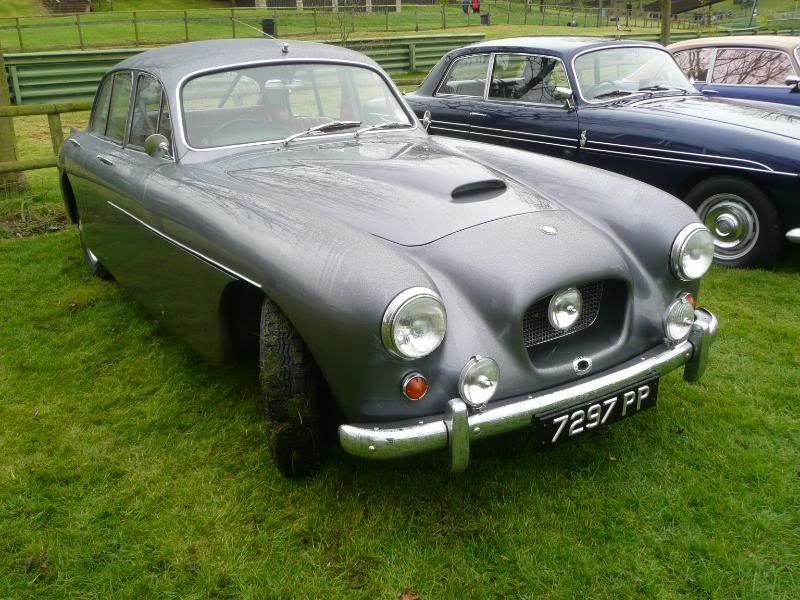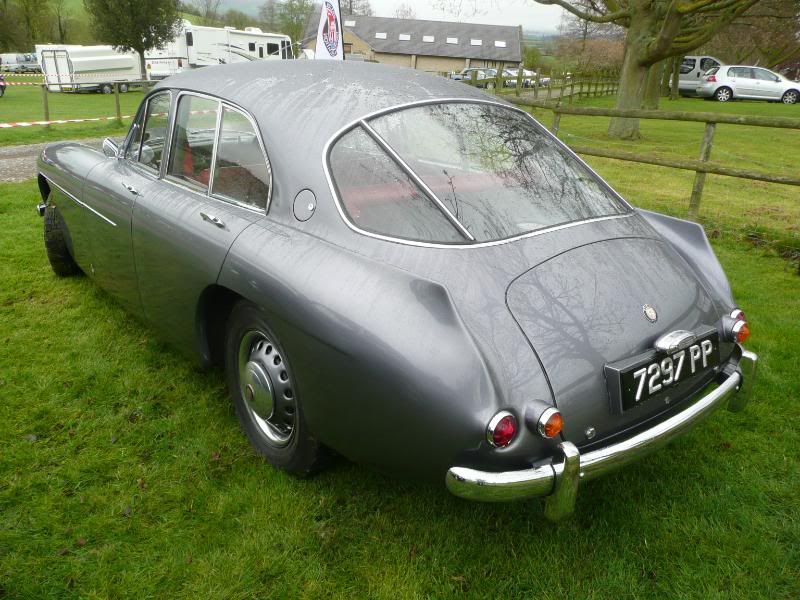 These are both 406s, which were the last cars to use the Bristol 2 litre engine before the switch to Chrysler V8 power. Except, the red car has actually had a transplant and now has a 2.3 litre Mercedes engine under the bonnet.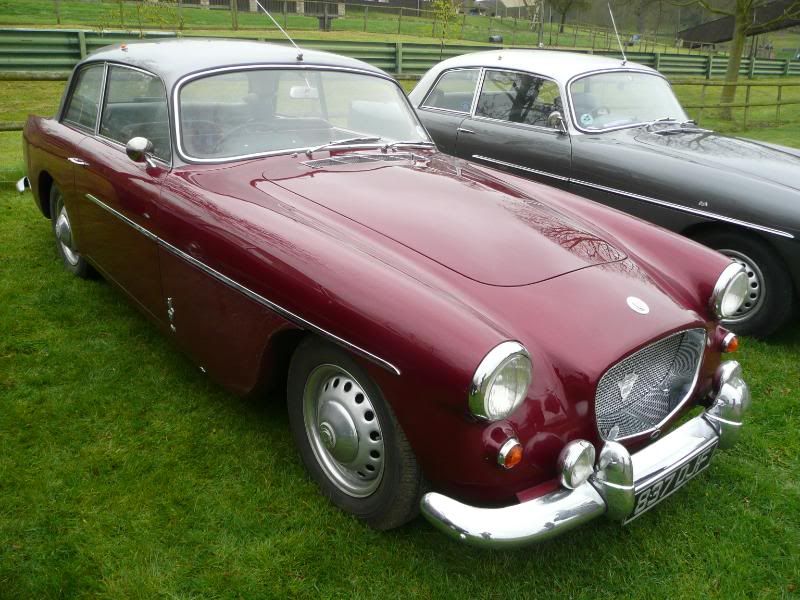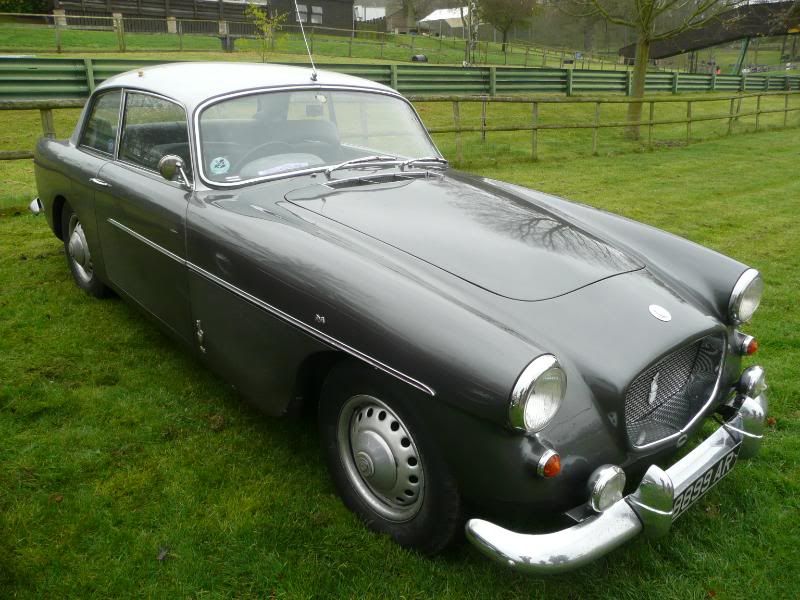 A 410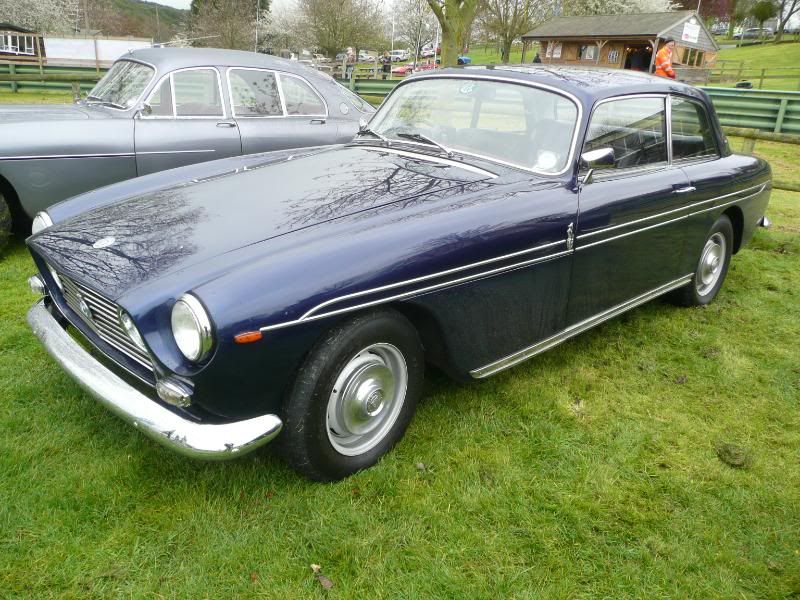 These are apparently both 411s, though I was not convinced that the F plated one really was a 411, suspecting it to be an earlier model.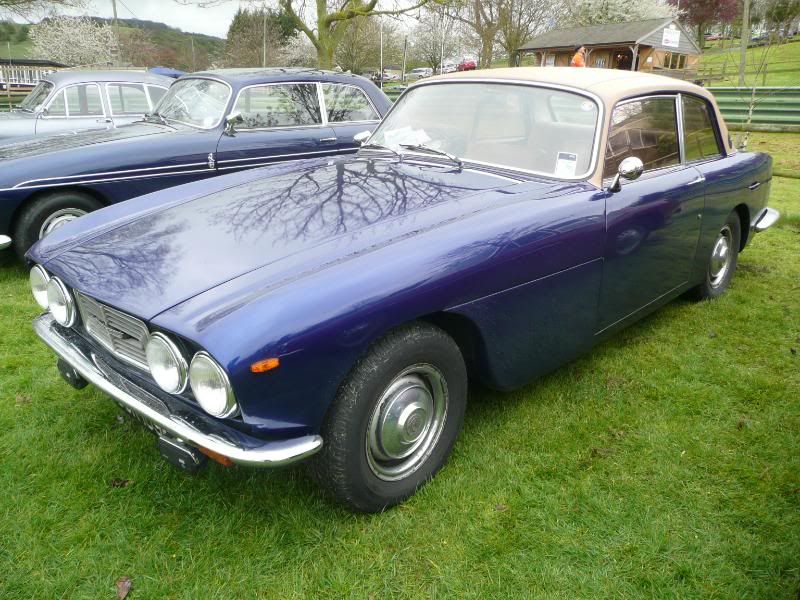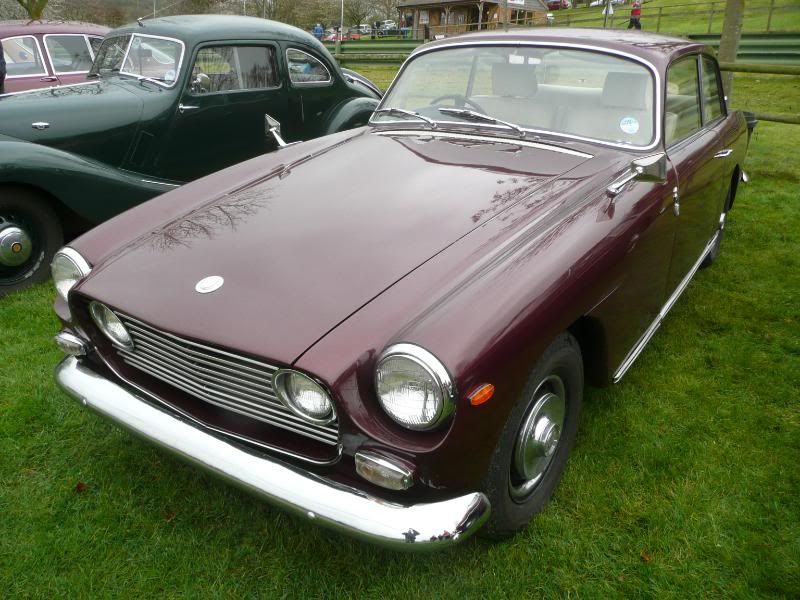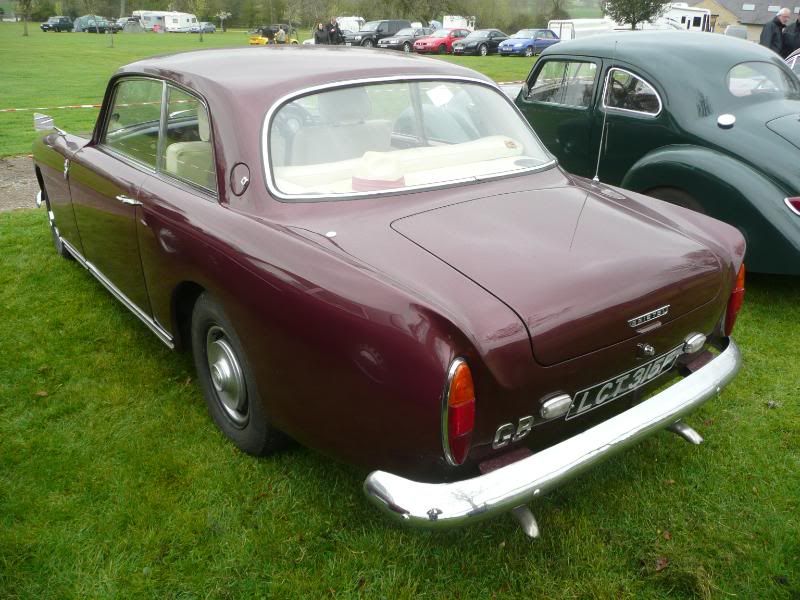 IN THE CAR PARK
Not much, I'm sad to report. A few brave souls had parked up on the hill, but the majority of attendees were in the Orchard, and it was never more than about a quarter full. However, I did spot these notable vehicles.
ABARTH
Following an announcement on Abarthisti, I was expecting to see this car, but not to find it quite so easily. Parked up right by the footbridge, this car belongs to John Hancock, the man who "owns" the Facebook Group for Prescott. He was back at his car at lunchtime, so we had a good chat about the joys of our little cars.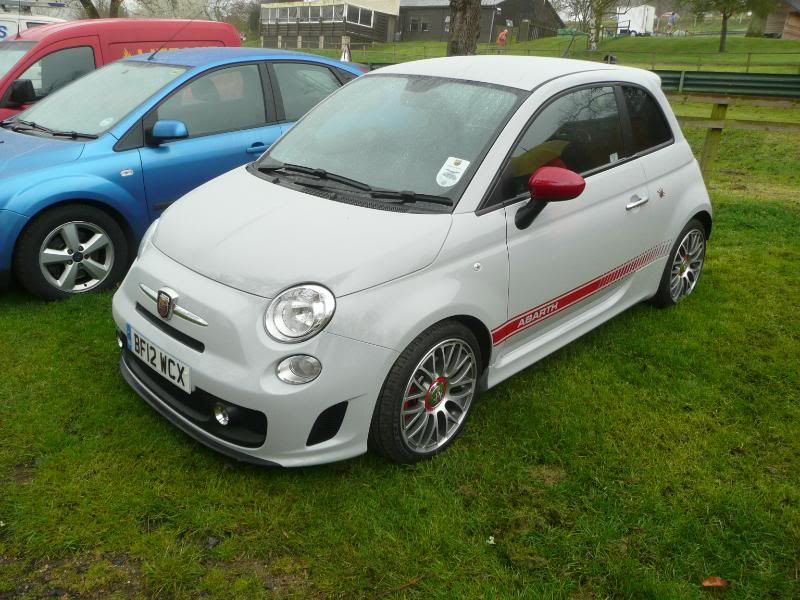 ALFA-ROMEO
I've seen this 164 at Prescott before. Red is probably not the best colour, and I never quite liked the Super facelift as much as the original cars, but still, what a treat to see this lovely car. This one is a 3.0V6 Super, fitted with the rare optional automatic gearbox.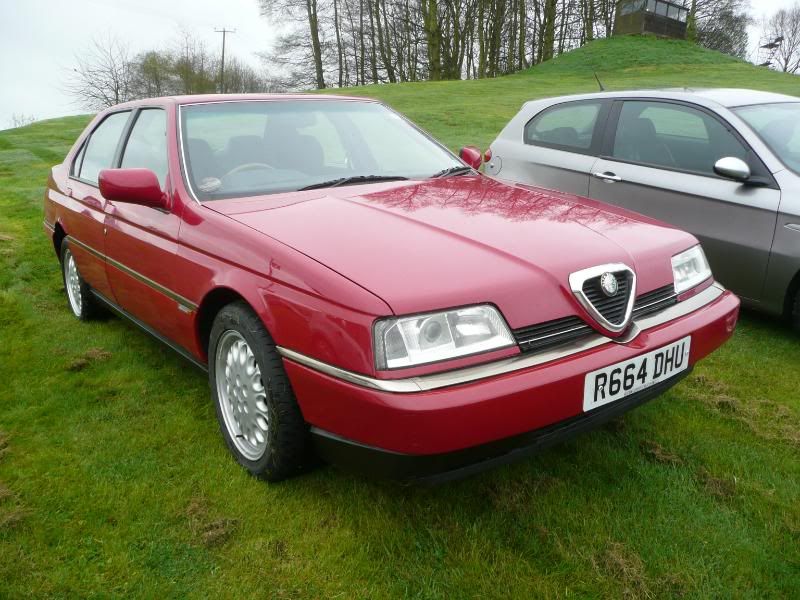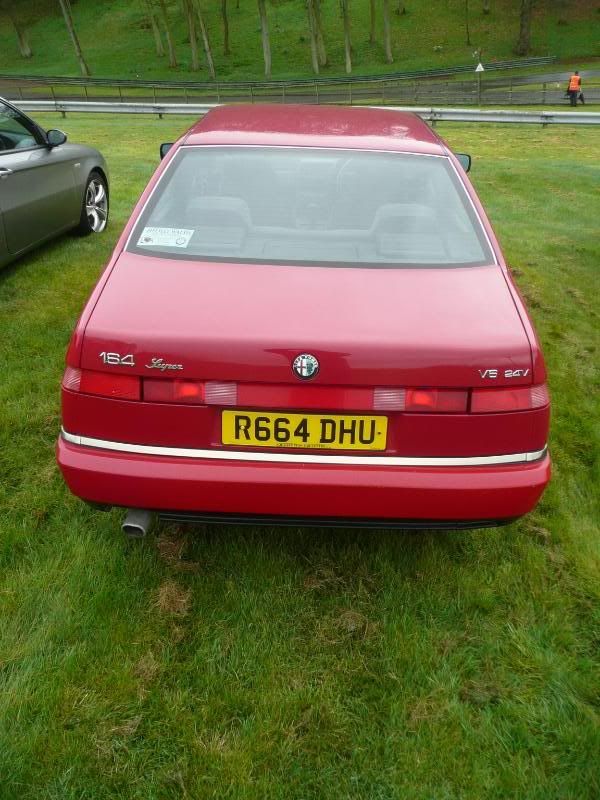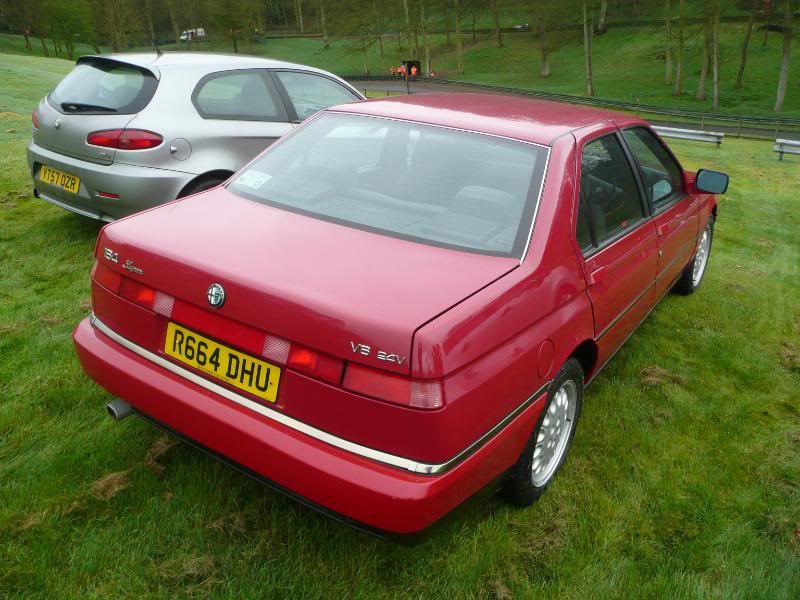 AUSTIN
When I came back to my car during the afternoon, this diminutive Seven had arrived and parked next to it.
AUSTIN HEALEY
This one was parked up in the Orchard, rather than competing for honours on the hill.
CITROEN
2CV Van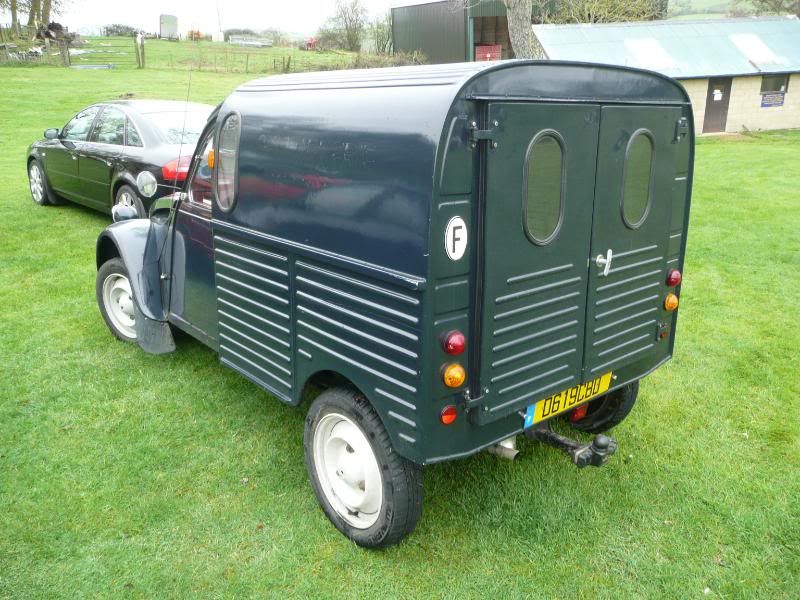 FORD
A late model Capri.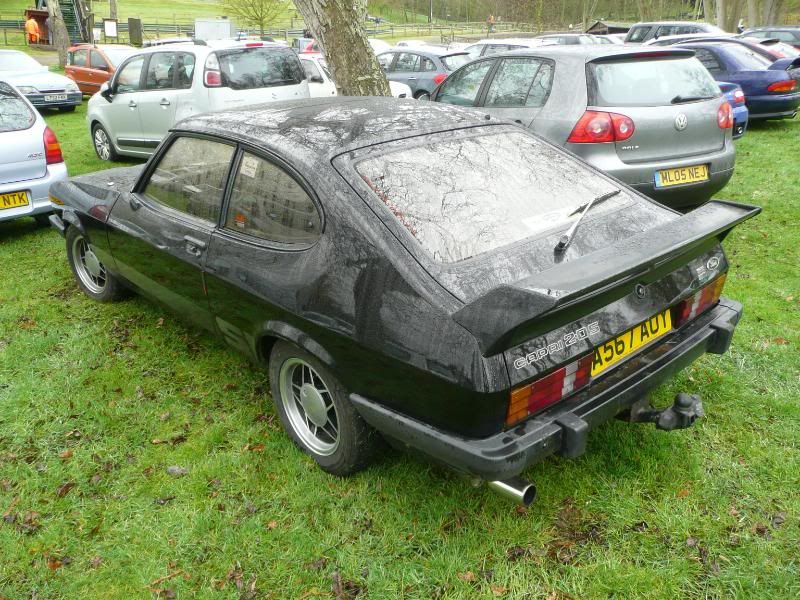 Despite the rather unfortunate weather, now my feet have dried out (!), I have to say that this was a good day out, well worth the trip and the damp. Bring on the warmer weather and the larger events that characterise Prescott later in the season!
2012-04-07 18:23:10
Share and Enjoy