2012 Ford Fiesta 1.25 82 Zetec 5door (GB)
Excellence engenders sales success. Or so we are told and indeed would like to believe. Not always true in the automotive world, though, as there are countless examples of cases where cars that are far from best in class consistently top the Best Sellers list, often for irrational or unfathomable reasons. Sometimes the market does get it right, though and in the case of Britain's long dominant top seller, the Ford Fiesta, that could well be so. Among small super-mini sized cars, the Blue Oval's product is widely regarded as often about the best driving experience in its class, along with a low cost of ownership and a certain style that makes it look more interesting than many of the rather unmemorable competitors. I've only driven one of the current type of Fiesta, a 1.4 TDCi model, and came away favourably impressed in many regards, but with perceived wisdom that the ever improving standards of small petrol engines meaning that derv should no longer be the automatic choice, it was with some interest that I got behind the wheel of a petrol powered Fiesta as wheels for a one way trip from home to Heathrow.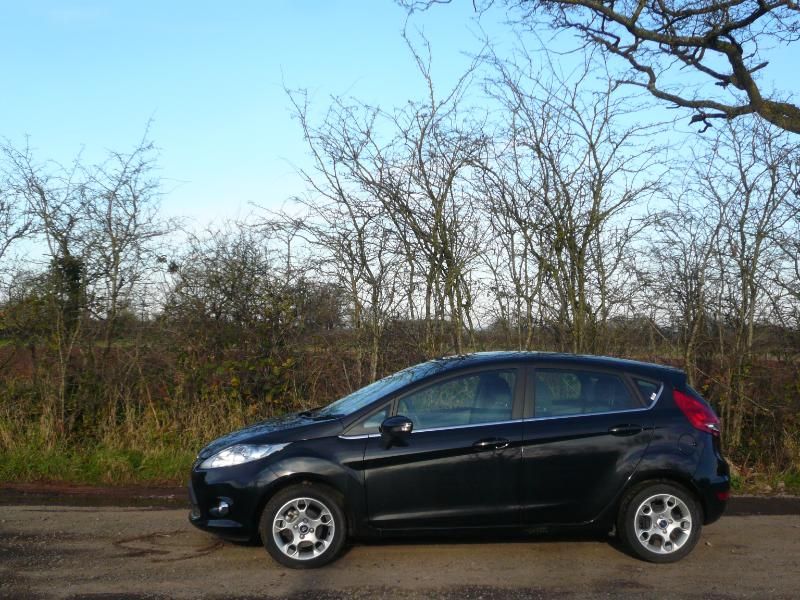 My rental coincided with the week that the reviews of the latest Fiesta, fitted with Ford's much praised 1 litre Ecoboost hit the press, and whilst this engine is doubtless destined to become the preferred engine for Henry's small car, it is not yet available, so I had to settle for the engine which currently occupies preferred position, the Yamaha designed 1.25 litre unit that has been around for a good few years now. It is offered with two different power outputs, 60 and 82 bhp, and my test car was in the more potent state of tune, which is probably just as well, as I fear that a 60 bhp unit will feel pretty weedy even one-up. In 82bhp guise, which is bang on average potency for the class these days, it performs well, though you would never describe the Fiesta as the proverbial ball of fire. It is a smooth unit, though and it revs willingly without getting unduly thrashy or coarse. This is just as well, as you will need to work it quite hard to keep with traffic flows such as when joining a busy motorway or for those sudden burst of acceleration which are needed from time to time. You will need the assistance of the gears for this, but that won't be much hardship, either as the gearchange is pleasant to use, with the lever slotting quite neatly and cleanly between the five forward ratios.  Assuming that I returned the Fiesta with the fuel level really the same as it was when I collected it, which is rarely a good assumption for any rental car, the economy during my tenure worked out at 38.37mpg. As most of the test distance was a steady cruise on the motorway, this is not a brilliant figure, and may yet challenge those who think that the return of the small petrol  engine is with us. Where the Fiesta really scores a hit with the Press is that it is better to drive than all its rivals, thanks to the qualities of its steering and handling. Or so I have read. That meant my expectations were sky high and I am afraid that the reality was just a mite disappointing. Around the straight ahead position the steering was too light and just slightly vague feeling. For sure it did gain more appropriate weighting as you turned the wheel some more, but this was certainly nothing like as good as the feel that was to be found in the previous generation Fiesta. Thank the change from a mechanical to an electric set up for that, for sure. Similarly, I was not as impressed by the handling as I thought I should have been. There are no issues, of course, but it really did not feel that special. What did feel special and not in a good way were the brakes, which were alarmingly mushy. Even modest retardation required far too hard a pressure on the pedal. I am prepared to concede that this might have been a one off, though as the test car had only done 14,000 miles, it should not be the case that the pads were badly worn. There is a pull up handbrake fitted between the seats. En route, the ride proved good, with the Fiesta tackling the varied surfaces that constitute Britain's roads without leaving any form of discomfort to the car's occupant. It is quite a restful place to be when cruising on the motorway, too, with low levels of noise from the engine and well suppressed wind noise both losing out in the decibel stakes to some moderate tyre noise, though nothing to annoy unduly.
Whilst the Fiesta passes the driving dynamics tests with ease, it is inside the cabin where things may require more in the way of subjective approval, or be found wanting. Stung by criticism of low rent interiors and challenged by the high standards set by VW, Ford made a concerted effort a few years ago, and previous generations of Fiesta, Focus and Mondeo were all quite nicely presented, using some decent quality materials. But the current generation Fords have set off in a different, and in my opinion, regrettable direction. The Fiesta was the first and is the least offensive in the way it does it, but each new Ford appears to be a combination of an overstylised mess with a less than cohesive design, as if the number of buttons is all that matters, and whilst the lashings of nasty plastic inlays may be better than the awful fake wood on the top of the range models, the overall effect is just tawdry. The Focus and the latest Escape/Kuga are the worst culprits, but even in the Fiesta there is a flavour of this with plenty of particularly cheap and nasty silver trim around the centre of the dash, on the steering wheel and around the gear lever as well as the vast number of buttons in the centre of the dash that are used for the audio unit, some of them with unobvious and unfathomable symbols on them. Ford claimed – very proudly – that this design was supposed to remind people of a mobile phone, as if that was a Good Thing. Perhaps they need to take inspiration from the Smart Phone design when they think about their next generation interiors, because if the current offerings are their way of how they become more "premium" then they are missing the mark by a mile. That said, the main instruments are clearly marked and easy to read. There are two large dials for speedometer and rev counter and a small fuel gauge set between them, all of which are easy to read. There is a digital display area above this. Column stalks operate indicators and wipers and the lights are controlled by a rotary dial on the right of the dash. The three knobs for the air conditioning system are set low in the dash below that audio unit. It is all easy to use, but classy it is not. A nice touch in this model is that the steering wheel is leather wrapped rather than the hard plastic that can feature in cars of this class and price.
The last generation Fiesta was quite a boxy design, deliberately, as this meant that there was lots of space in the car. With this model, Ford declared that they were more interested in style than space inside, and you will notice this. It is not as if the car is worse then its competitors, because it is not, but considering how big it is, at around 4 metres, it is shameful how poor the space provided feels compared to the early Fiesta models which were so much shorter. Two adults will sit in the back and have reasonable space for legs, heads and shoulders, provided the front seat occupants have not set their seats well back. Getting a third passenger in there would not be something you would want to do for very long. There is a reasonable sized boot, which took my suitcase and lap top bag with ease, though between them they covered more or less the entire floor area. You could probably put another duo of them on top of the first ones without needing to remove the parcel shelf.  Inside the cabin oddments space clearly took a second place to style, too, as it is limited to modest door bins a reasonable sized glove box and a very small little cubby in front of the gear lever.
Like most manufacturers, Ford have long since abandoned a series of trim designations that made any logical sense, using a random collection of words that denote, well, nothing much. Starting point is the Studio, followed by the Style, then comes the Edge, the Zetec which was the spec of the test car, and topped off by Centura and Titanium. Compared to lesser models, the Zetec gains a number of chrome trim finishes around the lights, grille and tailgate handle, standard ESP and 15″ alloy wheels, as well as a leather wrapped  steering wheel. The Titanium trim is not available with the 1.25 litre engine, so to get the 16″ alloys, automatic wipers and lights, an upgraded DAB audio unit with bluetooth, cruise control, privacy glass and climate control you need to opt for the 1.4 TDCi diesel or for the 1.4 petrol.  Save your money and go for one of the cheaper trims, and as ever with Ford, who are masters at this art, you can optimise the features that matter to you. The Studio is the value oriented car, but if you want a height adjuster on the drivers seat, or electric front windows and 15″ wheels you will need to upgrade to a Style, and if you want manual air con and a trip computer  you will need an Edge. Soon after this generation Fiesta was launched, prices rocketed by over 30% and Fords became very costly indeed. That has been addressed, and the Fiesta is competitively priced again, though cars like this are no longer particularly cheap. Excluding the optional metallic pant, the test car listed at £13,095, a saving of £605 over the more powerful 1.4 petrol engine or £1400 over the 1.4 TDCi diesel.
By this point in the assessment, it would appear that I have been quite critical of the Fiesta and hence you might conclude it is not a good product. That would be unfair, because actually it is. The problem is that when a couple of hours before driving it you read – admittedly about a car with an intriguing sound engine – a gushing review which effuses praise and concluded that the Ecoboost engine is like "butter cream in the Victoria Sandwich cake", your expectations are almost unreasonably high, and whilst the Fiesta is a decent enough car, it is not so obviously brilliant that you would never contemplate having a go in a few of its many rivals. Worthy of all that sales success? Yes, probably it is. Certainly far more worthy than its arch GM rival, the Corsa, a car I really do struggled to like. But the absolute clear class winner? That would be a far bolder assertion to make and one with which I would struggle to agree.
Share and Enjoy