2012 Ford Mustang GT Premium (USA)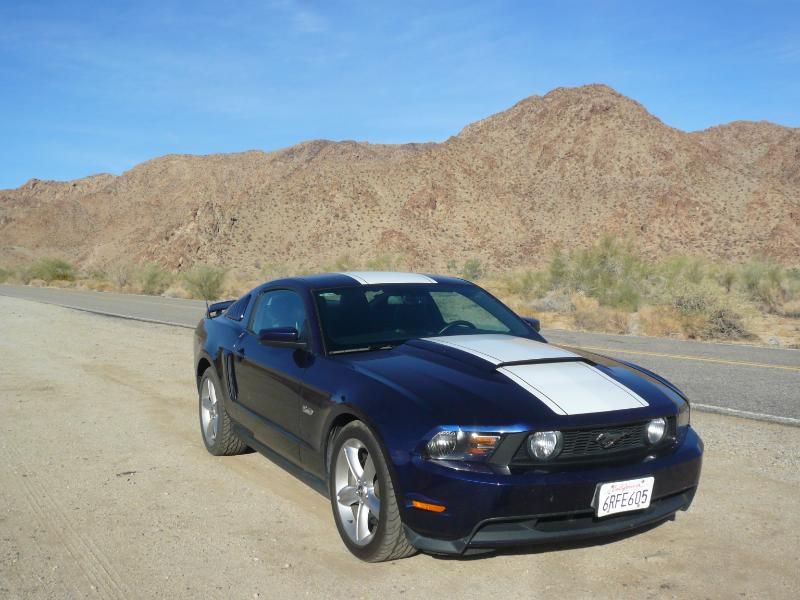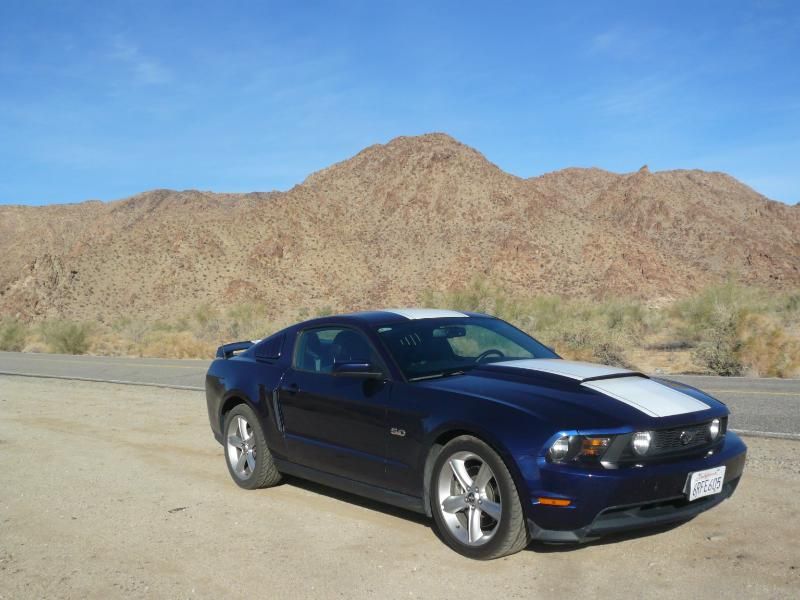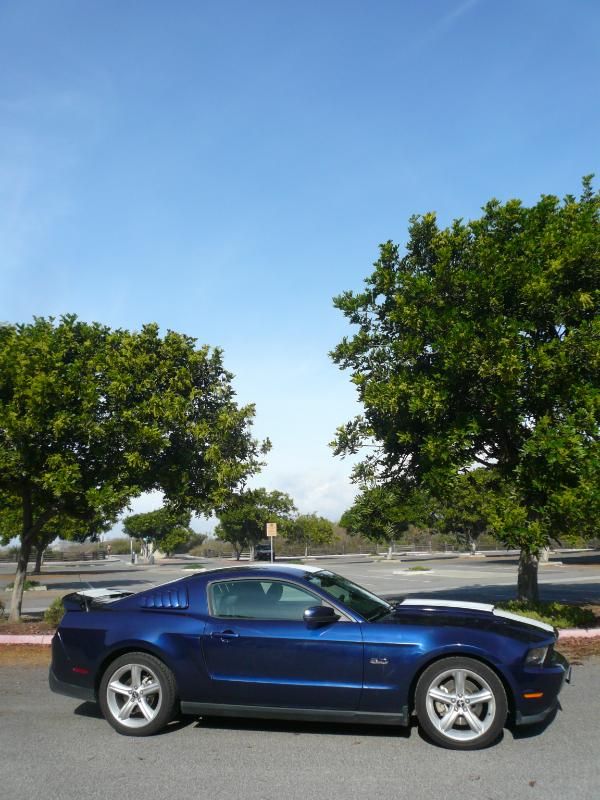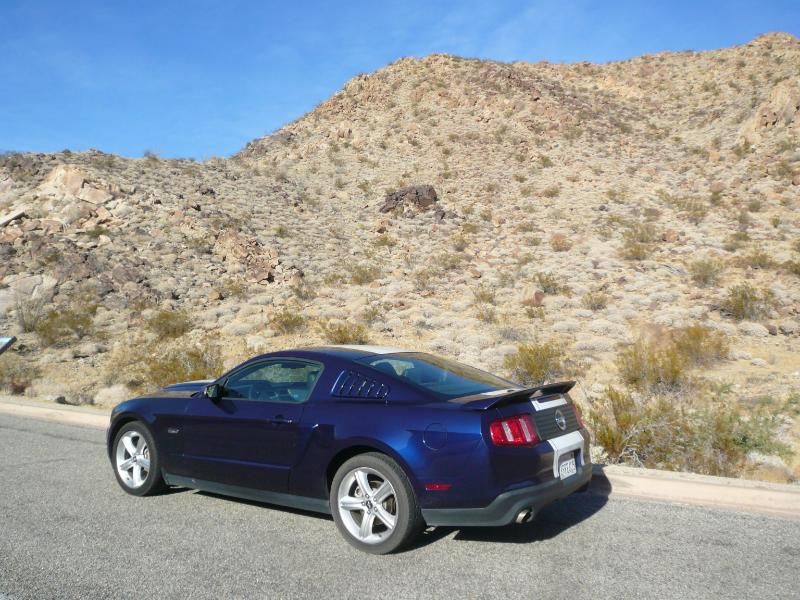 For much of the 1990s and early into the twentyfirst century, it looked like Ford was not sure what to do with the Mustang. The once proud name attached to an affordable sports car that debuted in 1964 which won the hearts and wallets of millions had degenerated through the execrable mid 1970s Mustang II into a rather limp and uninspired coupe and convertible which managed to allow US vacationers a cheap taste of affordable Americana but with nothing much else to recommend it. Ford even thought about abandoning the name with the ill-fated Probe models of the 1990s, but in response to howls of protest from the afficianados, persisted, looking for a better way forward. And then they hit the jackpot. Taking inspiration from the much loved classic first model, the new car that premiered in 2004, going on sale late that year as 2005 model, was a revelation. Gone were the dowdy looks and here was something which looked fantastic. To keep it affordable it still used the old engines and retained a live rear axle, but the engineers worked the best miracles they could and the car drove well, too. Mustang was back, and how. It became the rental car of choice, and getting hold of one became difficult again. So much so that it took me until early 2007 before I got behind the wheel of a white V6 coupe, a car which I enjoyed. Not as much as what followed, though. In a masterstroke, Hertz decided to recreate the magic of the affordable performance rental car that you could take to the track (though the rental contract explicitly forebade it!) with a series of special Shelby models, complete with the V8 motor, in iconic black paint with a gold stripe, redolent of the GT350H cars from 1966. 500 GT-H Coupes were on fleet in 2006/7 followed by 500 GT-H Convertibles from 2007/8. I got my hands on a Coupe in mid 2007, and apart from worrying about damaging the impractically low front spoiler, had a blast of a week driving it.  Hertz went on to do the same sort of thing with a Hertz special Corvette, minus the Shelby factor, and actually boasting no significant additional power over standard cars, but Henry was not idle during this time, facelifting the Mustang, first with styling changes which initially did not appeal but which have grown on me, and then finally replacing the old engines with new ones for the 2011 model year. It was about this time that Mr Hertz launched his Adrenaline Collection, with the Mustang taking a prominent place in the three model offering. Whereas standard rental Mustangs are V6 cars, the Adrenaline models are the full-fat 5.0 V8 in Premium trim. All the early cars (2012 model year vehicles even though they appeared on fleet from April 2011) were finished in Kona Blue Metallic with a white stripe. It immediately went onto my "must drive one" list, and now, just as the blue cars are being replaced by silver 2013 model year cars, I've been behind the wheel to see what I thought.
Those who select the 5.0 litre V8 engine over the lesser V6 car are really going to care about the engine, so it is important that the Ford delivers in this regard. Get in the car and fire it up, and your expectations are high, as there is quite a different sound to the burble that you get in a V6 Mustang. In this one you really do get the impression that someone just prodded a sleeping giant and an angry roar ensues. It's not that aurally obvious that it is 8 cylinders which are being fed America's finest gasoline. but it is clear that this is one potent powerplant, eager for you to put the car in gear and to set off. What happens next all depends on your right foot. In traffic and urban areas, the Mustang can be as docile as you need it to be, and is quite easy to drive with just light application of the go pedal. Get somewhere with less traffic and the opportunity to press harder on the accelerator pedal,, and the Mustang will leave you in no doubt that this is a quick car. A very quick car that could get you into trouble pretty quickly if the local police force is on the look out. Sadly, I was never in a position to get anything close to the potential out of this 412 bhp engine, but I was content in the knowledge that there was power available to deal with any situation. The red line is set at 6,700 rpm, though you would rocket into the next state if you were to accelerate all the way to the limiter. With a prodigious amount of torque available, in everyday street legal motoring, you will struggle to get beyond half way to that red line in the upper gears. At a cruise the engine and the exhaust system are very quiet but if you blip the throttle a bit from low revs you will get the aural satisfaction of someone teasing the snoozing giant and a very pleasant noise results. The rental car came with the 6 speed automatic gearbox, which had no sophistication such as flappy paddles, or even a choice of sports modes, you simply pulled the lever back to the required forward gear and let the 'box do the rest.  After an unexpected and dramatic increase in fuel prices in California just days after I left in September, I was pleased to note that they had returned to an average of around $3.75 a gallon, which is just as well, as I seemed to need quite a lot of fuel for the Mustang. That was largely because I did a lot of miles in it, as although when I first got in it and the full fuel tank indicated a range of just 274 miles, some steady speed freeway cruising showed that it is not always as  thirsty as you may fear. When I did the sums, I averaged 22.4 mpg US which amounts to 26.7 mpg Imperial, a surprisingly decent figure. However, get somewhere where you can play with the engine, and I am sure you could reduce that figure by 40 – 50% quite easily and quickly. Raw performance is all very well – and indeed matters a lot to US muscle car enthusiasts – but it is far better if the car as a whole is good to drive. And here the Mustang does not disappoint. The steering is well weighted, with plenty of feel, without ever being too heavy. You can adjust the feel with the Set Up button mounted on the dash, opting between Sport, Comfort and Standard. I left it in Sport mode and was very happy with the results Despite being hampered by the live rear axle, for on road motoring this is not really a limitation, as the car goes round corners well, with minimal roll, and plenty of sensation that if only the law and other traffic permitted, you would like to be going a lot faster. Less praise for the ride, though on the smoothest of roads, it is fine, but on rougher roads, every ridge and bump is transmitted into the cabin. Not enough to make you cry "enough", but certainly so you will notice it all. The same is true of noise levels. The engine is very muted at freeway speed, spinning at just under 2000 rpm at 75mph, but once the surface changes from smooth asphalt to the various types of concrete that predominate in California, then there is noticeable road noise. Wind noise is well suppressed. The brakes are good, well able to stop the Mustang from far higher speeds than I was able to enjoy. A central pull up handbrake is fitted between the seats.
It is when you look inside the cabin that the case for the Mustang weakens. To try to keep up with ever improving standards and market expectations and also because it has been a criticism since this generation of Mustang was launched, Ford have made improvements to the cabin quality, but the truth is, it is still on the mediocre side of acceptable. The basic design of the dashboard has not changed though the changes made for the 2010 model year cars brought in rectangular central air vents and some better quality materials. They are still not very good, with lots of hard plastics in evidence. The main part of the dash is inlaid with a brushed silver plastic which is orders of magnitude nicer than the horrid stuff in the Fiesta I had driven immediately before this test, but is miles off the sort of nice finish with which the likes of Audi would endow it. It does provide some welcome relief from what otherwise would be quite a dark place with its all black finish.
You get more variety at night, with the ability to choose from a palette of colours what hue you would like for not just the instrument lighting, but also the halo ring around them. Whereas before this was an easy button to find, now it is buried in menus operated by the "Set Up" button, one of three on the lower left of the dash above the driver's knee.
The dials have not changed. Two large instruments for speedo and revs find four smaller ones squeezed in between them for fuel level, water and oil temperature and an ammeter. The speedo bears kilometre markings on an inner arc which are particularly small and crammed together. Even the mph markings are a problem as only even increments of 20mph are shown, so interpolating to judge 50 or 70mph, is hard, let alone 65 mph, which you will need when you are being followed by a police car, as I was for some distance. Remember this is the sort of car that will attract attention from Mr Plod. There are trip computer functions in the lower right of the rev counter, toggled by another of those buttons above the left knee. these use the sort of dot matrix graphics that many others abandoned nearly 10 years ago. Things don't get better with the minor controls. There is one column stalk, to the left, which does indicators and wipers. That means that the wipers are operated by turning the end of the stalk through a number of intermittent settings before getting to continuous wipe. As my test coincided with a period of Californian rain, I had occasion to use this a lot and it was awkward compared to a separate stalk. Lights function off a rotary dial to the left of the dash. The middle of the dash contains the audio unit and below this the dials and buttons for the air conditioning system. The temperature one is a small rotary to the right at the bottom, and quite awkward to reach around the gearlever. There are repeater buttons – very small and fiddly ones – for the audio unit on the right of the steering wheel boss, and the cruise control settings are on the left hand side.  Ford's MySync system was fitted to the car. This provides a number of Bluetooth connectivity options, but I did not attempt to use it so cannot comment on its ease of use (I am told it is a bit clunky and fiddly) or effectiveness.
I never managed to get completely comfortable driving the Mustang. The biggest problem stems from the fact that the backrest adjusts via a series of stepped angles, and I wanted an in-between setting. For some reason, American prefer this approach to the continuous sort of adjustment that is may be slightly more work initially but allows you to set the seat angle exactly where you want it. Although there was electric adjustment for the height of the seat and forwards/backwards, the backrest rake was manual. Annoyingly, if you tipped the seat forward to allow someone access to the rear, the backrest did not return to the angle at which it was previously set. Barring the fact that the angle was always sub-optimal, everything else was OK, and the sat proved very comfortable even after a day spend sitting on it for many hours. You don't want to sit too low in the car, as then you would struggle with visibility, which is not a strong suit anyway. Looking forwards, the hump in the bonnet is pretty dominant – more so than in the Mustang's main rival, I thought – and the view in the rear mirror contains a large slice of rear spoiler, though Ford's simple addition of a second smaller piece of glass in the door mirrors does at least help with seeing what might be in the otherwise   blind spots. The over your shoulder view is not good either, thanks to those louvred side windows. Still, the driver need spare more than a thought for anyone unfortunate enough to have to ride in the back. The first challenge is to get in, as only the back rest tilts forward, leaving quite a narrow space through which to clamber. Once in, the amount of leg room will depend on the sacrifice or not that you get from front seat occupants. Even with the seat set for me to drive, there is not much leg room, but if you set the front seat well back, it all but disappears. Head room, whilst far from generous, is less of a problem, and as the rear is only ever meant for two, there is ample shoulder room. I knew from the past that the problem with the boot is not so much its capacity, which is not bad for a car of this class, but the small slot through which access is gained. However, I managed to get my suitcase in with no problem, and there would have been space for quite a lot more soft luggage as well had I needed it. Oddments space in the cabin is pretty limited. There is a surprisingly small glove box, and some useless door pockets which are hard to reach, and not worth the effort when you do contort to get to them, but there is a deep cubby between the seats behind the twin cupholders.
Mustang is available in both Coupe and Convertible body styles, and with a choice of V6 and V8 engines. Each of these is offered in regular or Premium trim. Sitting above these are the Boss 302 and Shelby 500, the first of which is only offered as a Coupe. Premium trim adds leather seats (which were made of rather indifferent quality leather, I have to say) with 6 way power adjustment, a leather wrapped steering wheel, an upgraded Shaker audio unit with CD, MP3 and satellite radio, MySync (a voice activated control for bluetooth phone, audio and navigation controls),  All the V8 models get 18″ alloys, a rear spoiler, aluminium effect trim on the dashboard, fog lights and automatic headlights. Most of the changes to the Boss and Shelby involved more power and upgraded brakes, though there is suede trim inside them, as well. V6 and V8 GT models are offered with a choice of six speed manual or automatic gearboxes, whereas the Boss 302 and Shelby only offer a manual. Mustang has always offered a lot of power for not a lot of money and that is still true today. A 5.0 GT Premium retails at just $33,710, $3000 of which is the extra cost of the Premium over the Base car, so you are getting an awful lot of horsepower for relatively little money. A V6 Premium lists for $26,710, so the price for the extra 100 or so BHP and 2 cylinder is a not insignificant $7000. You will pay over $40,000 for a Boss 302 and the Shelby GT500 lists at over $48,000, so there is no question that the extra power does come at quite an extra outlay.
When this generation of Mustang was launched, it pretty much had the class to itself, but since then, two dread domestic rivals have come along, the Dodge Challenger and Chevrolet Camaro. Ask anyone which is best and why and it is a bit like asking people to justify their chosen football team. Enthusiasts tend to have very strong feelings about these cars and almost nothing you can say will persuade them that something other than their own favourite might have merit at all. The journalists have not necessarily helped, despite incessant features on ever wilder versions of the cars, as their criteria have tended to be limited to the results of their antics on the track, where conditions are very different to how a car performs when you take it to the shops as well as on the freeway. So, as always with these things, it comes down to personal choice. I've now driven a couple of different Challengers and Camaros as well as a few of this generation Mustang, and were it the case that only one of the models existed, it would be easy to say that the enthusiast would be happy with any of them except the early underpowered Challengers (since addressed with a new engine). But there are three, and Mr Hertz offers all them in his "Adrenaline Collection", so if you can only take one, which should it be? If there are more than 2 of you, it is pretty clear that the larger Dodge wins every time, as it is the only one in which you can expect someone to sit in the back for longer than a few minutes, and in Hemi engined guise it is a fine car. I like it a lot. But it is a big car and if you want something that bit more nimble you need to look at the Chevrolet or the Ford.  In recent years, the market has shown a preference for the Camaro, with this model outselling the Mustang by anything from a slim margin to quite a convincing one, and I think I would go with the market view. I liked the Mustang, but I think back to the drives I had in both the Coupe and the Convertible versions of the SS Camaro, and I just loved that car. Although I can understand why those who subscribe to the religion of Ford would never agree with me, if I were to select just one of these cars, I'd take the Chevrolet.
Share and Enjoy