La Vie en Bleu – May 2012. Dan's Report
We've been going to this event now for over 5 years.  We've endured some pretty awful weather in the past, and with recent rainfall we weren't holding out much hope for good weather this year.  But someone was looking down on us and just a day or two before the weekend, the clouds started to clear and the future looked bright.
Thanks to Piers for his superb organisation we had our usual (if slightly tighter) Orchard parking space right next to the track and managed to perfectly squeeze our wide ranging group of cars (more of which later).
BUGATTI
With Prescott Hill Climb being the home of the Bugatti owners club, this is the featured marque of the event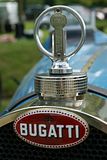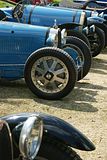 This wonderful 57C was Ettore's own car and was up for sale, just don't ask how much!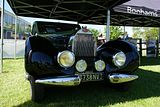 Another Type 57C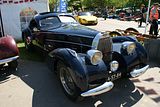 Type 22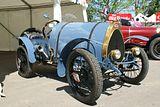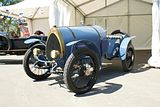 Type 35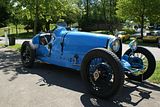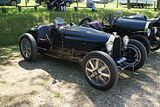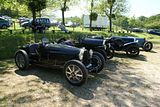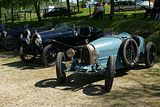 Type 36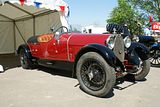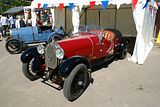 Type 73 with a straight 8 engine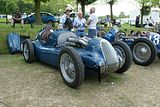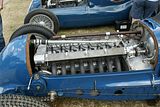 There were Bugattis everywhere!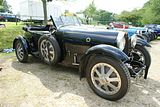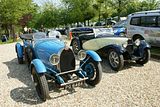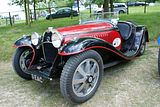 Just the one Veyron this year, a Grand Sport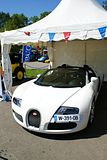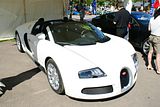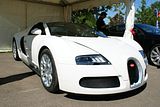 CAR CLUBS
Caterham
Not strictly speaking a car club that was exhibiting at Prescott, but this R500 arrived with the TVR's.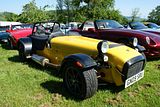 Citroen
A huge showing from Citroen, supported by the manufacturer, owners clubs and individuals
A 5CV 'Cloverleaf' and a commercial truck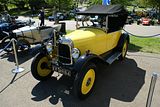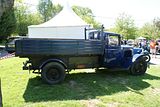 H-Van, there was also a yellow one that I seem to of missed.  It was parked close to the Veyron so was hard to photograph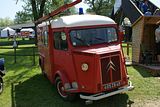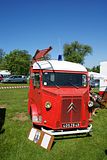 I have very fond memories of the Mehari. Seeing them in the South of France always meant that the holiday had begun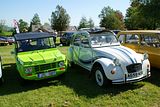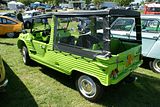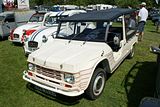 There were a couple of Ami estates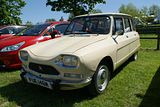 Lots and lots of 2CV's, together with a Dyane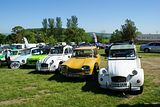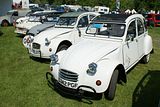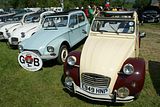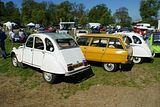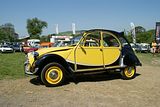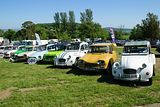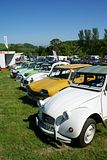 GS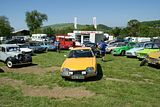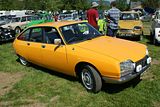 Always nice to see an SM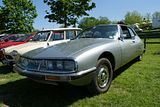 There were two CX's, both 25 GTi Turbo's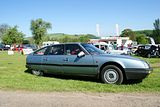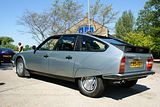 A lone LNA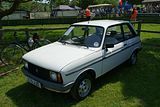 Coming completely up to date with a DS5. Last year was a DS4, the year before a DS3 Racing.  What's next year going to bring?  A DS9?!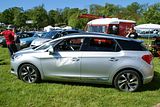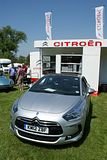 Delage
There were a couple of these luxurious French cars, all in an 'unrestored' state  This one was up for sale, a shame considering it has had the same owner for the last 45 years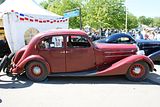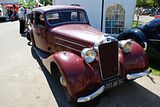 Land Rover
There was a Freelander, an Evoque, a Defender and a Sport on show from the local dealer
Matra
A very quiet show for this small marque, just a lone Djet
Peugeot
Almost non-exsistent on the Saturday, Peugeot managed a good showing on the Sunday
A 304 coupe and two almost identical 304 cabriolets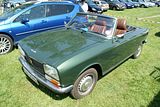 205 in CTi and Roland Garros spec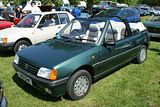 203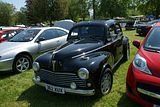 Renault
This is a Fregate, from the 1950's, it was a large saloon for Renault and is now very rare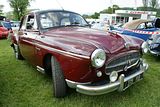 There were several R8's, including the Gordini versions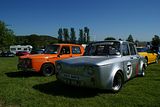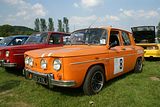 4CV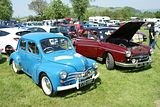 R5 in Alpine Turbo, Turbo 2 and very rare Zandra Rhodes (of which only two were ever made) specification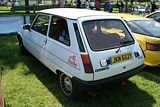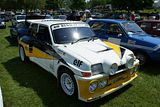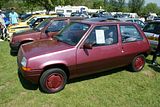 Clio V6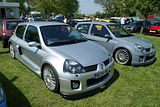 Various hot Meganes, including R26, R26R and RS265 Cup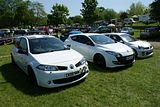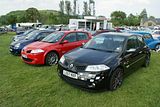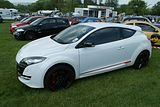 Bang up to date with the Twizy.  We got to sit in it, then wished we hadn't!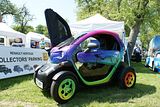 Renault-Alpine
Various A110's and A610's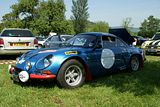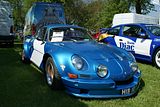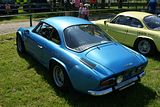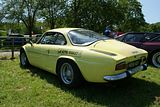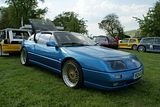 Simca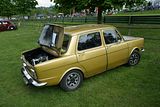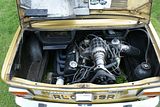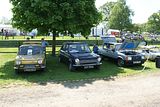 Talbot
Samba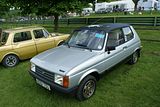 TVR
A great showing from  a TVR club with a 400SE with an SEAC rear spoiler, V8S's, Tuscans, T350, Sagaris and more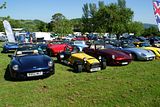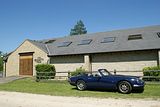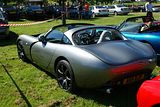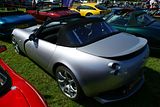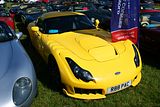 MVS/Venturi
The red 400GT is a regular, but the very wide white version was a new one for me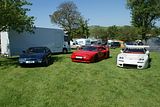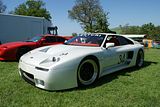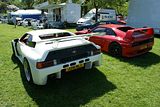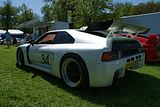 IN THE CAR PARK
Always a fabulous source of surprises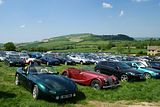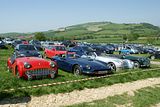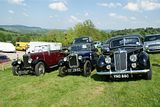 AC
An Ace together with various replicas from Hawk and Pilgrim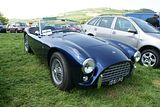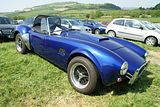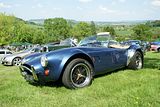 Alfa Romeo
A very '70's coloured Sud Spint and a Spider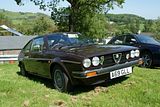 Alvis
Two TC21's and a TD21 that has been seen at several shows in the past 12 months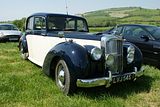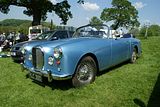 Aston Martin
Fleeting glimpses of both the DB4 GT and the DB5 as it drove off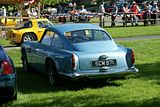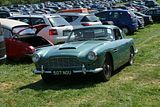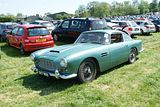 V8 Volante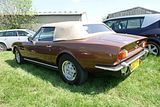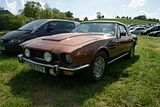 V8 Virage and its later V12 namesake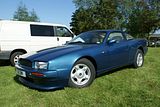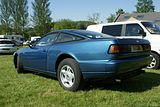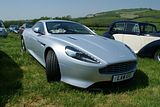 Audi
An original Quattro and a distant relative in the RS5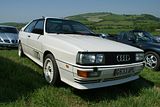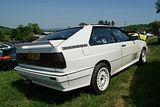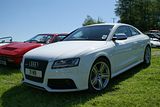 Bentley
A brand new V8 Continental GT
BMW
A lovely E30 M3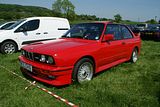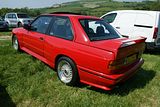 This 1M-Coupe was parked at a very odd angle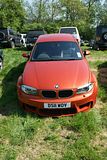 2002 Touring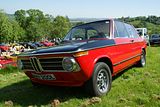 This lovely 2002 Turbo was in absolutely immaculate condition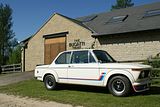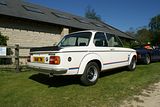 Cadillac
STS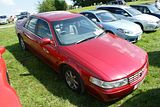 Citroen
Amazed to see a random collection of Traction Avant, DS 'Decapotable', GSA and AX in the public car parks and not in the main displays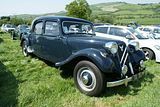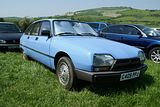 Corvette
A C4 and C5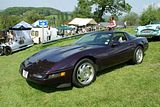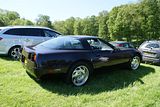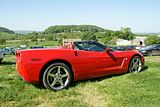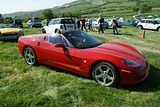 Ferrari
Not many Ferrari's.  A 328, a lovely 512TR (that various people thought had a V12 and was turbocharged!) and a Daytona Spider.  Except it isn't, the tax disc said Daimler and it clearly had lots of Jaguar parts.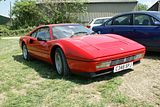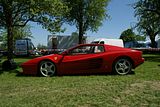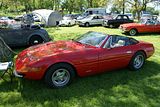 Fiat
A very cute little original 500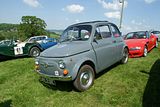 Fisher
There was also an orange version of the Fury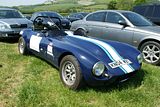 Ford
An early Mustang and a Puma Racing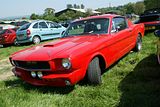 Gardner Douglas
This T70 appeared to be powered by a Corvette V8, didn't look very heavy and must have really shifted.  Assuming he managed to get it out of the field in which it seemed to be well and truly beached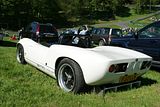 Jaguar
XK140, C-Type and several E-Types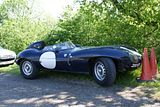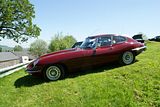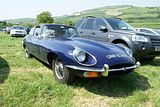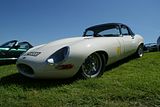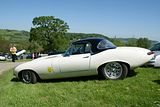 Lancia
Appia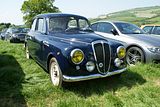 Land Rover
A fully spec'd up SVX 'Tomb Raider' style SWB Defender.  Looked like it could take on the world!
Lotus
Elan
Maserati
GranCabrio
Mercedes-Benz
This gorgeous 220SE Coupe was in amazing condition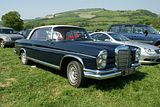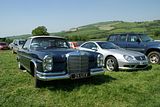 There was also a W123 saloon and a C36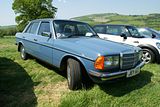 MG
Various MGB's and a couple of the R V8's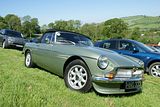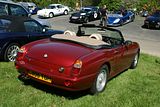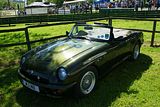 Mini
A rare Works GP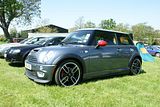 Mitsubishi
Evo V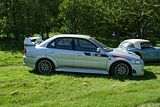 Morgan
A huge showing from Morgan, lots of the original Three Wheelers, plenty of the Plus 8's spread around the various car parks and an AeroMax.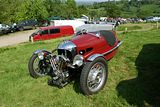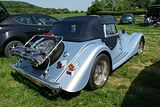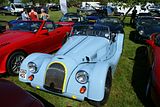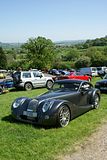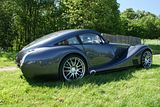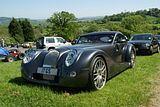 Peerless
GT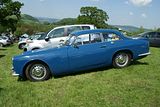 Peugeot
A couple of very nice 205 CTi's and an almost concours condition 309 GTi with an automatic gearbox!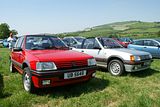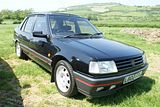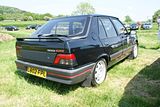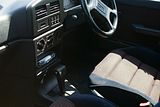 Porsche
Lots of 911's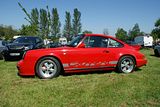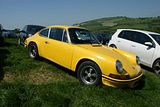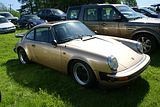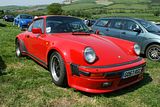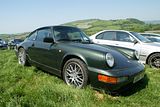 Reliant
Reliant Scimitar (SE4)
Renault
An R8 and a Luxembourg registered Laguna Coupe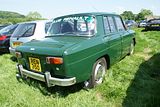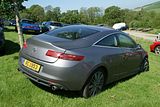 Rolls-Royce
An enormous Silver Dawn and a Silver Shadow II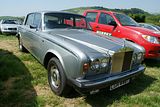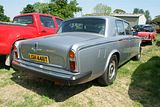 Rover
A very early P6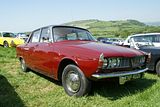 Subaru
A rare UK300 car
Sunbeam
V8 Tiger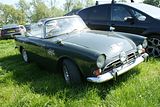 Triumph
TR4, 6 and 7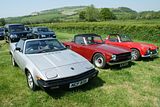 Swallow
A couple of rare Doretti's, the red car had undergone a 4 year restoration from what appeared to be a completely unrecognisable rusty bare shell!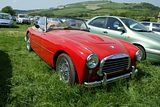 Vauxhall
30/98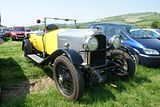 A highly stickered VXR8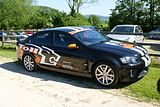 IN THE PADDOCK
An often seen Abarth 500 at hill climbs
This Audi Sport Quattro was deeply impressive up the hill.  The engine was surpringly small and simple considering it was probably pumping out 500bhp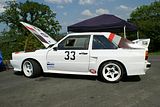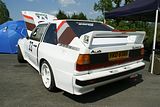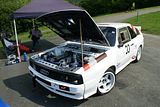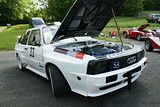 Various TVR's from a Taimar, a Griffith and very loud Tuscan Challenge car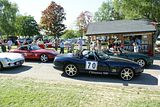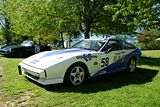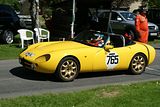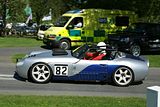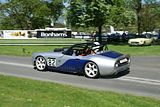 Lots of Lotus's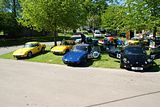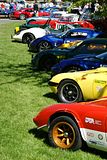 There was a great collection of Ferrari's from a Dino, through 308, 348, 355 and a lone 430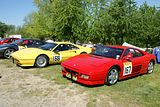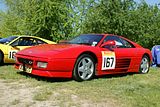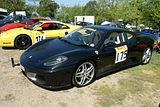 A lovely Porsche 911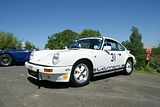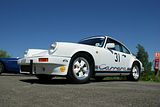 Two Renault Touring cars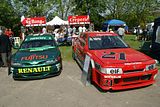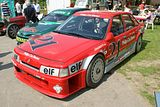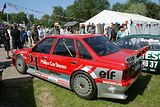 A wonderful little 1953 166 Mille Miglia with a 2.0 litre V12 engine which has only had one owner since the '60's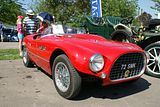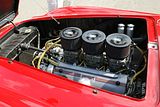 Watching the Bugatti's line up for their run up the hill was quite an experience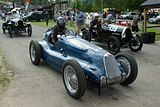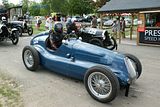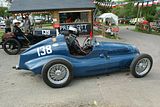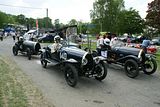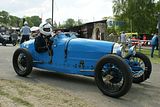 A lone Veyron, almost a shame considering we've had up to seven in one weekend in previous years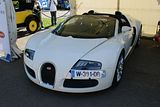 Ex-Ayton Senna Lotus F1 car.  This had been up the hill in previous years, but sadly not this one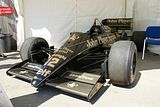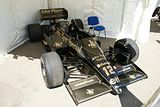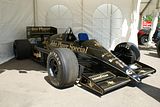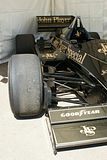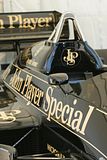 So much to see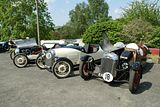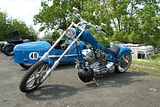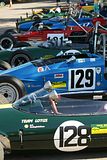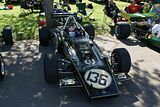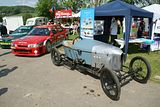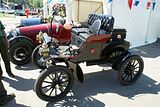 ENTERTAINMENT FRENCH STYLE
The girls worked very hard in the hot sun!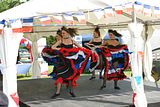 ACTION ON THE TRACK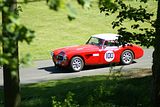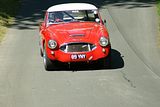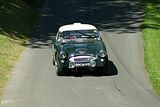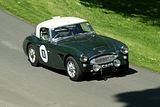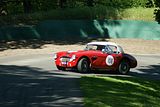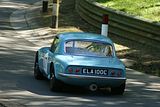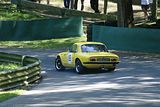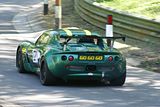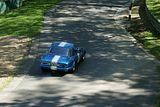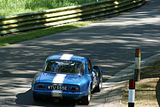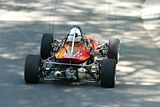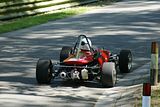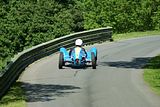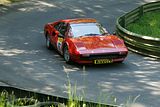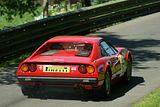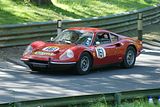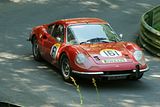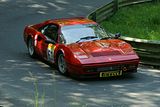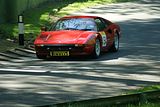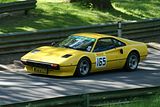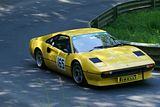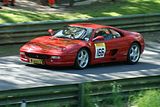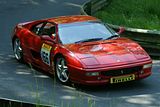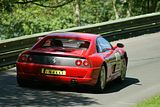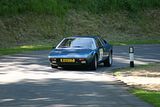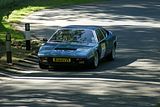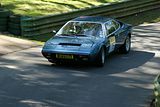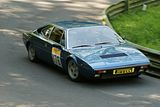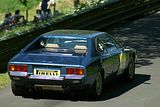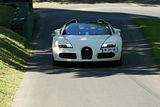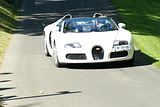 BREITLING WING WALKERS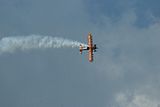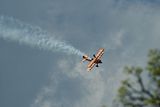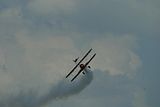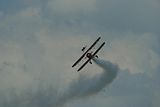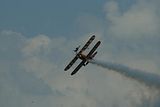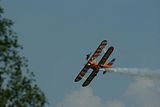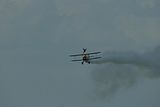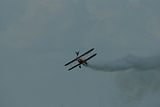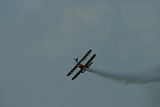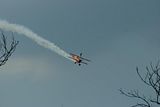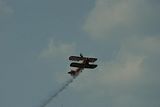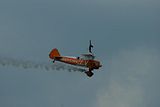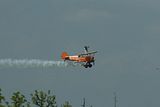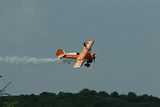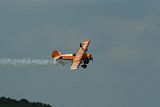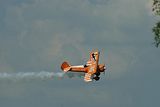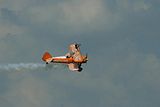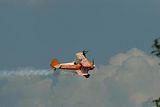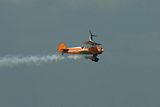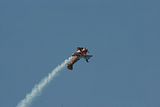 FORUM CARS
Not quite sure how he manages it, but Colin once again timed the arrival of a new car with this event.  This time the swap was from an S6 to an S5 Sportback.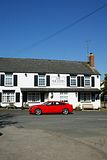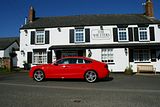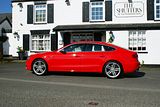 There were plenty more recently acquired cars.  Michael has got himself an Alpina D3 Touring, James a Standard Big Nine, Andy a Mountuned Ford Focus ST and Mark a TVR Chimaera 450.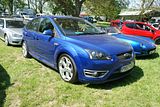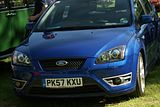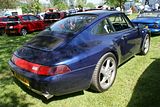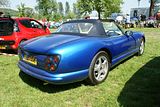 Sadly the rest of us had to make do with our current steeds!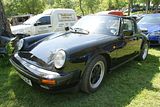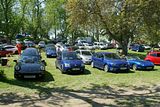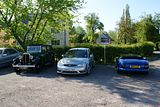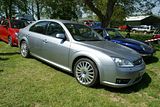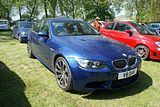 On the Sunday we had a couple of wonderful Maseratis join us.  A black 3500 GT and a red Sebring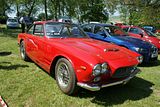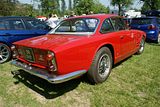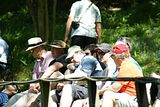 A spectacular year.  No doubt our best one yet.  The sun, the cars, the company, the evening meal, the entertainment, the hilarious trip down the M5 in the TVR!  All brilliant.  I have no idea how we will top this next year, but if you missed it this year make sure you're there in 2013.  Looking forward to it already.
2012-05-28 17:05:25
Share and Enjoy