2012 Kia Picanto 1.0 2 5door (GB)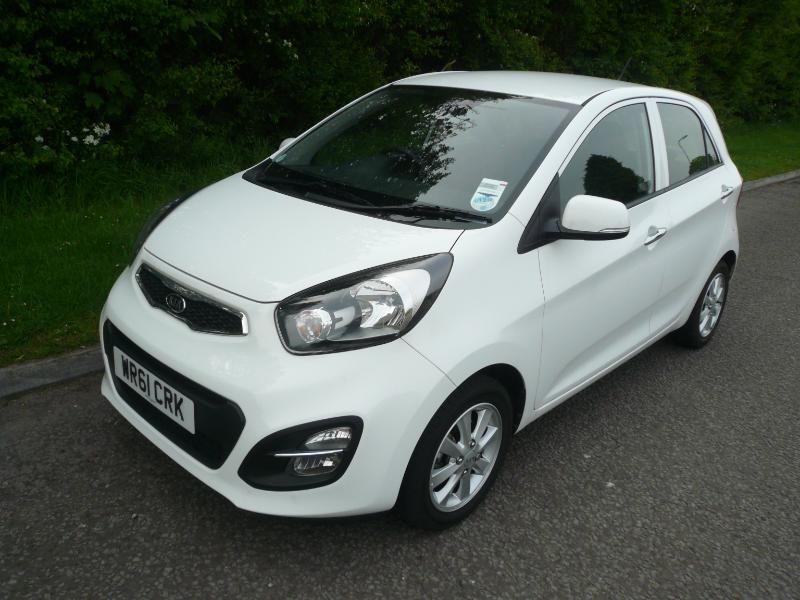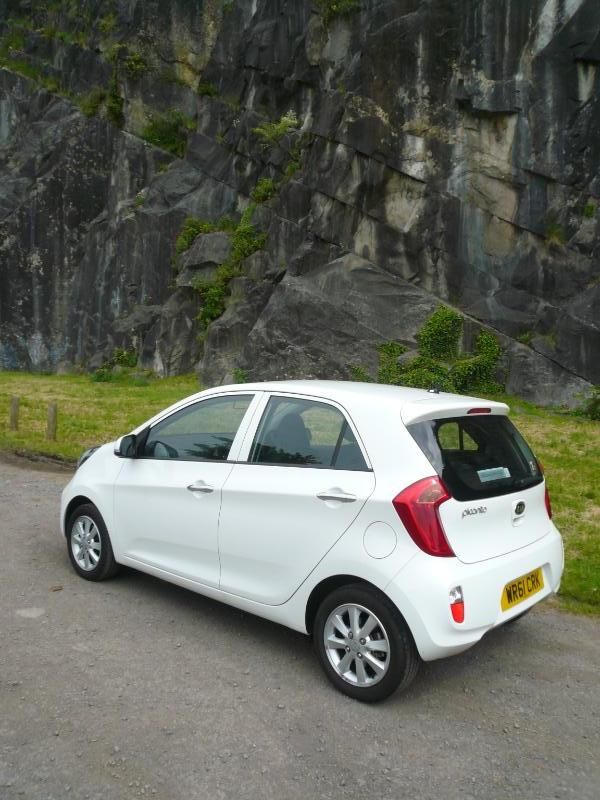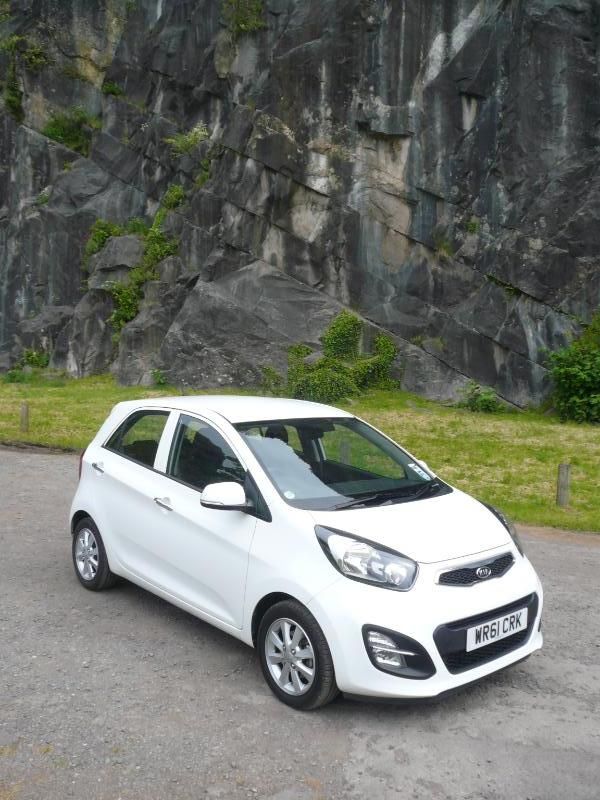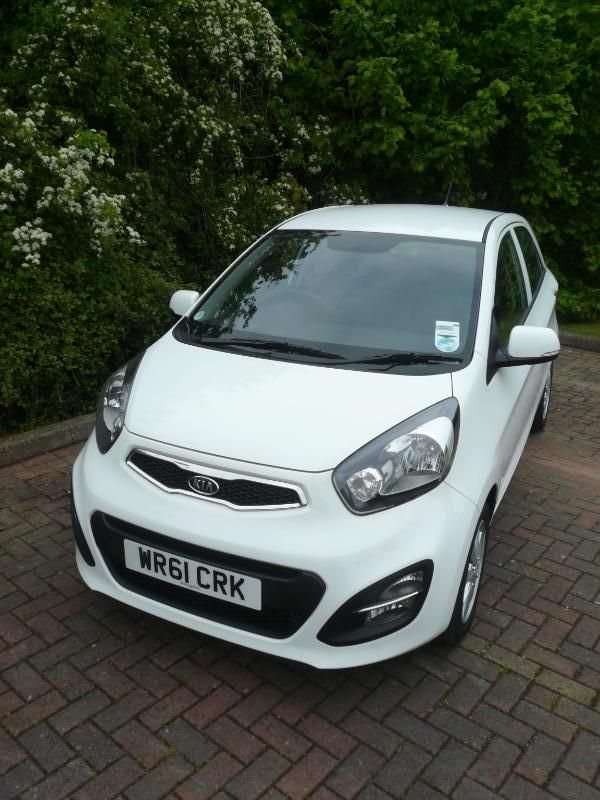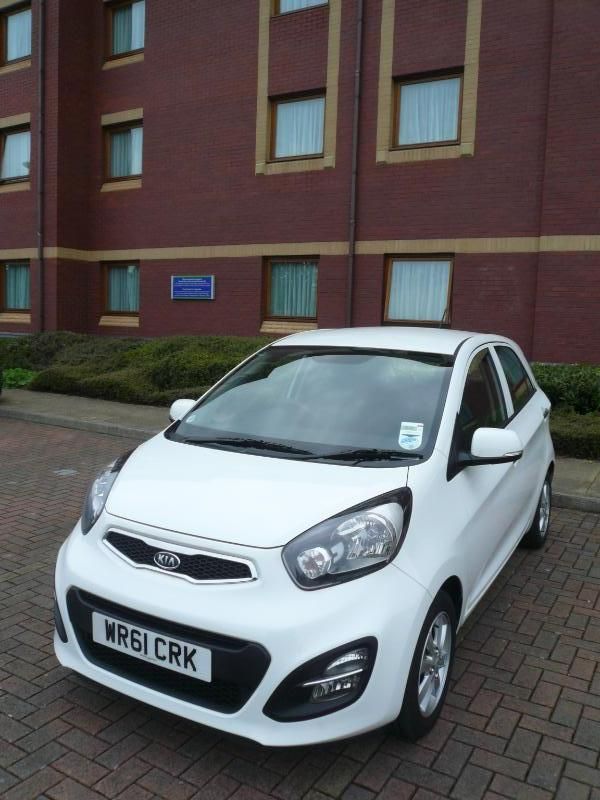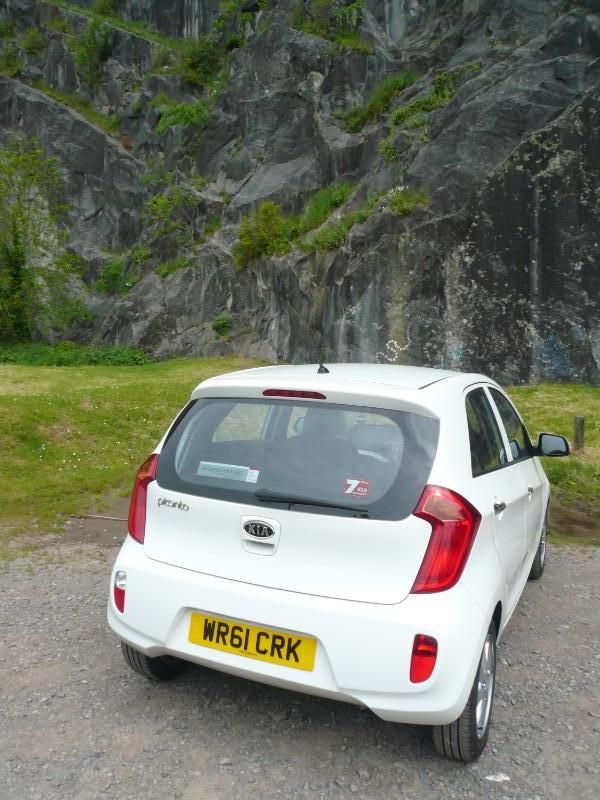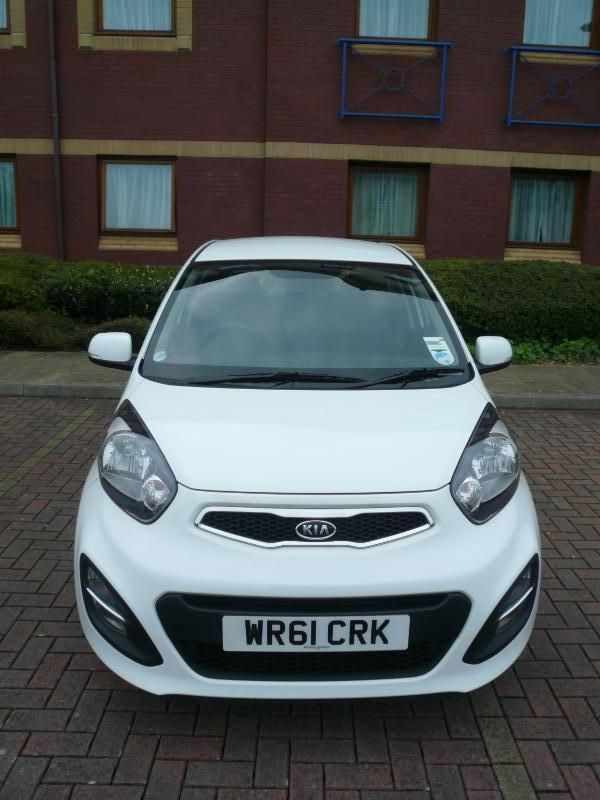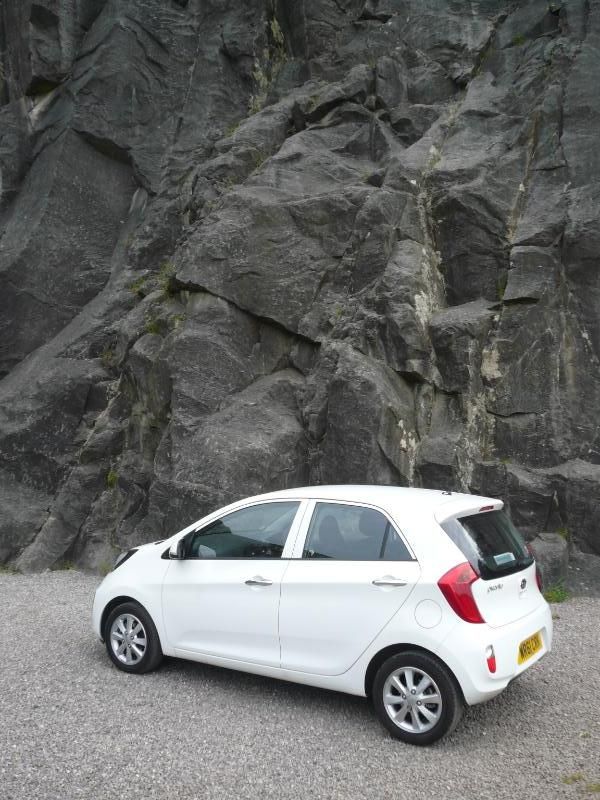 You do not have to go back very far in automotive history to find City Cars, or A-Segment vehicles as the market analysts would like us to think of them, which traded just about everything you would want in a car for compact dimensions, parsimonious fuel consumption and a low price. Just think of the first Daewoo Matiz or the "Postman Pat" style Vauxhall Agila if you want a reminder of how grim things were. Around 10 years ago, things suddenly got a lot better, with the launch only a few months apart of Fiat's second generation Panda and Kia's surprisingly good Picanto. The latter really was a surprise, as until this point, Kia had been churning out a series of cars which while steadily improving were still very much in the category of terminally dull automotive white goods. The Picanto was perhaps the first wake up call from this Korean manufacturer, presaging what was to come in the next few years to the extent now that everyone is fearful of just how formidable a competitor the Kia/Hyundai empire has become. The diminutive Picanto made a reputation for being a good, reliable budget City Car and quickly established itself as the best selling model in Kia's range. In a 7 year model life, the car sold over 1.1 million units. Whilst that first Picanto was based on a shortened Getz platform from sister company Hyundai, it did not have its own way for too long, as Hyundai launched their own rival in 2008, the i10 and this was instantly applauded as being even better. Kia refreshed the Picanto in 2011 with a sharp new design, adopting the "house style" grille that  designer Peter Schreyer has brought to all Kia models in recent years. It received excellent reviews from a motoring press who are usually far more interested in out and out performance and tyre spin than they are in cars meant for the urban environment. As the garage to whom I entrust the servicing of my Abarth is also a Kia franchise, it was no surprise that the courtesy car for the day was not an Abarth, but a smart looking white 5 door Picanto 2. I was very happy to take it out and see if it really is as good as the press reports.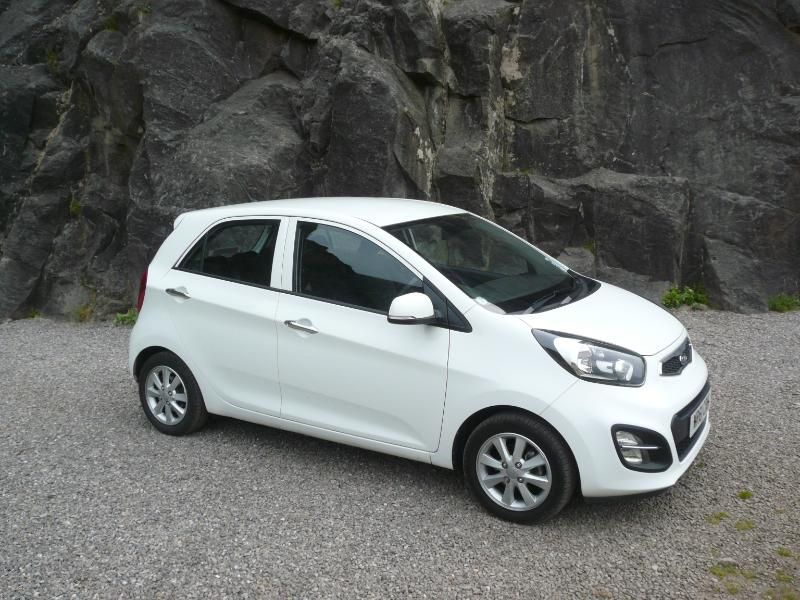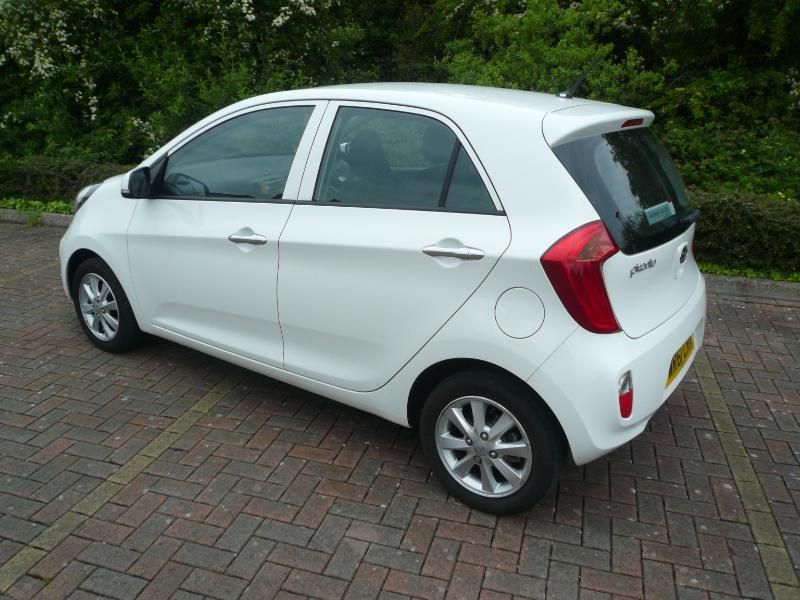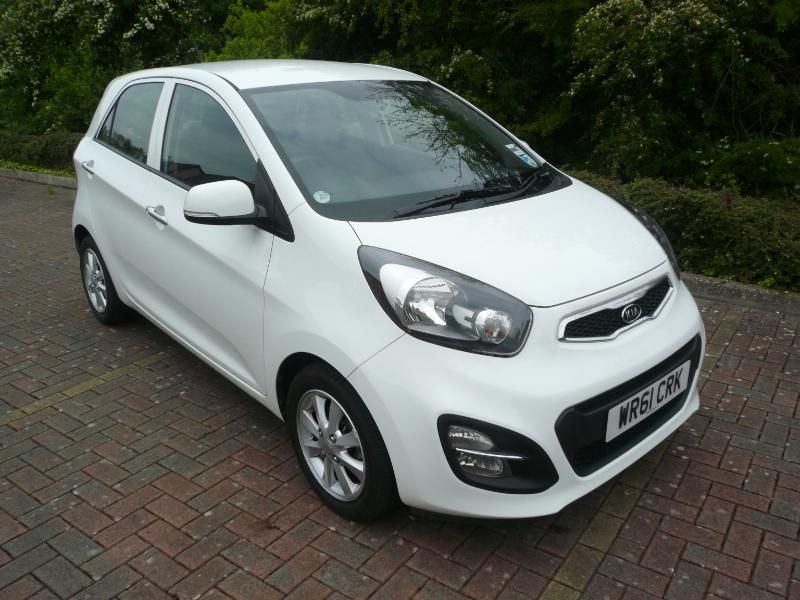 The Picanto is offered with a choice of 2 engines: the larger is a 1.2 litre 4 cylinder 83 bhp unit, and the smaller one, as fitted to the test car is a 1.0 litre three cylinder. Developing 68 bhp, this proved to be a particularly willing engine. It is far more refined than the unit I found in the 3 cylinder Polo, and it revs particularly eagerly. This is no bad thing, as you will need to work it quite hard to make decent progress. At very low revs, it is as if there is too much inertia to get the car moving, but I spotted that in fact the car was going up to 4000 rpm very readily at which point the torque is far stronger and so grabbing the next gear helps to continue the acceleration. Initially I did not realise that the engine was spinning quite so fast, as it is very refined and pleasingly quiet. The red line is marked at 6500 rpm, and as you head towards that, the noise levels do increase. That said, even on the motorway, overall noise levels are low, with just some wind and road noise in evidence. This is a far cry from the incessant drone of cars like the 4 speed Mini 850 or even early Metro 1.0L that were in the family when I grew up. When you first move the rather long wand like gearlever into first gear, it feels a little vague, and you fear for the quality of the gear change, but in fact it is very precise and the lever moves readily between the five forward and one reverse ratios with no undue resistance. There is quite a long throw, though. The gears are well spaced, and chosen to help make the most of the available power, but ultimately, 68bhp means that the Picanto is no road burner. Quoted 0 – 60 time is around 13.5 seconds, which is on the slow side by modern standards, but in the urban context where this car is likely to spend most of its time, it is fine, only struggling when travelling at higher speeds. You will probably need to change down a gear or two if you get slowed on a motorway and then need more speed to accelerate away.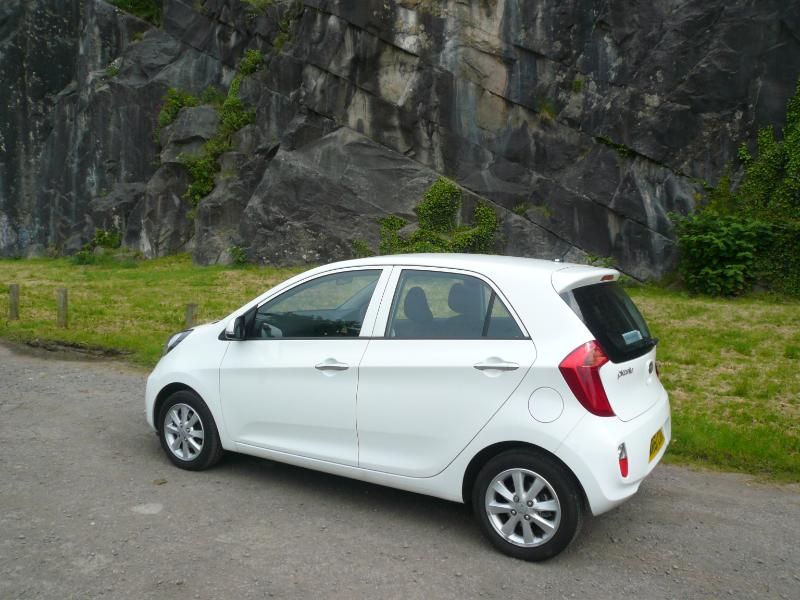 What is less fine is the steering. Lightness was clearly the watchword, and that is what has been achieved, but it is so light that there is very little feel indeed, with next to no sensation near the straight ahead position of what the road wheels are doing. There's a certain amount of lean on the corners, and evident traces of understeer, so for a customer to step out of a sporty pocket rocket such as the Abarth I had handed in for its service and to get this is about as big a contrast in the driving experience as you can get. I do have to concede that it beats the Abarth hands down in one regard. though, and that is the ride. Getting small cars with short wheelbases to ride smoothly has never been easy, but Kia's engineers seem to have managed it in this car, as the Picanto proved as smooth as anything I could recall on the increasingly awful surfaces of the streets of Bristol. lt's a shame I cannot say the same about the brakes. Feeling somewhat over-servoed, normal pedal pressure would almost have the car stand on its nose, so learning how to slow down quickly but smoothly is something that would need a bit of acclimatisation.  There is a conventional pull-up handbrake fitted between the seats. With large areas of glass, and noting that the rear window is more or less the back of the car, this is an easy vehicle to manoeuvre and to park. Indeed, with its light steering, and no deficiencies in the other driving dynamics, I would say that it would be an ideal car not just for the city dweller, but also the learner or less than confident driver. It would also be relatively cheap to run I did not have the car for long enough to be able to get any meaningful view on fuel consumption, but the on board computer reported figures around 47 mpg while in the urban crawl and as much as 65 mpg when in fifth gear at a steady dual carriageway speed.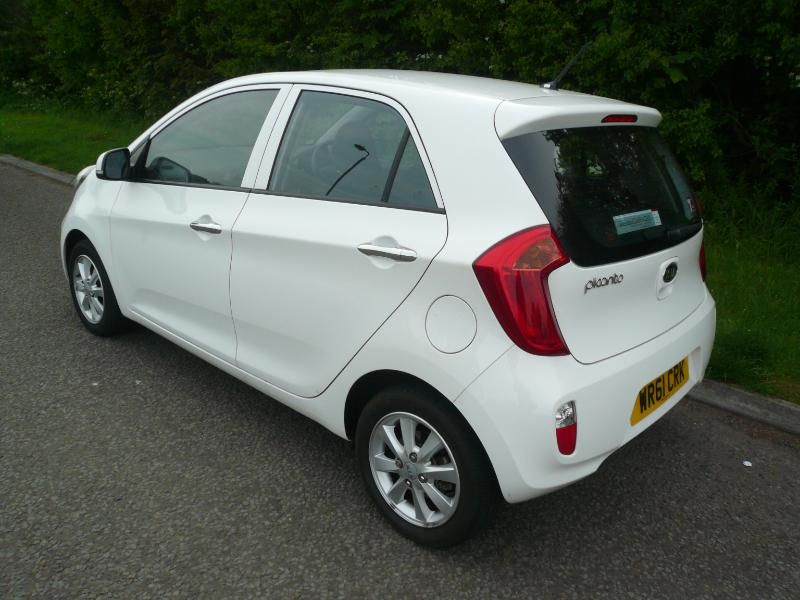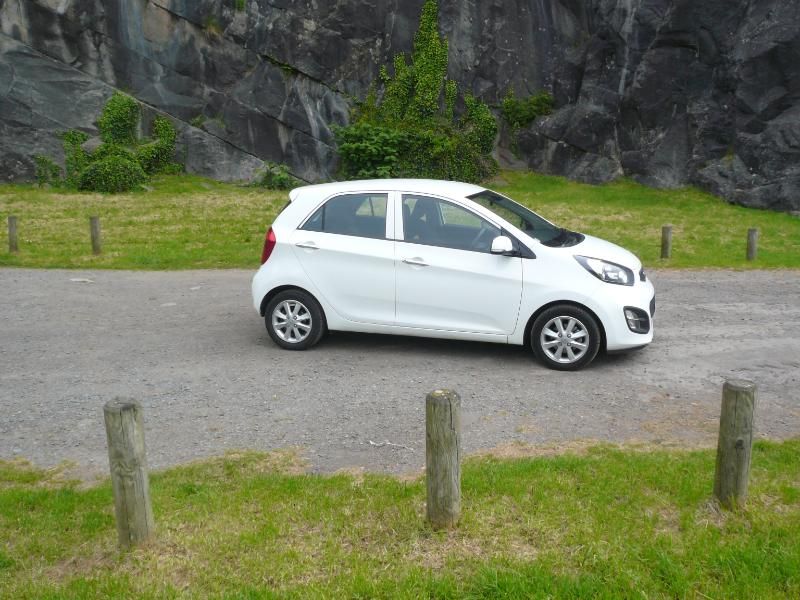 Gone are the days when budget cars mean not just "hair shirt spec" levels of equipment but also an embarrassingly nasty choices of materials, all designed to make it very clear that you were buying a cheap vehicle. Look inside this Picanto and you will be pleasantly surprised by the "grown up" car feel. The plastics used for the main dash moulding are of decent quality and there is moderate use of silver trim inserts across the dash and on the lower half of the steering wheel to provide some visual variety. On this version of the Picanto, the wheel is leather wrapped, which proved very welcome. Whether you like what has been nicknamed as the "grinning clown's mouth" that is the visual clue generated by the silver outline to the bottom half of the wheel is perhaps a matter of taste. Overall, though, Kia have resisted the urge to go for a funky or trendy cabin layout, which is probably a good thing, as the odd interiors of cars like the Twingo and last generation Yaris were not really successful. This one is utterly conventional, but well laid out with simple and good ergonomics, and whilst clearly built down to a price, an absence of hard edges and brittle plastics. There are three dials, with a circular dial for the speedometer flanked by rev counter and fuel gauge which have about a 200 degree arc over which to display. The dials are cleanly presented and easy to read. Most of the other functions that you need are on the twin chunky column stalks. After being surprised in the last Rio which had its indicators on the right, I was pleased to find that in the Picanto, wipers are on the right and indicators and lights are on the left. The centre of the dash is dominated by the audio unit, which comprises two large knobs on either side of the display screen, a CD slot above this and a row of preset buttons below. Lower down you will find the rotary dials and switches for the climate control system. With the exception of a button for the ESP and a thumbwheel to alter headlight adjustment on the dash to the right of the column, that is about it, though there are some repeater buttons for the audio unit on the steering wheel boss. Simple, but easy to use.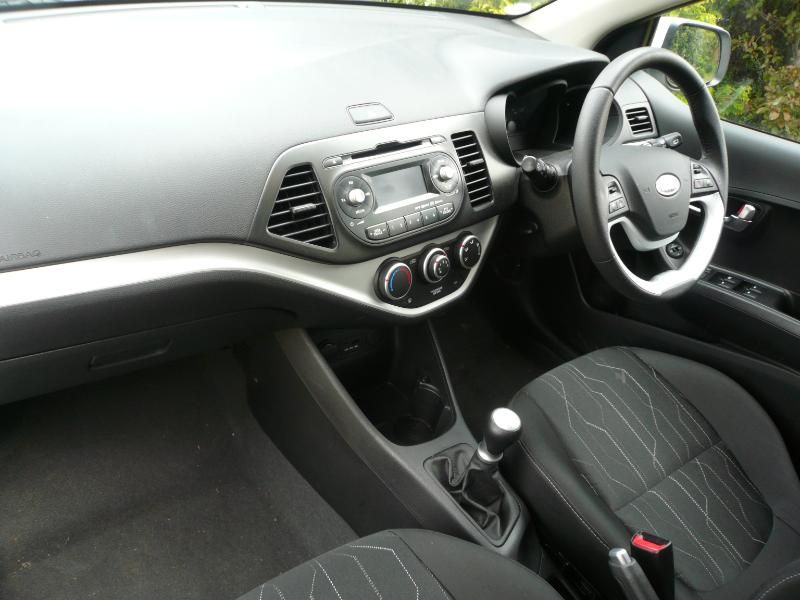 By modern standards, Picanto is a small car, but in length and width and no matter how creative the engineers are, there is only so much space that can be made available for people and luggage. Kia seem to have a good job, with ample room for four people. Front seat occupants are well provided with space, and seats that adjust not just fore and aft but also with a height adjuster. Even when the seats are set well back, there is some leg room for those in the back. Adopt a compromise, and even quite tall rear seat occupants will not feel unduly cramped, as the seat is relatively upright, and since headroom is not in short supply, there is plenty of space for longer legs. A third occupant – provided with a seat belt – would be a bit of a squeeze, but perfectly feasible for shorter journeys. With all the seats in use, the boot is not particularly large. It is relatively deep, but there depth from front to back is limited. The rear seats are asymmetrically split. The seat cushions need to be pulled forward then tilted up to form a sort of barrier to the front seats before dropping the backrests down into the available space, to create a flat load area. Doing this would permit quite a lot of luggage to be accommodated. Inside the cabin there are decently sized door bins, a reasonable glove box and a huge cubby area in front of the gearlever, which has mouldings on the base and sides to act as a sort of pair of cup holders.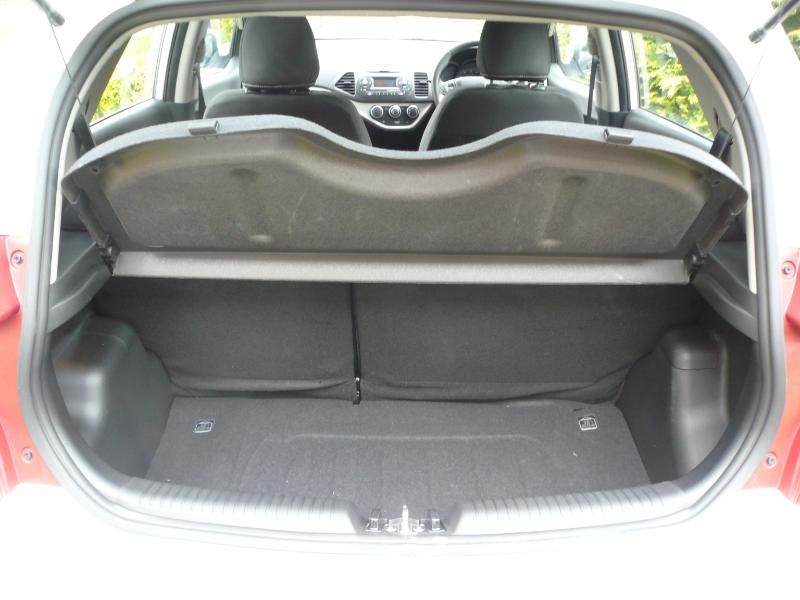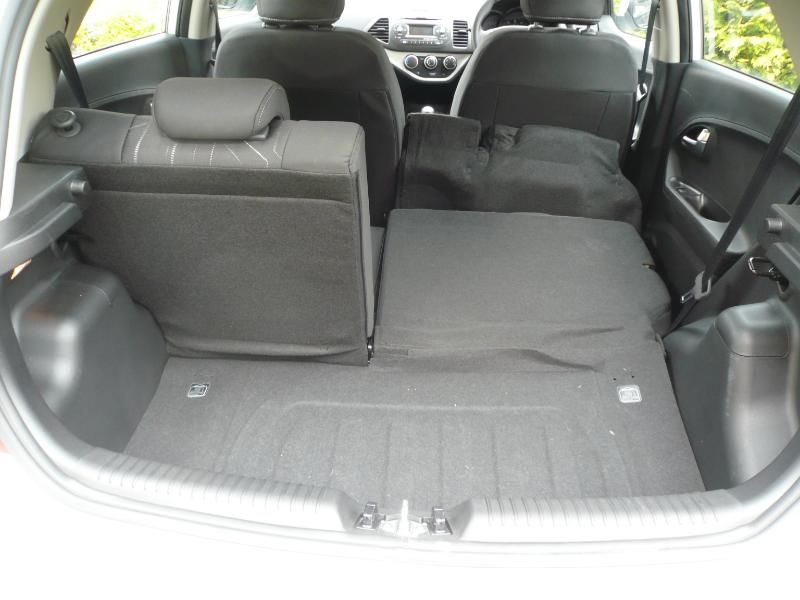 In the days of complex model ranges, with a selection of ever more bizarre names, Kia keeps things really simple. There are three trim levels available for the Picanto and they are simply called 1, 2 and 3. The top spec 3 is only offered on the 1.2 litre cars and the bottom spec 1 is only offered on the 1.0 litre car. The middle spec 2, as was my test car, has a choice of either engine. Equipment levels on the 1 have been carefully selected to get an appropriate balance between what customers would like and trying to keep the price low. Accordingly, there is a 1 "Air" which adds air conditioning to the basic spec for an extra £600. All models come with front, side and curtain airbags, electric front windows, an audio unit with single slot CD, front fog lights, hill start assist and a height adjuster on the driver's seat. Choose the 2 model, and you get 14″ alloys, a chrome finish around the grille, chromed door handles, different cloth upholstery, all round electric windows, electrically adjustable and heated door mirrors which can fold in, a leather wrapped steering wheel and gear knob,  a map pocket in the back of the front passenger seat and an upgraded audio unit with bluetooth, MP3 and iPod connectivity as well as wheel mounted repeater controls. The price premium over the 1 "Air" for this is £1000. Upgrade to a 3, and as well as the larger engine, you get 15″ alloys, full climate control, heated front seats, LED DRLs, automatic headlights,  an LED high mounted rear brake light, body coloured finish to the lower sills and 6 speakers for the audio unit . The 3 costs £1600 more than the 2. An automatic gearbox is available on the 1.2 litre cars.  Not only is the purchase price relatively low, but with promising levels of fuel economy, a tax-beating CO2 rating of 99 g/km and the famous Kia 7 year warranty, the cost of ownership of this little car should be appealingly low.
My time with the Picanto was short, but it was enough to form a good impression of the worth of this model. It's a good car overall, with many virtues spoiled just by the overlight steering and slightly grabby brakes. Without those flaws, it would be pretty well top of the class, although it has strong rivals in its closely related half-brother, the Hyundai i10, as well as Fiat's Nuova Panda and the much praised VW Up!.  I've not driven any of those yet, but all are supposed to be very capable products as well. Buyers of city cars really never have had it so good.
2012-06-04 16:38:49
Share and Enjoy