Blackhawk Collection – Danville,CA (USA)
There are a lot of wealthy people in California, and this has been the case for a long time, fuelled among other things by the movie and entertainment industries, so it has also become home to many of the world's more exclusive, exotic and expensive cars. For the auto enthusiast the State is particularly famous for the week in August when many of the world's finest cars are gathered together at the Pebble Beach Concours and an array of associated events. So, it should perhaps not be a surprise to find that there is a museum not far away from Pebble Beach which is home to a collection of some similarly exclusive and rare machines. Founded in 1988, the Blackhawk Collection is to be found in the small town of Danville, located on the eastern side of the Bay, less than an hour from San Francisco, and it comprises a museum which can show about 90 cars, a well stocked research library, and several smaller display galleries .Many of the cars are owned by the founder, Dan Williams, but others are loaned to the collection, often after a showing at Pebble beach. You almost certainly won't find the museum by accident, as it is now surrounded by an up-market shopping area, but it is well worth seeking out as it contains some absolutely fantastic cars. Although a number of the cars are core to the collection, there is an associated business which deals in the sale of cars of the type on display, and temporary exhibitions and loans in and out mean that were you to visit again a few months later, you would likely find quite a lot that was different from the previous visit.
The museum does present one challenge for the photographer, and to a lesser extent even the visitor, in that both the main halls (situated one above the other) are not over endowed with light. The light and bright coloured cars are not hard to see and to capture on camera, but the darker coloured ones – of which there are quite a few – have not come out particularly well, which is a shame. Research on the web suggests I am far from alone in finding this a challenge. Anyway, enjoy what I saw on my visit in September 2012.
ALFA ROMEO
One of my favourite cars, an 1933 8C2300. This is one a small number of cars bodied by Figoni in France.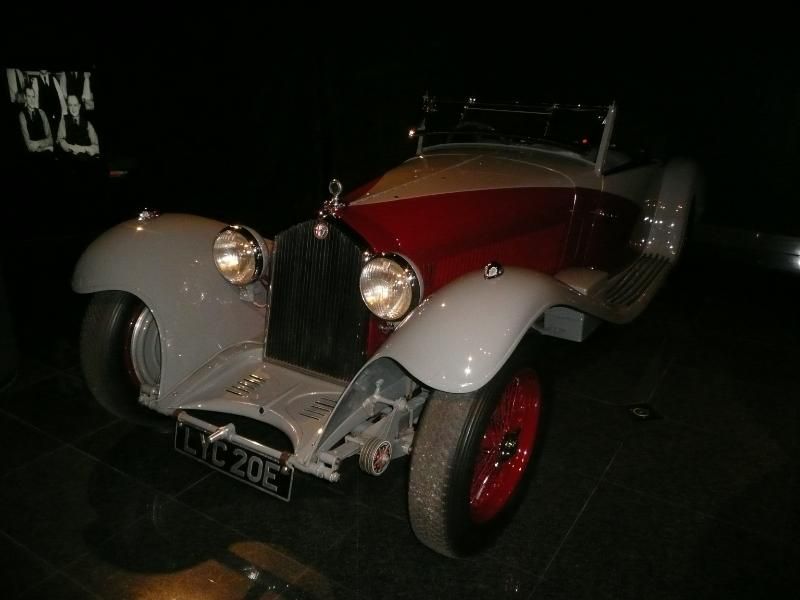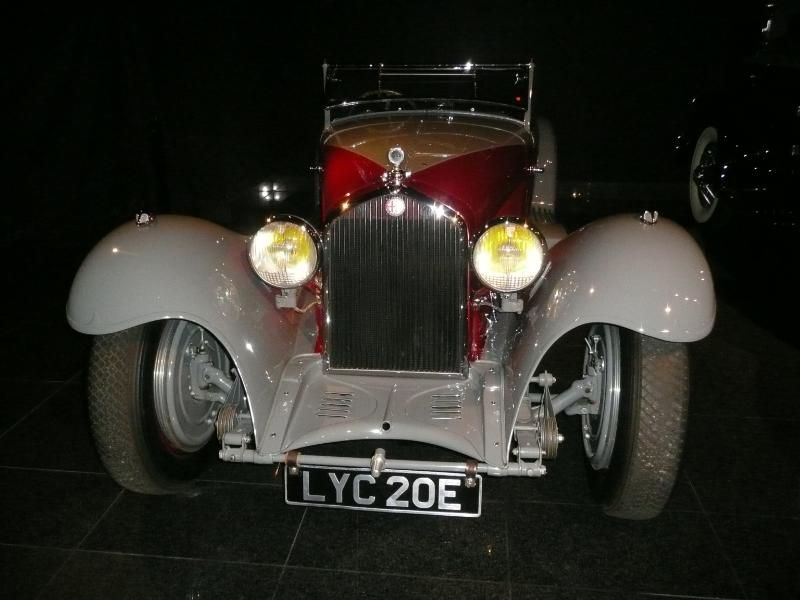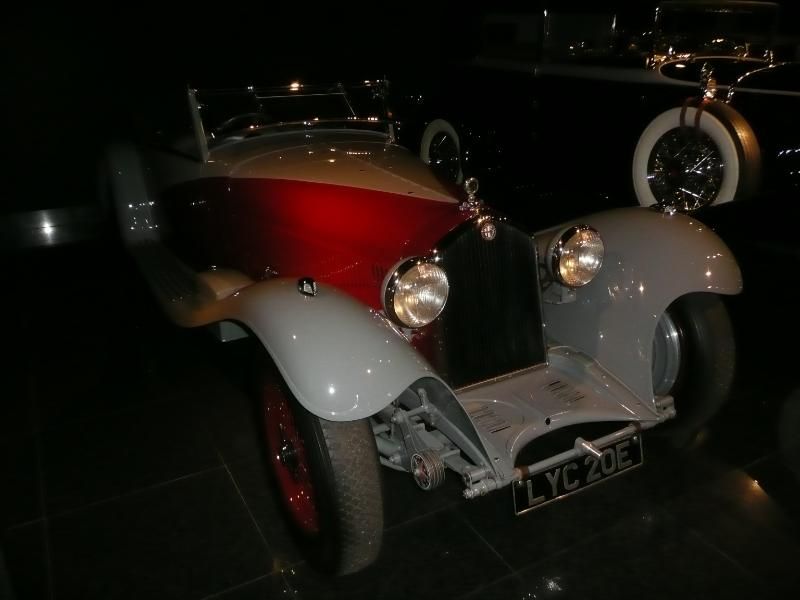 This is a 1900SS Zagato dating from 1955. About 40 of these special bodied cars were built.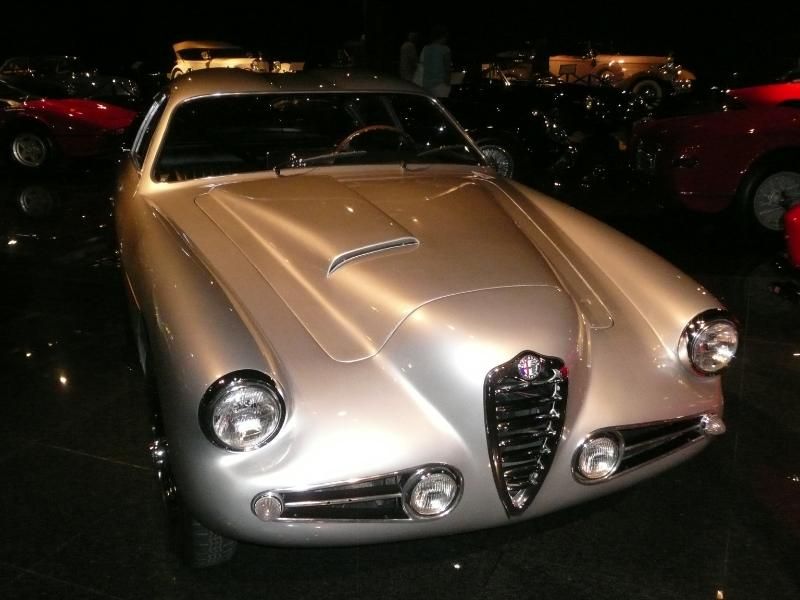 In the 1950s, Bertone produced a series of what even now appear as outrageous show cars, all based on Alfa mechanicals, the BAT cars. B.A.T. (Berlinetta Aerodynamica Technica) concept cars were part of a design exercise to create a car that cheated the wind. The cars were designed and created by Franco Scaglione and Nuccio Bertone. Only three of them were capable of being driven, and these three are the ones on show at the Collection, BAT5, 7 and 9, dating from 1953, 54 and 55. B.A.T. 5—the dark gray car—was the 5th design exercise but the 1st full-sized car in the series; it was presented to the public in 1953 at the Turin Motor Show. B.A.T. 9—the silver car—is the 9th design exercise, and the 3rd and final full-sized car in this study, and is considered the least radical design; it appeared at the Turin Show in 1955. B.A.T. 7—the 7th design exercise—the aqua car – is by far the most radical design. It is the 2nd full-sized car and debuted at Turin in 1954. It is the only right-hand drive of the three.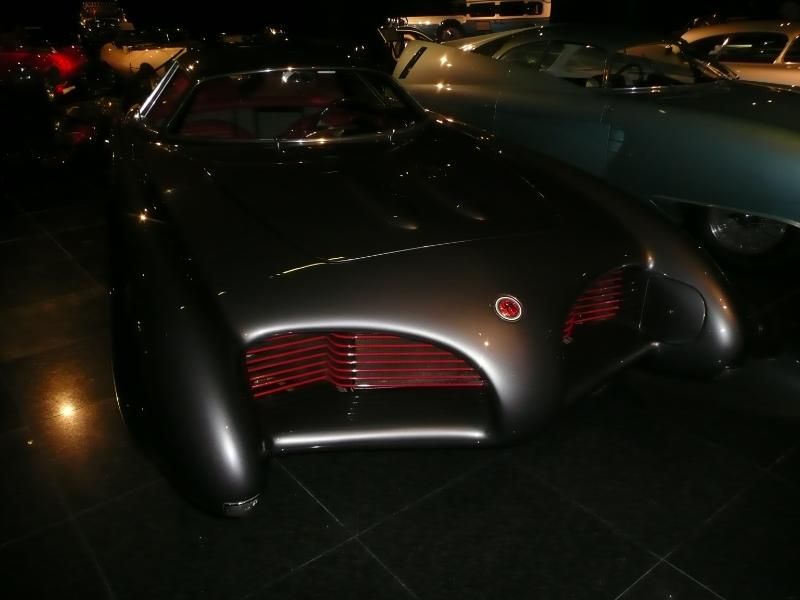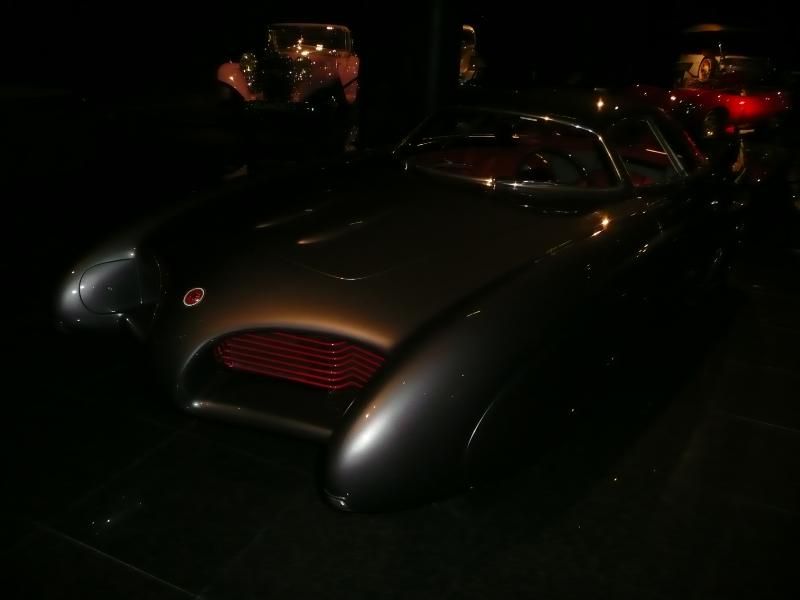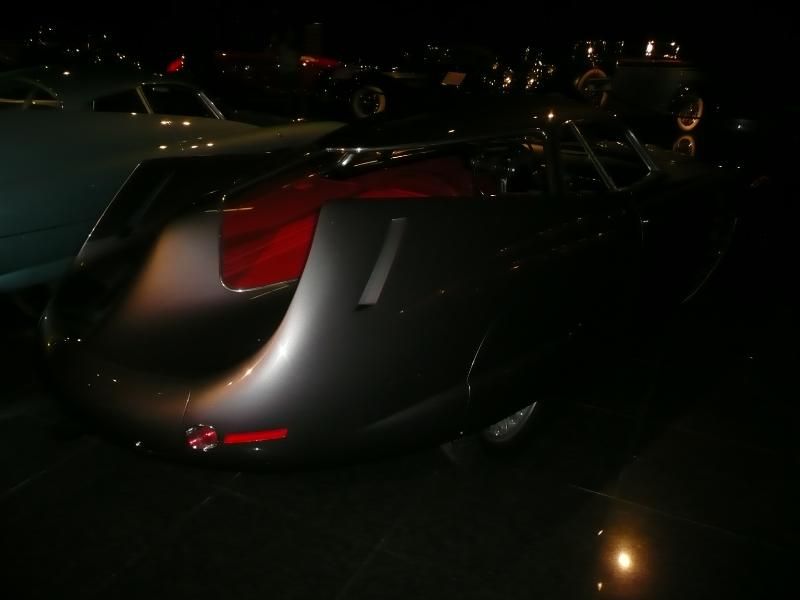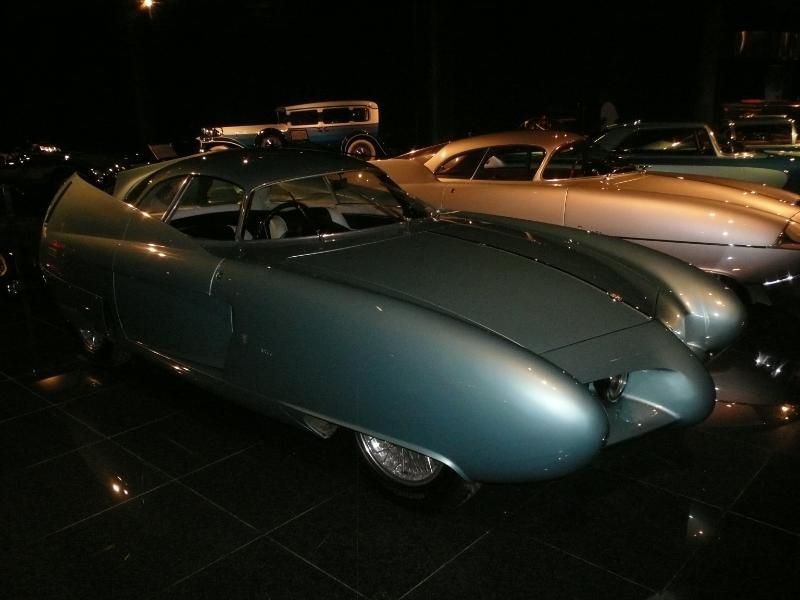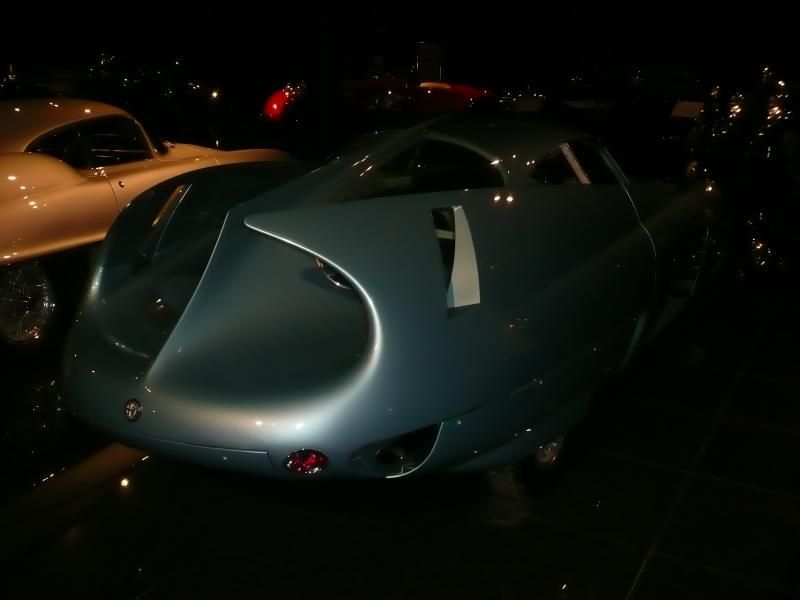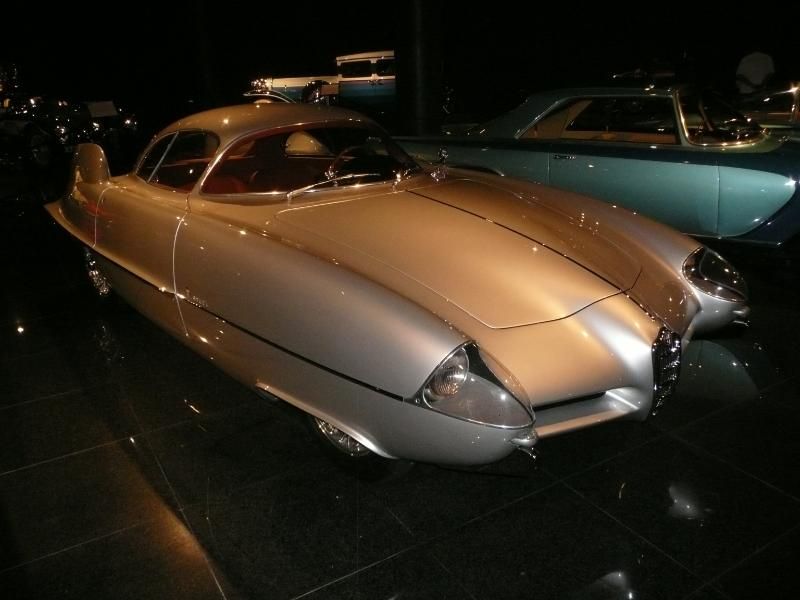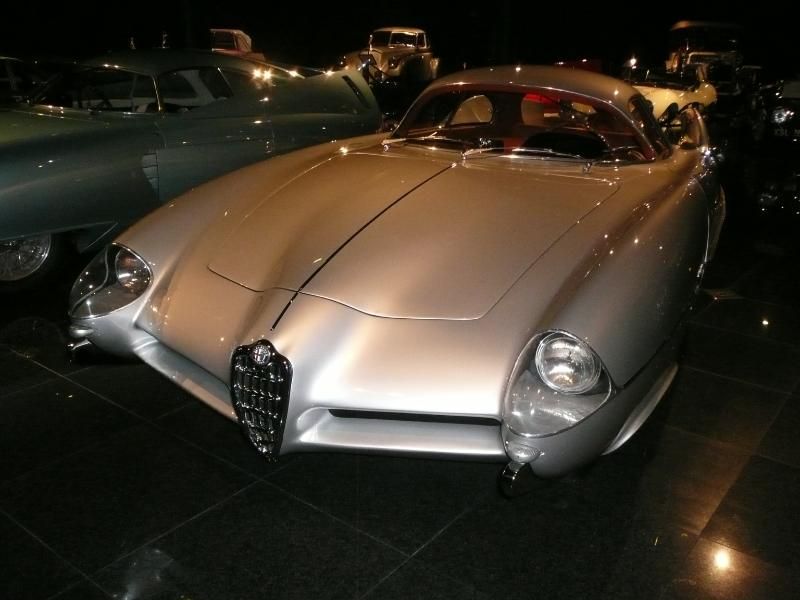 ASTON-MARTIN
A DB4GT is presented in the foyer alongside the reception desk, and then the far rarer DB4 Zagato is displayed in the museum.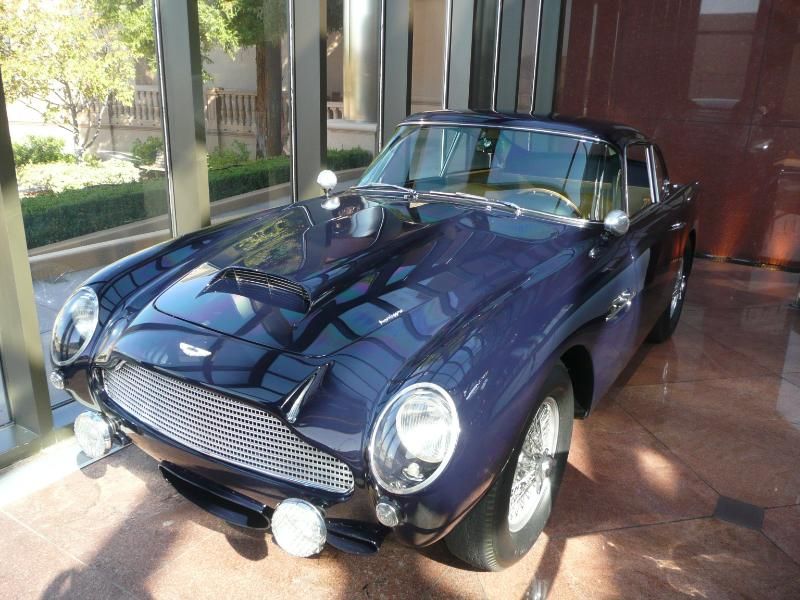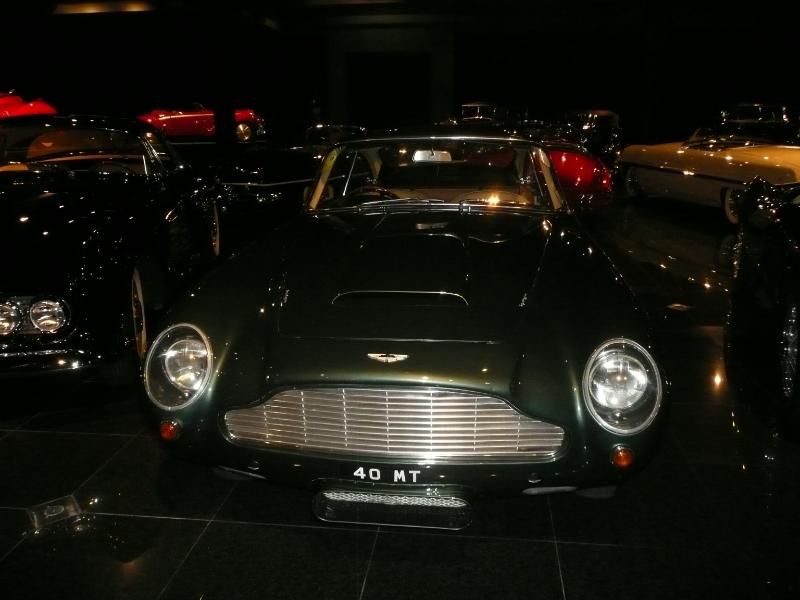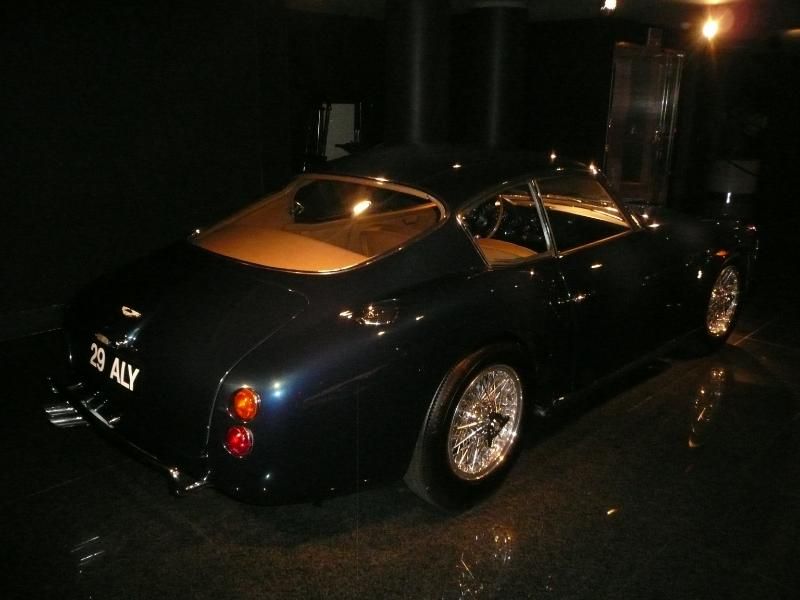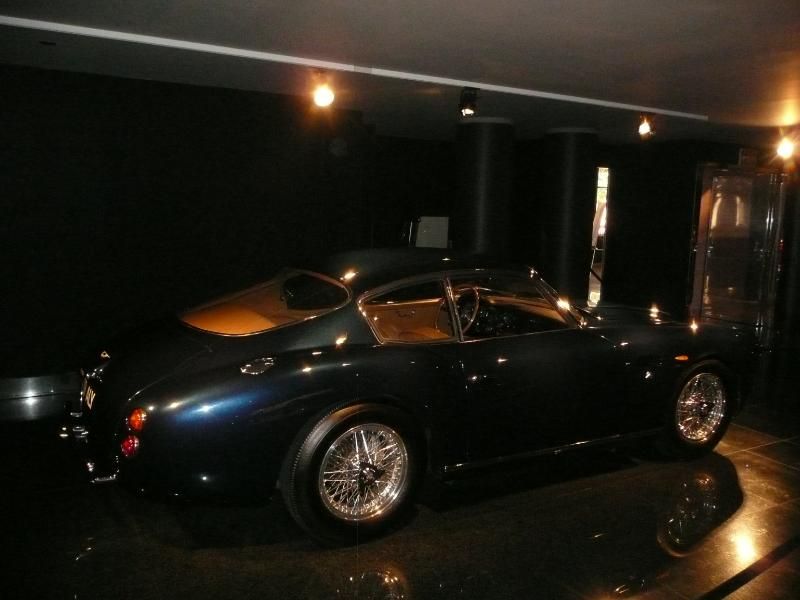 Rarer still is this 1957 Bertone bodied DB2/4 Spider.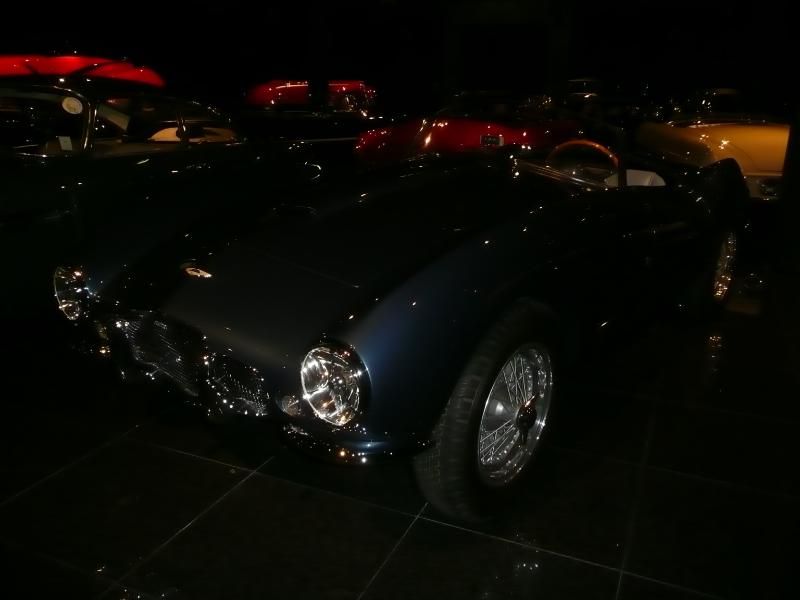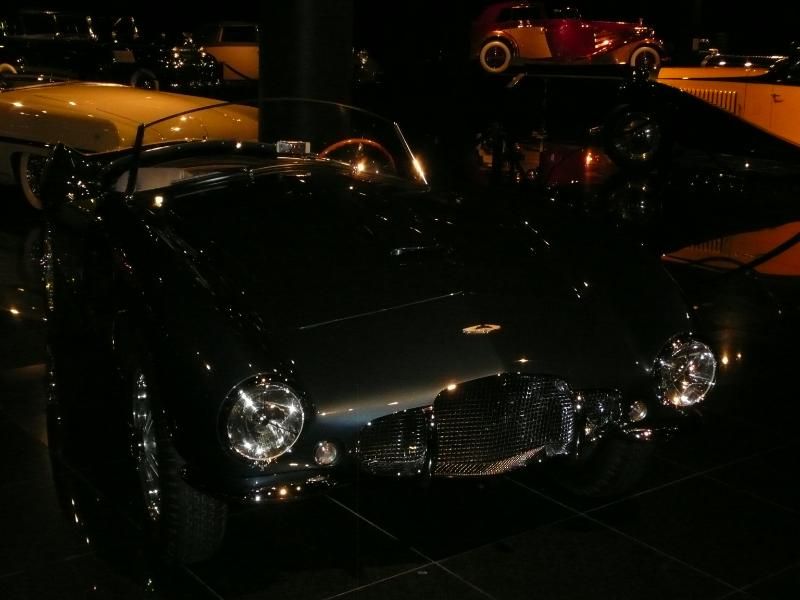 AUBURN
Model 852 Cabriolet
BENTLEY
Speed Six Corsica Coupe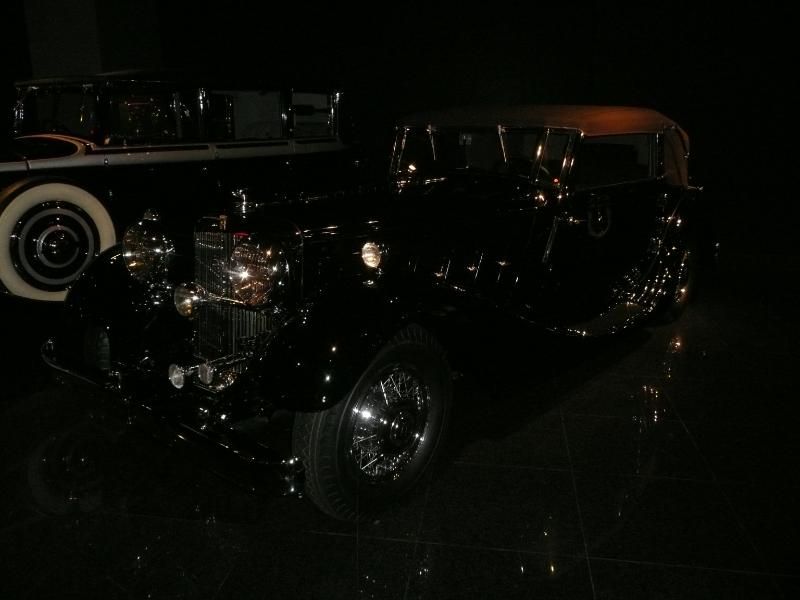 BMW
Strictly speaking this is a Frazer Nash BMW, as Archie Frazer-Nash, the UK importer of these cars produced his own aerodynamic body for the popular 328 sports car. This one dates from 1939, just before hostilities started in Europe.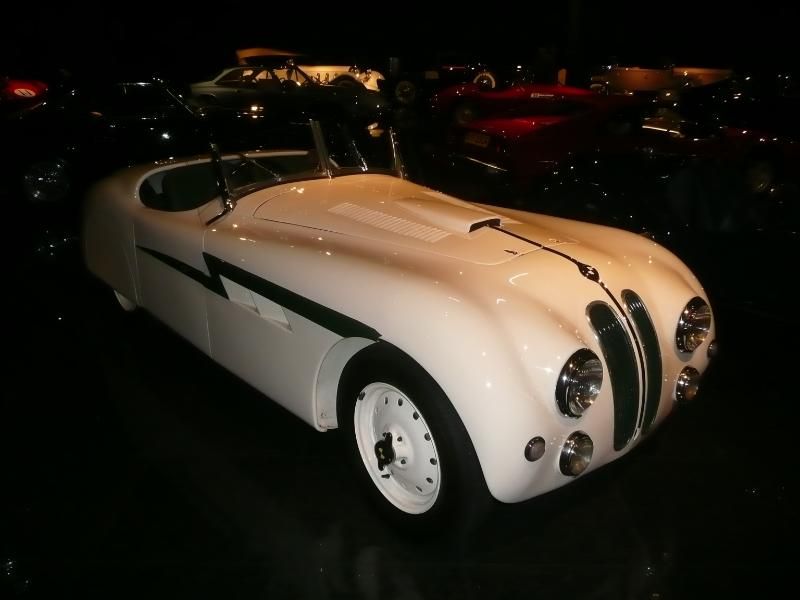 507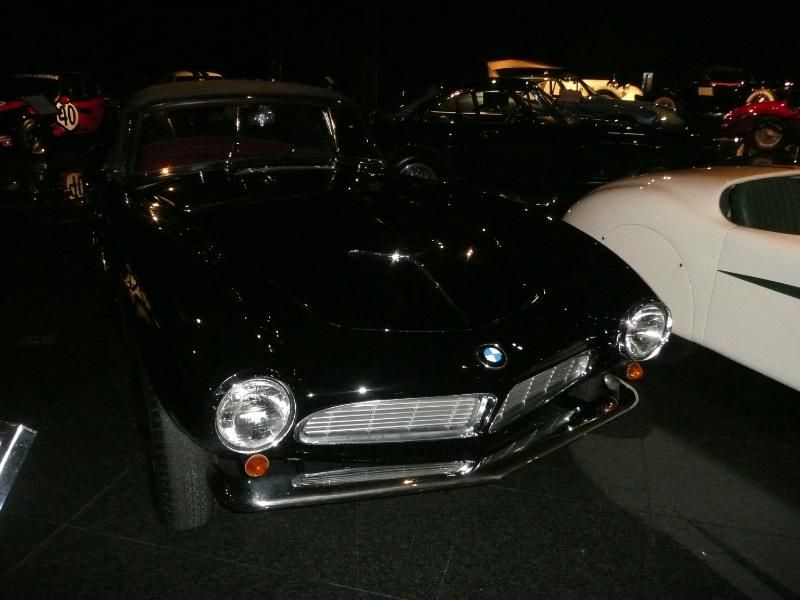 BUCCIALI
The French Bucciali brothers, known for their work in the aviation sector, set out to build the best car they possibly could and this was the result, the 1930 TAV8 Roadster. TAV stands for "Traction AVant", ie front wheel drive, and the cars had an American straight 8 engine under their elegant bodies. It is believed that they created 36 of these exclusive vehicles, which were offered at $20,000 each. The body on this one was created by Saoutchik.
BUGATTI
Although sixty-five Type 50s were manufactured by Bugatti, only twenty of the 50T, T for "Touring" (aka. long wheelbase), were made and only two of these are known to exist today. It is truly a rare piece of rolling sculpture and epitomizes the flamboyant inventor, avant-gardist designer and mechanical genius of Ettore Bugatti and his credo, "Nothing is too beautiful, nothing is too expensive!" The Profilée body was designed by Bugatti's 25 year old son, Jean. His design raised and accentuated the front fender wings and extended them rearward so they also served as running boards. The steeply raked windshield displays an early understanding of aerodynamics. The fender colour was swept back in a dramatic curve and extended into the body where it swept forward atop the contrasting color of the hood. The rear of the car was cut-off quickly and sported two spare tires on a rack mounted on the trunk. Fittingly, a 50T Profilée was judged "Best in Show" at the Pebble Beach Concours d'Elegance in 1964. The 50T was introduced at the very depths of the Great Depression in 1932. At a price of USD $14,000 for the chassis and engine alone, demand was limited to those connoisseurs of Bugatti's exquisite expertise. Additionally its great power, for a road car of 1932, made all but the skilled driver look to other models and makes. A British sales agent for Bugatti said, "A car of this power is not one to be put in the hands of an inexperienced or impetuous driver!" The 50T was powered by a 5 litre 8 cylinder, gear driven double overhead cam, nine bearing engine. Its supercharger ran at twice engine speed. The low profile (of the racing version) necessitated a dry sump lubrication system. The engine's design was inspired by the Miller twin cam racing engines of Indianapolis fame that Ettore Bugatti saw and admired. He ultimately acquired a pair of Miller racing cars that had been raced at Monza in 1929 by Leon Dura in trade for three Type 43s. Bugatti then adopted the twin cam design and produced an engine generating 225hp @ 4000 rpm in racing trim. It was detuned for use in the 50T to 200hp and 320 ft. lbs. of torque @ 2800 rpm. This was sufficient to propel the more than 3,000 pound car to 60 mph in only 8 seconds and reach its top speed of 115 mph in 22 seconds. This was outstanding performance for a touring car in the 1930s and was the fastest road car ever produced by the Bugatti factory at the time. Although the Type 50T was outsold by the Types 46 and 57 and its limited production make it lesser known, a Type 50T with a Profilée body is still regarded by many to be the finest and most beautiful road car ever produced by Bugatti.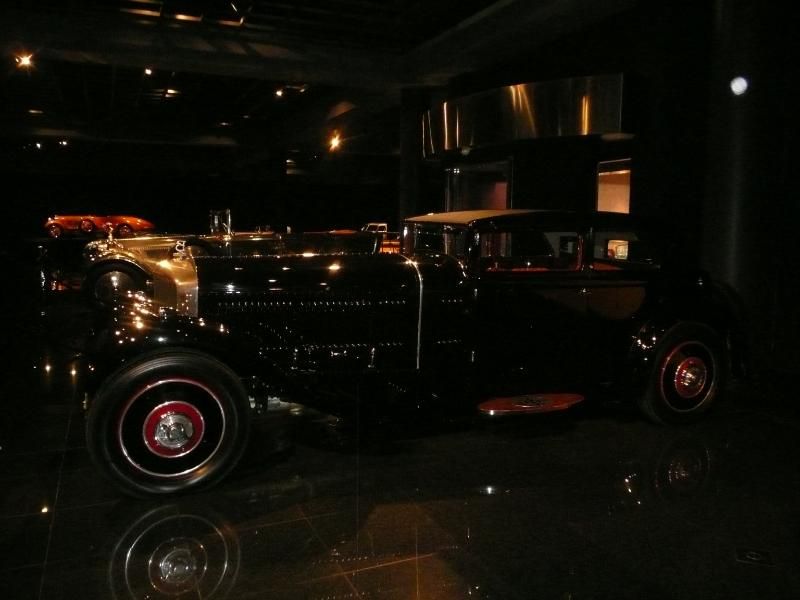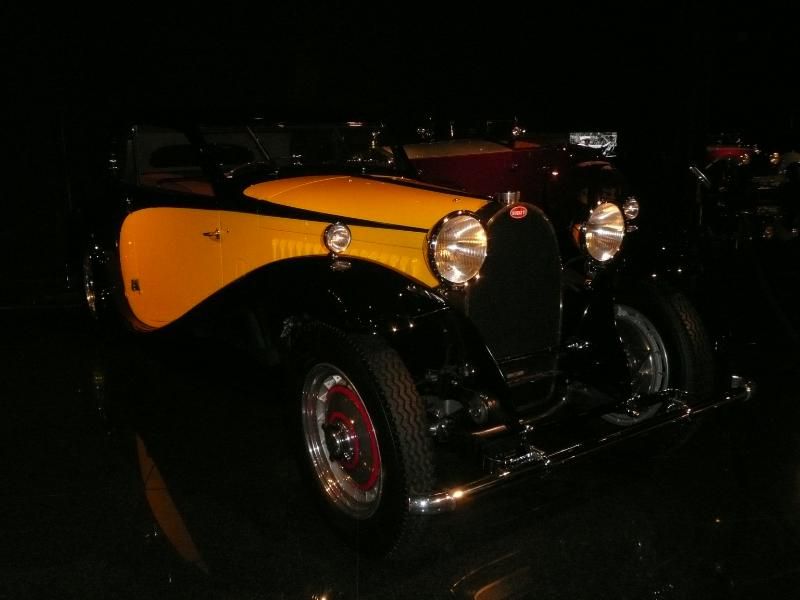 This 1938 Type 57SC Vanden Plas Roadster is the only tourer produced by the well known London coachbuilder. Perhaps surprisingly, the "S" in the name does not stand for "Supercharged" but "Surbaisse", ie lowered, which gave the car better handling as a result of a lower centre of gravity. Supercharged cars were identified by the addition of "C" to the model type (for "Compresseur").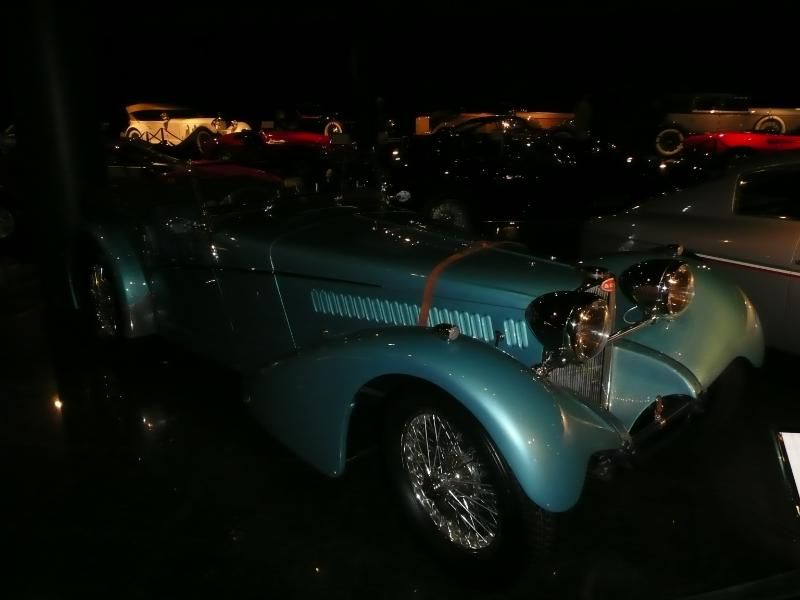 CADILLAC
An early Cadillac, this is a Model M and dates from 1906. At this time Cadillac was still producing single cylinder cars, but to very high standards of quality and engineering.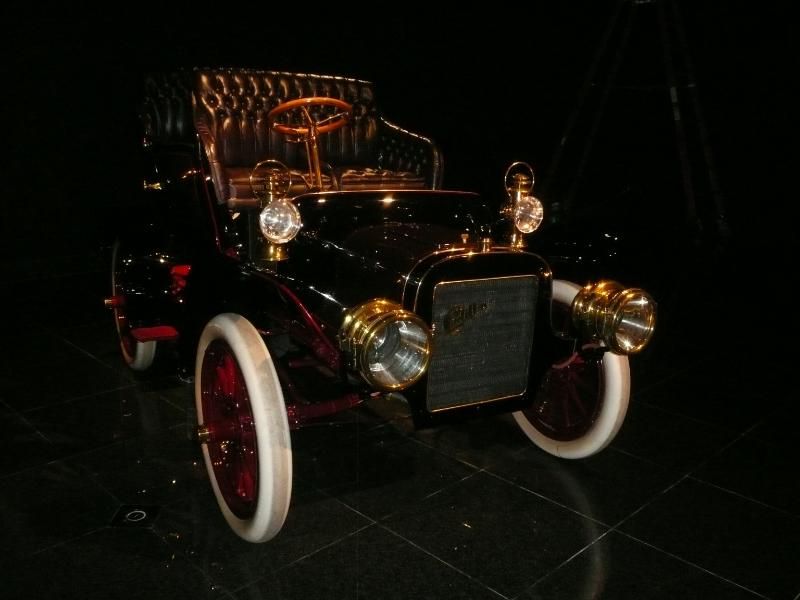 This 22 foot long monster, A V16 engined 37-90 Hartman Cabriolet was built for a wealthy customer in Switzerland, one only two chassis released for a custom body to be fitted. There was some debate whether the car would be legal there due to its size and consequent lack of manoeuverability, but the reality was that the owner seemed to have no issues with it.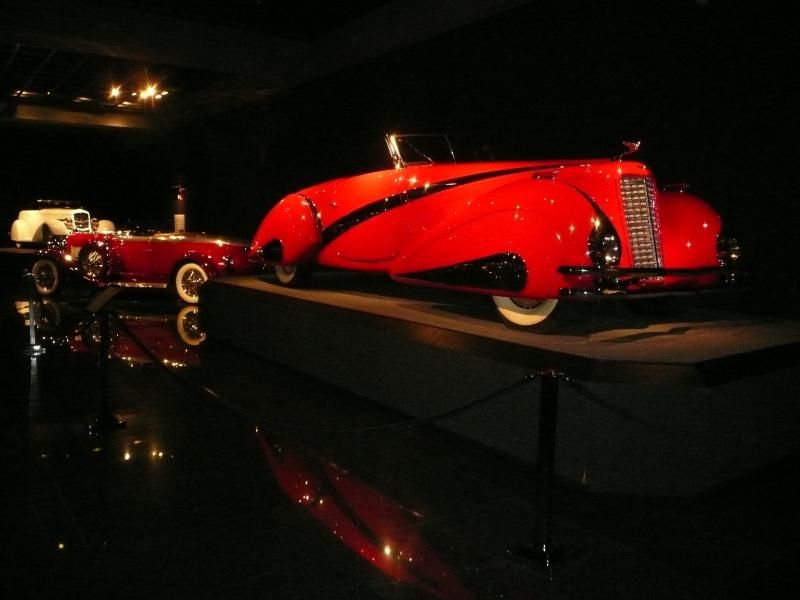 A concept star from the 1950s
DAIMLER
This 1926 45HP Salon Cabriolet Daimler belonged to one of the Indian Maharajahs and features some incredible details including the amazing motif atop the grille and horns that resemble serpents.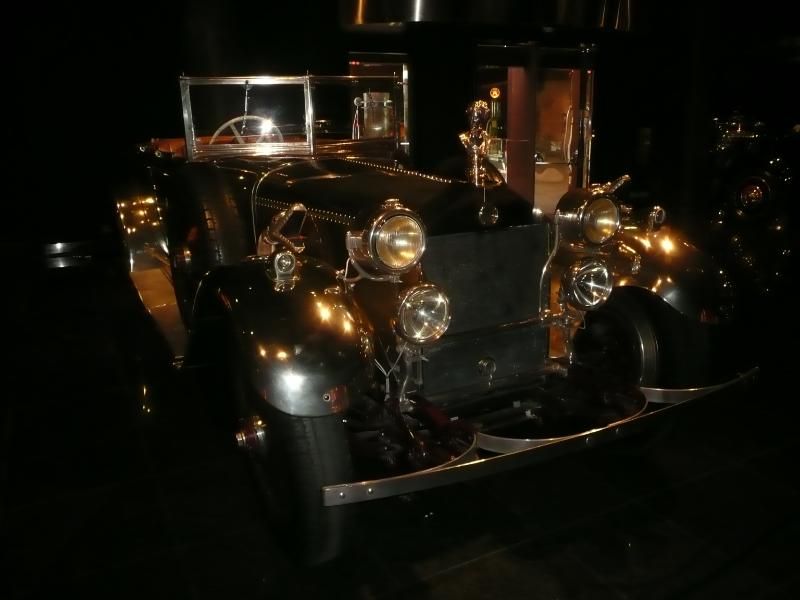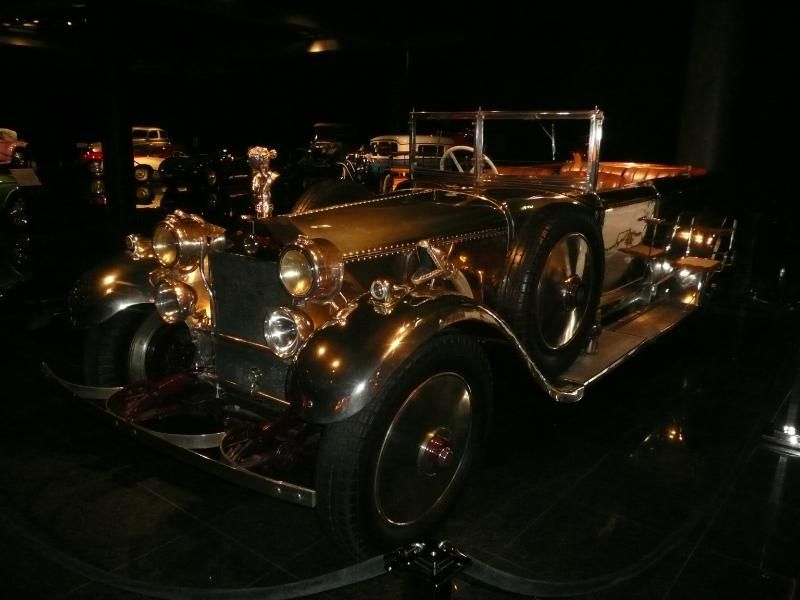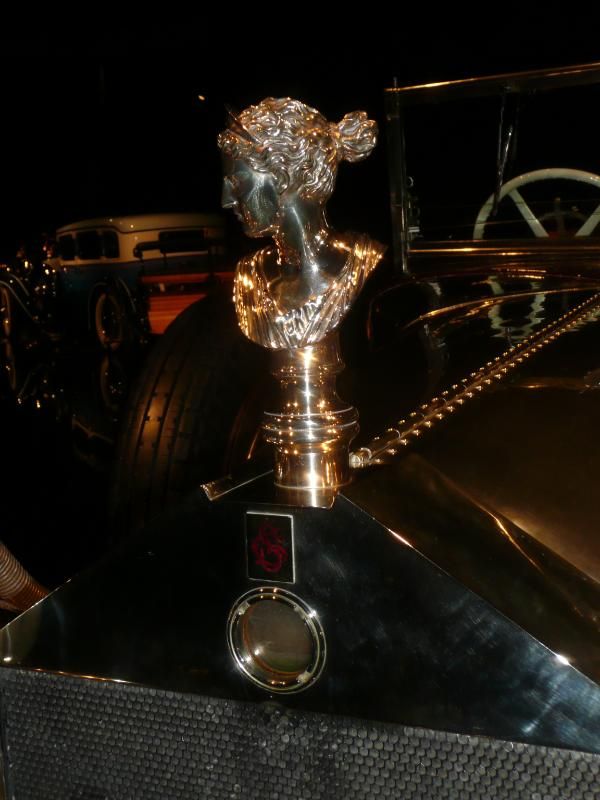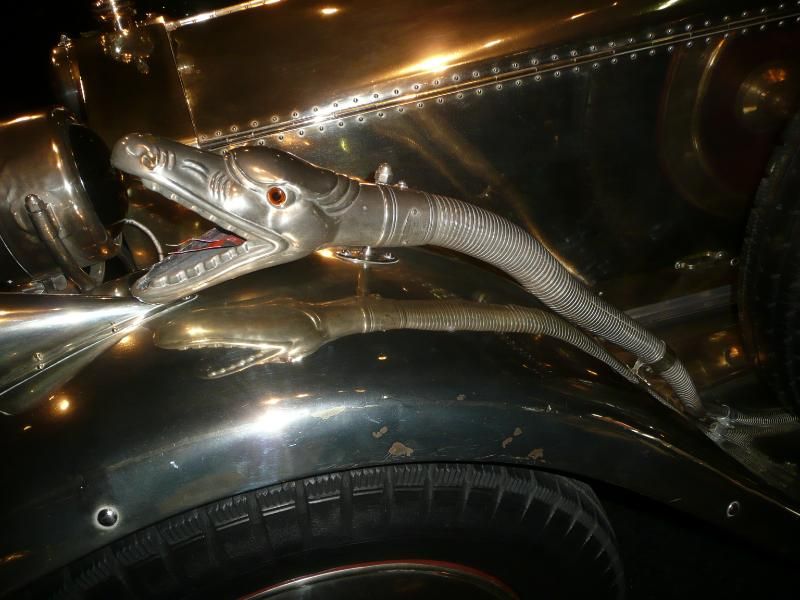 DELAGE
Automobiles Delage introduced the D8 with its 4-litre straight-eight engine at the Paris Salon in 1929 and production continued to 1933. The D8 inspired coachbuilders to create their most stylish designs; the D8 developed 102 hp; The D8-S increased this to 118 hp, and the D8-SS boasted 145 hp; elegance finally acquired a touch a speed! This is a 1934 D8-SS Cabriolet with coachwork by Fernandez & Darrin of Paris.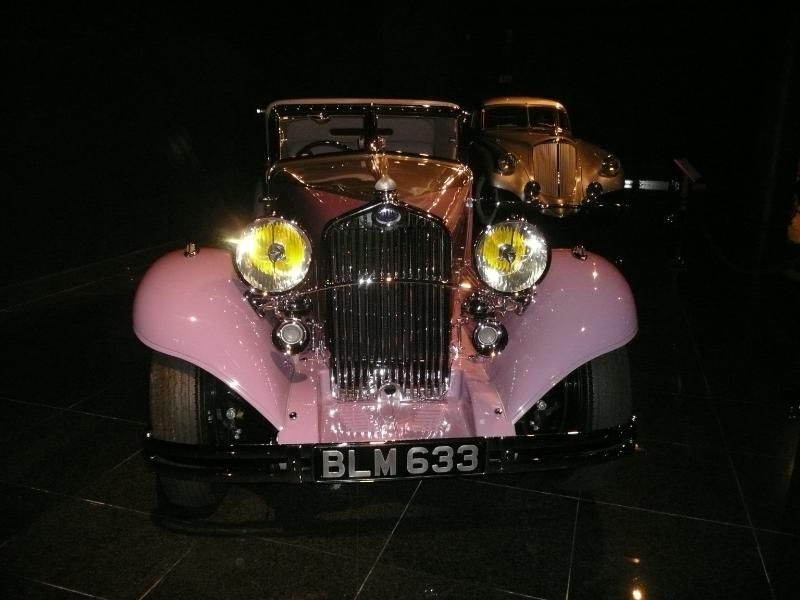 DELAHAYE
Delahaye was one of the first French firms to resume production after the cessation of World War 2 hostilities. This magnificent 1947 Type 135MS Roadster by coachbuilder A. Guilloré Carrossier of Courbevoie, France exemplifies the French coachbuilding style of the 1940s. This car was placed 1st in Class at Pebble Beach in 2001, 1st in Class at Meadow Brook in 2003, and it's a Classic Car Club of America National Winner.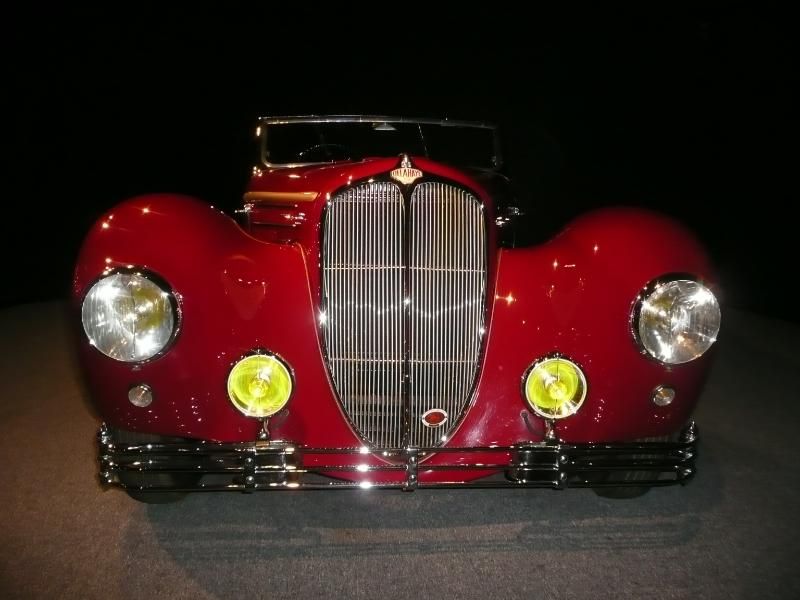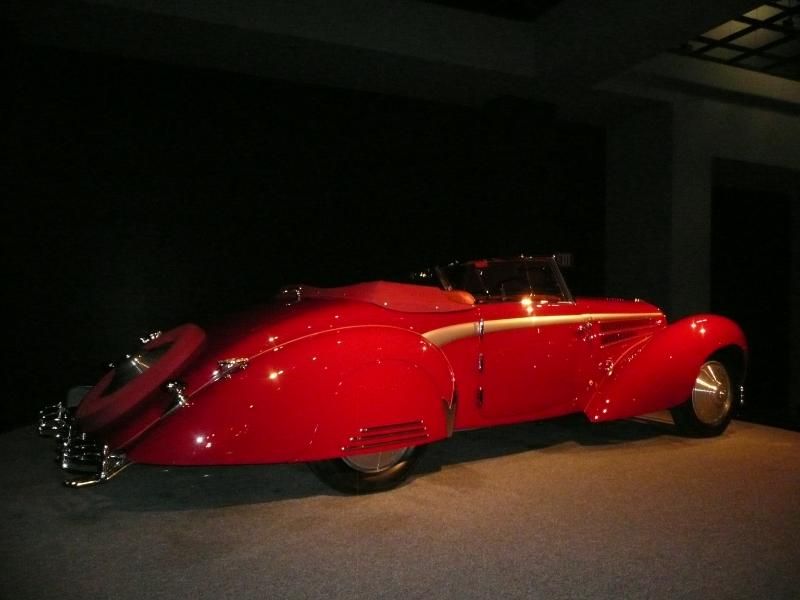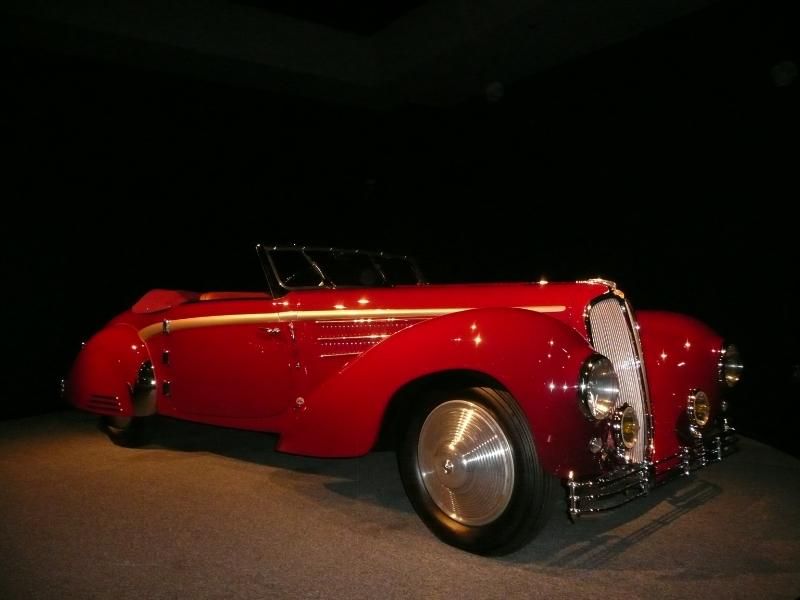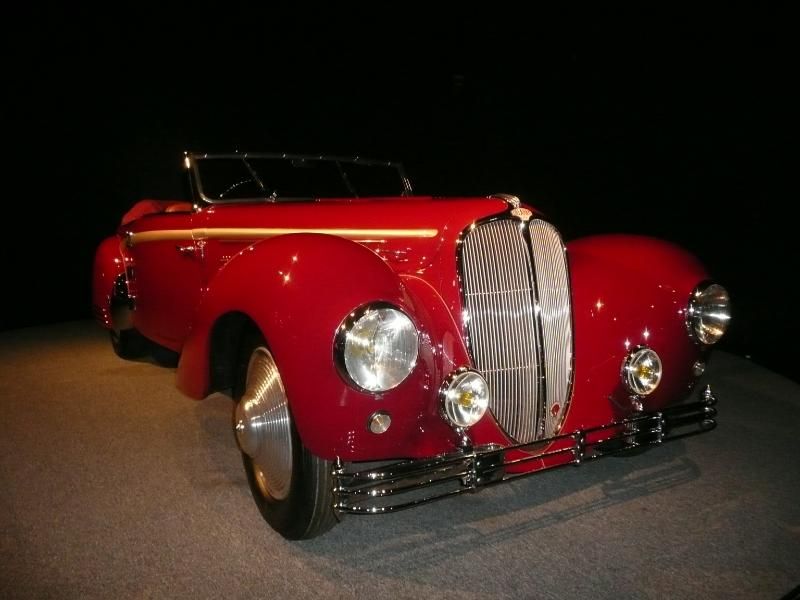 DODGE
Virgil Exner was responsible for a number of very striking concept cars in the 1950s, of which this pair of Dodge FireArrow cars were just some of his creations.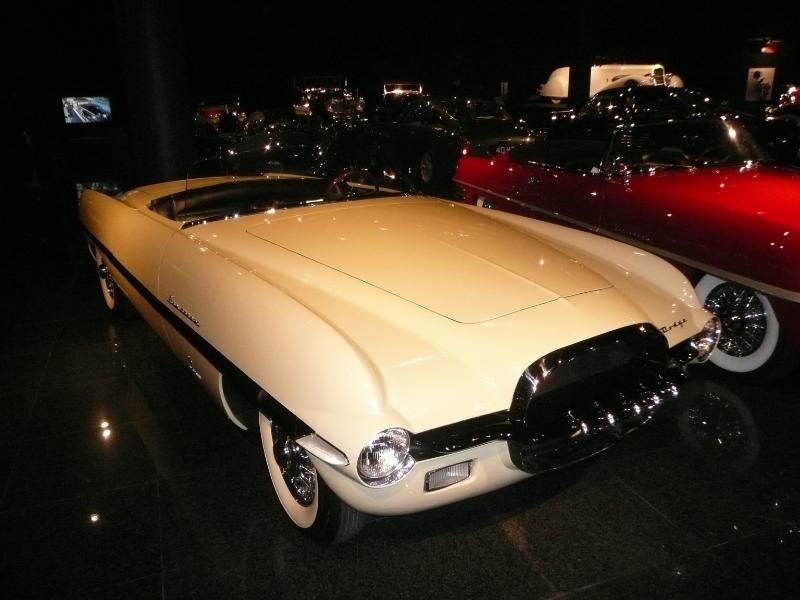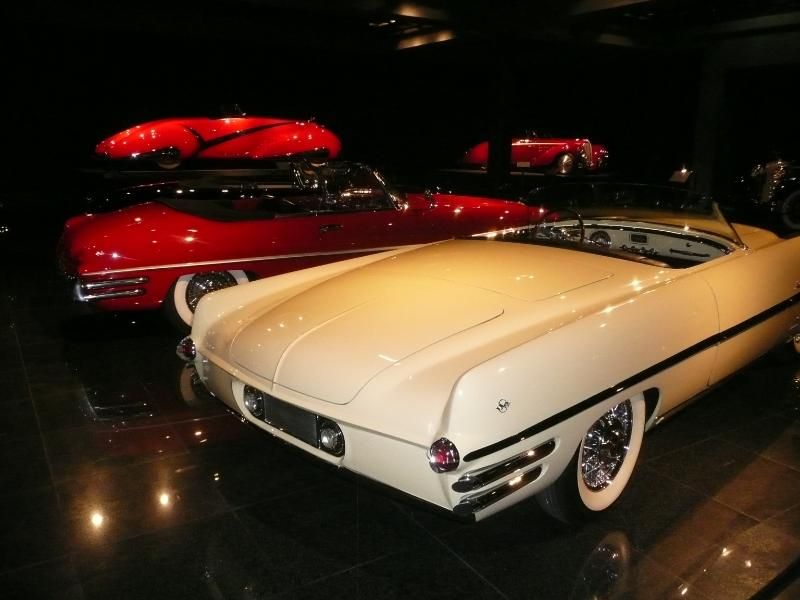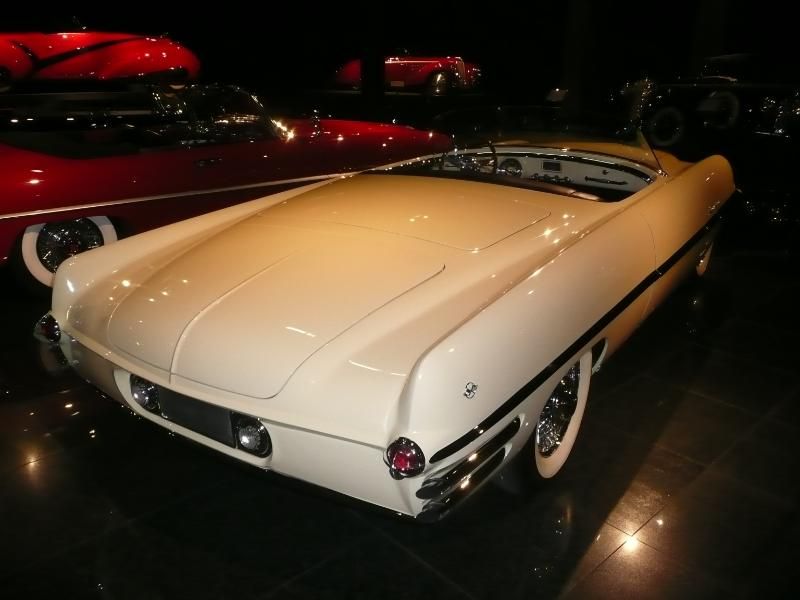 The 1955 FireBomb concept was adapted for production between 1956 and 1958 as the Dual Ghia. Famous owners included Dean Martin, Richard Nixon and Frank Sinatra.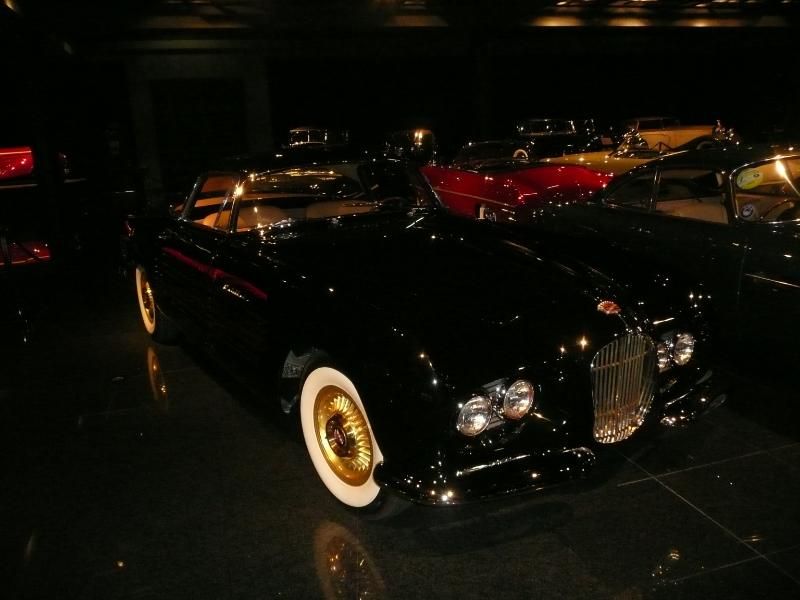 DUESENBERG
Three of the prestigious Model J cars, the most expensive American automobile of its time were on show. The Town Car with a very flat roof style is particularly rare.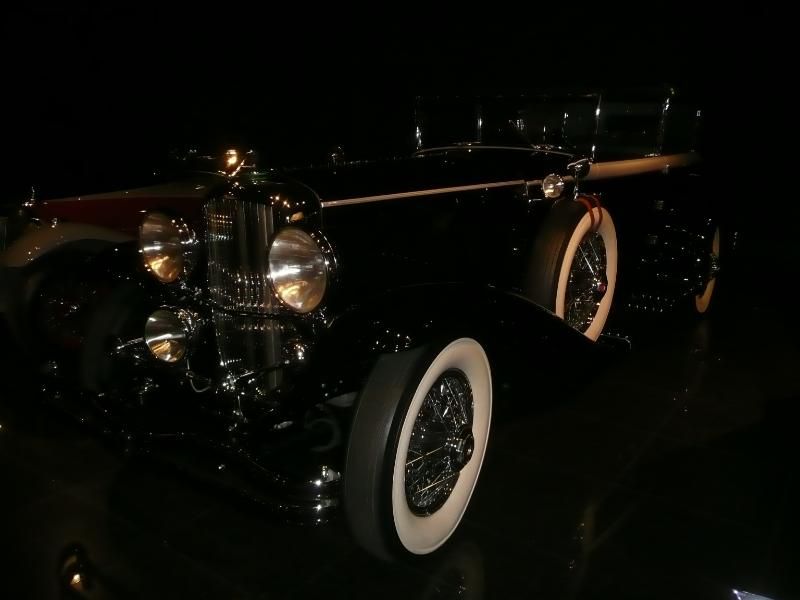 Pasadena coachbuilder Walter M. Murphy Co. originally built the body of this car for movie mogul and renowned aviator Howard Robard Hughes, Jr.; it was reported that this Disappearing Top Roadster – a signature body style by Murphy – was the only one ever built with an extended windshield height and extra height in the top to compensate for Hughes' 6' 3" frame. The spectacular Model J Duesenberg was introduced to the public in the fall of 1928, and deliveries began to fulfil dealer orders in the spring of 1929. This car has Chassis # 2301 and Engine # J-279. The 420 cubic inch 8-cylinder J engine (the non-supercharged version) had 265 horsepower and could propel these huge cars from a standing start to 100 mph in less than 20 seconds! In the 1960s Don Williams, president of the Blackhawk Collection and the Blackhawk Museum, sold the car to entertainer Wayne Newton, but was paid for the car by Bill Harrah, who gave the car to Wayne for performances he had given at the Harrah's Hotel & Casino.Wayne Newton later sold the car to Imperial Palace Casino & Hotel owner Ralph Engelstad who, at one time, had the largest collection of Duesenberg automobiles in the world! This car was exhibited in the Duesenberg Class at the Pebble Beach Concours d'Elegance in 2005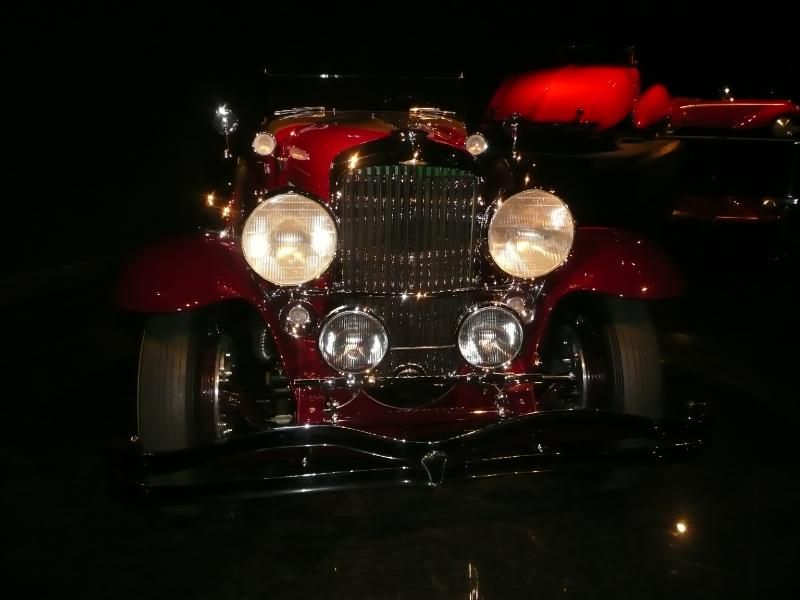 Also bodied by Murphy is this 1936 SJ Convertible Sedan. The S stood for supercharged. This particular car was first owned by socialite HenryJj Topping Jr who owed the New York Yankees.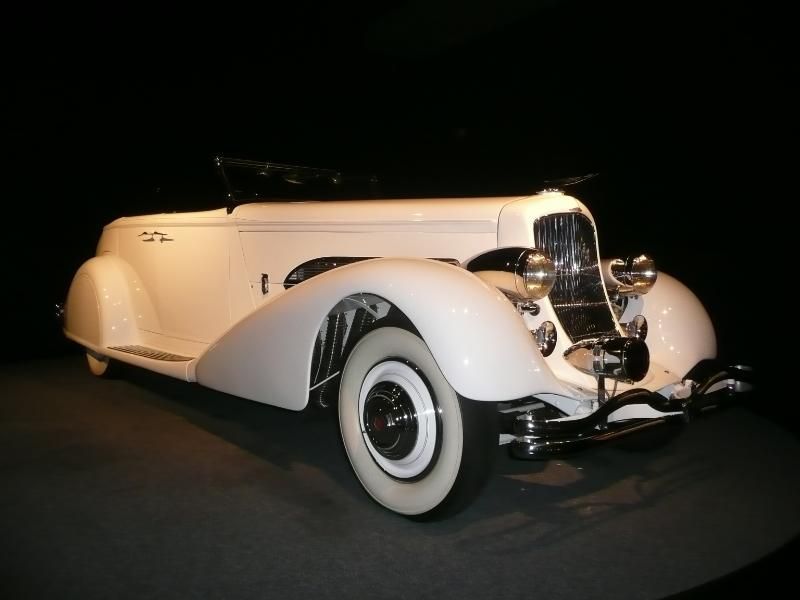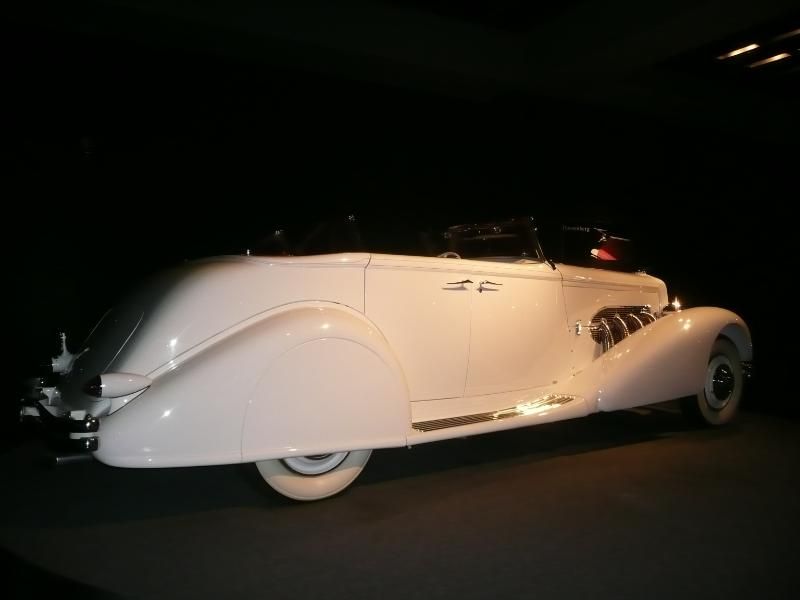 FERRARI
There were a lot of rare and interesting Ferrari on show here, many of them with significant history.
1953 Ferrari 250 MM Spyder Vignale formerly owned by World Driving Champion Phil Hill and driven by him to victory in the 1953 Pebble Beach Road Race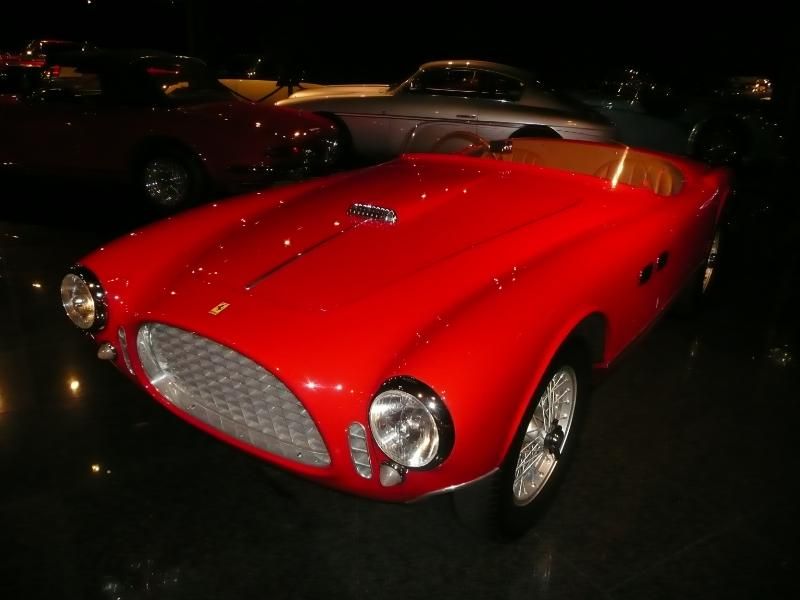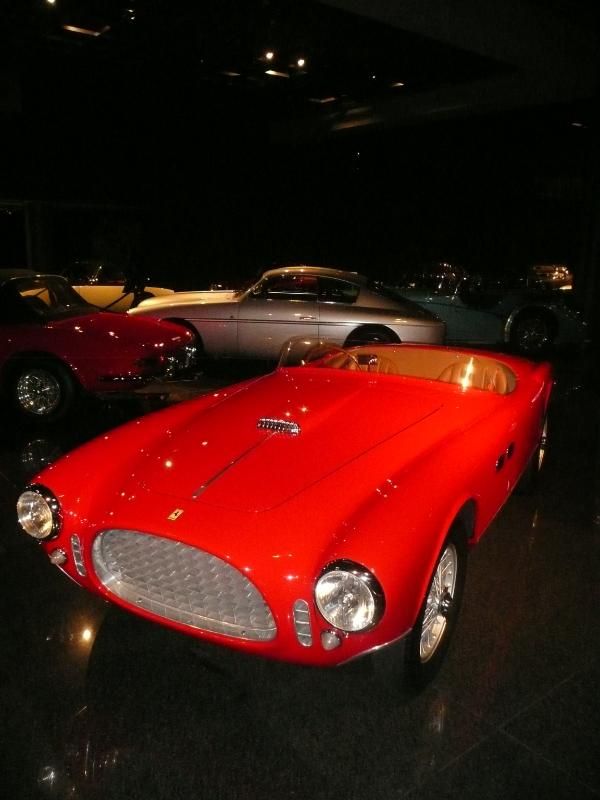 This 1954 Ferrari Series I 500 Mondial Spyder is 1 of 9 cars remaining today of the 12 cars originally built by Carrozzeria PininFarina of Turin, Italy. The 500 Mondial was an effort to hold off Maserati, Jaguar, Aston Martin, and Mercedes-Benz until Ferrari's redesigned V12s could be fully developed and tested. Grand Prix cars with 4 cylinder engines had shown great potential in the late 1940s; in 1950 Ferrari designer Aurelio Lampredi made this point by building an incredible 1984cc. Ferrari 4 cylinder engine. The 4 cylinder engines were light and less complex with fewer reciprocating parts to reduce drag, and large cylinder bores allowed the use of big valves…and long strokes…to produce more torque with comparable—or greater—horsepower than a 12 cylinder engine of the same displacement! The engine, Tipo110, was a double overhead cam unit fed by two Weber carburettors developing 160 horsepower at 7000 rpm…and a huge load of torque It is thought that this car on exhibition may be the only completely original example extant, having retained its factory numbered body, chassis and engine. The word Mondial pays tribute to Ferrari's 1952-53 World Championship (Mondiale) just prior to this car's introduction, eventually leading to the big-engined four cylinder cars headed by the famous (aka "infamous") Ferrari 750 Monza 3 litrer.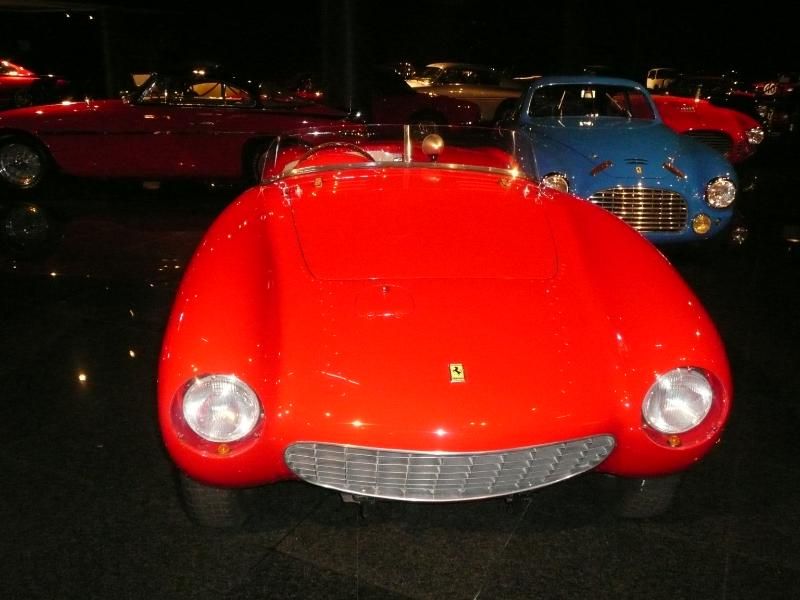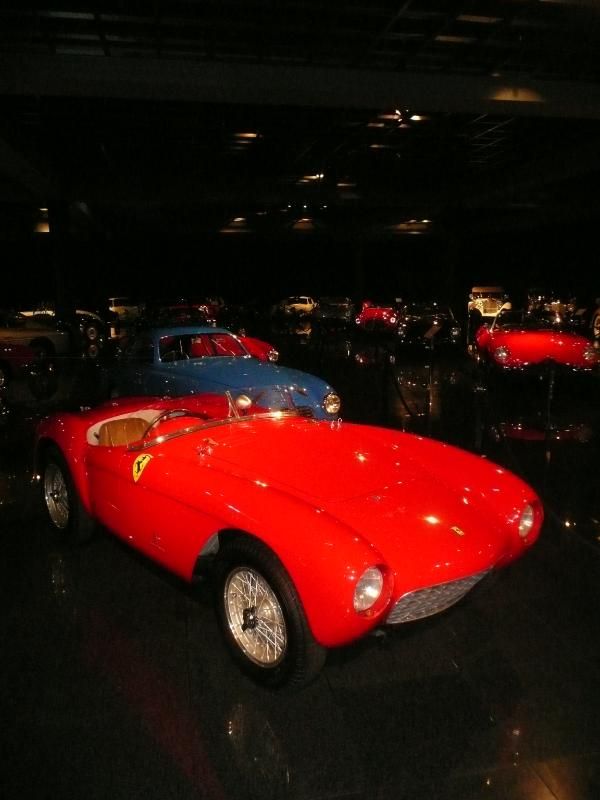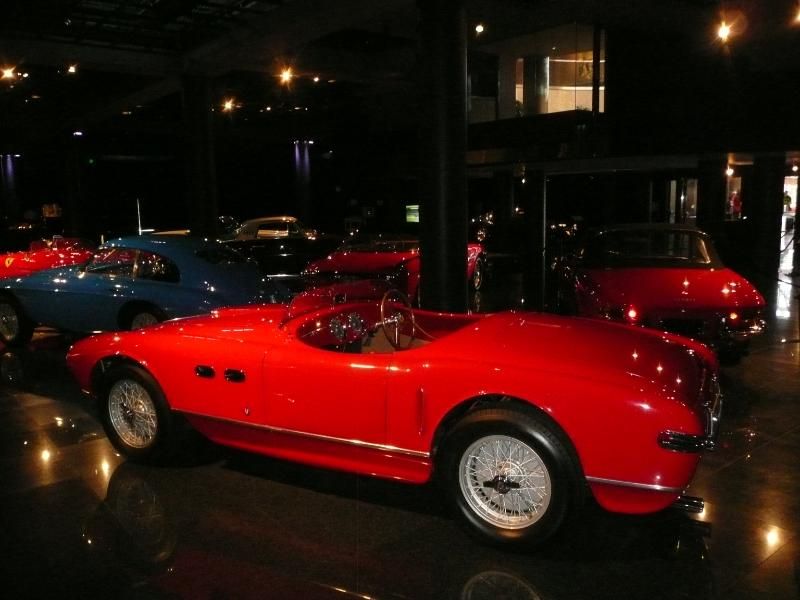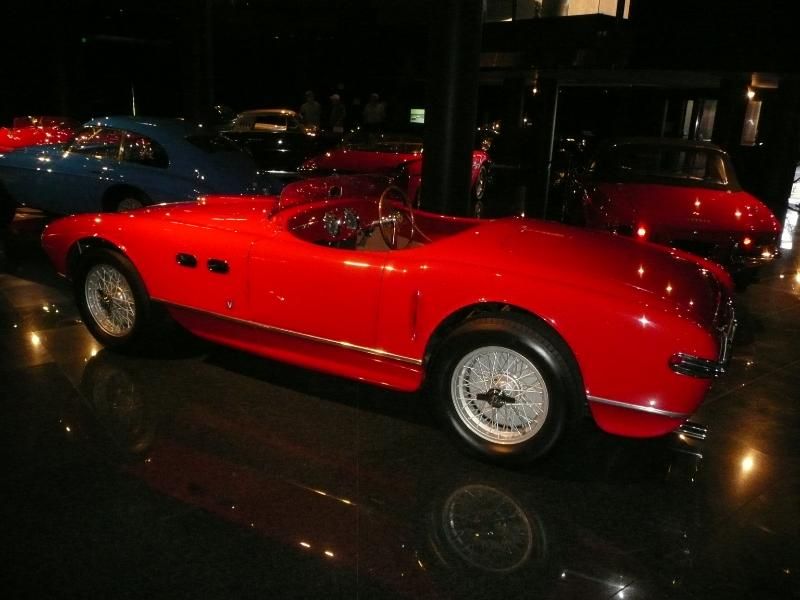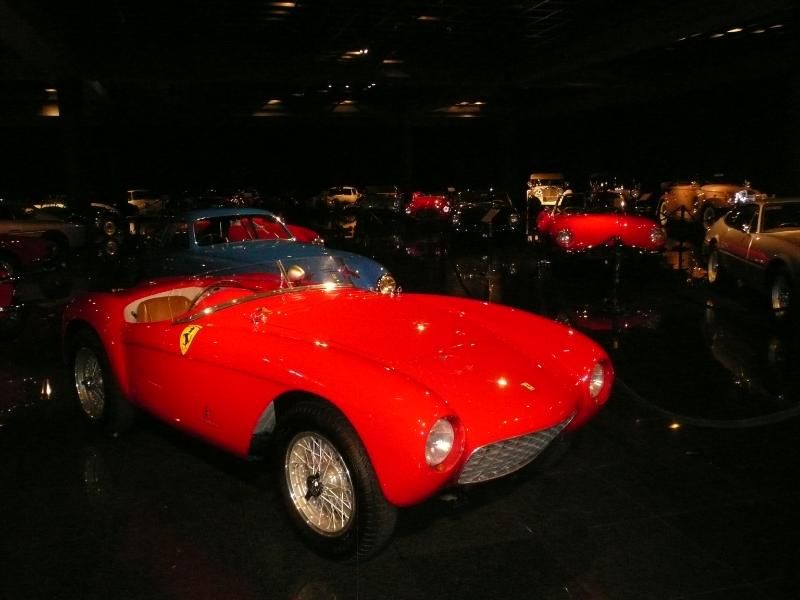 195S Touring Berlinetta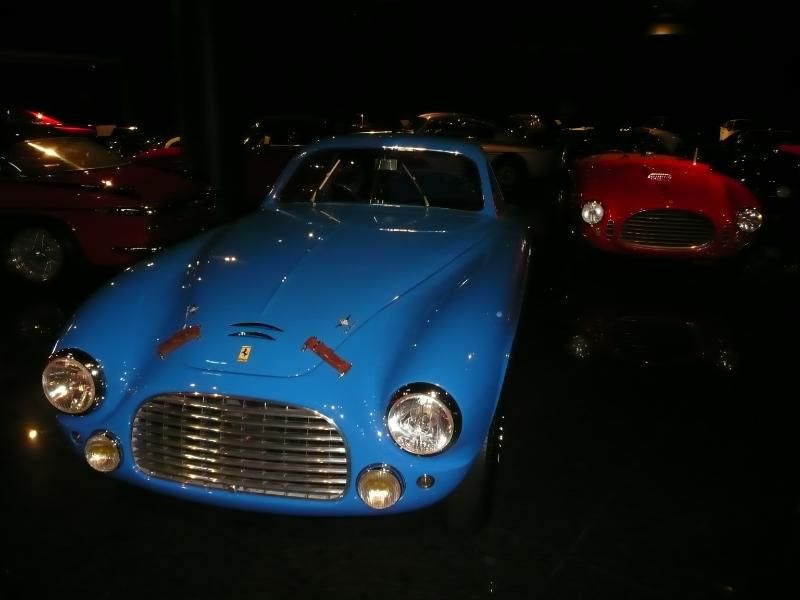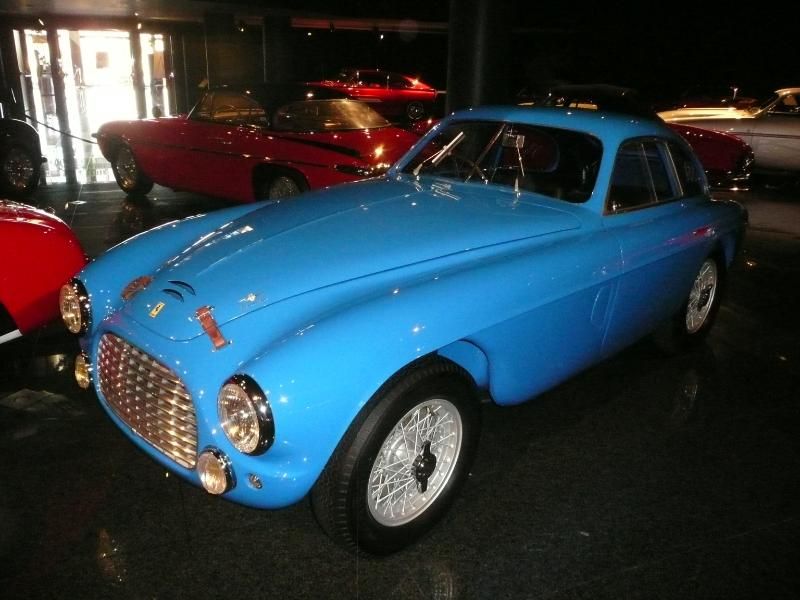 1951 212 Touring Barchetta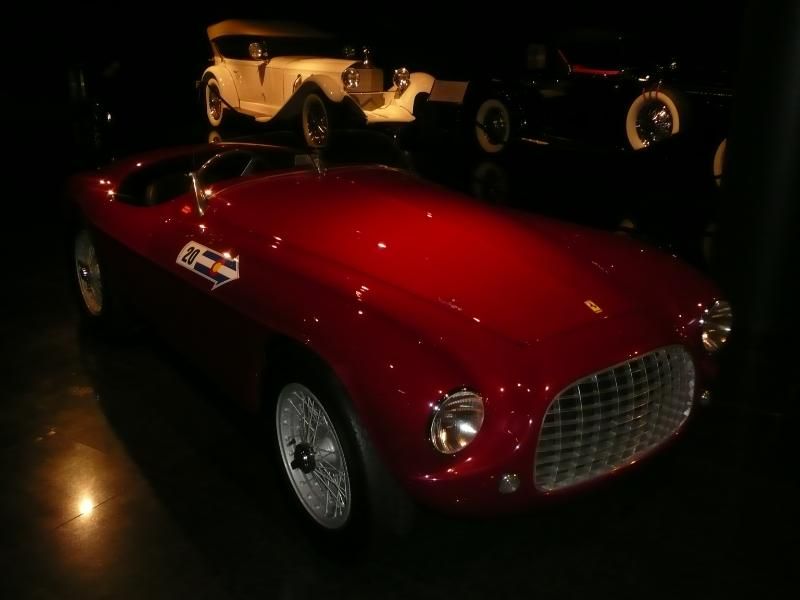 342 America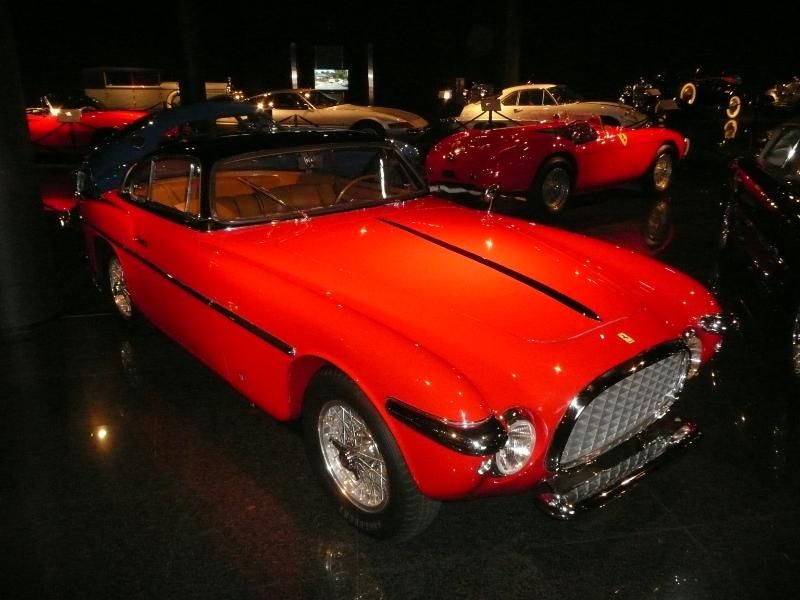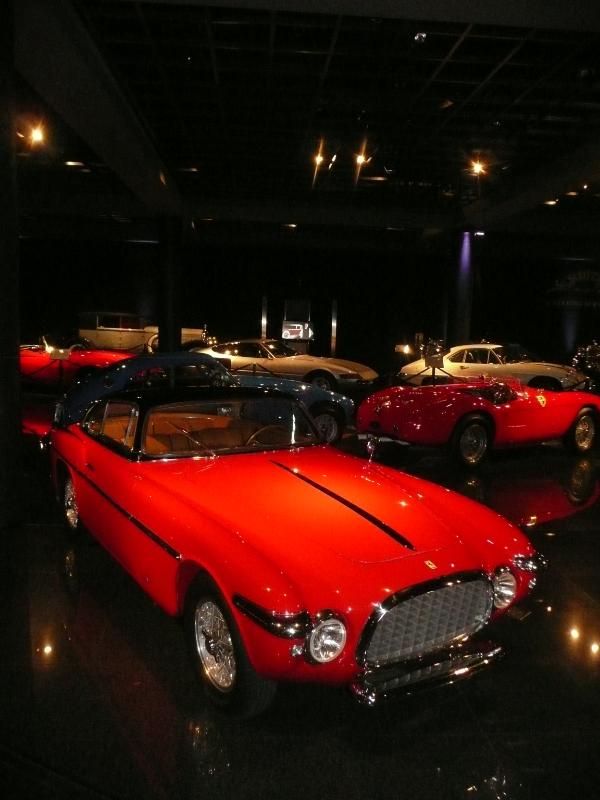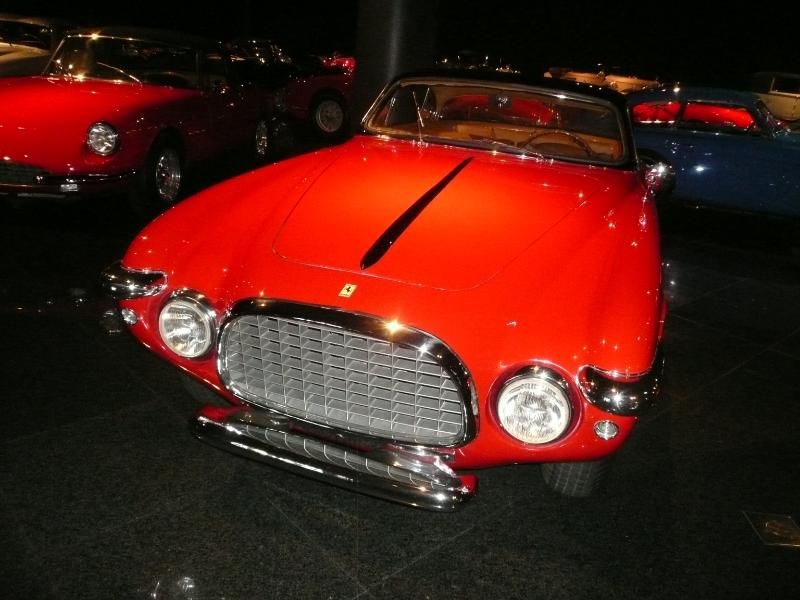 This 1953 375 America Vignale Coupe is one of just 11 built, only 3 of which had a Vignale body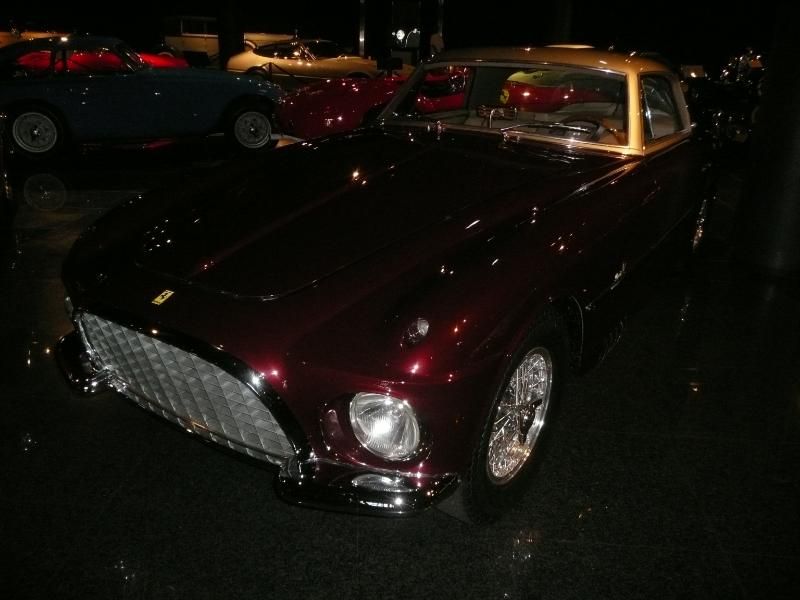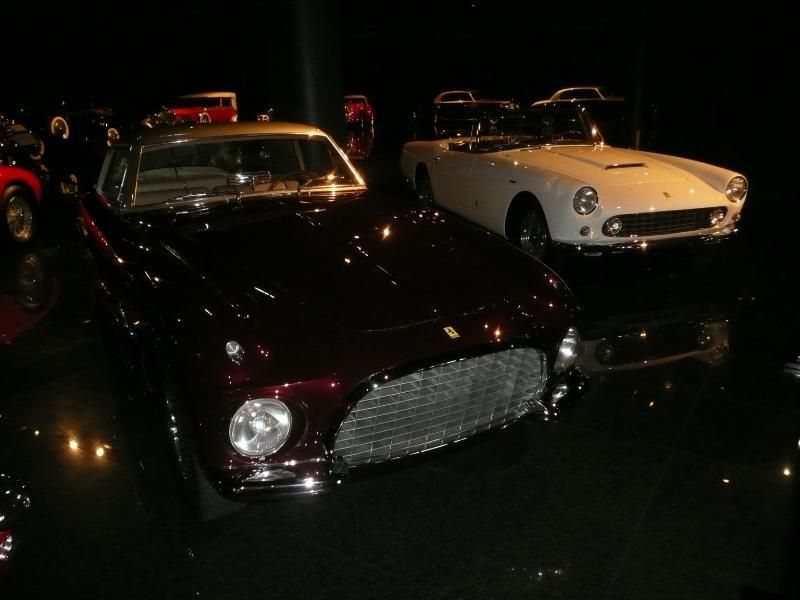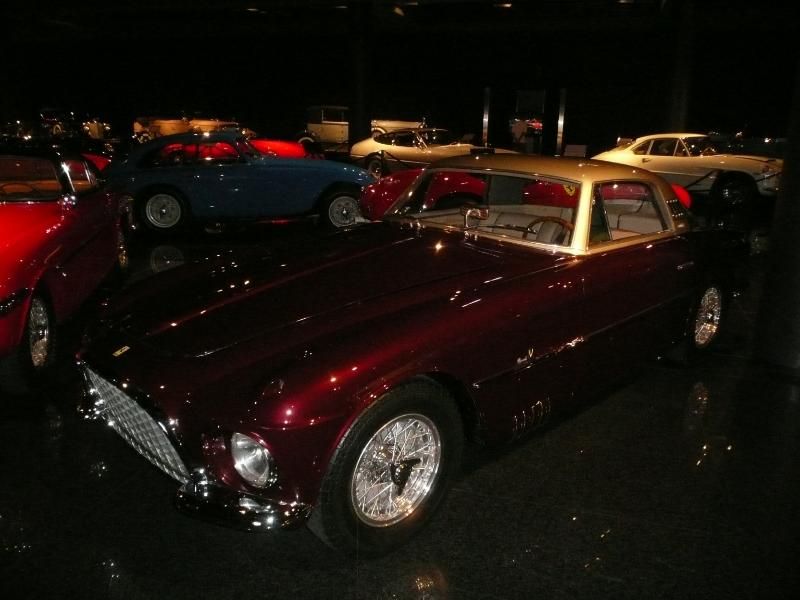 This 1956 Ferrari 625 Le Mans Spyder by Touring is 1 of 3 built. Ferrari replaced the 500 Mondial with the 500 Testa Rossa (500 TR) design in 1956. The 4 cylinder 2 litre engine was not greatly changed from the 500 Mondial, but the chassis was simplified and more closely resembled Ferrari's production cars. The three 625 Le Mans Spyders were bodied by Carrozzeria Touring of Milan and had the designation 500 TR/625 LM, as the 625 LM was built on the 500 TR chassis; although raced only twice by Ferrari's factory team, the 500 TR/625 LM had a short but strong career. The original version equipped with the 2 litre Testa Rossa 4 cylinder engine celebrated victory at the hands of Peter Collins and Mike Hawthorn at the Gran Premio Supercortemaggiore at Monza in 1956. The 1956 24 Hours of Le Mans was run under a new regulation that restricted the Prototype Class to 2.5 litrer displacement; the Ferrari team equipped the three cars with the 4 cylinder Grand Prix engine which fit into the Prototype Class, and the designation became "625 LM." The driving team of Gendebien/Trintingant placed third overall behind a D-Type Jaguar with a 3.4 litre engine and an Aston Martin DB3S with a 3.0 litre engine. The Phil Hill/André Simon 625 LM developed transmission problems during the ninth hour while in fourth place and withdrew, and the Alfonso "Fon" De Portago/Duncan Hamilton 625 LM collided with two other cars during the first lap, causing all three cars to "DNF"…Did Not Finish!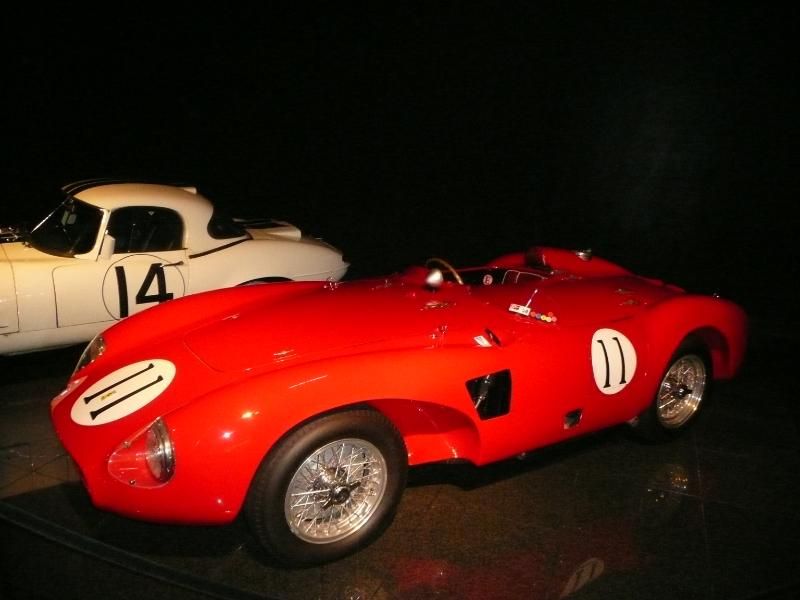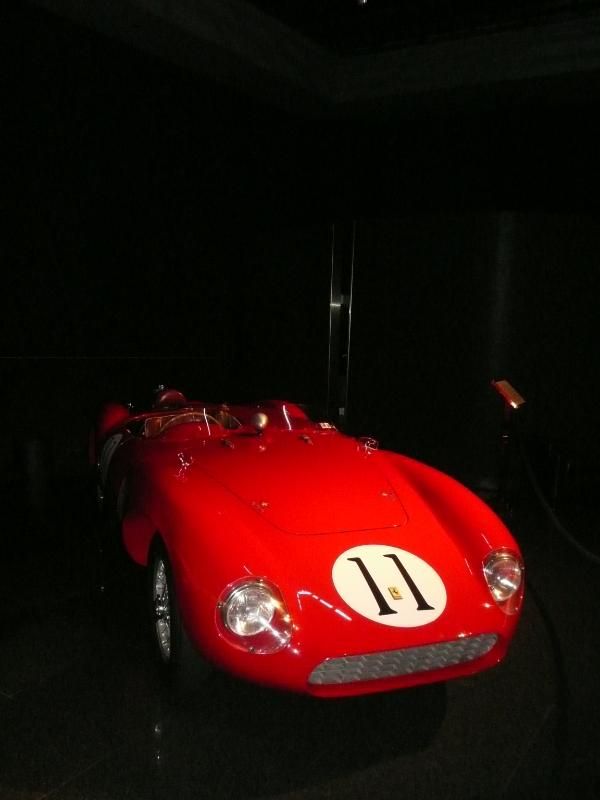 250 GT PF Cabriolet Series 1
250GT California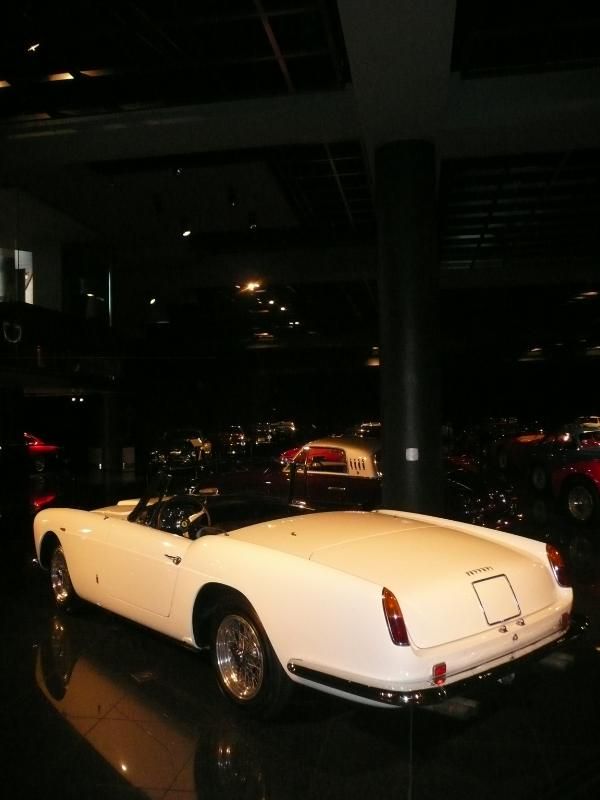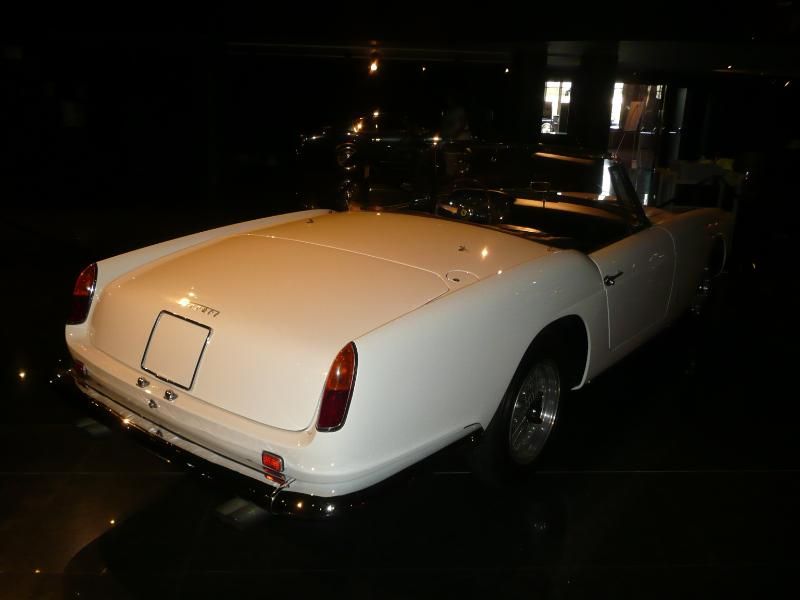 This 330GTC Speciale is one of 4 cars built.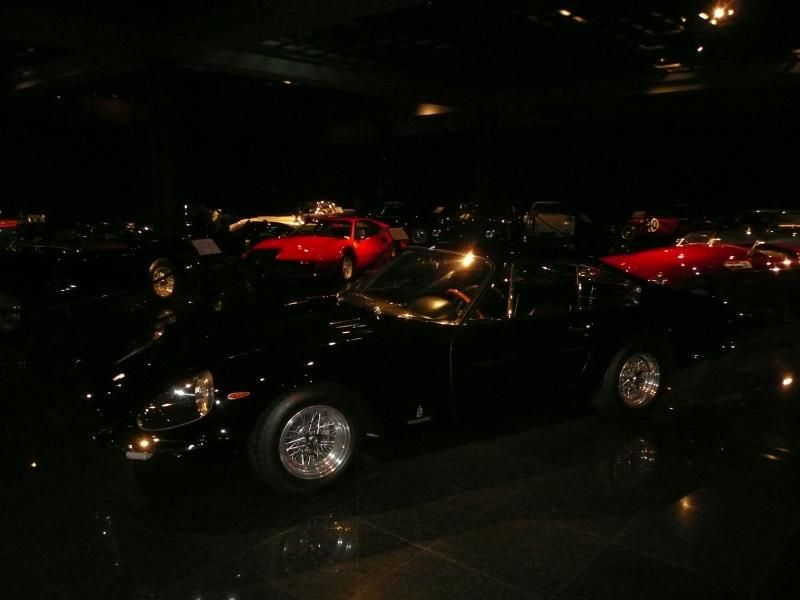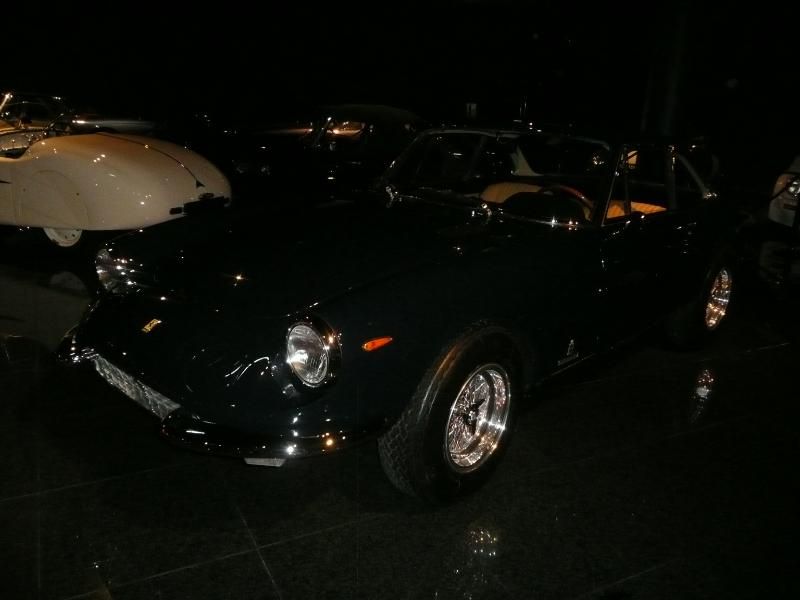 330GTS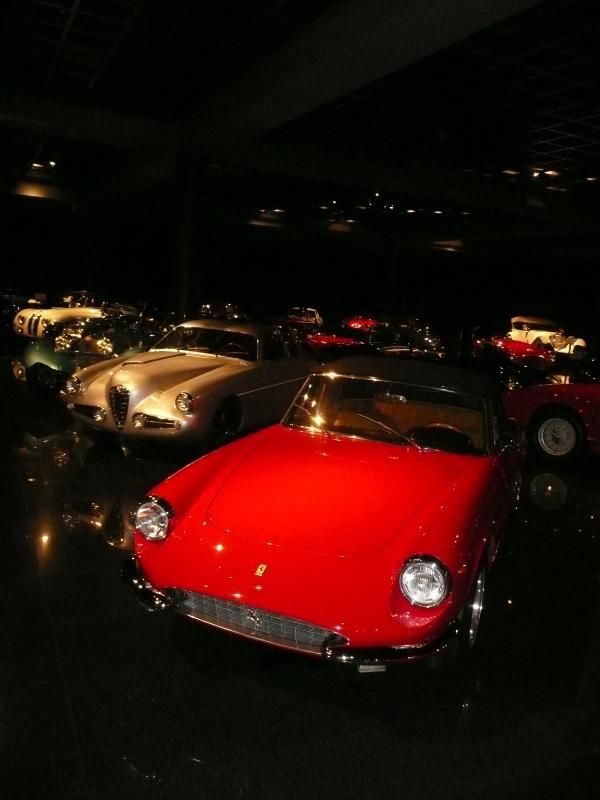 500 Superfast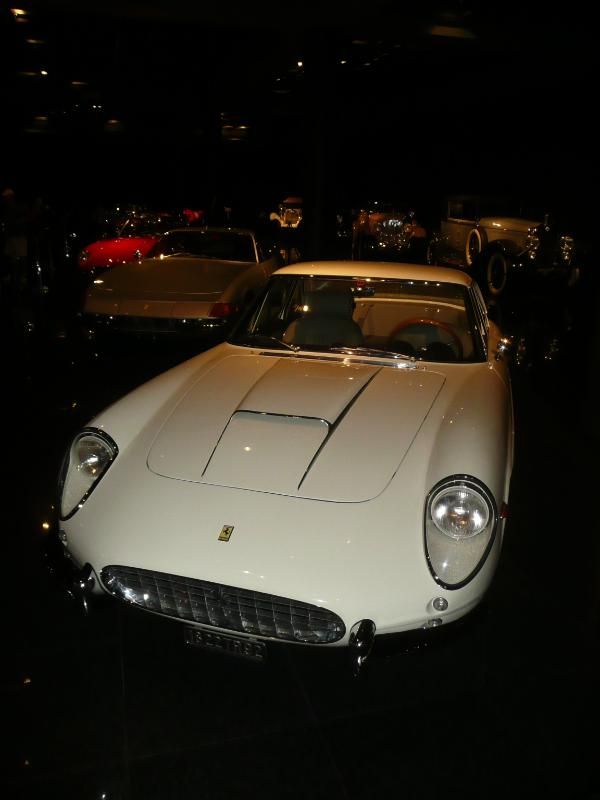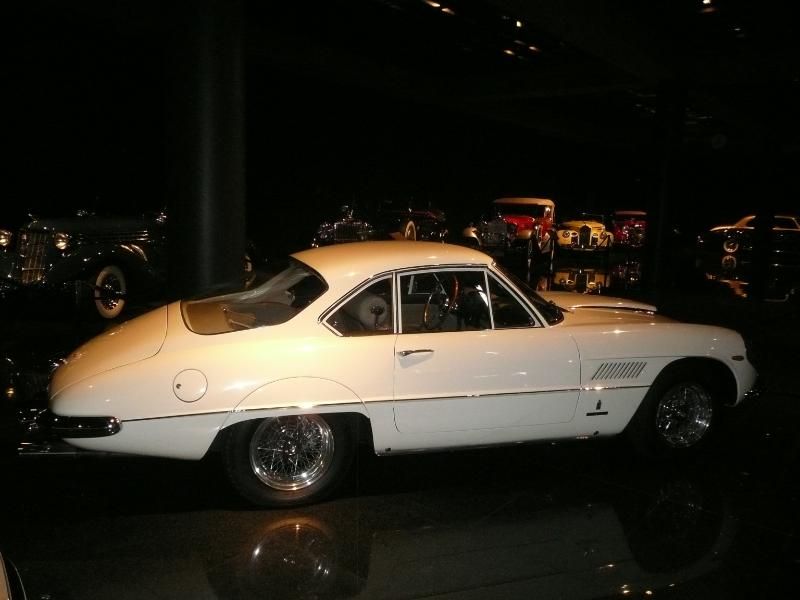 400 Superamerica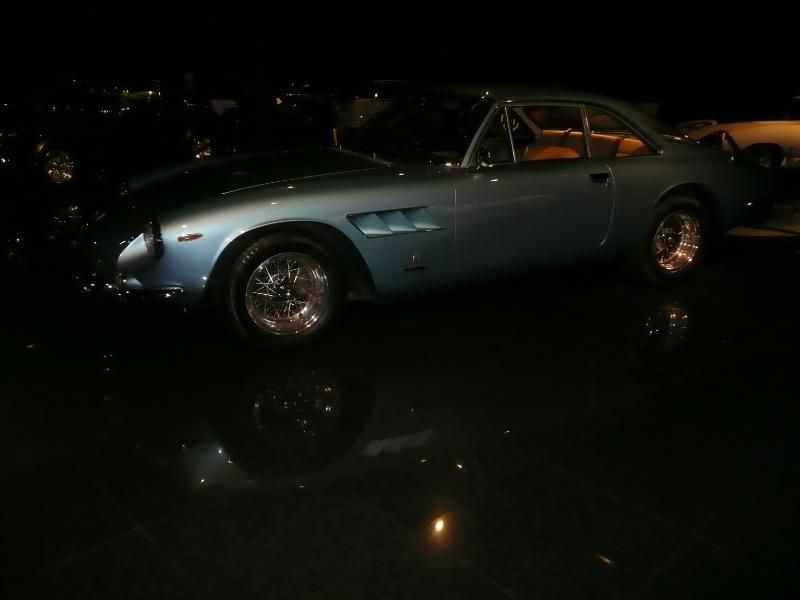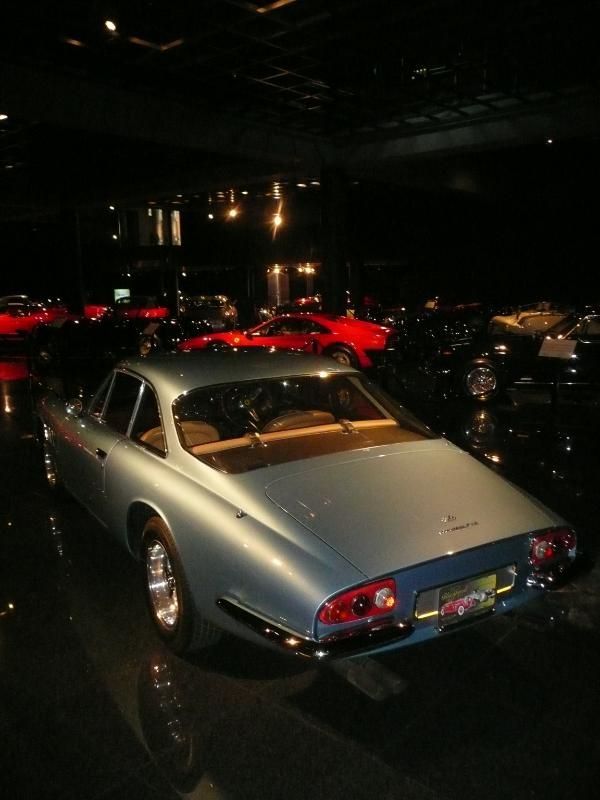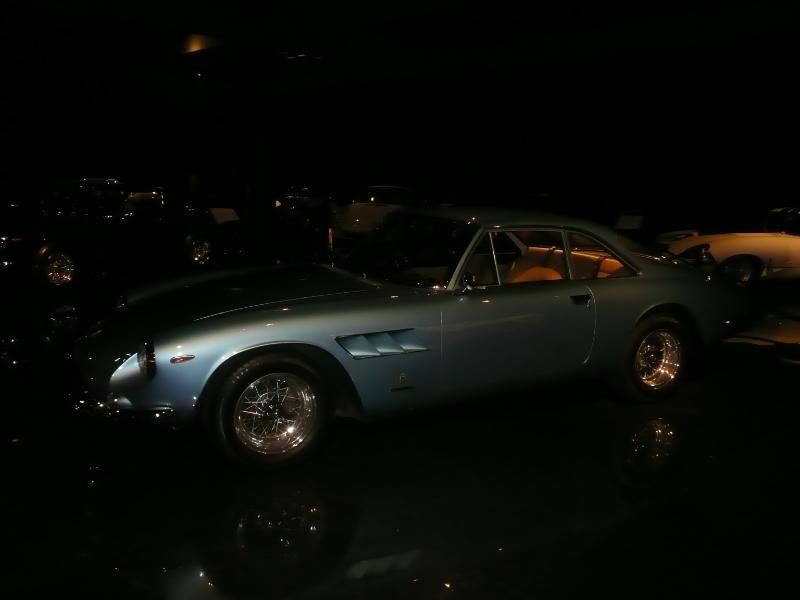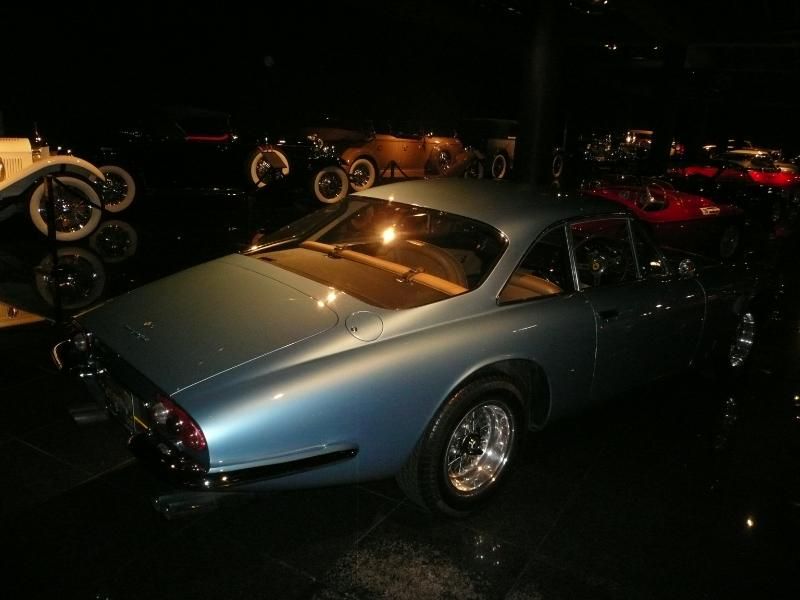 This is one of just 14 of these 365 California that were made in 1967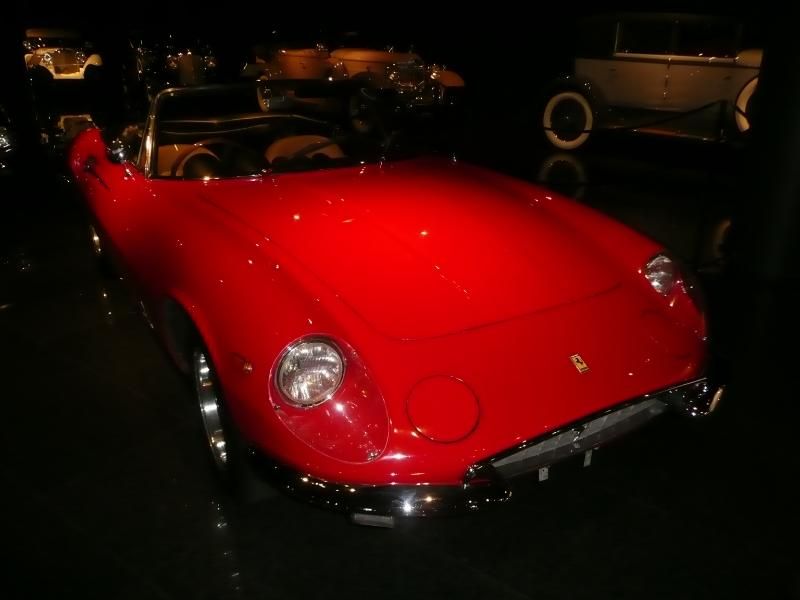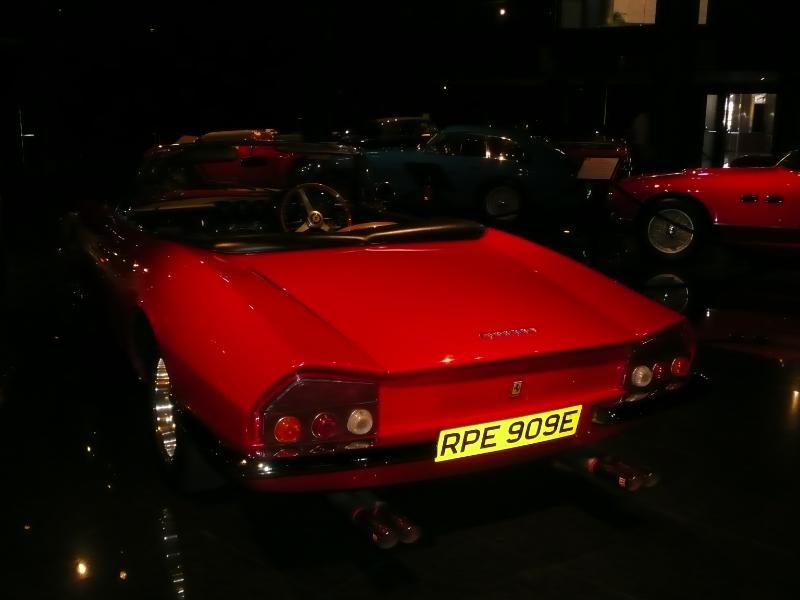 365GTB/4 Daytona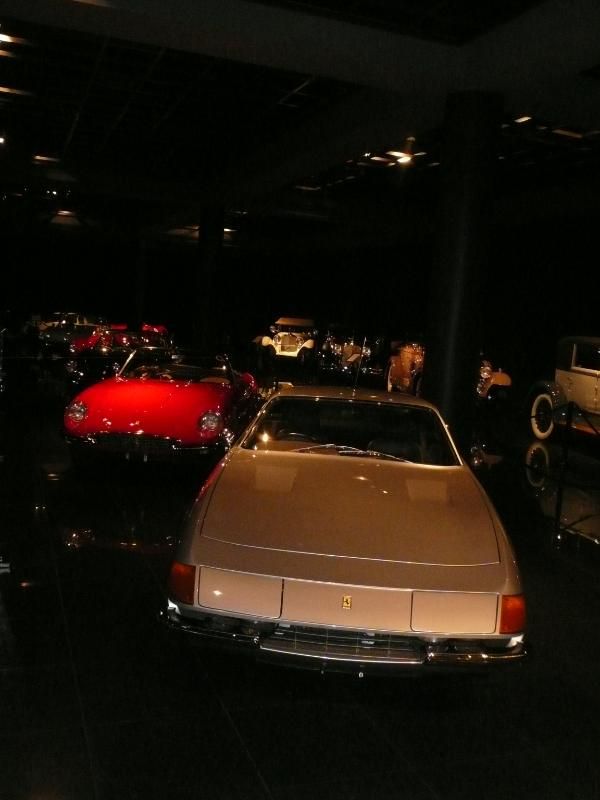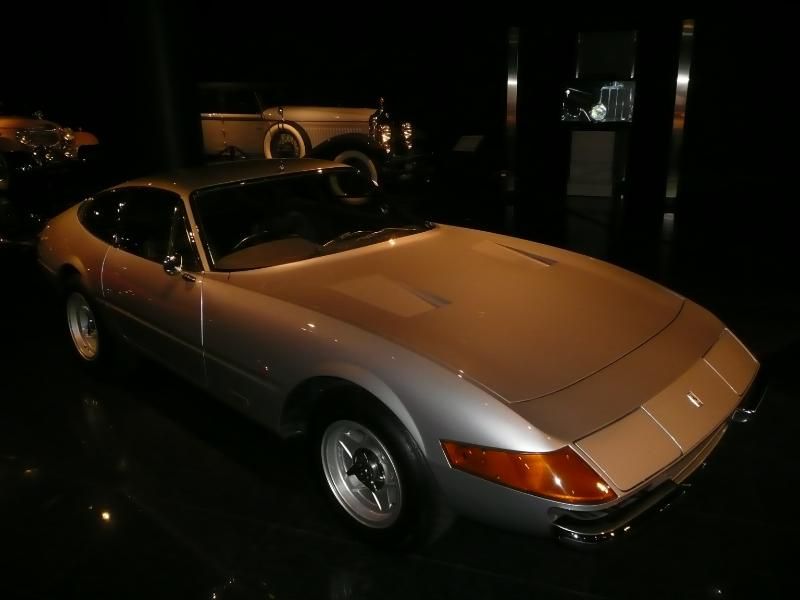 One of the most recent cars on show in the Collection is this, an early 308 GTB, one of the glass fibre bodied cars made in 1977, before the switch to a metal construction was made.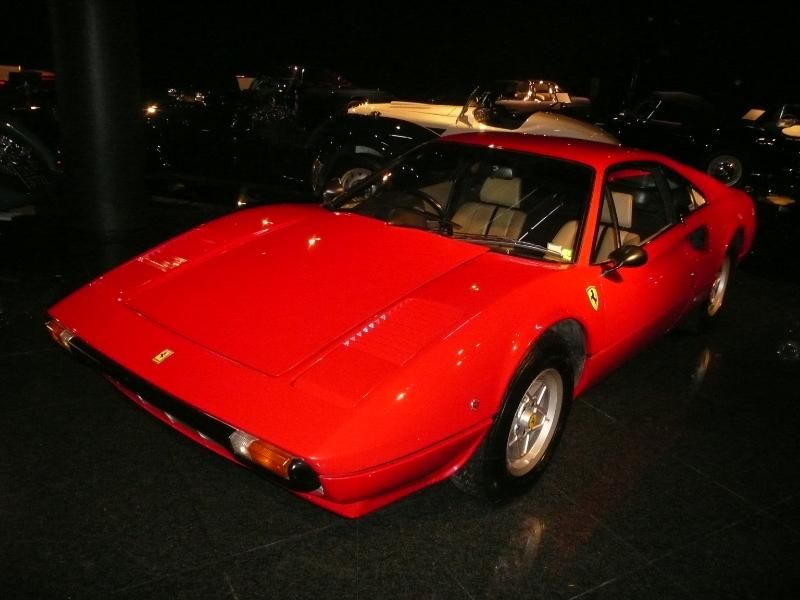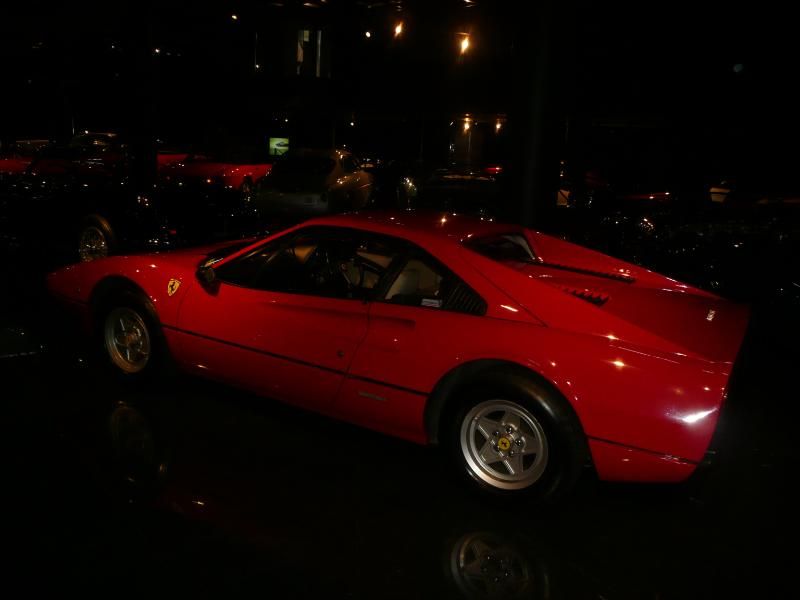 FORD
A 1963 concept, based on the Thunderbird, but with a graceful coupe like rear end, this is the Ford Italien, and it is unique.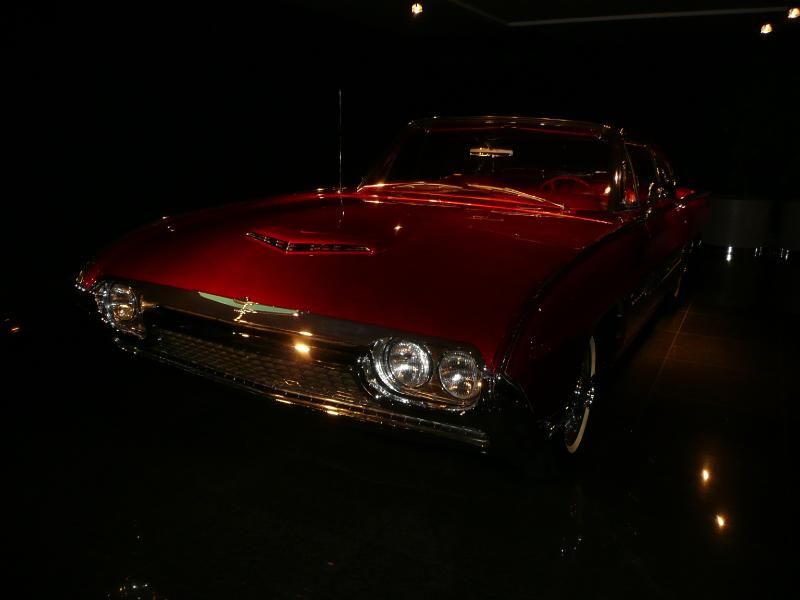 HEALEY
Silverstone
HISPANO-SUIZA
Model J-12 Dual Cowl Tourer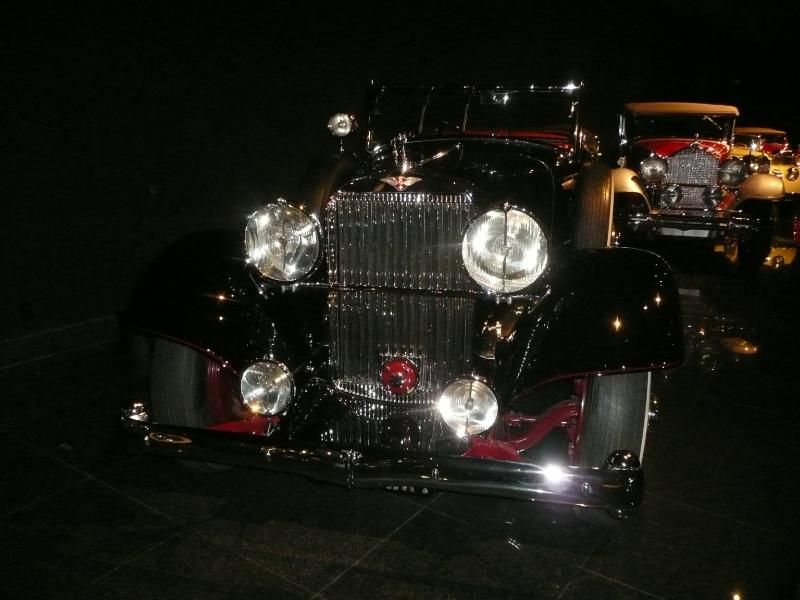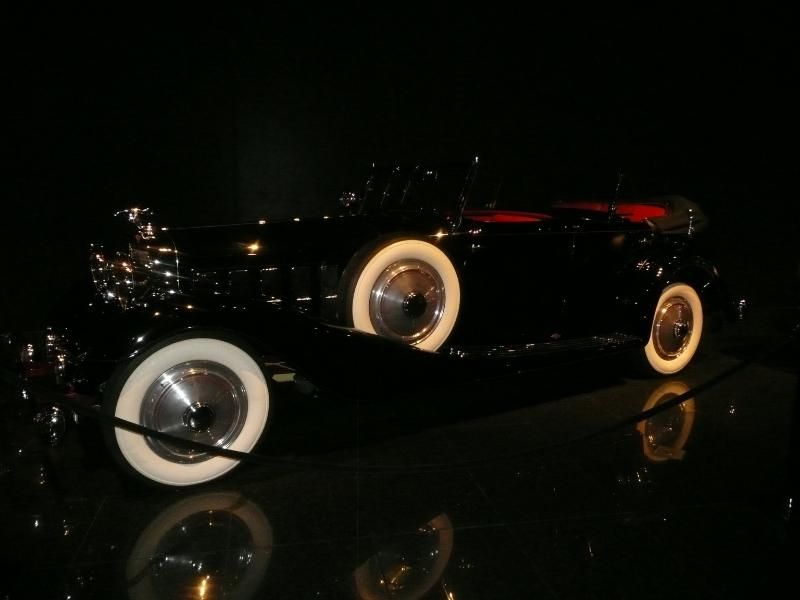 This H6C Torpedo was commissioned in 1924 has a body made entirely from Tulipwood. At the time, wood was widely used in the aviation sector, as it was relatively light and strong, as well as being widely available. There are many coats of vaneer on the wood to give this car its striking appearance.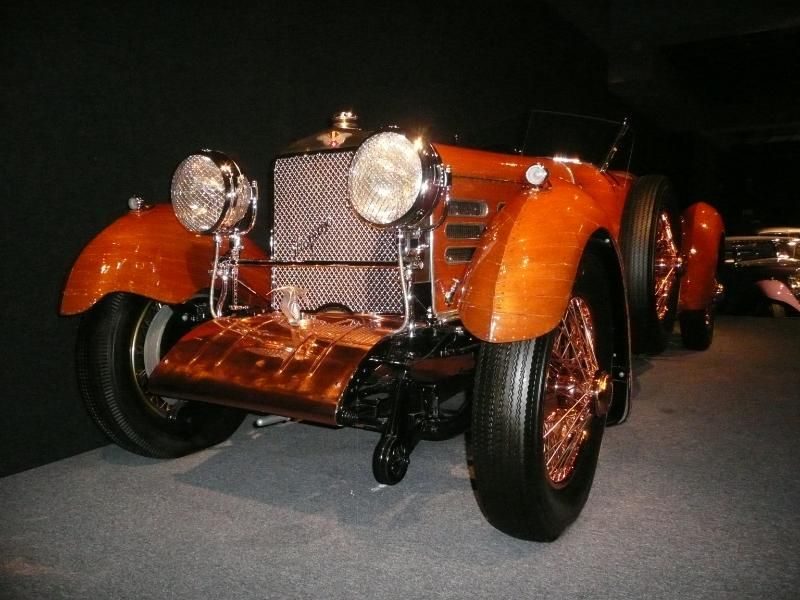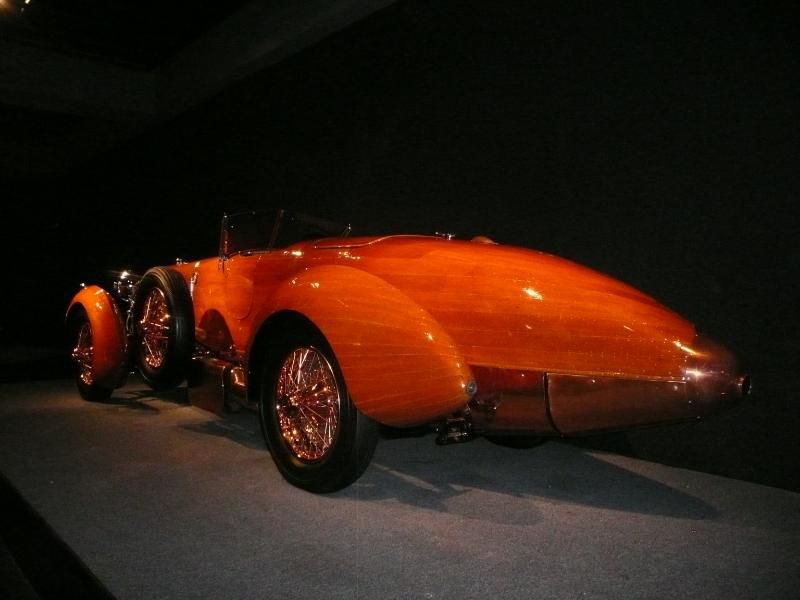 HORCH
1932 Type 670 Sport Cabriolet
ISOTTA FRASCHINI
This was Italy's most prestigious and expensive marque throughout the 1920s. This is a 1931 car, a Type 8A Landaulet. The Type 8 was launched in 1919 and represented a new philosophy of offering a single model type. The rolling chassis alone cost $9750, and then a coachbuilt body to the customer's choice was likely to inflate the total price quite considerably more. More than a third of all the cars produced were sold in the USA. This one has a body produced by Castagna of Milan and is ne of just three such vehicles believed still to exist.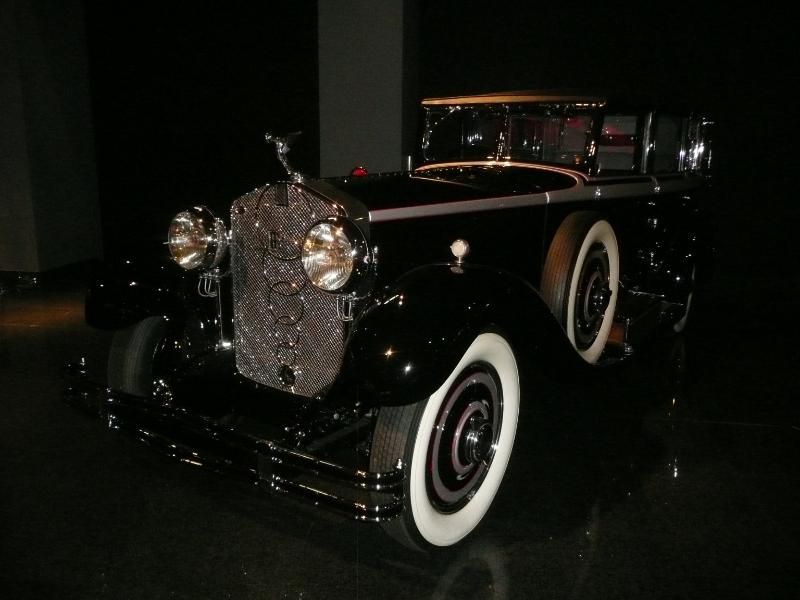 JAGUAR
The C-Type is XKC-014…the 14th of 53 C-Types built; it remains one of the most original examples in that it retains its original factory chassis, body and engine and most other important original parts.
It was sold in 1951 by Max Hoffman, the renowned New York City importer, to Commander John Rutherford who was clocked at 134.07 mph through the Measured Mile on the beach at Daytona Beach, Florida in 1953! The Jaguar C-Type was the purpose-built racing version of the Jaguar XK120 and used the same running gear as the XK120 C – Competition. On its first attempt in 1951, the C-Type won the gruelling
Le Mans 24 Hours; Sir Stirling Moss drove a C-Type, but retired with mechanical issues after a very strong run. A C‑Type won Le Mans again in 1953 and the reputation of Sir William Lyons' factory racers was established.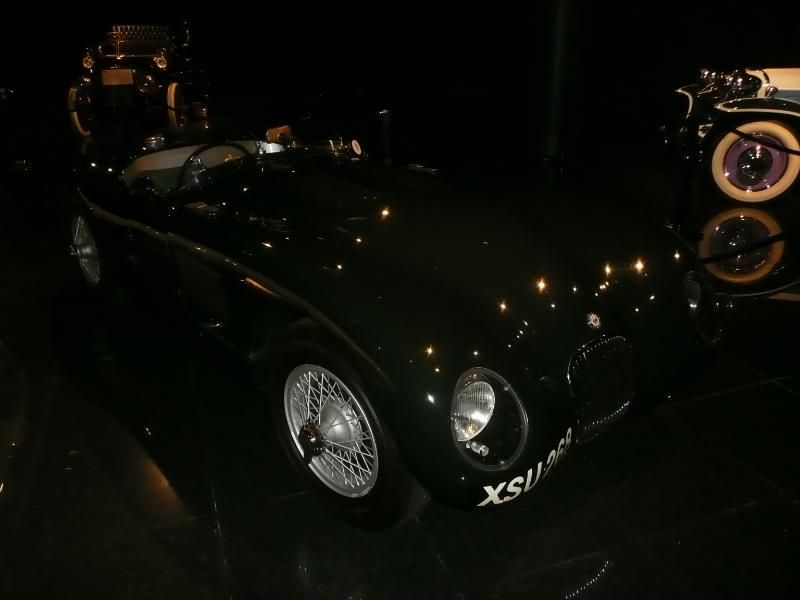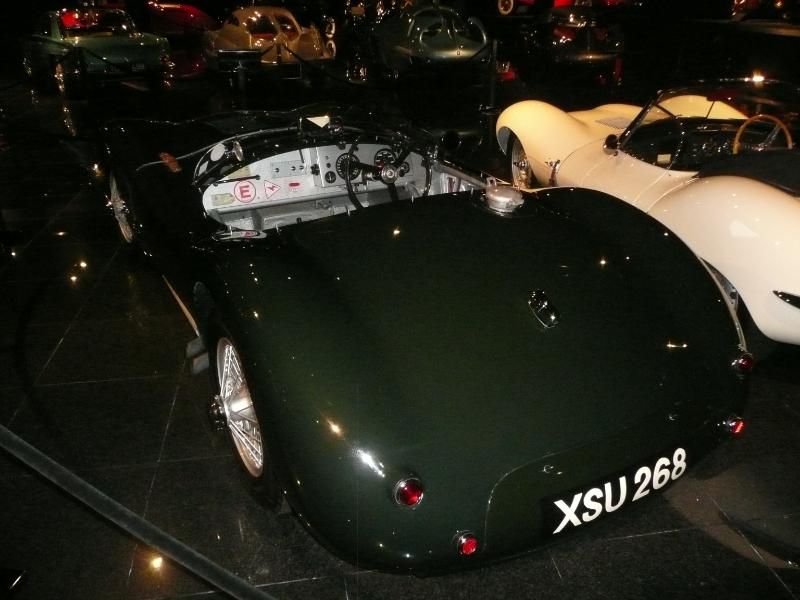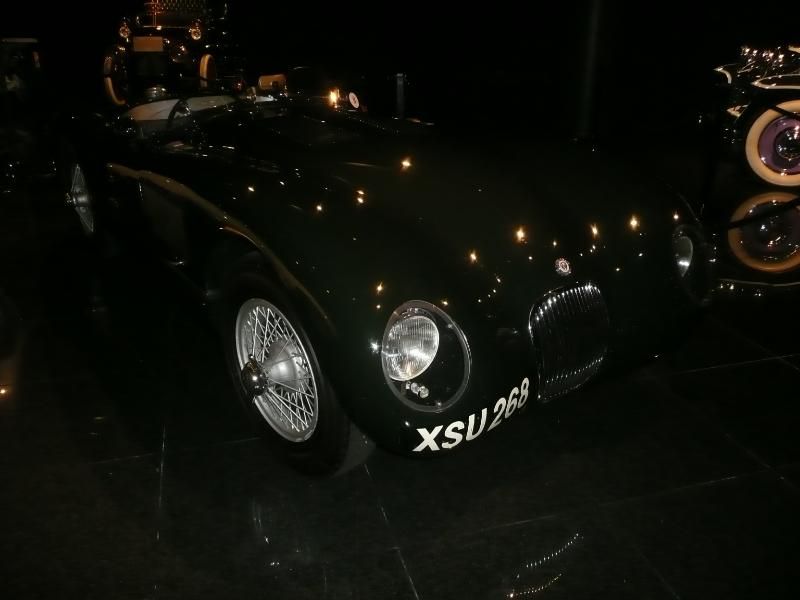 There was a D Type as well.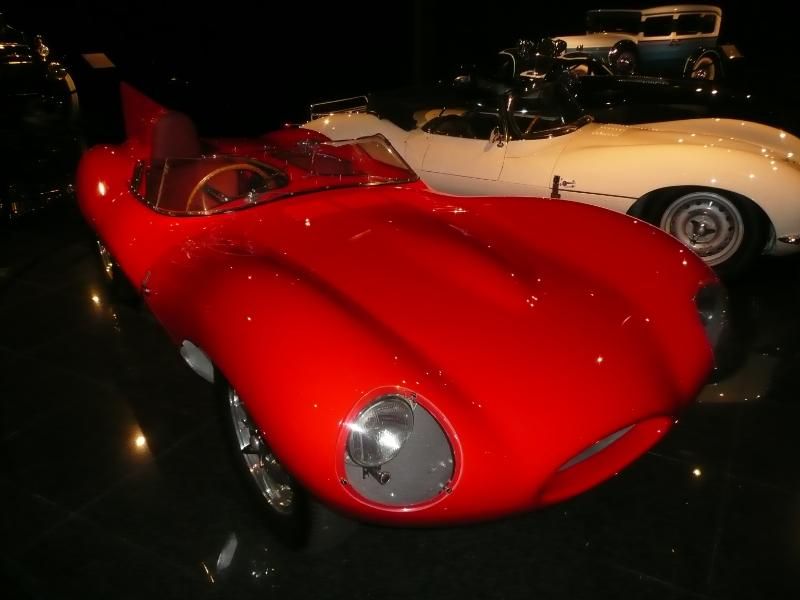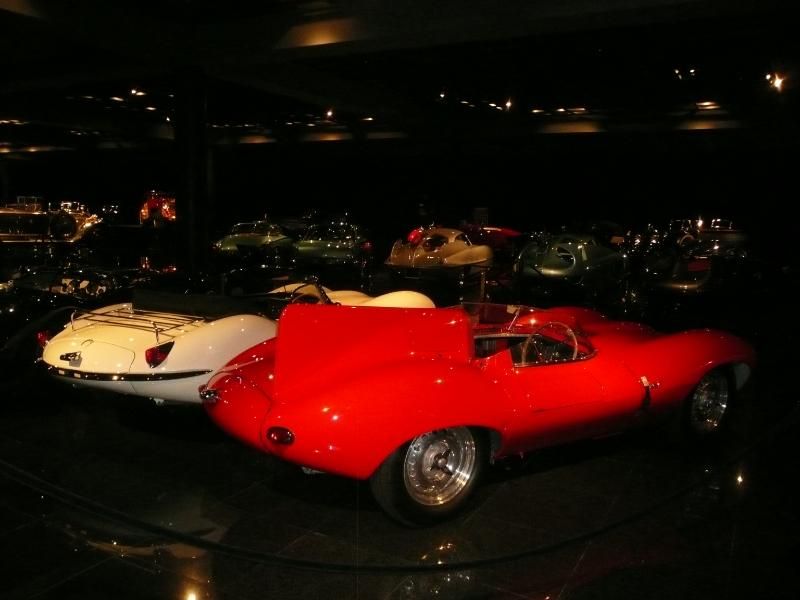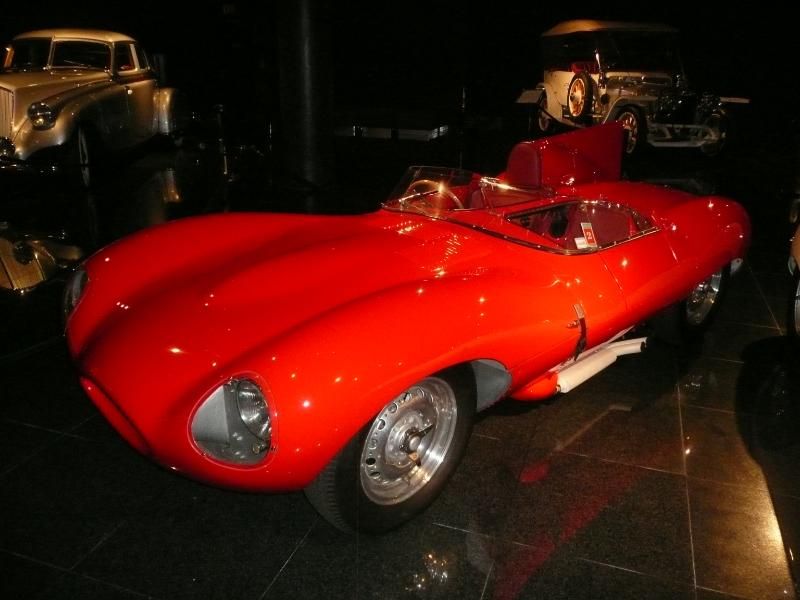 When Jaguar found that they could not sell all their D Types, some were converted to a road car, the XK-SS. This car is XK-SS 719…the 7th car built…and it began life as production D-Type #XKD 572; it was delivered to Jaguar Midwest Distributors Inc., Indianapolis, in July 1957. 16 XK-SS roadsters were completed before fire devastated. the Browns Lane factory; 9 D-Types were destroyed beyond reclamation.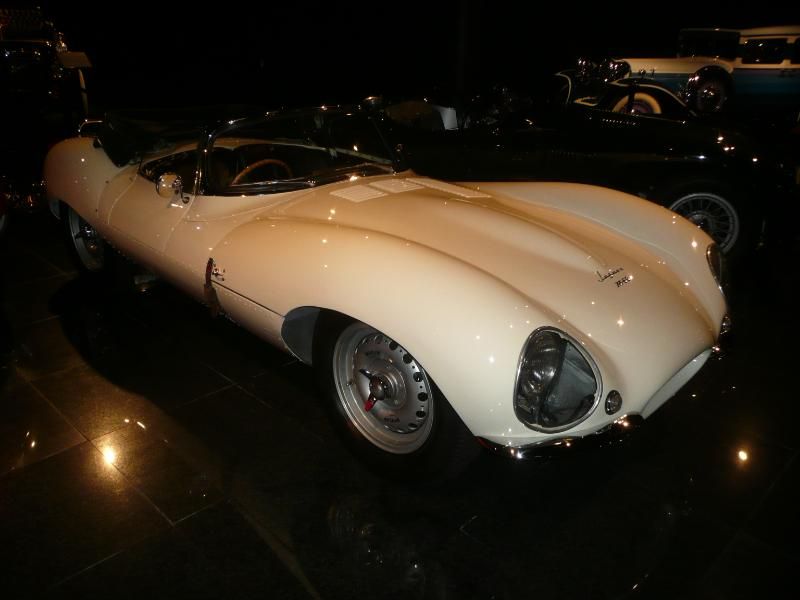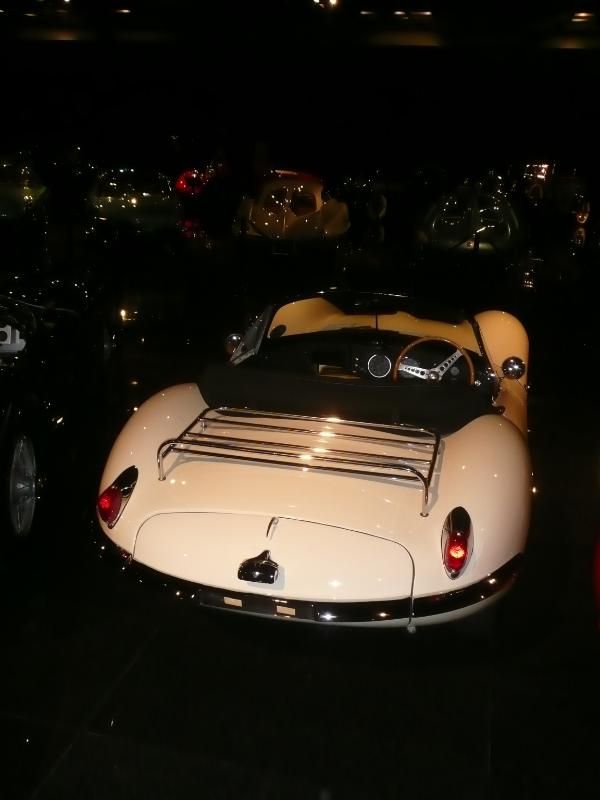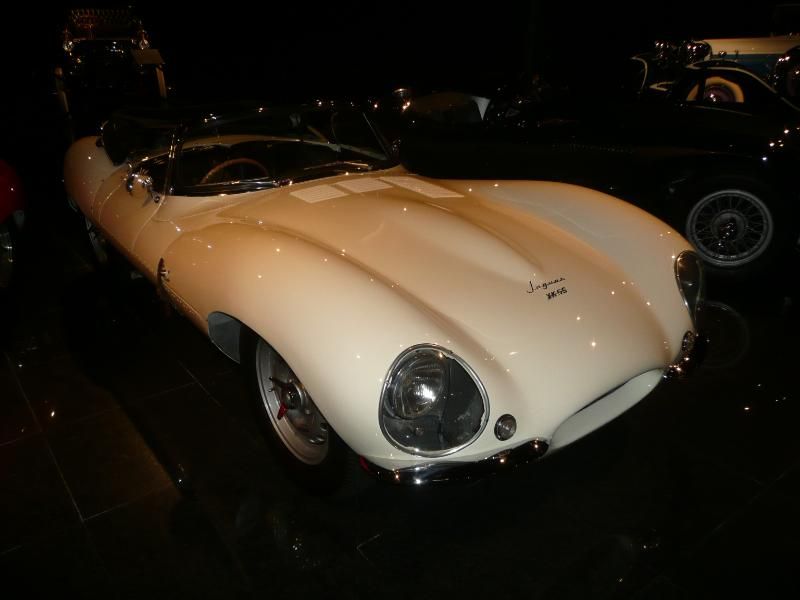 This is a lightweight E Type dating from 1961 which was found a few years ago in a very sorry state on the island of Guernsey, but which has now been restored to a fantastic condition. It was joined by a Briggs Cunningham racer from 1963, painted in US racing colours.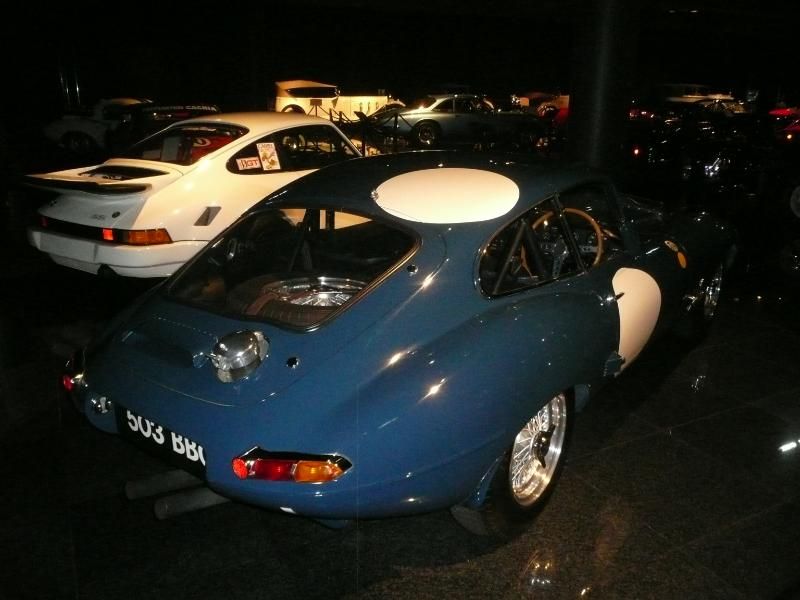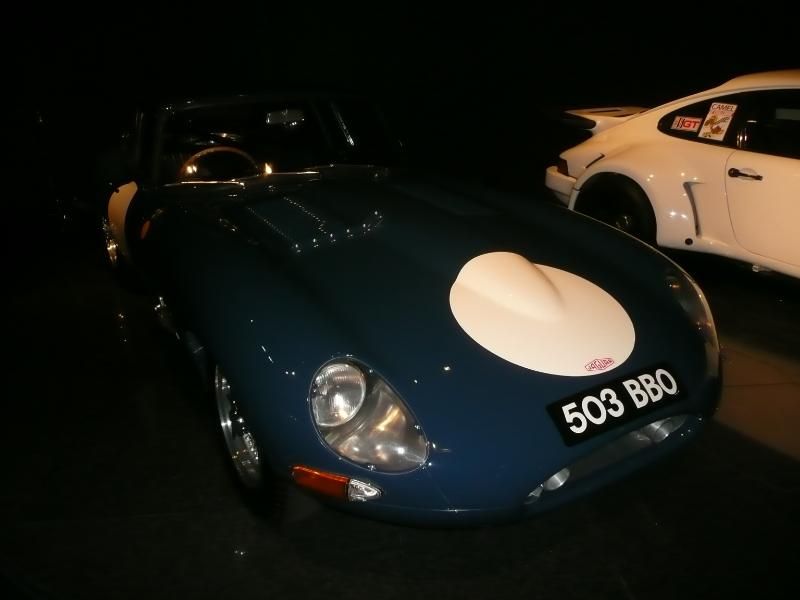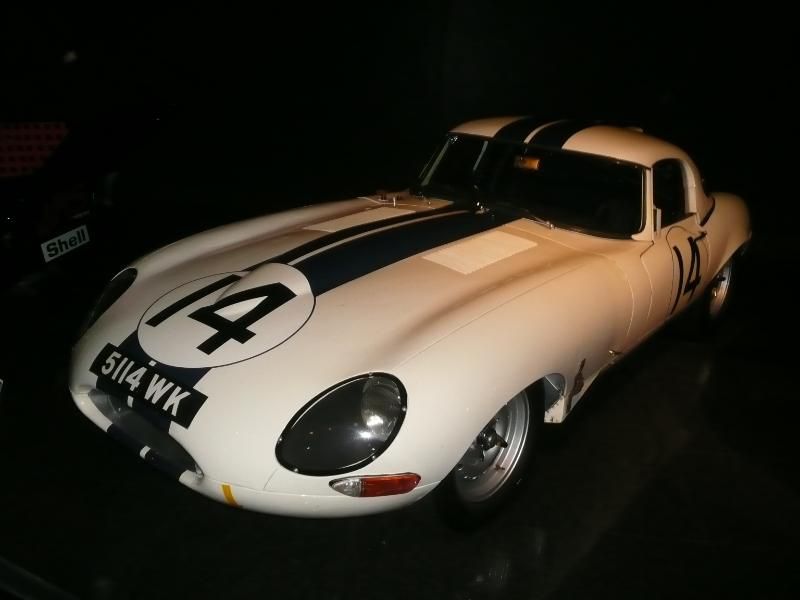 LAGONDA
1939 V12 Coupe
MASERATI
1961 3500GT Spider.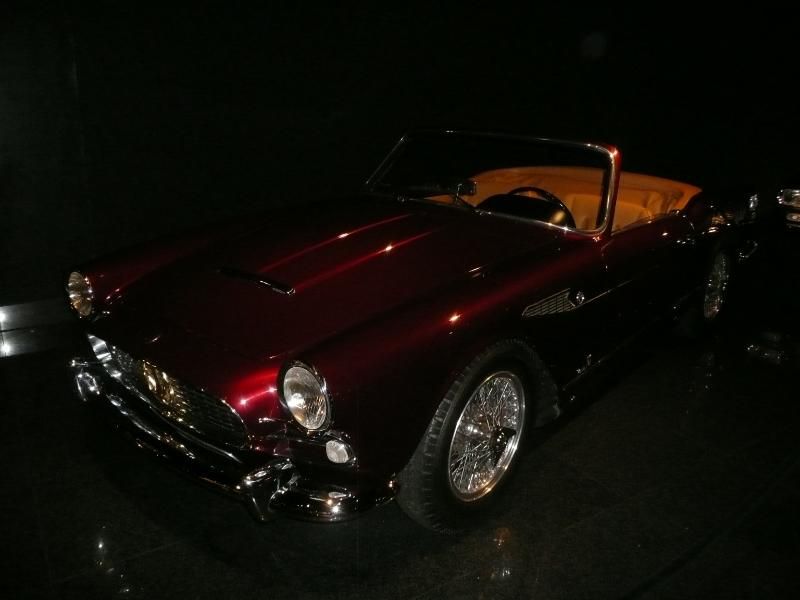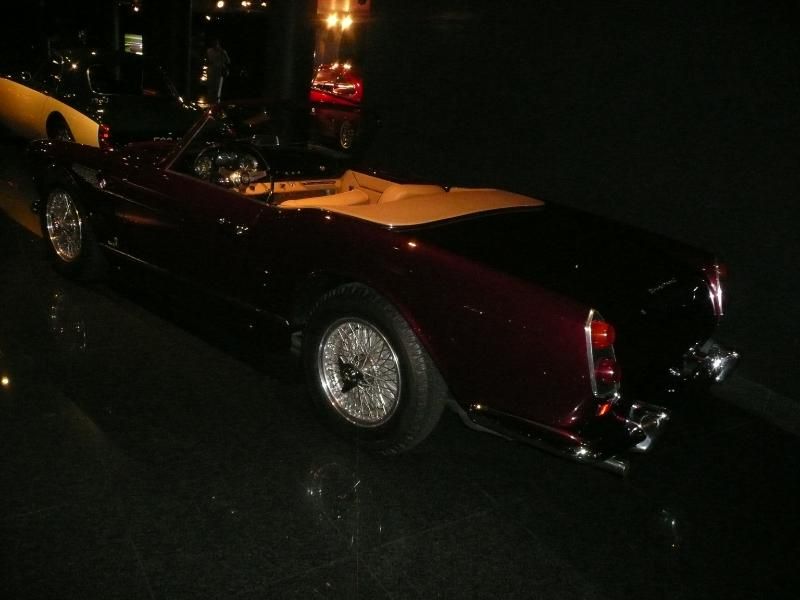 Just 32 of the Maserati 5000 were ever made, so to find 2 of them in the same place is quite something. 22 of them had the Allemano body and the rest were bodied by a number of different coachbuilders, including Frua who produced 3 models, one of which was on show.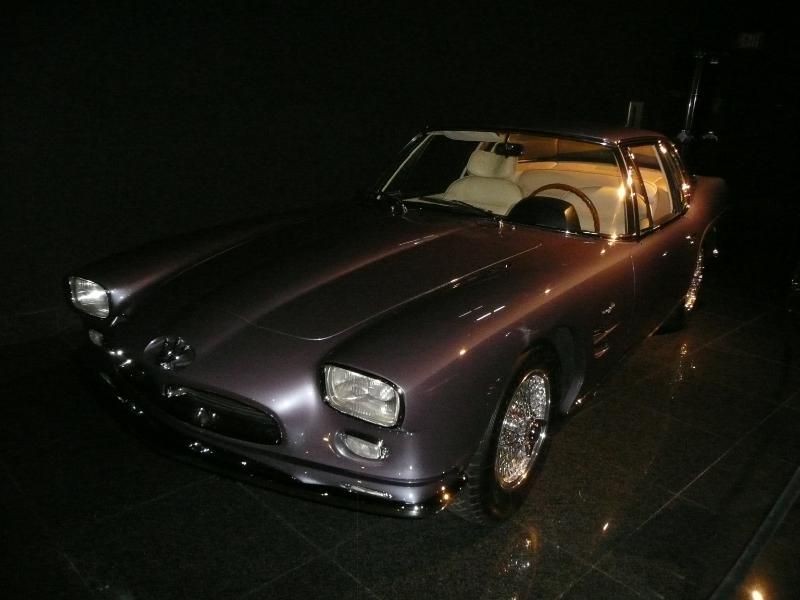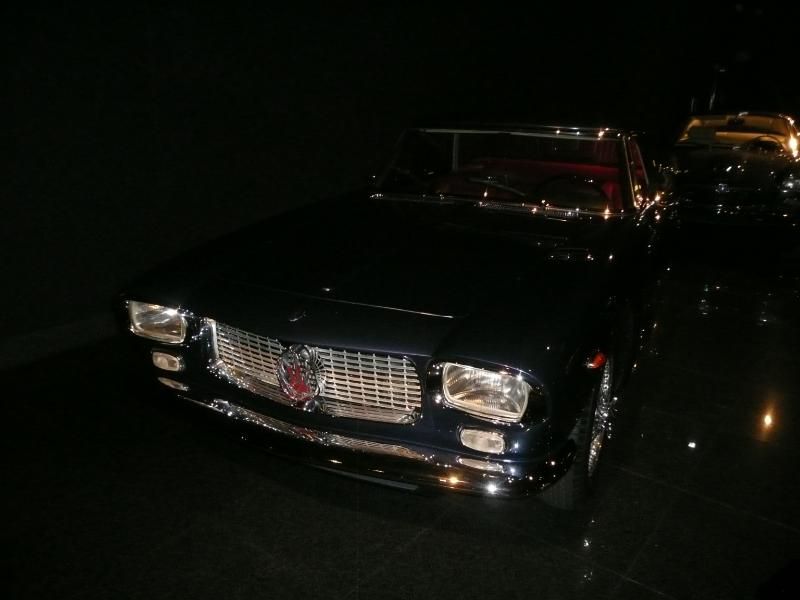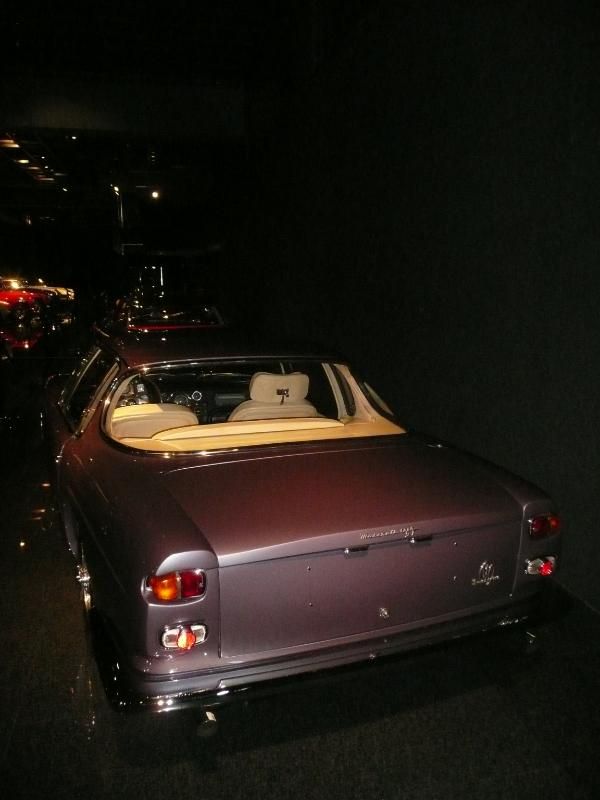 MERCEDES
Like so many museums, there is a replica of the 1886 Benz on show here.
The 1929 Type K Transformable Torpedo with Saoutchik body had a 6.25 litre straight 8 engine and this car put Mercedes right in the forefront of producers of luxury vehicles.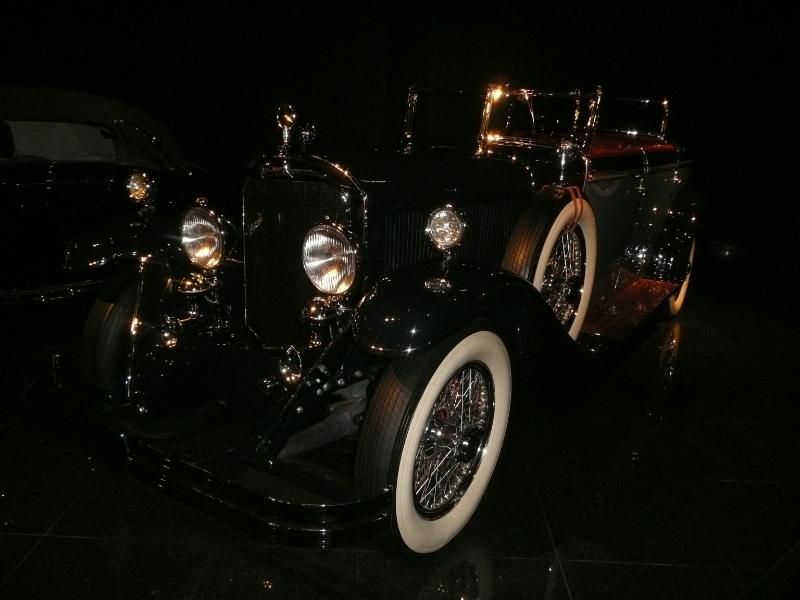 Type 680S Tourer.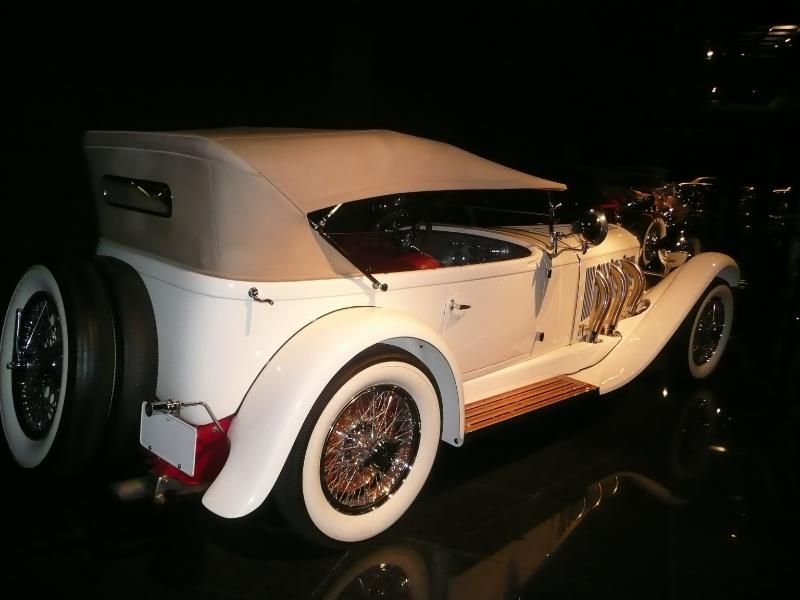 One of the nicest cars – and there was strong competition for this accolade – was this 1937 540K Special Roadster, one of just a handful of such cars that still survive.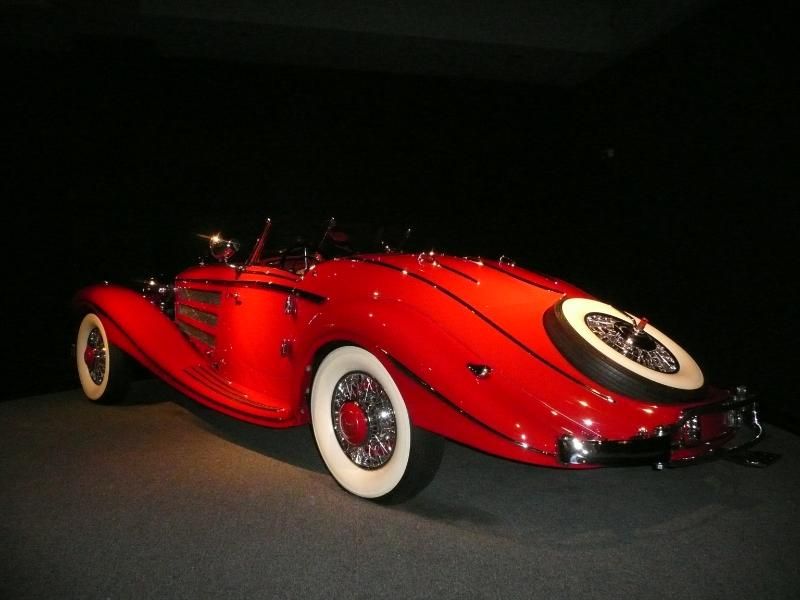 Also a 540K was this Cabriolet Type A and it was joined by a 500K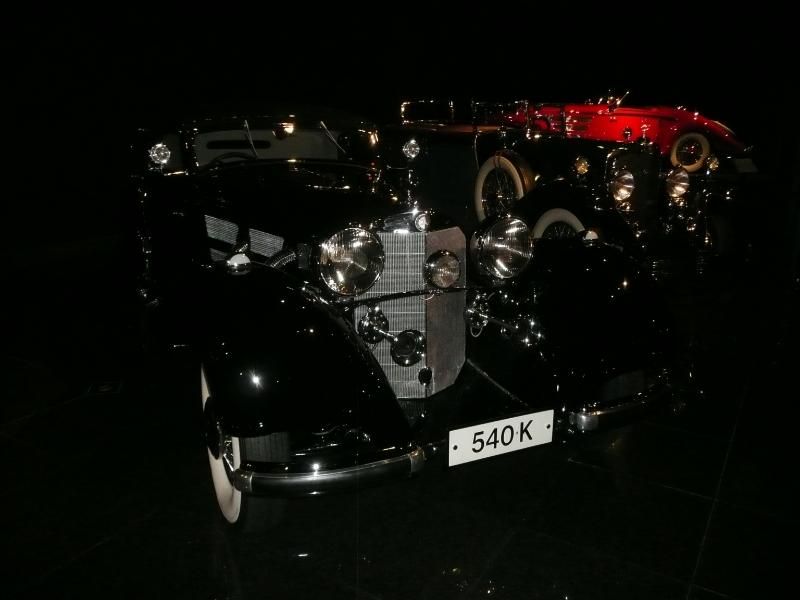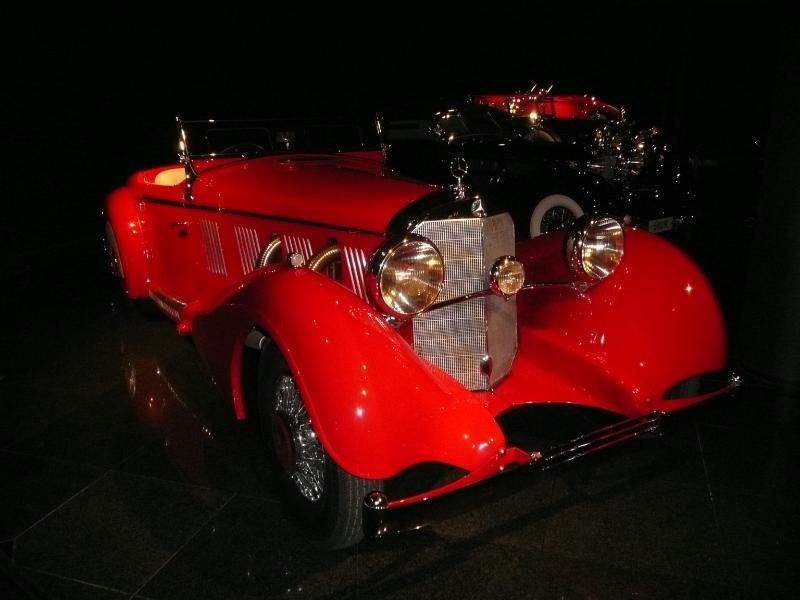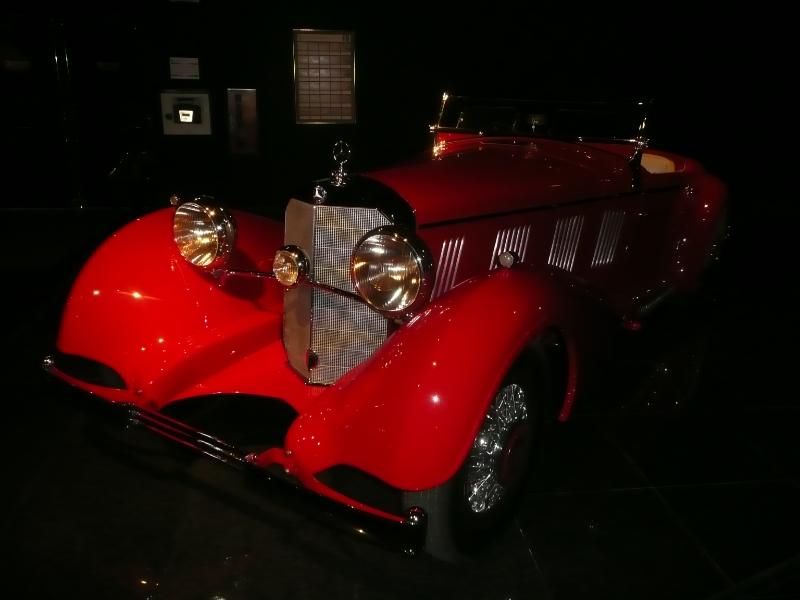 MINERVA
Type AM Convertible Sedan
MORGAN
One of the very rare Plus4 Plus cars produced when Morgan decided to modernise their product from the traditional roadsters that had formed the mainstay of their business since the 1930s. It was not a success and less than 30 were made before the model was abandoned.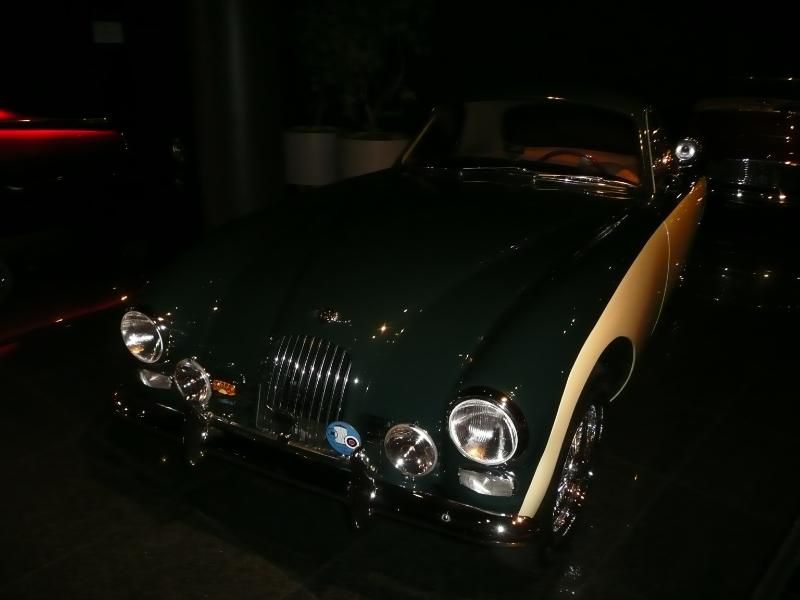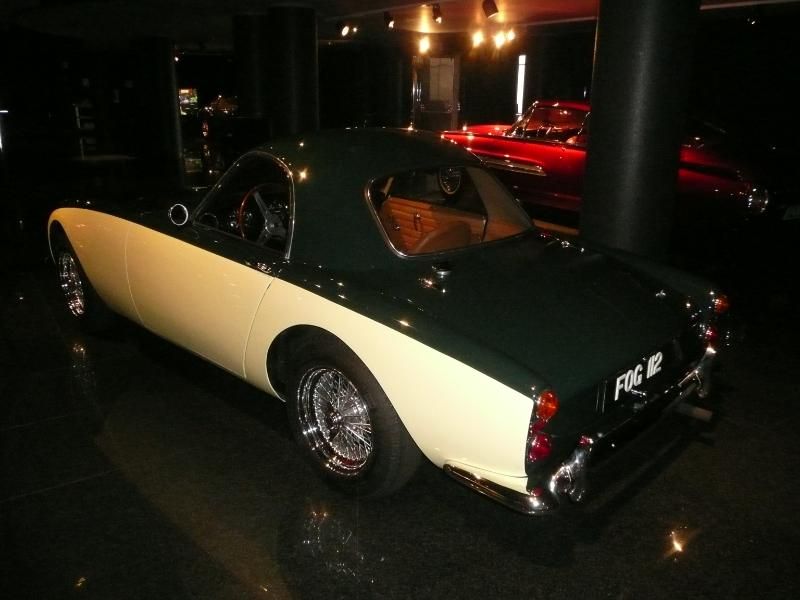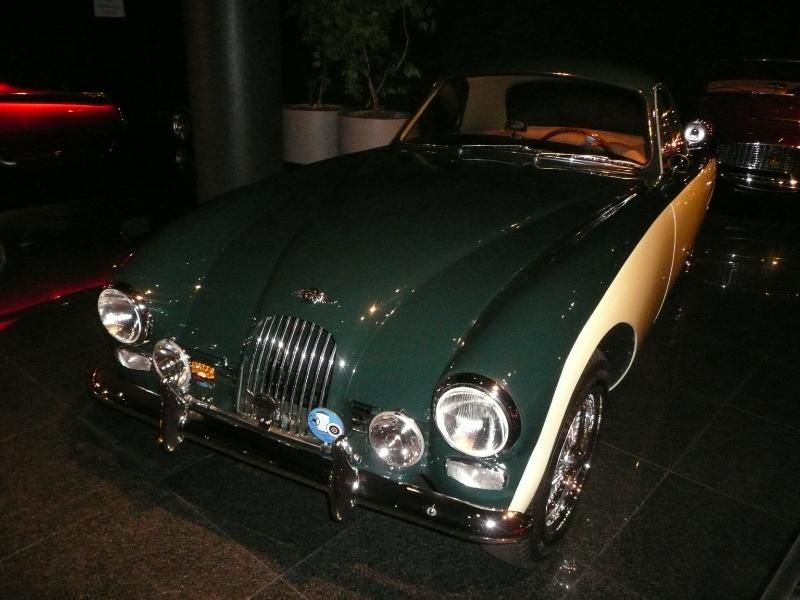 NARDI
Another amazing pair of show cars, these Nardi BlueRay sports concepts date from 1958 and 1960 respectively. The first one has an alloy body, whereas the second is constructed from steel.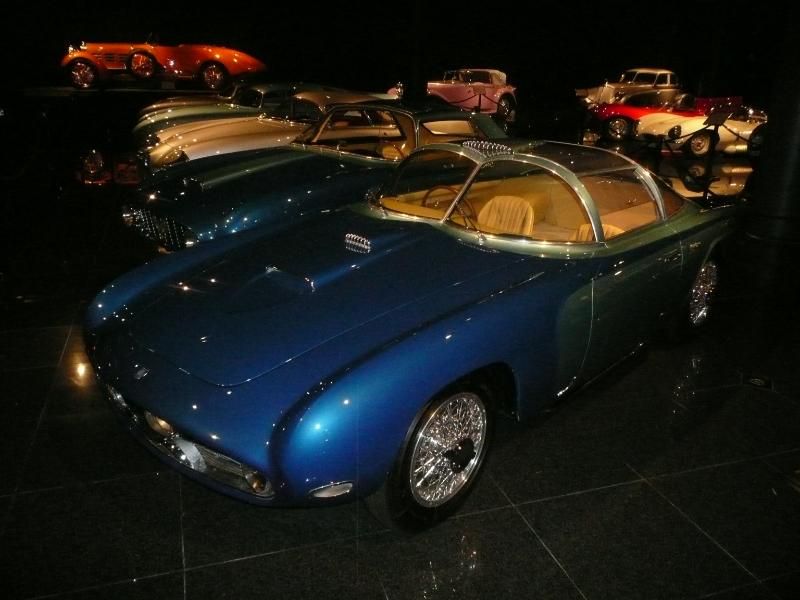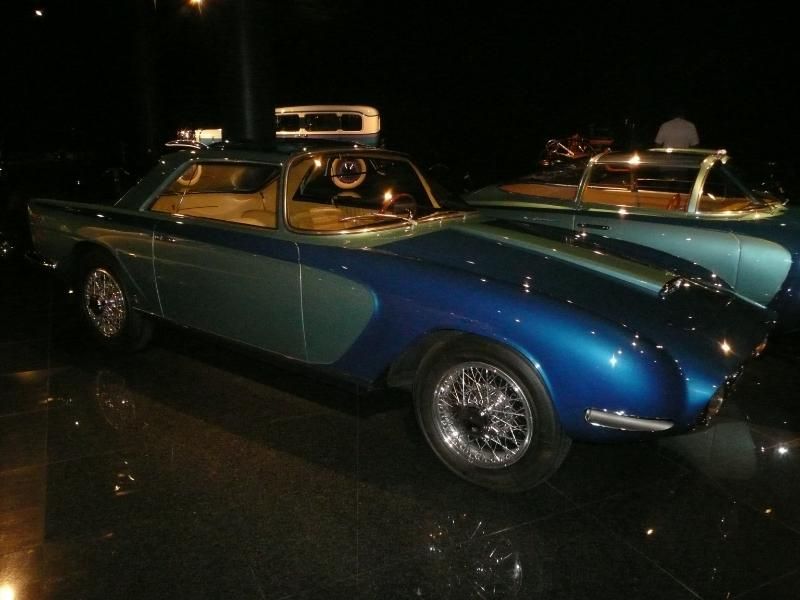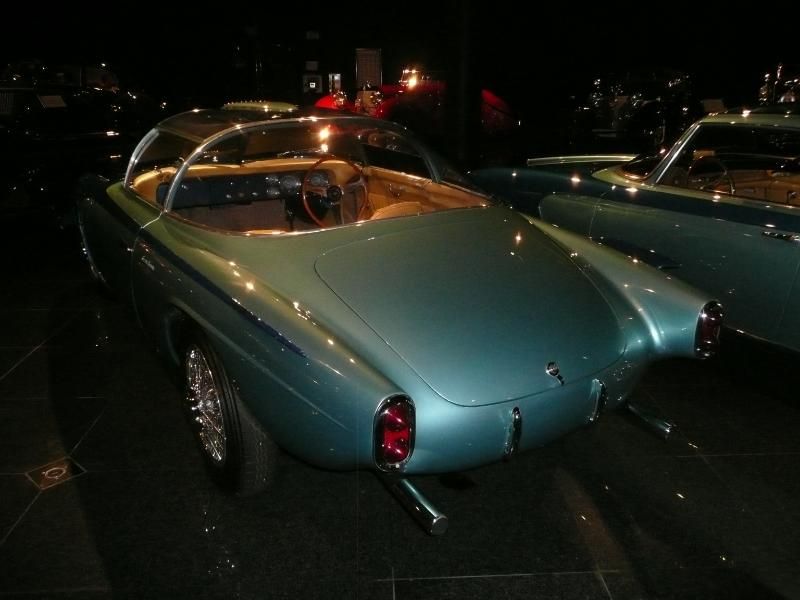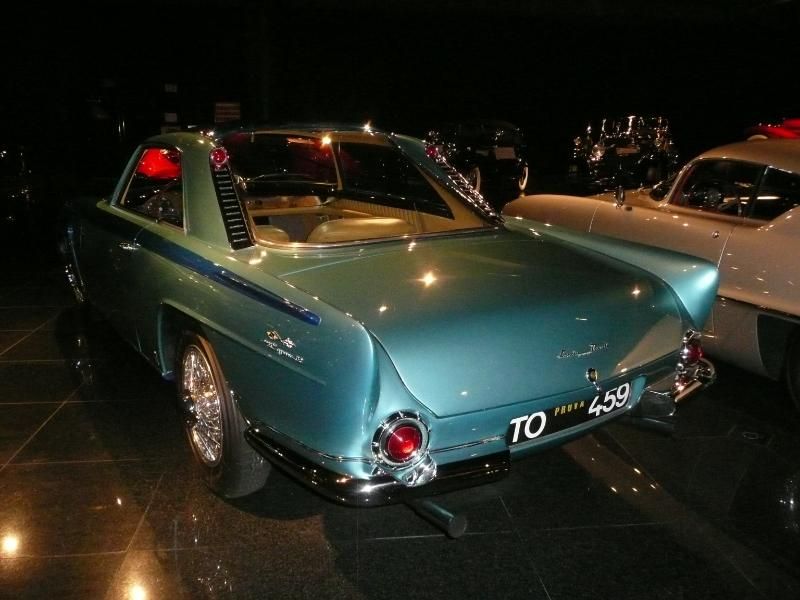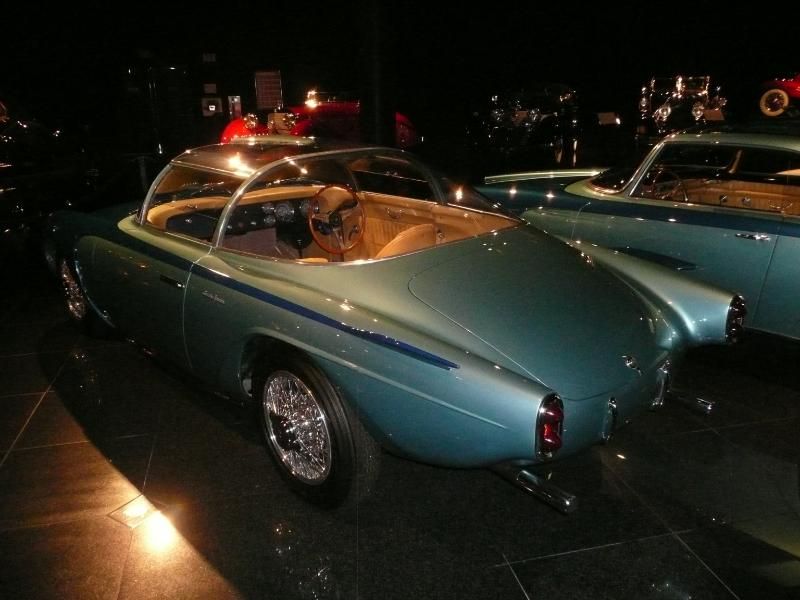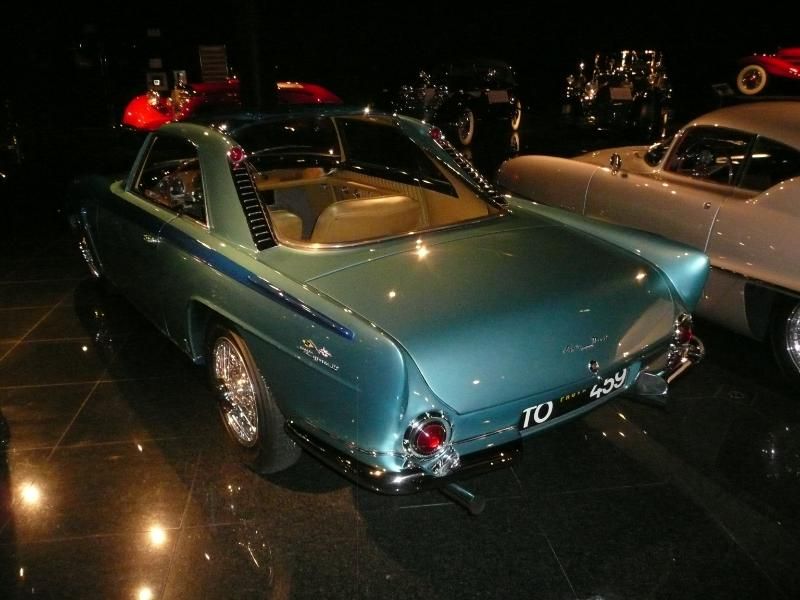 PACKARD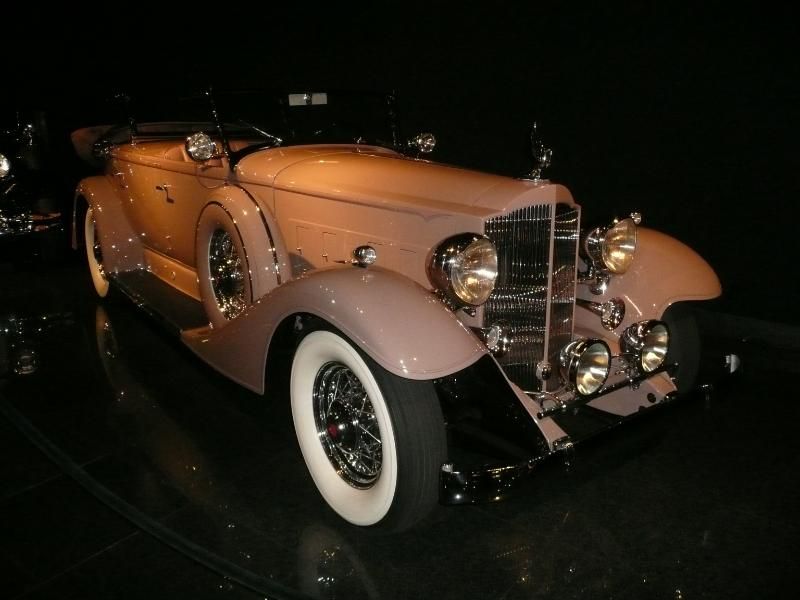 1931 Model 745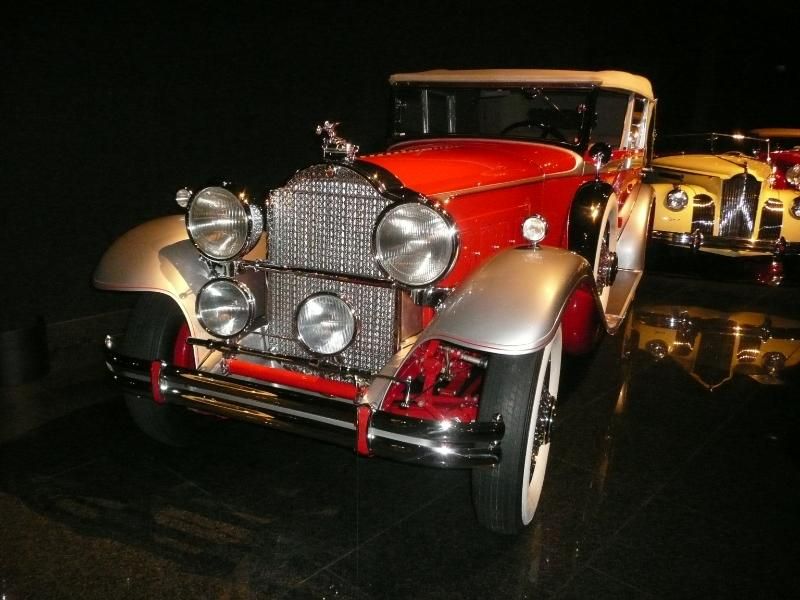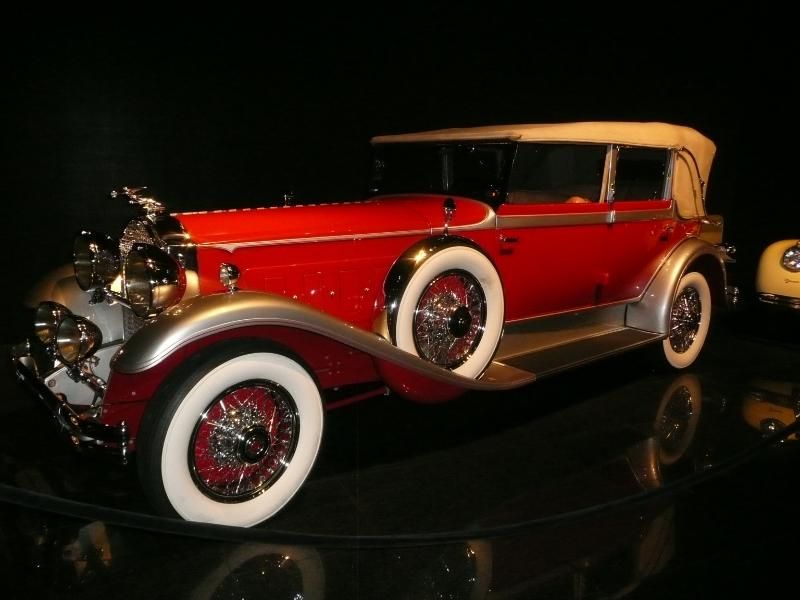 The body on this 1938 Type 1608 Kellner Convertible was initially created for a much older Renault 40CV and was adapted for the Packard chassis as the owner was familiar with and liked the bodywork but wanted the benefit of new mechanicals on which to mount it. This car features a V12 engine and represents the time when Packard made the very finest cars in America. .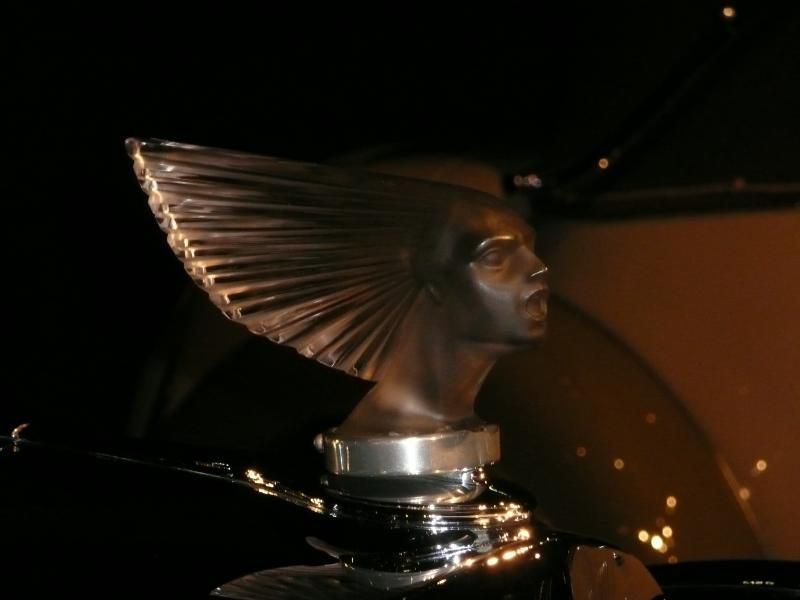 This 1939 Model 120 Darrin Victoria is one of 16 Packards bodied by renowned coachbuilder Howard "Dutch" Darrin who from 1937 worked on exclusive new bodies for the rich and famous in California. It is believed he created 16 such bodies in his works in Connecticut. This one was originally owned by actor Preston Foster who had the front end of the car updated in 1941 with the latest sheet metal, grille, bumpers and lights.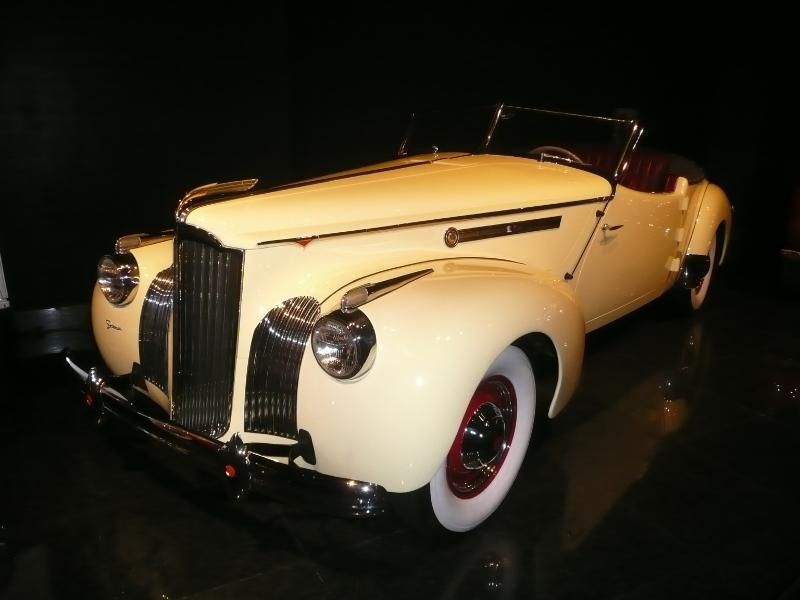 PEGASO
On display in the foyer, where the sun streaming in made decent photos impossible was this Z102 model Pegaso with Saoutchik body.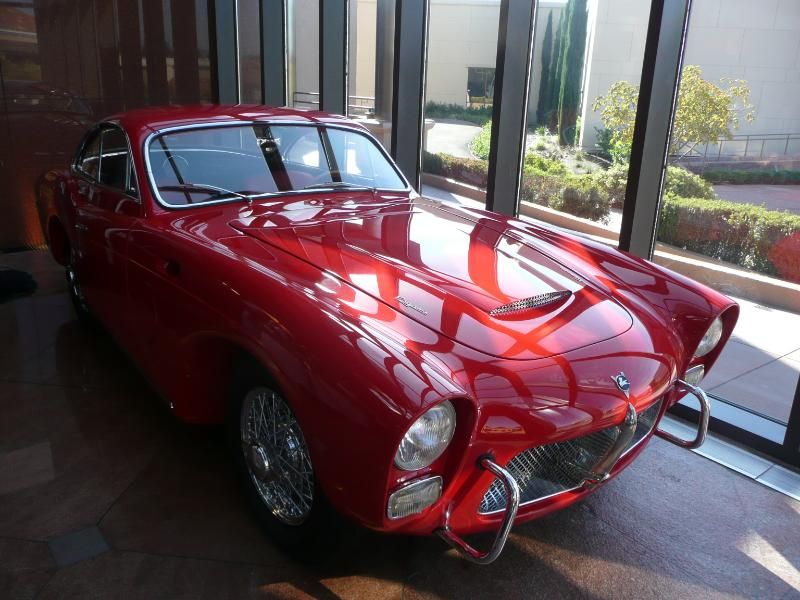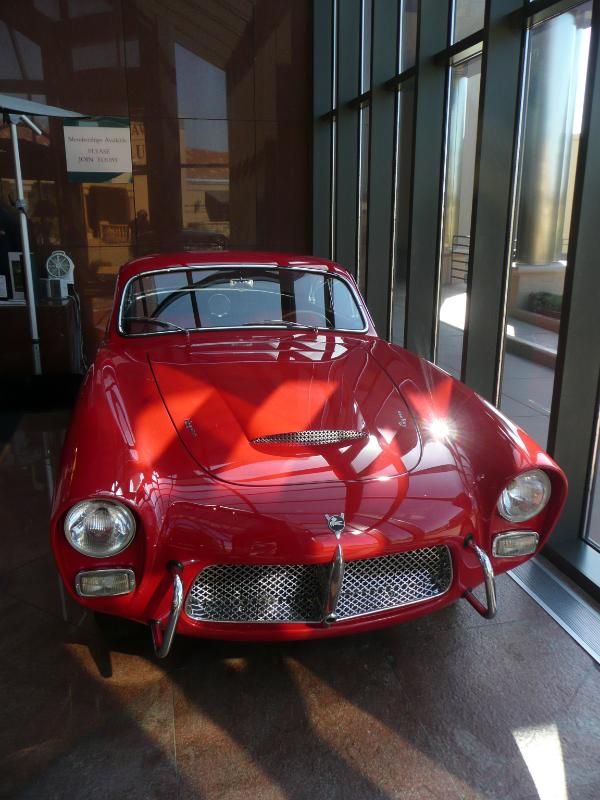 PIERCE ARROW
The 1933 Silver Arrow was a very radical design indeed when it first appeared at the 1933 World Fair, where is caused a sensation with its aerodynamic body and lots of other styling advances for the day. Five were built and it is believed that just three survive. This one is a former Pebble Beach winner.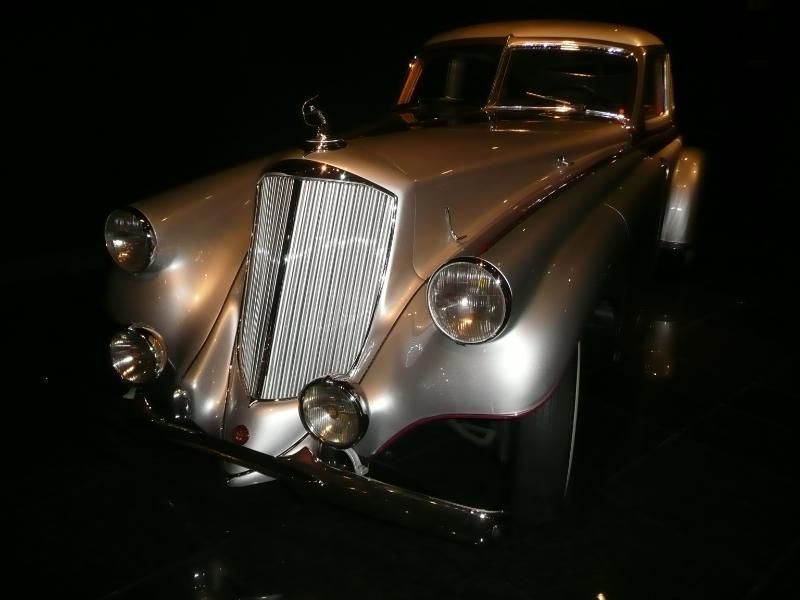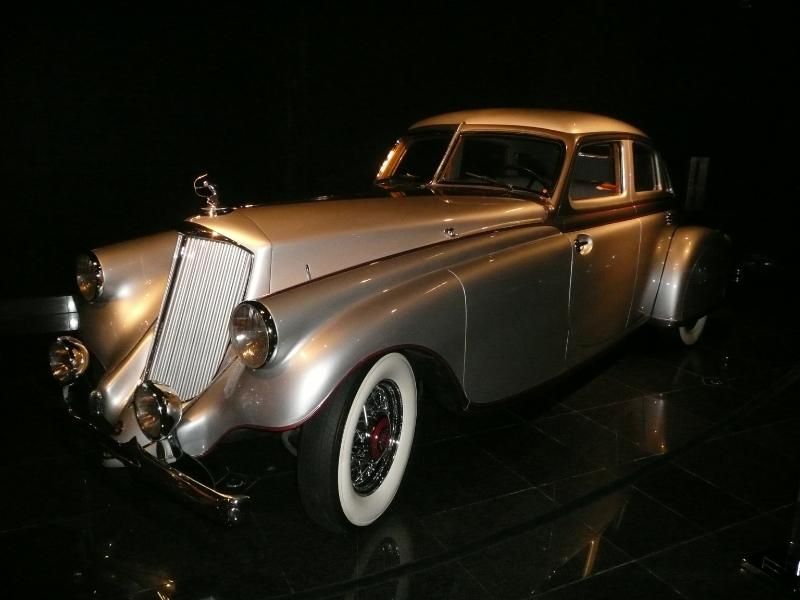 PORSCHE
This 1974 911 RSR was partnered with a very rare 935 model.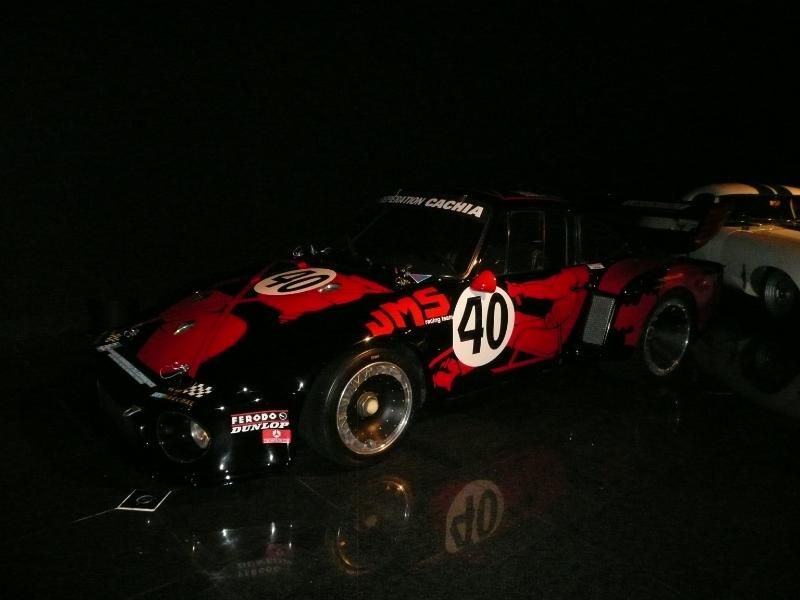 ROLLS-ROYCE
1923 40/50 Silver Ghost Oxford Tourer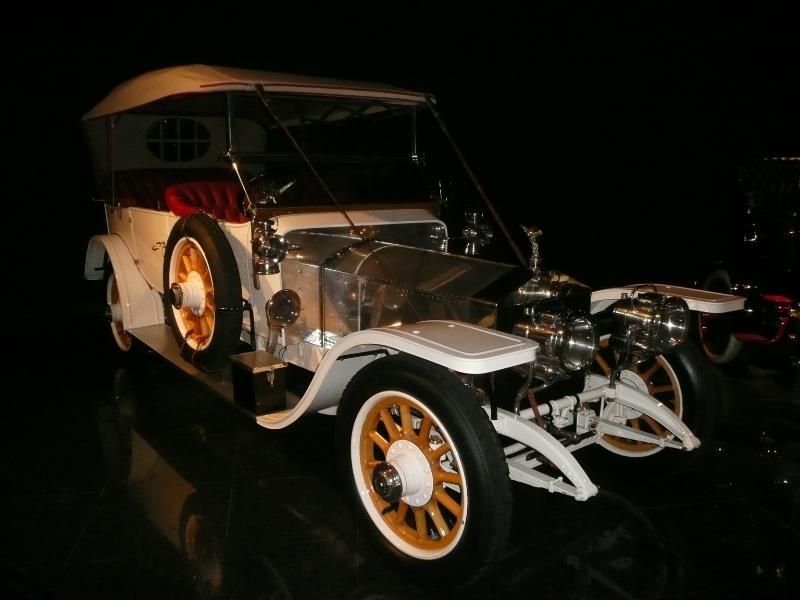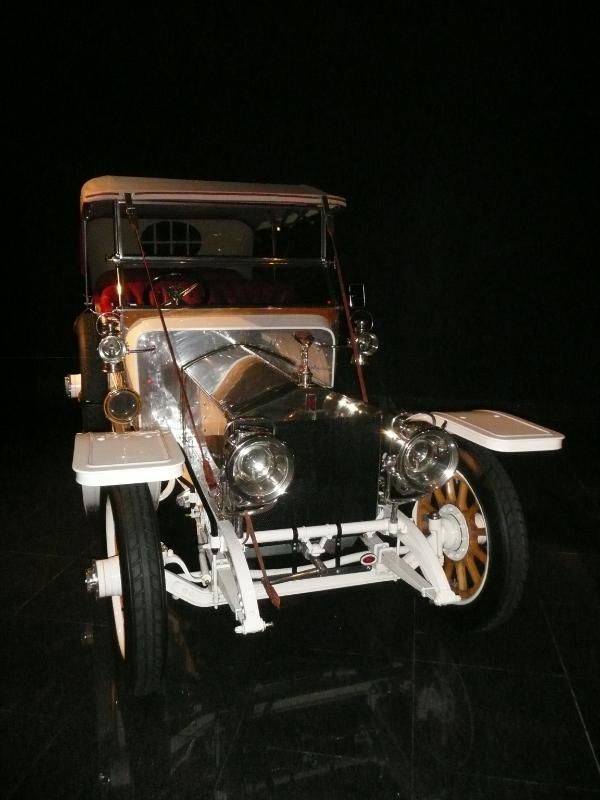 Phantom 11 Continental Pillarless Sedan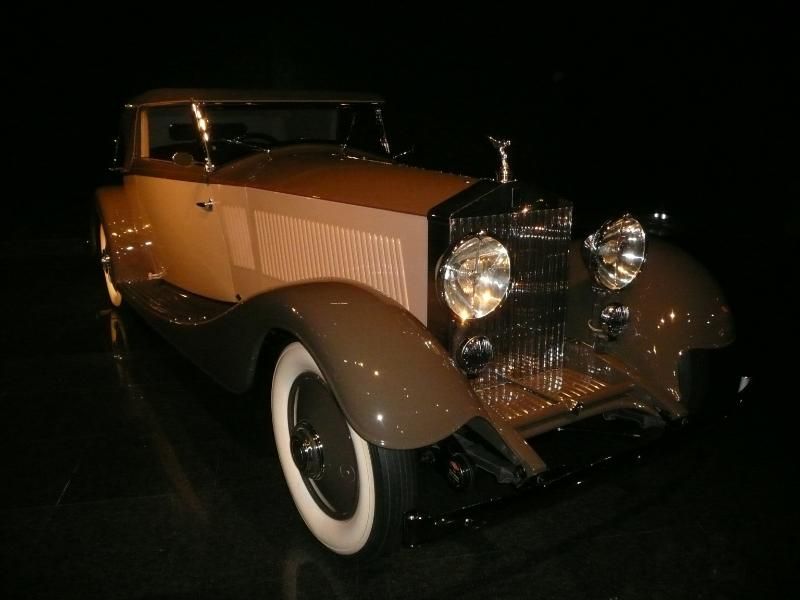 There were a couple of other Phantom models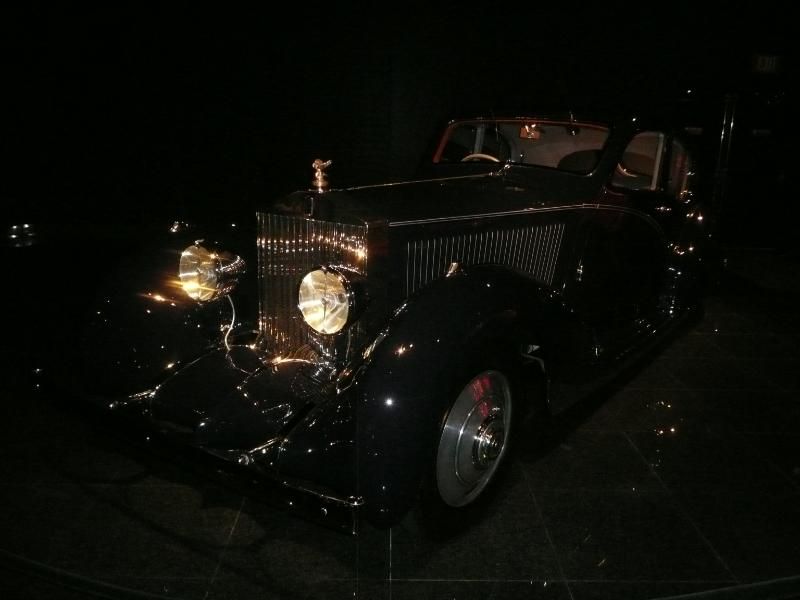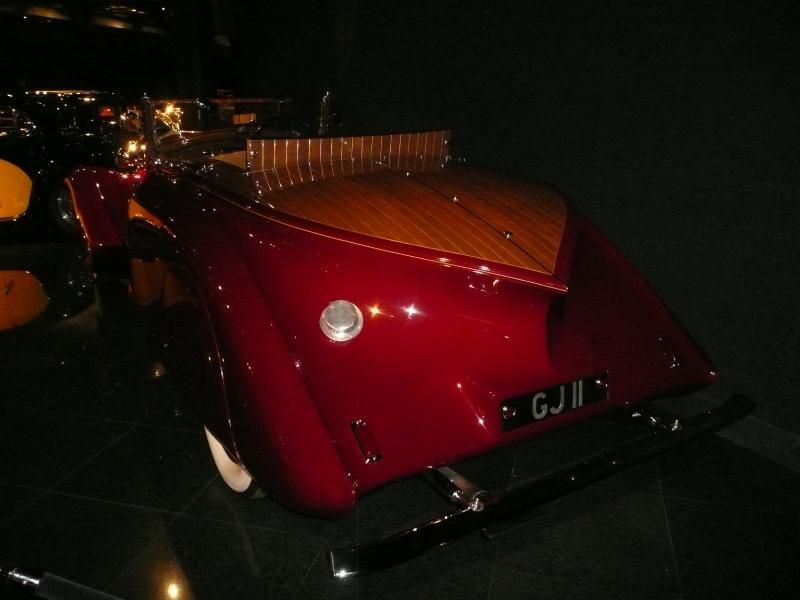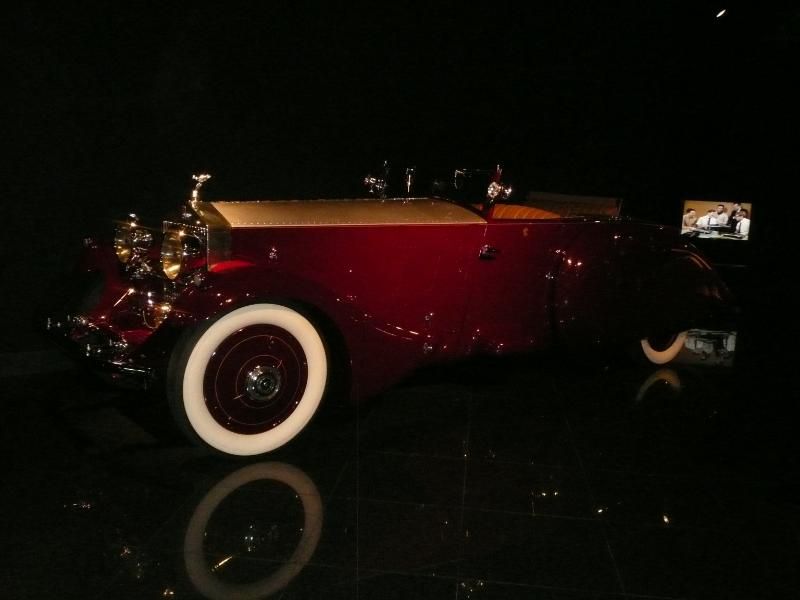 Known as the "Copper Kettle" thanks to the vast array of copper finished front end adornment, this is based on a Phantom 111 Freestone and Webb TownCar.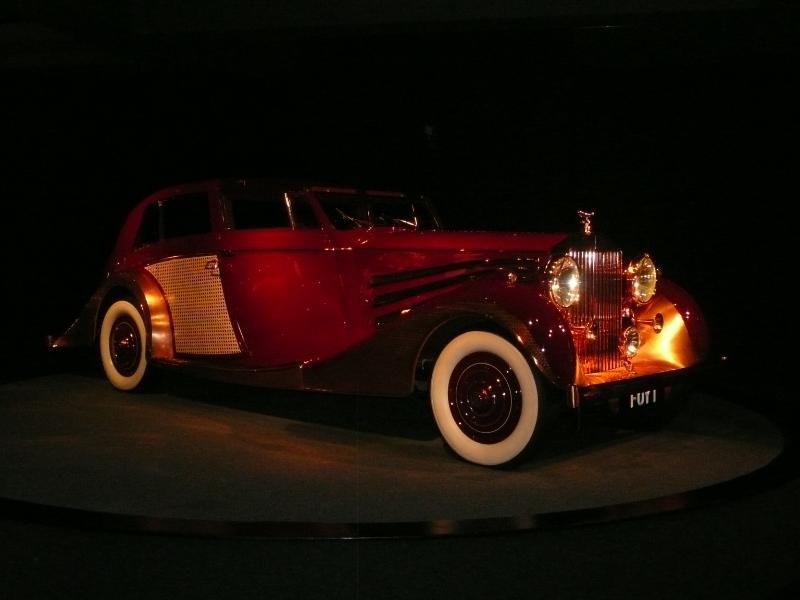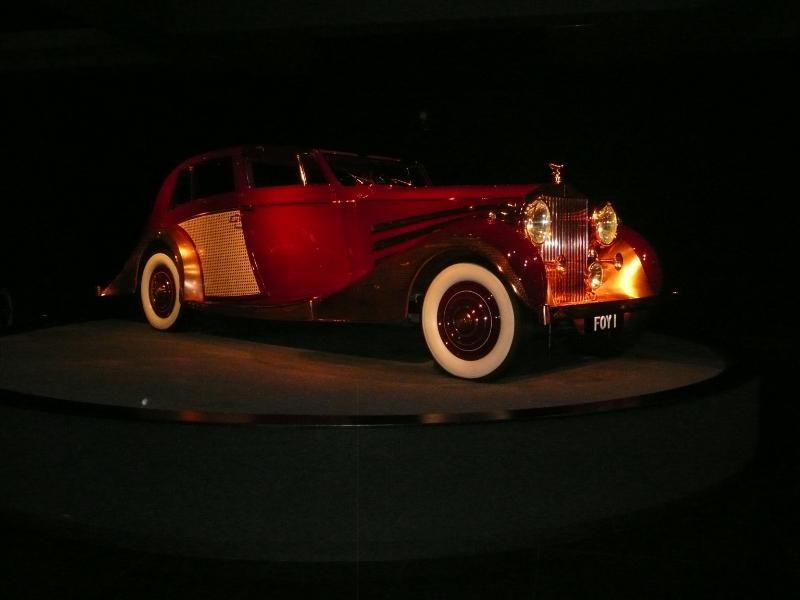 This pair of Hooper bodied Coupes are based on the Phantom V and were made in 1959 and 1961.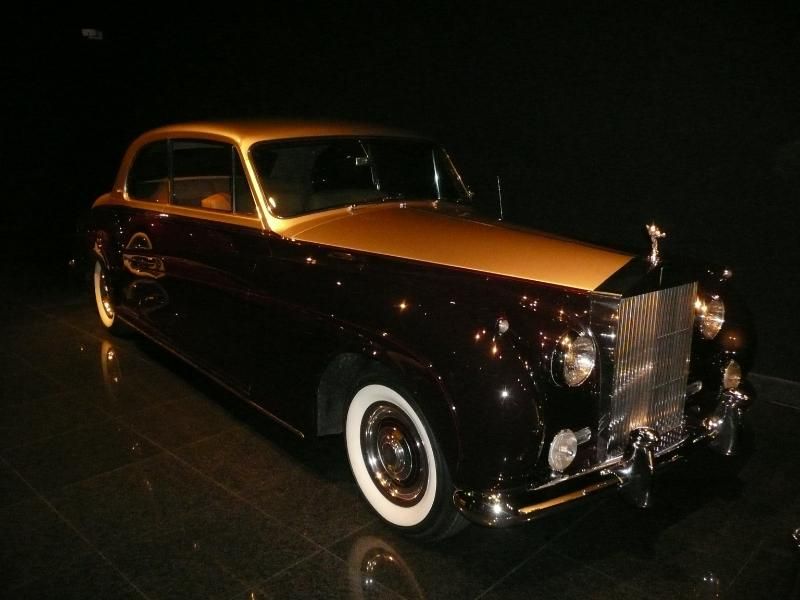 RUXTON
This rather brightly hued car does actually sport an original colour scheme, which was one of a couple of choices intended to draw attention to this large limousine.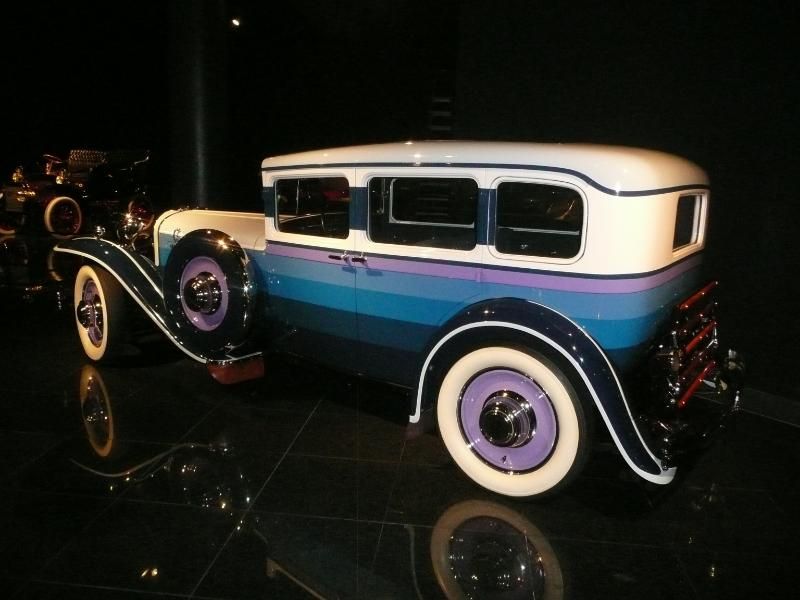 PETROL PUMPS
Dispersed around various halls of the museum complex are a varied array of historic petrol pumps which form an interesting collection in their own right.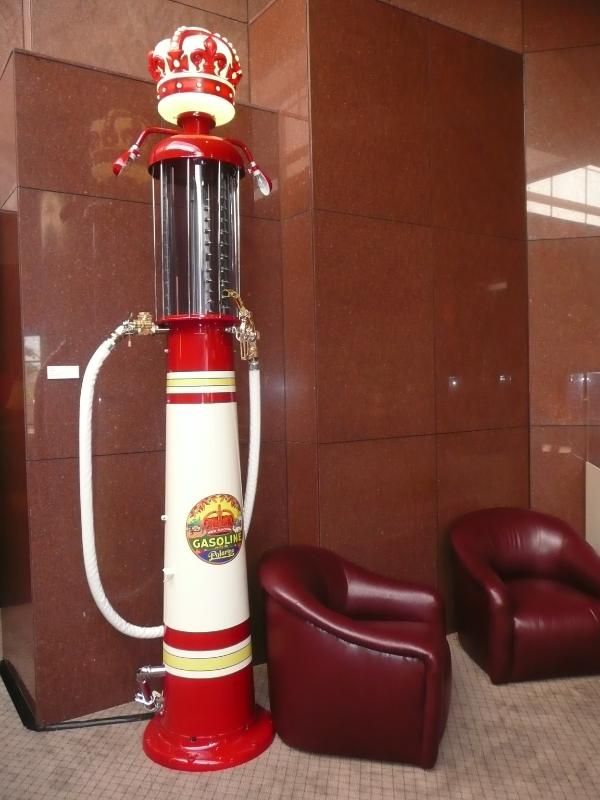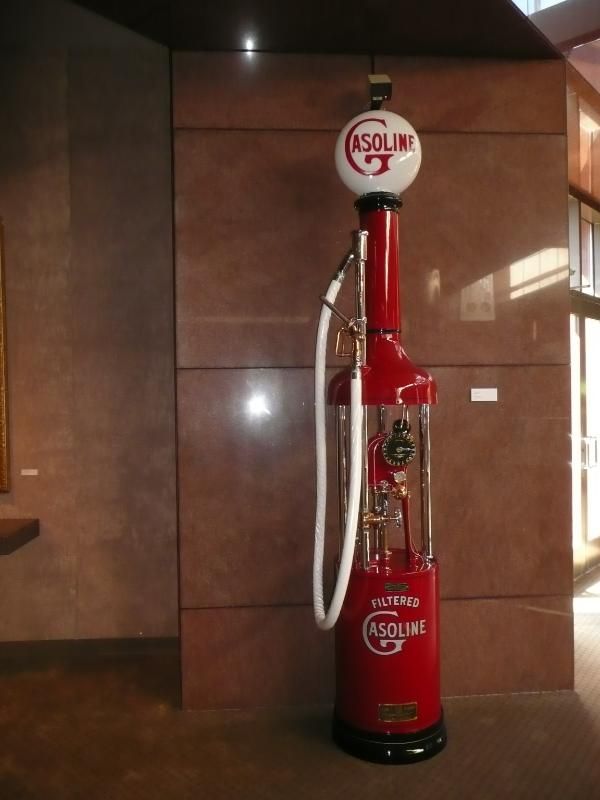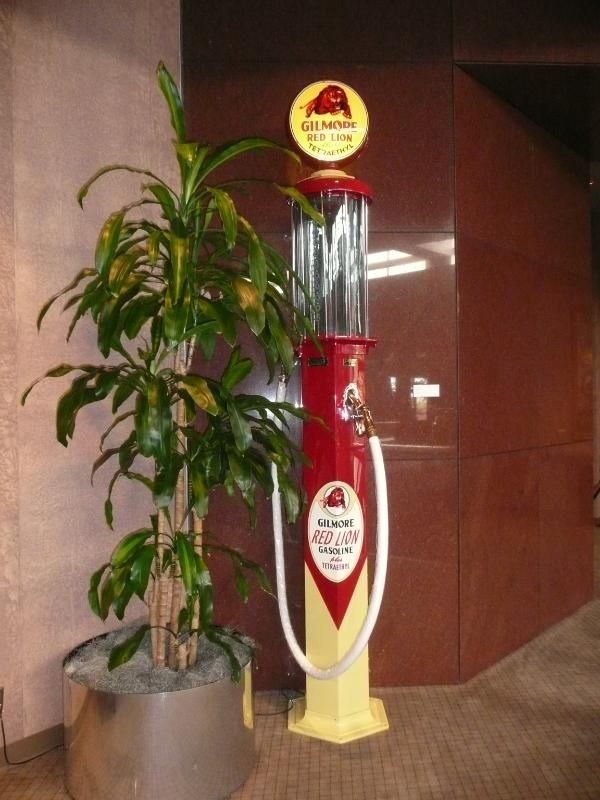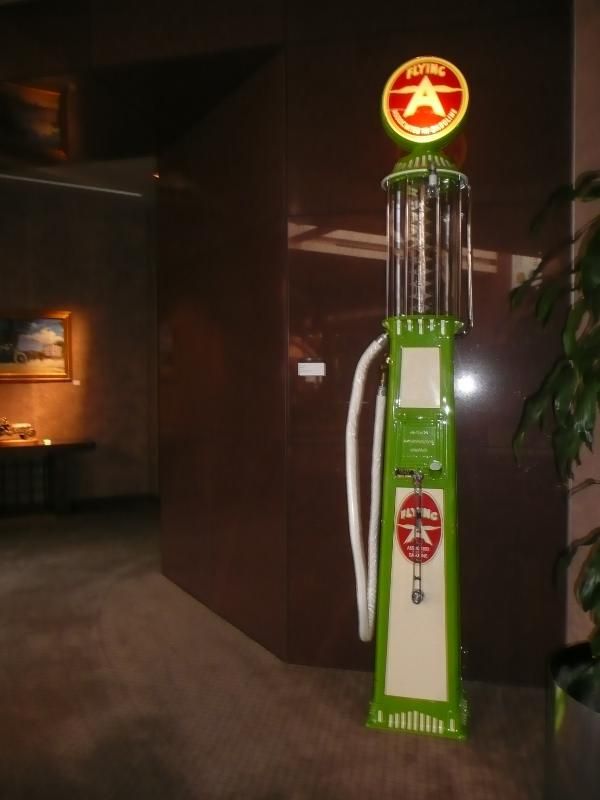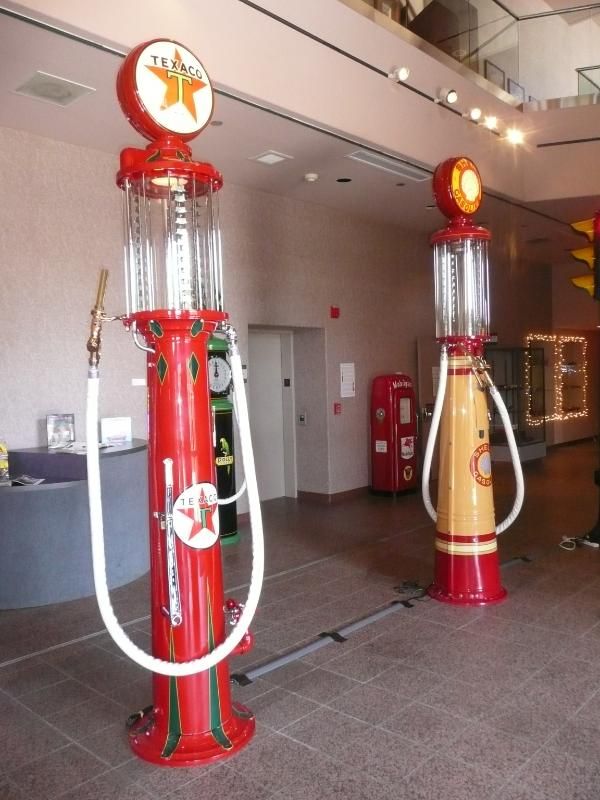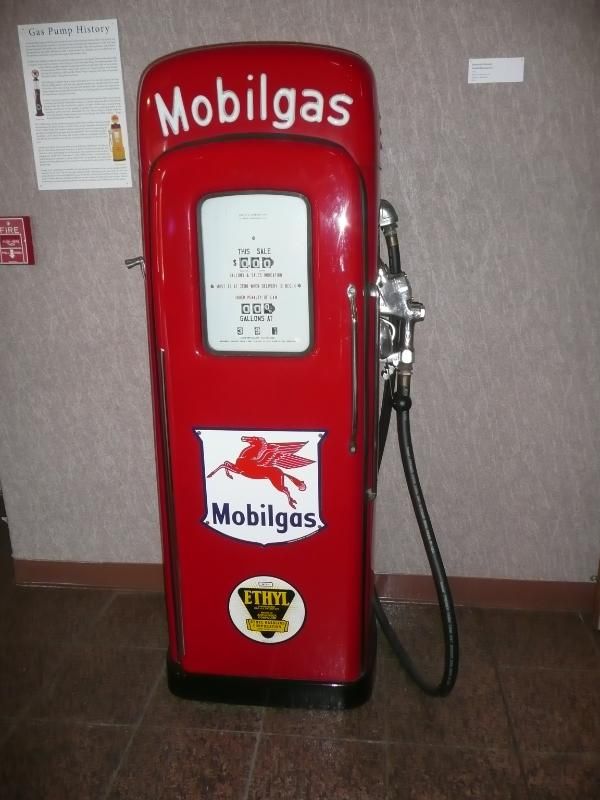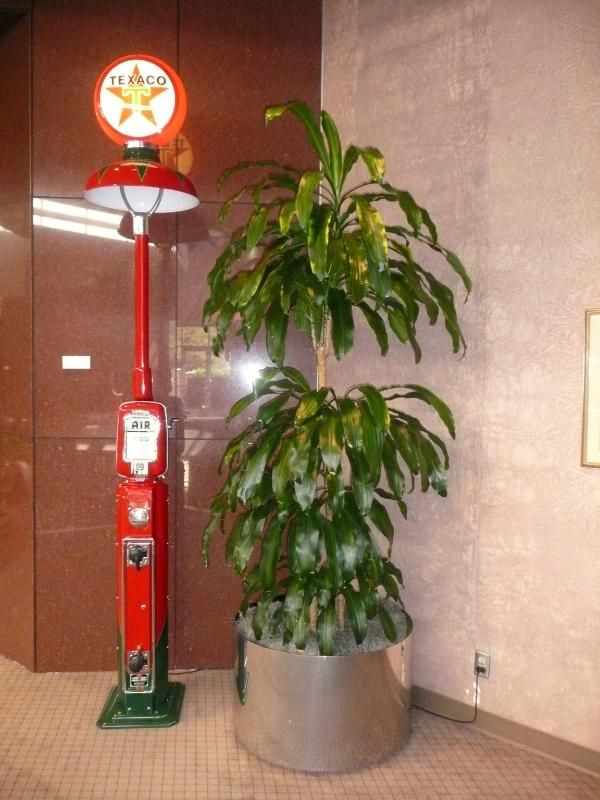 This is a fabulous collection, and well worth a visit for anyone in the Bay area. More details can be found at the collections own website: www.blackhawkmuseum.org/
2012-10-12 19:18:48
Share and Enjoy