2013 Ford Mondeo 2.0TDCi 140 Zetec Business Edition (GB)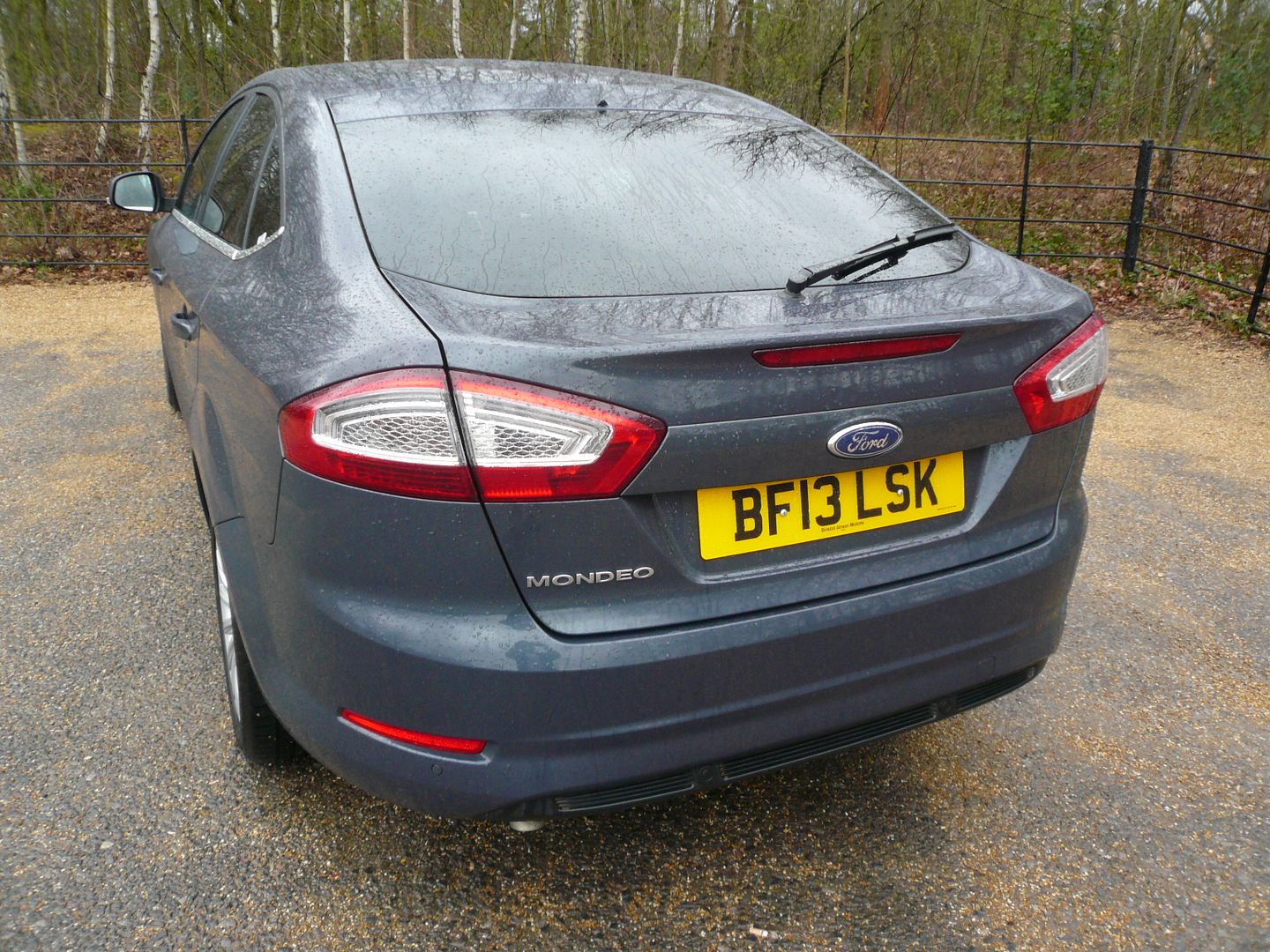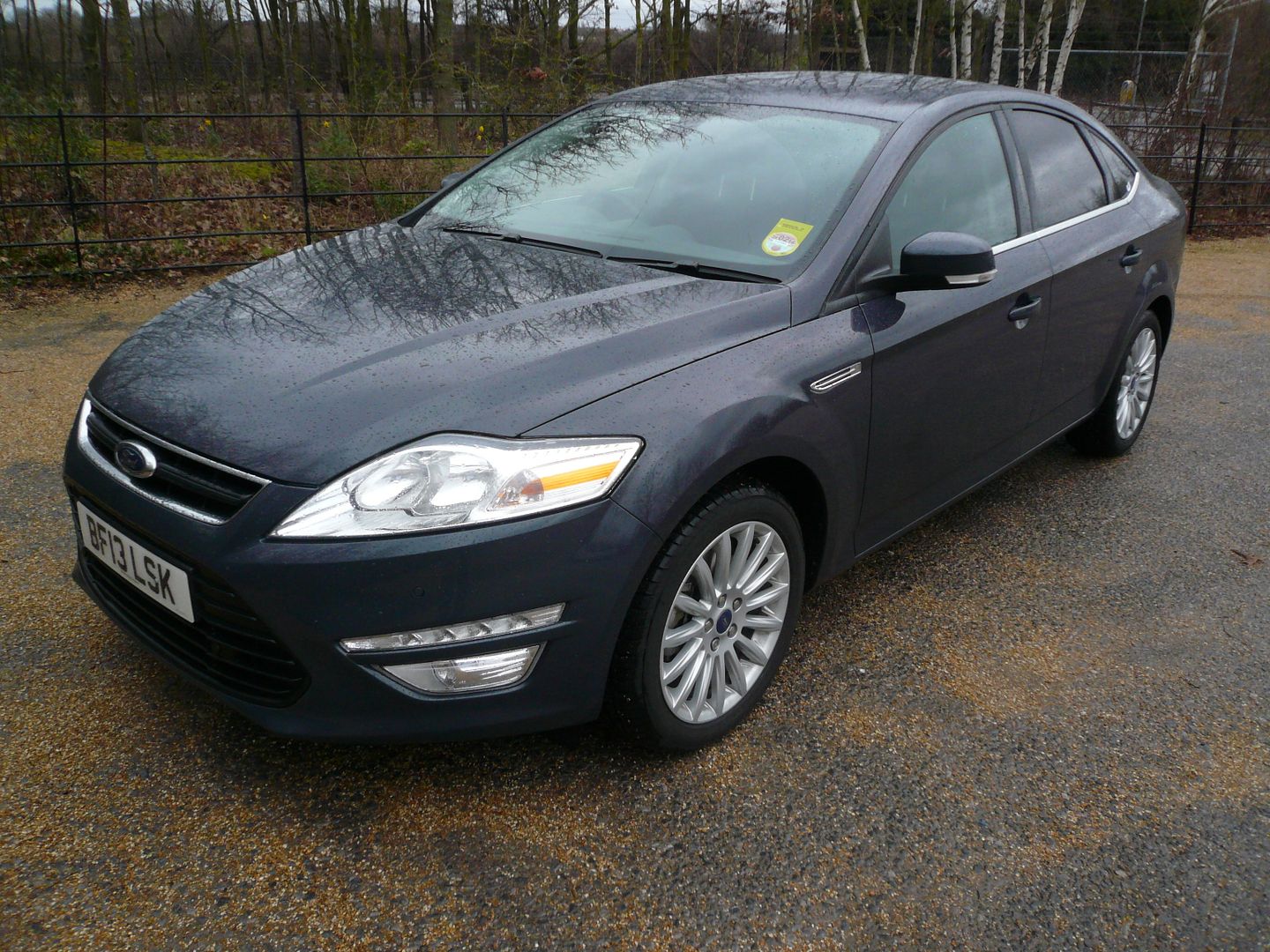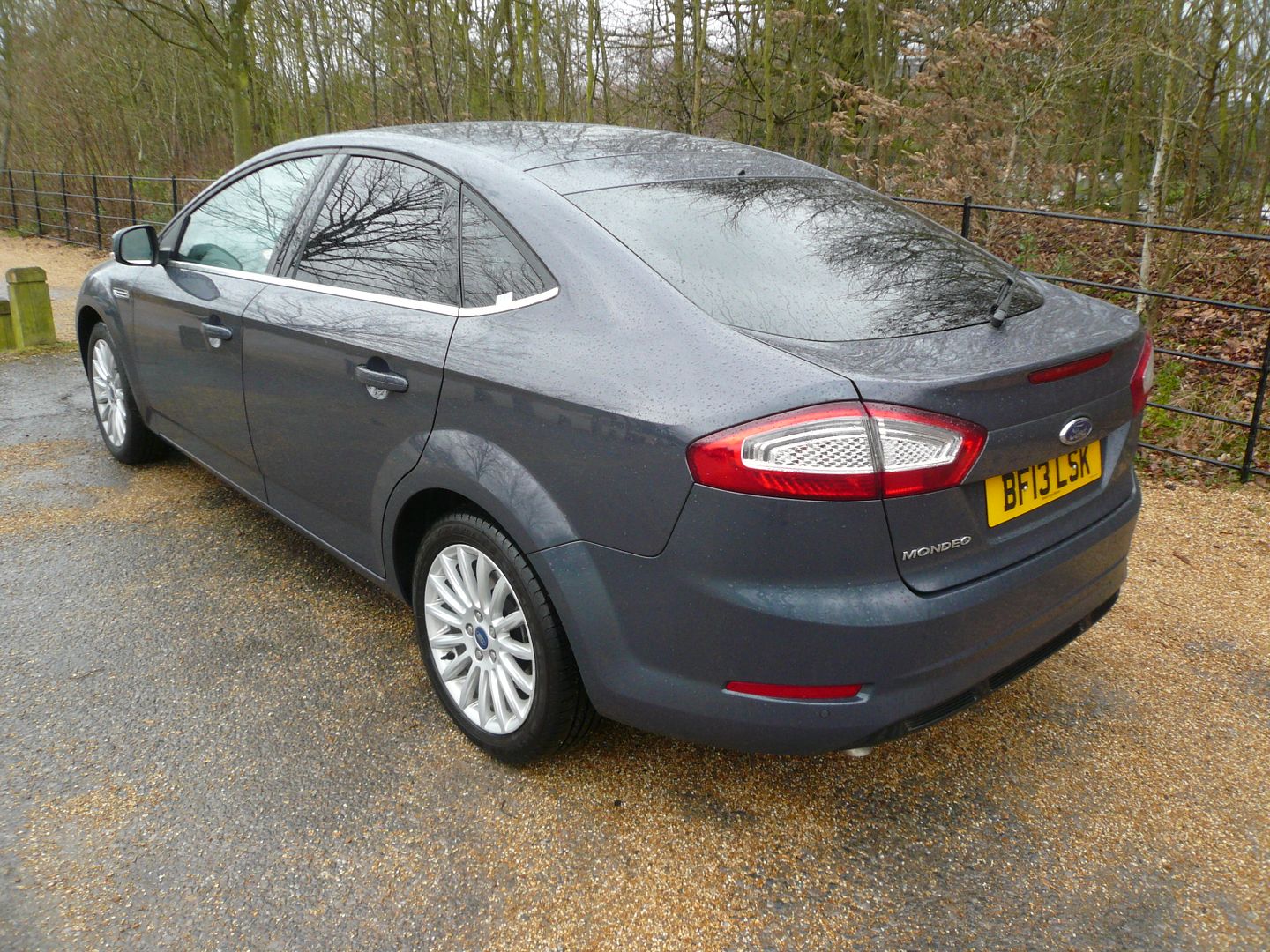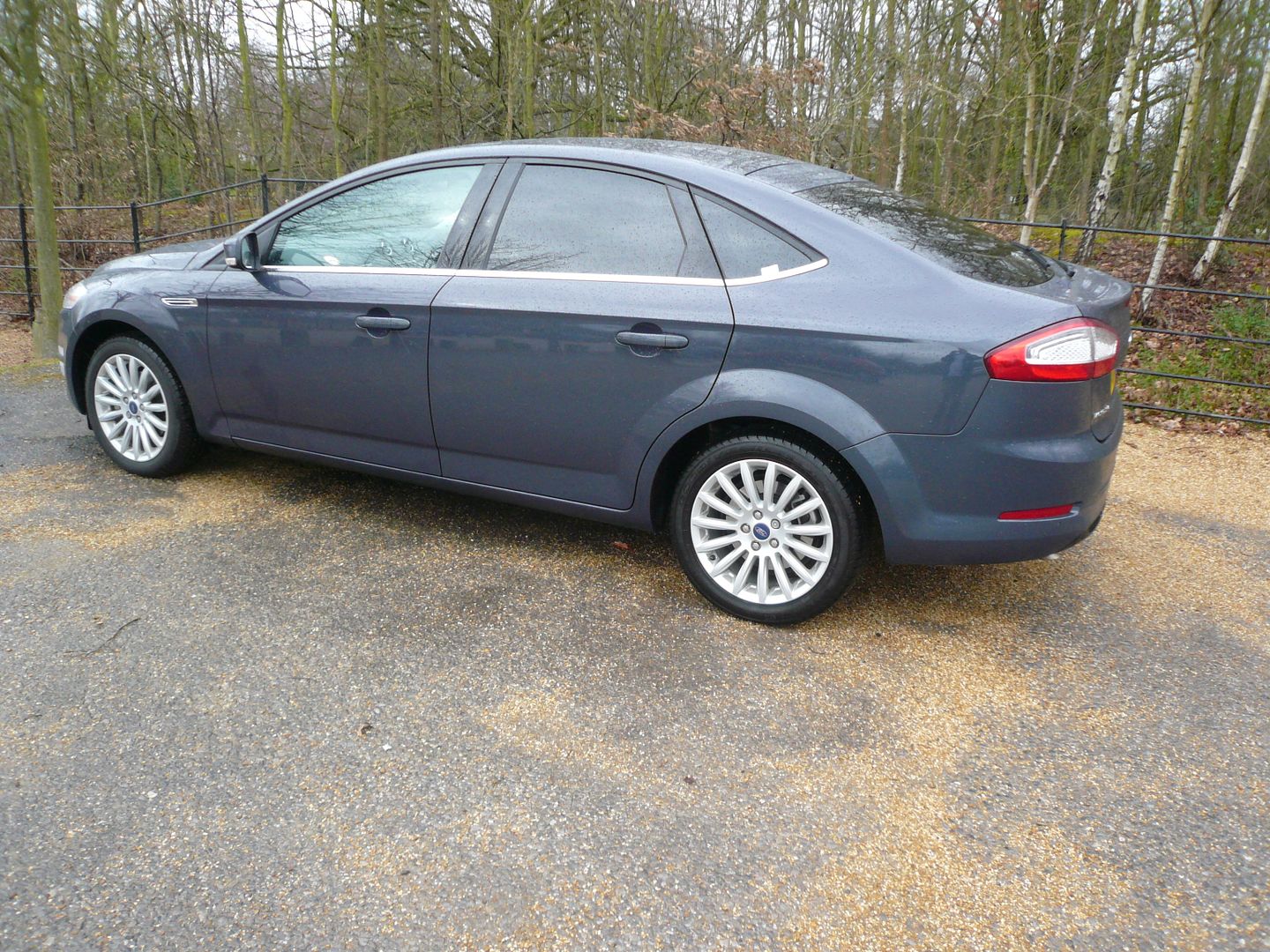 Going back a few years – to around 2006/2007 – my favourite rental car from Hertz UK's fleet was the Ford Mondeo in 2.2 TDCi guise. The starting point, of a second generation Mondeo was good, as this was a very competent car, which probably led its class of D Segment "repmobiles", but whilst the regular 2.0 diesel engine did few favours to the car, when Ford put in the completely different 2.2 unit shared with Peugeot/Citroen, what they produced was a car pretty much without equal in its class. When finished in Performance Blue, you could, from a distance, convince yourself that you had the rather nice ST220, as visually the cars were very similar, but once behind the wheel, you could feel the benefit of diesel torque and parsimony. These Mondeos lived on in the Hertz fleet for a very long time, thanks in no small part to the credit crunch of 2008 and also because when the third generation car was launched, Ford were adamant that they did not want the model to become the rental fleet doyen as had its predecessor. Book a Group D car and you could get anything from a Skoda Octavia to a Mitsubishi ASX and opt for the Group X (2.0 diesel) and you would probably get a Passat or an Insignia. I did manage to get behind the wheel of this iteration of the Mondeo, in Switzerland, in 2008, and was generally impressed, but it has taken until now, six years after the launch of the car, to test a right hand drive one out. Hertz at Bristol airport offered me a brand new 2.0 TDCi car, in Zetec Business Edition spec, which would serve as my transport back home and then on to Heathrow in quest of some rather spring like weather than the appalling conditions which I encountered during my tenure with the car. Pouring rain and then a motorway reduced to 2 lanes by fresh falls of snow are not only a challenge for the photographer, but they also limit what the driver can find out, but there was enough to be able to present my assessment.
I collected the Mondeo in the dark, tired after a gruelling trip to Geneva, and just wanted to get home. Once installed in the car, and with seat, wheel and mirrors adjusted, I turned the key and there was no doubt, even had I not seen it on the paperwork, that this was a diesel engined model. Things may well have improved immeasurably in the last few years, but no-one has yet cracked the trick of getting a diesel engine to sound like a petrol, especially when it is cold. Ford certainly have not, and this one still had that rather rattly sound to it that made me wonder if what I had was going to remind me more of the old and unloved 2.0 rather than the 2.2 unit. It did not sound much better as I moved off, but once the engine warmed through, it is actually rather refined and certainly the dread diesel rattle does go away. Although there are still a number of different petrol engined Mondeos, it is the diesels that are commercially dominant. The diesel range starts with a 115 bhp 1.6 and extends to as 200 bhp 2.2 litre unit,but the bulk of sales are of the 2 litre cars, which use the Duratorq diesel engine. This is available with 2 different power outputs, 140 bhp and 163 bhp, and the test car was the less potent of the two. It puts out just 129 g/km of CO2, meaning that this model will have appeal to the company car user, though interestingly, the quoted figures for the 163bhp are just the same. The 115 bhp 1.6 diesel has even lower emissions for those who really care. 140bhp is about par for the course for a car of this size, but it acquits itself well in the Mondeo. First gear is very short, though, so the trick seemed to be just to get moving, then change into second, at which point there is a lot more low down torque and from this point on, the Mondeo will keep up well with whatever the traffic around is doing. There is a six speed gearbox fitted and the gearchange has to rank as one of the very best I have encountered in a long time. There is just the right amount of feel. so it is not vague, but without there being too much for you to think of it as obstructive. Reverse is located to the upper left alongside first and it engages easily. You will need to use the gearbox a certain amount, as sixth is most definitely a motorway cruising sort of ratio, and once speed fell below 60 mph, and the revs were down to around 1500rpm, fifth gear was called for. Part of my test was conducted in fresh fallen snow and slush which reduced motorway speeds still further and I ended up driving 20 miles in third gear, and this was no hardship as overall noise levels are quite well suppressed once the engine was warm. I only used part of a tank of fuel, so cannot be sure on economy levels. If the car was returned with the tank as full as when I got it, then fuel consumption was 35.6 mpg, but I suspect that it did actually do a fair bit better than that and that I had received it "rental car full".  One of the joys of first and second generation Mondeos was the truly excellent steering and handling. Whilst this model does not quite hit the highs that they did, it is still about as good as you are going to find. The steering is well weighted and has plenty of feel. As you turn the wheel it does lighten a little initially and then gets weightier again, but at all times, you feel like you know exactly what the steered wheels are going to do, and you relish the road getting twistier again. With good levels of grip and handling that is very well judged this remains one of the most fun cars to drive in its class. It achieves this without making you pay a penalty in ride comfort, which is also very good. Needless to say, the brakes were well up to par, and Ford have at least so far resisted the fashion that has afflicted most of its rivals for dispensing with a mechanical handbrake. A nice conventional lever sits between the seats here.
I am not a fan of the interior design of most of the current Ford range, where in their desperation to try to lend a more upmarket appeal, the dashboards seem to end up just a mess of far too many buttons, making them look complicated and proving far too difficult to use. Thankfully, the Mondeo is the one model in the range that has been spared this treatment. As a consequence, it manages to look far more upscale than its stablemates. The main moulding is a good quality plastic that is quite soft and compressible to the touch and the inserts in this trim are of dark grey (they look lighter in the pictures than they appeared in reality) which look so much better than the horrid fake wood that is found in top of the range models or the shiny plasti-minium in some of the lesser ones. What you get is an object lesson in clarity, with a nice simple design. The instruments are all located under a single binnacle and they are clearly marked and easy to read. They do not deviate from what you would expect, with large rev counter and speedometer joined by smaller fuel level and water temperature. Twin column stalks operate the indicators and wipers and the lights run off a rotary dial on the dash to the right of the steering wheel. The centre of the dash contains a large display screen for the audio unit which sits between two vertical columns of buttons. The unit has a touch sensitive screen, and once I worked this out, it proved very easy to use indeed, making most of the buttons superfluous. The climate control dials and buttons are located below this, and then there three large switches for things like the hazard warning lights. The climate control system proved easy to use and to get the temperature as I desired. Like many Fords there is a standard "quickclear" heated front screen, and although I did not actually need it, I know that this brilliant invention works very well and far more quickly than other means of defrosting the large expanse of glass. There are repeater buttons on the steering wheel boss for a number of the audio unit functions and the cruise control. Sadly, the steering wheel is the one place where the dreaded tawdry looking Ford silver plastic fake aluminium stuff features.
Mondeo in its third generation is a large car. It is no wonder that it no longer qualifies in the Hertz scheme of things as a Group D, as it  really is as big as the Granada/ Scorpio of not many years back. Fortunately, and unlike the Vauxhall Insignia, which remains its fiercest rival, that means that space inside is generous for people and their luggage. There is an acre of leg room for rear seat passengers, and more than ample head room. In this respect it has the Vauxhall well and truly beaten. There is a vast boot, as well, and if you need even more space then the rear seats can be folded down to create a veritable cavern. The front seats, electrically adjustable in all the expected directions, proved very comfortable. Oddments space in the cabin comprises a reasonable sized glovebox, door bins, a cubby under the central armrest and a small area in front of the gearlever. There are two large cupholders on the centre console.
Ford long ago mastered the art of packaging a number of different trim levels of their cars, often including a couple of the features that you really wanted in the next model up the range from the one you initially thought you would buy. The days of Popular, L, GL and Ghia may long be gone, but the concept lives on even if trying to figure out the hierarchy of designations like Style, Studio, Edge, Zetec and Titanium is more difficult. UK market Mondeos are currently offered in Edge, Zetec, Titanium, Titanium X and Titanium X Sport versions. The test car was a Zetec, but in recently available Business Edition, which adds quite a few useful features, including Touchscreen Navigation System, Front and Rear Parking Aid Sensors, LED Daytime Running Lights, USB connectivity port, Power folding mirrors, Privacy Glass, 17" Multi-Spoke Alloys and on the estate, Black Roof rails. For an extra £600 over a standard Zetec, this looks like a good deal to me. Quite a few of the extra cost options available on a Zetec are not offered on the Edge, and that entry level trim also foresakes alloy wheels, automatic headlights, front fog lights, rain sensing wipers, body coloured door handles, a leather gear knob, separate rear courtesy lights and the automated climate control becomes air conditioning,. The more costly Titanium model allows you to select a whole load more options and option packages, but in terms of what comes as standard compared to a Zetec, the main difference would seem to be an upgraded audio unit, sports front seats and smaller things such as power adjustment for the front passenger seat.  The Titanium X adds Alcantara & Napoli Leather with heated/cooled front climate seats, halogen headlights with Adaptive Front Lighting System (AFS), front & rear Park Assist and a rear centre armrest with stowage and cupholders. The Titanium X Sport brings quite a lot more features, including 19″ Y-spoke Alloy wheels, Alcantara & Napoli Leather seats with red sports stitching, sport suspension, bi-xenon headlights with AFS and washer jets, sports body styling kit, body colour side skirts, rear spoiler, pedal set with aluminium covers, leather wrapped steering wheel and gear shift with red sports stitching, Piano Black finish interior trim details and Carbotex sports trim detailing. On all models, unless you want a dark blue one, you will pay extra for paint – £250 for frozen white and more for a series of sober metallic shades.
It's not that long ago that the phrase "Mondeo Man" was in common usage, at least among some of those who like to categorise the population of the UK. It was the natural update to "Cortina Man", a phrase coined when close to 15% of all new cars sold in the UK were indeed Ford Cortinas. At that time, most owners with the popular 1600 L merely aspired to a GL or a Ghia. And if they were doing really well, then a Granada was the next stepping stone up the automotive ladder of prestige. During the late 1980s and early 1990s, though, Yuppie-dom meant that a plusher Ford was no longer aspirational and the BMW 3 Series became the new object of desire. Over the ensuing years, its sales have rocketed and those of the Mondeo have dropped. On a global basis, over 406,000 3 Series were sold in 2012, compared to just 166,00 Mondeos and in the UK, the Mondeo long ago ceased to feature in the Top 10 and now does even make it to the Top 20 selling cars in the UK, or indeed Europe, notching up just under 22,000 sales in the UK, which made it the 21st best selling car in 2012 . So you could argue that it is a far more exclusive proposition than a 3 Series, or a Mercedes C Class or an Audi A4. All three of these German desire-mobiles are excellent cars, for sure, but so I have to report is this Mondeo. A really very good car indeed. It only has one significant flaw and that is the badge on the front. Look at the price of the Germans, and it is clear that you are paying around a 50% premium, or £10,000 in hard cash not to have the Blue Oval on your car. In the cold light of day, that can only be described as barking mad. We have indeed become so brand obsessed that other objective factors sometimes just do not seem to matter. So have pity on Ford who are in the final stages of readying Mondeo 4. Sharing much with the American market Fusion already on sale, this is surely going to be a superlative car, but I confidently predict that it will sell in even lower volume than the outgoing Mondeo, all because of the badge. Mad!
Share and Enjoy