La Vie en Bleu, Prescott Hill – June 2013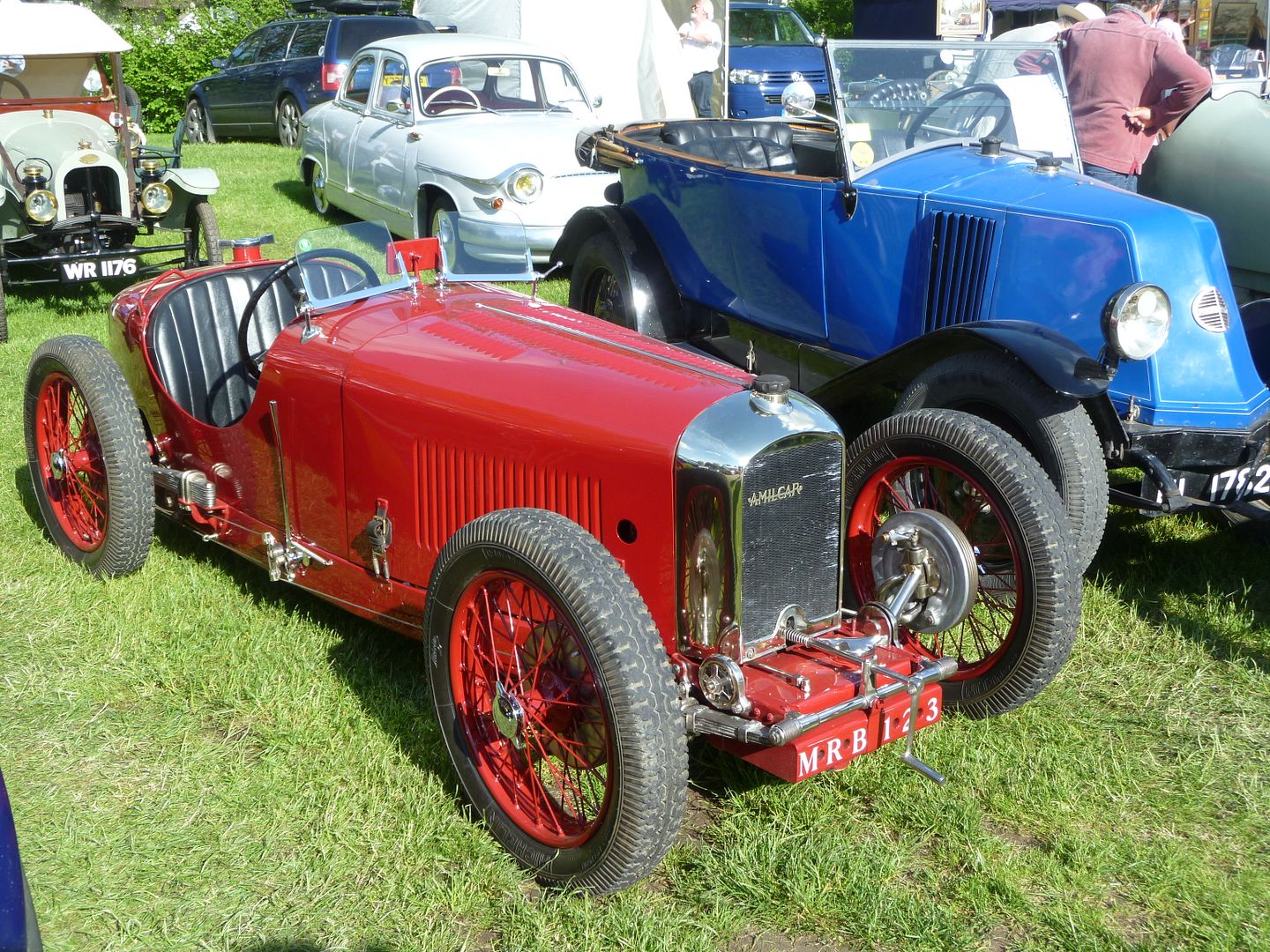 La Vie en Bleu, a celebration of all things French, has been held at Prescott, the Gloucestershire home to the Bugatti Owners Club, ever since 2007, and during that time, it has become a firm favourite among TheMotor.net forummers, repeatedly constituting our largest annual gathering. After 2 very wet years in 2007 and 2008, the weather has generally been kind, with all following years enjoying plenty of sunshine. With plenty of participation from Owners, Racers and the Paying Public, and benefitting from the fact that the event has taken place over the late May Bank Holiday weekend, there has always been plenty to see ranging from a number of Bugatti Veyrons and other older French cars in the Paddock, a series of displays by all the major Car Clubs for French cars, and several others besides, quite apart from a paddock stocked with competitors for a busy 2 day hill-climb programme, and public car parks which tend to attract all manner of interesting and rare cars as well.
For reasons I still do not quite understand,  the 2013 event was moved back a weekend, and the fact that this meant it no longer coincided with a Bank Holiday did seem to impact both the Car Club displays and also the paddock, though with crowds of the paying public arriving all morning on both days, the event still felt busy, and there was still plenty to see. Sunday was noticeably busier than Saturday, as tends to be the case with all events like this. The weather gods were feeling kind, too, with some most welcome spring sunshine and only a few clouds bathing the venue on both days. Despite spending two very full days revelling in everything that was going on, and the 500 photos in this report record much of what I saw, there was still plenty that I missed out on. A look at Prescott's Facebook page will fill in some of those gaps (and a judicious Google will probably complete the picture), but there is plenty here for you to enjoy.
FORUM CARS
It has become quite a tradition that at least one participant manages to bring along a surprise new acquisition. In 2012, that was me, but in 2013 it was down to two others to do so, though both had dropped a couple of clues in the days leading up to the event. Ross Yallup's 1 day old Fiesta ST was unquestionably a very nice brand new car, but the star of the show had to be the Phase 2 Citroen CX Turbo GTi in which Chris Hendrie arrived. Fresh from a visit to the paint shop, this splendid machine turned out to be the very last CX to be sold in the UK, and judging by its H plate and 1991 registration, it clearly had quite a delay in hitting the road after the successor XM model went on sale. Although the CX disappeared relatively early on Saturday, Chris brought it back on the Sunday, giving Meadhbh, his partner, her first opportunity to experience a long journey in this wondrous machine.
The CX may have been the star of the show, but between us, we put on a very impressive, and varied show, and all the vehicles attracted attention not just from among the forummers, but also other event attendees, with plenty of questions asked and photos taken.  With 18 cars in TheMotor's reserved parking area on the Saturday and 16 on the Sunday, this was our biggest assembly yet. Needless to say, James Swan's Standard Big 9 proved particularly eye-catching, and I heard many people on looking at Connor Gray's newly restored Mini Van (and what a splendid job has been done) wondering out loud how they managed to pack everything into such a small device.
FRENCH CAR DISPLAYS
CITROEN
Although the area allocated to the Citroen Owners Club was not full on either day, there were still plenty of interesting Citroen to inspect and enjoy. Oldest machines were the Traction based cars, and there were several different Limousine and Cabriolet models on both days.
There were far fewer DS models this year. Most unusual was a one-off 4 door cabriolet conversion, which sported a 2.7 litre V6 engine (ex Citroen SM) under the bonnet.
A lone CX GTi Turbo sported For Sales signs, with the asking price of just under £4000 being bound to tempt someone.
There were plenty of 2CV models, though with the exception of a late Sunday afternoon arrival of an early cream car, all of them were relatively late models, including some of the limited edition derivatives such as the Beachcomber and the Spot.
This rather odd looking device is built on a 2CV chassis, which is why it was included in the Citroen display area.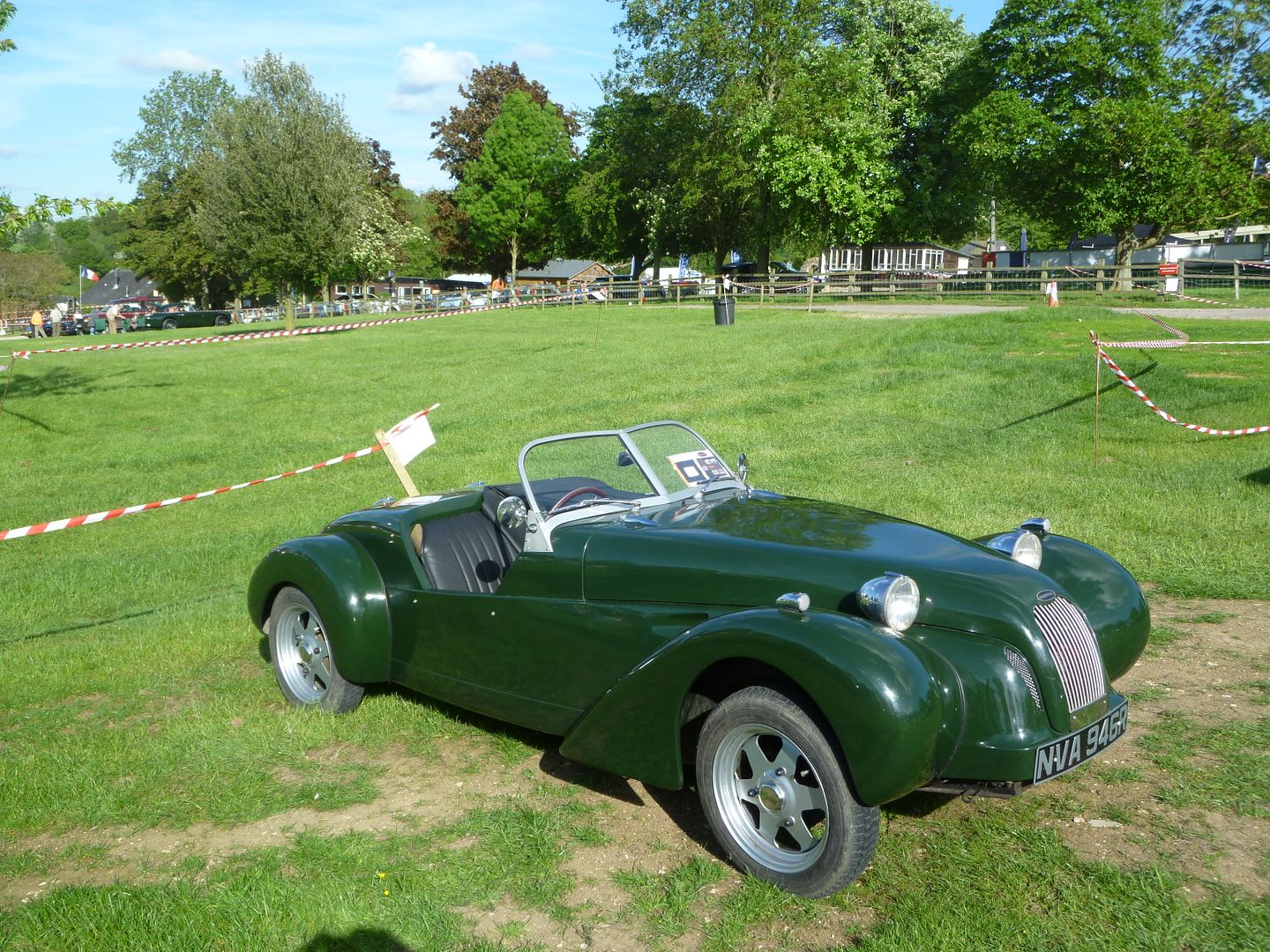 This year there were quite a few Dyane, which was good to see.
There was only one Ami, though, an 8 Estate.
A single GS model was joined on the Sunday by the last UK registered GSA, a car which I had seen at the Bristol Classic Car Show a few weeks ago.
The C6, now sadly out of production, has by common consent got all the attributes of "instant classic" about it. Such a marvellous looking car.
Bringing things right up to date was Citroen's latest model, the DS3 Cabrio, a car with plenty of appeal. I confidently predict that in years to come, we will see a whole row of this generation of DS3 hatch and cabrio cars.
MATRA
The small Matra showing was tucked away at one of the French Car Club displays, where speckled shadows from the surrounding trees may photography difficult. There were no Rancho models on either day, sadly, but as well we as the familiar Bagheera and Murena models, on the Sunday there was both an earlier M530 and the Bonnet inspired antecedent even to that.
PEUGEOT
Sole Peugeot on the Saturday appeared to be a 206CC, but on Sunday it was all very different, with two separate displays. Unsurprisingly, there were numerous 205 GTi based models, in both the regular hatchback and convertible formats. Some had been quite extensively modified, and one of the CTis had been cleaned and improved so it was probably in a better state than when it left the factory.
The 205 Owners Club display did also include the three successive generations that have been sold in the last 30 years. The 206 GTi and 207 GTi are never likely to be viewed with anything like the same enthusiasm,. but the newly released 208 GTi just might, as it is by all accounts a decent car, though until the sort out of the driving position, such that you can actually read the instruments, and ideally have a steering wheel that it is not in your lap, then it is not the car for me.
From the "03" generation of Peugeot, and indeed the oldest example of the brand on show was the 203 Estate that makes regular appearances at Prescott.
The 204 and 304 were Peugeot's first front wheel drive cars, and were very popular in France. Not so here, where the pretty Coupe and Convertible cars were perceived to be particularly expensive compared to market expectations.
The larger 504 did sell in large quantities, though you would never know that now. This Pickup model was a real time warp. There was also a very nice 504 Coupe
505s are rare these days, too, and this GTi was a particularly unexpected sighting.
Although the very latest Peugeots are not quite as willfully ugly as their cars of the past 15 years, the 406 remains, to my eyes, the last truly pretty Peugeot, especially in Coupe form. Shame that the one I tested years ago was then a let down to drive (it was a 2 litre automatic, so probably the weakest model by far).
Final representative was the RCZ, a car which many like, but which still has not really appealed to me.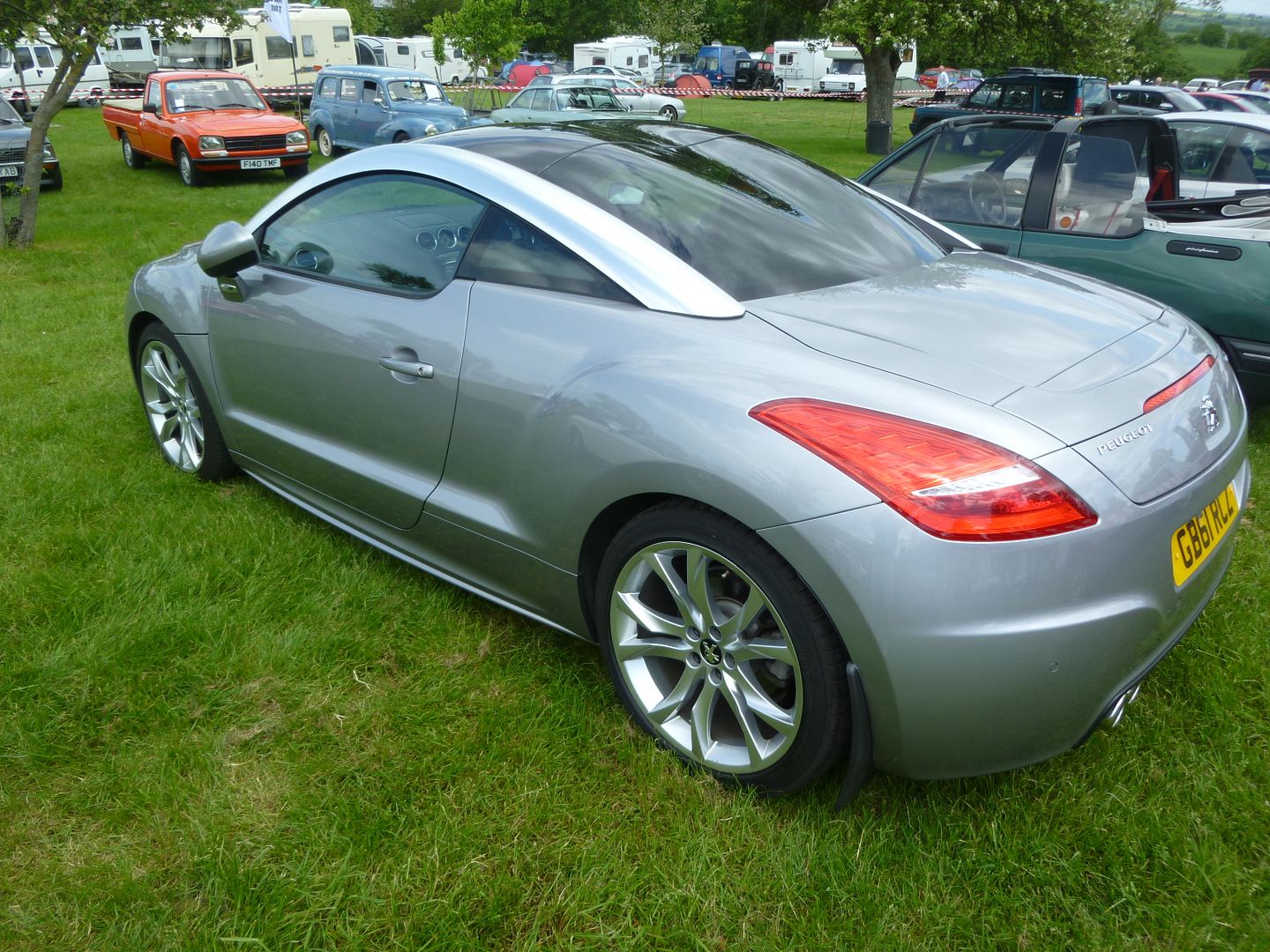 RENAULT
The Renault Owners Club area is traditionally augmented by cars from Renault UK's own collection and this year was no exception. Creating lots of interest were the two brand new vehicles on show, a Twizy and the first right hand drive Clio RS200. I have to say that the latter does not impress me, and its bilious interior with nasty orange plastic trim around the gearlever surround, air vents and on the door casings doing little to look better than chav-y, even if the rest of the interior is made of decent quality materials. The real test of this car will be how it drives, and reading between the lines, I get the impression that most journalists who have sampled the car are somewhat disappointed.
Completely different from this were the two R4 models, Renault UK's own Plein Air car (one of just 6 right hand drive cars ever made) and a splendidly restored early R4L from early in the model's production life. Sporting a non-original 845cc (rather than 747cc) engine, this car really does appear basic these days, but it still has charm in a way that Clio 4 will never have.
Also dating from the 1960s was this R8 which was joined on the Saturday by a race equipped Gordini model.
Continuing the Gordini theme was the R12 Gordini as well.
Oldest Renault in the display was this 4CV model.
Although I hate the horrid non-original side stripes on this car, I do otherwise like this R30 TX, one of only a handful of such cars that has survived. With over 325,000 miles on the clock, this is far from a pampered car
There were a number of Renault-Alpine on show, pleasingly including an A310  as well as the more common A110 and GTA/A610 cars.
Gone are the days when the Avantime is in evidence in double figures, but there were a few of these very distinctive machines on show.
Sporting Renault from the last 30 years have a deserved following and there were plenty of these starting with an R5 Turbo and the tamer R5 GT Turbo.
Sporting Clio were dominated by the V6 cars, though there examples of all three generations, and there was the more recent Megane R26R as well.
There was also an example of the commercially rather unsuccessful Sport Spider.
SIMCA
Just one Simca this year, a nicely presented example of the 1100. This mid-sized hatchback was the best selling car in France for many years, and it also did quite well in the UK, though you would barely believe it now, as survivors are rare, thanks in no small measure to the rust prone body and rather stolid mechanicals. This particular car followed me on the Cavalcade up the hill on the Sunday and had no problem in keeping up with modern machines, though i suspect it had to be worked rather harder than my Audi to do so.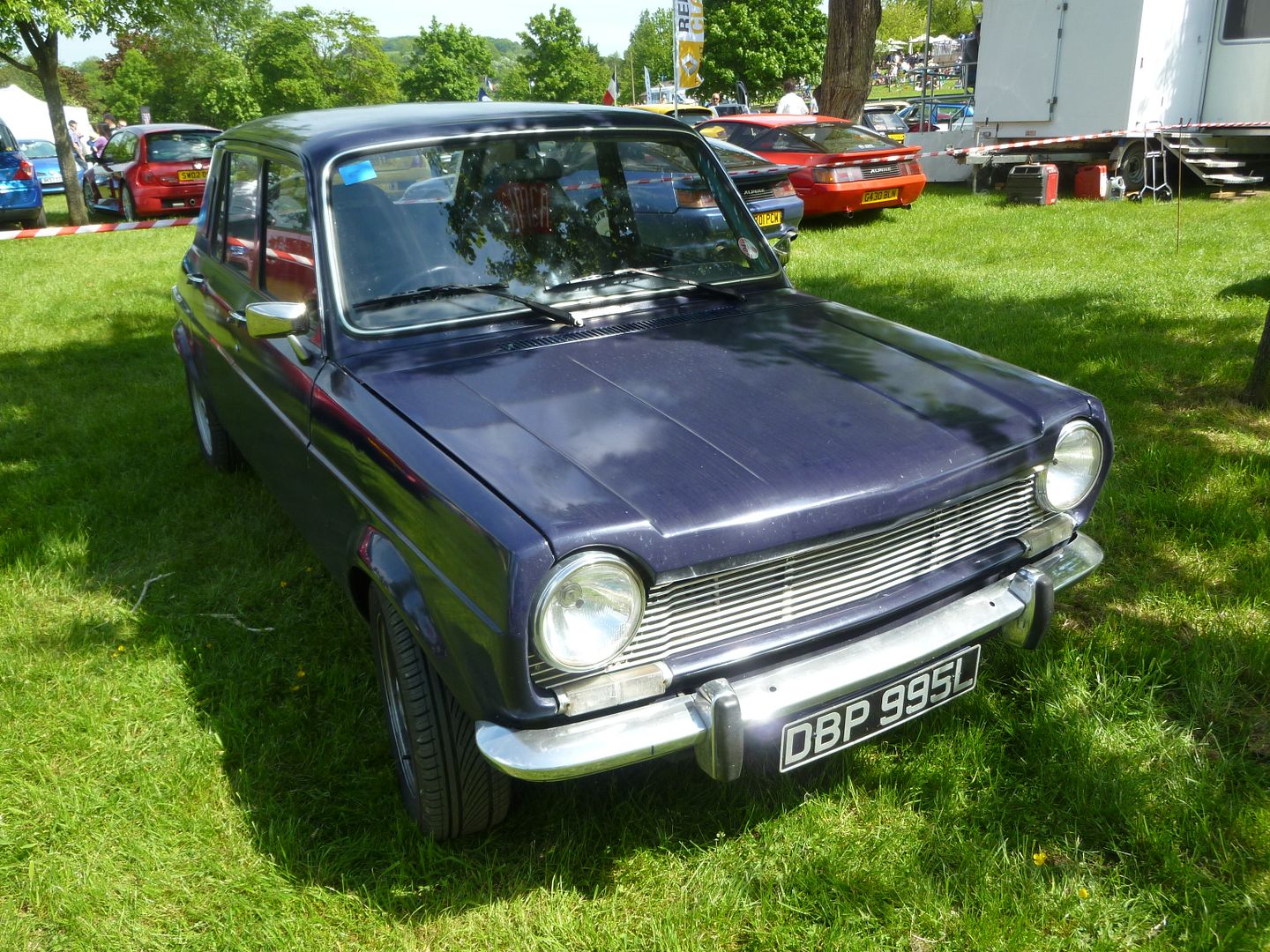 VENTURI
Not quite the impressive assembly of these cars as sometimes can occur, but there were a few of this elegant model on show on both days.
IN THE PADDOCK
BUGATTI
Highlight here,for many people, year after year is the appearance of some number of Veyrons. Whilst the record attendance of 7 such cars in  2008 has yet to be repeated, a combination of factory support and some enthusiastic owners has meant that the display has been different every year. For 2013, there were three factory-supplied cars, one of which was the very distinctive Vitesse model, and this was the one which made regular forays up the hill on both days.
Parked up nearby in a separate marquee were the predecessor car, the EB110. The silver car that was there on Saturday was joined by a second model on Sunday. Ian Patton, Prescott's General Manager, and a man lucky enough to have driven one, told me that the car is vastly under-rated and is a superb machine.
Needless to say, there were plenty of classic Bugatti from the 1920s and 1930s in the Paddock and parked up in an area reserved for the marque. Most numerous were the early Brescia cars and the later Type 35, but there were several other models as well, including a rare Type 57 with a saloon body.
AMILCAR
There were several of these French Light Cars and Cycle Cars dating from the 1920s.
BEDELIA
These odd cycle cars have the passenger sitting (in the loosest sense of the word) in front of the driver.
CITROEN
I particularly liked this fabulous 1920s lorry.
It was joined by a 1922 5CV "Cloverleaf" model and an H Van.
PANHARD
An example of one of the last designs produced by Panhard before the Citroen takeover, this PL17  was made in 1960. Sporting a commodious body, it is largely a response for the French fiscal regime of the era which meant that it has just 850 cc of flat twin under the bonnet. Needless to say, "rapid" is not really the word!
PEUGEOT
The Bebe Peugeot.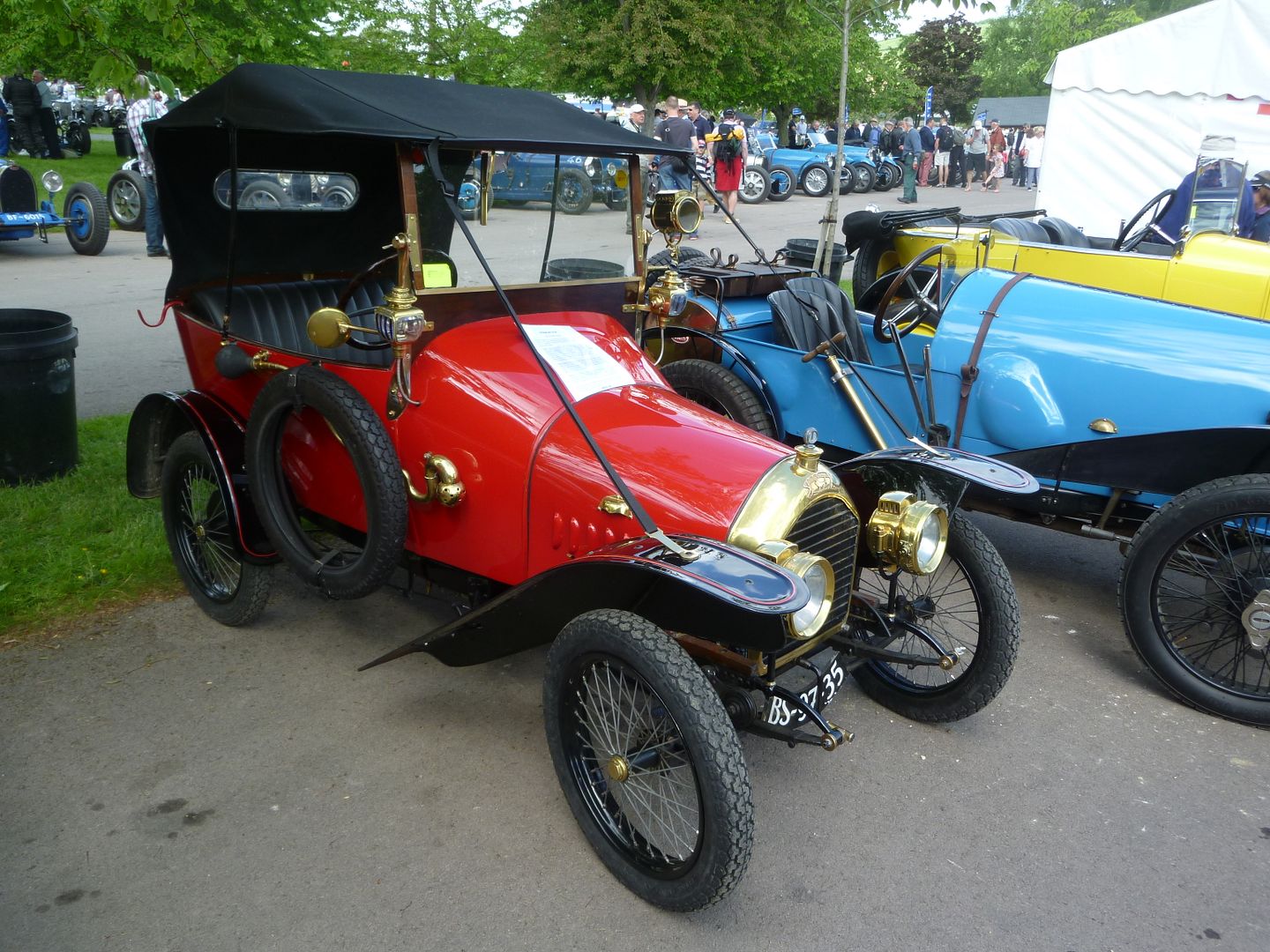 RENAULT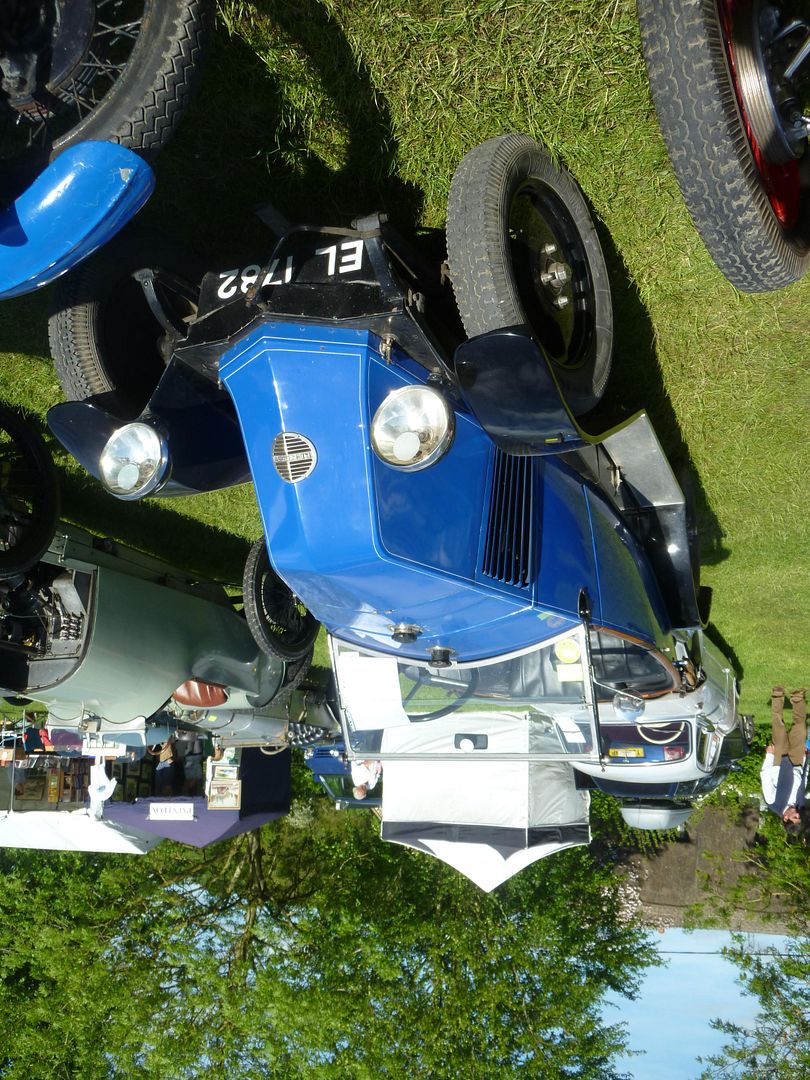 VERNON DARBY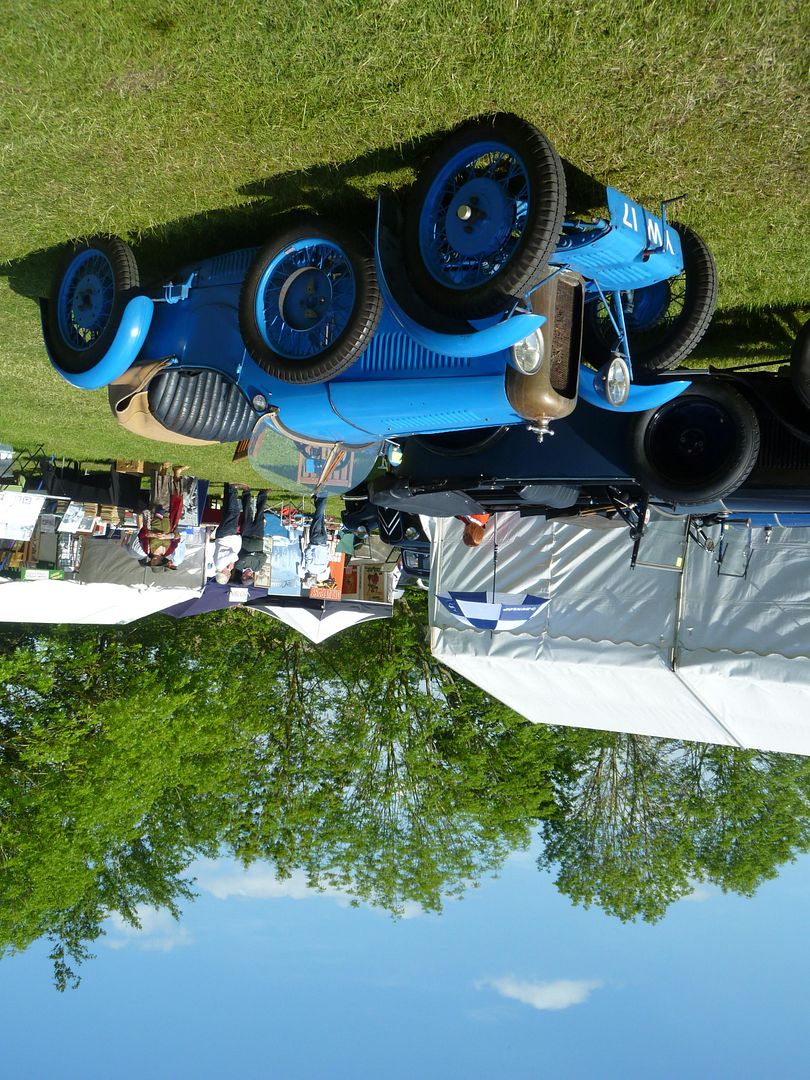 FERRARI
Not exactly in the spirit of the French theme, but so splendid that no-one would complain about their inclusion were two very different Ferrari, separated by 30 years: the 2 litre V12 166 model we have seen many times before, and the 1985 288 GTO is a car that I would willingly see many times more. This example appeared absolutely pristine.
WILLIAMS
Sadly, a static exhibit only, but still very nice to see this Formula 1 car
ASTON-MARTIN
A number of pre-war Astons were parked up, with 14/98, Ulster and International cars all on show.
AUSTIN
A rather nice early Seven
PARISIAN BUS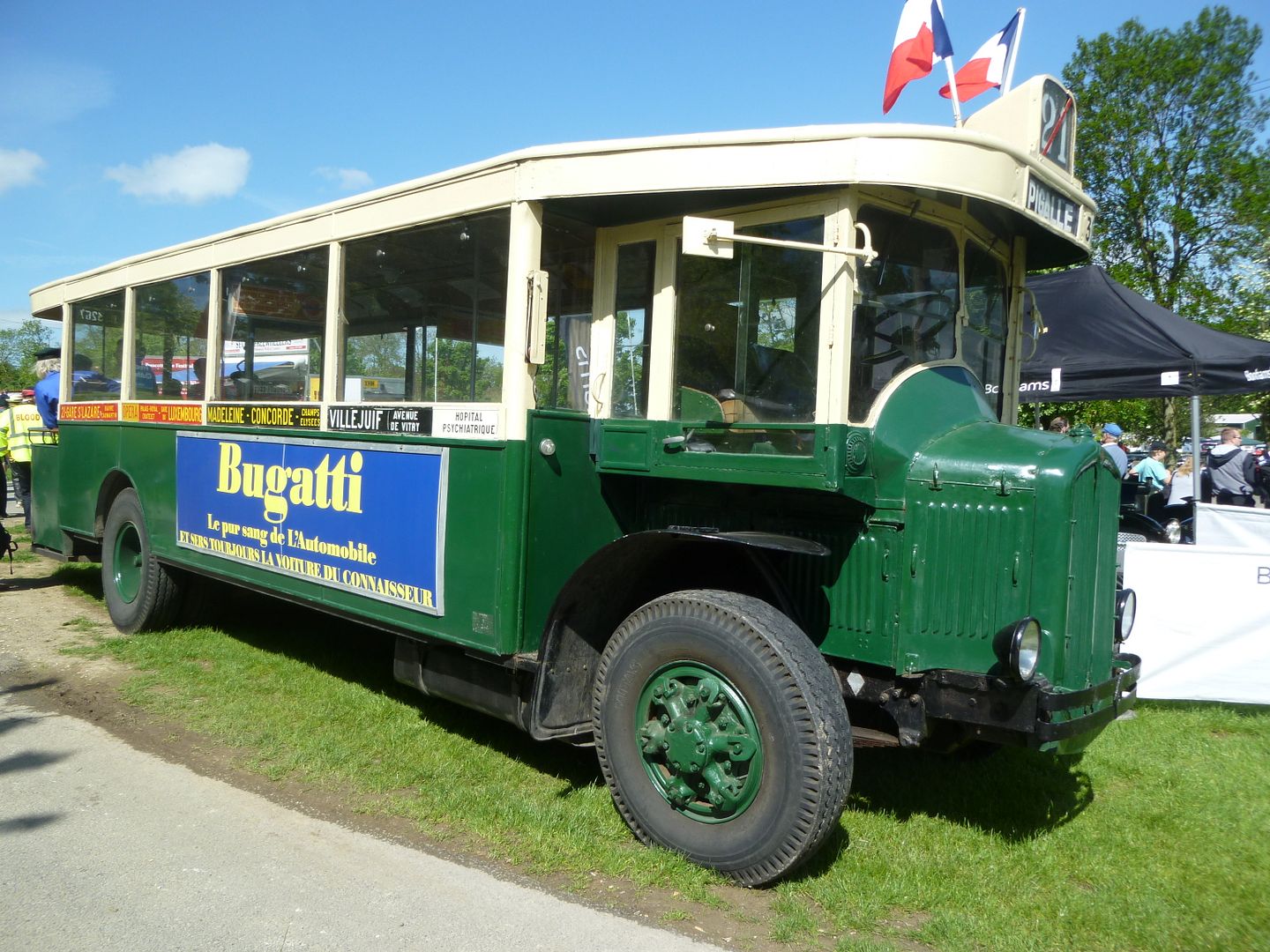 READY FOR THE HILL
As ever, a very varied program of different classes and types of car were competing for honours on the hill. With the distraction of an event also taking place at nearby Shelsley Walsh, this meant that some of the familiar cars were not in evidence, and some different machinery was lined up ready to tackle the ascent challenge. On Sunday the lower Paddock area looked more like the VSCC meet than usual.
A series of DB2 Astons
Delage
Lagonda
MG
Several three wheeler Morgans
PicPic (!)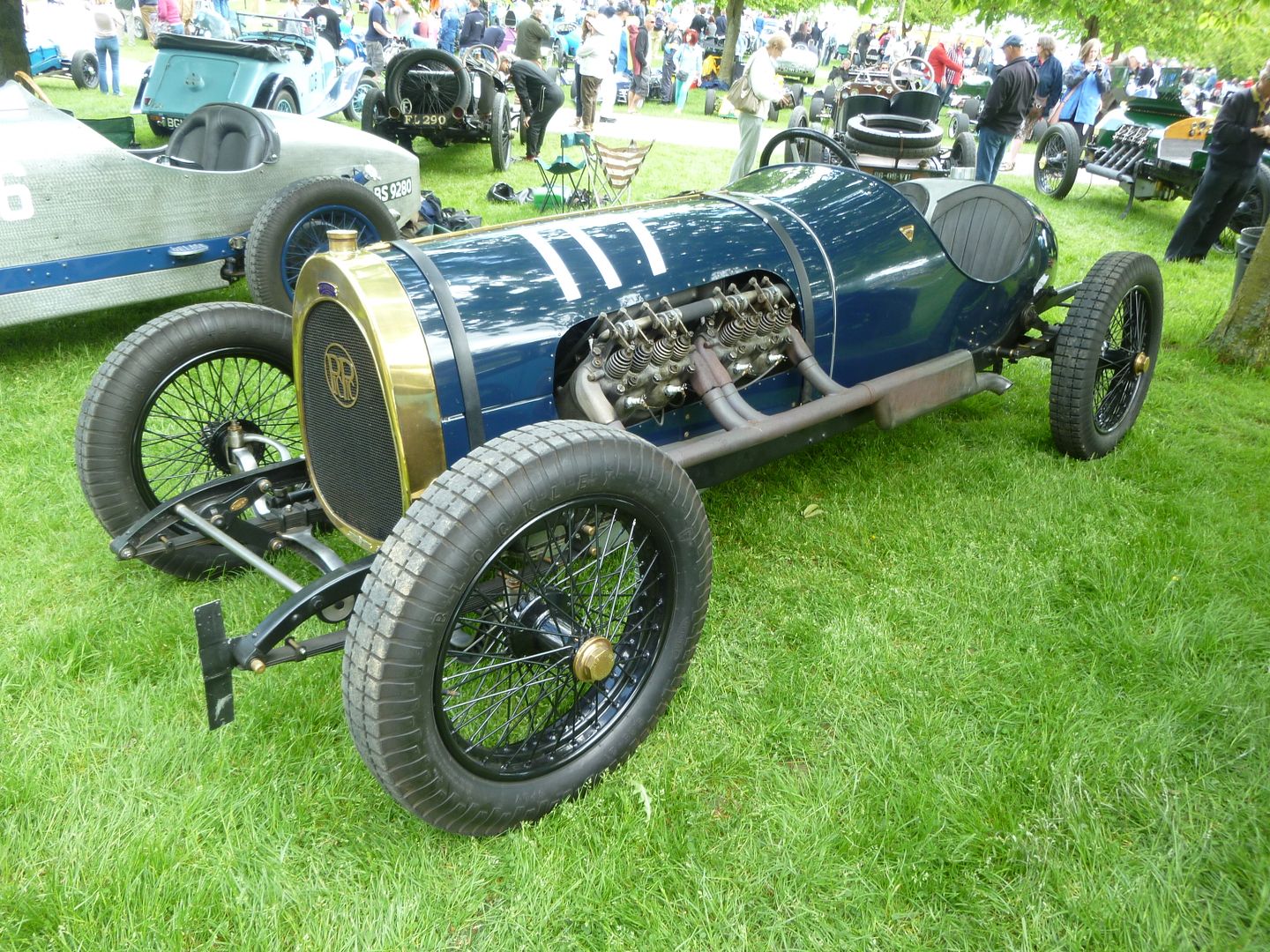 Perhaps the most surprising contender for honours on the hill was this, the brand new all electric Renault Zoe
A rather splendid early Sunbeam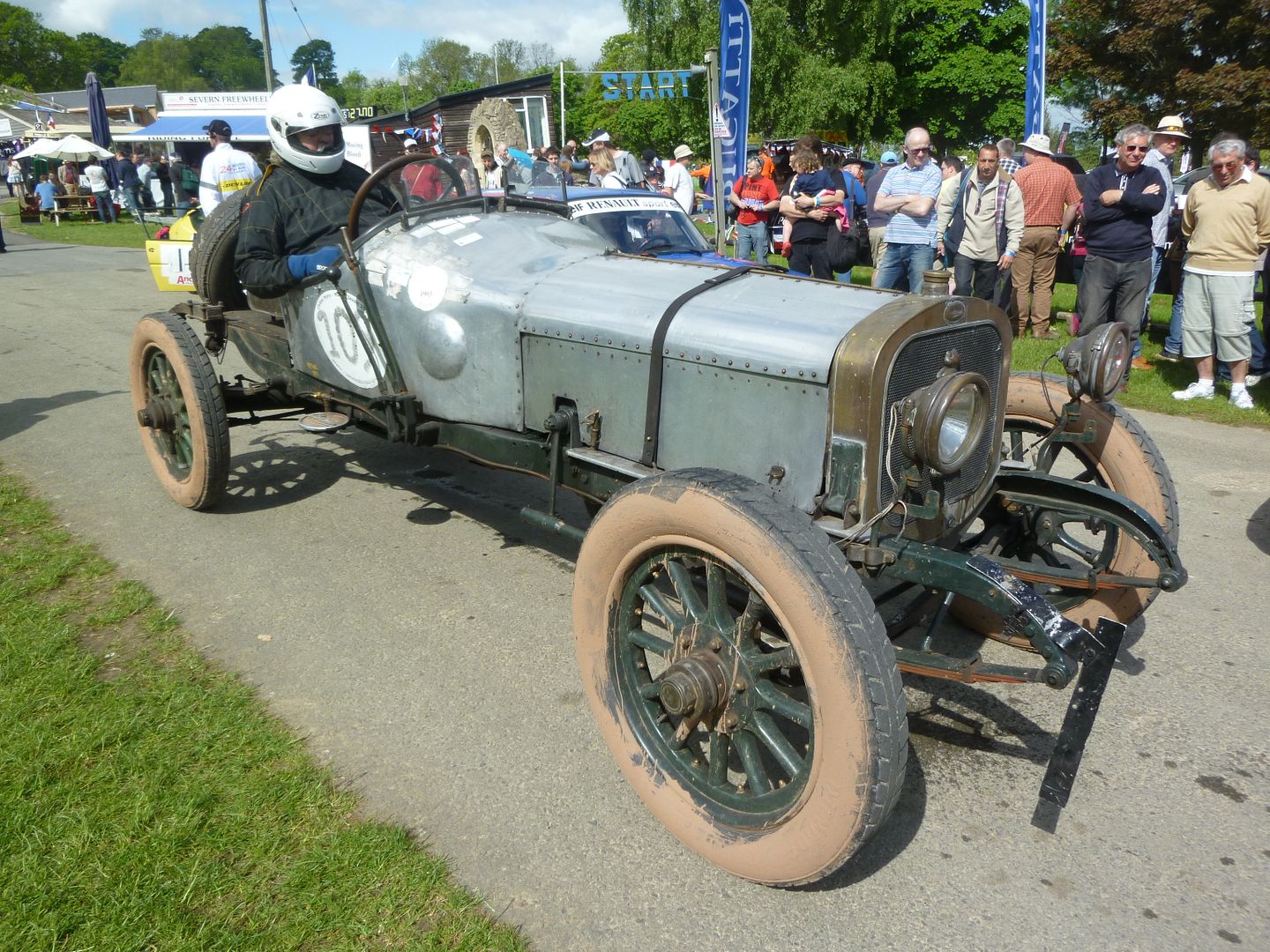 TVRs
STRATSTONE
As always, the local Land-Rover dealer had an array of the latest cars on show, though the Range-Rover Sport model was the outgoing car, not the all new one. The price tag on the Evoque was nearly as eye watering as the rather unfortunate choice of colour, at £48,000.
IN THE CAR PARKS
The public car parks at an event like Prescott are always worth a visit, as often there are just as many cars to be found in them as there are in the main event. La Vie en Bleu 2013 was no exception, with a wide variety of cars which I deemed worthy of a photograph (or two!).
ABARTH
As well as my own car, which I brought on the Saturday, I came across this 595 Turismo belonging to fellow Abarthisti, Alec Macfie, and there was a further 500 Esseesse model parked up on the slopes, the owner of which I did not either known or determine.
ALFA ROMEO
This lovely Giulia Super was parked up near to our area, and it sported For Sale signs. A certain Nick Way started off by taking a photo of the seller's details, but when later in the day it was pointed out to him that the bonnet was up, he hot-foot over for a closer look. This ended up with him being taken for a ride and then a drive, and he has now gone away to have a think………….  what a cool addition to TheMotor's fleet this would be. Not quite standard, as a 2 litre engine has been fitted under the bonnet, the car appeared very sound, and would surely deliver its new owner (whether it is Nick or someone else) lots of fun.
ASTON-MARTIN
A couple of lovely DB2 models.
This supreme DB4 was parked up near the museum.
There were a couple of the long running V8 models
Although it does not now get a very good press, the early Vanquish still looks good, in an imposing sort of way.
AUDI
Not many "classic" Audi, with this B6 model S4 Avant about the closest one might get to the type.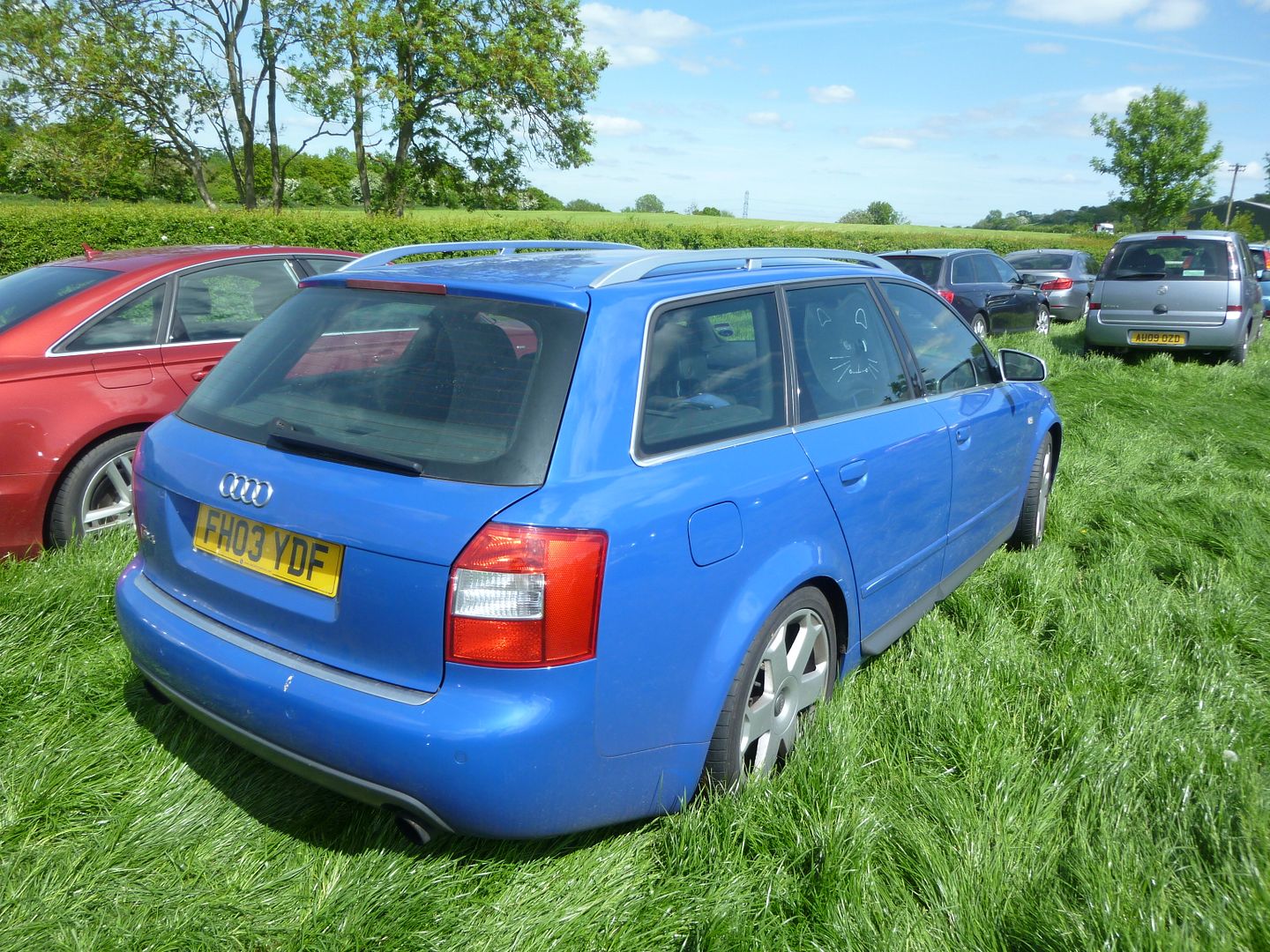 AUSTIN
An early Seven
A35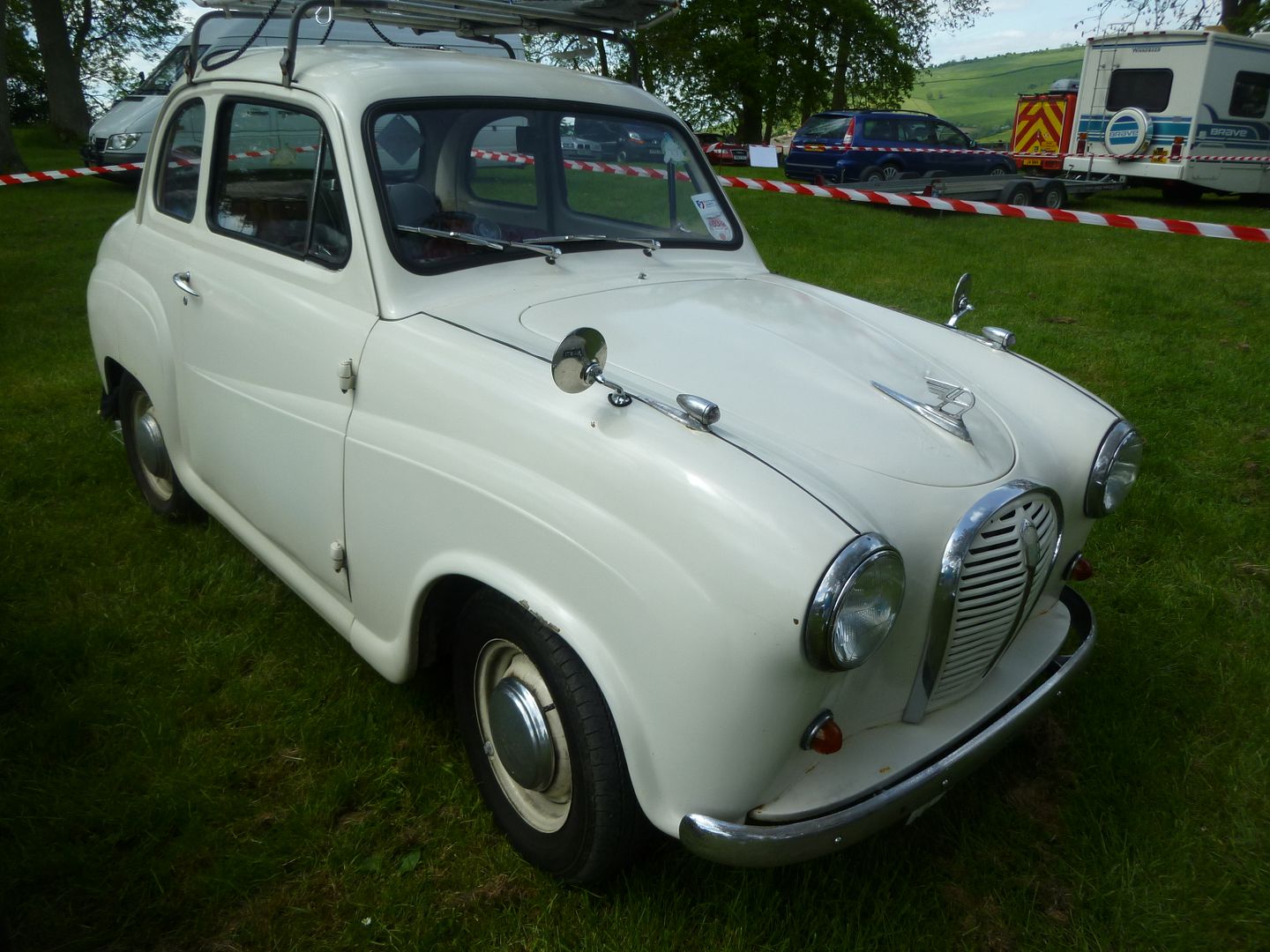 An early Mini, though I suspect that it should probably have had Se7en badges on it to be truly authentic?
AUSTIN-HEALEY
Among the Healeys were both Sprite and 3000 models.
BENTLEY
Our first sight of this imposing limousine was on arrival at our morning rendez-vous point, and I did wonder if James Swan had been able to trade up, as it is the sort of car that appeals to him. I was right in that he positively drooled at it, and he was able to identify it as an R Type with James Young body (I would have guessed S Type and been unsure of the coachbuilder), but it turned out that another trio had chosen the same assembly point as us. Very splendid.
There was a standard bodied Type R.
There were a few of the classic 1920s and 1930s models, with both 3 litre and 4.5 litre models evident.
The Continental R of the early 1990s remains a particularly elegant machine, and a rare sight as this model pre-dates the vast increase in production that came with the next car to bear the Continental name.
BMW
This fabulous 328 was present on both days, parked in different places.
This particular earlier 319 model is an inveterate attendee at Prescott.
Outrageously expensive when new, the Z3M Coupe still has lots of appeal.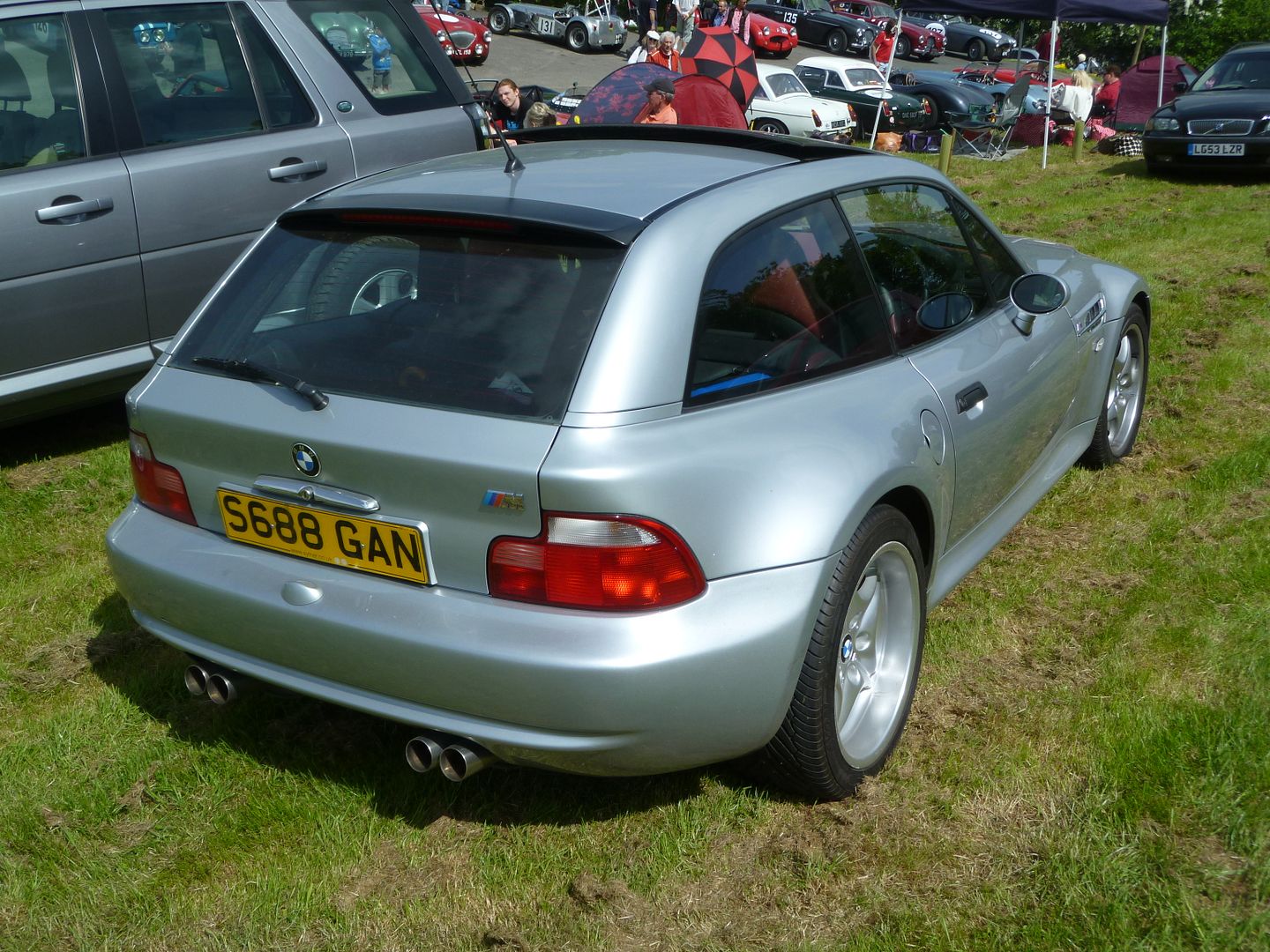 Probably the most elegant of the current range is the 6 series Gran Coupe, such as this one.
CITROEN
There were some more classic Citroen in the car parks, including 2CV and DS
DELAGE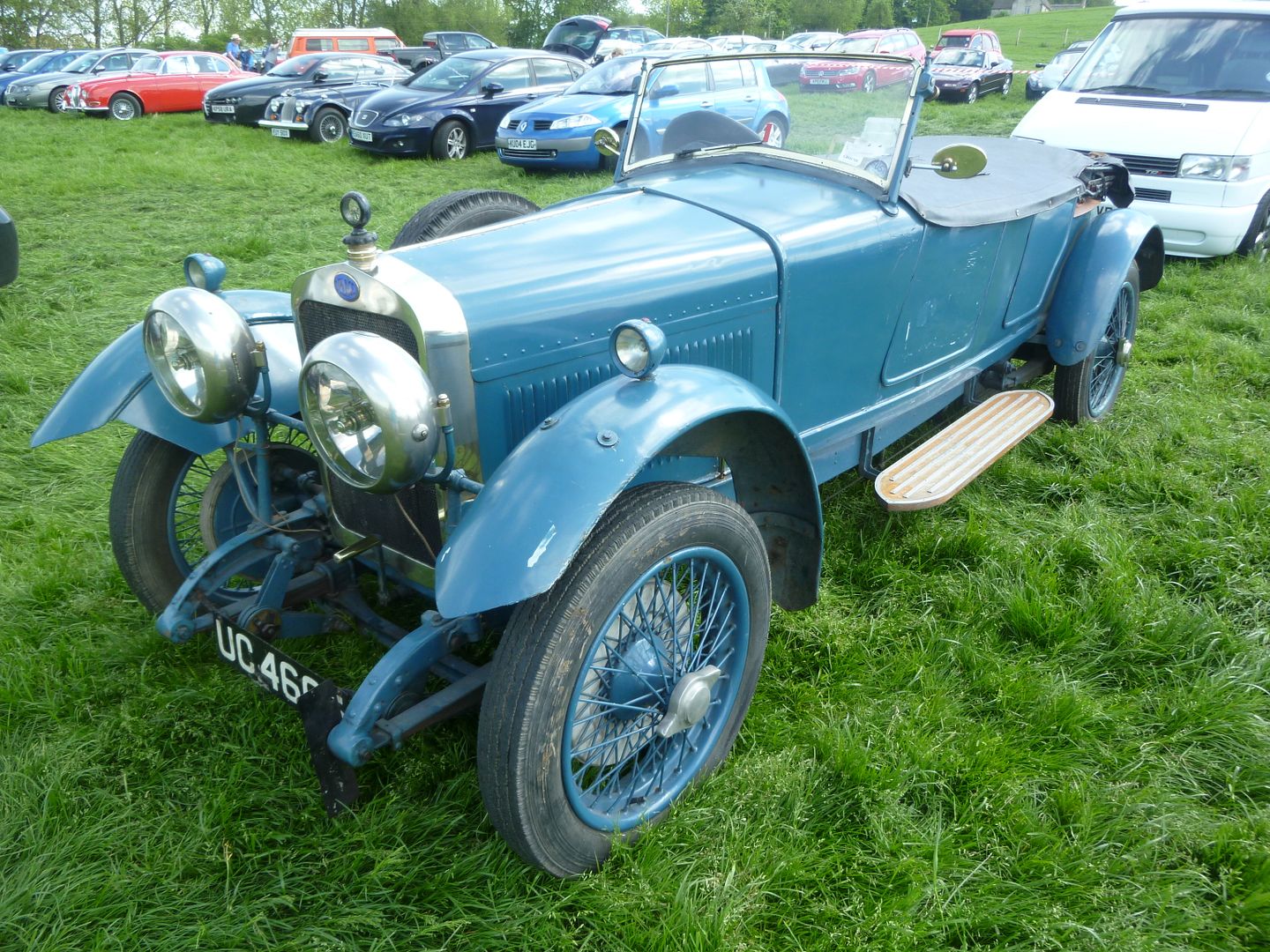 DELAHAYE
Tucked away in the carpark was this.
FERRARI
There were not many Ferrari present, but we did come across a lovely 246 GTS Dino, a 308 GTS, an F355 Berlinetta and this 430 Spider. I saw a rather modified 599 GTB drive in, but never found it on site. Given the modifications made it, my camera might refused to photograph it anyway!
FIAT
Strictly speaking. this is a Pininfarina Europe 2000, identified by the door mirrors which are mounted through the front quarter lights, so from the last couple of years of production of the long running 124-based sports car.
This first generation Panda 4×4 was in a "plush" (it's a relative term) finish compared to the strictly utilitarian green models that are more often seen.
FORD
There were a couple of early Fords, including these Model A
Surprisingly few more recent "classic" Fords were evident, though this rather nice Mark 2 Zephyr did make some amends for the lacuna.
Not exactly a "classic", but quite rare is this non-Cosworth Sapphire from late in the model's production life.
FRAZER-NASH
I confess that when we saw this car parked up on the hill, up above TheMotor.net's parking area, none of us were able to identify it with any certainty, even though it did look rather familiar. Closer inspection revealed a Frazer Nash badge on the nose. This is a Le Mans replica car, made in around 1956.
GINETTA
G26
ISO
One of the rarest cars of the public car park was this, a Lele.
JAGUAR
Parked up behind the museum was this C Type. There are plenty of very well presented replicas out there, but as far as I could tell, this is not one of those and is indeed a genuine 1950s factory car.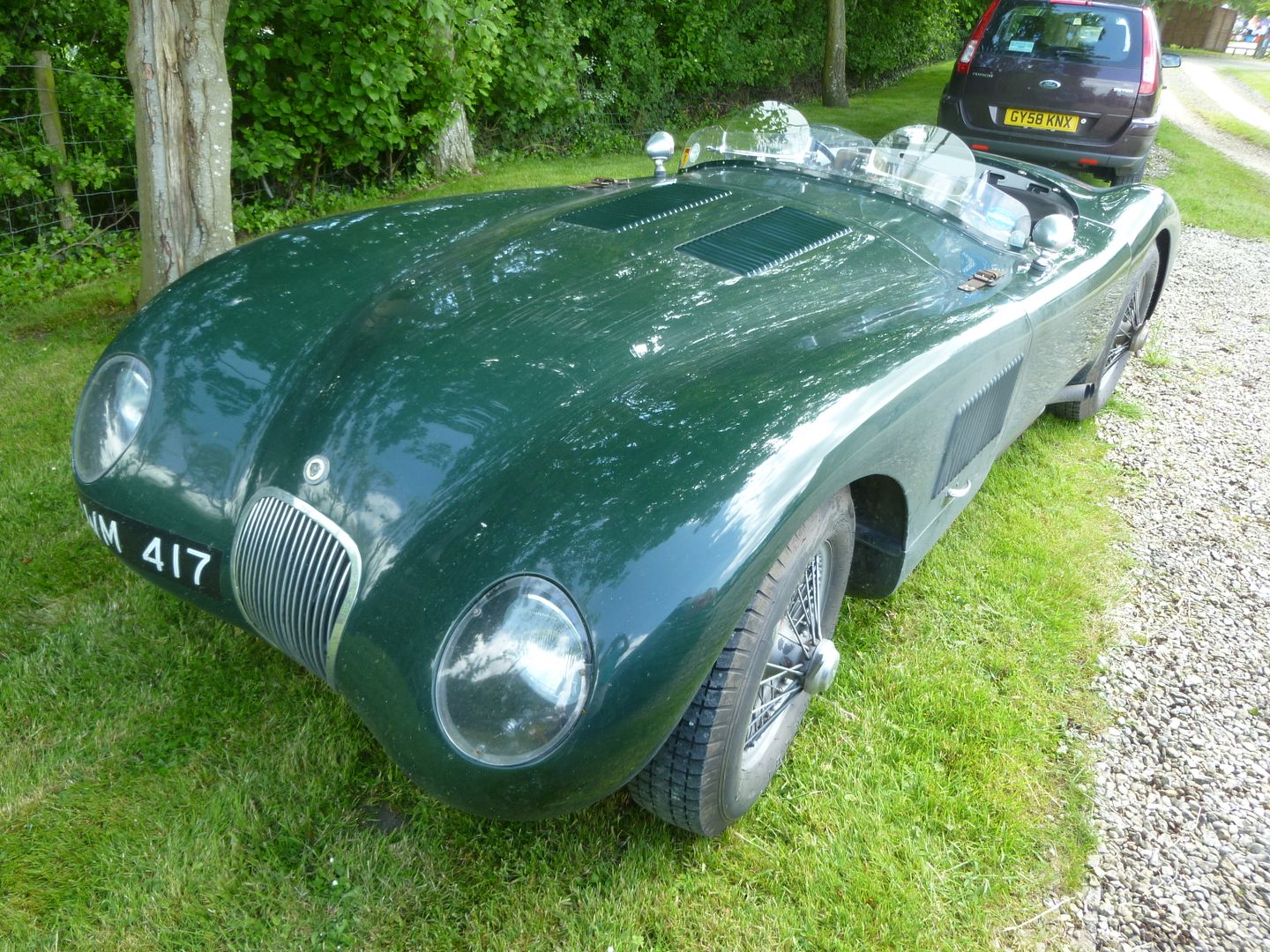 There were plenty of E Types, with Series 1, 2 and 3 well represented.
Pre-dating the E were the XK sports cars and there were an XK120 as well as an XK150 Roadster to relish.
There were also a number of Mark 2 saloons and an S Type in bright red
LAGONDA
LANCIA
Nearly missed this one, as just as I started to approach it to take picture, the owner fired the engine and off he headed. A Flavia Coupe, and very elegant it is, too.
More recent, and far better known was this Delta Integrale.
LEA FRANCIS
LOTUS
Oldest Lotus on display was this VI
There were also a couple of Sevens, including a very rare example of the Mark IV, the least well rated of the Lotus built Sevens, easily identifiable by its squared off wings.
The Europa really is tiny in every dimension.
From a more recent era was this Esprit Turbo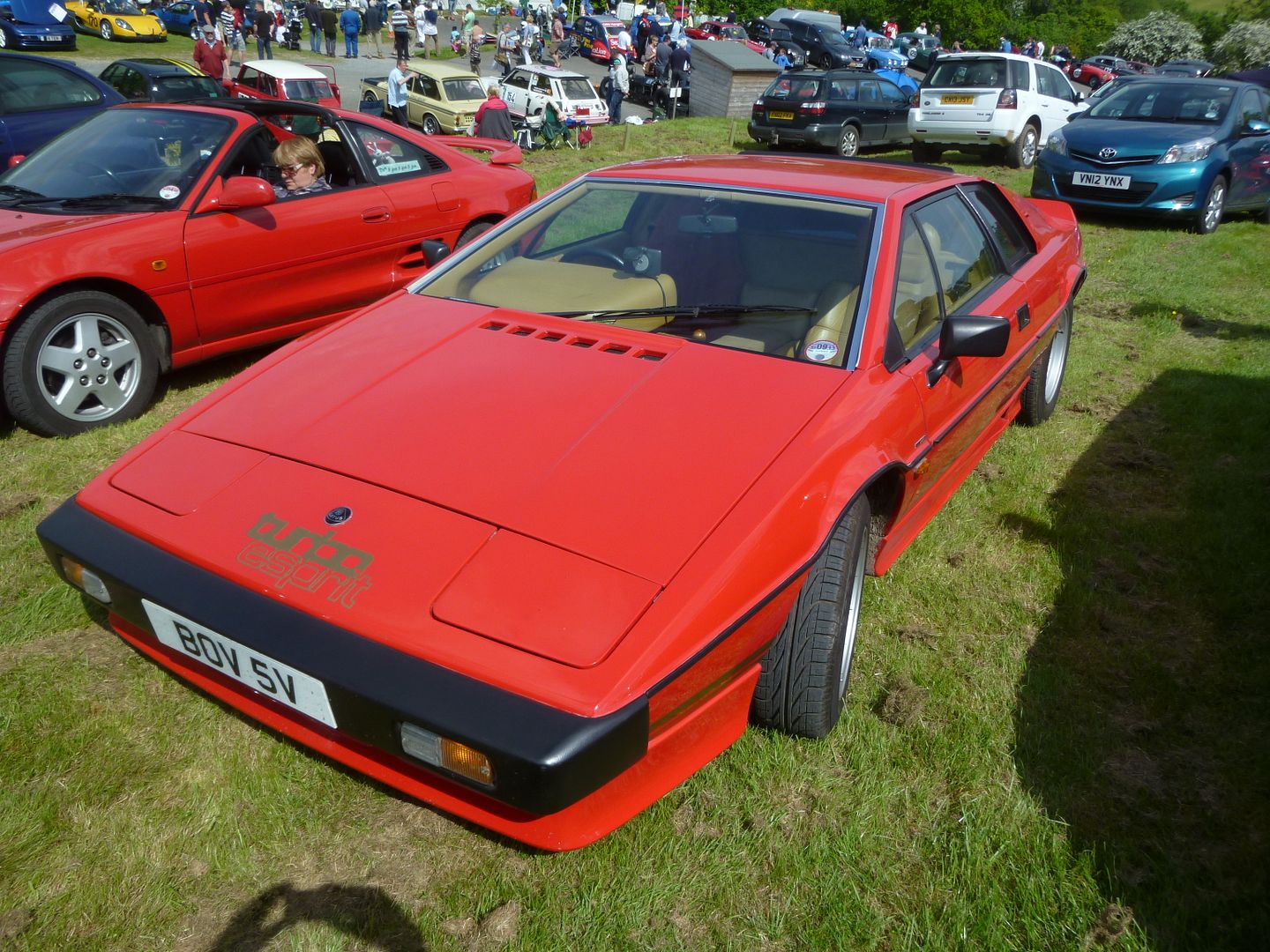 MARLIN
MASERATI
The very elegant 4200GT
MATRA
A further example of the oh-so-pretty Murena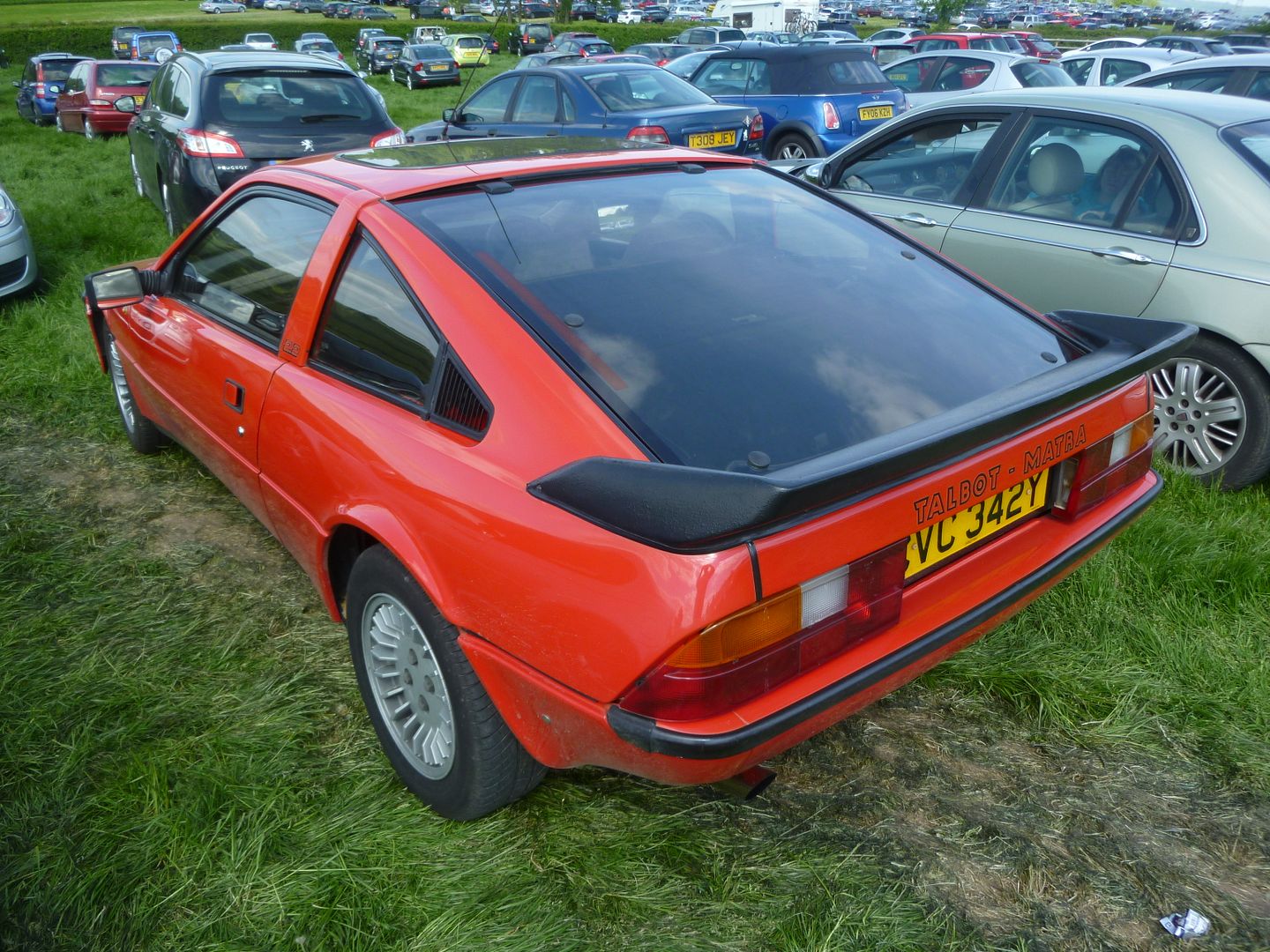 MERCEDES-BENZ
A classic W123, in entry level 200 guise.
Nicer yet, in my opinion was this W108 model 280SE.
MG
The MGB remains one of Britain's most popular classics and there were lots of these on site.
Among earlier models were a number of the T Series cars, with TC and TD parked up
Earlier still were the pre-war cars which included a J2 and a model I don't specifically recognise.
There were also a couple of the popular Midgets.
The ZT Owners Club had a much reduced display on the Saturday, compared to previous years when they have filled a large space in The Orchard.
MORGAN
There were a number of Morgans, from early 3 wheelers to the more numerous PLus 4 and Plus 8 cars and one very nice AeroMax.
MORRIS
Eight Tourer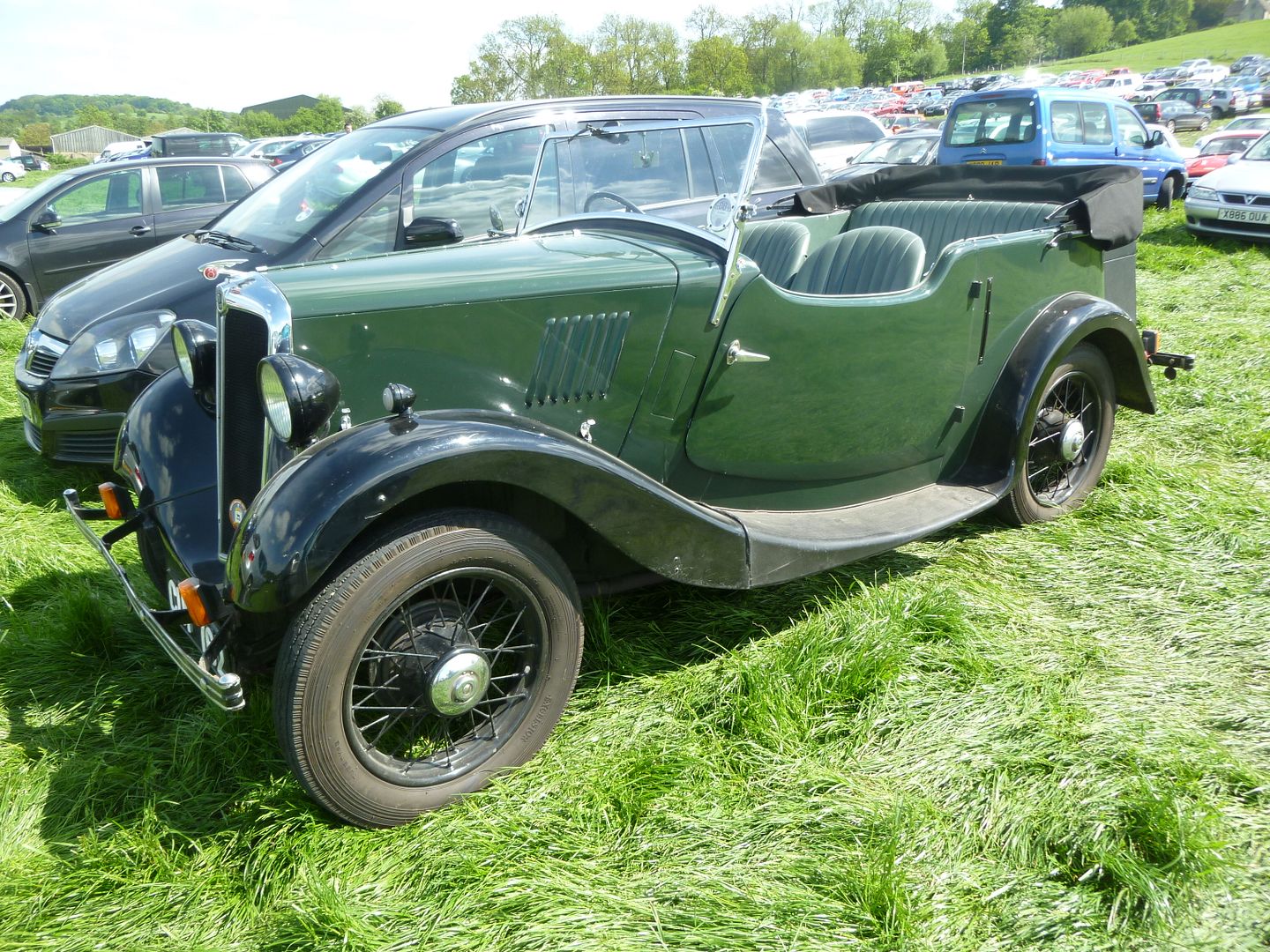 NISSAN
The GT-R must surely be a classic-of-tomorrow, if anyone can afford it! This will be a very difficult car to keep running once manufacturer support runs out.
PEUGEOT
A further 304 Convertible was in the public car park.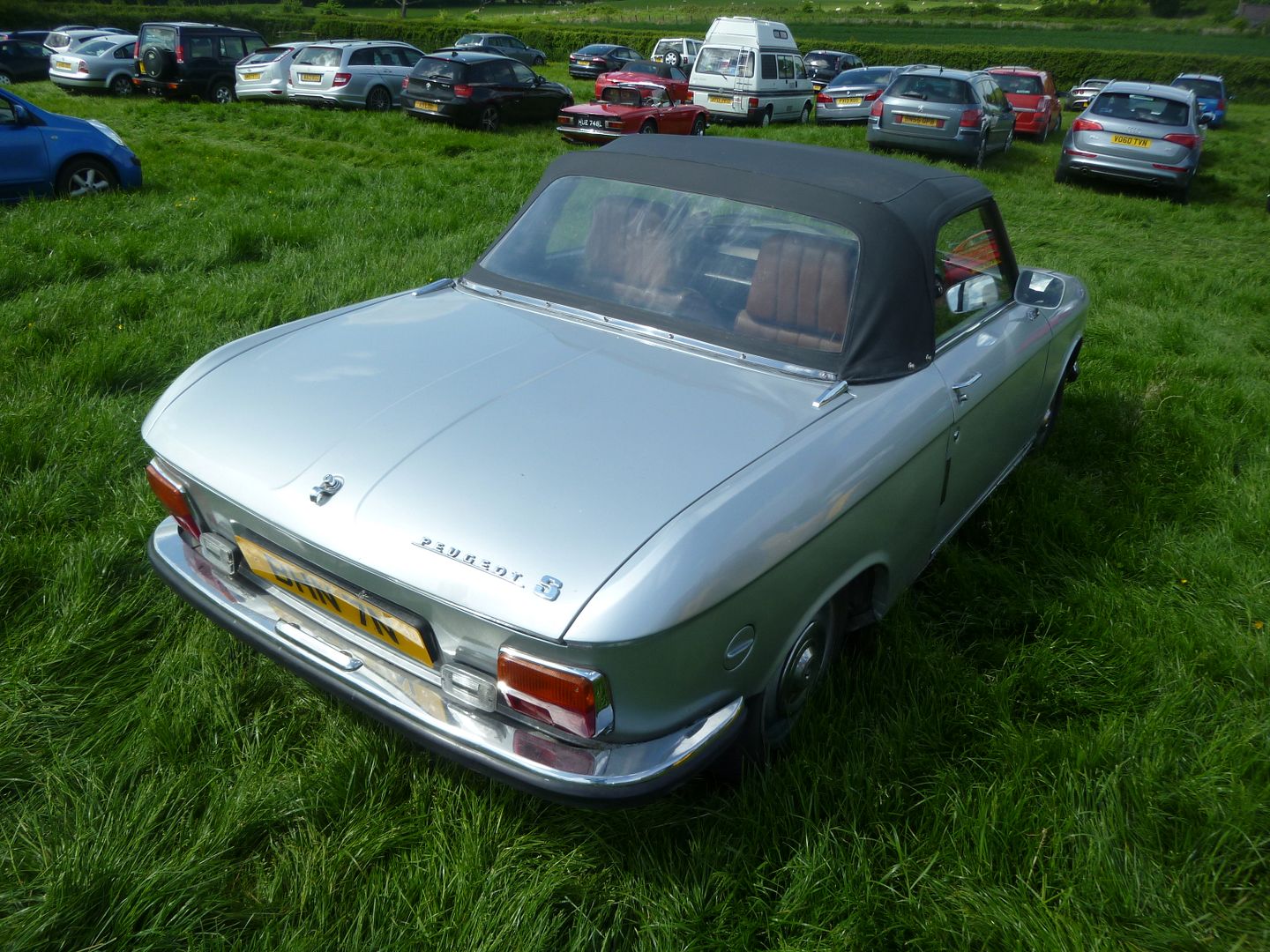 PORSCHE
2013 is a big year for the 911, and with 50 years of production, and a decent survival rate, it is always likely that a fair number of these much loved cars will show up at an event like this, and indeed they did.
This VW-Porsche 914 had clearly had a recent repaint, but sadly this had been done before completing a really good job at integrating the rather bulbous wider wings that had been attached to both front and back.
The 928 is a favourite and there were a couple of these in the car park, including an early car.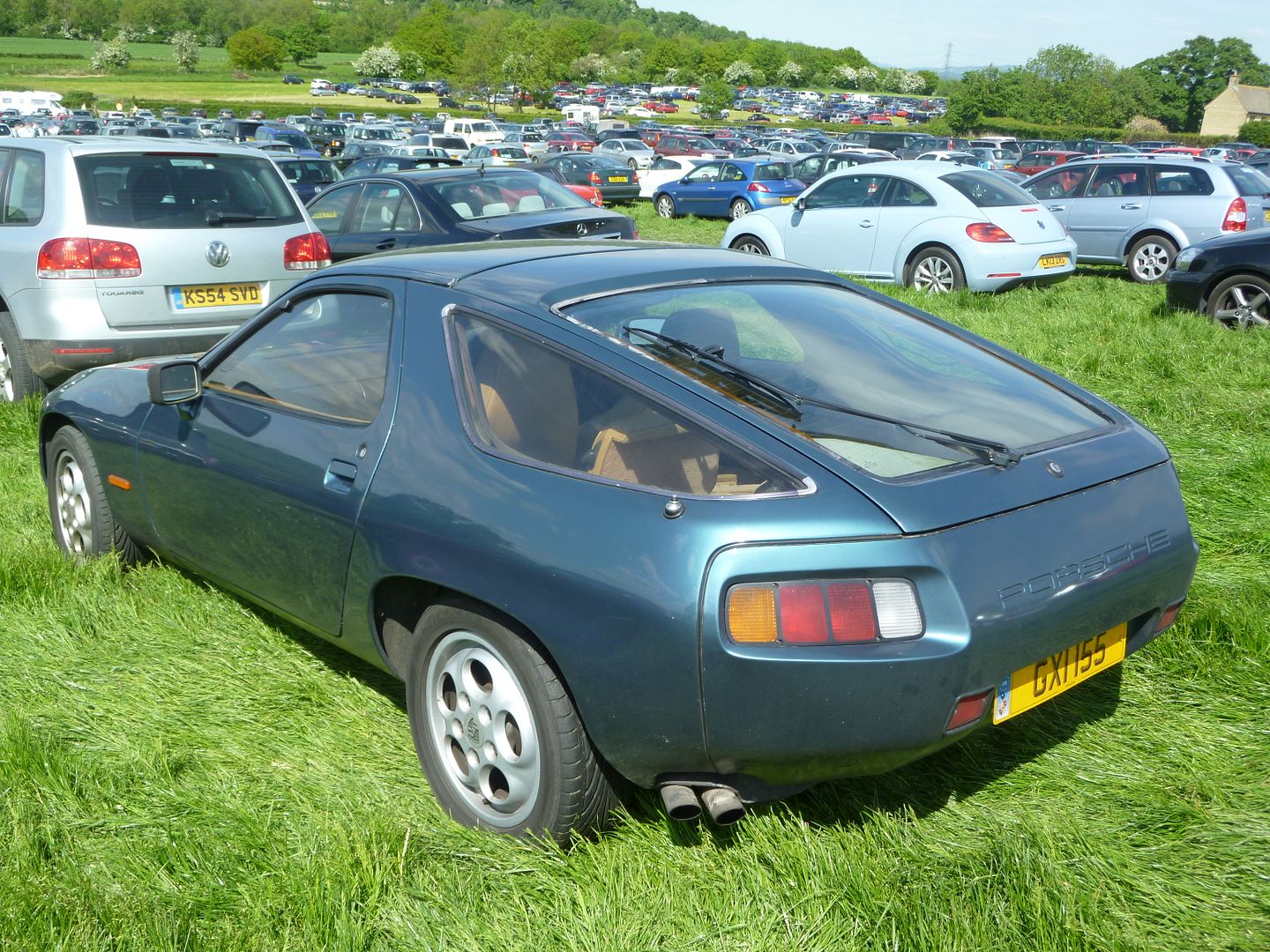 The smaller front engined cars were also present, with 924 and 944 models parked up
There were also a number of Boxster and Cayman models.
RELIANT
Compared with more recent vehicles, this Scimitar GTE just looks plain small, in every dimension.
RENAULT
A further Avantime was parked up in the main public car park and there was a rather nice R5 GT Turbo in the Cotswold Classic Car area.
RILEY
Monaco
The photo of this One Point Five was deliberately taken from this angle so the utterly inappropriate and rather unpleasant wheels cannot be seen.
ROVER
A relatively early P4 model.
SALMSON
A quick spotters clue issued by our resident expert on 1930s cars, James Swan, when we came across the first Salmson meant that when I found another one, I could assert the marque with confidence without having to look at the badge. The clue is the very distinctive shape of the grille.
SMART
STANDARD
There were a couple of the 1950s Ten models in this display put on by the Cotswold Classic Car Club.
SUNBEAM
An early Alpine model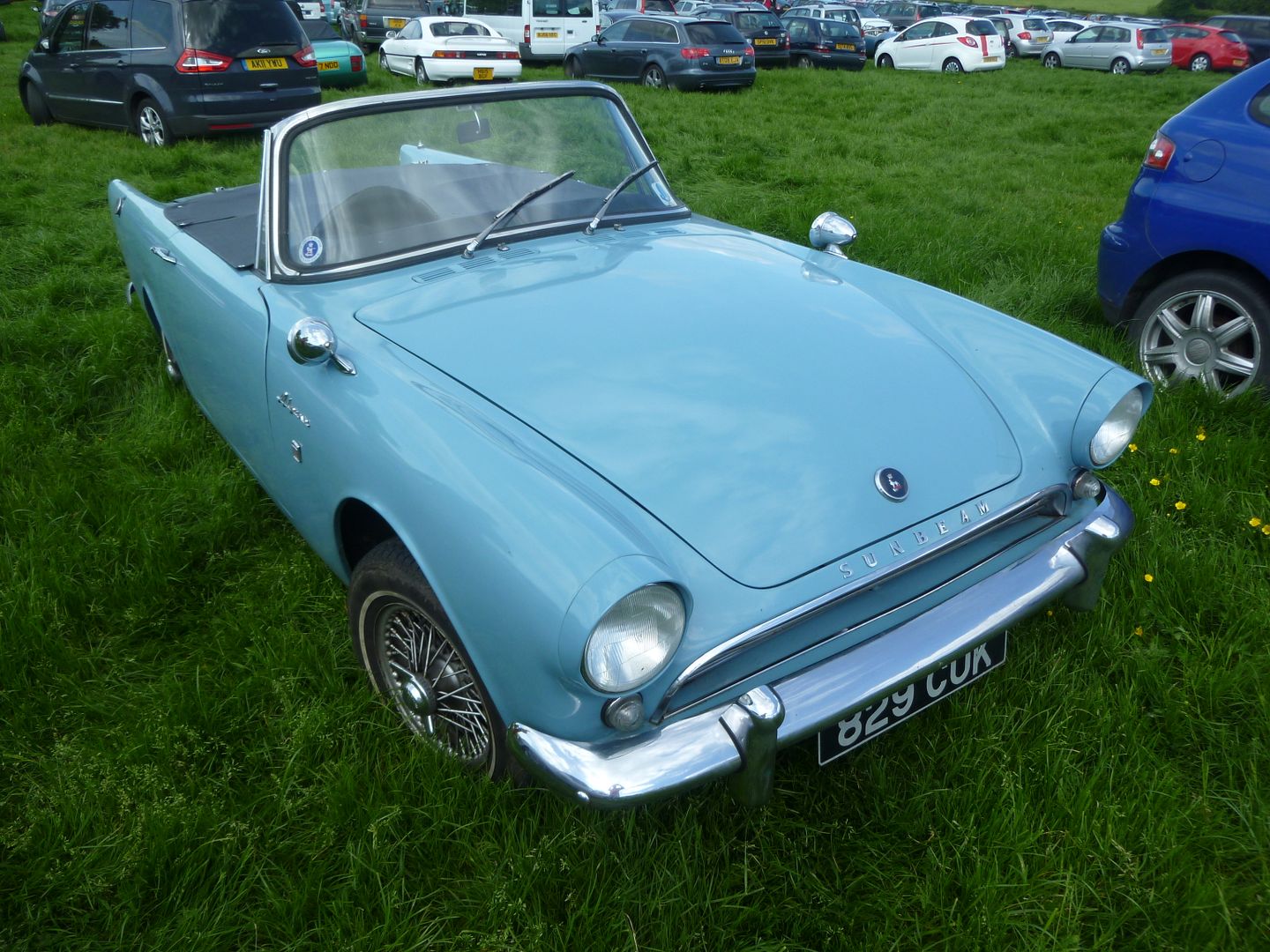 TRIUMPH
There were a wide variety of TR models, ranging from the first TR2 cars, through all the subsequent generations to the TR7 and 8 cars
The Stag was also much in evidence.
There were also a number of the smaller Spitfire and GT6 cars.
TURNER
One of the British sports cars made in the late 1950s, this one is based on Austin A30 components.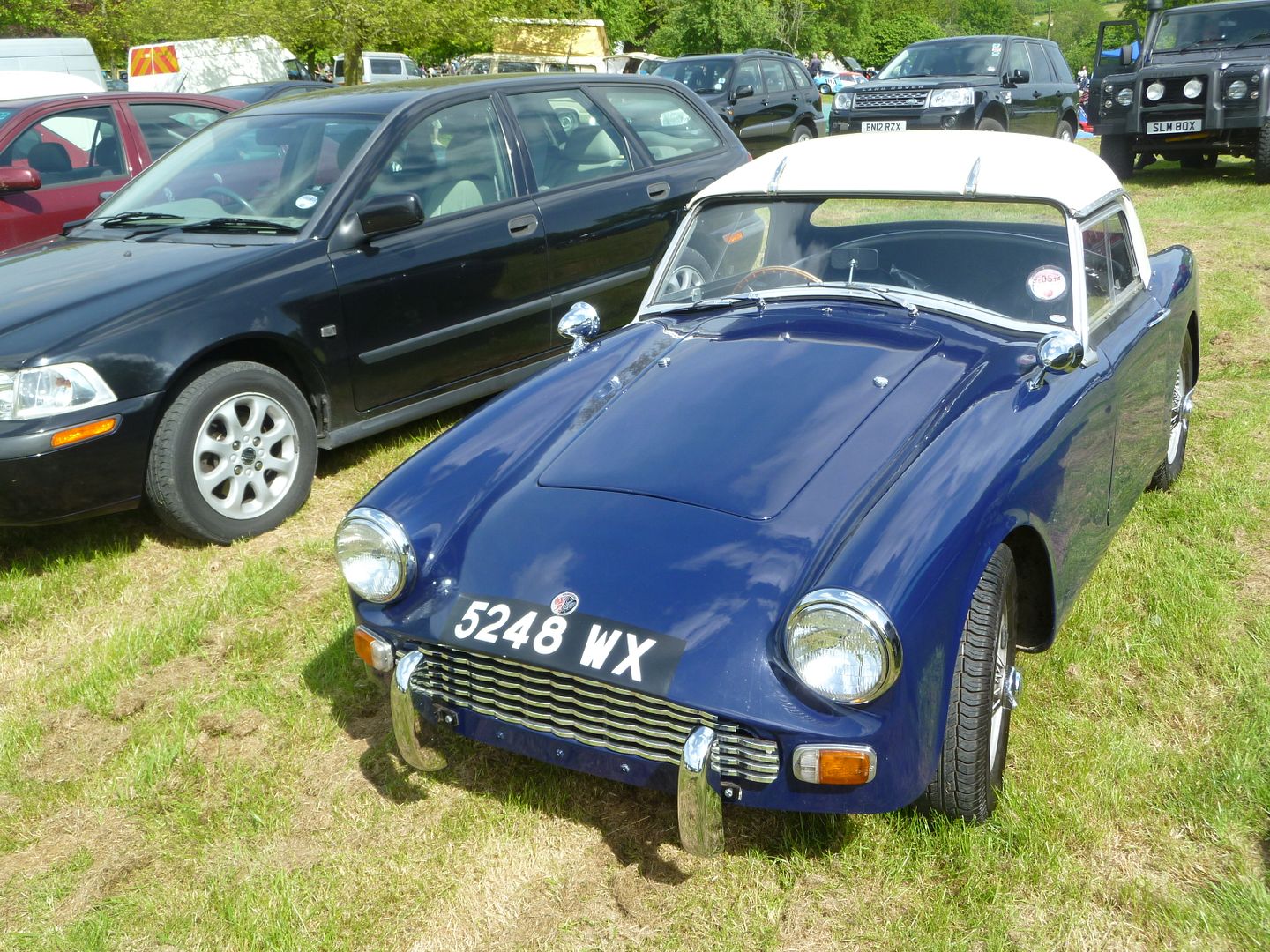 TVR
The local area of the TVR Owners Club had a sizeable display of cars parked up in the Orchard on the Saturday, with a wide variety of models included from M Series and Taimar, through the "wedges" to S and then the better known cars of the 1990s, with lots of Chimaera, Griffith, Cerbera and Tuscan as well as a T350 and a Sagaris.
VAUXHALL
The VX220 is one of those often sports cars that thanks to a short production run became an instant minor classic. A couple were parked up.
Far older, indeed a model that celebrates its centenary this year is the sporting 30/98 such as this one.
VOLKSWAGEN
This Type 1 Karmann Ghia arrived mid morning on the Sunday and was parked up under the trees near to the footbridge across the track.
Dinner on the Saturday evening was enjoyed at the nearby Teddington Hands Inn, who looked after us very well, and with enormous portions ensured that no-one left hungry.
Without question, this was one of the best, if not the best, of the 7 La Vie en Bleu weekends in which I have participated. The 2014 dates have already been announced – 24 and 25th May, so back to the Bank Holiday weekend – and there are requests on Prescott's Facebook page for suggestions on what people would like to see included. Get your requests in early, and black your 2014 diary now!
Share and Enjoy