2012 Hyundai Sonata 2.4 GLS (USA)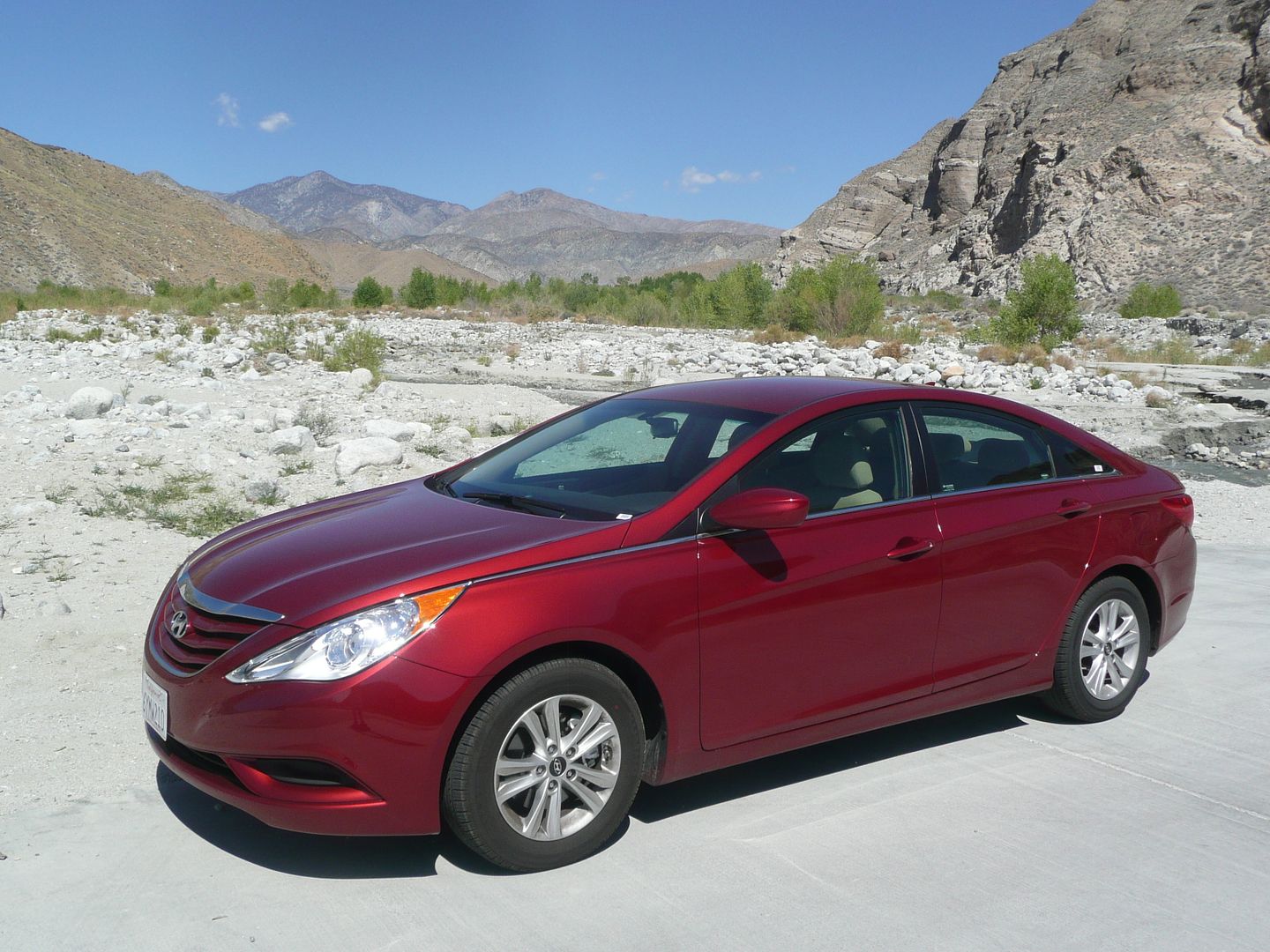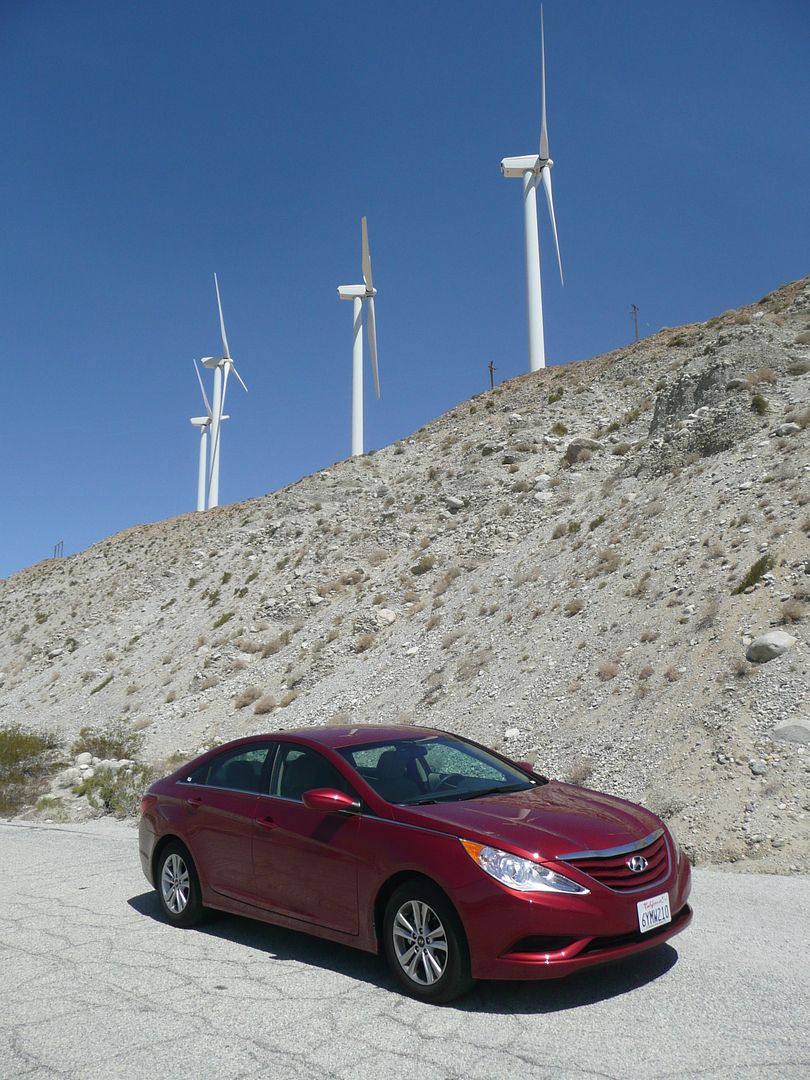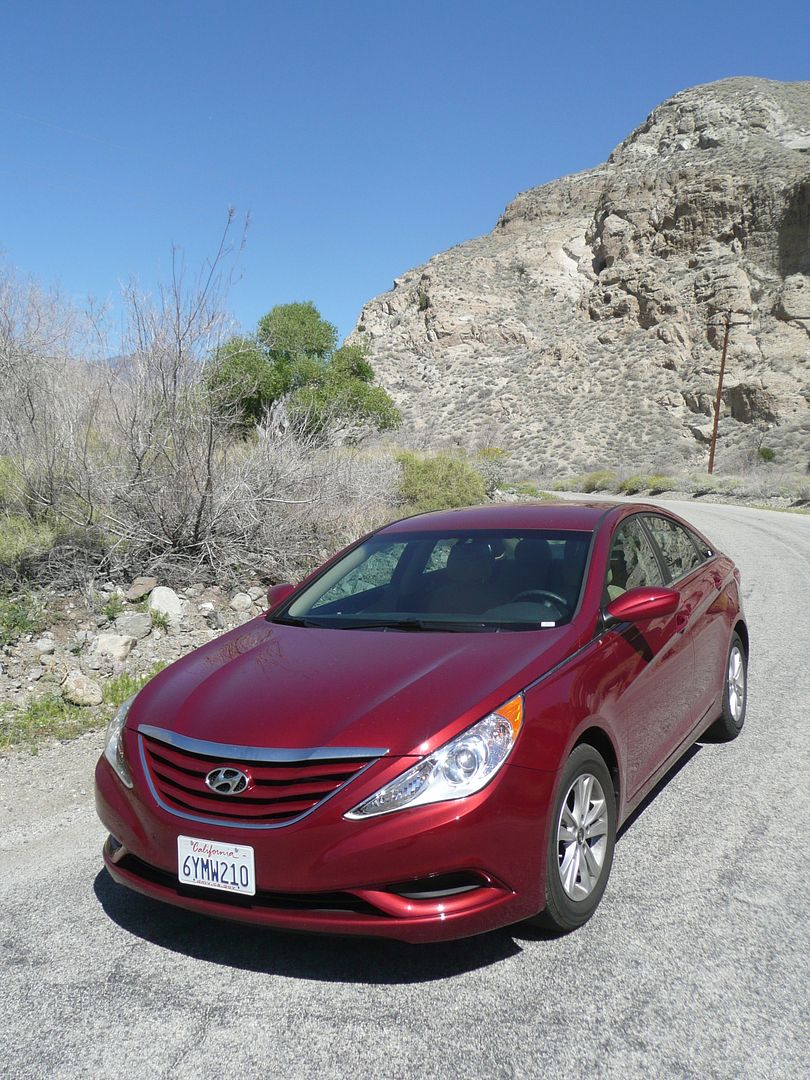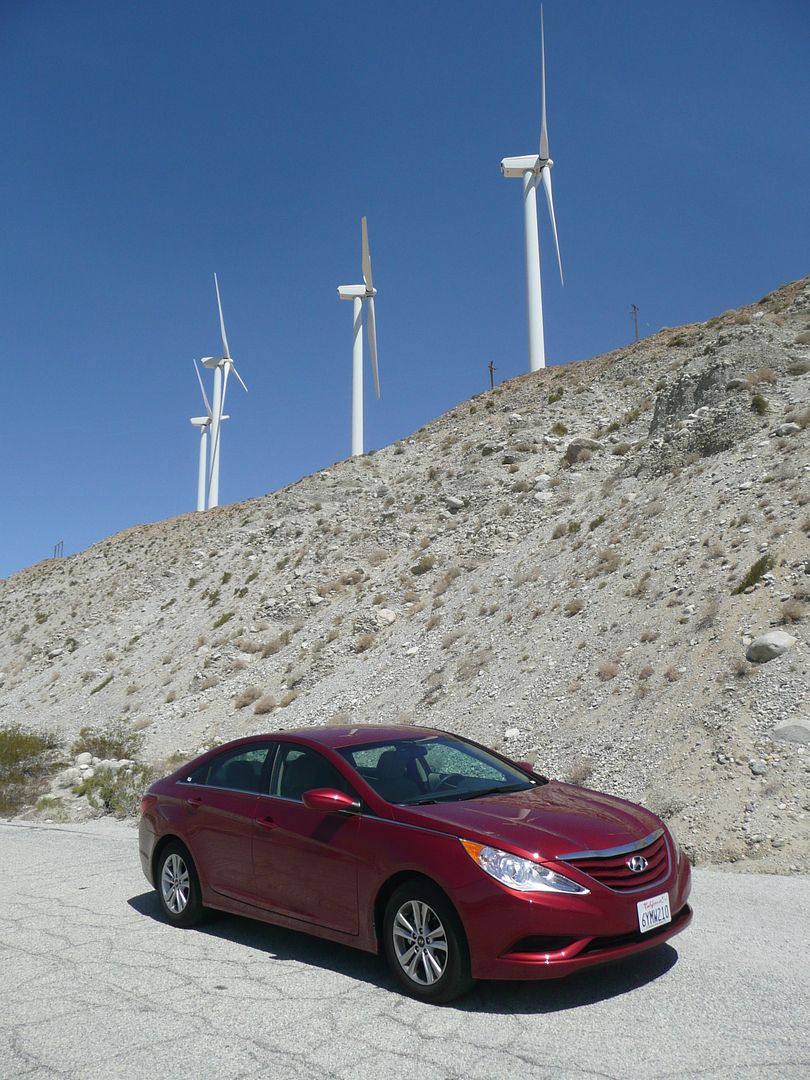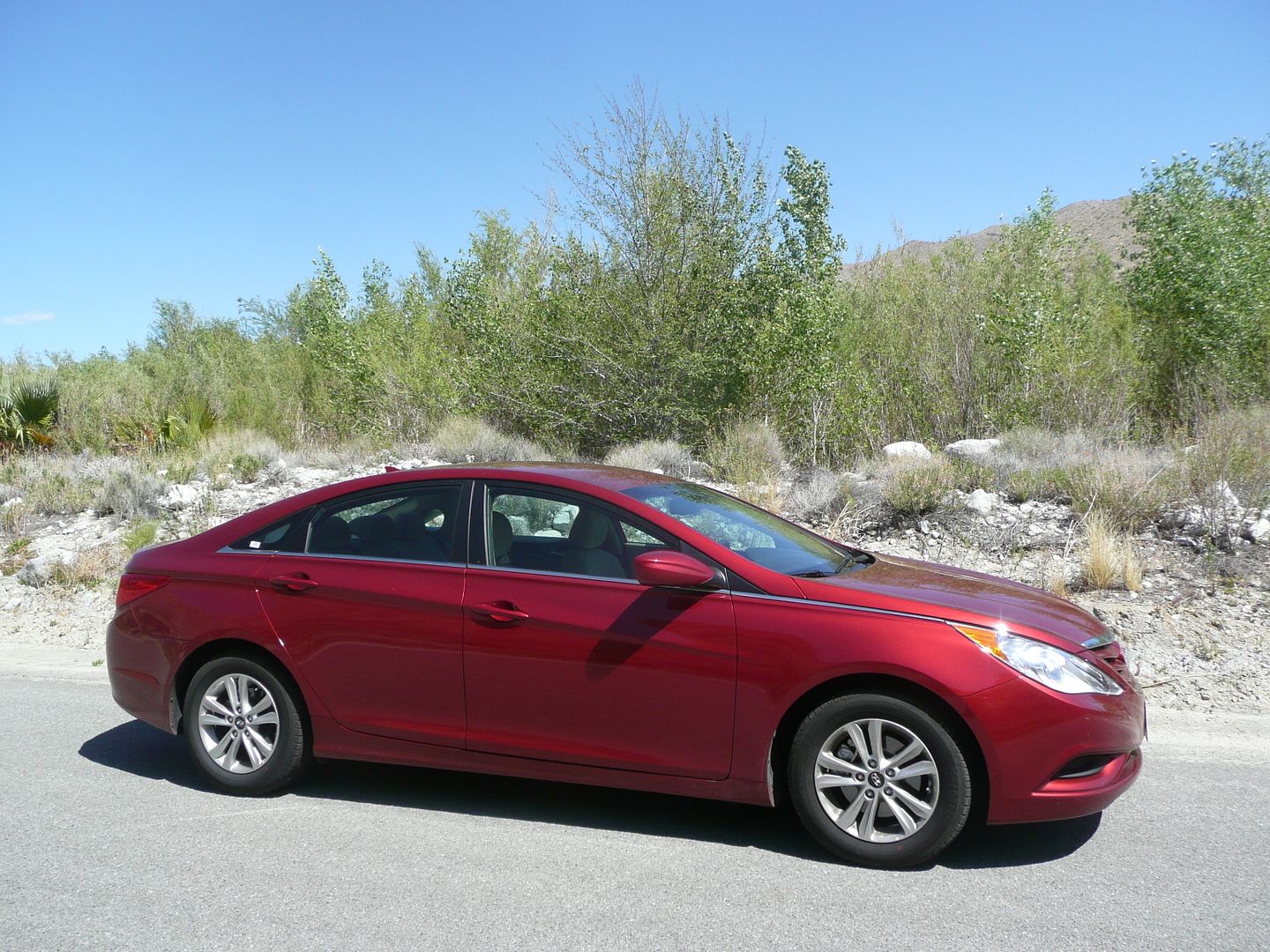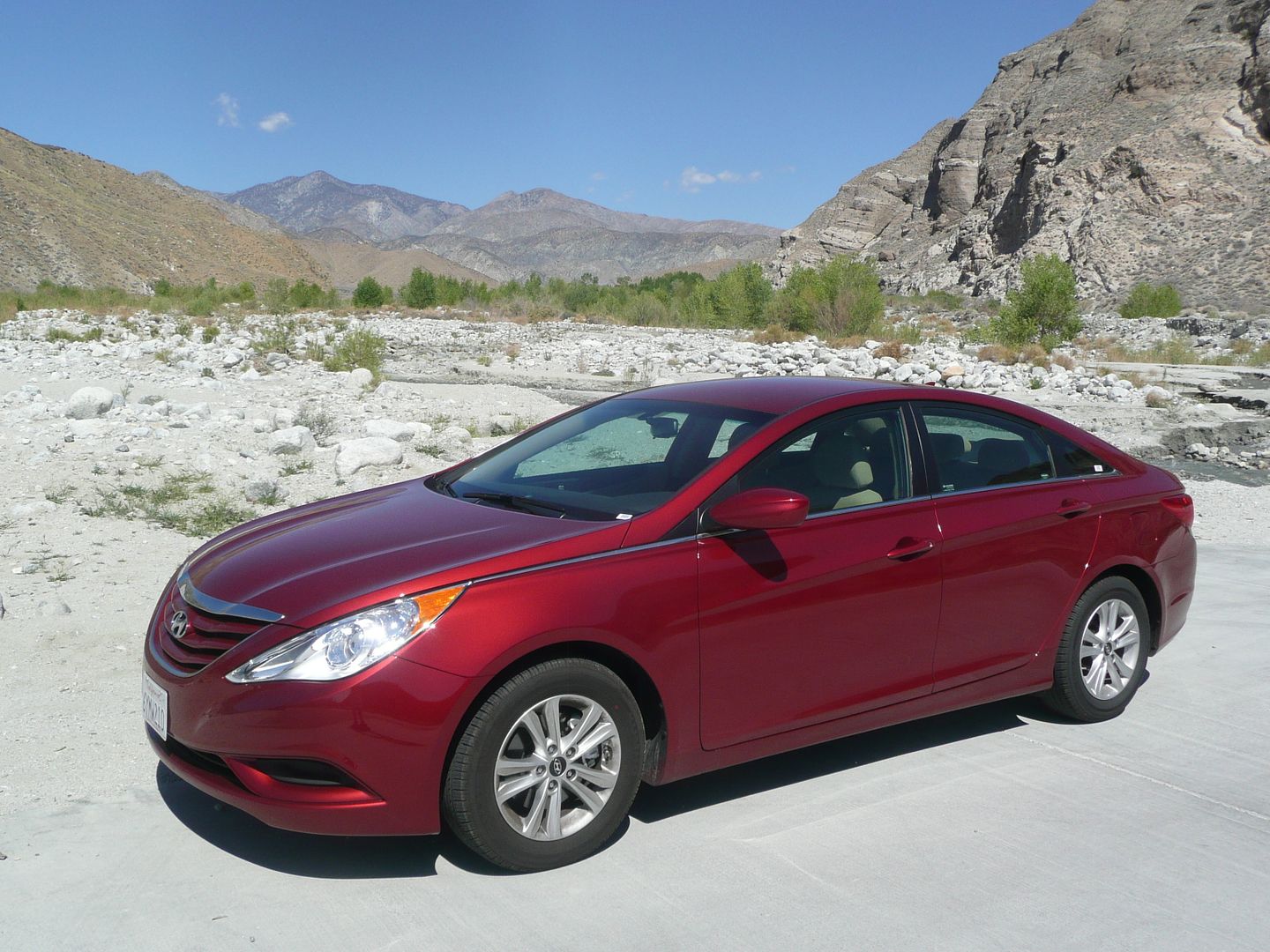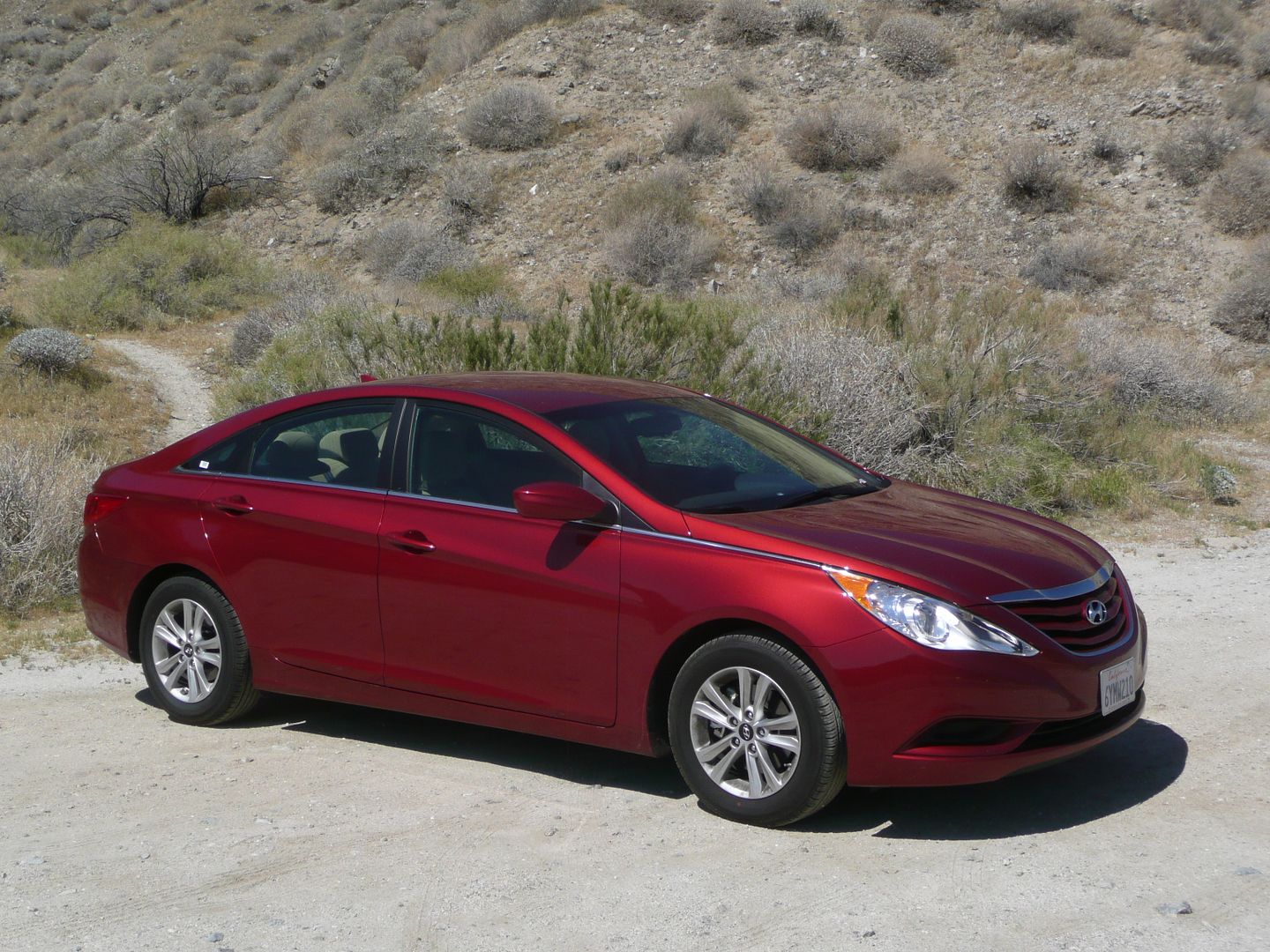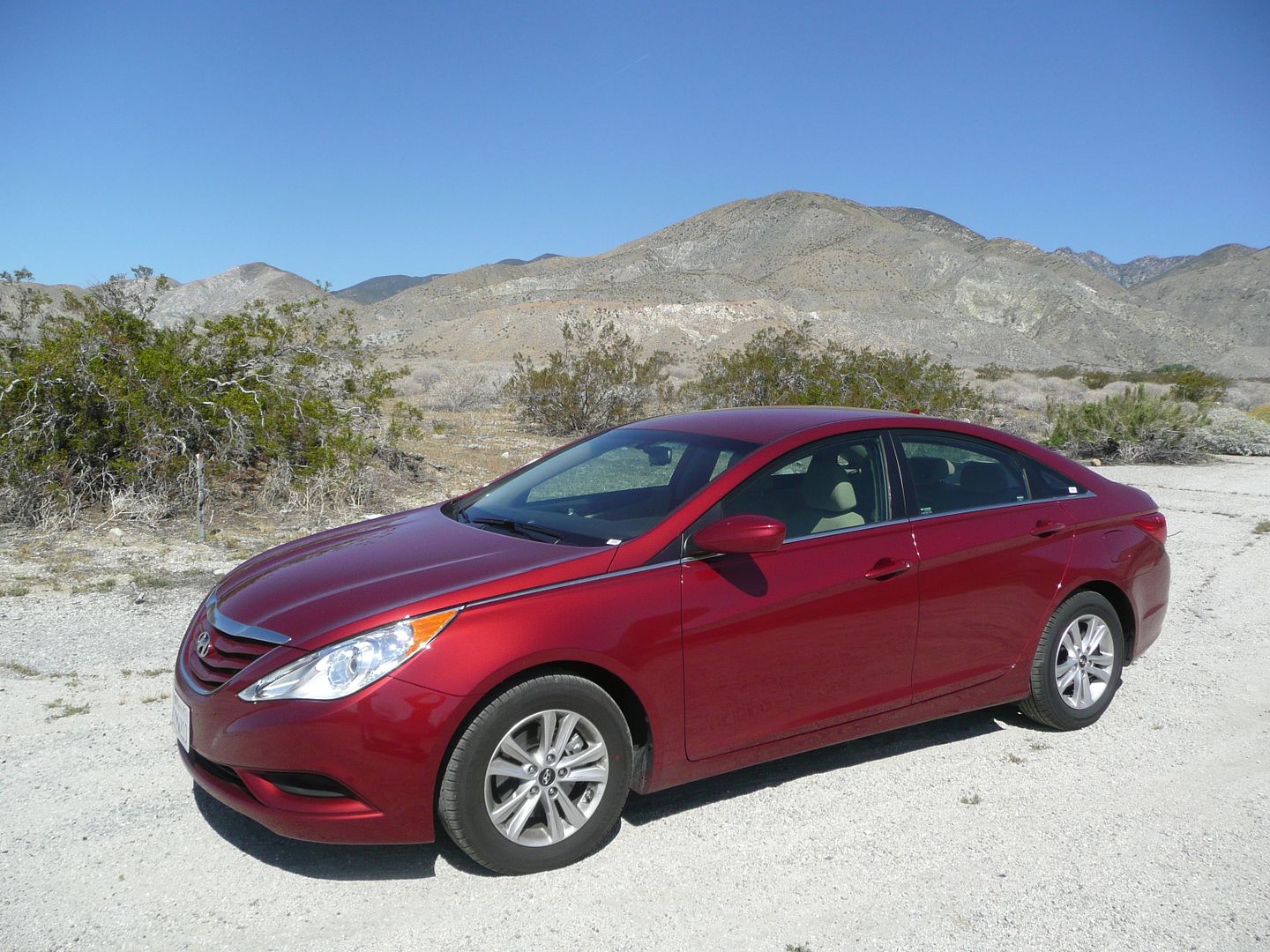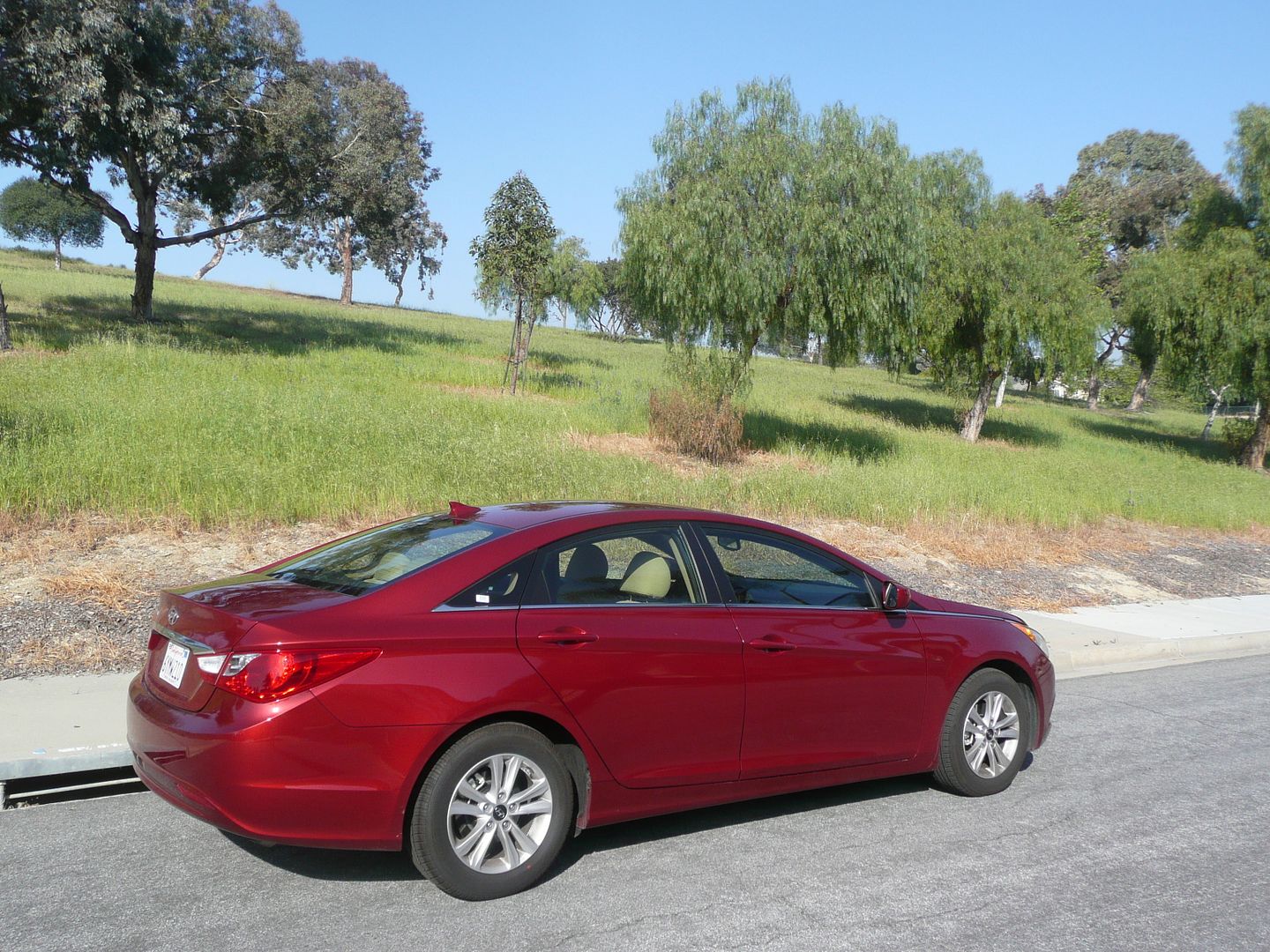 In 2012, the best selling car globally in the class of what the Americans call the "full sized sedan" was, by some margin, the Toyota Camry, thanks in no small measure to sales of over 400,000 units in America, out of total worldwide sales of just short of 800,00. It may surprise you to learn that the next best selling car of this type was the Hyundai Sonata. More than half a million new examples were sold in 2012, making it the 21st best selling car in the world. Of these, 230,000 were sold in America, so plenty were bought in other countries as well. Surprised? Maybe, but really you should not be, as this is a car which has not so much evolved from some rather uninspired beginnings in 1989 so much as changed beyond all recognition with every redesign. The YE, fifth generation  model, launched outside Korea in 2005 should have put the world on notice, as this was a very competent car, and perhaps the one model above all others which finally laid to rest all the American prejudice about Korean cars being outclassed. It was, however, a mere hint of what was to come, as when the model was replaced by the sixth generation car, the YF, which premiered at the 2009 LA Auto Show, as a 2011 model, the new Sonata was the first to show the now familiar "Fluidic Sculpture" styling which has spread across most of the range, proving that having got the basics right, Hyundai were now after the proverbial icing on the cake, with something that looked interesting. For reasons that I don't understand, Hertz went from a situation of having loads of Sonata on fleet in 2008/9 to one where the car has only ever appeared occasionally, at least in the Pacific South West, though I have seen a few more on fleet in recent months than the past couple of years. Having handed back the keys to one of the Sonata's competitors, the new Nissan Altima, as I left Phoenix, when I arrived back in Los Angeles and was offered the Hyundai, I welcomed the chance to do an instant comparison of the two dread rivals.
With this generation Sonata, Hyundai were the first to eschew a V6 model, which at the time looked quite brave, as although sales of these versions are not that great, the journalists get far more excited about this end of the range than the cars everyone actually buys. Since that time, many of the Sonata's rivals have made the same move, resorting to turbocharged 4 cylinder units to get the extra power that used to come from those thirstier 3.5 litre V6 powerplants. Hyundai offer a 2 litre Turbo engine in the Sonata, which puts out an impressive 274 bhp and they also have a Hybrid version available, but needless to say, the test car was from the bottom of the range, and was fitted with a 2.4 litre 4 cylinder unit. On paper it is a bit more powerful than most of its rivals, in GLS form putting out 198 bhp, whereas for reasons I have not quite worked out, SE models deliver the full 200 bhp.  It is a refined unit which goes about its business with little drama or fuss. You would need a stop watch to determine whether the extra 15 – 20 bhp which the Sonata boasts over its rivals actually amounts to anything discernible on the road. For the driving I did, it felt lively enough, and could be provoked into urgent action if you pushed your right foot harder on the accelerator, at which point it could certainly get you out of trouble quite quickly. The test car had the very smooth six speed automatic gearbox fitted. Engine noise is very well muted on the freeway, and there is just a bit of wind noise to keep your ears awake. Fuel economy turned out to be a strong point, though the Sonata did not quite equal the amazing parsimony of the Altima. On a test of 342 miles, I needed to put 10.6 gallons into the tank to fill it, which equates to an average of 32.2 mpg US, or 38.5 mpg Imperial. Granted that much of that mileage was steady speed freeway travel, bur even so this is still impressive. This is yet another car in which I feel the steering is too light. Around the straight ahead position, at low speed, I would go as far as to say it is vague, and you fear that you might need to work on making small steering corrections as you drive along. In reality, you do not, and as you gain speed and/or put on some lock, the weighting does increase but it is still lighter than I would prefer. The Sonata is an easy car to drive, and you can point the wheels where you want around a bend, and be confident that the car will do what is required, without you getting into difficulty. You will notice some understeer as the bends tighten, but there is plenty of grip, even if ultimate fun may be somewhat lacking. Even on California's lumpy roads, the ride was good, thanks no doubt to a long wheelbase and relatively soft suspension. There were no issues with the brakes, which worked well. A foot operated parking brake is fitted. Thanks to the steeply sloping rear window, judging the back end of the Sonata is not easy, though the amply sized door mirrors do help and you know that the tail is relatively stubby. Otherwise, visibility was good, and the door mirrors had a decent field of view of what was coming up behind and alongside you.
When I opened the door of the test vehicle my eyes were almost dazzled with the rather bright oatmeal coloured interior. The external finish was a rather nice wine red colour (Sparkling Ruby in Hyundai speak), and I know that a certain well known Italian manufacturer is renowned for combining cream or tan leather interiors with bright red paint rather successfully, but this was a bit too "un-grey" for my liking. That said, the materials all appeared to be of good quality, fit and finish was excellent and many of the plastics were decently soft touch when you poked at them, though I was not too taken with the plastic moulded steering wheel. The oatmeal colour that is found on the cloth seat trims extends to part of the door casings and the lower part of the dashboard. The upper surface is a much darker chocolate brown, and there is some rather restrained dark charcoal coloured inlays which I thought were actually rather pleasant. When you turn the ignition on, and there is a conventional key in the Sonata, unlike the Nissan, you get a nice blue ring glowing around the inner circumference of the dials, which I also thought looked fine. The main dials, speed and rev counter are quite recessed, and have a chrome ring to their edge. They are easy to read at a glance. The fuel gauge and water temperature gauge are presented as small circular bar charts inside each of the larger instruments.  The upper centre of the dash contains two vertically mounted air vents, which are just about far enough away from the steering wheel that the nearer one does not freeze your knuckles when the air conditioning is working hard. Sitting in between these is the audio unit, which contained both AM/FM and also XM Satellite, as well as a CD slot. It proved very easy to use and the sound quality was good. Beneath this are the air conditioning controls, two rotary knobs and between them a pictogram representing the human form, which you then use to show where to direct the air to. A bit stylised, perhaps, but I thought it worked well enough and was not actually overly fussy. Twin column stalks operate the wipers, indicators and lights. There are a lot of buttons on the steering wheel boss, for cruise control, the on-boar computer functions and repeaters for many audio unit operations. Positioned in the lower frame of the rear view mirror are the controls for Hyundai BlueLink, an optional service which mimics some of what GM's OnStar does, and which can be customised from the internet. I did not get the chance to see if it was even active on the test car.
Front seat adjustment in the test car was all manual, and although I was able to get a good driving position, I felt that the driver's seat would have benefitted from a bit more lumbar support than the shape of the seat offered. Even so, I spent several hours in and out of the car during the test and did not really feel that I had been compromised in how I was seated. Despite the slope to the roof line and swooping rear window, those who will get to sit in the back have little to fear, though they may need to bow their head slightly when getting in and out. I certainly did, though this was nothing like Mercedes CLA or Acura ZDX like low. Once inside, headroom is just adequate, with my head not quite touching either the roof lining or the rear screen. Legroom is relatively plentiful, even with the front seats set well back, and there would appear to be ample width so three adults should fit quite easily. The steeply sloping rear window and relatively short tail means that the opening to the boot is not that large, so you may struggle to get some larger items in, though if you can navigate the slot, the boot itself is of a decent size. The rear seat backrests, asymmetrically split, can be folded down to give more cargo capacity, though the hole through the rear bulkhead is not perhaps as big as you imagine it will be, so those longer items had better not be too tall. There is no external release for the boot at all, so you will need either to usethe button on the dashboard, or that on the key fob. Inside the cabin, there is a moderately sized drop down glovebox, bins on all four doors, a split level cubby area under the central armrest and a useful area in front of the gearlever for phones and camera sized objects. There is also a small recess perched on the passenger side of the centre console in which you could put very small items. There are twin cupholders in the centre console and rear seat passengers will find theirs in the upper surface of the drop down central armrest.
Hyundai offer the Sonata in three trim levels: base GLS, sporty SE, and luxury themed Limited. The test car was a GLS, which  includes features such as air conditioning, tilt and telescopic steering wheel with radio controls, cruise control, centre console, split folding rear seat, heated power mirrors, power windows and door locks, remote keyless entry, digital-media player connection, USB port, satellite radio, and wireless cell-phone link. The SE model adds dual-zone automatic climate controls, leather-wrapped steering wheel, cloth/leather upholstery, 8-way power driver seat with lumbar adjustment,  keyless access and starting, outside-temperature indicator, automatic headlights, fog lights, sport suspension, and 18″ alloy wheels. The Limited adds heated rear seats, power sunroof, door mirror-mounted indicator repeaters, an upgraded sound system, HD Radio, auto-dimming rearview mirror, compass, outside-temperature indicator, and universal garage door opener.  Turbo models are available in SE and Limited trims. The Hybrid model was launched in early 2011 and it has become the second best selling Hybrid in America, after the Toyota Prius. You can identify the Turbo and the Hybrid models quite easily, as the former sports a much dark chromed rather than body coloured grille and the latter has a different frontal treatment with gaping grille, as well as colourless rear light lenses.
Gone are the days when the only real trump card that Hyundai could play was on value. Prices have increased over the years, though they are still more than competitive. The 2.4 GLS as tested retails for $20,895, which is in line or lower than almost all of its rivals, when you adjust for specification, and Hyundai have the best warranties in the US market. With the Sonata, they also have a very fine product. There is nothing seriously wrong with this model at all, so if you get offered one as a rental, you should not worry (even though there are still plenty of ill-informed customers who do and have to be persuaded to try it), but it is one of a dozen cars in a most competitive segment of the market, so mere competence may no be enough. I've not driven all of its rivals yet, though with the Altima test that preceded this one and a Passat that immediately followed it, I already know that standards are now very high in the category, so it may come down to personal taste as to which one you prefer. I concluded that on balance, I probably just preferred the Nissan to the Hyundai, but that was before I drove the Passat, which in SE spec at least, trumped them both. Recent comparison tests in the US press suggest that the true "best" isn't the VW, either, and is probably the Honda Accord, with Ford's elegant new Fusion running it a very close second, and Mazda's new 6 still something of an unknown but with potential to beat them all. More tests are required on my part to see if I agree. Meanwhile, in declaring that the Hyundai is not top of the class, it may sound as if I am being almost unfairly harsh on the Sonata, as it is a good car. Given the rate of progress in every model, though, I wouldn't mind betting that the sixth generation may just trump the whole class and t head straight to First Place.
Share and Enjoy