Prescott – MidSummer Speed Fest – June 2013
With so much of the focus at the iconic Prescott Hill Climb, in the eyes of many, concentrated on the themed events of La Vie en Bleu and the season closing Autumn Finale, as well as the much loved VSCC gathering in August, it is easy to forget that there are other race meetings during the season which will likely yield at least as much entertainment and pleasure for those who love a day wandering around a Paddock replete with different classes of cars, taking a stroll up the hill and meandering around the car parks. Determined to make more of my membership, I spotted that just such a meeting, the Mid-Summer Festival, was due to take place on the last weekend in June, and with an otherwise clear diary, and a very promising looking weather forecast, I allocated the Sunday to be spent on the Gloucestershire slopes. Needless to say, I had a great day, during which I was able to appreciate the mix of cars competing in a wide variety of classes, and thanks to almost perfect conditions, to see a number of long-standing hill-climb records be broken. Here are some highlights:
IN THE PADDOCK
THE ASHES
In a bit of fun, and in honour of a number of Antipodean guests from Victoria, an "Ashes" contest was run over both days, with a team of British drivers competing against a team from the Rob Roy Hill Climb in Victoria, each driving a duo of Morgans. Points were scored for each run and the winning team was to be awarded a Brake Disk as a trophy. All did not quite go to plan when one of the Morgans got bent (a bit) on Sunday morning, so they were down to a single car. At the end of the day, the Prescott Ashes went to the home team. The contest will be repeated at Rob Roy in Australia in 2015.
In furtherance of the theme, the duo who have been seen as French policemen on stilts at La Vie en Bleu had donned Aussie beach bum costumes and were to be found wandering around the venue engaging withe everyone with what sounded to me to be some surprisingly convincing sounding accents. There was also a didjeridoo player. If "player" is the right noun to describe someone who gets some sequence of noises out of this long wooden object! When I encountered him, he was pouring a bottle of water down the "instrument". Apparently lubrication helps the sound quality.
BUGATTI
It would not be Prescott with a few examples of the marque whose UK home is here. Five classic models were parked up in the Upper Paddock, in an area reserved for the marque, and all took to the hill in a special class. As well as both the Type 13 and Type 22 Brescia cars were a couple of Type 51s.
THE REST
A very eclectic mix of cars and classes meant that there was everything from the serious and purpose-designed hillclimb cars to converted road cars of all ages from the 1960s to the present day competing for honours. Several hill climb records, including one which had stood since September 1984 were broken thanks to the almost perfect conditions, though there were also plenty of cars that left the track and had to be rescued or where a clean up was required as they scattered gravel and muck on the track.
There was a whole class dedicated to Alfa-Romeo and the competing cars were a mix of Giulietta and 105 series Giulia including the very rare Giulietta TZ
One of the most splendid cars of all was this C Type Jaguar. A chat with the owner revealed that it is not actually a genuine 1950s car, but a recreation made about 40 years ago. It is mechanically correct, though he said that the suspension is different, and it is currently on 15″ wheels as someone sold the original and genuine 16″ ones a while back, and to replace them would cost £2500. He plans to do so at some point but is currently happy to enjoy this splendid machine.
IN THE CAR PARK
As ever, there was at least as much interest in the car park as there was in the Paddock.  I recognised a surprising number from Castle Combe the day before, so it was not just me that split their weekend's entertainment in this way.
ALFA ROMEO
Although a planned huge assembly of Alfas was supposed to be taking place at Beaulieu, the Giulietta Owners Club had decided to make Prescott their base instead, and there was a most impressive assembly of more than 15 of these supremely pretty cars, with roughly an even spread of Sprint (coupe) and Spider models, as well as a couple of Berlina (saloons). Talking to some of them, I have finally learned how to tell the Spider models which are Giulietta (1300cc) cars from the Giulia models (1600cc). the clue is the shape of the bonnet. The early cars have a chrome strip down the middle, and the latter have a raised central section needed to clear the bigger engine. The display included one of the 105 series 1750  GTV cars as well.
Lovely as they all were, in some ways my favourite Alfa of the day was not parked with them. This utterly droolsome 105 series Giulia GTC is one of around 1000 cars that were produced in 1965/66. I've seen this car at Prescott before, and noted that it has Members car stickers on it, so can but hope that I will see it again.
This S4 Spider was also to be found in the Orchard.
This particular SZ is a stalwart of all manner of events in the South West.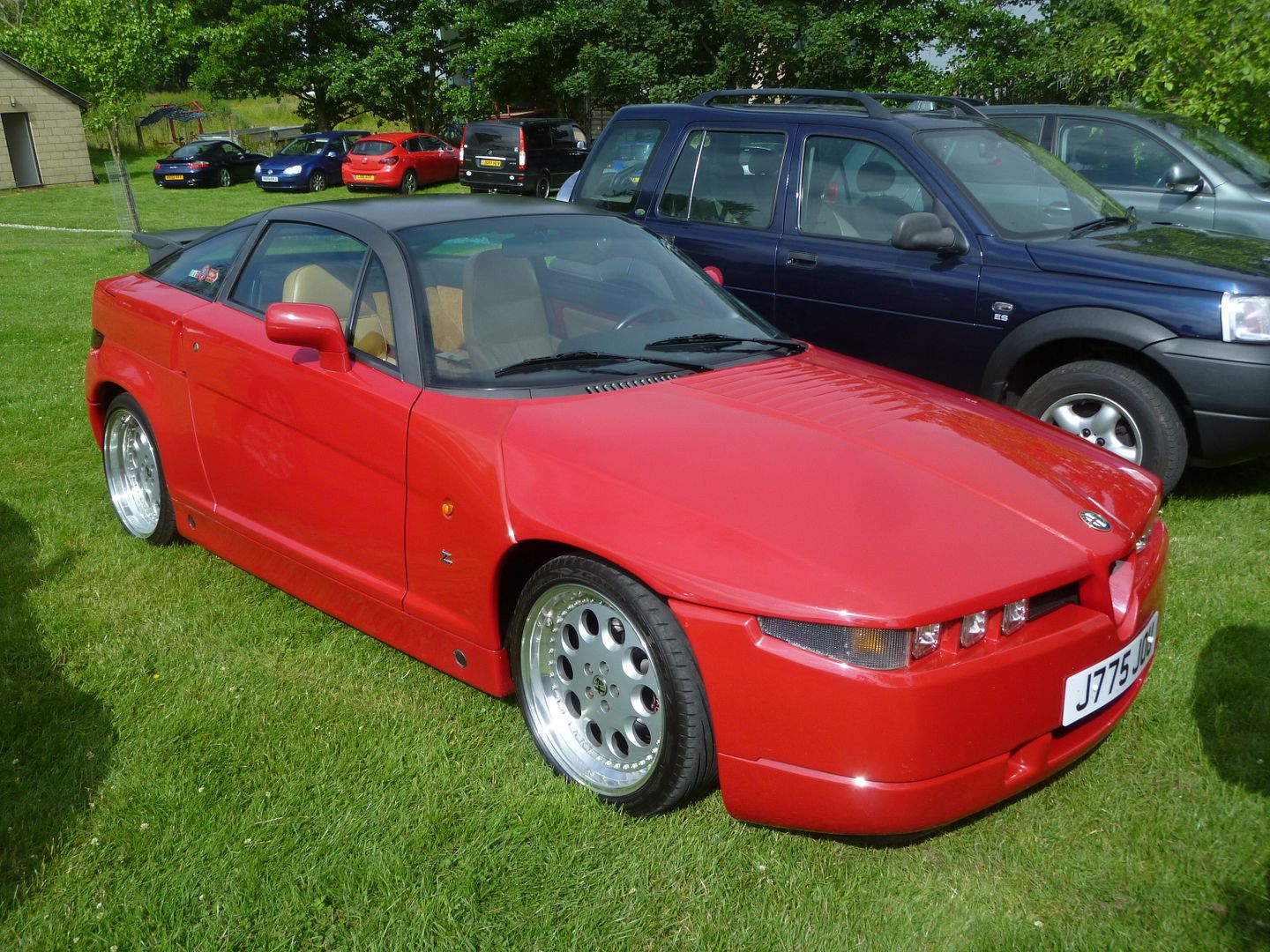 ALVIS
A "Duck's back" 12/50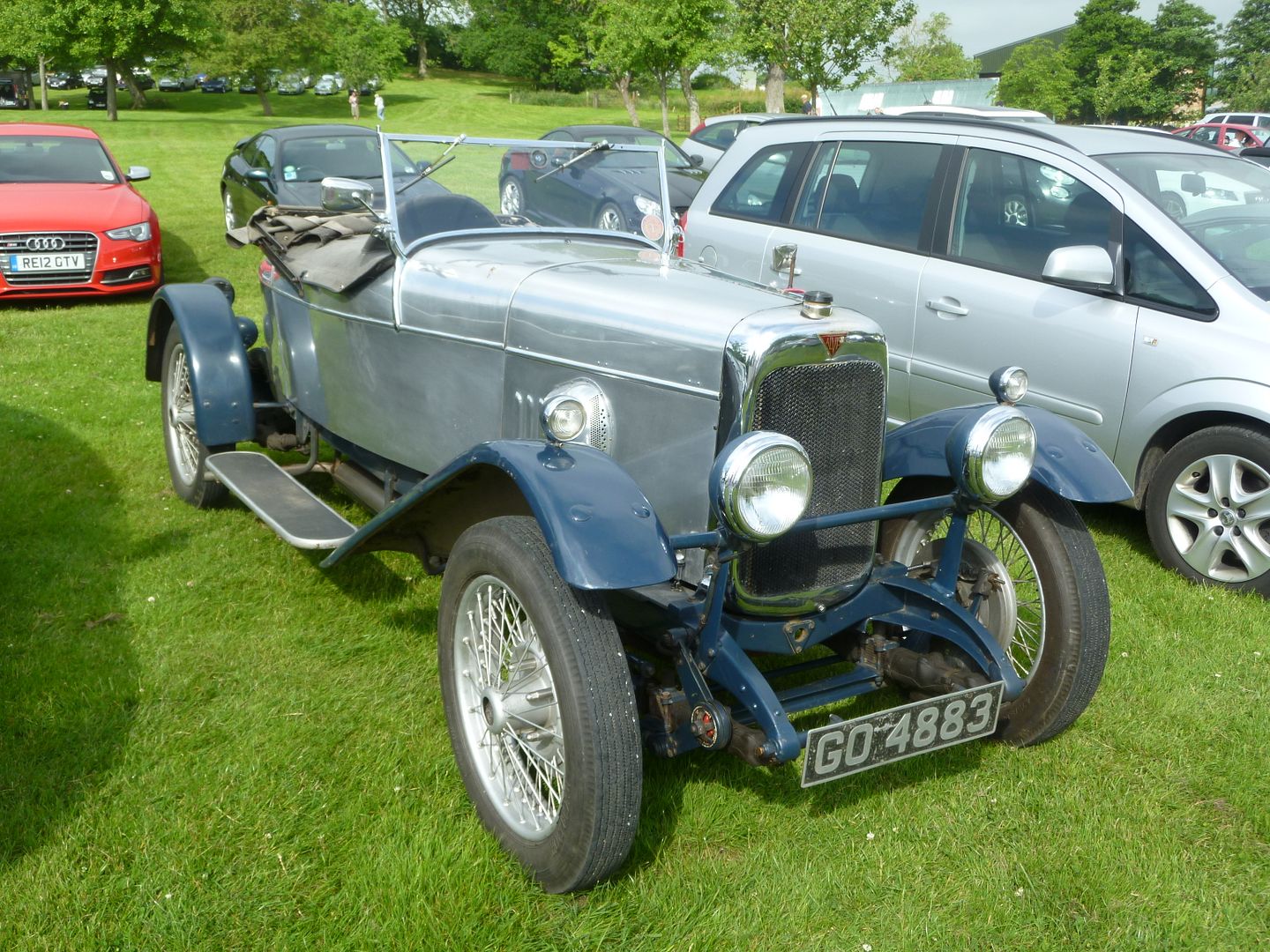 ASTON-MARTIN
This pair of pre-war Astons were parked up in the Paddock, but took no part in the hill climbing activity, so rightfully belong in this part of the report. The dark green car is a 1930s Ulster.
AUSTIN-HEALEY
This is just the sort of event where you expect to see an Austin Healey or two, and sure enough, they were here, both in 100 and 3000 guises.
BMW
The most elegant of BMW's current range, the 640d Gran Coupe.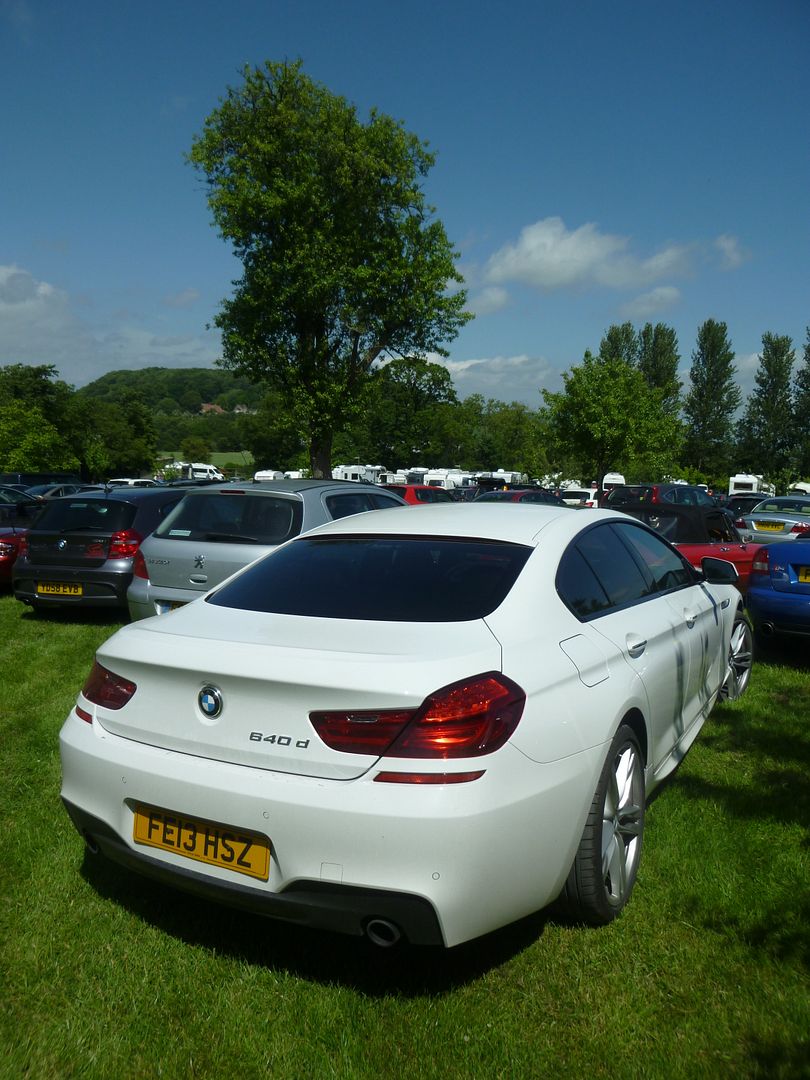 DAIMLER
An example of the V8250, sister model to the far better known Mark 2 Jaguar, a car now rated quite highly for its relaxed and effortless cruising capabilities, but which recent press articles have suggested was not at all well regarded by Norman Dewis, works test driver, when new.
DODGE
Parked at the end of a row, this Viper was attracting a lot of attention as you might expect. Not a car for the introvert owner!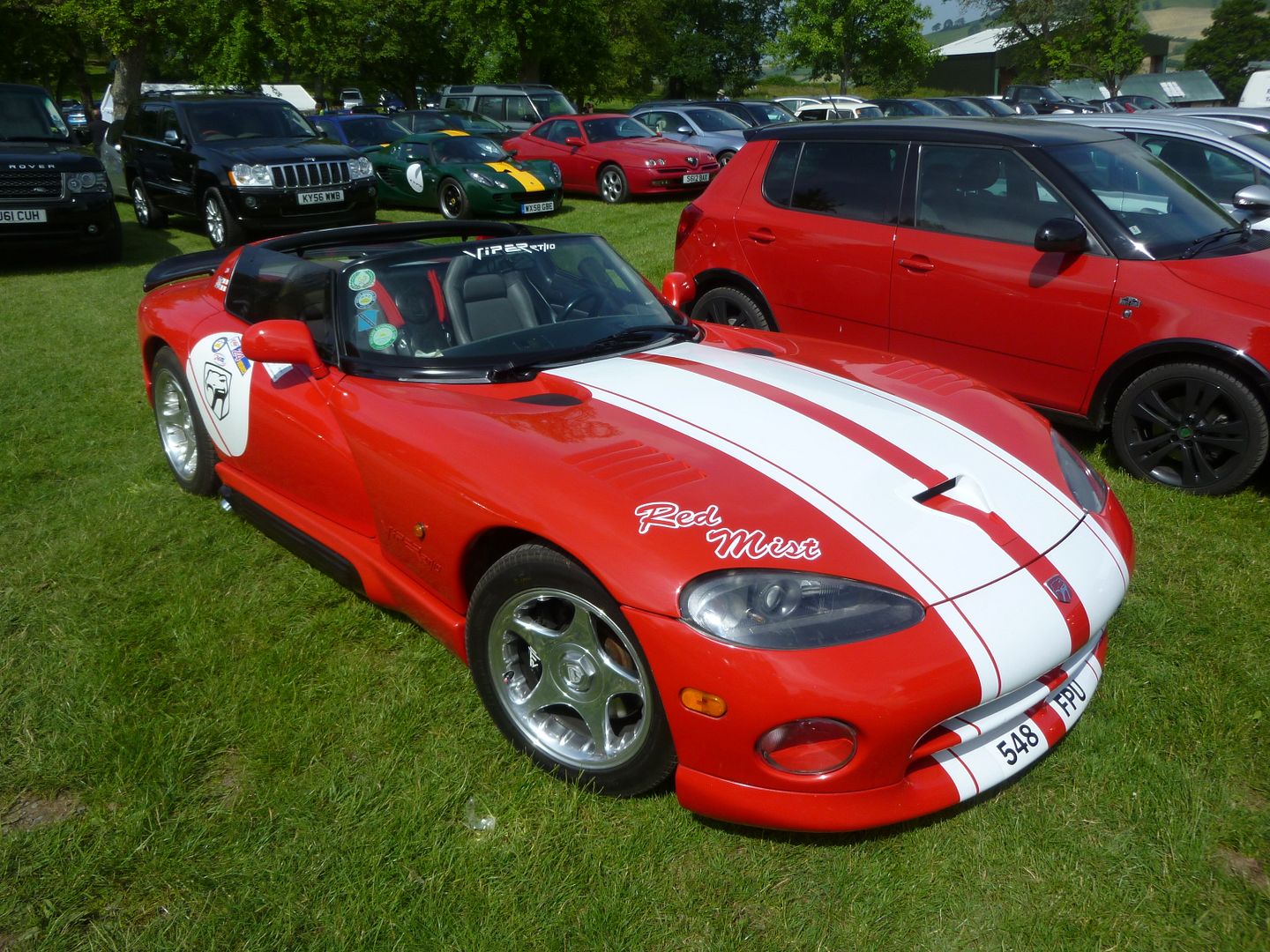 FERRARI
This 599 GTB had arrived at the recent La Vie en Bleu event and then done a vanishing act, so I had been unable to see just how unappealing were the various carbon fibre additions that the owner had put on it. This time I got a close up, and rather wished I had not! The 458 Italia next to it was far more to my taste, as it appeared unadulterated!
HILLMAN
From what was once the prosaic side of motoring was this 1970s Avenger GLS. Now ready for the track, I would guess, judging by the lack of rear seat!
JAGUAR
Glorious XK150 Coupe.
There were a few E Types as well, ranging from an early Series 1 Coupe to some later cars.
LAND-ROVER
An early Range Rover
LOTUS
This Esprit was particularly conspicuous with its bright yellow paint work
MERCEDES-BENZ
Almost every event I have been to recently has included at least one "Pagoda" SL car, and every one has been different. This one was yet another immaculate example.
Much more recent was this modern C63AMG.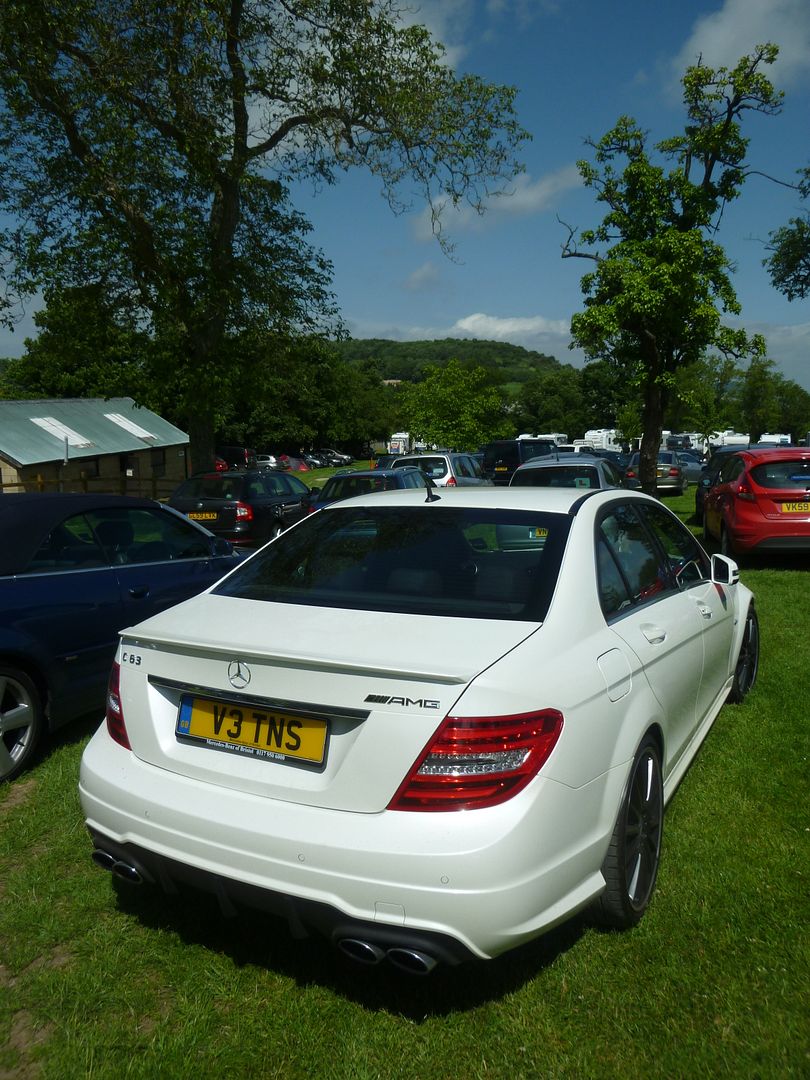 MG
When I saw this MGR V8 GT, I assumed it must be unique, but a chat with the owner revealed that there are at least half a dozen such cars known to the MG Owners Club. This one, which he bought after someone else had spent the money creating it, is the fusion of a classic MGB bodyshell with MGR parts from an accident damaged later car. Although the styling does not quite work from all angles, there is no disputing the quality of the work which is absolutely first rate.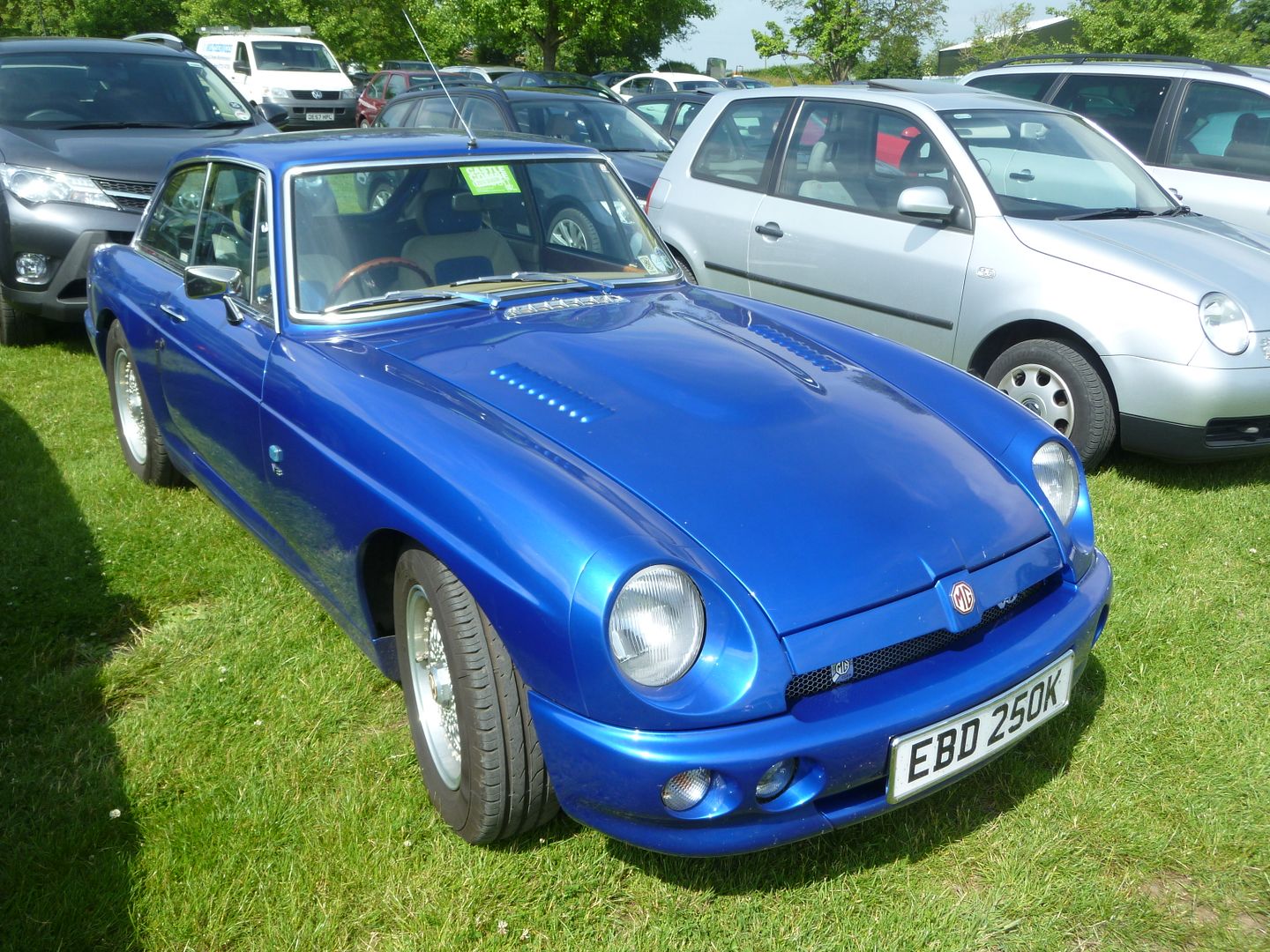 There were a number of other classic MGs including a pair of T Series cars plated from Victoria which had come over with the Australian contingent as well as an MGA and several MGB.
MINI
There was a very nice 1960s Mini Cooper and a much later 1990s version of the car.
MORGAN
PORSCHE
Plenty of 911s of all ages, including a 997 GT3 car I had seen at Castle Combe the day before.
RENAULT-ALPINE
This GTA was parked up on the hill for a short while.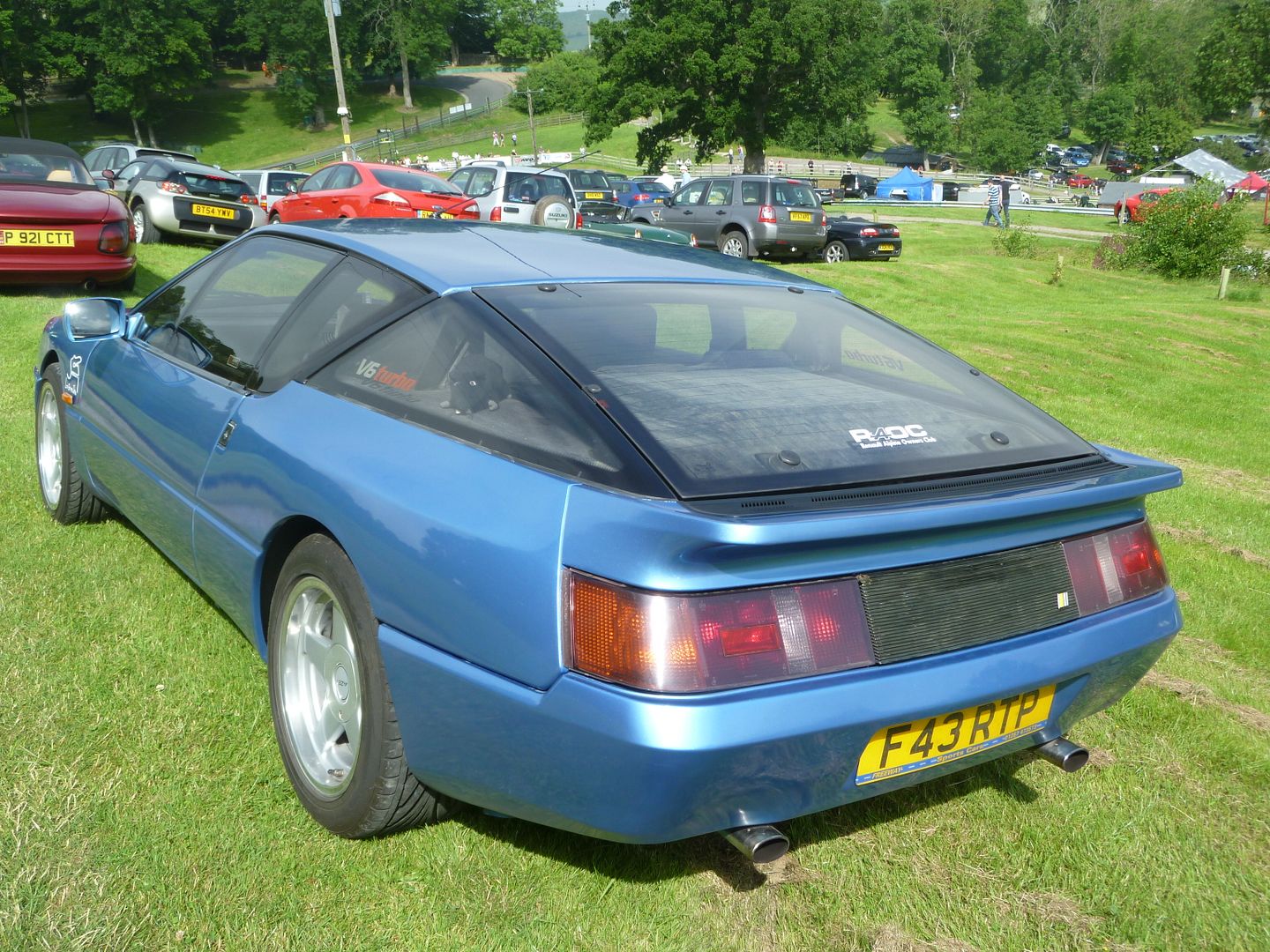 ROVER
A couple of P6 models.
SUBARU
One of the rarer cars on show was this SVX.
TOYOTA
Even rarer was this Soarer Limited, a high end Japanese luxury coupe made in the mid 1980s, never officially sold in the UK.
TRIUMPH
It was the TR models which dominated, with TR4 and TR6s both in evidence.
TVR
This fabulous red Tuscan had been at Castle Combe the day before, and was well worth seeing again.
There were a number of other TVRs, including a couple of Chimaera.
VAUXHALL
One of those instant classics, the VX220.
VOLKSWAGEN
Most notable classic VW was this first generation Golf Cabrio.
WOLSELEY
This Hornet Mark 3 looked except for the Minilite wheels which looked rather out of keeping with the rest of the car.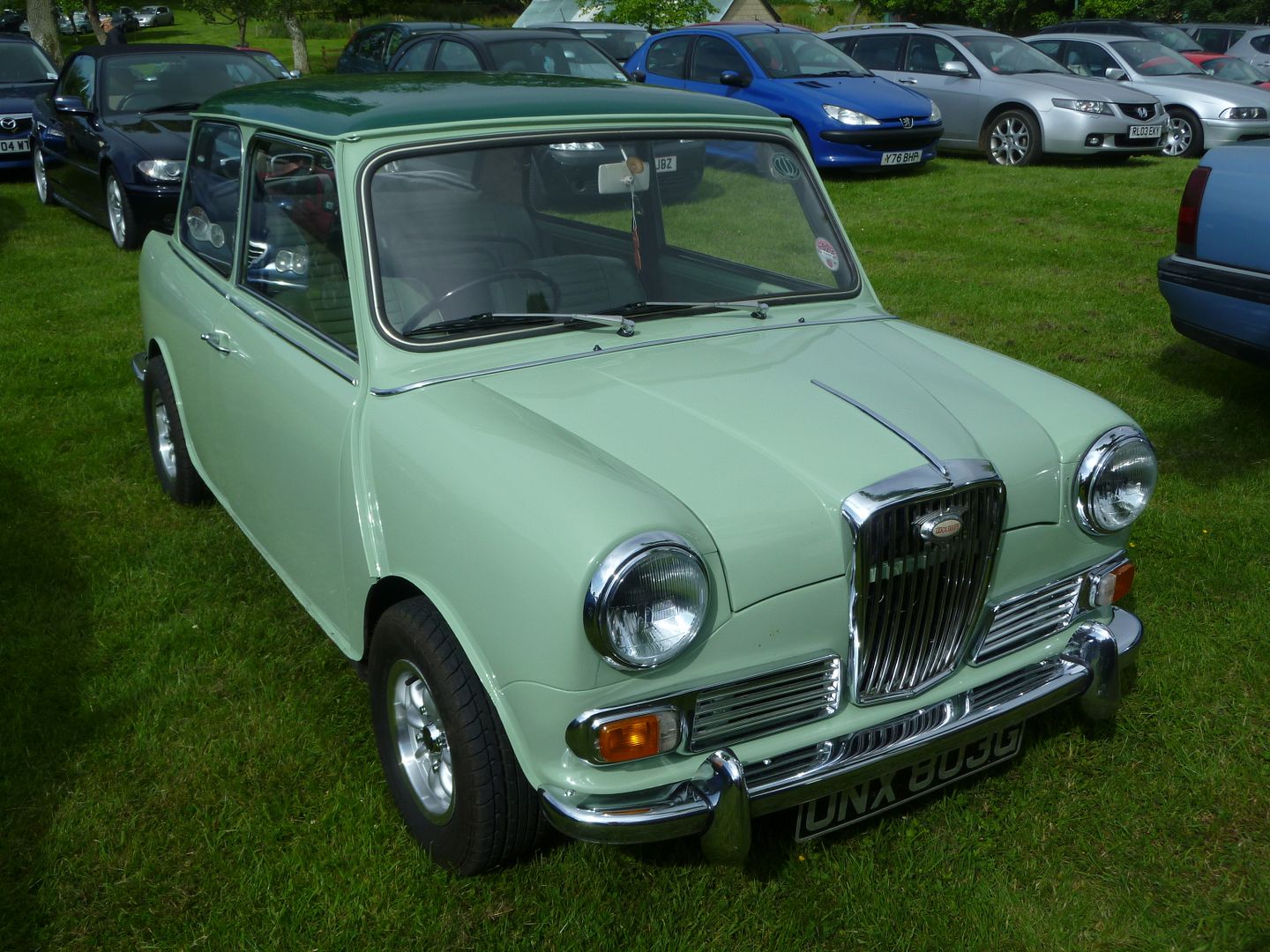 Also badged Hornet, but 30 years older was this sports car from the 1930s.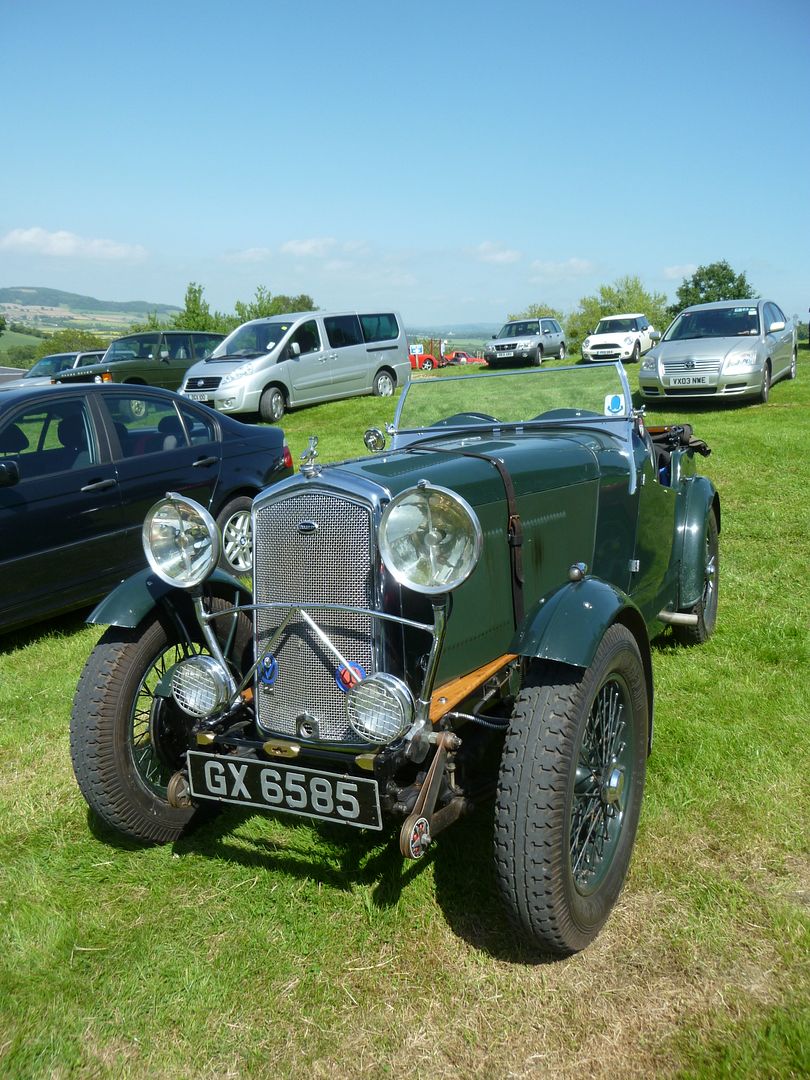 Make no mistake, this was a fun day. Prescott does not need a huge crowd to be enjoyable, but good weather certainly does improve things, and that is exactly what I experienced. My nose is peeling a bit, but that is a small price to pay for a day seeing such variety in this lovely setting.
Share and Enjoy