Shelsley Walsh – August 2013
Although it is the Prescott Hill Climb which seems to have captured the hearts and minds of TheMotor.net members, there are plenty of similar venues which offer much the same sort of ambience and activity, of which Shelsley Walsh is one of the best known. I always enjoy days out to this, the oldest of all the UK's hill climbs, set in the Teme Valley, about 10 miles west of Worcester, but it was beginning to look as if 2013 could pass without me managing to attend a single meeting, thanks to a busy diary, and then I spotted that there was an event going on in mid August on a weekend when at least my Saturday was clear. As well as including a round of the British Hill Climbing Championship, the Midland Hill Climb Championship, the Paul Matty Lotus Championship and also the Historic 500cc Championship, Shelsley promised something special as part of the Aston Martin Centenary. Despite predictions of a day of solid rain, I set off, eager in anticipation for what I hoped to see. And I was not disappointed. Although the skies looked menacing all day, the rain stayed in the sky until 4pm, by which time practice was almost over, so I was able to enjoy the varied collection of machinery that was in action on the hill and in static displays, and indeed simply parked up as the means by which other spectators had arrived.
ASTON MARTIN
Highlight of the entire event has to be display of Le Mans Astons that were assembled in front of the restored mill. As well as a couple of recent DBR9 cars including the current GTE, there was also the Nimrod, AMR1, the 2011 AMR-One Le-Mans and the Lola-Aston DBR1/2 from 1989, this last of which was included in the lunchtime cavalcade.
The Aston Martin Heritage Trust had a special indoor display with the latest Rapide joined by A3, the oldest surviving Aston Martin and the third car built, as well as "Green Pea", a car raced at Shelsley in 1922 by Count Louis Zborowski.
There were a number of Aston models competing for honours on the hill, ranging from 1930s LeMans and Ulsters through the more familiar DB2 models of the 1950s and DB4 and 5 models that followed as well as a V8 car. This was also the first time in 62 years that three works DB2 cars of 1950/51 had been gathered in one place. VMF65 was driven at Shelsley Walsh in 1950 by George Abecassis, who then returned the following year to drive XMC77 which was joined by its sister car XMC76 driven by Reg Parnell. These cars had never been back to Shelsley Walsh at the same time until this event.
Parked up with these was an intriguing hydrogen powered Rapide S, which made its first ever appearance on a motor racing track, driven by works racing driver. Jamie Wall. Adapted for racing in the Nurburgring 24h race, it features a special bi-fuel Hydrogen/petrol twin turbo 6.0 litre V12 developed by Aston Martin in conjunction with Austrian Hydrogen internal combustion engine specialists Alset GmbH. It is the first ever race car to be approved by the FIA to run on hydrogen
Stratstone, the dealer who own the farmhouse at the bottom of the hill had a comprehensive display of 13 brand new cars, which included the brand new Vanquish Volante and V12 Vantage S as well as the more familiar V8 Vantage, DB9, Vanquish Coupe and Rapide models.
As if all this were not sufficient, then the Aston Martin Owners club had an area of the car park set aside for their cars, and this gradually filled up during the morning with everything from a barn find DB2 to the latest machines.
A number of these cars took to the hill in a lunchtime cavalcade.
AUDI
There were 2 examples of the Sport Quattro, both of which are very effective on the hill. The red one managed a particularly impressive time of around 28 seconds for the ascent.
There was also a much modified B2 generation 80 Sport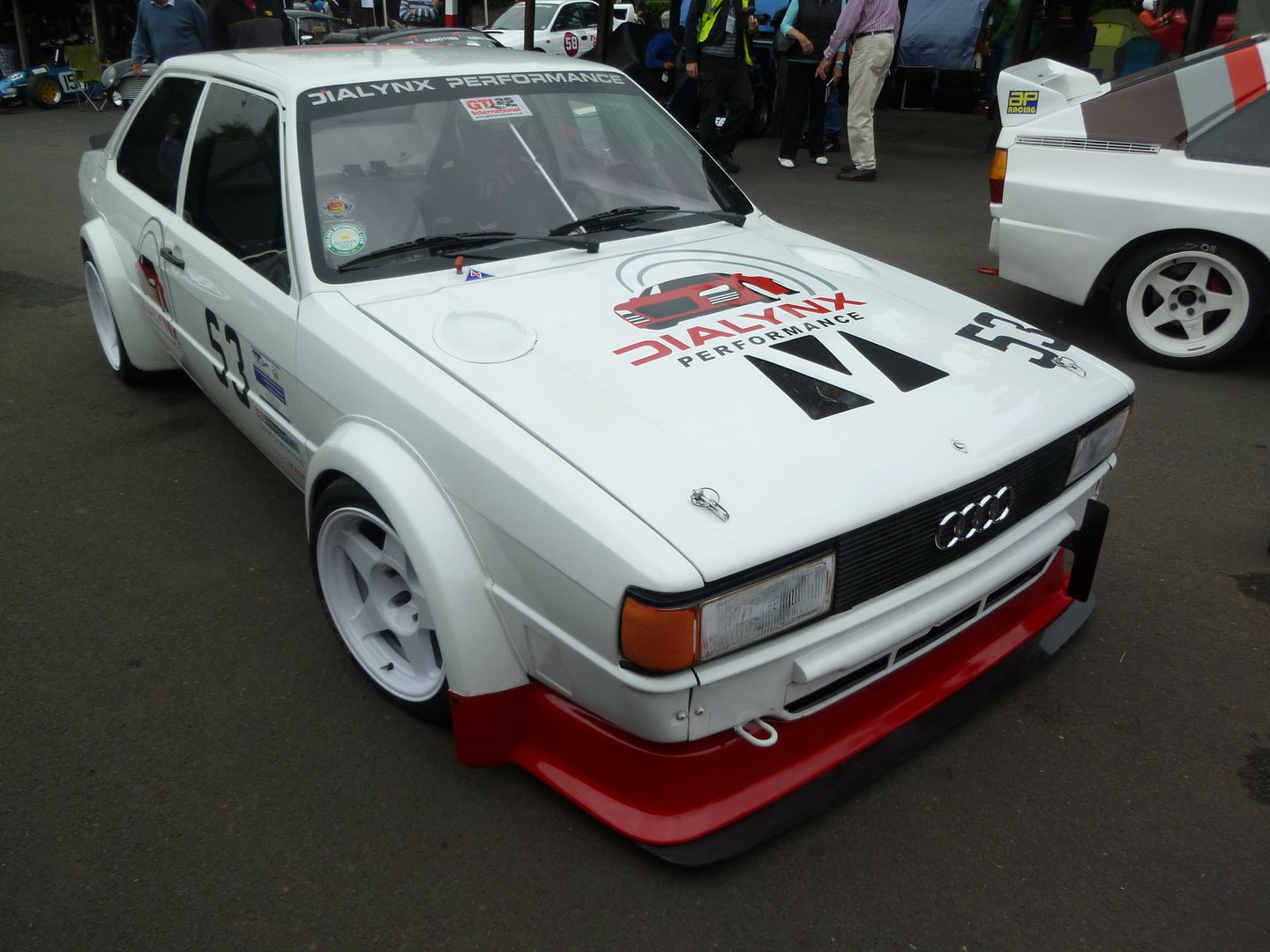 CATERHAM
This SP300R was being driven by Anthony Shute, who used to turn up at events like this in the Lotus Expose.
ELVA
This Mark 7S was designed to compete against the Lotus Type 23 models. A very nice looking car.
LOLA
LOTUS
Lots of different Lotus cars, ranging from mildly modified road cars such as the 1960s Elan to more recent Elise were joined by some purposed designed racing cars such as the Type 20, 23, 35, 61 and 69.
McLAREN
Aside from the Astons, this car was my highlight of the day, an MP6 GT. I've never seen one before, so I have to say that coming across this in the Paddock was really rather special. It turned out that the owner is well known for having a series of interesting and unusual cars, and he has had this one for a little while. Let's hope he brings it to some more events in 2014.
MERCURY
With a 4500cc engine, this Mercury Special certainly had a sound that lived up to its name!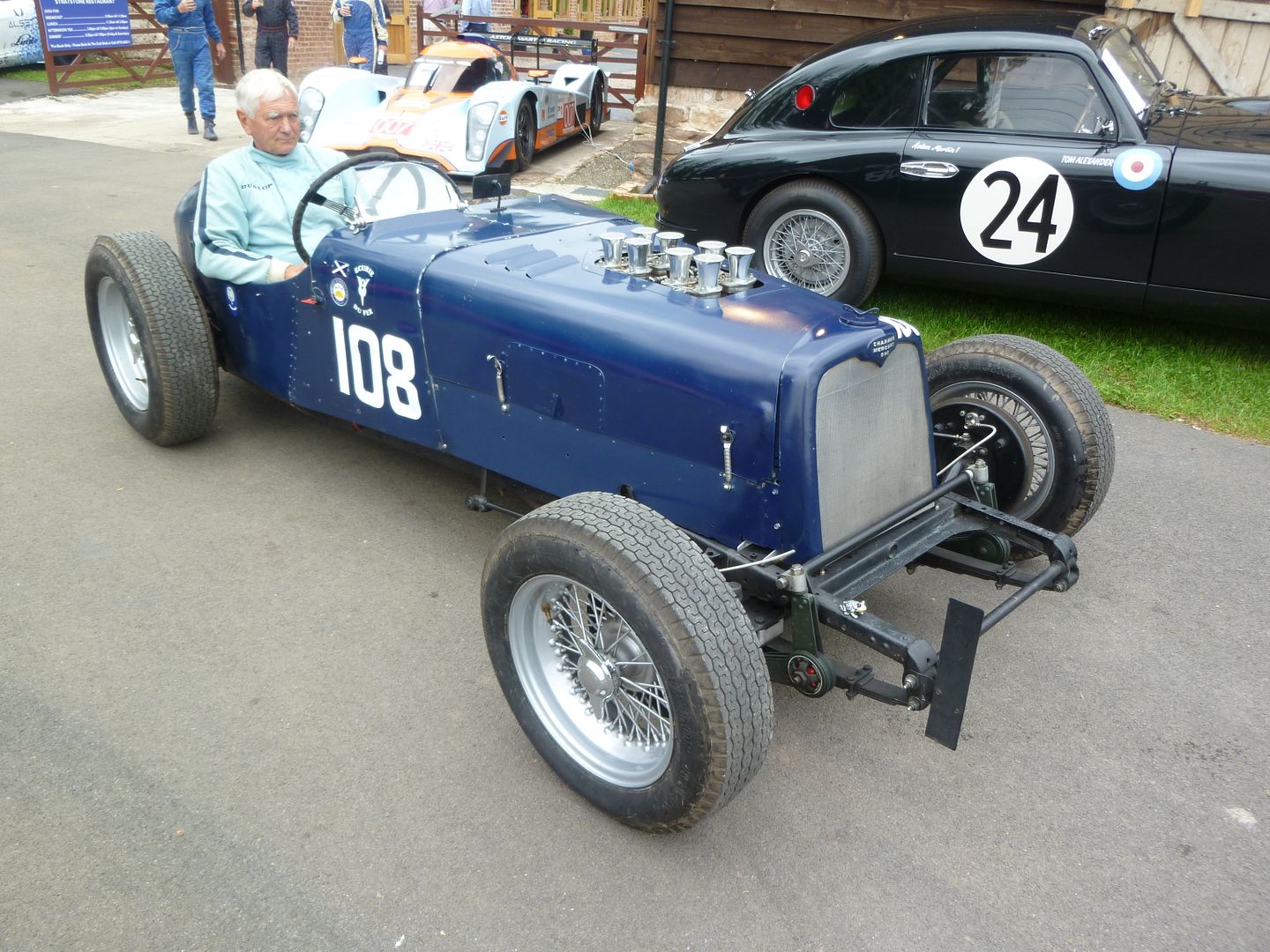 MINI
With a silhouette just about recognisable as a Mini, these machines were a long way from Issigonis' small family car.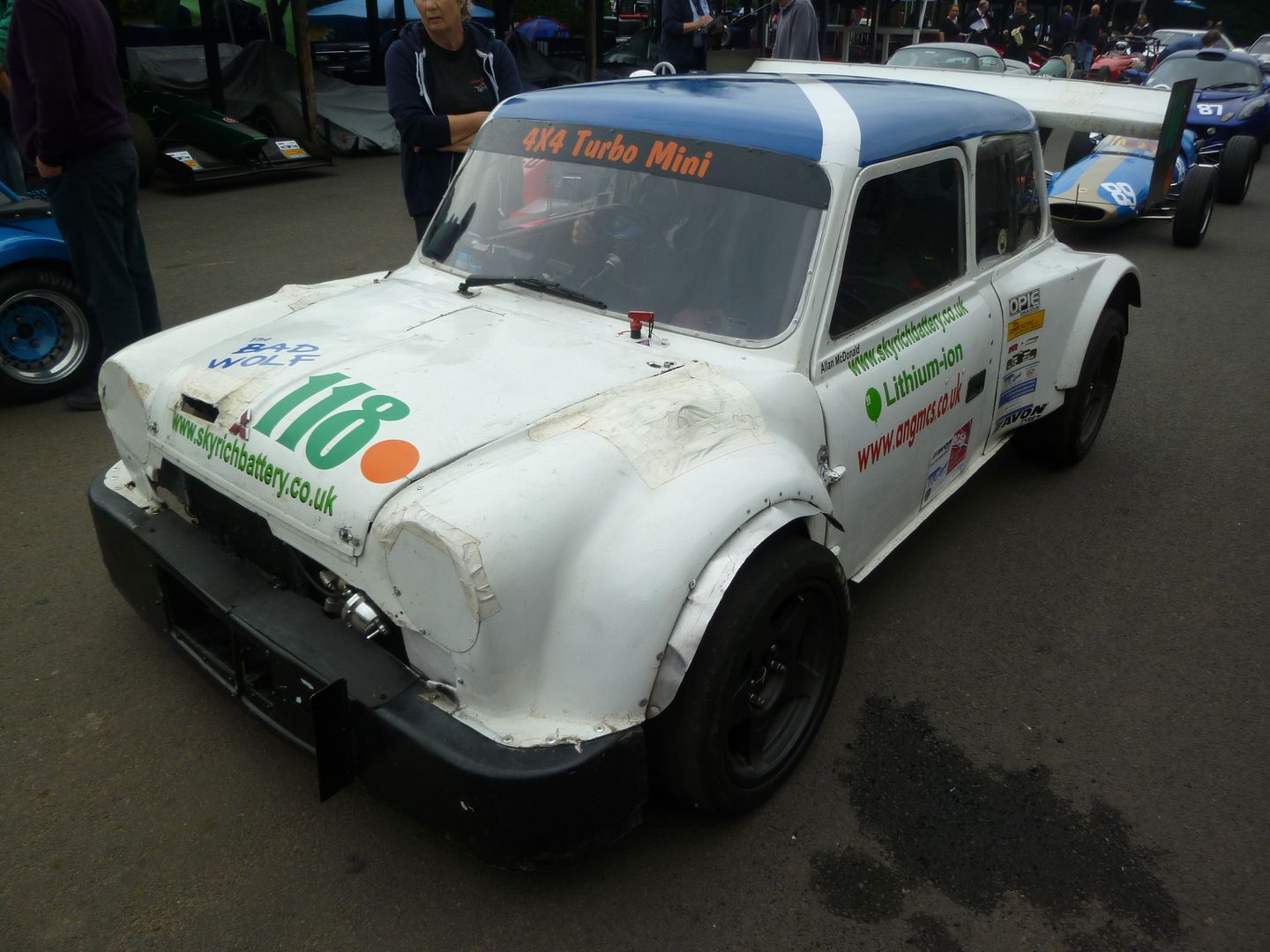 PORSCHE
There were a few 911s taking part, though no sign of any 50th anniversary celebrations as have been so much in evidence at many other events during the year.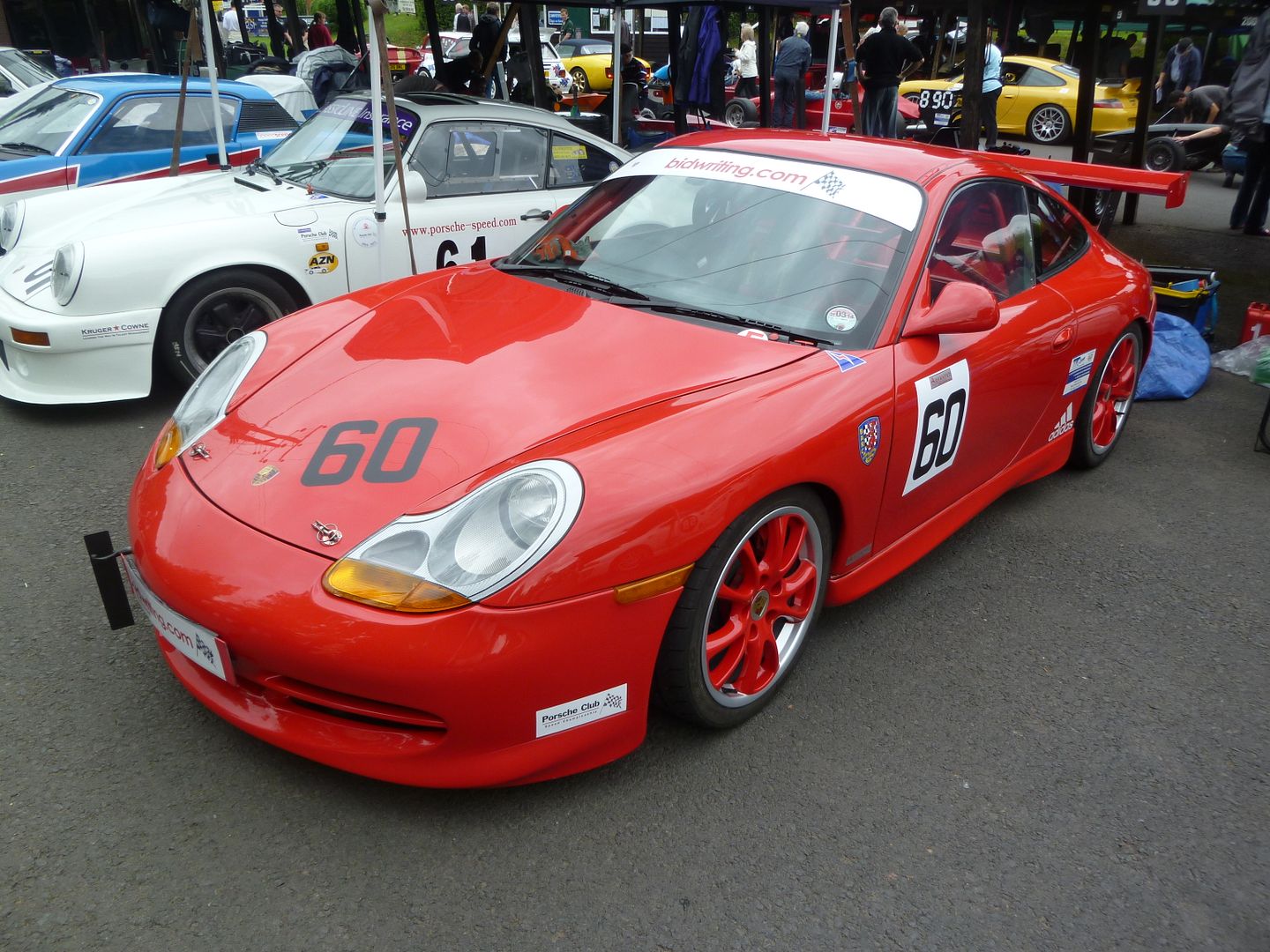 SPECTRE
One of the most unusual looking machines of the day was this, with its tiny wheels.
ALDON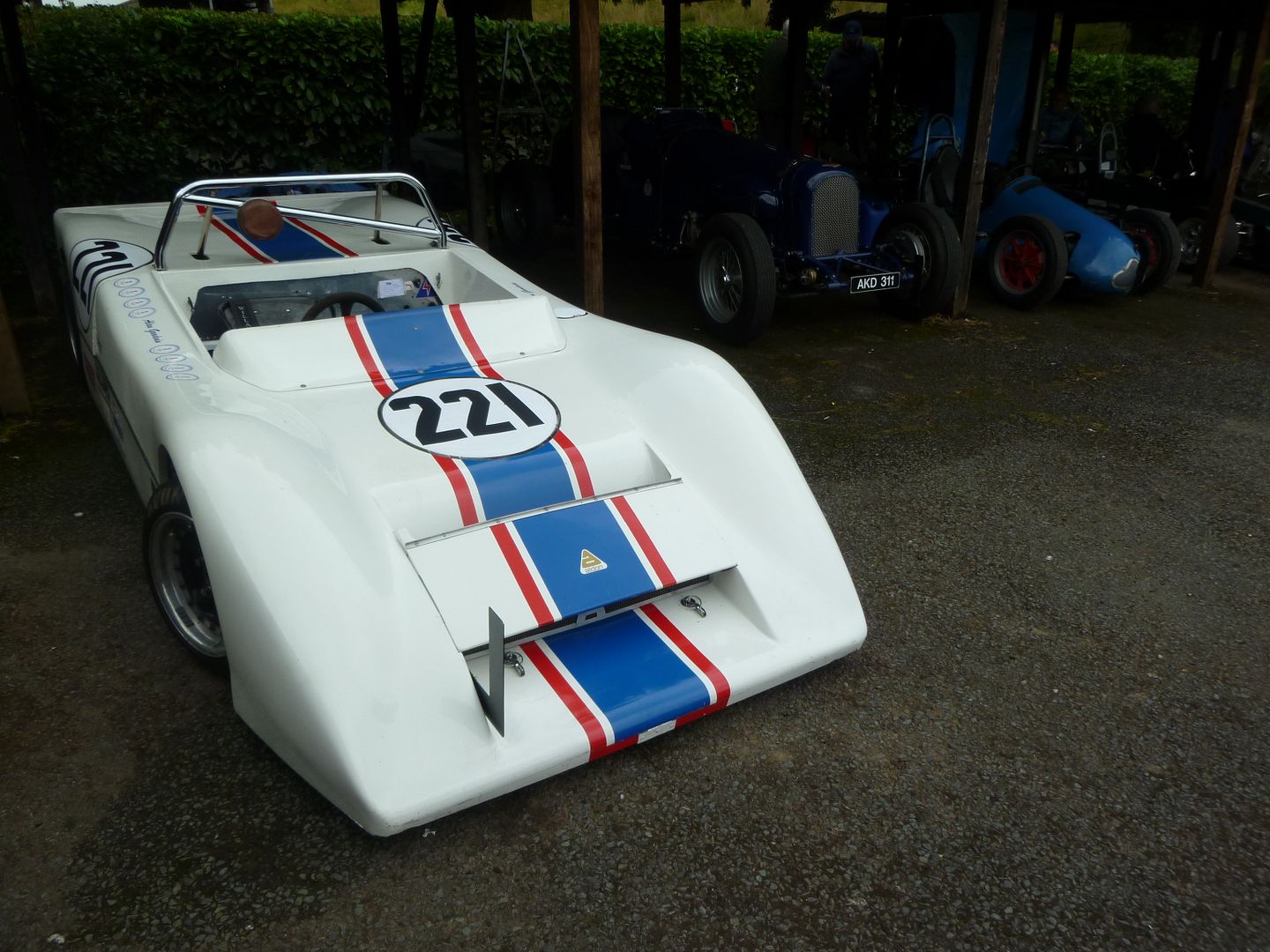 500cc CARS
A whole class was dedicated to these tiny engined racers from the 1940s and 1950s, and collectively they all posted among the slowest times of the day, as the steep gradients of the hill proved something of a challenge for their highly tuned 500cc engines. There was a wide variety of makes and engine suppliers among them, dominated as ever by Cooper, but with a Kieft and a number of Staride as well.
ON THE HILL
There is no return road at Shelsley, so cars assemble at the top, and then every 30 minutes or so, a whole batch come down, giving another chance for the photographer to grab a few shots.
Doubtless deterred by the prospect of a very wet day, there were fewer spectators than usual, which meant that it did not take long to go up and down the lines of cars to see what was there of interest. As always. it was worth doing, as there were a number of cars that are rarely seen these days.
This red Alfa 164 Super is a regular at Shelsley.
When pre war British sports cars are concerned, it would seem that Alvis and Riley always dominate, both having been popular when new and with decent survival rates, This is an Alvis.
A Mark 1 Austin 1100, complete with the 4 speed AP automatic gearbox.
Citroen 2CV
Ferrari 330 GT 2+2
A very nice late model Fiat X1/9.
A rare spot indeed was this Frazer Nash le Mans replica. Just 34 of these cars were made between 1948 and 1953.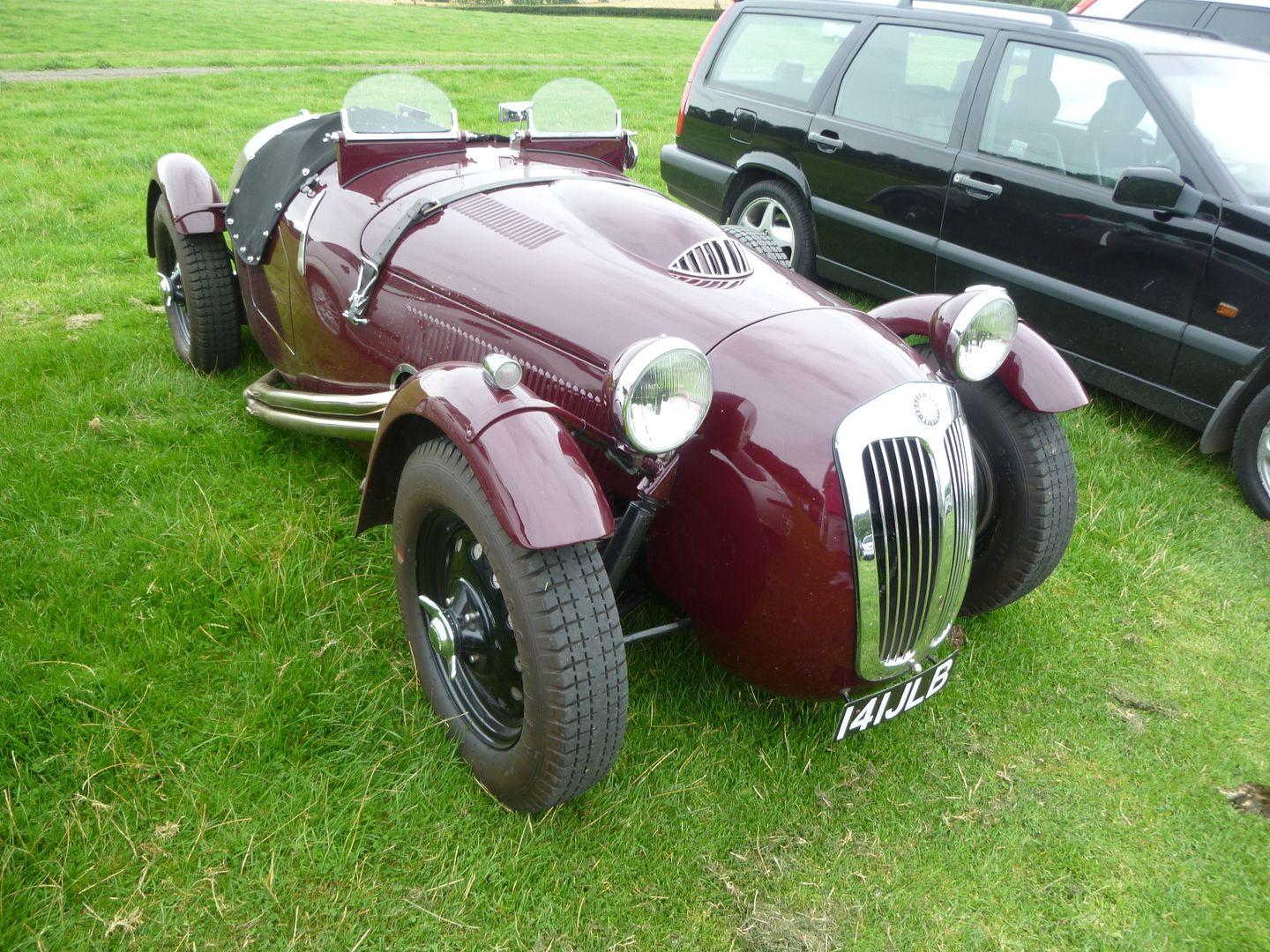 This first generation Honda Accord had Manx plates on it. When did you last see one of these?
This Jaguar 420 was the evolution of the S Type model, and a smaller stablemate to the truly gargantuan 420G that Jaguar offered in the mid to late 1960s.
Most of the surviving UK Ladas found their way back to Russia a good number of years ago, but here is one which seems to have come the other way. A real rarity now.
Lotus Elan Plus 2.
Mitsubishi Evo IV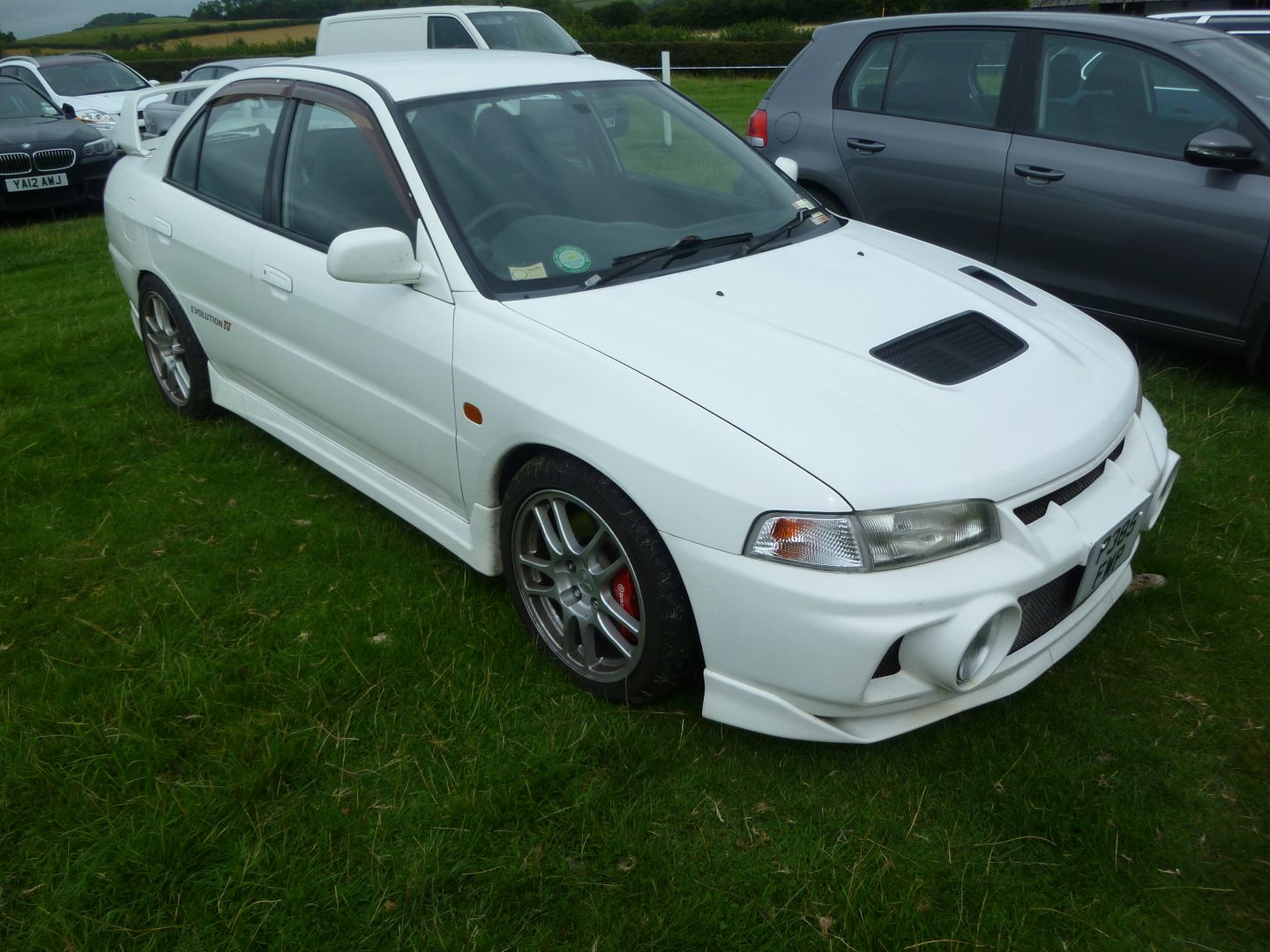 Not quite so pristine was this Peugeot 305 Estate. Once a common sight, they have all but vanished from our roads.
Porsche 944
A late model Reliant Scimitar GTC
This Riley One Point Five was parked up by the MAC tent, as is always at Shelsley whenever I attend.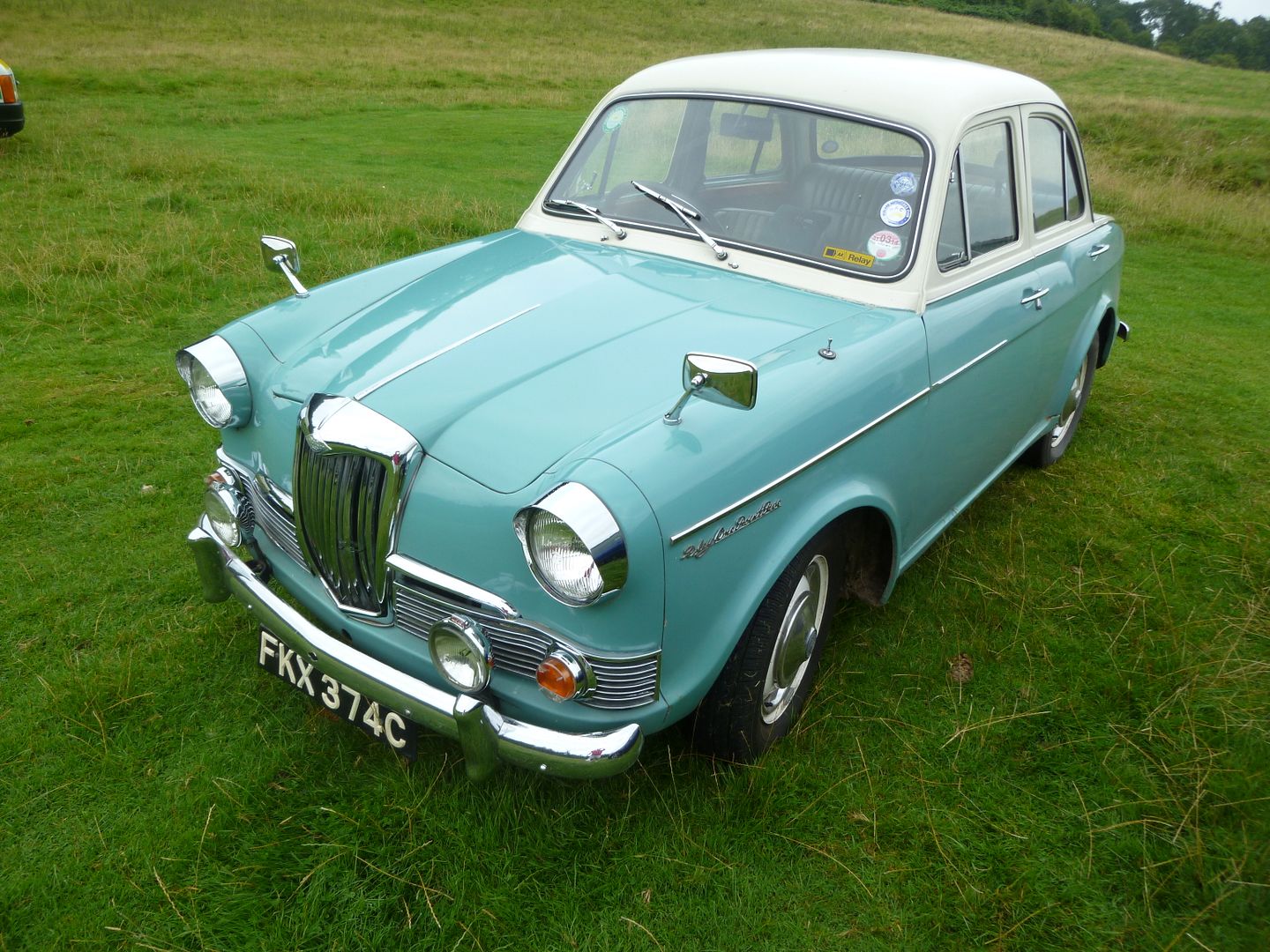 Shame that the extra wide wheels on the Talbot Horizon deprived of a truly original look, as the rest of the car seemed to be in pretty good condition. These cars were notorious for their tappety engines and very heavy unassisted steering when new, and then rust claimed almost every one ever made.
Toyota Celica GT-Four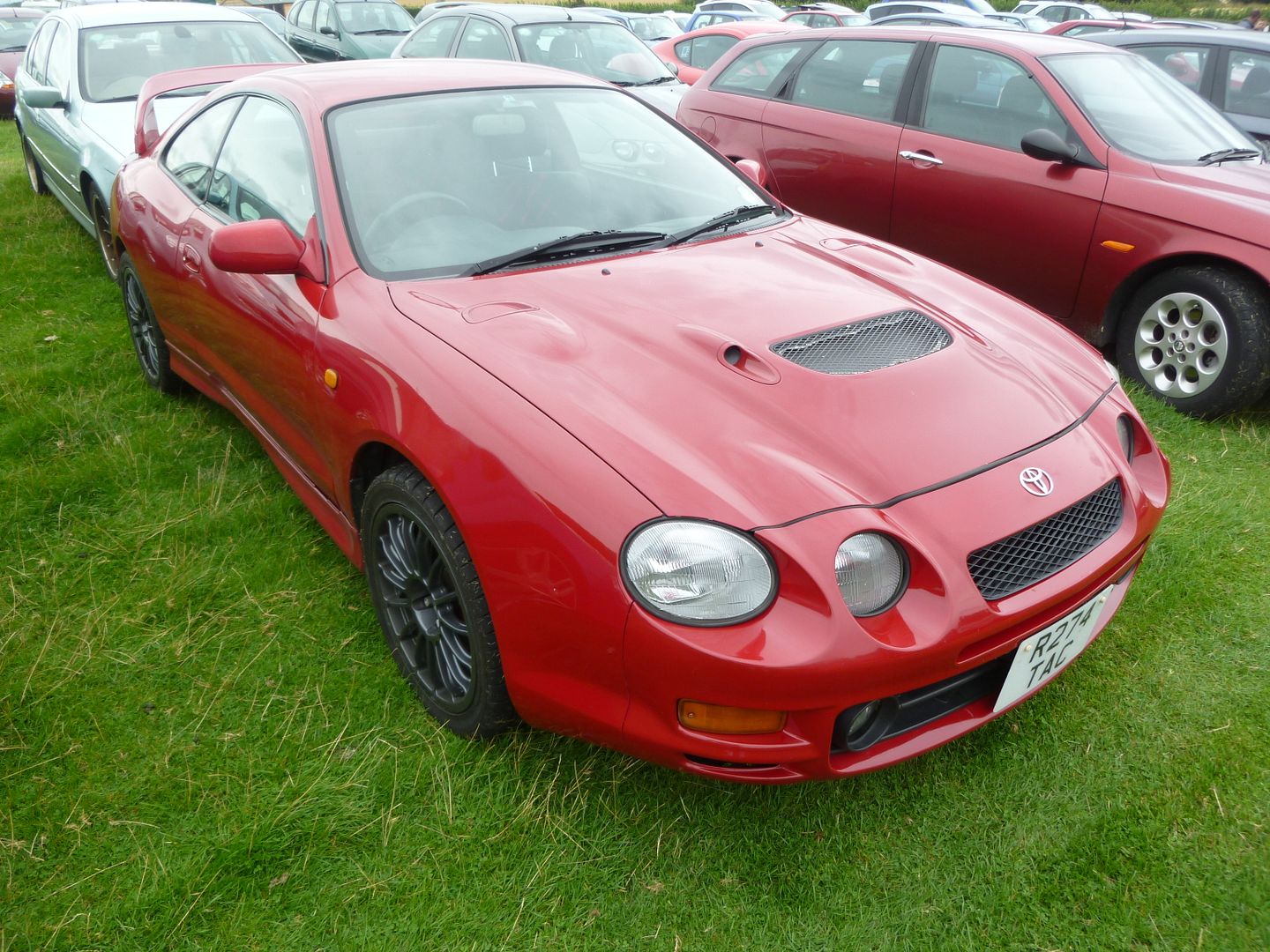 This Vauxhall Cavalier SRi was one of a pair of the first front wheel drive Cavalier models present. The other one was definitely a contender for "rat look" of the day.
As ever, then Shelsley did not disappoint, and its own micro-climate even kept me drier than I had any right to expect. A great day out.
Share and Enjoy