2013 Ford Fiesta 1.0 Ecoboost Zetec (GB)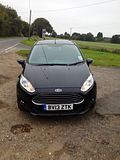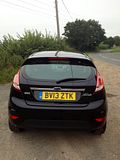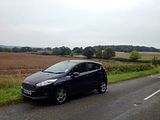 It's no secret I'm a fan of Fords. The Escort Cosworth (along with the Jag XJ220) was what got me interested in cars in the first place. Then in the late 90's came the Ford Focus: radical looks, funky interior and my god good to drive. It's still held in very high regard today, and it's easy to see why. Around the same time, the mark IV Fiesta was released. I was never really a fan of the mark III, however even though the mark IV shares the same chassis, it got major re-worked suspension, better looks, and a great little Yamaha derived 1.25 engine. I came close to buying one of these as my first car, but the insurance was just too much.  Great fun though.  More good Fords? How about the Puma? The Mondeo?  Original Focus RS? Mark II Focus ST? I could go on…
There are some Fords I don't like though. The New Focus (standard or ST). I've not driven one, but the looks alone put me off. The Fiesta mark V I felt was never as pure to drive as the mark IV, and it didn't look half as good.  I was disappointed with the ST version too. Good, but not great steering and handling; a 2.0 engine, but only 150bhp (and one of the dullest sounding engines I've ever come across). It had all the ingredients to be a great hot hatch, but it just didn't quite do it for me. Lastly, the Focus ST170: no doubt a great chassis, but similarly to the Fiesta ST, the engine let it down: not very fast and a dull sound.  So yes, lots of good Fords, but some not so good too, which is why this review is totally non biased………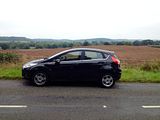 I first saw the mark VI Fiesta at the Frankfurt motor show back in 2007. If I remember correctly, it was called the Ford Verve concept. What first struck me about it was what an improvement over the mark V. We know some concepts can end up looking nothing like the production version, but the Fiesta looked modern, sleek and well proportioned. The production car I thought looked very similar to the concept, which was good. Since 2008, it's been a massive sales success and I wanted to find out why.
The Focus was booked into Jacksons Ford for its 6th service and MOT. It was a big one, including spark plugs etc., so I booked a courtesy car to save me waiting in the showroom all day. The last car I had from there was an old 01 plate (I think) Focus diesel, so it was a nice surprise when the receptionist handed me the keys to a black 13-plate Fiesta Zetec Econetic.  It's a car I've always wanted to try, and it turned out even better when Stu Clough pointed out it was the 1.0 Eco boost turbo petrol engine.  The Zetec trim sits in the mid-range, with air con, 15″alloys, electric windows, remote locking, mp3 stereo and ESP. This car retails for around £13,595.
From the side and back, it's still a great looking car. From the front – not any more. Post 2012, you get a big gaping silver grille. Why car firms do this, I don't know. Fiat did it with the Grande Punto, and Ford have done the same – ruined a good looking car. Fiesta's from 2008-2012 definitely look better.
Ford interiors. I've never had a problem with them. The quality is good enough for me, and most layouts are functional and simple. What more do you want? The new Fiesta, to me, felt very well screwed together, and had some nice plastics, especially the top of the dash. It's the same with my car – the door cards and lower dash are not so good, but as long as it doesn't rattle, does it matter? The controls and switches feel chunky and nice to touch, whilst the dials are clear and easy to read. A few things I didn't like are the piano black effect (again!) and the centre console is maybe a tad fussy. The computer that controls the small screen at the top of the centre console is also a bit slow and dim witted, and the choice you get on certain things is unbelievable!
One thing Ford has definitely got right is a normal handbrake and a manual gearbox.  Simple things like these seem to be disappearing, and in a car like this, a manual gearbox is a must.  I've always felt Ford gearboxes are never as accurate as the class best, but the 'box on the Fiesta felt refreshingly accurate; slotting into gears with a nice short throw.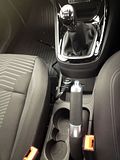 The driving position overall was great. The seat and steering wheel had a number of adjustments, and the seat itself was comfy and supportive. The only niggle was even on the lowest setting, the seat was slightly too high.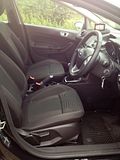 I didn't sit in the back, so maybe Stu or Piers can provide some input?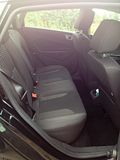 Again, I didn't use the boot, but it seemed fine for the size of car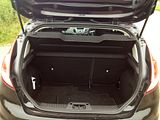 Onto the way it drives then. I won't beat around the bush: the chassis is a thing of wonder. Somehow it manages to be more or less as refined as my Focus, yet at just over a tonne, will fly down a B-road with superb composure and agility. No matter what surface, camber or corner you throw at it, there's no fuss, no crashing about, just complete poise as the front end grips, then turns, whilst somehow managing to glide over rough surfaces and potholes like they weren't there. I really don't know how Ford gets this mix of ride and handling so spot on. Electric steering, like gay gears and electronic handbrakes are becoming worryingly popular, so I wasn't expecting much from the steering, yet this is hands down the best electric rack I've used. There is some unnecessary artificial feel that protrudes mid corner, but on the whole, it provides good feel and is very accurate. It's not as fluid or grainy as a mk1 Focus, but then what car is?!   This is a car that was on 15" alloys and eco tyres!  I can't begin to imagine how good and how quick a Fiesta ST Mountune must be!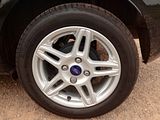 The engine was also brilliant. It was the 1.0 petrol, with a small turbo producing 100bhp and 130lb/ft. of torque. The difference between this engine and the 1.2 I had in the Panda a few weeks ago is astonishing. The 1.2 had no torque, no power, no decent sound, and not brilliant mpg. The 1.0 had superb low down torque, which got even better mid-range, and then a zingy top end, which also emitted a great deep, buzzy noise into the cabin. Either Stu or Piers said it sounded like a mini V6 – spot on. MPG? I took Piers and Stu out from Henley – Redditch as I had to run an errand. I put £10 in at a garage in Redditch, drove it back to Henley to drop them off where I reset the trip, and then I went off around the surrounding country lanes to really get a feel for this car. It said I averaged 40.8mpg, A LOT less than the official combined figure (mid 60's), but I absolutely caned this car all afternoon. It's also more than I got from that awful 1.2 in the Panda.
I said at the start of the report I wasn't going to be biased, and after reading this, it probably sounds totally biased! But forget the badge – if this was a Kia I would have said the same.
What.a.car
Share and Enjoy