2013 Cadillac Escalade Luxury AWD (USA)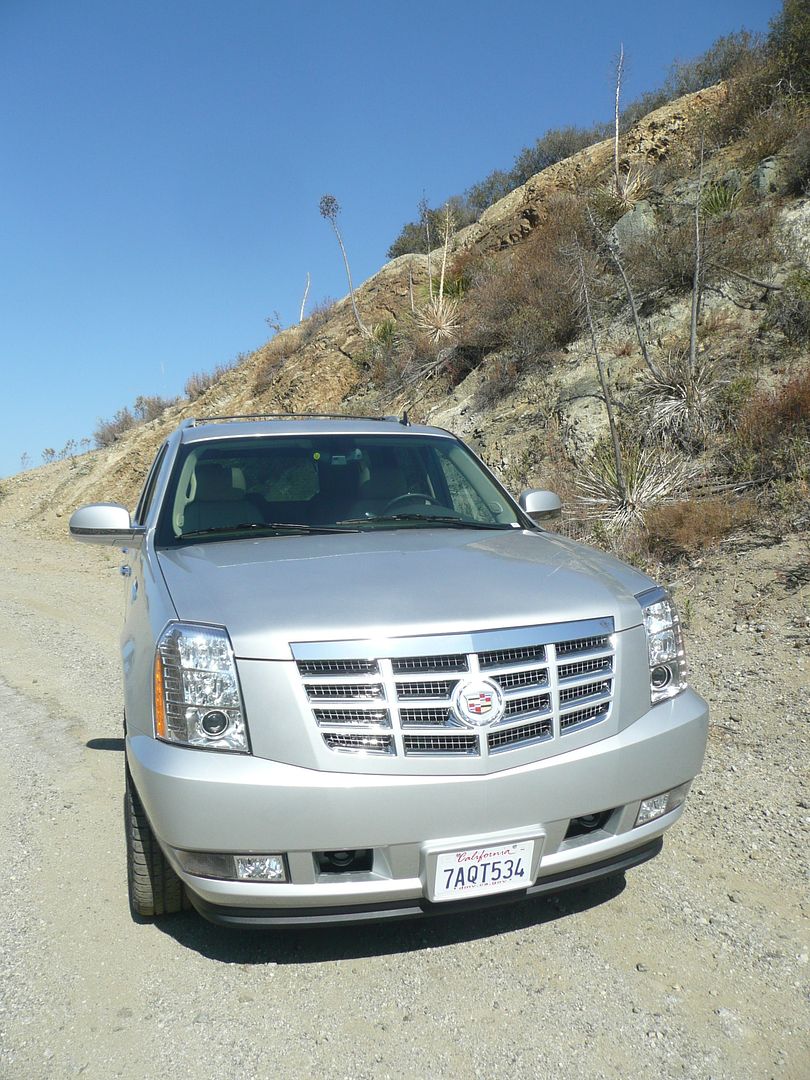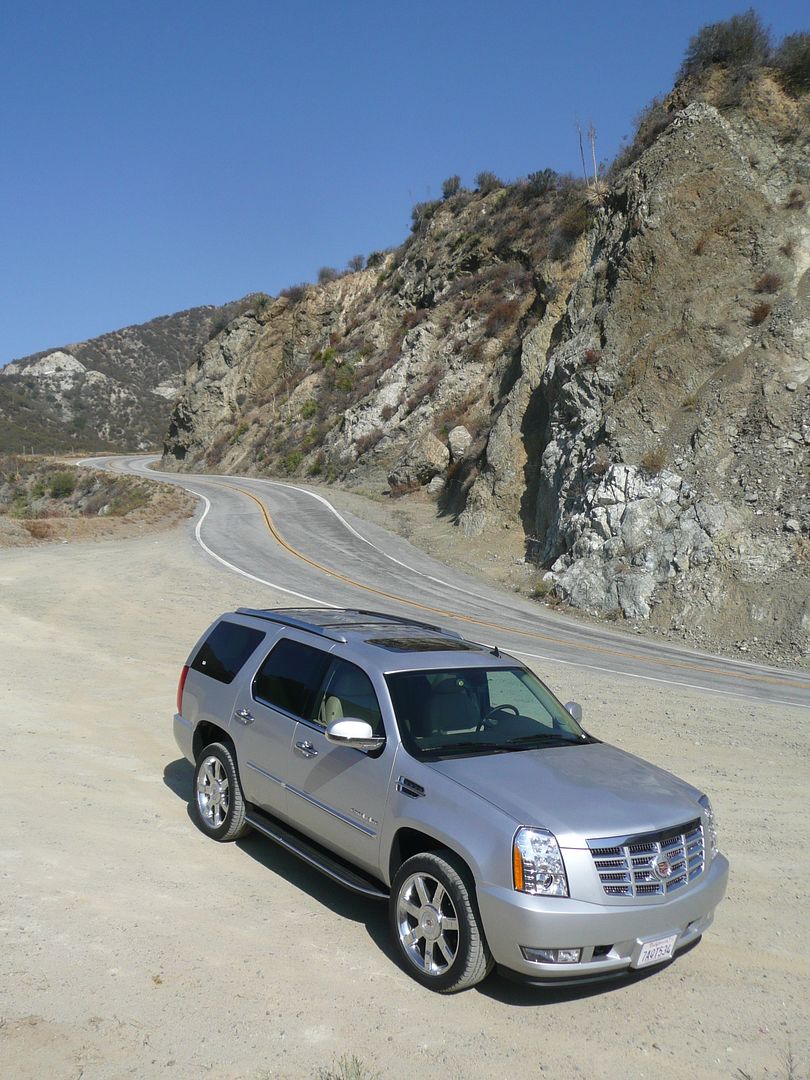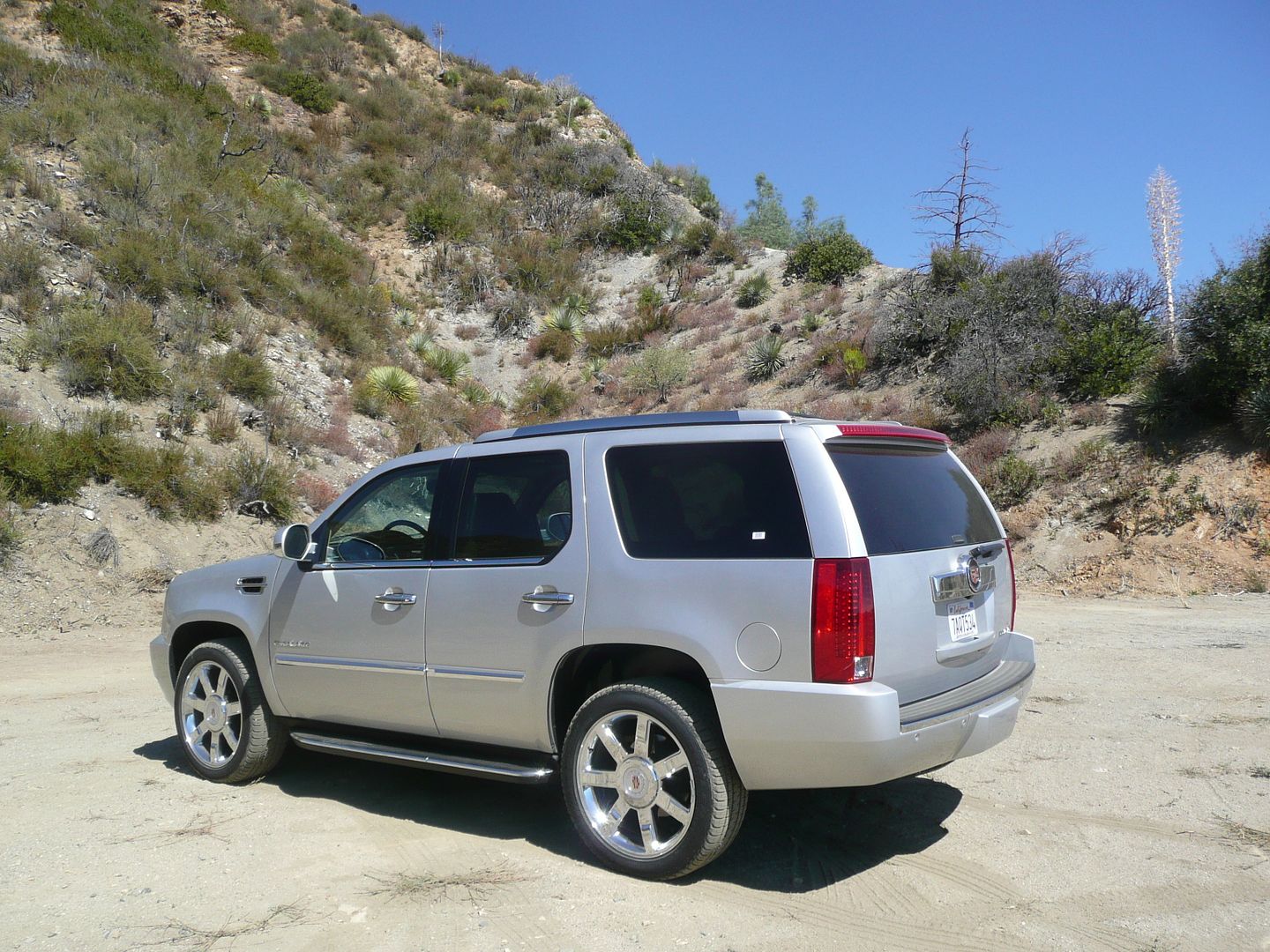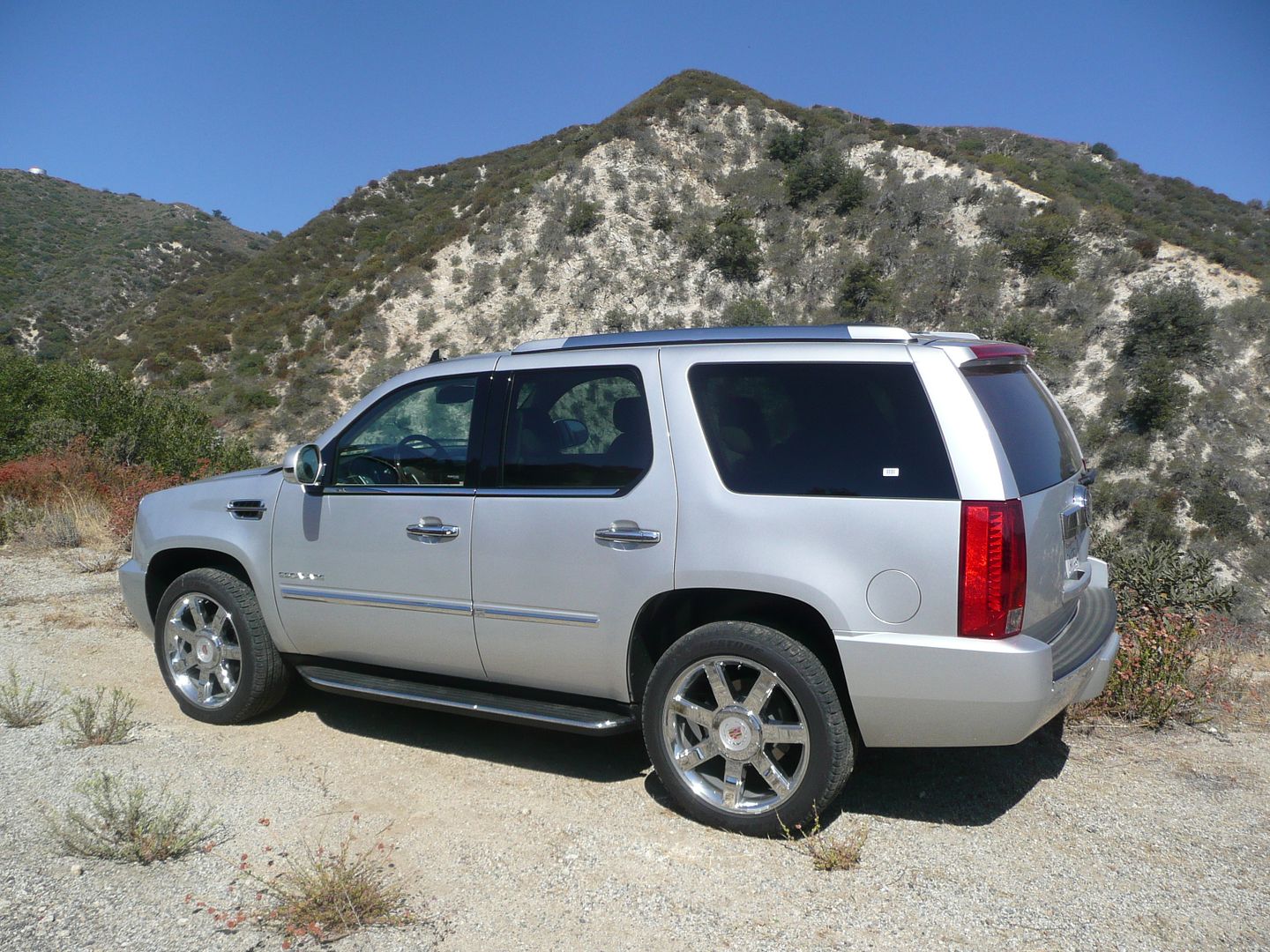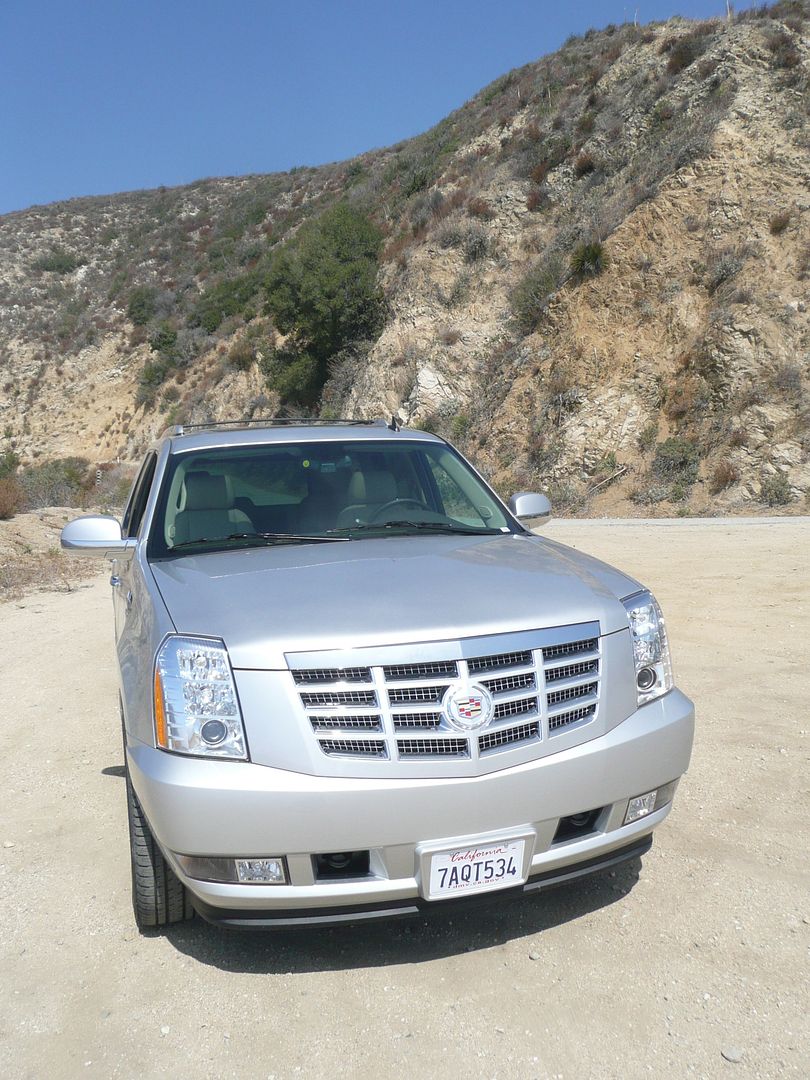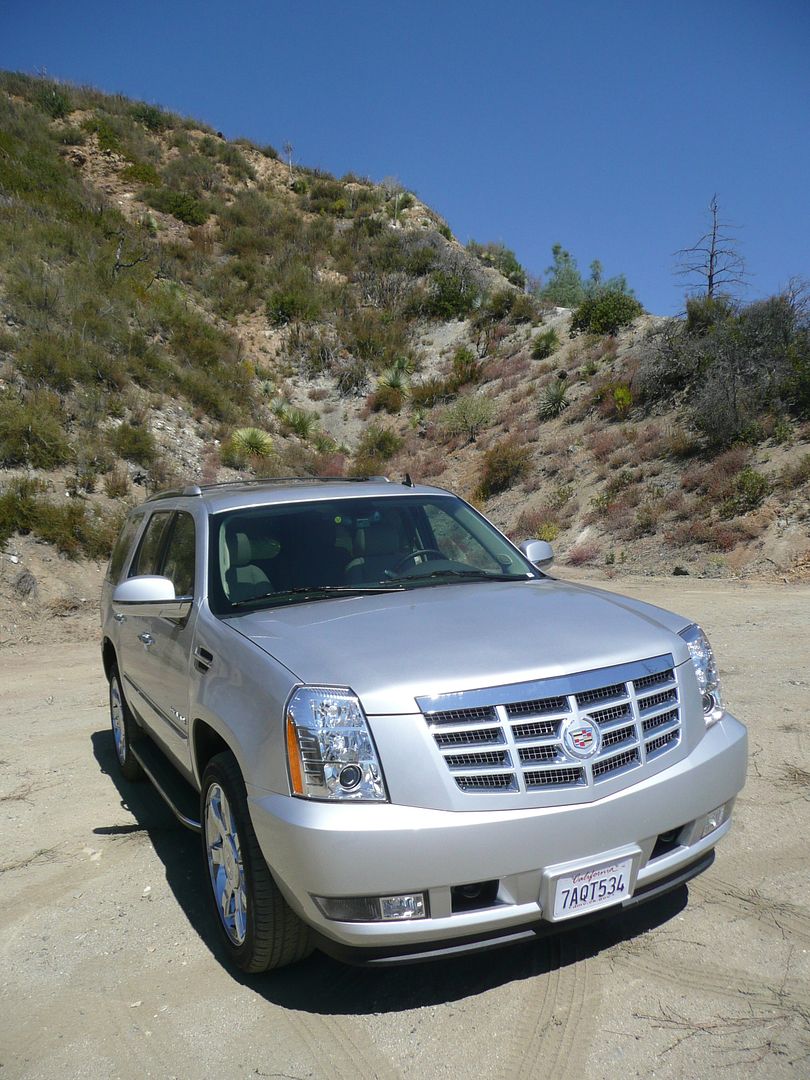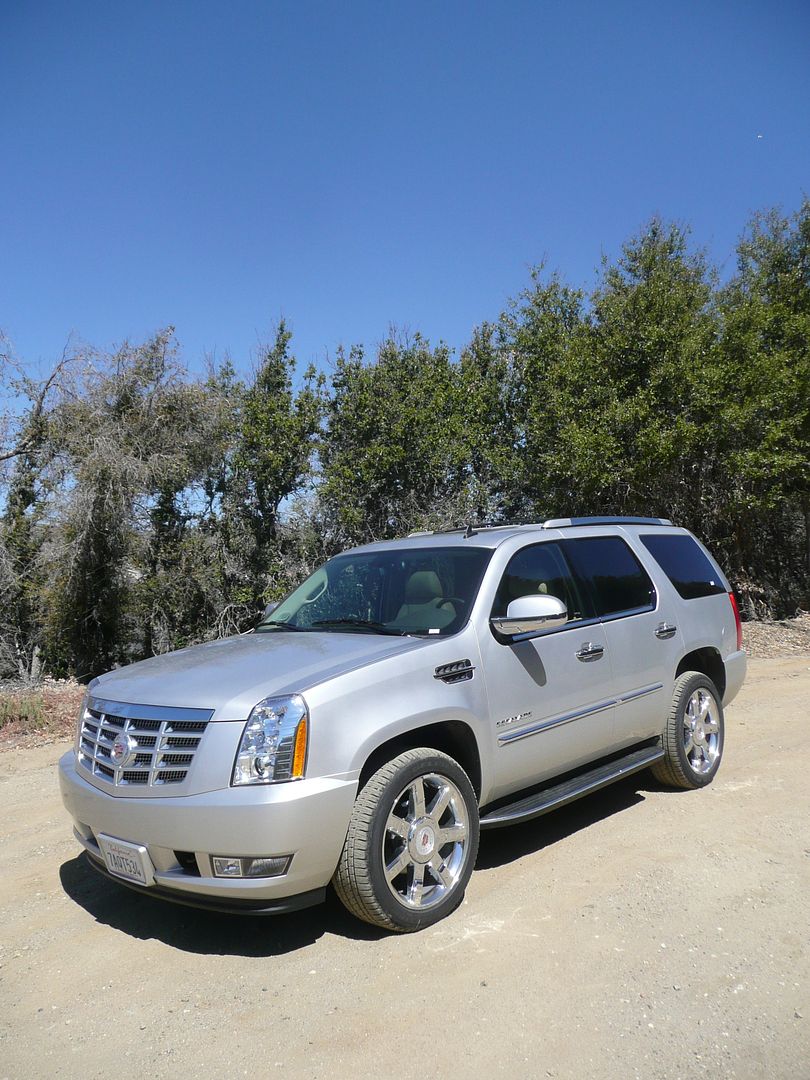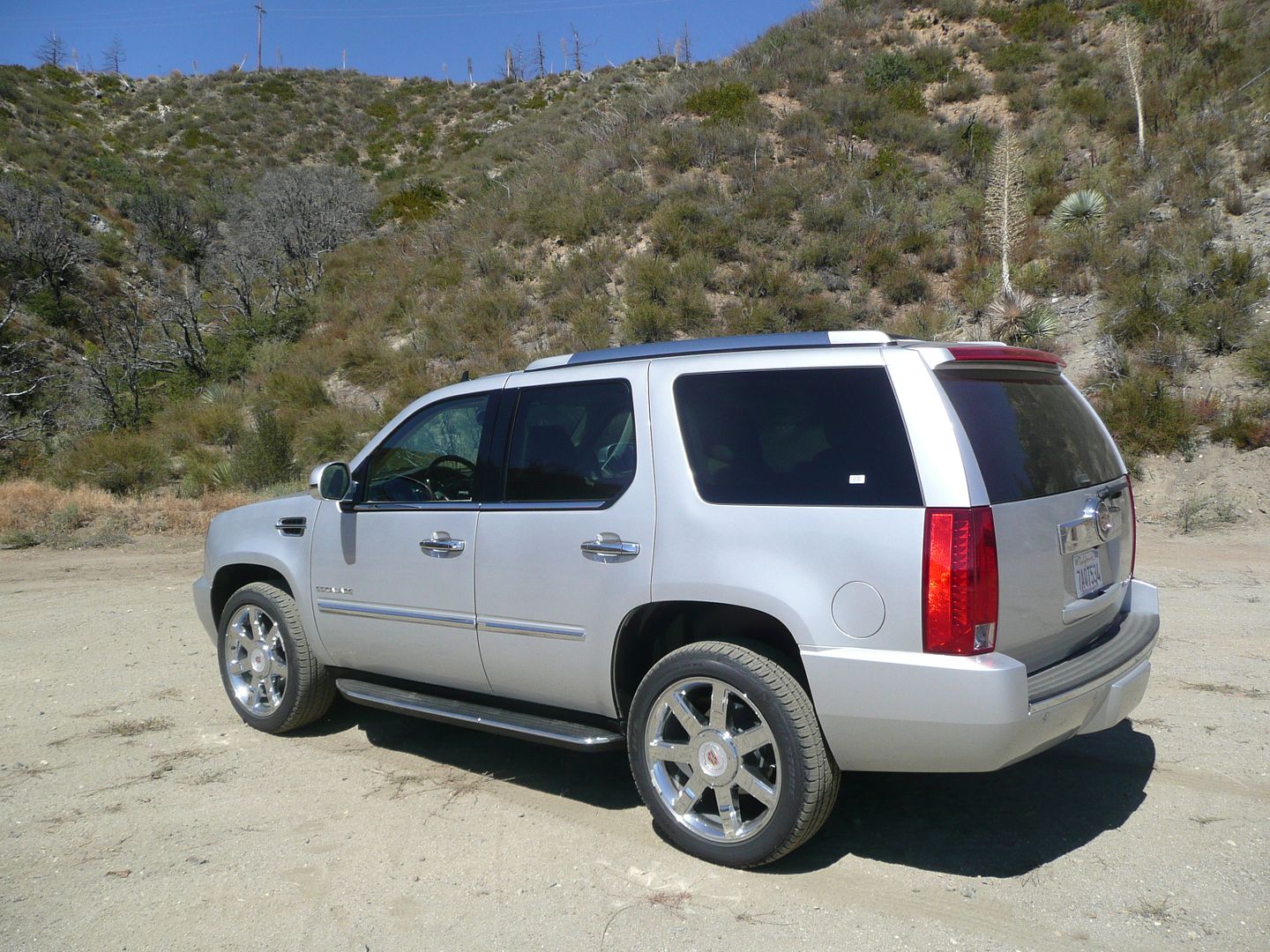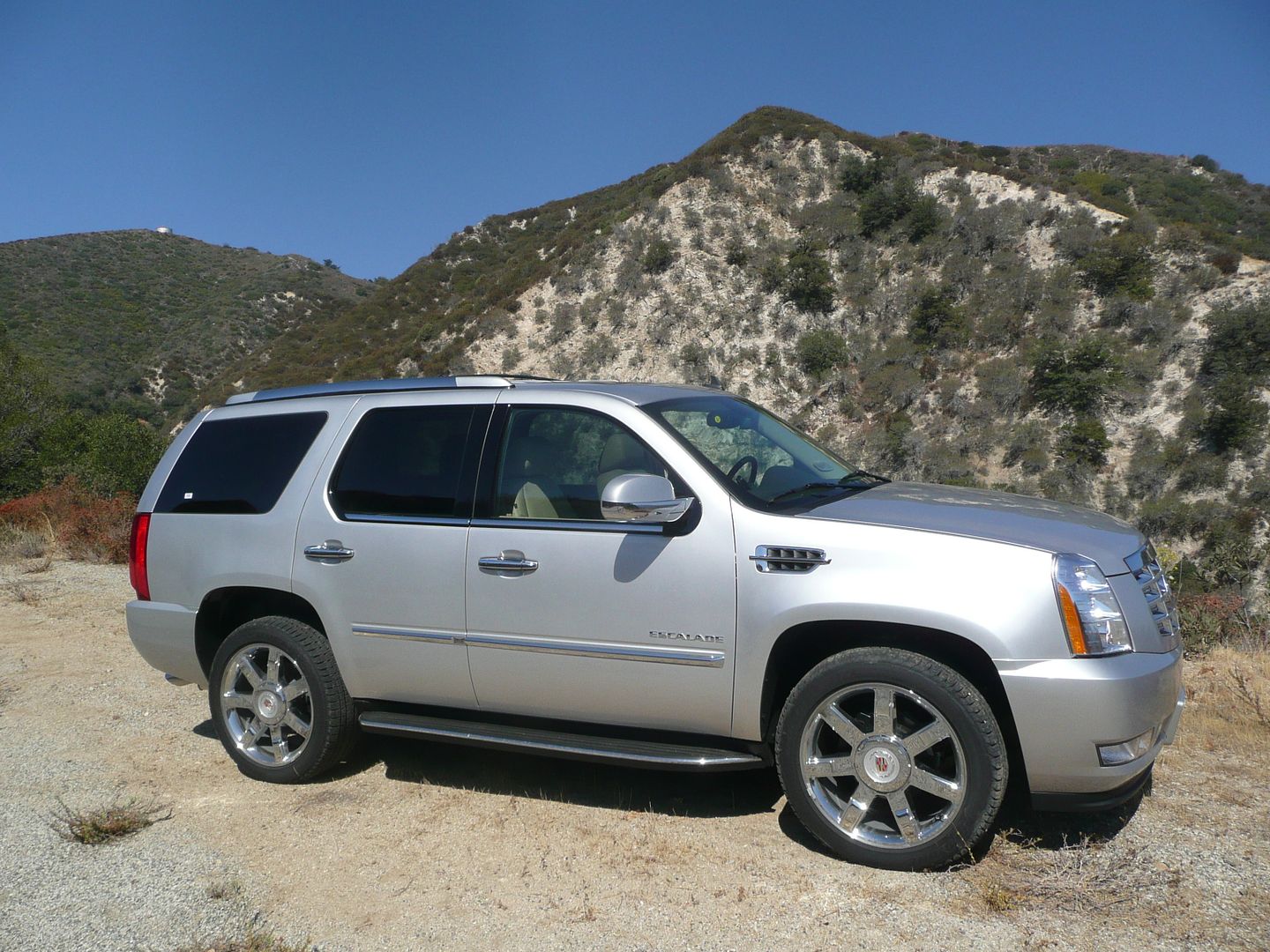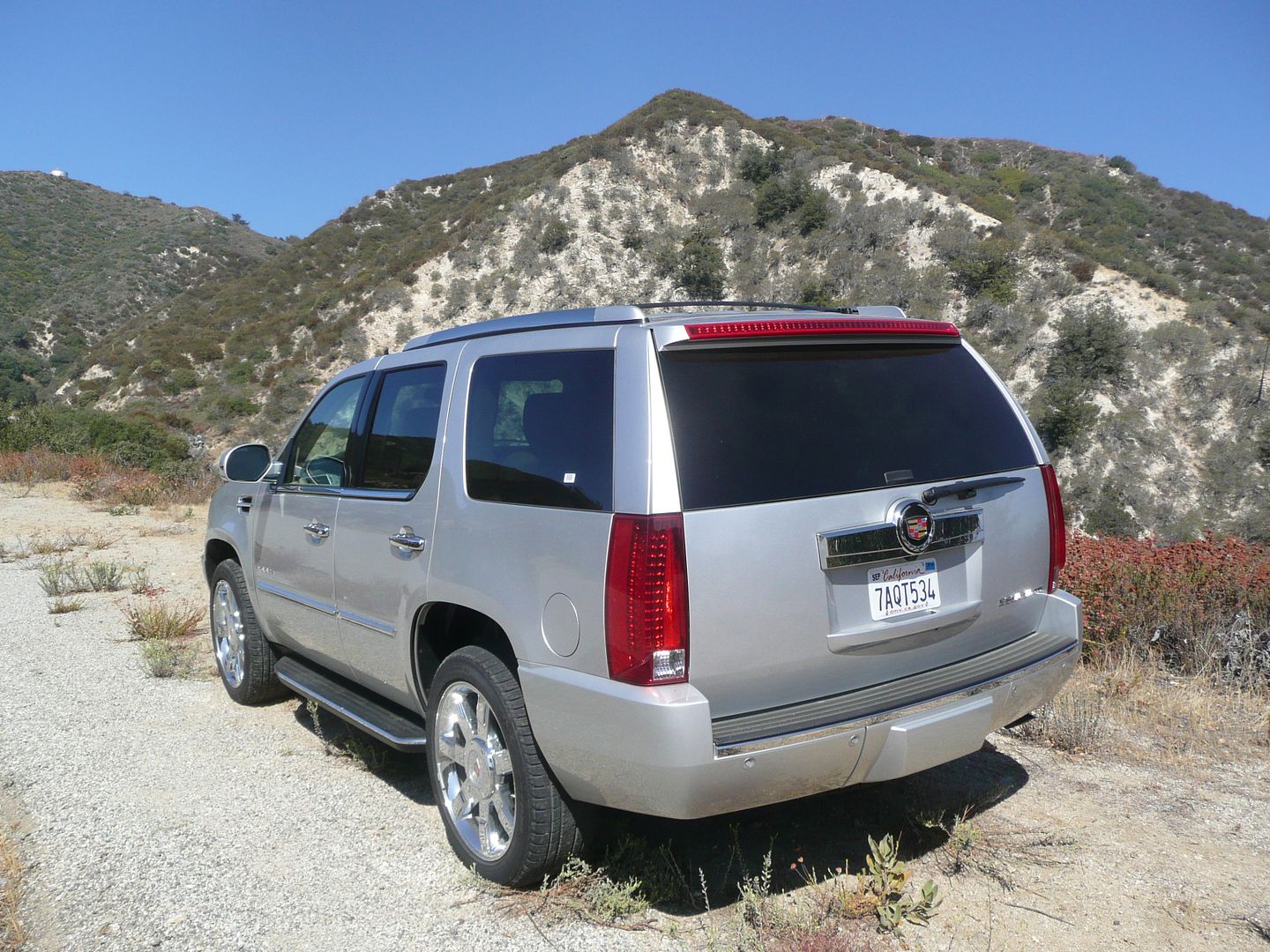 By the 1950s, Cadillac had established itself with a very clear brand reputation in the marketplace. Following the sad decline of once great marques such as Packard, the Caddy was most definitely America's "best" car. Not quite up to the comparison with Rolls-Royce that some made, but a very clear cut above all other domestic competitors, with the combination of styling, engineering and luxury appointments all coming together to make a Cadillac a highly desirable machine, affordable only by the rather well off. Cadillacs from this era are still well regarded, as a quick look at the prices of 1950s models will evidence. As relative affluence increased in the Baby Boomer years of the 1960s, so sales increased, but also the image gradually changed, and the huge De Ville, Fleetwood and Eldorado models that constituted the range ended up increasingly being bought by the stereotypical elderly resident of Florida. Cadillac tried a number of new model approaches to try to appeal to a younger market, starting with the much smaller Seville model in 1975, and even going so far as a tie up with Pininfarina to inject some Italian style into the range, with the Allante. None of these things worked, and along with cheaper GM stablemate, Buick, it really did seem that the adage of "Retire, Buy a Cadillac and then you Die" was true. Something new was called for, and the real call to action came from dead rival Lincoln, Ford's luxury marque that had been experiencing many of the same problems. Capitalising on the growing popularity of the SUV, when a Lincoln badge and levels of trim were applied to the Ford Expedition, resulting in the Navigator, sales took off. In 1999, Cadillac decided to pull of the same trick. Taking the GMC Yukon Denali, a large SUV based on the volume selling GM truck range, suitable touches of Cadillac were applied to created the first Escalade, which went into production just 10 months after conception. When the GM truck line and the associated SUVs were refreshed a couple of years later, a rather more thorough reworking into something more obviously different from the Chevrolet Tahoe and GMC Yukon created the second generation Escalade. Never mind all those attempts at smaller front wheel drive saloons or a failed Italian sports convertible venture, this was the machine that suddenly made a Cadillac desirable to a whole new sector of the market, and at Cadillac prices, a significant source of profit which could be used to reinvigorate the rest of the brand. By 2004, annual sales of the Escalade – now offered in standard wheelbase, the Suburban-based extended wheelbase ESV  and a 4 seater pickup EXT version based on the Chevrolet Avalanche, went over the 62.250 mark. Now just as much part of the range as the Chevrolet and GMC models, when the follow-on GM T900-based SUVs appeared at the start of 2006 for the 2007 model year, the Escalade reached its third generation. Whilst sales have never quite been as strong as they were in 2004, it remains an important vehicle in Cadillac and GM's range, and a strong competitor not just to Lincoln's Navigator, but also the Infiniti QX56, Lexus LX570 and the Mercedes GL Class.. A fourth generation model will be revealed in October 2013, so it seemed timely to get to sample the current offering whilst it is still on the Hertz fleet.
One mechanical difference between the Escalade and the lesser Tahoe/Suburban and Yukon on which it is based is that whereas the standard engine for them is a 5.3 litre V8, with a 6 litre unit available as an option, the Cadillac gets an even larger and more potent 6.2 litre V8 unit, which puts out 403 bhp. That's a lot of brake horse power, but then making the Escalade shift is going to take quite a lot, as it is big, heavy and not exactly the first word in low drag aerodynamics. It does mean that whilst you do not feel that the Cadillac is startlingly fast, nor are you going to find it embarrassingly slow. When you first the engine, which is done in the traditional way by putting a key in the ignition slot and twisting it, your ears are treated to that unmistakeable rumble of a V8.  Flex your foot on the accelerator and there is plenty of extra oomph available at almost any speed. That is as much down to the 417 lb/ft of torque that is generated as much as the raw power.  There is a 6 speed automatic gearbox fitted, and it is operated by using the large column mounted gearlever. There is a manual mode available if you go all the way through the positions, past "D", and then you can go up and down the gears using the switch on the front face of the rather sizeable gearlever. For normal motoring, you would not bother, but I can see this might be useful for long and steep ascents and descents or other special circumstances.
By any measure, the Escalade is a large vehicle, and therefore for someone used to driving regular sized cars, you might fear that it would be a little daunting to get behind the wheel of something this big. Actually, it is not, and it proved surprisingly easy to use, wherever I took it. Bear in mind that this is America, though, where roads are wide, and designed to allow large trucks to be able to proceed along them, so curves and gradients are less extreme than in Europe (on main roads at least) and parking spaces are generous both in themselves and in the amount of space between them. With the help of the running boards to ease your progress as you clamber up into the cabin, once installed you simply adjust everything as normal, and set off. There are electric motors to do all the adjustment for you, including the pedals, which can be moved in and out by pressing a switch on the dashboard.
First impression, manoeuvering out of the Hertz facility is that the steering is light, but once you get out on to the open road, you are relieved to find that it is not too light. In fact, I would say it is quite well judged, as although you need assistance to make the Escalade manageable,  you really do need some sensation left to give you an idea of where the road wheels are headed. Next thought is that you must remember to allow enough space around you as you ensure you do not catch other parked vehicles in the Hertz facility, and as you approach the exit gates, trying to ensure that you do not catch the kerbs, but again this is easy, as visibility from your lofty height is good, with plenty of glass area and generously sized mirrors. To help when reversing there is a back-up camera which projects a very clear image onto the central display unit, so you can see exactly how much space you have. So, out on the streets of LA, and headed for the Freeway, with a very gentle burble of the V8 in the background, I decided where I wanted to go, and the mountains beckoned, as they often do. I thought that would be an interesting test for the Escalade, as it would involve some freeways (and likely some traffic) to get there and then some narrower and twisty roads. I was not wrong about the traffic, as it was around 9am, and the 405 freeway was still busy, and here I came across something which may have been unique to this vehicle or maybe an endemic fault. At around 1500 rpm, there was an unpleasant and slightly alarming vibration. I initially wondered if it was to do with the cylinder deactivation, but later investigations showing when the car was using 4 and when on 8 cylinders suggested not. At lesser revs, in other words when really crawling, it seemed to disappear and once the traffic cleared and I got beyond  2000 rpm the problem went away. The test car was effectively brand new (it had done about 250 miles when I got it), so I doubt it was a problem that had built up. Anyway, the traffic did soon clear, and I reached the Little Tujunga Canyon, one of my favourite roads. This climbs up out of the valley, and has lots of swooping bends, and in some cases some fairly precipitous drops over the side of the road with only a thin barrier to protect you. Needless to say, I attacked this road with far less gusto than I would in a car with a much lower centre of gravity, at least until I worked out the limits of the Escalade. Surprisingly, it was not the total nightmare that you might fear from such a big vehicle. No, of course it was not fun, and you really had to concentrate extra hard, but with that well judged steering weight and handling that was less roly-poly than I had perhaps expected, I got to the various photo locations without any cause for alarm. Canyon roads tend to be better surfaced than the main thoroughfares, which are universally in a terrible state in Southern California, so the ride qualities had also had a good and varied test, and generally were not found wanting, with the huge wheels and long wheelbase doing their best to smooth out the imperfections. Scenery enjoyed and photos done, it was time to descend, which was going to test out the brakes, but actually there was nothing really to test, they just worked. Of course, I was still going a little tentatively, but they worked as intended and gave me no cause for concern. I did discover that there is an electronic feature which cuts in unobtrusively to help matters on steeper descents. There is a foot pedal operated parking brake, should you feel the need for extra protection when parking on a steep slope. Thanks to the elevated driving position, you look down on a lot of other traffic, and you feel like you have a better view of what is around you. Visibility is not bad, anyway. with large areas of glass. There are rear parking sensors and there is a rear camera which projects onto the central display screen. The door mirrors have a feature which alerts you to anything alongside with a flashing light,, which eliminates any risk of missing something in your blind spot  Dynamically, then, the Escalade acquitted itself quite well.
A vehicle the size and weight of the Escalade with a 6.2 litre V8 engine to propel it is never going to be economical. I did wonder just how bad it would be, and was initially encouraged by the fact that after about 50 miles, the needle on the fuel gauge did not seem to have moved. Then I remembered that the tank holds a wallet emptying 26 gallons,  so you would expect it to be a bit before the needle starts its inexorable plummet towards E. At least this suggested that the tank was decently full when I collected the Escalade. Seeking another data point, I pressed the button to get the instantaneous fuel consumption read out, and immediately saw some very scary numbers, with a low single digit figure being presented whenever the accelerator was pressed even a tiny bit. You can also see whether the engine is operating in full V8 mode, or with 2 or 4 of them deactivated, and as this switched quite frequently, I concluded that this was not the cause of the lumpiness at 1500 rpm after all. Soon, the needle did head downwards, so at the end of a fairly short test distance, of 150 miles, I put the nozzle to the tank, and pumped and pumped. It took exactly 10 gallons, which equates to 15mpg, which is better than the 12.0 mpg average reported by the on-board trip computer. Now, remember that this was one-up, and with no luggage, driving the car relatively gently. Just imagine it with a full complement of passengers, and luggage, perhaps towing a trailer, and driven in less traffic – I can well imagine that breaking into double figures would be a cause for some rejoicing! There are badges on the Escalade reading "FlexFuel" which means that this engine will run on the E85 petrol/ethanol mix if you can ever find it. I've never seen it on sale anywhere I've been in the US, but maybe in the Corn States you can get this slightly cheaper alternative. For those who wish to make a gesture towards Green, a Hybrid version of the Escalade has been on sale until the 2013 model year, and around 20% of sales were of this version.
Compared to the slightly brash exterior, the interior of the Escalade is surprisingly restrained. Clearly it shares the basics with its cheaper stablemates, but Cadillac had worked hard to ensure that it looks like the luxury SUV that its price suggests it is. The test car featured an oatmeal coloured trim, called Cashmere by Cadillac, which worked well. A darker colour in such a vast cabin would probably look far too funereal. The top of the dashboard is trimmed in a very dark brown (Cadillac call this "Cocoa"), and it features a mix of dark "wood" and some silver aluminium effect inlays. The door casings only feature leather around the armrests, the rest being a plastic covering, and the steering wheel is mainly leather with a wood inlay around the rim. The whole ensemble does not look as brash as many American luxury efforts do. Although the Escalade is pretty well equipped, it also avoids appearing overly complex, with not too many buttons scattered all over the place, either. There is a single cowl covering the instruments, which comprise large rev counter and speedo, flanking smaller water temperature and fuel level gauges. There are silver pointers in each, and although none of the dials are that large, they are easy to read. Set between the dials is a small digital display which shows the odometer, outside temperature and compass point direction of travel. A couple of buttons on the centre of the dash allow you to cycle through a whole array of other pieces of information from transmission oil temperature, tyre pressures and oil life expectancy through to that instant fuel consumption, as well as allowing you to change a number of settings. There is a single old-style GM column stalk on the left of the column, which operates the wipers, with the less than ergonomic twist sleeves on it for wipers. Lights are operated from a rotary dial on the left of the dash. The centre of the dash contains the display unit for the in car systems, and then below that the audio unit controls and the climate control switches. Repeater buttons for some audio unit functions and the cruise control are the steering wheel hub. The On-Star controls are mounted on the rear view mirror unit, as usual.  And that is it. The in-car system display unit proved very easy to use, with a touch screen interface. As well as showing audio selections and satellite navigation (rendering Hertz' Never Lost system also fitted to the test vehicle somewhat superfluous), it is used to project clear images from the reversing camera, traffic reports, and the local weather forecast. It also contains a digital clock display, though oddly, this did not appear sync-ed with the small analogue clock on the top of the dash, as when I changed one, the other did not.
Perhaps in keeping with the luxury theme, there are only two seats in the middle of the car, presented like captain's chairs, with a swivelling armrest on the inner side of each seat. Their position on the floor of the Escalade is fixed, but you can choose the angle of inclination of the backrest. There is a release on the lower outer side of each seat which allows the backrest to drop forward onto the cushion and then the whole seat to tip forward so it is vertical, making it relatively easy for occupants of the rearmost row to get in. Alternatively, there is a switch set on the C post on each side which will do it for you. It is a bit awkward to reach from outside the car, and is clearly aimed at those who are in the back and want to get out. The back row of seats are split asymmetrically, and there is enough width for three people to get fit in. These seats also cannot be moved around on the floor. Unlike the middle row, where there is more than ample space in every direction, occupants here will probably not be as comfortable, with their knees likely to be headed too close to their chins. Fine for children, who will likely constitute the prime occupants, I guess.
With all seats erect. there is a bit of luggage space, but not a lot unless you can take advantage of the height. Fold down the rear most seats, so that they are flat, and there is a lot more space, though the folded seats are a lot higher than the boot floor. They can be taken out altogether which would then give a huge and flat load area. The middle row will also fold down, but again they are not flat with the floor and there is a significant gap between the two folded down rows. Those who crave lots of luggage space as well as room for 8 people would be better served by the even larger ESV model. Needless to say, there is an electric motor to close the large and heavy tailgate. You can just open the rear window glass, though anything you want to put in through that slot would be effectively thrown onto the boot floor, and it is so high up that you could not reach anything other than very tall things that were already in there. Inside the cabin, oddments space is pretty disappointing for such a large car. The front doors have some rather pokey door pockets on them, and there is a very meagre glovebox which looks wide, but is very shallow. There is a huge central armrest, which as well as having a lipped recess on top, ideal for small things like papers, has two layers of stowage underneath, though neither is as big as the armrest would have you believe. Rear seat passengers do not get door bins, but there are pockets on the back of the front seats and there is a small cubby on the roof. They do get their own controls for the audio system, with AUX ports, heated seats and climate control and two drop down cup holders all presented in a unit between the front seats. Those in the rear most seats get no odds and ends stowage space of their own.
As well as choosing between the regular body, the extra long ESV and the pickup EXT, you also have a choice of standard rear wheel drive or all wheel drive transmission and there are four trim levels: Standard, Luxury, Premium and Platinum. The test vehicle, as far as I could tell from looking at the standard specs, was an AWD Luxury, with the optional rear seat audio package added to it. As befits a prestige  SUV vehicle, all Escalade models are well equipped.  The Standard cars all get the cylinder deactivation system, StabiliTrak vehicle stability system, full leather seats, with 14 way electric adjustment for the driver, heated for driver and passenger, a Bose sound system with 10 speakers, combined with the satellite navigation and back-up camera display, rear parking sensors, tri-zone automated climate control,and On-Star with a year's subscription. For an extra $4225, you can have the Luxury trim, which  adds Magnetic Ride Control suspension system, the Side Blind Zone Alert, a heated steering wheel, the power-release fold-and- tumble second-row seats, 22″ chromed aluminium alloy wheels, IntelliBeam headlamps and an electric glass sunroof. The Premium trim further adds power-retractable running board steps, the rear seat entertainment system, a different body-coloured grille and body coloured side mouldings and door handles, tinted clear rear lights and the central high mounted brake light and ultra-bright machine finish 22″ aluminium alloys with painted accents. The top  spec Platinum adds a unique frontal treatment with upper and lower grilles, LED headlamps, heated and cooled cupholders, 22″ multi-spoke chromed aluminium wheels, leather-wrapped instrument panel and trim, Aniline full-leather first- and second-row seats, genuine olive ash and burled walnut wood trim, dual front headrest DVD screens with rear entertainment system featuring a total of 3 LCD screens, chrome-accented bodyside mouldings, side vents and door handles, and is available in an "exclusive" Cocoa/Light Linen interior.
A few years ago, Cadillac enjoyed moderate success with the Escalade in the UK, with quite a few sold, almost all of them in black, and admittedly to a certain class of buyer – generally Premier League footballers or their WAGs and the gangster/drug dealer set. It is notable that when the Range Rover Sport first came out, many of these customers all seemed to move that instead, as presumably they found that in Europe, the Escalade is just too big and some of them may even have worried about the cost of fuelling the thing. But in America, where space is not at a premium, and although fuel is currently around $4.00 a gallon Los Angeles (and significantly cheaper in neighbouring Arizona), these things don't matter so much, and here it may just make more sense. There is a definite market for a large SUV that will swallow half a dozen people, their stuff and perhaps be able to tow something heavy, delivered with enough comfort and luxury that it does not feel like you are driving a truck. For an as tested price of  $72,910 on the road, the Escalade fits neatly into that niche. It won't be for everyone, and US sales have been reducing every year from a peak of 62,200 in 2006,  but it was evidently what 22,500 people were looking for in 2012, and I would guess that they were probably quite satisfied with their purchase. For everyone else, you can rent one from Hertz for around £110 a day, as I did, and it's the sort of thing you should experience at least once. But then you'll probably want to scale back to something a little smaller and more nimble, as your £110 will also put you behind the wheel of a Mustang or a Camaro, and they are, it goes without saying, a whole load more fun.
Share and Enjoy