2013 Mercedes C250 Sport (USA)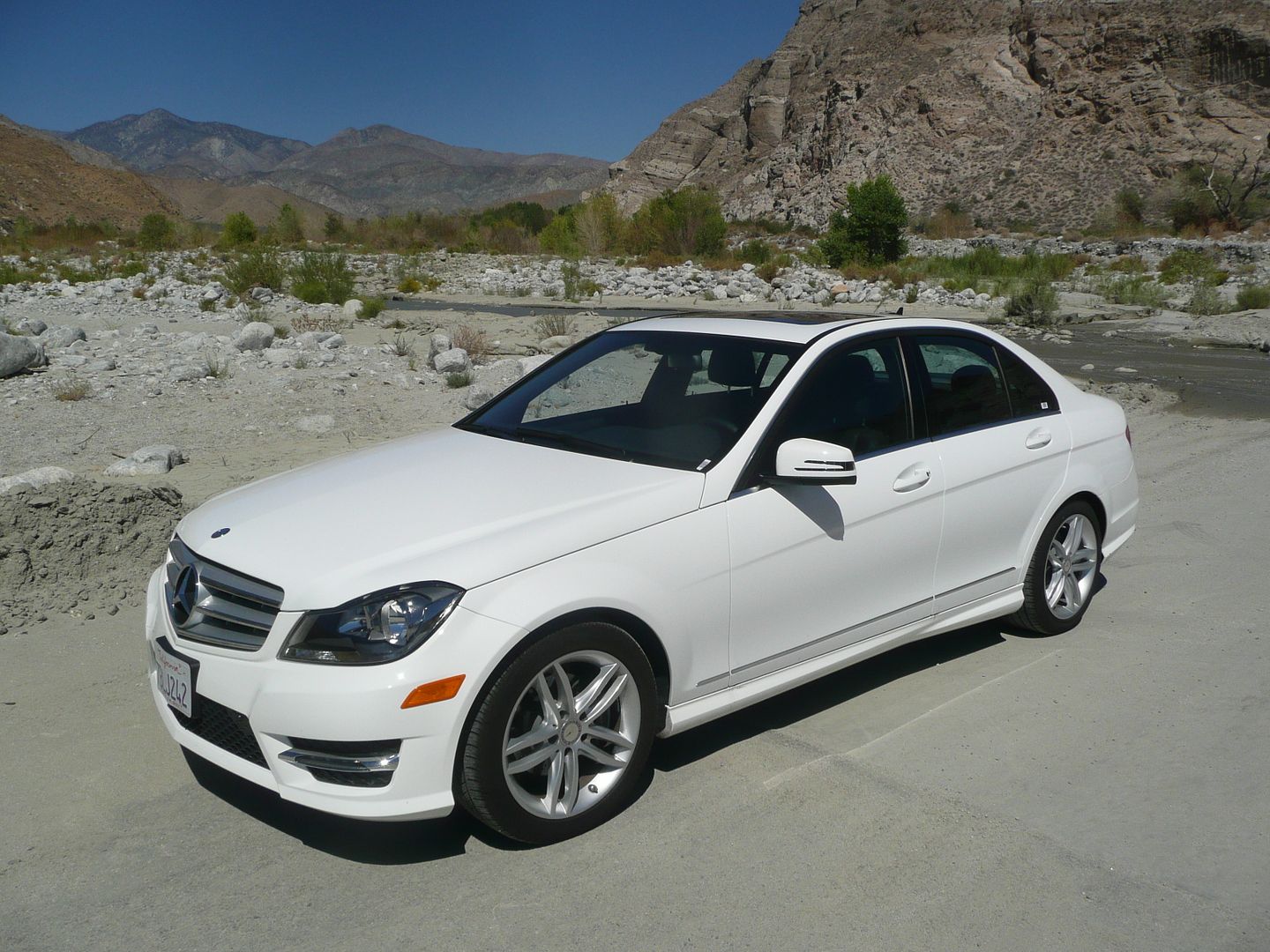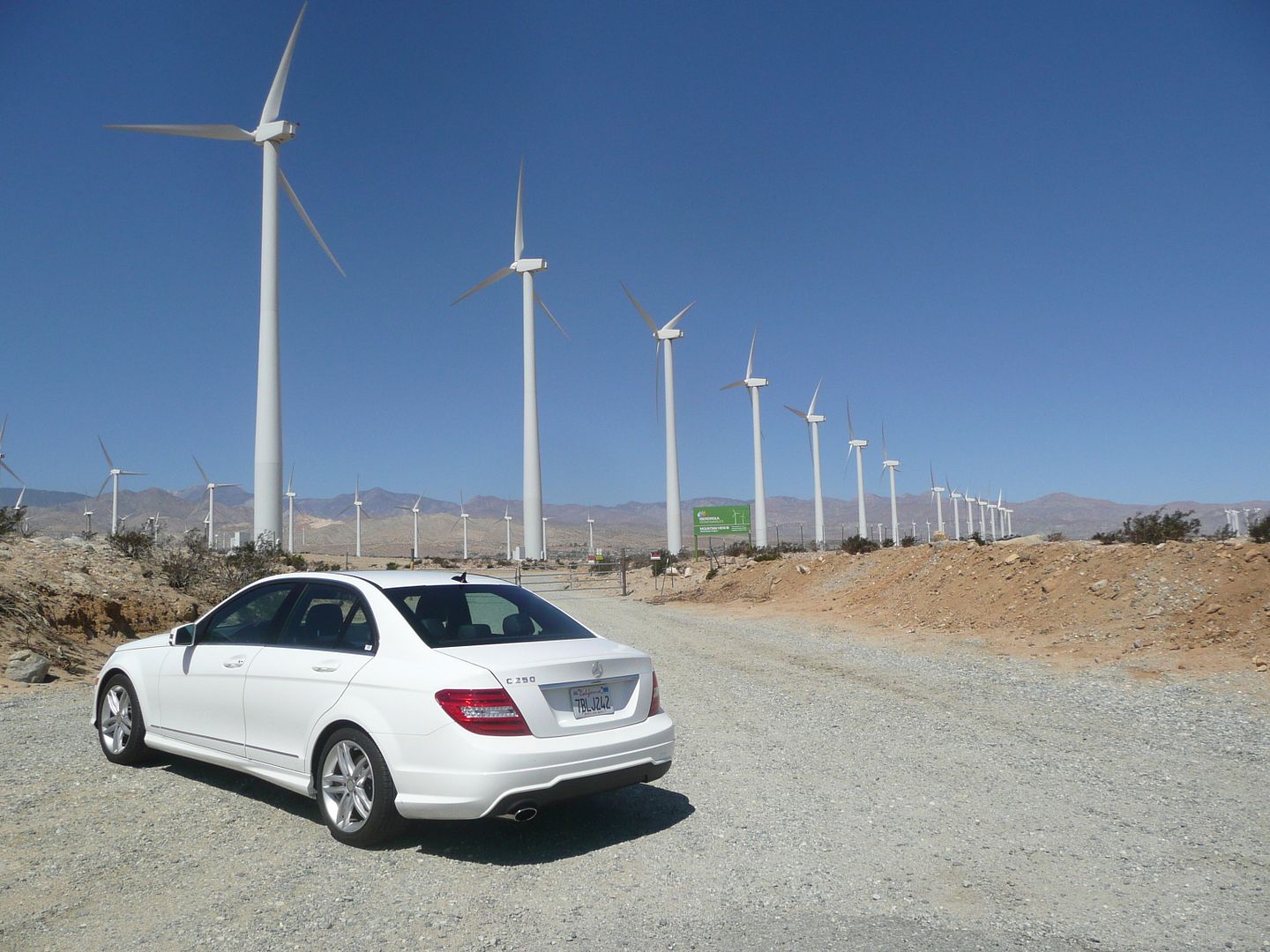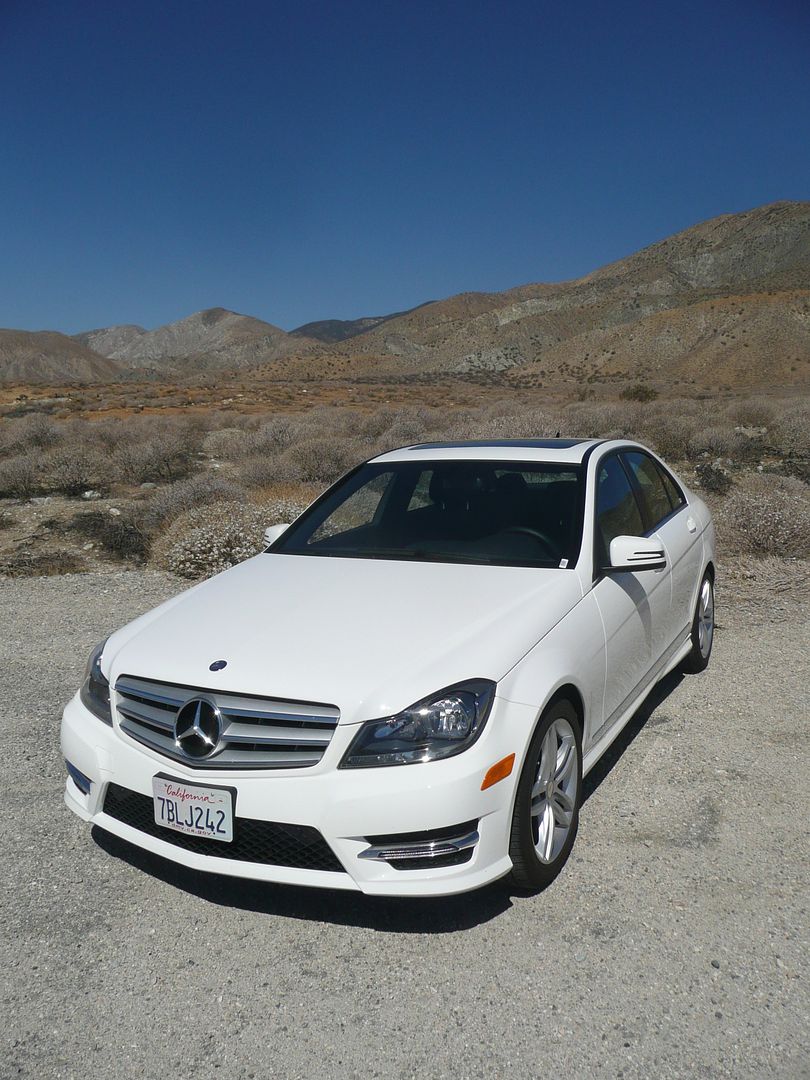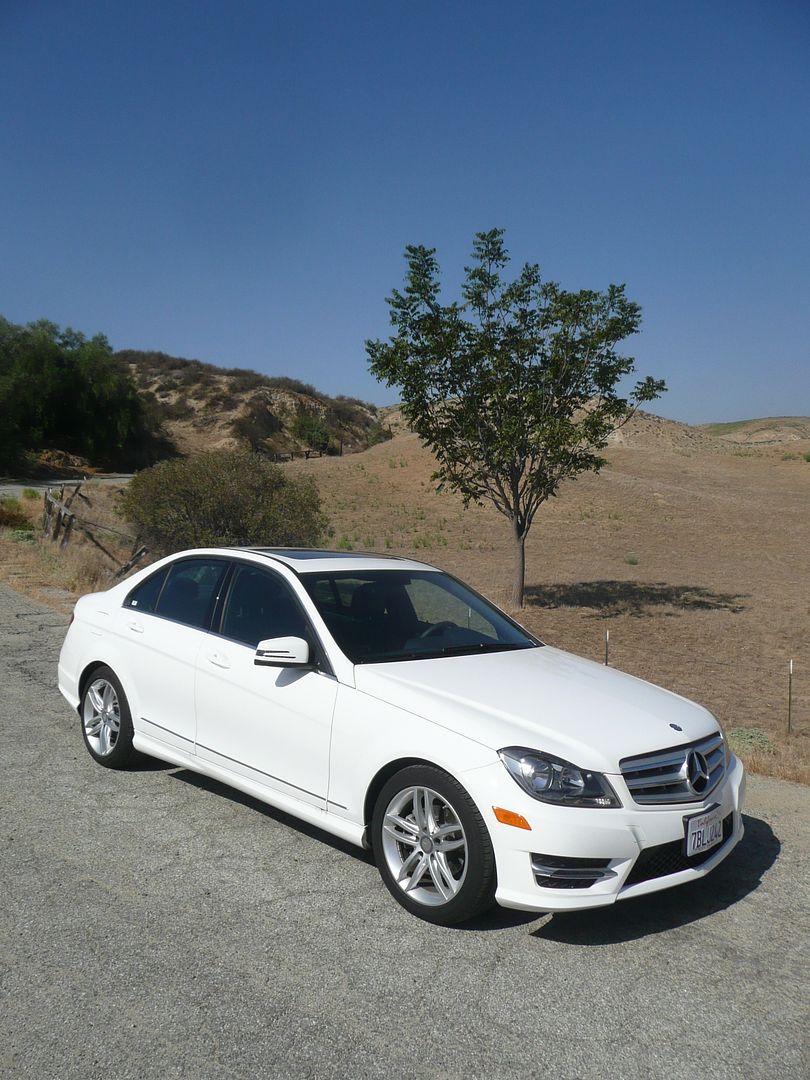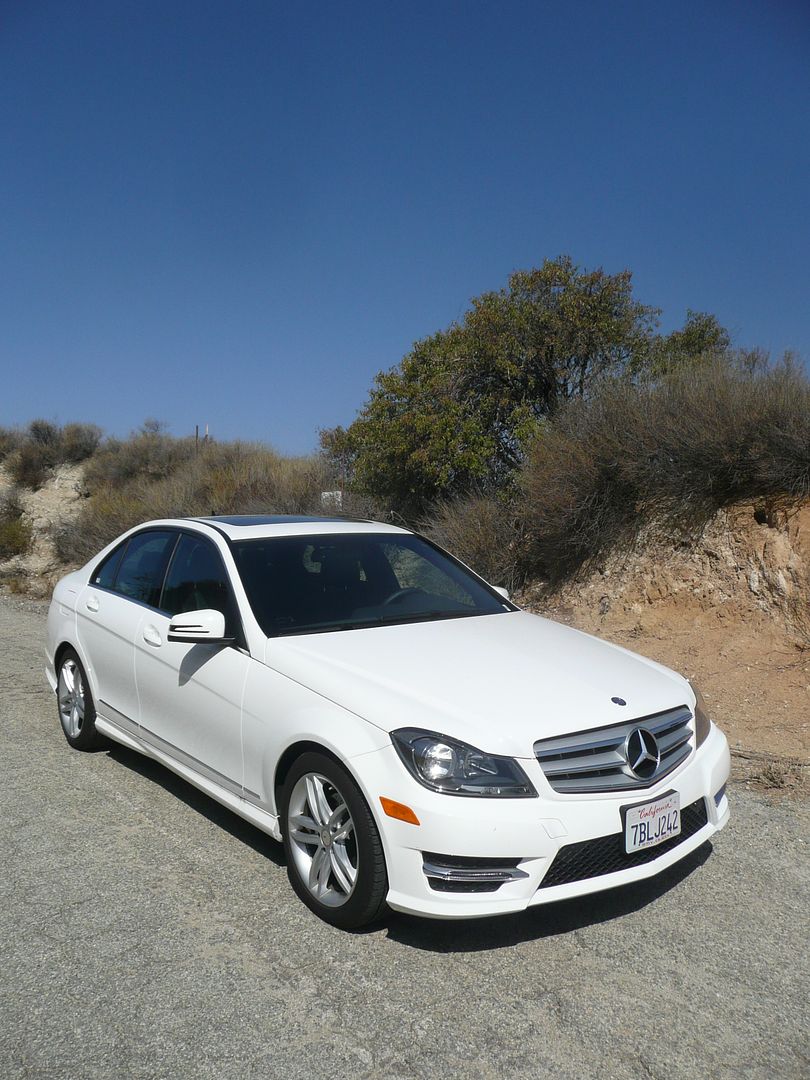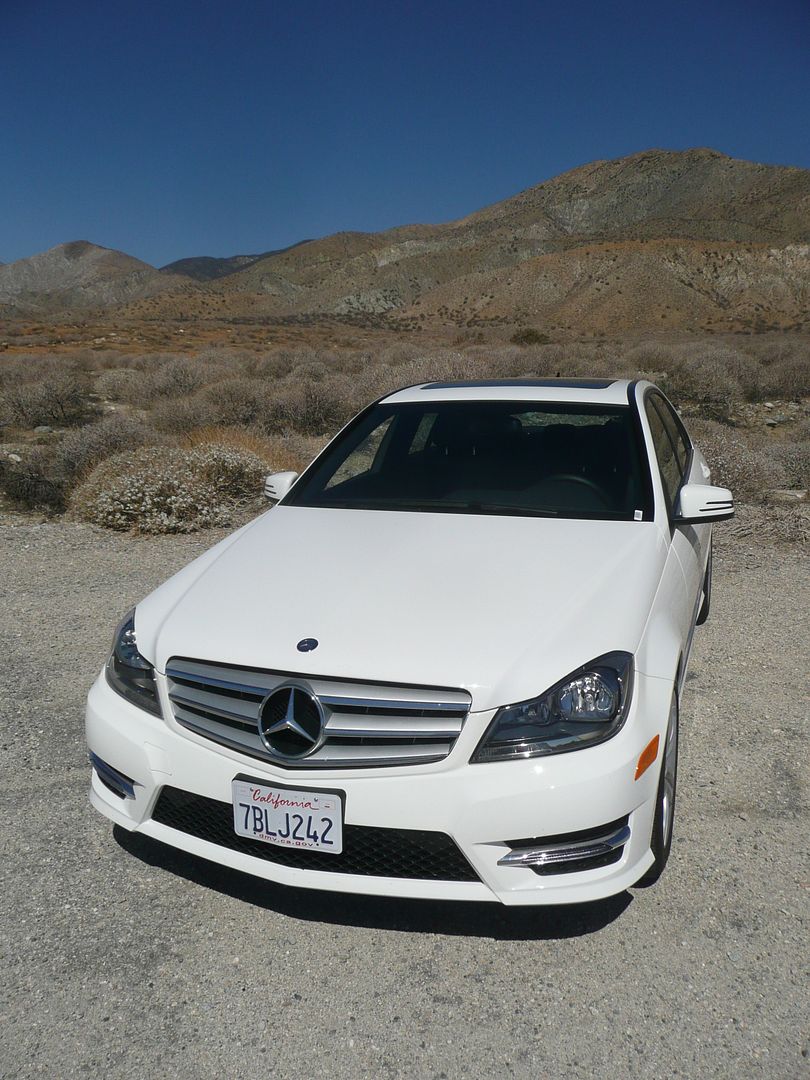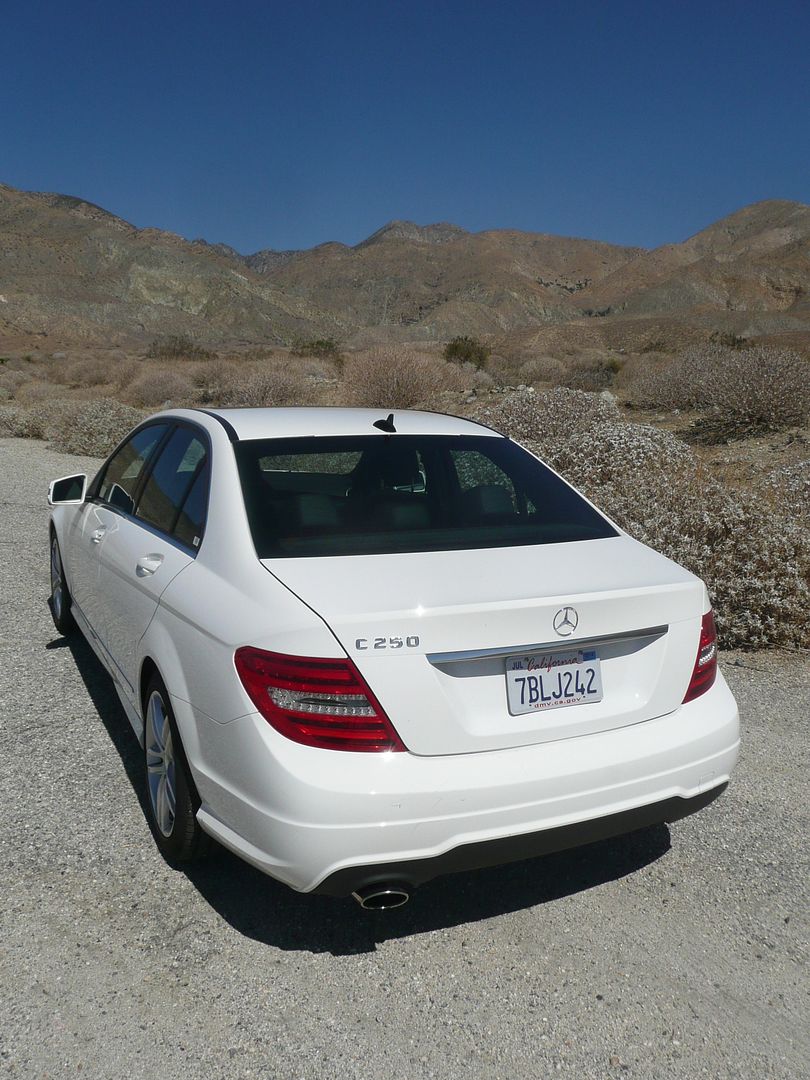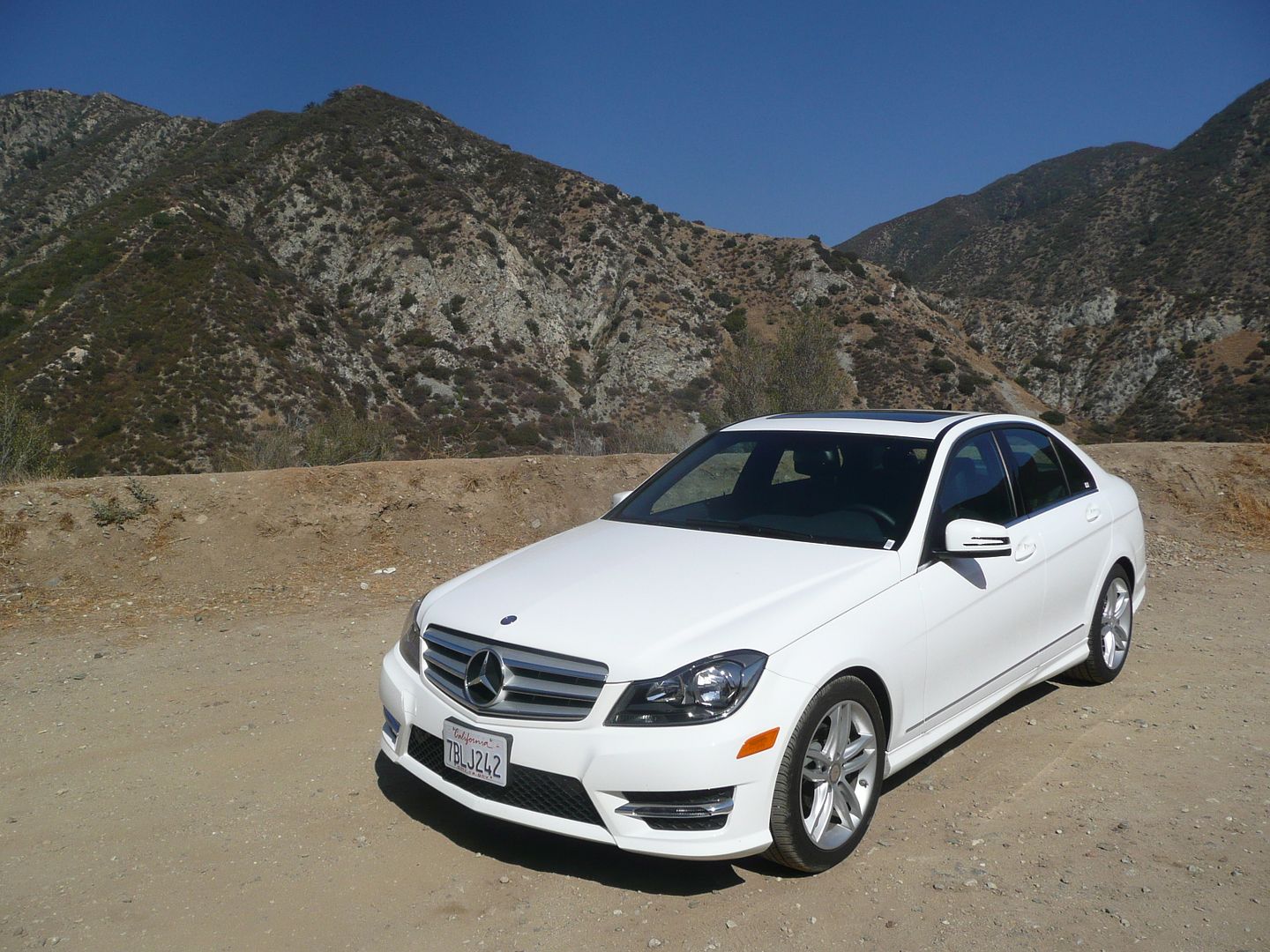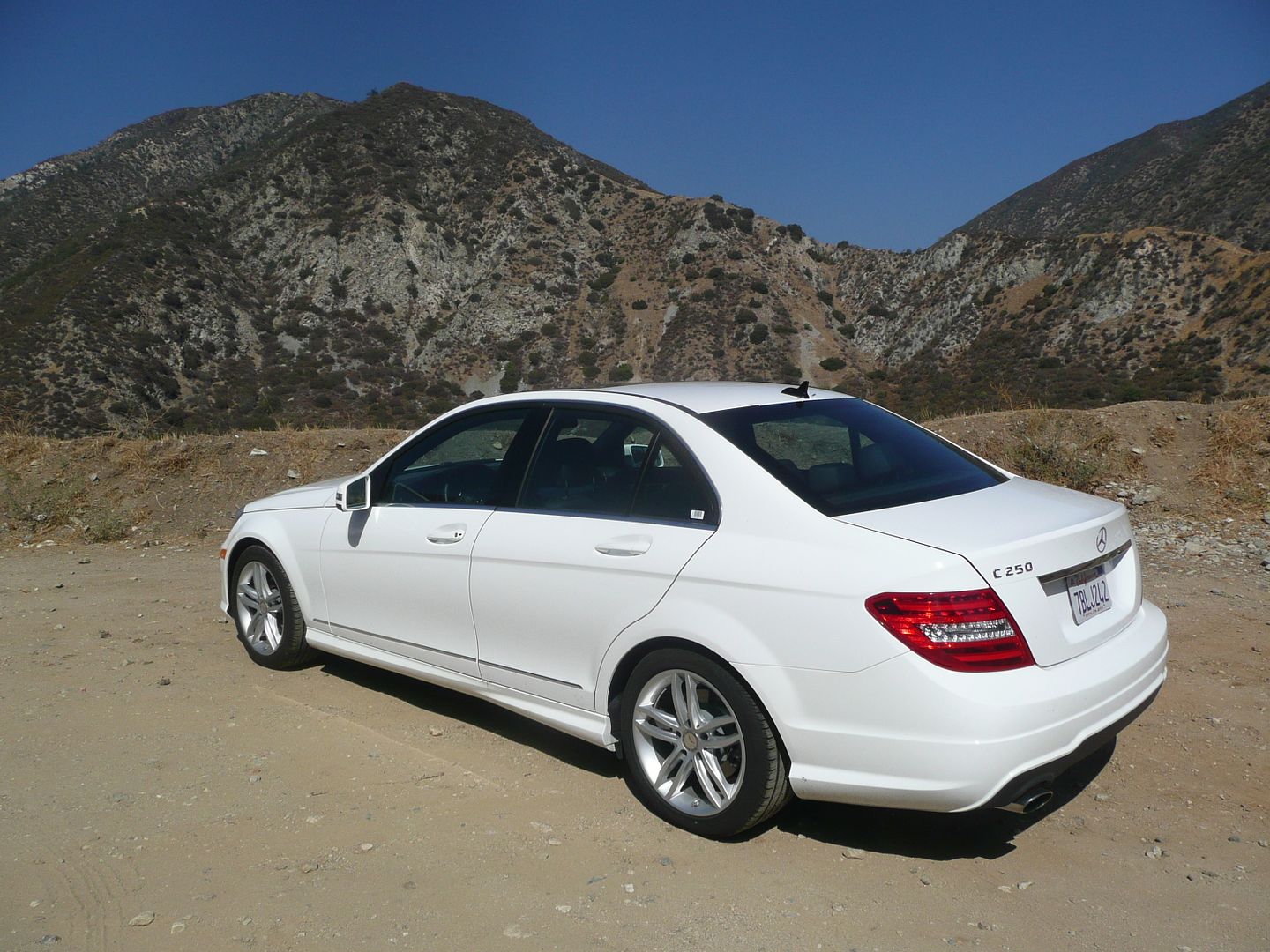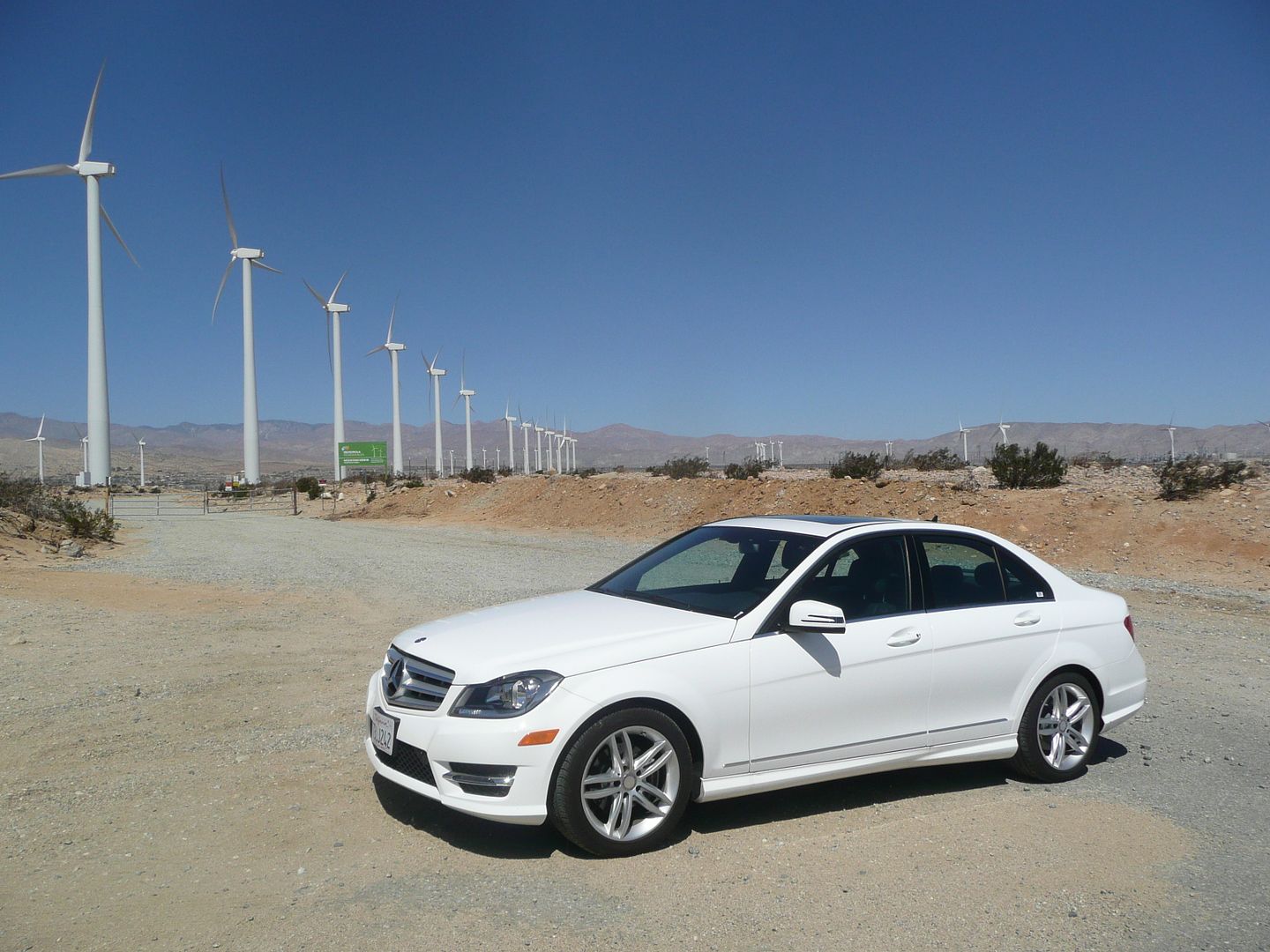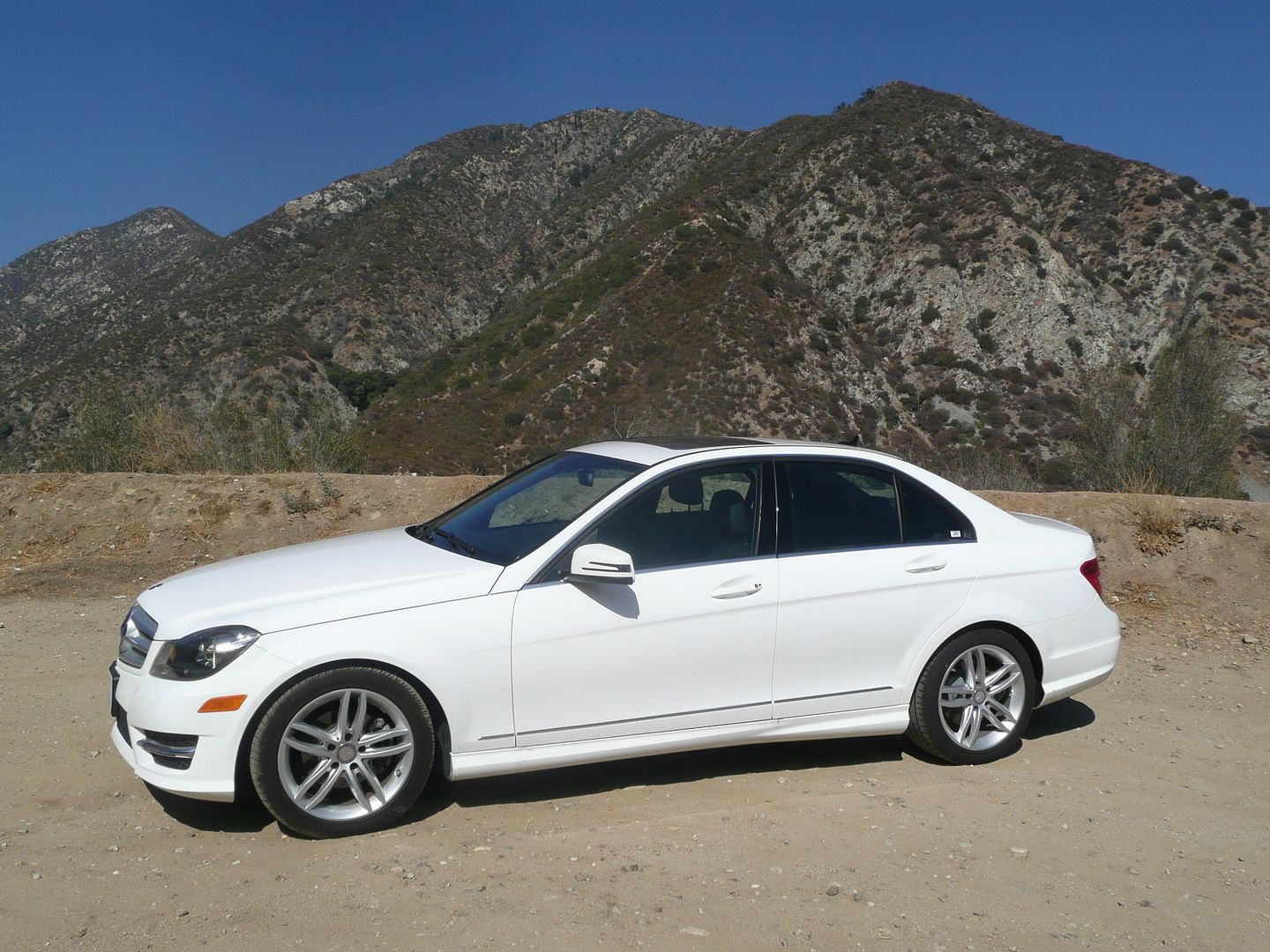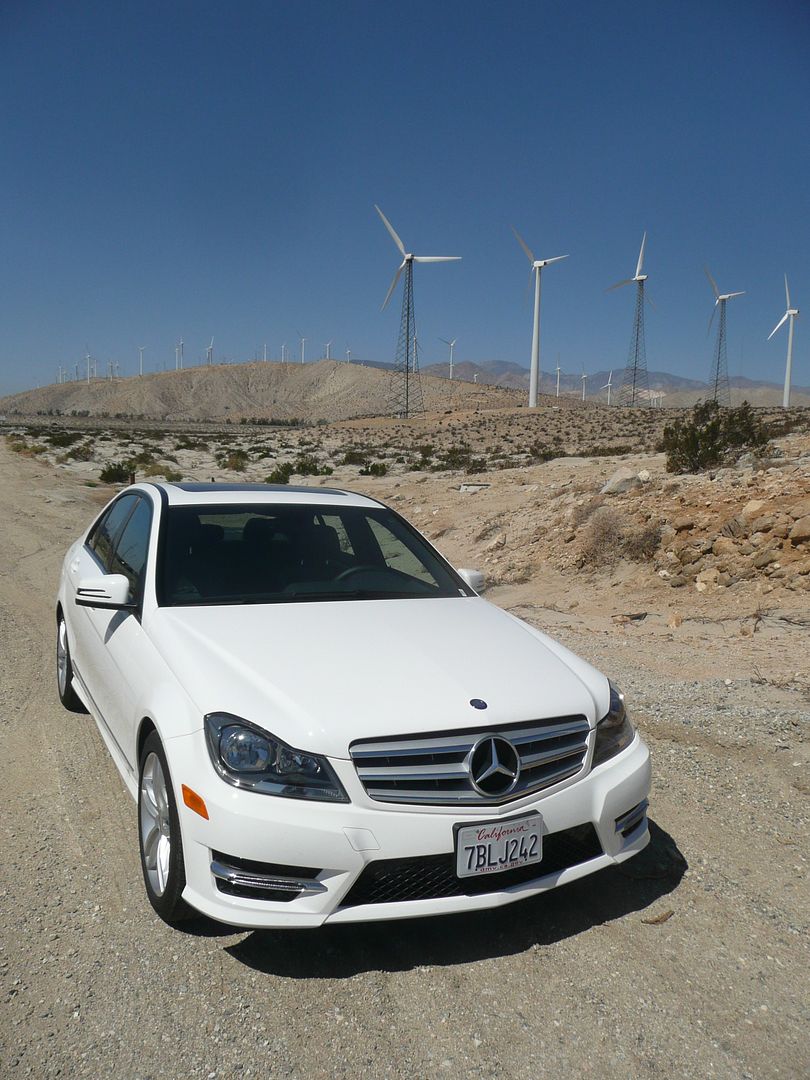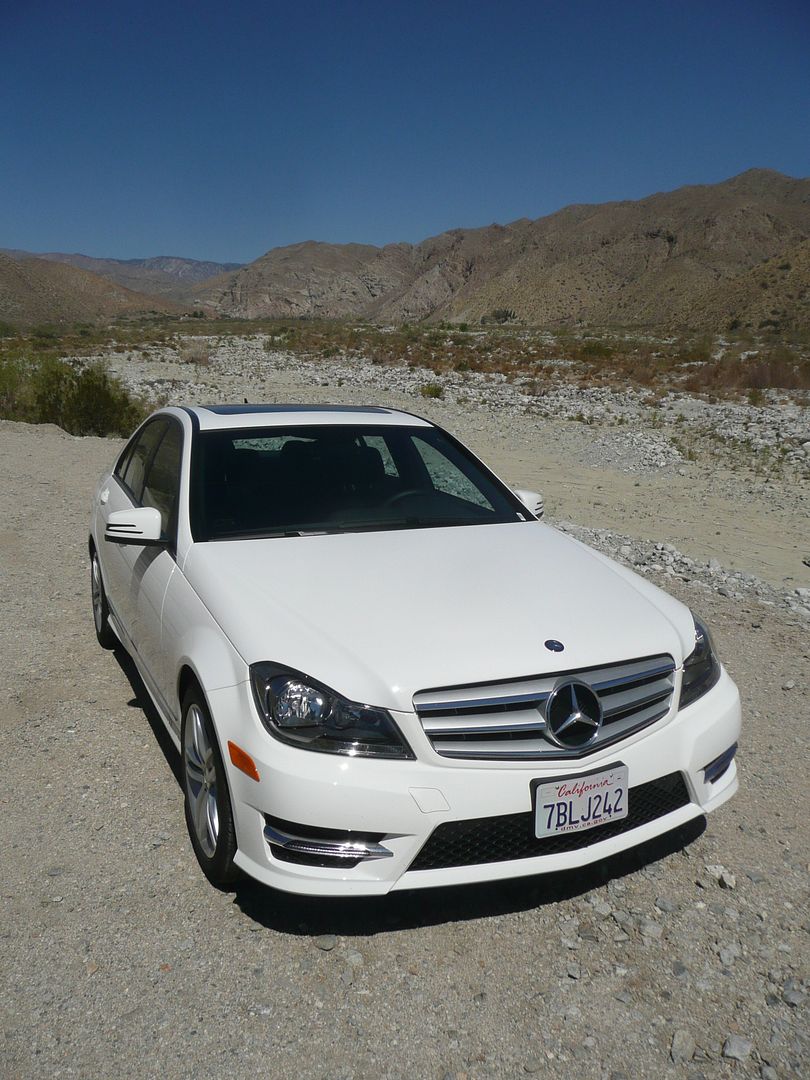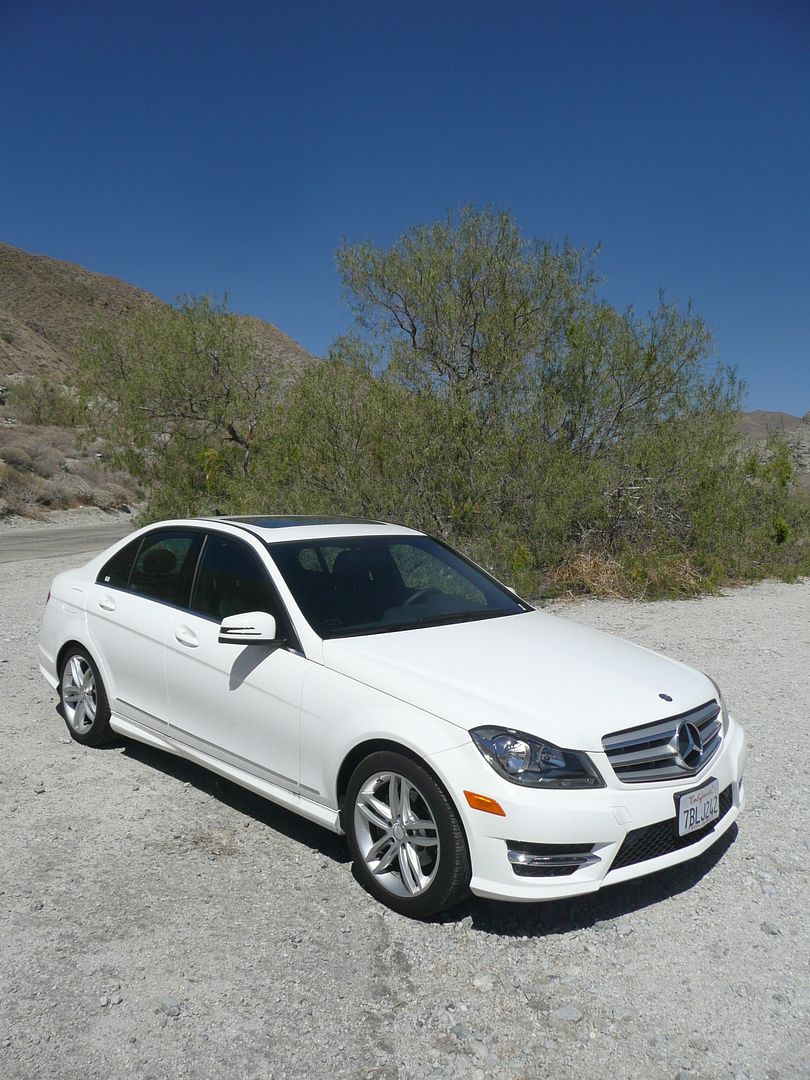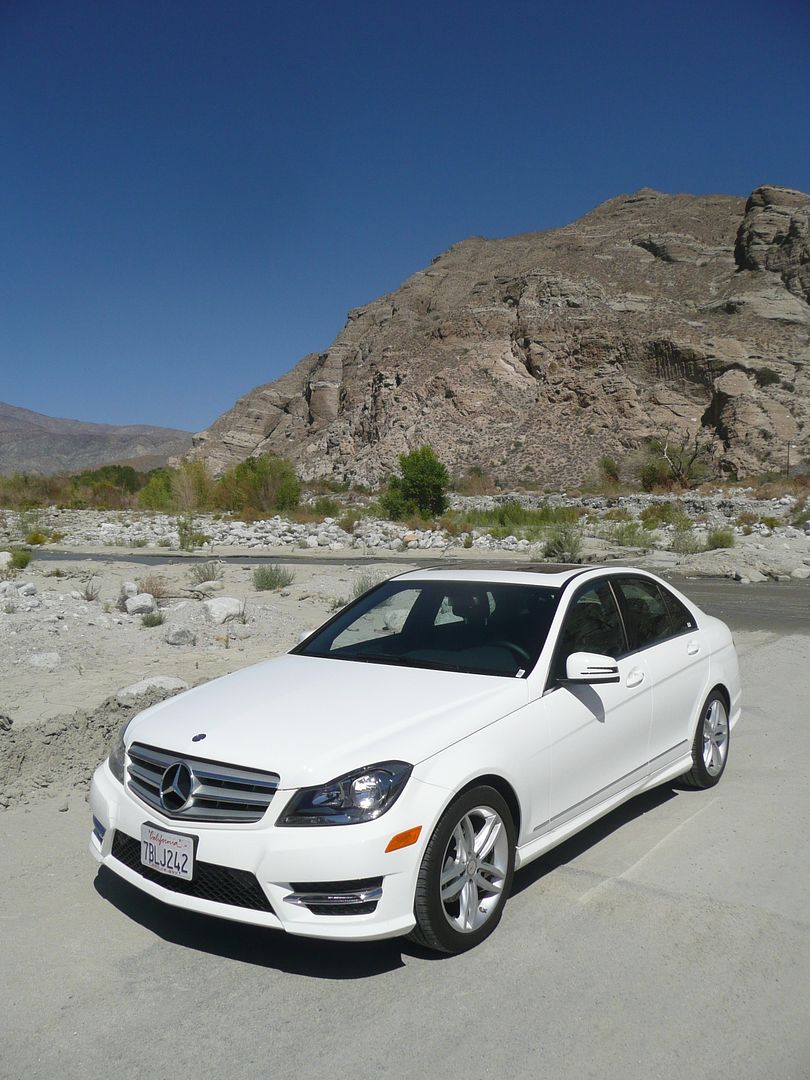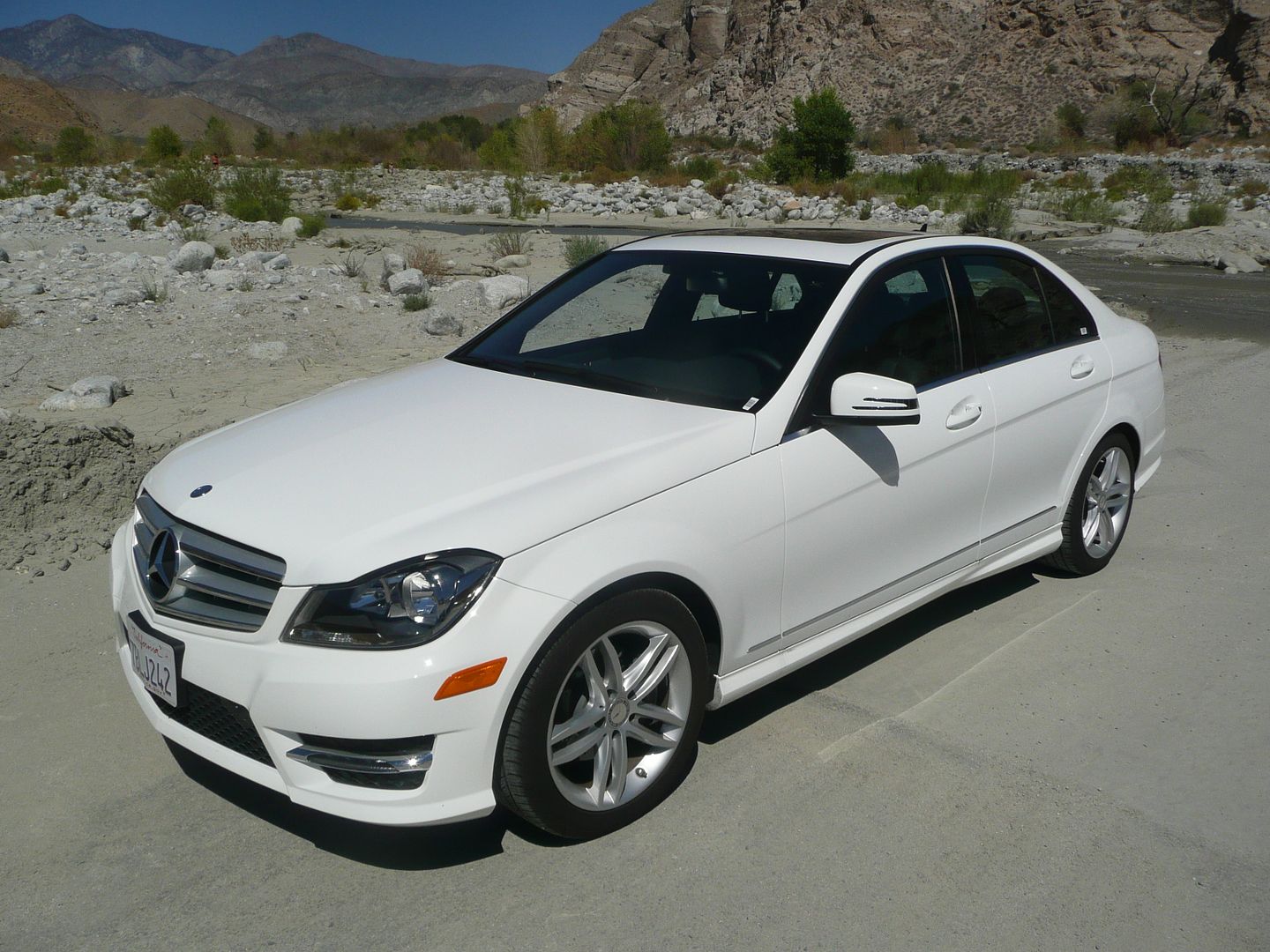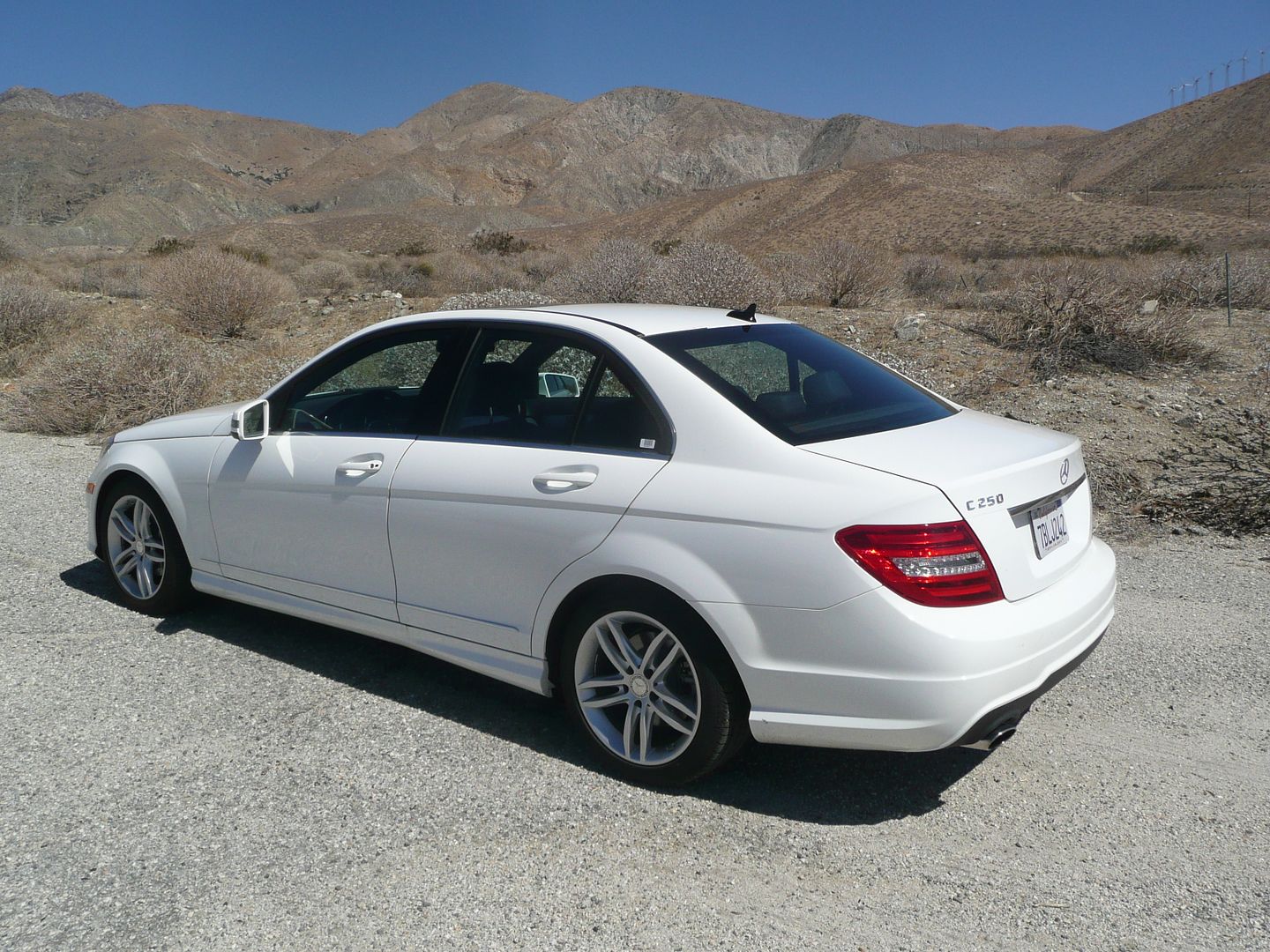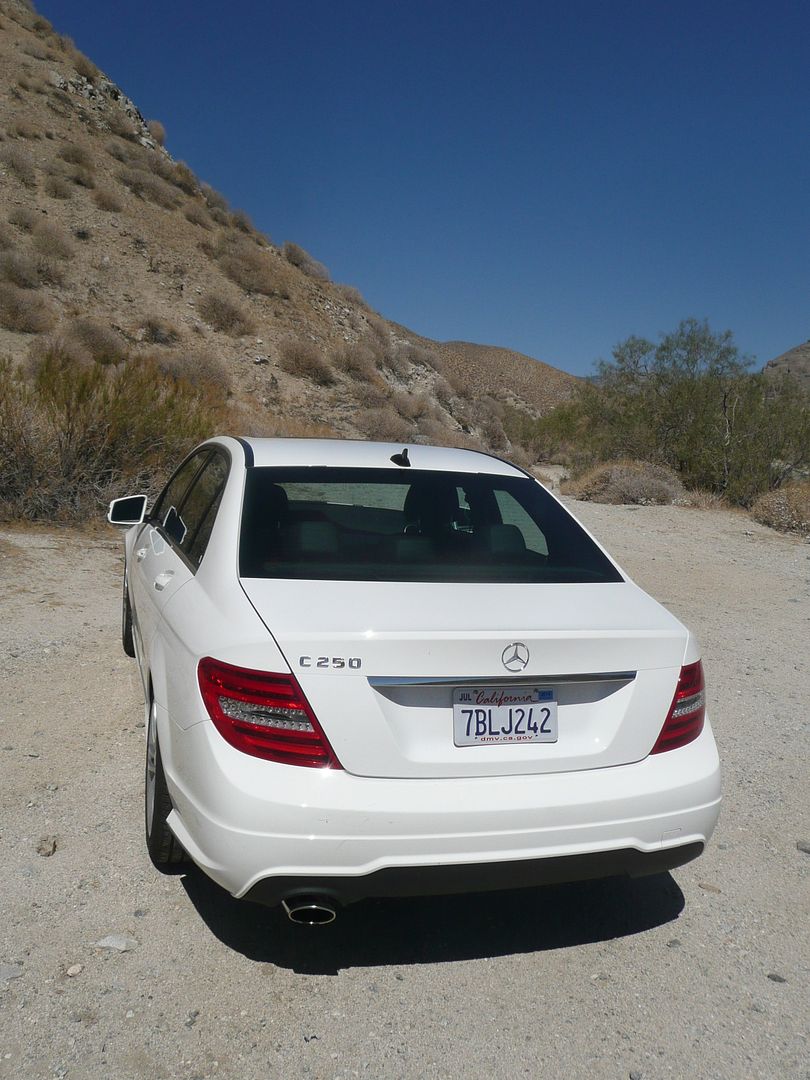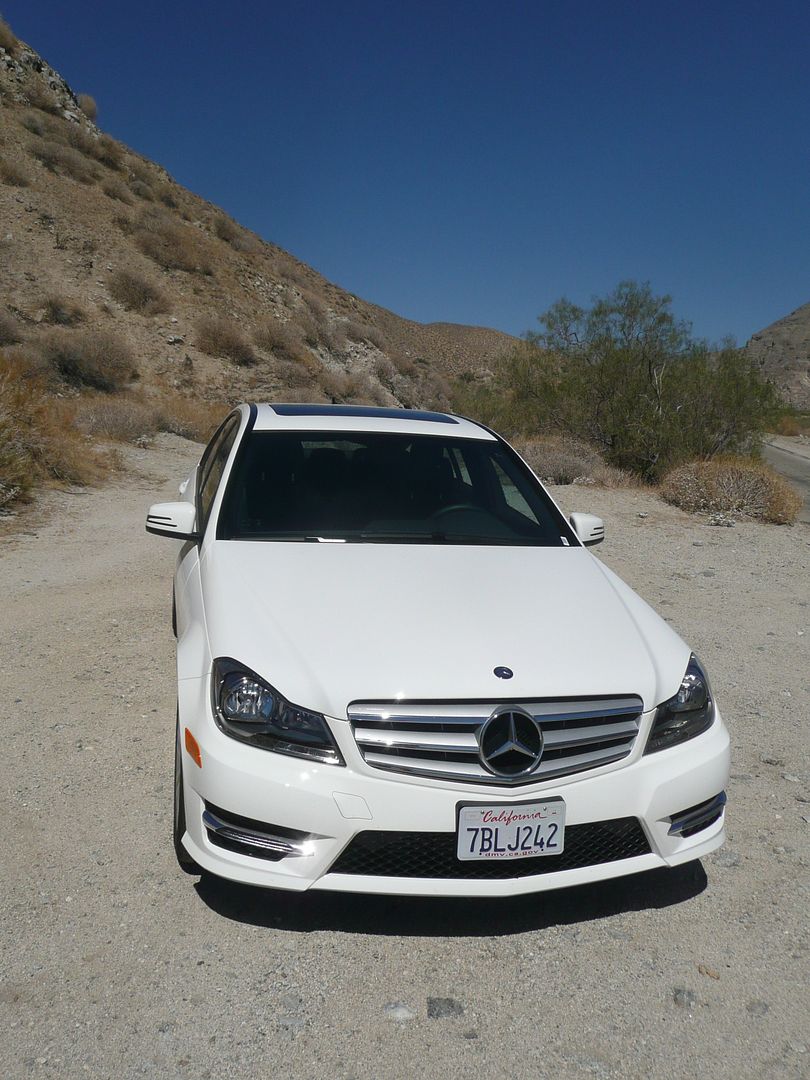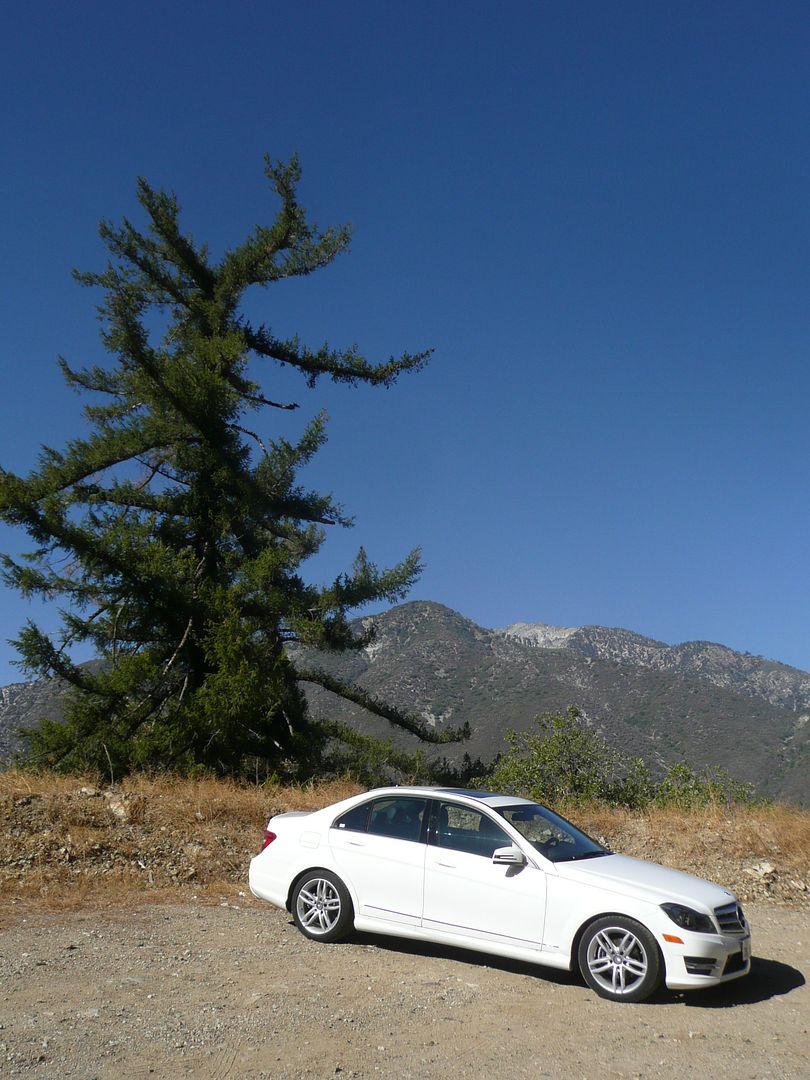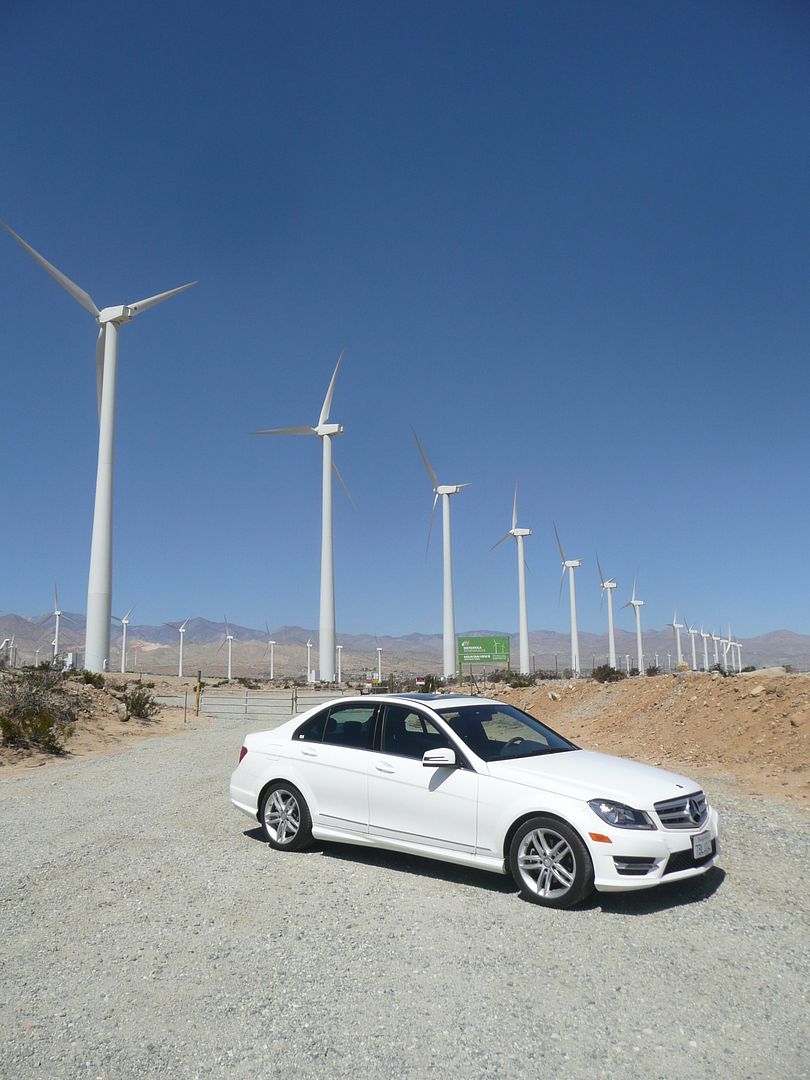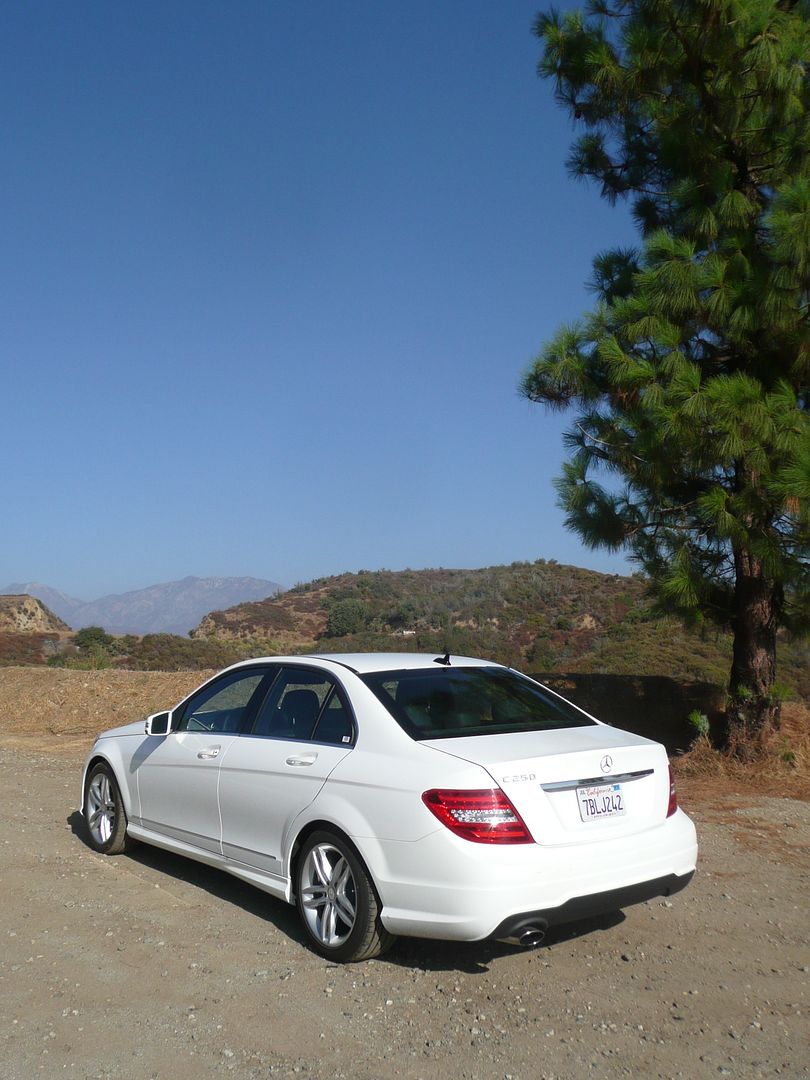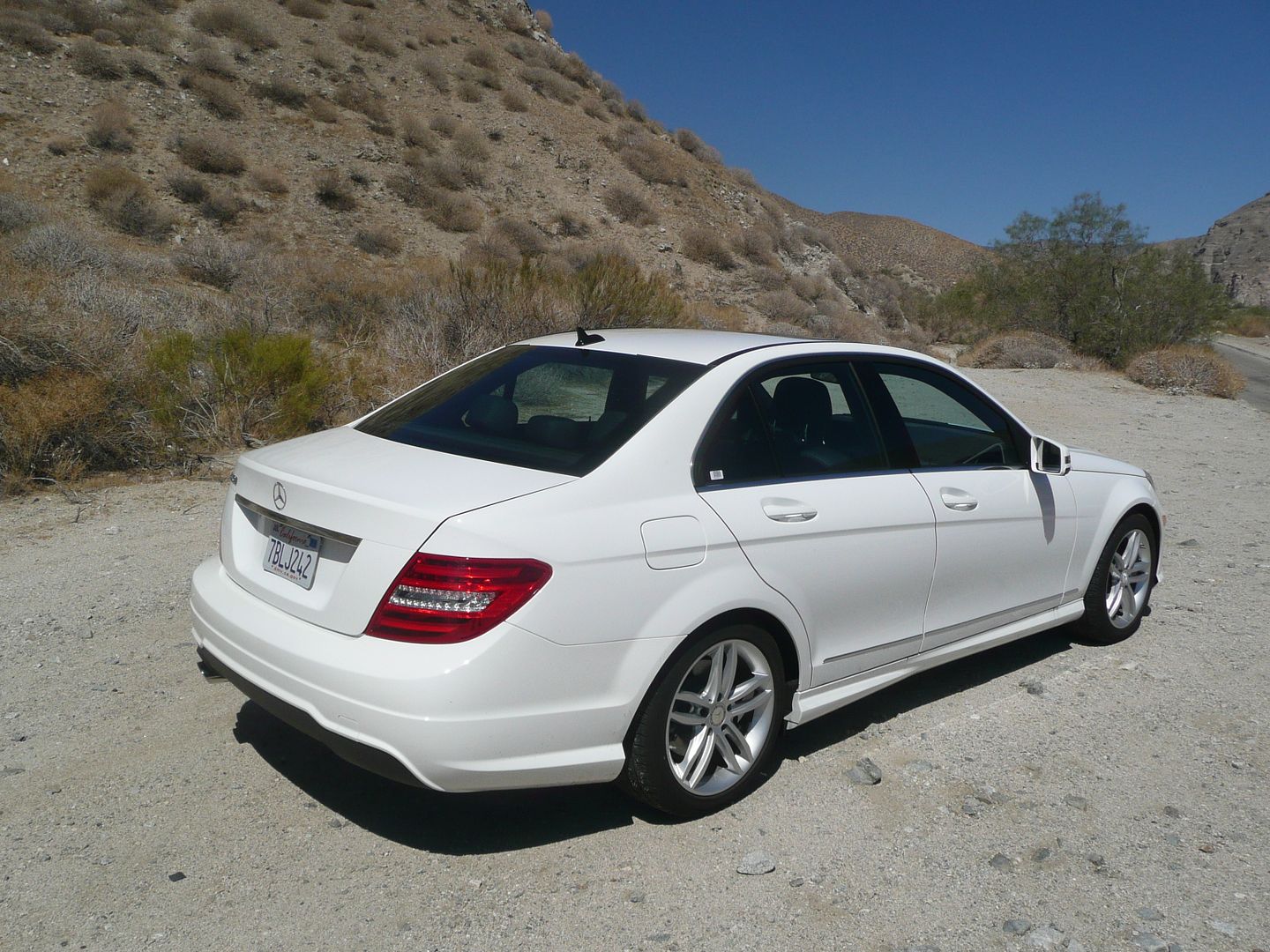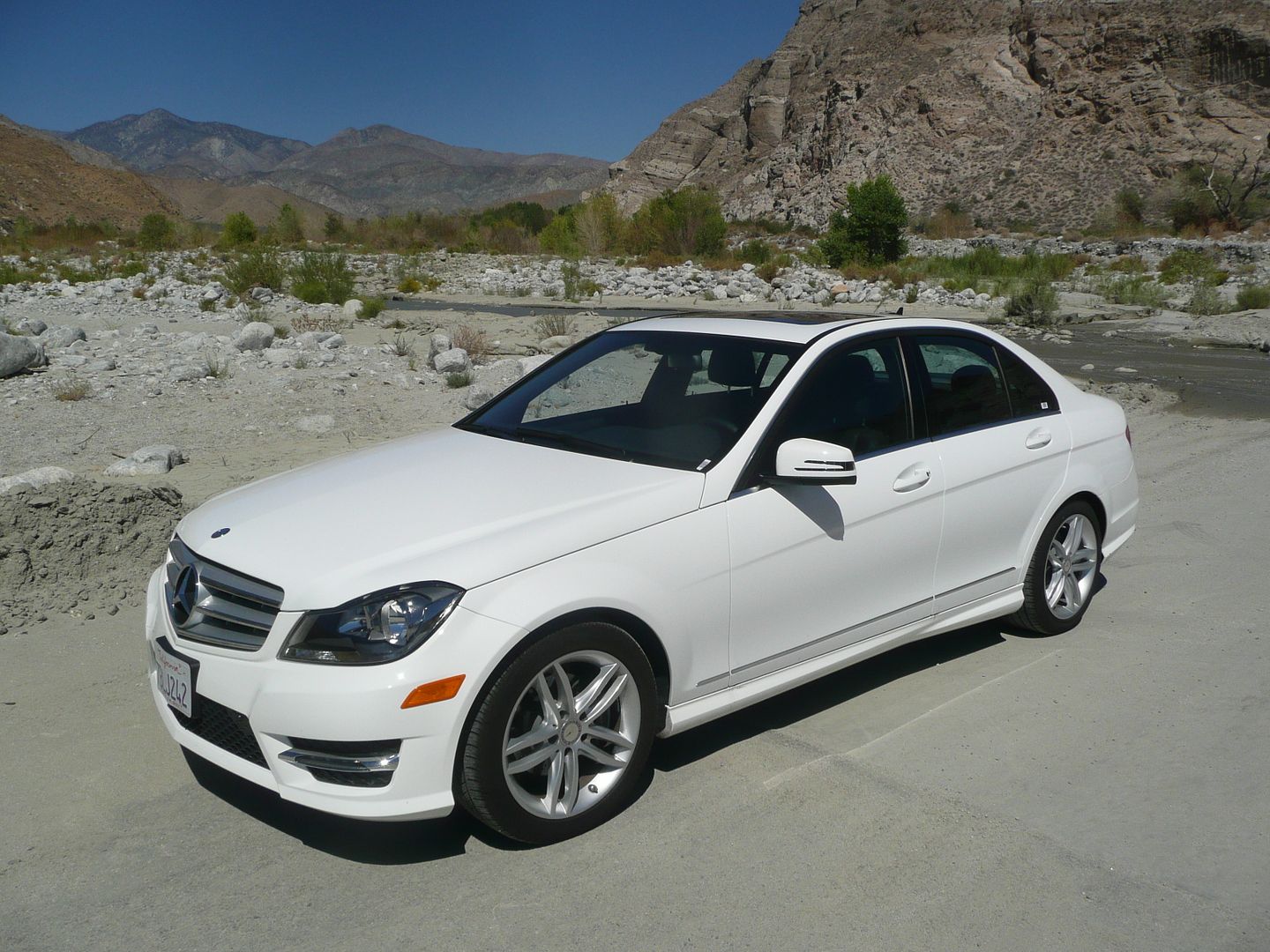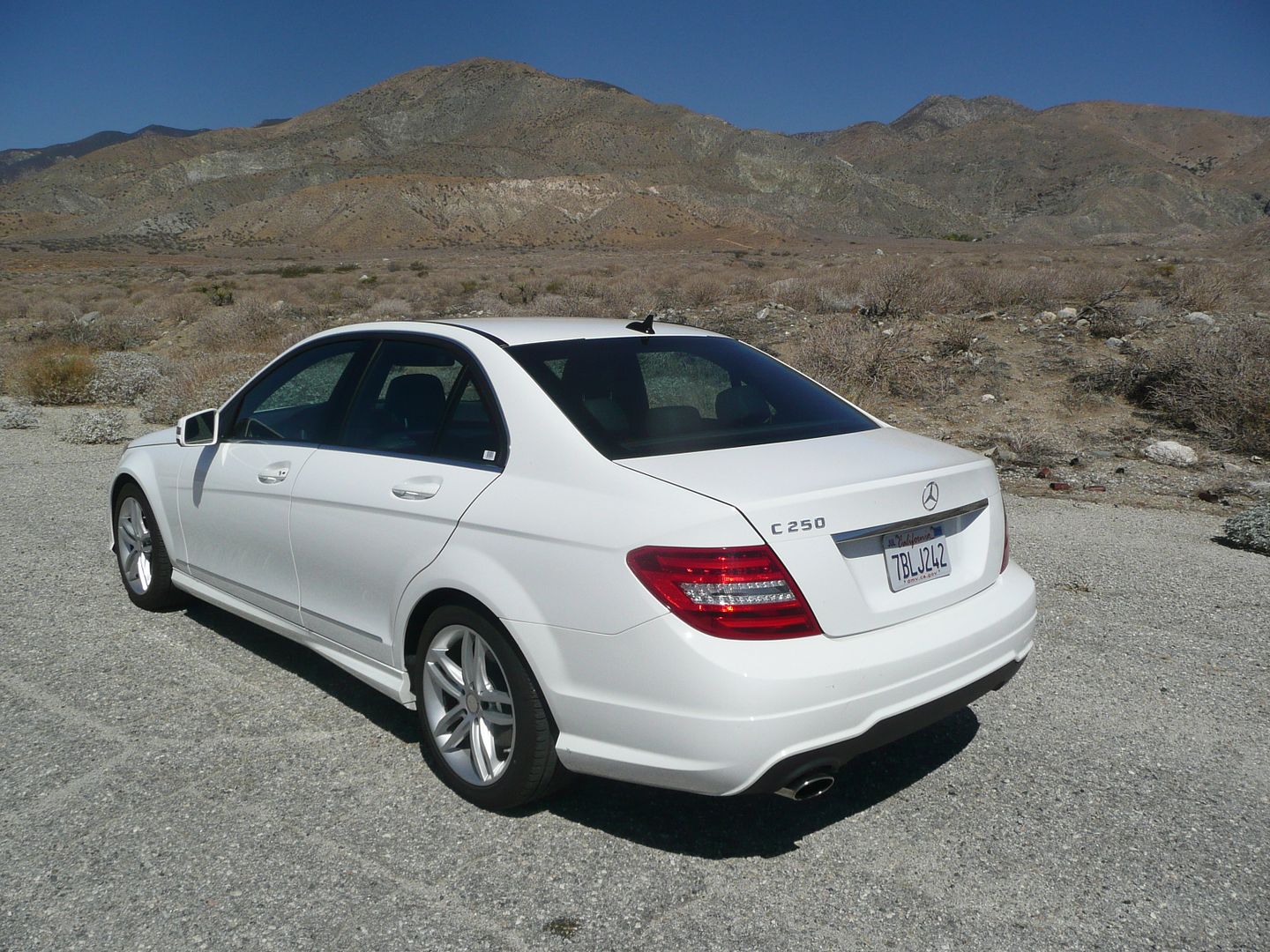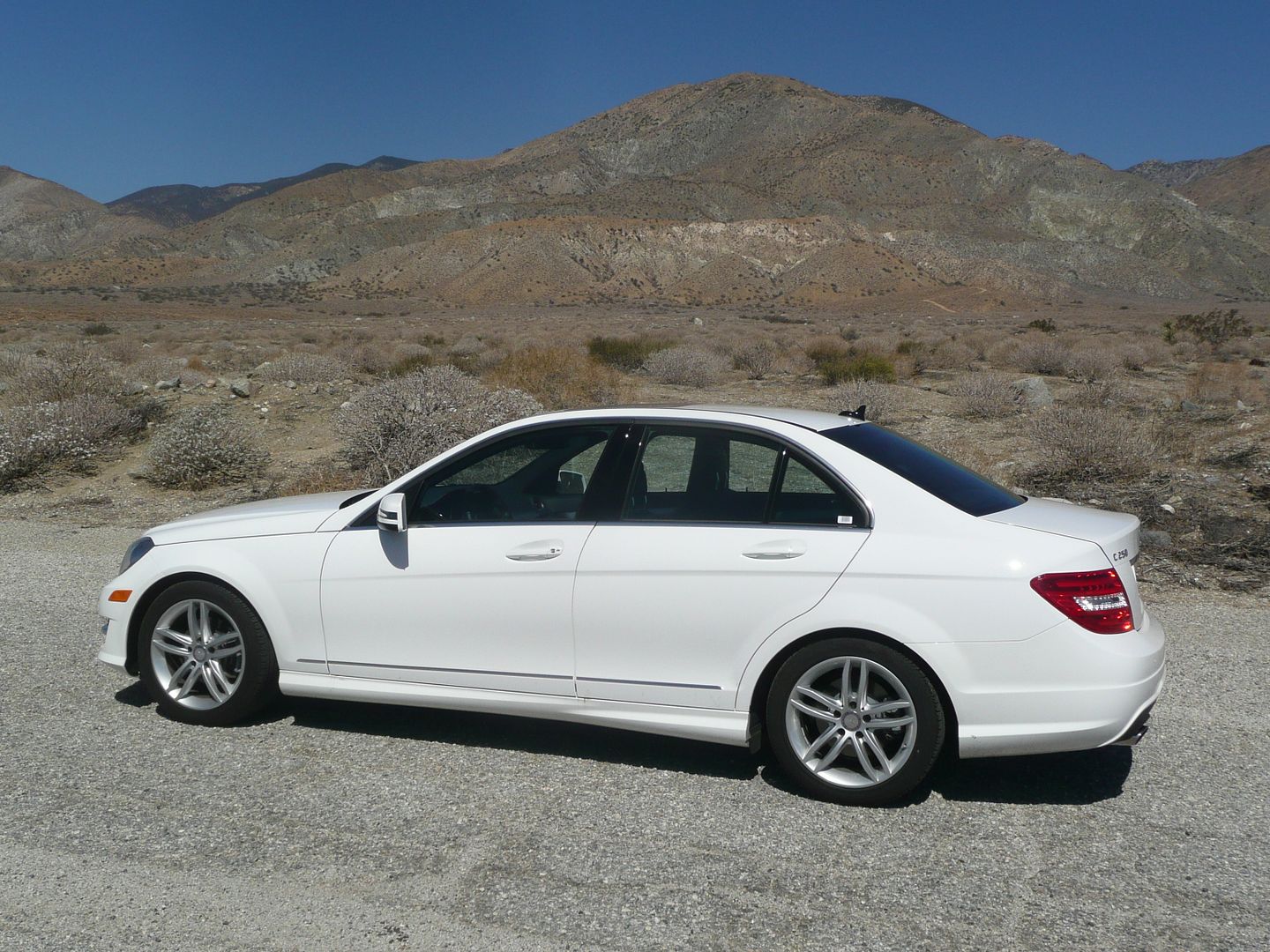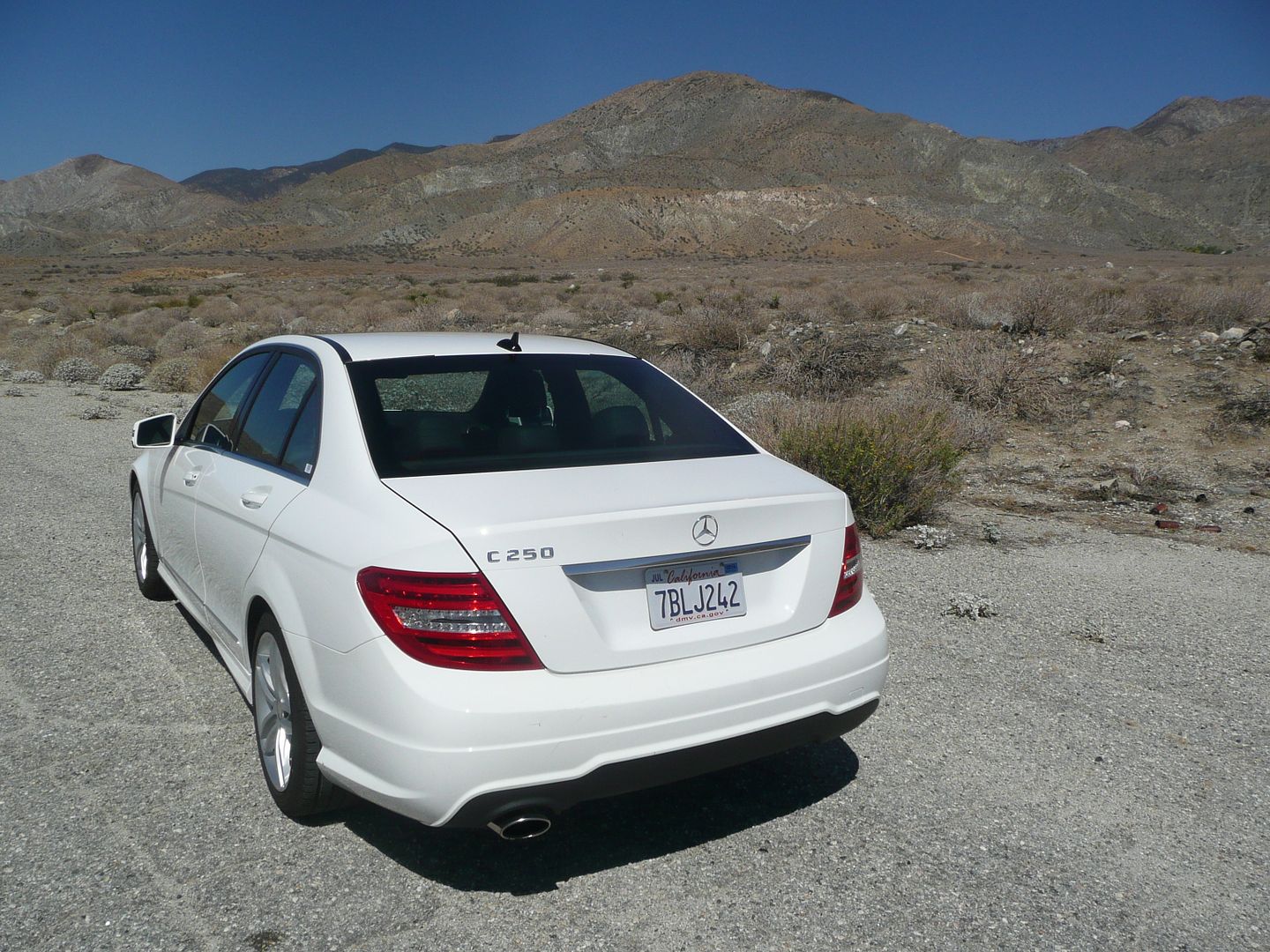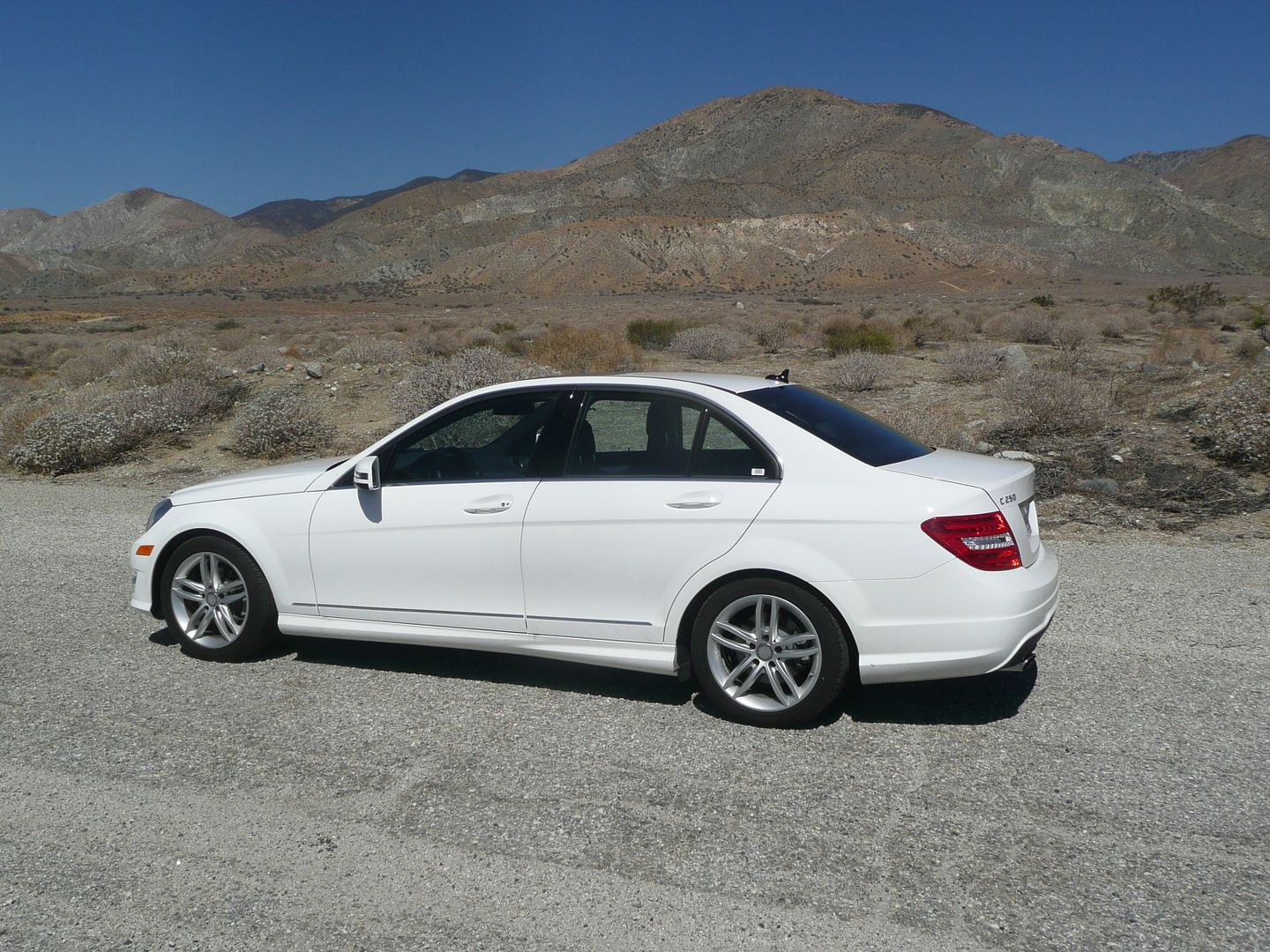 When selecting from the vast array of available rental cars in the US, I usually try to avoid models which are readily offered in Europe, on the basis that there are so many cars that are specific to the American market so these should be the ones that I test out wherever possible. There are exceptions, though, and this rental was one of those. I had booked a Group F car from Mr Hertz, which covers an array of what are variously called "full size" or "regular" saloons, such as the Camry, Fusion, Sonata and Passat, ie the sort of volume sellers that Middle America buys by literally the hundreds of thousand a year. But when I arrived at a rather sparsely populated Hertz facility on a Saturday morning, there in my stall was a still wet from being washed Polar White Mercedes C250 Sport. Although the same physical size as the car class I had reserved, if you wanted to book one of these in its own right, Hertz would want more double what I had paid, so this was a nice upgrade by any standards, and it would seem a little churlish to discard it in favour of something more prosaic. Besides, the W204 model C Class Saloon was still on the list of cars I had yet to sample, and this being America, if was also fitted with a petrol engine not the diesel that you would surely find in a European rental model.  I got in, and set off, only to spot a star crack in the windscreen almost directly in the line of sight. Returning to Hertz, to ensure that this was marked up as pre-existing, they offered to change it, but not to another C Class, as they had no others. I said I would take the car and if it got too bad, would return it early. That crack did prove a problem especially when bright sunlight reflected in the rays emanating from the centre of where the flying object had hit it, so I did indeed take the Mercedes back after just one day. Nonetheless, I had plenty of opportunity to assess this car, and to compare it to the last W 204 C Class I had driven, a rather underpowered C180K Estate which I took to the Swiss Alps some years ago.
I will confess that as the links between Mercedes badging and the actual engine size no longer bear any relation, and indeed are not even globally consistent, I had to check to see what engine you really get with an American market C250 model. The answer is a four cylinder 1.8 litre unit that develops 201 bhp, and it came coupled to a 7 speed automatic gearbox. The purists may have thrown their hands up in horror when the six cylinder units that featured in this sort of car were jettisoned in favour of four cylinder engines, and indeed they did especially when the BMW 3 series made the switch, but the reality is that the four cylinder engines are not a bad substitute. They certainly do not quite have that nice noise that any six will give you, but the engine note in this car was sufficiently muted that you were not really aware that there were just 4 cylinders doing all the work. And work they certainly were doing, for this C250 proved pleasingly brisk, and a complete contrast to the desperately sluggish C180K Estate I drove a few years ago. This is not an engine that you will love for its sound quality, as with Alfa models of yore, but it gets the job done without fuss, and without roughness or much noise, either. The spec sheet tells me that there are 7 forward ratios in this car, but you really would not know and would struggle to tell by listening to change in engine note, so smooth are the shifts between gears. There is a choice of Sport or Economy mode, selected by pressing a small switch to the left of the gear lever.
After the trauma of single digit mpg in the Cadillac Escalade that I had prior to this rental, it was pleasing to get something that was far more economical. Stabbing at the calculator once I had refuelled the C250 revealed an average consumption of 30.5 mpg US, which equates to 36.4 mpg Imperial, a very creditable figure for a car of this size. To be fair, I did not drive it that hard, but it did have to contend with a lot of mountain roads, where economy would not have been great, either. And so to those mountain roads. That's is where I wanted to see whether the C250 is fun to drive, and after heading up Mount Baldy, I took the long way back to the 210 freeway, taking in the Glendora Mountain Road. Apart from seeing the chastening sight of a temporary barrier on the side of the road and a newly erected cross where it turned out someone had gone over the edge and plunged 500 feet to their death, which does make one apply a little caution on a narrow and winding road, I can report that "yes", this is a nice car to take on bendy streets. The steering is good, well weighted with plenty of feel as to where the road wheels are headed, and the steering wheel itself is very nice to hold. Handling is very safe feeling. Well, there was no way I was going to be too reckless having seen the consequences on that road! The mountain roads in the LA area tend to be much better surfaced than the main freeways, but having taken this car on both, I can report that the suspension also does a decent job of trying to smooth out the worst of the ridges, cracks, potholes and veritable craters that you encounter. The mountains were also a good place to see not just what the brakes are like once, but whether they fade at all with repeated use. They don't. As with all larger Mercedes, there is a foot operated parking brake, with a release lever on the lower left of the dash. That makes this a car which you definitely need to specify with an automatic box, as I remember trying to do hill starts in traffic with the W203 predecessor and this operation is a nightmare! All round visibility proved to be not bad, though the door mirrors are quite small and their field of vision is a little more restricted than I would have liked.
Open the door of the C250, and you can see some of what you are paying for compared to a non-premium model. Standards of fit and finish are excellent, and you get a very tastefully presented interior which does not need to resort to flashy or tacky to impress (Ford, take note next time you think that your interiors are "upscale"!). The main dash moulding was black, with discrete aluminium effect inlays on the dash in front of the passenger, on the doors and the steering wheel. Some more call it a bit sombre, but I find it far preferable to the lashings of shiny fake wood that also make their appearance in some models. The top surface of the dash has a curved moulding over the main dials that then continues to top the central display unit for audio and other functions, which gives the impression that the interior was designed as a whole, and not with various after thoughts stuck on later (trend for iPad like devices half attached to the dash being the best and increasingly common example). There are three dials, and all of them have a lot of graduations around their circumference, as well as plenty of markings to make reading the precise measure relatively easy. A central speedometer is flanked by a rev counter on the right and on the left a gauge which contains both fuel level and water temperature. The centre of the dash contains that COMAND display unit, which is very small, indeed notably smaller than you will find in many more recent designs, but it proved quite easy to read as in this model which did not have satellite navigation, it was primarily used for audio and on board car information. Beneath this is the audio unit itself, and then beneath that are two rather fussily labelled rotary dials for setting the temperature and series of buttons for the rest of the climate control. In true Mercedes fashion, there is only one principal column stalk, with a lesser one for cruise control, both on the left of the wheel, but thankfully, they are positioned so that the main one for indicators and wipers is the one you most easily reach, which is a pleasant contrast to the usual Mercedes problem of getting the cruise control stalk every time you want to indicate. The wipers are operated by twisting a collar on the end of the larger stalk. Lights are controlled by a rotary dial on the left of the dashboard. There are small repeater buttons on the steering wheel boss for some of the audio unit functions and to cycle through some of the on-board car information. There is a control wheel in the centre console for the COMAND system which allows you to operate the other functions that are presented on the central display screen. The whole ensemble is relatively easy to use, and does not look, indeed is not overly complicated unlike some cars.
Despite offering lots of adjustments for seat and pedals, I never quite managed to get the driving position exactly as I wanted it. The wheel is electrically adjusted, both up and down and in and out. There are a series of switches set on the door in the form factor of a seat for moving the driver's perch around, though interestingly the ones for the passenger seat are mounted on the side of the seat itself. The biggest problem seemed to be that the steering wheel would not go high enough. Whilst this was not on the latest Peugeot fad scale, it did mean that even with the seat set low (as I usually do), I was not quite as comfortable as I would like. That said, the seat itself was firm and supportive and I had the feeling I could have sat behind the wheel for many hours without experiencing any issues.
Rear seat passengers should have little to complain about either. A couple of generations back, the C Class was a bit lacking in space for the back seat occupants, but the growth in size of each successive model has eradicated that problem (If you want a Mercedes where this still applies, get a CLA!), and with the driver's seat set well forward as is the case for my driving position, there is lots of legroom. There's actually enough even when the front seats are set well back. Headroom is plentiful and the C250 is wide enough that three adults should be able to fit across the width of the car. The central transmission tunnel is not too much of a problem for the middle passenger. The boot is of a decent size, too, with more space available by folding the rear seat backrests forward, though the split folding seat feature is an option on the C250 and C300 models. There is a bit of underfloor stowage available around the spacesaver spare wheel. Oddments space inside the cabin proved less impressive, with a particularly meagre glovebox and modest door bins being all that was available. The central armrest looks like it should flip open to reveal a cubby area, but it did not.
In Europe, Mercedes offer the C Class with a wide variety of different engines and trims, but for the US market, matters are simplified. There are no diesels, and no entry level petrol C180K cars, so this C250 is the bottom of the range. Above it come the V6  engined C300, fitted with all wheel drive as standard from 2013 and the more potent C350 as well as the enthralling C63 AMG, and that's it. American buyers are only offered the Saloon or Coupe bodystyle. Two different trims are offered: Sport and Luxury, each of which can be enhanced by a series of Packages as well as a raid of the lengthy options list. Sport is the cheaper of the two, and is visually recognisable from Luxury by the fact that it has a simple three bar grille incorporating the Mercedes tri-star, whereas the Luxury has the Mercedes badging atop the bonnet. There are also differences in the profiling of the bumpers, the wheel trims and the mesh air intakes. The differences continue inside, with the walnut burl wood trim of the Luxury replaced by aluminium effect in the Sport, and this latter gets a three instead of four spoke steering wheel, studded aluminium pedals and a flat bottomed steering wheel.  On the C250 Sport, as standard you get leatherette seats, with 8 way electric adjustment. For a further $2500 with the Premium Package, as it appeared Hertz had done, you also get a 14 way adjustable driver's seat, with 3 memory settings, heated front seats, a Harman Kardon sound system with Sirius XM radio and a 4 way electric adjustment for the steering wheel. Spend another $1750 on the Leather Package and you get proper leather on all seat facings and 14 way adjustment for the passenger seat. The base model car gets a sunroof, rain-sensing windscreen wipers, dual-zone climate control Mercedes' COMAND infotainment system, which includes a 5.8-inch LCD display, Bluetooth phone and audio streaming and a USB port, as well as Attention Assist which is represented by the cup of coffee symbol in the warning light cluster. Optional features include push-button start, navigation, a backup camera, parking sensors, an upgraded stereo and satellite radio. Further optional packages are available for Lighting (Xenon headlights with active curve and adaptive high beam assist), Driver (Distronic system for sensing cars around you, with Blind Spot Assist and Active Lane Keeping Assist), as well as the Media Package which includes a rear view camera, a larger 7″ screen with voice control, satellite navigation, an in-dash DVD and CD reader with SD port and Sirius XM radio. Very quickly, the $35,800 list price of the basic car could easily head well over $40,000.
My time with the C250 was confined to a day, as the star chip in the windscreen which was on the car when I collected it proved too infuriating when the sun started to reflect in the cracks, so I returned it with some regret, especially since it was replaced by a car of the type that I had booked. That made me wonder whether the C250 is worth the price premium. For sure it is a very nice car, and anyone who rents one is unlikely to be disappointed. As to whether it is worth paying twice what you would for a Camry or a Malibu, the answer is that only you can decide. In purely objective terms, of course, the answer is that it is not. They have similarly powerful engines, seat 5 people, accommodate their luggage and will convey their occupants from A to B in safety and with little fuss. However, as we all know, life is not quite so simple, and "premium" costs. With the C Class you are definitely getting a premium experience, with a quality feel to the car that is simply not there in your average Toyota, Chevrolet or Ford, and that comes at a price. If you are buying such a car, whilst you will pay more – far more – at acquisition time, so you will also do better when you come to sell, so the maths are not quite so clear cut. Then there is another question, perhaps a more pertinent one. This is one of the three German Trio of compact executive saloons, facing off to the 3 series and Audi A4 for success in that market segment. How does it fare here? Unlike the C180K that I reckoned was just not acceptable with the weedy engine, the C250 does much to impress and would be a car which its owner would surely enjoy. Indeed, I have several colleagues who are C Class drivers and all love them. Interestingly, many came from a 3 Series, and they defected either because of reliability issues with the BMW, or because they could not cope with the bone-jarring ride of the M-Sport models. I've not driven an F30 based 3 Series yet, so cannot pronounce on the merits of that much lauded car based on experience, but I can compare with the Audi. Standards are high in this class, and detailed differences from engine or suspension set up can affect the judgment, so to compare this petrol Mercedes with the 2.0 TDi Audi A4s that I've driven. or the S5 that I own is only indicative, as model for model, you may switch between brands, but from what I experienced with this test car and what I know of the Audi models, let's just say that nice though the C250 proved to be,  I am not kicking myself for sticking with the Ingolstadt product.
Share and Enjoy