Bristol Italian Auto Moto Festival – April 2014
There are lots of events during the year to which I look forward, but among my favourites is one that is very local to home, the Bristol Italian Auto Moto Festival. Held on a Saturday in the second half of April now for more than 10 years, this is when Italian cars and bikes take over the streets of the old commercial part of the city around Corn Street, and vast crowds come along to look at an array of over 200 stylish and desirable cars and an array of bikes. Organised by Paul Hanmore of the Italian Motor Club, it can only be held with the help of a number of volunteer marshals, and for the past couple of years I have been more than happy to do my bit, despite the necessary very early arrival on site, to help to get the cars in position, and safely out again at the end. 2014 was no exception, and as the Easter weekend drew near, I was delighted to see that the weather forecasters predicted a gloriously sunny day. They did not quite get that right, as there were clouds and the wind had something of a nip to it, but that did not deter entrants or spectators. By 10am the event was absolutely full, given us something of a challenge to find parking spaces for the last few to arrive, and the crowds were already thronging around the cars, something which was still true 6 hours  later when it was time to let everyone depart. Whilst there were perhaps fewer older models in the event this year than sometimes, there was lots of variety, as will be evidenced in this report, making it a very enjoyable day indeed..
ABARTH
There was just one "classic" Abarth on show, a lovely little 595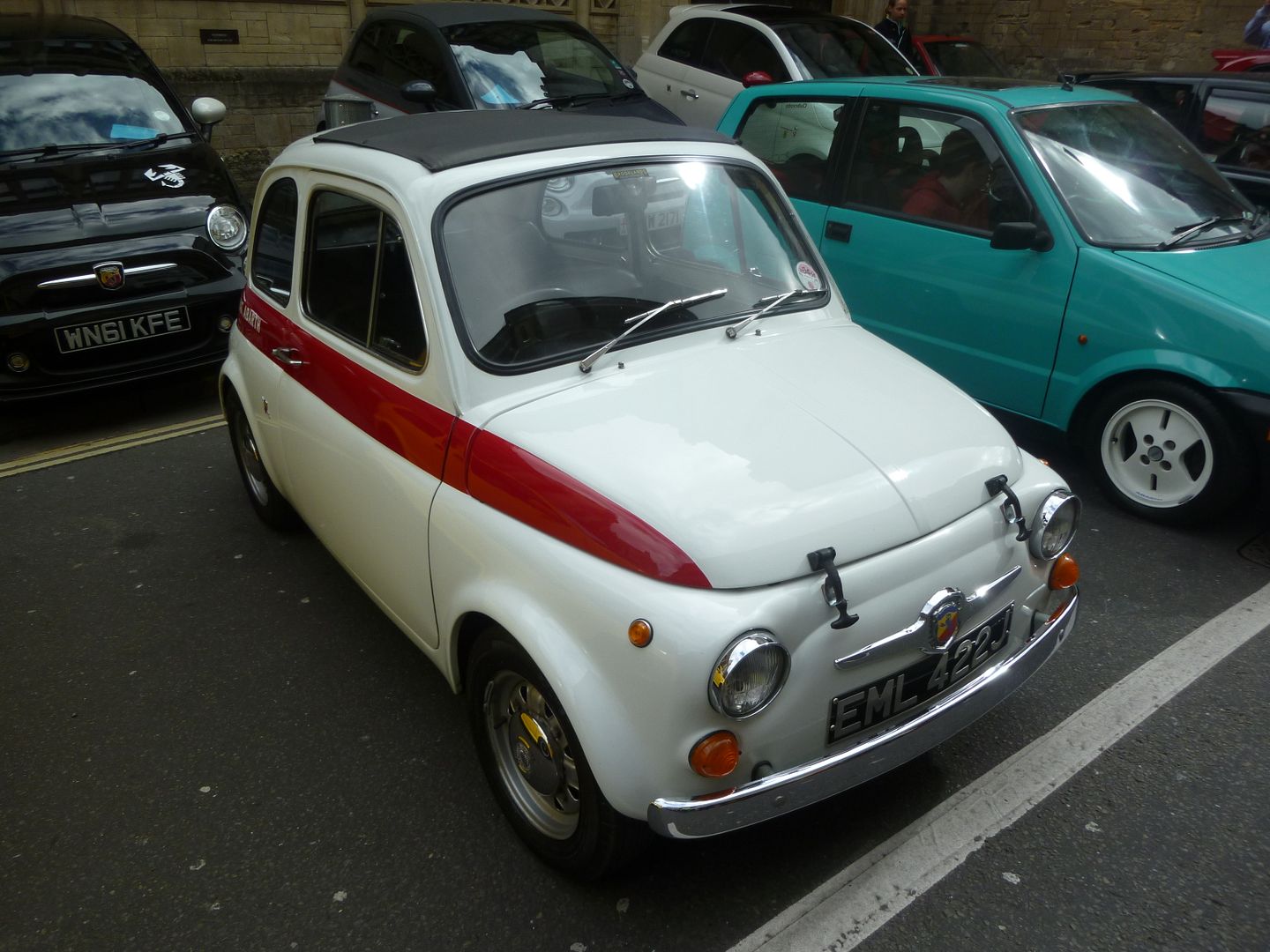 As usual, the 500 based models outnumbered the Punto, with a mixture of regular 500 models as well as the C and more recent 595 cars. Annoyingly, I do not seem to have taken any pictures of my own car.
ALFA ROMEO
Without question, if I were to be allowed to take just one car away from the event, it would have had an Alfa badge on it. Mike Hurst brought along his splendid 1929 6C 1750 Sport Zagato again, and it was one of the stars of the event, parked up at the top of Corn Street. This car was also, without question, the most valuable present, something. With an engine that is a work of art in its own right, who can be surprised that when these come up for sale, there's usually a 7 figure price tag involved.
Despite the cold start (and indeed the cold wind that continued throughout the day), David Roots had braved the elements in his lovely Alfa Special. This car always pulls the crowds, most of whom are persuaded that it might be genuine 1930s. It is not, but it is still really rather nice. I discovered this time that it is a tad more practical than I had thought, as there is space for luggage behind the front seats, from which David kindly produced slices of cake, which were particularly welcome for a hungry marshall!
The 105 series was represented by a number of Spider models, with examples from all four series of the long running model, as well as several of the pretty Coupe cars
There was an example of the precursor to this range, too, the 101 series Giulietta Sprint, a particularly pretty design that still has lots of fans 60 years after it first appeared. There were two of them on display.
The sole 'Sud based model was this, a late Sprint, which was beautifully presented, and a deserved prize winner on the day.
Another favourite of the day (I had lots of those, as you might imagine) was this fabulous 164. Not only is it a Cloverleaf, but it is a very rare Q4 model with 4 wheel drive, of which Alfa made just over 1000 examples.
Just one 33 model this year, too, this rather nice Veloce.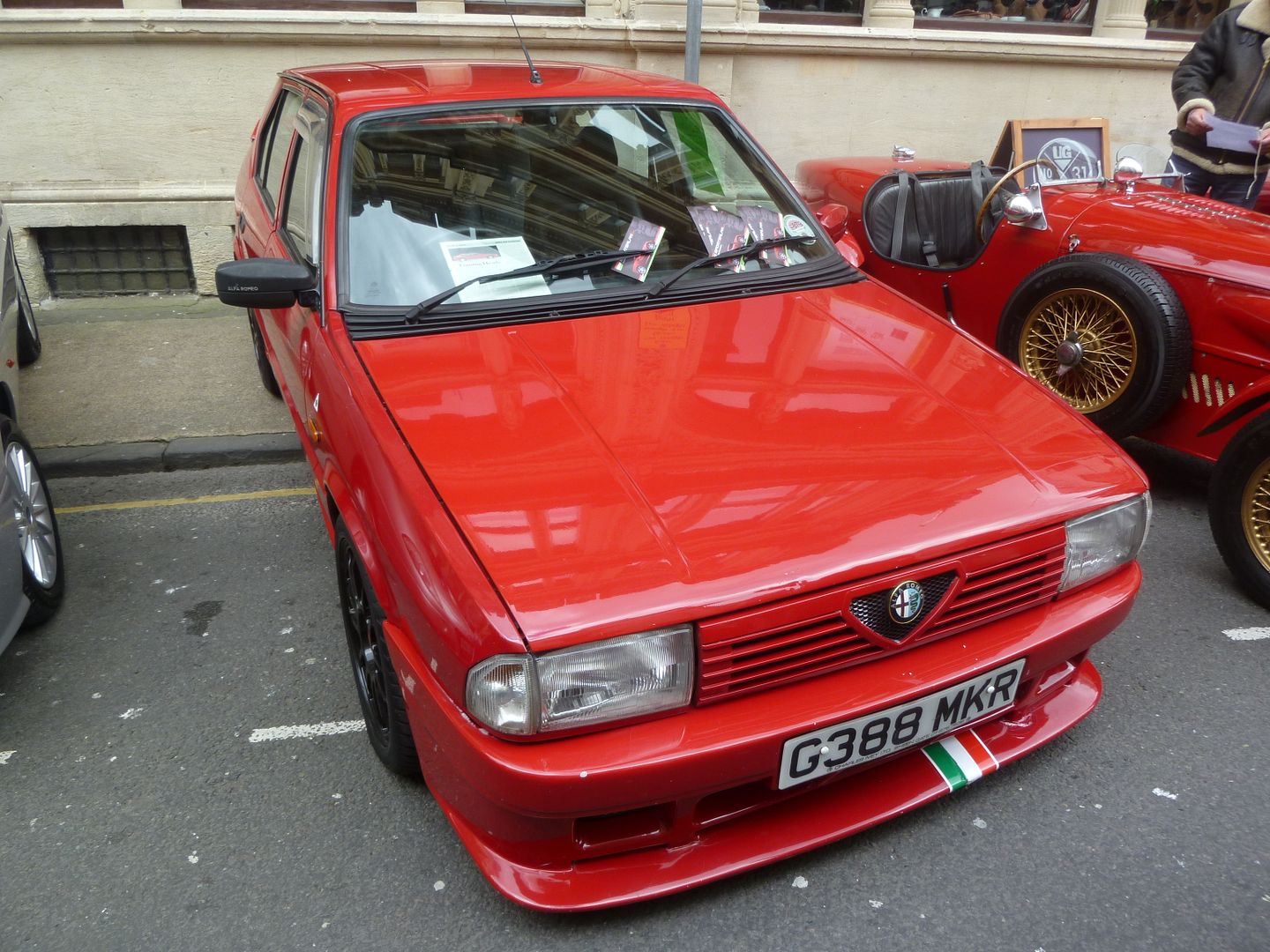 The 916 series GTV and Spider are poised for classic status, and several of these were on show.
A couple of years ago this event marked the 10th anniversary of the 156 GTA, and the oldest of the non GTA models are now a rather surprising 17 years old.
Even the 147 GTA has now had its 10th birthday. There were several of these elegant and fast machines present.
Newer still were the GT and Brera/Spider cars and these were also represented, along with a few of the 159 Berlina.
From the current range, there were a number of MiTo and Giulietta models.
A highlight for many, me included, was to see a 4C Competizione, finally in right hand drive. This was on Wessex Garages "stand" and had only just arrived in time. I gather that Wessex have sold their allocation, which was a mere 2 cars, but if anyone still wants one (and who wouldn't?), then it may be possible to get some more.
DE TOMASO
The lone de Tomaso at the event, a Pantera, arrived quite late, and so ended up parked up at the very end of St Stephens' Street. Nevertheless, it seemed to be attracting lots of interest from everyone that caught sight of it. Sadly I never heard it with the engine running, at which time it would no doubt have drawn more attention to its presence.
FERRARI
Most of the Ferrari arrived all at once in a convoy of 10 cars, which gave us something of a challenge trying to park them all up. However, as I was on duty at the game where they arrived, it did give me plenty of time to admire them all, and also to warm my by now rather nippy hands with the heat that was been pulled out through their air vents. When they were all assembled and I could see what we had, it became clear that there were no particularly rare models, and none that were that old. Indeed, oldest was a rather nice 400i which I have seen at the event before.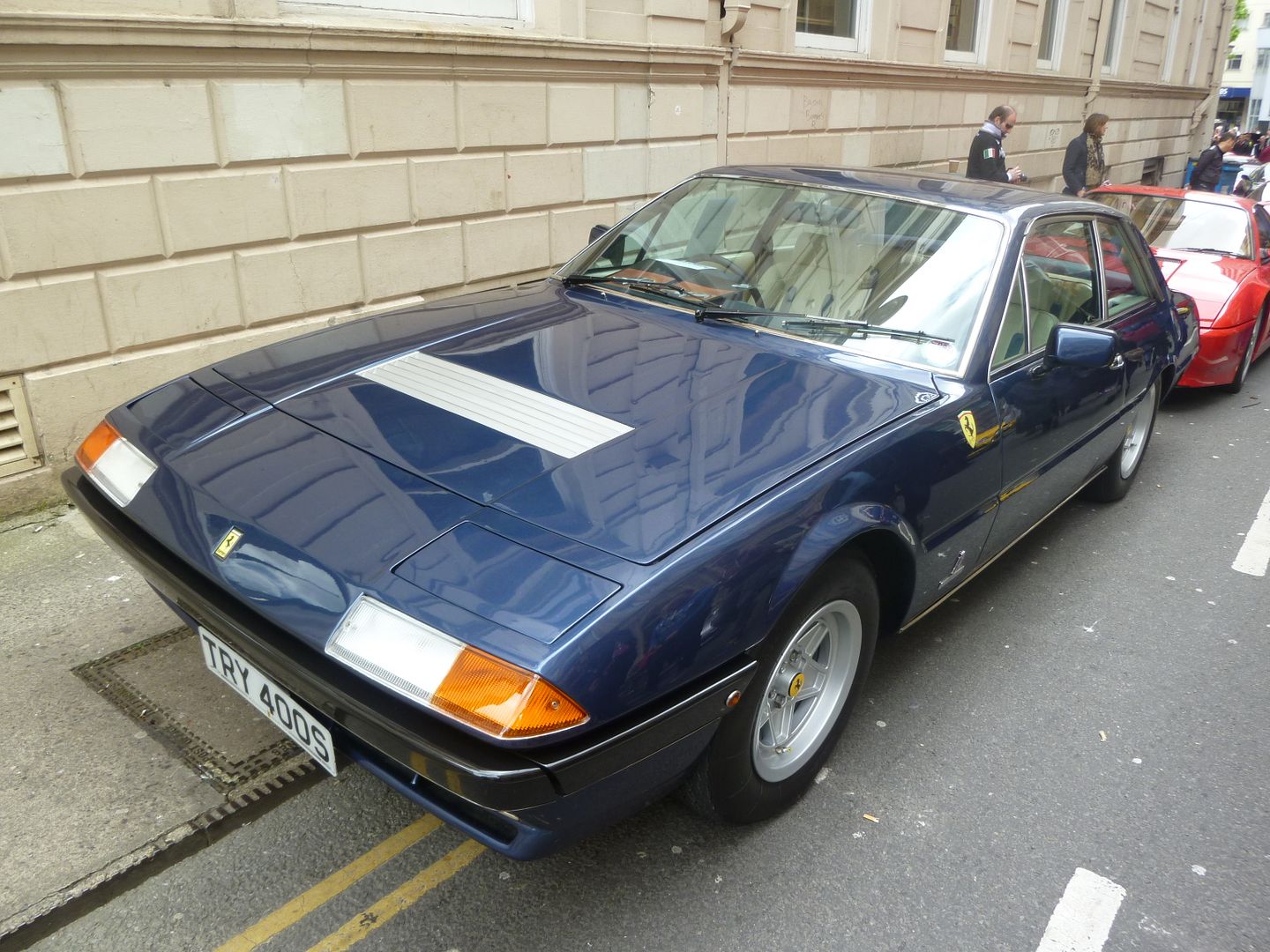 The 512TR still attracted a lot of attention, and not just from people who would have had a posted on their bedroom wall when a child (like I did!). It is a striking car, and when viewed from the back, it still looks, and indeed is, wide.
Eight cylinder models were represented by a few examples of each of the different models from the 308/328 GTB/GTS cars of the 1970s and 1980s through the 348/F355 cars that replaced them, the far more commercially popular 360 and 430 models and the latest 458 Italia.
Twelve cylinder models were also represented by a 575M, and a pair of 599 GTB models, one of which had been, erm, modified. I have to say that when the "start your engines" part of the event happened, it seemed pretty clear that this was the loudest car at the event, and by some margin.
FIAT
Most unusual Fiat, by some measure, was this 1927 Model 509. Apparently, it's not been seen in public for more than 25 years, during which time it has been completely reassembled and an amount of structural repair has been undertaken to produce this wonderful looking machine
That said, it would probably not have been the one Fiat I would have picked above all others were I to take one away, as there was an example of the fabulous Dino Spider on show. These cars have rocketed in value lately, and it's not hard to see why, with those voluptuous curves of the body covering the jewel of a Ferrari engine.
At the other end of the scale was this early 126. You don't see original cars like this one very often, and the elderly lady owner clearly looks after it and treasures it just as much as people do with more valuable machines.
Of course, its precursors, the 500 models, are far more valuable, and actually more common at events like this. There were example of the 500C and a quartet of Nuova 500 models to enjoy.
Another rarity is the Strada, and this facelifted 105TC was in splendid condition. I don't recall seeing this particular car before, so it was good to know that there is another one around.
Also not a car you see that often is the 131 Mirafiori and there was a late model Supermirafiori 2000 TC saloon example of that on show.
By contrast, the Coupe from the 1990s is pretty much a sure bet at any event featuring Italian cars, and sure enough, there were a few of these striking machines on display.
Another really nice Fiat was this 130 Coupe. This one will feature in the June issue of Classic Cars magazine.
There were a couple of the long running 124 Spiders, though to be strictly accurate, the green one was actually a Pininfarina Spider Europa 2000, the name the car adopted in its final years of production.
The two X1/9 cars on show were a rare limited edition Lido car and the later 1500 model.
Pipping those for rarity, though, was this Croma, Fiat's now all but extinct incarnation of the Type 4 project which also gave rise to the Alfa 164, Lancia Thema and Saab 9000. This was a top spec Turbo ie car.
The pretty little Barchetta is one of those classics that most have seemingly forgotten about, which is a pity, as it looks great, and I believe drives nicely as well.
More recent models included a number of Cinquecento and Seicento cars, as well as the current 500.
This racing Stilo was the only car that had to be transported in and out of the event. When it was started up and driven into position, the noise it made was quite something.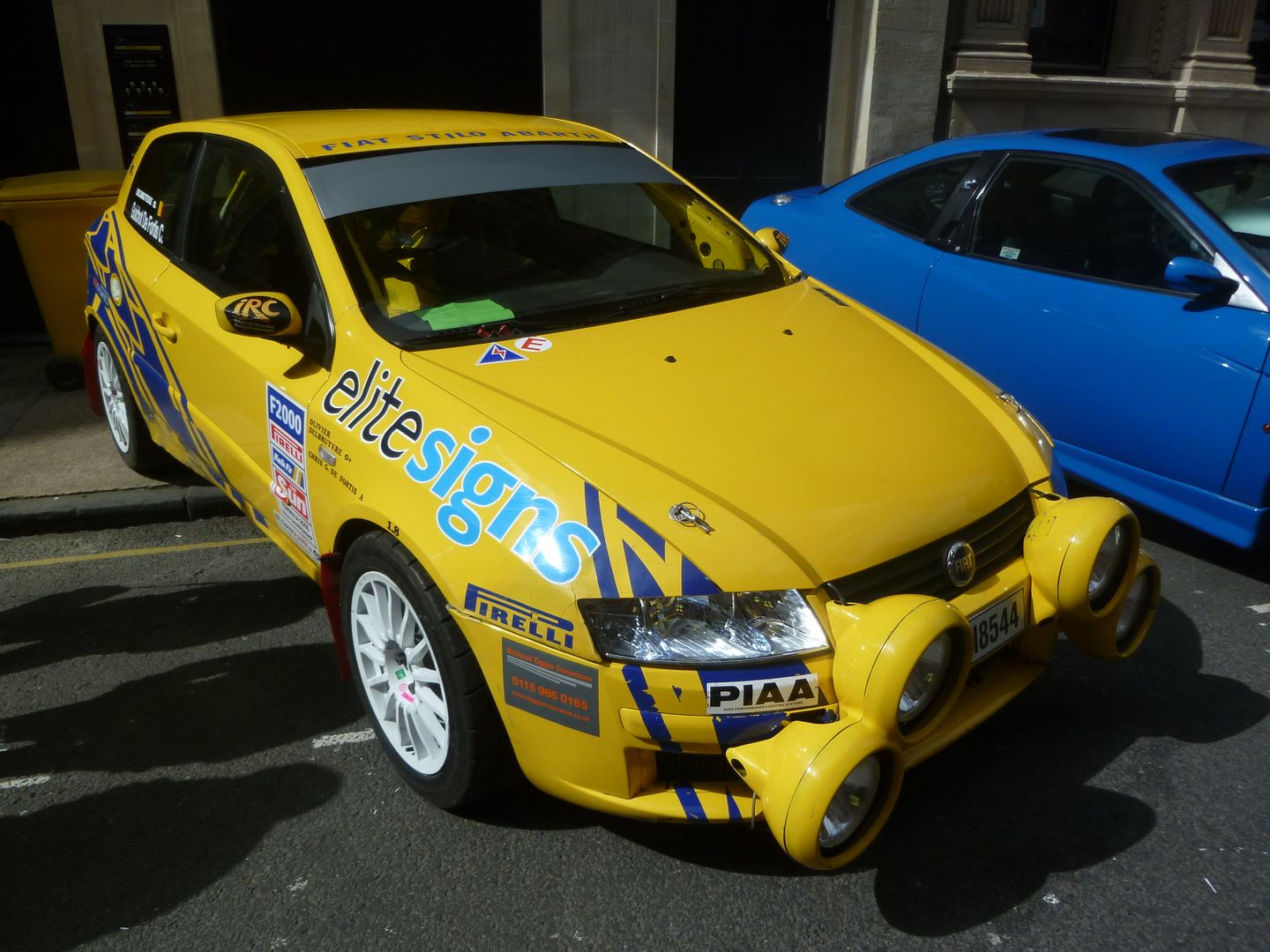 LAMBORGHINI
Six Lamborghini took part. Frustratingly for the owners (and one of them voiced it rather unequivocally to every marshall he could find!), three of them were among the last vehicles to arrive, by which time the event was full, and we (I, as they came in through "my" entry point) had quite a challenge finding somewhere to park them. In the end they had to go down the exit route on St Stephen's Street, and despite me saying that when people saw a Countach down there, that people would go down for a closer look, I am not sure if everyone did.
The other two cars in this trio were a Murcielago and a Diablo Spider.
The three cars that arrived early enough to get a place on Corn Street were an Aventador, a Murcielago Spider and a Gallardo Spider. Needless to say, all three attracted lots of attention during the day.
LANCIA
Selected to win one of the main prizes of the day – and deservedly so too – was this fabulous 1951 Lancia Aurelia B50 Convertible. This is the 1951 Geneva Show car, and it has had quite a life since then, but looking at it now, it embodies everything that was so right about Lancia and Italian coachbuilding, and it impressed everyone who stopped for a closer look.
Smaller stablemate to the Aurelia was the Appia, and this long running car was available with a number of coach built bodies as well as the factory models, of which this Appia Coupe is an example.
Replacement for the Aurelia was the Flaminia, and there was an example of the very elegant Coupe version of this car on show. One of just 37 right hand drive models made, this particular example started out in Jersey, arriving on the mainland in 1973, hence the L registration plate. Very lovely.
Exemplifying the exquisite engineering that was to prove Lancia's downfall at the end of the 1960s were the Fulvia cars, with a Berlina and a couple of the ever so pretty Coupe models.
There were only a trio of Beta based models this year, with an HPE, a Spider and a MonteCarlo representing three of the five (six, if you count the Trevi) different bodystyles produced.
The Delta was far more in evidence, with several of the first generation models displayed, most of them being Integrale versions, though there were both a rare 1300 LX and the HF Turbo car on show as well.
Although never officially imported to Britain, a few of the second generation Delta are over here, and there were a couple of these on display as well.
Among the more recent large Lancia models were a duo of Thema and a single instance of the car that replace it, the Kappa.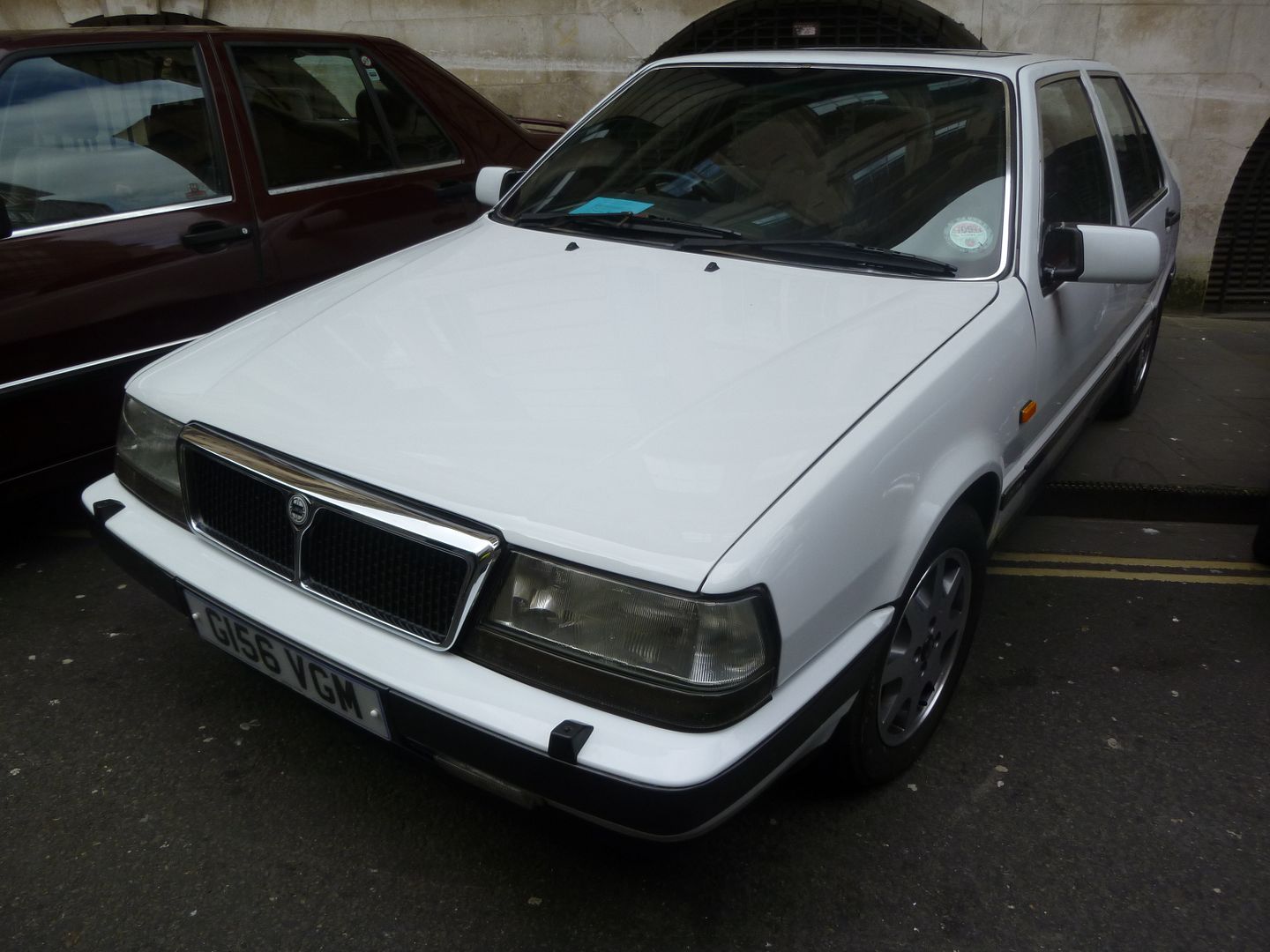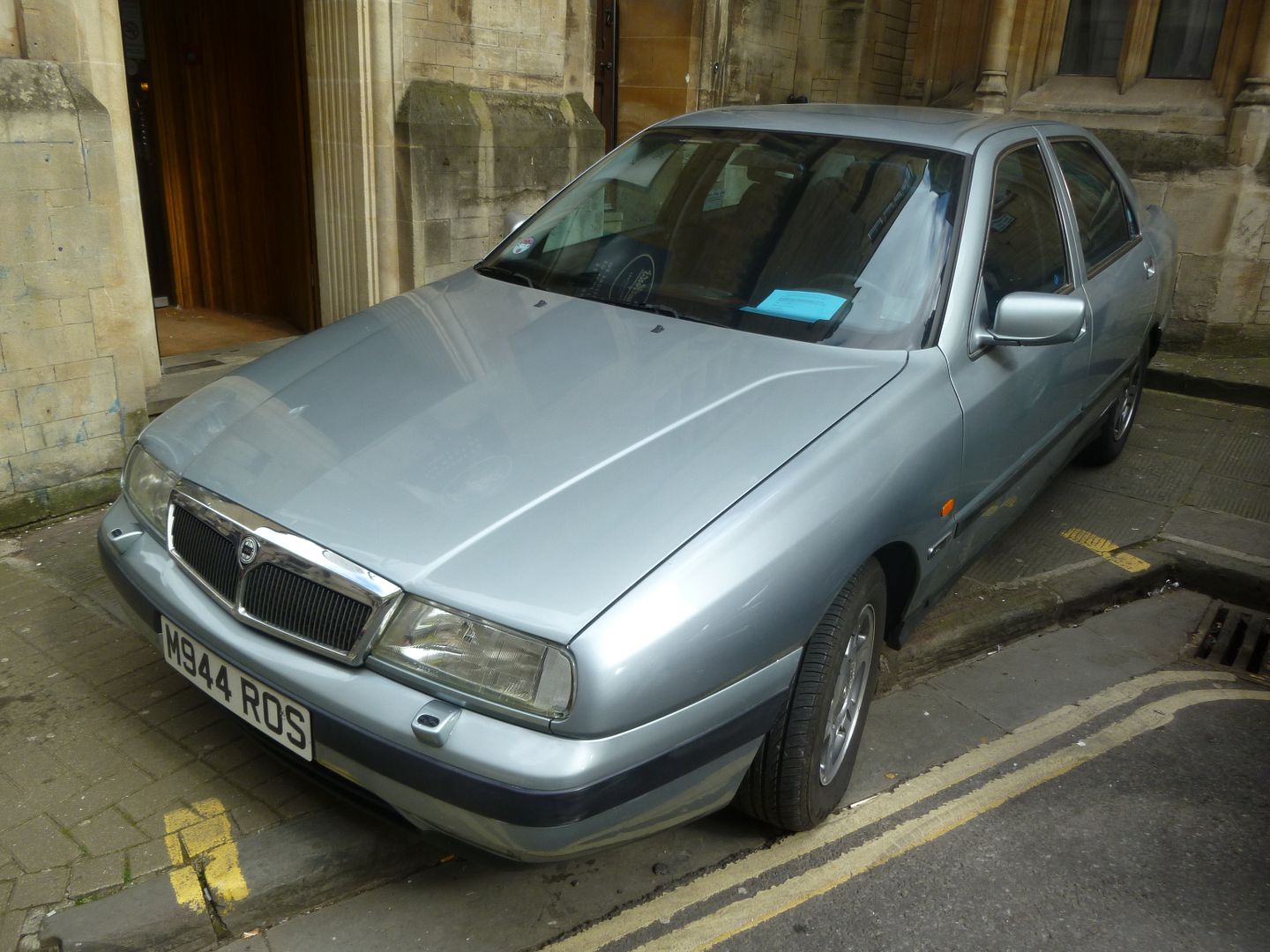 MASERATI
Maserati was the chosen marque this year, in honour of its centenary, and Corn Street was more or less full with cars bearing the famous badge. Oldest Maserati on show was a gorgeous Sebring, which had pride of place at the top of Corn Street, and parked alongside it was another classic model, a Merak.
From the Biturbo generation were two cars, a Ghibli Coupe and a Quattroporte.
All the rest of the Maserati present were from the last 15 years, with a good collection of 3200/4200 GT and Spider cars, Quattroporte and the latest GranTurismo and GranCabrio.
I think most people concluded that bright yellow on the Quattroporte really does not work (sorry!) and that even on the GranTurrismo, it's quite startling. This latter car turned out to be owned by an Australian lady who decided to volunteer to marshall when she booked only at the last minute, and was good company during the day. Clearly she loves her cars and bikes, and is now enjoying the automotive event scene in the UK which she says is far more comprehensive than you would ever find in Australia.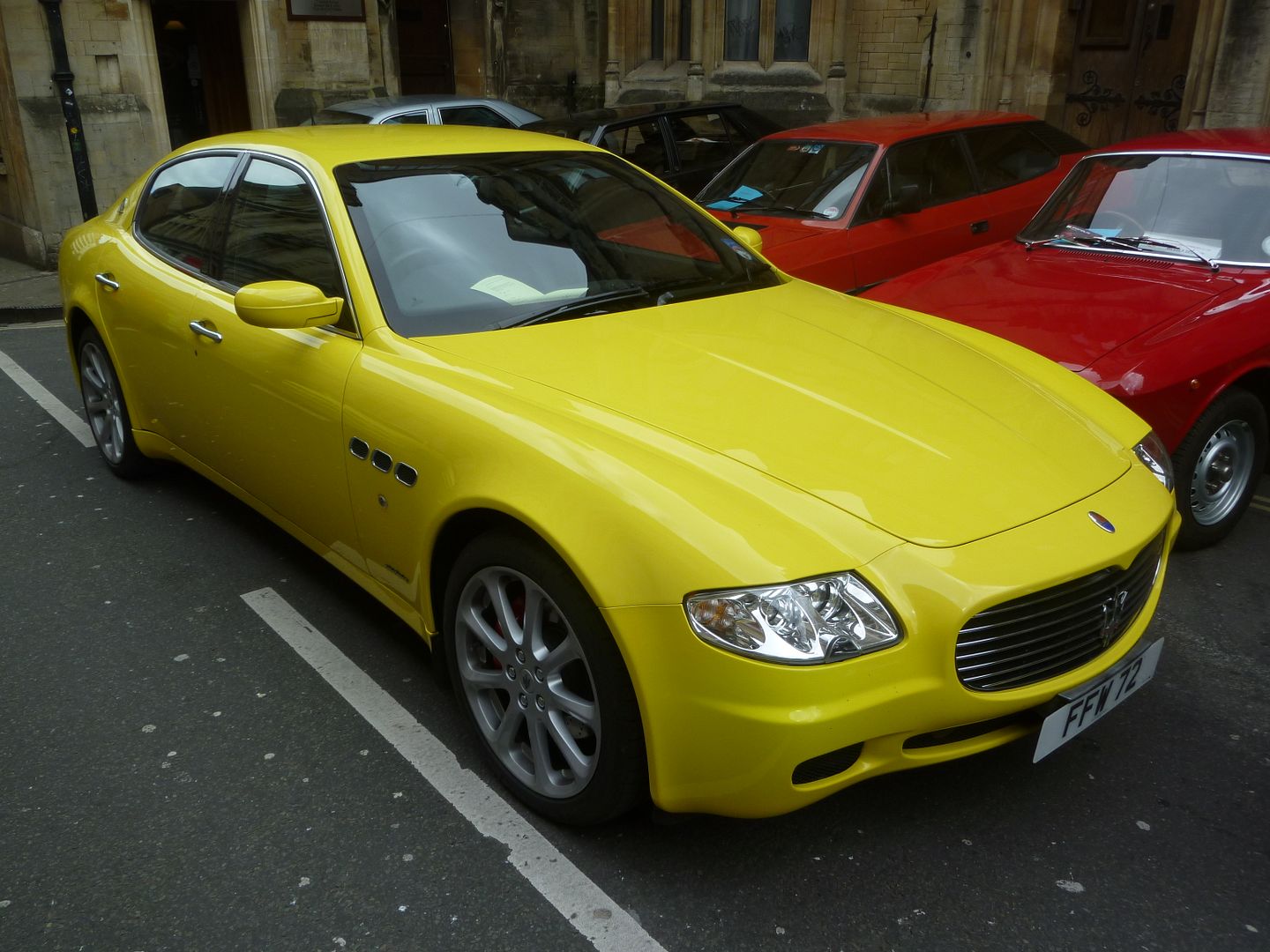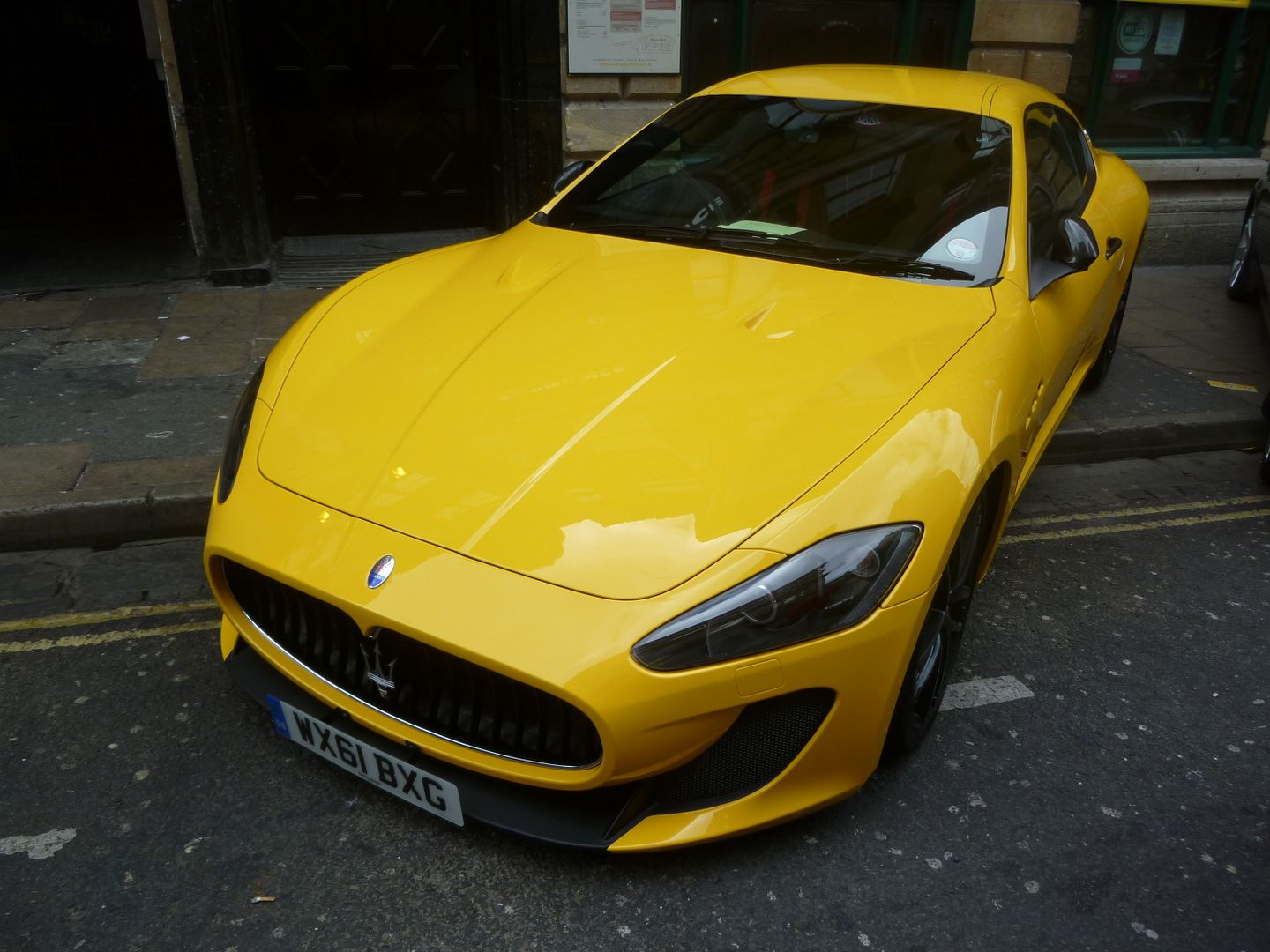 BIKES and SCOOTERS
As well as the cars, there is always a vast assembly of Italian bikes, with strong representation from Ducati, but plenty of the other marques present as well.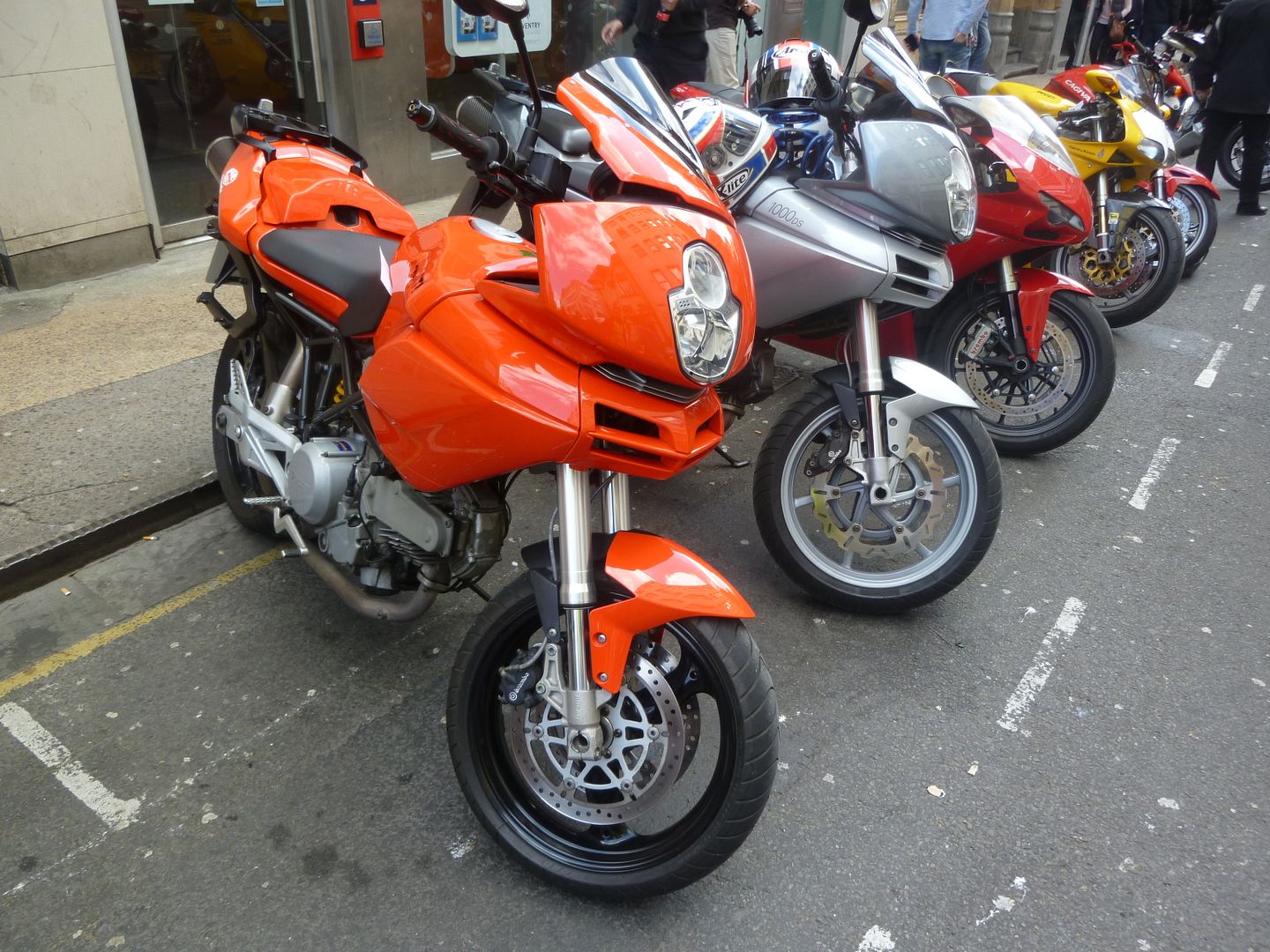 The Bristol Mods always come with an array of period piece scooters and attract lots of attention.
AND WHAT'S THIS?
I was rather surprised to find this Lotus Elite parked up, inside the event barrier, at the end of St Stephen's Street, as try as I might, I could not come up with the necessary Italian connection. It turned out that the owner had booked to attend on his Ducati, but as that was not available, decided to bring this. He was turned away once, but someone must have relented and let him in……… it's a nice car, but even so it did not really belong.
The clock soon struck 4, and it was time for people to leave. Although the bikers had been testing everyone's patience coming and going all day, there were only a couple of cars that made an early departure and there were still vast crowds thronging the streets when the marshall duty resumed as we made sure that everyone got their cars off any kerbs and safely away from the venue. All agreed that this has been a fantastic event, as ever. Grateful thanks from me to Paul Hanmore, who masterminds it all, as there's a lot of work involved before the day itself, and thanks also, of course to all the other marshalls for their spirit of cameraderie, and to the proud owners who were only keen to show off their lovely machines. here's to BIAMF 2015!
Share and Enjoy