Collezione Maranello Rosso – Falciano, San Marino (RSM)
You could be forgiven for not  having heard of San Marino. It does, after all, only measure a few square kilometres, and it is surrounded on all sides by Italy. However, any car enthusiast probably has heard of this small country, as for many years a Grand Prix bore its name, even though the event took place at a circuit which was actually in Italy. Far fewer people, though, I suspect will have visited this small land locked place. Those who have may just have done so because they wanted to pay a visit to the renowned Maranello Rosso collection. Ever since I learned about this museum which comprises a collection of Ferrari and Abarth models, I resolved to try to include it on a trip to see these rare and exciting cars for myself. And now I have. The Maranello Rosso collection's founder was, unsurprisingly, a racing driver, Fabrizio Violati, with a passion for the two legendary Italian marques, and over the years he amassed a number of rare examples of both Ferrari and Abarth, and plenty of automobilia relating to the two marques' founders,  Enzo Ferrari and Carlo Abarth. The museum is easy to find, as, assuming you are approaching from the east,  you can see it from the main road. It is housed in a shared building, and is spread over two floors. On the day of my visit, sadly, only the Ferrari floor was open, with the Abarth level closed for "repairs".  Like many a museum, the collection was not particularly well lit, and the cars were hemmed in, around barriers, making it particularly frustrating for the photographer, which is a real pity, as there were some fabulous cars to be seen.
Oldest car in the collection is this, a 1951 Ferrari 195S. The 195S was a racing sports car first produced by Ferrari in 1950. Introduced at the Giro di Sicilia on April 2, 1950, it was similar to the 166 MM also run at that race. The two cars, one open and one closed coupe, shared that car's 2250 mm (89 in) wheelbase but sported an enlarged 2341 cc/ version of the Colombo V12 engine. These two initial cars were forced to retire, but three came to the Mille Miglia of that year, with the event won by the 195S Touring coupe of Giannino Marzotto.
The 12th of just 17 built, this scarce 1952 Ferrari 212 Europa Coupe by Pinin Farina is not only a matching-numbers car certified by Ferrari Classiche, but also a Mille Miglia Storica veteran and a Tour Auto participant.
This 1953 Ferrari 250MM Berlinetta Pininfarina was designed for long distance racing and can do 0-60mph in just 5.1 seconds. It was a race winner in its debut meeting and is one of the more remarkable cars in the collection. It is valued at around $12m.
This is a 1955 Ferrari 250 GT Competizione. It is chassis number 0539, and when it was built, the 250 model was the standard bearer for the Prancing Horse. The  250 name, which came to embody the entire marque, derives from the fact that when you divide the engine's cubic capacity by the number of cylinders, you get 250. Ferrari applied this convention for many years to all their cars. Chassis no. 0539 was the seventh of nine cars built using a lightweight sports car-type body made by "panelbeater" Scaglietti. Ferrari was directly involved in the manufacture of this car, as it was ordered by gentleman driver par excellence Edoardo Lualdi di Varese, who first got behind the wheel on June 28, 1956. Lualdi raced the car for fun, in a rather expensive – and dangerous – hobby. Lualdi competed in the Italian GT Championship, won a succession of races, and ended up taking the championship to boot. Chassis no. 0539 was subsequently bought by Maestro and composer Arturo Benedetti Michelangeli, who fell in love with the matchless sound made by its engine. It is an engine note capable of sublimely hitting the highest notes and creating matchless harmonies – a 12 cylinder symphony that the composer would listen to when he took time off from the rigours of making music.
Known by car historians as the "Pininfarina Spider unique series" to distinguish it from more common later versions, this is a 1957 250 Spyder. This car is chassis no. 0759, and is an elegant convertible that perfectly expresses the spirit of the late 1950s Dolce vita lifestyle. Its signature characteristic, aside from the pop-up handles and rear fins, was a hardtop specially designed by Pininfarina to match the traditional leather top. A unique model with which American buyers fell head over heels in love, There is some uncertainty whether this car was actually used by Marilyn Monroe or not, despite what the display in the museum would have you believe.  What is known is that it is a very early example, being only the eighth of some 40 units built overall. Its chassis frame was delivered to the PininFarina plant on September 9, 1957, and upon its completion with this strikingly handsome body it was promptly (and so justifiably) exhibited at the 39th Salone dell'Automobile in Turin's Valentino Park exhibition hall, from October 30-November 10 that year. In January, 1958, this Cabriolet was shipped to the Venezuelan Ferrari importer, Carlo Kauffman, in the central-American state's capital city of Caracas. It was registered there on Venezuelan plates 'NC 6159′. The car was pictured in the factory's official 1959 Ferrari Yearbook, whose compilers every year made much of the burgeoning marque's global appeal. Study the car's gorgeously preserved tan leather and honeyed carpeting today and one can imagine just how cool and stylish it must have seemed to Carlos Kauffman and his eager clienti as they sampled '0759 GT' on the broad sun-soaked boulevards of Venezuela's then booming, already oil-rich, capital city. The sales document of the time cites the car's colour at that time as having been 'verde' – green – and the sale price as 80,000 Venezuelan Bolivares. Senor Gustavo Guttierez retained the car in Venezuela until 1986, when it was offered for sale, by that time being described as painted red. In 1991, it was acquired by Fabrizio Violati and inducted into the Collezione Maranello Rosso.
The 250 Granturismo Berlinetta, nicknamed the "Long Wheelbase Berlinetta", was also called the "Tour de France" after successfully competing in the 10-day Tour de France automobile race, not the famous bicycle race of the same name. There were 77 Tour de Frances built. A number of 250 GT "Tour de France" Berlinettas were sold for GT races from 1956 through 1959. Construction was handled by Carrozzeria Scaglietti based on a PininFarina design. The engine began at 237 bhp but rose to 256 bhp by the end of production.
By the late 1950s, Ferrari was in need of the money that would be generated by far a greater volume of sales, but he was nervous about extending downmarket, so when he decided to launch a much smaller and cheaper model, he decided it would not bear the Ferrari name. Instead, he went to ASA, and although the design of the resulting car was his, the 1000 GT did not bear Ferrari badges. The car was developed by Giotto Bizzarrini from Ferrari's design, and manufactured by the ASA company in Milan (in a factory owned by the De Nora Electrochemical Group) from 1964 to 1969. The 1000 GT model was presented in 1962, but production started two years later. Bodywork was designed by Giorgetto Giugiaro at Bertone. This small GT car featured an OHC 1,032 cc  four-cylinder engine designed by Ferrari engineers, for a Ferrari project, originally dubbed "Ferrarina." The original engine design was basically a four-cylinder, 850 cc slice of a Colombo V12 from a Ferrari 212, complete with characteristic "clothes pin" valve springs, and breathing through two Weber 40 DCOE9 carburettors. The 1000 GT featured a double wishbone arrangement for its front suspension, with a live axle at the rear. Both ends of the car featured coils springs, tubular dampers, and an anti-roll bar, as well as disk brakes. The coupe model was bodied in steel, with aluminium for the bonnet and boot lids.
Parked up alongside it was a 1960 Ferrari 250 GT Series I Coupe. The 250 GT was the result of a desire to enter series production in order to stabilize the company's finances, Enzo Ferrari asked Pininfarina to design a simple and classic car. After constructing the 250 GT Boano/Ellena, Pininfarina's Grugliasco plant was expanded and the production of a new coupe could be moved back. The resulting car was introduced at Milan in 1958, and 335 nearly identical examples were built by 1960. Buyers included Prince Bertil of Sweden. The GT Coupe eschewed the fender vents for simple and clean lines and a notchback look with a panoramic rear window. The oval grille was replaced by a more traditional long narrow look with protruding headlights. Telescopic shock absorbers were also fitted instead of the Houdailles found on previous 250s, and disc brakes were added in 1960.
The Ferrari 250 GT SWB is one of the better known early Ferraris, and examples of this model are to be seen at historic motor racing events as well as concours. First seen in 1959, the 250 GT Berlinetta SWB used a short 2,400 mm (94.5 in) wheelbase for better handling. Of the 176 examples built, both steel and aluminium bodies were used in various road ("lusso") and racing trims. Engine output ranged from 237 bhp to 276 bhp. Development of the 250 GT SWB Berlinetta was handled by Giotto Bizzarrini, Carlo Chiti, and young Mauro Forghieri, the same team that later produced the 250 GTO. Disc brakes were a first in a Ferrari GT, and the combination of low weight, high power, and well-sorted suspension made it a competitive offering. It was unveiled at the Paris Motor Show in October and quickly began selling and racing. The SWB Berlinetta claimed GT class of the Constructor's Championship for Ferrari in 1961. These cars are highly prized nowadays and for good reason.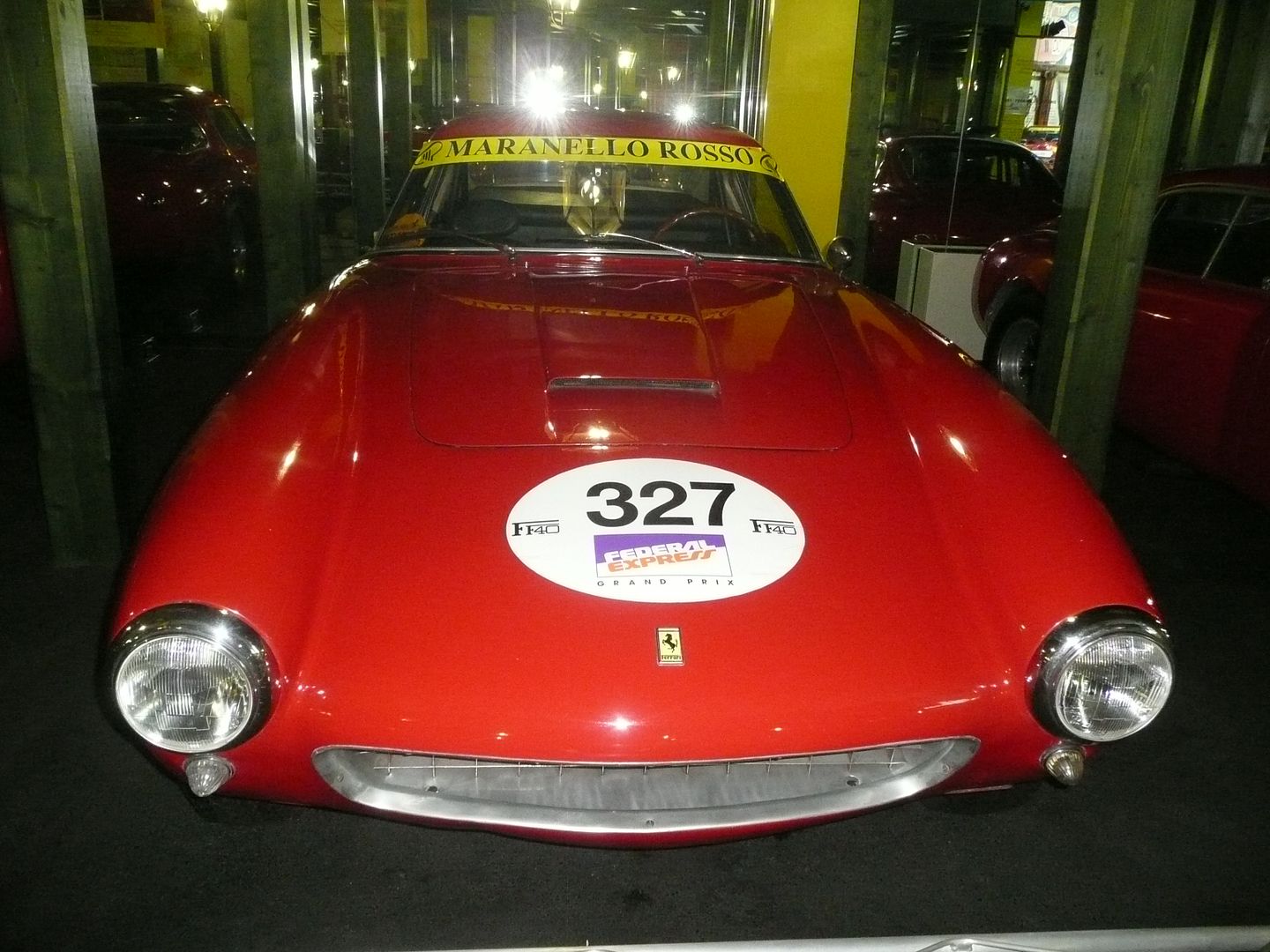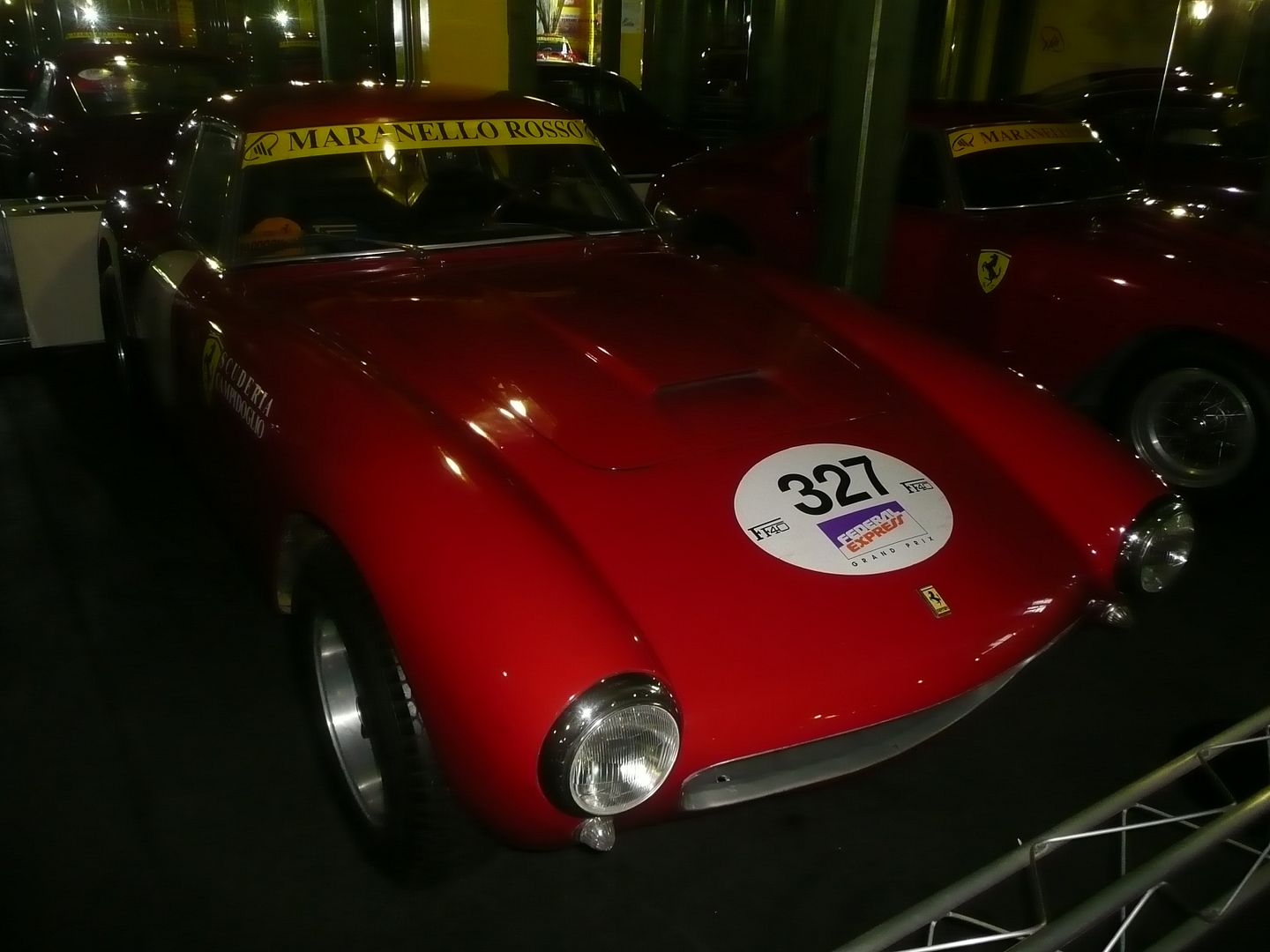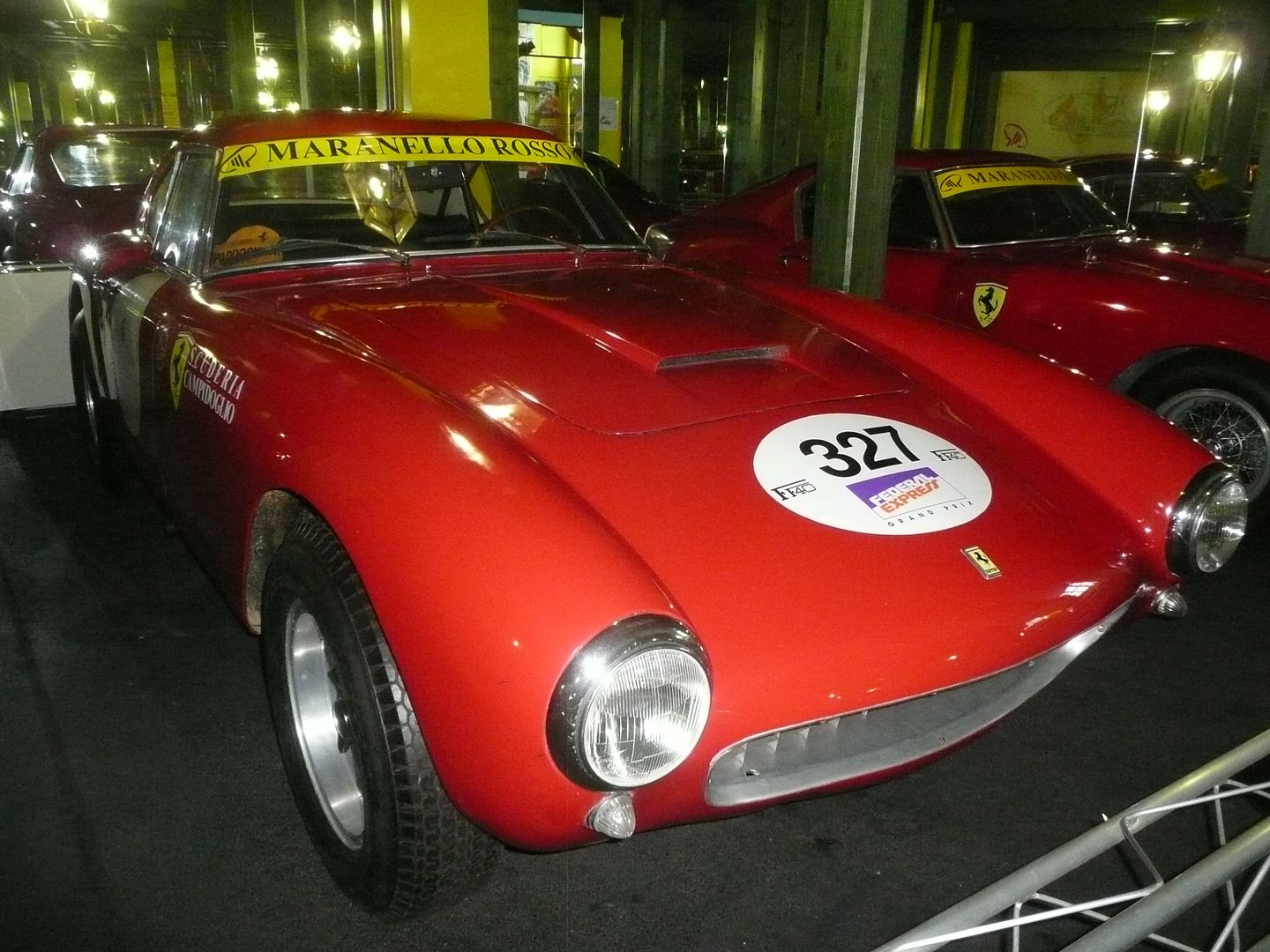 It did not take long before Ferrari's road cars were popular with top politicians, sports heroes and entertainers, and Enzo Ferrari used to welcome them to his "kingdom" at Maranello, when these Ferrari enthusiasts came to pick up their Ferrari directly from the hands of its creator.  This car, a 1962 250 SuperAmerica, one of just three such models ever made, chassis no. 3615 was assembled like a bespoke suit – this was the one and only time that this colour appeared on a Ferrari – for one of the world's greatest car collectors, the Shah of Persia. This is a truly unique vehicle, an amalgam of a 250 SWB chassis and engine in a body specially designed by Pininfarina and inspired by the Superamerica model.
By a massive measure, this is the most valuable car in the collection, a 1962 Ferrari 250 GTO Berlinetta. The 250 GTO is the most coveted jewel in the classic car world's crown, a beauty in which an owner can show his prowess on track one day, and then go touring beside a comfortably seated companion the next.. This car, chassis number '3851 GT', was the 19th 250 GTO Berlinetta built, and was completed on September 11, 1962. It was delivered to the leading French racing driver Jo Schlesser, to be co-driven by himself and French ski Champion Henri Oreiller in the 1962 Tour de France. The pair challenged for victory and finished an honourable second overall. The car was then crashed during a race at Montlhery Autodrome, just south of Paris, France. It was repaired immediately by Ferrari in Italy and was sold to gentleman driver Paolo Colombo in time for the 1963 competition season. At the time of '3851 GT's re-emergence the latter half of Ferrari 250 GTO production was still in full swing at Maranello and in the Scaglietti body plant in Modena. Paolo Colombo enjoyed a very successful season in 'against-the-clock' Italian national hill climb events, before selling it to Ernesto Prinoth for 1964. He then used the car widely in both hill climbs and circuit races, again with fine results. In 1965 a young Fabrizio Violati bought the aging car. He would recall: "I saved the car from scrap and hid it from my parents. I only drove it at night so nobody would see me". For almost 40 more years, Fabrizio Violati then enjoyed his fabulous Ferrari 250 GTO in classic car and Historic racing events – and it became one of the last to compete regularly right into the 2000s, maintained in the Maranello Rosso Collection until his passing in 2010.
The 250 ranged continued to evolve with new versions being seen every few months. The LWB 250 GT theme was expanded with a 2+2 model called the 250 GT/E. The first large production four-seat Ferrari (earlier four seaters were made in very small numbers), this model offered greater interior space by moving the engine forward in the chassis. The rear seats were ideal for children but rather tight for adults. Engine output was listed at 237 bhp, making it a very rapid four seater indeed. Almost 1,000 GT/Es were constructed by Pininfarina with prototypes starting in 1959 and continuing through three series until 1963. The model was followed by the visually similar 330 Americas. The large production run of the GT/E was a major contributor to the financial well being of Ferrari in the early 1960s. In recent times many of them have had their bodies removed, so the chassis can be used for replica versions of other models from the 250 lineup, but people are now realising that these cars are attractive in their own right and the trend appears to have stopped.
Pininfarina updated the 250 GT with the GT Lusso or GTL. Introduced at the 1962 Paris show, the car sported flowing lines and a fastback shape typical of the GT cars of the mid-1960s. Under the bonnet was the 250 GTO's Tipo 168 engine with 240 bhp and three Weber 36DCS carburettors. Scaglietti handled construction of the Lusso which was made through to 1964 with few modifications. Rock star Eric Clapton owned one, and an example that had been owned by Steve McQueen was sold at auction for $2.3 million in August 2007.
The first 330, a revised version of the 250 GT/E was replaced in January 1964 by the new 330 GT 2+2. It was first shown at the Brussels Show, early that year. It was much more than a re-engined 250, however, with a sharper nose and tail, quad headlights, and a wide grille. The wheelbase was 50 mm (2.0 in) longer, but Koni adjustable shock absorbers improved handling. A dual-circuit Dunlop braking system was used with discs all around, though it separated brakes front to back rather than diagonally as on modern systems. When leaving the factory the 330 GT originally fitted Pirelli Cinturato 205VR15 tyres (CN72). The 1965 Series II version featured a five-speed gearbox instead of the overdrive four-speed of the prior year. Other changes included the switch back to a dual-light instead of quad-light front clip, alloy wheels, and the addition of optional air conditioning and power steering. Prior to the introduction of the 'Series II' 330 GTs, a series of 125 'interim' cars were produced, with the quad-headlight external configuration of the Series I cars, but with the five-speed transmission and 'suspended' foot pedals of the 'Series II' cars. 625 Series I (including 125 'interim' cars) and 455 Series II 330 GT 2+2 cars had been built when the car was replaced by the 365 GT 2+2 in 1967.
This 1966 Ferrari 275 GTB  is the fifth from last built and, with its torque tube and long nose, is the most developed version of this famous model. This particular car was originally delivered to the US, and one of just four of the model to have left the factory in the Verde Scuro colour. It has been subject to a correct and immaculate cosmetic and mechanical restoration by renowned marque specialists.
The next cars to bear the 330 name were the 330 GTC and 330 GTS. These were more like their 275 counterparts than the 330 GT 2+2. They shared the short wheelbase of the 275 as well as its independent rear suspension. These models were more refined than earlier Ferraris, quieter and easier to drive. It has been stated that this "was probably the first Ferrari in which you could actually enjoy a radio".The GTC Berlinetta was introduced at the Geneva Motor Show in March, 1966. It was a two-seater coupé with a Pininfarina-designed body. A 1967 GTC was given one-off bodywork by Zagato at the behest of American importer Luigi Chinetti in 1974. This car was called the "Zagato Convertibile", since it was of a targa-style. The GTS spider followed at the Paris Motor Show. About 600 coupés and 100 spiders were produced before the 1968 introduction of the 365 GTC and GTS 2 seater. The 365 models are visually very similar. This is a 1968 Ferrari 365 GTC Coupe.
The Ferrari 365 GTB/4 Daytona probably needs little introduction. A Gran Turismo automobile produced from 1968 to 1973, it was first introduced to the public at the Paris Auto Salon in 1968 and replaced the 275 GTB/4. The Daytona was replaced by the mid-engined 365 GT4 Berlinetta Boxer in 1973. Early cars, such as this 1970 example had the plexi-glass front end, before a revised design with pop-up headlights was adopted. The generally accepted total number of Daytonas from the Ferrari club historians is 1,406 over the life of the model. This figure includes 158 right-hand-drive coupés, 122 factory-made spyders (of which 7 are right hand drive), and 15 competition cars in three series with modified lightweight bodies and in various degrees of engine tune. All bodies except the first Pininfarina prototype were produced by Scaglietti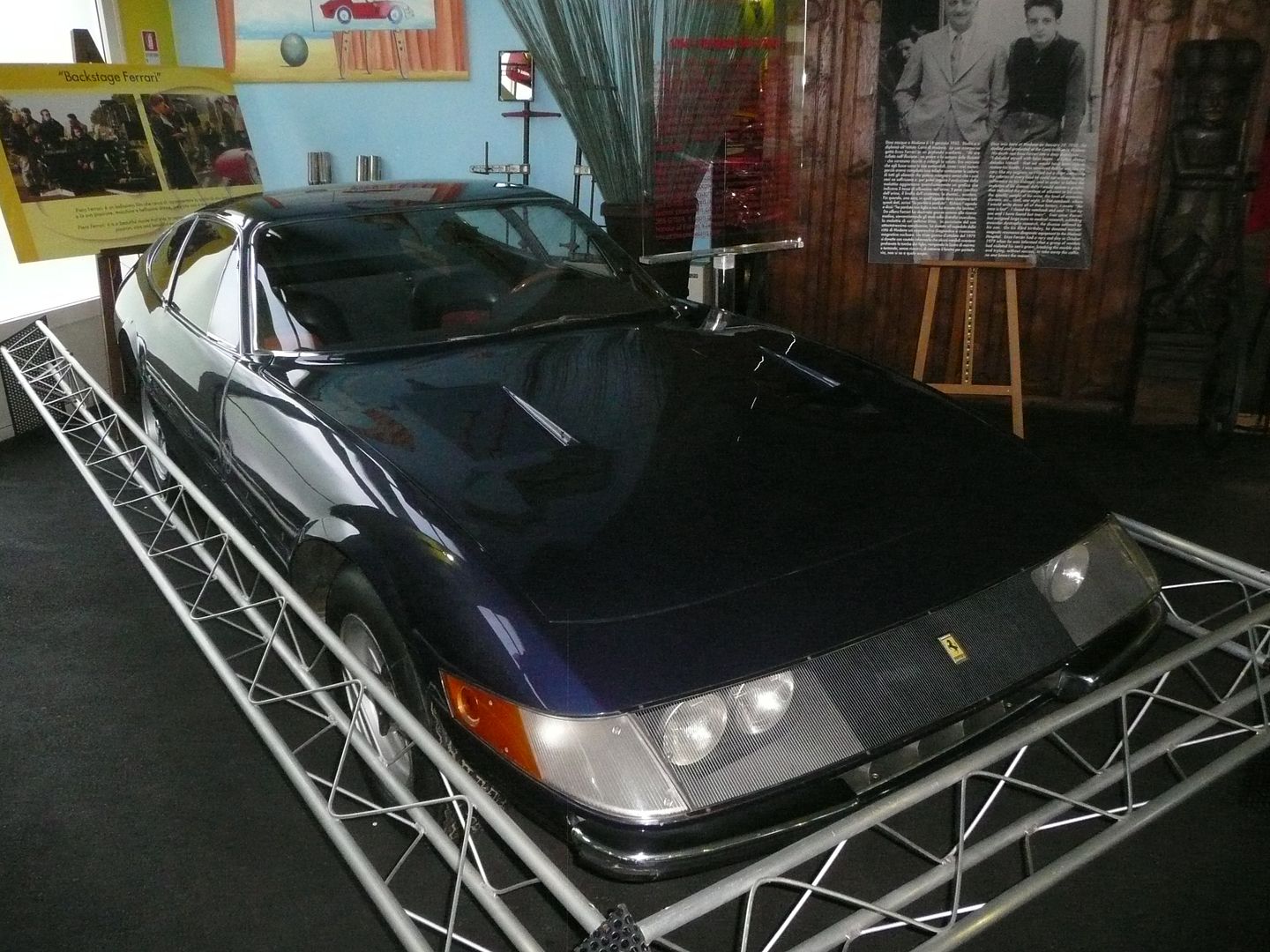 There were a couple of the fabulous Dino 246 GT models on show, arguably one of the prettiest designs ever made.
Ferrari's real passion remained racing, and Enzo continued to develop cars specifically for this purpose. This 330P Fantuzzi Spider dates from 1963.
This Ferrari 365 P2/3, dating from 1965 is an icon of Ferrari history and one of the first Ferrari prototypes to use rims in magnesium alloy with the typical golden colour, that made the flaming red body stood out. This car was the answer to the threat posed by Ford with their GT40 produced following their failed attempt to buy the Ferrari company. The 365 P2/3 claimed numerous victories including, for the first time in history, an occasion with three Ferrari lined up on the finish line at the Daytona track. This model, driven by the Italian Nino Vaccarella, claimed first place in the Targa Florio in 1965 and was owned, for many years, by the famous French cartoonist Alberto Uderzo, Asterix's creator.
Although the distinction between Ferrari's racing cars, concentrated on Formula 1 and the road cars became very clear by the late 1960s, Ferraris has taken to the track with cars that bear plenty of resemblance to the cars we see on our roads, and there were examples of the 365 GTB/4 "Daytona" Competition Conversion, the BB512 LM and the F40 on show. This BB512 LM was based on the Group 4 car used in the French Rally Championship. Unfortunately it failed to finish in 1977 due to a water leak, and did not qualify in 1978.
This 312 T3 Formula One car dates from 1978. Chassis number 033, it was driven to victory by Carlos Reutemann at the 1978 British Grand Prix at Brands Hatch. The win came after a difficult start to the season in which Reutemann suffered several mechanical failures and accidents. The car was later driven to victory at the 1979 Race of Champions – also at Brands – at the hands of French-Canadian ace Gilles Villeneuve.
This Formula 2 car dates from the 1968-69 season and is a Dino 166/ 246T car which was back to back winner in the Tasman Championship.
Included in the collection is this, a factory buck which was used to form body panels.
There is an upper gallery to the museum, and here you will find all manner of memorabilia, from race posters, to models, books and photos
Subsequent to my visit, many of the cars in this collection have been put up for auction, and by the time you read this, will have new owners, so the future of the collection, if indeed it has one, looks unclear. I've not been able to get any clarity on what is really going on, but I strongly advise that you do not just turn up at the site of the museum without checking whether it still exists, and is open or not.
You can find more details on the museum's website: http://www.maranellorosso.com/file/inglese/ferrariok.html
Share and Enjoy