VSCC at Shelsley Walsh – July 2014
When the events schedules for the year are published, there are quite a few which I instantly mark on the calendar, hoping that they do not clash with other unmissable ones. The VSCC meeting at the historic Shelsley Walsh Hill Climb is one such, as I know from attending it a number of times that a day out at this Worcestershire venue will tick pretty much every box that I look for. Sadly, in 2013, it clashed with something else on the "must go" list, the Stanford Hall Auto Italia gathering, and mindful of my duties as Events Manager for Abarthisti, I had to give the Italian Car event priority, missing out on Shelsley. Fortunately there was no such clash in 2014, leaving me free to plan a day of seeing what the ever enthusiastic VSCC members and fellow spectators would bring along. Further interest was likely to arise from the fact that I had been told that the path up the hill had been extended all the way to the top, so I looked forward to being able to see some of the cars after their ascent as well as before and during it.
Shelsley seems to have its own climate, and even when there is not a cloud in sight, it seems that rain will fall on this venue at some point in the day, and that was the case for this meeting. I was up the hill, a long way from an umbrella when the first shower arrived, but luckily the tree canopy did a good job at keeping me dry, and as it was an otherwise warm day, once the rain stopped, the track could be seen steaming, and it quickly dried off in all but the shaded spots. Until  the track did dry, times were extended somewhat, meaning that the record that had been broken the day before was unlikely to be challenged again.  A second deluge came late in the afternoon, but by this time, most of the competitors had done their timed runs and were not going to suffer unduly, though those who were still queued did get soaked whilst waiting for their run. These were minor features of what otherwise was an excellent day, with lots to see, both from a competitor point of view and also, by looking around the car park, from a spectator perspective. Here are the photographic highlights:
IN THE PADDOCK
ALLARD
One of the newest cars taking part was this splendid J2 dating from 1947
ALVIS
Popular among VSCC members and hill climbers are the various Alvis models from the 1920s and 1930s. There were several taking part here.
AMILCAR
Driver of this small French sports car from the 1920s, a CGS,  appeared to be one Ian Patton, General Manager of the "rival" Prescott Hill Climb.
ASTON MARTIN
1931 Aston-Riley International
AUSTIN
There was a whole class for Austin Seven based models, and there were plenty of different versions of this diminutive car, many of them what you can only describe as "Specials", ie cars with bespoke and one-off bodywork based on the chassis of Herbert Austin's little saloon.
BMW
328
BUGATTI
There were plenty of Bugatti in action, ranging from the well known Type 13 Brescia through a Type 30, both the 35A and 35B and the slightly later 37.
DELAGE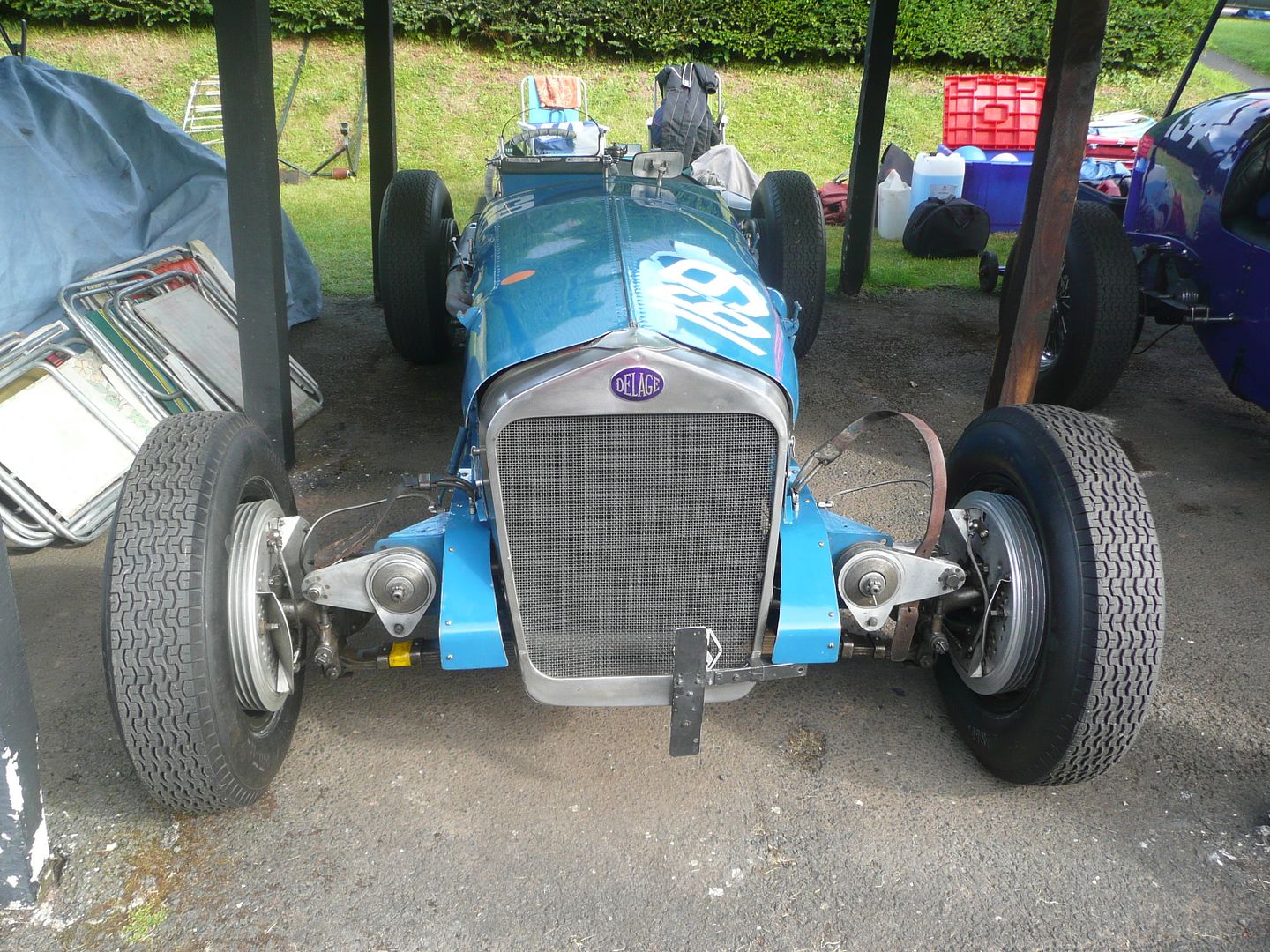 1939 D6-70 TT Replica
ERA
As ever, it was a delight to see examples of the ERA here. There were three of these legendary cars to admire. Terry Crabb had R12C present, and he made some impressive runs up the hill, but he was soundly beaten by James Baxter in R4C in which a new hill climb record was set on the Saturday, at 33.03 seconds.
Also present was R14B, a car owned for many years by Donald Day. Sadly, some years ago, he lost an arm in a motoring racing accident, but this disability does not seem to deter him not just from competing, but from going hard and putting in impressive times.
FRAZER NASH
GN
With their light weight derived from marginal bodies, and very thin tyres, controlling these GN cars requires much skill indeed. They are always a popular sight at events like this.
LAGONDA
There were a couple of examples of the small 1100cc Rapier based cars taking part.
One of the larger  cars taking part was this glorious M45 Lagonda
MASERATI
I confess I did not instantly recognise this car, but inspection of the badge revealed what the deep blood red paint should perhaps have suggested to me, this is an early 1.5 litre Maserati Tipo 26 dating 1926, the first year that Maserati actually produced cars, despite the founding of the company some 12 years earlier.
MG
In their quest for more power, MG turned to the supercharger, and you can see where it has been added to this K3 Magnette car.
MORGAN
NAPIER
Chris Williams had his spectacular aero-engined Napier Bentley at the event, and, true to form, he managed to set off with clouds of smoke from the rear tyres every time. It is said that he gets through a set of tyres at every event, and given the number of events that he takes the car to, that must amount to quite a lot in a season, so fair play to him for entertaining us all so well and so frequently.
RILEY
Rileys are always popular at events like this, and there were a number of different models competing, some of which were factory models and several of which were "Specials".
SKINNER
The Skinner Special is a well known car, often seen at events like this.
STUTZ
TRIUMPH
Another well known car, often seen at events at least in this part of the country, is this Gloria Special.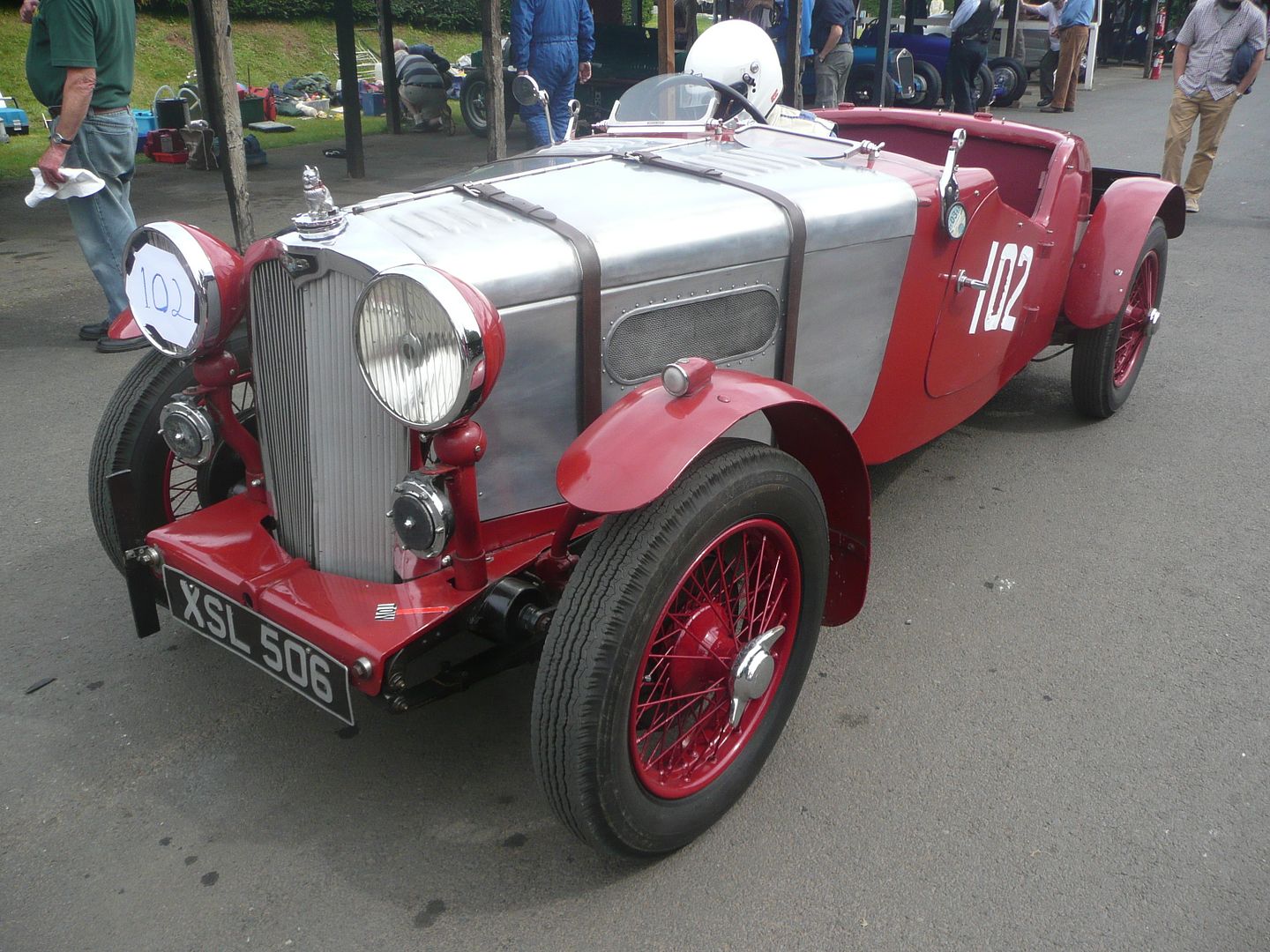 VAUXHALL
30/98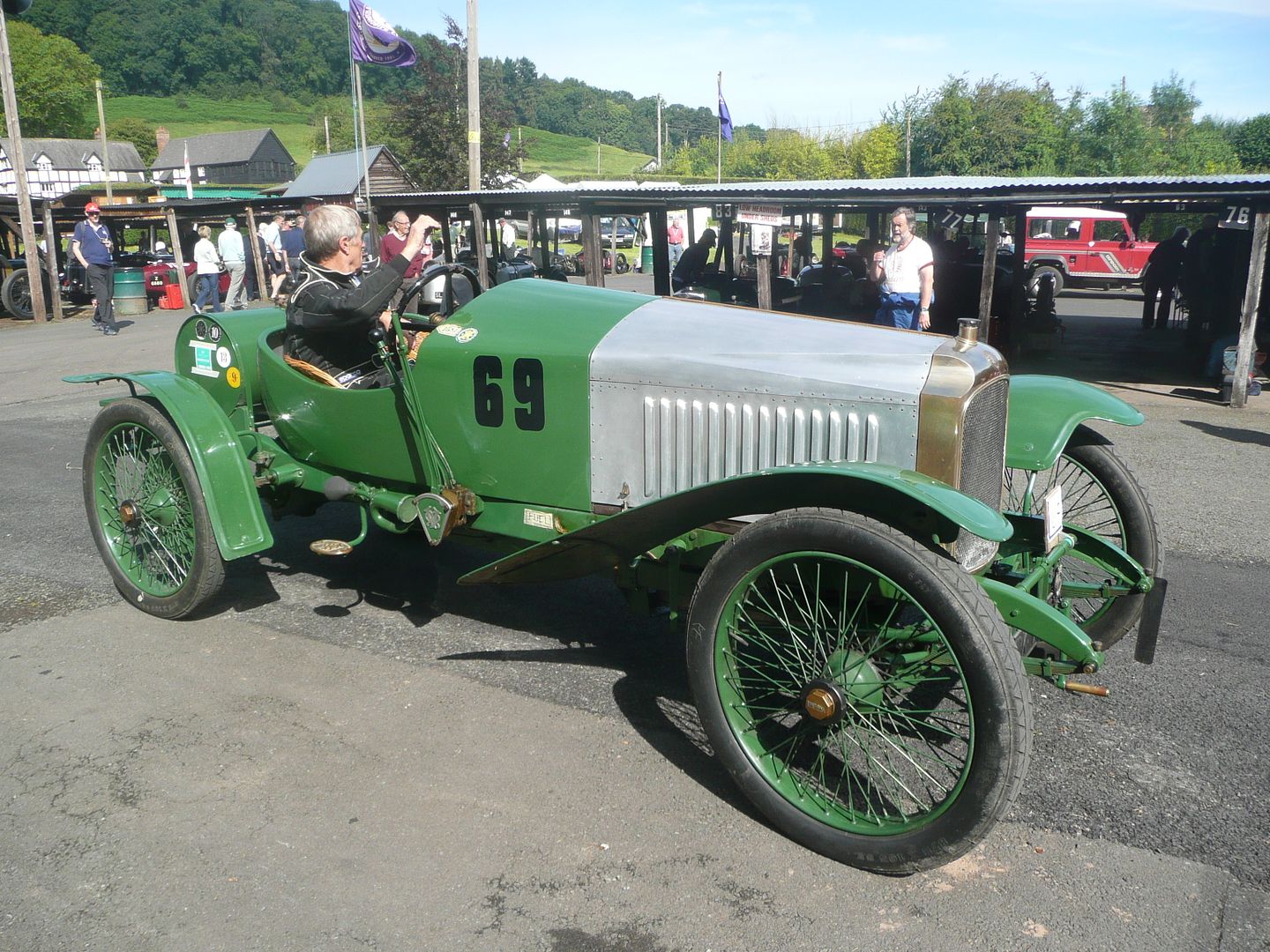 WOLSELEY
ON THE HILL
It is a steeper climb here than it is at Prescott, but there are more or less continuous vantage points, and seats all the way up to the Top "S", so this is a good hill for the spectator. I did venture all the way tot the top, hoping to get to the cars as they waited for the opportunity to come back down the hill. (There is no return road, so cars are batched up and return in groups of 25 – 30), but although you can get past the official finish line now, you cannot quite get to where the cars are held pending return.
IN THE CAR PARK
Although the Paddock and activities on the hill were diverting enough, there was plenty to see in the main car park, too, and one advantage of this location is that with all the cars parked in one (quite large, at a busy event like this one) area, you can easily do a quick tour to see what is parked up, before returning to the Hill or the Paddock. I paid a number of visits during the day, as cars kept arriving, and it's just as well that I did, as there was lots of interest, as this section of the report will evidence:
ALFA ROMEO
This second generation 105 Series Spider was very appealing.
But it was not my favourite Alfa, as later in the day I came across this fabulous 1929 6C 1750. This is Mike Hurst's car that he has had for over 50 years, and he and his good lady wife had driven it all the way up from Bristol to be at the event. This was probably my favourite car of the whole day. Everything about it is just so right, and the engine is even more of a work of art than the glorious Touring body work. Bella macchina!
ALLARD
Allard was a British manufacturer who started to produce cars in 1945, making around 1900 cars before the eponymous founder, Sydney Allards' death in 1966. The initial models were powered by large American engines, which made them especially fast compared to anything else that was on the market, and cars such as the J2, an example of which was seen competing on the hill at this event, sold quite well. To widen the appeal, a new range of cars appeared at the end of the 1940s, using Ford engines. This car, a P1, sometimes referred to simply as the 3.6 litre, is such an example. These models were made between 1949 and 1952.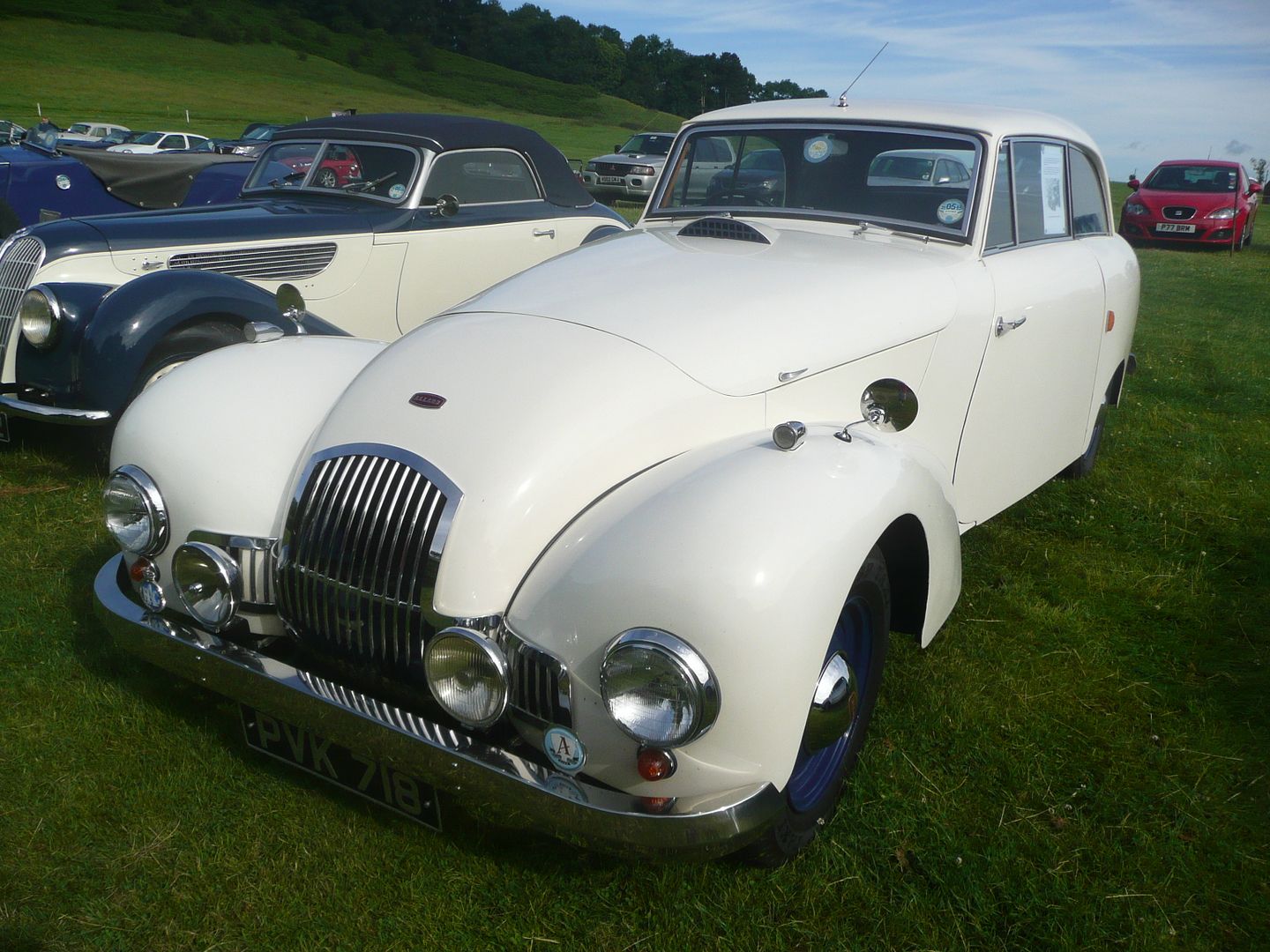 ALVIS
As well as the array of Alvis competing to go up the hill, there were plenty of these sporting British models parked up, too.
ANSALDO
I confess I've never heard of this marque, and nor, it would seem from chatting to the owner, has anyone. An Italian marque that was later acquired by OM and then Fiat, they originally sold more cars than the likes of Alvis. A Turin based firm, Ansaldo was the largest engineering firm in Italy between the wars, and when peace returned in 1918, they turned their attention to building a range of cars, adopting some interesting and novel engineering approaches to their designs. In this one, a set of swivel gears at the bottom end of the engine drive everything, which ultimately proved to be an issue, as when they wore, they failed, with mechanically disastrous results, which is one reason why so few cars survive. The owner said that he understands that there are 70 Ansalso models left worldwide and there are 4 in the UK, 1 of which was a Weymann Saloon body and one of which has a 6 cylinder engine. This car dates from 1925 and is largely original, including the wooden wheels, which he explained are not all from the same type of wood.
ASTON MARTIN
International
Mark 2 15/98
Although the market does not rate the DB6 quite as highly as its predecessor, I do, finding the Kamm tail, the main visual difference on this car, adds some styling interest to what is a great looking car from any angle.
AUDI
One of the RS2 Avants that were built by Porsche for Audi in 1994, and which set the course for whole generations of super-fast Audi RS models ever since. Wunderbar!
Whilst everyone remembers the Quattro as the road going version of the game-changing rally car, the reality is that Audi sold far more of the conventional Coupe model. A facelift was applied in 1985 which, to my mind, tidied up the appearance with new bumpers, lights and grille, and mechanical changes included the option of the Quattro system, resulting in a car called Coupe Quattro. There aren't that many left, so it was nice to see this one, resplendent in its bright red paint.
AUSTIN
There were lots of examples of the diminutive Seven, Herbert Austin's masterpiece which ran from 1922 until 1938, and which was really the car that helped to put Britain onto four wheels.
Also from this inter war period was a larger model, a Twelve.
Effectively the 1950s version of the Seven was the little A30 and A35, a car which competed against the Morris Minor and small Fords of the era. This is the later A35, with revised radiator grille and larger rear window being the distinguishing features.
I was overcome by a wave of nostalgia when I spotted this Montego 1.6L in the car park, as it was very similar (albeit white rather than Flame Red) to a car that I owned from 1990 to the end of 1992. The owner appeared just after I had taken some pics, so I got chatting to him. He has had the car from new, and it turned out that he had worked for a Rover Group (as they were called by the time this car was made, no Austin badges in sight) Dealer, and he was able to secure a particularly good deal on the car. He had and still does own a number of other cars from the BL/Austin-Rover stable, and he reckons, as do I, that this was one of the most under-rated of the lot. True, build quality on them was variable, but so were plenty of other cars at the time, and to my mind, this car was infinitely preferable to the gutless and uncouth Sierra 1.6L which was the alternative I rejected when I selected the first Montego, and although the Peugeot 405 appealed when I was ordering the second one, problems with carburettor flat spots had become legendary among my colleagues and the sun roof robbed so much headroom I could not sit comfortably in it. So I had a facelifed Montego, with the much better Honda gearbox replacing the notchy VW box of the early cars, and an interior that was particularly plush for L trim in its day, and covered over 60,000 troublefree miles in under 2 years. Montegos rusted, as did most cars of the era, and surprisingly very few survive, fewer than the less well regarded Maestro, which is quite a surprise.
AUSTIN HEALEY
As ever at events like this, there were examples of both the "Big Healey" 3000 and the smaller Frog Eyed Sprite
BENTLEY
A nice 3 litre Tourer
Following the acquisition of the bankrupt Bentley Company by Rolls Royce, production was transferred to Derby, and the firm produced a range of 3.5 and 4.,5 litre engined chassis, which customers then took to their favourite coachbuilder for a body design. That means that resulting "Derby" Bentleys come in a wide array of different styles, some more elegant than others. Survival rates are very high, and there are some lovely cars that can be seen at events like this. This 3.5 litre was up for auction by Brightwells.
When production resumed after the war, Bentley came up with the Mark VI, the first model that was offered with a "standard" body from the factory, as opposed to merely offering a chassis to be sent to your favourite coachbuilder. Sadly, the design suffered from lots of water traps, and rust took hold quite quickly, so few of these cars survive in their initial form. Here is one that does.
I've seen this car before, at this venue, and it is a particularly elegant and rare James Young bodied 2 door Type R from 1951 that has been beautifully restored.
Replacement for the R Type was the S Type, a car which looked very like the Rolls-Royce Silver Cloud, save for the distinctive Bentley grille. Fewer Bentleys were produced than Rolls Royce versions. This is a Series 3 car, with the twin headlights.
BMW
Among a number of pre-war BMWs were this 327 and the better known 328.
This was a very nice E30 M3 in Zinnober Red, a colour which particularly suits the lines of this classic.
I would assume that the owner of this i3 is relatively local, as there is nowhere to charge it up in the middle of a field, and with lots of hills on the approach to Shelsley, no matter from which direction you approach, the battery would get quite a testing just to get here and away again.
CHEVROLET
One of only a couple of American cars present was this C2 model Corvette Stingray
CITROEN
The 5CV Cloverleaf was usually painted in bright yellow, like this example.
The Rosalie was introduced to replace the C4 and C6 of the late 1920s. Looking more modern than the cars they replaced, the Rosalie came in a bewildering array of different models, and power outputs.
Rather more familiar is the 2CV. This is a relatively late model.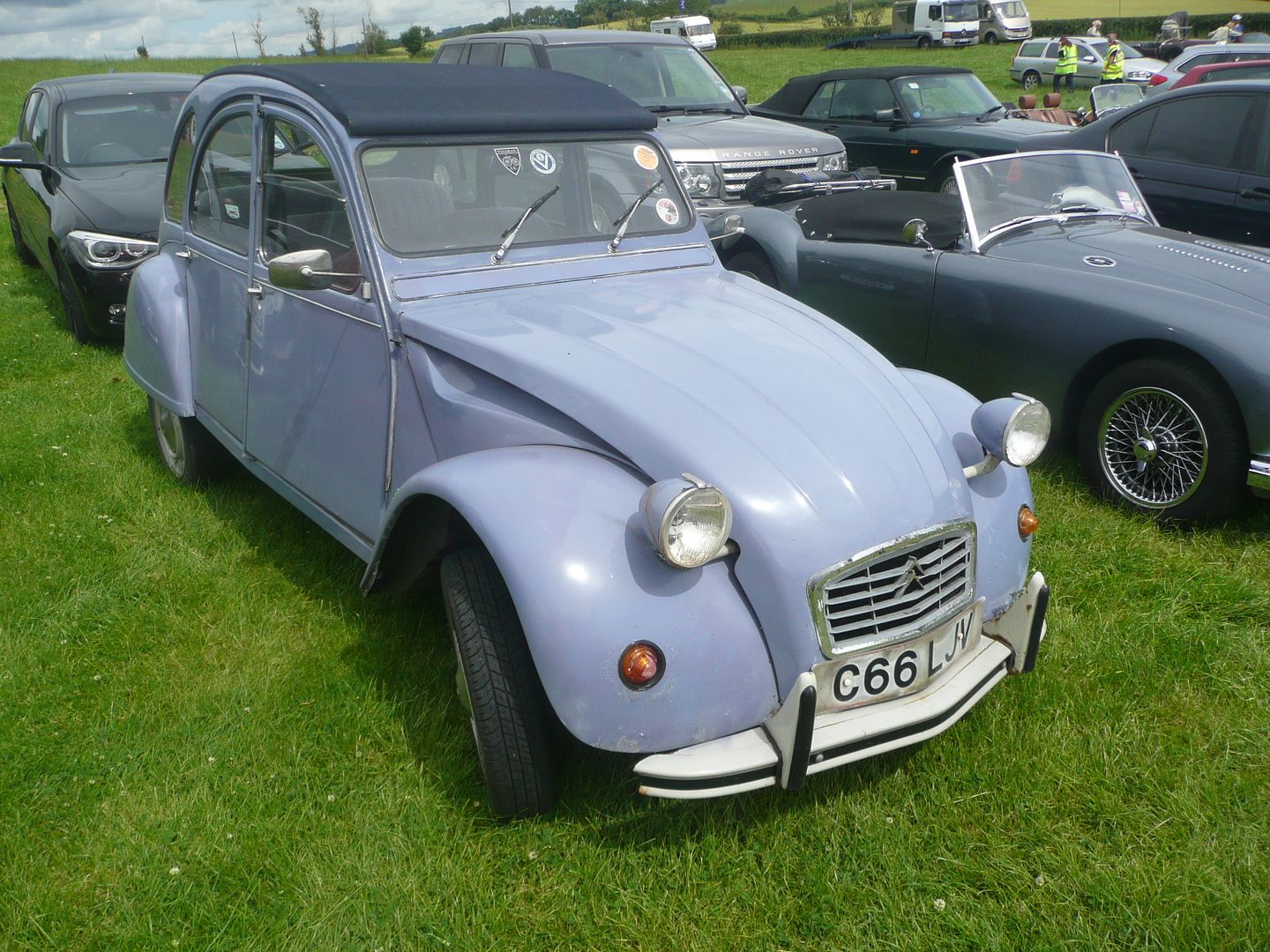 DAIMLER
This very imperious looking Daimler EL24 dates from the 1935s. As was the custom in those days for large and expensive cars, the manufacturer supplied a chassis and engine, and the purchaser selected a coachbuilder to design and build the body, so identifying models from this era is extra hard.
DELAGE
DODGE
Very conspicuous indeed was this Viper. Arresting visually, it attracted plenty of attention when the V10 engine was fired, not surprisingly.
FERRARI
This lovely Dino 246 GT was tucked away in between lots of modern cars which were physically bigger than the Ferrari, so you could not really see it was there until you were right upon it.
FIAT
The only Fiat of note in the car park was this X1/9 1500.
FORD
Replacing the long running Model T was this, the Model A, a car produced from 1927 to 1932. When Ford started to make cars in the UK, it was models like this which came out of the works in Dagenham.
As Ford built up their production in the UK in the 1930s, they started to produce models designed specifically for the UK market, and along with Austin and Morris, they continued to work on getting a car that more people could afford, with the objective creating the under £100 car. They succeeded, though the resulting Model Y was very basic indeed, sacrificing rather a lot in the way of creature comforts. This is a later evolution of the model.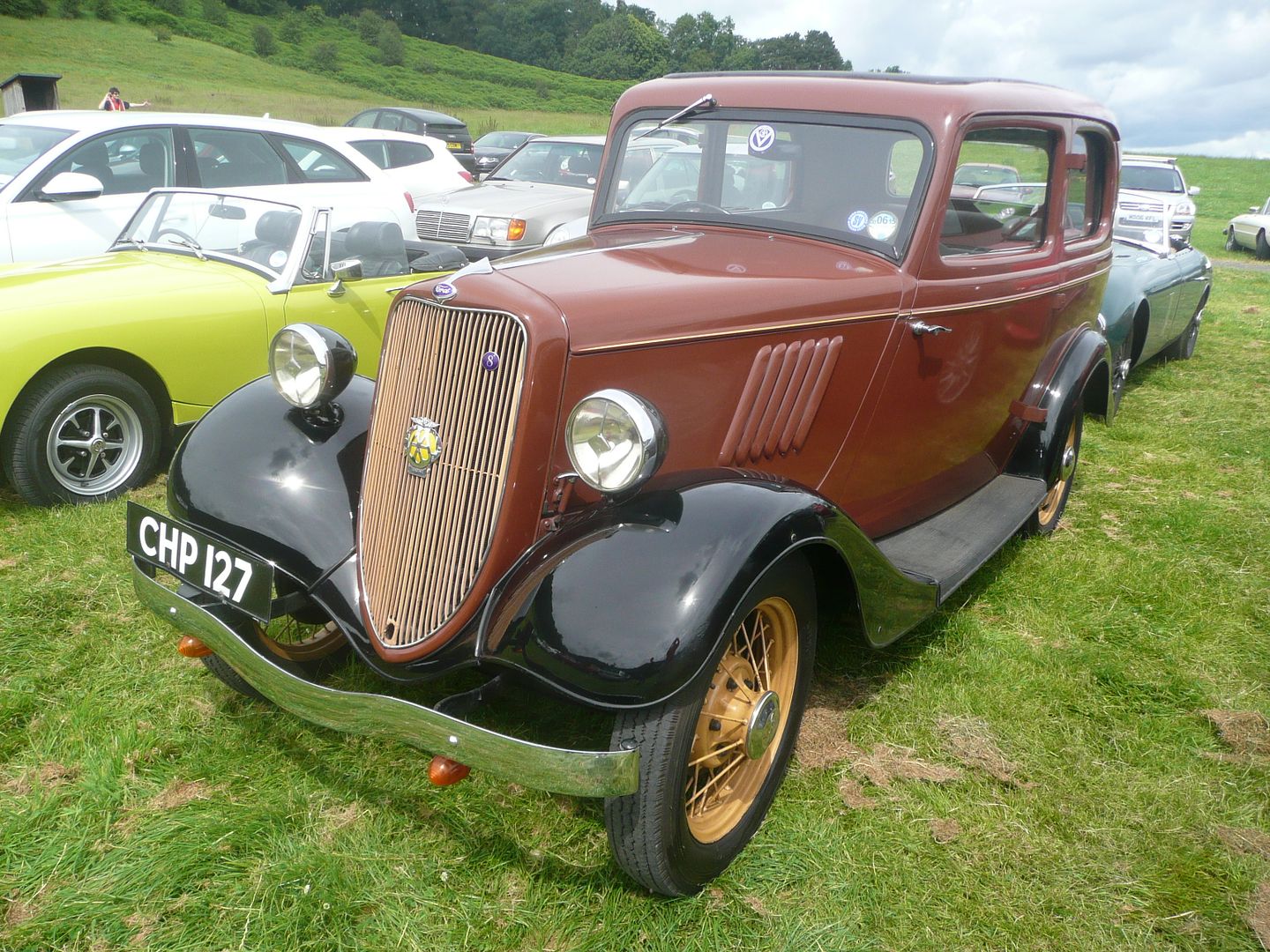 A V8 model 81a Four Door deLuxe from 1938
This neatly presented Anglia 105E is a regular at this venue.
The Consul Capri was launched a few months after the appearance of the Consul Classic saloon. It was met with a similarly indifferent reaction as the family saloon version, suffering to some extent by the fact that it had been designed some years earlier and then deferred as the Anglia 105E was fast-tracked to production. Weedy engines and rather soggy driving characteristics meant that even in GT guise as seen here, the car was probably notable more for the massive boot than anything else. Capri models were produced into 1964, outliving the Classic saloon by several months.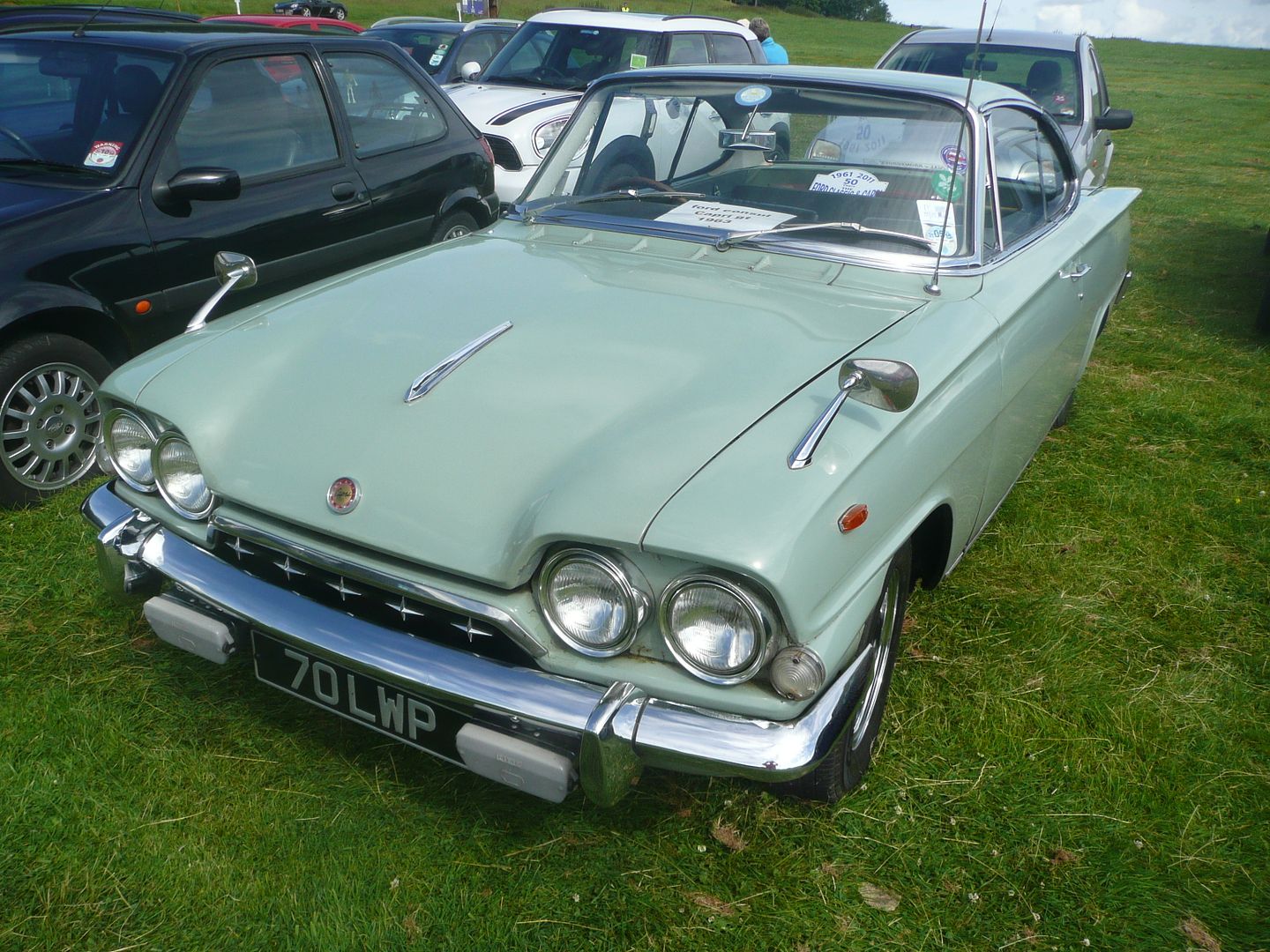 Once a common sight, Escort XR3i Cabriolets like this are quite rare now.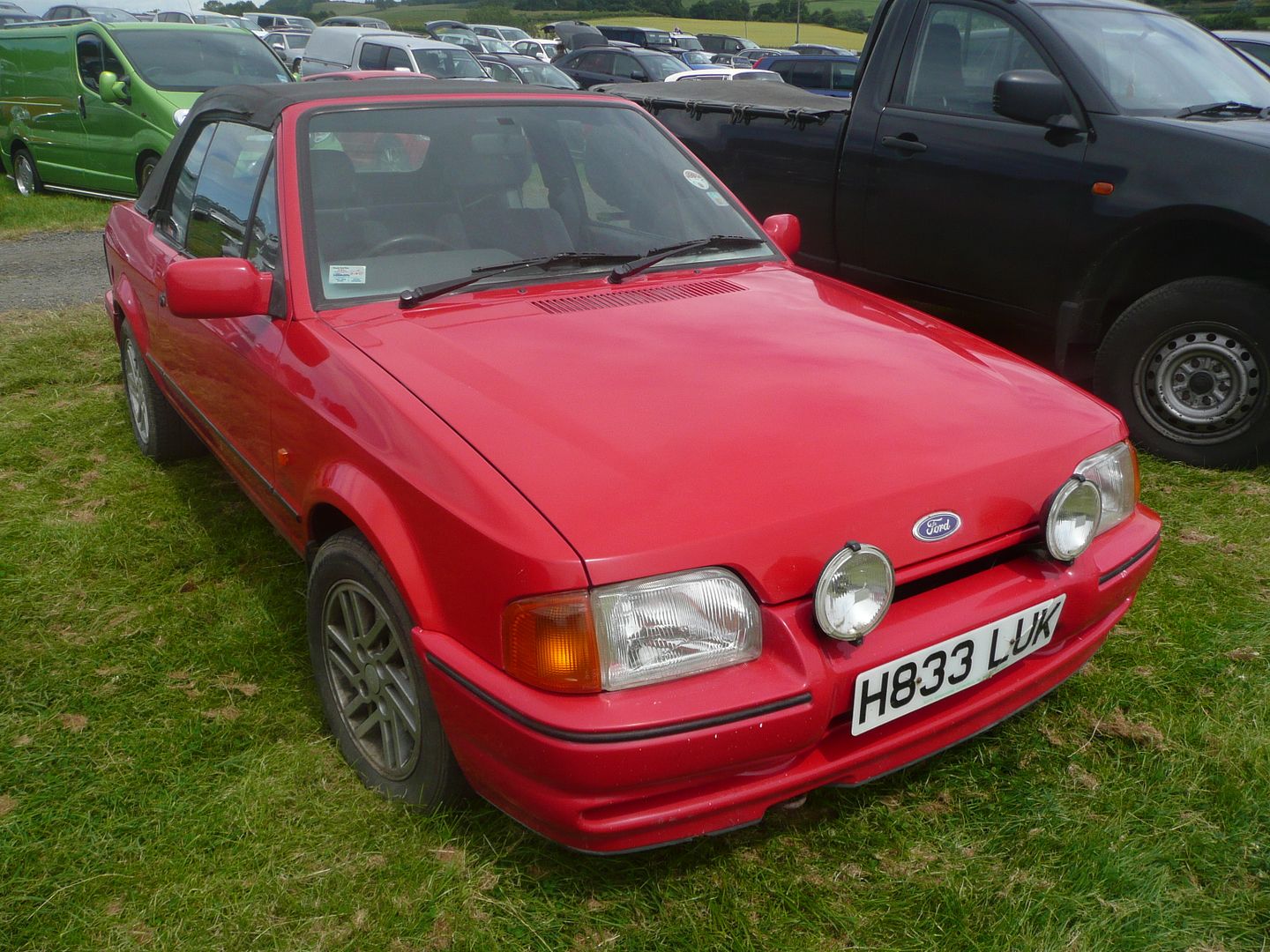 FRAZER NASH
Frazer Nash made a bewilderingly complex array of different small and light sports cars in the 1930s which were popular then, as now among those who wanted a car that could compete on the track and then be driven to and from the event.
After the war they produced small numbers of some far more exclusive cars. This is a Sebring, one of just 3 such models produced in 1954.
HISPANO SUIZA
A fabulous "Alfonso" style car from around 1913.
HUMBER
Although we tend to think of Humber as a maker of large luxury saloons, which is the sector the market which this Coventry firm occupied from the late 1930s until their demise as part of the Chrysler Group in 1976, they did produce some smaller cars as well, such as this early 1930s Tourer.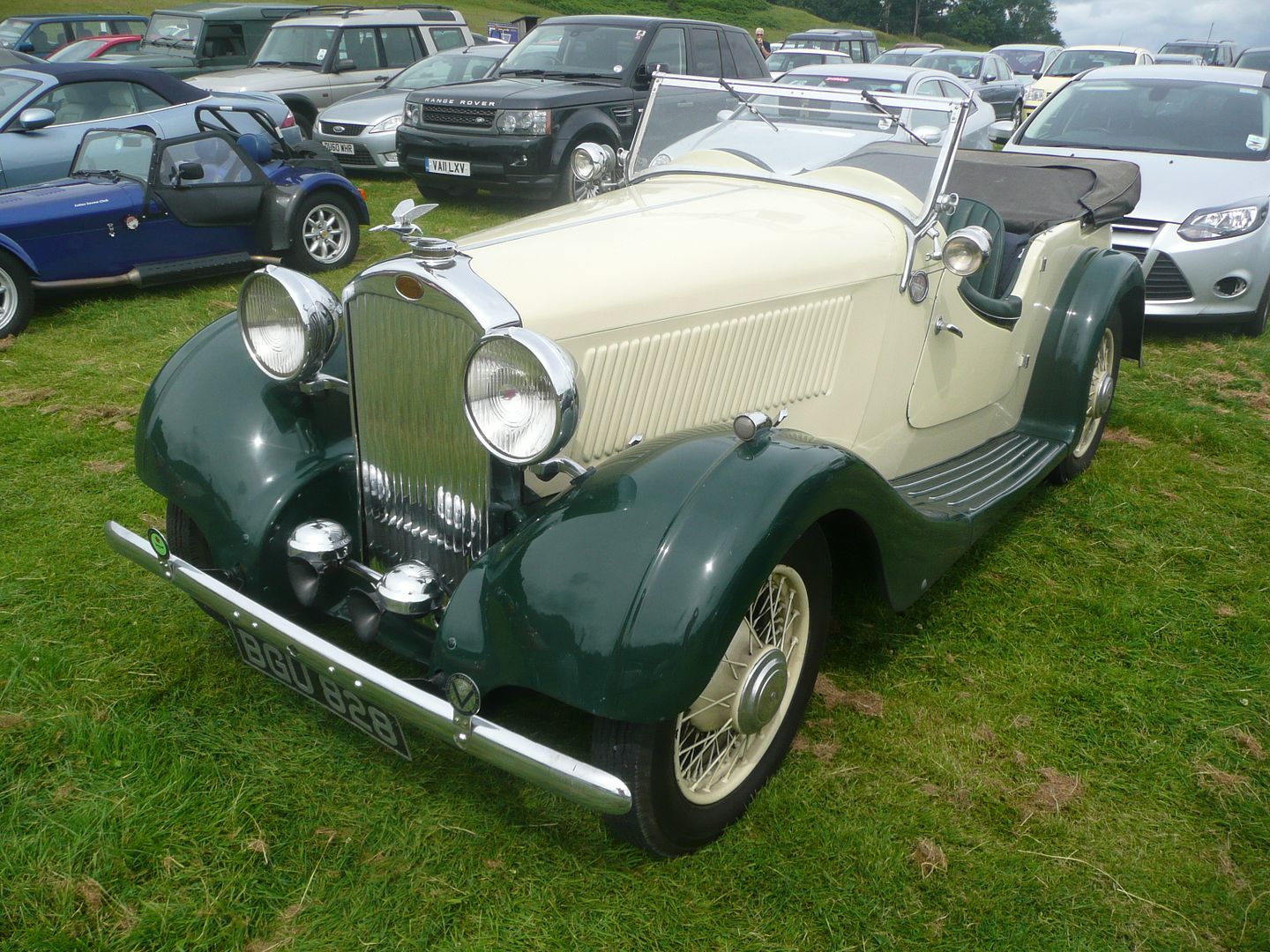 JAGUAR
Plenty of people paused at both the XK120 and the XK150 as I was admiring them and taking the photographs. In particular, a lady who admitted she did not actually know what the XK120 was, told me that she thought it was the most beautiful car of the day. It had strong competition, but I would have to agree that William Lyons' design is wonderful to behold.
There were a number of E Types present, and despite the greater familiarity with this shape it also attracts lots of positive comment, and deservedly so, too.
This is an example of the 340, the revised version of the popular Mark 2 Saloon which was introduced in late 1967, with a few "cheaper" features, including ambla seats rather than leather. The easiest way to tell the car from its predecessor is to spot the thinner bumpers.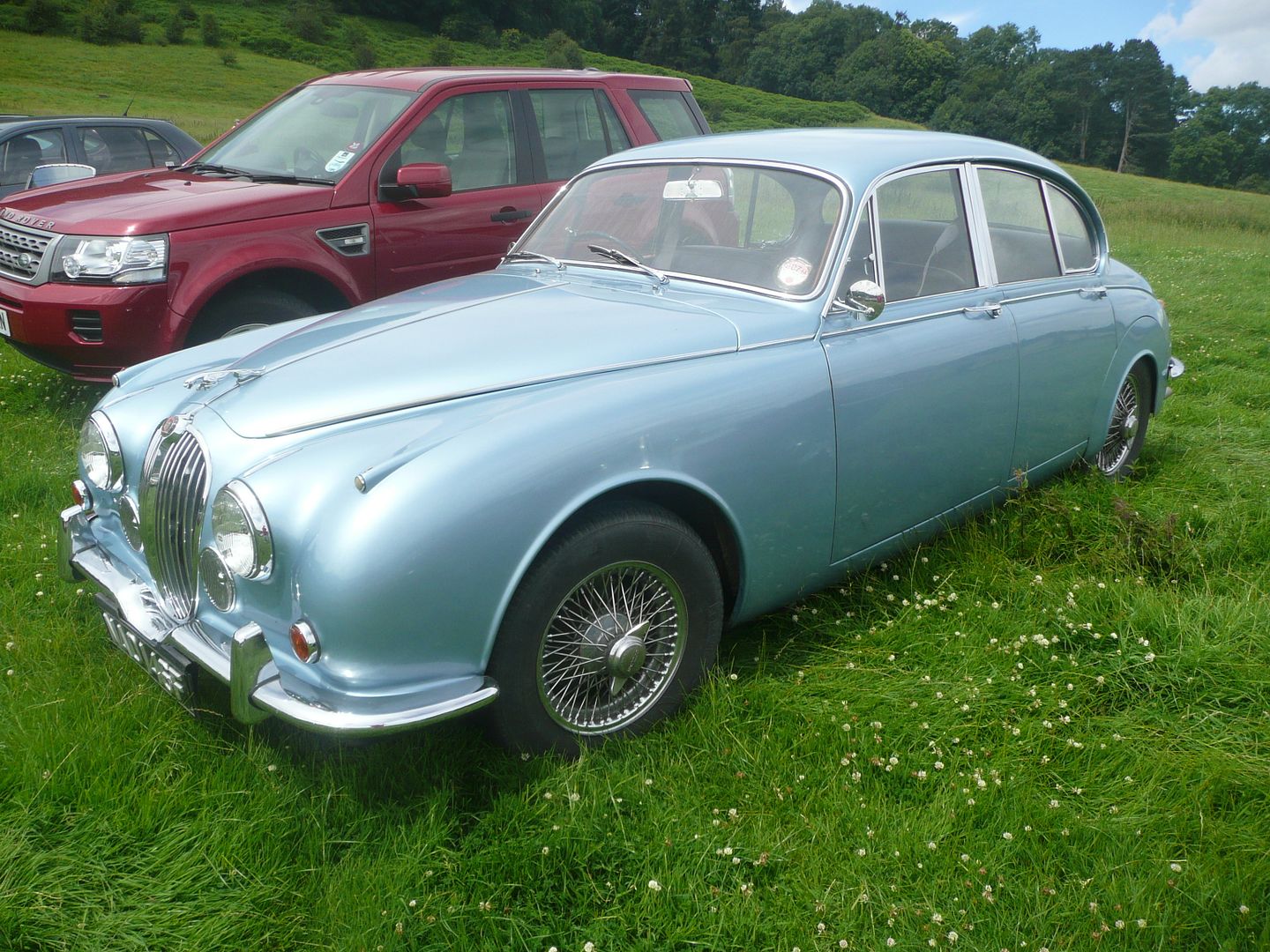 LAGONDA
The Rapier was an attempt by the Lagonda Company to increase sales by offering a much cheaper model than the large saloons and tourers for which they were known. In an effort not to alienate their existing customer base, the cars were for a time badged simply as Rapier, with no mention of Lagonda. The venture was not particularly successful, lasting only from 1933 to 1935.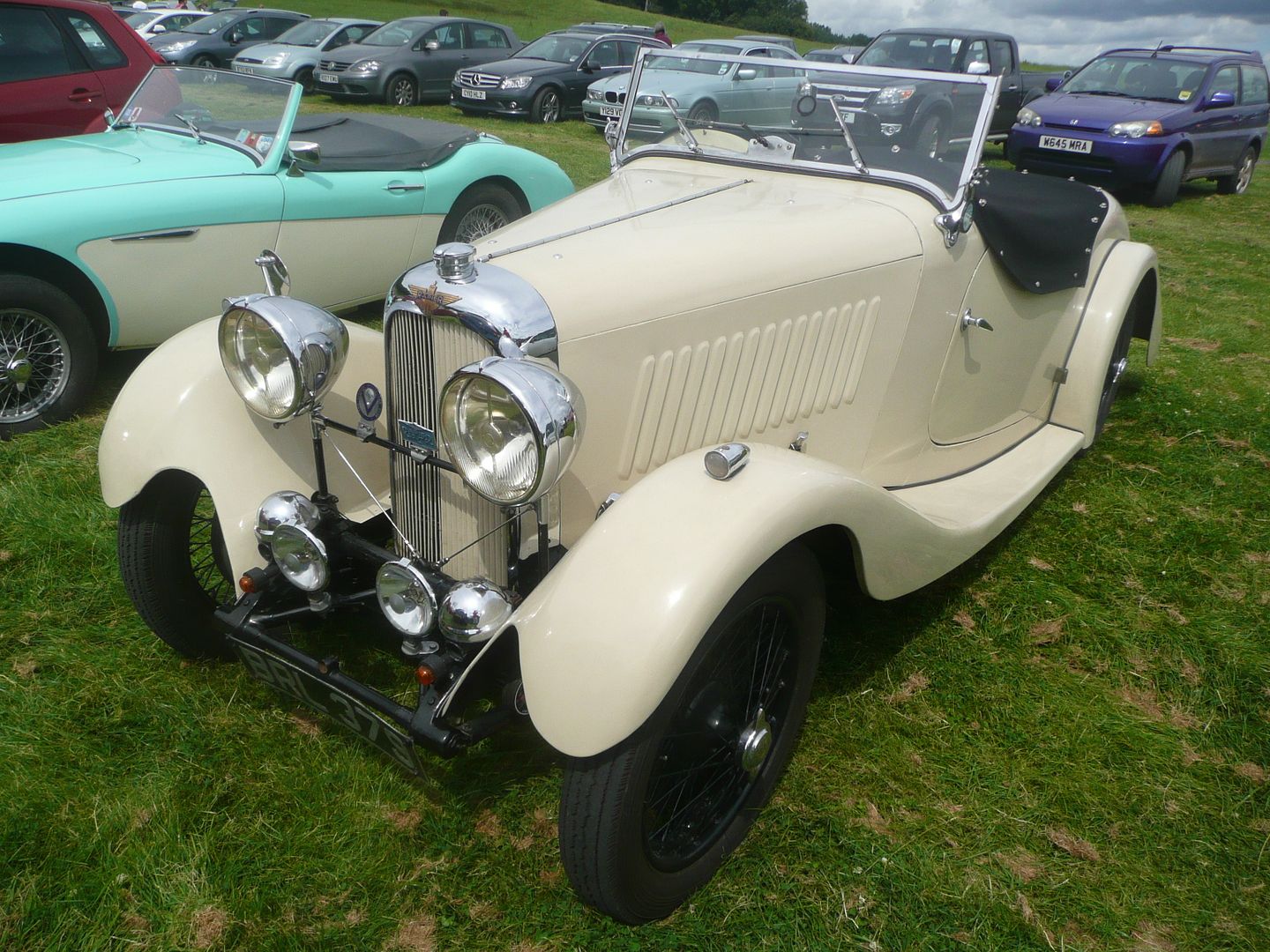 This is a splendid V12 model dating from 1939. First seen at the 1936 London Motor Show, production of the V12 models did not get underway until 1938. The cars were built on the same chassis as the LG6 but with three different wheelbases. The 200 bhp V12 engine had a 60 degree short stroke V with one camshaft per block, running up to 5000 revs, featuring twin coils, twin SU carburettors and twin electric fuel pumps. The engine would allegedly go from 5 to 105 mph in top gear. These cars were very expensive when new.
LANCIA
A lovely Aurelia GT Coupe
One of the prettiest cars of the 1960s was Pininfarina's simple but elegant Coupe version of the front wheel drive Lancia Fulvia. Produced from 1966 to 1975, this is an S2 version from the middle of the production run
Whilst not quite as "pretty" as the Fulvia, the Delta Integrale has plenty of visual appeal, too, having undergone the transformation from regular family hatchback to effective rally car with a road going version that ticked pretty well every box when launched in 1986.
LEA FRANCIS
Although Lea Francis are best remembered for the open and sporting models that they produced, if you look back in their history you will find a number of saloon models as well, such as this one.
LOTUS
We are far more used to seeing Caterham models these days, so it is quite a surprise to see an original Lotus Seven. This is a  Series 3 car, one of the last produced before the simpler, and less well rated Series 4 car was introduced.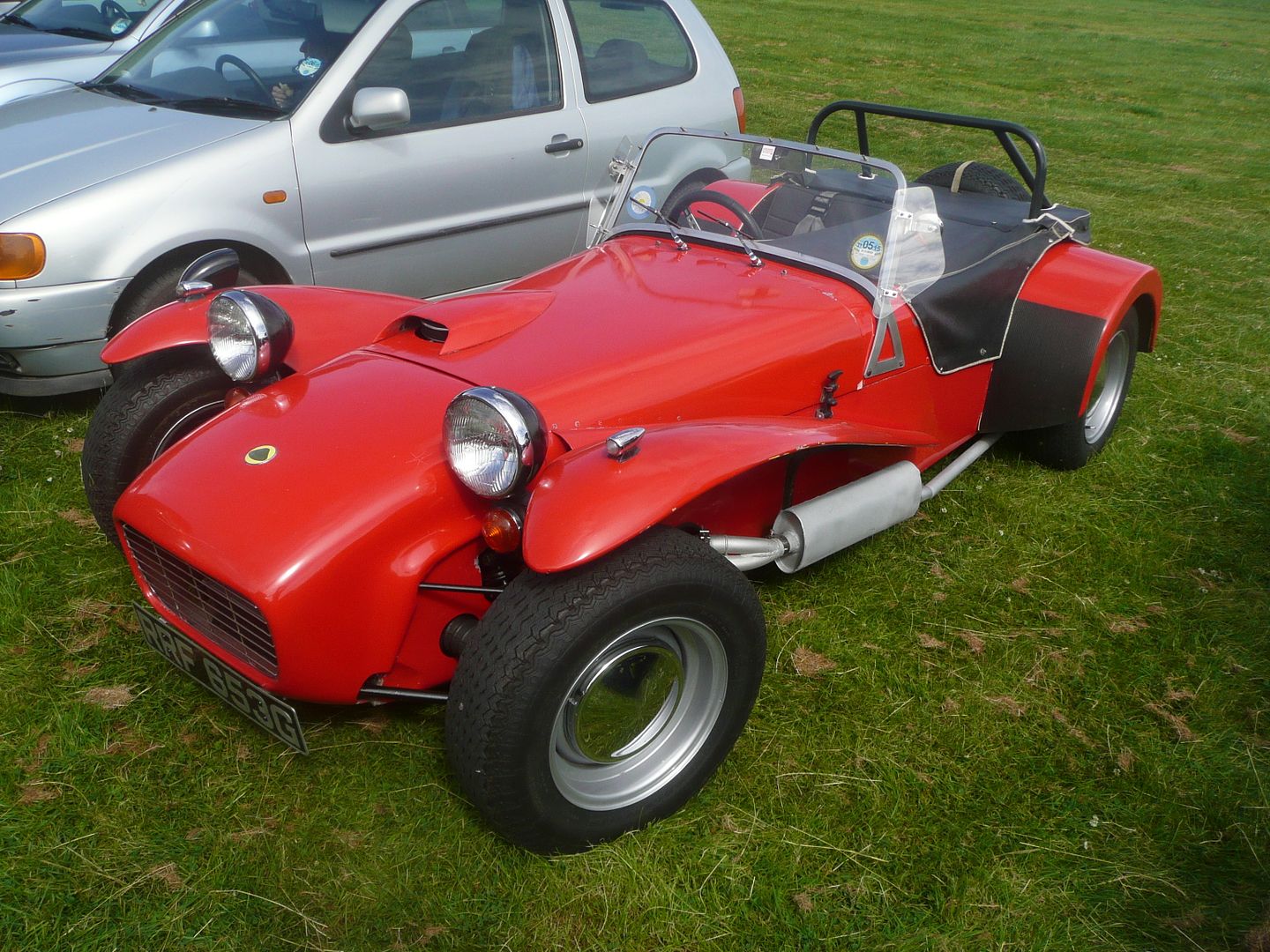 There were a couple of examples of the original Elan as well as the larger close relative, the Plus 2
This is a rather nice example of the Peter Stevens designed second generation Esprit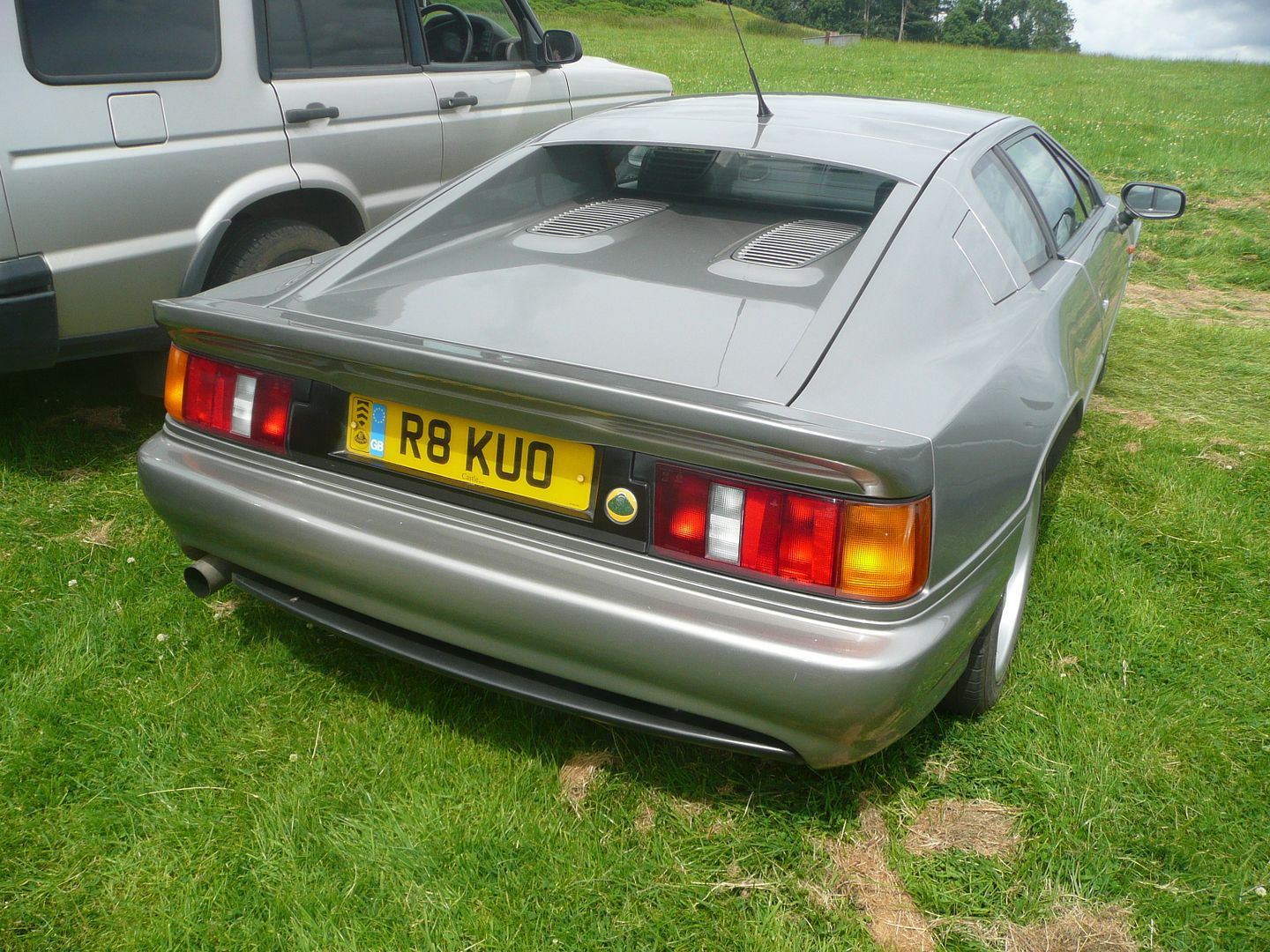 A nice example of the second generation Elise, in Gulf colours.
The recent Europa was short lived, as this car, which promised so much just did not quite hit the spot, and sales were disappointing.
MERCEDES-BENZ
Particularly elegant is this lovely 300SE Coupe from the early 1960s.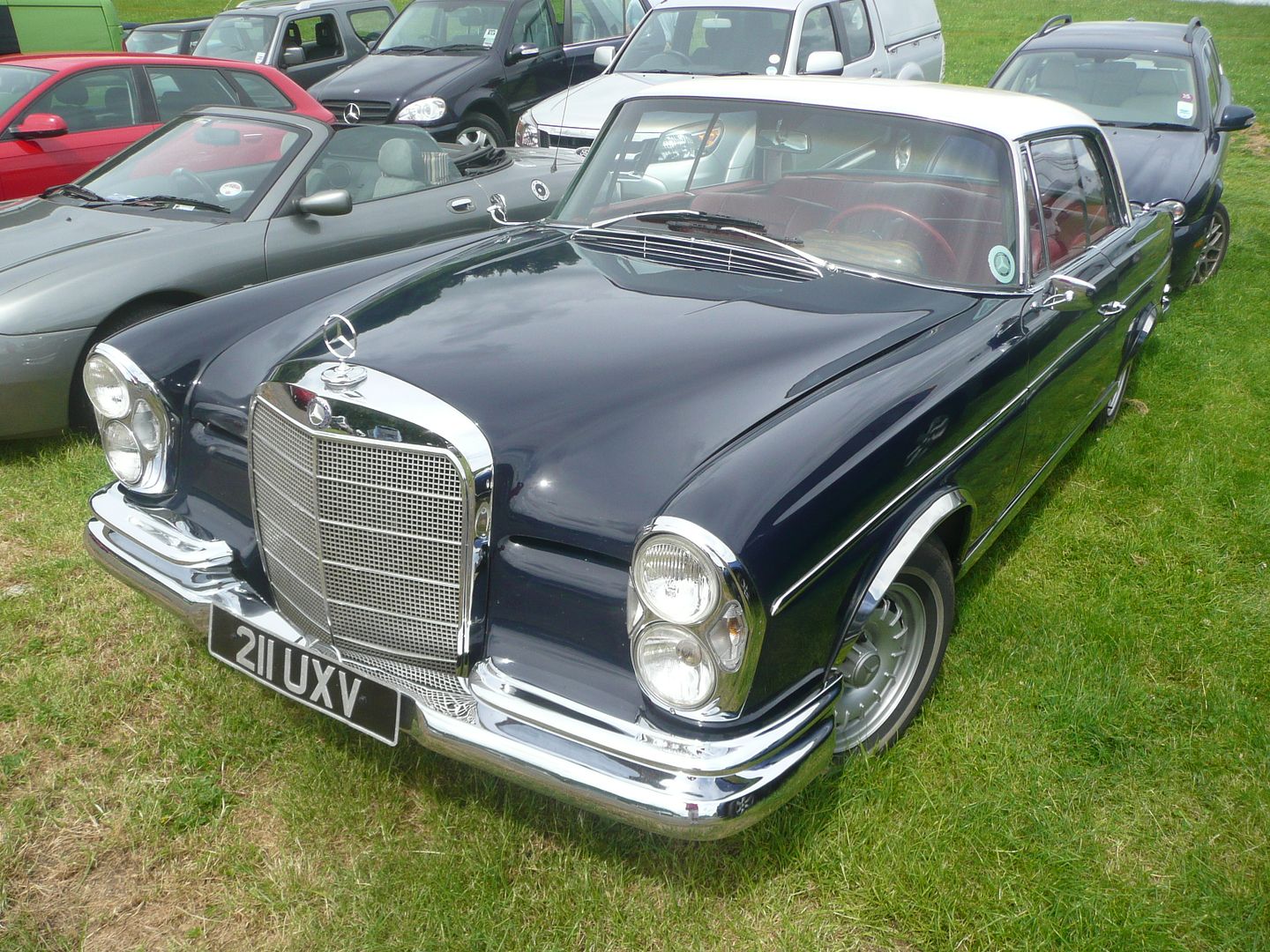 W123 models have become something of a modern classic. Many have been exported to Africa, where they are enjoying a second life, but some remain here. This is a top of the range 280E Saloon
MG
The PA was a small sports car offered by MG in the mid 1930s.
Successor to the PA/PB models were the T Series cars. The TA and TB were made before the war, and when production resumed after the cessation of hostilities, the model had evolved to become the TC. The last of these is the car which sold in greater quantity than almost all MGs added together, with particular appeal to US Soldiers who had come across the pre-war cars while they were in Europe, and wanted one back home. There were examples of both the TA and the TC in the car park.
As well as rather nice red  MGA was another one which whilst looking good was presented in a colour which I don't think is one of those offered when it was new, and I suspect the bonnet vents are a recent addition to improve cooling. and there was a non-standard meshed radiator grille.
The stalwart MGB. doyen of the classic car scene, was much in evidence at this event, as is the case at just about such occasion where classic cars are gathered.
There was also a nice example of the smaller Midget, this one painted in very period "Citron".
It was good to see this Maestro Turbo. Even when new the MG Maestro was a somewhat under-rated car. True, the early 1600 models were not really up to par, but once the O Series 2 litre engine was under the bonnet, a change which happened within a year of the car going on sale, this was a capable and roomy car which went well. The Turbo was introduced to add some spice to the range in 1989, and whilst it was perhaps bordering on the edge of unruly at times, it was most definitely rapid, faster than almost everything else in its class. Not that many were made and very few survive.
MORGAN
There were a couple of the "original" Three-wheelers, one with the Matchless engine.
There were plenty of four wheeled Morgans present, ranging from Plus 4 models from the 1950s and 1960s to more recent versions
PORSCHE
Among the 911 models present were a number of Targa models, including an early and a couple of the later incarnations.
There was also the later 993 to look at.
RAILTON
This venue is just about the place where you are ever likely to see a Railton, a largely forgotten British marque that made a small number of cars in the 1930s. I've often wondered why they should be so evident here and yet you hardly ever see them anywhere else, and it turns out that the Owners Club is based just down the road and there are a handful of owners who live in the vicinity. Railton was a British car maker based in Cobham, Surrey between 1933 and 1940. There was an attempt to revive the marque by a new company between 1989 and 1994 in Alcester, Warwickshire. The company was started by Noel Macklin who was looking for a new car making venture after he sold his Invicta company in 1933. The name came from Reid Railton, the world speed record car designer, but his input was probably small although he did receive a royalty on each car sold. The first car was made by fitting a British body made by coachbuilder Ranalah to a 4010 cc, 8-cylinder Hudson Terraplane chassis. The resulting machine, at first available as a two-door tourer, was lighter than the original and had, for the time, exceptional performance with a 0–60 mph time of 13 seconds. A saloon-bodied version was soon added to the range, and the cars were priced at £499. In 1935 the original Terraplane chassis was replaced by the one from the Hudson Eight and the engine grew to 4168 cc and a wider range of bodies from several coachbuilders was on offer. Two special lightweight models were made in 1935 and with a 0–60 time of 8.8 seconds were claimed to be the fastest production cars in the world. Altogether 1379 of the Railton 8 were made.A smaller six-cylinder car, the 16.9 was added in 1937 using a 2723 cc Hudson 6-cylinder engine and chassis, but only 81  were made in saloon or drophead coupé form and priced at £399. An even smaller Railton, the 10 hp, joined the range in 1938 built on a Standard Flying Nine chassis and with either saloon or drophead coupé bodywork was claimed to be "A famous name in miniature". 51 were made selling at £299.[1] In 1938 Motor Sport tested a 28.8 h.p. Railton Cobham saloon, FPH 970, offered for sale at £698.Noel Macklin turned his attention to powerboats in 1939, and he sold the company to Hudson Motor Car Company of Detroit, Michigan, who transferred production to their Chiswick, London works. However, the outbreak of war in 1939 stopped production. After World War II a few cars were completed using pre-war parts, and a new model was built and shown at the 1949 London Motor Show. However, at nearly £5000 the car was incredibly expensive, and it never went into production.
RELIANT
Another regular at this venue is this 1985 Scimitar SS1
RILEY
ROLLS-ROYCE
This very elegant 20/25, most distinctive in its chocolate and cream paint finish, is a car which appears quite frequently at events like this.
ROVER
With the 100 badge clearly evident, this is a relatively late model P4 car, a range which lasted from 1948 to 1963, and which was offered in a bewildering array of different model names, each denoting the power output of the 4 or 6 cylinder engine under the bonnet.
SAAB
By the mid 1980s, Saab was focused on the 900 and the recently launched 9000 cars, but they did not completely abandon the bottom of the range, the 99, announcing an updated version called the 90, which combined the rear end of the 900 Saloon with the front end of the 99. It was short lived, so this is a rare car indeed.
SINGER
At first glance, you might think that this boxy saloon is an Austin Seven. but it is not. It is a Singer Nine, one of the rivals that appeared not long after Herbert Austin's small car had opened up a new market to people who previously had not been able to afford a car. In the late 1920s, Singer was the third largest British car maker, after Austin and Morris, with 15% of the market and the Coventry firm launched a new small car, called the Junior, aimed at gaining more sales than they had achieved with the larger Ten. The model evolved into the Nine in 1933, and this then formed the base for a range of small sports cars which were aimed at the increasingly popular MG., an example of which was also parked up here
This is the larger Ten model.
SUNBEAM
Although post-war Sunbeam models were in the affordable end of the motoring spectrum, the earlier cars were high end models, offering high performance and luxury to the wealthy buyers who could afford them. This is an example.
SWIFT
TRIUMPH
Classic Triumph sports cars remain very popular, and for good reason, so it was no surprise to find plenty of them in the car park.
Most were TR models, with examples of the TR2, an early TR3, the Michelotti styled TR4s and TR4a and my favourite, the Karmann styled TR6
Also to be seen were examples of the small Spitfire and the much larger Stag
VAUXHALL
This Type A Tourer dates from 1914.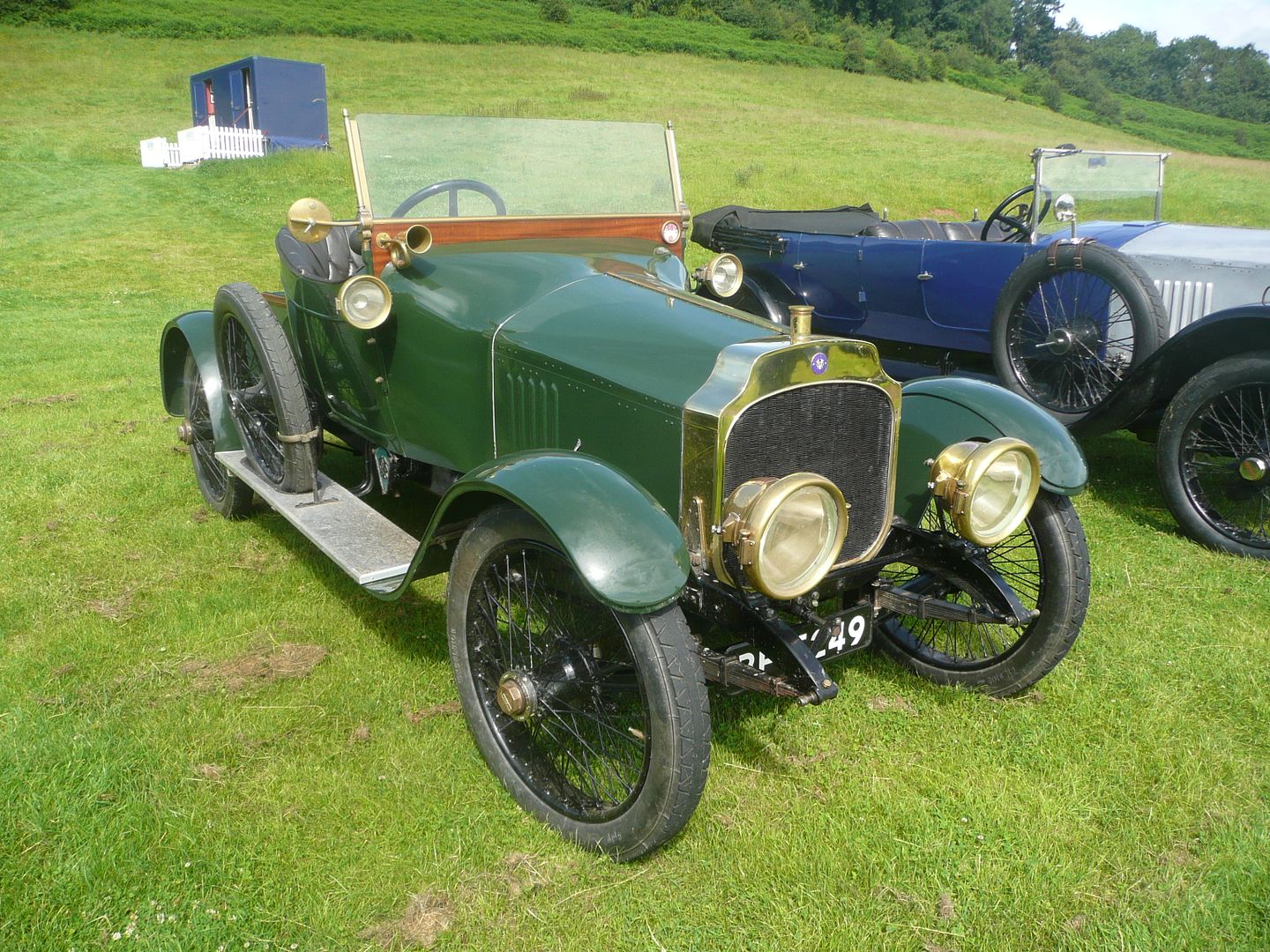 Perhaps surprisingly, given the pace of change in the design of cars 100 years ago, this "Prince Henry" model is actually older, dating from 1912. These sports cars were fast and expensive and desirable
Successor to the Prince Henry was the 30/98, which first appeared in 1913, and was then produced right through to 1930. A number of these large sporting machines were on display at this event.
VOLKSWAGEN
An example of the once ubiquitous Beetle
WOLSELEY
1930 Hornet.
As ever, I really enjoyed my day at Shelsley. This Hill Climb has at least as much to commend it as the better known, and busier Prescott, but perhaps it is a secret I should keep to myself and the other cognoscenti, for fear of losing that rather relaxed atmosphere that pervades the place.
Share and Enjoy