1998 Alfa Romeo Spider 2.0 Twin Spark (GB)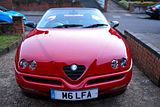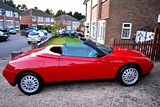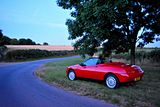 There's that old motoring cliché: "you aren't a petrol head until you've owned an Alfa". Well I haven't. In fact I hadn't even driven one until Wednesday, so god knows what that makes me. A mate had been asking me for months to clean his recently acquired weekend toy, a 916 Series Alfa Romeo Spider. I finally got around to doing it on Wednesday night, so after a wash, dry, clay bar, HD cleanse, super resin polish and HD wax, we went to find some country lanes to go for a drive and get some good pictures.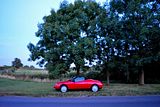 Having spent around 3 hours cleaning it, it's fair to say I managed to get a good look around the car. One thing Alfas always seem to do, is look good. Even if dynamically they're not quite up there with their German rivals.  It didn't take long to make up my mind – it's a fabulous looking and very well proportioned car, aided by the striking Rosso Alfa red paint, and the not-too-big, simple, but effective 16 inch alloy wheels. It's definitely one of Pininfarina's better moments.
From the passenger seat, the first thing you notice is how low you sit. This is no bad thing, and very sports car like. With the roof up, it's a cosy place to be. There are no bright colours; it's all black, with a few bits of grey here and there. Roof down, it's… pretty much the same. Having googled the interior of the facelift, I can't help thinking how much better the brushed aluminium looks. The quality was surprisingly good. The plastics on the dash felt solid, with only the door cards and some of the centre trim by the handbrake feeling a bit flimsy. Interior quality doesn't bother me too much, but even I wasn't expecting much from a mid-90s Italian car.
Getting into the driver's seat for the first time, knowing you're going to get to drive it is quite exciting. You sit very low, as I've already mentioned, which gives a proper sports car feel.  I've driven hot hatches and saloons which are a lot faster, but you don't get that same edgy, hunkered down, almost race car like feel. Get into a Focus ST, and apart from a sportier seat, it feels just like any ordinary Focus.  With the Spider, even with the engine off and just sitting there, it makes you want to turn the key, drop the roof and take it for a blast.  Mooching around getting the ideal driving position is very easy. The steering wheel is the right size; the seat is a very simple design, which doesn't really look very inviting at all looking down at it. However, once sat down, it provides surprisingly good comfort and support. Adjustment is very basic (tilt and reach), but to be honest that's all you really need.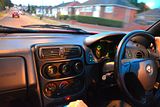 Start the engine, and once the 2.0 Twin Spark has settled to a steady idle after a few seconds, there's not much drama at all really. It did give a slight tinge of disappointment from the initial excitement of getting into this sports car. If I'm honest, the engine didn't sound very sporty at all. When idling, it's quite a loud and rough sound. Blip the throttle and the rough sound just seems to amplify. It never really gets 'exotic'. Once thing that's immediately noticeable when you first drive it is just how" old skool", simple and mechanical it feels.  The gear change is heavy and has quite a long throw; get it wrong and it can feel horrible and jagged. Get the relationship between the creaky clutch and gear change right, and it can feel great. The steering is laughably accurate and is full of feel. Think Peugeot 306 or Mk1 Focus and you won't be far off. Like I said, it has an old skool grainy feel which you just don't get with modern cars. A hugely pleasant surprise.
At this point, I couldn't get my old Clio Cup out of my head. The above was reminding me how similar they both felt. It continued to the engine: both normally aspirated 2.0 litre. Both had that loud, mechanical sound that made you feel like you could sense everything that was going on. Both had a 'not very nice' natural sound, and both had razor sharp, instant throttle response. The Clio, being lighter and more powerful, was much much quicker. There is apparently only 22 bhp in it, but if feels like a much bigger gap. Regardless of that, it's the way the power comes that makes them so similar. For example, floor the throttle in 3rd gear at 20 mph. Not much happens below 3000 rpm. Just over 3000 rpm and things start to get a bit more interesting. Above 5000 rpm and  another cam kicks in and you get the full on force of the engine to the red line, accompanied by a screaming yowl from the induction (when both engines sound good). They both feel the same, in the Clio it just happens a lot more quickly. Think of the Spider as though you're watching a programme on Sky at normal speed, whereas the Clio is like watching the same programme, just with the x2 fast forward button pressed . Everything is sped up. You're still aware of what's going on, but it's a lot more frantic and over a lot quicker! Handling is unfortunately where the similarities end. The Spider has a reasonably supple ride around town, and will go around corners at normal speed no problem. The issues start when you throw a bumpy, uneven country lane at it. Again, at normal speed its fine, but when you start pushing on, it starts to get a bit crashy and wobbly. This is where I don't think the steering works in its favour. Being so accurate, it's easy to start getting a bit cocky and piling on too much speed into a bend. Do this, and things do start to get unruly. 'Scuttle shake' I think the term is. You can definitely feel it. Outright grip seems to be fine, even on budget tyres, and it never feels dangerous, but quick changes of direction do not feel good! This car falls just short of the face lifted model which was bought out in May 1998. That got a better interior, slightly tweaked exterior, and more powerful yet more frugal engines.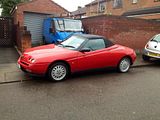 After how it made me feel when I first got in, did how it drive disappoint? Yes, in a way. I think the best way to drive it is the opposite of how you would normally drive a small Italian car. Even so, getting to drive an Italian open top sports car, on a good B road, on an English summers evening with not a cloud in the sky, something clicked and it was definitely a motoring highlight.
Share and Enjoy